Disney Wish Enchanté Restaurant: Is It Worth It?
The Disney Wish Enchanté restaurant was one of the things we were most excited to try during our vacation on Disney Cruise Line's fifth ship in their fleet. Instead of Remy, the Imagineers decided to put a different French restaurant onboard.
"Enchanté" means "nice to meet you" in French, and we were certainly excited to meet this restaurant. But with a considerable additional cost per person, at $125 a head, not including gratuities and drinks, we wondered, "Is it worth it?"
We detail our dining experience and answer this question for you in more ways than one in this article. And of course, we have photos to show you what every course looked like. Warning: don't lick the screen!
Disclosure: There may be affiliate links in this post, which means we earn a small commission if you click the link and proceed with a purchase at no cost to you. We truly only recommend cruises, experiences, products, and services we personally use. As Amazon Associates, we earn from qualifying purchases.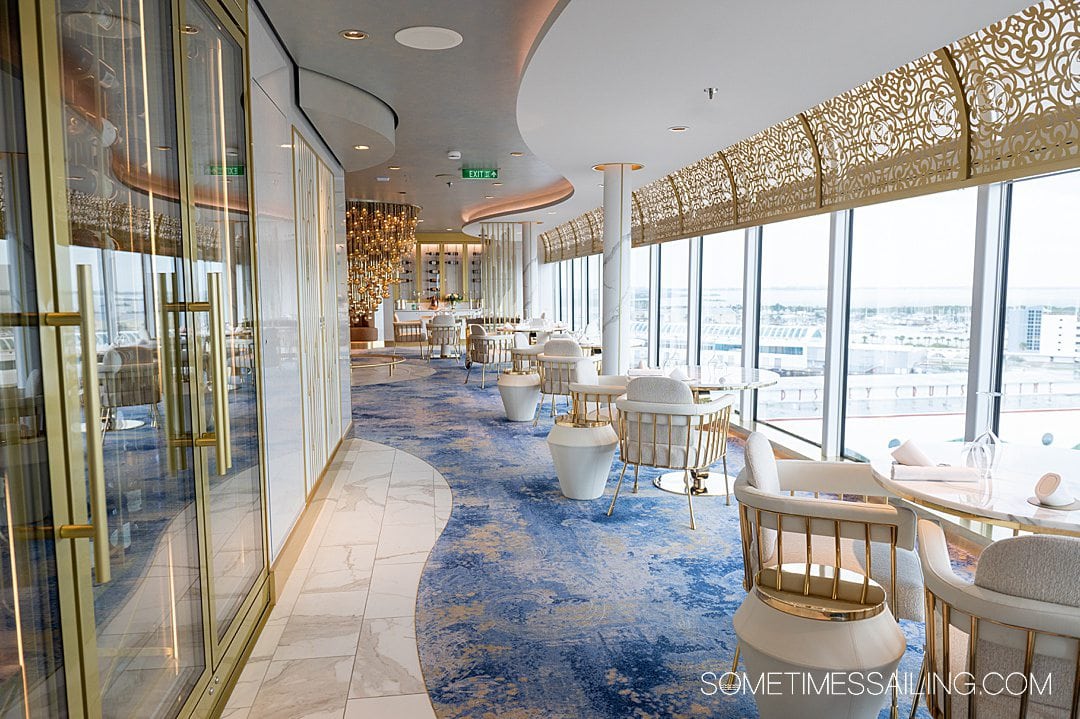 Disney Wish Dinner at Enchanté Restaurant: Is It Worth It?
Enchante has three dining options: brunch, dinner, and a dessert experience. We had dinner there, so most of our post addresses dinner aside from the interior design details of Enchanté.
Answering the question, "Is it worth it?" is subjective. After Dan and I dined there, we asked ourselves the same thing. What would we recommend to friends and our readers?
We agreed that the answer is multi-faceted. Thus, we broke it down into two "worth it" categories, since "worth" differs for everyone.
Is it worth the cost, time, and ambiance?
Is Enchanté Worth the Money?
First, we'll start with addressing the money question. Our total bill, without adding on a wine pairing option, was around $325. This included the cost of a 5-course meal for two people ($125 each), gratuity, and one glass of wine.
The "five" courses is actually more like eight because they give you a lot of in-between goodies, which we'll detail below.
But let's go back to answering the question, "Is Enchante worth the money?" We want to say yes because we love that Disney Cruise Line offers this experience. It reminds us of elevated dining options on other cruise lines, including Celebrity Cruises of which we have fond dining memories.
When it comes to cost, you likely fall into one of three trains of thought:
$300+ isn't expensive in your eyes.
Hundreds of dollars is a serious stretch for a dinner during a cruise that's already costly, when meals elsewhere on the ship are included.
$300+ is expensive but it's vacation, and you spend money on vacation anyway. So why not splurge for a nice experience?
That said, if you're not someone who likes "fancy" food this definitely isn't a place where you'll appreciate the menu items, like the smokiness of the caviar dish topped with potato "fondant" mousse or the depth of flavor in what looked like an otherwise simple glass of tomato water. More on that later.
We thought the price was fair for the caliber of food. The caveat is that the taste of this level of cooking should have been better and should have had balanced flavors in every course. Unfortunately, this was not the case during our dining experience.
If Disney Wish Enchanté hits every note with its flavors and the techniques used to create the dishes, we undoubtedly say yes, it's worth the cost. But if not, less so.
Are you taking a risk when you sign up to dine at any restaurant you haven't eaten at? Yes. We hope our review helps you decide whether or not to dine there. We also hope their menu consistently improves and each course, in the future, hits all the high notes they have the potential to.
The multi-layered dishes will impress foodies and aspiring foodies in presentation independent of flavors…but of course, we wanted all flavors to be great for us and wish that for you if you decide to go.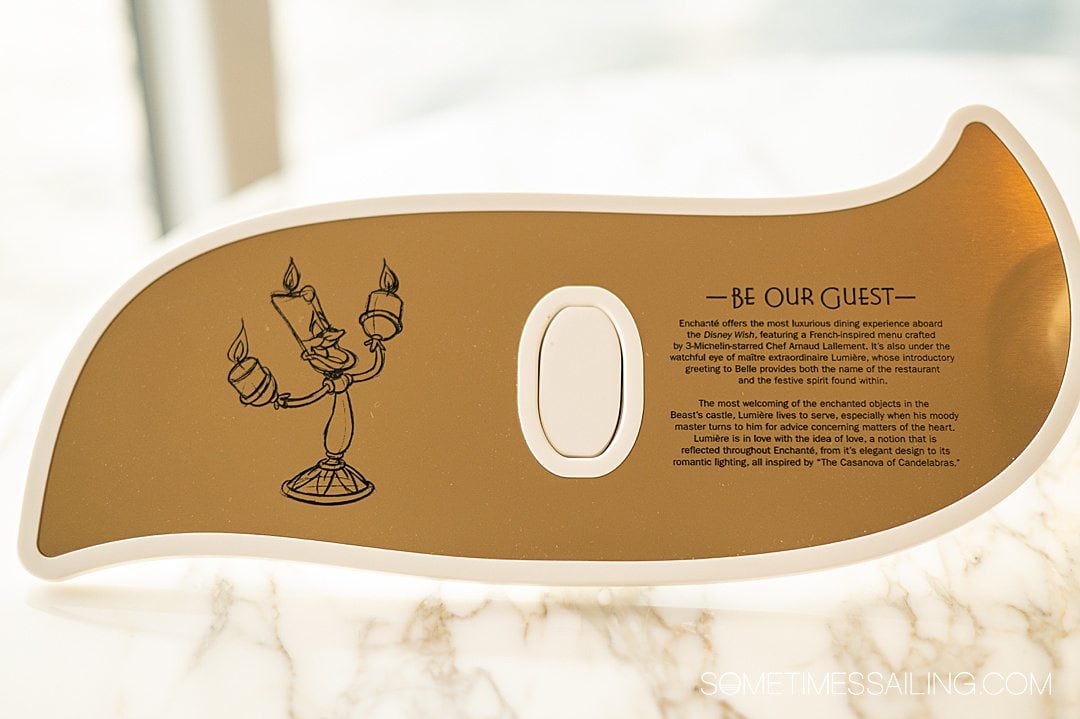 Is Enchanté Worth the Time?
If you value quality service and a well-paced meal where you don't feel rushed, it's worth it.
We were at Enchanté for a little more than two hours and thought the pace of the meal was perfect. We didn't feel rushed, and we never felt like we were waiting so long, wondering where the next course was or where our waiter, Ryan, was.
That said, we must mention that we didn't care about seeing the shows that night. We made dinner that evening our #1 priority.
If you want to answer the question, "Is Enchante dinner worth my time?" for yourself, you have to think about your priorities on the cruise. Is it shows? is it the main dining experiences? (In which case you may want to do Enchante's brunch experience instead.) Is an upscale dinner worth my time?
Dining is one of the most special things that Dan and I do together. We ensure we eat all meals at home together unless one of us is out with a friend. Where we eat is always a highlight wherever we travel, from river cruise experiences to the incredible food we had on our barge cruise (the best food we've ever had on a cruise), from France to Spain, California to Florida, and beyond.
To us, dning isn't simply about the cuisine but the experience that goes hand-in-hand with amazing service and a wonderful ambiance at the restaurant.
Is Enchanté Worth the Ambiance?
Yes. There was nothing as sacred to us as a maturely themed dining experience sandwiched between Marvel and Arendelle dining (we're only half-kidding), which, let's face it, are mostly aimed at pleasing kids.
We get it – adults love animation and superheroes too. We do too. But we're also adults who know that a certain appreciation for sophistication and quiet at a restaurant comes with age.
The ambiance and tone set in Enchante were serene, and we appreciated the "mature" design elements and choices the Imagineers made here, from the chairs and stemware to the light fixtures. This is an adults-only dining experience to do without kids on DCL.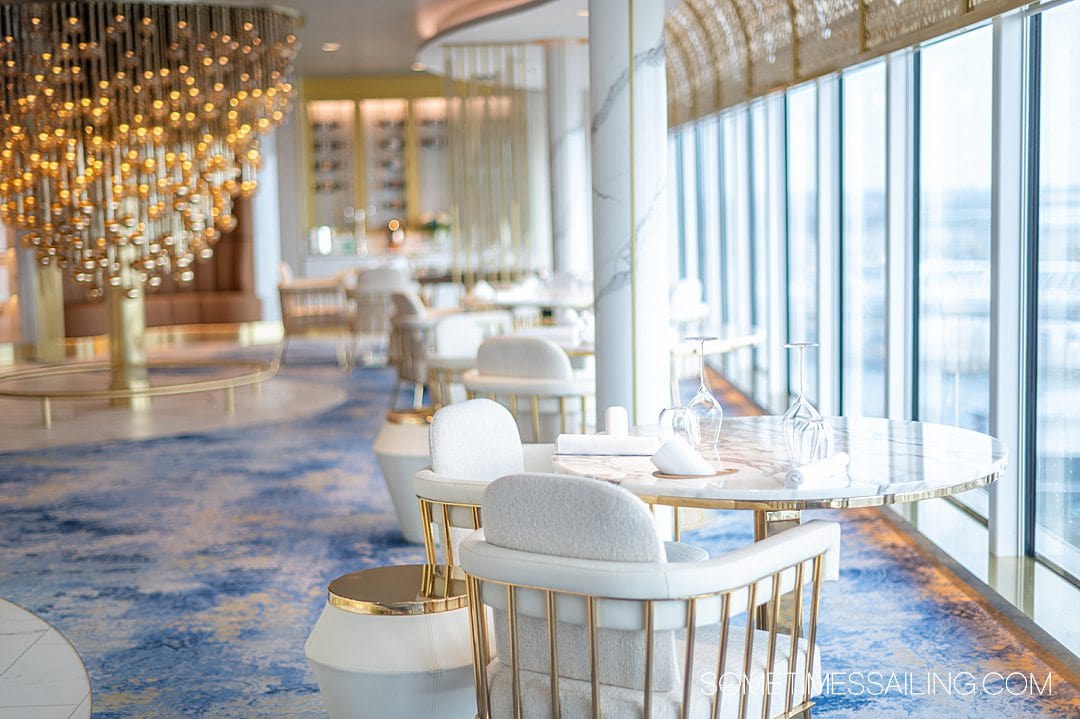 Dinner Menu at Enchanté
When we dined at Enchante, there was only one dinner menu option. This was a five-course meal. The dinner started with exceptional bread and ended with two desserts, one of which was so bad I didn't eat it and another that was good.
The bookends of those dishes – from beginning to end, with one great thing to start and one good and bad thing to end – were par for the course at Enchante. We experienced several highs and lows in flavor throughout the meal.
Read on for exactly what we ate.
French Wine Menu at Enchanté
The wine menu is all French wines, which we loved because we had visited France twice in the weeks before the cruise, once with Viking and once with European Waterways, and really got to know the wines of Bordeaux and Burgundy during our cruises.
When we told the waiter at Enchante that Dan wanted to order a glass of wine, he asked Dan if he wanted the sommelier to come over to help with his selection. He said yes.
Unfortunately, the sommelier wasn't friendly and didn't care to hear that we'd been to France recently, thus truly appreciated the wine menu. Actually, he ignored that I even said that short sentence except for glancing at me for a split second. (I know what you're thinking: maybe he didn't hear you. He heard me.)
This was disappointing, to say the least, when you want to believe that everyone who works on a Disney Cruise ship in a guest-facing position is friendly, even to a small extent.
Regardless, Dan ordered a glass of wine and enjoyed it. It was $18 for the glass he chose, which is completely reasonable. We never spoke to the sommelier again, which was probably for the best.
Wines are available by the glass or by the bottle. Their bottle list is understandably much more extensive than what's available by the glass. They have champagne as well.
We didn't ask about cocktails; I was looking forward to a drink later on at Hyperspace Lounge and, knowing my limits, knew I couldn't have a cocktail with dinner and have another one afterward and still feel hydrated the following day.
I digress: I was also photographing a wedding the next day and was being incredibly responsible, as I always am. Check out Mikkel Paige Photography if you're curious.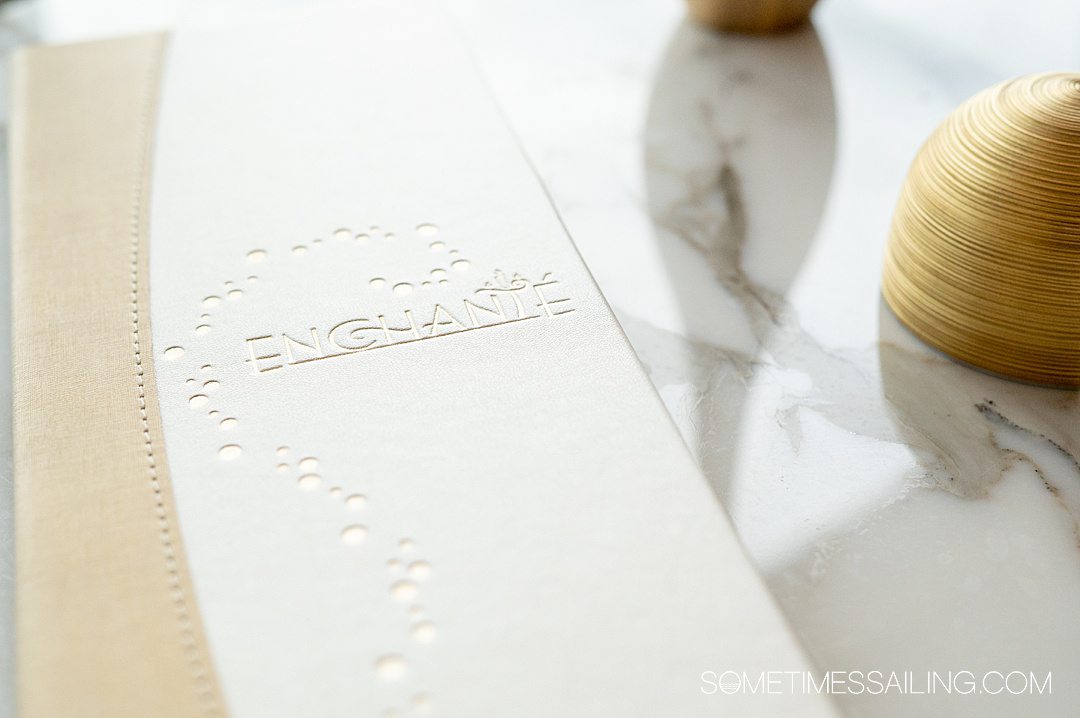 Disney Wish Enchanté Restaurant Design
You enter Enchante on Deck 12, aft, past The Rose, which is the Beauty & the Beast-themed bar. We missed the hostess stand because it's sort of in no man's land at the end of The Rose bar.
But we heard a voice say, "Can we help you?" after we passed by. We reversed our steps and recognized Solange, the friendly cast member who helped us reserve a table earlier that day, on embarkation day. She checked us in and showed us to our table.
Entering Disney Wish's Enchante Restaurant
You walk down a short hallway with a dark ceiling, dark carpet, and pretty gold columns to enter Enchante restaurant. Solange smiled as she pointed out Lumiere, who was hanging off the wall sconce, smiling, literally aglow with his electric candlesticks aflame.
You're instantly drawn to the stunning, low-hanging chandelier when you enter Enchante. There are 397 hand-blown glass bulbs on it in gold hues, an amazing Disney Wish design element.
She pointed out the collection of French wine bottles, which was second to the pretty candelabras on display behind glass cases. Each was unique; Imagineers chose them to add character to the restaurant. But you have to stop to see them – they're small and easy to miss.
Inside Enchanté is a beautiful white, blue and gold restaurant with incredibly limited touches of pink and red. They add a little hint of color to the restaurant, like blush on cheeks.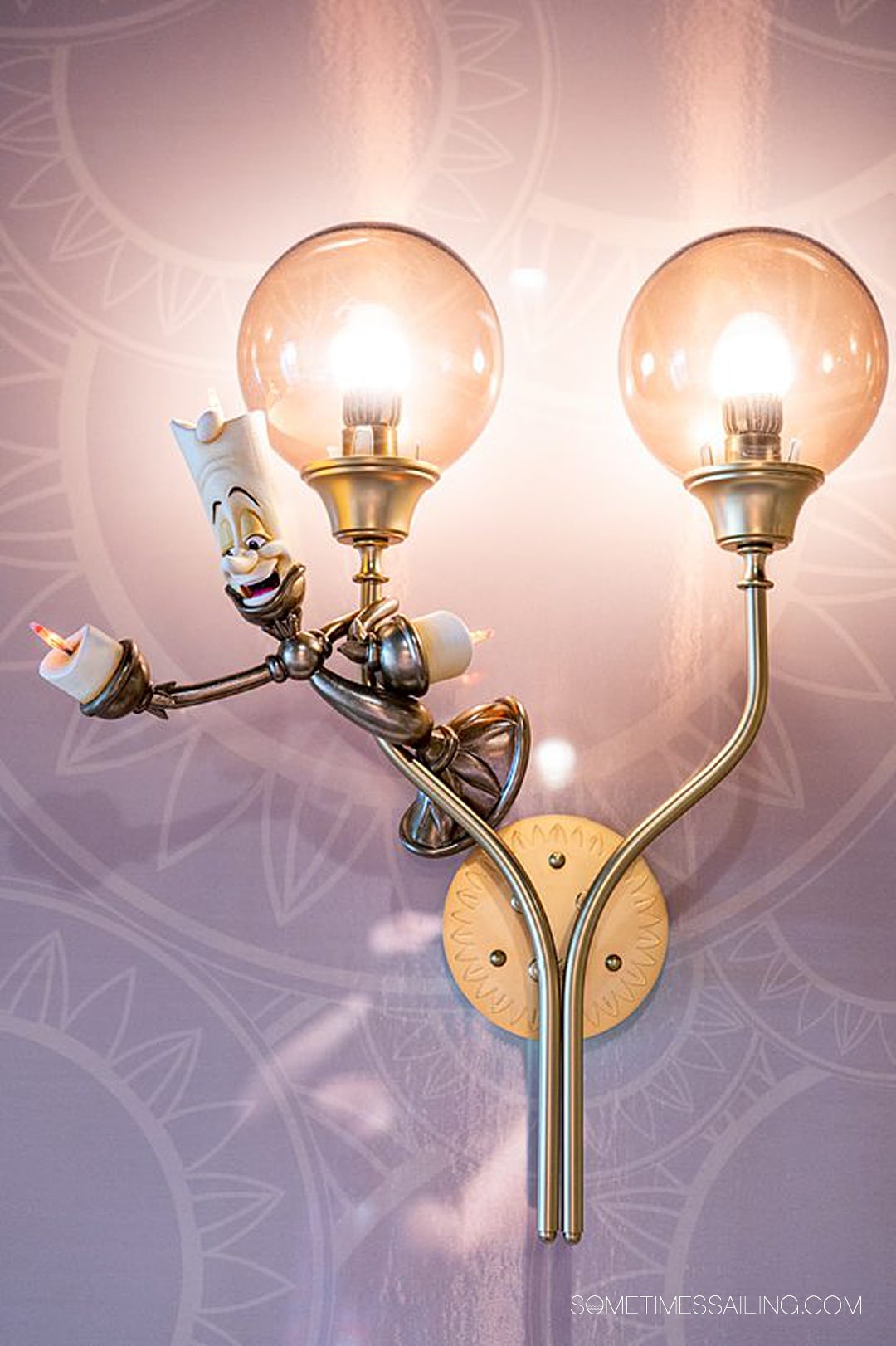 Two Areas of the Long Restaurant with Slightly Different Design Details
The long (not wide) restaurant is divided into two areas. First, you pass white tables with white and gold chairs. This seems like a cocktail hour area leading to the main restaurant. It's a beautiful area nonetheless.
We're uncertain if they'll use it as dinner dining in the future; during our cruise, they were only seating guests in half of the restaurant. We assume when the kinks are ironed out, they'll seat at full capacity, including here.
The same white tables are revealed in the second area of the restaurant, instead flanked by beautiful blue chairs. The interesting thing about these chairs is that they have gold Art Nouveau detailing with three legs, not four.
This isn't a mistake – it's like it has a tripod of legs instead of a quartet. They're really quite striking and impressive. The difficult thing about them, we'd later find out, is that they're very hard to maneuver and pull out if you have to get up from the table. This was inconsequential, just an interesting thing to point out.
The entire length of the restaurant has beautiful gold metalwork where a valance would be, with a rose in the design for Beauty and the Beast. This same detailing is over the windows in The Rose bar.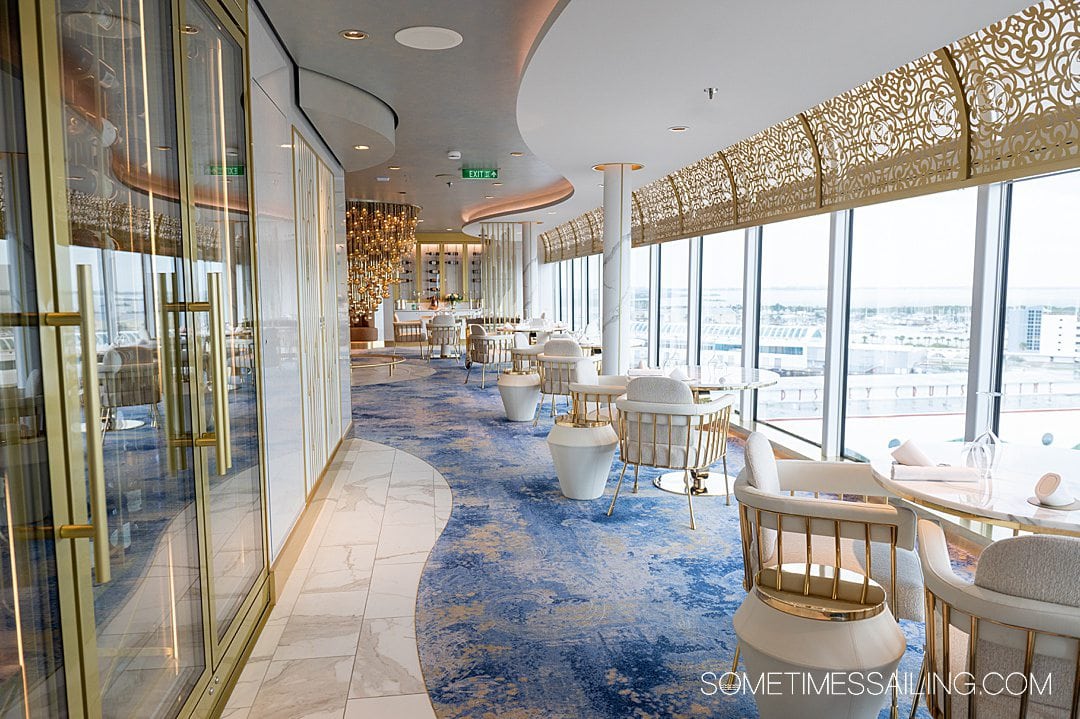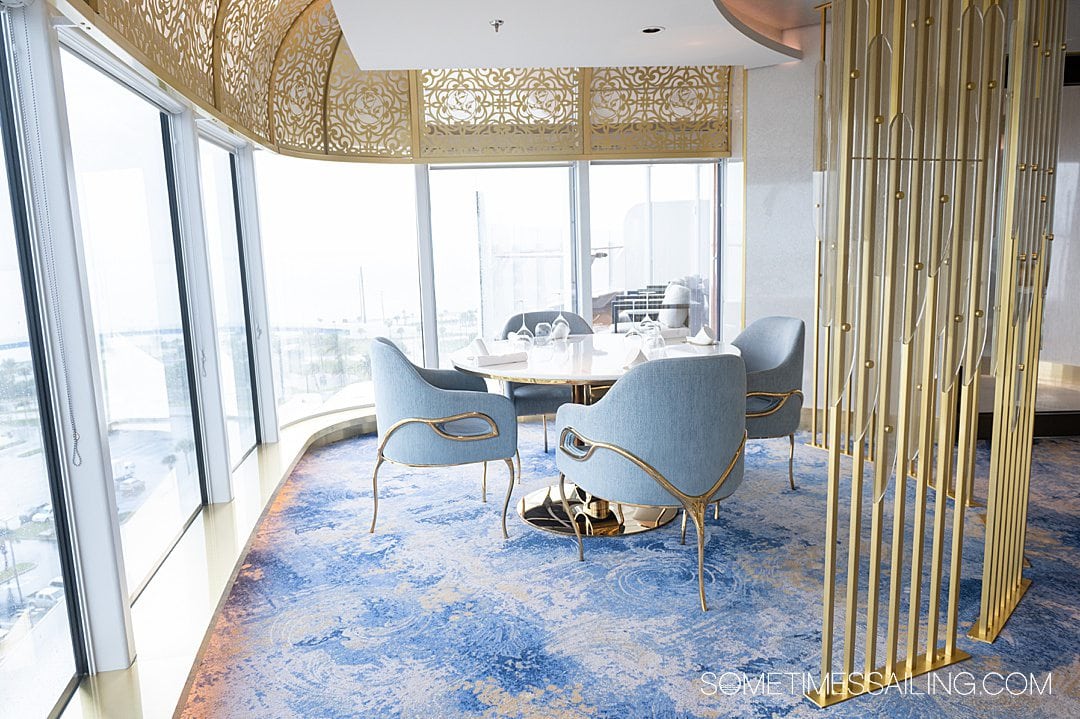 Waterview Seating and Sunset Views
The great thing about the restaurant orientation, which was clearly purposeful, is that every table – regardless of which part of the restaurant you sit in – has a window view, which is likely of the water if the ship is sailing. The exception is if you have more than two people at your table and someone has to sit with his or her back to the windows.
This is awesome for sunsets. Depending on the time of year, if you're having dinner at Enchante, try to make a reservation that starts during daylight hours.
This would get you the best of both worlds and allow you to see the ocean or the port as you sail away during dinner, then enjoy the restaurant's romantic nighttime lighting.


Dress Code for Enchante Dining
I made sure Dan brought a jacket to wear to dinner. We like a good excuse to get a little dressed up anyway. But we were surprised to learn that the dress code at what's arguably the fancier of the two restaurants is more relaxed. (The two restaurants are Palo and Enchanté, which are right next to each other on Disney Wish.)
We were told that tasteful jeans were okay to wear. So Dan wore dark jeans (they looked like black pants), and a sport jacket over a long-sleeve black button-down shirt.


Dinner, "Course by Course"
Until you shout, "Enough, I'm Done!" (That one's for the Beauty and the Beast fans out there. I couldn't resist.)
First off, we must say that you won't leave hungry. (Just in case you're worried that "fancy" food can't be filling.) Dan and I were both stuffed before dessert. Unless you have a HUGE appetite, you'll find that your belly is satisfied by the end of your Enchanté dinner.
I don't like feeling grossly full. Before I knew it, I felt like I had to be rolled to Hyperspace Lounge from Enchante, which was our post-dinner destination.
Though there are just five courses on the menu, you will be surprised with in-between courses. (Remember – we didn't have the nine-course option we heard about. We only had one dinner option, which was the five courses. But we would have chosen the five-course option anyway.)
For example, we had a surprise canapé to start, an unexpected amuse-bouche, and an optional cheese course. This was before the surprise petit fours served to us before the real dessert.
Our "five-course" meal quickly turned into nine courses. If you count the bread served, which could be a course in itself, it's ten.
Secondly, our paper menus clearly showed they were having issues. Otherwise, we knew that the menus are supposed to be etched in the "gold" plate and swapped out for the graphic of Lumiere welcoming us to Enchanté, which was at our seats when we first sat down.
But instead, they were printed on a color laser printer and cut to look like they were their normal menus. We knew they weren't, thanks to other bloggers and writers whose photos we saw ahead of time, especially after the Disney Wish inaugural sailing. We hope this menu detail changes back to its original presentation soon.
Some flavors were so off we couldn't believe they served the dish. Other amazing flavors blew us away. It was a meal of highs and lows.
We Know Good Food
If you're wondering what qualifies us to give our opinion, we've eaten at restaurants worldwide, including many in France.
We love great restaurants that are Michelin-star rated and love restaurants that aren't. Simply said, we seek out great food no matter the "rating." We appreciate layered dishes created from quality ingredients that offer the diner real depth of flavors.
We want food to hit us in our souls. In a dream world, the taste should make us want to close our eyes and take an extra beat or two to savor the flavor as much as possible. Sometimes the dream comes true, and sometimes it doesn't.
Enchanté Dinner Starters
Here's what we started with:
Bread and butter (don't let the "simplicity" of those words deceive you – this was a highlight of our dinner)
Canapé
Amuse-bouche
Bread and Butter
The bread and butter were standouts. Our prior trips to France, mere weeks before embarking on Disney Wish for our 3-day cruise, left us spoiled. We had exceptional bread there daily. We loaded up on carbs knowing it couldn't (and wouldn't) go on forever.
This bread not only brought us back to France but was perhaps the best sourdough bread we've ever had. We were grateful for the extra thick slice and the incredible butter and salt they served it with. And yes, they will give you more bread if you ask.
The butter was gorgeous. It was under a little metal dome reminiscent of a beehive and placed on the table with a tiny metal bowl and the tiniest spoon we've seen outside a dollhouse.
The spoon size is so you don't go overboard with the salt. Chefs regard Échiré butter as the best in the world. At Enchanté, they mold Échiré butter into a flawless cube. It was the perfect temperature to spread on our slices of bread.
We sprinkled a little bit of fleur de sel on top, which is also regarded as one of the best in the world. The French salt is hand-harvested, and its delicateness makes it extra delightful.
The bread plate they chose for the restaurants is a little odd. We felt like we were eating on the boards you put between layers of a tiered cake, and the lack of a plate edge or lip of any sort didn't really catch the crumbs.
But we let this slide as long as there was delicious bread on it.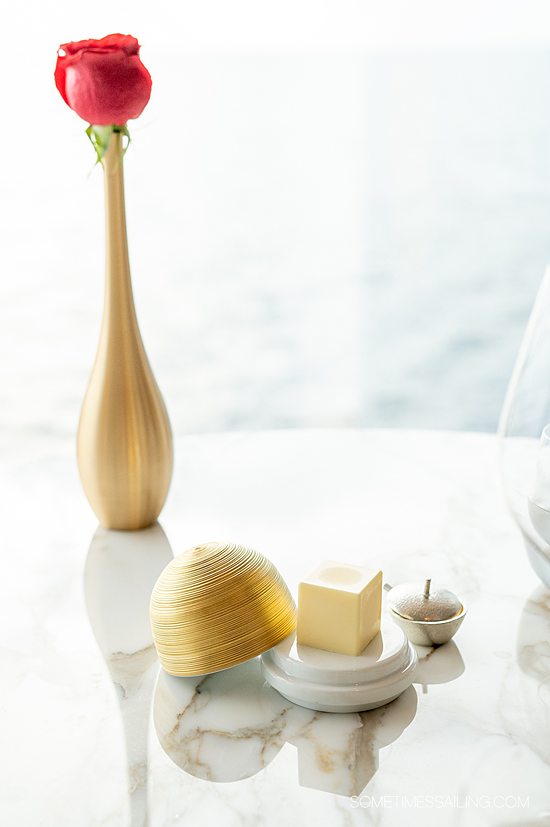 Canapé
Shortly after the bread and butter service, which was from another helper who worked alongside our waiter (there's a lot of staff at the restaurant), we were served our first starter.
A small plate was set down in front of us with two bites per person.
One canapé had an herb yogurt served atop a thin, fried scalloped ravioli round, and the other was a small falafel with a drop of lemon gel.
The herb tartlet was the better of the two, although it wasn't good, not great. Though the lemon gel on the falafel was really good, the actual falafel lacked flavor. It's too bad that the lemon gel wasn't enough to balance the flavor of the fried sphere it was sitting on. Thus, the ratio – and flavor – seemed off.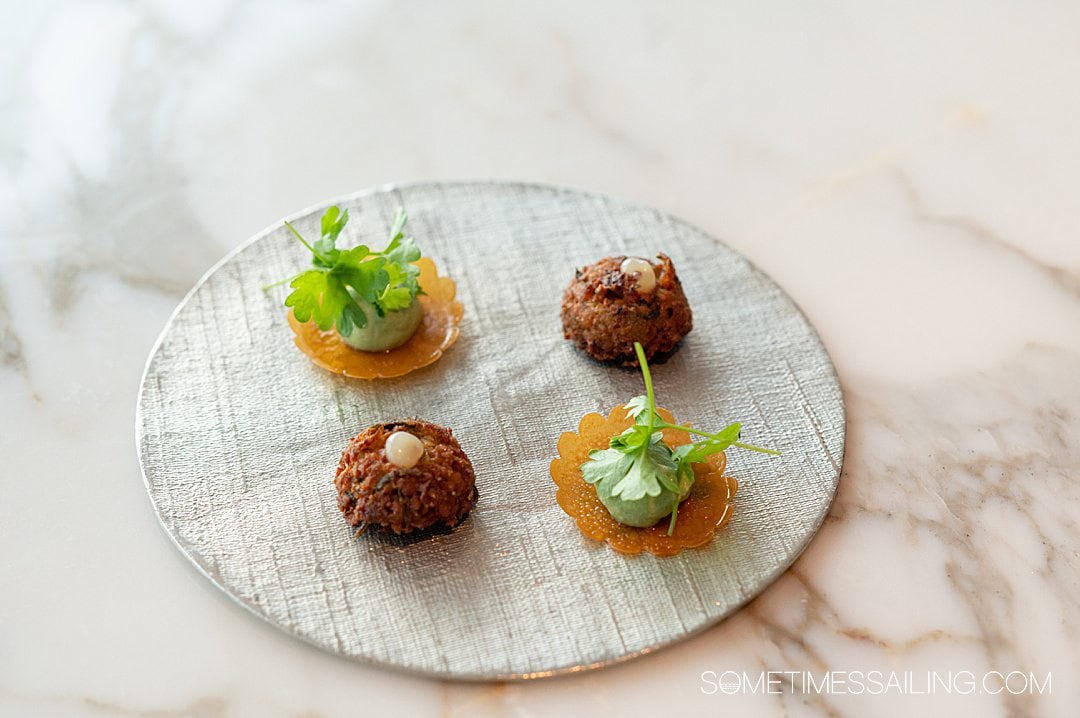 Amuse-Bouche
This dish was a bit bigger than the amuse-bouches we're used to. Nonetheless, we ate it and appreciated its beauty.
It was kind of a weird dish inspired by bees, summer, or both. The foamy soup in the dish on the left in the photo below was served warmer slightly than room temperature, topped with edible flowers and pollen.
We were instructed to put the honeycomb cracker in the bowl on the right on top, break it into the dish, and then eat it all together.
There was a lemony element inside the bottom of the soup, but unfortunately, whoever made the dish didn't distribute it evenly in the bowl. So instead of experiencing a nice balance of flavors with each bite, you got tastes that lacked flavor, followed by a few bites of a waxy bee soup with a burst of lemon gel. Dan had the same experience with his serving.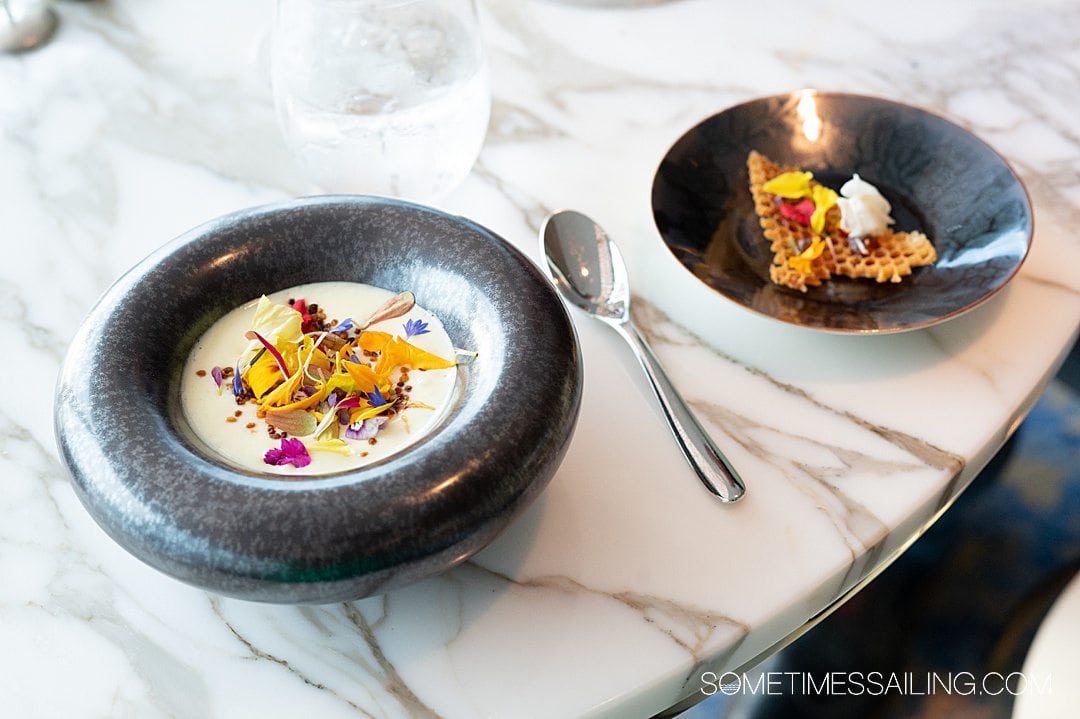 Official Start to the Disney Wish Enchante Dinner Menu
After our bread, canapés, and amuse-bouche, we "officially" started the menu.
Everything was perfectly paced until this point; we loved that the pleasant pace continued throughout the evening.
Soil Grown Tomatoes
The menu indicated that these tomatoes were cooked in a mixture of garlic confit for 12 hours. Our server told us they were topped with homemade Doritos and edible flowers.
The plate was served with a slender rectangular piece of what looked like wheat focaccia bread, a bowl of tomato broth, and a glass of tomato water.
I had the highest hopes for this course. I'm someone who ensures our home is always stocked with tomatoes, whether it's tomato season or not. I LOVE tomatoes. They're my jam: whole, diced, pureed, juiced – you name it.
Two-thirds of the course was great, one-third wasn't.
Main Tomato Plate
The visual star of the show, the main plate with the tomato with flowers and the little homemade Doritos on it was bad.
I wish I could say it was a tiny bit delicious, but it was just off.
As a tomato lover, I can certainly understand a bit of acidity in a tomato dish. I drink the acidic lime juice broth that ceviche sits in and can eat pickles by the dozen.
However, the flavors of this main tomato plate were so off all you got was very off-tasting acidity in every bite. The "soil" didn't help, the homemade Dorito chips didn't help, nor did the flowers. I almost wish real Doritos were on top of the tomato because they would have redeemed the flavor profile.
Dan and I wanted to really, really like this main dish but it was not good. I actually finished it hoping it would get better if I kept eating it. It didn't.
Side Tomato Dishes: Foccacia Bread with a Bowl of Tomato Broth and a Glass of Tomato Water
The good news was that the bread served with a tomato broth dipping bowl was delicious. In fact, I drank the soup long after the dipping bread was gone.
The glass of nearly-clear tomato water was sublime. If you have never had tomato water, it's the liquid juice of tomatoes that has been run through a cheesecloth to get it extra filtered and clearer. It takes a lot of tomatoes to get a glass of it.
Enchante infused the tomato water with additional flavors to be like a Bloody Mary. The quarter glass of liquid served to us had subtle yet mouthwatering hints of celery and cucumber.
The flavored ice cubes, which we suppose was simply more of the tomato water they froze in two small, 1-inch round ice spheres per glass, were the literal icing on the cake. It was so delicious I wish I had a pitcher of it.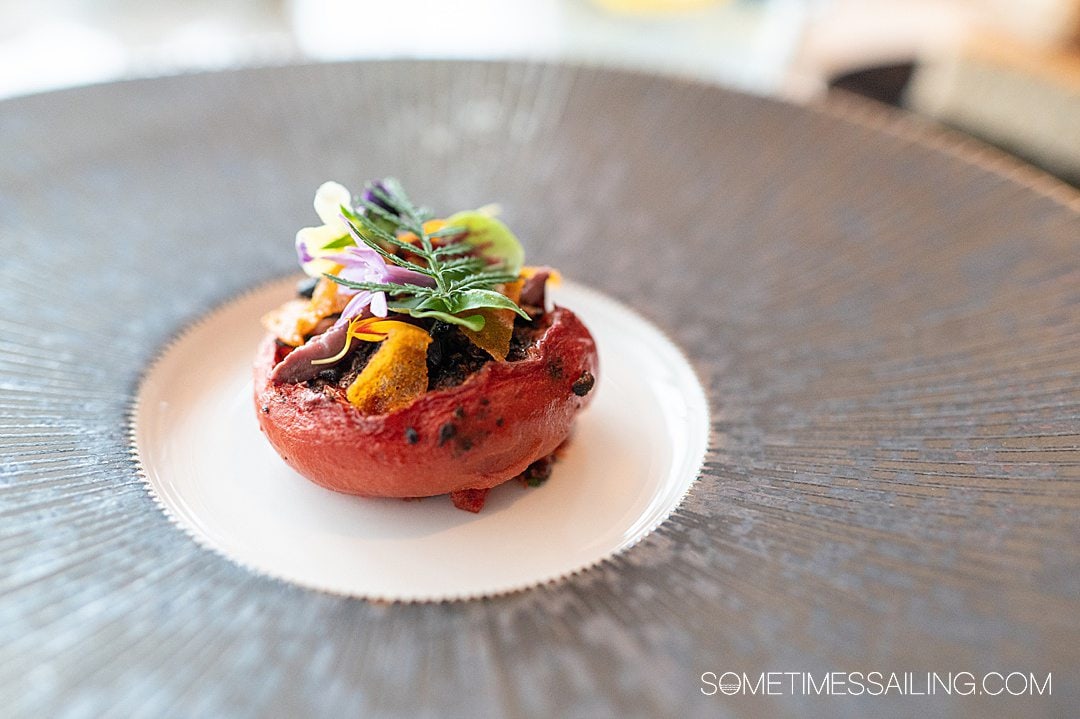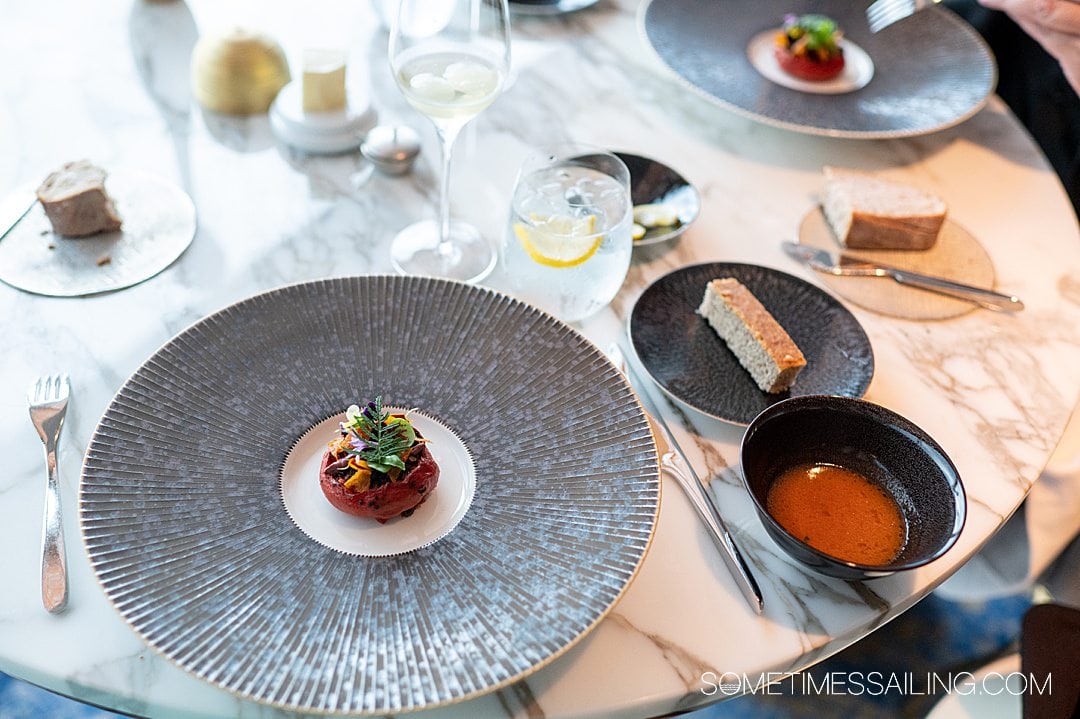 Caviar Course
The next course was our favorite. The menu said, "Smoked Haddock / Fondant Potatoes." We'll interpret what was served to us. (And we're still not 100% sure where the Haddock was, but we think it was infused in the potatoes mousse somewhere. )
The bottom of the flat, round dish set down in front of us had an evenly spread layer of sour cream mixture with a few "spinach dots" on top, as the server described. We believe the spinach dots were spinach-infused oil.
Our server then poured a liquid potato mousse on top, which we're guessing was where the Haddock was too, since caviar is typically from Sturgeon. If we heard him correctly, the caviar was from Belgium.
On top were three tiny circle-cut lemon tuiles.
This dish was smoky and smooth. It was divine and the best course on the Disney Wish Enchanté menu.
This dish was also the start of several tableside finishes – whether a pour of jus, foam or mousse – that continued throughout the night. So much so that it seemed like a one-trick pony stunt after the third pour.
There was a pour for the caviar course, fish plate, meat dish, and dessert. Four tableside pours is a lot! Too many.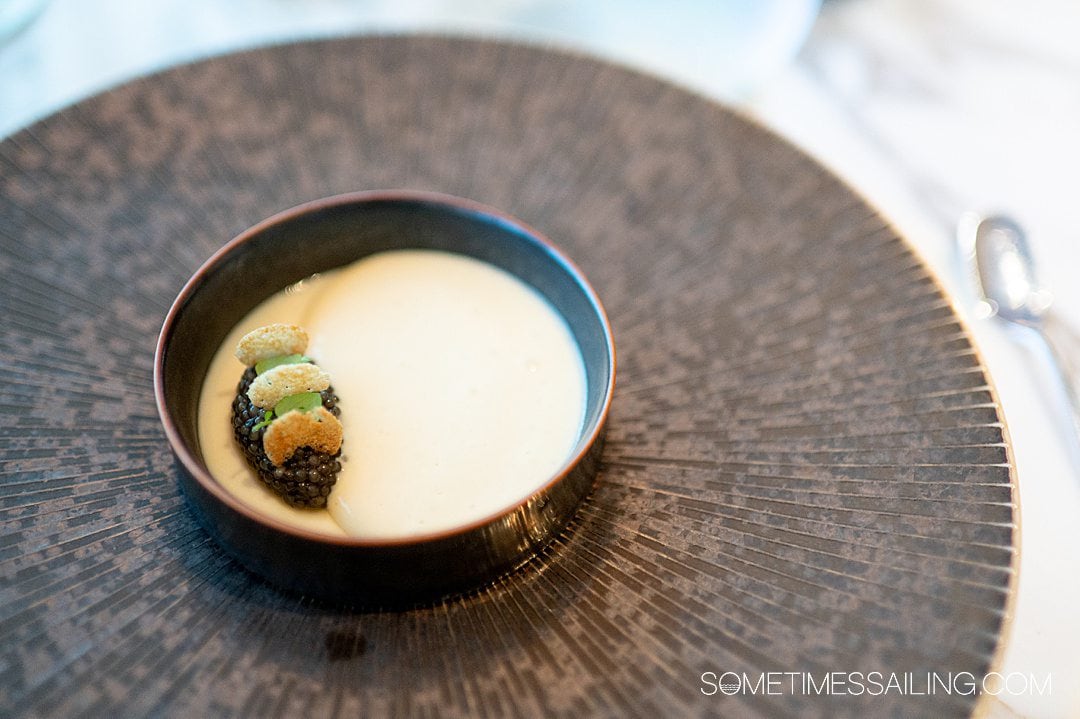 Wild Halibut
The fish dish that followed was okay. We're sorry to say that it was all in all forgettable. Though the halibut was cooked perfectly and had a nice crisp outside and white flaky inside (as the fish should be cooked) it was salty.
The cooked onion confit and potatoes served with it, with a tableside pour of what was labeled a "Vermouth sauce," but our server said was mussels and Chardonnay cream (which made more sense) were good, not great.
Grilled Beef
This dish was like the fish course: good but forgettable. The beef was a grilled American Wagyu flank steak with a poivrade artichoke and beef jus. The meat was nicely marbled and tender, as that cut of steak usually is. But the flavors, overall, were not impressive.
I love artichokes, and they weren't that impressive in flavor. Dan didn't eat all of his small helping of them even though he minimally likes artichokes. The artichoke yogurt that was served between the two pieces of artichoke was…fine.
The tableside pour of jus lacked heat (in temperature, not spice) and the umami that you hope for in a beef jus wasn't there.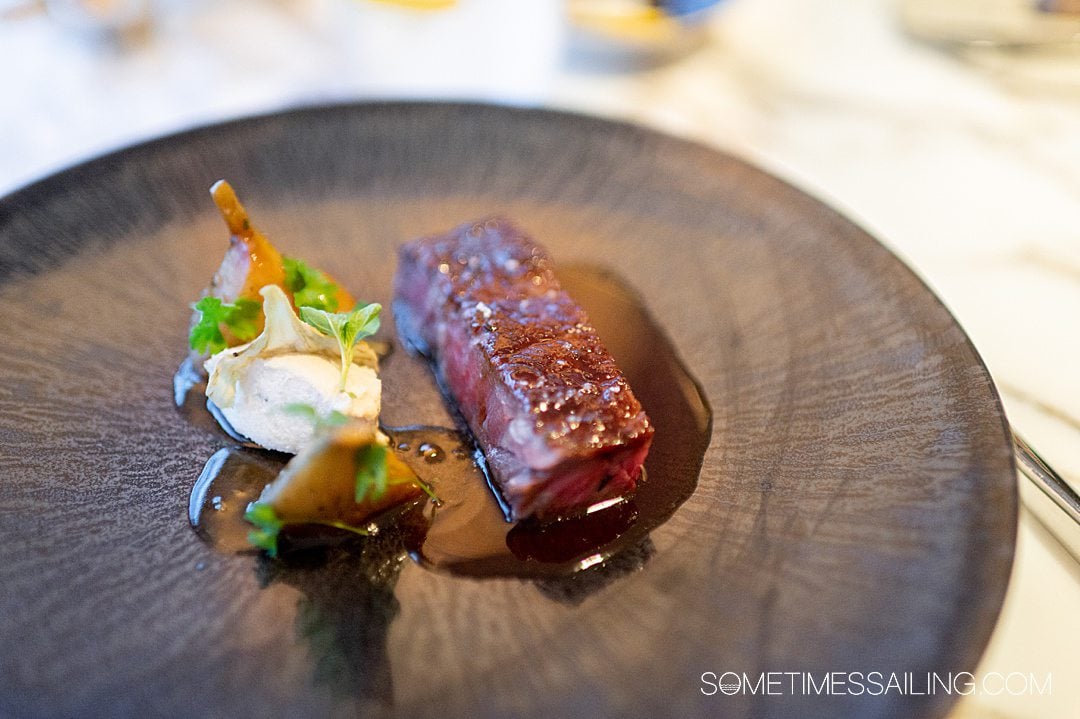 Disney Wish Enchanté's Desserts
Though the cheese course was not the official start of dessert per se, we know cheese as a classic European – especially French – dessert. Thus, to us, it is dessert. We believe it was meant to be that way for our Disney Wish Enchanté dinner as well.
Dessert included cheese plates, followed by three types of petits fours, then the "official" desserts to end dinner.
French Cheese Course at Enchante
A truly beautiful cheese cart was rolled out when we expressed interest in having cheese after our server asked. We were missing French cheese anyway.
However, unlike in France, where there's sometimes an added charge on your bill for a cheese course, there was not at Enchanté, which was a delightful surprise.
You were able to pick up to six kinds of cheese for your personal cheese plate from 12 options.
We were stuffed at this point so six was a stretch. But Dan and I both chose a variety of cheeses and asked for the smaller-than-usual portion of each.
There was an option to have dried fruit and honey served alongside the cheese; we both said yes to dried figs and apricots along with a spoonful of Florida honey.
We must commend the woman who presented the cheeses to us; she knew her stuff and it's a lot of information to remember. (For that matter, our server excelled in this area too, as he explained each course presented to us.)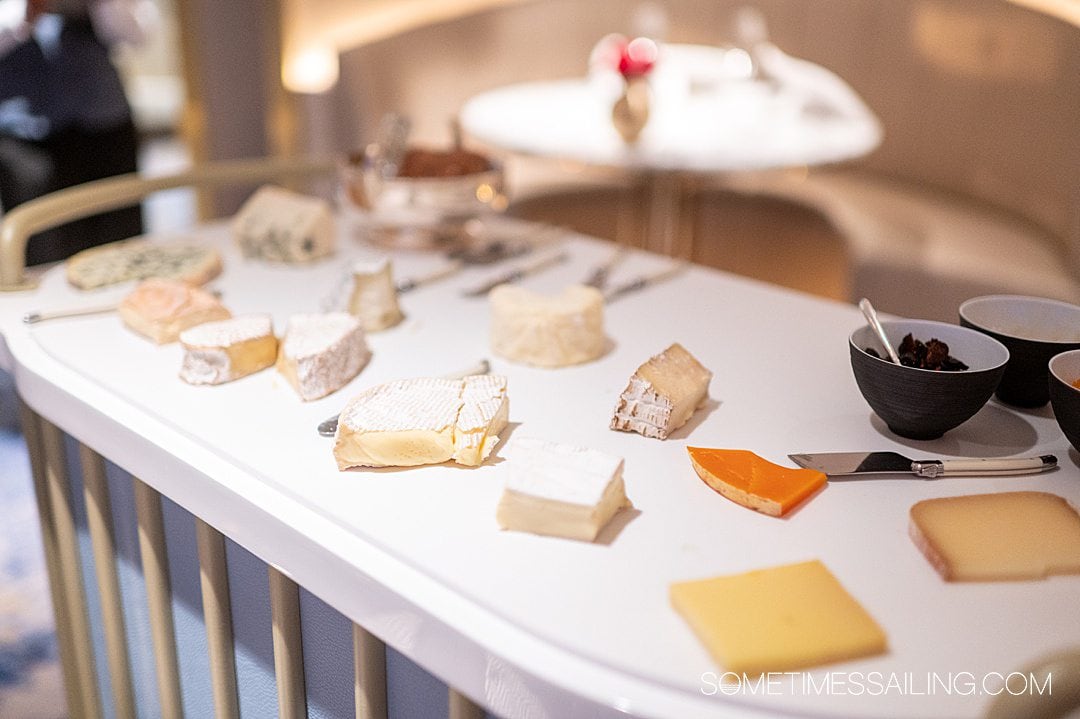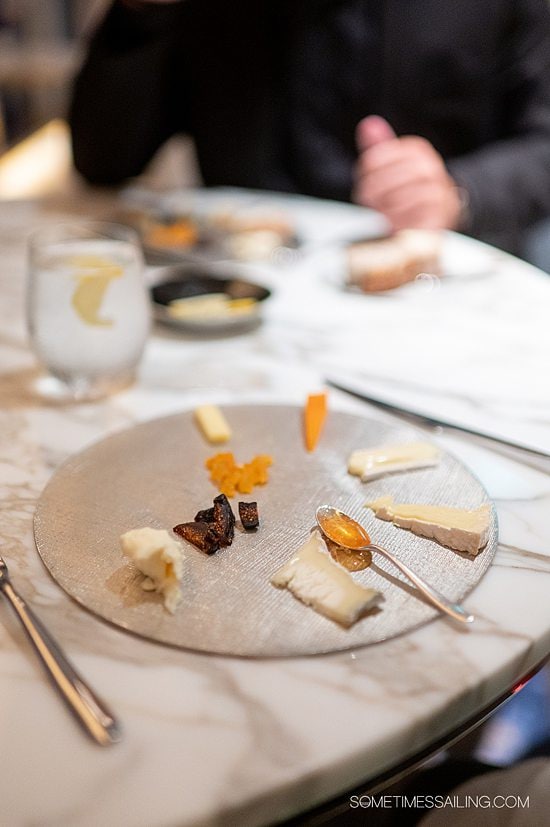 Petit Fours: Another Dessert Before Dessert
We were shocked when three wooden bowls were placed on our table, each with a different dessert item. This was served in between the cheese and the "official" plates of dessert we would be served next.
One bowl had apricot fruit roll-up gels in it, another had white chocolate domes with olive oil, and the third was a coffee tartlet. I didn't even notice the lemon domes mixed with the chocolates until I edited my photos and saw they were different; we were so full we must have simply been trying to taste what we could without exploding.
If you liked the texture, the gels were really good and much softer than the boxed Fruit Roll-Ups from a grocery store. But they weren't trying to be those anyway. The chocolate domes were great – I wish I had room to have more than one. And the coffee tartlet was another stand-out.
It would have ended on a high note if they had stopped the meal here. Luckily Dan's final dessert was good.
My only other gripe with these delightful pre-dessert treats was that it was far too much for two people at the end of a filling meal. We wish they saved half – if not more – of the domes and fruit gels because they went to waste when we left, and we hate wasting. Alas, cruises are not known for small quantities of food.
Chocolate and Fruit Options for Dessert
When we sat down at the table two hours before dessert and read our paper menus, the server asked us if we wanted chocolate or fruit dessert because the menu simply said, "Dessert." I opted for fruit and Dan opted for chocolate.
My dessert – apricot jelly, apricot ice cream with apricot sand, and apricot sauce – was pretty in presentation, though I could have done without another tableside pour of sauce. Anyhow, it tasted so awful I never got to a second bite past the first. Which sucks because I love dessert.
The texture and flavor were very off. The only redeeming quality of this fruit dessert was its visuals. This is a shame because don't we all know French desserts should be exceptional in presentation and flavor?
Dan's somewhat traditional Louis XIV chocolate cake had a praline hazelnut base and chocolate mousse inside. It was served with a bowl of some sort of chocolate milk with chocolate shavings on top. We didn't quite understand this side dish, nor was it necessary to serve alongside a good cake. But we'll give them kudos for going the extra mile.
They asked if we wanted coffee or tea with dessert, but we turned down the offer, excited to head to Hyperspace Lounge once we digested even the smallest bit of dinner.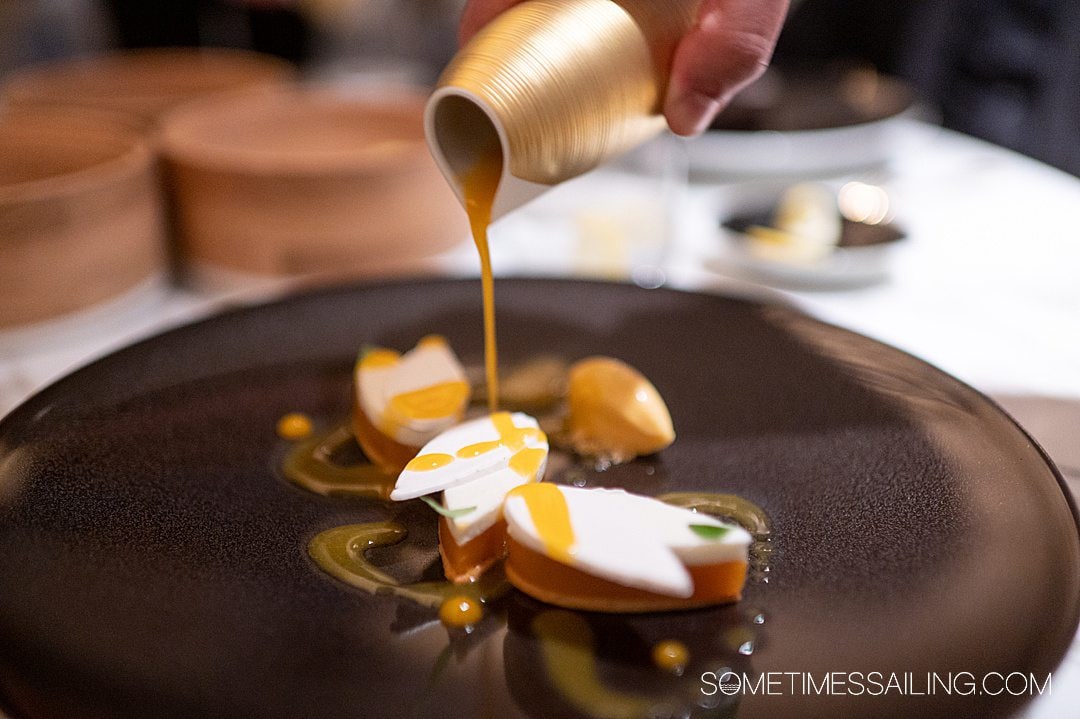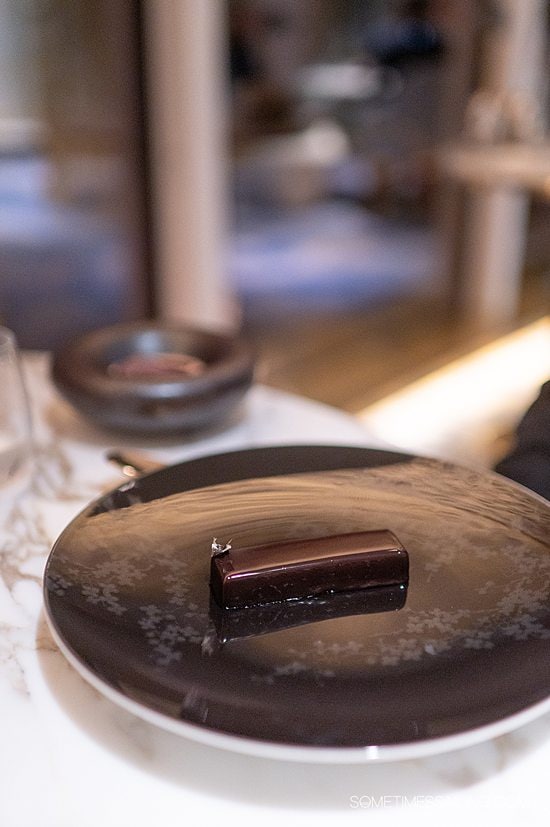 Disney Wish Dinner at Enchanté: The Final Bill
As the meal isn't included in rotational dining, you receive a bill at the end of your dining experience on Disney Wish. It's hand delivered by the restaurant manager.
Our short bill had the following items it:
Dinner for two ($125 each)
Glass of wine ($18)
Gratuities, which aren't included and are automatically added to your bill at 18% ($48.24)
There's also a space to add an additional tip. The puzzling thing to us was that the manager explained that only our server – not any of the 4+ people that assisted him with our meal – get the already added gratuity.
The unspoken message being if we wanted the other people to be tipped, we had to add money to the gratuities. Of course we did, but this was an odd notion.
Hopefully, they change this policy, but we won't pretend to know what happens in Disney Cruise Line's accounting department behind the scenes.


Reservations for Enchante
Making reservations for Enchanté dinner felt like a mess of an experience. We tried so hard to get reservations, as Castaway Club Gold, as soon as possible via the Disney Cruise Line Navigator App.
Much to our surprise, they were completely gone when we tried, which was months before our cruise. Rumor had it that concierge guests probably snatched them up, but we have no way of knowing for sure.
We tried to make reservations again at the terminal while we waited to board our Disney Wish cruise after we checked in and could log onto the app as if we were on board in Port Canaveral. While we got a Hyperspace Lounge reservation (which they have smartly done away with since then), we still couldn't reserve time for a meal at Enchante.
So we immediately headed to Luna after we boarded the ship at 12:20pm in Boarding Group 6, and waited in line. Luna opened at 1:00pm to handle onboard reservations for all dining and bars. We waited between five and ten minutes to talk to Solange, whom we mentioned earlier.
She was able to secure a reservation at Enchanté for us that evening. She was kind, friendly, and helpful.


Disney Wish Enchanté Conclusion
Overall, it was a good evening and we're glad we experienced it firsthand.
Whether or not Enchanté dining is for you depends on a few factors, including your budget, cruise schedule availability, desire to try interesting flavors, and how your courses play out. You have to accept there is the potential for flavor highs…and lows…during your experience. You also must consider how much you cherish an elevated level of service during a dining experience.
If you try Enchanté in the future or have been there in the past, we would love to hear about your dining experience. Please comment below!


Interested in a Disney Cruise? Read this next: