Disney Wish Enchanté Restaurant: Is It Worth It?
The Disney Wish Enchanté restaurant was one of the things we were most excited to try during our vacation on Disney Cruise Line's fifth ship in their fleet. Instead of Remy, the Imagineers decided to put this French restaurant onboard.
"Enchanté" means "nice to meet you" in French, and we were certainly excited to meet this restaurant. But with a considerable additional cost per person, at $125 a head, not including gratuities and drinks, we wondered, "Is it worth it?"
Spoiler alert: you actually don't have to spend that much money at all! And our opinion is that it is worth it if you love elevated dining. Read out to find out how and why…
We detail our dining experience and answer this question for you in more ways than one. And, of course, we have photos to show you what to expect from the courses. Warning: you may want to lick the screen!
Disclosure: There may be affiliate links in this post, which means we earn a small commission if you click the link and proceed with a purchase at no cost to you. We truly only recommend cruises, experiences, products, and services we personally use. We thank Disney Cruise Line for hosting one of our two dining experiences at Enchante so we could bring you this candid review. As Amazon Associates, we earn from qualifying purchases.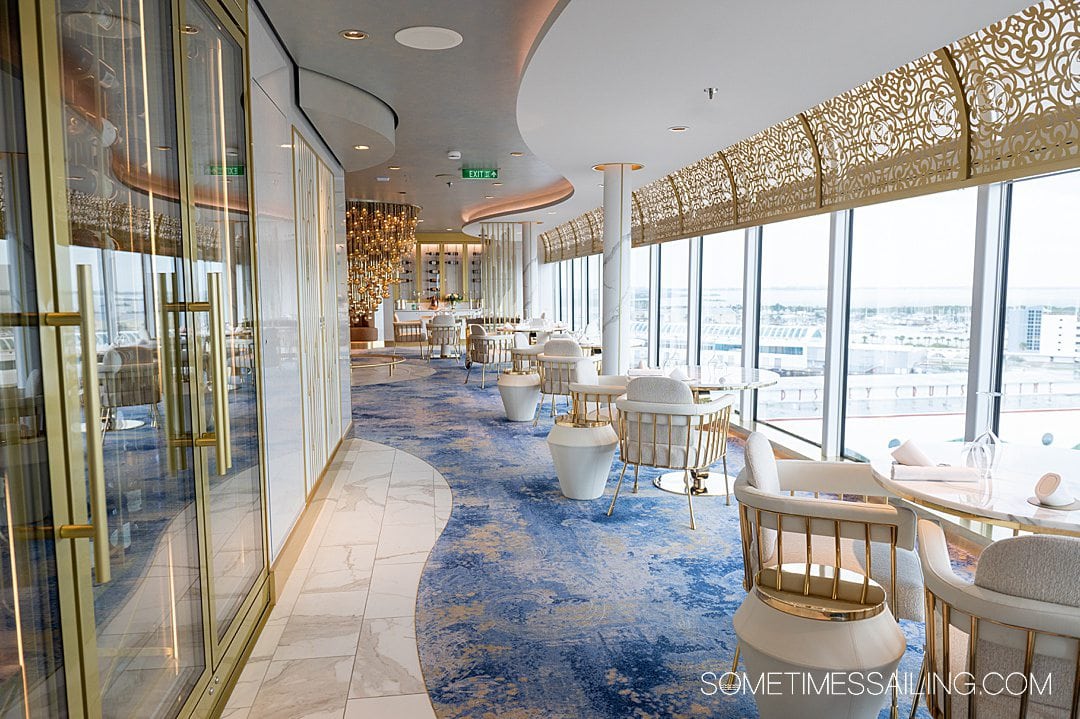 Disney Wish Dinner at Enchanté Restaurant: Is It Worth It?
Enchante has dinner as its dining option though you can go to only get dessert or drinks and caviar, for example. Both times we ate there, we had a multi-course dinner. As such, our information discusses dinner aside in addition to sharing information about the interior design details of Enchanté.
Answering the question, "Is it worth it?" is subjective. The first time Dan and I dined there, we asked ourselves the same thing.
What would we recommend to friends and our readers? The restaurant was going through some growing pains on a new ship, and our answer was "no." But the second time we ate there, when the ship figured out staffing, refined recipes, and the like, the answer was an emphatic "yes."
However, whether or not you dine there and agree depends on what you value.
The answer is, therefore, multi-faceted depending on what question of "worth" you are addressing. We break it down for you here into "worth it" categories since "worth" differs for everyone. Is it worth the:
We detail each point below.
✦ Is Enchanté Worth the Money?
First, we'll address the money question. Our total bill for our dinners there, without adding on a wine pairing option, was around $325. This included a 5-course meal for two people ($125 each), gratuity, and one glass of wine.
The "five" courses are actually more like eight because they give you a lot of in-between goodies, which we detail further down in this post.
But let's go back to answering the question, "Is Enchante worth the money?"
If you value culinary experiences, it is. And truthfully, the multi-course menus are so filling that it's not such a bad idea to dine a la carte. You'll potentially be less full (depending on what you order) and spend less money.
Dining at Enchante reminded us of elevated dining options on other cruise lines, including Celebrity Cruises, of which we have fond dining memories. We've also dined at various Michelin-starred restaurants worldwide, and it's certainly on par with these experiences in ambiance, quality of food, and service.
When it comes to the cost of the multi-course menus, you likely fall into one of three trains of thought:
$300+ isn't expensive in your eyes for two people.
Hundreds of dollars is a serious stretch for a dinner during a cruise that's already costly when meals elsewhere on the ship are included in the cruise fare.
$300+ is expensive, but it's vacation, and you spend money on vacation anyway. So why not splurge for a nice experience?
That said, if you're not someone who likes "fancy" food, this definitely isn't a place where you'll appreciate the menu items, like smokey caviar and foam-topped entrees. Or the tantalizing depth of flavor in what looked like an otherwise simple glass of tomato water. (More on that later.)
✧ Cost for the Caliber of Food at Enchanté
Enchante's menu is designed by Chef Arnaud Lallement. His restaurant in Reims, France, called L'Assiette Champenoise, has three Michelin stars. (It's an hour and a half or less, east of Paris, by train.) If you know anything about Michelin's rating system, you know that is a very difficult level of achievement to attain.
It's unlikely you would be able to have dinner at a three-star Michelin restaurant for the cost that Disney Cruise Line offers its guests.
That said, the price was certainly more than fair for the caliber of food offered at Enchanté. While Chef Lallement is not on the ship all the time, we learned he sails approximately twice a year (especially if the menu changes) for quality assurance.
The first time we dined there in September 2022, the taste level was off. But we gave it another try months later, and the food was awesome. The flavors were much more well-balanced in every course.
If Disney Wish Enchanté hits every note with its flavors and the techniques used to create the dishes, we undoubtedly say yes, it's worth the cost. But if not, less so. They had a few kinks to resolve when it was a new ship, but they very much figured things out; it's a delicious and captivating dining experience.
Are you taking a risk when you sign up to dine at any restaurant you haven't eaten at? Yes. But we hope our Enchante review, from firsthand experience, helps you decide whether or not to dine there.
The multi-layered dishes will impress foodies – and aspiring foodies – in presentation, independent of flavors. And if your meal hits all the wonderful notes and flavors like our second dining did, you'll be happy to have had the experience.
✧ How Can You Save Money at Enchanté?
You do not have to get a tasting menu for $125 or more per person when you dine at Enchante. You can order a la carte, which means you can order individual items off the menu instead of a multi-course meal. Instead of $125+, spend between $45 to $65 on a single entree.
It is possible to dine at Enchante for caviar, only, for example. We suggested adding champagne to your experience if you do! Another idea is to go for dessert and drinks.
There is no minimum spend at Enchante.
✧ Enchanté Menu Details
There are three sections to the small but mighty menu at Enchante:
Collection tasting for $195 per person, including several courses that combine signature dishes with new creations.
Passion menu for $125 per person, with six courses.
Carte menu, which allows diners to choose individual dishes, from fish to meat, and a couple of vegetarian options. Prices range from $25 for tomato water (which is worth every penny, if you ask us) to $85 for caviar. The lobster dish is $65, and Wagyu beef is $55.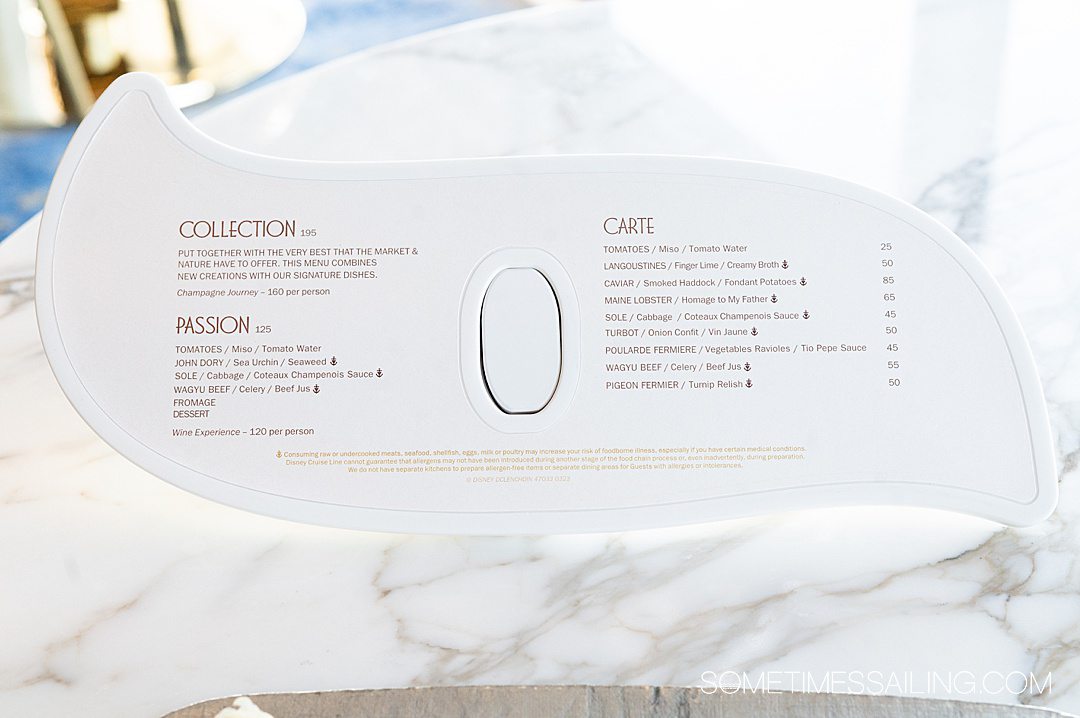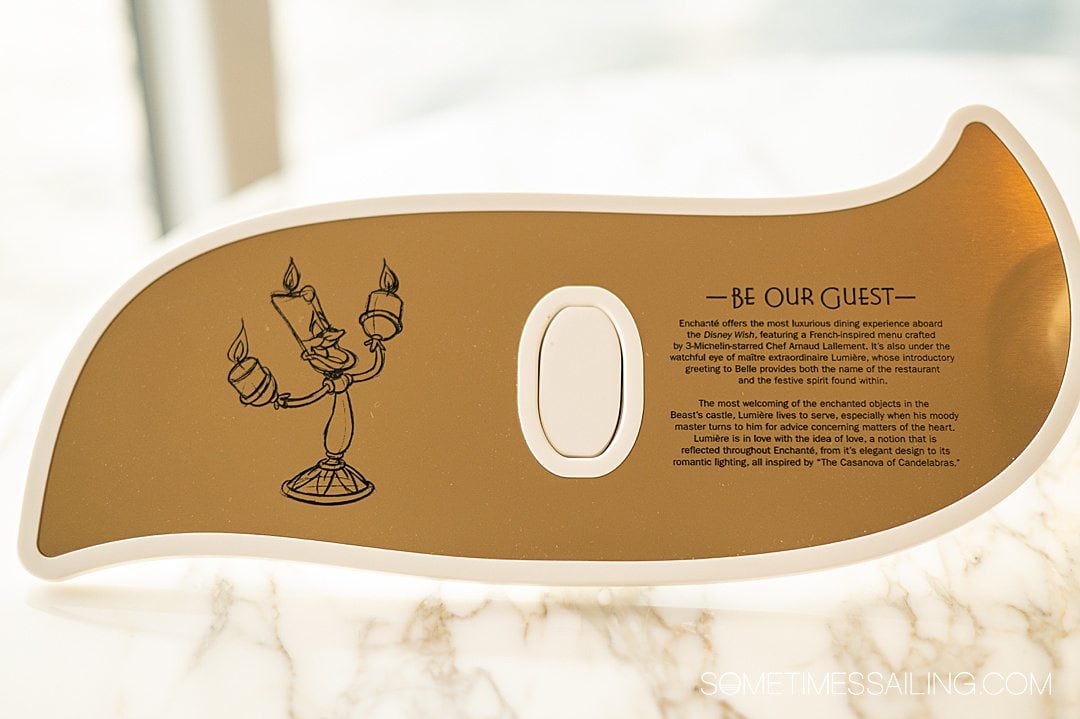 ✦ Is Enchanté Worth the Time?
If you want to answer the question, "Is Enchante dinner worth my time?" for yourself, you have to think about your cruise priorities. Are you prioritizing shows? Or the main dining experiences? Or is an upscale dinner most worth your time onboard?
If you value high-end dining and quality service for a well-paced meal where you don't feel rushed, it's worth it.
Enchanté multi-course dining takes at least two hours. The pace of our meals there, both times, was perfect. We didn't feel rushed, and we never felt like we were waiting long, wondering where the next course was or where our waiter was.
If you care about seeing the Disney Cruise Line show the evening you dine at Enchante, go to the early show and dine afterward. We made dinner that evening our number one priority; we nixed the evening show in favor of our meal.
Dining is one of the most special things that Dan and I do together. We ensure we eat 99% of our meals at home together unless one of us is out. Where we eat is always a highlight when we travel, from river cruise experiences to the incredible food we had on our barge cruise (the best food we've ever had on a cruise for the entirety of the vacation), from France to Spain, California to Florida, and beyond.
To us, dining isn't simply about the cuisine but the experience that goes hand-in-hand with amazing service and a restaurant's pleasurable ambiance.
✦ Is Enchanté Worth the Ambiance?
Yes. A maturely themed dining experience sandwiched between Marvel and Arendelle dining was sacred. We're only half-kidding. The themed restaurants on Disney Cruise Line ships are – let's face it – largely aimed at pleasing kids.
We get it and know adults love animation and superheroes too. So do we. But we're also adults who know that age brings a certain appreciation for quiet and sophistication at a restaurant that has earned that level of respect.
The ambiance and tone set in Enchante were serene. We appreciated the "mature" design elements and choices the Imagineers made here, from the chairs and stemware to the light fixtures. Every design detail signals that this is an adults-only dining experience.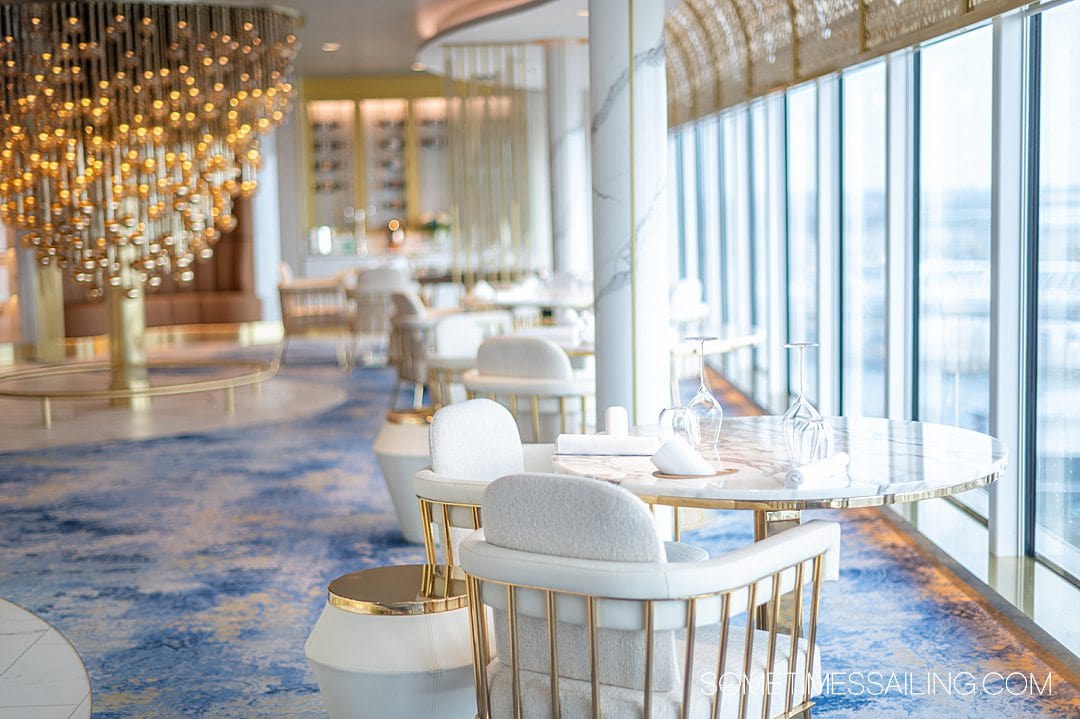 Dinner Menu at Enchanté
Both times we dined at Enchante, we opted to try the Passion menu, which is a six-course meal. The dinner started with exceptional bread and butter service and ended with French cheeses and multiple desserts.
French Wine Menu at Enchanté
The wine menu is all French, which we loved because we visited France several times and to enjoy wine, once with Viking, once with AmaWaterways, and another time with European Waterways, and really got to know the wines of Bordeaux and Burgundy during our cruises.
Dan enjoyed a glass of red wine our first time dining there, which was $18 and very reasonable for a high-end restaurant.
Wines are available by the glass or by the bottle. Their bottle list is understandably much more extensive than what's available by the glass. They have champagne as well.
We didn't ask about cocktails; I was looking forward to a drink at Hyperspace Lounge that evening and – knowing my limits – I knew better than to have a cocktail with dinner and another at Hyperspace afterward. I was also photographing a DCL wedding the next day and was being incredibly responsible, as I always am!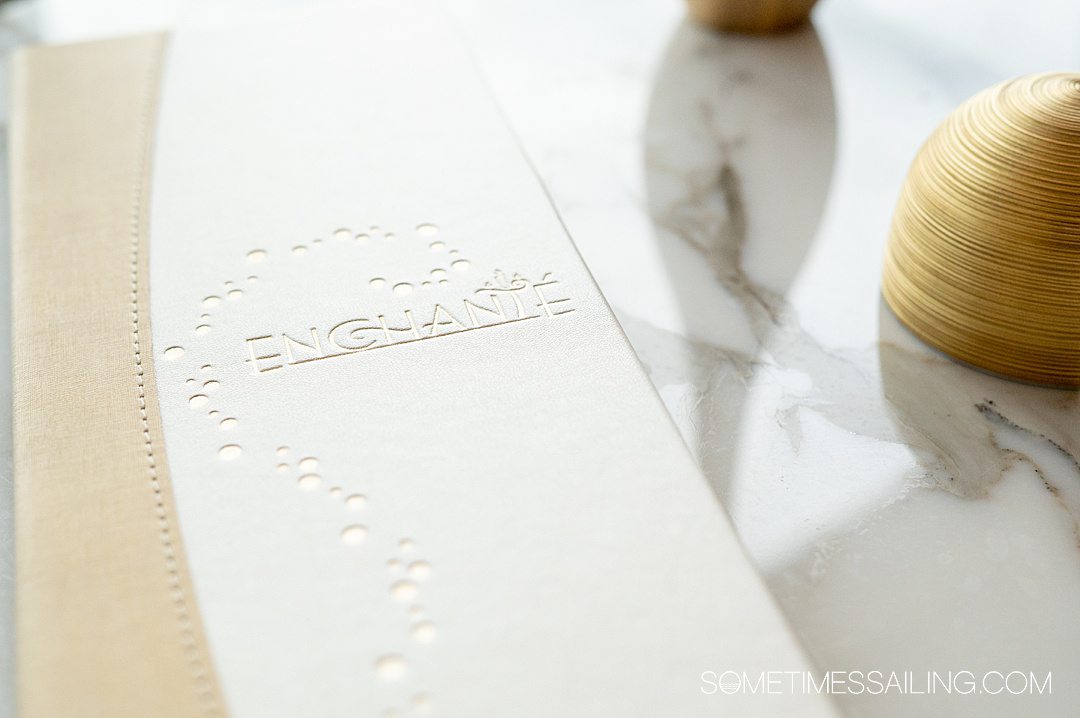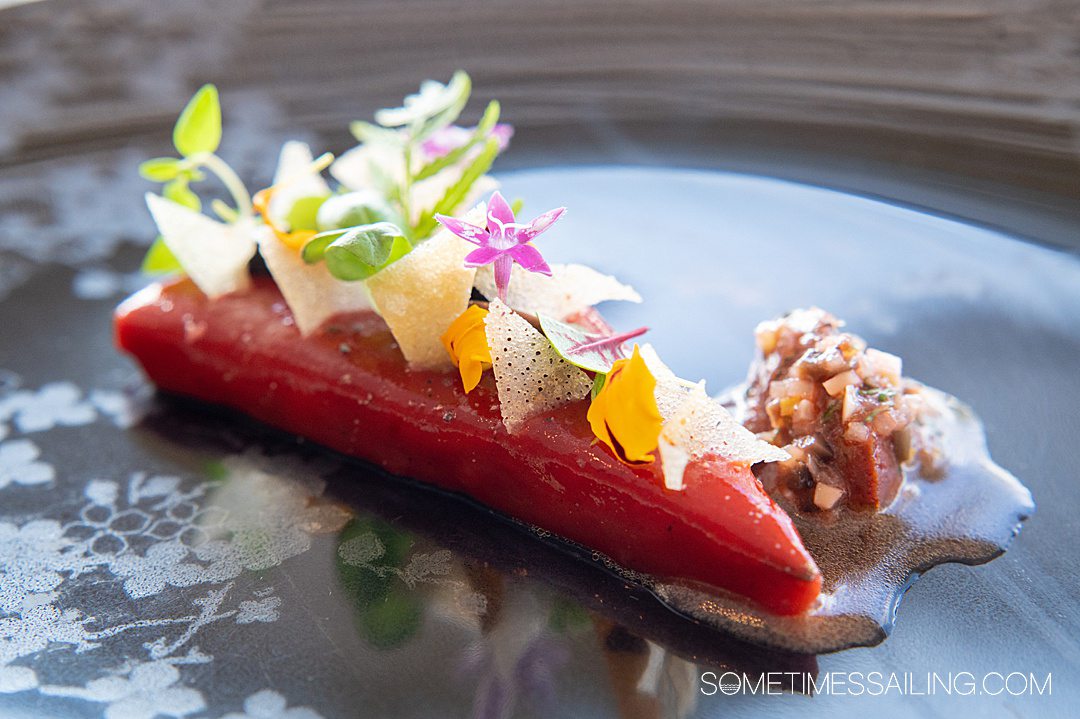 Disney Wish Enchanté Restaurant Design
You enter Enchante on Deck 12, aft, past The Rose, which is the Beauty & the Beast-themed bar. This is also the area where you enter Palo, the Italian adults-only restaurant. The two restaurants share one hostess stand, as they do on most Disney Cruise Line ships.
We missed the hostess stand because it's sort of in no man's land at the end of The Rose bar. But we heard a voice say, "Can we help you?" after we passed by. We reversed our steps and recognized Solange, the friendly cast member who helped us reserve a table earlier that day, on embarkation day. She checked us in and showed us to our table.
Our second time dining at Disney Wish's adults-only restaurants, we knew exactly where to go to check-in.
Entering Disney Wish's Enchante Restaurant
You walk down a short hallway with a dark ceiling, dark carpet, and pretty gold columns to enter Enchante restaurant. Solange smiled as she pointed out Lumiere, who was hanging off the wall sconce, smiling, literally aglow with his electric candlesticks aflame.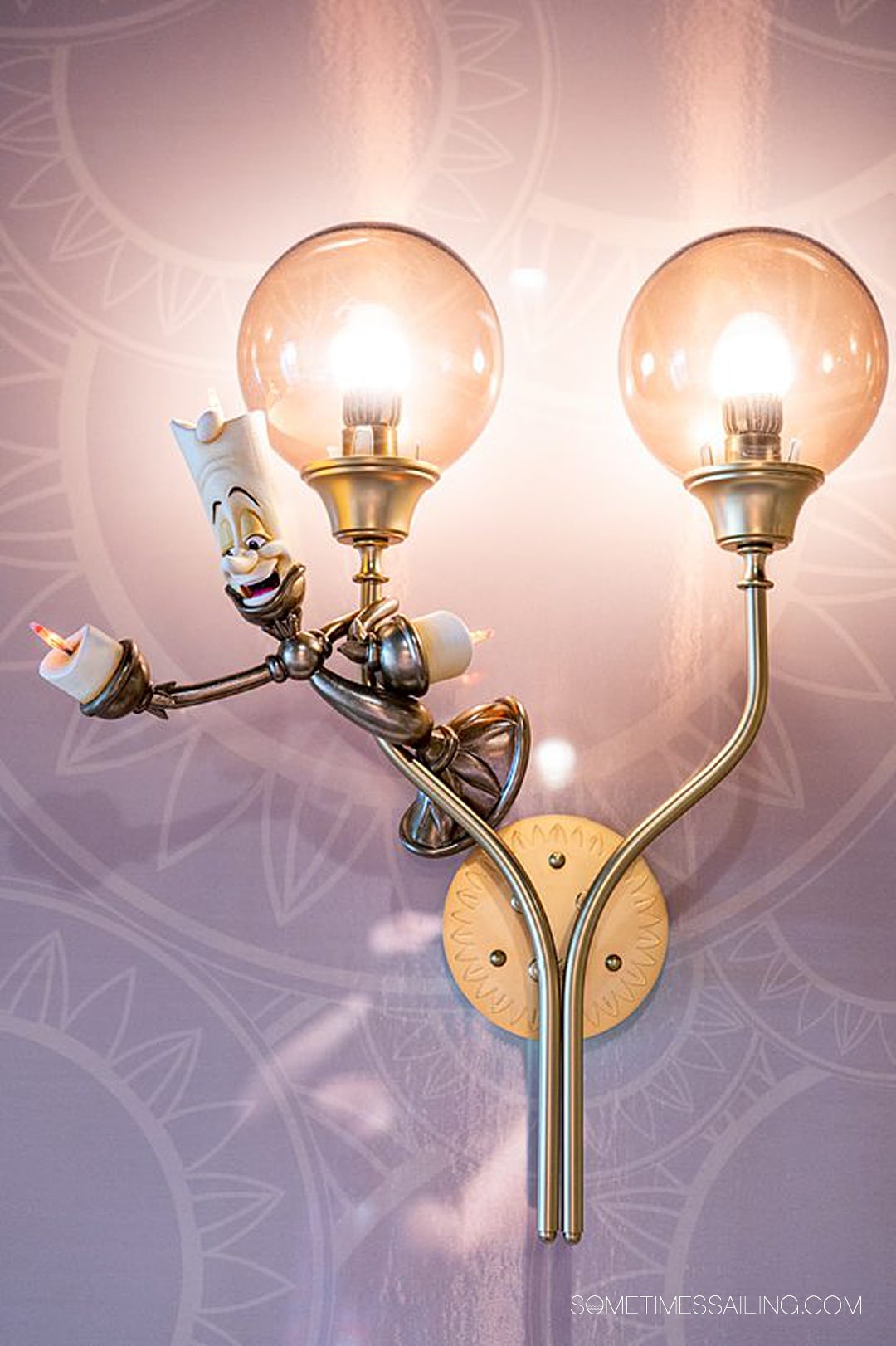 You're instantly drawn to the stunning, low-hanging chandelier when you enter Enchante. There are 397 hand-blown glass bulbs on it in gold hues, an amazing Disney Wish design element.
She pointed out the collection of French wine bottles, which was second to the pretty candelabras on display behind glass cases. Each was unique; Imagineers chose them to add character to the restaurant. Be sure to stop to see them – they're small and easy to miss. On our second visit to Enchanté, we learned from the restaurant manager, Benoit, that the candelabras were acquired from auctions around the world.
Inside Enchanté is a beautiful white, blue, and gold restaurant with incredibly limited touches of pink and red. They add a little hint of color to the restaurant like blush does for cheeks!
Two Areas of the Long Restaurant with Slightly Different Design Details
The long (not wide) restaurant is divided into two areas. First, you pass white tables with white and gold chairs. It feels a bit like a cocktail hour area leading to the main restaurant, but it's a stunning area.
We're uncertain if they'll use it as dinner dining in the future; for both Disney Wish cruises we have been on, guests were only seated in the main part of the restaurant.
The same white tables are revealed in the second area of the restaurant, instead flanked by attractive blue chairs. These chairs used to be gold Art Nouveau-inspired pieces the year the ship premiered with three legs, not four. Though these chairs were quite striking and impressive, we imagine that they were impractical. They were replaced with blue chairs with four legs.
The entire length of the restaurant is covered with exquisite gold metalwork where a valance would be, with a rose in the design. It is symbolic of Beauty and the Beast. This same detailing is over the windows in The Rose bar, which leads to the restaurant.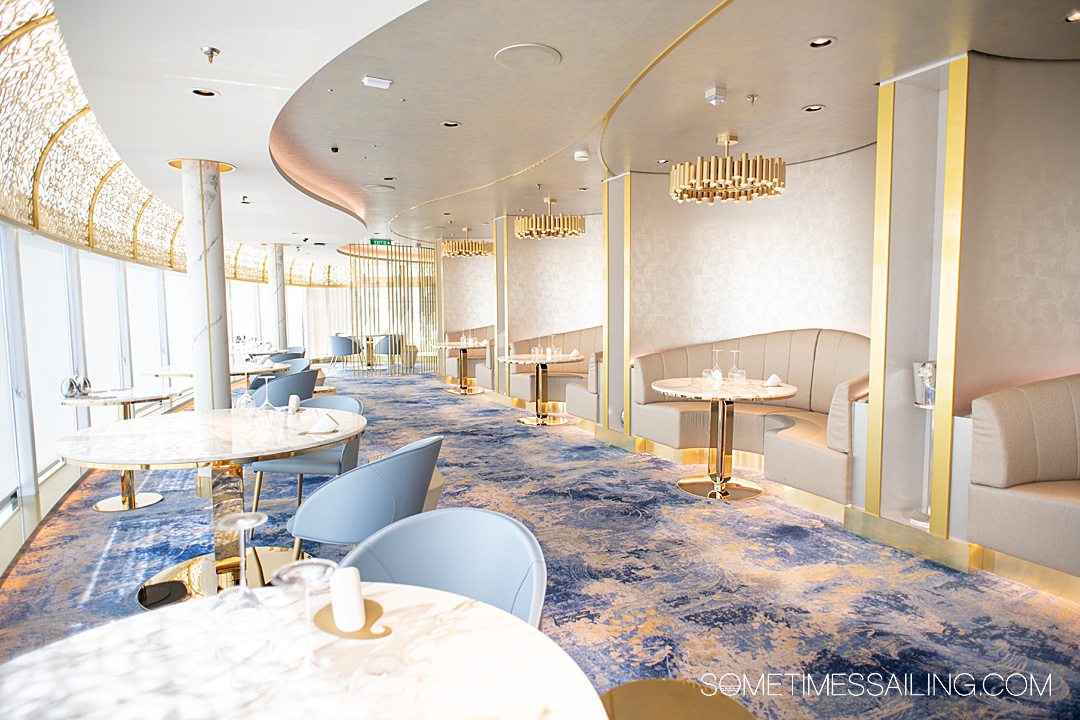 Ocean Front Seating and Sunset Views
The great thing about the restaurant orientation, which was clearly created with intent, is that every table – regardless of which part of the restaurant you sit in – has a window view, which is likely an ocean view if the ship is sailing. The exception is if you have more than two people at your table and someone has to sit with his or her back to the windows.
This is awesome for sunsets. Depending on the time of year that you dine at Enchante, try to make a reservation that starts during daylight hours. This will give you the best of both worlds and allow you to see the ocean or the port when you start dining, then enjoy the restaurant's romantic nighttime lighting. Hopefully, you'll get to see a lovely sunset as you dine.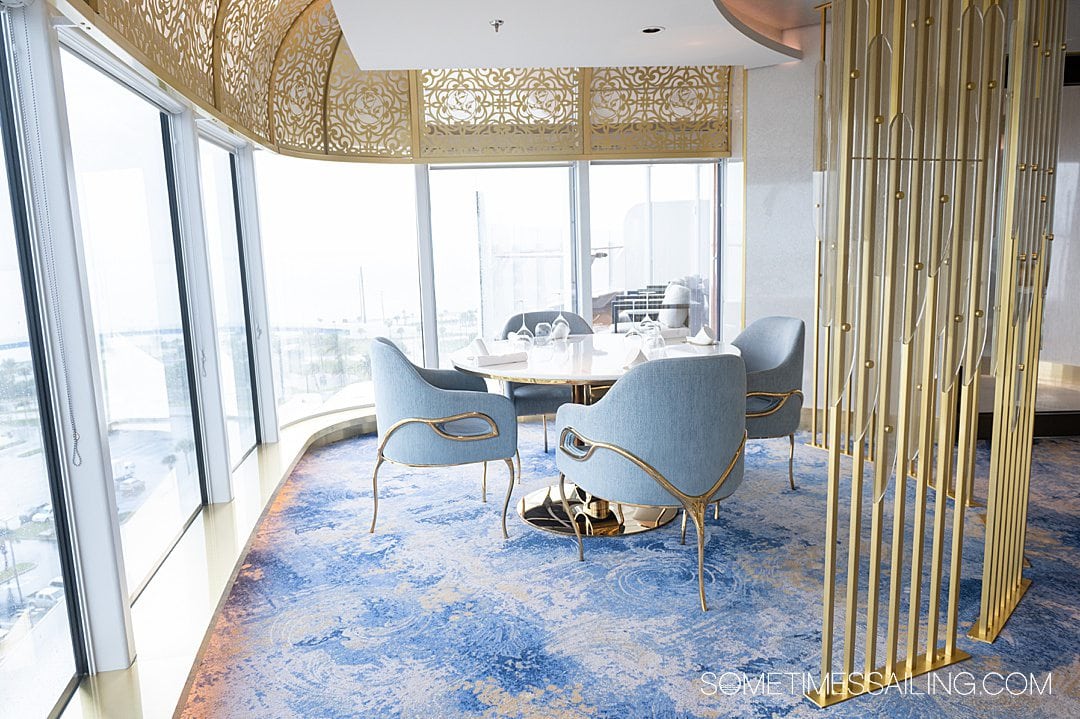 Dress Code for Enchante Dining
I made sure Dan brought a jacket to wear to dinner. We like a good excuse to get a little dressed up anyway. But we were surprised to learn that the dress code at what's arguably the fancier of the two restaurants onboard – Palo and Enchante – is more relaxed.
We were told that tasteful jeans were okay to wear. So Dan wore dark jeans, which looked like black pants, and a sport coat over a long-sleeve black button-down shirt.
Disney Wish Dinner at Enchanté: The Final Bill
As the meal isn't included in rotational dining, you receive a bill at the end of your dining experience on Disney Wish. It's hand delivered by the restaurant manager.
Our short bill had the following items:
Dinner for two ($125 each)
Glass of wine ($18)
Gratuities, which aren't included and are automatically added to your bill at 18% ($48.24) – you can add more if you like.
There's also a space to add an additional tip. The puzzling thing to us was that the manager explained that only our server – not any of the 4+ people that assisted him with our meal – get the already added gratuity.
The unspoken message being if we wanted the other people to be tipped, we had to add money to the gratuities. Of course, we did, but this was an odd notion.
Hopefully, they change this policy, but we won't pretend to know what happens in Disney Cruise Line's accounting department behind the scenes.
Reservations for Enchante
Making reservations for Enchanté dinner felt like a mess of an experience back in 2022. Luckily the second time we dined there, getting a reservation was easier.
We tried so hard to get reservations as soon as possible via the Disney Cruise Line Navigator App in 2022. Castaway Club Gold (Disney Cruise Line's loyalty/rewards program) enables you to book experiences a bit earlier than guests who are Castaway Club Silver, or first-time DCL cruisers.
Much to our surprise, reservations were completely gone months before our cruise. Rumor had it that concierge guests probably snatched them up, but we have no way of knowing for sure.
We tried to make reservations again at the terminal while we waited to board our Disney Wish cruise after we checked in at the terminal in Port Canaveral and could log onto the app as if we were on board.
While we got a Hyperspace Lounge reservation (which they have smartly done away with since then), we still couldn't reserve time for dinner at Enchante.
So we immediately headed to Luna after we boarded the ship at 12:20 pm in Boarding Group 6, and waited in line for dining reservations. Back in 2022, Luna opened at 1:00 pm to handle onboard reservations for all dining and bars. We waited between five and ten minutes to talk to Solange, a crew member that we mentioned earlier.
She was able to secure a reservation at Enchanté for us that evening. She was kind, friendly, and helpful.
The point is: if you cannot make a reservation online ahead of time in the app, on the phone, or on the website, be sure to go to the designated reservations area when you get onboard. Onboard guest services will be able to tell you where that is for your cruise.
Disney Wish Enchanté Conclusion
Overall, both dining experiences at Enchante were worth it in different ways. The second time we dined there was a home run!
Whether or not dinner at Enchanté is worth it for you depends on a few factors, including your budget, cruise schedule availability, desire to try interesting flavors, and how the flavors of what you order play out. You have to accept there is the potential for flavor highs and lows during your experience. You also must consider how much you cherish an elevated level of service during a dining experience.
If you try Enchanté in the future or have been there in the past, we would love to hear about your dining experience. Please comment below!