Disney Cruise Line Check-in Process Online: Everything to Know
We recently went through the Disney Cruise Line Check-in process and wish we knew everything we're sharing below ahead of time. It would have avoided confusion and cut down on the time it took to complete it all. Alas, we're smarter and wiser now!
Luckily, we're sharing our valuable knowledge with you, including screenshots of the check-in process (which we did on a mobile phone) and what to expect.
Disclosure: There are affiliate links in this post, which means we may earn a small commission if you click the link and proceed with a purchase at no cost to you. We truly only recommend cruises, experiences, products, and services we personally use. As Amazon Associates, we earn from qualifying purchases.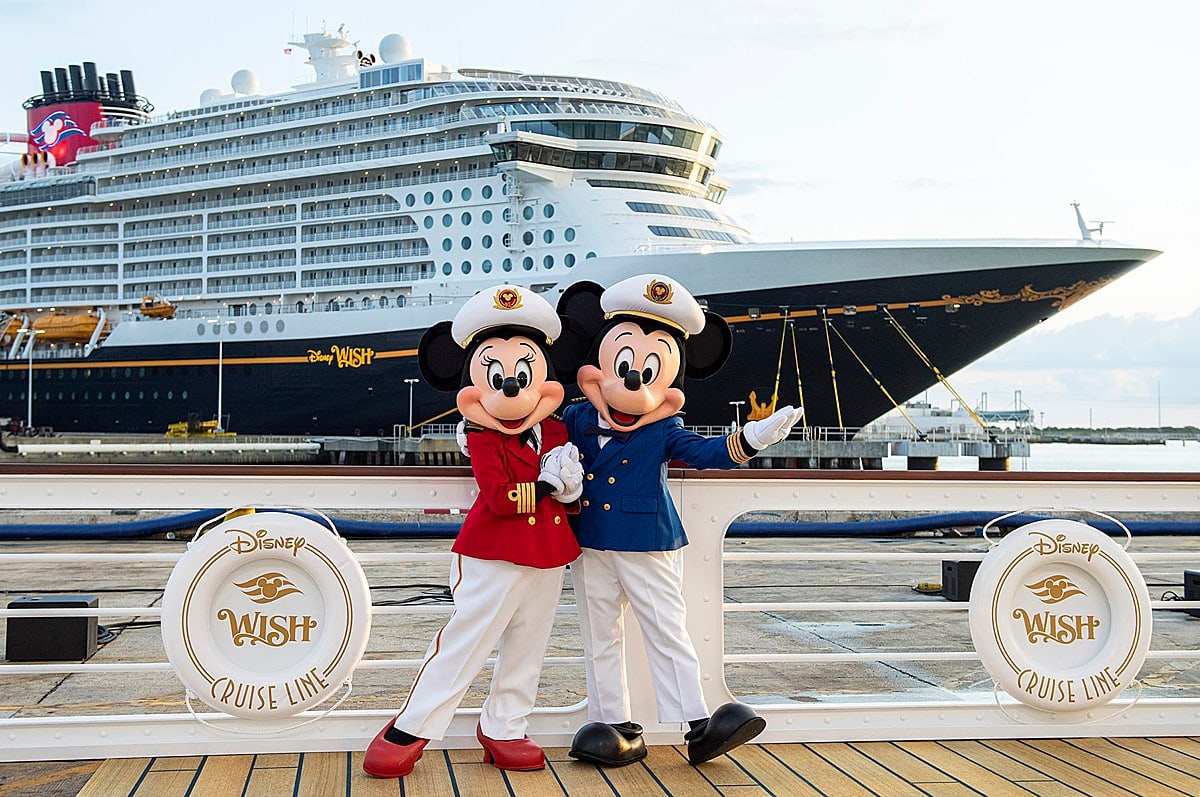 Creating a Smoother Check-in Process for You
In order to create the smoothest check-in process possible, we are also sharing what you need to have ready ahead of time. Additionally, we'll tell you the info we wish we knew in advance that will help you for your own Disney Cruise Line (DCL) check-in.
Get excited because you'll know what time you can arrive at the port to start boarding your Disney cruise after you complete the check-in process! Woohoo! (We'll also explain why that Port Arrival time is important.)
Towards the end of the post, we'll share what you can do after you check-in in the days leading up to your cruise.
⭐️ Preparing for your Disney Cruise Line Check-in
Check-in opens to passengers a minimum of 30 days before embarkation. It must be completed by one day before your sail date. Only guests in good standing, who have paid the balance of their cruise booking, can proceed with checking in.
Castaway Club Perks: Earlier Check in
If you are a member of Castaway Club, which you are automatically enrolled in for free, after your first Disney cruise, you can check in according to the following:
➜ Download the Disney Cruise Line Navigator App
First, you want to ensure you have the Disney Cruise Line Navigator app downloaded on your phone for your online check-in. You will want the app for your cruise anyway since it allows you to text with fellow passengers while on board, free of charge or free of an internet plan.
You will find links to download the Disney Cruise Line Navigator app here via the Apple App Store or Google Play for Android users.
If you have never downloaded the app, you'll also need the following to log in:
Disney Cruise reservation number
Your Disney Cruise account login info (username and password)
You can do other things in the DCL app, including:
Manage your reservation.
Explore & book activities.
View additional cruise options, like adding air or ground transportation and adding dining or special requests.
Onboard chat (the free text messaging we mentioned above), which allows you to chat with fellow passengers or a crew member – the most fun part of this is the cool Disney emojis in the chat feature.
Access your cruise calendar and things like menus for each restaurant during your cruise.
View your cruise statement balance.
See DCL's latest cruise specials and offerings for your next vacation.
Explore the ship with the app's deck-to-deck plan, bow to stern.
View the ports of call and daily itinerary, like what time you dock and what time you need to be back onboard before the cruise departs for the next destination.
⬇︎ Download our free check-in printable!
➜ What You Need to have on Hand, Ready to Upload for Check-In
Photo of every traveler's passport.
A clear photo of each passenger, solo.
Proof of vaccination.
A credit card that you'll use for purchases while you're on the cruise.
Flight information (if you're flying to the port) .
Hotel information for before/after your Disney cruise (if applicable).
☆ It's important to have all of the info above handy when you arrive at your Port of Embarkation too. Do not put them in any luggage you'll pass off to the crew curbside.
Keep these things in your carry-on bag that you're going to have on you at all times.
➜ Checking in Large Groups of Travelers
If you're checking in a lot of travelers for your cruise – for example, eight, ten, or more – one person can check everyone in.
Link all the reservations into one account so you can change between them easily. Then make sure the one person checking everyone in has EVERYTHING needed to do it, which is referenced in this post. (Security photos, passports or birth certificate info, etc.)
Our check-in printable has a checklist to ensure you're prepared for check-in! Be sure to download that through this post.
⭐️ Be sure to download our free printable Disney Cruise Line Check-in Cheat Sheet, in the box above or here, so you're fully prepared, including a checklist of what you need for a smooth online check-in! ⭐️
Below, we'll go into depth about each item you need to check-in, in the bulleted list above.
➜ Photo of Your Passport
You'll need a photo of every traveler's passport, taken one at a time (not a group photo of the passports). It has to be a clear, unobstructed, glare-free photo. Alternatively, a Passport Card may be acceptable if you travel between the United States, Mexico, Canada, Bermuda, and the Caribbean.
This is harder to get than you would think! We recommend taking the photo during daylight, near a window with natural light. Turn off any artificial light in your home. Then take your photo.
If you can't get the light coming in from your window to stop reflecting on your passport, try closing the blinds a little or closing a shade that still allows light to come through.
You'll upload citizenship documents for check-in if you don't have a passport.
Check-In Tip:
Passport Card
You can use a Passport Card to check in if you are traveling between the U.S. and Mexico, Canada, the Caribbean, and Bermuda, in lieu of a passport. They may be easier to photograph.
You cannot use this option if you're cruising elsewhere, including Europe.
If you're cruising between the United States and the Caribbean, including Castaway Cay, you can use your Passport or Passport Card.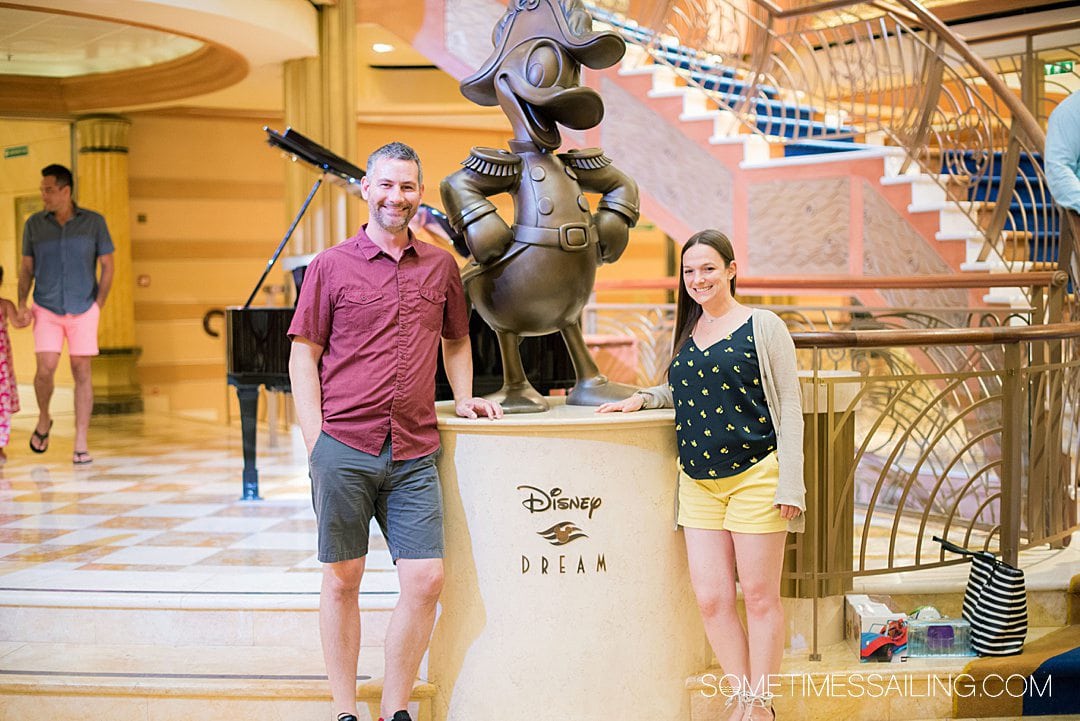 ➜ Solo Photo of Each Passenger
Disney wants a photo of each passenger for their onboard account. It should be taken from the shoulders up, looking straight at the camera.
It cannot be the same exact photo as your official ID. (In other words, you cannot simply take a photo of the image in a passport.) However, use that photo as guidance for what they want.
Think of your passport or driver's license photo. This is the type of photo DCL is looking for of each passenger to identify him/her upon check-in/out of the ship at ports.
We simply looked for a photo of us from vacation without a crazy background, where we were looking at the camera straight-on. This doesn't have to be a glamour shot – it simply has to show what you look like, without a face mask or sunglasses, looking directly at the camera.
There is a size limit to how large the photo can be (minimum and maximum size). Be sure that it meets these requirements before you upload it. The process will move along quicker if it's not huge (especially because cameras take huge-sized photos these days in terms of storage space).
The check-in website may crash if the photo is beyond the photo size limits it states. (Trust us – it crashed a few times for us because the image was too big. It stopped crashing when we reduced the file size.)
➜ Proof of Vaccination (No Longer Required)
Before November 2022, you needed to have a photo of vaccination cards for any vaccinated passenger. While this is no longer required, regulations/requirements can change anytime.
Our recommendation is to have a photo of the front of each passenger's card ready to upload if you have vaccination cards anyway. It's a good thing to have a photo of on your phone, regardless. But know that you likely won't be asked for the information now.
➜ Credit Card
You'll input the info of a credit card you want to use for purchases while onboard during online check-in. Have one handy.
Alternatively, you can choose to pay for cruise expenses in cash. If you do so, you'll have a credit limit depending on the length of your cruise. If you reach the limit, you'll have to go to guest services to pay off the bill (in cash) before you can charge more to your account.
➜ Flight Information
Have your flight info ready to input so you don't have to search for it. If you are driving to the port, then you do not have to enter this info. (You simply check "No" when they ask, "Are you flying in for your cruise vacation?")
➜ Hotel Information
This includes any Orlando hotel (for example), Port Canaveral area hotel, Air BnB, VRBO, etc. that you may be staying at before or after your cruise.
If this does not apply to you, then you do not have to input this information.
⭐️ Check in to Your Disney Cruise Line Sailing 30 Days Prior to Embarkation: Timezone Info
Online check-in is available for your sailing 30 days prior to the day you board the ship. We thought this was according to the time in the same time zone as your port of embarkation.
However, it's not. It is at midnight EST, regardless of where you are or what timezone you're sailing from.
Why does this matter? Because if you live in England but your cruise leaves from Port Canaveral, Florida, you can check in at midnight EST. You cannot check in at midnight BST time (England's local time).
We tried to check into our cruise while we were enjoying a barge cruise in France. Dan and I specifically stayed up late just in case the countdown showing in the app was correct.
Forcing myself to stay up until midnight in France, I realized that somehow the Disney counter switched to local time in France during the trip. The countdown was incorrect.
Imagine our disappointment (and exhaustion) when we realized that we could not check in at midnight. Instead, I set an alarm for 6:00am (six hours later) to check into our cruise at midnight EST. And voila, we could check-in.
➜ So, if you're wondering, "Is the 30 days local time for Disney Cruise Line, or is it my local time where I live?" The answer is that it's Disney Cruise Line's headquarters local time, midnight EST. Disney Cruise Line officially confirmed this for us via email correspondence with their PR team.
Check-in, and any modifications to your check-in, must be completed by the day before you sail.
⭐️ Disney Cruise Line Online Check-In Process
➜ Begin Check-In
When you open the DCL Navigator app at any time before your cruise, you'll see an awesome countdown to your sailing. We love that they use emojis in the counter. They sub out a lot of the zeros for fun Disney characters. (A lot of the characters are also available in the app chat feature while you are on your cruise.)
When you can check in, you'll see that a little button that says "Begin Check-In" appears in the app (screenshot below, right). This button will not appear until 30 days before your cruise, at midnight EST.
You can see that our Online Check-In screenshot says "6:00" on the upper lefthand corner because we were in France at the time of check-in; it was 12:00 midnight EST.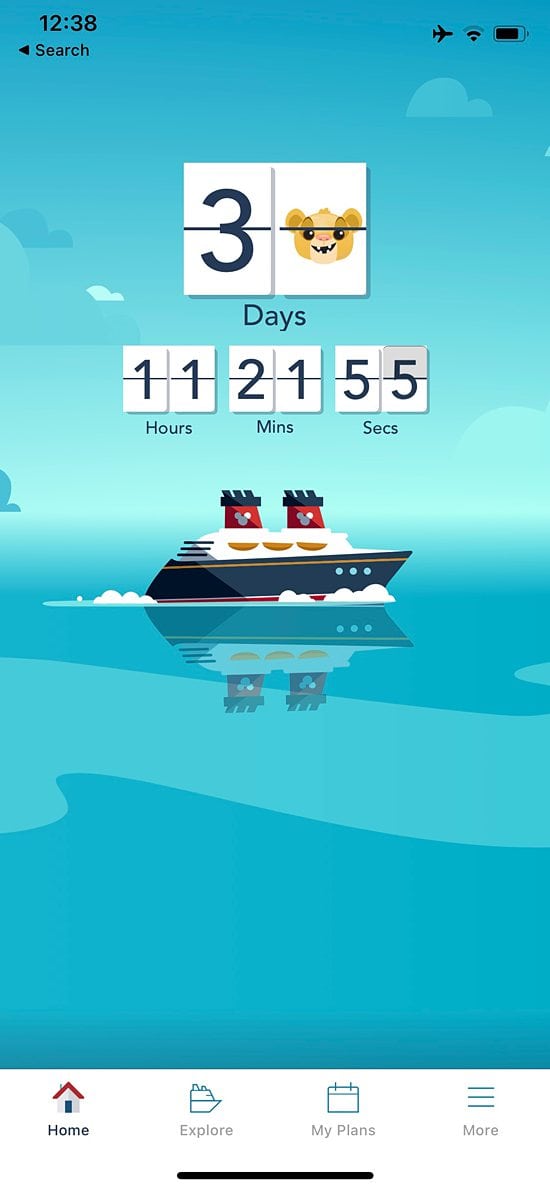 ⭐️ Complete Check-In Items on the Overview List
When you hit the "Begin Check-In" button, it will take you out of the app. It opens an internet browser window to begin checking in.
You will see a checklist for what you need to do to complete check-in. The icons, which are silhouettes of the faces of classic Disney characters (like Goofy, Donald, and Minnie) are not filled in if you haven't completed the task.
But as you fill in the information, you'll see the faces start to fill in with more graphic and colorful drawings. So cute, right?
In the screenshots below, you'll see the top two don't have the faces filled in yet. In the bottom two screenshots, the faces are filled in, which indicates we completed those tasks for check-in.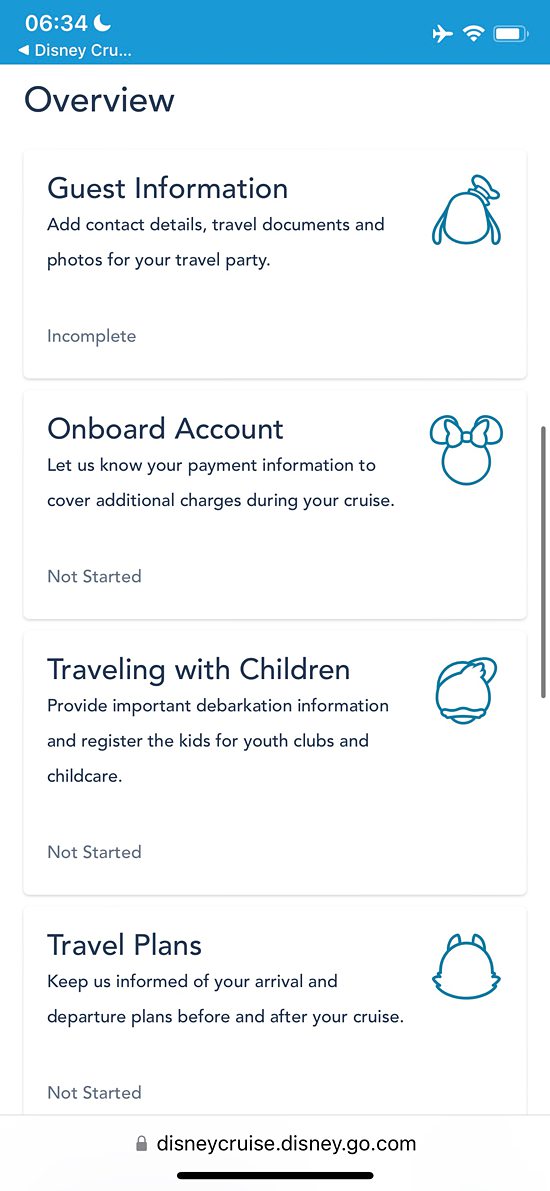 ➜ Moving Through the Steps of DCL Check-In
You'll be glad you will have already gathered what we recommended to have on hand, ready to go, as you move through the Disney Cruise Line check-in steps. Things will move as efficiently as possible this way.
Each step is sequential. You cannot jump ahead to the Port Arrival Time, for example, then go back to filling in your contact information. You must fill in your contact information first before it lets you move to the next step.
As you can see from the screenshots below, we filled in the information for our Travel Plans, picked our Port Arrival Time (the BEST part of check-in), accepted the terms of the Cruise Contract, and we were done.
All DCL guests, including Platinum Castaway Club members, need to select a Port Arrival Time.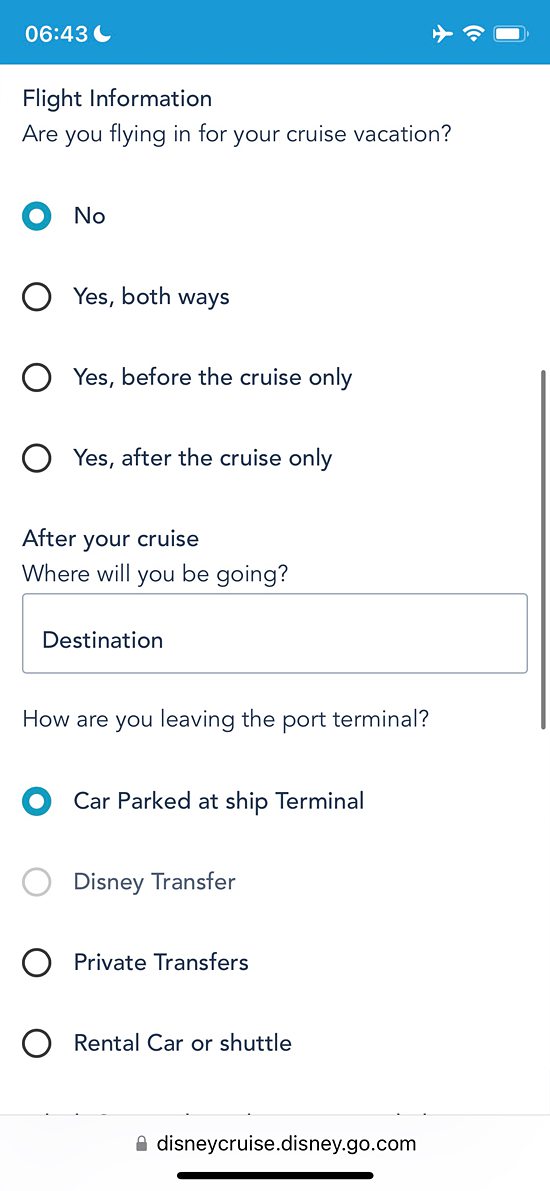 ➜ Port Arrival Time
We're highlighting this because it's incredibly important. If you're able to, given how you're arriving at the port (especially if you're driving yourself) you'll want to select the earliest available arrival time.
This is the time you can arrive at the port and drop your luggage off, curbside. (The luggage is delivered to your cabin later in the day.) Then you go inside the terminal to continue your check-in, in person. The earlier you get on the ship, the longer your cruise is, even if that's just hours longer.
Disney has a lot of shorter cruise itineraries that are three or four days. This Port Arrival Time particularly matters for shorter cruises. Why not maximize your time onboard a Disney ship if you can?
If you want one of the earliest arrival times, it's imperative you check in for your cruise at midnight. Being one of the first to check in means you will increase your chances of being able to select an early arrival time.
➜ Disney Cruise Line Website Delays During Check-In
We're not going to sugarcoat this: Disney websites are notoriously slow and buggy.
It's not uncommon to get an error message that the website is experiencing complications during check-in. This is very frustrating when you feel like you're racing against the clock to get your earliest Port Arrival Time and have to do the steps sequentially as the app presents them.
Trust us, we know, and we can relate. We were on vacation overseas the last time we had to check-in for a Disney cruise…at 6:00am local time! It wasn't what we wanted to deal with. Alas, we are all at the mercy of Disney.
The good news is that Disney periodically saves your work. If you need to reload check-in, simply re-open the app. Log in again. Then click "Complete Check-In," and it will take you back to the check-in website.
You may lose some check-in work (we did), but not all of it. It usually doesn't take much time to re-enter the info.
⭐️ Confirmation You're Checked-In for Your Cruise
When you have successfully completed the online check-in process, you'll see the message in the screenshot below, that says, "You're All Set to Sail!"
An important note is that while it says you're set to sail, your online check-in may still show as "Pending Review". This is because a Disney Cruise Line cast member has to check the photos you submitted (a real human, from what we understand), and it's a long process.
It could potentially say "Pending Review" until you sail. If it does, don't worry. We have heard that this is common. In our case, our account said "Pending Review" up until the day we embarked on our cruise.
As long as you bring all the documents with you that you uploaded to the app, you should be golden when you arrive at the port to embark on your Disney Cruise. (Remember you must keep all of these documents in a carry-on bag with you at all times during embarkation.)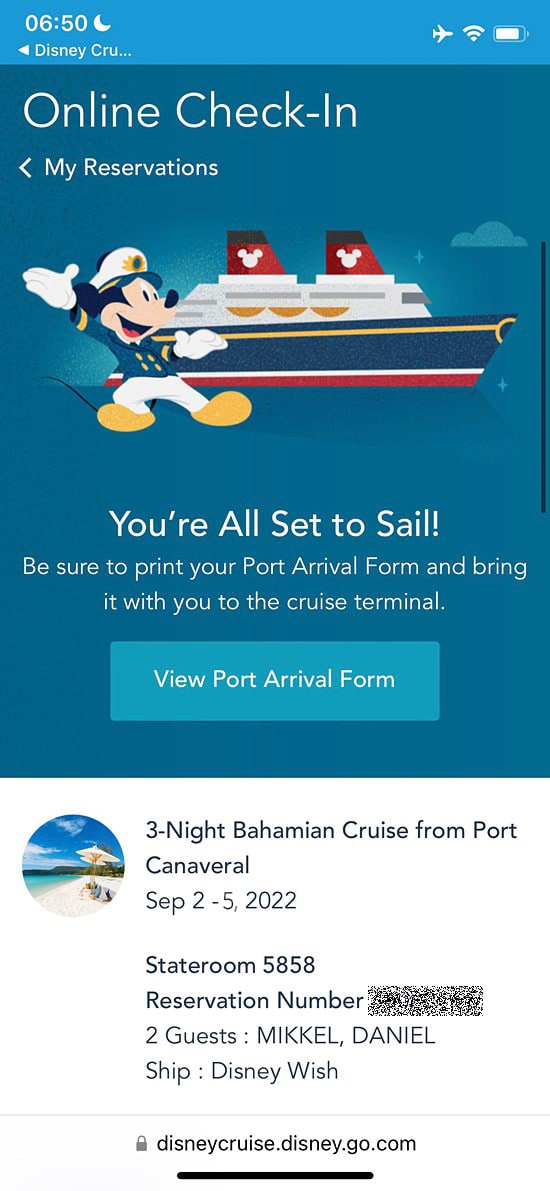 ➜ Disney Cruise Line Port Arrival Cards for your Digital Apple Wallet
If you have an iPhone, one of the coolest things you can add to your Apple Wallet after check-in is your Port Arrival Form QR codes. This makes it extra easy to find those important QR codes you need when you get to the cruise terminal to embark on your Disney Cruise.
We're not 100% sure if the same cool feature is available to Android phone users with Google Pay. But if you know (because you use an Android and you've gone through the check-in process with Disney Cruise Line, firsthand) please let us know in the comments!
➜ Your Check-In Should be Good to Go!
Though there used to be another step to clear "Safe Passage by Inspire Diagnostics" (aka: "Safe Passage") through the end of September 2022 for some of the Disney Cruise Line ships (Disney Dream, Wish, Wonder, and Fantasy) and through November 7 for Disney Magic, you no longer need to do this.
The official statement from Disney Cruise Line to its guests was the following:
Beginning November 14, 2022, for sailings departing from the United States, Disney Cruise Line will no longer require Guests (regardless of vaccination status) to provide proof of a negative COVID-19 test prior to sailing.
The Safe Passage portal is no longer available as of January 1, 2023.
Visit DCL's "Know Before You Go" page for the latest updates.
➜ How long did the Disney Cruise Line Online Check-In Process Take Us?
It took us 50 minutes to complete the DCL online check-in process. In an ideal world, it should have only taken 20 minutes. But it is what it is.
To reiterate a sentiment we mentioned earlier: we're all at the mercy of Disney Cruise Line's website speed and how well it works – or doesn't work – when you check in.
Our fingers and toes are crossed, and we're knocking on all the wood for you that the website is working and it's quick and painless when you go to check in! If it's not working, simply keep logging back in and refreshing things.
⭐️ Important Information Regarding your DCL Port Arrival Time and Sail-Day Embarkation
There is nothing quite like the morning you board a Disney Cruise ship. The excitement is almost unbearable!
I always look forward to driving to Port Canaveral from Orlando and seeing that first glimpse of the iconic DCL cruise ship stack in the distance. It comes into view as you cross over the second bridge on A1A to get to the port.
The most important thing to know about arriving at the terminal is that you can only arrive within your Port Arrival Time window. This is the 15-minute time block that you chose when you checked in.
Don't arrive an hour earlier, hoping they let you embark early. They won't.
If you forget your Port Arrival Time, you can easily view it on your Port Arrival Form. It's also in your iPhone Wallet if you added the cards to the iPhone Wallet app.
If you arrive early, they will tell you to come back later during your scheduled time. They might tell you to come back later after several other time blocks clear if you arrive late.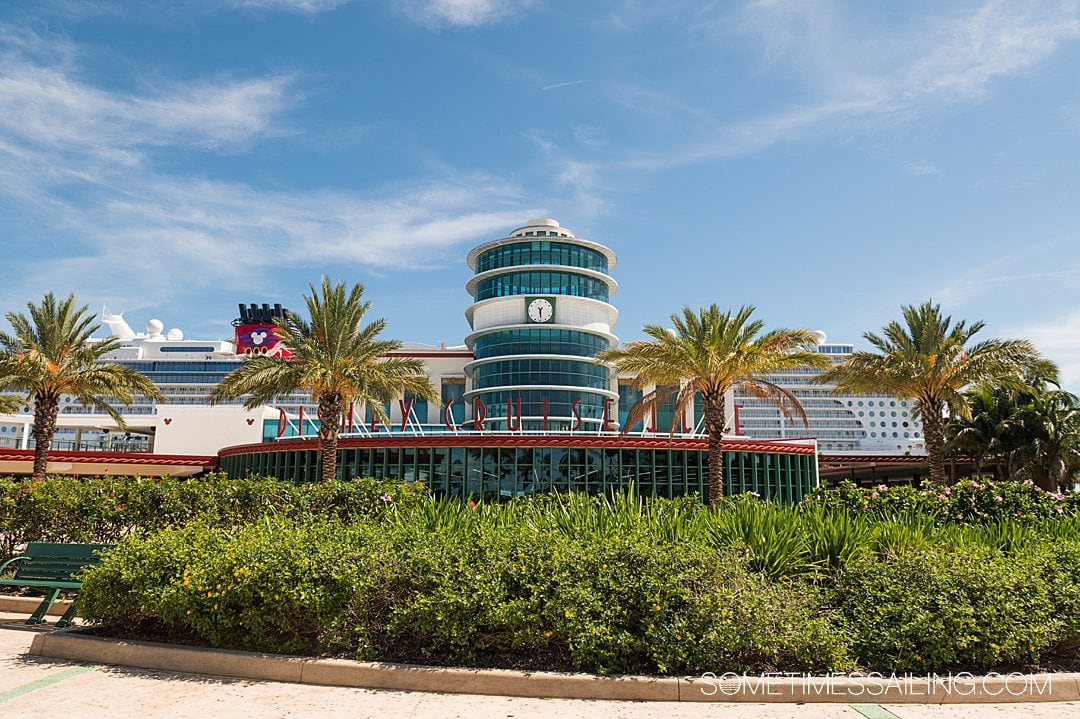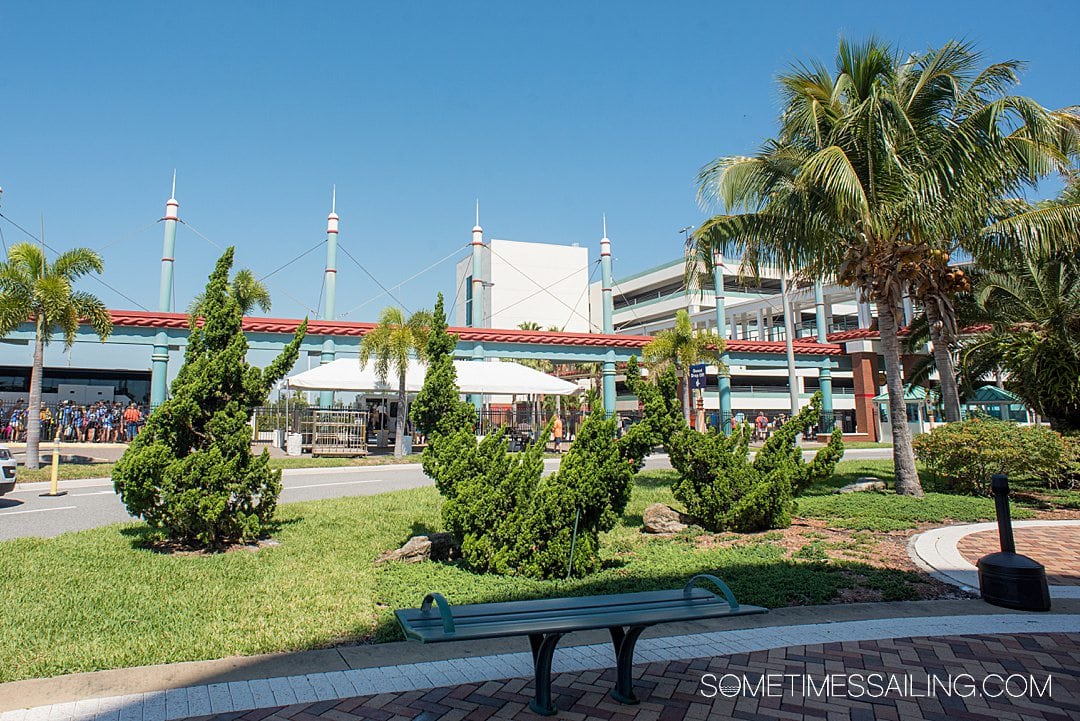 ⭐️ What to Do After You Check-in for Your Disney Cruise
➜ Mark Your Calendar with Important Dates
You'll want to mark your calendars with the date below. (Don't forget to get our Free Check-in Cheat Sheet Printable if you haven't already, which makes counting the days super easy.)
After check-in, before you sail: Enjoy booking things like special dinner reservations at Enchanté, Palo, or Remy's, depending on the Disney Cruise Line ship you'll be on. You can also book spa treatments in the app and schedule gifts, like flowers or chocolate-covered strawberries, for delivery to your stateroom. (Read our "Start to Pack for Your Disney Cruise" info below for great things to purchase and bring onboard to decorate your room.)
3 days before your cruise is when online bookings for cruise activities close, like spa treatments and dining reservations.
The day before you sail: mark your calendar to buy wine or beer if you want to bring some onboard. But seriously…mark your calendar to go to a local wine/beer store if you want to bring some on board. This way, you won't have to worry about it the day you embark! Disney's policy is as follows:
Disney Cruise Line Guests 21 years and older may bring a maximum of 2 bottles of unopened wine or champagne (no larger than 750 ml) or 6 beers (no larger than 12 ounces) on board at the beginning of the voyage and at each port of call. These beverages must be packed in carry-on (not checked) bags or luggage.

Guests wishing to consume wine or champagne that they have brought on board in one of the dining rooms will be charged a corking fee of $25.00 per bottle.

Disney's Policy stated on their website
Date for the day you sail. (Just in case you haven't already marked it in your calendar!) You'll also want to set a reminder to complete the Pre-Trip Embarkation Health Questionnaire, which is available in the Disney Cruise Line Navigator app on your embarkation day.
If you need to figure out any dates above, simply Google, "What day is __ days before [enter your sailing date]" and Google will show you the date in its results. It's a beautiful thing.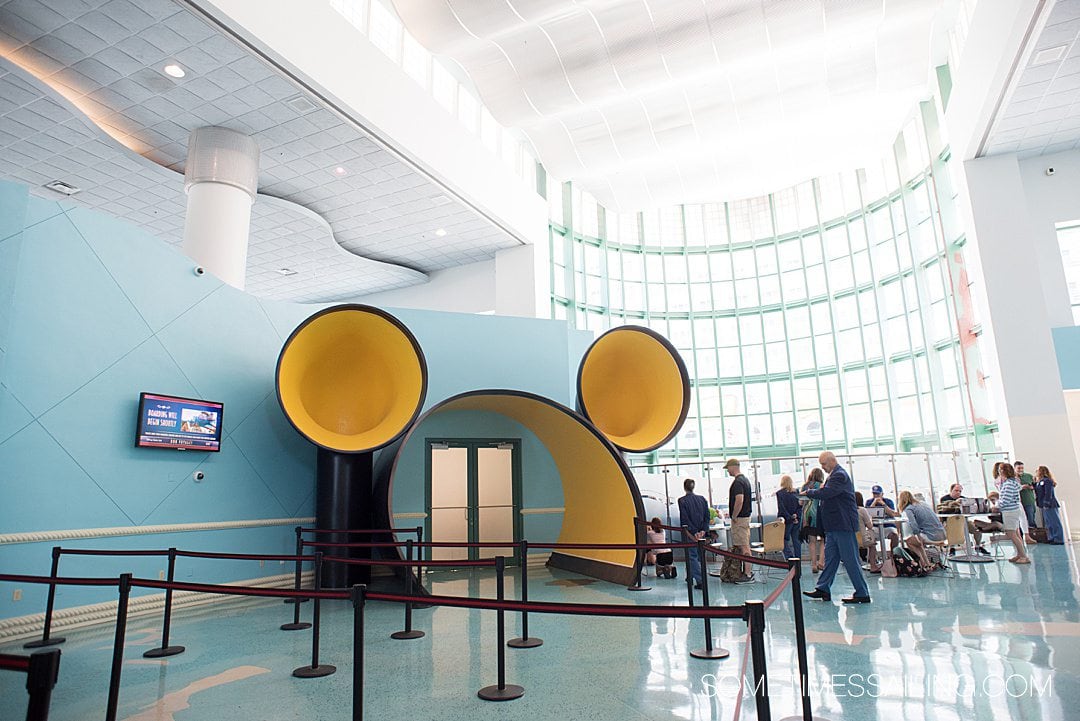 ➜Start to Pack for Your Disney Cruise
When we come back from one trip, we're always excited for the next. Whether you're cruising as adults only on Disney Cruise Line or looking forward to a DCL sailing with the entire family, we know it's never too soon to think about packing.
If you're going to the theme parks before or after your trip, be sure to check out our Ultimate Year-Round Walt Disney World and Universal Packing List, which includes a helpful printable.
➜ Order Cruise Essential Items in Advance
This is because you may need to order some cruise items ahead of time, which might take time to ship. Such things as Blissets (which are awesome and fashionable anti-nausea bands), or perhaps custom Disney Cruise Line attire on Etsy, take time to arrive at your doorstep.
Other things may be available on Amazon, where you can use Prime to ship within days. If you don't already have a Prime account, now is the perfect time to sign up for a free 30-day trial so you'll get free shipping.
We also have a list of Cruise Essentials for you to browse in our Amazon shop, from handheld fans to beat the heat to Apple AirTags if you're checking luggage, to reef-safe sunscreen, and more.
⭐️ Disney Cruise Activities: Make any Desired Reservations from Dining to the Spa and Port Excursions
As your cruise countdown continues, you can do some additional things in the app. For example, you can make reservations or appointments for dining and the spa ahead of time. You can access this online app feature up to three days before your cruise.
If dining (like Enchante on the Disney Wish, for example) is showing as unavailable, that usually means there are no more advance reservations available. (In that case, you'll want to ask about how to make a reservation while on board the day you embark.)
Port excursions and spa reservations can also be made in advance from within the app.
If a spa treatment, or appointment for Hook's Barbery on Disney Wish, is showing as "Sold Out," you may want to check about availability once you board the ship on embarkation day.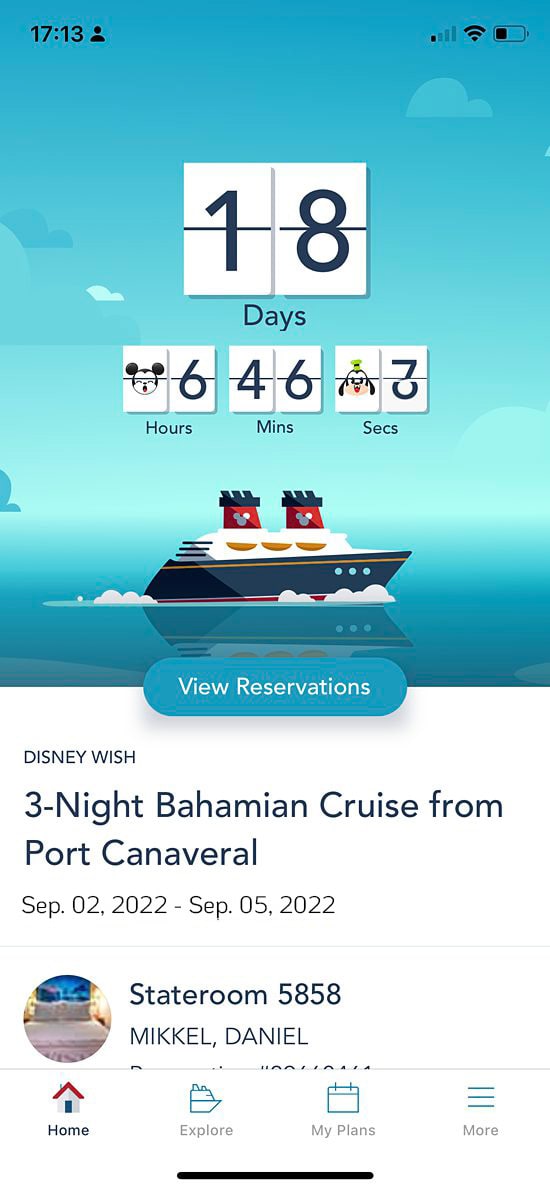 Cruise Essential FOR YOUR TROPICAL VACATION:
The only thing we have tried that gets rid of bug bites from your skin is The Bug Bite Thing. This item is a MUST pack when we travel. We always pack one in our backpack/day bag and have another packed in our luggage. Don't travel without it!
⭐️ Things to Do Nearby in Port Canaveral
If you are sailing from Disney Cruise Line's Port Canaveral Terminal and are looking for things to do nearby, we've got you covered!
There are many great activities, whether you have a few hours, half a day, a full day, or multiple days.
Check out our recommendations for things to do near Port Canaveral and make the most of your trip to the Florida coast! (Or "Space Coast," as it's called!)


Going on a Disney Cruise? Read this next: