26 Helpful Things to Know your First Time on a River Cruise
You'll never forget your first time on a river cruise! It'll either be something you absolutely cannot wait to do again or it may be an experience you feel like you did once and it was enough.
It's not a surprise we instantly fell in love with it after our first river cruise experience. And having gone on a river cruise as first-timers, we definitely have helpful tips for you to know before you go.
Disclosure: There are affiliate links in this post, which means we may earn a small commission if you click the link and proceed with a purchase, at no cost to you. We truly only recommend hotels, products, and services we personally use. As Amazon Associates, we earn from qualifying purchases.


1. Layout of River Cruise Ships
You may be surprised to learn that there are only three to four decks on river cruise ships. (This may especially be a surprise if you're accustomed to ocean cruises with an excess of ten decks.)
The bottom level usually has windows (or what you would equate to portholes). The upper deck cabins have balconies or windows with better views. Not all cruise ships have balconies, but the great ones do!
The bottom deck, which is usually labeled Deck 1, is the least desirable. The upper deck is usually the most desirable. (The deck names vary on Adventures by Disney river cruises and AmaWaterways ships, which gives them names like Piano, Violin, and Cello.)
Generally, the top deck of river cruise ships is reserved for lounge chairs and tables with chairs. There are fun things on the top deck of some ships though.
For example, there are herb gardens on top of many Viking river cruise ships. On Emerald Destiny, we enjoyed a bit of putt-putt golf one day and tic-tac-toe. AmaWaterways has a pool on their top deck!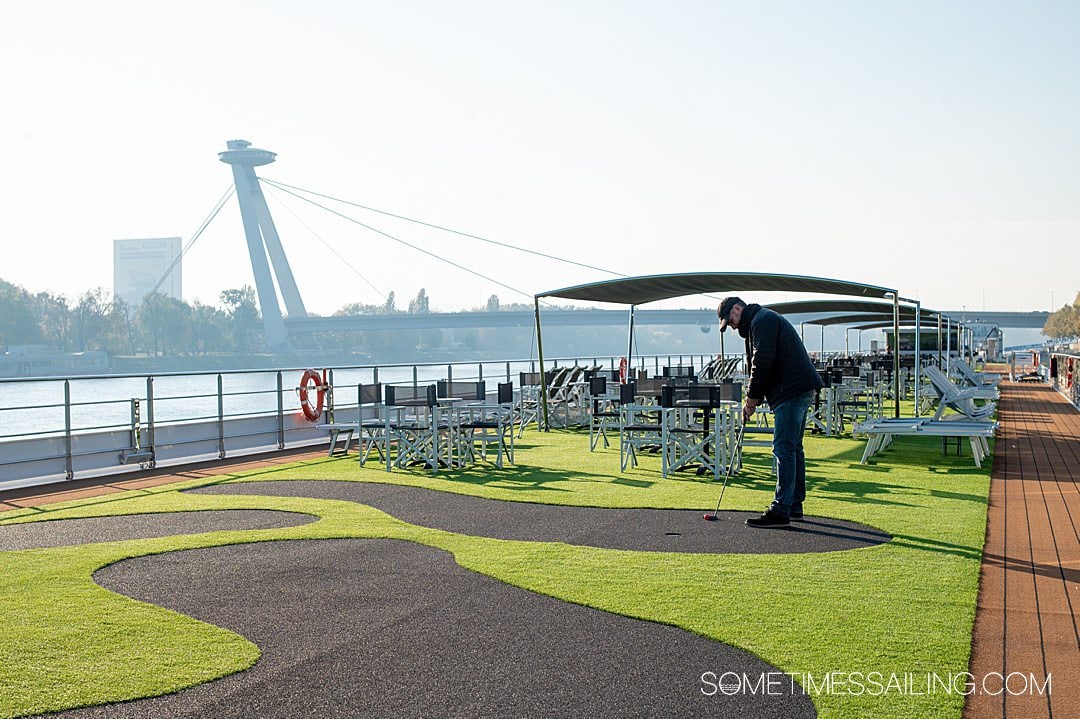 There's always one restaurant (if not two) on board, and a bar and lounge area. Many ships also have a dedicated gym and a spa room where massages and facials are given. There is often a hairdresser area where you can sometimes get a manicure or pedicure as well.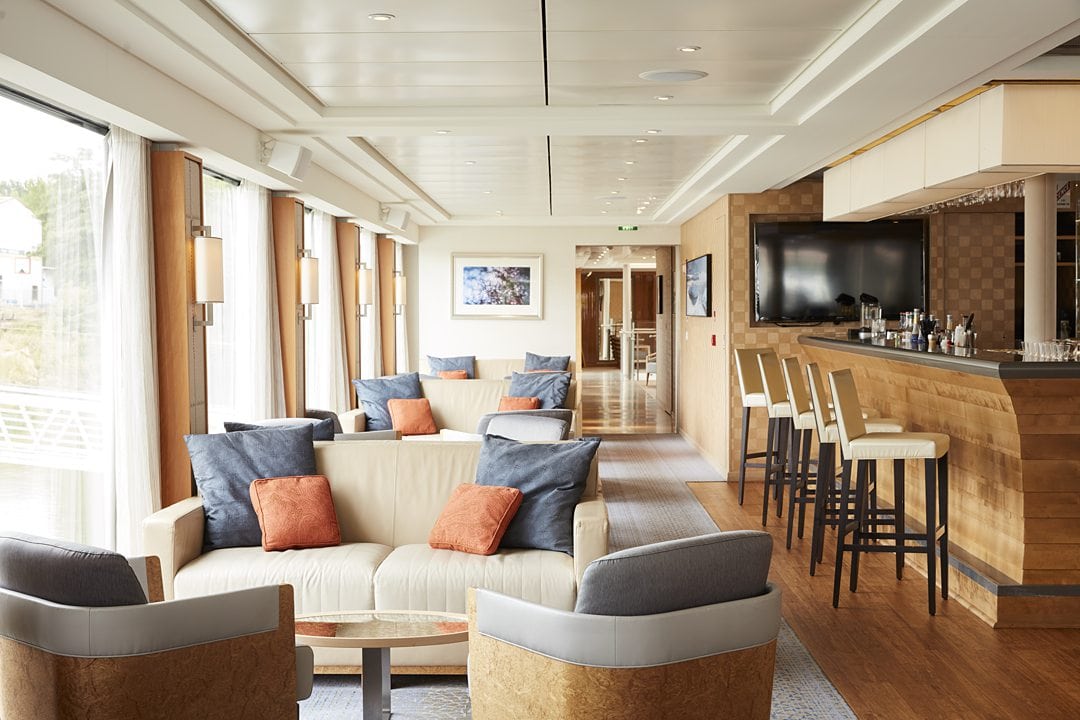 2. Sometimes you'll have a good view from your cabin, and sometimes you won't
People sometimes ask us, "What side of the ship should I book my stateroom?" The answer is: it doesn't really matter.
There's no difference between a cabin on the port side or starboard side because it's likely your river cruise ship will dock on both sides. This means that you'll be facing land at some point when docked and facing the river other times.
If you really wanted to get into the nitty-gritty of what side will be facing landmarks and when you'd need info only the captain knows. In other words, you'd have to know what dock the river cruise ship was assigned at your port destination. Then you could know what side of the river might have a better view. But that is nearly impossible to find out.
It's such a trivial matter, though. You can always go to a public area of the ship to enjoy a different view. The benefit of a small cruise ship is that it'll just take you minutes, if not seconds, to walk there.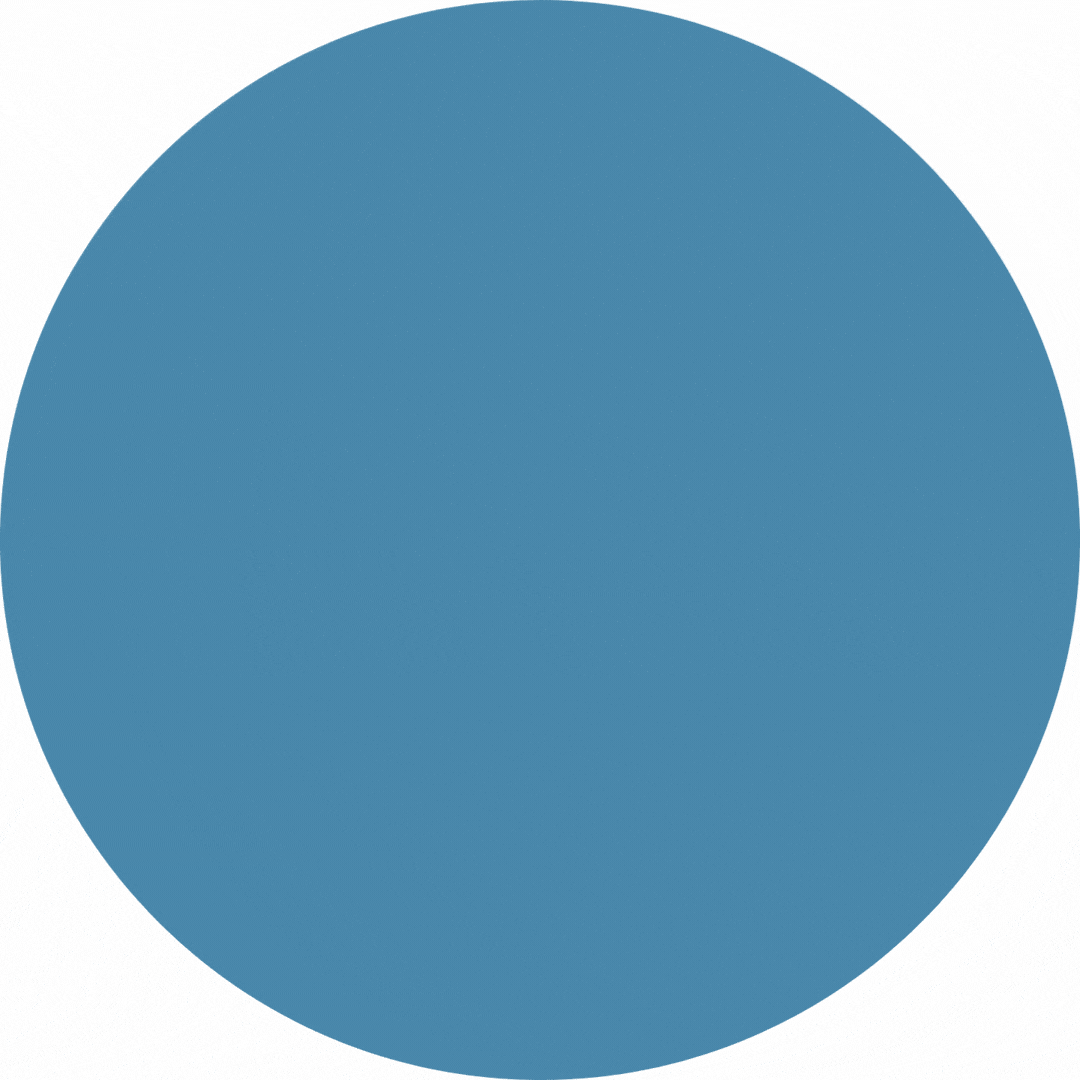 Ready to Book Your Cruise or INquire?
Use our preferred travel advisors, Bolds Travel, Because…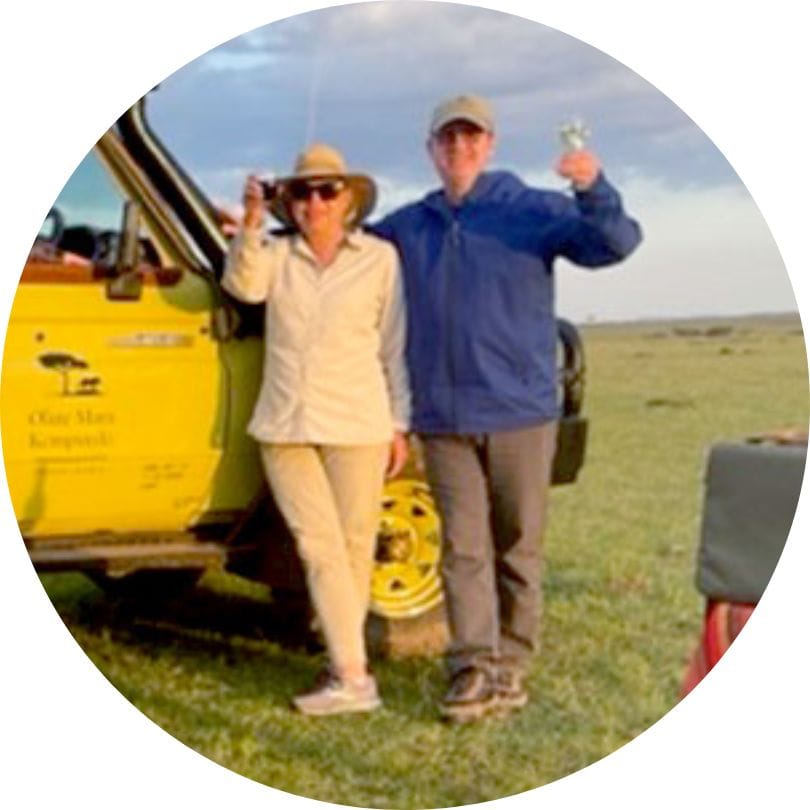 3. What area of the river cruise ship is better: back or middle?
In terms of the area of the river cruise ship that's better from back (aft) to middle (midship), there's not a huge difference. If you want to be closer to the action (that is to say, closer walking distance to the restaurant and area you disembark at ports) book a cabin closer to midship.
We'll say, however, that the closer you are to midship and the higher the deck, it's likely the costlier your cabin will be. That cost difference could be significant or insignificant based on your budget. The closer you get to lower decks and the aft of the ship, the closer you are to the engines and a little more noise when you sail.
4. You may be surprised when your ship docks against another river cruise ship your first time on a river cruise
It was surprising to be docked so close by another ship during our first time on a river cruise. We could have opened our window and touched the neighboring ship's window! The boats were literally touching.
We came to find out this is very common in river cruising. You may even need to walk through the lobby area of another cruise ship to get ashore when you're docked. (It's kind of fun though! It's always interesting to see what the interior of other ships look like.)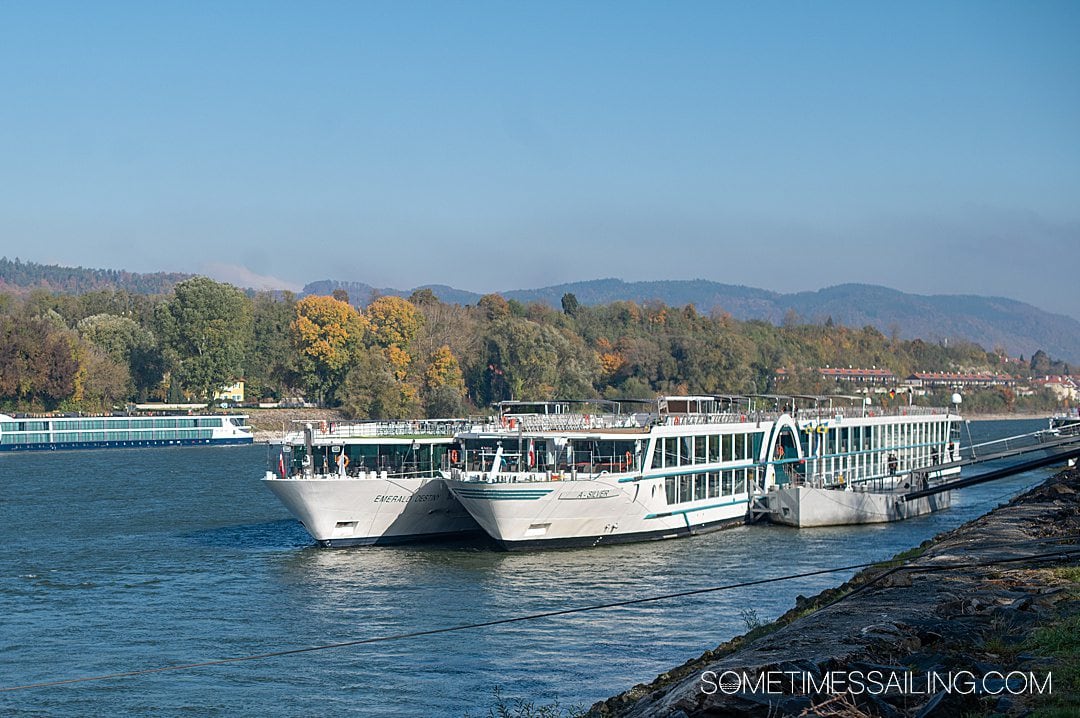 5. If the water is too low, the river cruise ship may not be able to sail
Ships need water to sail. And while river cruise ship boats are flat, allowing them to sail in incredibly shallow water, sometimes the depth is too shallow for safe sailing with people on it. So they need to remove the weight of everyone onboard and then bus the people from one port to another.
This should not affect your meals or where you sleep. But if the water is too low they may bus you from one port to another in order to get the ship through the low-water area.
6. It's very unlikely you'll get motion sickness
We've experienced it firsthand: motion sickness on huge ocean cruise ships! But on river cruises, there's hardly any motion of the river. Which means it's very unlikely you'll experience seasickness.
The boat hardly moves when it's docked and certainly doesn't feel like it's shaking side-to-side when it sails. It simply feels like it's moving forward and getting you to your next destination port.
7. You'll be shocked at how my river cruise ships exist
If you sail a popular river during your first time on a river cruise, you may especially be surprised at just how many river cruise ships exist! It's most astonishing to see in popular ports, like Budapest on the Danube River.
Since river cruising isn't as widely popular as ocean cruising, it's talked about less often. But there are SO MANY river cruise companies and ships.
Why don't we hear about them in the United States?
A big reason is that a lot of them don't market to United States consumers. There are German river cruise companies, French companies, and British ones too, for example. They all heavily market to their own geographical areas. This means we never really hear of them…but they're out there!
8. Onboard evening entertainment is limited but enriching
Your first time on a river cruise may leave you wondering what there is to do after dinner your first night. But don't be surprised if you don't have a plethora of activities to choose from in the evenings. However, you'll find that cruise lines often bring local talent on board to entertain the guests.
After dinner, you may want to grab a drink and play a scheduled trivia game in the lounge, for example. Or perhaps there's a movie playing on board in a public area. (If not, there are likely movies on your cabin TV.) Or see the scheduled entertainment they bring on the ship for an hour or so.
While there is not a casino onboard, or five bars to choose from like on an ocean ship, or late-night stage show performances, we have never been bored on a river cruise. There are usually great movies on your cabin television if you want to retreat to your room, or you can enjoy a book if you want to spend some solo time with your Kindle.
If it's your first time on one, our advice is to enjoy not having to decide between a ton of activities after dinner. There's beauty in fewer options.
9. There is usually a small gym on board and often a track on the top deck
Expect the gym to be "petite" on your first river cruise. It's likely the size of one cabin. The gym is there if you need it and gets the job done, but excellent onboard gyms aren't why anyone we know books a river cruise.
Often, there is scheduled morning yoga in one area of the ship outside of the gym. A track encircles most top decks so you can walk laps on board if you like.
If you love to exercise but don't necessarily want to do it on the ship, rest assured you'll be able to participate in group hikes or bike rides in ports. Or, you can exercise on your own in port cities you visit during the river cruise.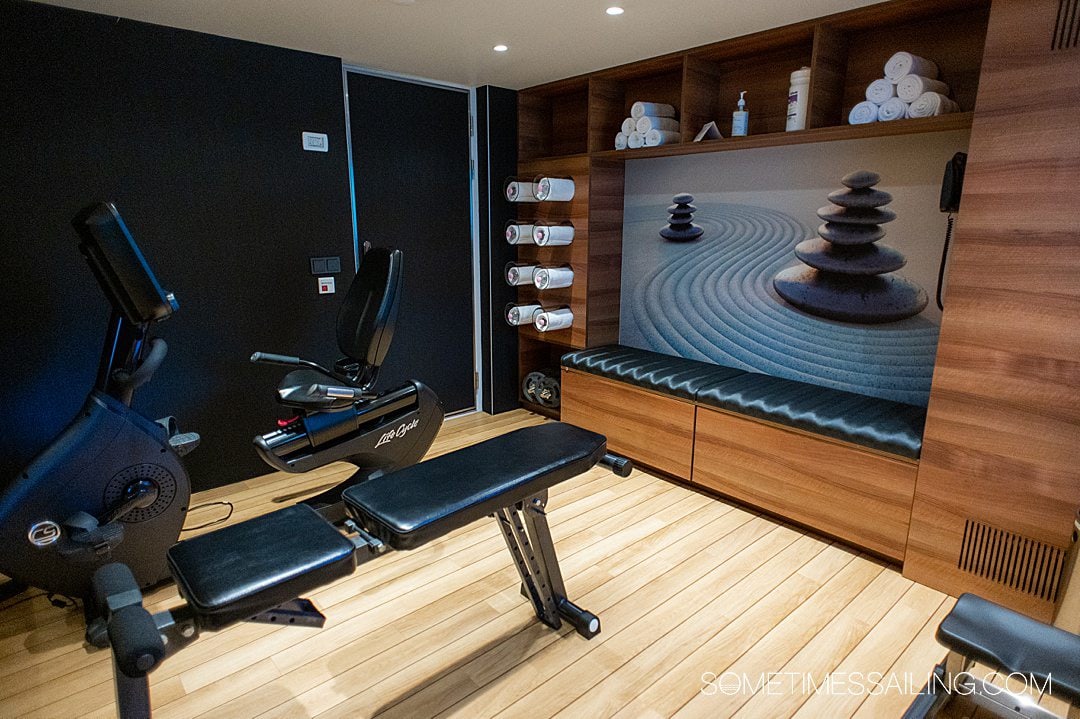 10. Small river cruise ships mean that rooms become multipurpose
Spaces are utilized in multiple ways on a small river cruise ship. It's likened to a small living space, where space becomes more precious.
On Emerald Destiny and Emerald Sky with Emerald Cruises, the pool area turns into a cinema space at night where movies are shown. (The top of the pool is closed with a retractable floor.) The bar near the pool becomes a popcorn concession stand.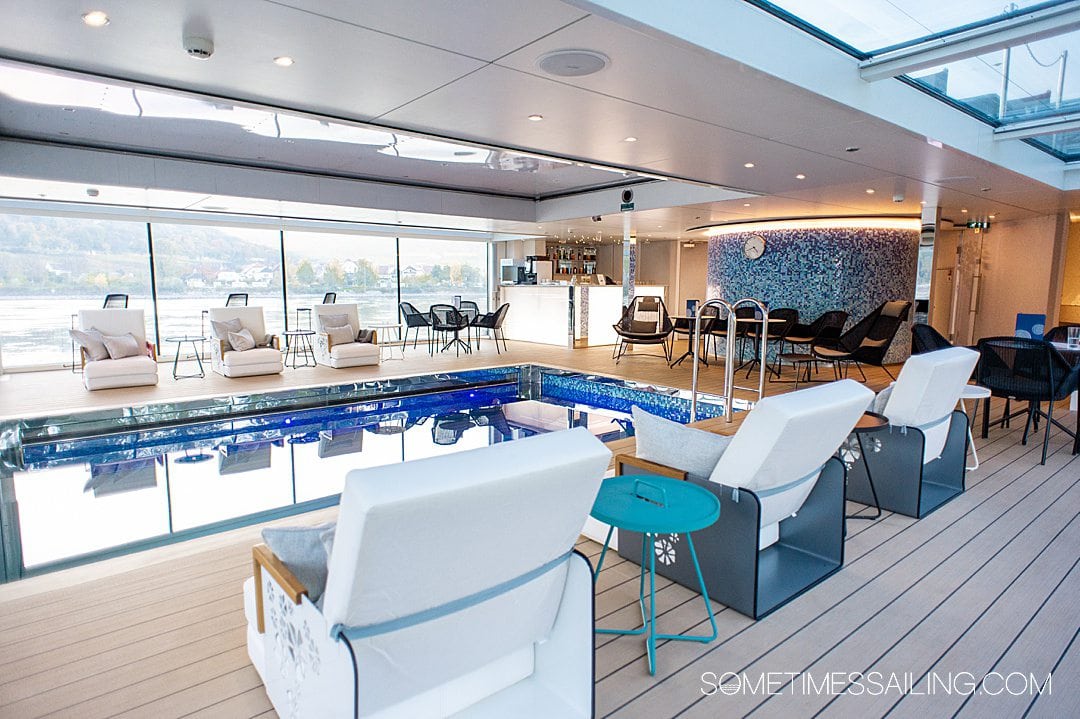 11. There are usually one, two, or three restaurants – not ten
Logically, because of the small size of river cruise ships, there's not an abundance of restaurant options. There's usually one or two if not three (which would be generous).
We loved our Emerald Destiny river cruise food experience when we sailed the Danube nonetheless; eating all our meals in the same restaurant didn't phase us one bit.
Your first time on a river cruise won't be affected by one or three restaurants, though. The more interesting thing during a river cruise is the people you connect with and the food you eat! Not necessarily where you eat it.
On that note, there are usually one or two bar areas on river cruise ships too.
12. Embarking on your cruise takes minutes, not hours
When you arrive at your river cruise ship's point of embarkation, you simply walk onto the ship and check-in. You don't go through a huge terminal like ocean cruises, or through metal detectors, or put your bags through x-ray machines. You just walk on and walk up to the front desk and check-in. It's a beautiful thing!
13. You will dock steps away from city centers in small towns and be bused into the city center of others
Your first time on a river cruise may reveal how lovely it is to be so close to the center of a historic destination. We were a lovely 20-minute walk from the center of Melk, Austria when we docked there on the Danube River.
Conversely, we had to be bused into the center of Vienna, Austria during the same river cruise. This was because the river cruises dock in the commercial area of Vienna.
14. The gangway is short: it only takes seconds or minutes to get off the ship
Part of the beauty of small ship cruising is that you can be off the ship in 120 seconds or less. It just depends on how fast you walk!
We have never found a long line forming to disembark the ship. And there's certainly even less waiting to get back on board when you're done visiting a city for the day and want to come back onboard.
15. You have to scan some sort of ID that signals if you're on or off the ship
You'll an ID when you check into the river cruise upon arrival. This could be as simple as a small plastic card with your name on it along with a QR code, for example.
After we checked into our river cruise on the Danube River in October, we arrived at our Emerald Destiny cabin to find our ID cards on the desk.
You don't necessarily need these IDs around the ship; we only needed them to check into and out of the ship when we were in port. This is so the ship can identify who is on board and who is off. Essentially, when they're ready to leave port to head to the next destination they want to know everyone is on board.
16. You can use the river cruise ship bicycles for free
If there are bicycles on board, the crew will unload them in port and allow guests to use them if there isn't a scheduled tour or activity with them. If you love cycling, this is a beautiful way to explore a town. This is included in the cost of your river cruise.
17. You'll quickly learn what "Quiet Voxes" are and what they're used for
Shoreside tours during a river cruise are carried out with the help of little audio devices, called Quiet Voxes. They're actually quite amazing!
They allow groups of people to be on the same radio channel and listen in together as a guide leads a group tour. Each device is equipped with one earpiece, which is in a new and sealed package upon arrival.
Your Cruise Director will remind you to take your Quiet Vox for a morning tour before leaving the ship. You'll simply scan a number on a card with the tip of the device (and wait for it to vibrate to signal it registered) to get on the same channel as your guide.
You'll quickly learn to remember to plug the devices into their docking station as soon as you return to your cabin.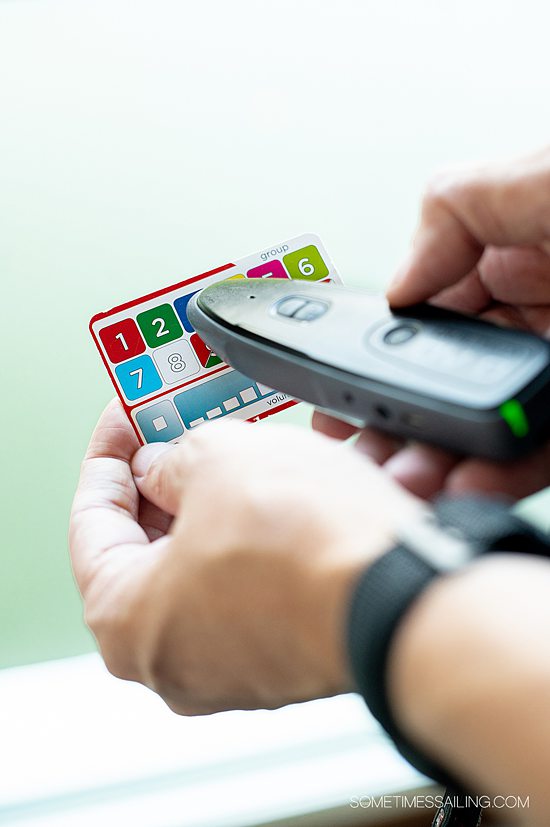 18. The smaller numbers in crew and the guest count will be incredibly rewarding
You'll love how quickly you get acquainted with both the crew and other guests onboard a river cruise. This is thanks to river cruises having small numbers: smaller guest capacity and less onboard crew. Surely, you'll feel the positive effects of this during your first river cruise and every time you sail thereafter.
The guest-to-crew ratio is often 2:1 or 3:1, which means you'll feel extra special when the crew does things like call you by name pretty quickly, or the captain joins you for a meal during a Captain's Dinner, which happens once during many cruise itineraries.
Because you run into the same people over and over again – whether at a neighboring table during river cruise meals, or on the same group tours, or even walking around the small port cities – a friendship forms faster.
Fewer people in the crew also mean that they may do multiple things. For example, your onboard massage therapist may also be your yoga instructor. It all contributes to getting to know one another better, and faster. And it's such a rewarding feeling to feel like your river cruise ship has become a home, even if temporarily.
19. You'll experience the exhilaration of going through locks during your first time on a river cruise
Locks are human-made devices in rivers that help ships move from one water elevation to another. They're pretty much concrete feats of physics and science. It's a wonder to experience going through a lock for the first time on a river cruise.
If you go through one lock, it's likely you'll go through more. We went through approximately 15 locks during our Danube River cruise from Nuremberg to Budapest. Our Cruise Director during that sailing informed us that the number of locks you go through sailing from Amsterdam to Budapest is 68. SIXTY-EIGHT! Wow.
We enjoyed experiencing the locks from two places in particular: our cabin, where it very oddly feels like you're being lowered into (or rising above) a concrete box. We admit it feels cool at first then feels a little morbid. (If you're claustrophobic and in a lock, perhaps it's best to close your cabin curtains.)
The other cool place to be is the top deck. That way you can likely get a 360-degree view of what's going on around you. You can often see the captain maneuvering the ship through the lock too, then see the lock gates open when the ship is ready to sail on. It's very cool!
20. Guest ages are mixed, but they tend to skew older
We have found that it's true that there tend to be more guests of older generations onboard river cruises. However, there is always a mix of ages no matter the ratio of older to younger guests. We have always had the most delightful conversations and interactions with guests, regardless of their ages, on river cruises. We've also always been fond of getting to know the crew.
If there's anything to know regarding ages your first time on a river cruise, it's potentially that you'll find more older people who have time off from work (or they are retired) and the money to go on small ship cruises, more so than younger generations.
This also depends on the river cruise line. More modern and active river cruise companies are going to have some more younger people on board because that's who they market to.
21. Hand sanitizer is everywhere
If it's your first time on a river cruise but not your first time on a cruise, overall, this won't surprise you. But if it's your first time on a cruise, in general, you may be surprised that there is hand sanitizer available everywhere.
We admit that it's not as shocking to find hand sanitizer everywhere these days following COVID-19.
However, it's nice to know there will be plenty of hand sanitizer on board, just like there was before COVID, no matter when you sail. (For this reason and many more, we think cruises are the safest way to travel.)
22. There is usually just one dinner seating
One dinner seating is available to guests on most river cruises. This is opposed to multiple seatings or dine-any-time models on ocean cruise ships.
There are exceptions to this rule. An example would be when the ship accommodated two dinner seatings on Emerald Cruises Danube River Cruise, while we were in Vienna.
One seating was for guests who were going to see a concert in town that evening and a later dinner seating was for guests who were foregoing the concert. In general, you'll find most river cruises have just one time for dinner because it helps things run more efficiently.
23. Room service on river cruise ships vary
Not all river cruise ships have room service. Some do, some don't.
We didn't have room service as a food option on our Emerald Destiny river cruise, but we didn't miss it. We were well fed. And the dining room on a river cruise ship is always just a one to two-minute walk away!
24. So much is included with a river cruise…but you can still do your own thing
There are a ton of things included in your river cruise for the cost, like guided tours in port. But that doesn't mean you can't do your own thing.
For example, if your ship is in a city where you want to have lunch on land, you can! There's no need to go back to the ship just because lunch is included. (We don't blame you if you want to go to back the ship for lunch, though, if it's in an accessible location and you technically already paid for it.)
The morning we docked in Passau, Germany, during our Emerald Destiny Danube River cruise was THICK with fog. There was an optional, included hike to an iconic fortress in town that morning. But Dan and I felt uneasy about going because we were doubtful we'd see a great view from the fortress's elevation with the morning fog.
Instead, we walked around on our own. It was the best decision for us and the universe rewarded us with an amazing find in town: a Dackelmuseum!
(We're obsessed with dachshund dogs. We never thought we'd come across a dachshund museum in Passau, but we did. And we discovered it thanks to being able to do our own thing whenever we wanted during the cruise.)
We ended up doing the hike on our own, later that day. And the view was spectacular!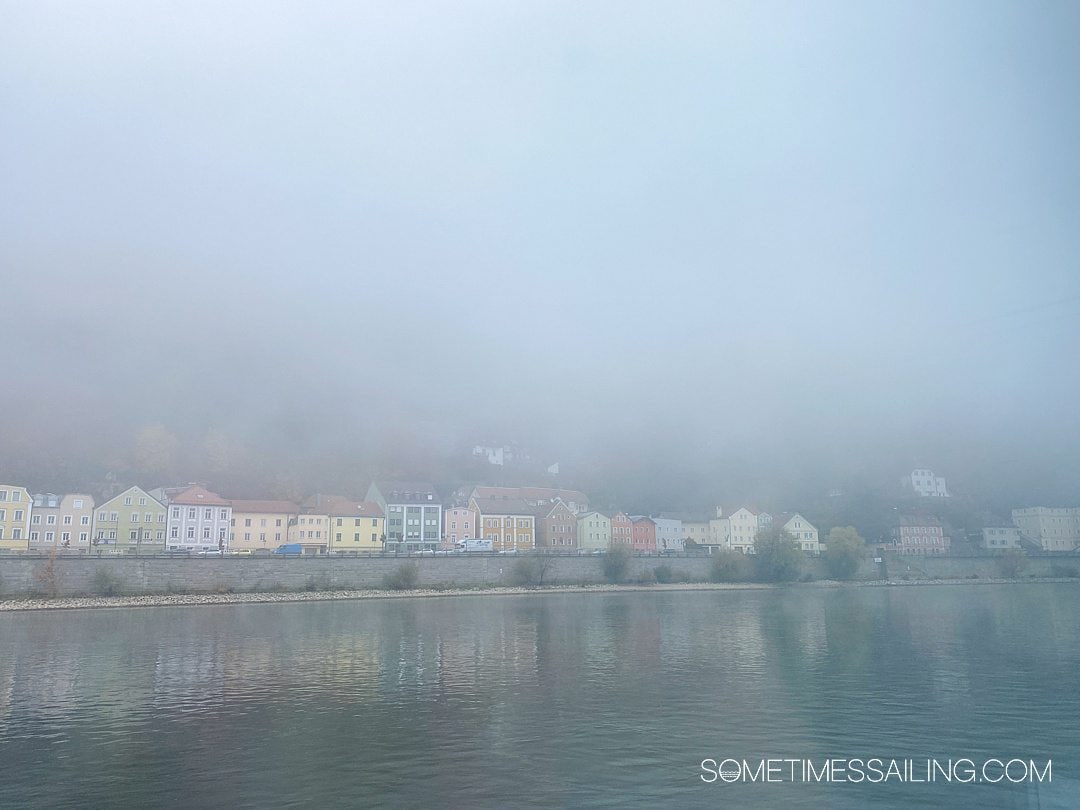 25. You will want to pack prepared with layers
No matter the time of year you go on a river cruise you want to pack prepared for layers. Of course, your river cruise packing list may vary in terms of how thick your outer coat is, like if you're going to Europe, for example, in July versus December.
But the weather fluctuates and you want to be prepared with things like cardigans or a lightweight jacket no matter the time of year.
26. Packing comfortable walking shoes
It may go without saying, but just in case: you'll walk a lot if you're physically able to, like any trip to amazing cities and towns. So be prepared with great walking shoes that you have broken in long before your trip so you know the shoes won't give you blisters!
Dan and I always travel with a pair of all-black sneakers because they match everything and we can walk miles in them.


Going on a river cruise? Also check out: