River Cruises in the US: Start Here to Plan Your American River Adventure
You may be surprised to learn there are excellent options for river cruises in the US.
When we initially learned about river cruises, our minds went all over Europe. We imagined the trips we could take showing us European castles. Then we envisioned exploring France, Germany, Austria, and Switzerland by boat.
But, perhaps because river cruises are arguably most popular in Europe, we never imagined everywhere we could river cruise in the United States!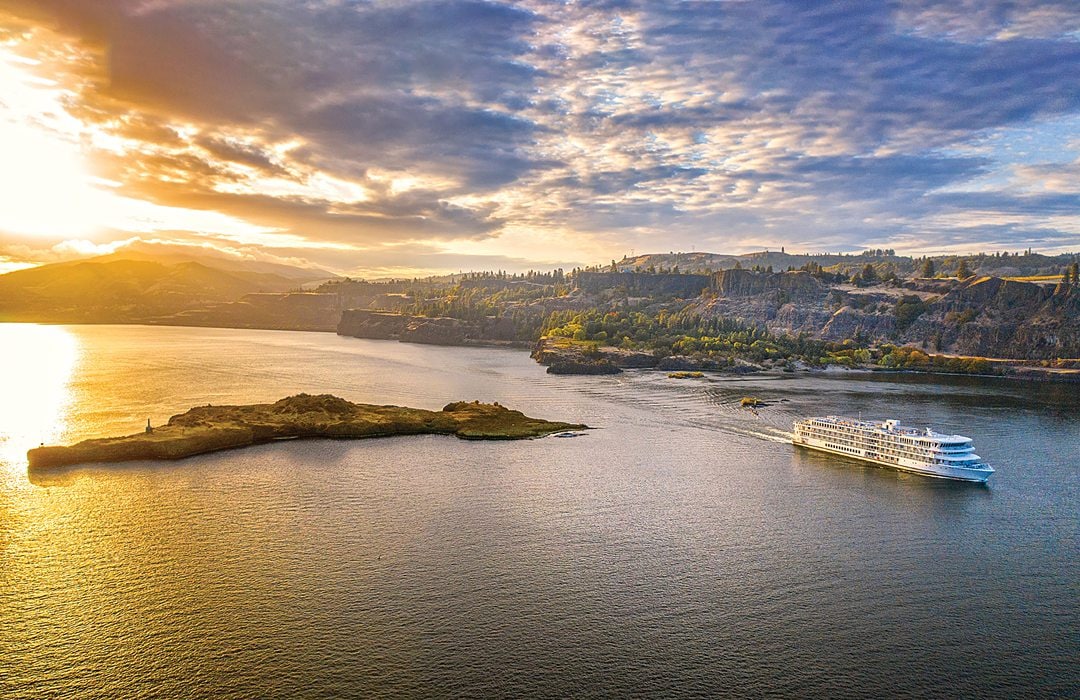 It turns out there are phenomenal options right here in our home country, good 'ole America. We have the information you need to start planning your US River Cruise vacation.
If you've ever looked at a map of United States rivers only – absent of state borders, mountains, and other information – it's clear that the country's rivers are like its veins that keep it alive. Why not explore them?
Disclosure: There are affiliate links in this post, which means we may earn a small commission if you click the link and proceed with a purchase, at no cost to you. We truly only recommend hotels, products, and services we personally use. As Amazon Associates, we earn from qualifying purchases.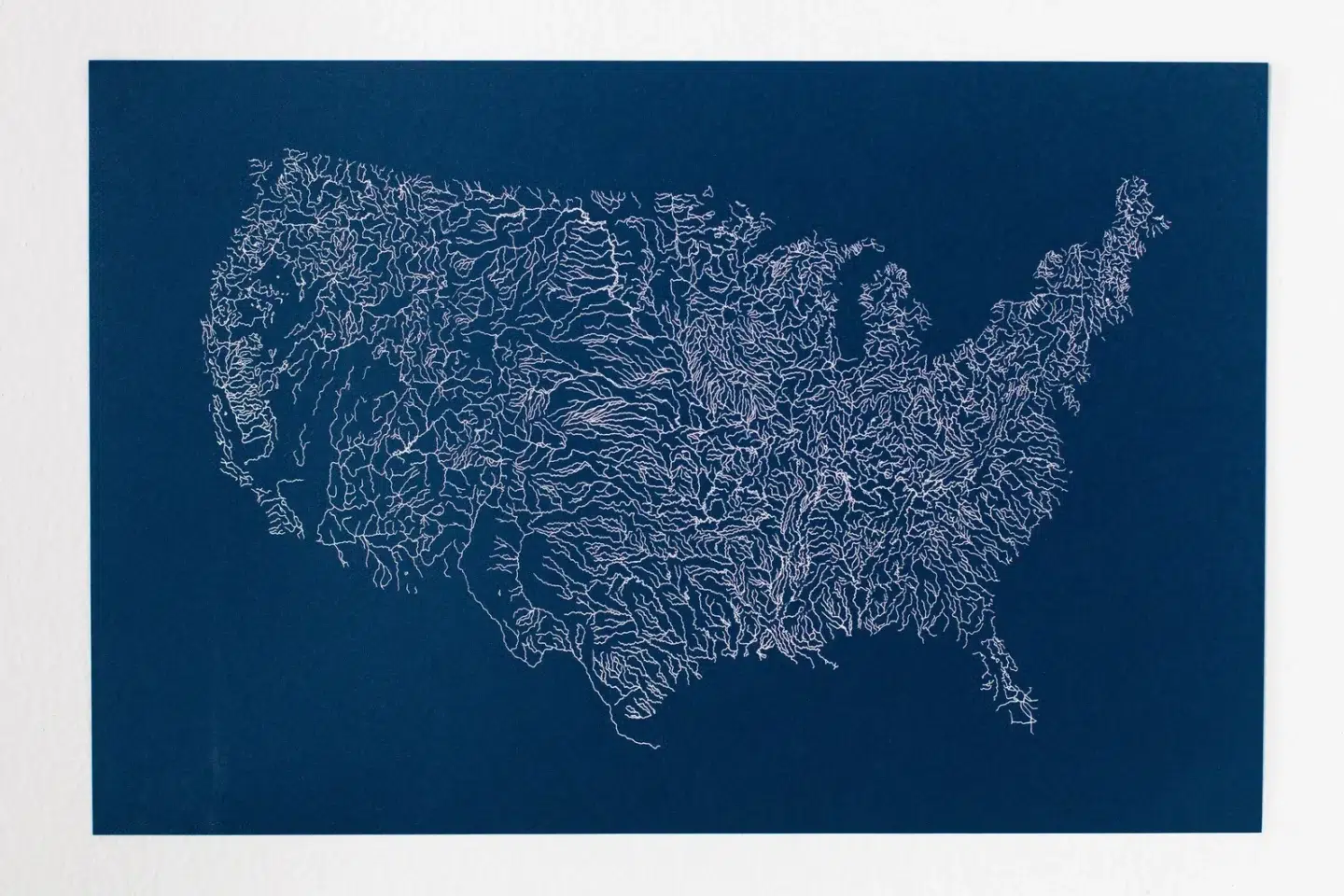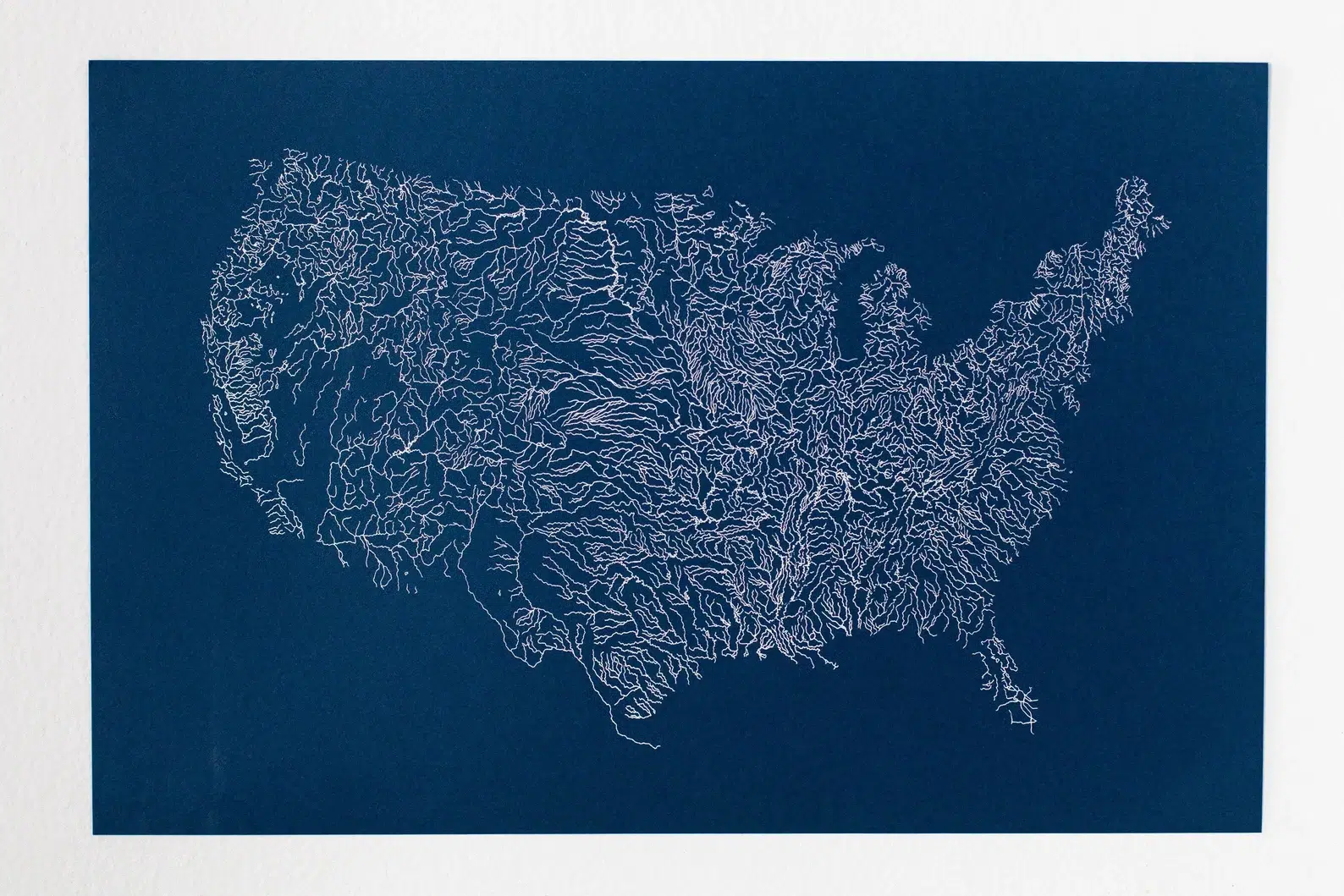 Benefits of a US River Cruise
If you're American, the many benefits of a US River Cruise may push you to book a cruise in the country you live in instead of traveling abroad.
For example, you may like the idea of not having to have your passport with you if your stops are all in the United States. (If it crosses into Canada, like a Great Lakes cruise, you may need a passport. But US River Cruises are nearly all purely American so that you won't need a passport.)
Another thing to consider is that you may be able to drive to your point of departure. This works well if you have a close-jaw itinerary that begins and ends in the same city.
Many people are afraid of flying, simply love to drive, or want to budget without the cost of flights. This could be reason enough for you to book a US River Cruise! (Which is also an eco-friendly way to approach cruising.)
Another reason to support the river cruise line industry in the United States is simply to support American-made and American-operated products.
Perhaps you love American history and US Parks and want to learn more about them; a river cruise in the United States is a phenomenal experience to support your learning.
Lastly, if you like the thought of being on American soil during vacation because you're concerned about your health, it may be comforting to know that you'll be in a country where you're familiar with the hospitals or urgent care facilities and pharmacies. We're talking about places like CVS, Walgreens and Rite Aid.
In the case of a medical need or emergency, you'll be closer to home than if you were overseas and near familiar day-to-day chain stores we all rely on.
Even in a non-emergency medical situation, it's comforting to know that your medical insurance plan will work in whatever areas your insurance coverage functions in the United States! (Regardless, we still recommend buying trip insurance, which is different than medical insurance.)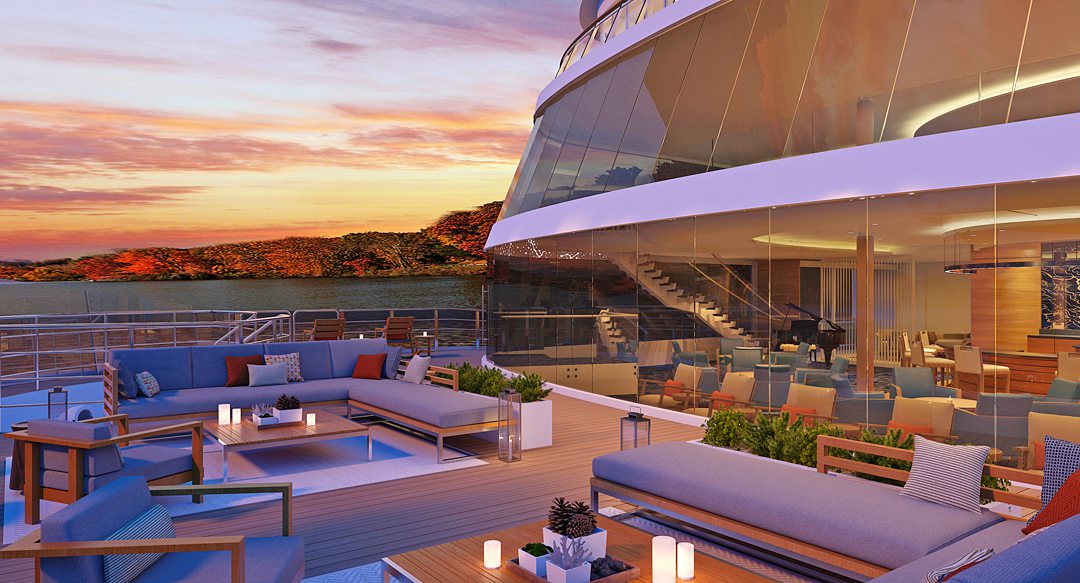 US Rivers that River Cruises Sail
From the east coast to the west and the land in between, there are many rivers in the US that cruises sail on. Cruising these United States rivers presents a unique view of the American landscape.
Each river cruise in the US also offers interesting excursions that allow travelers to gain a unique perspective on the history and cultures of the country. Usually, a river cruise includes one activity in a given city and then has the option to change to a different activity (or upgrade your excursion) for an additional cost.
We are going to take you through the following areas and subsequent rivers you can sail on within each region of the US:
West Coast River Cruises
Mid-America River Cruises
East Coast River Cruises


West Coast River Cruises
There are two well-known rivers on the west coast to consider sailing: the Columbia River and Snake River. Cruises on these rivers usually operate between spring and fall.
This area is so well-liked that many river cruise companies offer cruises that explore both rivers. A river cruise on these two rivers usually lasts for five to eight days and makes stops at ports along the way.
Naturally, these US river cruises highlight west coasts attractions.
Columbia River and Snake River: US River Cruise Combo
Most river cruises in the United States combine Columbia River and Snake River stops. River Cruises offering trips on both the Snake River and Columbia River are available from spring until the early months of the winter season. They explore Oregon and Washington.
You'll be wowed by the mountainous scenery and various city stops over your five to eight adventurous days filled with activities, socializing, and learning about the northwest coast.
The most famous landmarks you may get to see during a cruise on these US rivers include The Dalles (famous for being the last stop on the Oregan Trail), Mount St. Helens, Multnomah Falls, Hells Canyon, and Lower Granite Dam Fish Ladder.
For example, you may book a nine-day cruise with American Queen Voyages that begins in Spokane and ends in Portland. There is also a choice with them for a one-way cruise from Portland to Spokane.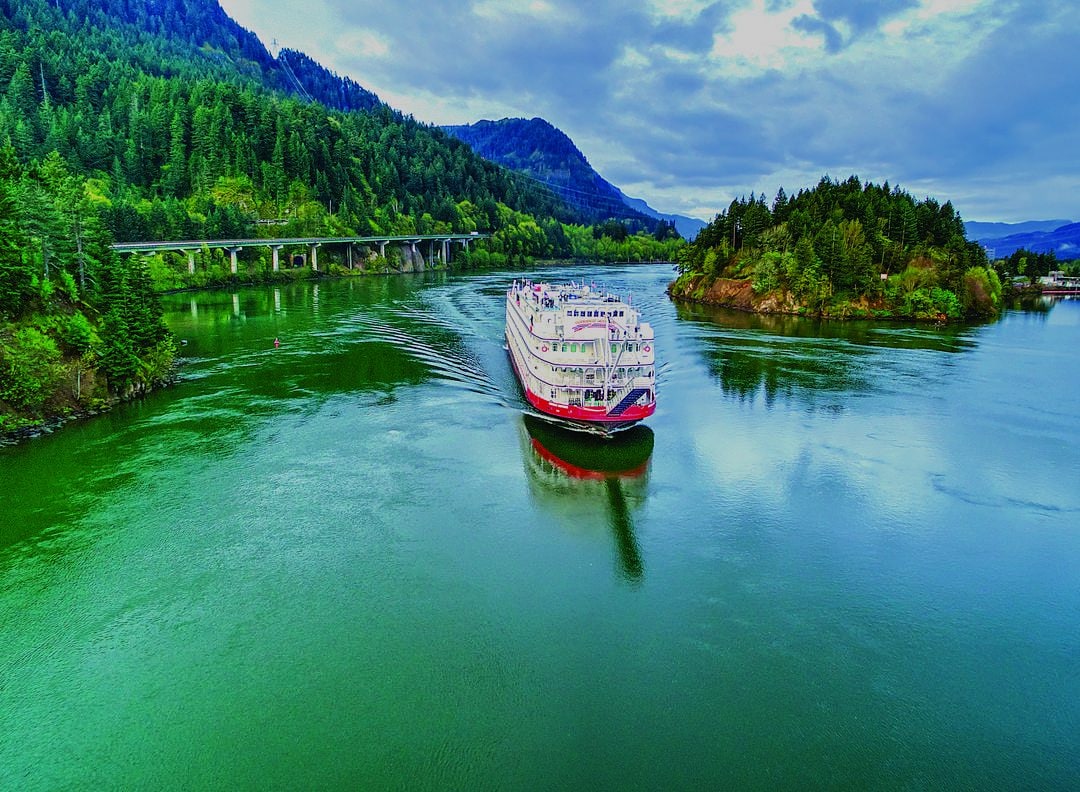 More About the Columbia River
This river flows between the US and Canada, British Columbia and Washington State, and then into Oregon.
If You Only Want to Cruise the Columbia River
You can take a shorter, five-day river cruise on the Columbia River, only, with American Cruise Lines.
Their Highlights of the Columbia River Cruise stops at many great spots, such as Hayden Island, Astoria-Megler Bridge, Multnomah Falls, Mount Hood, and Mount St Helens.
This cruise is a close-jaw, Hayden Island, Oregon option that visits three cities between the start and end of the cruise.
More About the Snake River
The Snake River connects with the Columbia River in Burbank, Washington. (It reminds us of how three rivers converge in Passau, Germany, which you see during a Europe Danube River Cruise.)
The Snake River and Columbia River separate as the Snake River heads northeast. It then goes on a winding, snake-like journey. The water travels in an intense snake-like pattern for almost 1,079 miles, hence its name.
Once it reaches Lewiston, Idaho, the Snake River snakes south between the Oregon and Idaho border. It continues through the border of Idaho and Washington, and finally continues its journey east until it reaches Palisades Reservoir, which is on the border between Idaho and Wyoming.
There are no cruises that only cover the Snake River. That may change as cruise lines change their itineraries depending on the year. However, as mentioned above, you can join a cruise that sails on the Snake River and Columbia River if you want to explore both.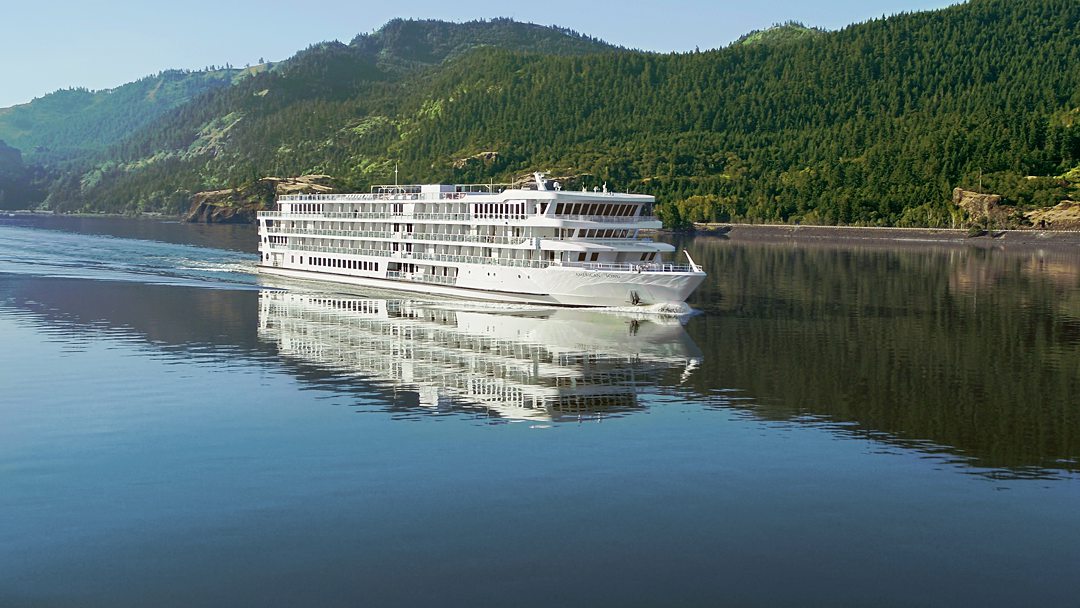 Mid-America River Cruises
The mid-America region of the United States is beautiful and has a lot to offer. But unfortunately, these "flyover" states, as they are often called, don't get the attention they deserve.
One of the most famous US river cruises in the entire country is here, on the Mississippi River.
From nature parks, hiking trails, water activities, and even areas to learn about the country's history, famous landmarks are worth visiting along Mid-America river cruise stops from the Gateway Arch in St. Louis to New Orleans' Creole culture.
Mississippi River Cruises
The Mississippi River is undoubtedly one of the most famous rivers in the US. Therefore, naturally, cruise lines would be remiss not to offer cruises on this river.
It stretches 2,340 miles from Minnesota to the Gulf of Mexico. Due to its popularity, there are plenty of options for overnight Mississippi River Cruises on the three major cruise lines that offer US river cruises.
Their cruise options span five days to 22 days. Cruisers can choose to explore the lower Mississippi River, upper Mississippi River, or both.
The Mississippi River flows through the following states: Minnesota, Wisconsin, Iowa, Illinois, Missouri, Kentucky, Tennessee, Arkansas, Mississippi, and Louisiana.
Though these states may be less popular for tourism than California, New York, or Florida, a Mississippi River cruise excitingly brings them attention.
If you're a guest of a US river cruise on the Mississippi, you will discover the region as you visit places like the National Great Rivers Museum and Cahokia Mounds State Historic Site in Illinois. You may also stop by the Mississippi River Museum in Tennessee, and Natchez National Historical Park in Mississippi, just to name a few.
Some cruises span another river in addition to a stop or two along the Mississippi River. For example, this is the case with an Ohio River Cruise and Mississippi River Cruise or an Illinois River Cruise and Mississippi River Cruise.
Upper Mississippi River Cruise vs. Lower Mississippi River Cruise
Because there is so much to see along this great river, cruise lines often offer an Upper or Lower Mississippi River cruise or a long cruise that explores both. (To us, this just means more reasons to be a repeat cruiser!)
You can't go wrong with either cruise, but in our humble opinion, a Lower Mississippi River Cruise is a bit more exciting.
On the other hand, an Upper Mississippi River Cruise is more low-key in its ports and activities, drawing more on US History than the hustle and bustle of more major southern cities (like New Orleans).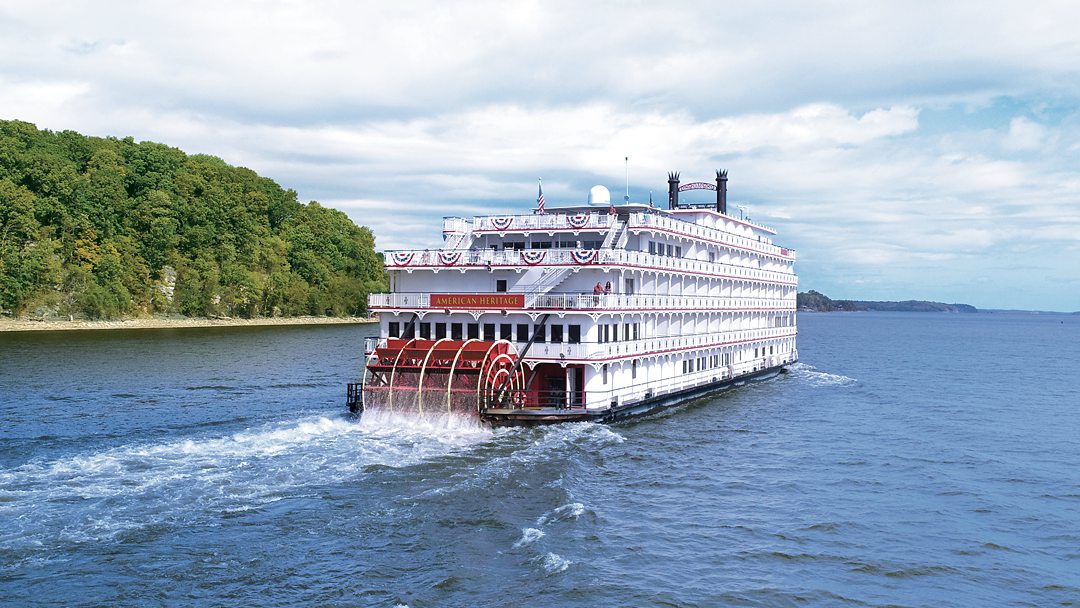 Ohio River Cruise (Along with Mississippi River Stops)
The Ohio River is 981 miles, travels from Pennsylvania to Illinois, and then flows into the Mississippi River. The river's path is along the border of a few additional states: West Virginia, Ohio, Indiana, and Kentucky.
"Ohio" is a Native American name that translates to "Good River." And what could be better than a river cruise on its waters?
American Queen Voyages has several cruises that sail the Ohio and Mississippi rivers. Here are a few options:
A nine-day river cruise that begins in Pittsburgh and ends in Louisville, Kentucky. Highlights include visiting the Rosemary Clooney museum in Augusta, Kentucky, and a visit to Cincinnati, Ohio, famous for its John A. Roebling Bridge. (Which we read about in The Great Bridge, thanks to its architect of the same name.) The reverse voyage, a nine-day sailing from Louisville to Pittsburgh, differs slightly only by one city.
Over nine days, sail from Louisville, Kentucky, to St. Louis, Missouri. Taste bourbon and the cuisine of this notable "Louisville Slugger" city, and end with a Hop On Hop Off bus tour of St. Louis, where you'll catch photo-worthy glimpses of the city's architecture, including the Gateway Arch.
Illinois River Cruise (Along with Mississippi River Stops)
The Illinois River is entirely contained within the state and is relatively short at 273 miles. This small river meets up with the Mighty Mississippi close to St. Louis in Grafton, Illinois.
An example of a journey that travels on both rivers is a nine-day American Queen Voyages Upper Mississippi and Illinois River itinerary.
Start in Ottawa, Illinois, and visit the most popular park in the state, Starved Rock State Park. Days later, complete your river cruise in St. Louis after visiting Grafton – where the Illinois River meets the Mississippi – and enjoy a taste of this iconic city in Missouri before heading home. (You can also extend your trip and tack on an Upper Mississippi itinerary!)


East Coast River Cruises
Cruise lover or not, the east coast is a fantastic area to explore by boat. The Atlantic region has a lot of great ports.
The typical timeframe of an east coast United States River Cruise is between eight and 11 days. If you're cruising the northeast, you should plan for late spring, summer, or early fall. The opposite season (winter) may be best if you want to cruise Florida's waterways.
Hudson River Cruises
The most beloved river in New York is the Hudson River. This body of water flows from the north to the south for 315 miles. It begins in the Adirondack Mountains at Lake Tear of Clouds and flows to New York City, and out to the Atlantic Ocean.
A river cruise in the US on the Hudson River usually lasts eight days, stopping along sought-after locations like Albany, Hyde Park, West Point, and of course, New York City.
American Cruise Lines operates eight-day cruises on the Hudson River during September and October when it's prime time for leaf-peeping. If you're keen on photography, this could be a splendid time to capture the colors of the fall foliage in all their glory )if mother nature is kind enough to show off during your cruise).
Stops along your journey will showcase amazing spots such as the Vanderbilt Mansion, Olana State Historic Site, Sleepy Hollow, and West Point Military Academy.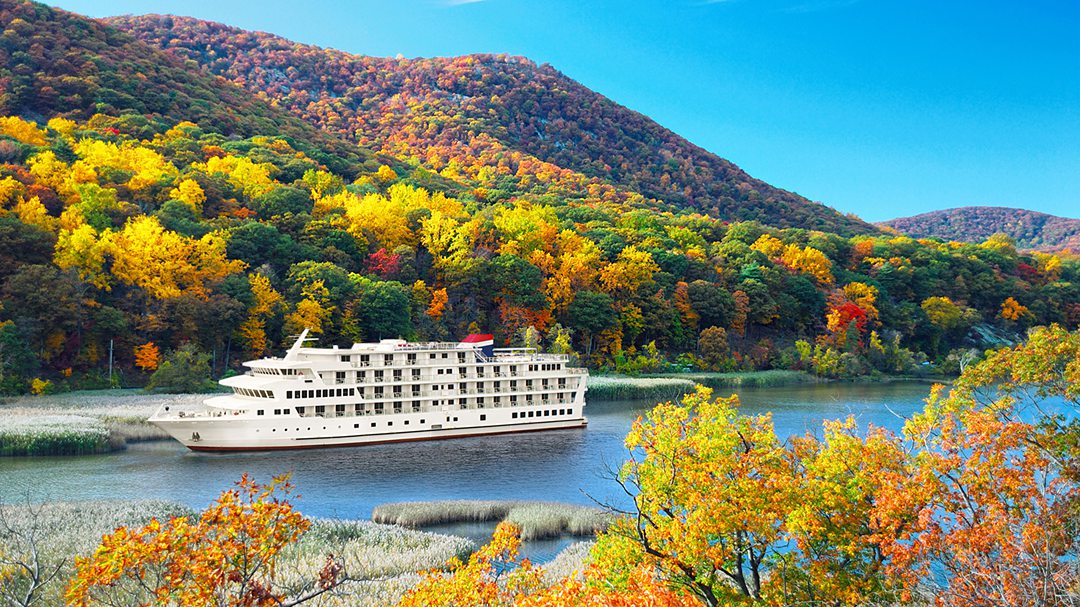 Southern River Cruises
Head south for some palm trees, delicious southern cooking, and Civil War history. Traveling on waterways in the USA to experience this southeastern part of the country with a lot of heart is sure to be memorable.
Cumberland and Tennessee River Cruises
The Cumberland River is 688 miles and runs through Kentucky and Tennessee. The Tennessee River, a tributary to the Ohio River, is 653 miles and runs through Tennessee, Alabama, and Kentucky.
A Tennessee River Cruise itinerary with American Cruise Lines visits cities that are very appealing to us over the course of eight days. This includes starting and ending in Nashville and visiting Chattanooga along the way.
Nine itineraries are available to choose from for river cruises on the Cumberland and Tennessee rivers with American Queen Voyages. They range in length from nine to 13 days.
Highlights include visiting Nashville for a taste of country music, meandering through charming small towns with historical significance like Wheeling, West Virginia, and disembarking in Pittsburgh, Pennsylvania.
St. Johns River Cruises
Florida's St. Johns River is approximately 320 miles long. It travels from Jacksonville in northern Florida to Ocala National Forest, near Central Florida's famous city of Orlando.
You can book a closed-loop itinerary from Jacksonville with American Cruise Lines. Eight incredible days of discovery take you to exciting spots where you'll learn more about Florida's wildlife, its connection to golf, and see historic homes.  
Ports highlighted during a river cruise on the St. Johns River in Florida include Jacksonville, Green Cove Springs, Palatka, Lake George, Amelia Island, and St. Augustine.
If you sign up for a St. Johns River cruise you can expect to travel on Mill Cove Lake near Jacksonville and onto the Tolomato River (part of the Intercoastal Waterway) near St. Augustine and Amelia Island.
This is an exciting trip for wildlife lovers. You will have a chance to spot alligators, manatees, and bald eagles in their natural habitat. Don't forget to pack travel binoculars and your telephoto camera lenses!


What Cruise Lines Operate River Cruises in the US?
We've mentioned a few in this post and, if you noticed, repeat many of the same cruise line names for different itineraries. This is because there are not as many river cruise lines sailing in America as on other continents, like Europe.
The rules and regulations cruise lines need to follow to operate in the United States are stringent. This means abiding by requirements like their vessels being built within the country and a certain percentage of the crew being US citizens.
The three major US river cruise lines are as follows:
American Cruise Lines
American Queen Voyages
Viking
Due to the increased popularity and demand for American river cruises in recent years, these cruise lines have upgraded the interiors of their existing river cruise boats. We are excited they have ordered new boats for the future!
Let's dive a little deeper into each cruise line.
American Cruise Lines
American Cruise Lines has one of the largest United States river cruise portfolios. Across all their cruises, they operate nearly year-round. They offer cruises on the Mississippi River, in New England, the southeast United States, the Pacific Northwest, and even Alaska.
Five different classes of cruise ships comprise their fleet; they vary in guest capacity from 90 to 180 passengers, as follows:
American River Boats (180 guests)
Eagle Class (109 guests)
Constellation Class (170 guests)
Authentic Paddlewheelers (180)
Independence Class (90)
Seventeen American Cruise Lines vessels fall into one of the five categories of cruise ships above. They operate 35 itineraries that travel to 34 states.
Their focus on sustainability makes our earth-loving hearts happy. They source local ingredients as much as possible and have upgraded their ships to reduce energy consumption. What's more is that American Cruise Lines is committed to reducing the use of single-use plastics, just like we are.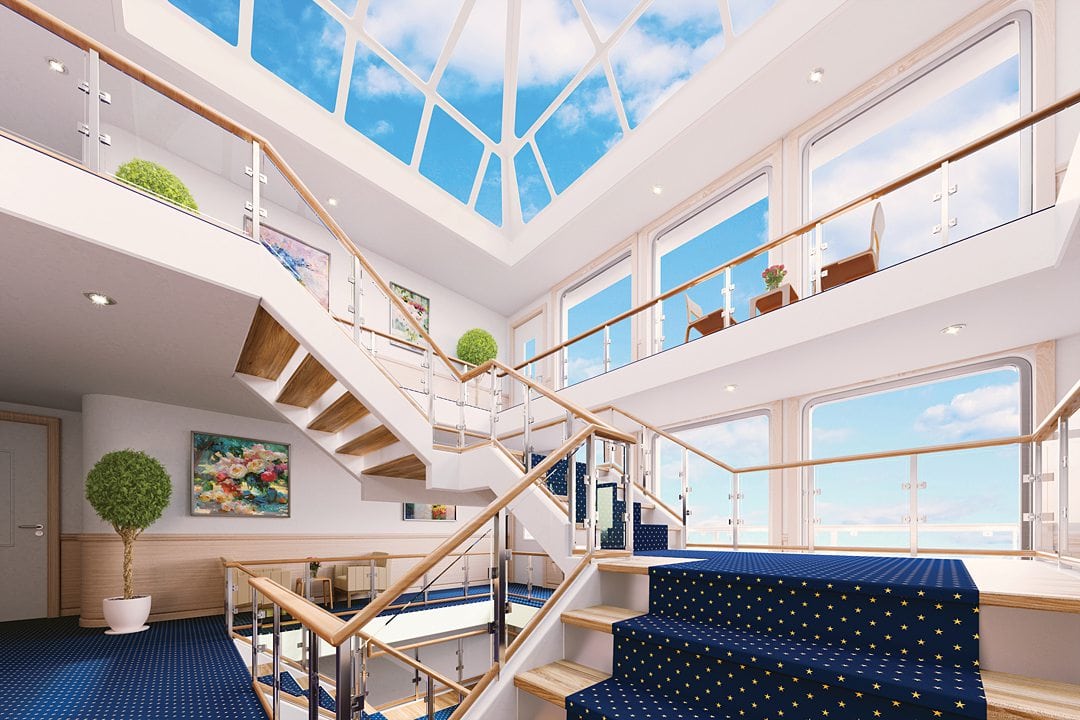 American Queen Voyages
American Queen Voyages (AQV) has three different classes of ships that indicate where they sail:
River
Lakes and Oceans
Expedition
Their river cruise boats have the famous red paddlewheels that make them easy to identify. You may know the brand by its former company name, American Queen Steamboat Company.
The names of their vessels all begin with "American": American Queen, American Countess, American Duchess, and American Empress.
Their lakes and oceans boat names begin with "Ocean," and they currently have two: Ocean Voyages and Ocean Navigator. These vessels do not offer balconies with their cabins, whereas the river cruise and expedition boats with AQV do.
Lastly is their expedition ship, Ocean Victory, which sails in Alaska.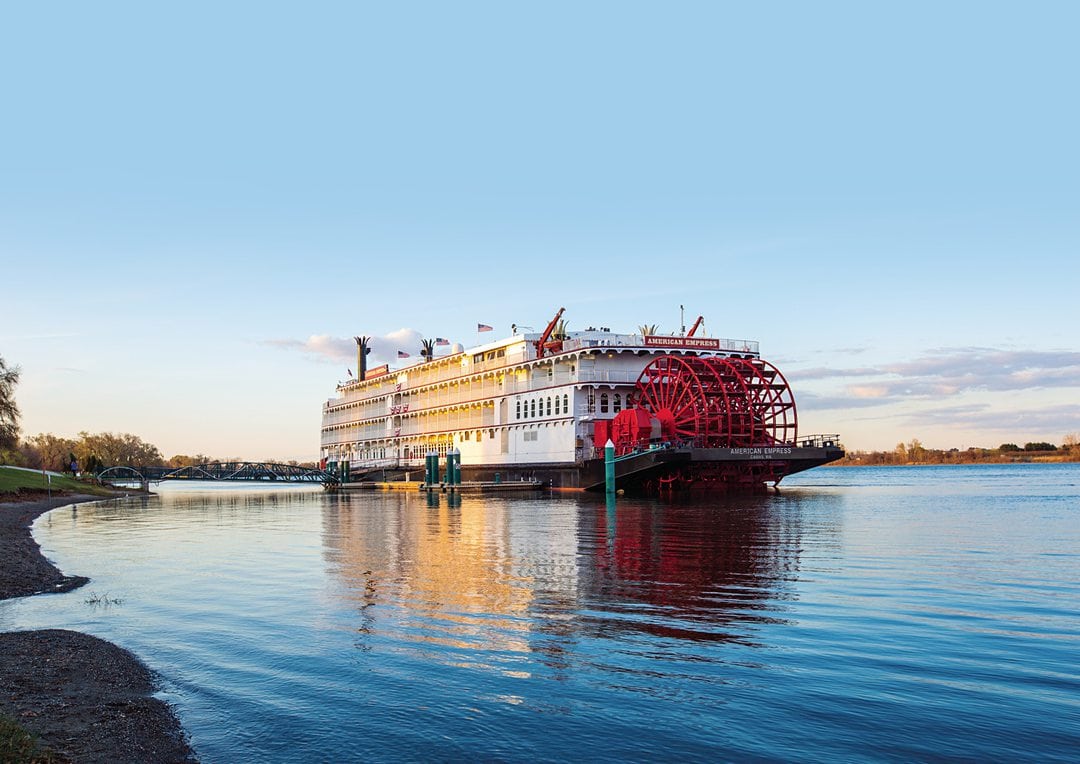 Viking Cruises
Though Viking has been around for decades on other continents, they're the newest to the American market. They debuted their first US river cruise ship on the Mississippi River in 2022.
Many people are loyal to the Viking brand for worldwide river cruise travel in Europe, Asia, and Africa. They offer an entry-level luxurious experience at an affordable price.
An investment with Viking for a US River Cruise will be money spent in confidence, knowing the product you'll get for remaining loyal to the Viking brand.
Their Viking ship that sails in the US is aptly named "Viking Mississippi." Its guest capacity is 386, and they have 148 crew onboard. The river ship has five decks; three and a half of those decks are made up of guest cabins.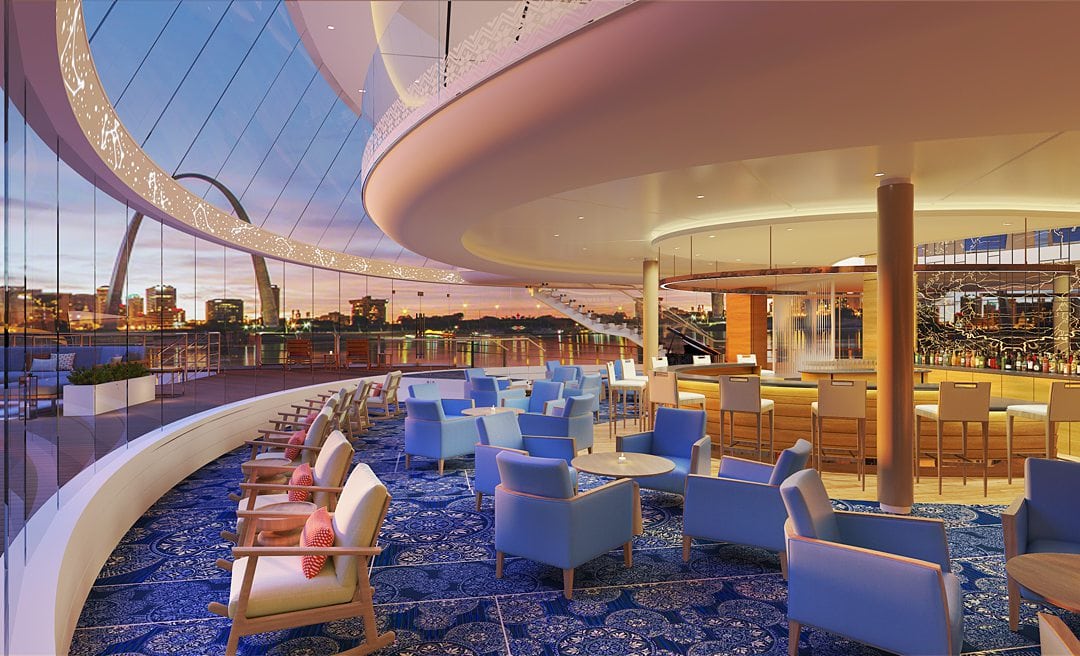 Cost of US River Cruises
If it's your first time on a river cruise, you'll be happy to learn that a lot is included in the cost. Things such as all meals, excursions, and gratuities are usually already worked into the price you'll see when you browse options online.
River cruises are one of the best ways to explore the world (including the United States). Some people think that river cruises are expensive, but to us, the value of a river cruise is noteworthy.
Expect to pay anywhere from $1,000 to $14,000 per person for a river cruise in the United States. The range varies depending on the length of the sailing you pick, like whether you go on a river cruise for seven or 14 days, the time of year, and the cabin you select. For example, an interior cabin will likely cost less than an exterior cabin with a balcony.
Some river cruises include beer and wine with lunch and dinner. Others have it as an optional upgrade along with the usual drinks packages you can add to any cruise.


United States and North American Small Ship Cruise Options, Beyond Rivers Cruises
The US is a massive country with many rivers and other water bodies. It means the options to cruise American waters are not limited to rivers.
There are also lake cruises, cruises on bays, and ocean cruises. Cruise options are plentiful, and you can sail for nearly a week if that's all your time and budget allows or for two to three weeks if you wish.
Perhaps river cruise boats that are 200 passengers or less aren't for you, but you'd enjoy a ship with over 1,000 passengers with more entertainment options onboard, like multiple pools and thermal spas. If this is the case, you can cruise from many different ports along the coastal United States on bigger ships, as we did along the coast of California with Princess Cruises.
While these ships cannot possibly sail small bodies of water, like rivers, it's possible to get the feel of a small ship aboard larger cruise ships if you look for cruise lines offering ship-within-a-ship experiences. (Which we highly recommend for big cruise ships!)
Great Lakes Cruises in America
If you want to sail the northern part of the United States but don't want to head west to the Columbia and Snake Rivers, Great Lakes Cruises are a terrific option. They take guests on massive, breathtaking lakes that sail between the United States and Canada. Read more about Great Lakes cruises and decide what's right for you.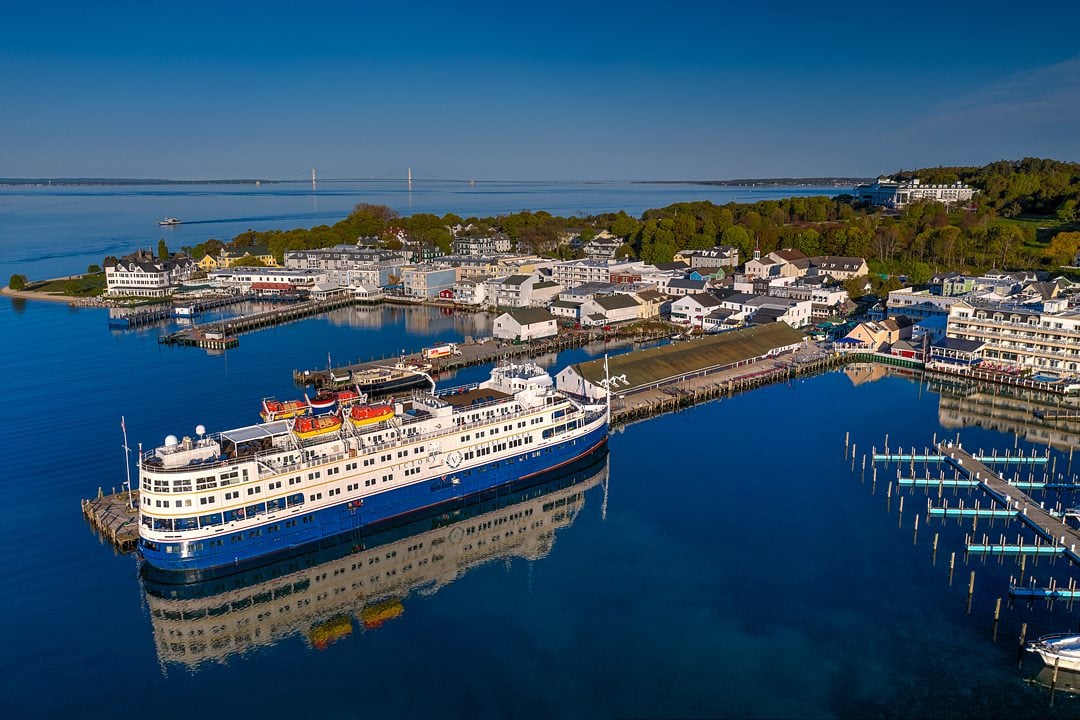 Historic River Cruises from Baltimore (Sailing the Chesapeake Bay and Inland Passage)
Chesapeake Bay Cruise
You can sail on the Chesapeake Bay out of the Port of Baltimore. While this isn't technically a river, it will give you a similar feel to river cruising. This is especially true because American Cruise Lines offers a cruise here on the same ships that sail rivers.
Some cities visited during a six-day itinerary on the Chesapeake Bay with American Cruise Lines include Baltimore and Annapolis, Maryland, and Yorktown and Williamsburg, Virginia. This cruise sails numerous times in late October, early November, and May.
East Coast Inland Passage Cruise that Sails Through Charleston
Many people wonder how you can cruise on an overnight ship and visit Charleston, a highly sought after destination on the east coast, in South Carolina. In this case, American Cruise Lines has two itineraries that may be of interest to you. They travel through the East Coast Inland Passage.
One is their cruise that begins in Baltimore, Maryland, and ends at Amelia Island in Florida, just south of the Florida-Georgia border. This 15-day cruise sails in October, November, or April and allows passengers to see more of the southeast coast than any other option.
Enjoy stops at Kitty Hawk, North Carolina (in the Outer Banks), Hilton Head, South Carolina, and Savannah and Jekyll Island, Georgia, to name a few.
If you're looking for a shorter cruise that's something like eight days, consider a cruise that begins in Charleston and ends at Amelia Island. This essentially cuts the 15-day itinerary in half, but you still get to stop at key locations like Savannah, Hilton Head, St. Simons Island, and Jekyll Island.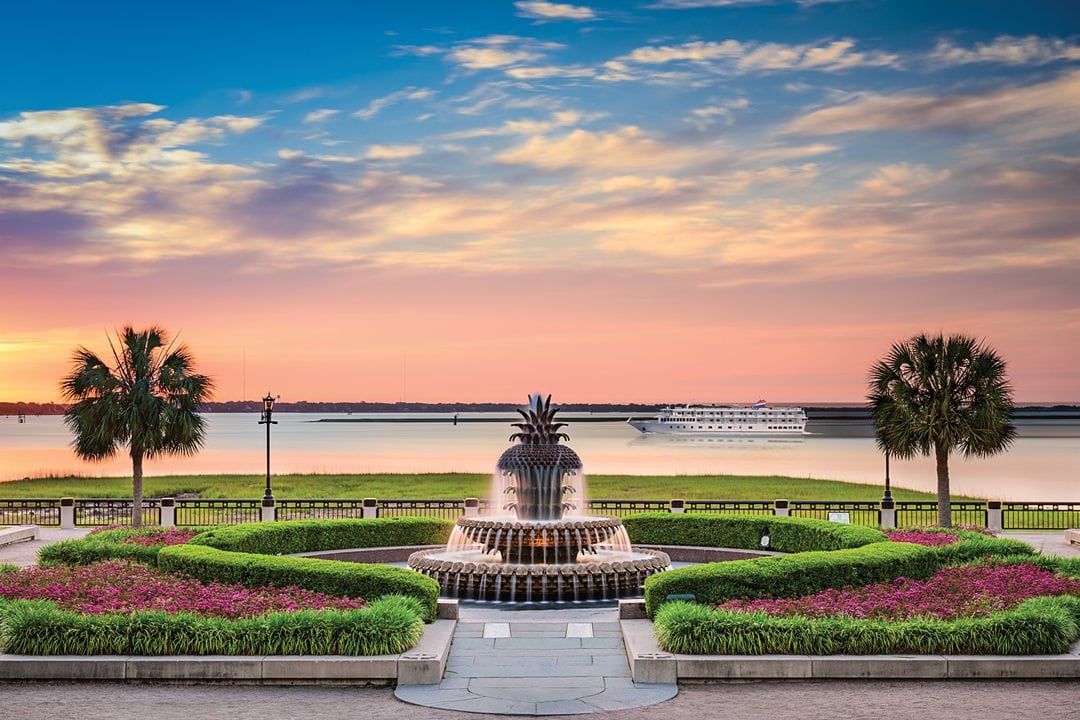 Sail Maine's Coast
We embarked on a four-day summer sailing aboard the schooner American Eagle along coastal Maine. The trip was delightful and definitely a favorite vacation memory.
As our trip report recalls, sailing on a schooner isn't luxurious or fancy. It is, however, a unique experience where you bond with other guests and enjoy being on deck most of the time you're on the water. You'll certainly quickly appreciate the beauty of Maine.
You can help with the sails if you want and enjoy being row-boated to the shore to explore Maine's beautiful terrain on one of the many islands that are part of the state. The ship goes where the captain chooses – and there's really no area that isn't worthy of a stop in the captain's repertoire.
If you don't fancy a US river cruise but still want to cruise the waters of the United States on a small boat, consider a Maine Windjammer Cruise.
Puget Sound Cruises from Seattle
If Great Lakes Cruises and Chesapeake Bay cruises make your eyes perk up, then consider a Puget Sound Cruise on the west coast.
American Cruise Lines offers two itineraries in this breathtaking area: one is a Grand Puget Sound cruise that lasts 11 days and the other is eight days. Both sail roundtrip from Seattle and visit the gorgeous city of Victoria, British Columbia, the only Canadian stop on the journey.
They have scattered dates of availability; the longer Grand Puget Sound cruise is available throughout spring, summer and fall, while the shorter Puget Sound and San Juan Islands Cruise takes place throughout July.
Mega-Ship Cruise Itineraries Sailing from United States Ports
If small ship cruising isn't for you, or perhaps you're desiring a change of scenery from the usual small-ship cruise you sign up for, a bigger cruise ship may be the solution.
There are more differences than similarities when it comes to river cruises vs. ocean cruises, but we can all agree their commonality is a love for traveling on the water with hospitality in mind.
A mega-ship cruise out of a United States port doesn't stay within the United States for the entire journey. But you can start in the country and travel to places like Bermuda, or the Caribbean, on these cruises. (Don't forget your passport!)
You can even sail to Disney's island, Castaway Cay, from Florida.
United States cruise ports of embarkation are all around the country, including the California coast, Seattle, Baltimore, Charleston, Galveston, New Jersey, and Florida.


Book Your US River Cruise Vacation
If it's your first time going on a cruise and you want to stay within the United States (either because you don't want to get a passport, for example, or you're more comfortable staying closer to home), consider signing up for a river cruise in the US of A.
They are quite different – and are much more intimate – than mega-ships. There are fewer guests on riverboats, the crews' attention is less divided, and you can explore US towns and cities that are not crowded yet have a lot to offer.
Consider a US river cruise for a honeymoon to celebrate your anniversary or simply a memorable vacation for five days to a week or even longer. River cruises in the USA are worth considering and are sure to open your eyes up to exploring your own American backyard.