Outstanding Emerald Destiny River Cruise Food (with Photos!)
If there's anything we love doing together, it's eating good food. This is why we are so excited to be sharing information about what Emerald Destiny river cruise food is like.
If you ask us, any experience can be enhanced not just by delicious meals, but the environment it's served in. And the ambiance on the river cruise ship, the amazing staff/crew on board, and the cuisine they served really stood out during our Danube River cruise trip in October.
We are sharing photos and descriptions of some of our favorites, including the dress code for meals, what the dining area looks like, and what the offered drinks packages include.


"Reflections Restaurant" on Emerald Destiny
The restaurant on Emerald Destiny is where you eat breakfast, lunch, and dinner. Since river cruise ships are small, it's typical there are only one or two dining rooms onboard, where you eat all your meals. Unlike an ocean cruise ship, where there seems to be an endless amount of restaurant options.
Its official name is "Reflections Restaurant," but since there's only one restaurant on Emerald Destiny, you don't really need to know its name (and I rarely heard it called that – you'll more so hear, "We're on our way to dinner," rather than "We're on our way to Reflections." But you'll see Reflections Restaurant written on the daily schedule, for instance, which is visible from the main lobby area, or your tv in your Emerald Destiny cabin.
The interior design of the restaurant is much like the rest of the ship: sleek and modern, with a mostly neutral color palette except for a pop of blue in booth seat upholstery. When we were on board, the black vases at each table were filled with pink roses, while the lounge upstairs had red rose-filled bud vases. It was another nice, tasteful pop of color.
Since the ship wasn't at 100% capacity when we sailed on Emerald Destiny, not every single table was set for meals. You'd choose to sit at a table that was ready with a place setting, and maybe even opt to sit in the section of your favorite waiter or waitress onboard.
(You quickly get to know the awesome staff onboard Emerald Destiny; everyone is incredibly friendly and welcoming. They even know your name within a day, if not less!)
Is There Assigned Seating on Emerald Destiny for Meals?
There is not! You're free to sit wherever there is an available seat when you get to the Reflections Restaurant.
Sometimes, guests find they have good chemistry with a particular waiter or waitress and sit in the same section of the restaurant every day so they can always have that server.
Dress Code in the Dining Room
There isn't any night on Emerald Destiny that is formal. For example, a ballgown for dinner on any night would be overdressing, as would a tuxedo. A nice dress is appropriate if you feel like being fancy, but pants with a nice shirt is just as acceptable. Shorts and t-shirts for dinner are generally frowned upon (and we were there in October so no one was wearing shorts anyway) but you can wear t-shirts and jeans for breakfast and lunch. It's pretty casual!
There is a "Captain's Dinner" that's a little more formal than the other nights, and a "Farewell Gala Dinner" too. But, again, they're fairly informal as far as dress-up nights on cruises go, generally speaking. We like to pack light in carry-on luggage backpacks, only (no checked baggage), so we pack versatile pieces, like shoes that match multiple outfits. We both wore the same shoes, for both dinners.
Here's what we wore to the fancier nights, which were still fairly informal:
We talked to several guests who mentioned that the informality of Emerald Cruises, compared to other cruise lines, is something that they love about sailing with Emerald.


River Cruise Dinners on Emerald Destiny
We were excited to hear about the "Chef's Recommendations" menu every night on Emerald Destiny. If we were gathered beforehand as a group (for instance, if we were in the lounge for a port talk about the destination we were arriving to the next day), Chef Russell would join us for a few minutes, dressed in his chef's coat and chef's hat, and talk to the group about the evening's menu and his recommendations.
It was a nice touch to get everyone excited about the menu before the meal. The Chef's Recommendations were presented in print on the righthand side of the two-page menu. Of course, you don't have to order everything that is recommended; you can make your own selections.
You choose a starter/appetizer, entree, and dessert for each dinner. If you couldn't decide between two starters, for instance, they were very accommodating to put together a little sample plate of both so you didn't have to spend time deciding between the two!
If we were good about participating in EmeraldACTIVE during the day, we felt a little less guilt about packing on these delicious calories at night, but we admit we weren't as diligent about EmeraldACTIVE as our friend John is when he travels and takes full advantage of all the activities. He's an inspiration! We felt good about the miles we walked around town during the day, with the included walking tours from Emerald Cruises or exploring on our own. Hence, the guilt wasn't too strong come mealtime!
Drinks and Starters
Every dinner began with bread service complete with homemade herbed butter (which I LOVED – it was so good). Next, came the drinks, including an offering of wine or beer.
During our Emerald Destiny river cruise food experience, you could choose a lager or a red beer, both of which were on draft. You could choose from either a red, white or rose wine.
The starters always got us excited for the rest of the meal. Some standouts are pictured here, which included:
Eggplant stuffed with cheese, served beside a bed of herbed tomato and cucumber salad.
Prosciutto with three kinds of melon: cantaloupe, honeydew and watermelon.
Saffron orange risotto, with a tiger prawn and parmesan cheese.
Shrimp salad with shredded cabbage.
Shopska salad with feta cheese, tomatoes, cucumber, black olives and a vinaigrette (very much like a Greek salad, but a Bulgarian version).
Smoked salmon carpaccio with salmon mousse, apple celery salad and a blini pancake.
Forest mushrooms a la crème, in a puff pastry with micro greens.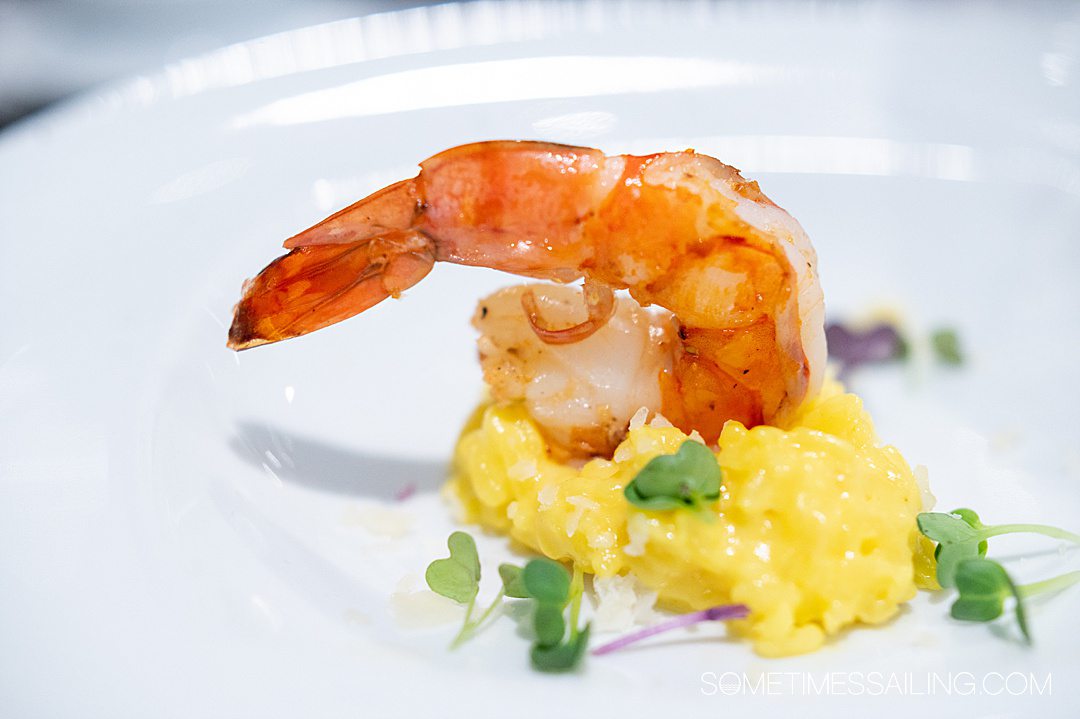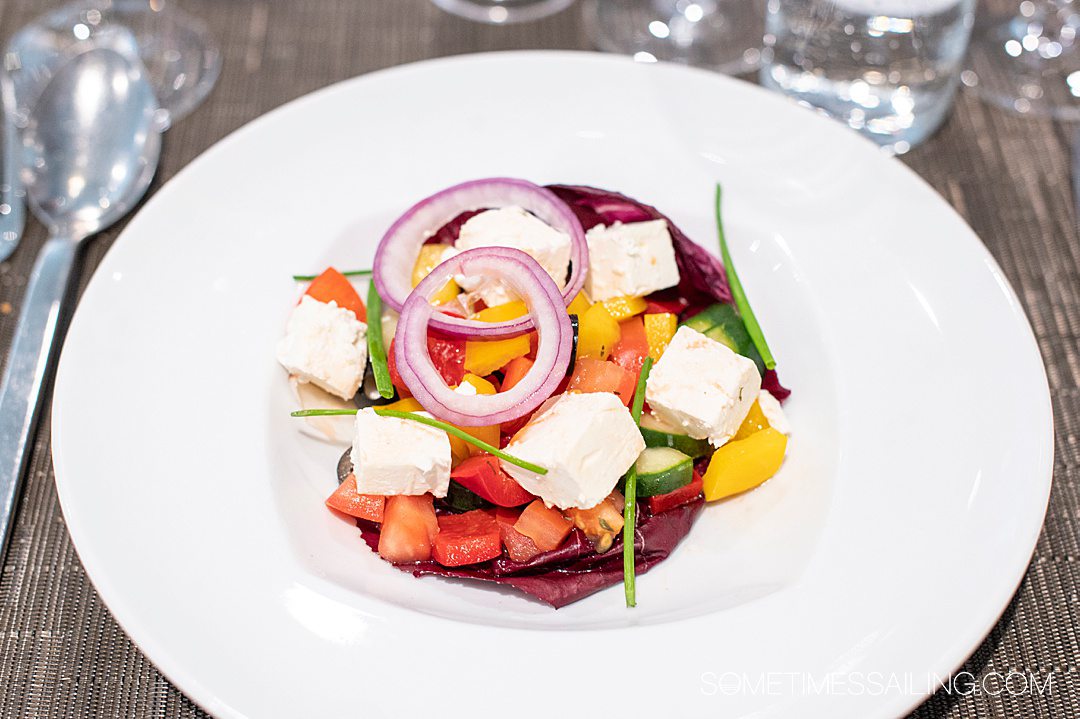 Dinner Entrees
Entree options for dinner usually included a choice of some sort of fish dish, a meat dish, and a vegetarian dish. Plates varied from hearty arctic char (which is similar to salmon) and white flaky sole, to tender sliced pork loin and filet mignon, to mushroom dishes and spinach pancakes.
There was never a lack of great choices; it was often hard to choose between them all.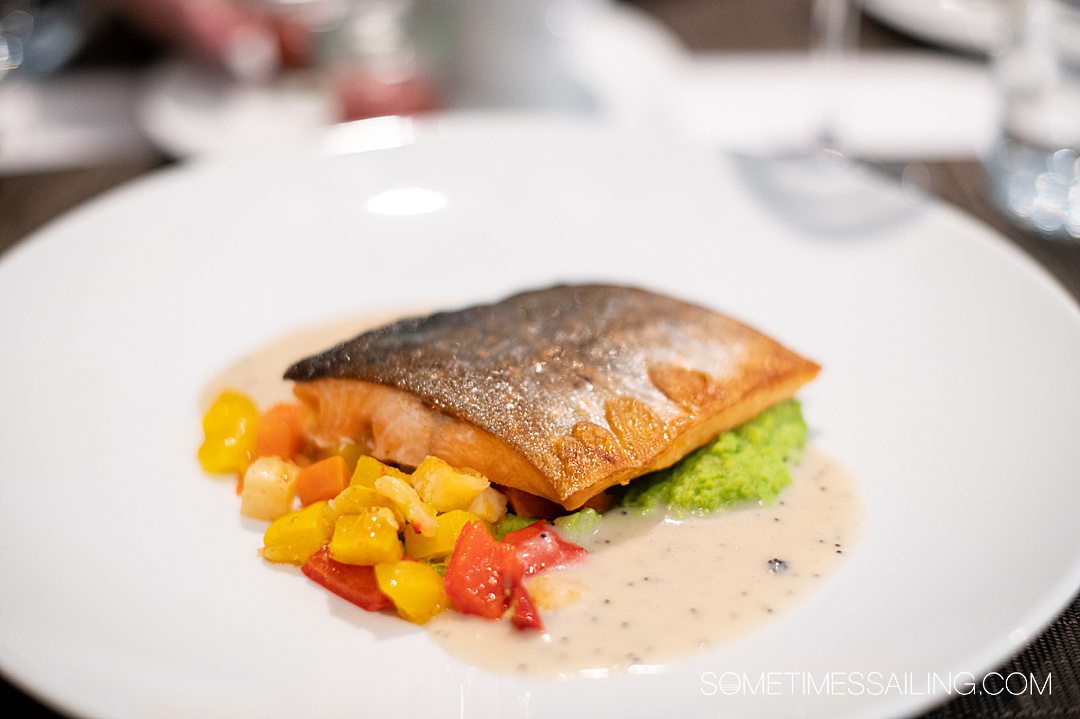 Dessert with Dinner
When we sailed on the Danube River with Emerald Cruises, the desserts were good, not great. Our favorite desserts were the cheese plate and their homemade ice cream.
Emerald Destiny Lunches
Lunch on the ship was part buffet and part sit-down table service. You could either go to the buffet, or order off the menu for the day, or both! Dessert was self-serve at the buffet for lunch.
One day, when we were in Austria, they themed lunch to the country's cuisine for an all-out buffet. Options included multiple types of sausages, soft pretzels, spaetzle, potato dumplings, and much more.
The lunch buffet always included a salad station with tons of fresh vegetables, some mixed salad options (like an orzo salad, or mixed tuna salad), a soup station, bread and cheese stations, and a pasta station. The nice thing about the pasta station was that the pasta was mixed to order by Chef Russell, himself.
Their homemade ice creams and sorbets at lunch and dinner were always a hit. At lunch, ice cream was served from the buffet and at dinner, it was served from the kitchen.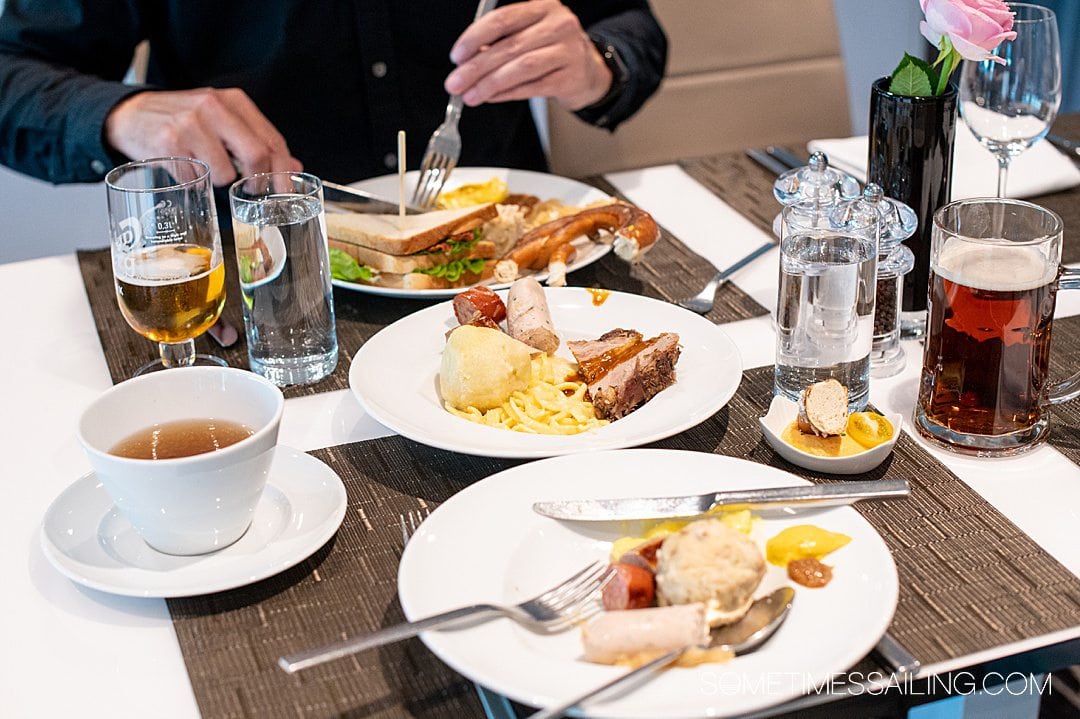 Another favorite lunch one day was fish and chips. Everything was cooked to perfection. The flavor was further enhanced with an ice-cold beer!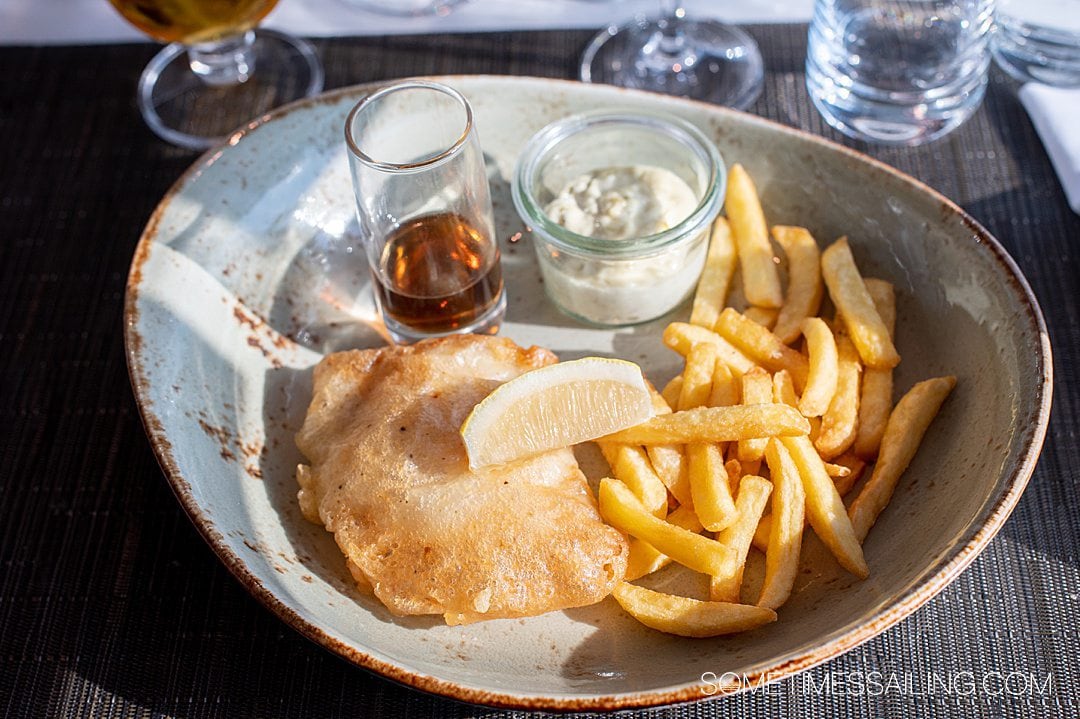 Emerald Classics: Options at Every Meal
Every lunch and dinner had "classics" you could choose from. This included:
Caesar salad or garden salad
Salmon filet
Grilled chicken Breast
Sirloin steak
Steak fries
Steamed vegetables
Bananas foster
The sirloin steak was SO good, I ordered it twice and Dan, after loving his sample bites of my steak, ordered it for lunch one day too. We're also suckers for French fries with ketchup, so after not having them for about a week while touring Germany a little before the cruise, we ordered them as a side with our meal our first night aboard Emerald Destiny. It was a treat!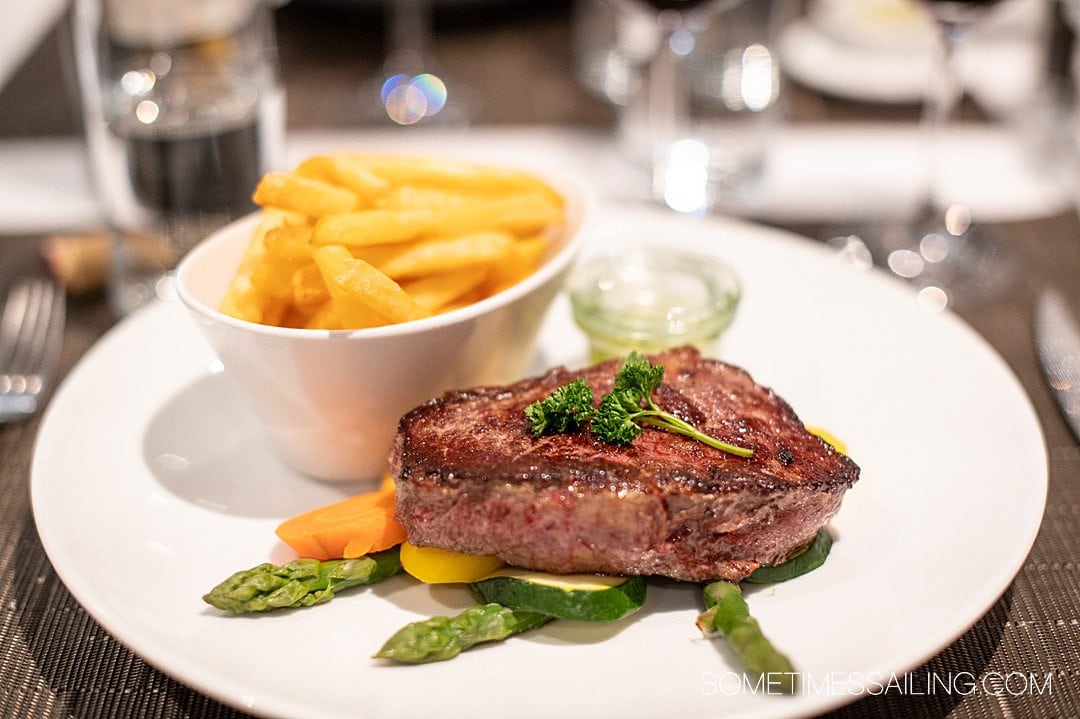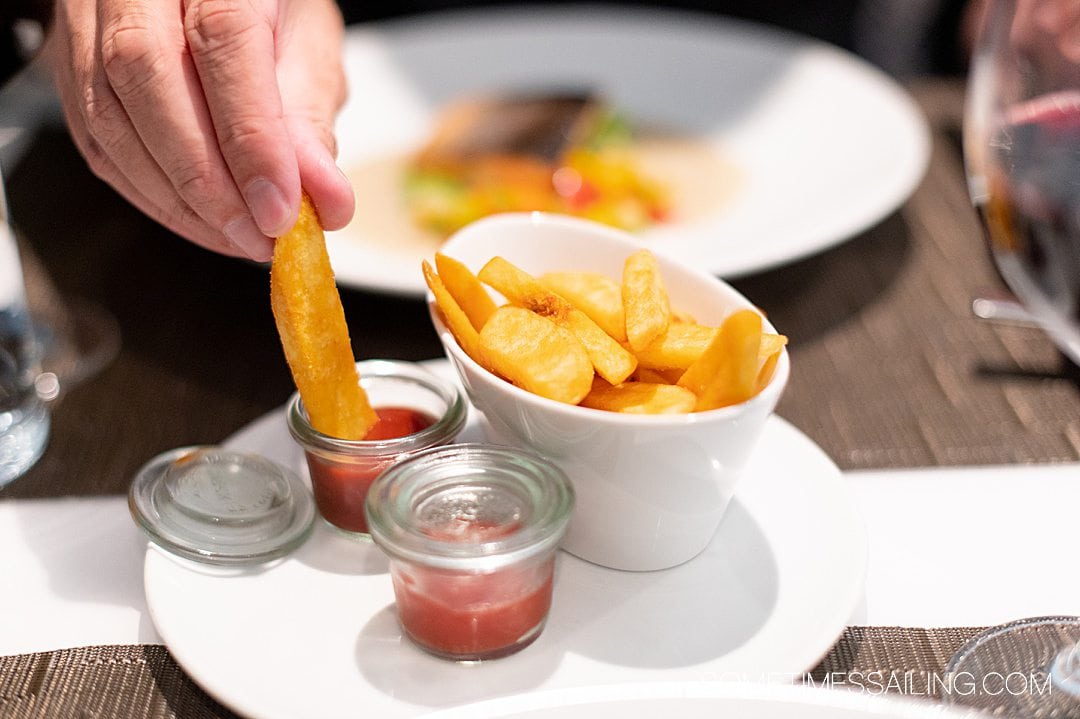 Included Beverages
Emerald Cruises includes a lot of beverages for the price of your cruise. You get beer and wine with lunch and dinner, and they're of excellent quality.
If you expect a mediocre wine to be included with the price of your cruise, which would potentially lead you to upgrade your drinks, you'd be wrong! We found that the wines that were included with each meal were great. We enjoyed reds, whites, and roses. (The servers also generously keep the wine and beer coming, the entire meal!)
If you want additional drinks outside of lunch and dinner you can pay per drink or opt to add a beverage package to your booking.
We appreciated that they had sustainability in mind when they selected their cocktails straws. They were served either with a paper straw or glass straw. (An example of the glass straw is pictured below, in the Club Soda and Gin cocktail, I ordered.)
You can also have coffee, lattes, cappuccinos, and tea whenever you like from the two machines on the ship (one is in the lounge and the other is by the pool.)
Additional Beverages, Available for Purchase (Drinks Packages)
There are several options to add beverages to your cruise, outside of lunch and dinner.
Like other cruises, you can add a package for wine and beer, one for mocktails, and one for cocktails. You can also add an option for bottles of wine. Or, you can pay per glass of wine, beer, or a cocktail, for example.
There's also a "Specials of the Day" sign at the bar each day of the cruise. These are drinks that are selected as the featured cocktail, martini, and mocktail for a little bit of a discounted price (we found they were €2 or so less than the drink prices on the usual menu).
Here are a few things to keep in mind if you choose to add any of these packages to your cruise:
Both people in the cabin need to purchase it.
It will be added onto your cruise for each day, for the length of your cruise. In other words, you have add it for all eight days if you're on an eight-day Danube River Cruise. You cannot only add it on for some days.
The drinks packages do not include mini bar drinks, found inside your Emerald Destiny cabin mini-refrigerator.
Extended Package: Wine and Beer, Outside Lunch and Dinner
The option to buy wine and beer outside of lunch and dinner is called the "Extended Package." It is €12.50 per person, per day, and includes wine, beer, and soft drinks.
This makes sense if you think you'll drink more than three additional glasses of beer and wine outside of lunch and dinner, or perhaps if you think you'll want something like soda throughout the day. (
Non-Alcoholic Drinks Package
If you want soft drinks, bottled juice, and mocktails outside of lunch and dinner, you'll want to add on the "Non-Alcoholic Package." (Mocktails aren't included in lunch and dinner anyway, so if you're a mocktails kind of person and you think you'll have multiple mocktails a day, consider this package.)
It costs €8.90 per person, per day.
Premium Package for Drinks
Want a little of everything, throughout the day? If you know you're going to want something like three cocktails throughout the day, then maybe a soda in the afternoon between lunch and dinner, and a glass of wine in the lounge after dinner but before bed, this is a good add on. It's called the "Premium Package."
The cost is €24.50 per person, per day, and can be used for glasses of wine and beer, soft drinks, cocktails and mocktails. The entire beverage menu is yours to order, with the exception of bottles of wine and Champagne/Prosecco.
Wine Bottles Packages on Emerald Destiny
If you love wine and want some elevated wine options during your river cruise, you may want to consider a Wine Package. There are two options: Silver and Gold.
A Silver Package allows guests to choose a bottle from Emerald Cruises' extensive wine list, up to €25 per bottle.
The Gold Package is for wine enthusiasts, who will want to choose any bottle of wine from Emerald Cruises' wine list, regardless of the price.
The Silver and Gold wine packages are priced for either three, five, or seven bottles of wine. The cost varies from €69 for three bottles in the Silver Package or three bottles for €125 with the Gold Package. Seven bottles in the Silver Package cost €157.50, and seven bottles in the Gold Package costs €264.50.
Is a Drinks Package on Emerald Destiny Worth the Cost?
We never felt the need to upgrade our drink options on an Emerald Cruises river cruise to the extent of purchasing a drinks package. If we ever wanted a drink outside of lunch and dinner, we purchased it while in port visiting a new town (because we weren't on the ship all day anyway) or we paid per drink at the bar or lounge.
For instance, sometimes we wanted one additional drink after dinner in the lounge before going to bed. So we simply paid for it. (You actually don't even have to pay for it until you settle your bill before leaving the ship at the end of your cruise. You just sign a piece of paper the server brings you and they add it to your room tab, like they do at hotels.)
The drinks onboard were very reasonably priced. On our Danube River cruise, they were in line with what cocktails cost at restaurants and bars in the cities we were visiting. For example, an Old Fashioned, Mint Julip or Margarita were all €8.00 each. My Basil Watermelon Cooler vodka cocktail was only €8.40. Draft beer and bottled beer were under €4.00 each.
We think it's worth the investment if you are planning on having at least four cocktails a day, overall. Or, if you know you'll want four drinks outside of lunch and dinner (beer/wine/mocktails/soft drinks). But if you only want one or two, simply pay per drink. Don't get a package.
River Cruise Breakfasts on Emerald Destiny
Breakfast is one of my favorite meals because what's better than waking up and having a delicious meal minutes later to start your day?
Every morning we had a beautiful (and plentiful) breakfast buffet set out before us. This was the only meal of the day we didn't have entrees offered on a menu. However, it wasn't necessary with all the options available.
Every day, there were various stations, including:
Plentiful yogurt options
An assortment of fresh breads
Sliced meats and cheeses
Hot options like potatoes, sausages, and bacon
Sliced fruit
Grilled vegetables, like mushrooms or tomatoes
Fish, like smoked white fish or salmon, or pickled herring
There was also an egg station that Sous Chef Jordan was in charge of. He cooked them made-to-order in various ways, including omelets and fried eggs.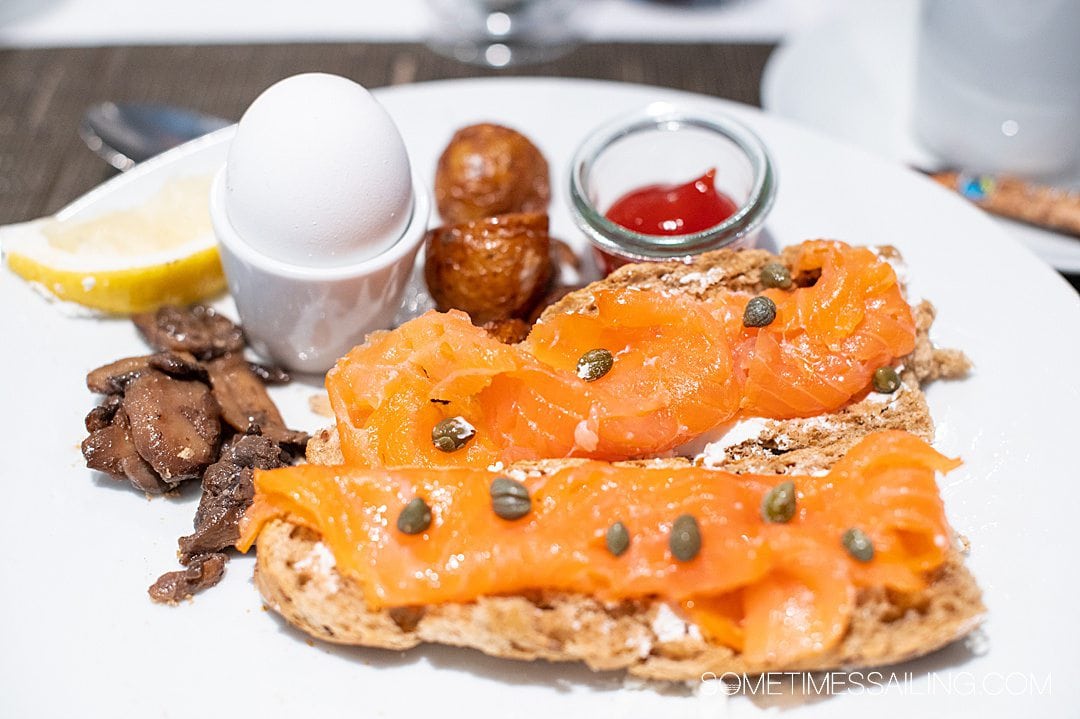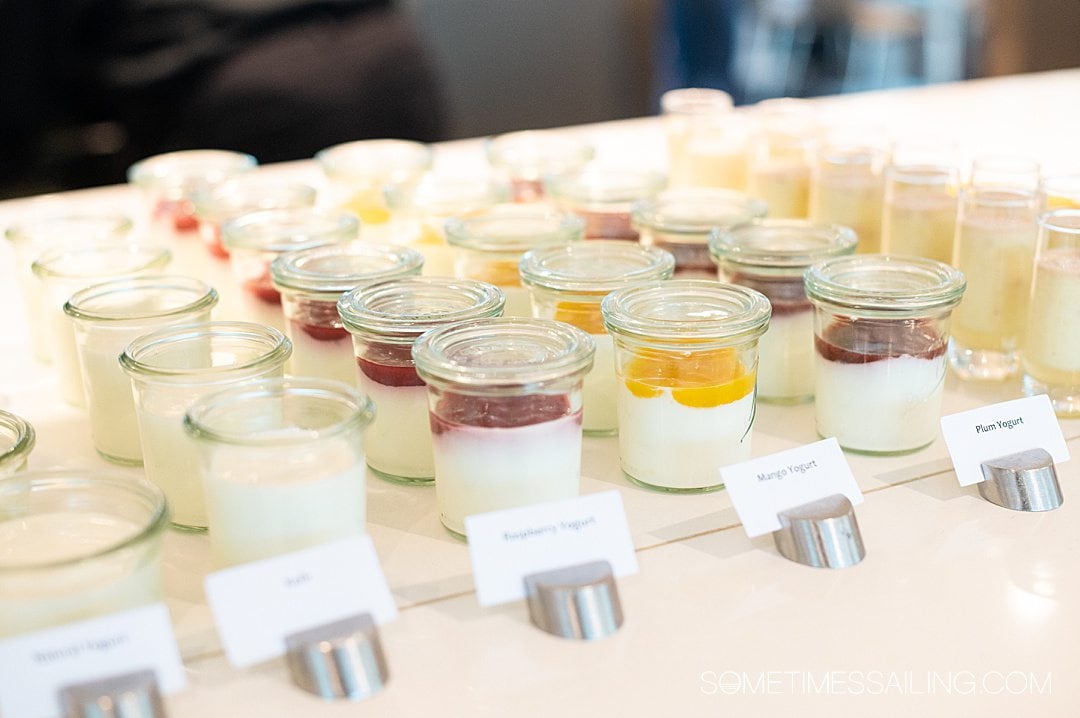 Off Times to Get Meals on Emerald Destiny River Cruise
There were several times you could get meals or snacks outside of scheduled breakfast, lunch, and dinner times.
These included the following times and occasions, and all happened in the Horizon Bar & Lounge area:
Late-risers breakfast, when you could get made-to-order eggs and baked goods in the Horizons Bar area, which was for an hour following the bigger buffet breakfast.
Tea Time: If you were onboard the ship at 4:00pm or 4:30pm, many days there was a thirty minute "tea time" in the lounge, with tea (of course) and light snacks. This time around we weren't onboard any day that Emerald Cruises was hosting a tea, because we were exploring the port. But we did see tea time aboard Emerald Sky during our river cruise in The Netherlands years before.
Late night snacks: If you were enjoying the lounge at 10:30pm, the staff came around with snacks like meatballs and little chicken bites for a late night nibble.
"Cocktail Hour" time: This happened twice onboard before the Captain's Dinner and the Gala Dinner. The servers came around with complimentary champagne for everyone for a little toast, and some canapés to enjoy before dinner.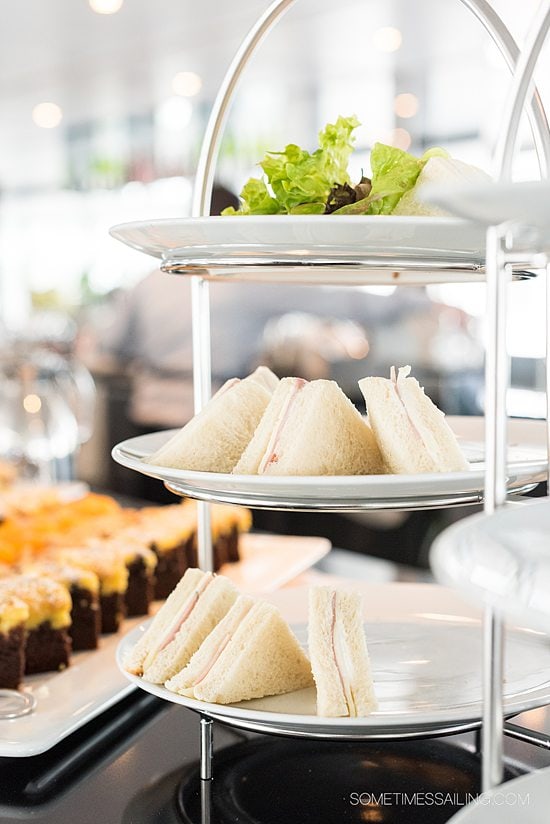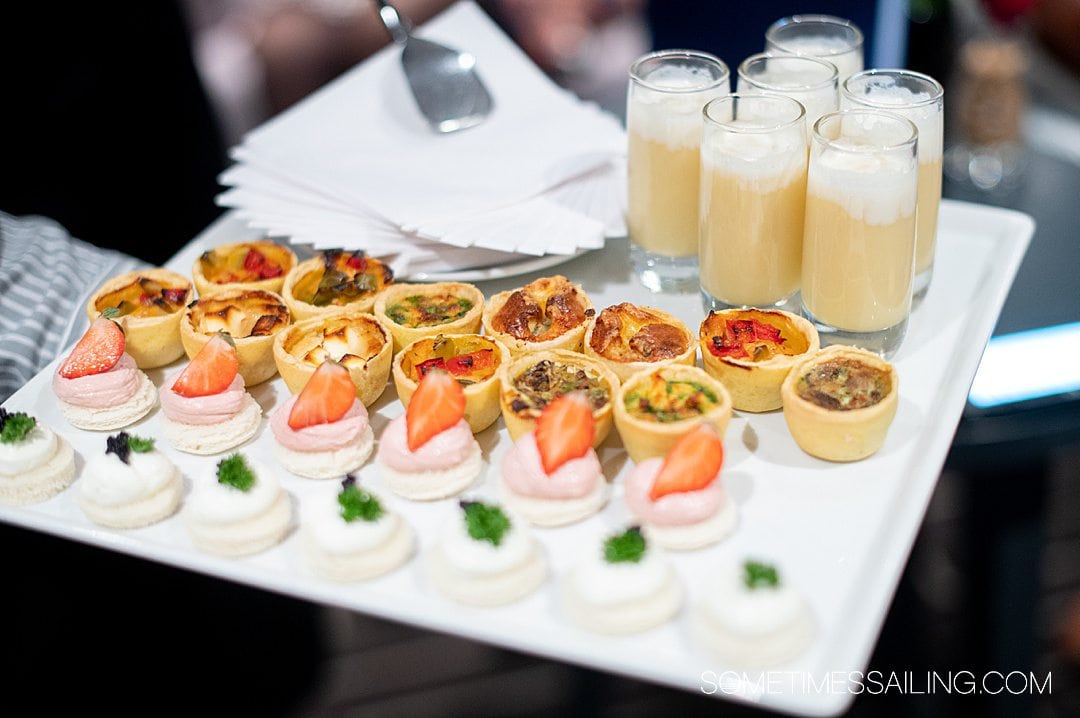 Will Vegetarians Have Options on Emerald Destiny?
The short answer is yes.
There may not be as many options during dinner as there are during lunch for vegetarians. But at the very least there's always a vegetarian starter option at dinner, as well as a vegetarian entree.
A garden salad is always an option with the Emerald Classics menu, which is available every lunch and dinner. The buffet at lunch makes it even easier to customize what you eat. This is the case for breakfast too.
If you're a pescatarian, you'll have some more options since there's always a fish option at lunch and dinner, and the Caesar salad (that contains anchovies) is an option on the Emerald Classics menu.
Candidly, we're not sure if it's difficult or easy to be gluten-free or vegan onboard. But we will say that the staff on Emerald Destiny is very approachable and accommodating and we know they would welcome a conversation about dietary restrictions at the beginning of your cruise.
We recommend making sure you sit with the same waiter or waitress for each meal if you have special dietary restrictions because they will immediately familiarize themselves with your dietary needs.
Is there Room Service on Emerald Destiny?
There is not room service on Emerald Destiny.
However, the size of river cruise ships is so manageable and small that the walk from your cabin to the restaurant is never far. The thought of ordering room service onboard truly never crossed our minds, even if it wasn't an option.
What Do We Tell Family and Friends about Emerald Destiny River Cruise Food?
We're tough food critics who are hard to impress but we loved the food onboard. We truly were impressed by the food on Emerald Destiny!
Was every dish a hit? No. But most of them were great and we finished everything on our plates! One instance where there was room for improvement was with their soups.
A bowl of warm soup was an option with every lunch and they're often an optional hot starter during dinner. Some were good and others were lacking flavor. There was also one or two entrees we didn't care for. Yet other than that, we enjoyed everything we ate. We're still dreaming of some of the dishes we ate and loved!
On a cruise where you're eating approximately eight dinners, eight lunches, and eight breakfasts, two or so misses isn't bad. And if you're not enjoying your meal you can 100% ask for something else. Service is truly phenomenal on Emerald Cruises and their exceptional team wants to make sure you're happy. And that includes the chef and the entire team in the galley!
Disclosure: We thank Emerald Cruises for generously hosting us. We also may make a small commission from affiliate links in this post (at no cost to you) but all opinions are ours and we bring you genuine content with real facts, photos, thoughts and recommendations. Always.


Going on a river cruise? Also check out: