European River Cruises Info: Where they Sail, Cruise Lines to Consider, and More
A true passion of ours is experiencing European River Cruises. In fact, we started Sometimes Sailing as a result of that passion. Because we always want to provide you with the best information about European river cruises, from where they sail, to countries they visit and cruise lines to consider, we've put together this informative post.
First, we'll provide valuable information about these incredible cruises, then we'll go through the most popular cruise lines.
Then we'll list some unique European river cruise barges (that sail on canals as well) experiences you may not have even previously known about. (Spreading the word about lesser-known experiences on the market is always extra-exciting for us!)
Disclosure: There are affiliate links in this post, which means we may earn a small commission if you click the link and proceed with a purchase, at no cost to you. We truly only recommend hotels, products, and services we personally use. As Amazon Associates, we earn from qualifying purchases.


Rivers that European River Cruises Sail
Before you can understand the cruise line options, you have to have knowledge of where the river cruise ships can take you in Europe. The options are plentiful, with many beautiful rivers that allow boats to pass through port cities and various countries.
The countries that a particular itinerary may sail through and exact port cities vary depending on the particular cruise line, date of the sailing, port of embarkation, port of debarkation, and stops along the way.
Multiple European rivers often converge along their geographic journey from their start to the river's delta or mouth. This is why you'll very often find itineraries that travel down one, two, or three rivers in Europe; the rivers meet up along the way.
The most popular rivers in Europe (particularly France and Germany) are great for first-time river cruises because you'll find the most options. This includes the Danube and Rhine Rivers, for example. Lesser-known rivers (like the Po River in Italy) are great for repeat river cruisers looking for a new adventure.
Danube River
This is perhaps the most well-known body of water where European river cruises sail. The most popular itineraries are between Germany and Hungary. For example, from Nuremberg, Germany to Budapest, Hungary, or the reverse. One of the highlights of a Danube River Cruise is sailing through the UNESCO Cultural Landscape, the Wachau Valley, which is a gorgeous wine region in Austria.
Any European River Cruise itinerary that includes Prague and Budapest will be a Danube River Cruise itinerary. (If you begin in Prague you will be bused over to the river. This is because while Prague is not on the Danube River it is included in a lot of itineraries due to its popularity with tourists. This is the same if your river cruise starts in Munich.)
Some popular cruise stops along the Danube River include:
Germany: Nuremberg, Regensberg, Passau
Austria: Vienna, Melk, Linz, Krems (including sailing through the famous Wachau Valley)
Slovakia: Bratislava
Hungary: Budapest
Many Danube River cruises sail only to the countries listed above. However, some continue to the lower Danube River and sail on to:
Croatia
Serbria
Bulgaria
Romania
The Danube River ends at the Black Sea after its 10-country run from Germany to Romania.
Main River
The Main River meets up with the Danube River in Germany, and also connects to the Rhine River. As such, you may see a river cruise available that sails all three during the itinerary or a combination of the three.
Some interesting stops on a Main River cruise may include:
Miltenberg
Wurzburg
Rothenberg
Bamberg
Rhine River
The Rhine River is another main river in Europe. It starts in the Swiss Alps and travels north through Switzerland, Liechtenstein, Austria, Germany, France, and the Netherlands. It flows out to the North Sea by Rotterdam.
Ports along the Rhine River include:
Zurich
Basel
Strasbourg
Mainz
Koblenz (where the Rhine and Moselle Rivers meet)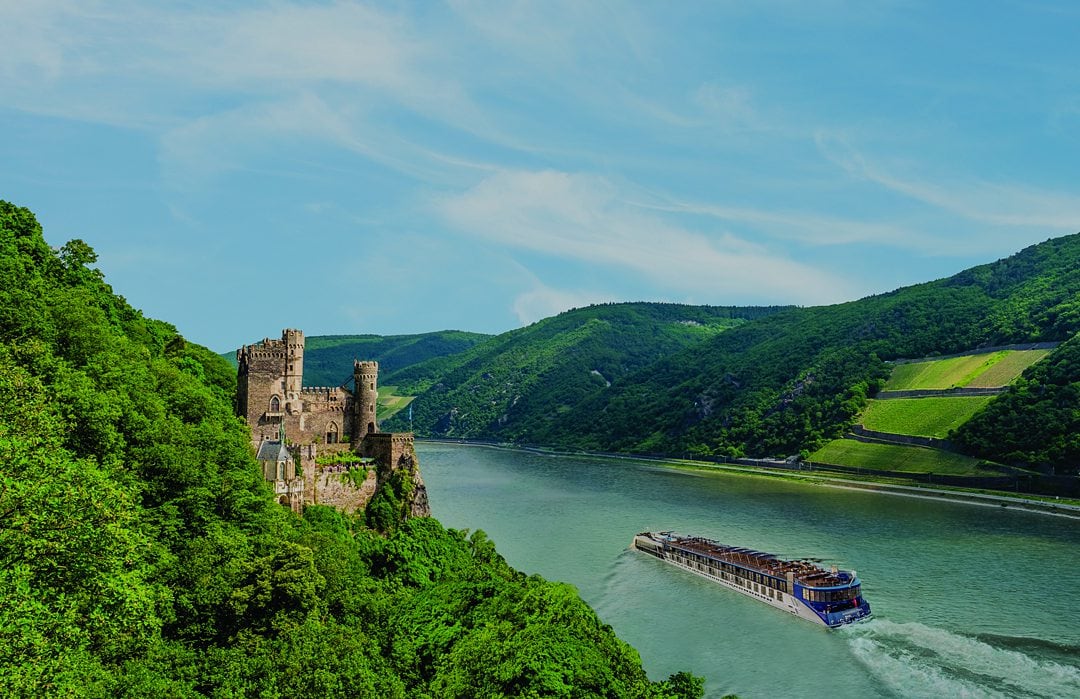 Rhône River
This river begins in the Alps and runs through France and Switzerland before feeding out to the Mediterranean Sea. Cruise guests will have a lovely time in the Provence region of France, and may even continue to Burgundy, connecting with the Saône River. It's an ideal river to cruise for wine lovers and foodies.
Stops on a Rhône River cruise may include:
Lyon
Macon
Avignon
Tournon
Arles
Saône River
If you want to explore the Burgundy region in Eastern France, you'll cruise along the Saône River. The river begins in the Vosges Mountains in France and meets up with the Rhône River in the city of Lyon.
Stops during a Saône River Cruise may include:
Moselle River
The Moselle (or "Mosel" in German) starts in Germany, follows the border of Luxemburg, and flows into France. Because it's a tributary of the Rhine River, it eventually meets up with it in Koblenz, Germany. As a result, you may see one itinerary that travels both rivers (Moselle & Rhine River cruise).
Moselle River Cruises are famous for the castle you will pass as you sail.
Ports to highlight on the Moselle River include:
Trier
Cochem
Rüdesheim
Remich
Elbe River
This river flows through the Czech Republic into northern Germany, out to the North Sea. Not many river cruise companies sail the Elbe but you will find one or two that do.
Stops on an Elbe River cruise may include:
Prague (connects to the river via land transportation)
Wittenberg
Meissen
Dresden
Potsdam (by land transportation)
Berlin (by land transportation)
Seine River
The Seine River famously goes through the city of Paris. River cruises on the Seine have itineraries that travel through France.
You can expect to stop in charming cities like:
Paris
Vernon
Caudebec-en-Caux
Rouen
Garonne River
Any European River Cruise that travels to France's Bordeaux region is cruising on the Garonne River. These cruises cover fewer miles; however, they're still typically the same length as any other river cruise (seven days or so). The river flows through Spain and France.
A Bordeaux cruise will likely focus on regional wine (a key selling point to visit that area of France) and will stop in cities such as:
Bordeaux
Libourne
Blaye
Bourge
Cadillac
We loved our experience with Viking cruising the Garonne River in July, with a closed-jaw itinerary from the Bordeaux cruise port.
Po River
If you're most interested in a river cruise in Italy, check out cruises that sail on the Po River in the northern part of the country. It starts in the Alps and flows eastward, emptying into the Adriatic Sea.
Expect stops in:
Milan (which is land-locked but may be your flight's destination to start and end the cruise)
Verona
Venice
Bologna
Douro River
This famous river begins in Spain and ends in Portugal. There, it empties into the Atlantic Ocean by the city of Porto.
The Douro River Valley is famous for its terraced hills with miles of vineyards, which is why Alto Duoro Wine Region is on UNESCO's World Heritage list.
Stops along a Douro River Cruise include:
Porto
Regua
Barca d'Alva
Salamanca (transferred by car)
Volga River
The Volga River may not be as recognizable a name as the Danube River in Europe, but it is actually Europe's longest river. It begins in the Valdai Hills by Mosco and ends at the Caspian Sea, an inland body of water encircled by the following countries: Kazakhstan, Turkmenistan, Iran, Azerbaijan, and Russia.
Notable stops along a Volga River Cruise include:
St. Petersburg
Kuzino
Uglich
Moscow
European River Cruises in The Netherlands and Belgium
There are great river cruise options that sail to ports in these two countries. These itineraries are often close-jawed itineraries that start and end in Amsterdam.
Cruises in this area of Europe are at their peak during tulip season in The Netherlands, which will likely include a stop at the world-famous Keukenhof Gardens.
A river cruise that visits these two countries doesn't necessarily sail on a river once it gets from the River Ij in Amsterdam, towards the North Sea and the English Channel. But of course, you're on the water the entire time as you travel from The Netherlands to Belgium and back again.
Highlights of a cruise to The Netherlands and Belgium include:
Amsterdam
Zaanse Schans
Lisse (where Keukenhof Gardens is)
Veere
Rotterdam
Arnhem
Delft
Bruges
Antwerp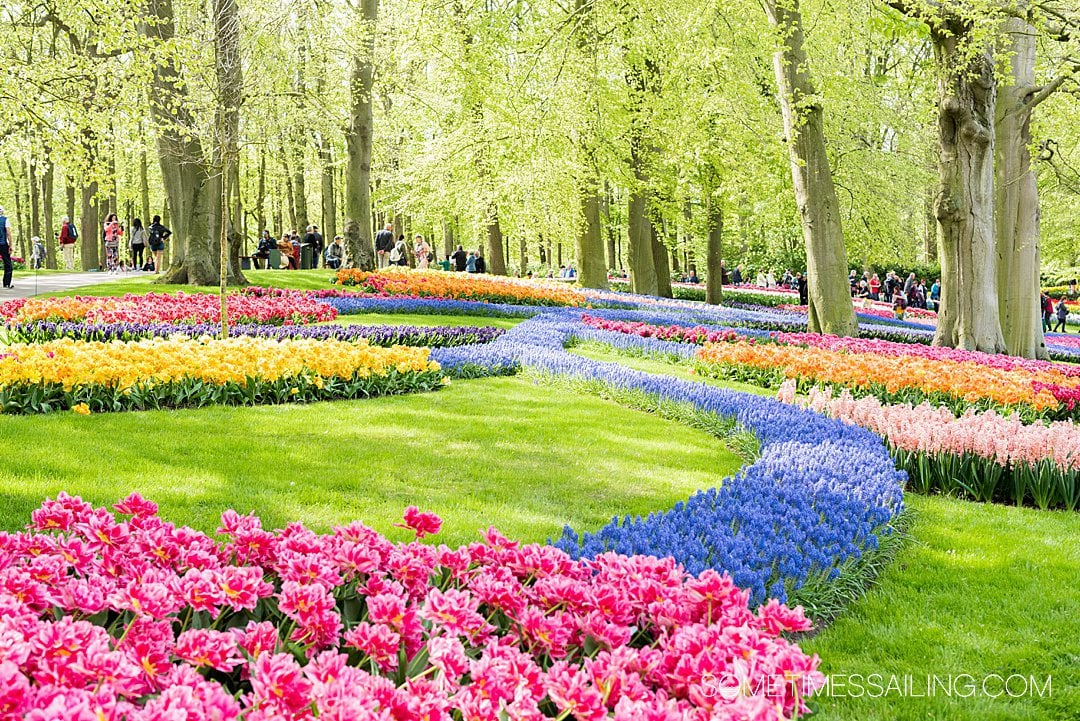 Specialty European River Cruises (Including Christmas Markets)
One of the most special things about European River Cruises is the celebrations to be had on themed cruises.
This could be anything from embracing the food and wine of a region (like along the Rhône River or Douro River) with specialty wine sailings or intentionally sailing during late November or December to experience the Christmas Markets.
Many river cruise websites have their own "Themed Cruises" tab as you navigate their sites to see their offerings.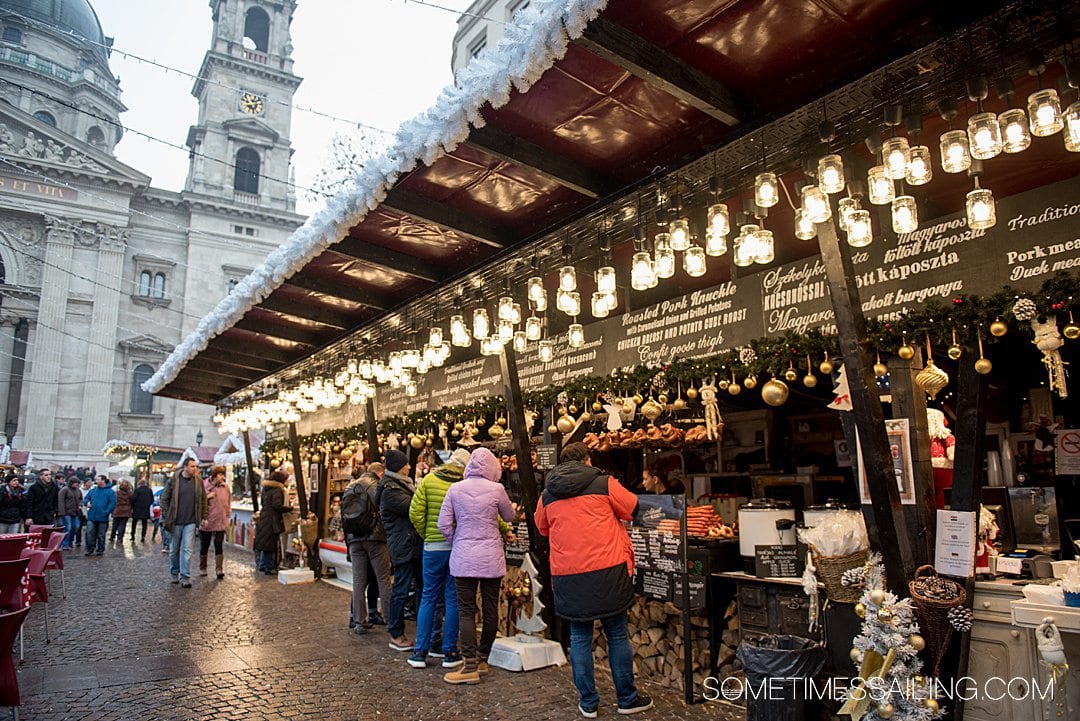 Typical Length of European River Cruise Vacation
You may be able to find European river cruise itineraries that are shorter and longer, but generally speaking, they're 7 or 8 days, 11 days, or upwards of two weeks.
Best Time for a European River Cruise
The sailing season for European river cruises is typically from March through December.
It's perhaps most popular in May through October, with outliers being spring cruises that focus on flowers during March through May (like The Netherlands river cruises) and winter Christmas Markets cruises in late November and December.
How Weather Affects European River Cruises
Weather affects river cruises in Europe the most in terms of precipitation (or lack thereof). If it rains heavily and the rivers rise too much, it can sometimes become a problem for river cruise ships to fit under bridges.
Conversely, the river levels could get too low for the ships to sail safely if there isn't enough water.
If this happens, the cruise line may arrange for passengers to travel to their next port by coach bus instead of on the river.
This was the case during on our of our Danube River Cruise experiences in the fall.
We were supposed to begin our cruise in Nuremberg, but low water levels curtailed that plan.
Emerald Cruises informed guests that they would be starting in Regensberg instead of Nuremberg before the cruise started. (It was the second port on our itinerary.) They arranged transportation for guests to get to Regensberg from Nuremberg so nothing was disrupted.
If you're going on a European Christmas Markets river cruise, you'll want to pack warm clothing for cold weather. It may even snow while you're there, so pack accordingly once you check the weather forecast.
If you travel on a European river cruise during spring or fall, you'll want to dress in layers to prepare for cold temperatures that fluctuate throughout the day. And always pack an umbrella because it could rain no matter the season. (Some cruise lines provide umbrellas in each stateroom.)
Cost of a European River Cruise
As you may suspect, a cruise's cost can vary depending on the cruise line you choose, the itinerary, which cabin class you choose (an upgraded suite, for instance), and the length of the cruise.
You can expect to pay anywhere from $1,250 to $10,000+. Sometimes the cruise line will include your flights and transportation as a package deal; sometimes, they won't. It's often dependent on the promotion they're running.
European river cruises include so much in the price, whereas ocean cruises usually do not.
When people look at the cost of a river cruise, they may immediately react and think it's expensive (especially when a river cruise is compared to an ocean cruise, which nickels and dimes people for every add-on).
Why are European River Cruises Cheaper in November?
If you're finding prices are lower in November, it may be because it is cold in November in Europe. Leaves have likely fallen off the trees in most of the countries where river cruises sail (or have certainly begun to, especially during the last part of the month), and it is likely a time before the Christmas Markets open.
The combination of being a colder time of year and before the Christmas Markets start means it's very much off-peak. This, in turn, means you can sometimes get a better price on a cruise during this time.
We went on a cruise that ended on November 2, 2022, and we lucked out with amazing weather and beautiful fall colors. So if you go during the first two weeks of November, you can hope for such luck and amazing scenery!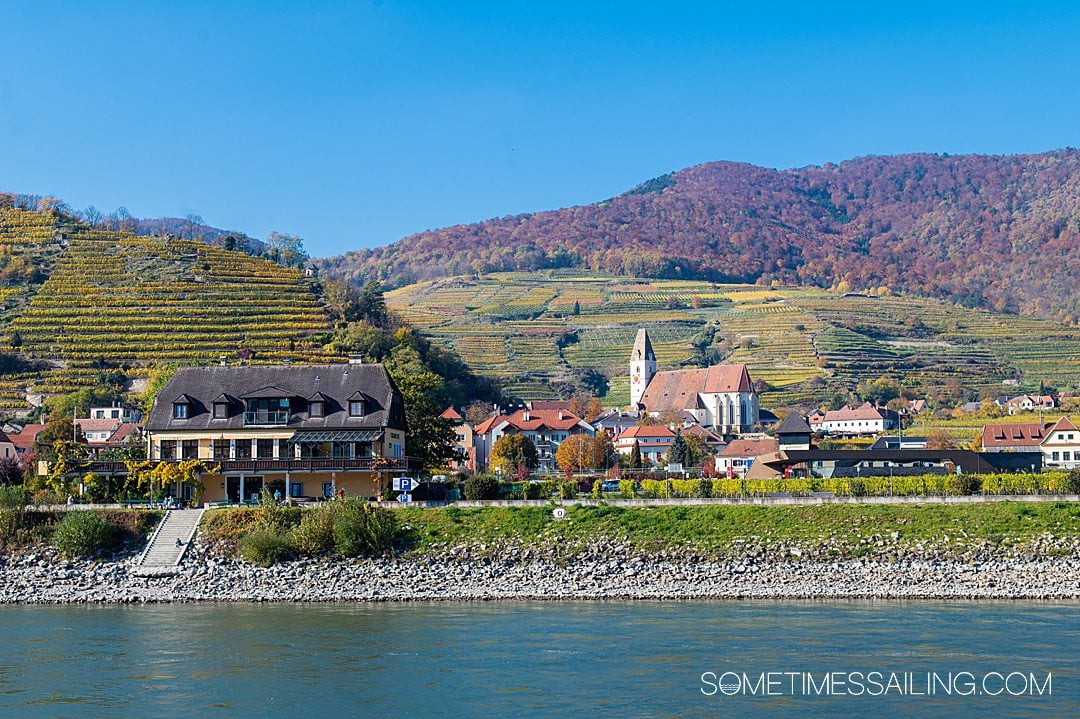 Best Deals on European Cruises
"Wave Season" is often a great time to book a European River Cruise. Every cruise line's exact promotion period within Wave Season varies a bit. However, you can expect it to run anywhere from December through February.
Cruise lines run sales and promotions if you book by a certain date for sailing by x-date. So, for example, 25% off your cruise fare if you book by February 5, 2023, for a cruise that takes place before March 2024.
Another good way to catch a cruise deal is by booking through a travel agent. They can sometimes offer clients promotions you may not otherwise have found or been aware of.
Lastly, we recommend signing up for the newsletter of any cruise line you're interested in so you'll be alerted of any promotions they're running throughout the year.
Booking early often incentivizes guests to lock in a cruise because they are often rewarded by the cruise line with some savings for planning ahead. Conversely, you can look up last-minute deals on cruise line websites' or keep an eye on off-peak times to sail.
European River Cruises for Families
Most European River Cruises are geared toward adults.
But Croisi, Adventures by Disney, and A-Rosa are three European river cruise lines that have itineraries that were created with children and multi-generational cruisers in mind.
Generally speaking, many river cruise lines only allow children ages 16 or 18 and up. Some cruise lines allow children ages 12 and up.
In terms of older multi-generational cruises, if the "kids" are grown and over 21, and it's adults in the group, European river cruises are a great family vacation.
River cruises are small, and there isn't assigned seating at meals. It's easy to all sit together as long as you find open seats. The ships are small, and one stateroom is never far from another.
So even if your rooms aren't together (and they may be together, especially if you booked together) you won't be too far away from your family members.
River cruises are low key, and there is plenty of opportunity to be together as a group or family during daytime tours, free time, and meals. And of course, retreat to your cabin if you need a break from everyone!
How Many People Travel on European River Cruises?
River cruises usually max out at approximately 200 people or less. (Viking River Cruises has some extra-long river cruise ships, called "Longships," that accommodate more guests.)
River cruise ships that sail in Europe can only be so wide, according to the width of the smallest parts of the rivers they sail. They can only be so long to accommodate other things, like the locks they go through.
River cruises that sail in Asia on the Mekong River need to be smaller. These cruises accommodate even fewer people because they have fewer cabins onboard.
Most Luxurious European River Cruises
Two more luxurious cruise lines that sail in Europe are Uniworld Boutique River Cruises and Scenic. Otherwise, the degree of "luxury" depends on the kind of traveler you are and what each individual cruise line offers.
European River Cruises Currency
When you're on the ship, it doesn't really matter what the currency is because they all take credit cards.
But if you're curious about what currency to get from a bank before you leave for your trip so you have cash on hand, you'll likely need euros for your river cruise. This is what Germany, France, Italy, Portugal, Bratislava, Belgium, and The Netherlands use.
There are, however, exceptions to this since not every country river cruise sail to in Europe uses euros.
Here are some other countries you may sail to with their corresponding currencies:
Switzerland: Swiss franc
Hungary: Hungarian forint
Serbia: Serbian dinar
Romania: Romanian leu
Russia: Russian ruble
Czech Republic: Czech koruna
Make sure you're mindful of your money abroad to avoid mishaps, and you follow our tips for international travel.


Top European River Cruise Lines
Emerald Cruises
Emerald Cruises should always be at the top of anyone's European river cruise lines consideration list. It's a beautiful cruise line that offers great value for a great price.
You can sail at least five European rivers with Emerald Cruises on some itineraries. Rivers they sail include the Danube, Douro, Rhine, Main, and Rhône.
Emerald and Scenic have the same parent company, but Emerald Cruises' starting price point is the more budget-friendly of the two. We love many things about sailing with Emerald Cruises.
We compare Emerald Cruises vs. Viking here.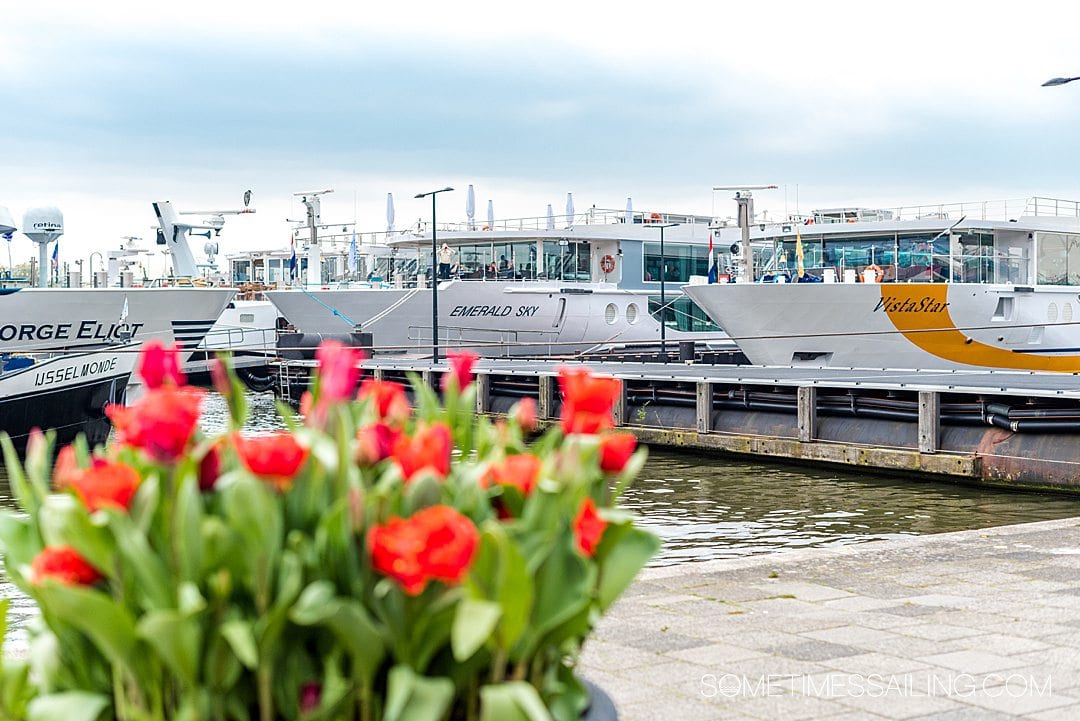 Scenic Cruises
Scenic is a luxury 5-star cruise line focusing on its culinary experiences and all-inclusive pricing. It was founded by Australian businessman Glen Moroney, who owns the company today. (They also own Emerald Cruises.)
Scene Cruises sails the Danube, Moselle, Rhine, and Douro Rivers, as well as in The Netherlands and Belgium.
Viking European River Cruises
Viking is perhaps the most widely known river cruise ship company. They are incredibly popular not just because of great commercials and media campaigns over the years but because of guest satisfaction.
The excitement after booking is wonderful as Viking does a great job with their "My Viking Journey" website, allowing guests to dive into booking their excursions and upgrades online as they await their cruise embarkation date.
Viking sails almost anywhere cruisers want to be and is especially popular amongst first-time river cruisers dipping their toes into this new cruise world. They sail the Danube, Elbe, Rhine, Rhone, Main, Seine, Moselle, and Douro River.
AmaWaterways
Three founding members started this river cruise line in 2002: President Rudi Schreiner, Executive Vice President Kristin Karst, and Jimmy Murphy (who passed away in 2014, but his son, Gary, carries on his legacy as Executive Vice President of Sales).
AmaWaterways provides guests with approachable river cruising and an impressive fleet of ships that sail on all of Europe's major waterways, including the Danube River, Main, Moselle, Rhine, Garonne, Dordogne, Seine, Rhône, Saône, Douro, and in The Netherlands and Belgium.
Adventures by Disney aboard AmaWaterways Ships
Adventures by Disney offers river cruise expeditions that are carried out aboard AmaWaterways vessels.
Their itineraries are 8 days, 7 nights. Their European river cruise options include the Rhône, Seine, Rhine, and Danube. Disney caters to adults who are loyal to the Disney brand but also to children joining their cruises (though Adventures by Disney River Cruises do have some adult-only itineraries).
Uniworld Boutique
You are in the lap of luxury when you sail with Uniworld. They're owned by The Travel Corporation and their sister company is Red Carnation Hotels. Thus the ships offer high-end, boutique rooms and decor.
Whereas most cruise lines have multiple ships, all very similar in design, the decor on Uniworld's ships differs from ship to ship. On most ships, the decor even varies from stateroom to stateroom, which is part of the appeal of the cruise line.
They are continuously voted one of the best luxury river cruise lines by places like Travel + Leisure and Cruise Critic. They sail nearly anywhere you would want to go in Europe. This includes the Danube, Main, Rhine, and Moselle.
Many cruise lines offer themed cruises; however Uniworld is the only one we've seen that offers Jewish Heritage cruises.
U by Uniworld
These cruises are tailored to a younger audience, perhaps in their late twenties and early thirties. They target Generation Z. The ships' minimalist designs utilize patterns and motifs that play to a younger audience.
There are two ships in the U by Uniworld Cruises fleet: The A and The B. They primarily sail on the Rhine and Danube rivers.
The U by Uniworld river cruise ships are painted black, as opposed to Uniworld's ships, which are white.
AMADEUS River Cruises
This cruise line was started by Lüftner Cruises in 1997, owned by Dr. Wolfgang Lüftner and Martina Lüftner. They have 14 river cruise ships.
They sail on the Danube, Seine, Rhine, Rhone, Saone, and in The Netherlands and Belgium. Their "travel your way" program allows guests to book a base cruise then add on things like excursions and alcohol for an extra cost. Gratuities are paid for separately as well.
Abercrombie & Kent
This luxury travel company charters space on AMADEUS river cruise ships. Their trips are limited to 24 passengers who receive elevated service and tours for their investment.
Guests who wish to experience a trip on Europe's rivers with Abercrombie & Kent book directly through Abercrombie & Kent even though the trips are on other cruise lines' ships.
Avalon Waterways
Avalon Waterways is another leader in European River Cruises. Since its founding in 2004, it has launched 20 ships, 14 of which are in Europe. They sail on the Danube, Moselle, Saône, Rhine, Main, Rhône, and the Seine on modern ships with impressive balconies.
Tauck
Tauck is a travel company that offers land and water-based travel. As such, their river cruises in Europe often have a land component before or after the trip to enhance your vacation.
(This is not unique to Tauck – many river cruises offer an extension in a city before or after the trip. However, with Tauck, there seem to be more options and a bigger focus on it.)
For example, a river cruise may sail along the Seine, but then you'll also visit Paris and London on land for a few days before the river portion starts.
The company was started in 1925 and, three generations later is still operated by various members of the Tauck family.
They sail on the Rhine, Danube, Douro, Rhône, Seine, and Moselle Rivers and their cruises are all-inclusive with no add-on options. (Excursions, liquor, beer, wine, and gratuities are all included.)
CroisiEurope
Croisi is a leader in river cruising in Europe, including in France, where they are based. They were founded in 1976 and sail on the Seine, Douro, Gironde, Garonne, Dordogne, Rhône, Saône, Loire, Po, and even the Guadalquivir and Guadiana Rivers in Andalucia, Spain.
They sail some lesser-known regions like Serbia's Sava River and the Tisza River that run through Hungary.
Their special hiking cruises are great for active guests who like to get some extra exercise when they travel and tour charming European cities in a unique way. Their special culinary cruises are great for foodies, and their family cruises are wonderful for multi-generational groups of travelers.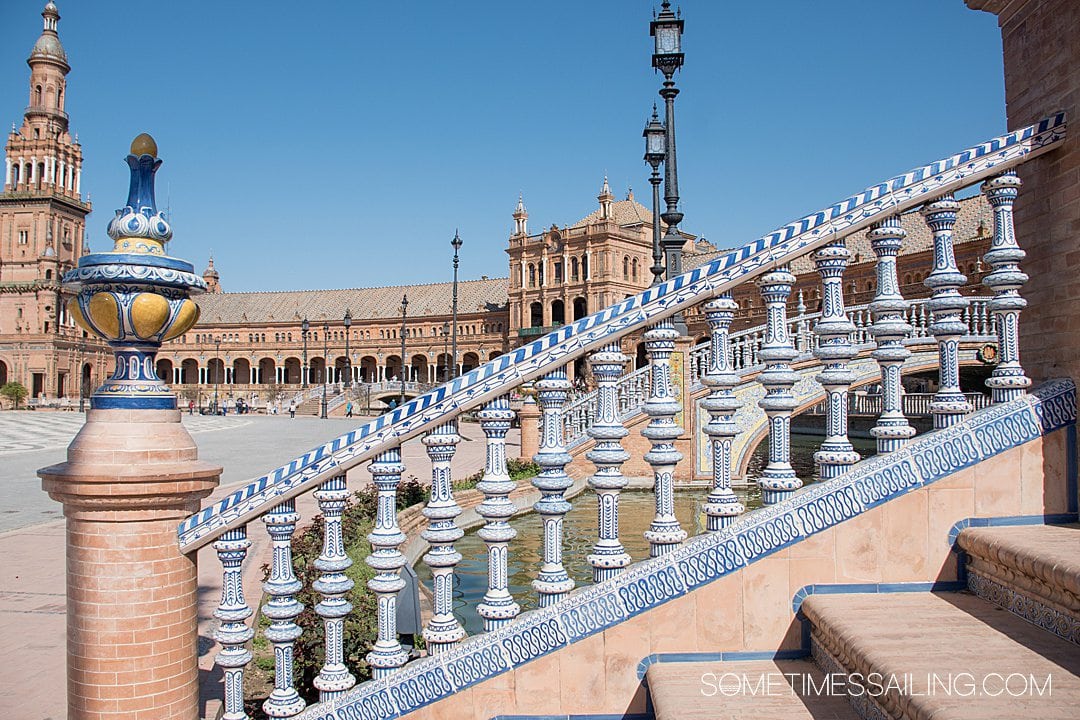 Riviera River Cruises
This UK-based cruise line was founded in 1984. When you book with Riviera River Cruises, you'll pay for things like gratuities and a drinks package in addition to your cruise's base cost. However, that base price may be lower than other cruise lines so don't rule them out just because they are not all-inclusive.
Riviera sails on the Rhine, Danube, Douro, Main, Rhône, Seine, and Moselle Rivers. They also sail in The Netherlands.
A-Rosa
Another Europe-based cruise line is A-Rosa, whose headquarters is in Germany. This is a great cruise line to consider if you are sailing with young children and if you want cruise options that are less than one week. (For instance, they offer four-night cruises.)
They sail all the main rivers in Europe, including the Rhine, Main, Moselle, Danube, Douro, Rhône, Seine, and Saône Rivers.


European River Cruise Lines: Barge Cruises
Barge cruises take place on boats that are much smaller than river cruise ships and they have fewer decks. (Usually, barge cruises have just two decks, while a river cruise ship may have three or four decks.)
They also typically stay within one country instead of traveling to several, as most river cruises do.
Because of their smaller size, the guest count rarely breaks 12 to 24 people. The smaller guest list usually corresponds to slightly higher prices, only a handful of staterooms, and a much more intimate experience.
Due to the small size of the ships, they can sail on canals where river cruise ships cannot go. They sail more slowly too, and travel shorter distances than river cruises.
Barge cruises and river cruises certainly have their similarities and differences. We have included them here to bring attention to this wonderful option and unique way to experience Europe by boat on a smaller format ship.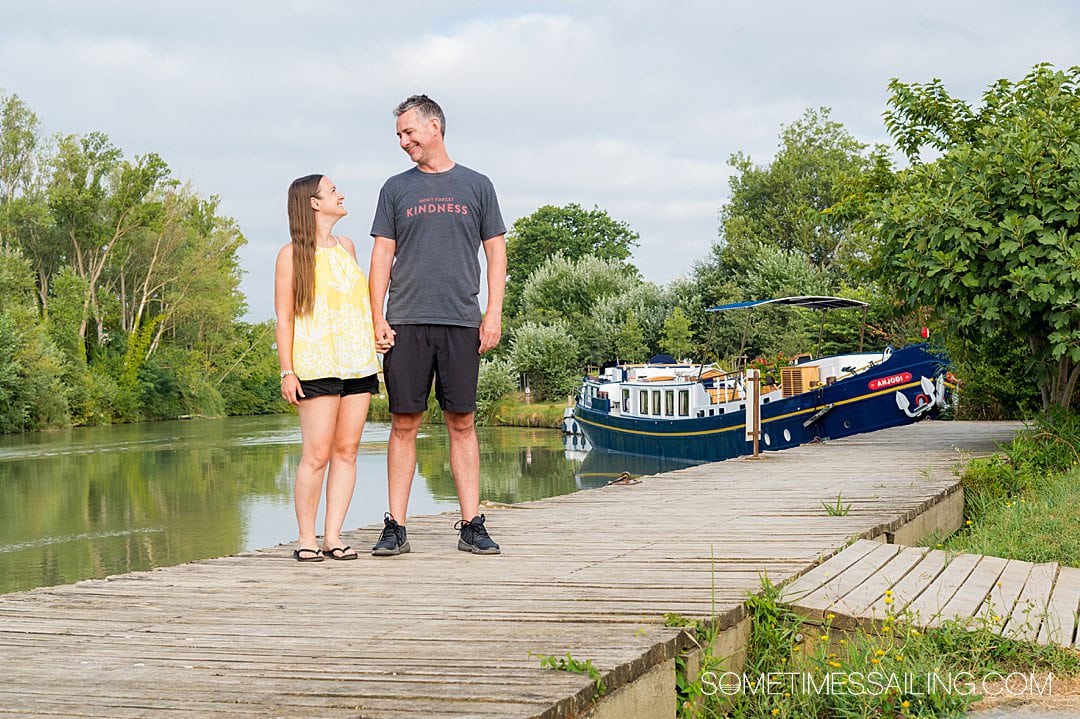 French Country Waterways
As the name indicates, French Country Waterways travels on the rivers of France. They have five deluxe ships that sail various parts of the country:
Adrienne: Burgundy
Esprit: Burgundy
Horizon II: Upper Loire
Nenuphar: Champagne
Princess: Alsace-Lorraine (including the gorgeous city of Colmar)
French Country Waterways serve superior wines and have an open bar for guests. Dinners happen ashore in ports, often at Michelin-rated restaurants each night.
Belmond
Belmond was founded by a London-based American entrepreneur, James B Sherwood. The company focuses on travel adventures whether it involves hotels, river cruises, safaris, or trains. Expedition options span 22 countries.
Their river cruises in Europe are advertised with the tagline, "Afloat in France." Belmond barge cruise ships sail the canals of the French regions of Burgundy, Alsace, and Champagne Regions. Their luxury barges range in capacity from 4 passengers to 12, depending on the vessel. Some of them are available for private charters, only, while others you can book per cabin.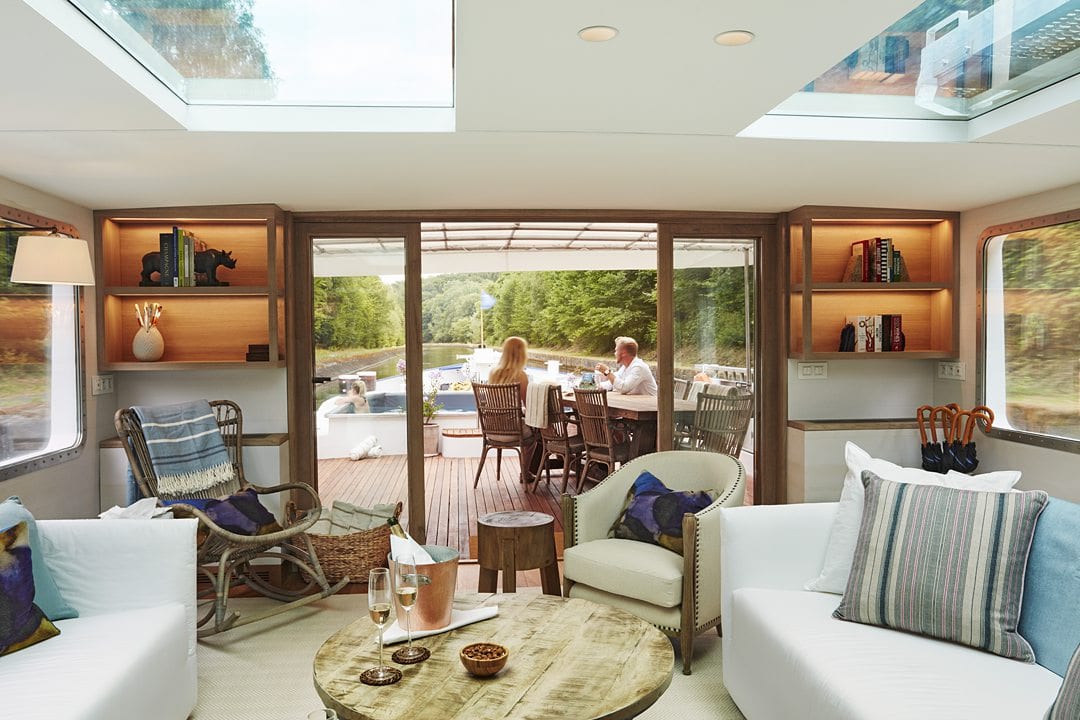 European Waterways
They have the largest fleet of barge cruise ships in Europe, with 17 vessels.
European Waterways has been in business since Derek Banks founded the company in the 1980s with the purchase and restoration of their first ship, named Anjodi. He started the company by following his passion for captaining barge ships after he realized they could be used for the transportation of goods and for leisure.
Today, they cruise canals and rivers in nine countries across Europe. Their ports include 16 destinations in France, The Netherlands, UK, and Italy.
We thoroughly enjoyed the slow pace of a barge cruise and the friendly crew and passengers (there were only 3 other passengers on our cruise). It was also the BEST food we've ever had on any cruise and in most land trips as well.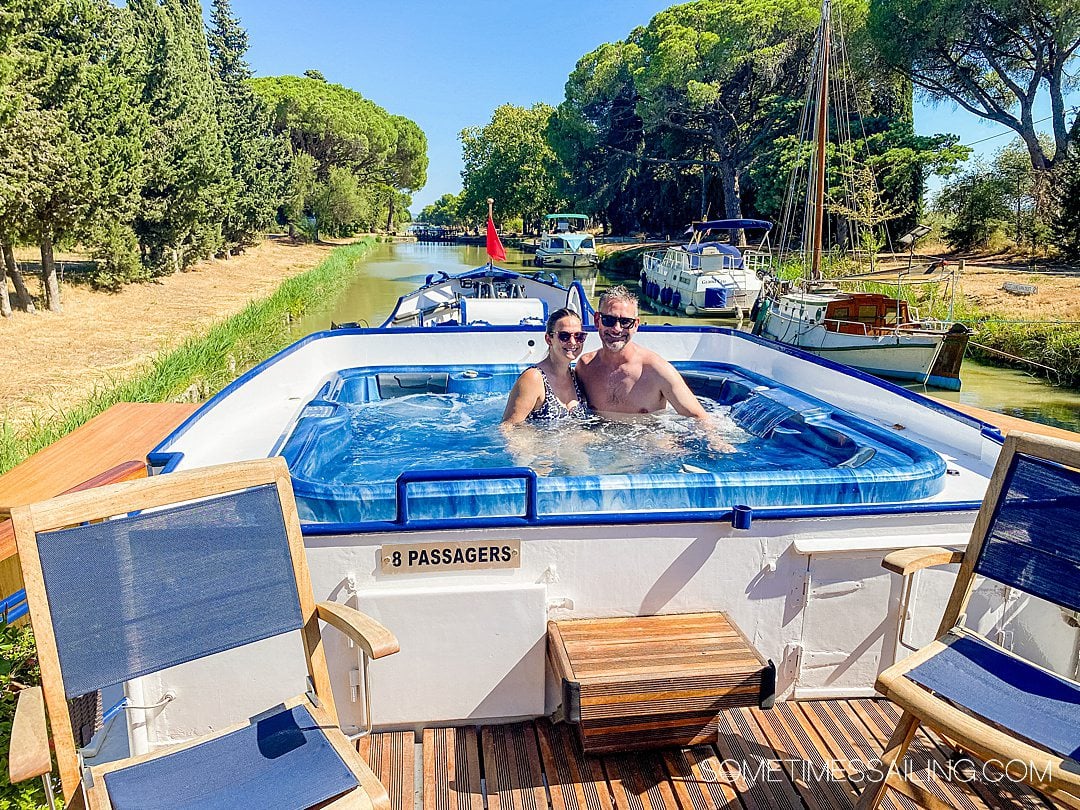 CroisiEurope
This cruise line is based in Strasbourg, France, and was mentioned earlier in this article in the river cruise ships portion.
However, they also have six barge ships that are named with female names like MS Danièle, MS Madeleine, and MS Jeanine. They sail canals in France's Burgundy and Provence regions, including the Loire canal. Each ship can accommodate 22 passengers.
Their European barge cruise ships are very modern and were all built in the 2010s.
Caledonian Discovery
This barge sails the Caledonian Canals within the Scottish Highlands. They explore Loch Ness (hopefully without monsters!) and the Great Glen among other destinations. (A Scottish Glen is a valley.)
Guests can choose from over a dozen different itineraries. Expect about 12 guests per sailing, a family feel, and home-cooked meals at one communal table.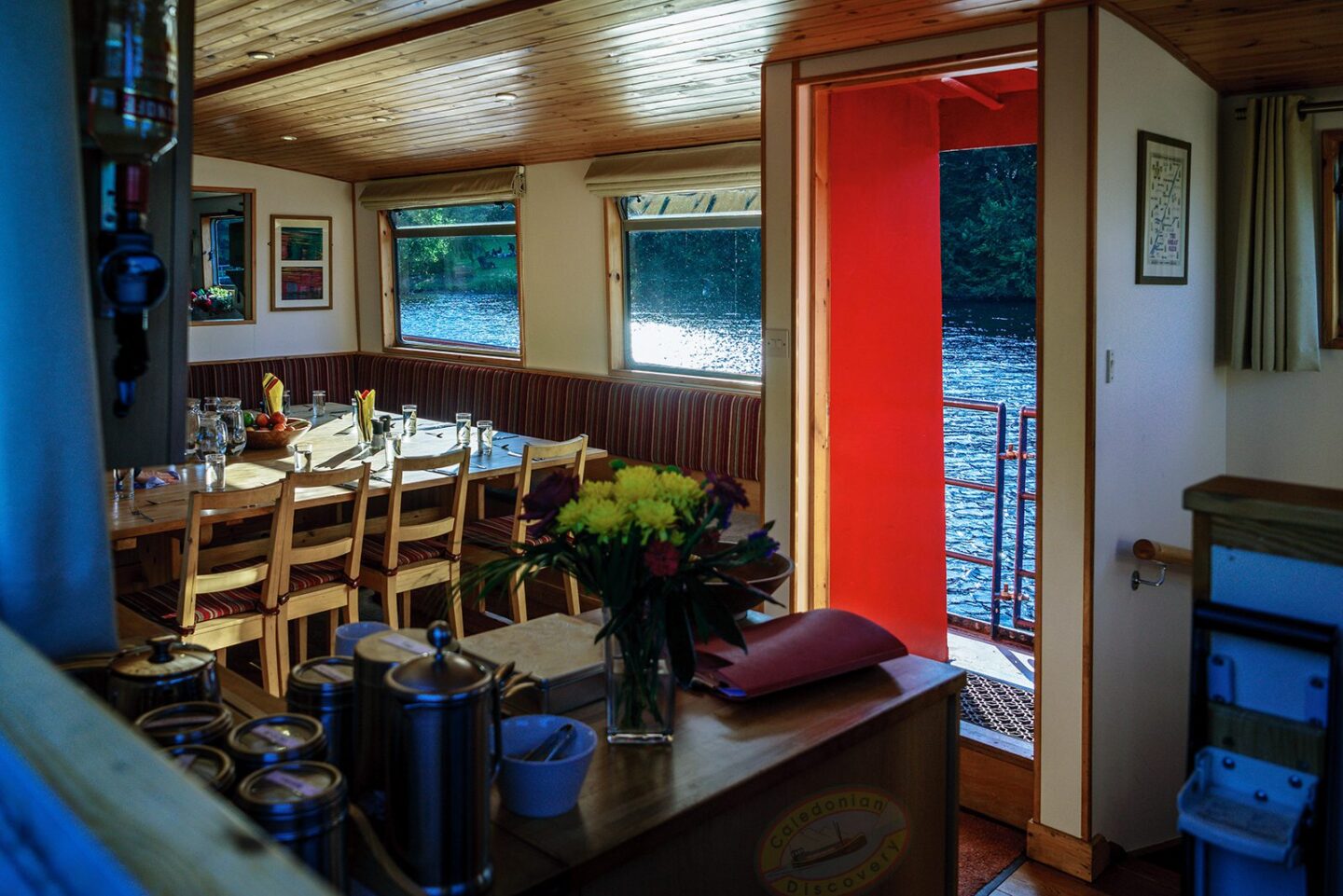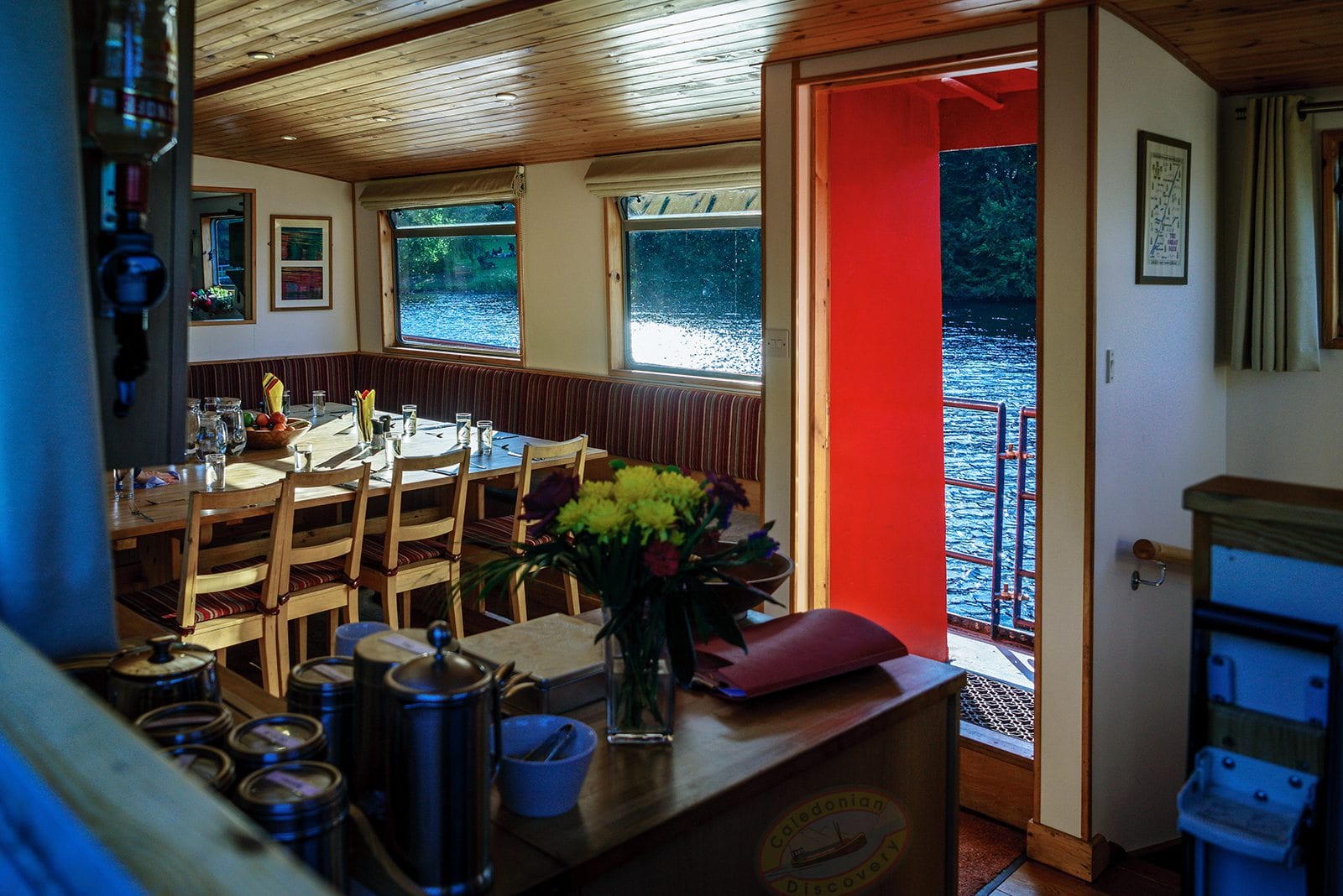 Love cruising? Read this next: