Viking Christmas River Cruise with Dazzling Markets Along the Danube
There's a charm during the holiday season in Europe unlike any other place I've experienced, which I saw through the lens of a Viking Christmas River Cruise. A magical ambiance fills the region with smiling and laughing patrons, enjoying glühwein and each other's company in historic squares and small streets in old villages.
During one such season, I was lucky enough to board a Viking ship on a river cruise that sailed along the Danube River. It stopped at charming cities of all sizes with dazzling Christmas markets.
Disclosure: There are affiliate links in this post, which means we may earn a small commission if you click the link and proceed with a purchase, at no cost to you. We truly only recommend hotels, products, and services we personally use. As Amazon Associates, we earn from qualifying purchases.


A Winter River Cruise in the Spirit of Christmas
Cruising in Europe during winter may sound like an oxymoron. But Viking proved that cruising isn't just for laying out on the top deck with tropical destinations on an itinerary. (There are benefits to cruising in any season, and winter provides beautiful holiday sparkle wherever you go.)
There's one thing you get in December in Europe that you can't get any other time in any other place: European Christmas Markets. And they are amazing!


Christmas River Cruise Route along the Danube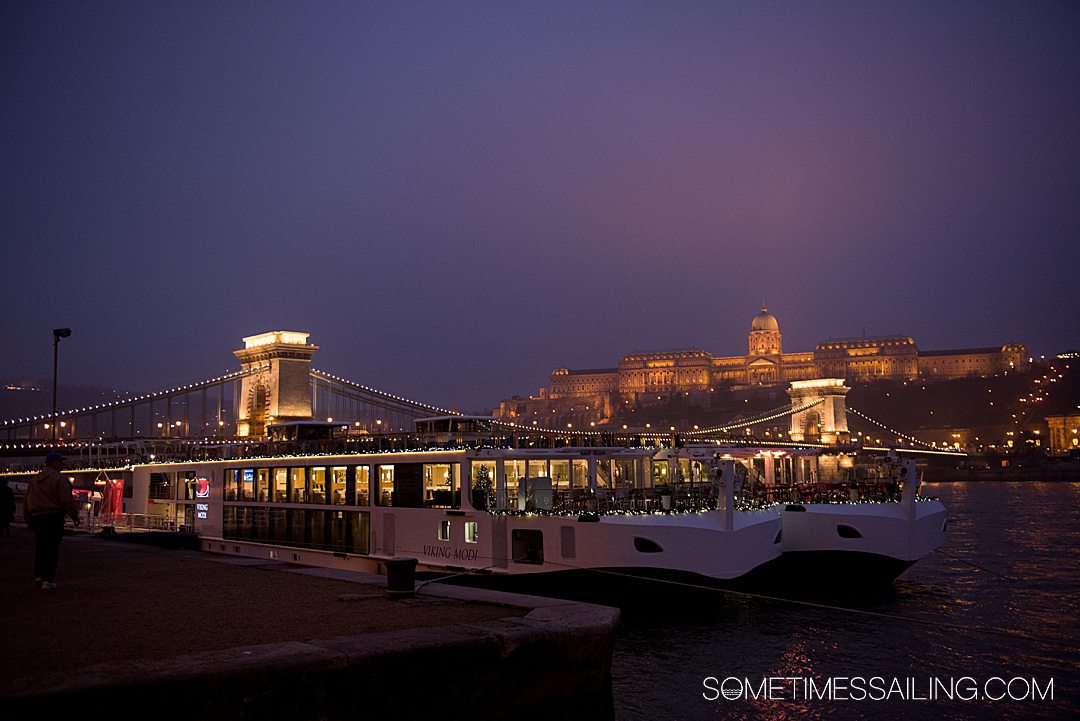 The route we took was called the Romantic Danube, and included stops in the following places:
Budapest, Hungary
Vienna, Austria
Krems, Austria
Passau, Germany
Regensburg, Germany
Nuremberg, Germany
I met my friend Julie Deily, of The Little Kitchen, in Budapest to board the Viking Atla river cruise ship.
We started in Budapest, which is a gorgeous place to begin. The lights on their parliament building are particularly spectacular at night; it was great the scene from on the Danube River, aboard the Viking cruise ship.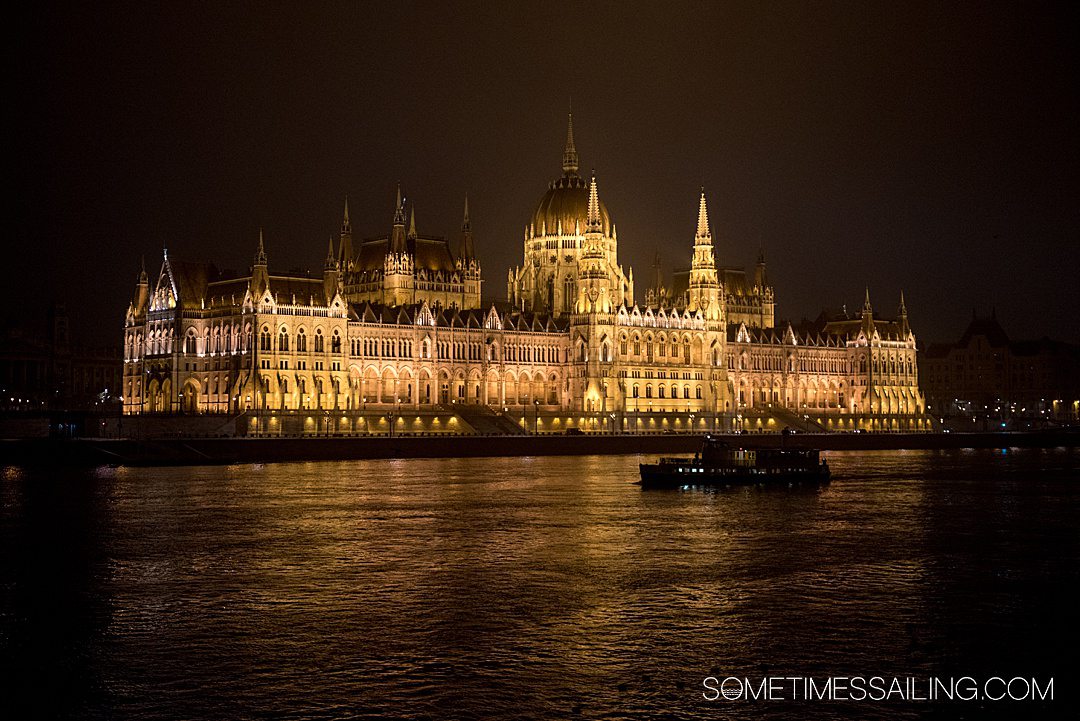 Our River Cruise Viking Ship: Atla
The Viking Atla was our vessel for our Christmas River Cruise. Don't forget that the sun sets significantly earlier during December in Europe than during the summer months, like July and August. About three to four hours earlier.
So by the time we got back to the ship the first day – after dropping our luggage off in the morning, touring around the city and returning for dinner – it was already dark. Our next day was really the first day I was able to see the ship in sunlight and view its beauty.
We arrived to the warmth and glow of the lights inside the ship; isn't it romantic to see the ship this way with string lights twinkling atop reflecting in the river? It was especially nice to see limited yet tasteful holiday decorations – like wreaths with red bows and green garland – adorning the inside of the ship.
Don't forget to pack European outlet converters for your cabin aboard the ship!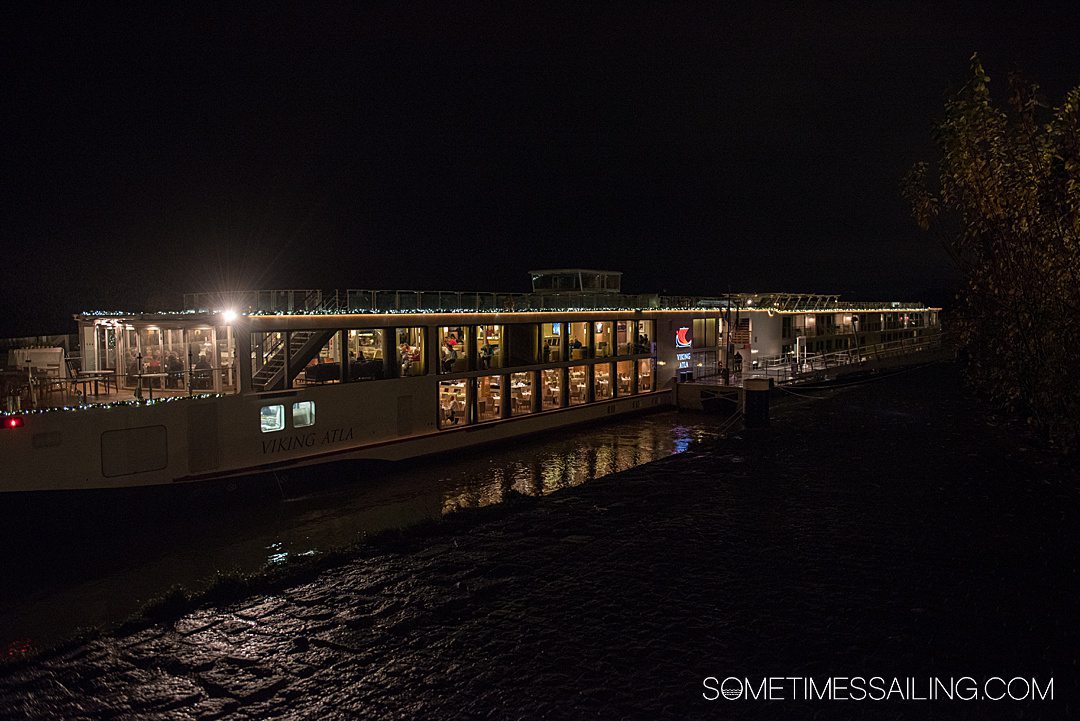 We appreciated its clean Scandinavian design, from our stateroom to the river cruise ship's grand staircase, and common areas.
The top of the staircase looked towards a warm, cozy common area. Some board games were stashed there for guests that were great to play during the evenings.
There were more games at the top of the ship: a little golf putting green and shuffleboard.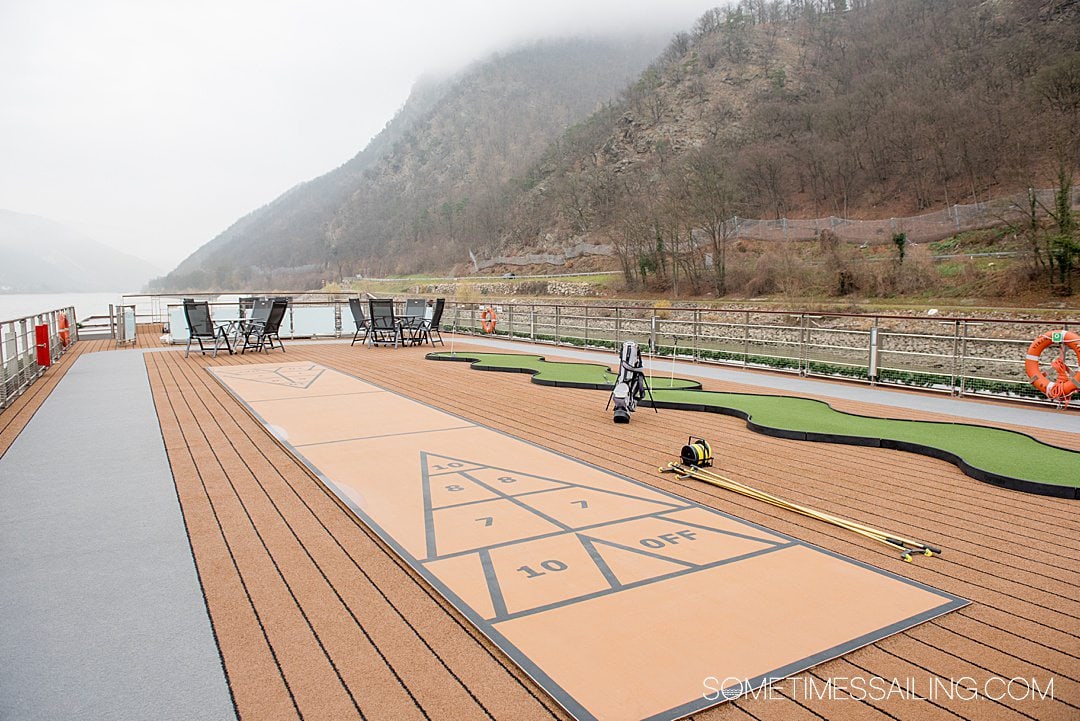 Christmas River Cruise Start: Budapest, Hungary
The cruise begins in Budapest. You're able to fly into the city, of course, but I extended the trip beforehand in Munich and Stuttgart, Germany. (Since I had to leave the cruise early I wanted to make the most of my time in Europe.) I flew to Budapest from Munich to start the Christmas river cruise.
Arriving to Budapest Early
I spent the two nights before I was able to board the Viking Atla at an Air BnB on the river (coincidentally, not far from where the ship was docked) and touring Budapest.
It was great to see the city's sites and incredible markets. They were all around and very easy to walk to from the ship. My Christmas market favorites were consistently the beautifully illuminated concession stands. I loved the lights, the decorations, and the holiday colors.
The Budapest Christmas markets sold things like marzipan sweets made from almond paste, strudel cakes (from cherry to peach, apple, and strawberry), to smoked salmon slow-cooked for hours, and Hungarian goulash in bread bowls. There were also plenty of wooden toys and craft keepsakes to purchase.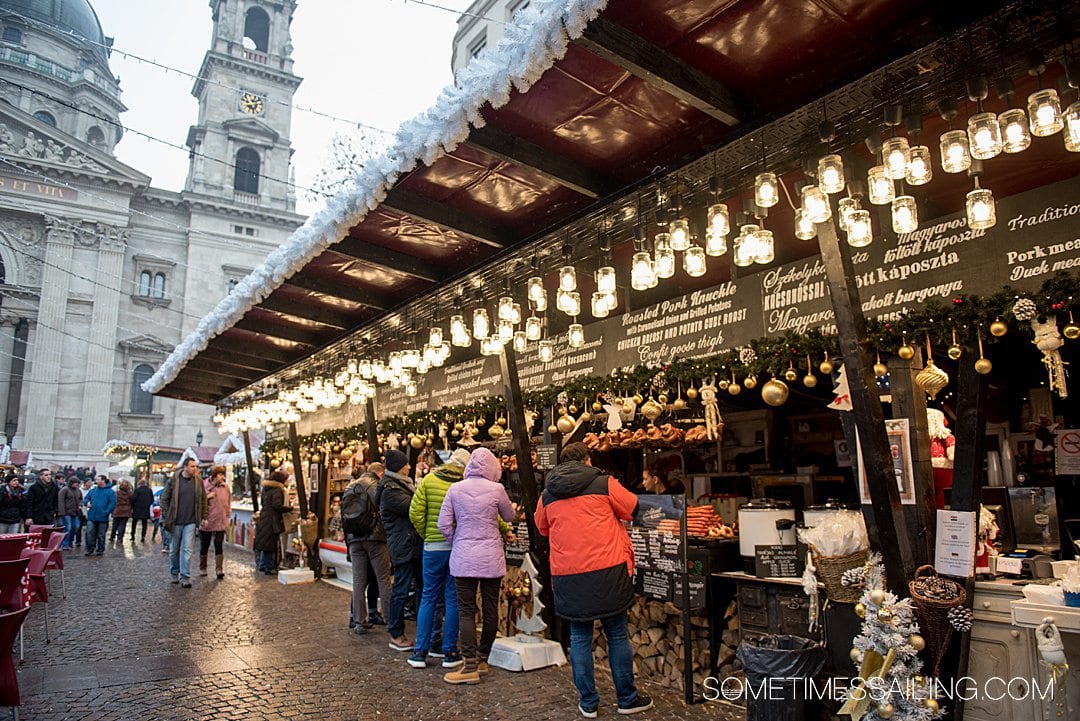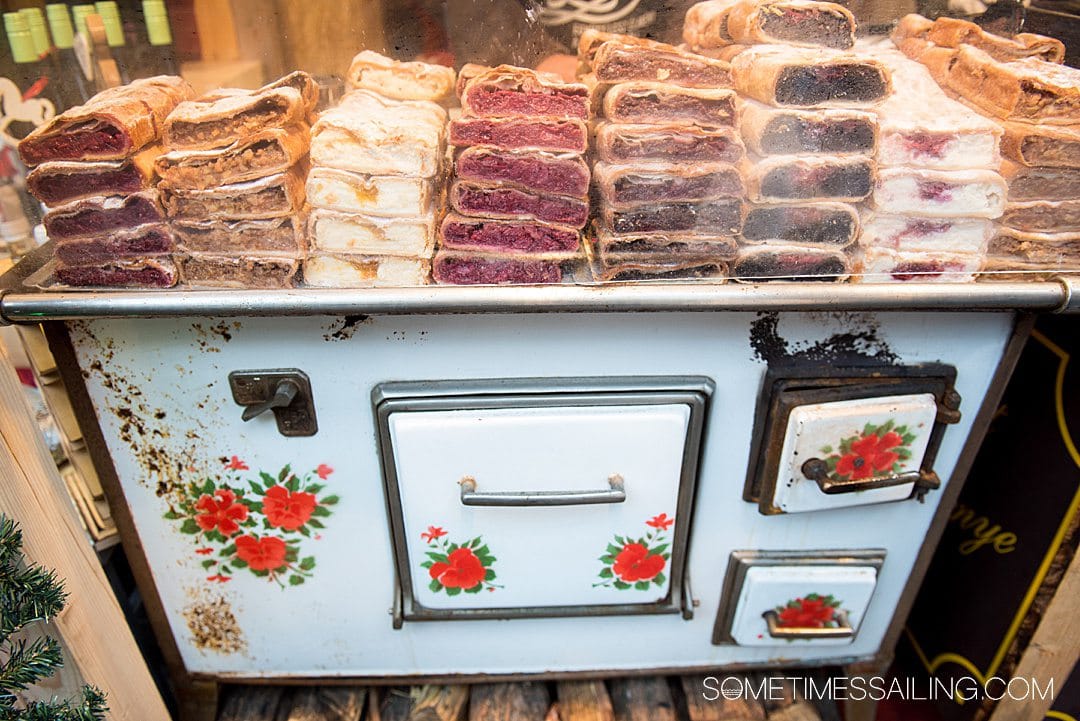 Seeing the Sites in Budapest
We were able to visit several sites in Budapest including the famous Parliament building on the "Pest" side of the river the day the cruise started. And we toured the area around the famous Buda Castle on the "Buda" side of the river as well.
Before we left Hungary and sailed for Vienna we were able to go to the Great Market Hall. It's also known as Central Market Hall, and is a huge food market in Budapest that was built in the 1890s. (We love a good food market.)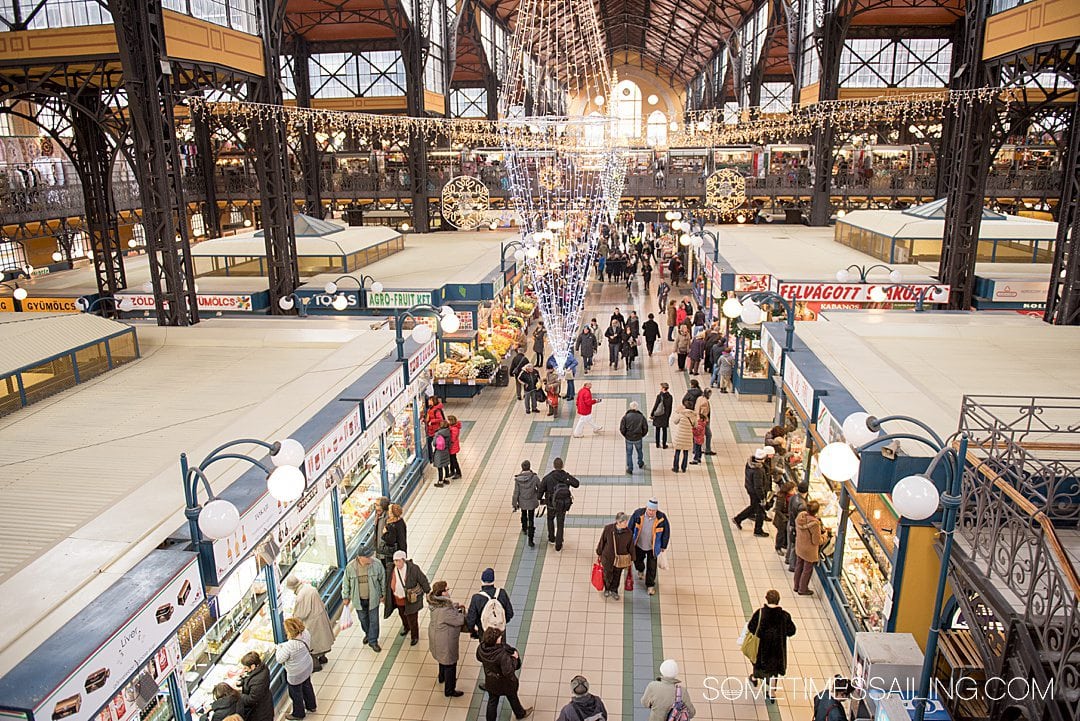 We were lucky enough to try a local favorite, called Hungarian Langos. It is fried dough that is covered with toppings of your choosing, most traditionally sour cream and cheese, which is exactly how I had it. (I still crave it! And I haven't had it since because I haven't found it anywhere in the United States.)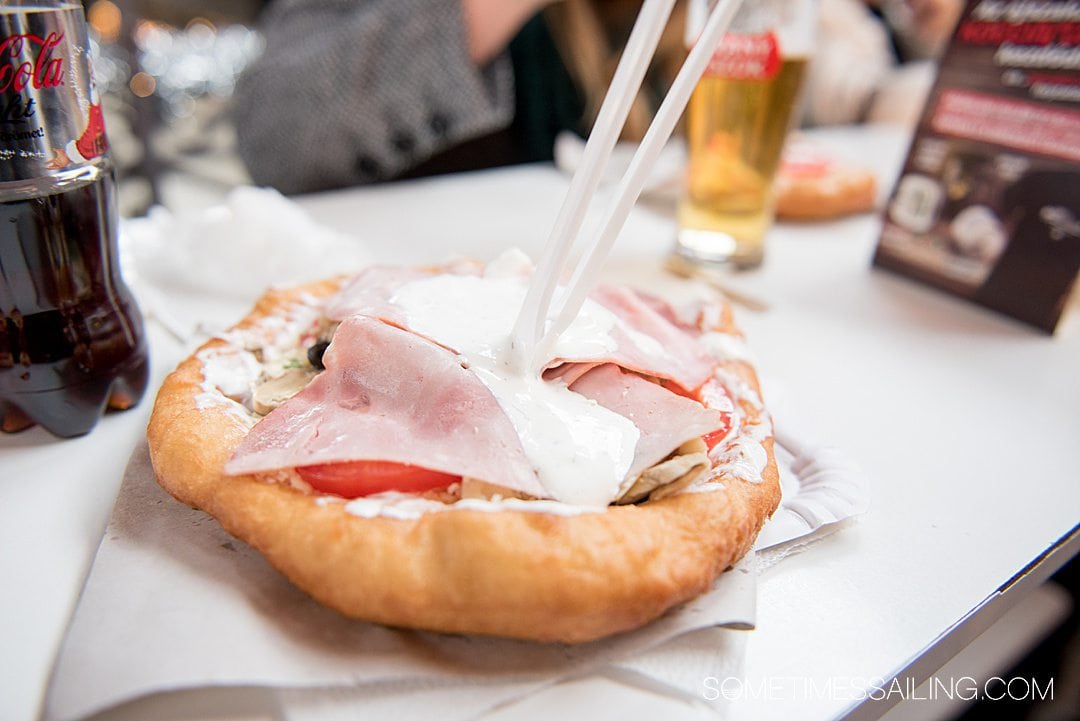 I had some leftover local currency that I wanted to spend before we left the country. So I bought some Hungarian Paprika, a spice they're known for. (And I ended up buying it again when we returned for a Danube River Cruise with Emerald Cruises in late October.)
Currency in Hungary is different than the currency you'll need for Austria and Germany. Hungarian Forints are needed in Hungary, and then you'll need Euros for the remainder of the cruise. Credit cards work almost anywhere, especially after the pandemic prompted more cash-only businesses to start accepting cards. But it's always best to keep some cash on hand too.
I used it a ton after the trip, constantly making my favorite Hungarian mushroom soup recipe, which I specifically discovered to use the paprika. (The word, "paprika," is Hungarian.)


Next Stop on the Danube River: Vienna, Austria
Vienna was a city I'd been looking forward to visiting for many years. Yet, I admit, we only saw a limited amount of it because it was so frigidly cold we could barely stand being outside!
We hopped between indoor and outdoor spaces hoping the wind would subside so we could enjoy the outdoor Christmas markets yet have our body temperature stay warm.
Luckily there were great options to explore indoors too. We were outside, then went inside, then outside, then back inside, repeat, repeat… Luckily the wind eventually died down.
After being outdoors for a bit to walk around Schönbrunn Palace and a nearby park, we switched to see the inside of Vienna's St. Stephen's Cathedral. We warmed up afterwards with hot cappuccinos and cookies at a beautiful coffee shop called Konditorei Demel.
Visting a Candy Maker in Vienna
One of my favorite stops of the entire trip was visiting a candy shop that had me in awe of its bite-size creations. It's worth a stop at Zuckerl Werkstatt; they still create their beautiful hard candies by hand. I felt like I was in a room at Willy Wonka's home!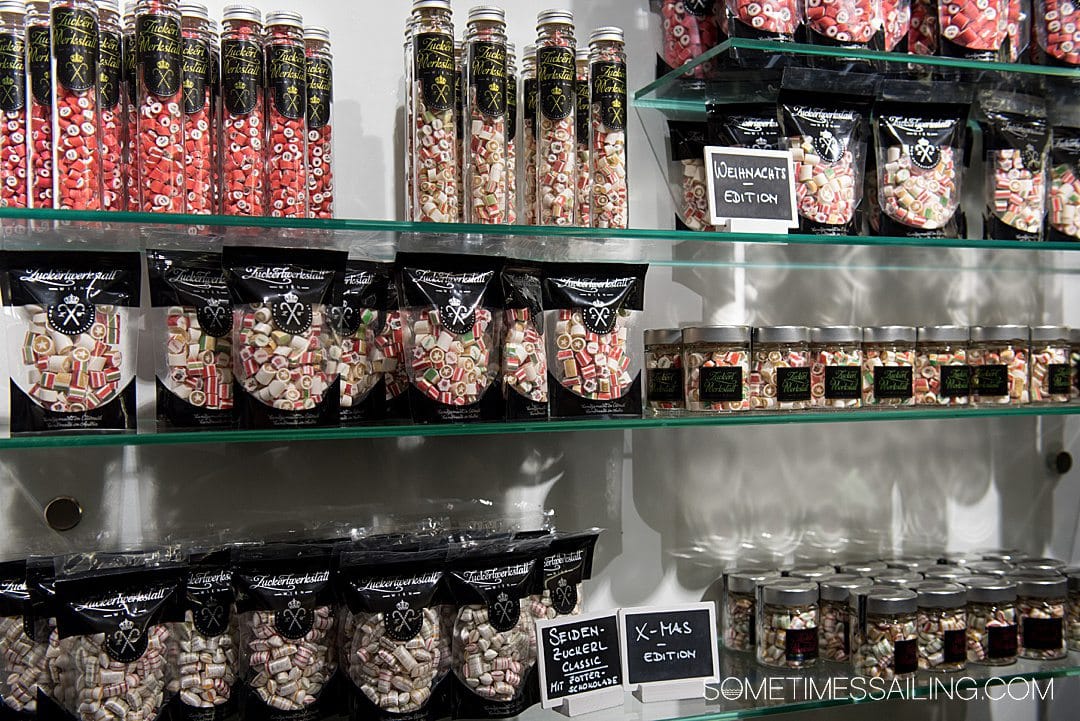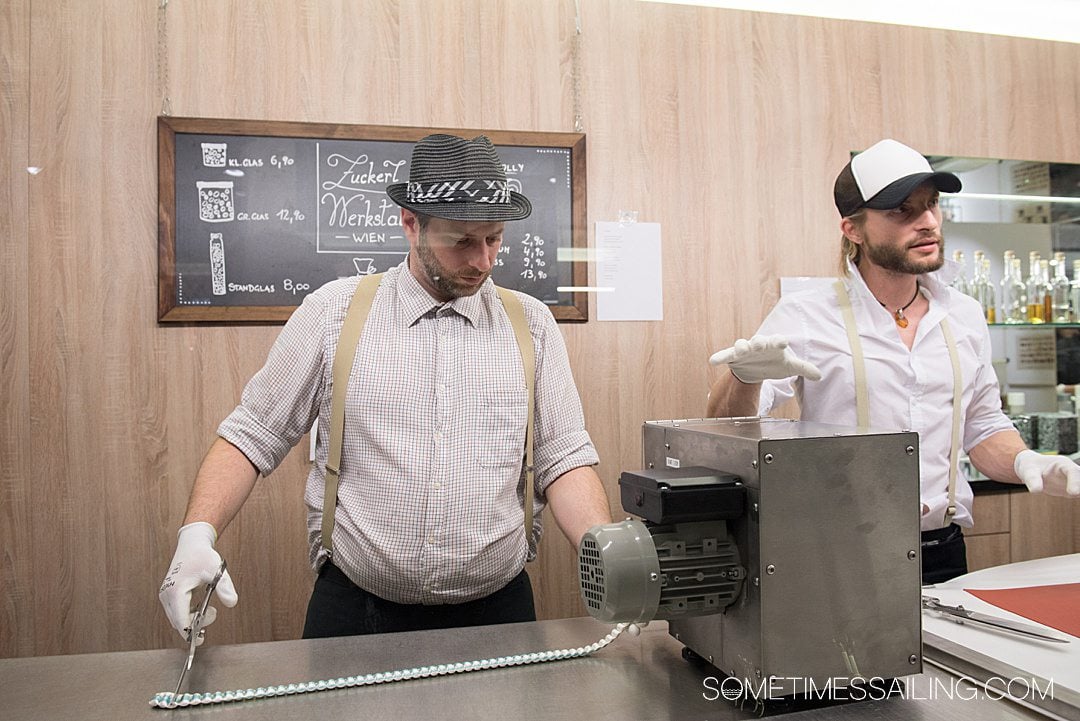 It was really neat to see a candy maker expertly work a pile of yellow tinted hot sugar over and over again, and watch it turn to solid white in front of our eyes. We learned the air helps change its color.
I even bought a candy souvenir for Dan. It was one of my first gifts for him, as it was early on in our relationship. (Later on I'd learn that sweets aren't really his thing! Haha.)
Christmas Markets in Vienna
Exploring the Christmas markets of Vienna most near the city center, with mugs of hot glühwein, was in order when we left the candy store. We nestled around new friends we met on the cruise and talked about the day. By this time the holiday lights were starting to turn on as daytime turned to night.
It's entertaining to see the different mug designs each European Christmas market has. They're all different. You pay a small fee for the mug that is given back to you if you return the mug to the vendors. Or, you can collect the mugs as souvenirs.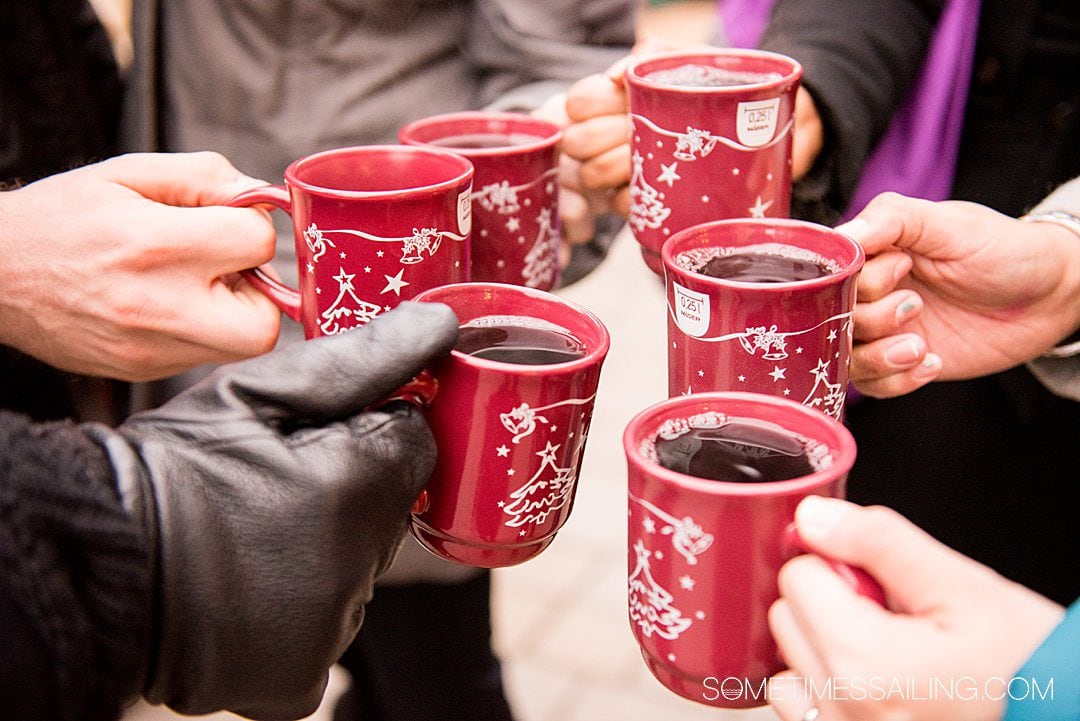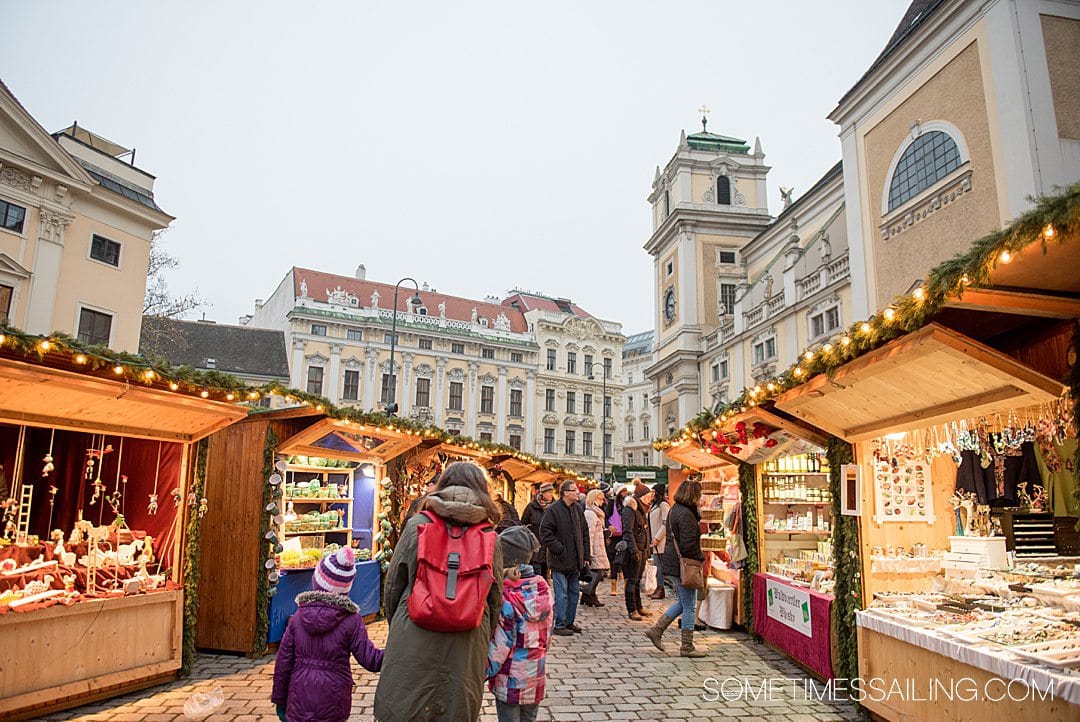 I was pleased to venture to visit another holiday market in front of their city hall, or Rathaus, before we headed back to the ship.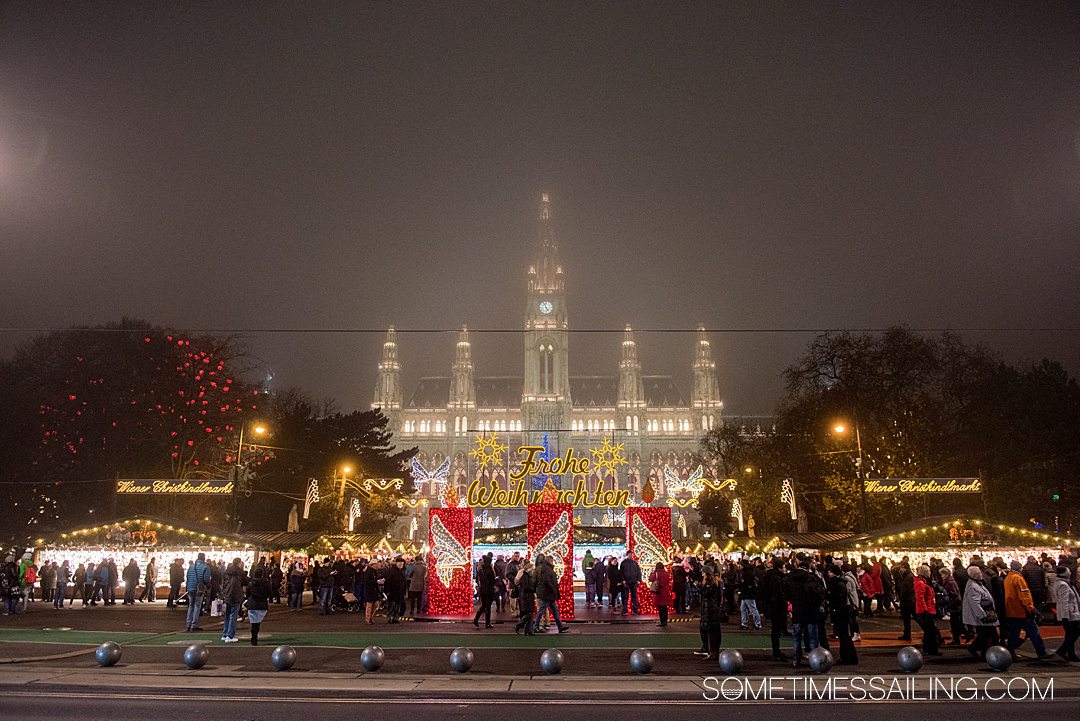 I just love "maroni" on a winter day in Europe. Maroni is simply chestnuts, for us westerners…roasting on an open fire, as the holiday song goes. You can buy a bag of chestnuts for just a few euros, which is all you need.
Warm alcoholic and non-alcoholic beverages flow at the markets and the sounds of holiday choirs and music fill the air.
There are food vendors selling bratwurst (a personal favorite) and pretzels, craftsmen selling wooden nativity scenes and ornaments, and tables casually scattered about the streets and sidewalks between kiosks for patrons to use to converse with friends, relax and people watch.
Vienna has so many different pockets of Christmas markets. But the two I visited were a delightful look into their culture during the holidays and left me with a reason to go back one day: to explore more of the Vienna Christmas markets and explore the city more entirely.
Viking Events Coordination in Vienna
Viking had scheduled a cooking class for us, creating traditional Viennese crepes with a berry reduction to go with it during the afternoon. It was the perfect indoor activity for us to warm up and have a sweet little Viennese snack.
Later that night, I enjoyed a performance showcasing Mozart and Strauss, arranged specifically for guests of the Viking cruise that evening. The Vienna Residence Orchestra was there, live, and their singers were of the highest caliber.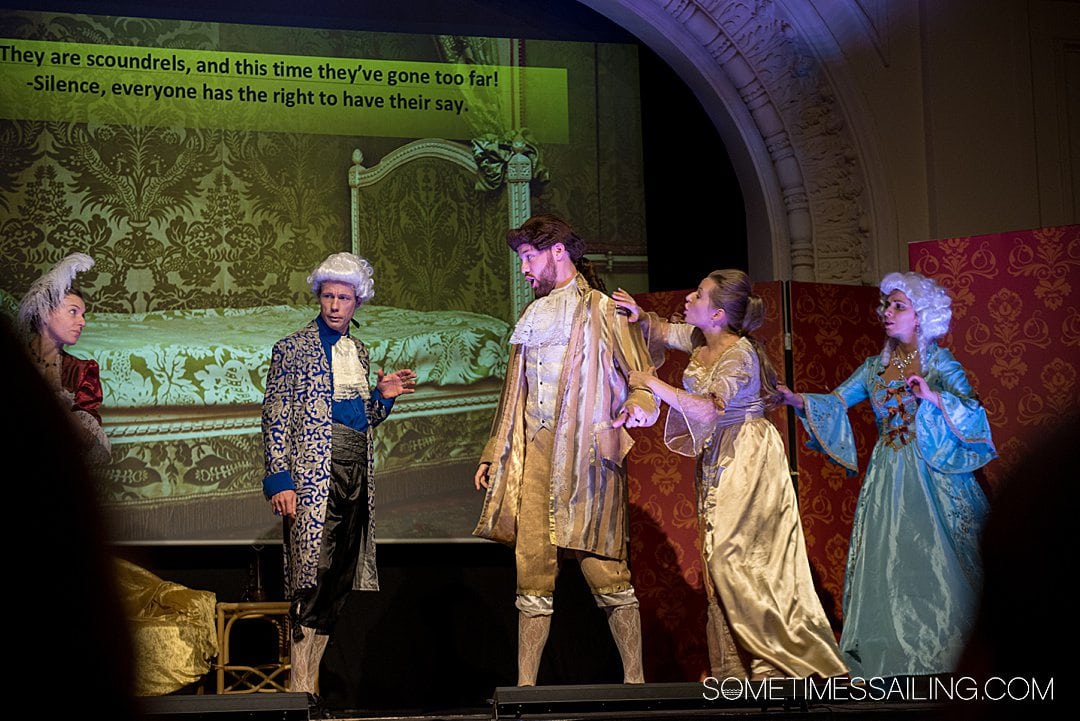 Sailing on the Danube River
One of the great things about sailing on the Danube between Hungary and Germany is you get to see fairy tale scenes like the image below, of a random castle on the side of the river.
We saw a lot of industrial scenery aboard our Emerald River Cruise in The Netherlands, which was great in its own way. But the views along the Danube River are, indeed, very romantic. As is the stargazing in the evening on the top deck. (Don't forget to download a stargazing app for the cruise on your phone before you leave for your trip!)
We learned we were experiencing a UNESCO World Heritage Site called Wachau, when we sailed the stretch of the Danube River between Melk and Krems, Austria.
This valley is noteworthy for its medieval landscape along the river, which is historically significant for its agriculture, architecture, and settlements.


Romantic Danube River Stop at Krems, Austria
Krems, Austria is a charming European area filled with rolling hills of vineyards. Grapes for some wines served onboard Viking were from this area, perhaps not coincidentally.
The most famous attraction here was Benediktinerstift Göttweig, an abbey run by a few dozen monks situated on top of the hill. Needless to say the view from there is spectacular, especially at night. The abbey fresco, staircase and bookcases are not to miss.
We were there just before sunset so we were able to see it with some natural sun and then with sparkling lights in the town below as we exited after dark.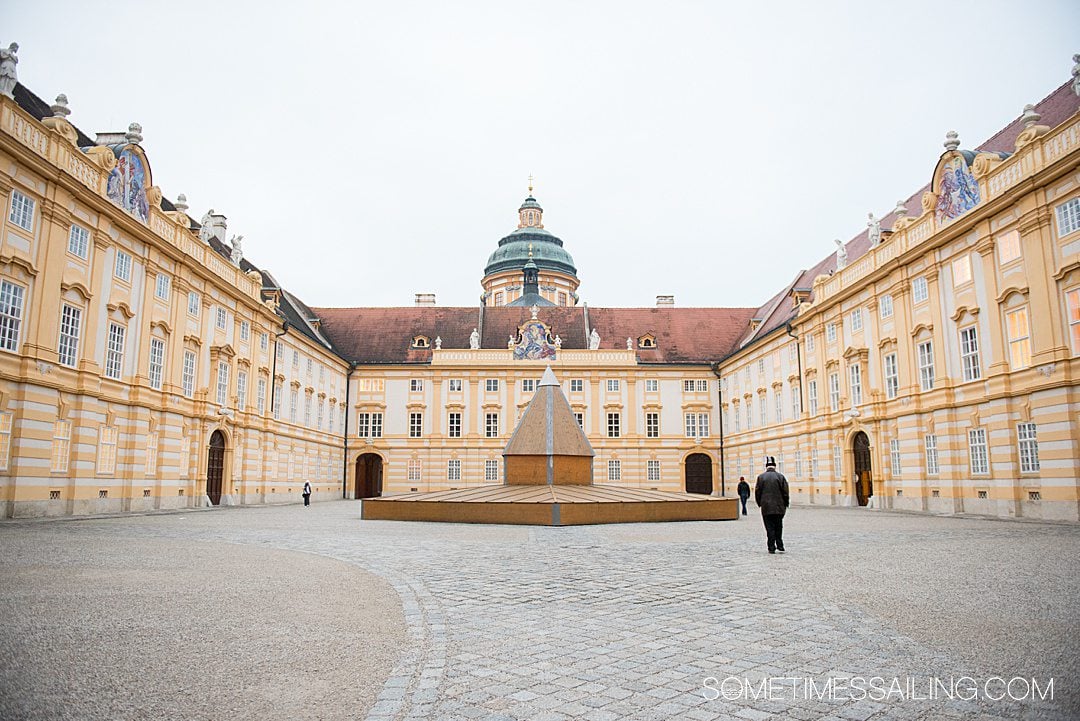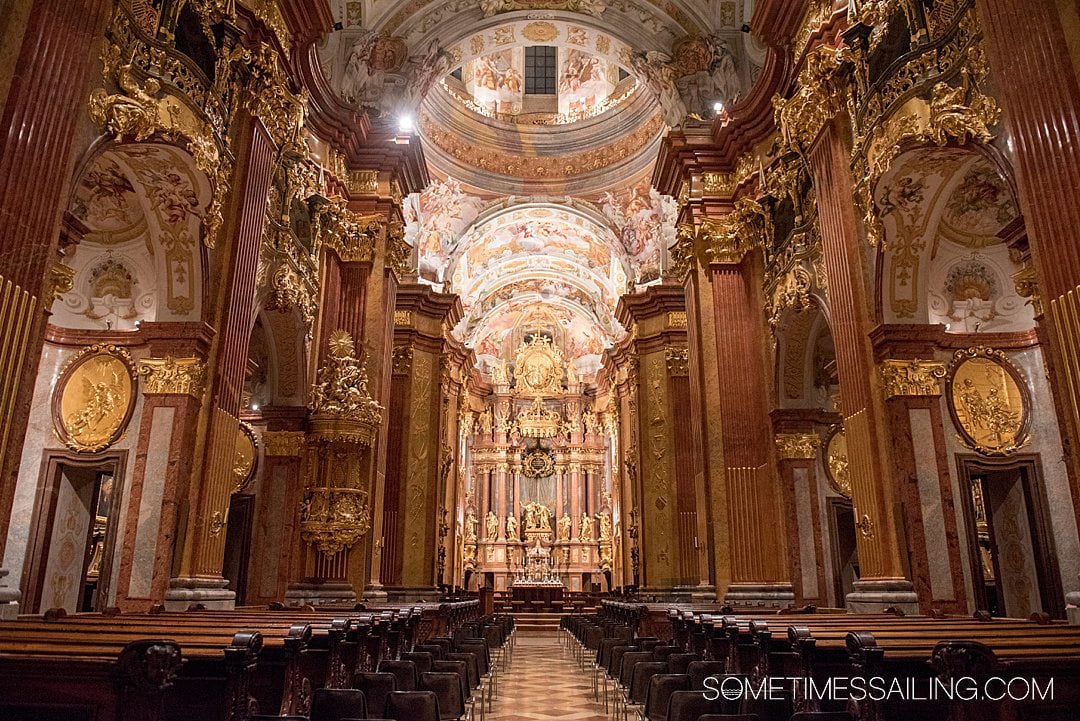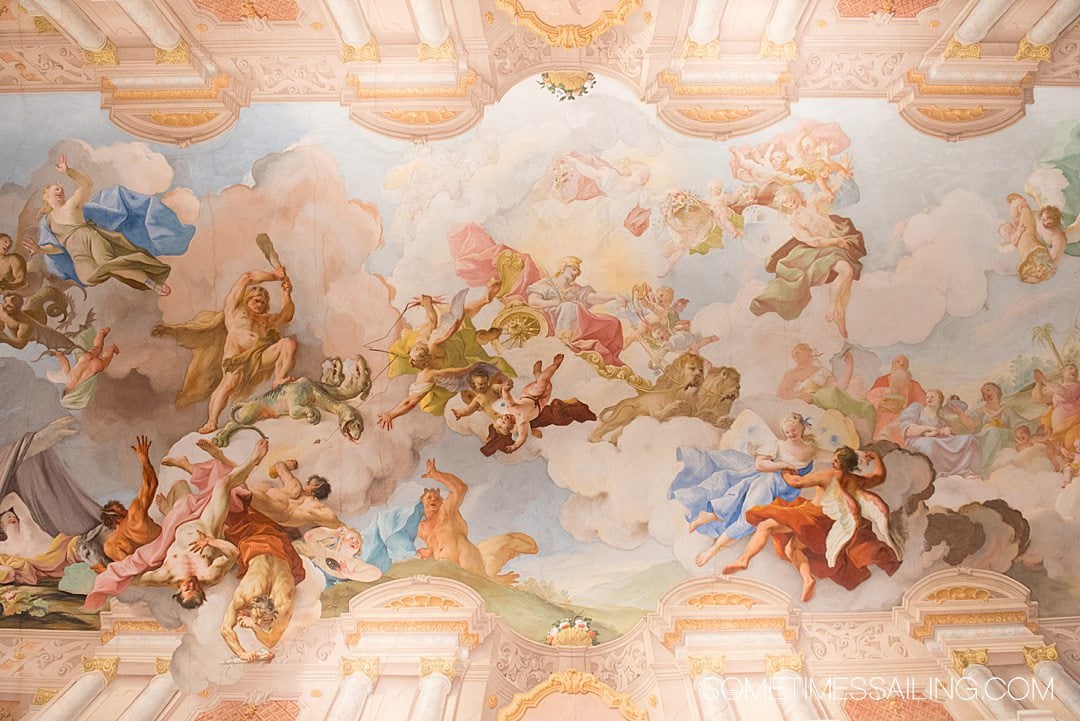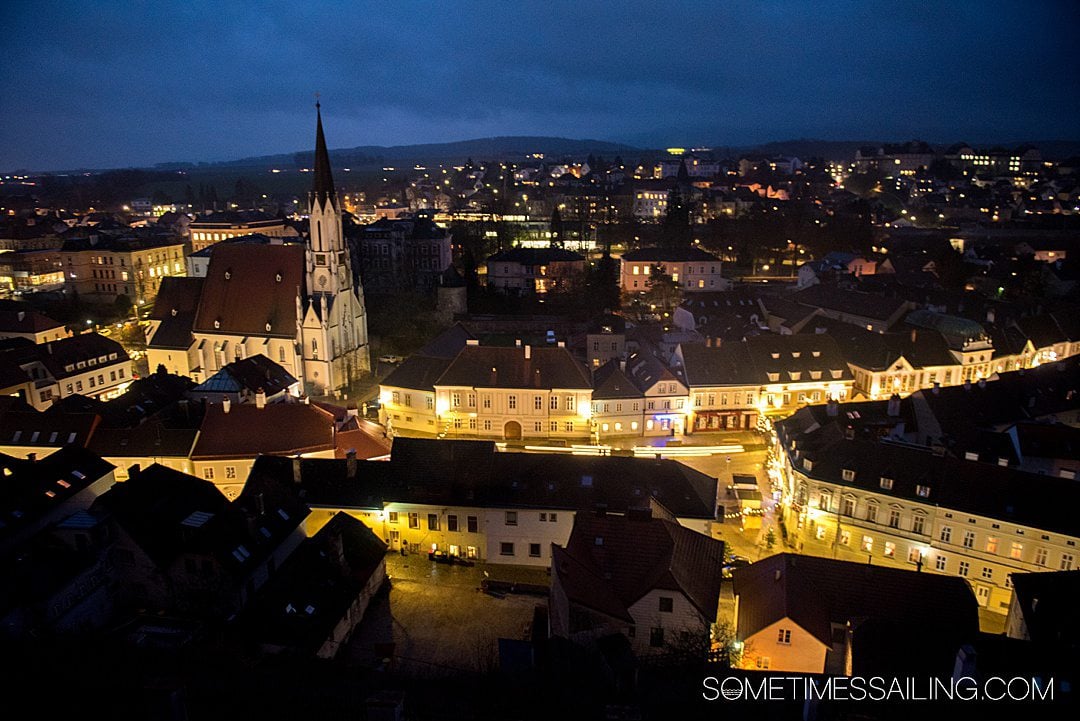 Charming Holiday Markets in Passau, Germany on Our Christmas River Cruise
When we woke up in Germany we had just docked in Passau. The view was one of a misty morning, with the city's colorful buildings lining the Danube. It perfectly reflected on the water.
This was one of my favorite scenes of the trip.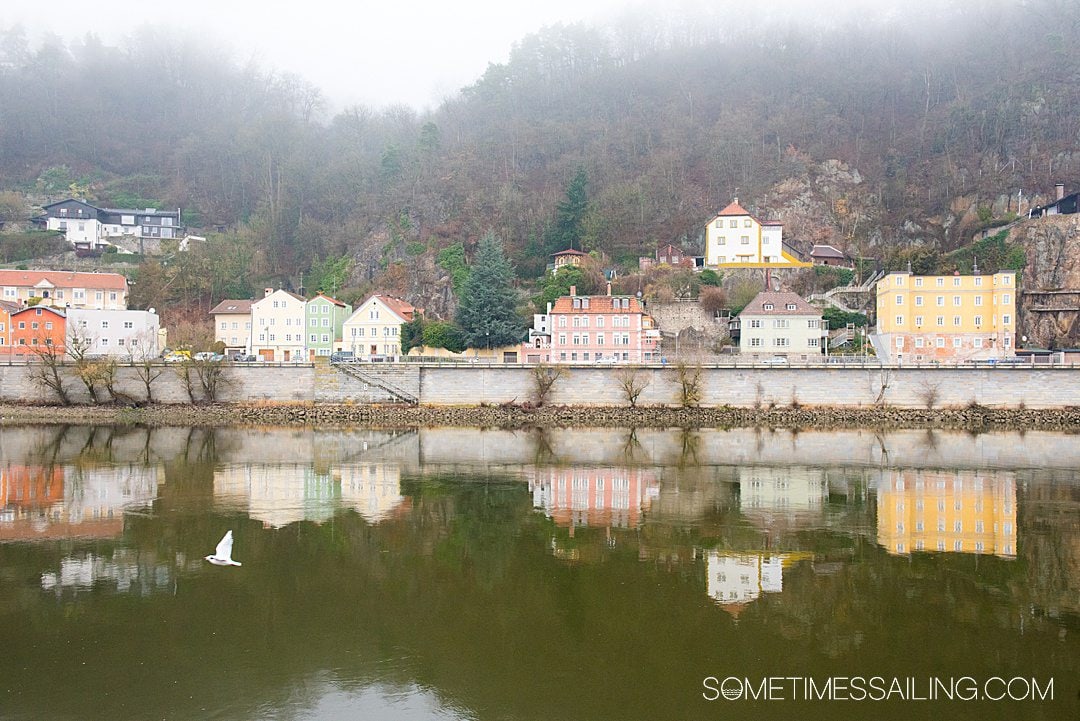 I immediately left the ship to begin exploring the small, quaint European town. (I couldn't have known at the time that a couple of years later I would photograph a groom from Passau, in his New York wedding. He was shocked I had previously been to his Bavarian town, all thanks to a Viking River Cruise.)
The city center is just steps from where the ship docks, watched over by St. Stephen's Cathedral. The baroque building towers above the town square, where the Christmas markets are.
Inside the cathedral is an ornate and beautiful interior filled with frescoes and interesting architectural details.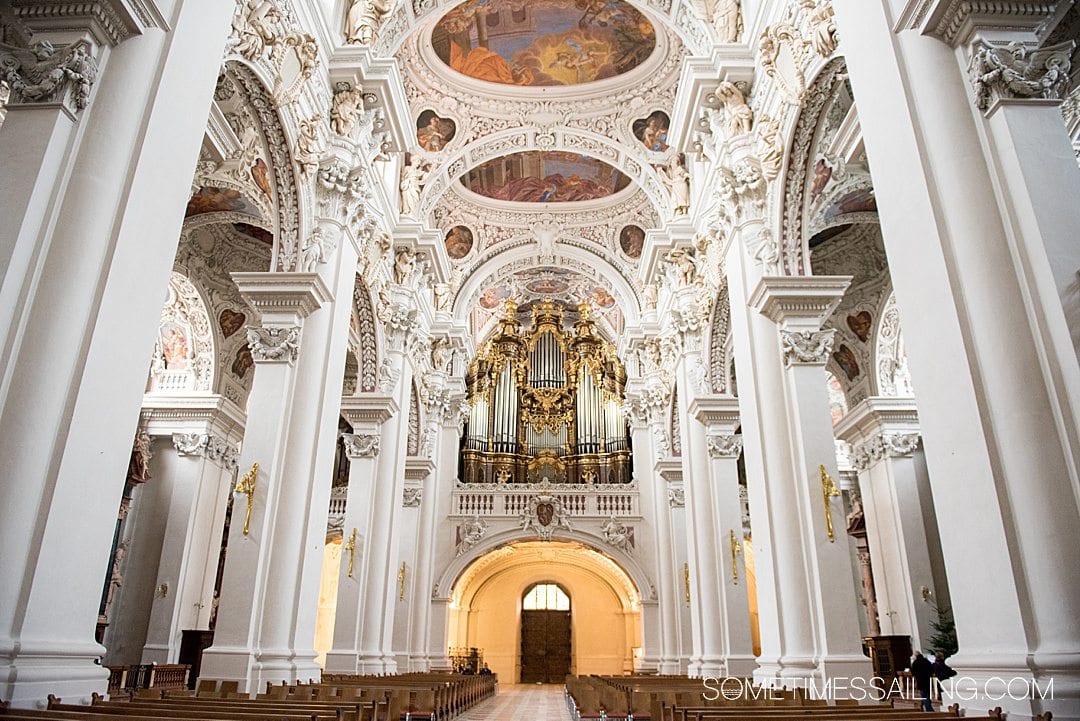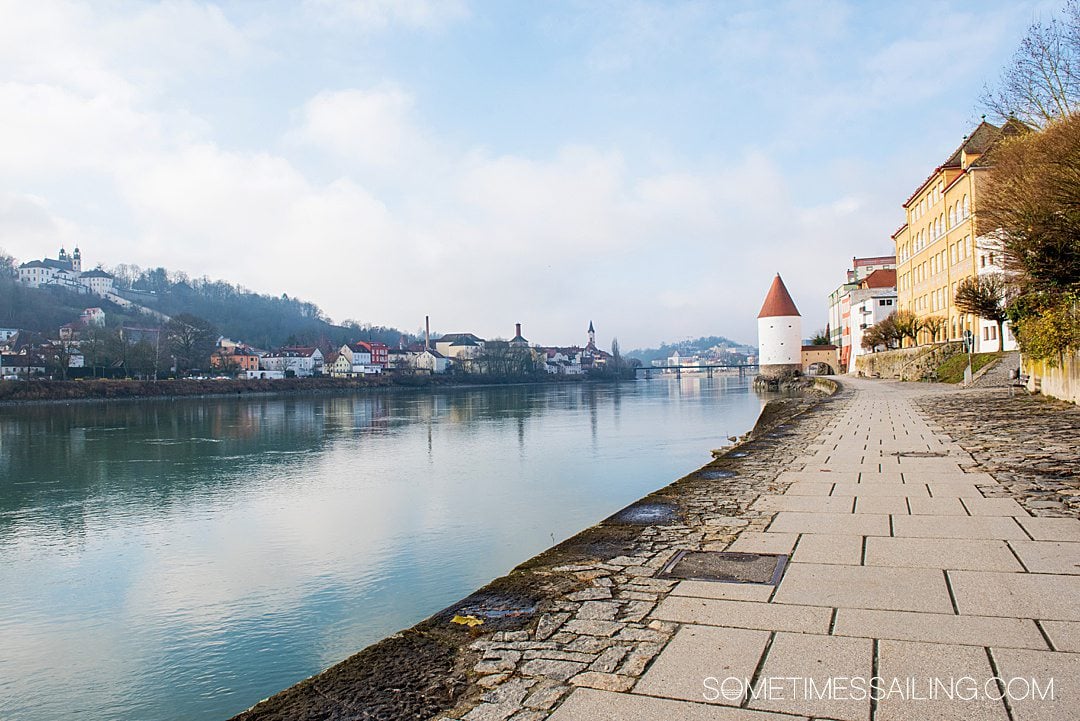 After I exited St. Stephen's, I walked around the town a bit. Passau is also known as the "City of Three Rivers," because it's where 3 rivers converge. It was fun to wander around to see many waterfront scenes in the city.
By the time I was back in the town center, the market vendors were opening for business. I opted for an early bratwurst sandwich for lunch before I sadly had to leave the cruise to go to the airport.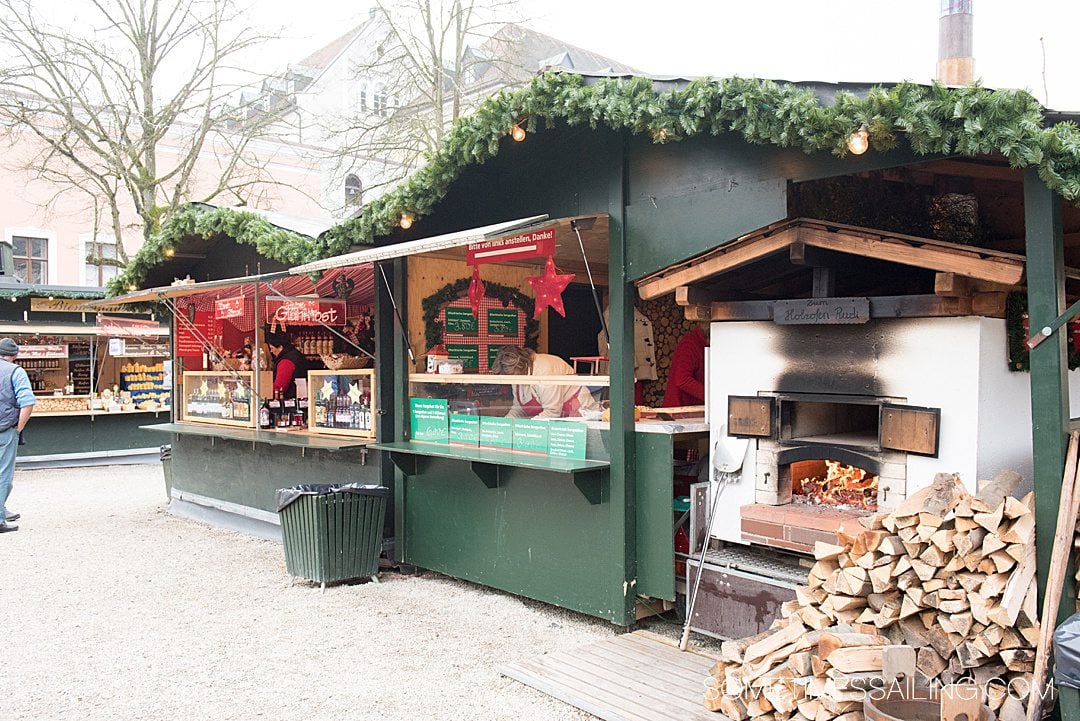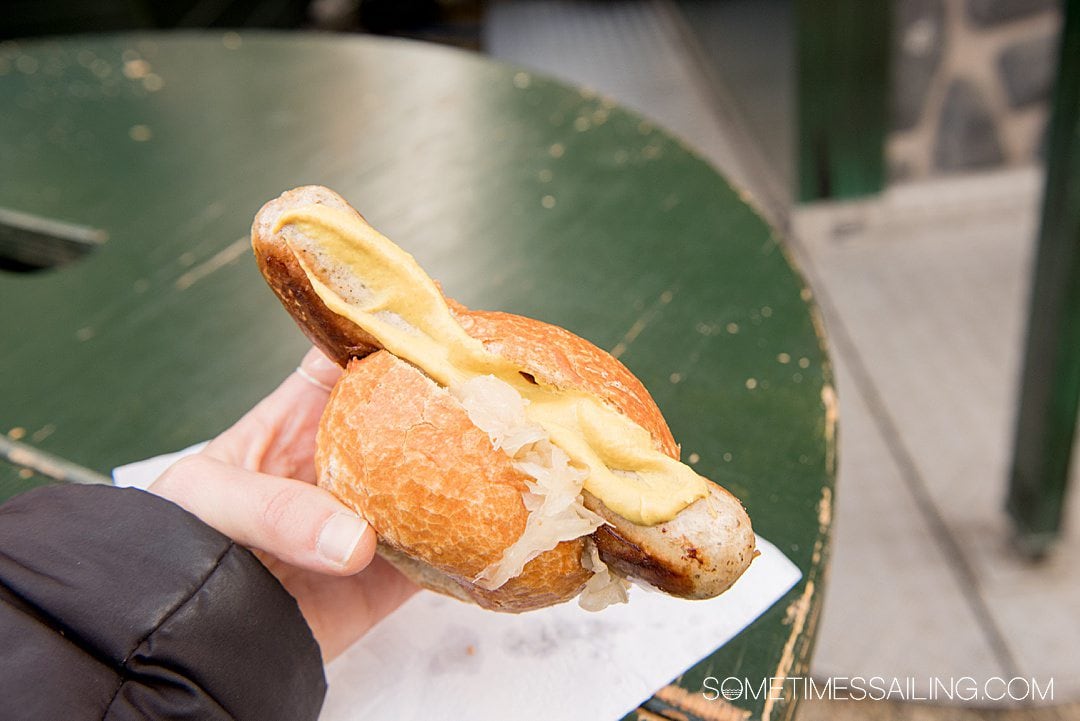 The ship continued on to Regensburg, Germany and the Christmas market river cruise ended in Nuremberg.


What to Pack if You're Sailing with Viking During Christmas
That's just the tip of the iceberg and the appeal of cruising with Viking for a Christmas river cruise. Late November and December are a lovely time to experience the holiday spirit through the Christmas Markets set up in Europe. It's a joy to participate in the festivities at each port.
You'll gain memories at each destination along your river cruise, along with the warmth and love that the holiday season brings. And that is something you can't get on any other sailing besides a Christmas time river cruise.
Gone is the need to "look good in a bathing suit" for a winter cruise! You can eat all the yummy, delicious foods you want because you're in sweaters and a heavy winter jacket anyway. Haha!
But don't forget to pack gloves, a warm hat, scarf and a heavy coat. You'll need it! We also recommend bringing quality lotion to keep your skin moisturized since the air is very dry in Europe in December, and Chapstick too.
You may also want to pack an expandable bag as well because you may buy a bunch of amazingly unique, local items at the holiday markets. And you'll need a way to bring them back home on the plane!


Going on a river cruise? Also check out: