Unique Ocean Art for Your Home so You Will Always be by the Sea
Even if you can't be near the water, you should be able to be inspired by it, daily. And there are really talented artists out there who make this possible, thanks to their beautiful art from the sea.
We've put together our favorites for you in a list where all products are simple to find online, so you don't have to do the search work!
These special pieces include mediums like paint, paper, wood, and photography.
All of the below listings can be found in one handy favorites list on Etsy from us. Read on for specifics about what kinds of creations we added to our favorites; we hope they inspire you to add some new ocean art to your home!
Disclosure: There are affiliate links in this post, which means we may earn a small commission if you click the link and proceed with a purchase, at no cost to you. We truly only recommend hotels, products, and services we personally use. As Amazon Associates, we earn from qualifying purchases.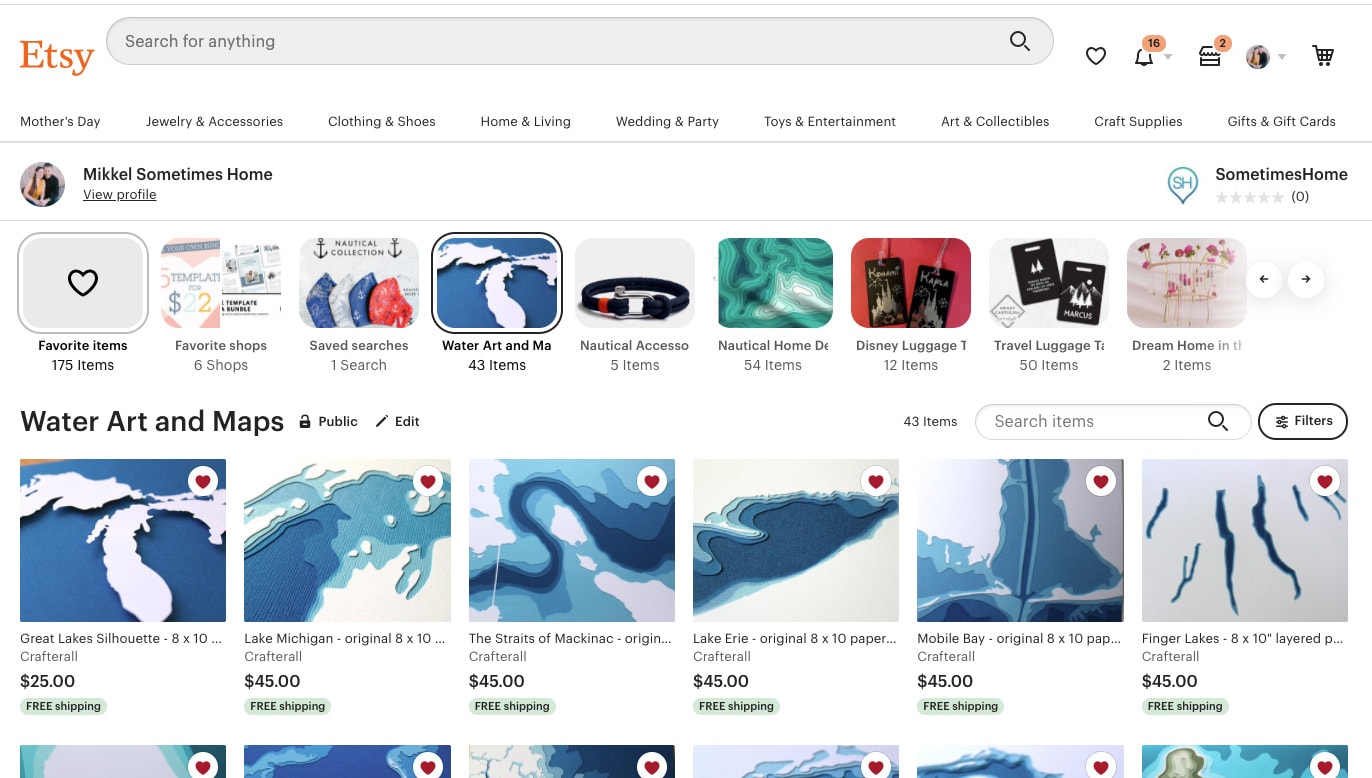 Not only is the ocean incredibly soothing and relaxing for cruise vacations and to gaze at while you're at the beach, or maybe even from a rental home. But the art created from the inspiration provided by the ocean is equally soothing and transformative.
These talented artists bring us products available for purchase in the name of their talent and carrying us away to our favorite locales.


Paper Ocean Art
We discovered the COOLEST paper art, thanks to Etsy. Artist Marnie Karger, known as Crafterall on Etsy, creates "layered papercut pieces, handmade in Minnesota" that mimic the topography of the area the specific body of water is in.
Etsy loved her shop so much that they featured her as an artist in 2016. It shares that she was able to take her art full time, retiring as an English teacher to become an artist.
We found Marnie's shop when we were looking for Great Lakes-inspired pieces after writing about Great Lakes cruises. Her art came up in a search, and we were in awe. Coincidentally, those were some of her most popular pieces back when Etsy published the feature piece on her.
Her gorgeous pieces are made with high-quality cardstock. She's always stocked on her blues! When you order a piece, you can customize it by choosing the types of blues you want it to be created with. There are even some other Earth-tone colors in the mix, like gold and silver, browns, reds, and pinks.
Check out these pieces below of Lake Superior and the Outer Banks in North Carolina.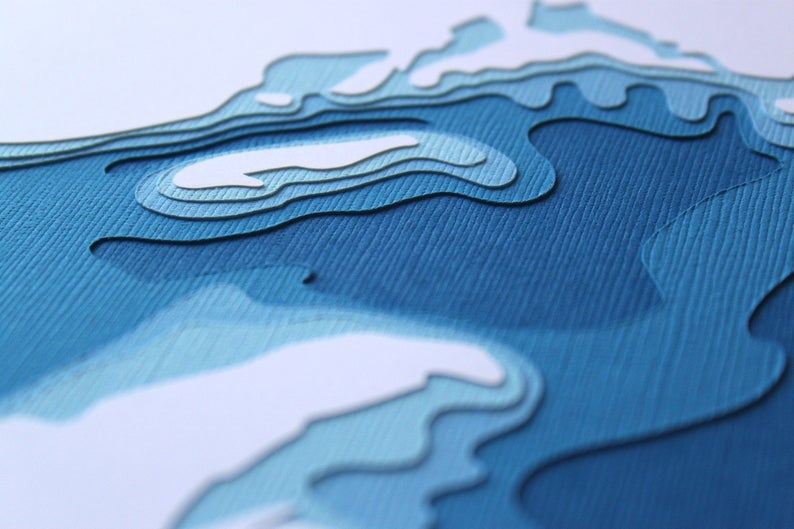 Mixed Media Ocean Art
The color in this art caught our eyes…then we noticed that the artist used mixed media. Some paintings have things like buttons and sequins in them.
Texturing art adds another point of interest and conversation to the pieces. Kellie Gedert loved to create art as a form of therapy, and she notes at the top of her shop that she and her family often create together. We like that those "loving" and passionate vibes for creation are in the pieces she creates.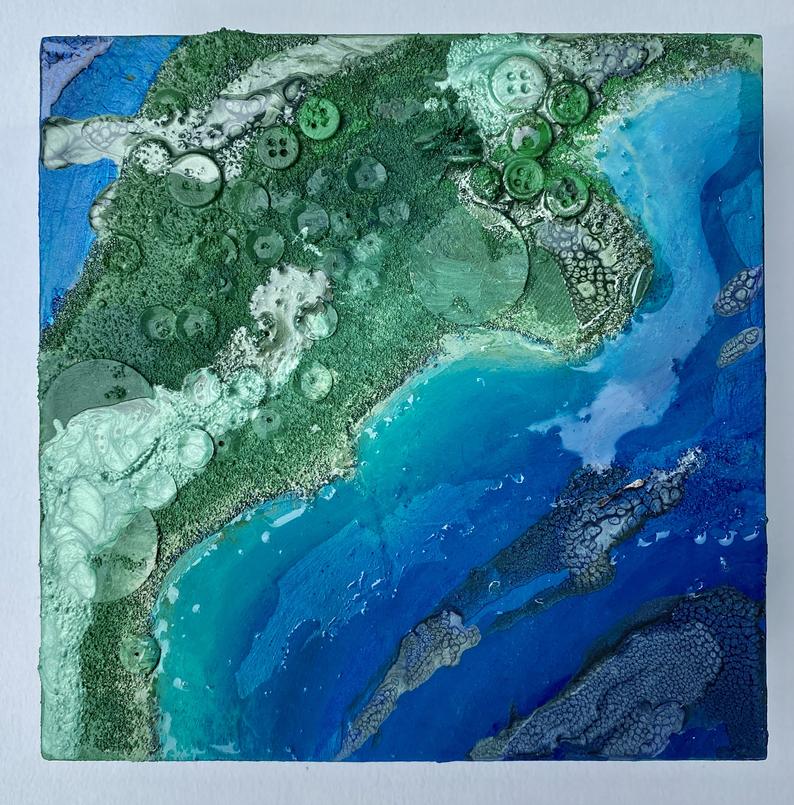 Or check out some glass art like this fused three-part piece from Or some awesome stingray or fish pieces, from JulliaTyasko, who creates one of a kind modern art glass pieces.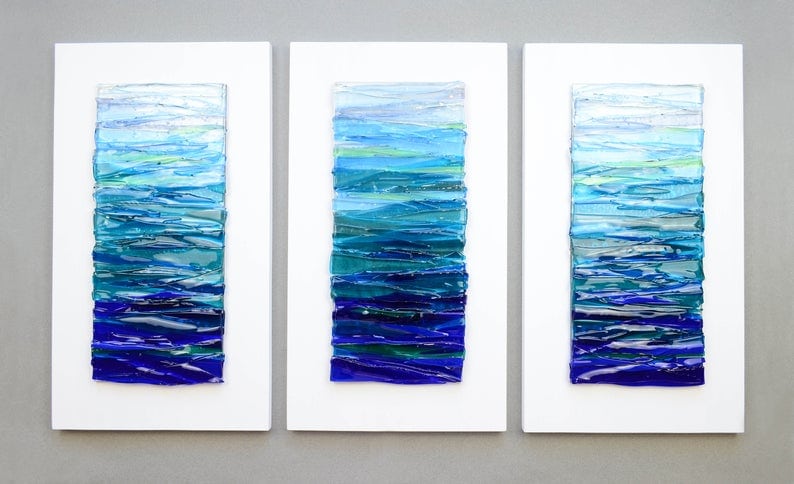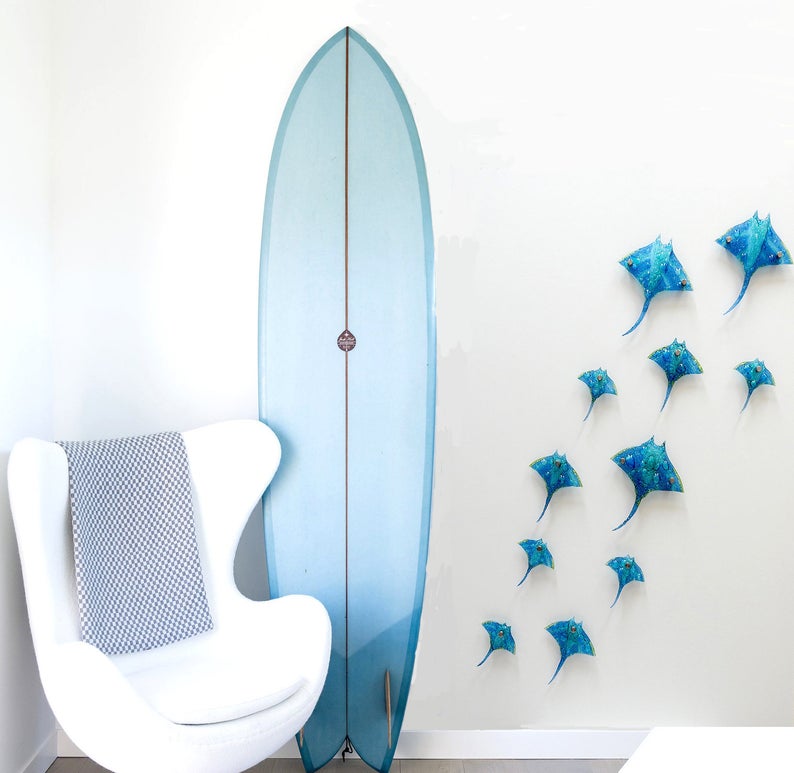 Wood Carved and Laser Created Ocean Art
Does it get much more natural than creating art with wood? It recalls pieces of driftwood being washed up on an ocean shore, but of course, these pieces are made with more reliable wood pieces. Anna of DifferentMaps created stunning ocean and shore maps with laser-cut wood and epoxy resin.
Many popular areas are already for sale in her shop but you can also create a custom map if you wish. Below is Miami, which of course is the point of many cruise departures. But if a smaller lesser-known lake, for instance, is important to you, you can get it made. (Maybe even for an anniversary present or proposal!)
Ocean Photography
Sometimes the best inspiration for the ocean is simply photos…from the ocean. Aerial shots from drones or cool eye-height pictures can make gorgeous prints, on canvases, or for framed prints. Or even prints on paper or metal.
NatalieRyanDesign offers this striking ocean photo from the sky (likely a drone shot) that you can print in various sizes.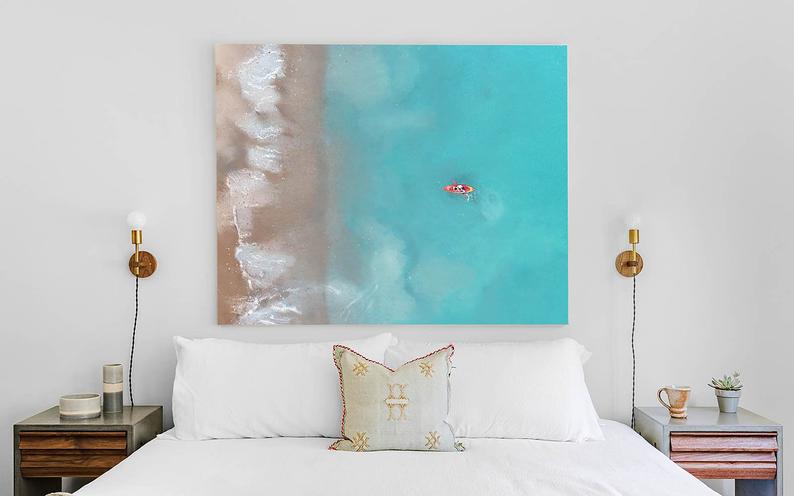 Instead of simply one print, try to do a triptych that spreads one scene across three frames, like this beauty from WallArtSetShop.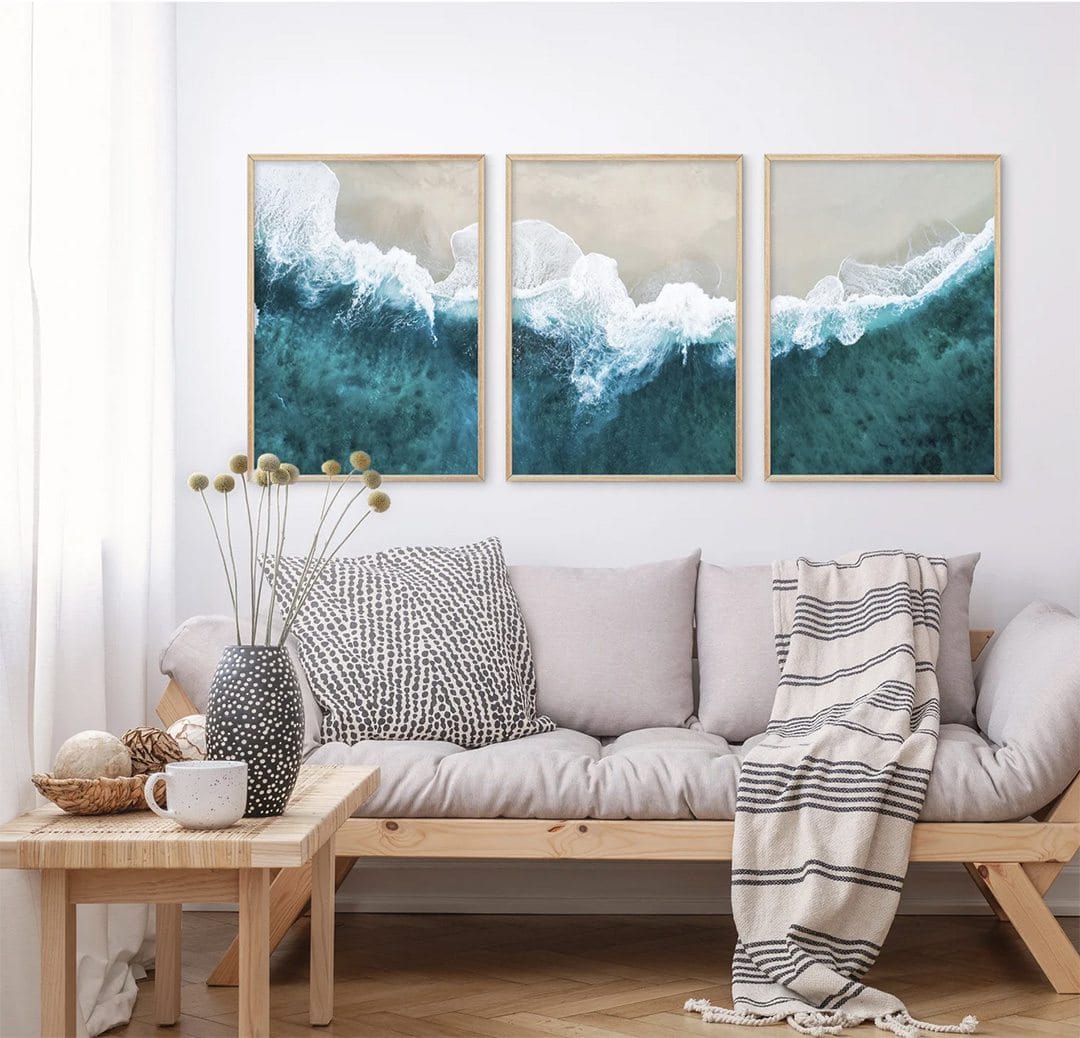 Oceans Watercolor Art
There's something special about watercolors. You can feel the way the paints interact with the water in each brush stroke. It's a dance of elements, pigments and H20 interplaying to achieve a look the artist intended or was moved to paint.
You can get ocean art for your home that's an inspired scene, like waves rolling up on a shore in Hawaii, from Rachel of TheColorfulCatStudio, or something more pointedly recognizable like the Pitons in the distance in St. Lucia, from ArtShop77.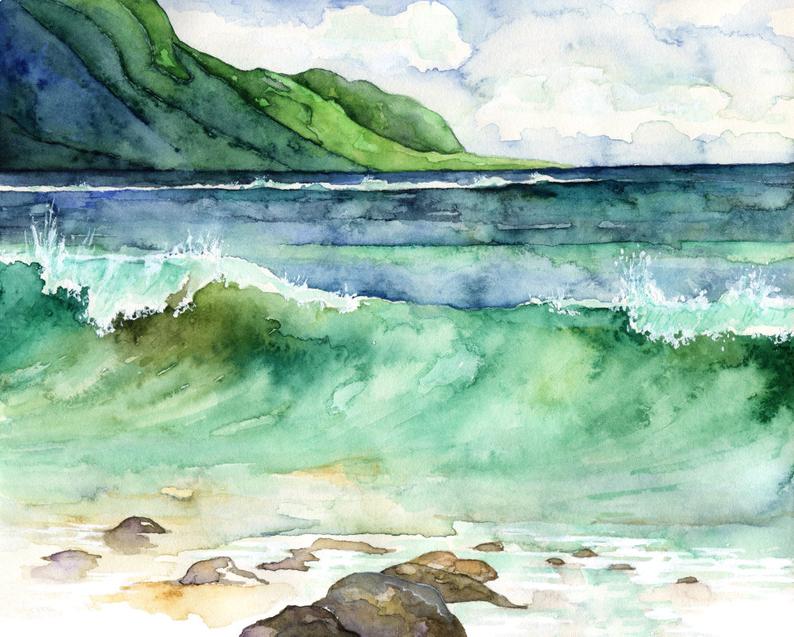 Tessa Pfeifer of TPSketches paints very imaginative art. For instance, this whale would be the perfect way to celebrate booking an Alaskan cruise where you'll go whale watching, or the seahorse a great way to recall a wonderful snorkeling dive.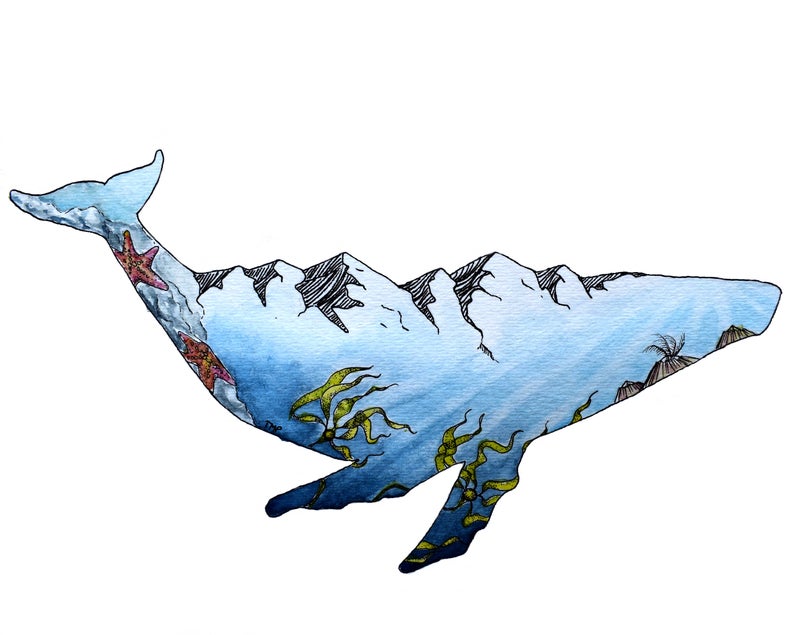 Digital Ocean Art
There are a lot of talented digital artists on Etsy that create wall art too. Sometimes an ocean or body of water (like a fjord) will be expressed in a "poster" like creation. Other times maybe it's an interpretation of a landscape with a lake in front of it. But it proves that no matter your style or medium, there's something for all tastes out there.
If you're into simple designs with a big impact, something like a solid color of land against a solid blue color for the water would be to your liking, like this map of Kiawah Island, SC from Etsy artist JerseyCoastDesigns (not just Jersey!).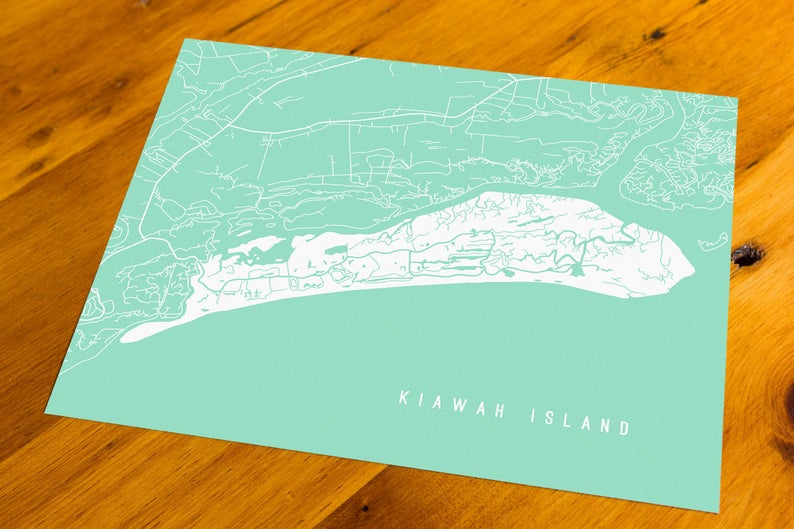 Another really cool option is something like what Konstantina, from NordicOceanArt, offers. These Scandinavian modern designs are very distinct in style and would definitely stand out in a modern home!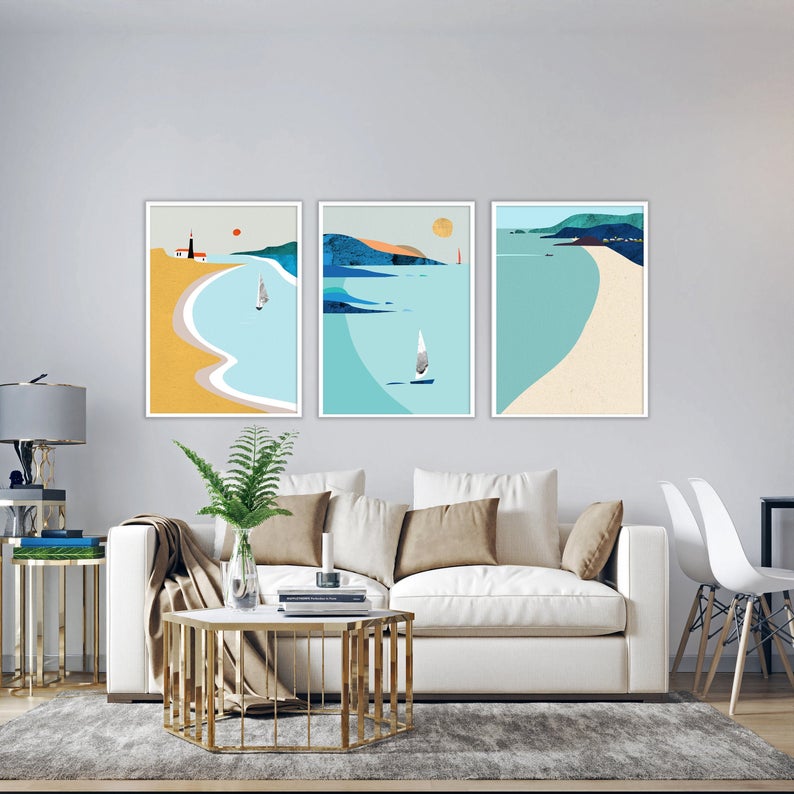 Traditional Paintings Ocean Art
Last, by certainly not least, are some paintings of ocean scenes created with more "traditional" paint and canvas. The mix of ocean scenes from artist Lindsay Megahed at LNZartStudio inspires us. We love the flowers in the foreground.
Equally inspiring though different in technique is Darya Gerasimova's painting of waves reaching the shore, available at her shop GerDaPainting. You can really see the paint and brush strokes.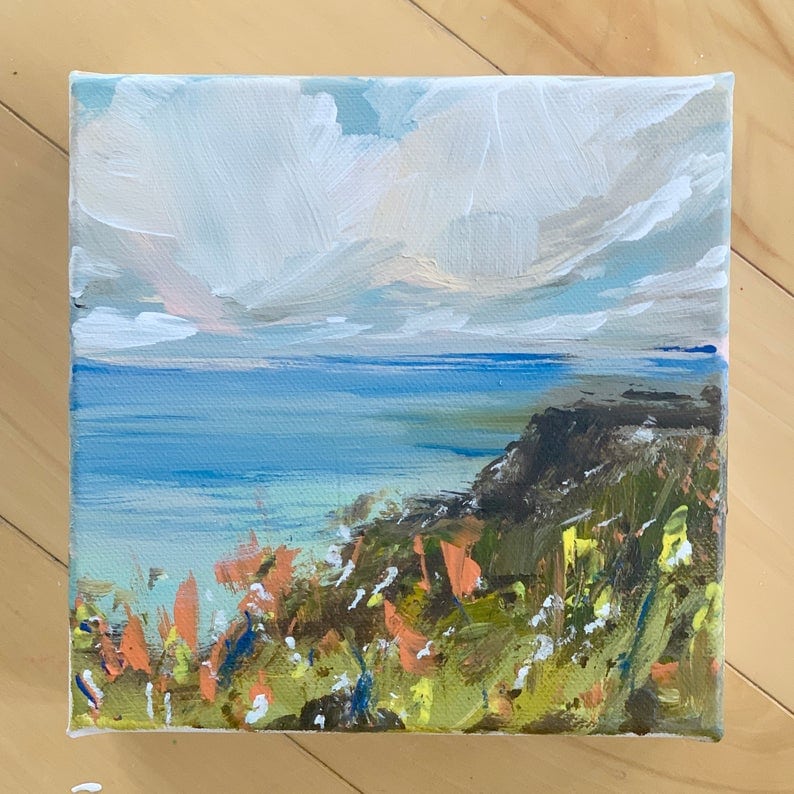 ➜ Don't forget to check out all our favorites for many more ocean art pieces on Etsy.


For more ocean inspiration, check out: