Sea Bags Review: Recycled Sailcloth Bags
What first struck us about these bags from sails (recycled sails, that is) was that they have eye-catching designs. Though that's the first thing that grabbed our attention, we learned there's something deeper at play with Sea Bags as we started to research them more with some online shopping investigation.
We browsed social media photos as we researched our summer trip to Maine. We noticed that very often, the people in photos we adored were holding an iconic bag, either with an anchor or octopus printed on it. They carried them with the help of cute rope handles. (There are cute sailcloth bags on Etsy too.)
As we learned more about Sea Bags, we understood the vision of the company. And that's what really made us fall in love with Sea Bags from Maine.
These sailcloth bags are made from recycled materials, the company was woman-founded, and they're locally made by hand in Portland, Maine on a working waterfront. The designs are rad, you can customize them, and they sell much more than totes.
Disclosure: This page has affiliate links, meaning we may earn a small commission if you click the link and proceed with a purchase at no cost to you. We truly only recommend cruises, experiences, products, and services we personally use. As Amazon Associates, we earn from qualifying purchases.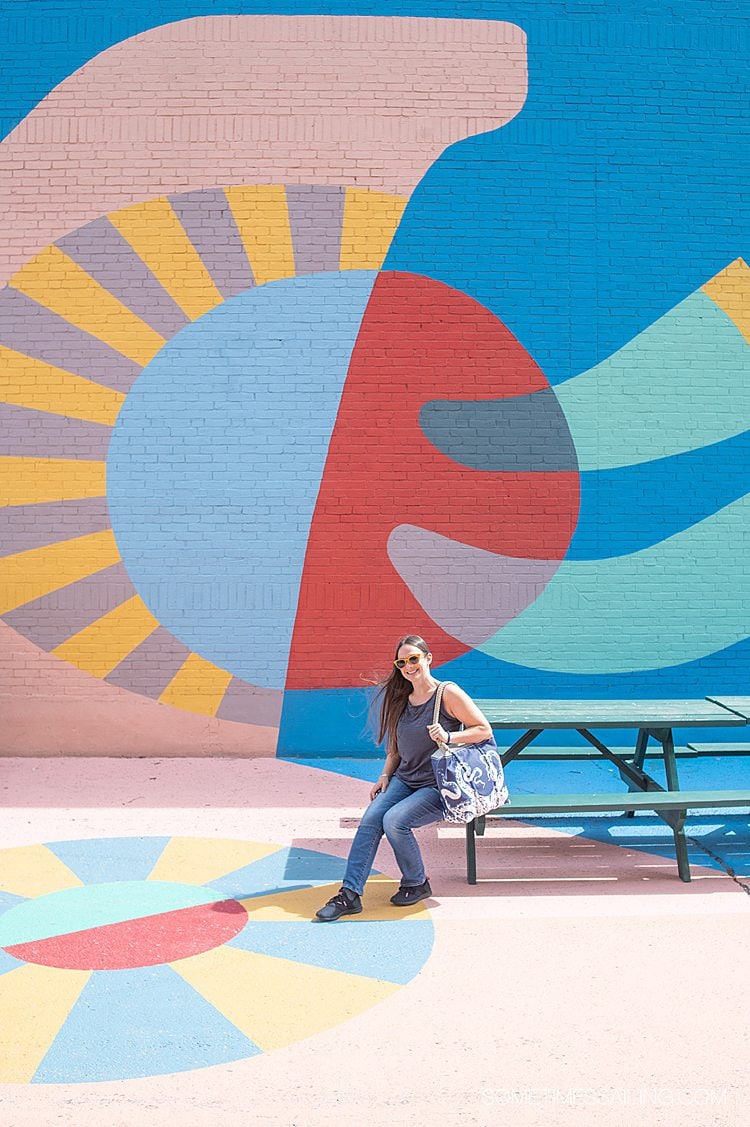 What are Sea Bags, and what are they made from?
Sea Bags are bags from sailcloth. To be more specific, the main material used for them are recycled sails. You'd be surprised by how many sailors need to recycle this material, as sailboat sails need to be replaced every few years.
Otherwise, materials used to create Sea Bags are rope (for the handles), metal grommets, and things like zippers and clips, depending on the bag. And of course, thread for sewing machines to piece them all together.
There are original Sea Bags and then there are some companies and artists creating sailcloth bags on Etsy.
Sea Bags Product Line
Sea Bags creates all sorts of products from recycled sails, including:
Totes
Handbags
Beach bags
Diaper bags
Duffle bags
Toiletry bags
Wristlets
Wine bottle holders
Lounge chairs
Indoor/outdoor throw pillows
Bucket bags
Additional information about the Sea Bags brand
Sourcing American-made materials
Sea Bags takes pride in being handmade in the United States. They source materials from Maine, first and foremost. Secondly, they source materials from New England, and thirdly from the United States. If they need to source materials or pieces from another country, they simply find another solution so they can source strictly from within the USA.
They are a small business with a small team
Sea Bags was founded by Hannah Kubiak, in 1999. In 2006, Beth Shissler joined the company and became a co-owner. Today, Shissler remains at the company and this small business employs 200 people.
Half of their staff is employed in their retail stores (each store employs three to four people) and the other team members are employed in their office and factory, in Maine.
Sea Bags are handmade on demand
Sea Bags are mostly made on-demand, with a two or three-day turnaround. Their business model is direct to the consumer. They sell a lot of products in their online shop as well as in person at their retail stores around the USA.
The factory – which is partially located at the site of their first retail store in Maine – starts to craft a customer's bag after his or her order comes through online. Or, a customer can walk into one of the retail stores and purchase a bag off the shelf.
The factory store is the site of the first retail store. Maintain authenticity of the brand and be on the working waterfront. Wharf life right outside, imbibing themselves throughout the day.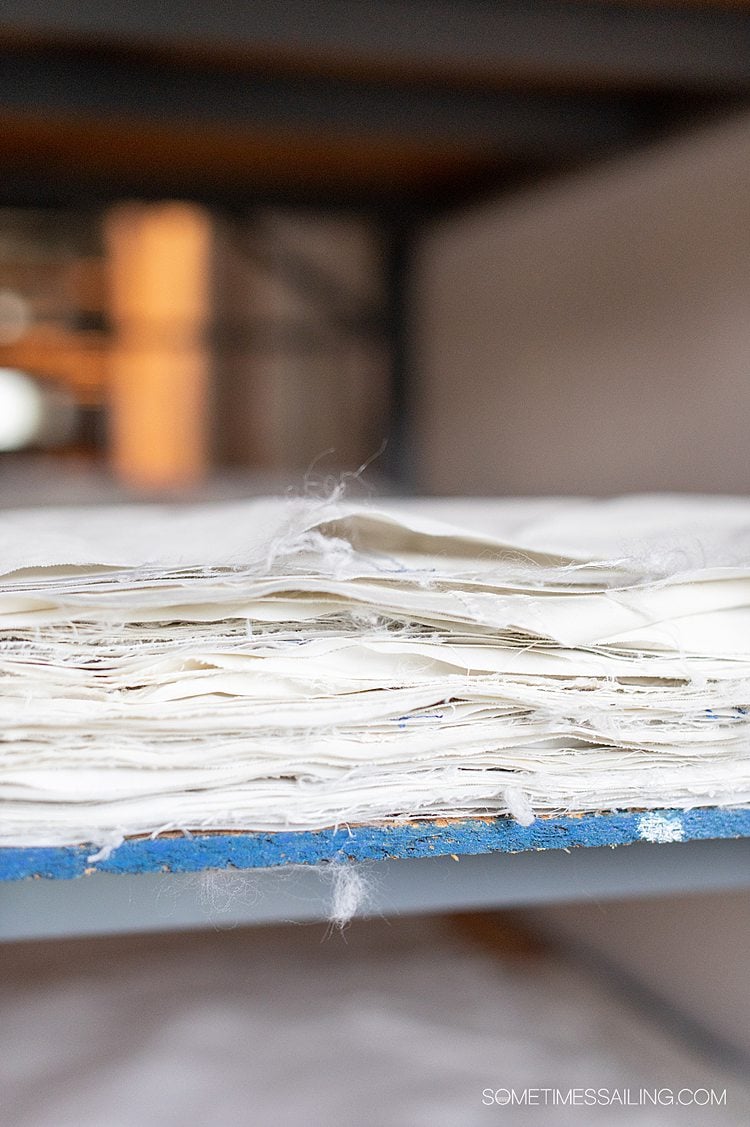 Sea Bags does Good for the Earth and the Community
Recycle your sails
How does Sea Bags obtain the sails they need to create their products? In two primary ways:
They receive sails people want to recycle from their own personal sailboats.
They partner with sail lofts and marinas to recycle sails.
Sea Bags "Trade a Sail" program
Speaking of trading in your sails, we want to mention Sea Bags Trade a Sail program in more depth. Because for every sail you trade in that's in usable condition, you get a Sea Bag product in return.
You can either drop your sail off to a Sea Bags store, or they will pay to ship your sail to their factory with a provided UPS label. Once received, they evaluate the size and condition of your sail and determine the trade. If you wish, you can have your trade bag made from your sail!
Every bag has a story, which is why they have a special hashtag to share on social media. Search the hashtag #TaleoftheSail to read inspiring sail stories.
If you don't want a bag in return for your sail, you can opt to have Sea Bags make a charitable donation to help teach a child to sail. They partner with SailMaine, which is a non-profit organization that supports teaching the sport to kids in the state.
Sea Bags has helped keep to reclaim over 700 tons of sails since 1999, which in turn helps limit environmental pollution.
It's all a part of keeping cruising sustainable, along with helping save the planet.
Sea Bags female sailing team
We think it's pretty awesome that Sea Bags has its own female sailing team, who races a J/24 sailboat. Their team of 11 sailors, ages 16 to 57, won the prestigious Jaeger Women's Trophy in Miami, Florida in 2019. They also finished as the top female boat in Mexico, at the 2019 J/24 North American Championship.
And yes, they recycle their sailboat sails!
You can support the team simply by purchasing a specific Sea Bag. Look for the "Making Waves" designs for the Women's Sailing Team online or in stores. 20% of sales from the tote, bucket, and wristlet are donated to the Sea Bags Women's Sailing Team.


Are Sea Bags Practical?
Sea Bags are definitely practical! Especially if you buy a bag with a purpose in mind, like taking it to the beach, or for everyday use. Or the Sea Bag is your purpose, like supporting companies with sustainability in mind so you can also be an eco-conscious cruiser or citizen of the Earth.
We specifically got a tote with a zipper on top because we planned on carrying around our camera in there, like for our trip with Maine Windjammer. Of course, we wanted it to zip for security reasons after we placed a camera bag insert inside. (If you love pockets and zippers, we recommend taking a look at the diaper bag. It looks like a normal Sea Bags tote, with extra pockets inside and a top zipper closure.)
One of the things I love about the bag is the handles go all the way through one side, around the bottom, and to the other side. So the handles cradle the weight of the bag's contents. I didn't feel like the weight of my heavy camera and camera lenses were going to rip the handles or the bag.
Sea Bags outdoor products, like the indoor/outdoor throw pillows, are durable and water-resistant. Their awesome bucket bags for beer have a grommet in the bottom that allows melting ice to drain out. This is similar to the mesh netting at the bottom of their Beachcomber Bag, which very practically allows sand from kids' beach toys to drain out the bottom of the Sea Bag.
We also love anything that is machine washable, and Sea Bags products are!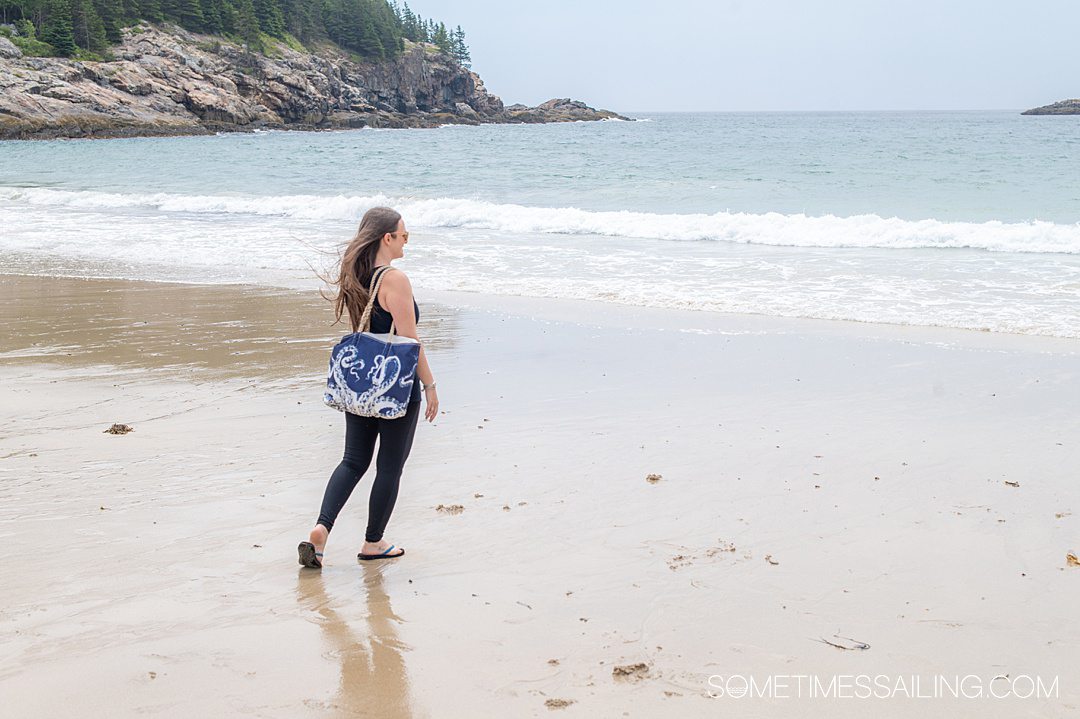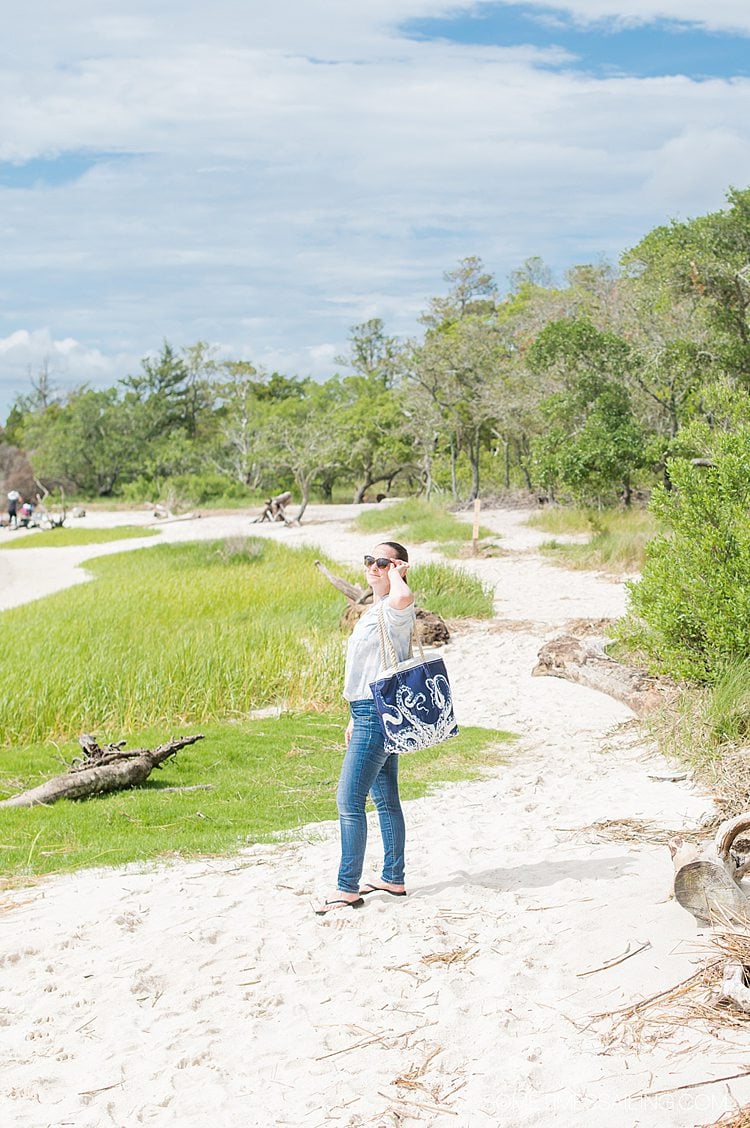 Behind the Scenes at Sea Bags
We were delighted to get a behind-the-scenes look at how Sea Bags are made. (The truth is, if you walk into their original store on the wharf in Portland, you can look over and catch a glimpse of how the bags are made, too.)
It's fascinating to see tables and shelves lined up with everything needed to produce a final "bags from sails" product.
Every employee there has a job, whether it's cutting patterns or putting the final stitching on a bag, to quality control and checking the product before it's shipped out.
The sails that come into Sea Bags to recycle are washed in industrial machines. If they're being assigned a design, it is printed on paper then heat-set onto the sail to create a colorful look. Sea Bags uses eco-friendly inks in special printers to apply their creations to the sails and the paper used to set the design onto the bag is recycled. They reduce waste and recycle as much as possible.
Afterward, patterns are traced onto the sail in a specially designed way to minimize scrap. (You can see how one sail is cut into many pieces in the front window of their flagship store.)
Finally, the team works together to build the bag, piece by piece.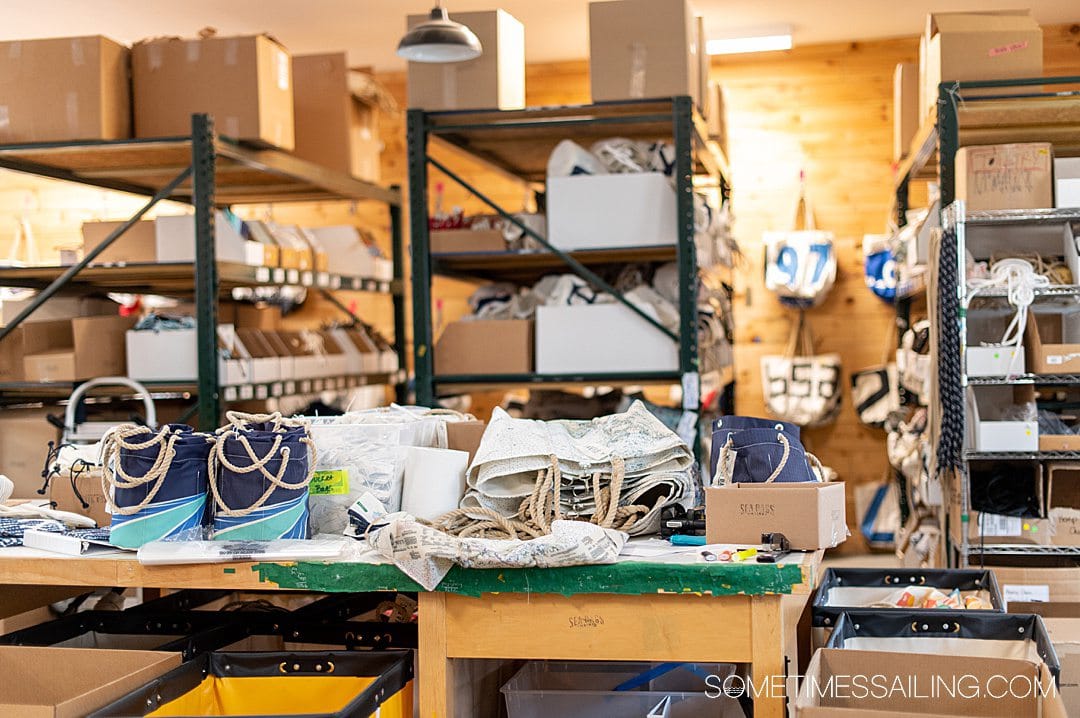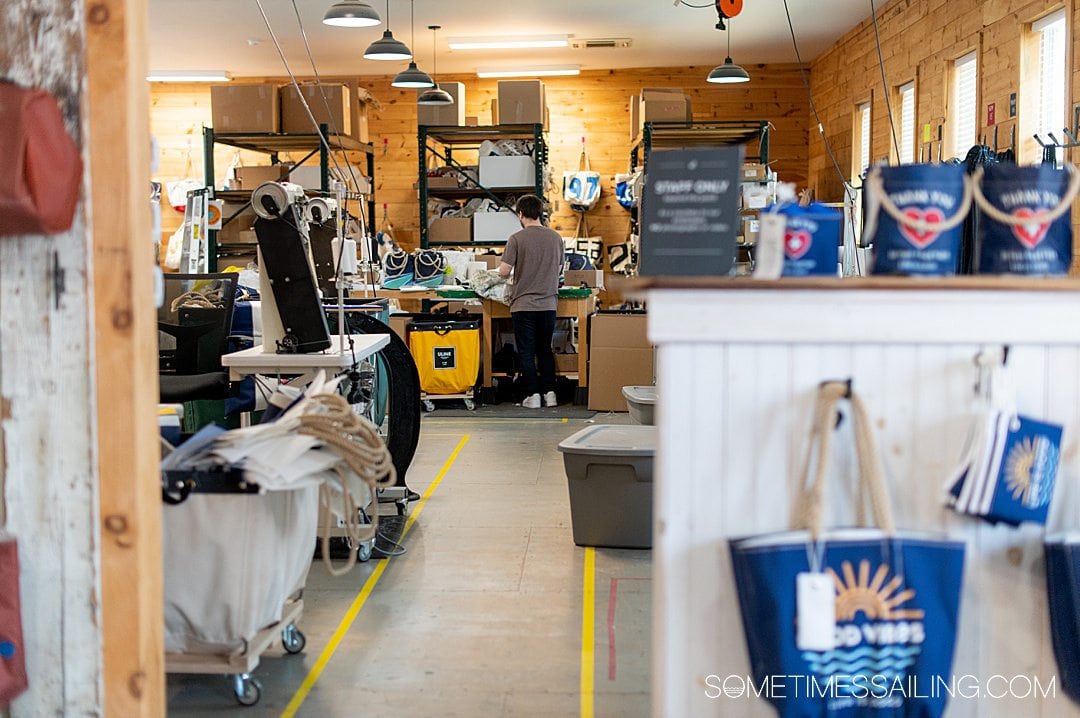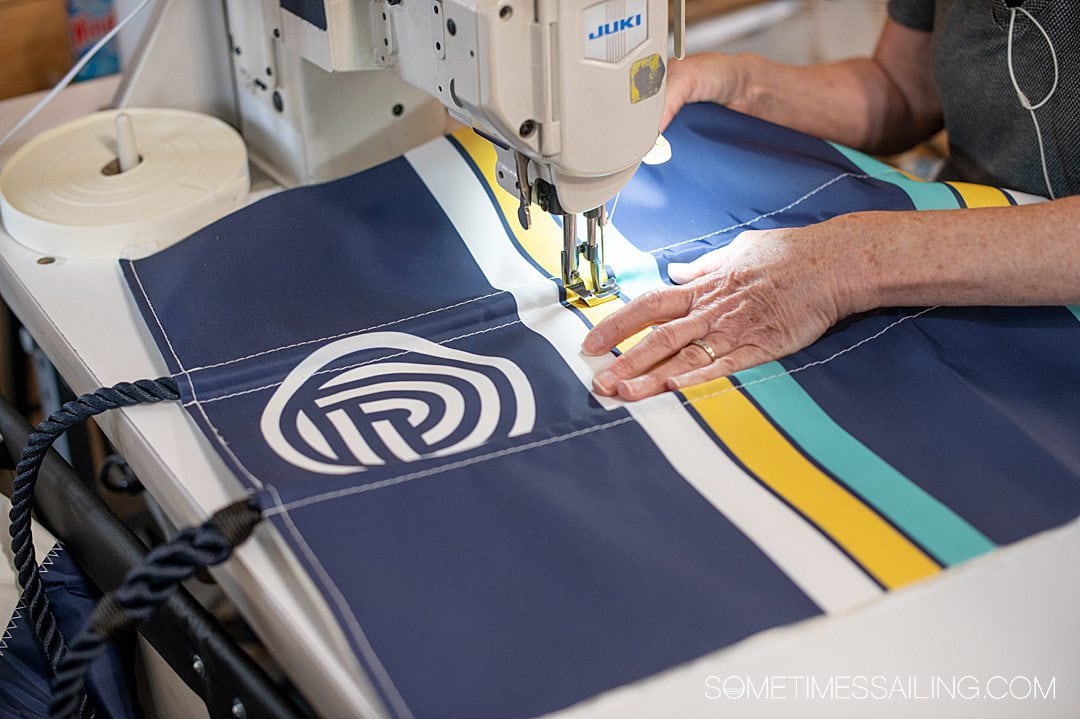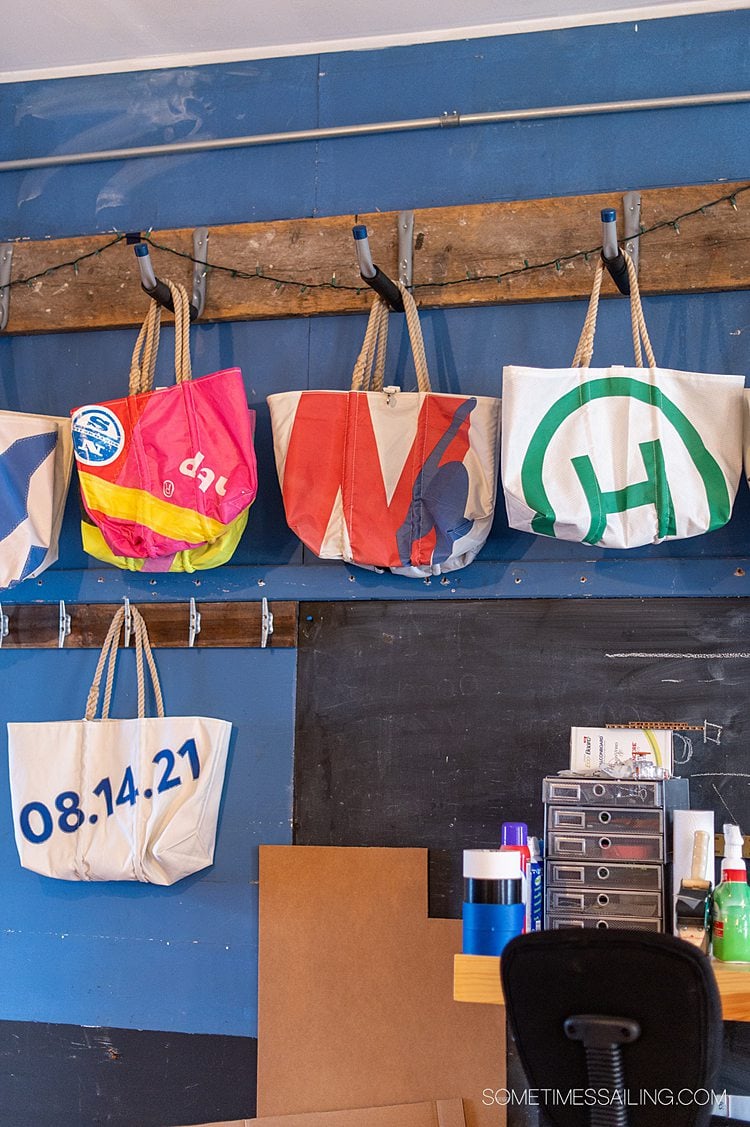 Sea Bags retail shops
Sea Bags has stores around the United States, with a heavy concentration of them in Maine. Every Sea Bags store has a vintage wall and a cube wall. This is a wall with their popular and rare vintage bags as well as a unit of cube cubbies that each houses a bag for sale.
Sea Bags' original retail shop
You can visit the original retail shop of Sea Bags, which is just two blocks from the flagship store. After 20 years since the company's founding, its original retail store remains in a space on a working wharf in Portland. Today, it mostly operates as their factory on the ground level and second story. Some retail space remains on the ground level. It is aptly called their Factory Store.
Brand authenticity remains intact as they continue to work from the waterfront. Wharf life is evident right outside the shop: you can smell all the scents of the sea wafting past the store and hear the sounds of the water and seagulls outside.
Address: 25 Custom House Wharf, Portland, ME 04101
Hours: Monday through Saturday: 9:00am to 5:00pm, and Sunday: 10:00am to 5:00pm.
Visiting the Sea Bags Flagship Store in Portland, Maine
Though you can find Sea Bags stores throughout Maine, their flagship store is in downtown Portland on Commercial Street. It is 100% worth a visit. (It's practically down the street from the original store.)
Address: 123 Commercial St., Portland, ME 04101
Hours: Monday through Friday: 10:00am to 6:00pm, Sunday: 11:00am to 5:00pm.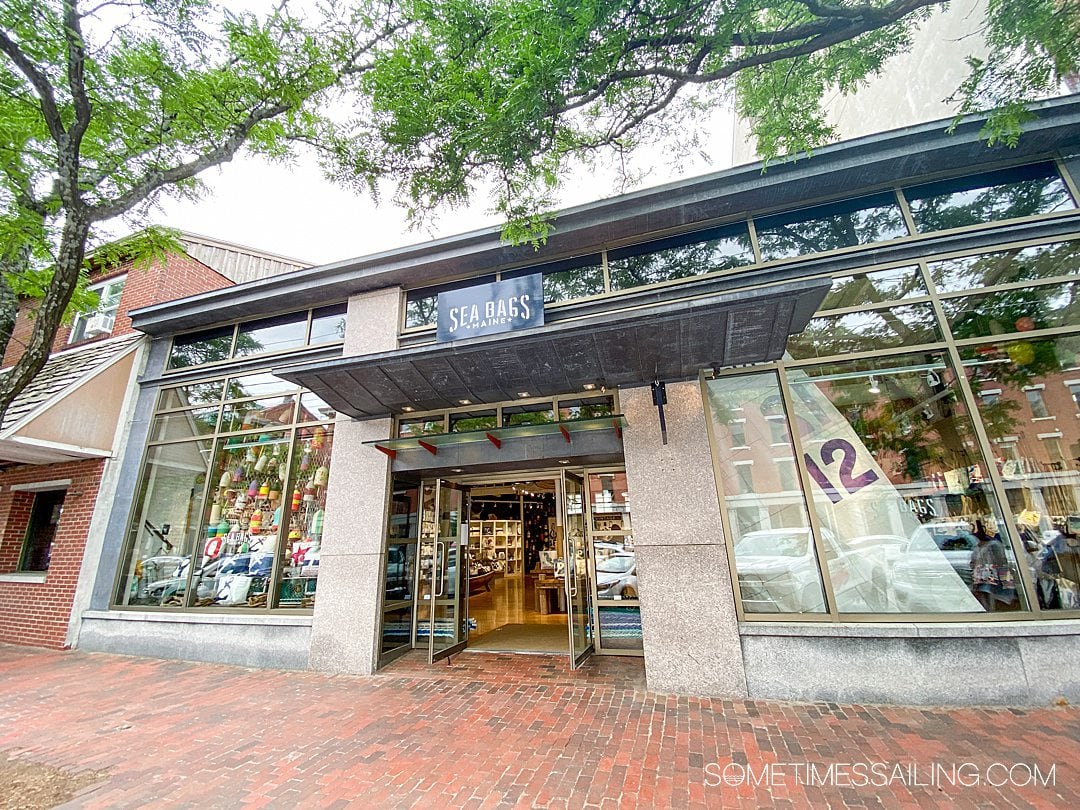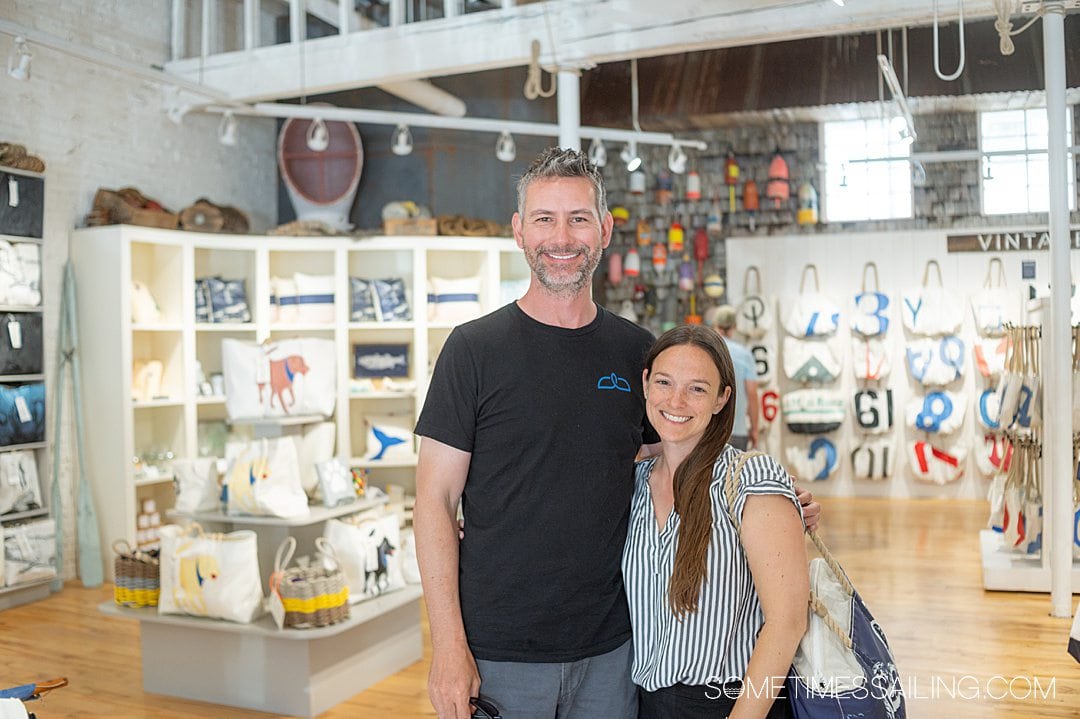 Not-to-miss details inside the flagship Sea Bags store
You immediately notice a sail in the window when you walk into the store. (It's evident in the images below but it's easy to miss in person.)
If you look closely, red and blue marker reveals themselves on the sail. To the right is a diagram showing how they pattern out the sail for their products. These rectangles and circles are the pieces they cut to create the pattern pieces needed for their products.
It's so cool to see how many recycled sail bags in Maine are made from one sail and how Sea Bags doesn't waste any portion of the cloth.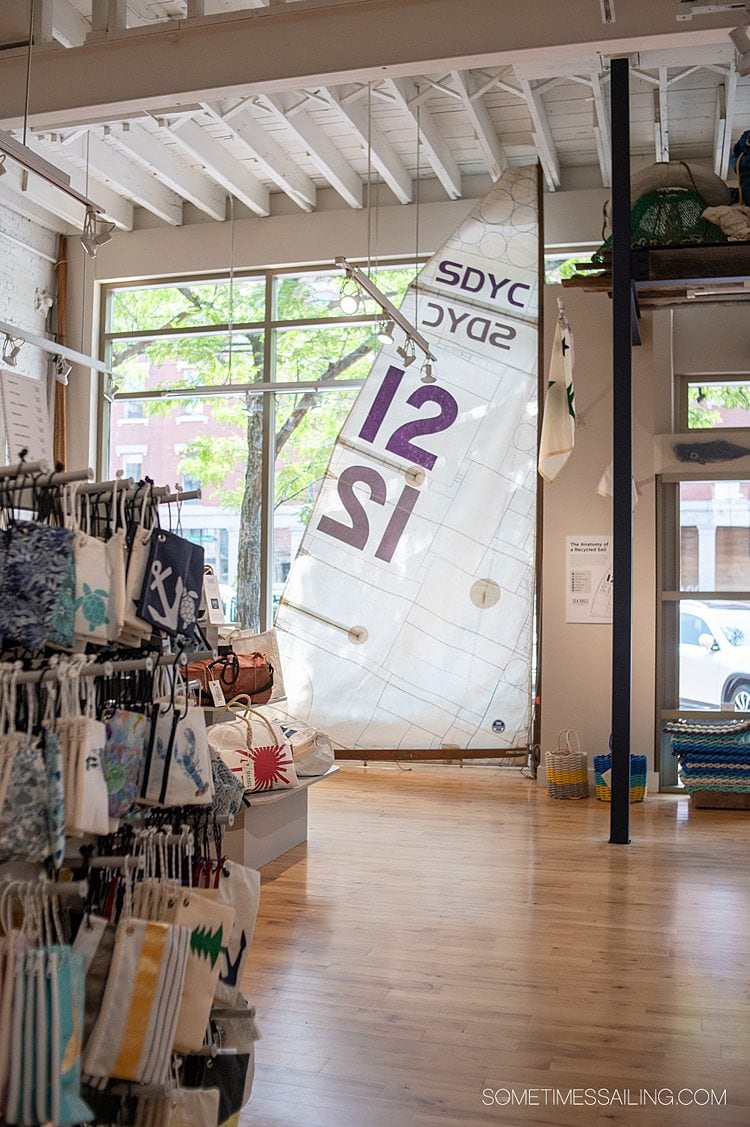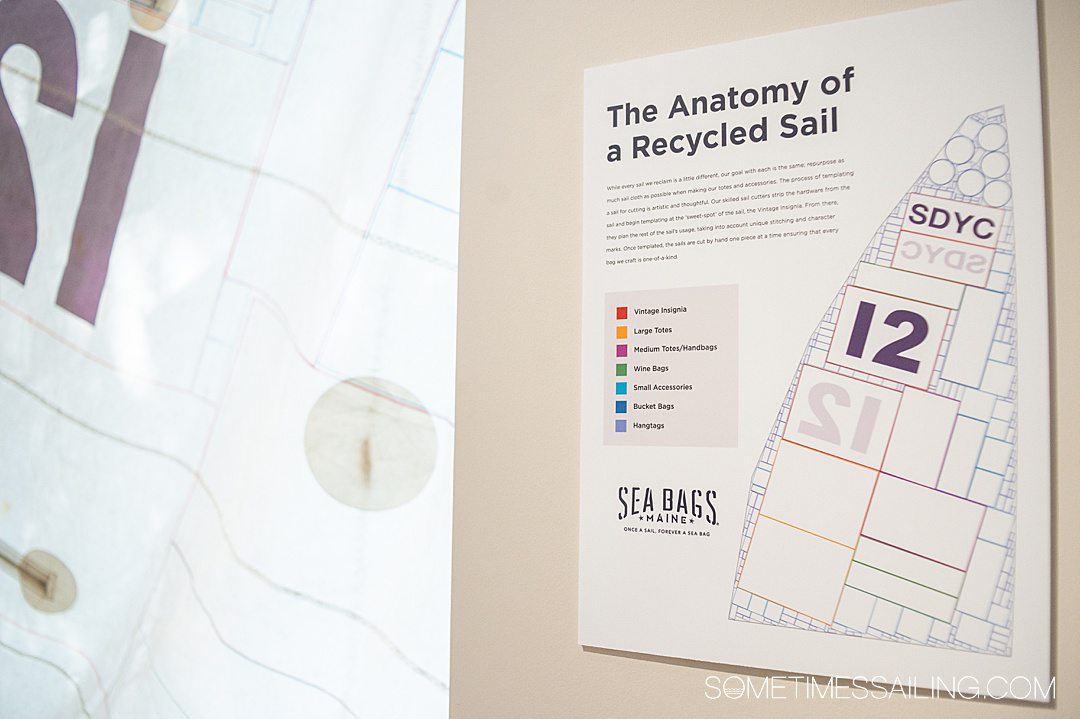 There's an Anchor Wall in the flagship Sea Bags store that's a highlight of a large wall inside. (The anchor tote bag is considered their signature design and what everyone knows them for.) It's fun to see the stripes, colors, and designs of the various anchor bag designs they offer in one place.
They also have other products for sale in the flagship Sea Bags store, like candles, tumblers, and nautical-inspired bracelets.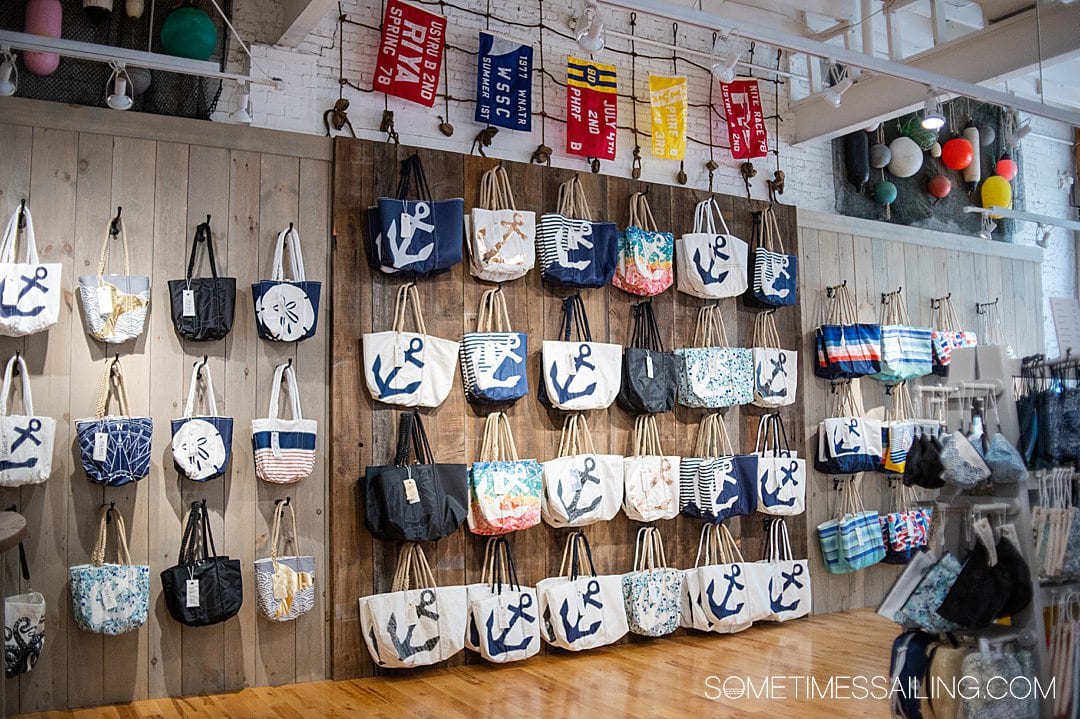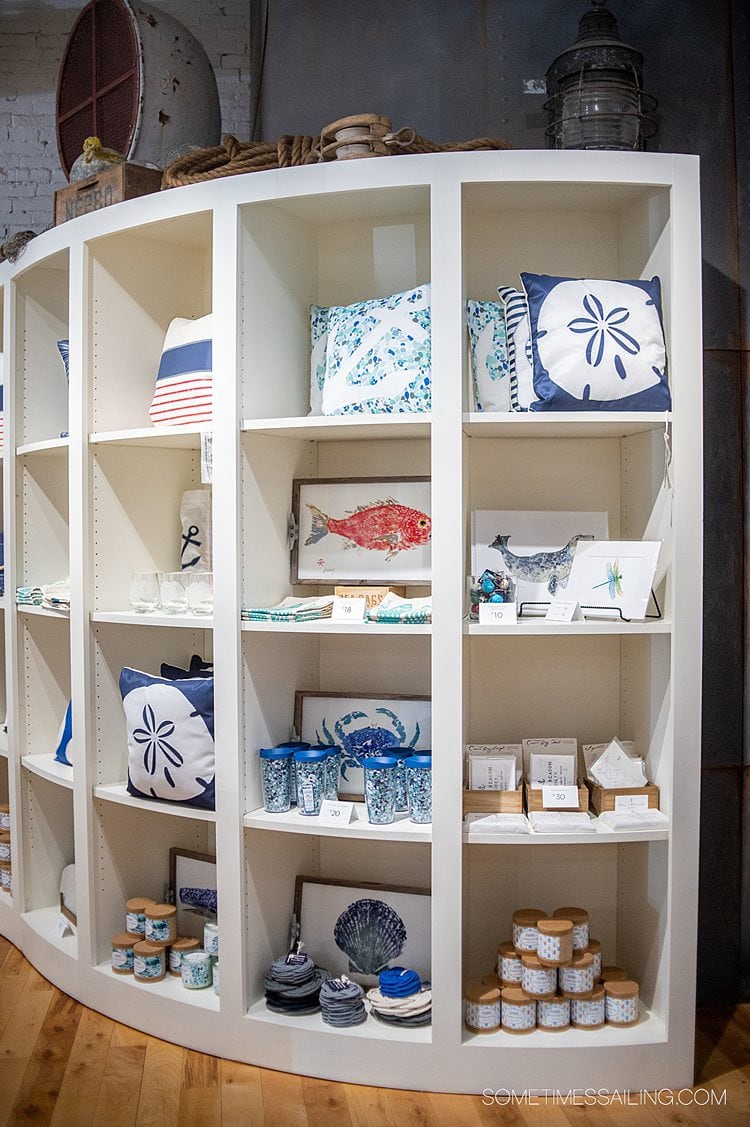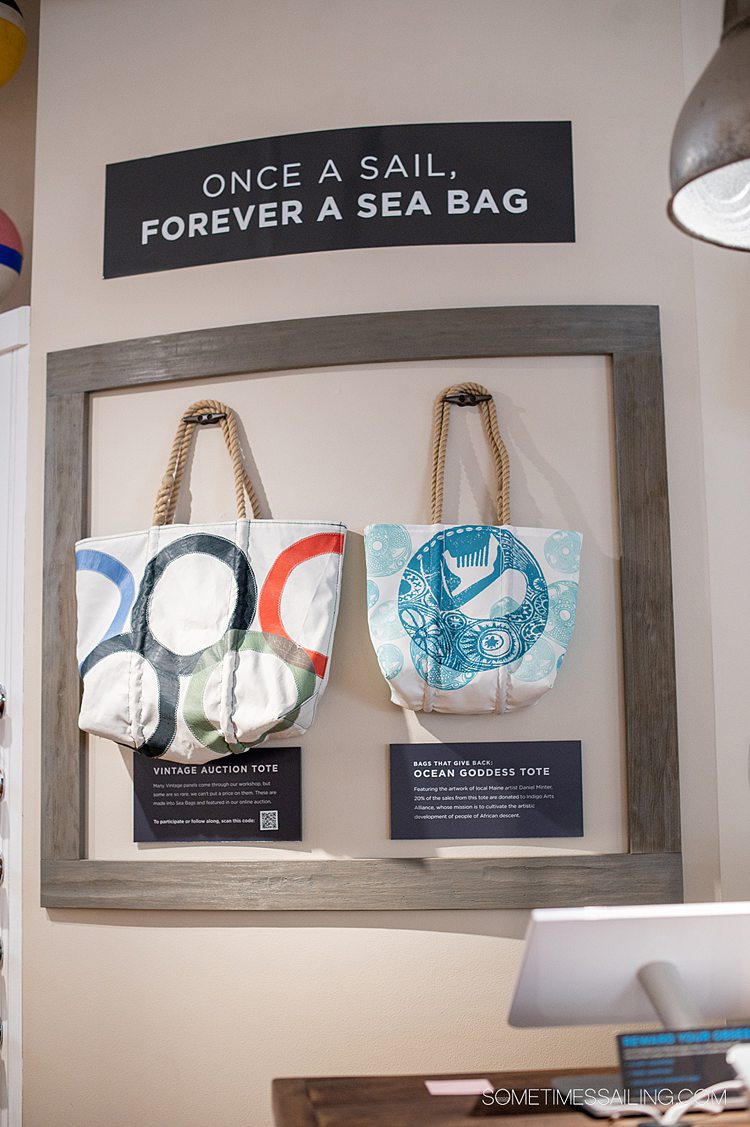 Check out the details in the fixtures in their store too! Their goal was to bring the wharf and waterfront inside the store, even though it's steps away, and to always have sustainability and recycling in mind. Here are some flagship store details that help them accomplish this:
Their Chebeague travel collection is housed in a pea boat that Sea Bags salvaged from Cape Cod.
The shingles on their lobster buoy wall were from a hundred-year-old barn in Maine.
Some of the lobster buoys were found as trash but were brought to the store and upcycled as art.
Wood from docks was salvaged to create a lot of the fixture walls that the bags are hooked onto.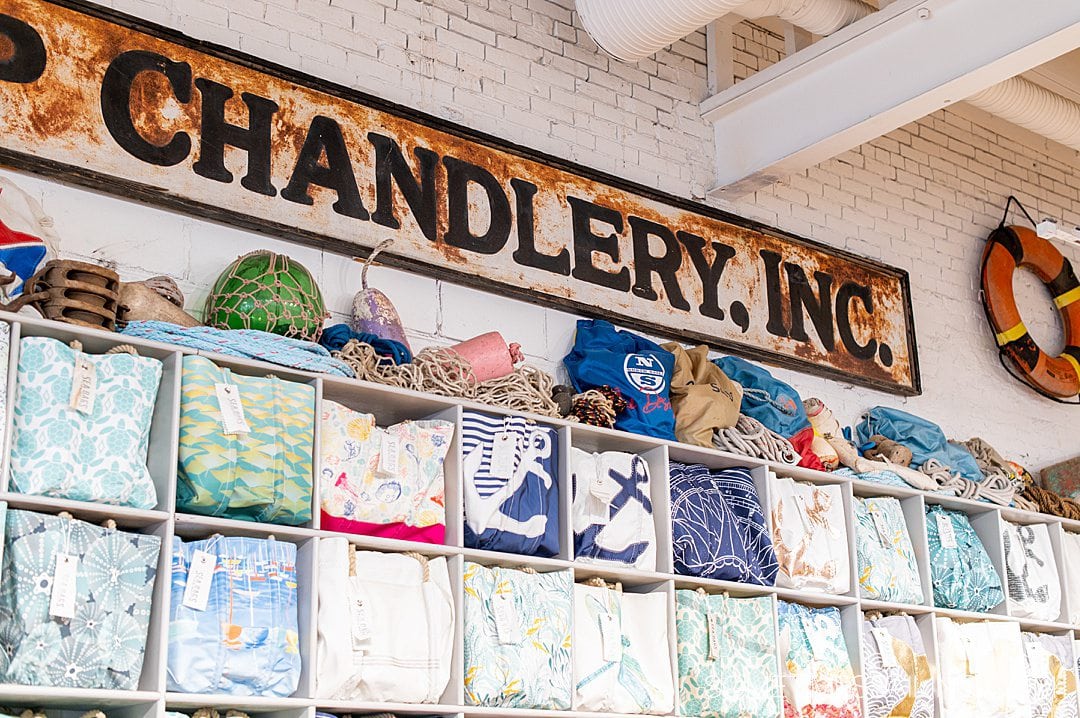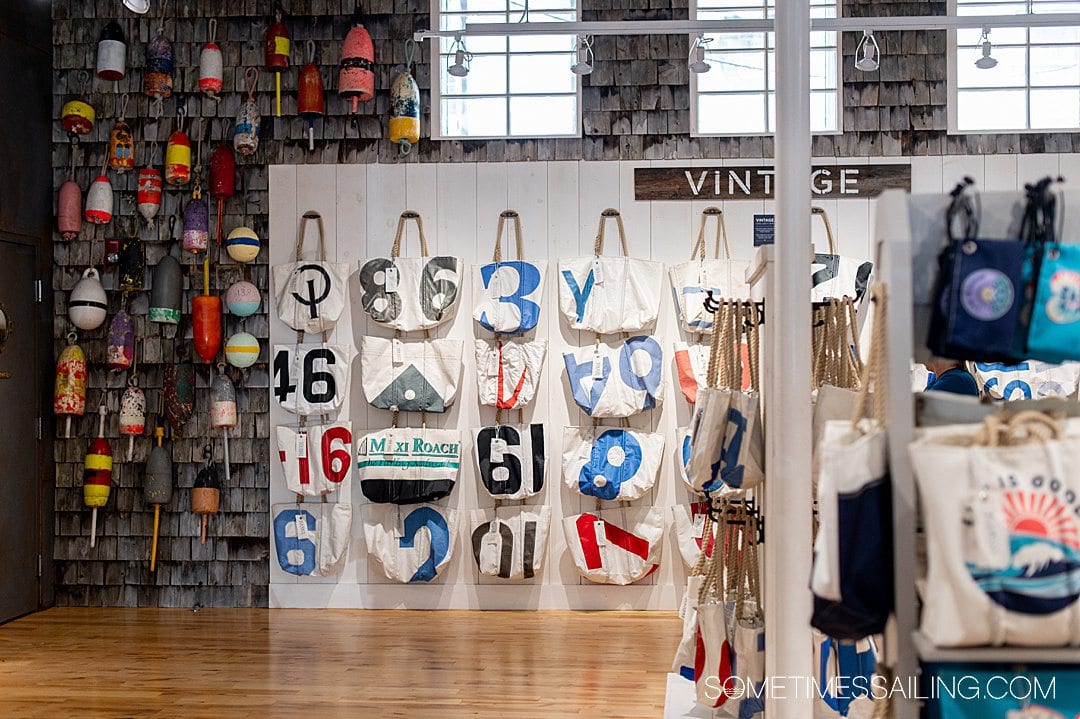 Vintage Wall and Auction Bags
Be sure to check out their Vintage bag wall, which features rare and one-of-a-kind insignia and logos from the "sweet spot" of sails. We love the numbers (and the rare green ones that pop up once in a while) and the fun nautical details that are featured in their vintage bags.
In the flagship store, you can see the Sea Bags auction totes and vintage totes and scan a QR code for current auctions. Or, if you see one in the shop you love, you can buy it on the spot!
Auctions for bags are live every Wednesday when 24 unique vintage options are added to their online store. The vintage chairs they create go live every two weeks on Saturdays.
Customization Corner in the Flagship Sea Bags Store
You can create your own bag for a completely original design all your own. You can do this at the "Customization Corner" in the flagship store or online.
It can be a design as simple as a custom date (like a wedding date or a child's birth date) or adding your initials to a design. Or something as unique as your own illustration, like a wedding monogram.
Here are some great customizations that people have done:
People have turned their running numbers into a bag after a significant race.
A bag made for a man who used the custom design to propose to his girlfriend at the Sea Bags store.
Custom design for a person who survived cancer.
Custom bags for crew teammates.
Guest bag for guests to sign at a wedding.
Maine Cabin Masters' cast customized a bag for the owners of a house they designed. (It's a show on the DIY networks focusing on impressive cabin remodels in Maine.)  
If you're not feeling creative or like you can come up with a design of your own, you can ask the Sea Bags team to create a design for you. In the process of working together, you have two rounds of revisions where you can discuss the design and reach a final idea.
Additional Sea Bags Stores around the United States
There are a lot of Sea Bags stores aside from their flagship store in Portland, especially along with coastal towns in Maine.
Not only do they have their two shops in downtown Portland (their original shop plus their flagship Sea Bags store), but we happened upon several all over the state. There are currently 39 Sea Bags stores.
This included spotting these awesome bags from sails at shops in Rockland and Boothbay Harbor.
Beware that some of the stores are closed seasonally, like during winter, when there is less retail shop traffic in the off-season. (Their flagship store in Portland is open year-round.)
If you can't get to Maine to shop in person, there are plenty more shops around the United States. We even found one out east on Long Island when we were visiting our friends at their house on the North Fork, near Greenport, New York, after a summer visit to a Long Island Lavender Farm. Lo and behold…we were walking on the main street and saw a Sea Bags shop!!!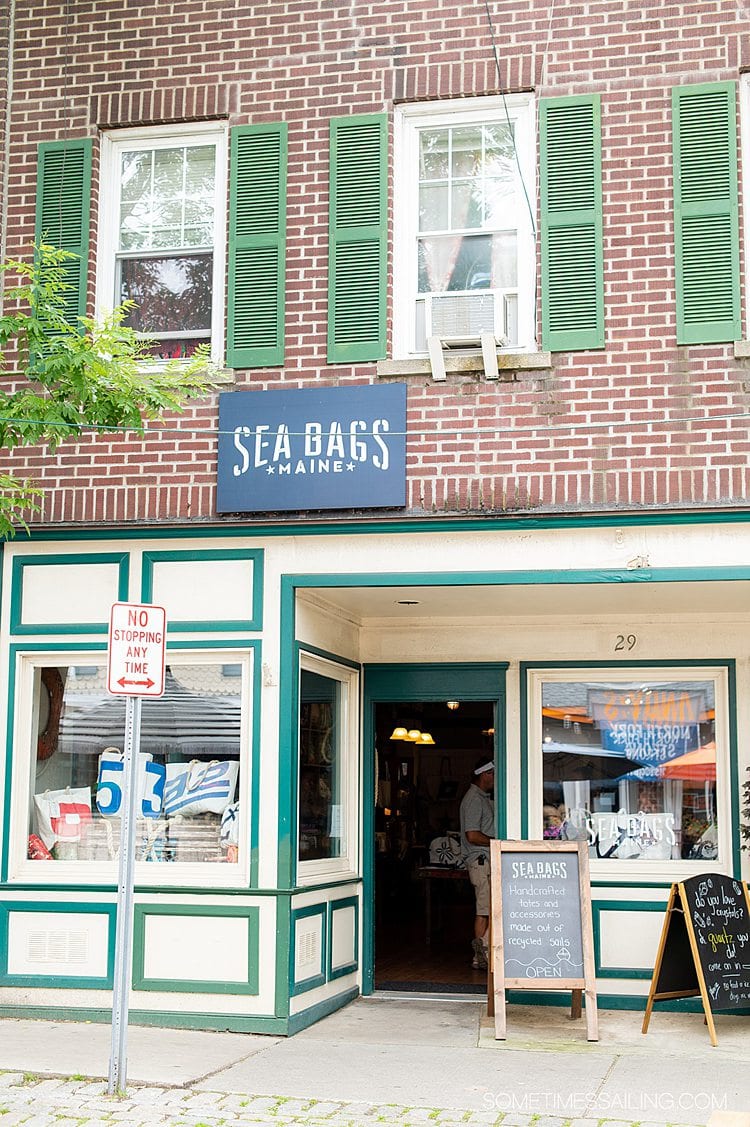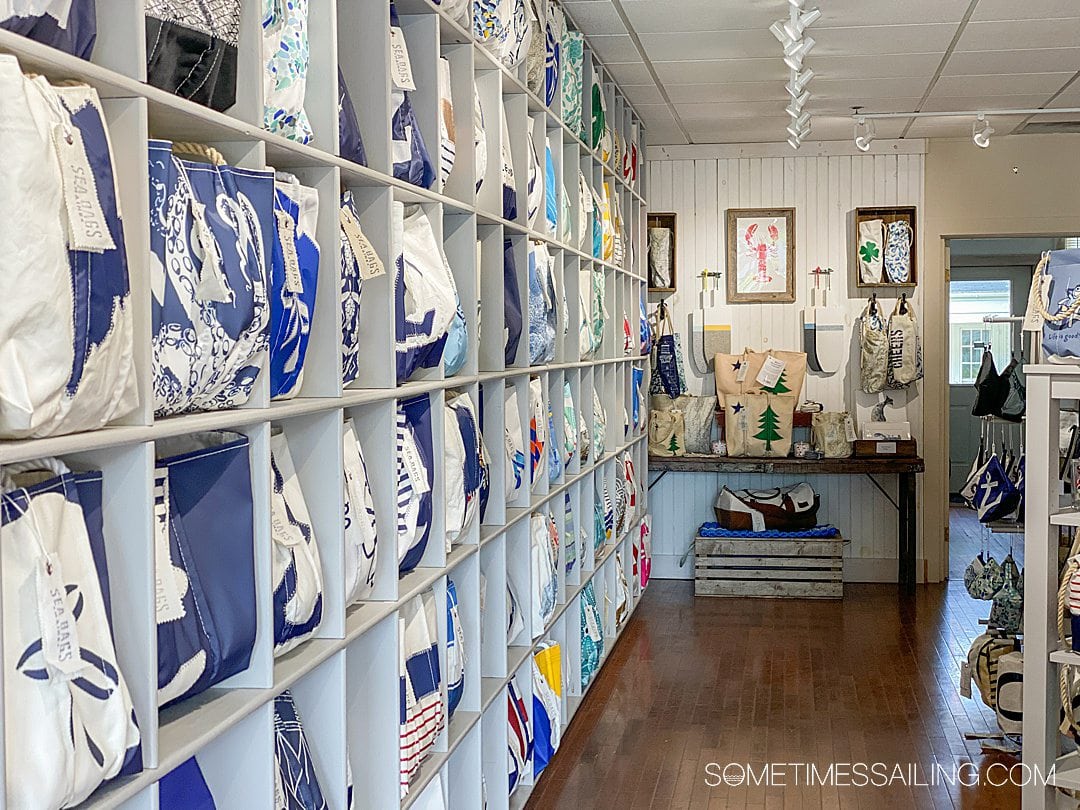 How to get discounts and perks on Sea Bags
You can find discounts on these awesome, sustainable handmade bags from sail in these three ways:
If they run a special promotion on their website, like when/if they do for Black Friday in November (which in the past has been things like 10% off orders over $50 for a limited time).
In the "Sale" section of their website, which can be found on the top navigation menu, under "Collections" (see: Sale Loft, under Collections).
In their original shop on the wharf in Maine, close to the flagship store. They have a lot of discounted old styles in there that cost less than their newer, more recent style counterparts.
You can donate sails to them in exchange for a bag. So if you have old sails laying around from sailing days….bags from sails could be their new life if you donate them and recycle that material!
If you want to save on shipping, you can try to find them on Amazon and use your free shipping via Amazon Prime, but we've only seen Sea Bags available from independent sellers there once in a while, and the selection is slim. But we do recommend a Sea Bags search on Amazon if you want!
Sign up for the Sea Bags Anchor Rewards program
If you love Sea Bags and know you're going to be a repeat customer, be sure to sign up for their Anchor Rewards program. That way you'll get rewarded for shopping!
Simply create an online account on their website and check off "Enroll me in the Anchor Rewards program" in your account. You'll receive points for shopping online and in their stores and even credits for leaving reviews. You may even receive a treat on your birthday!
The more you spend and participate, the more points you accumulate. There are three Reward Levels: Crew, First Mate, and Captain. (How cute?) The rewards for each level vary, but at a minimum, you will receive 10% off on your birthday, and at a maximum, you could receive free shipping, 20% off on your birthday, and a waiver for a custom design fee.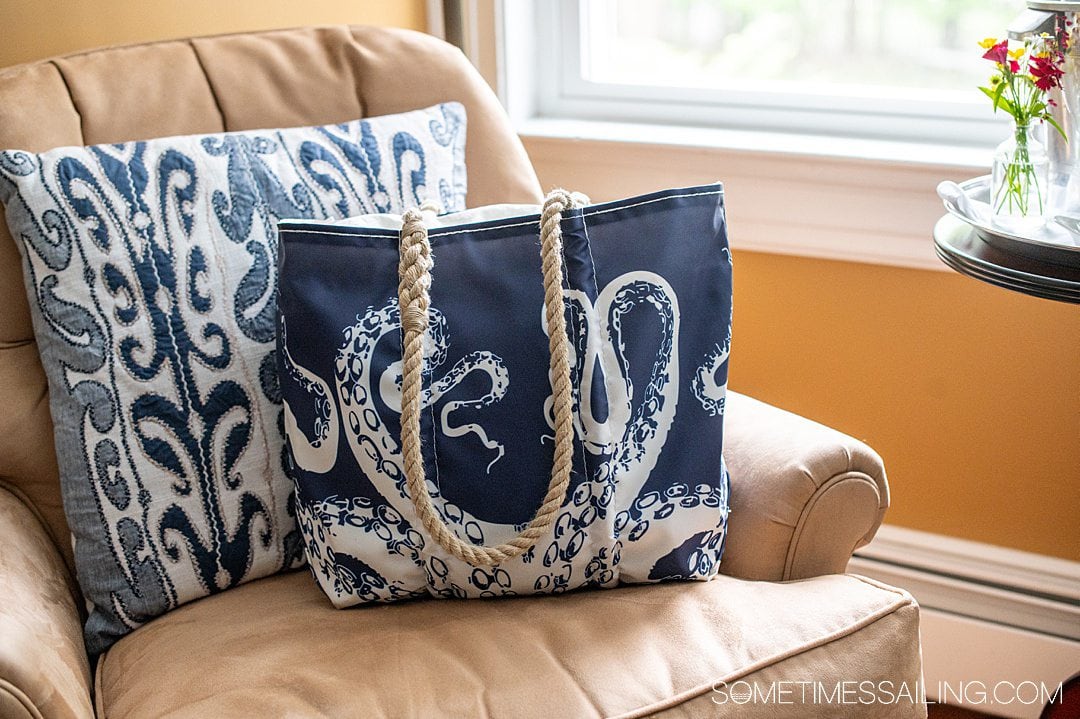 Sea Bags partnerships
The company partners with a lot of organizations you've heard of and love for unique designs and charitable causes. They focus on organizations that have an affinity for coastal well-being and preserving oceans.
Some of these companies include:
Life is Good
Tommy Bahama
4oceans
American Heart Association
No Shoes Reef Organization (started by country singer Kenny Chesney)
Beach to Beacon 10K Race
Sea Bags gives back through auctions and events
Sea Bags doesn't just partner with charities – they help raise money to donate to their causes. If you're buying Sea Bags, consider an auction whose money raised is going to a great cause.
Tip if you're at the Flagship store: there is a QR code for the current auction in the shop!
Heading to the coast or on a cruise? Read this next: