Stasher Bags Review: 16 Ways to Use these Reusable Bags on a Cruise
We're continually focused on ways we can reduce, reuse and recycle. We have the best ways to ditch single-use plastic bags in favor of Stasher Bags in this review rounding up the many ways you can use them for a cruise. And the myriad of ways will blow your mind!
Disclosure: There are affiliate links in this post, which means we may earn a small commission if you click the link and proceed with a purchase, at no cost to you. We truly only recommend hotels, products, and services we personally use. As Amazon Associates, we earn from qualifying purchases.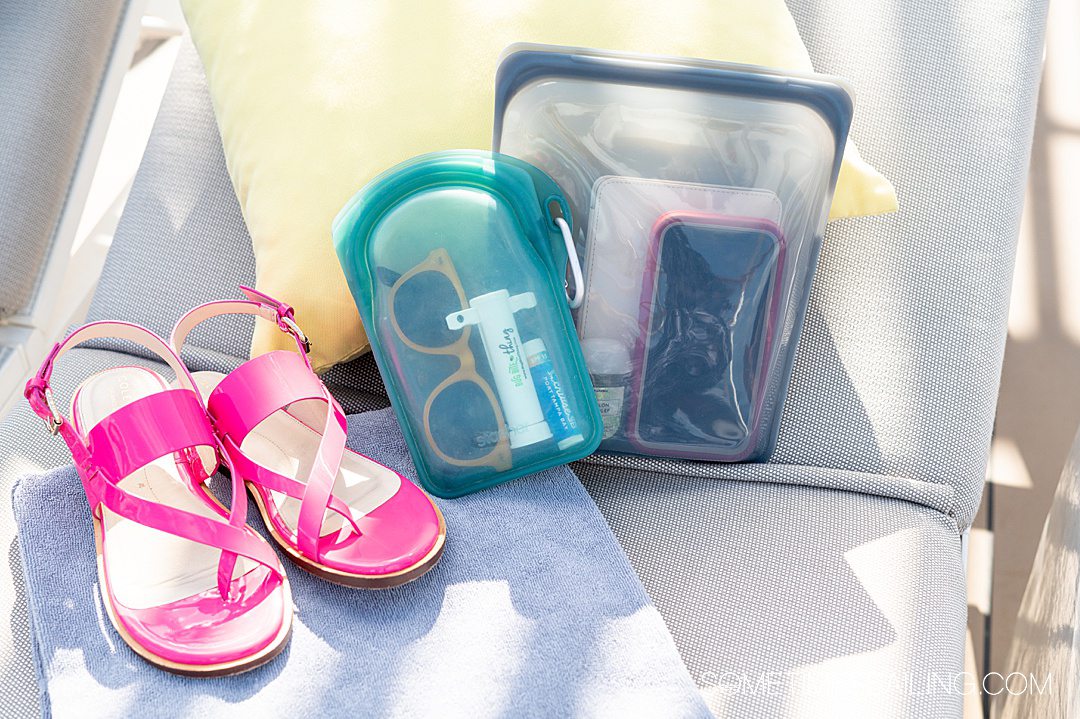 Ways to Use Stasher Bags When you Pack for a Cruise
1. Prevent Nail Polish from Spilling
Going on vacation is a treat! And one of the things I do to pamper myself before I travel is make sure my nails are polished (fingers and toes, no matter the weather where we're going). But it never lasts more than a few days or a week at best. (I don't get gel manicures because they're too harsh on my nails. So "normal" nail polish it is!)
Because my nails inevitably chip, I always take a little touch-up polish with me on a trip longer than seven days. If you're packing one bottle of nail polish in a pocket size Stasher Bag or a few bottles (like base coat, your main color and topcoat) in the snack size Stasher Bag. This way if they accidentally open or the bottle cracks when you travel, you know they won't spill on anything in your luggage.
And if you need to redo your nails mid-cruise, you'll have polish!
2. Hold Your Carry-On Items
I use a Go Stasher Bag to hold certain items I take in my purse or carry-on bag together. This includes the following:
Hand sanitizer
Headphones
Air Pods (I take both because the airplane TVs don't accept Air Pods just yet)
Lip Balm
Hand lotion
Hair clip/hair tie
The Go bag has a carabiner on it, which I love because if I can put my ID in the Go bag and clip it to my purse, for example, and know it's secure.

3. Hold Cough Drops or Gum
I literally use my pocket size Stasher Bag for gum and cough drops! You may cruise during colder months, like when it was a bit breezy during our late October Danube River Cruise. Or you may be visiting Alaska on a spring cruise. And it's cold then! Bring cough drops because you may get a tickle in your throat and need something to soothe it.
Or, you may simple have a big bag of gum at home like us, that you need to transfer to a smaller bag. We have a big bag of Orbitz gum pieces that I put in the pocket size Stasher Bag for travel. (I mix the cough drops and gum together.)
4. Protect Your Liquid Toiletries
We always pack our toiletries in a bag that closes in case they explode or the top unscrews and they leak. And with the pressure of airplanes, it's not so far-fetched that will happen. (It has happened to us and we've been so grateful our liquid toiletries are a Stasher Bag and not directly in our bags.)
If or when a toiletry item explodes, it will end up in the Stasher Bag instead of on your clothes. We recommend the quart size or half gallon size for this purpose.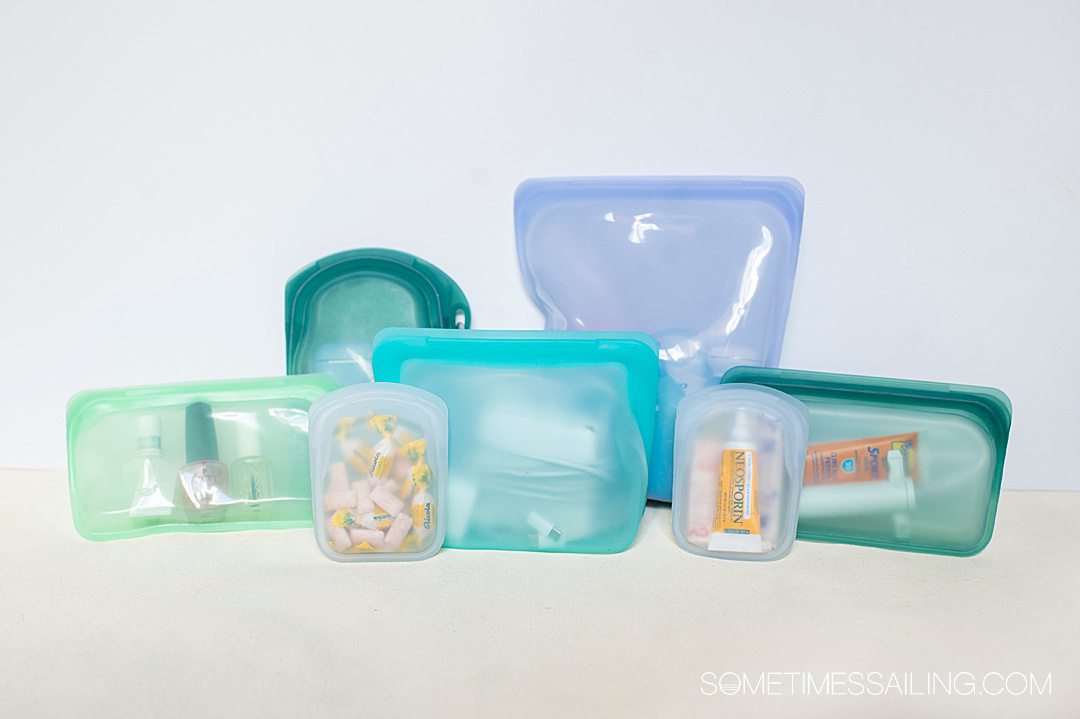 5. Take Your Favorite Bar of Soap on the Cruise
Do you have a favorite bar of soap at home that you want to pack for your cruise? Let it dry then pack it in a pocket size or snack size Stasher Bag for travel.
6. Use Stasher Bags to Pack Your Makeup
Stasher Bags are flexible but they also have some structure to them. I find this makes them great for makeup brushes, in particular.
Pack your makeup (brushes included) in a quart size (if you have a lot of makeup and foundation, brushes, etc.), snack size, or Go Stasher Bag, which is a little taller than the other bags and has a carabiner clip attached to it.
7. Fill a Stasher Bag with First Aid Supplies
A pocket size Stasher Bag is the perfect size to take a little first aid kit on trips. Add Band-Aids and healing ointment and you'll be glad you have it, whether you get blisters during a walking tour or cut your leg on a seashell.
8. Store and Sanitize Breast Pump Parts
Are you a traveling mother who is breastfeeding her child and needs to pump during the cruise? When my best friend and I traveled on our first Disney Cruise together in 2011 she had given birth to her first baby months before. She had to travel with her breast pump even though she was going to "pump and dump."
A Stasher Bag is the perfect thing to protect your breast pump parts and a great bag to soak the parts to clean if you need to as well. Try the half gallon size for this purpose.
9. Keep your Wires Organized
If you're like us, it drives us absolutely crazing when wires are loose in our bags, whether it's headphones, charge chords, computer wires or anything like it. Keep the wires organized and contained in a snack size bag, or Go bag. If you need to include a computer charger, you may want to upgrade to a stand-up Stasher Bag.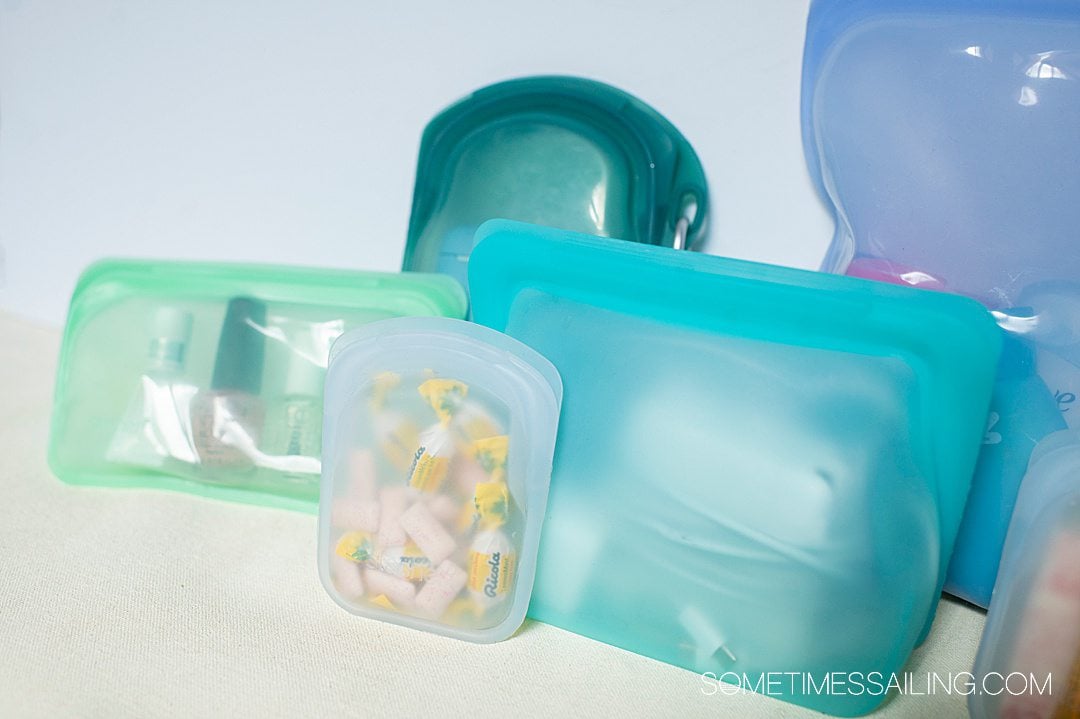 Use Stasher Bags When you Travel to the Cruise Ship
10. Store Your Snacks for Transit
Snack Stasher Bags are perfect for packing some snacks to go from home. Needs some M&Ms for the plane ride, or some chips for the road if you're driving from the airport to the cruise port? Use a Stasher Bag. If you finish the snack inside, there are so many uses for the empty bags mentioned in this post!
Stasher Bags are the Perfect Protection for the Beach
Heading to the surf or sand? Don't forget your Stasher Bags! Here are a few uses for them…
11. Hold Your Kindle When You're Relaxing in the Sand
Use the half gallon Stasher Bag to protect your Kindle if you take it to the beach to read. If you have a waterproof Kindle you'll be okay with some splashing by the pool, but the sand on any electronic sucks!
We'd be remiss not to mention that the silicone bags do have static cling in this Stasher Bags review. But it's an easy fix when you get back to the ship: if there's sand on the bag just rinse it off in the shower or the sink before you open it to get the sand off. (And dry it before you open it too, of course.)
12. Hold Sunscreen and Lip Balm When you Go to the Beach
Take a snack size bag to hold your sunscreen and lip balm if you have a travel-size sunscreen. If it's slightly bigger, a sandwich size bag will fit. If it's a really big tube of sunscreen, take a half gallon to bring it to the beach.
Don't forget to buy reef-safe sunscreen before your cruise.
We always take The Bug Bite Thing with us to the beach too, because it's inevitable I'll get a bug bite, no matter where we go. They always find me! And The Bug Bite Thing is the only thing that truly gets rid of the itch. (Itch cream doesn't work on my bug bites.) Heads up that any imitations don't work – you have to buy the actual Bug Bite Thing, which is completely affordable.
13. Protect your iPhone or electronics on the beach from sand
Just like you protect your Kindle from the sand, you can also protect your phone from the sand. Either add it in with the same Stasher Bag your Kindle is in, or take a separate one for your phone. The Go Stasher Bag is perfect for this. The sandwich size is great too.


Stasher Bags are Handy Onboard a Cruise
There are so many uses for Stasher Bags during your cruise onboard, whether in your cabin or after a dip in the pool.
14. Create an Ice Pack during Your Cruise
Need to periodically ice a muscle? We do! Sometimes I sleep oddly during the night and my back hurts in the morning. When I wake up, I need to ice it.
But what do you do if you need to ice a muscle while you travel? It's unlikely you're going to carry an ice pack that needs to be in the freezer. A Stasher Bag, however, is the perfect solution. You can simply fill the bag with ice and voila! We love that it's flexible too, which means it will contour to the curve of your body.
We recommend the quart size or snack size Stasher Bag for this, depending on the size of the area you need to ice.
15. Wash Clothes in a Stasher Bag
You may want to soak a pair of socks or underwear in a little warm water and soap so you can re-wear them on your cruise. A Stasher Bag is the perfect thing to do this in so you don't have to jeopardize the one sink that's probably in your cabin.
16. Take Home a Wet Bathing Suit
One of the best uses for a Stasher Bag is to store your wet swimsuit for transport home.
This is a great use of these reusable bags if you have an ocean or beach excursion where you'll get wet, but want to change before returning to the ship. Where are you going to store your wet swimwear? In a reusable Stasher Bag!
We recommend the half gallon size Stasher Bag for this use, which will fit one swimsuit per bag.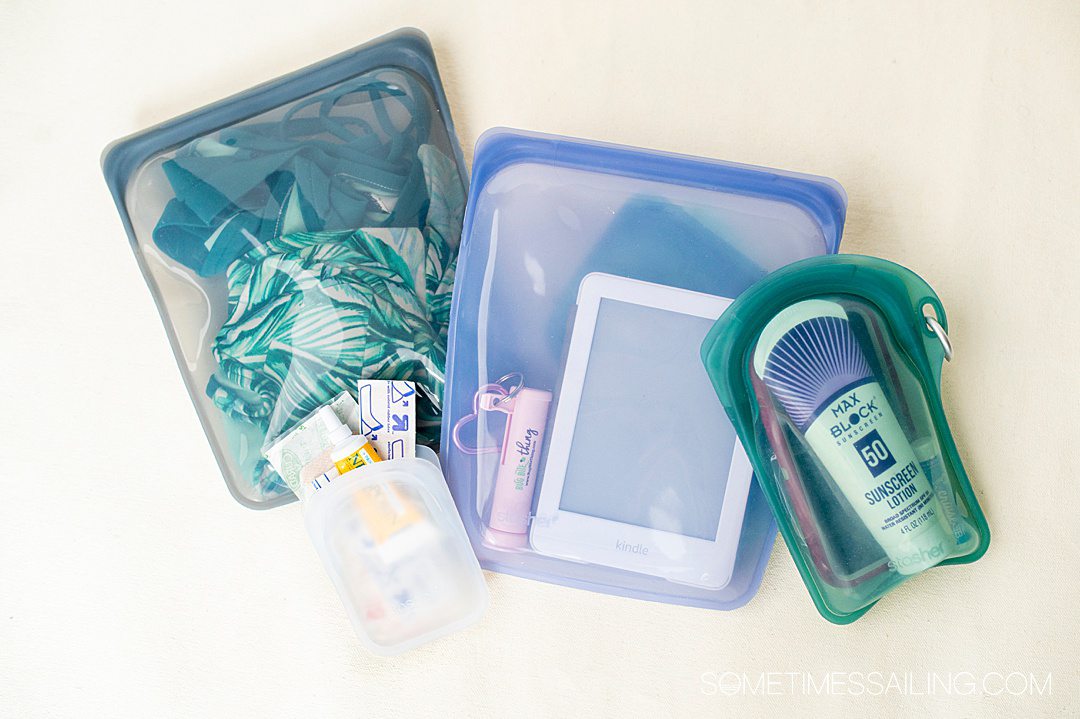 Other Great-to-Know Information about Stasher Bags
Here's some additional information that's good to know for this Stasher Bags review, including more about what they're made of, how to clean them, and how the company is eco-conscious.
Stasher Bags are Easy to Clean
They're SO simple to clean. Simply pop them in the dishwasher (top or bottom rack – doesn't matter) or handwash them with a bottle brush. We like to handwash them and put them on a bamboo drying rack for them to air dry.
Stasher Bags Give Back to the Earth
Each year, this company gives 1% of all sales to charitable organizations and foundations that are working to save the planet. In the past, they've given to Surfrider, 5Gyres, No Kid Hungry, and Coral Reef Alliance.
Be a part of the change and do good for the Earth by helping to eliminate single-use plastics, entirely. Every person can help with every single reusable bag they utilize. That's why we support – and use – Stasher Bags all….the…time. For everything.
Stasher Bags is Woman-Founded
Kat Nouri founded Stasher Bags in 2016, when she was looking for a way to stop using single-use plastics for her kids' lunches. A graduate of UC Berkley, she had a technical background in designing and developing silicone textiles. She was the perfect person to start the company.
Free Shipping over $40
When you buy directly from Stasher (which we always do and recommend because the money goes straight to supporting the company then) you get free shipping for orders over $40. There hasn't been a single time we've ordered from Stasher and haven't gotten free shipping. (And we have ordered from them many times! We cannot stop buying them!)
Pricepoint of These Reusable Bags
The bags range in price from $7.99 to over $20 a bag. This is completely reasonable when you think about how you'll save money in the long run AND save the planet. (We cannot emphasize enough how awful plastic bags are for the earth! They end up in our oceans. And if you love cruises – you have to pay attention to the health of our oceans.)
How to Save Money on Stasher Bags
There are a few ways to save money on these amazing reusable bags.
Buy bundles. This gives you a variety of bags and takes a little bit of money off when you guy a bundle. This is what we bought to start.
Sign up for their newsletters. They send out sale offers once in a while.
Shop their sale page, which often has 20% off. (We've done that too! Espeecialy when we know we shouldn't buy more after just receiving an order in the mail, but we can't resist.)
Stasher Bags are Made from Top-Grade, Food-Safe Material
Stasher Bags are made from platinum silicone. They will not degrade over time and should last a lifetime if you care for them properly (including not turning them inside out, and never using sharp objects on them, which could puncture the material).
If you ever need to get rid of a Stasher Bag, simply contact them ([email protected]) and fill out an online form to send it back to the company for proper up-cycling.
Stasher Bags are Great for Home Too
We use these bags when we travel but a TON at home too. We use them for everything from storing vegetables, to cooking popcorn, to marinading fish or meat. And of course, there are a bunch more ways to use them when we travel by land, in addition to on cruises.
Check out more information about why we're obsessed with these Ziploc bag alternatives.


Are you an eco-conscious shopper? Also check out:
Change of Scenery Bathing Suits, made from Recycled Material (perfect for people in their 30s to 50s who want a stylish swimsuit that isn't too revealing)
Going on a cruise? Read this next: