Great Lakes Cruises That will Inspire You to Explore North America
Five inland lakes make up the "Great Lakes" in North America, and one of the best ways to explore them is by signing up for Great Lakes Cruises. The lakes include Lake Superior, Michigan, Erie, Huron, and Ontario.
They stretch across eight U.S. states and the Canadian province of Ontario, spanning over 745 miles. Together they supply an astonishing 20% of the freshwater of Earth, apart from providing a host of other uses like transportation and recreation.
The Great Lakes are truly beautiful and majestic. When considered as one vast body of water, the surface of the Great Lakes accounts for the largest body of fresh water on Earth. And cruises on the Great Lakes have extraordinary routes and stops on their journey.
What better way to explore the iconic cities, sites, and passageways of these legendary waters than with a scenic cruise? A thrilling expedition will not only uncover some enticing destinations along the five historic lakes but will aptly showcase the breathtaking splendors of its coastline and its spectacular wildlife.
Disclosure: There are affiliate links in this post, which means we may earn a small commission if you click the link and proceed with a purchase, at no cost to you. We truly only recommend hotels, products, and services we personally use. As Amazon Associates, we earn from qualifying purchases.


Cruising the Great Lakes
It's amazing that when you're on one of the Great Lakes, you'd think you were on the ocean. They're truly that huge. They're vast and impressive. You'd be amazed at how much there is to do and see on them.
There are five Great Lakes that each offer unique sites and experiences. Great Lakes cruises are a little pricier than European River Cruises in many cases (which we get into, below) but they're well worth the investment for a unique way to explore North America. It also helps support our local economies in the United States and Canada, which is its own way of keeping cruises sustainable.
Best Time to Cruise the Great Lakes
Great Lakes cruises are only offered during warmer months – and that's the best time to cruise. You don't want to necessarily be outside with strong wind, a winter coat, gloves, and a hat. (Unless you're going on a Polar Fjord cruise in Norway, or visiting Antarctica, that is. Haha!)
Cruises on the Great Lakes usually operate from April through October, with the majority of itinerary options happening in June, July, and September.
Late September and early October would be the best time to see the leaves change colors for fall (it's "leaf peeping" season, as they say). It may be colder during this time yet the opportunity to see the splendor of autumn's colorful leaves is a bucket list adventure for many people.
Although there aren't many itineraries in April, keep in mind it is chilly that time of year in the Great Lakes area. You also risk there being leafless tree branches and a lot less greenery in bloom in April than sailing during summer, for example.


Why is the Price of Great Lakes Cruises so Expensive?
We can't tell you exactly why the cruises on the Great Lakes usually cost a bit more than say a Danube River cruise, which you'd have to travel to Europe for yet could still cost less than a Great Lakes Cruise.
But a few contributing factors may be the following:
Ships that are flagged as United States ships have a higher cost to build them in the United States and staff them with American crew, which costs a bit more than European crew members abroad.
There's less competition in the United States, with less cruise lines sailing North American waters (partially because of our first point). Less supply but solid demand and interest drives the cost up.
Tours and excursions in the United States and Canada may cost more and that cost is charged back to the guests, within the price of the cruise.
As with any cruise, you have to investigate what you're getting for the cost. You may get sticker shock from an $8,000 cruise but then realize it's 12 days. The more days, the more the price increases. Compare that with $4,600 for a 7-day river cruise, for example, and you realize it's a similar per-day investment.


Best Great Lakes Cruise Companies
A Great Lakes cruise is ideal if you want to see some of the United States and Canada and have time from late spring to early fall. These cruises are in the north, in areas like Michigan and Illinois, so take the weather into consideration when you book.
With six cruise lines serving this region, this guide will assist in helping you make a call when deciding on the ships, itineraries, and respective destinations worth traveling to.
Generally speaking, any cruise that sails within Michigan, Illinois, or Wisconsin is sailing the Great Lakes. Many itineraries that go from Canada to New England, or the reverse, usually include Lake Ontario, which is to say the cruise itinerary includes at least one of the Great Lakes if not more.
If a cruise includes only one of the Great Lakes, that lake is most typically Lake Ontario, with a cruise starting or ending here, then sailing past the Thousand Islands in Canada, and onto the St. Lawrence River. (The St. Lawrence River stems northeast off the Great Lakes, passing Montreal and Quebec City.)
Viking Expeditions Cruises
This award-winning cruise line has specially designed ships to navigate the remote Great Lakes destinations with the utmost comfort. Their expedition ships, Octantis and Polaris, will debut in 2022. While Polaris will sail Antarctica and the Arctic, Octantis will focus on sailing Antarctica and the Great Lakes.
These Class 6 polar ships can accommodate 378 guests in 189 staterooms. The cabins will be clad in modern Scandinavian design. All of the rooms will have a state-of-the-art feature: a sunroom that can convert into an outdoor balcony where you can read, relax, and have a glass of wine al fresco.
The cabin's floor-to-ceiling glass windows lower to become what Viking has named a "Nordic Balcony." They'll all have heated bathroom floors too. (An interiors perk we personally love after having visited Norway a few times; it's a common feature in hotels and homes in the country.)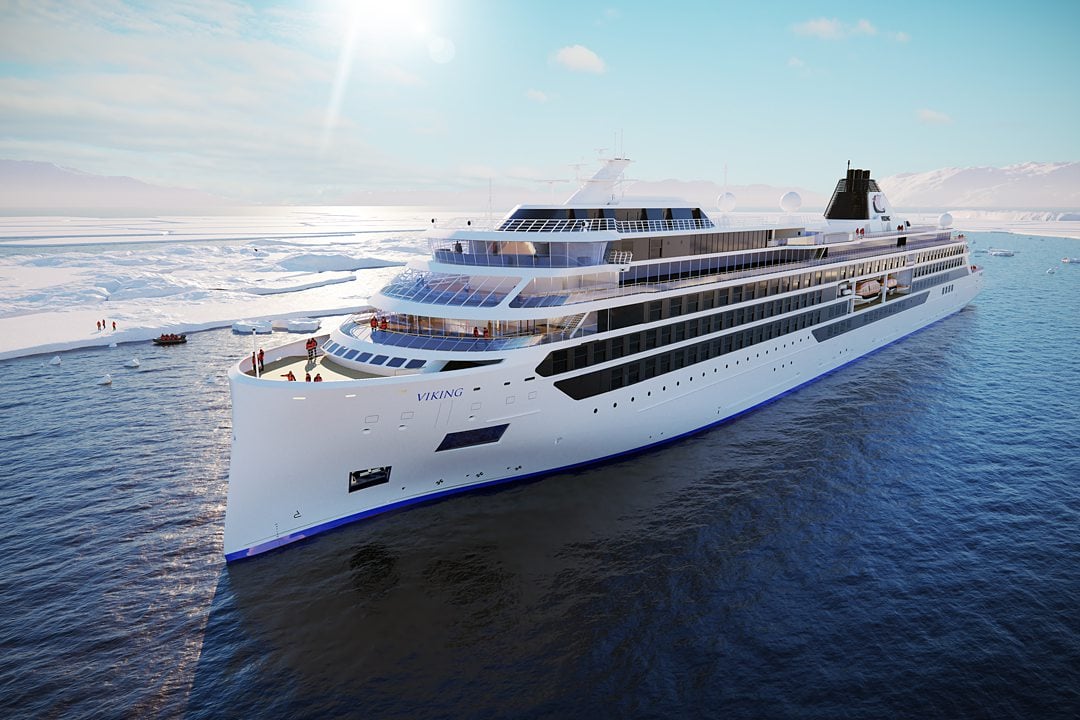 There's an onboard pool and spa to enjoy on Octantis when you're not exploring the ports, and two restaurants (one Italian, the other Scandinavian-inspired). They offer 24-hour room service as well.
Four Viking Octantis itineraries will take you through North America's Great Lakes
Three of them are 8 days, and one is 13 days:
Undiscovered Great Lakes, from Thunder Bay, Ontario to Milwaukee: An 8-day cruise that begins in Thunder Bay on Lake Superior and zig-zags through beautiful American cities, including Duluth, Minnesota, and Houghton, Michigan. You'll experience an incredible engineering feat as you pass through the Soo Locks on the St. Mary's River, traveling from Lake Superior to Lake Huron.
Great Lakes Explorer from Milwaukee to Thunder Bay, Ontario: Visit three of the Great Lakes during this 8-day cruise, in addition to Canada's Georgian Bay. You'll pass through the Soo Locks on this cruise as well.
Niagara & The Great Lakes from Toronto to Milwaukee: The day after you embark on your cruise, you'll visit Niagara Falls and experience its majesty. From there, you'll stop at ports like Detroit and Mackinac Island in Michigan before ending in Milwaukee, Wisconsin.
Canadian Discovery from New York to Toronto: This 13-day cruise starts in NYC and takes you northeast on the Atlantic Ocean, including stops in Nova Scotia, the archipelago Sept-Îles, and Quebec City, before arriving in Toronto on Lake Ontario.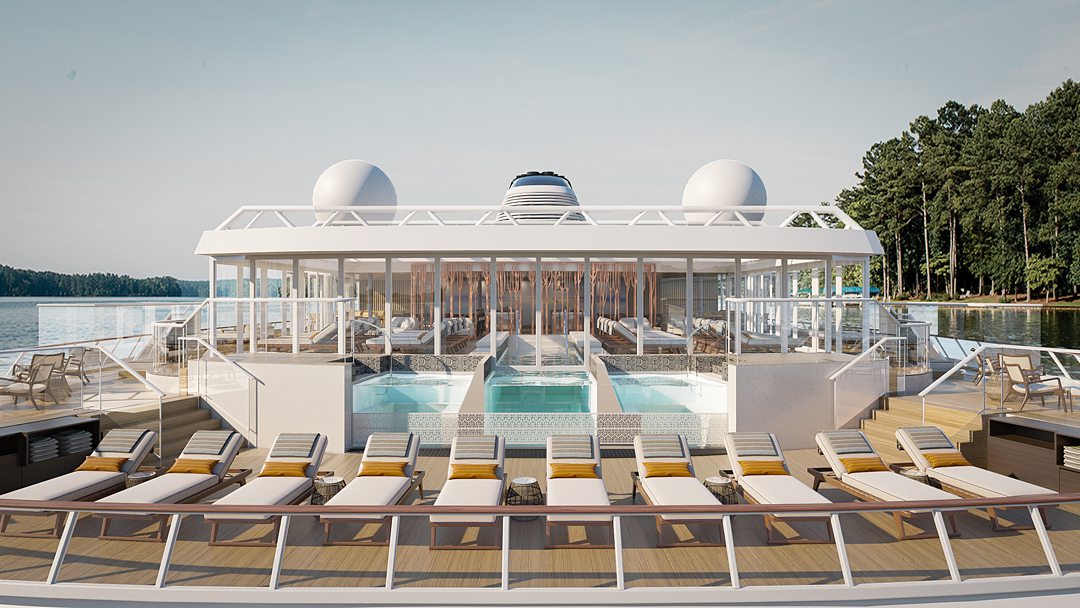 PONANT Explorer Cruises
PONANT has been hosting exceptional voyages in the waters of the Great Lakes and North America for years in their high-end vessels, Le Bellot and Le Champlain. Both can host up to 184 guests in 92 staterooms, which are contemporary in design and even have Hermès® bath products. They have multiple restaurants onboard along with a spa.
Multiple North American offerings allow guests to experience Great Lakes communities from Wisconsin to Toronto, through the St. Lawrence River, onto some of the oldest ports in the United States.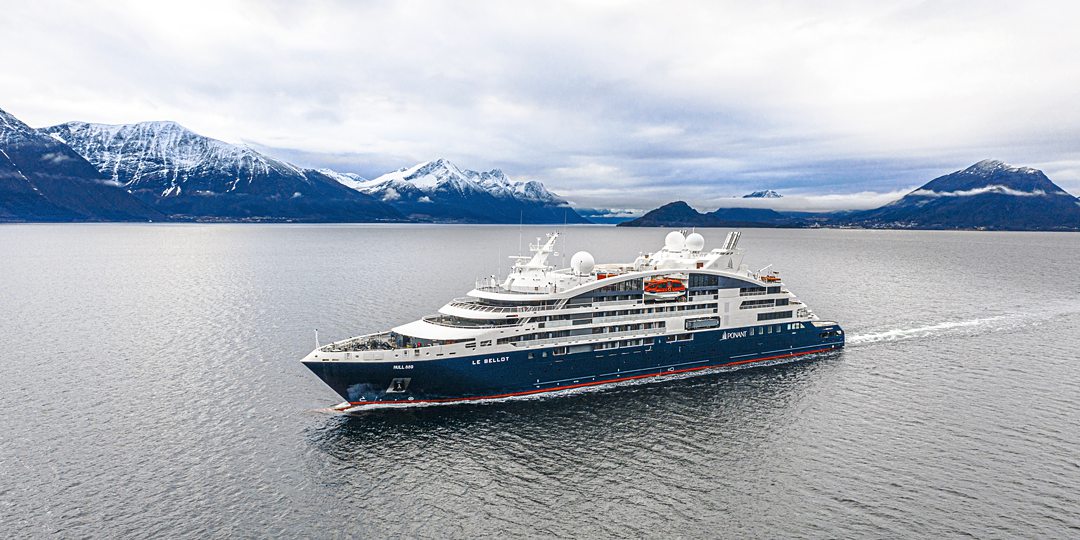 American Queen Voyages (Formerly Victory Cruise Lines)
American Queen Voyages (AQV) ships sailing the Great Lakes are Ocean Navigator and Ocean Voyager, specializing in Great Lakes sailing trips. Each ship has a 202-person guest capacity, with approximately 100 cabins and suites.
Enjoy a pre-voyage hotel night, daily afternoon tea, cocktail hours onboard, and entertainment each night. There are also two dining areas onboard along with a small spa and fitness area.
In 2022, they added unique shoreside overnights based on guest feedback. Guests longed for overnights in iconic cities that American Queen Voyages cruises sail to, just like they're able to enjoy when they sail through Europe on European river cruises. As such, AQV added overnight experiences in Toronto, Mackinac Island, Quebec City, and Montreal during their cruises.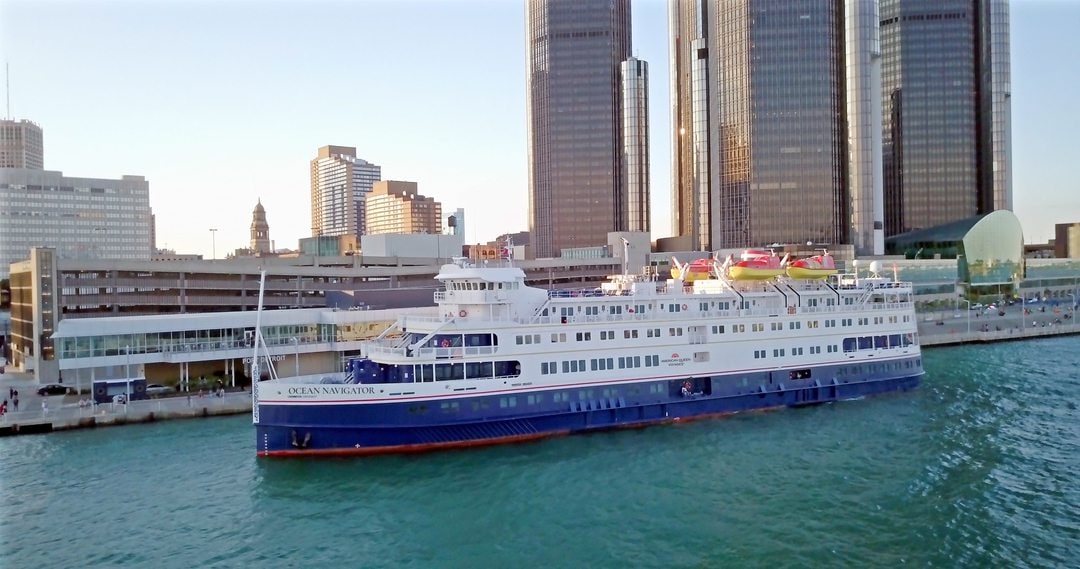 AQV offers several itineraries for Great Lakes Cruises:
Roundtrip Montreal Quebec: Embark on a 12-day journey, roundtrip to Montreal, that allows you to discover amazing architecture and pockets of nature as you sail along the St. Lawrence River into Lake Ontario during fall. Overnight stays occur in Québec City, Montreal, and Toronto, maximizing your opportunities to tour these great Canadian cities.
Great Lakes Grand Discovery: A 15-day itinerary that takes guests from Montreal, Canada to Chicago, Illinois, or the reverse. Overnight stays take place on Mackinac Island, and Toronto.
Splendor of the Great Lakes: An 11-day, open-jaw itinerary that starts in Chicago, Illinois, and ends in Toronto. These May 2022 itineraries include a day of scenic sailing on Lake Huron and Lake Michigan, a stop in Mackinac Island, Michigan, and visit to the Canadian side of Niagara Falls.
Lakeside Treasures: A 16-day cruise, starting and ending in Chicago, Illinois, offered in June and July. Some stops include Muskegon, Michigan, on Lake Michigan, and Thunder Bay, Ontario on Lake Superior. If you love days at sea, this cruise is for you: it has four.
Montreal to Detroit (or the reverse): This 11-day cruise is offered in September and takes guests through scenic sailings on the St. Lawrence River. After an exclusive tour through Thousand Islands, you'll sail to Lake Ontario to experience Toronto and Niagara Falls before heading to Cleveland and Detroit on Lake Eerie.
Hapag Lloyd Cruises
Hapag Lloyd Cruises is a German cruise company that sails in the United States. Their ship, HANSEATIC inspiration, conducts cruises in both English and German. Conversely, their ship HANSEATIC nature conducts cruises only in German.
The ship was introduced in 2019, and can accommodate up to 230 guests; you'll feel like you're truly in the lap of luxury onboard. They have three restaurants onboard and offer flexible meal times, and have 24-hour cabin service.
They have several outstanding North American itineraries that cruise the Great Lakes. Interestingly, some of their cruises sail well beyond North America, including Greenland in their destinations. Expect to book a cruise between 10 to 18 days, and visit cities such as Toronto, Chicago, Mackinac Island, Sturgeon Bay, Milwaukee, Killarney, Parry Sound, and more.
Pearl Seas Cruises
This small cruise company offers trips on the Great Lakes aboard their vessel, the Pearl Mist. Each room comes with a private balcony and large picture windows. Apart from lounges, spas, a fitness center, and onboard entertainment, guests can take part in optional shore excursions at each destination.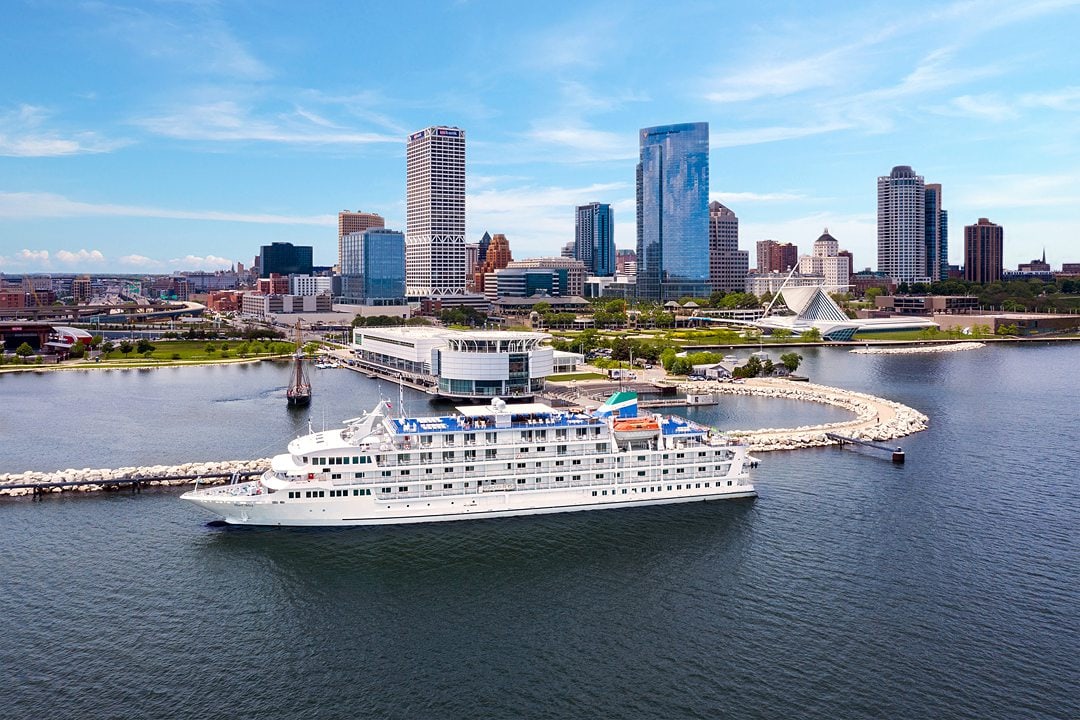 The Pearl Mist's open jaw itinerary for the Great Lakes starts in Milwaukee, Wisconsin, and ends in Toronto, Canada. It also stops in:
Muskegon/Holland, Michigan
Mackinac Island, Michigan
Sault Sainte Marie, Ontario
Little Current, Ontario
Midland, Ontario
You'll enjoy Victorian towns in the United States and First Nations experiences in Canada along your eight-day journey, offered in June or July.


What each Great Lake has to Offer
Each Great Lake has its own strength that may impact your choice of which one to visit. Overall, however, keep in mind that most cruises offer shore excursions. (Some include them in the cruise costs while it may be an additional item to budget for with others.)
The Great Lakes are truly incredible. They serve as much more than simply bodies of water, providing millions of people with water to drink and nature to explore.
Lake Superior: Outdoor Activities
Lake Superior is the coldest and clearest of all the five lakes. This is perhaps because of its somewhat remote location in the north. (It is the northernmost Great Lake.) It is known for its iconic rock formations, gorgeous agate gemstones, and shipwrecks. Lake Superior shines like a beacon for outdoor explorers and nature buffs.
One of the biggest assets of Lake Superior is Pictured Rocks National Lakeshore. Its multi-colored sandstone cliffs and formations attract nature lovers on Michigan's Upper Peninsula. The best way to enjoy the beauty of the towering rocks is by staring at them from the waterline. You can either kayak or take a Minising Bay lake cruise, departing several times a day.
Cities on Lake Superior cruise ships often visit include Duluth, Minnesota, and Thunder Bay, Ontario.
Lake Michigan: Adventure Sports
From wreck diving to parasailing and kayaking, there is no shortage of opportunities for adventure on Lake Michigan. Over thirty parks are located on the shores of this Great Lake and the islands that dot it. There are a number of stunning spots like Empire Beach, St Joseph, and Grand Haven State Park for beach lovers.
Sleeping Bear Dunes National Lakeshore gives rise to sandy dunes that reach a height of 450 feet above Lake Michigan. Here, you can swim in the lake, hike through the park or climb the dunes.
Great Lakes Cruises that visit Lake Michigan commonly stop in Chicago, Milwaukee, and Mackinac Island in Michigan. Visitors love Mackinac Island in particular due to its absence of cars (instead, get around the island on foot, bicycle or horse-drawn carriage), small-town charm, Fort Mackinac, and excellent restaurants and pubs.
Lake Huron: Sand Dunes and Relaxation
Lake Huron is known for its sand dunes, wildlife, and islands. Its extensive shoreline is rocky and the lake is home to over 30,000 islands. The Harrisville area may have a great stretch of sandy beaches in the Michigan area (and a pretty white lighthouse, we might add), but St. Ignace serves as an ideal spot for a picnic or walk; it has great views of Michigan's Mackinac Bridge. Bruce Peninsula National Park in Canada, on the Georgian Bay shoreline, is also a popular destination with a grotto visitors enjoy.
It's the second-largest Great Lake and the fourth-largest lake in the world. The Strait of Mackinac connects Lake Huron with Lake Michigan.
The most common area that Great Lakes Cruises stop in on Lake Huron is Mackinac Island.
Lake Erie: Fishing and Birdwatching
This may be the smallest and shallowest of all the lakes, but there is no shortage of natural beauty and wildlife in Lake Eerie. (You can see it while driving along the Great Lakes Seaway Trail, a National Scenic Byway.
It goes from Lake Erie to Lake Ontario.) While all the lakes have adequate fishing, Lake Erie is the most productive, with Yellow Perch, Rainbow Trout, and Walleye being some of the top species caught here.
The Crane Creek State Park, in Ohio, and the adjacent Magee Marsh Wildlife Area is a paradise for birdwatchers. Viewing platforms allow enthusiasts to spot several species at this wildlife refuge.
Detroit and Cleveland are common stops along a Lake Eerie itinerary during Great Lakes Cruises. Niagara Fall is between Lake Erie and Lake Ontario and is also popular on Great Lakes cruise itineraries.
Lake Ontario: History Lovers
Lake Ontario is the easternmost of the Great Lakes and attracts about 13 million visitors a year. It is the smallest on a map, but its water runs so deep it holds four times the volume of its neighbor, Lake Erie. (Its depth is also why it never freezes.)
Historically, it has been used as a trading hub for centuries. Also, several Native American communities, including the Huron and Iroquois, still call the area home; their history is displayed in many of the local museums.
Toronto is on Lake Ontario, as is the Thousand Islands, both popular places of interest on Great Lakes Cruise itineraries. Cruise ships often sail from Lake Ontario to the St. Lawrence River towards Quebec, or vice versa.


Going on a cruise? Also check out: