Awesome Cruise Gift Ideas for Cruise Fans & People Going on a Cruise
Whether it was 2020 with canceled sailings for the year after March, or we're looking to more promising times in the future, we have the best cruise gift ideas for cruise lovers and newbies.
Cruise fans are pretty die-hard for the travel format. Maybe it's you or someone you know. (We're obviously cruise-lovers, so we get it!) But everyone going on a cruise would love some these cruise gift ideas. And lots of these items aren't just fun but will really help you on your trip.
Do you gift these items or get the items for yourselves? There's no wrong answer because rewarding yourself feels good, as does giving gifts.
Boating and cruise gifts, especially on Etsy, are alive and well. We are sharing the following gift categories, for any time of year (holidays included but great for year-round as well):
Personalized gifts for someone going on a cruise
General gifts for a person going on a cruise
Practical gifts for your stateroom or cabin
Practical gifts for a cruise vacation
We love supporting small businesses, so we've listed Etsy shop items wherever possible. When not possible, we share where to get the item elsewhere.
Disclosure: There are affiliate links in this post, which means we may earn a small commission if you click the link and proceed with a purchase, at no cost to you. We truly only recommend hotels, products, and services we personally use. As Amazon Associates, we earn from qualifying purchases.


Personalized Gifts for Someone Going a Cruise
Custom Flip Flops
There are two really cute personalized flip-flop styles we recommend as gift ideas for cruise lovers.
One pair reminds me of the famous designer, Jack Rogers, style of flip-flops. You can get your initials embroidered on the top of the flip-flops.
The other pair is great for a cruise that goes to beach destinations because they stamp your personalized message or name in the sand. So fun, right?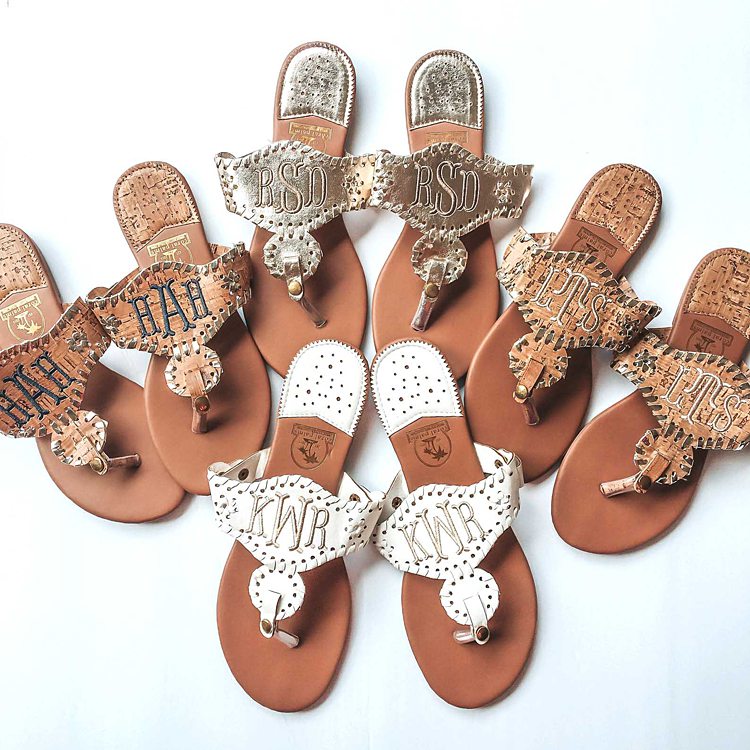 Personalized Toiletry Bags for Your Cruise
Everyone needs a toiletry bag. We love to have ours ready to go at a moment's notice so packing for vacation is super fast and easy, and we can pack in just 10 minutes. We pretty much keep duplicate toiletries in travel sizes of what we use at home in a toiletry bag at all times. (Hey, you never know!)
Travel in style with a personalized toiletry bag with your initials or name on it, or those of the traveling friend you're gifting it to. Or a fabric toiletry bag in a bright color, or a solid color polyester canvas bag with monogram. We love the bags that have an extra pocket or compartment, like the leather and canvas bag in the bottom photo.
It's a good idea to ensure your toiletry bag has a loop on it somewhere if you want to clip it up on a towel rod with a hook or carabiner to save space in your cabin bathroom.
Keep reading for links to some great hooks to gift to a cruise lover in your life in this article.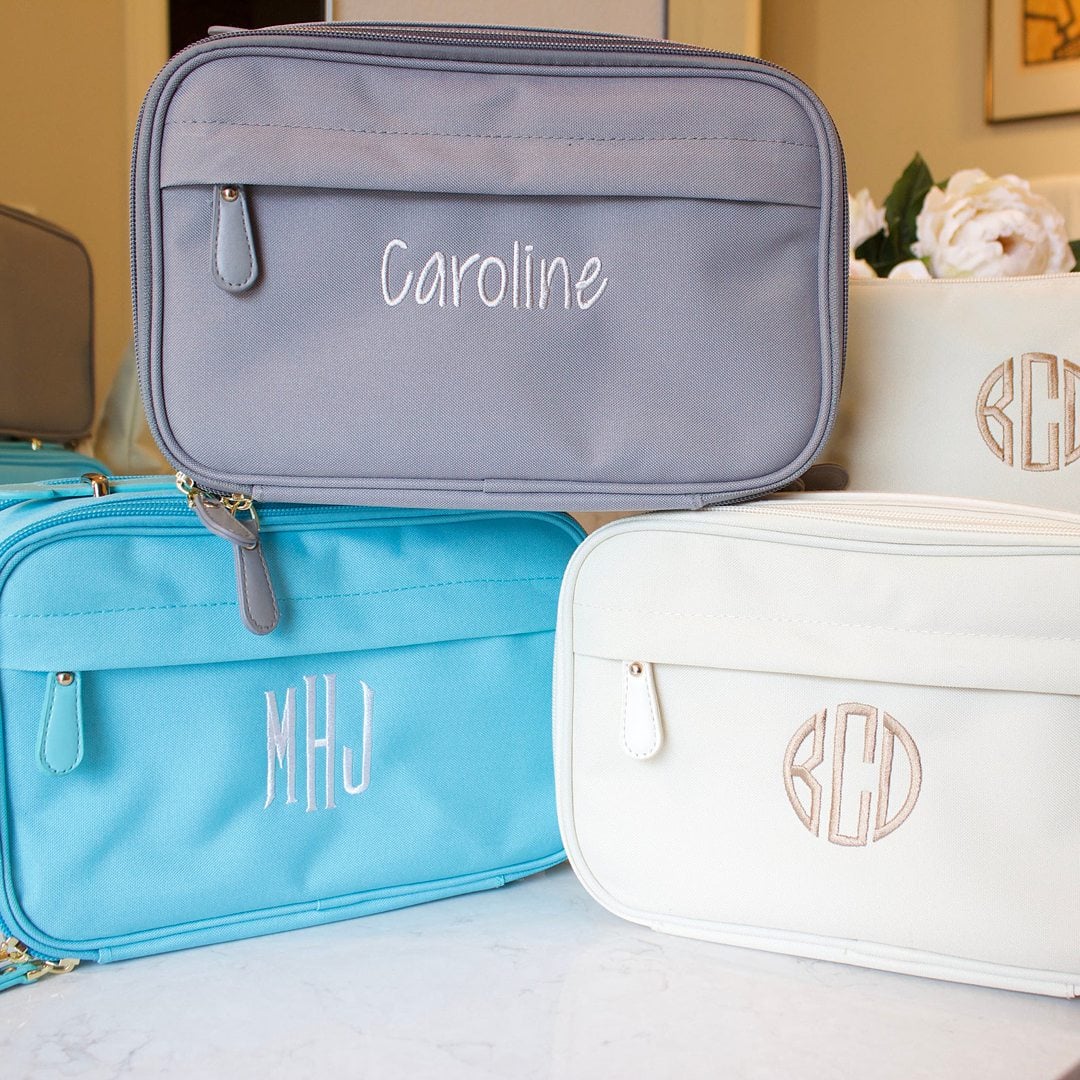 Personalized Beach Hats
Straw hats for vacation remain popular for photo ops (especially amongst Instagram lovers). But it's with reason – because nothing says "vacation" like a floppy straw hat!
Personalized beach hats are great for hanging out by the pool to shade your face from the sun and on non-windy days at sea. (Because a windy deck could mean your hat will fly off into the ocean)
You can customize them to pretty much say whatever you want on Etsy. Can you imagine laying on the beach at a port or on the top deck of a cruise ship with a fabulous hat, listening to your favorite Cruise Podcasts?
Here are two we love:
Cheers Beaches
One you can customize with your name….or anything you want it to say.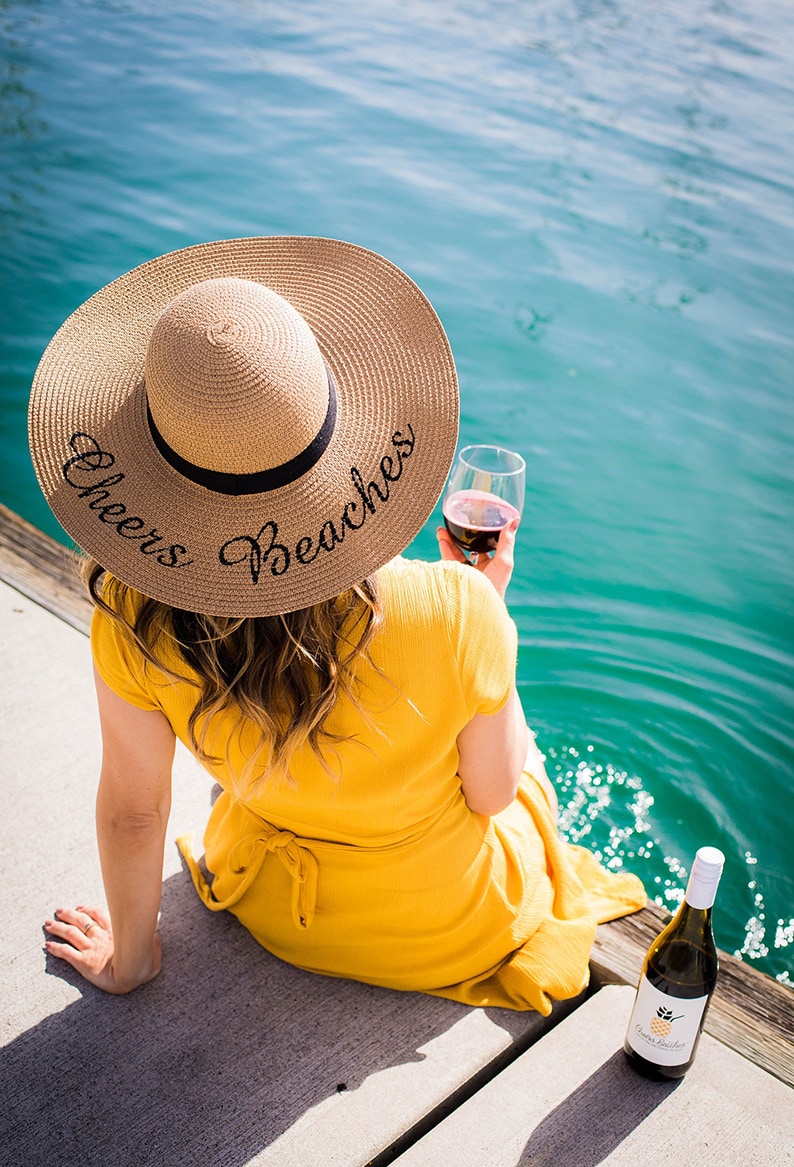 Personalized Turkish Towels
A Turkish towel has many uses. It can be used as a towel in the bathroom, of course. But it can also be used as a shawl or a beach towel. People who have long hair can wrap it around their hair to dry faster after bathing. You can even use it as a blanket, to cover a lounge chair or on the beach or great lawn.
We love the embroidered Turkish towel options on Etsy. It's the perfect cruise gift idea for someone to pack because having one item with multiple uses saves on space, which is necessary when packing for a cruise.
Anyone you give this thoughtful, personalized cruise gift to will go gaga for it.
Two shops that are fabulous for embroidered Turkish towels on Etsy are TheCharmingStudio and PeshtemalTowel.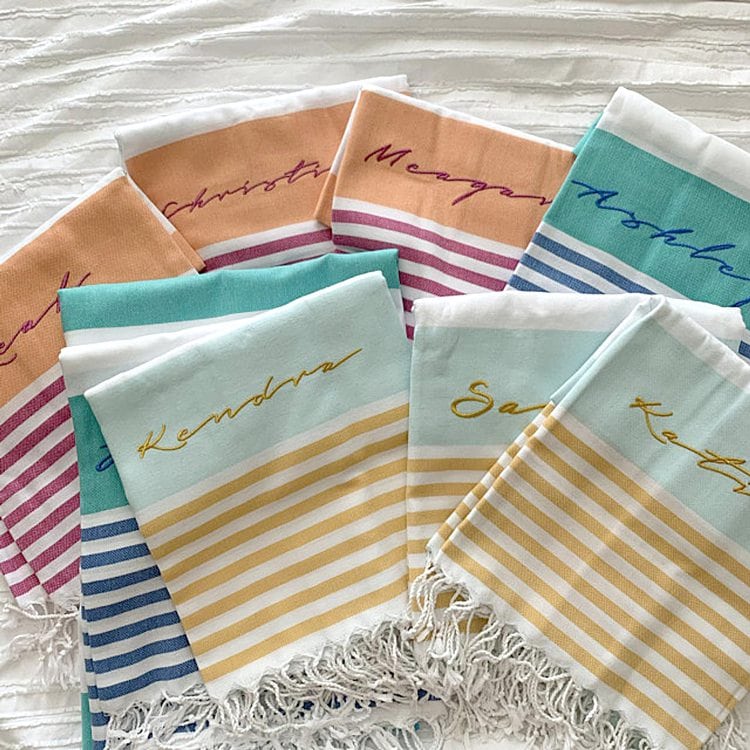 General Cruise Gift Ideas for a Person Going on a Cruise
Beach Glass Jewelry
There's something so beautiful about beach glass jewelry. I've always loved the passage of time that's so clearly seen in beach glass, after years of tumbling in the ocean and rough edges are sanded smooth against the shore.
There are so many cute pieces of jewelry from Etsy vendors, like the example in the photo below from BeachGlassMemories. I love the idea of pearls with beach glass – it's the perfect blend of the sea with something shaped by sand and ocean water.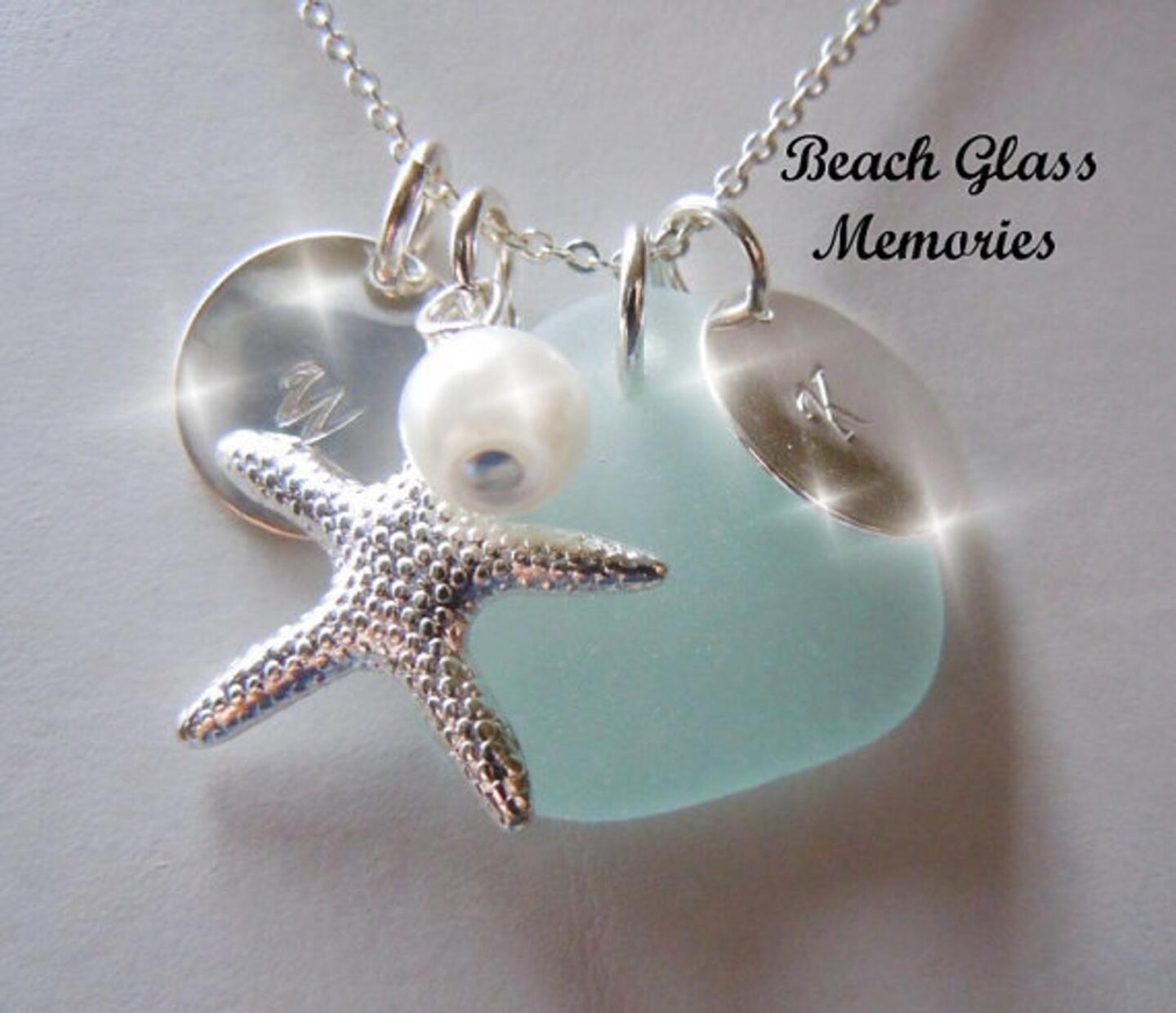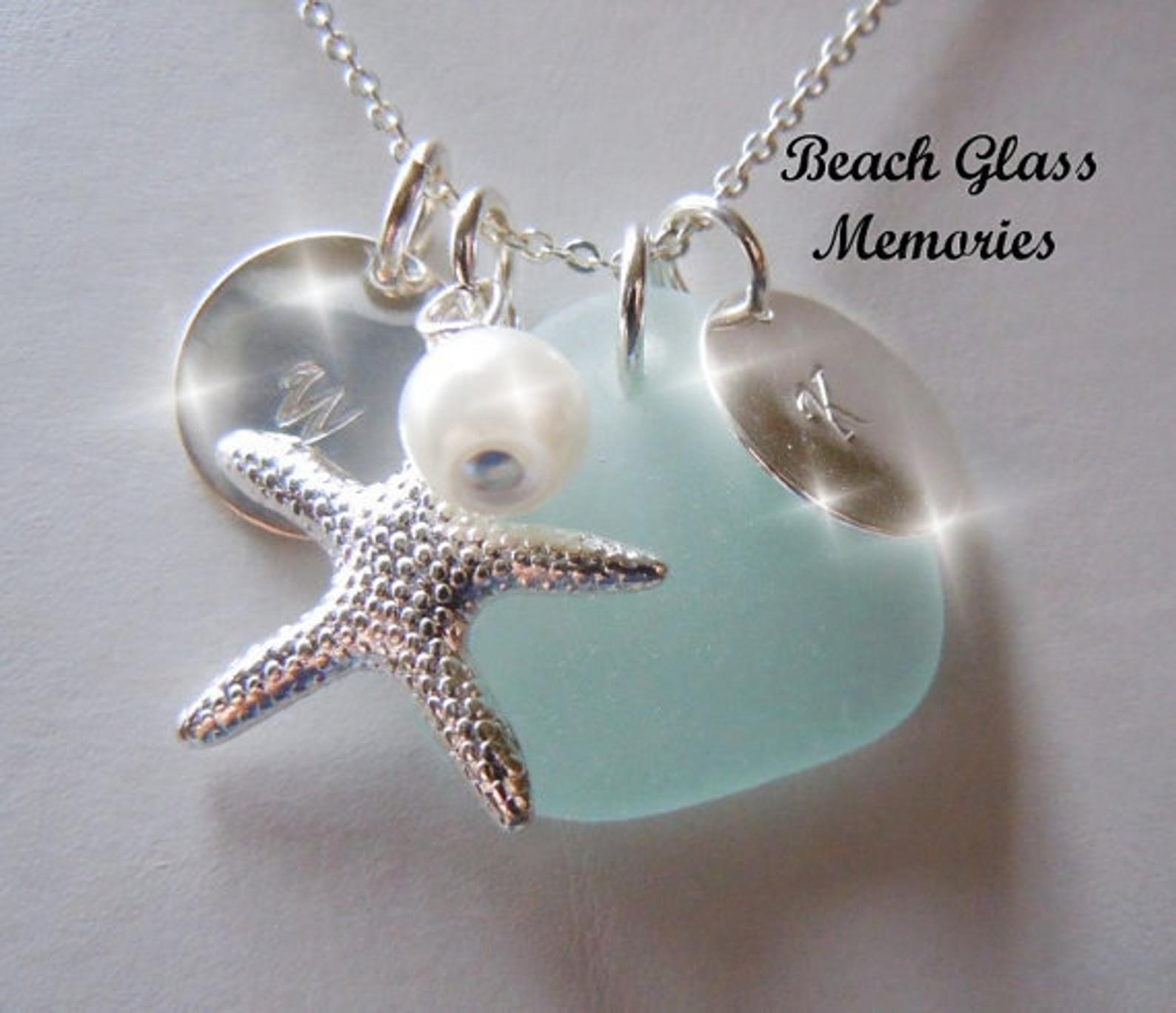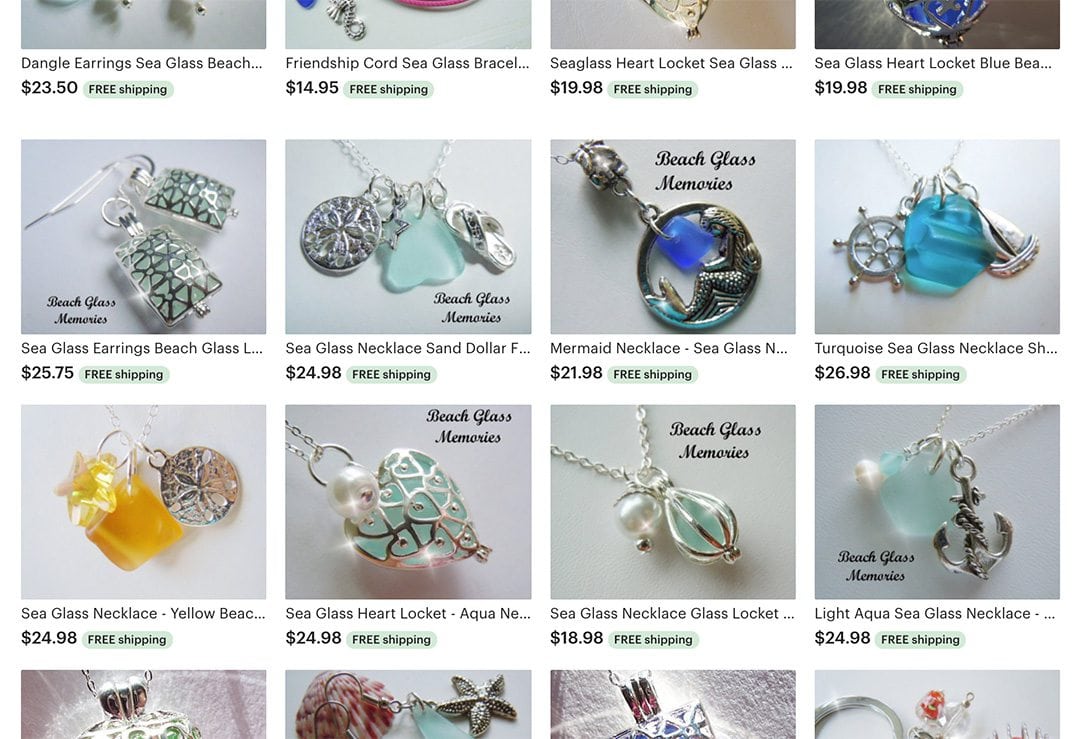 Waterproof Kindle
To us, packing for a cruise means packing light. And if we can cut down on the number of things we have to pack, the better.
So if you want to read on your cruise vacation but don't want to take multiple books get yourself this cruise gift idea: a waterproof Kindle. It's the perfect gift for cruise lovers and someone going on a trip where they'll be near water a lot…but also want to read.
The good news is that you won't risk pages of a book getting wet from over splash of anyone being a little rowdy in the pool.
Don't forget a Kindle case for it too!
Cruise Books
Speaking of a Kindle, you'll need some books to go on it! Consider any of the books from our list of over 25 nonfiction cruise books, broken down into categories including books by avid cruisers, books by cruise crew, and historic expeditions.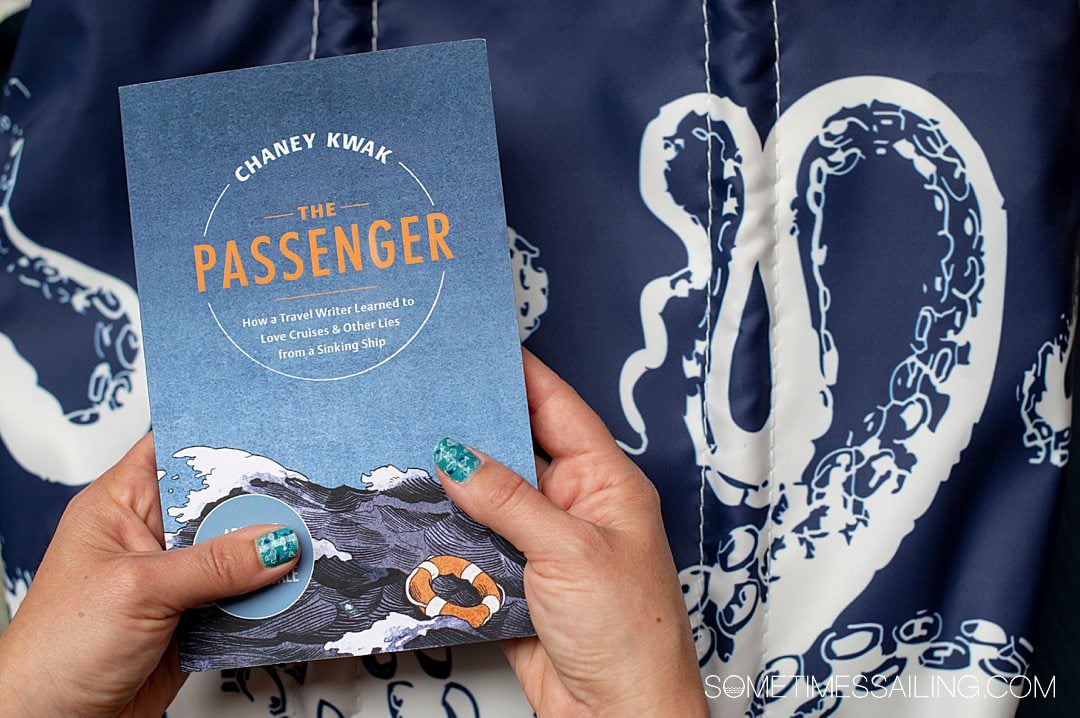 Gift Card Cruise Gift Ideas
Amazon Gift Cards (to buy Kindle Books)
You can't go wrong with an Amazon gift card…because you (or whoever you gift the Waterproof Kindle to) are going to need books on that Kindle! It would also potentially help them purchase a bunch of practical items we listed in this post, available on Amazon.
Gift Music with a Spotify Membership
The reason we like the idea of Spotify is that you can create a playlist and download it so it's available offline. Many cruise ships have internet available (whether included or for an extra cost, it depends on the cruise). But it's often not strong enough or reliant enough to stream music.
Thus, the best thing for someone going on a cruise is to download music, beforehand, that's readily available to listen to on their phone, offline. Which you can easily do in the Spotify app.
Apple Gift Card for Music or the App Store
We have a few apps that we recommend downloading for a cruise, including packing list helpers and night sky apps. Some of them cost money or have in-app purchase options.
An Apple gift card is a thoughtful cruise gift idea that would help someone pay for the apps.
Gift Card to Target, CVS, Walgreens, Supermarket, Etc.
Gift cards to places like Target, or even supermarkets and the like are always useful. You can include a card that says it's for all the not-so-fun but necessary items, like reef-safe sunscreen and anti-nausea pills.


Travel Tube Blanket
I knew I had to have a Travel Tube Blanket as soon as I saw it on Etsy. Initially, I got it because I get cold easily, especially on airplanes. It's a scarf that converts to a shawl and also a blanket. (So cool.)
But it's also come in handy on the top deck of a cruise ship when it's a little windy, or sitting on the beach if I get cold. (Because we like to walk on the beach during fall and winter too, like in Fort Lauderdale, and the weather is more unpredictable then.)
It comes in a variety of patterns and colors, and the business is female-owned and operated, by Carlyn Hooyer. She makes everything in the shop herself. She even makes Travel Tube Blankets in kids' sizes.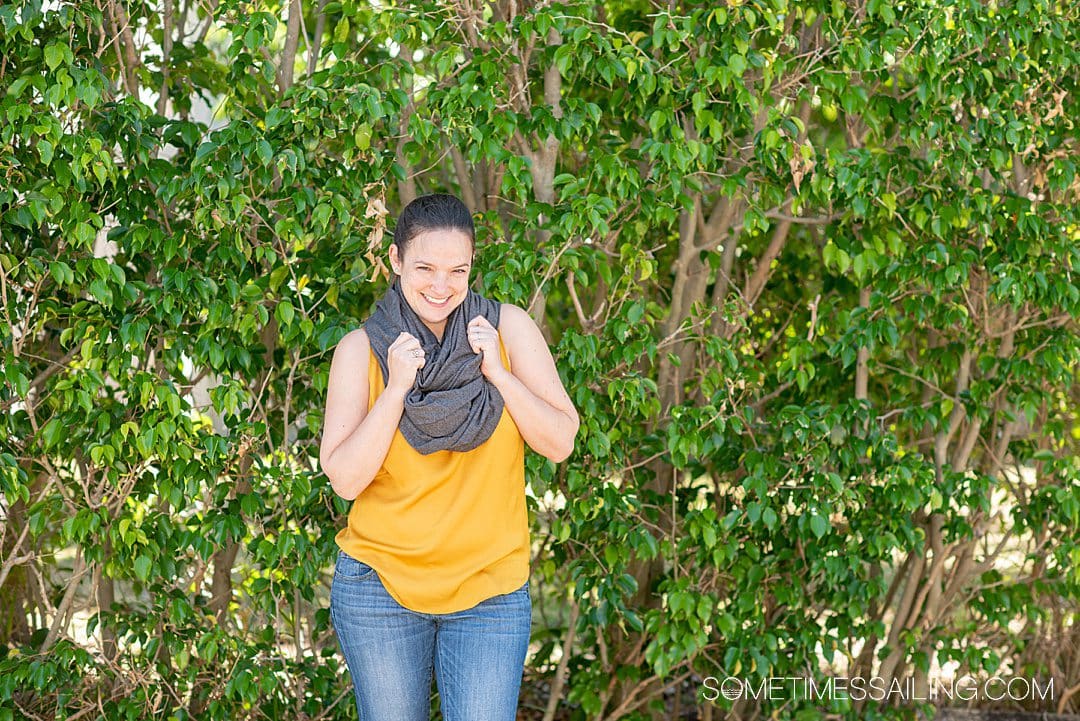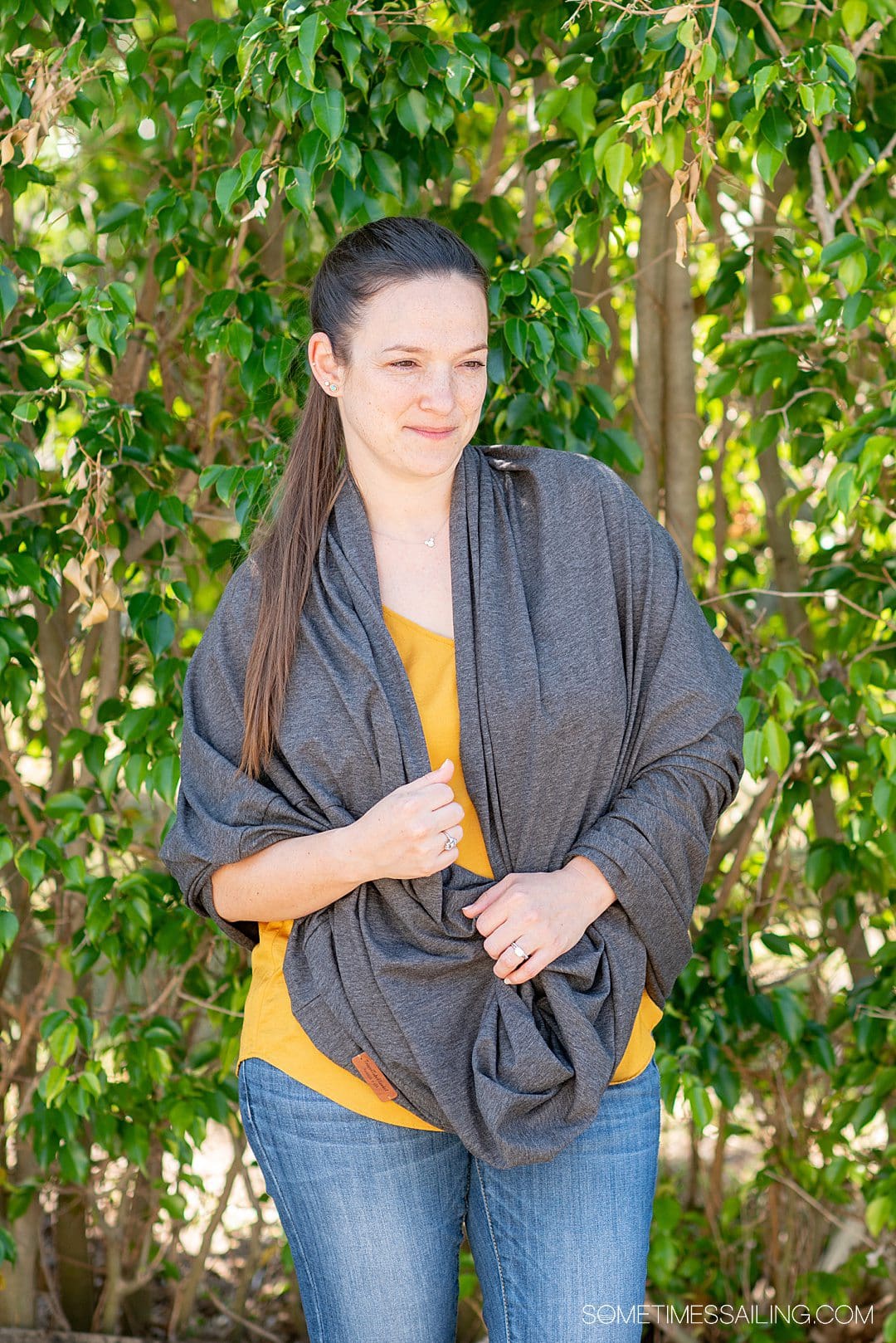 Nautical Bracelets
OMEGA Sailing Bracelet
I love my rubber and stainless steel OMEGA Sailing Bracelet. It's a premium item that you can dress up or down and matches just about anything. I absolutely adore that I pretty much never have to take it off because you can wear it to the beach, in the ocean, and in the shower. All it takes to clean is a little soap and water.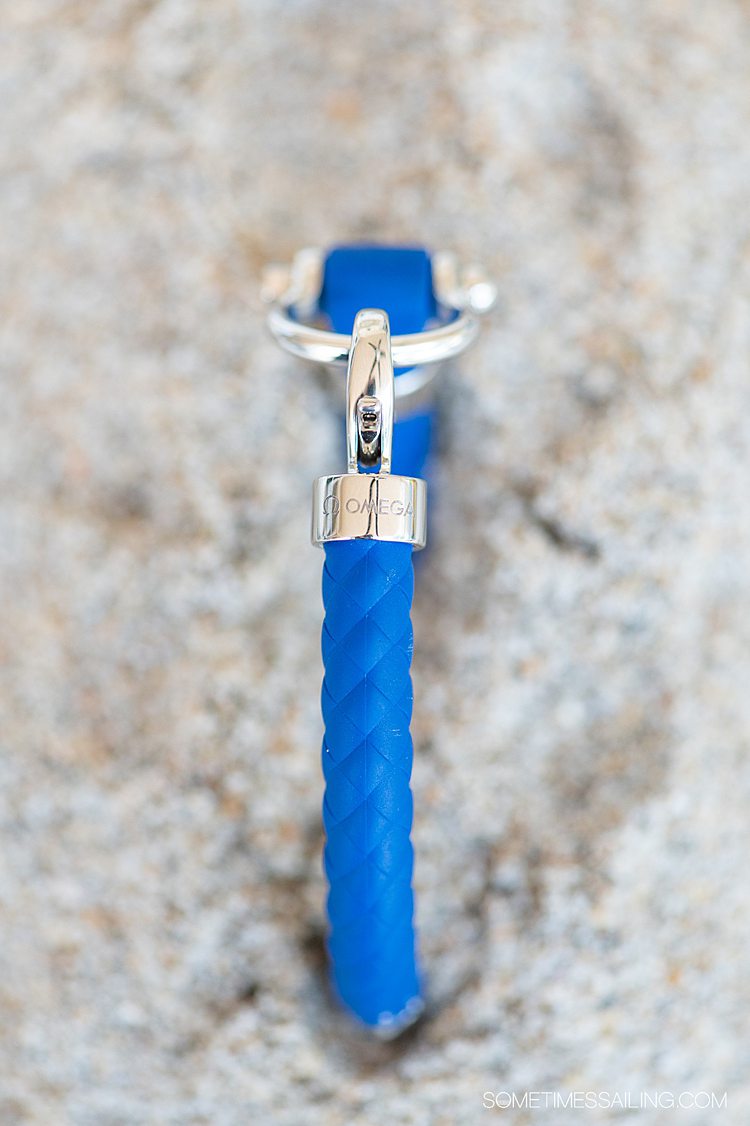 Wildwood Oyster Co. Seaweed Bracelet
What's better to give a cruise lover than a bracelet that reminds them of seaweed?! It directly connects you to the ecosystem beneath the water.

Wildwood Oyster Co. is another one of the extra special cruise gift ideas to give to a family member or friend. You can choose from polished brass, teal or black patina, or sterling silver. And you'll be supporting a small business when you buy from them, which is located in Maine and is female-owned and operated.
Read more about this nautical bracelet to learn about the philanthropies they contribute to.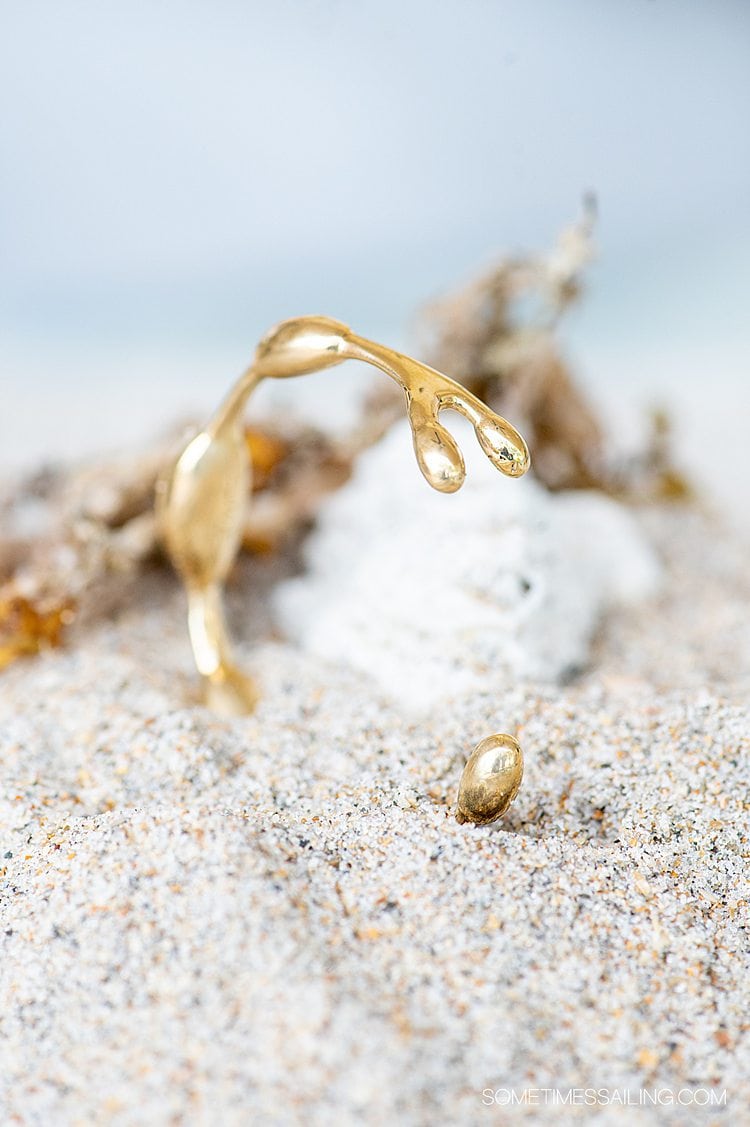 Nautical Bags, Made from Sails
How cool is it that Sea Bags creates totes, wristlets, toiletry bags, beach bags and more from recycled sails from sailboats? SO FREAKIN' COOL! They're upcycling material that has been on the ocean and giving it new life.
It's a unique business that we discovered when we went on our Maine Windjammer Cruise, especially walking around a town like Stonington, when we were in port. It just seemed appropriate and I felt extra special wearing one. I was so excited to be sporting a cool octopus-patterned bag, but they have a ton of different options. You can even design your own. Check them out here.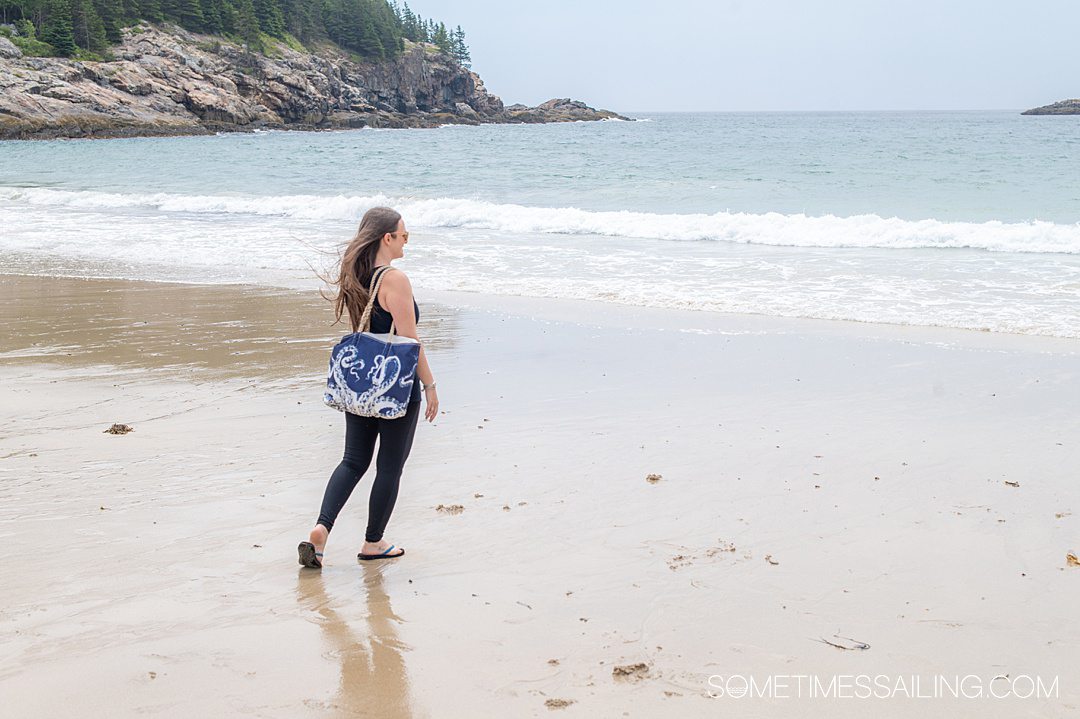 Mosquito and Bug Repellants
If you're going on a cruise and you're going to be by the water during any warm month, in any warm location, chances are you'll need a way to ward off bugs and mosquitoes.
We love the mosquito repellent bracelets we have because you can reuse them. You just get new essential oil refills as needed. And if someone gets you this cruise gift idea, it's one less thing you have to buy for yourself.
Anti-Nausea Medicine and Remedies
If you're the kind of person who thinks you may get motion sickness it's best to go on a cruise prepared. The cruise ships usually have some medicine to help onboard but if you know it'll be an issue no sense in not preparing. (We actually wish we had some just in case when Dan unexpectedly got motion sickness on a large cruise ship.)
Dramamine is of course one of the most popular over-the-counter drugs for nausea. Another remedy is anti-nausea wristbands. Our favorite (and the most stylish on the market) are Blisslets.
Make a Cruise Gift Basket with Miscellaneous Items for Someone Going on a Cruise
If you like to give practical gifts (which we personally enjoy giving) but don't think it's so sexy to gift someone anti-nausea pills, here's an idea: make a goody bag or gift basket for someone going on a cruise.
Include fun things like some gift cards, sunscreen and mosquito repellant wrist bands, and some hooks (mentioned below) for their stateroom. Even better if you're creating it to SURPRISE someone with a cruise!!


Useful Gifts for Your Cruise Cabin or Stateroom
Extra Hooks
Extra hooks are always helpful for your stateroom or cabin. We love s-hooks to simply hook our toiletry bags to a towel rod in the bathroom.
Or use heavy-duty magnetic hooks that can hold up to 22lbs or more depending on your needs. Be sure to notice the amount of weight the hooks can hold before ordering them.
Magnetic hooks with carabiners are also great for your cabin, as are a few extra carabiners that aren't magnetic. They come in handy!
Hooks
Outlet Converters and Multipliers
If you're on a cruise that's based in another country it's likely the outlets may be made for European plugs. That was the situation on our Emerald Cruises river cruise on the Danube River. We had plenty of converters with us though.
In addition to this, the best way to get more outlets and USB charging ports in your stateroom is by bringing your own outlet converters and adapters that multiply them. Just be careful not to overload the outlets with too many volts.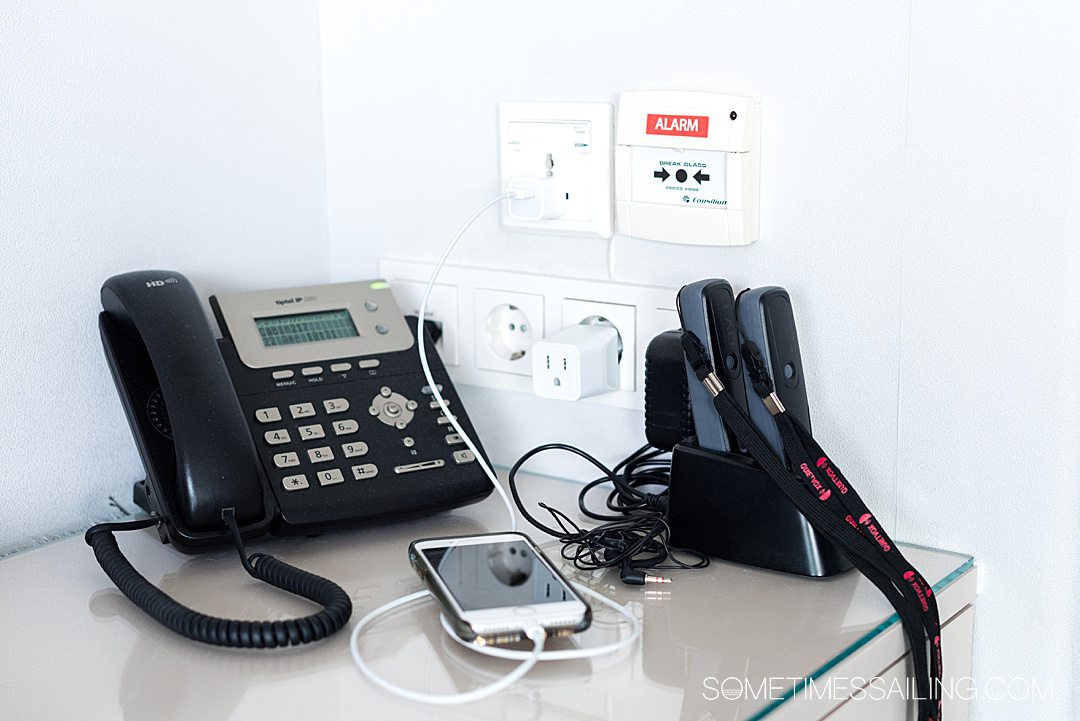 nodpod Weighted Sleep Masks
We love our nodpod weighted sleep masks so much. They're double-sided to provide two texture options of fabric (one is a little warmer than the other) and wrap all the way around your head for comfort, as opposed to the annoying elastic strings that most sleep masks have.
They completely black out any light and we love that they're weighted. It's very soothing to have it on your face when you're lying down or around your head if you are sitting upright, like on a plane.
We rave about the additional reasons we love our nodpods in a dedicated post.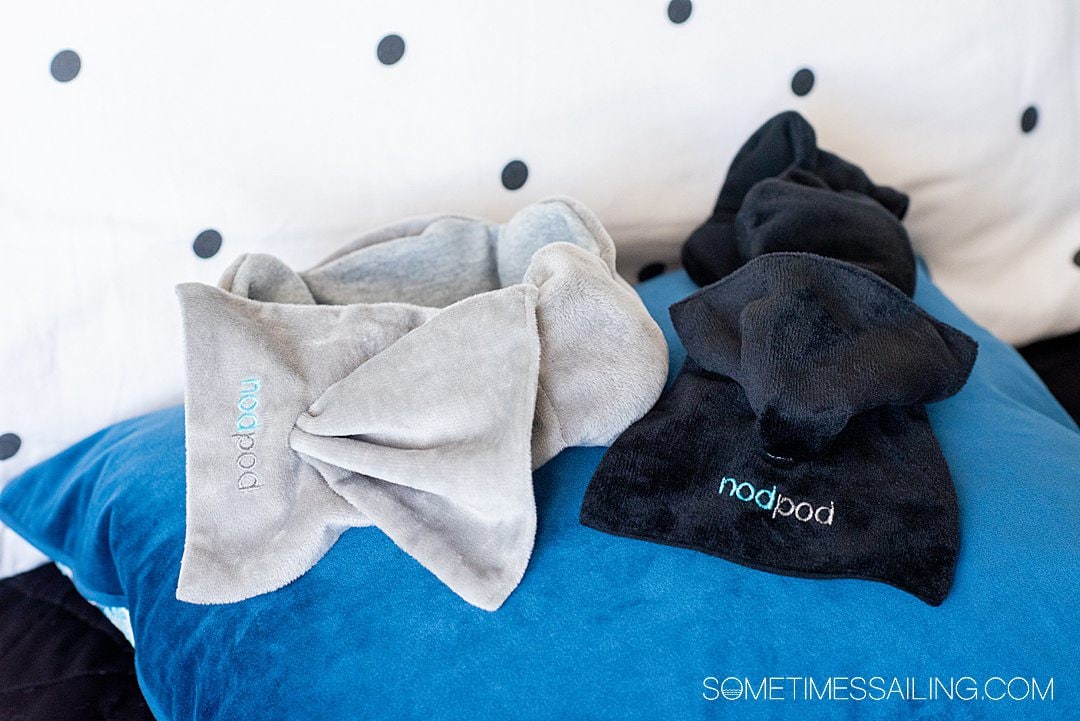 General, Practical Gifts for a Cruise Vacation
Stasher Reusable Bags
These bags are great for so many things, whether to hold your sunscreen just in case the container opens in transit and leaks in your luggage, or to store charging chords. Ditch single-use plastic and give this gift idea to the cruise lovers in your life.
Not only will it save them from ever buying a Ziploc bag again, but it'll also help save the world's oceans, which are greatly affected by single-use plastic. And shouldn't all cruise lovers be friends with the environment, especially the ocean?
The company contributes 1% of its proceeds to charities helping to save the planet.
Stasher bags are also great if you need to put a wet bathing suit in a bag just before you get off a cruise ship, for those who want to squeeze in one last trip to the pool or hot tub before disembarking.
A Reusable Water Bottle
As you can probably already guess, we like to use reusable products whenever possible in an effort to help save the earth.
We use MiiR bottles at home. (They are AMAZING and keep your contents at the temperature you added it to the bottle for HOURS and HOURS. If your water is ice cold when you add it, it will be ice cold hours later, even if it's in direct sunlight.)
If you want a non-insulated, more lightweight bottle, we highly recommend what we travel with: a memobottle. Its flat shape allows it to fit so nicely in – or on the side of – a bag or backpack.
When you think about it, a round water bottle takes up so much space. This flat water bottle is genius…and has a cause. According to their website, "Every memobottle™ sold provides one person with two months' access to clean water." That's a company whose mission we can get behind. (And we have.)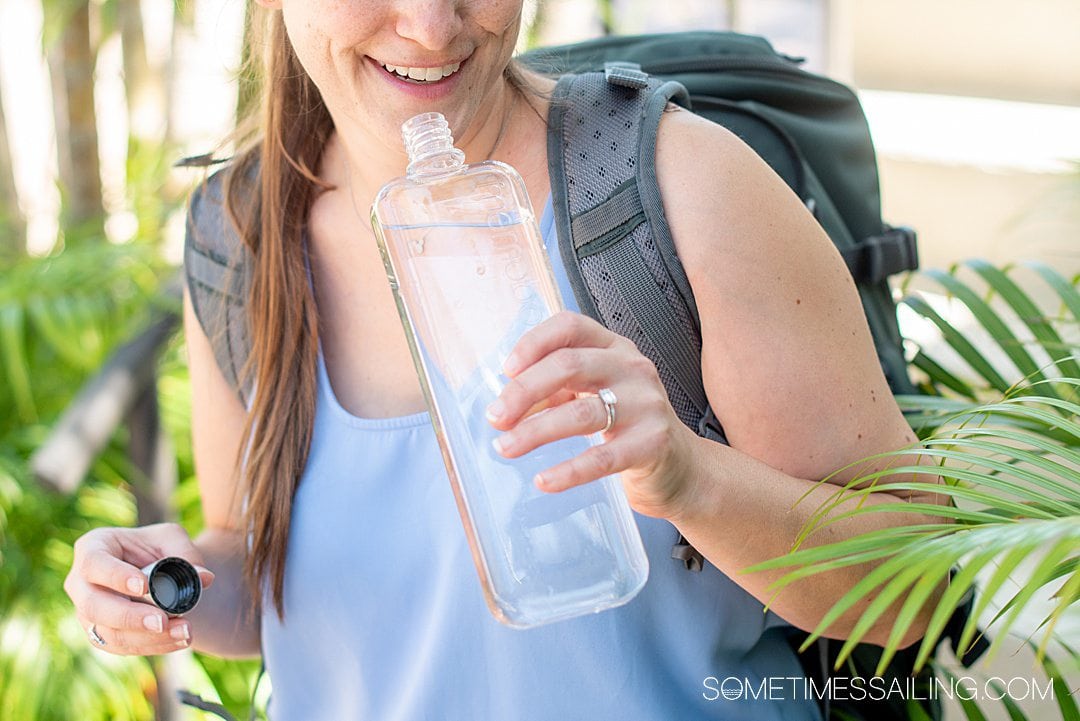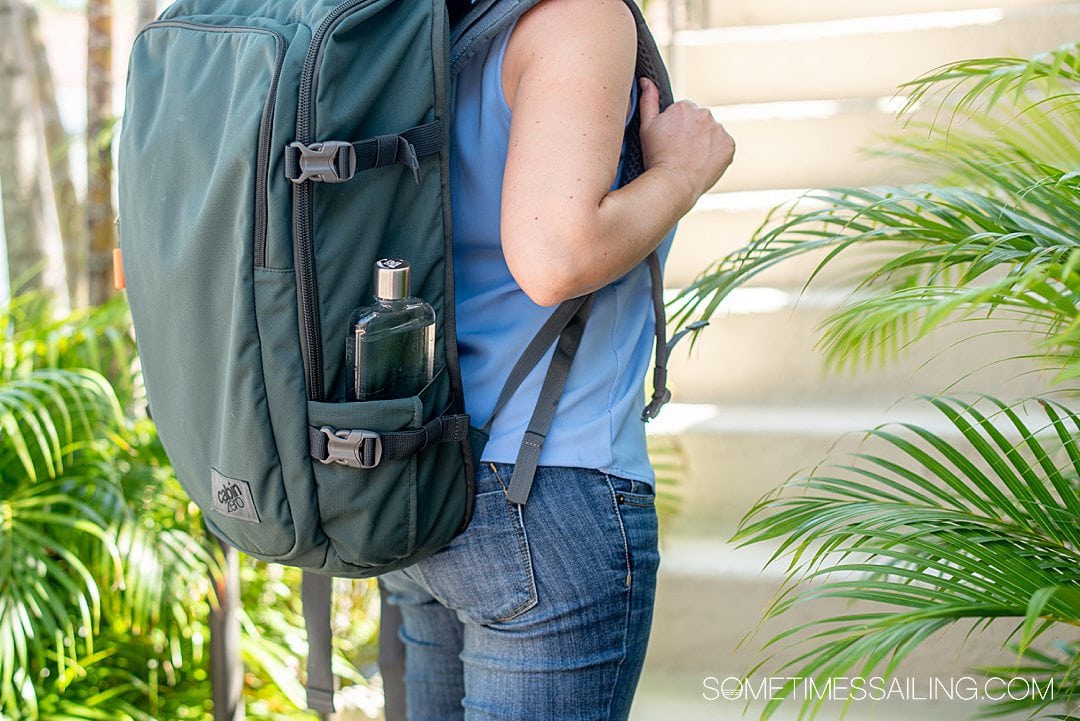 The A6 memobottle fits nicely in your pocket, which is great for Dan because he never carries a bag when we travel around port cities. What other bottle fits in your pocket so nicely like this!? These water bottles truly rock.
You can easily fill up your water bottle in the dining area of a ship, or wherever a cruise ship's drink station is, and carry it around with you. Many ships are adding water bottle filling stations to fill reusable bottles too, including cruise lines like Star Clippers, Kontiki, Emerald, and Viking to name a few. Or you can fill it up in a port city, where it's safe to drink the water.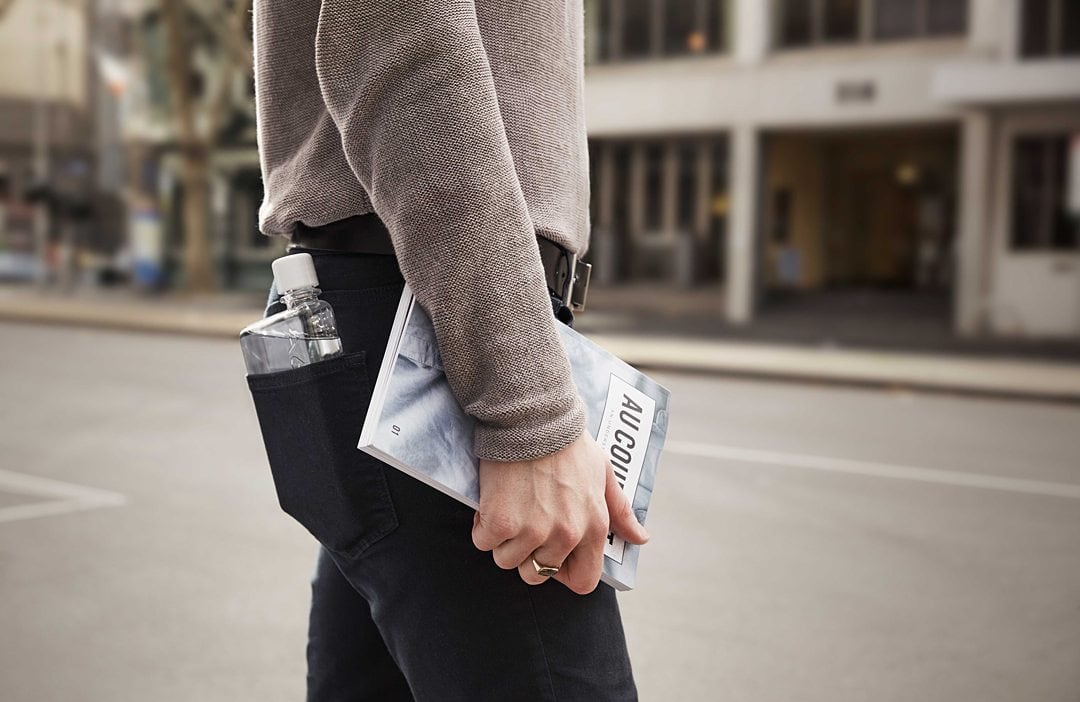 CabinZero Backpacks
The great backpacks we put our memobottle on the side of, is our Cabin Zero backpacks.
Once we got these life-changing backpacks we stopped using any other luggage. We can pack for a two-week trip with these, which is hard to believe looking at it but true. (As we said, we pack light.) Even if you are a heavy packer and take another bag, this lightweight backpack is an awesome option to be one of your pieces of luggage.
They really hold a lot, fit in any overhead compartment on any plane we've ever been on (even small commuter planes), and even under seats too. The lack of a hard shell is part of what makes it possible for our Cabin Zero backpacks to fit in small spaces.
We fully reviewed our bags for your convenience and would love for you to check them out. They're great cruise gift ideas for cruise lovers and people who love to travel. They can also simply be stashed away in a stateroom drawer rather than take up precious space under your bed or in a closet on a cruise.
If our model of Cabin Zero bags are too big, and you're looking for a daypack or shoulder bag, they have those too.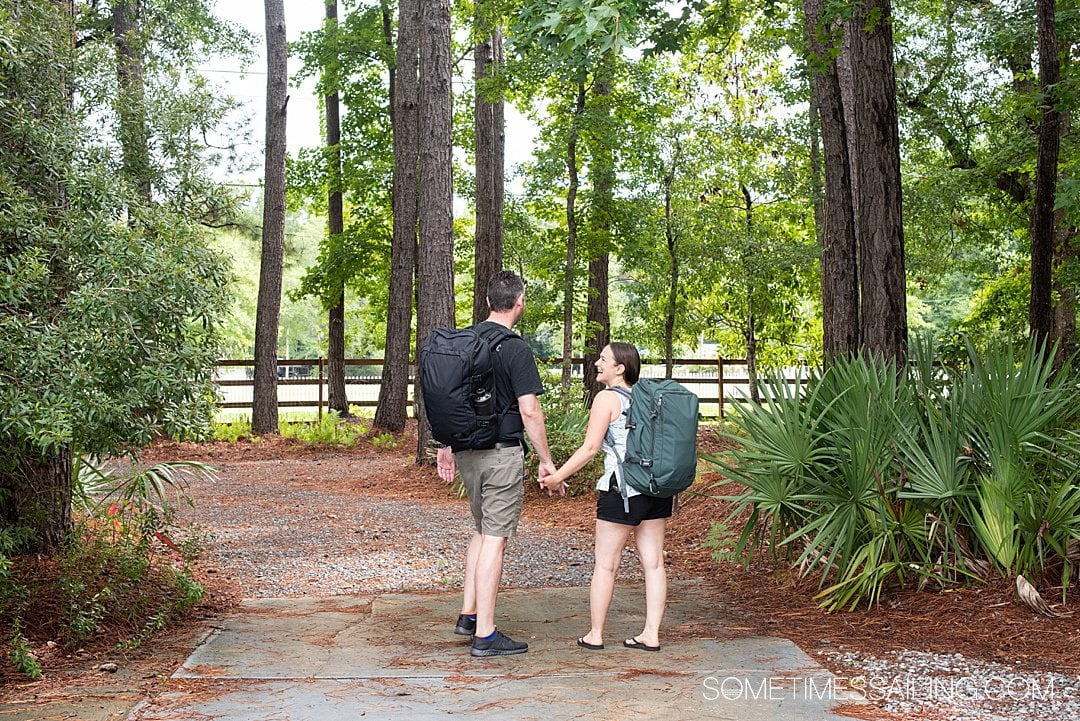 Small Tenikle Photography Tripod
We love the play-on-an-ocean dweller this little Tenikle mimics: an octopus, of course!
A Tenikle is essentially a tripod for your phone or a small camera…but much more. (Another way to put it is that it's a grip suction holder for handheld electronics, as its patent describes.) And not only can you get an attachment for it that allows you to affix your phone to the top of the device, like in the photo below…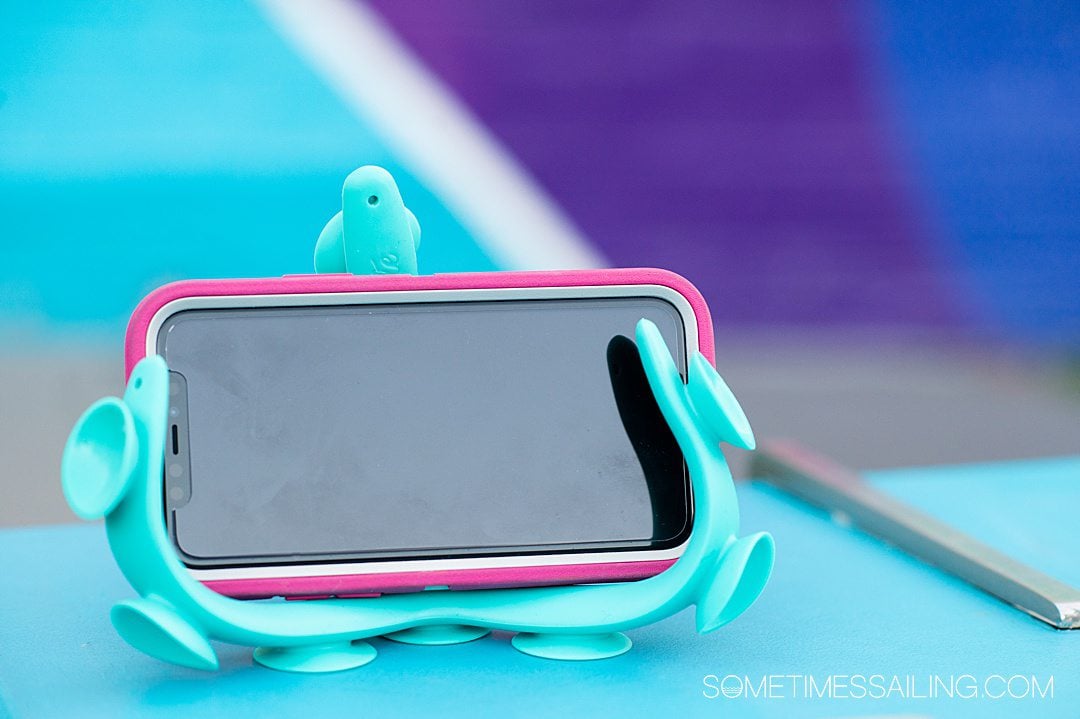 …but you can also stick a suction cup from one of the tentacles directly on your phone. This is great if you want to stick the other two "arms" of the Tenikle to a window, or wrap them around the pipe on a fence, for example, or even to your car window, while the third arm props up your phone for a selfie.
It's such a smart product, which we're happy to say utilizes silicone as its material, not plastic. Silicone is much better for the environment.
The company is run by a team in California, Hans Dose and his wife, Lydia, which has grown so much during the past five years since Hans originally put his idea out on Kickstarter. (And they've since appeared on Shark Tank and blew up!)
When you buy from Tenikle, you're also supporting a small business.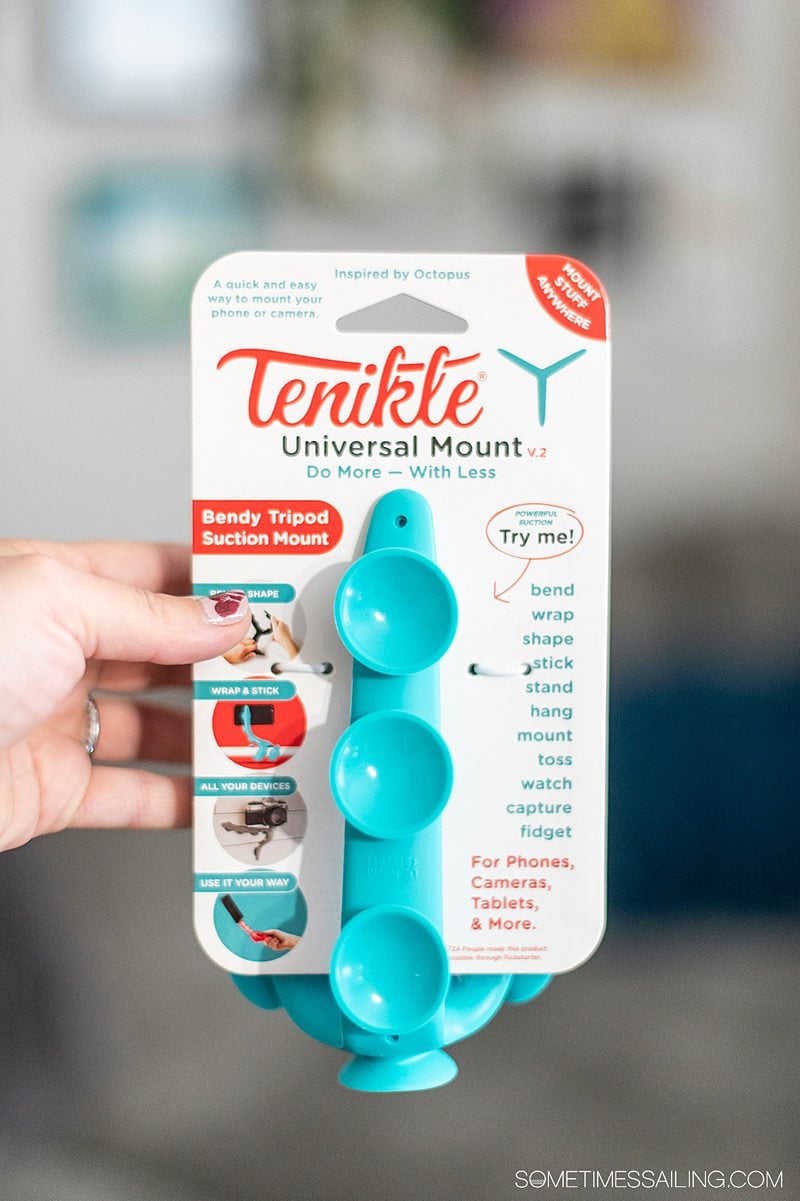 Waterproofing for Your Phone
If you insist on taking a phone on a water excursion because you want to take photos or need to be reachable by phone or work or family, you will need something to safely pack it in. (We completely understand – we're the same way.)
There are several waterproofing bags that are great for protecting your phone from getting wet if you're going kayaking, on a fishing trip (just in case!), or maybe even exploring waterfalls during a cruise excursion. Or heck, even if you're at the pool, drinking lots of delicious cocktails and get a little too hazy to be particularly extra-careful about your phone getting wet.
We do not recommend these bags for total immersion (like for snorkeling or scuba diving). For that, we recommend investing in a GoPro.
**Be sure you're purchasing the correct size waterproofing bag for your phone model.***
GoPro Waterproof Camera
It's one thing to take your iPhone or mobile device with you kayaking in a waterproof bag. But another to dive into the sea, fully immersed in the water to snorkel or scuba dive. The thought of an iPhone in the ocean gives us anxiety!
That's why we invested in a GoPro. You can take a GoPro in the ocean and stay underwater for a while with a GoPro. (Longer than you can hold your breath, that's for sure!)
We are glad we have one to take with us on cruises. They're fun onboard – for places like the pool or hot tubs – and are definitely handy for excursions.
Skyroam Pocket Wifi Hotspot
We use our Skyroam pocket wifi hotspot device to stay connected online for every vacation we take in Europe, especially. Including river cruises, of course.
We need to stay connected in other countries and on road trips (even within the United States) because we own our own businesses. Maybe you have children at home you need to be able to reach at any time.
Here's why this is one of the best gift ideas for cruise lovers who also need to be connected while they travel (like us, to manage our small businesses on the go): you'll be connected in ports and you'll also be connected to wifi wherever you start and end the cruise.
Some people get a SIM card for the country they'll be in if they're doing a land-only trip. But we are transparent about why we don't do that.
Plus, you're often in multiple countries on cruises and SIM cards often aren't compatible with all of them. But a wifi hotspot will be ready to use wherever there is cell service because that's how it connects. And we love our Skyroam for that purpose.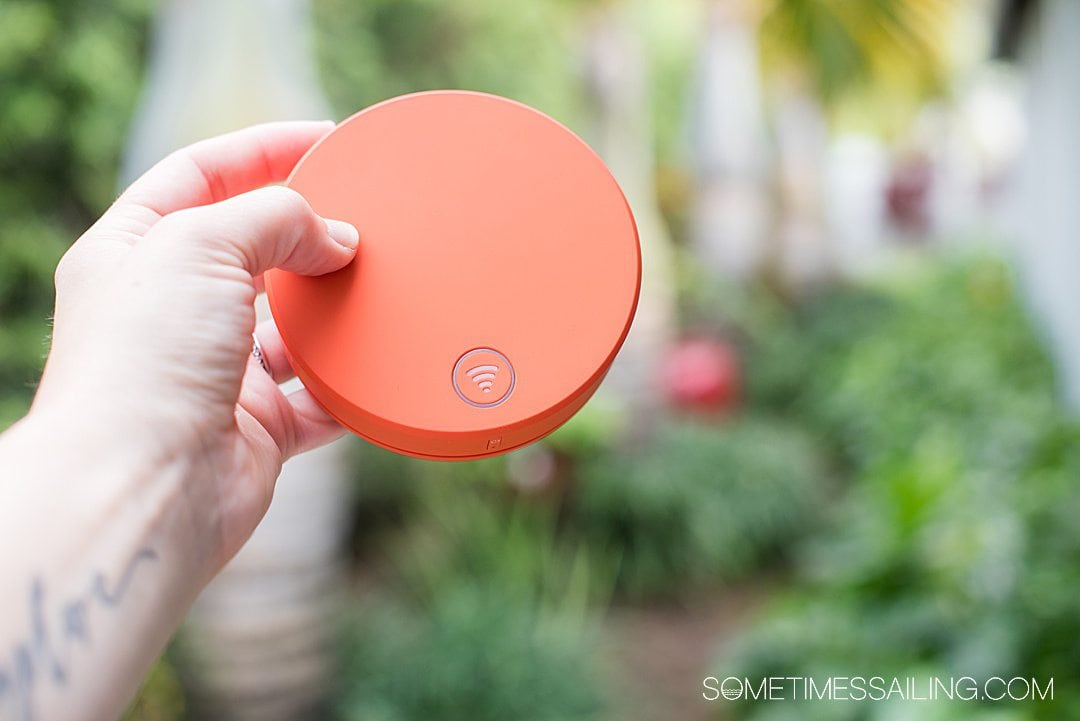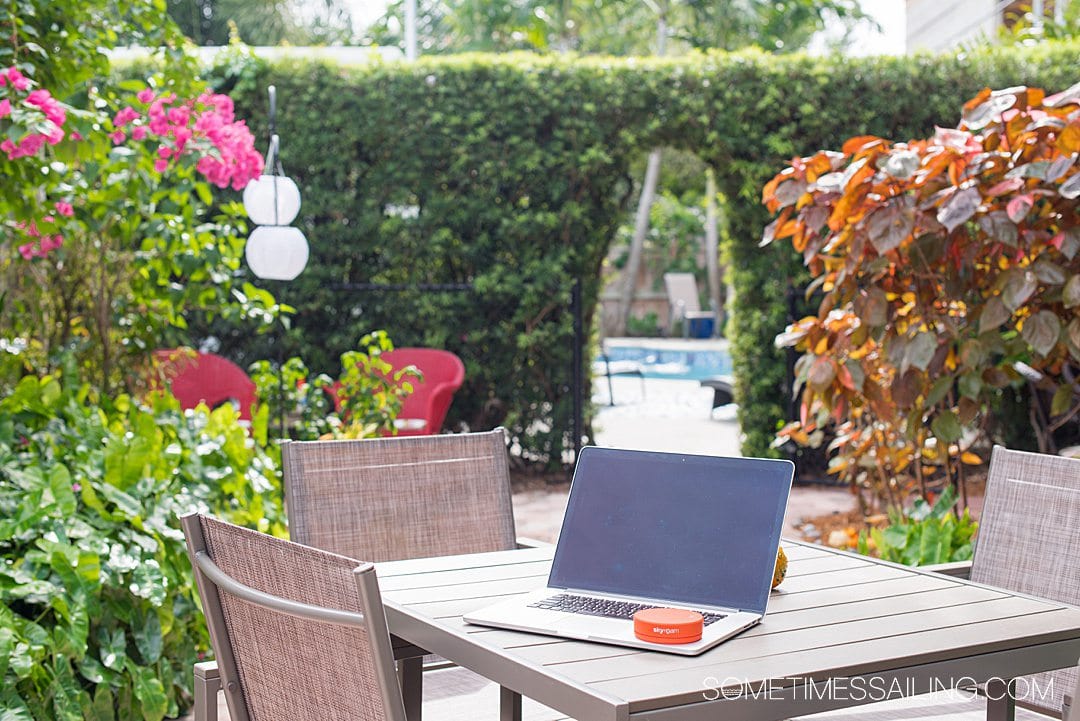 Also check out: