American Cruise Lines: Tennessee River Cruise Review from Chattanooga to Nashville
Here, we offer our Tennessee River Cruise Review with American Cruise Lines on American Serenade cruise ship. From scenery to entertainment, ports, and food, you'll get a feel for whether or not you'd enjoy this interesting cruise itinerary in the south of the USA.
Disclosure: We thank American Cruise Lines for generously hosting us. We also may make a small commission from affiliate links in this post (at no cost to you) but all opinions are ours and we bring you genuine content with real facts, photos, thoughts and recommendations. Always. As Amazon Associates, we earn from qualifying purchases.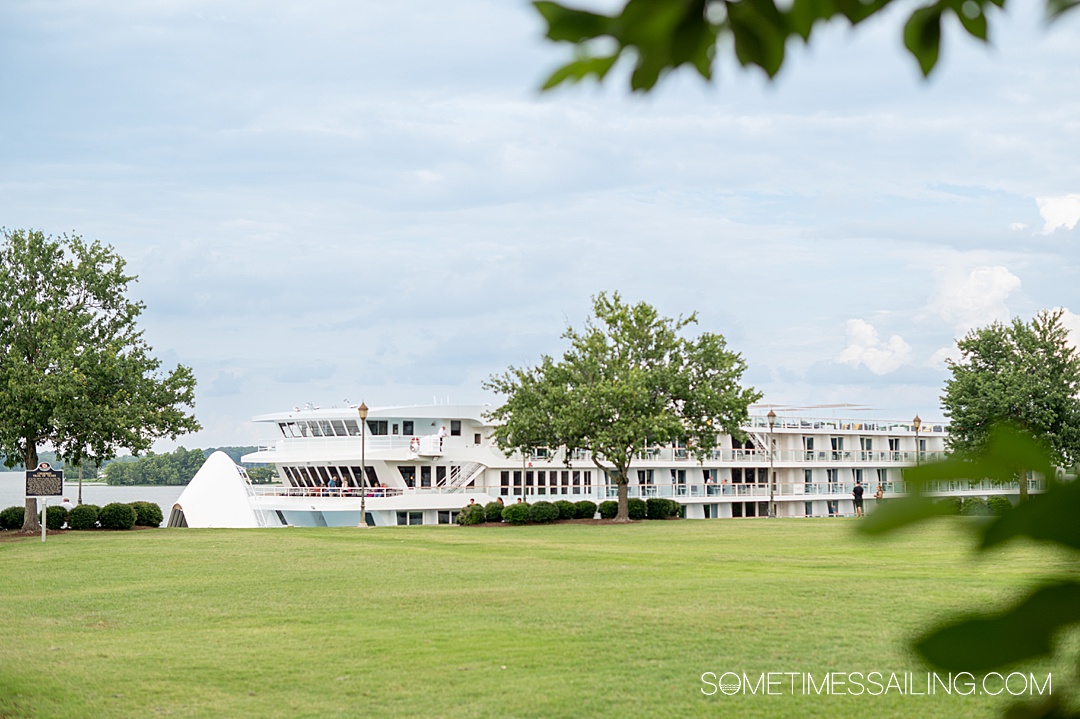 🕐 Short on time? No Problem!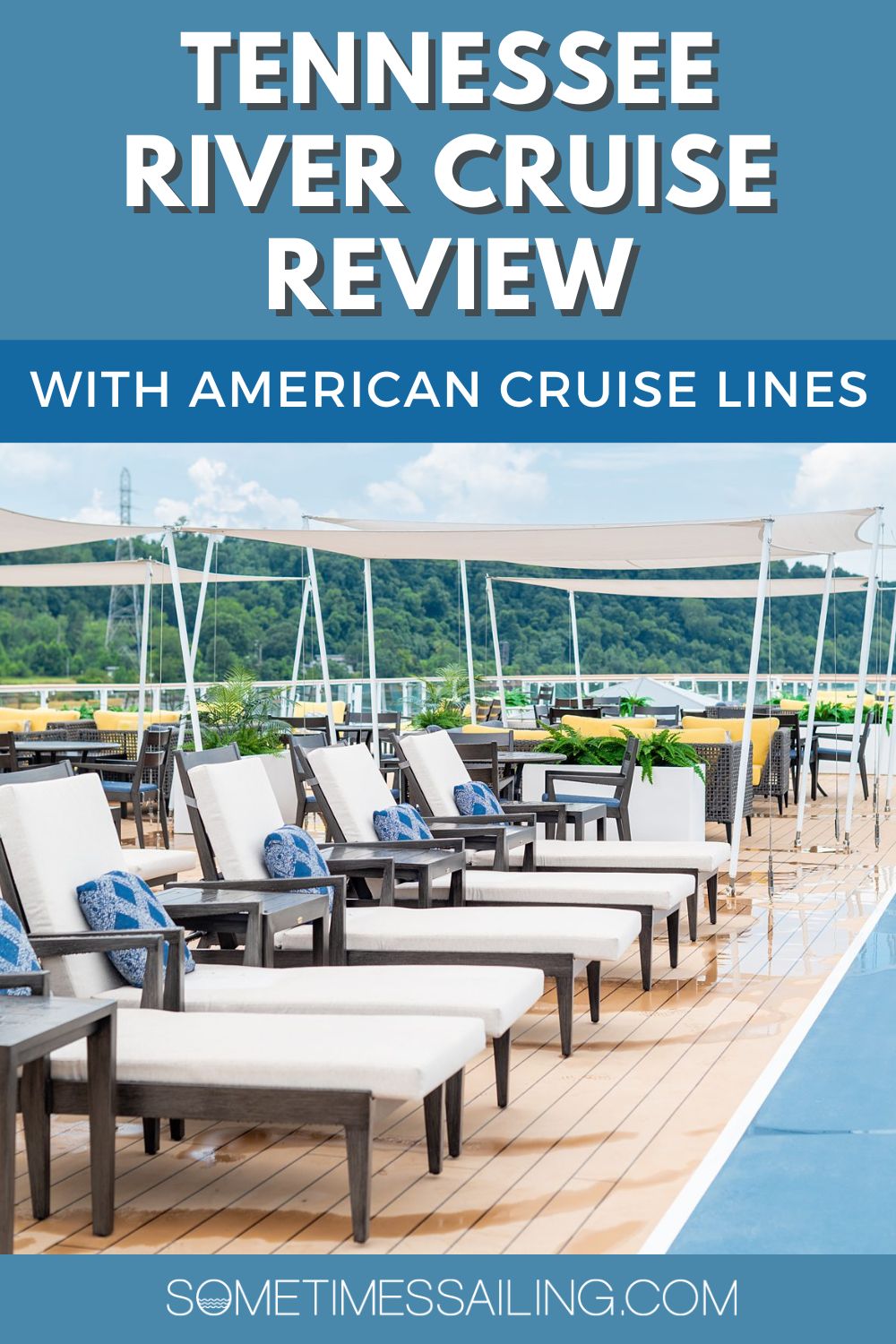 Tennessee River Cruise OVERVIEW
As avid river cruisers, we were looking forward to our American Cruise Lines Tennessee River cruise for months. It was a well-organized and scenic trip with a wonderful balance of time in ports and time sailing. We saw parts of America we likely never would have otherwise visited and joyfully interacted with the American Serenade river cruise ship crew and fellow guests.
Scenery on the Tennessee River
The scenery of the river cruise was a true highlight. We were in awe of the river's beauty, passing beautiful landscapes around every bend and mile of the journey. We passed riverfront homes, boaters enjoying their summer days, and farms like cornfields. At one point, we passed what looked like a half-mile of a strip of sunflowers. Green trees were everywhere.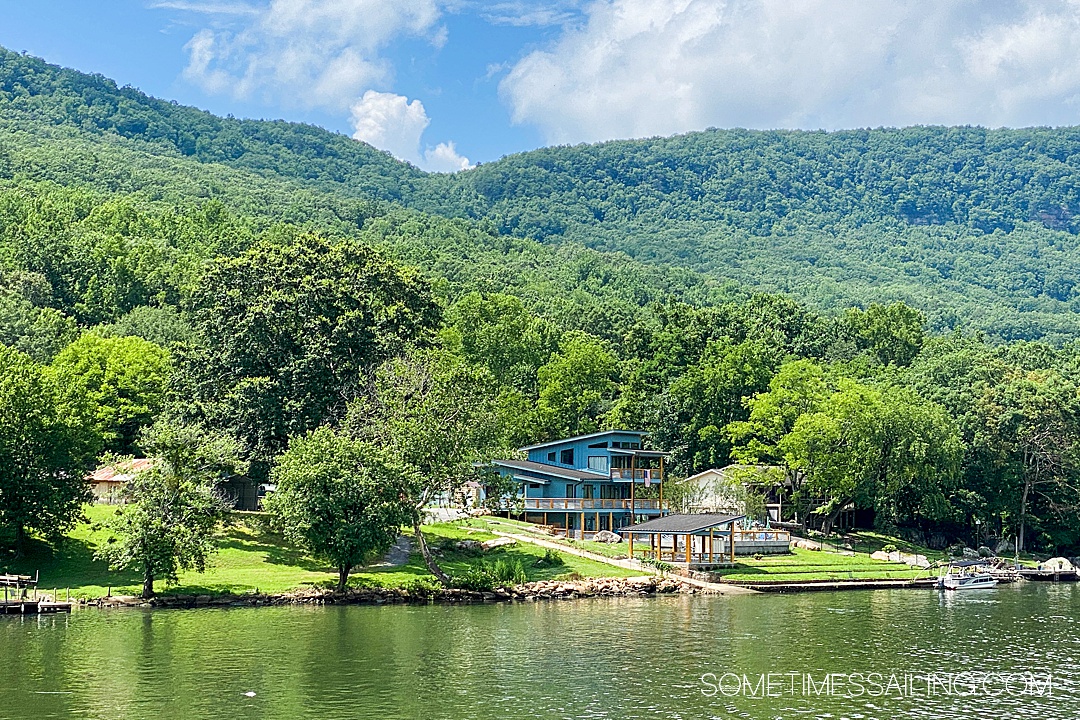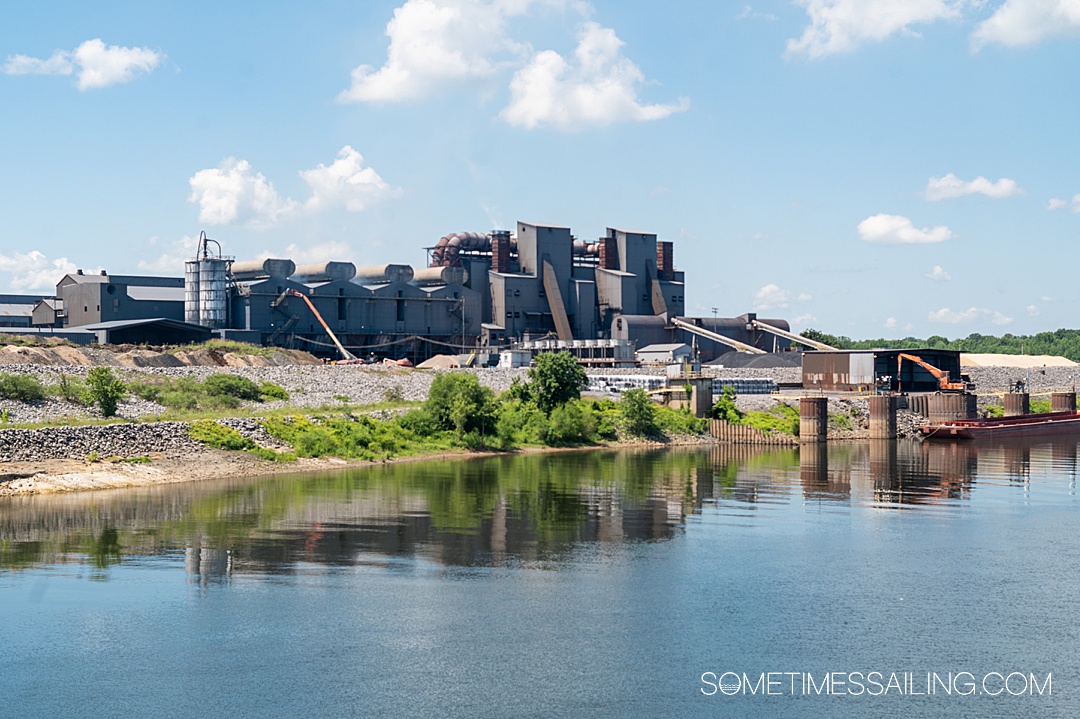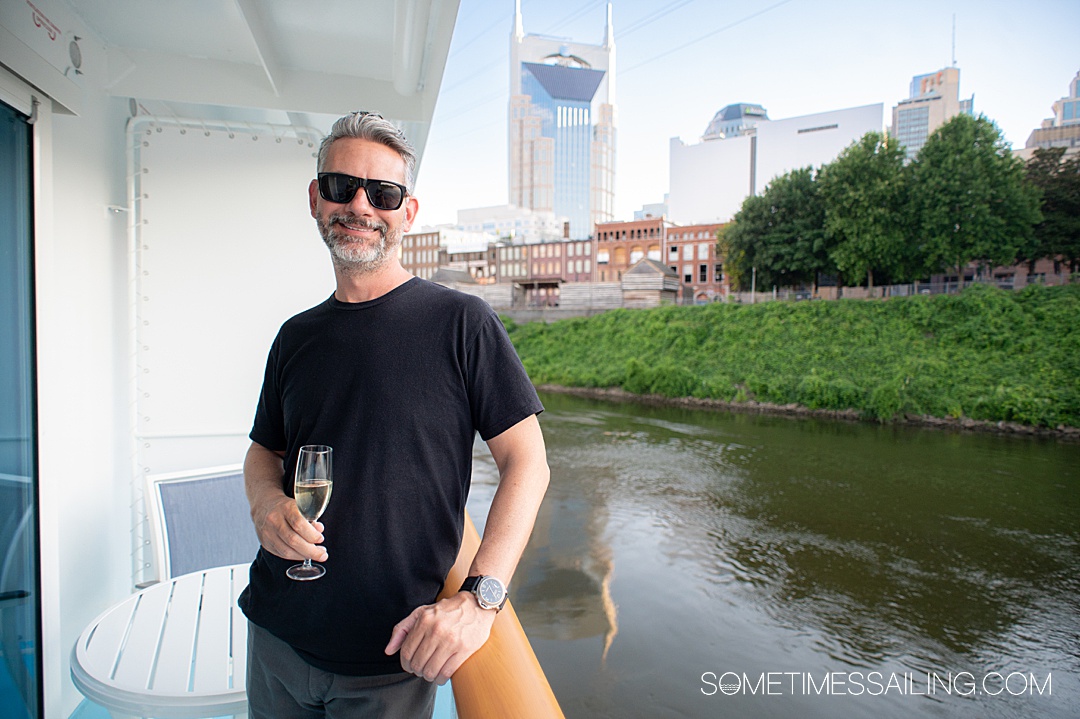 American Serenade River Cruise Design, Food and Drinks
The ship, American Serenade, was impeccably clean. The food was good – there were some hits and some misses. Nothing quite blew us away, but there were certainly meals we enjoyed, and we were never hungry, with multiple snacking and eating options throughout the day. The drinks were good, too, and the crew was very nice.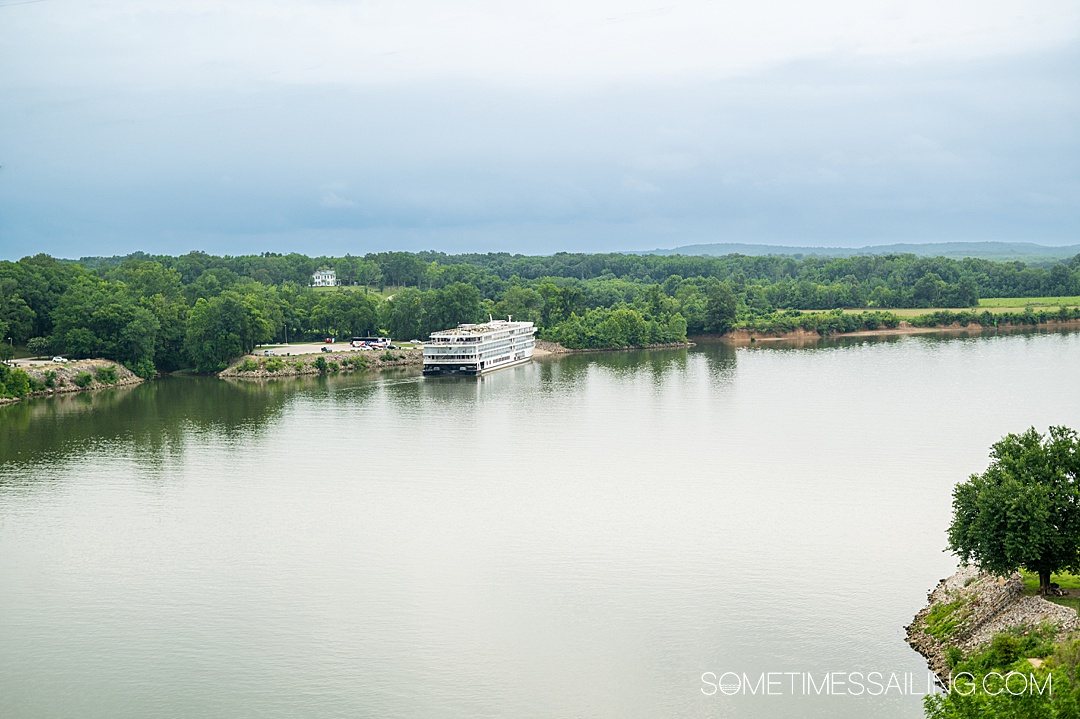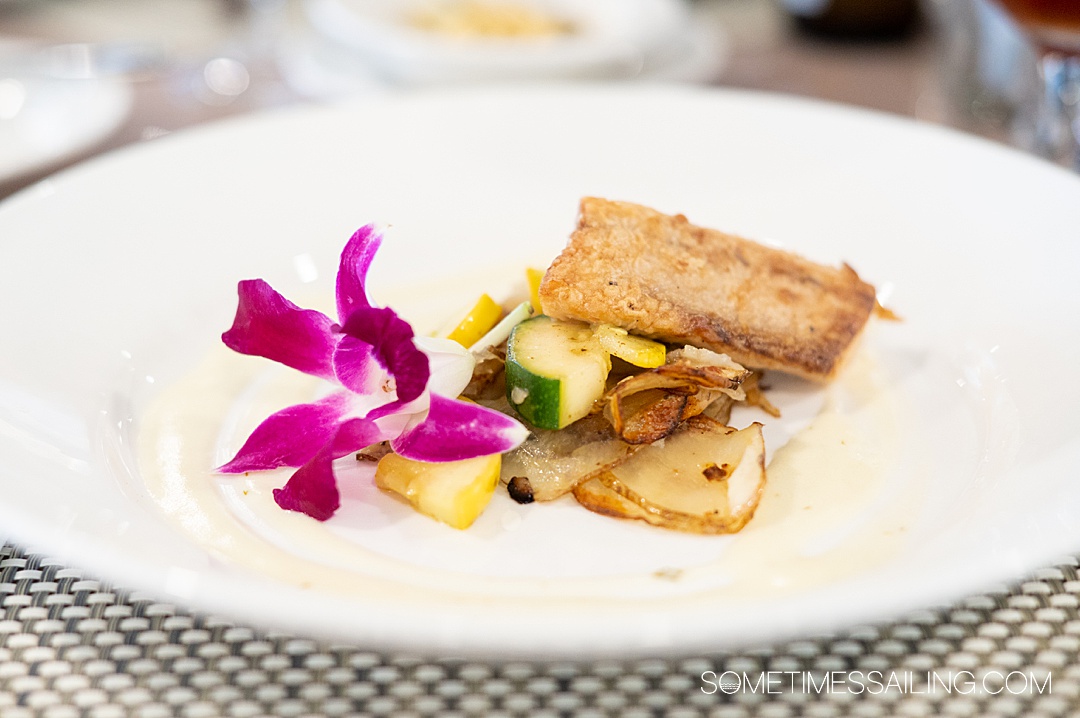 The public spaces were absolutely beautiful. We especially loved the small lounges on Decks 2, 3, and 4 and the Sky Lounge on Deck 4. We also loved our room and spacious balcony. We sat on the balcony many times to enjoy the Tennessee River cruise scenery.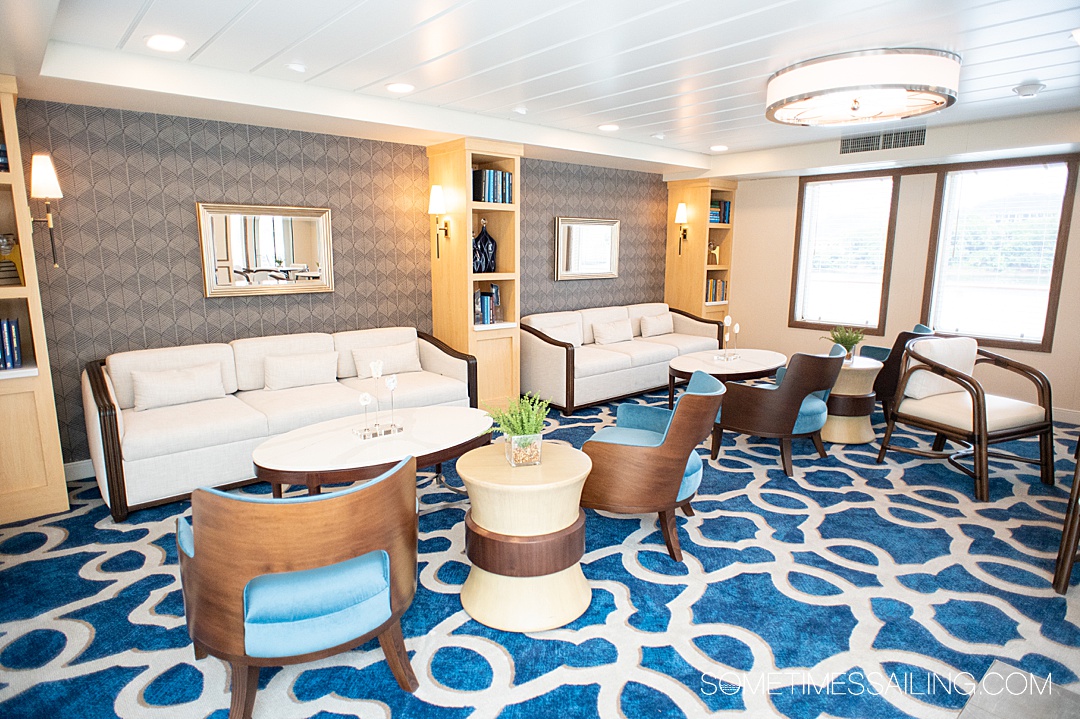 Guests Onboard
The guests on our Tennessee River cruise were all Americans, mostly people who lived primarily in the South, like in Tennessee, Florida, or North Carolina. There were some outliers, with some guests from Ohio and a handful from the tri-state area of New Jersey and New York.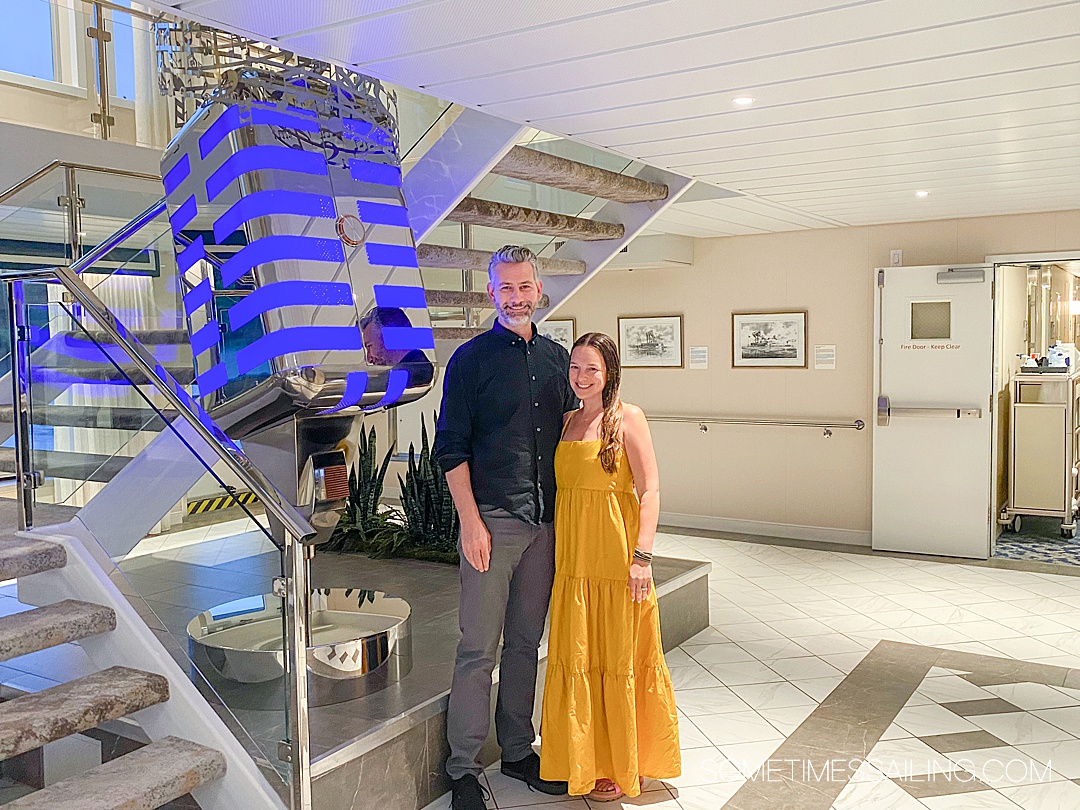 A few couples were in their 40s and 50s, like us, with the majority of guests between 60 to 80 years old. During our cruise, there were about 110 guests, whereas the guest capacity of the ship is around 180 passengers. This can obviously fluctuate with every sailing.
Onboard Entertainment
Onboard entertainment was a trio of singers that American Cruise Lines had performed for three nights, along with three bands they brought onboard, who were wonderful. There isn't much to do at night on the ship, which is typical of river cruises no matter where they sail. That's a-okay with us! We like to have a good dinner, drinks, and a show of some sort before calling it a night anyway.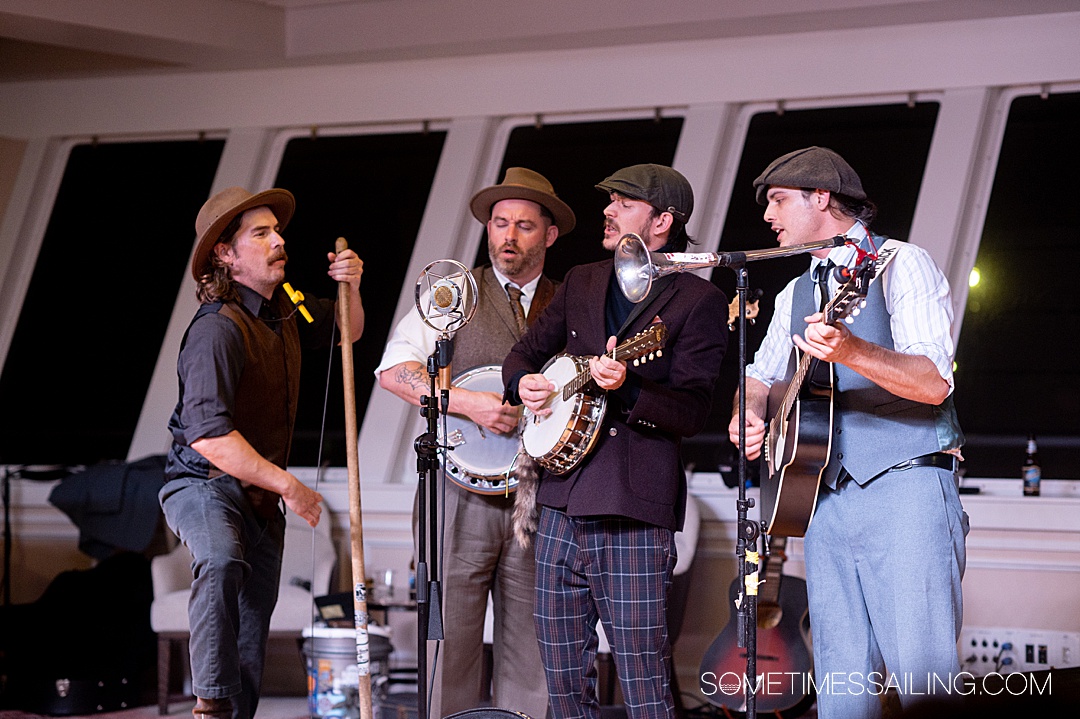 Excursions During Our Tennessee River Cruise
The ports and excursions were enjoyable and well-organized. The coach buses we traveled on were brand new, and the drivers were very nice.
Some excursions are included in each port, and some are an additional charge. You can sign up for the excursions online between 30-60 days before your cruise. Or, if you want to wait, you can sign up onboard as long as there is still room for that particular excursion.
We really liked that the cruise ports were nice and had things to do but they weren't so incredibly jam-packed with tons of things to do (aside from Nashville and Chattanooga) that we felt torn between enjoying the river cruise ship or being off the ship to explore the port.
The balance between the two was really nice, even leaning more towards being on the ship more. This is part of why you sign up for a river cruise, isn't it?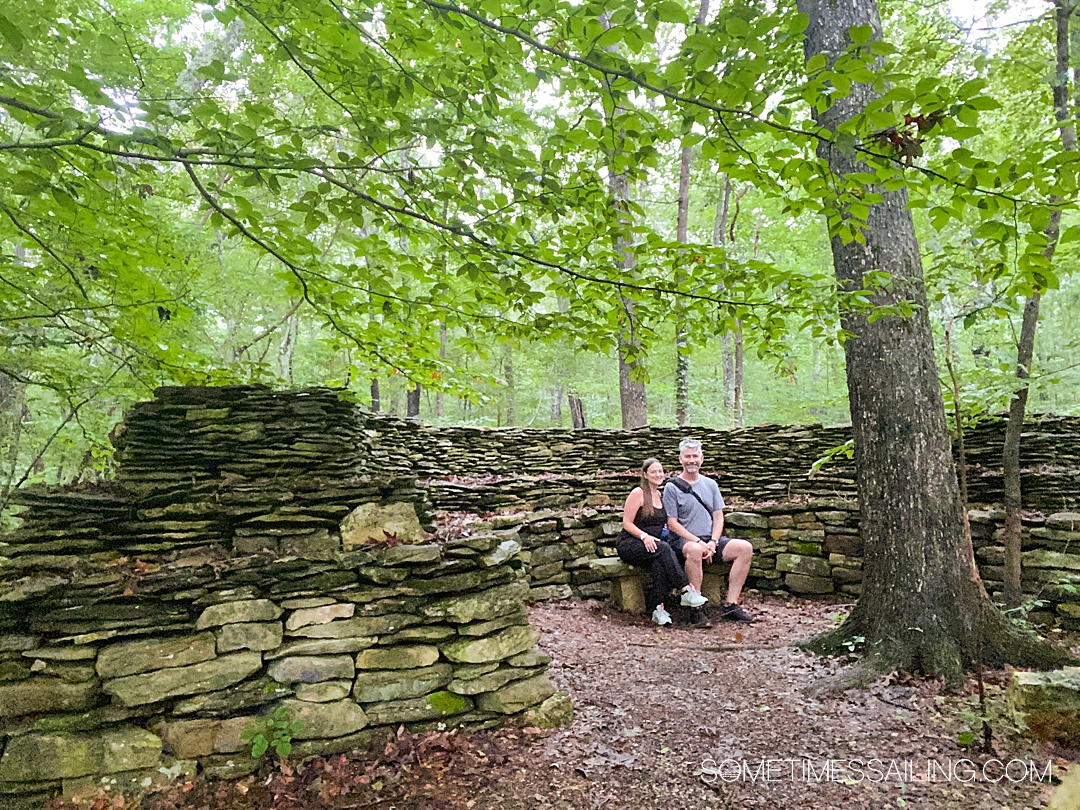 Transfers Before and After the Cruise
Though we didn't take the transfers offered to or from the airport at the beginning and end of the cruise, we did the pre-cruise hotel stay in Chattanooga. Embarkation day transfers to the ship were seamless and well organized.
Day by Day on a Tennessee River Cruise
We embarked on American Serenade river cruise ship for the journey from Chattanooga to Nashville, Tennessee itinerary. The itinerary is open-jaw, which is cruise-speak for a journey that starts in one city and ends in another, as opposed to a closed-jaw itinerary which starts and ends in the same port.
If you're looking into a Tennessee River Cruise, you'll either do the same journey we did or the opposite from Nashville to Chattanooga, depending on the dates. 
Something that is important to note is that in some cities, you have limited time in port, so you can only do one excursion, like in Decatur, Alabama. However, in other cities, it's possible to do multiple excursions because the ship is docked all day, and different excursions are offered at different times in the morning and afternoon. This was the case in Florence, Alabama, and in Nashville.
Day 1: Embarkation in Chattanooga
Chattanooga is a lovely place to board a river cruise. The cruise ship docks on the Tennessee River on the other side of the Tennessee Aquarium. When you approach the ship and see it docked for the first time, it's such a picturesque scene!
We opted for the pre-cruise hotel overnight the day before the cruise began.
The hotel, which was a Double Tree, was in a great location and easy to find. The rooms were clean and comfy, and the buses to the ship the next day were well organized. The walk from the hotel to the riverfront is only around 10 minutes, but with people's luggage, walkers, and the Tennessee heat, nearly everyone opted to climb onboard for the short ride.
Day 2: Decatur, Alabama
We opted for the Space Exploration and U.S. Space and Rocket Center excursion in Decatur. Some others on the cruise opted for the Mooresville: Historical Beauty & Botanicals excursion, while others took advantage of the included Decatur Local Loop, exploring the city.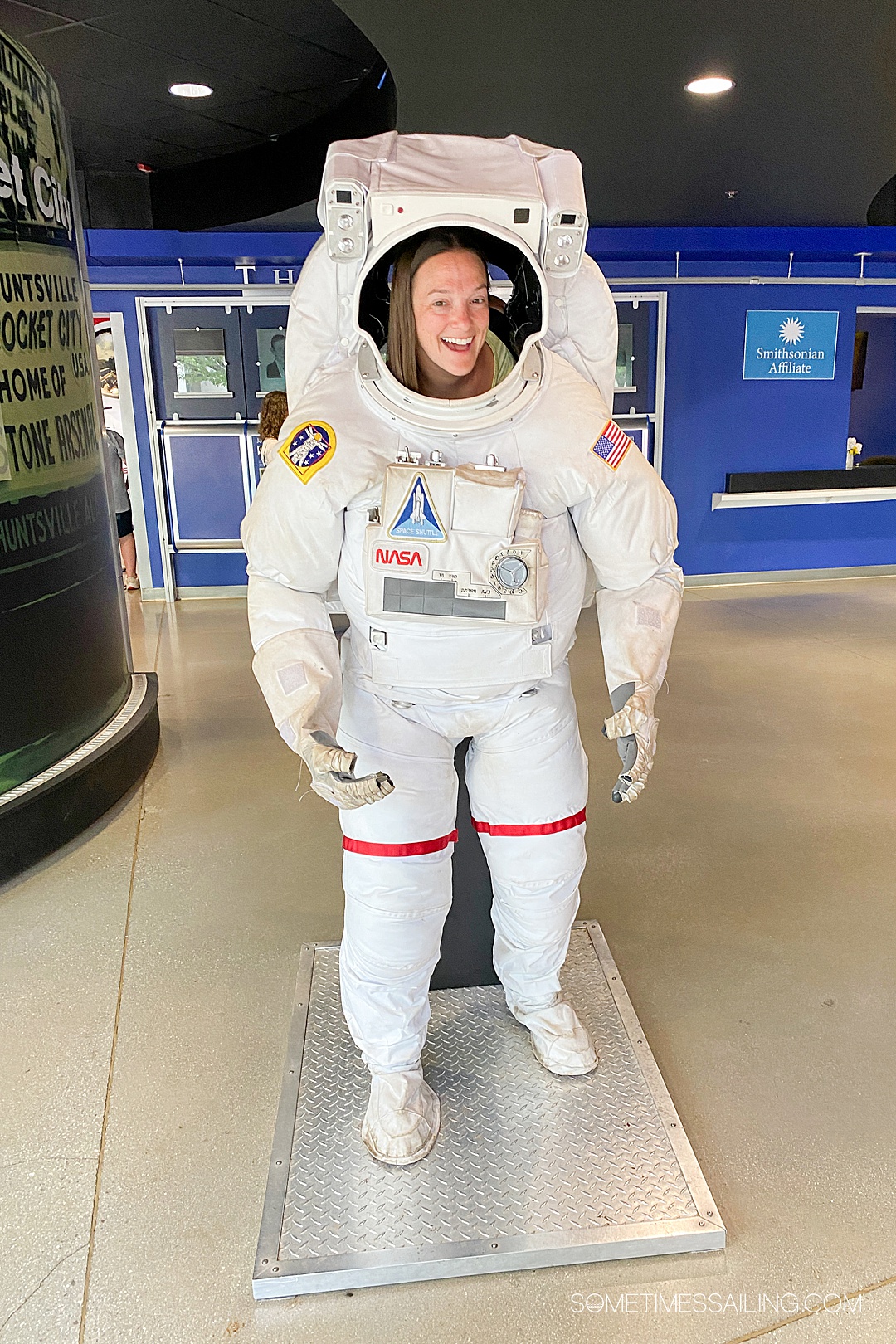 We spent a few hours on the ship in the morning and then headed out to the U.S. Space & Rocket Center in Huntsville, Alabama. It was a thirty-minute ride or so from where the cruise ship was docked.
If you're efficient and don't ride any of the simulators (which are an additional cost) one and a half hours is plenty of time to see the entire complex and we had more than two hours. If you've been to the Cape Canaveral area, part of Florida's Space Coast, and have visited Kennedy Space Center, you may not be that impressed with this space destination.
However, we love space and enjoyed learning about some new things that we didn't previously know. We learned about Project Paperclip, which brought German and Austrian engineers and scientists to America after WWII. Wernher von Bruan was one such person – we won't spoil it for anyone visiting, but he was a very interesting man who ended up having a significant and lasting impact on the NASA space program and race to the moon.
We also enjoyed seeing the Saturn V model there, which is a highlight of the Huntsville U.S. Space and Rocket Center.
If you visit, make sure you ask about the Planetarium show times as soon as you arrive. We wish we had known that the last show of the day was at 3:00 pm when we arrived, but by the time we checked out the schedule, it was past that time, and we missed it! It's an additional cost, but we gladly would have paid it to be able to see a planetarium show.
Day 3: Florence, Alabama
There were several excursions on the day we docked in Florence, Alabama. The port was truly lovely, with manicured gardens and great riverfront views from the park just steps off the boat. The hydrangeas were in bloom and were a sight to see!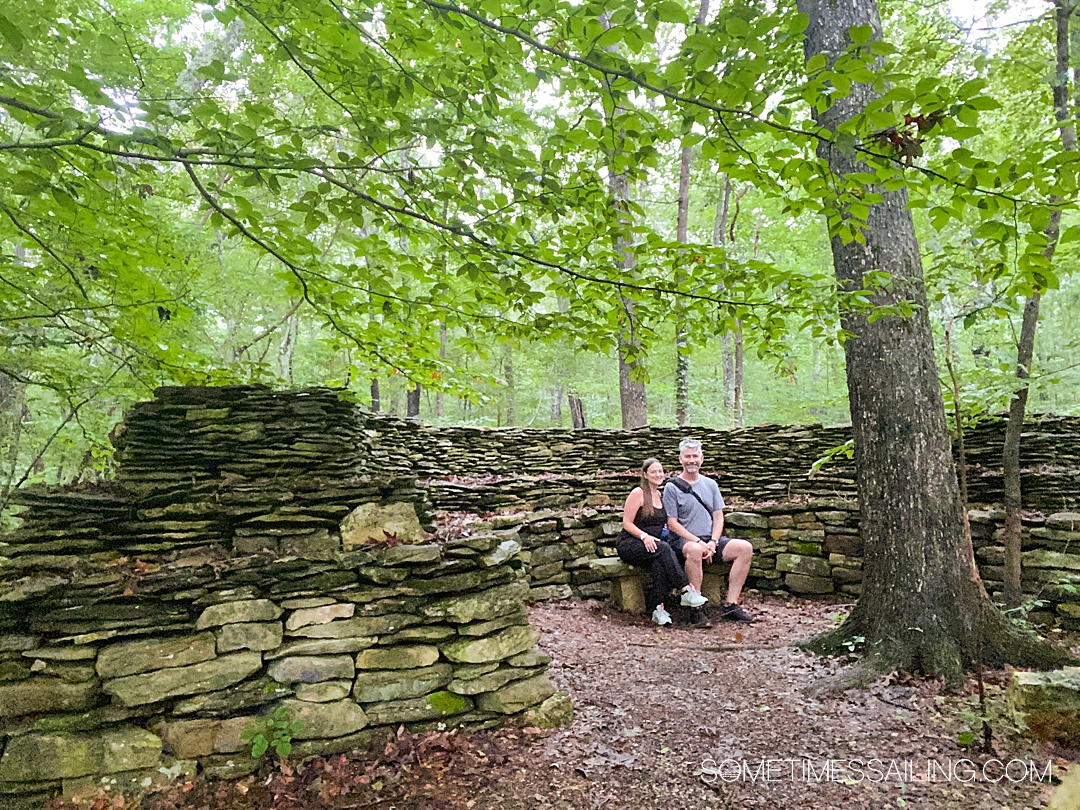 We opted for The Singing River: A Native American History excursion on this day. Native American history is such an important part of the story of the United States, and we were glad to see this option.
The excursion departed in the afternoon, which gave us the opportunity to enjoy the ship in the morning. Others opted for the Florence Local Loop, which was complimentary, while others paid for the 18 Holes at Robert Trent Jones at The Shoals golf course excursion. Another excursion called The Shoals and Roots of Rhythm left at 8:15 am and explained some of the music history of the area.
The other option for the evening was a Sunset 360 – Dessert, Cocktails & Views excursion. We could not sign up for it because it was already at capacity. However, we did hear from multiple people on the cruise that it was disappointing for a few reasons, namely that the desserts were not up to par with expectations and that the sunset is truly weather dependent. Unfortunately, the day we were in town, it was overcast and rainy, and the guests who signed up for the excursion couldn't enjoy a picturesque sunset because of that.
The Singing River: A Native American History
If you like nature and Native American history, you'll enjoy this excursion. It's a little over two hours total, with the two locations between 20-30 minutes from the ship. The two stops were the Wichahpi Commemorative Stone Wall (also called "Tom's Wall," or "Te-Lah-Nay's Wall") and the Florence Indian Mound and Museum.
Tom has passed on, but his son shared why the wall, which took several decades to build, was constructed to honor his great-great-grandmother, who was a medicine woman and has an incredible story involving a five-year journey from Oklahoma to Tennessee, on foot to find her way back home.
Chairs were set up in between sections of the wall and the prayer circle for the visiting cruise guests. We sat amongst the trees and stones as Tom's son explained his family history and about the stones that comprised the wall, which is the largest unmortared wall in the United States. The setting was lovely, and it was easy to see why it is special.
Afterward, we visited the Florence Indian Mound and Museum, where we learned more about the local Native American history, followed by a walk through the small but mighty museum there. We opted to climb the stairs to see the top of the sacred mound, but most guests did not because of the climb.
Regardless, the museum was a valuable experience. It was a great place to learn about the area's Native Americans; the historically significant mounds in the area were mentioned several times in additional locations during cruise excursions.
Day 4: Savannah, Tennessee
We had never heard of Savannah, Tennessee, until this cruise. But we discovered that it's nearby the famous Civil War battlefields of Corinth and Shiloh.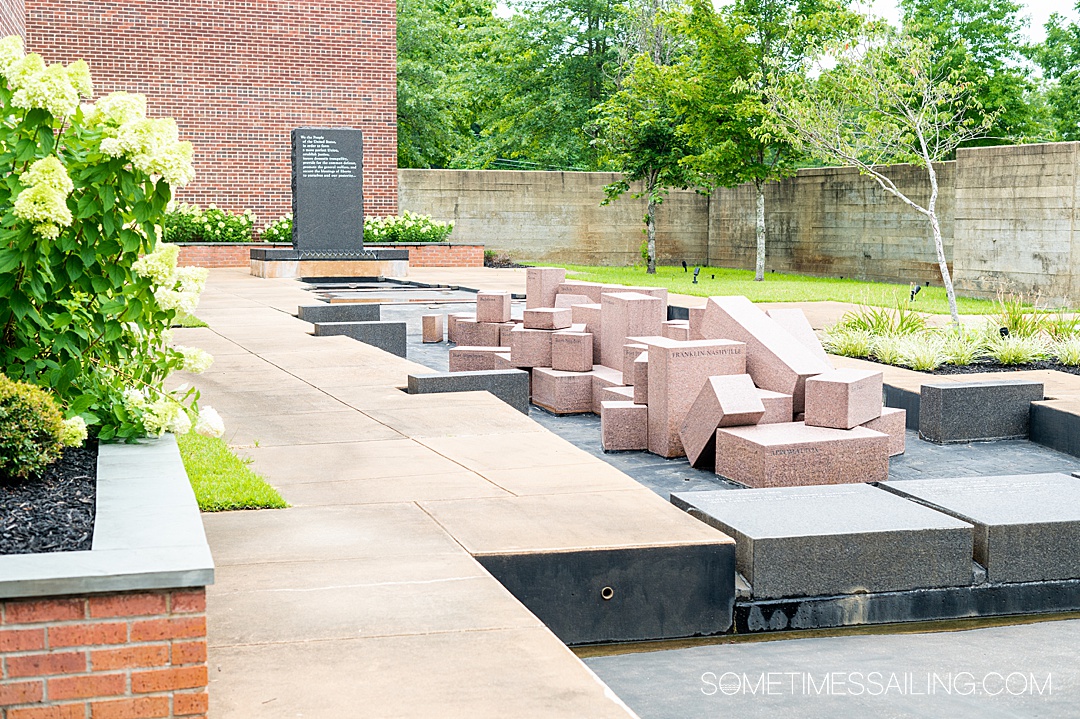 The options in this port were the Tennessee River Museum & Taste of Savannah, which were complimentary, Civil War: From Battles to Reconstruction, Shiloh Military Park Exploration, or Ultimate Fishing Exploration.
The complimentary excursion took guests to the town center. It was very much small-town America, with a central main street with tiny shops and a courthouse. That's where the museum was.
The tastes of Savannah were quite literally inside the museum. We had time to go there after our Civil War battlefields excursion; the museum was worth the 30-45 minutes, and the entrance for all American Cruise Line guests was complimentary.
Though we didn't sign up for the Ultimate Fishing Exploration fishing excursion, we learned it was canceled due to predicted afternoon thunderstorms. These guests were accommodated with availability on the Civil War excursions.
The Shiloh Military Park Exploration was much shorter than the excursion we opted to do. It visited one battlefield (Shiloh) instead of also visiting Corinth and including lunch, like the Civil War: From Battles to Reconstruction tour offered.
Civil War: From Battles to Reconstruction
We signed up for a tour that was several hours this day, which would take us to Civil War battlefields and for a riverfront Southern lunch.
Quite a few passengers signed up for this excursion; we were just shy of 50 guests on the trip. After the coach bus was loaded and ready to go from the port, a National Park Ranger joined us. She was enthusiastic, incredibly knowledgeable and engaging, sharing information about the area and the Civil War era as the bus drove us to our destinations.
We visited Corinth and the NPS Visitor Center then went to Hagy's Catfish Hotel for lunch. The restaurant staff was ready for our arrival. American Cruise Lines guests had a private room for lunch and the waitresses were incredibly efficient.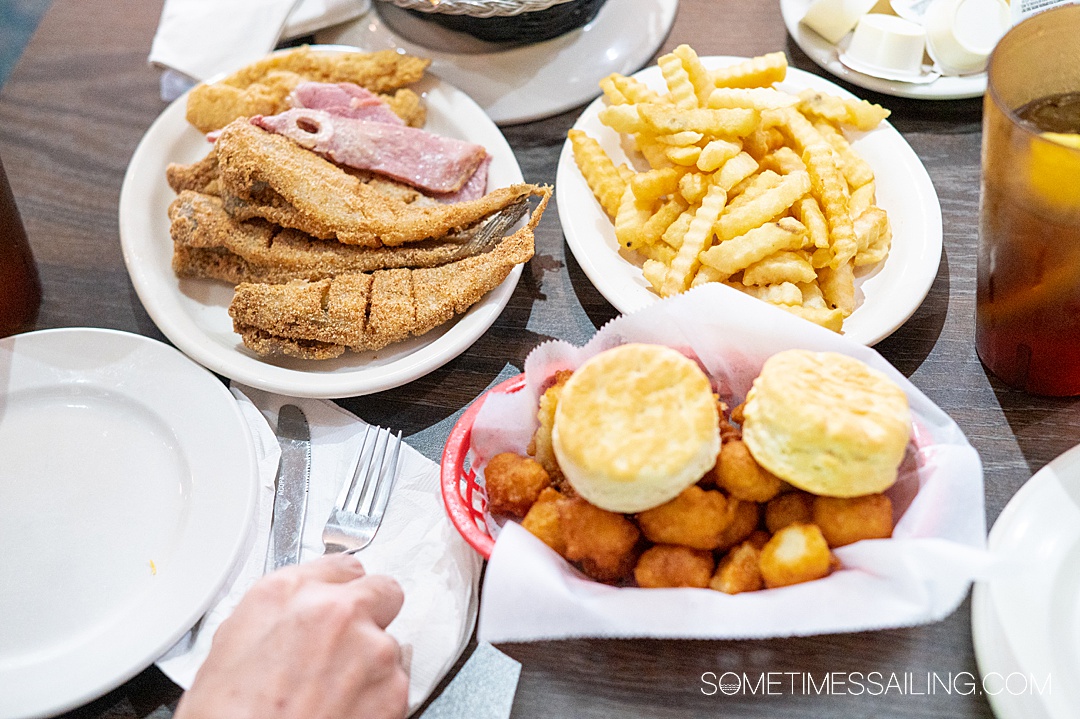 They got our drinks and a salad or cole slaw for a vegetable very quickly for the number of people they served at once! Tables were then given the main entree plates family style, including crinkle-cut French fries, and plates of protein with ham, fried chicken tenders, and fried catfish.
After lunch, we went out to the riverfront for a few minutes to see the pretty view before getting back on the bus to go to our final stop of Shiloh. The NPS ranger was our audio guide as the bus drove us around the many, many acres of the battlefield, now a historic site. It was fascinating to learn about the Civil War history there and how the war shaped the future of the cities and towns back then.
Tennessee River Museum
We returned to the ship with plenty of time to venture out again, so we decided to go to the Tennessee River Museum. It was less than a 5-minute bus ride from the ship and American Cruise Lines provided shuttles there.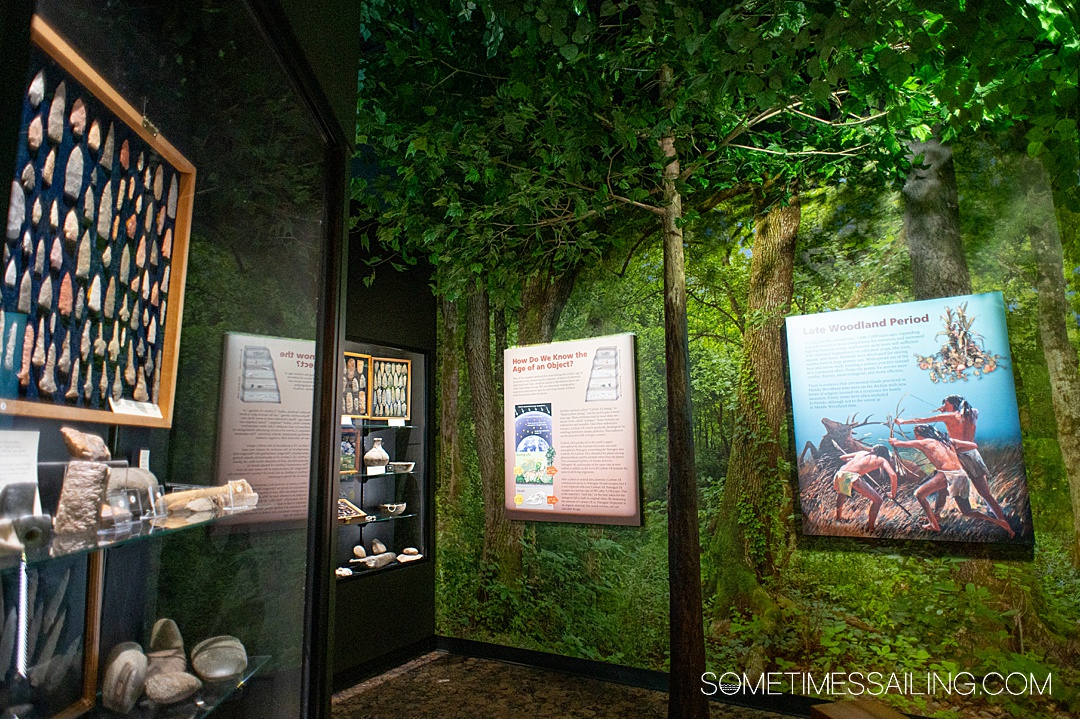 The museum had one table set up with complimentary whiskey and muscadine wine samplings. An adjacent table offered hush puppies and Moon Pies to try. A shuttle ran between the ship and the museum every 30 minutes, or it was an easy 15-minute walk from the ship to the location. We rode a shuttle there and walked back to the ship for some exercise.
We learned more about how the Tennessee River shaped the area in the museum, which was very cool because we were sailing the American Cruise Lines Tennessee River itinerary.
The museum walks you through the history of the Native Americans there with artifacts like arrowheads, jewelry, and pottery. It has a bit of the river's Civil War history, then transitions into post-war river uses, like when steamboats transported people and goods across, up and down the river.
Mussels played an important role in the area's economy at one point, with the musseling industry providing up to 10,000 jobs in Tennessee. A small display, which was a favorite of ours, showed how a button factory came to be that used mussel shells for the button materials. As the museum exhibit indicated, "Tennessee produces up to 60% of the U.S. export total 95% of the Tennessee mussel harvest comes from the lower Tennessee River."
Evening Entertainment
That evening an absolutely wonderful duo entertained the ship. Banjo Cats comprises the husband and wife singer/musician team of Jennifer and Michael McLain. We hope they're on ever Tennessee River Cruise American Cruise Lines sails. They were phenomenal!
Day 5: Paducah, Kentucky
This city surprised us most during the cruise. It is such a lovely little town! We weren't docked there beyond a few hours during the afternoon but it made such a lasting impact on us.
The main attraction in the city is its cute walkable downtown area and main avenue, and the National Quilt Museum. We were sad that most shops were closed on Monday – the day we were there – but happy to be delightfully surprised by the museum.
National Quilting Museum
We had no idea quilts could be such interesting pieces of art! There were modern twists and takes on quilting going completely beyond the "square" pieces of quilting fabric. There were more "traditional" quilts that took beadwork and sewing to levels we didn't even know were possible.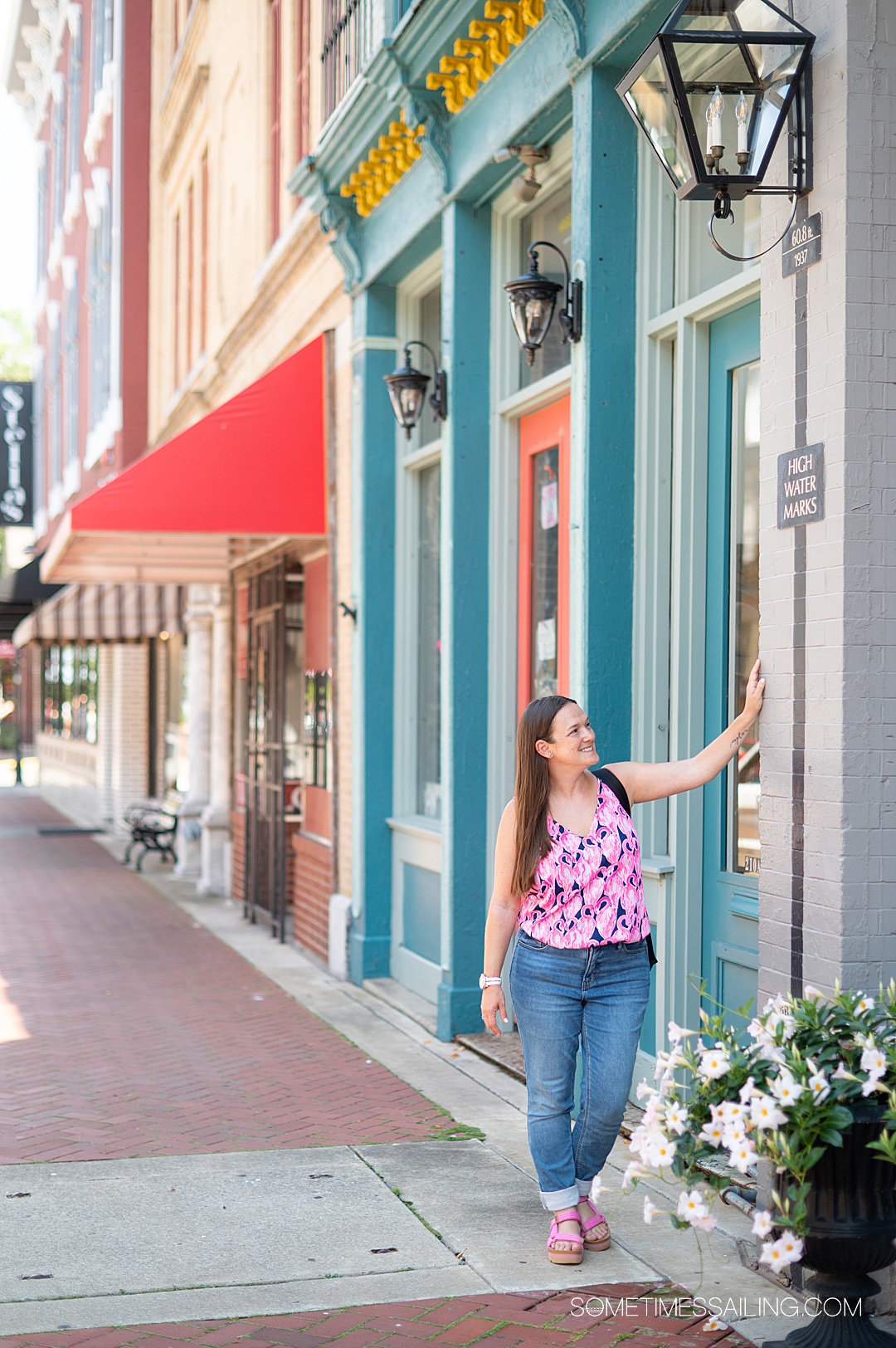 We admit that at first, we thought, "Meh, a quilting museum…" but we ran into some fellow cruisers while taking photos by the riverwalk flood wall, which has beautiful handpainted murals on them, and they raved about the museum. Entry was complimentary for American Cruise Line guests as an included excursion, so we figured to give it a go.
Buses run from the ship to the museum, but if you can walk a few blocks, it's just a 5-minute walk from the ship. Dan and I walked there, and wow…it was amazing!
There are several exhibits by various artists on display, including Diana Fox, a contemporary quilter. Her nature-inspired quilting exhibits were incredible, emulating cross-cut tree trunks, sunflowers, and sea creatures.
The art variety is really outstanding, and it showed us the creative ways different artists think about their quilting experience and process of creation for their work. Beads, rhinestones, meticulous pattern design, sewing threads of different kinds to achieve different looks, and various borders were some techniques we realized as we moved through the space.
The gift shop was great too. There were quilting squares, museum shirts, postcards, jewelry, ceramic items, and more inside for anyone wanting to remember their visit to Paducah with a souvenir.
Day 6: River Cruising Day on Lake Barkley and the Cumberland River
One of our favorite days on any cruise is always a day cruising. While some call it a "Day at Sea," since we were on a river it was a day on the Tennessee!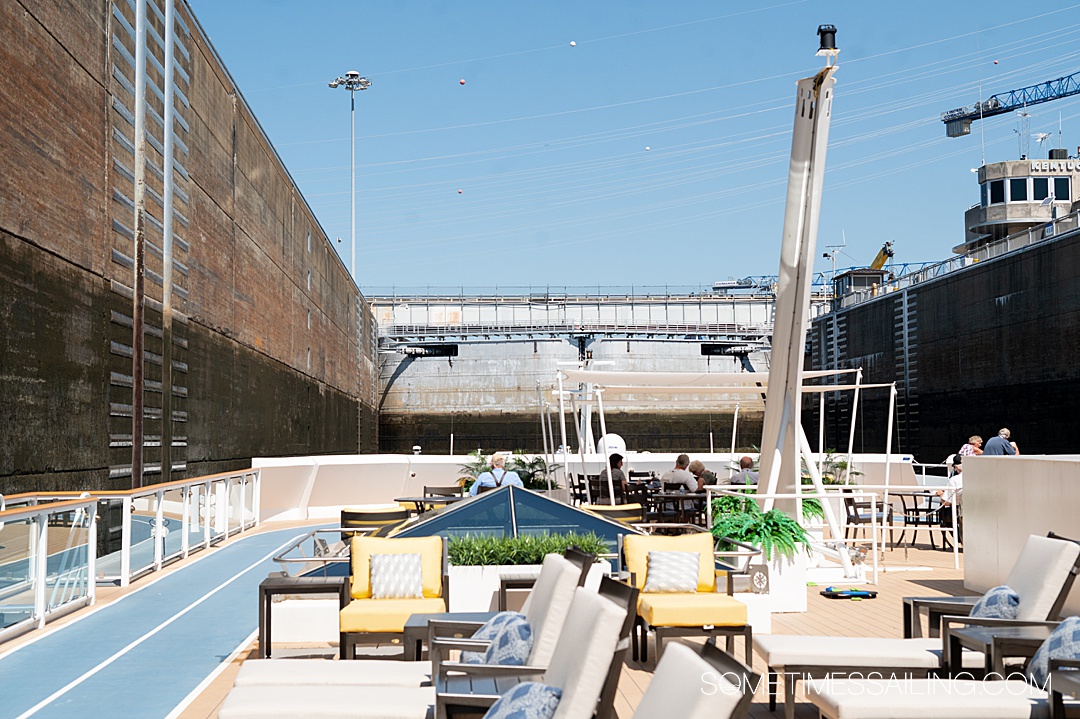 There were various activities throughout the day but it flew by because we slept late and had a late breakfast, then enjoyed a sit-down lunch, did some work and reading in between, some working out in the fitness room and walking around the sun deck track, and socializing with other guests. Others played games like Rummikub that was onboard or completed a puzzle in one of the lounges.
We also enjoyed onboard lectures for a little while, say on our balcony, and toasted with Prosecco as the ship pulled into port with the Nashville skyline in the background as the summer sunset.
We arrived in Nashville around 8:00 pm when a wonderful band, led by Country Music Hall of Famer and master harmonica museum, Charlie McCoy, came on board to perform for nearly an hour and a half. It was wonderful!
Day 7: Nashville
We awoke for an early breakfast because we headed out on the first of the two tours going to the Ryman Auditorium that morning at 8:45 am; the second tour left at 9:15 am.
Nashville tours are well organized by American Cruise Lines. The thing we most liked about that day, which isn't apparent on the guest website before you sail, is that you can book multiple tours that day because they're at different times.
We were able to tour the Ryman in the morning and go to the Country Music Hall of Fame after. The Ryman Auditorium tour was an additional cost, but the Country Music Hall of Fame is included for all guests.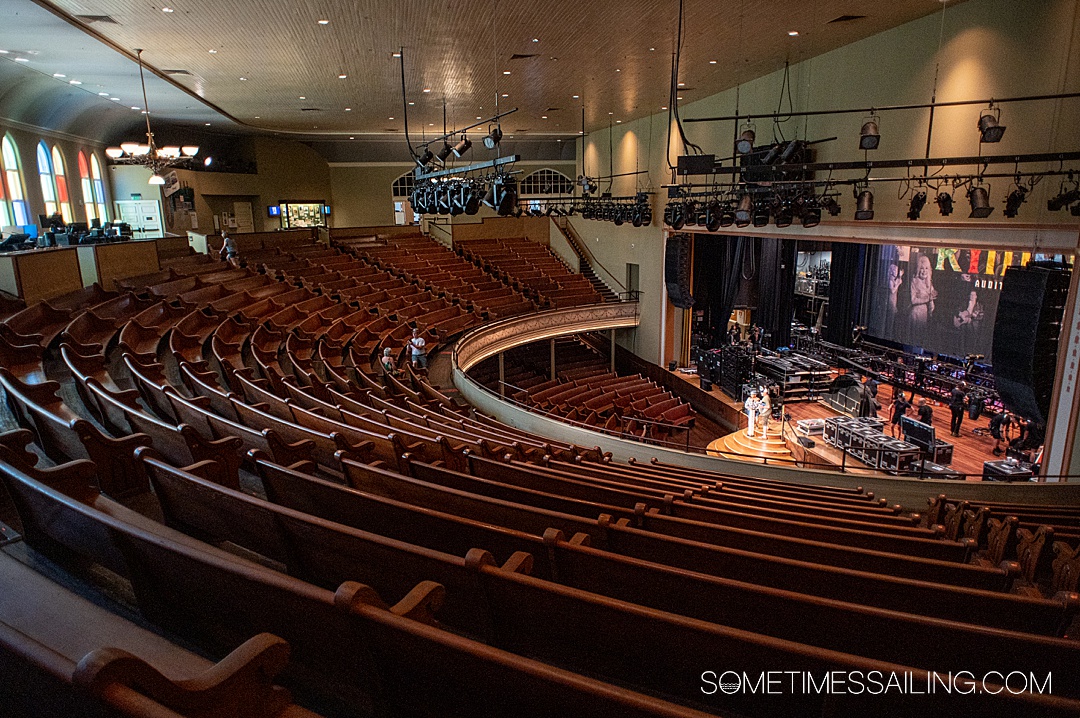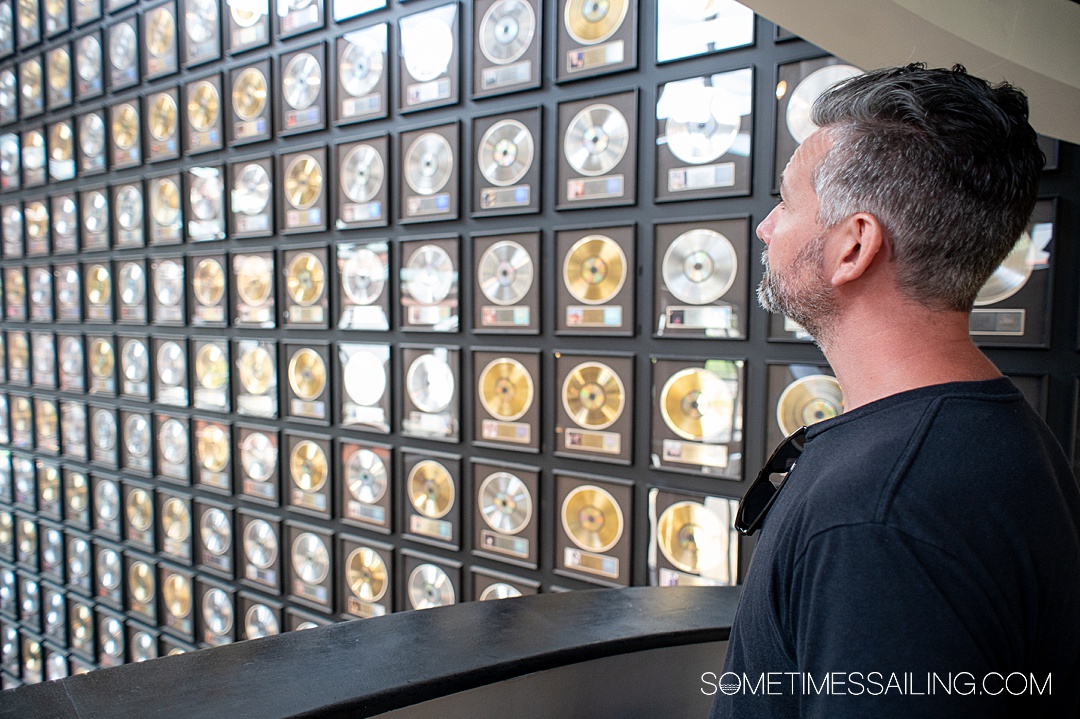 Then we had lunch on the ship, then at 1:30 pm, left to tour the Johnny Cash and Patsy Cline museums, which was an additional cost. We enjoyed these two little museums more than the Country Music Hall of Fame. The memorabilia was so strong in bringing these two uber-famous country stars to life that we couldn't deny their impact.
After we toured the museums, it was time for an early dinner buffet back on the ship. At around 5:15/5:30 pm, all the coach buses left for the Grand Ole Opry, which is a 30-minute drive from the riverfront. Everyone was attending the 7:00 pm Opry show that night. It was a highlight of the cruise!
Though a late night cocktail hour was awaiting everyone's return to the ship American Serenade, we were so exhausted from such a wonderful, full day, we went to bed.
Day 8: Disembarkation in Nashville
The crew requests that guests leave their cabins by 7:30 am the last day of the cruise. After we left, we went to have breakfast.
There is ample information about when your luggage needs to be ready for the crew to get off the ship to put on the buses that will transfer you to the airport if you're going there. The evening before disembarkation, color-coded luggage tags are put in your stateroom to help the crew organize disembarkation.
You can take advantage of the American Cruise Line transfer to the airport, or they can help you organize a taxi or an Uber/Lyft to your next destination. We decided to go our own way because we were headed south of Nashville to Franklin, Tennessee, for a few days after the cruise. 
Other Things to Know
Pre or Post-Cruise in Chattanooga and Nashville
We opted to go to Chattanooga early and stay in Nashville a few days after the cruise. This means that we found our own way to and from the airports and forfeited using American Cruise Lines to coordinate our transfers.
Mobility and Accessibility of the Cruise Ship
While most European river cruise ships have elevators, they don't usually have a dedicated handicapped-accessible room. We were glad to see that American Serenady had one. We even paled around with a man we really adore and his wife during the cruise, who was in an electric-operated wheelchair.
People in wheelchairs can take advantage of the two elevators on the ship that go to the interior decks, one through four. The only deck it doesn't go to is the top roof deck.
Tennessee River Cruise Review Conclusion
We absolutely loved our relaxing cruise experience on the Tennessee River, which was more beautiful than we could have imagined. If you want an experience on a beautiful ship with a reputable cruise line in the USA with well-organized tours, this is the best choice.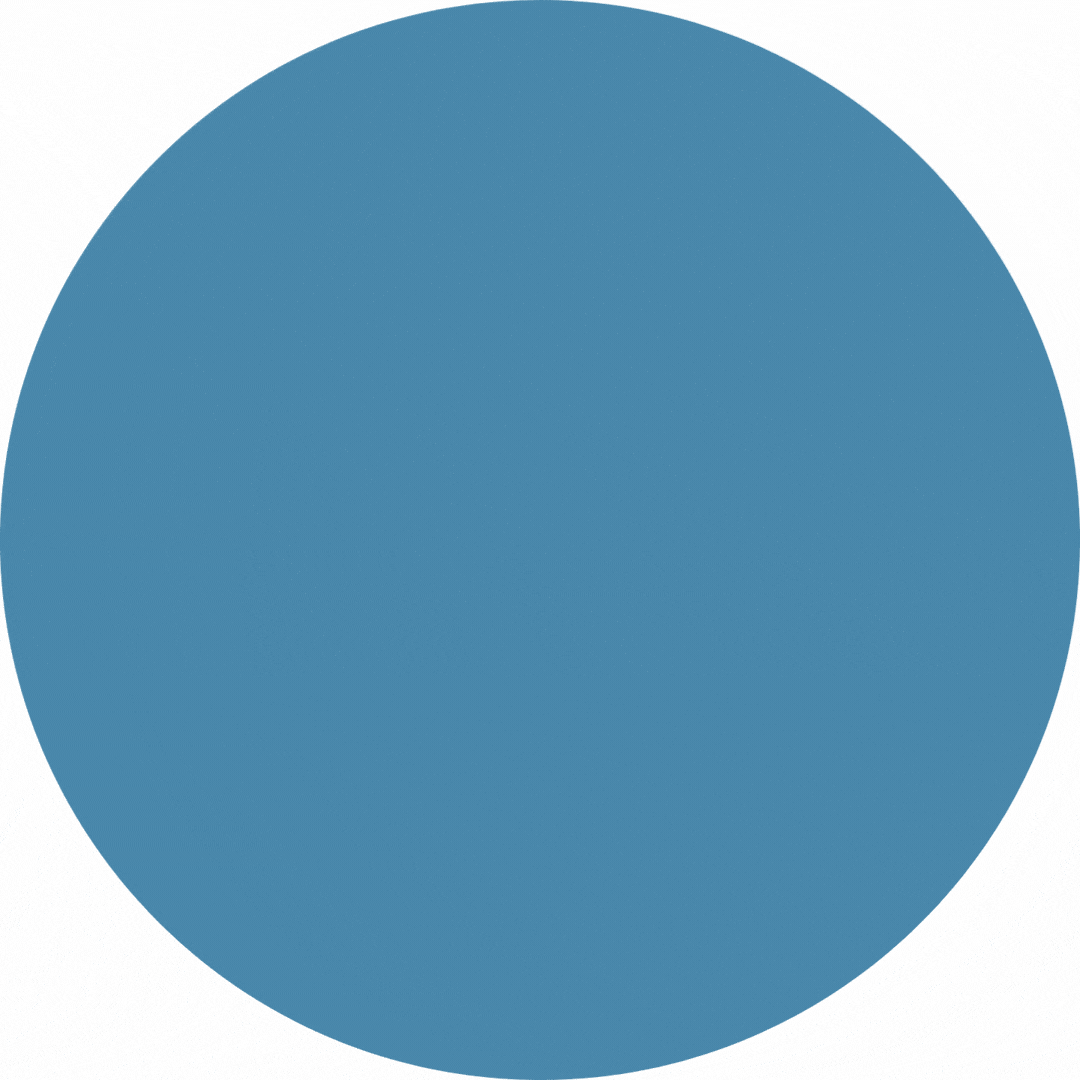 Ready to Book Your Cruise or INquire?
Use our preferred travel advisors, Bolds Travel, Because…