Exclusive Christmas Markets Rhine River Cruise with Transcend Cruises
You're invited to a very special river cruise this December!
There is nowhere more magical for a glowing holiday than being amongst some of Europe's most famous Christmas Markets. And we — Dan and Mikkel, along with some special hosts — will be on a luxury river cruise that you can sail on, too!
Disclosure: We are working with Transcend Cruises to co-host this special Christmas Markets river cruise. All opinions are our own. All images are courtesy of Transcend Cruises.
Special Christmas Markets Cruise with Limited Availability — Sailing Overview
In this post, we'll review the following: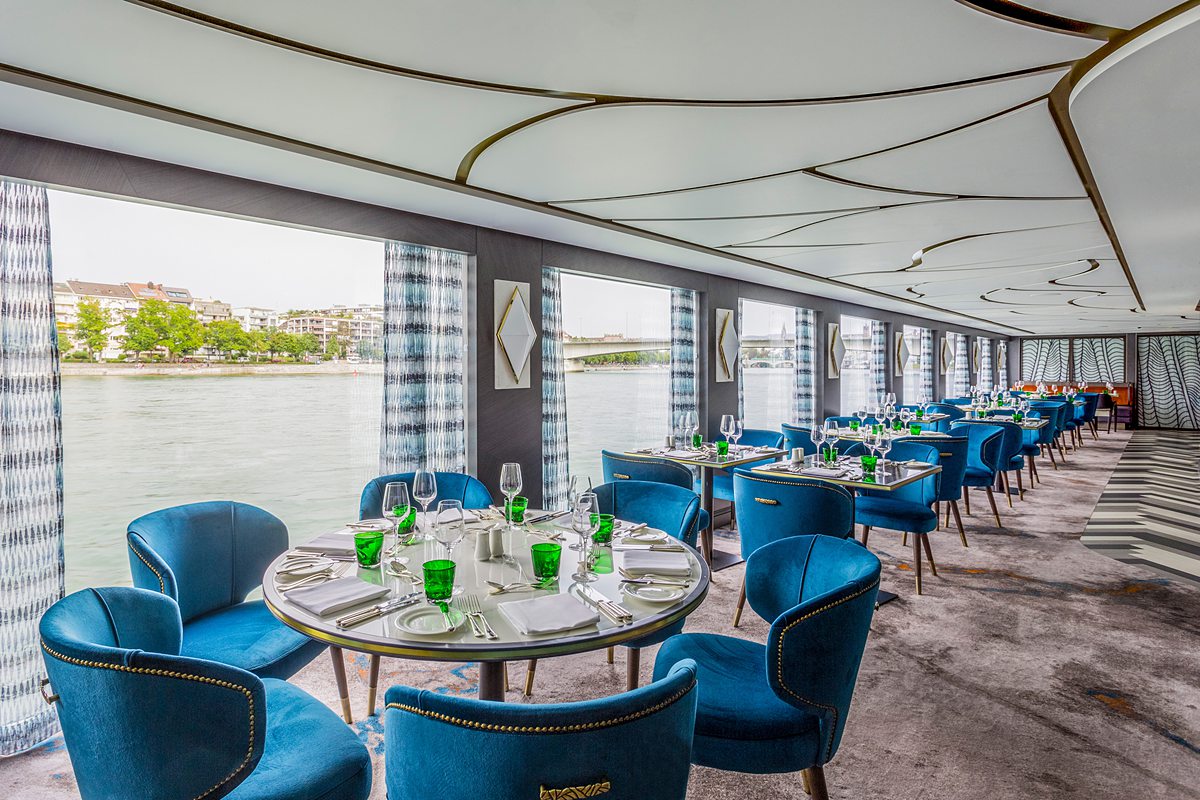 What Makes this River Cruise So Special?
Transcend Cruises is a luxury river cruise line. Usually, only groups can book with the cruise line by chartering the whole ship. However, for this rare occasion, you are able to book your own stateroom and sail with us on their luxury river cruise ship.
It's special programming with Transcend Cruises, called "Advance by Transcend."
Join us in Europe during the most magical time of the year for special onboard cooking demonstrations by Chef Jon Ashton, special panels with John Robert from In the Loop Travel, Justin and Lauren Cerkes of Justin Plus Lauren, and us, Dan and Mikkel from Sometimes Sailing.
🗓️ Dates of this Special Advance by Transcend River Cruise
The river cruise sails from

December 17 to 24, 2023

. That is the third Sunday in December to the following Sunday, the day of Christmas Eve.
About The Transcend Cruises Luxury River Cruise Ship
Transcend's ship is a beauty! She is truly a luxury river cruise vessel featuring some of the most spacious rooms on the world's rivers.
The furnishings are indeed deluxe, from the lounges and fitness center to its restaurants and sundeck. There's even an indoor pool on the ship, something not many river cruise ships have.
The ship is a former Crystal Cruises vessel that has been transformed into an iconic river cruise ship for Transcend's needs.
An Amazing Itinerary in Germany's Charming Villages and Cities along the Rhine River
This river cruise takes place in Germany on the Rhine River. It begins in Nuremberg and ends in Frankfurt.
Here is the day-by-day itinerary:
More About the German Cities We Are Visiting
We absolutely love that we start this holiday river cruise in Nuremberg because we loved so many parts of this charming German city. Before visiting, we thought it was all about the Nuremberg trials and a terrible part of Germany's history.
But after visiting, we realized Nuremberg has centuries of history, long before WWII happened. Though an important part of the world and Germany's history, the war is just a piece of this city's past. It also has a story in 16th-century art, a city castle, and incredibly picturesque medieval buildings.
Würzburg and Bamberg are also some of our favorite German cities. They have such beauty, are very walkable, and there's a ton of culture to discover at each stop. Never mind the picturesque views and dazzling markets we'll visit.
We are excited to go to each city on the itinerary with a great group of cruisers experiencing the 2023 Christmas Markets together. Even if we walk around some markets together and others separately, we'll surely discuss the splendor back on the ship every night.
Visiting Germany in December
The main reason to visit this European country in December is its world-renowned Christmas markets. The town squares and streets are bustling with vendors selling all sorts of things, from famous Christmas gingerbread cookies to bratwurst, nativity scenes, ornaments, and more.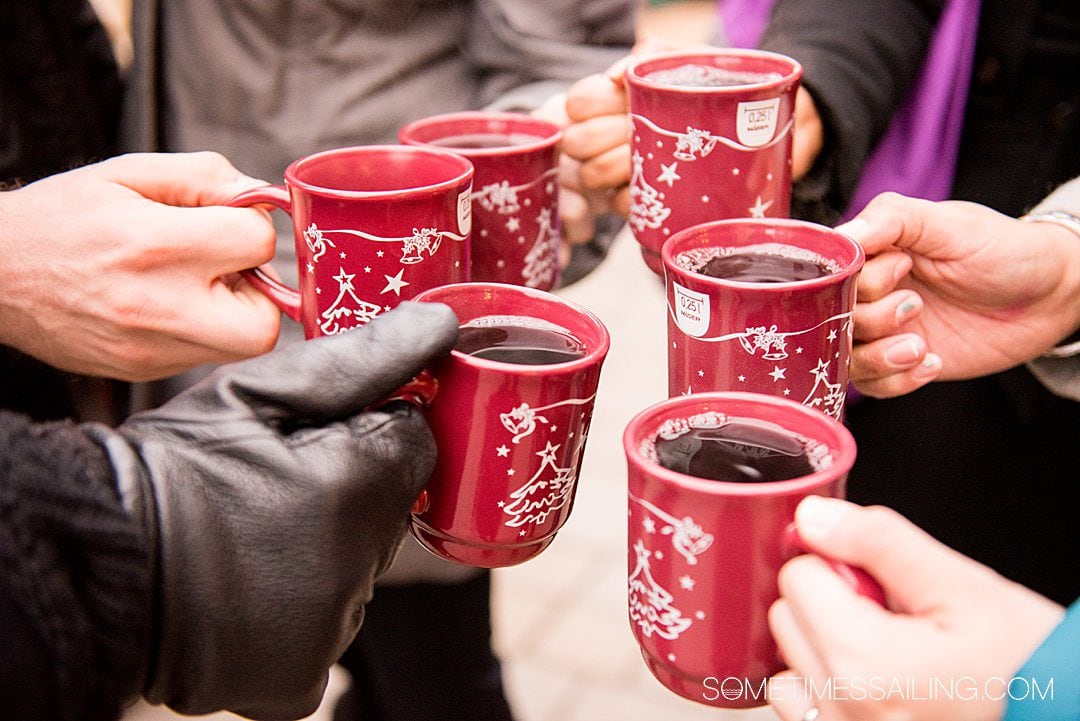 Imagine cozying up with a mug of warm cocoa or mulled wine, which Germans call gluhwein. You will enjoy huddling around an outdoor table, surrounded by sparkling Christmas lights, amongst cruise friends and experts.
The cities are energized by the spirit of the holiday season and their many visitors.
All-Inclusive Pricing and Starting Cost
The cost per person begins at $3,325. Considering what a great value river cruises are, this is a phenomenal price for one of the most luxurious ways to travel through Europe during one of the most popular times of the year.
The price is inclusive of your stateroom, all tours, beer and wine with lunch and dinner, and the following extra-special inclusions:
Exquisite cuisine and local beers and wines with demonstrations by Chef Jon Ashton.
Locally hosted tours of the Christmas Markets and immersive gastro-tourism experiences.
Spacious stateroom with a panoramic French balcony showcasing the scenery.
Panel discussions with your hosts on specific themes, including best practices in social media management and digital storytelling.
Networking and masterclass sessions on travel blogging and storytelling.
There will also be plenty of time to relax and enjoy the holiday festivities. All-inclusive activities are optional for you to attend.
► Don't postpone this joyful river cruise experience. Space is very limited…
Don't forget to mention that you learned about the trip from Sometimes Sailing!
Benefits of Taking this Particular Christmas Markets River Cruise
This extra special river cruise has several benefits:
Exclusivity and Perks for this Limited-Space Sailing
Your Hosts and Travel Experts
A set of expert travel content creators are your hosts for this ultra-unique river cruise. As part of the all-inclusive cruise fare, you're able to ask them questions any time, participate in interactive panels, and even ask Mikkel all the photography questions you want! (She has been a pro-photographer for 16+ years.)
Your hosts are:
Dan and Mikkel Woodruff of Sometimes Sailing
If you've been to this website before, you know us! We are Dan and Mikkel, and we started to travel the world together in 2015 as "Sometimes Home." In 2020, we started Sometimes Sailing due to of our love of cruising and a desire to share the best cruise resources and information with you.
Dan's expertise is in coaching and marketing, with decades of experience including for big companies like Office Depot and Petco, where he had directing roles in the Marketing and Art departments.
Mikkel has been a professional photographer for over 16 years and a writer for seven, writing for Thrillist, Porthole.com, and Cruise Critic. She has previously worked for Walt Disney Imagineering and Universal Creative in theme park design, where storytelling was a pillar of each corporate department.
Together, Dan and Mikkel run one of the best cruise resources on the web, focusing on small-ship cruising and luxury experiences.
John Roberts of In the Loop Travel
John is well known for his wonderful YouTube content showcasing countless small and large cruise ships and excursions. He writes helpful cruise content on his website, In the Loop Travel, as well as for other publications, including Quirky Cruise. Though he resides in Colorado, he's a tried and true cruise industry expert who is on the water more than anyone we know.
We admire his focus on living an active lifestyle, including how to stay fit while traveling. He highlights cruise perks and what it's like to travel the world by boat in every corner of the globe.
Joining John for walks, bike rides, and winter hikes will be a wonderful option during this river cruise.
Justin and Lauren Ceksters of Justin Plus Lauren
This dynamic duo hails from Toronto, Canada. Their YouTube content always inspires us for future trips, and we love reading about their land and sea travels on Justin Plus Lauren.
Not only do they have years of experience as travel experts, but they also have years of experience in TV production. Additionally, they're expert hikers! During the pandemic, Lauren started Ontario Hiking, which immediately became one of the region's most valuable outdoor resources. It remains a go-to hiking website today.
FAQs
What is on the itinerary?
This particular river cruise goes to the port cities in Germany mentioned here. In addition to the awesome geographical stops, there will be special tours in some of the cities and rare onboard events, like Christmas cookie decorating in a style unique to the region.
There will be plenty of free time to enjoy each port, relax in your luxurious stateroom, and interact with the hosts and other cruise guests. There will also be a special onboard welcome reception.
What if I have more questions before booking?
Register your interest and speak with the trip's designated travel agent who will reach out about the cruise. That person will be able to answer your questions in more detail. Also, feel free to comment below; we are happy to answer your questions as well.
Are flights included?
Flights are not included.
Flights are readily available from North America to Nuremberg, or you can fly to Munich or Frankfurt and take a train to Nuremberg. We book all our trains in Europe through Trainline, mentioned below. You just have to be mindful of the arrival times and your transportation connections.
What else would I have to book?
We love to arrive in an area days before a cruise and stay later. Other people like to arrive at a cruise port of embarkation the night before a cruise. It's not necessary to arrive early or this cruise, however, because the ship overnights in Nuremberg to start. It's a safety net in case your flight is delayed if you come in on December 17th. So, in this case, arriving in Nuremberg the day the cruise starts or before is up to you.
If you want to come in early, booking a pre-cruise hotel for the night(s) before the cruise in Nuremberg is at your discretion.
► Book or register your interest as soon as possible! Space is very limited…
Please mention that you learned about the trip from Sometimes Sailing!