Why are River Cruises So Expensive? (Or are They the Best Cruise Value Out There?)
We rave about small ship cruises all the time (naturally). And one of the questions we often get asked about river cruises when we tell family, friends, and even strangers we love them is, "Why are river cruises so expensive?"
Well, that depends on how you look at it.
When you break down the cost of river cruises compared to large cruise ship vacations, we would argue you get more bang for your buck in a more special setting and environment.
The short answer for us is easy and can be summed up in two statements:
Money is relative. What is pricy or expensive to one person may be incredibly affordable to another.
There's a lot more included with river cruises than with big ocean ships. While river cruises may look like they are "expensive" at first glance, they are a great inclusive vacation with very few additional costs upon further examination.
Let's dive into all the reasons why.
Disclosure: There are affiliate links in this post, which means we may earn a small commission if you click the link and proceed with a purchase, at no cost to you. We truly only recommend hotels, products, and services we personally use. As Amazon Associates, we earn from qualifying purchases.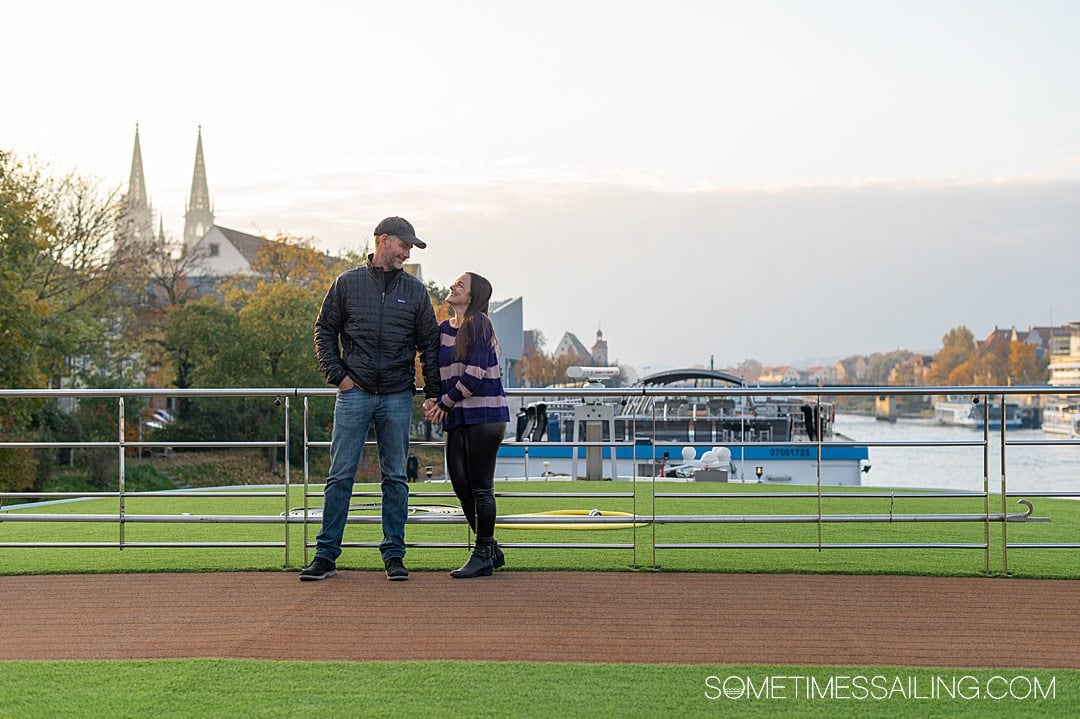 River Cruises have a Lower Guest Capacity than Big Cruise Ships
There is less occupancy on river cruise ships due to the size of the boats. They have to be small to fit on most rivers and often max out at 180 guests or less. On some river cruise ships, there's a maximum occupancy of around 100 guests. And of course the smaller the ship, like with yacht cruises, the small the capacity.
It is simple supply and demand: when supply is low but demand is high, prices go up. River cruises are popular vacations. And even though there are a lot of river cruise ships out there, and tons of river cruise companies from AmaWaterways, to Emerald Cruises, to Viking, A-Rosa, Uniworld, and more, the number of cabins on board when you combine all those ships likely doesn't amount to the stateroom count on ocean cruise ships.
A lower guest capacity on river cruise ships also means you'll encounter fewer "crowds" than on big cruise ships. Meaning that you won't have to wait forever to disembark your ship in a new port and get to the fun part of exploring the destination. (This is something you quickly learn to appreciate your first time on a river cruise!)
The Guest to Crew Ratio on River Cruises is Superb
You often pay a premium for one-on-one attention. This is true if you're hiring someone for career coaching, a tutor for your child's education, or even a teacher for something like piano lessons. Well, the same is true in the travel world. If you want exclusive attention then you pay for it. Somewhere, somehow.
The guest-to-crew ratio is spectacular on river cruise ships. (Often 2:1 or 3:1.) This adds a welcome personalized touch to the service you receive and your everyday encounters on river cruises.
Don't be surprised if the crew onboard calls you by your name on the second day of your river cruise. Everyone gets acquainted faster on river cruises.
All Staterooms are Outside Cabins
You'll pay extra on an ocean cruise ship for an outside stateroom in most cases, that faces the water as opposed to an inside cabin without real windows.
But on river cruise ships, all staterooms face the water no matter if you're on the starboard or port side of the ship. The only difference in price would be something like upgrading to a suite, or if you're on the first deck versus the third deck, or if you're closer to midship.
Food Quality is Higher than on Larger Cruise Ships
Because the chef and sous chefs in the galley are making fewer meals than on a ship that is temporarily home to thousands of people during their vacation (like a huge ocean ship), we have found the food quality is generally better.
The food we had on our Emerald Destiny cruise on the Danube River was so good! We're still dreaming about it. You can select a starter, main entree, and dessert course with every lunch and dinner, if not more (like a sorbet course to cleanse your palate, offered at some meals).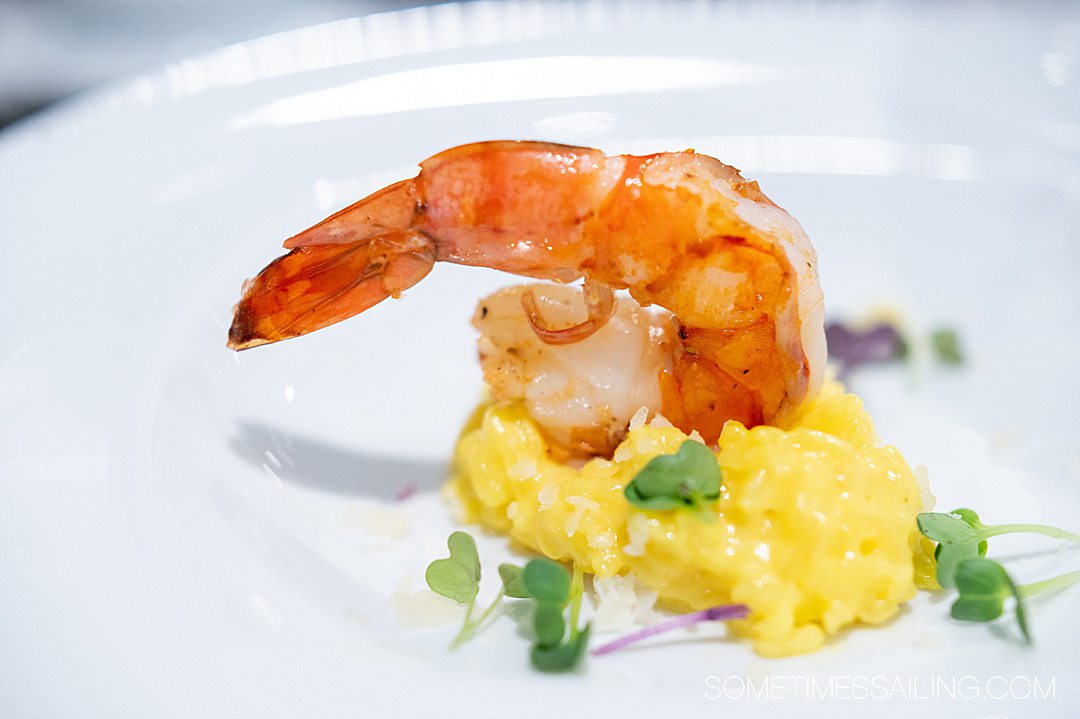 River Cruise Ships Centrally Dock in Ports
Can you imagine docking in the center of a city with this historic bridge as the view from your cabin? It's possible with river cruises!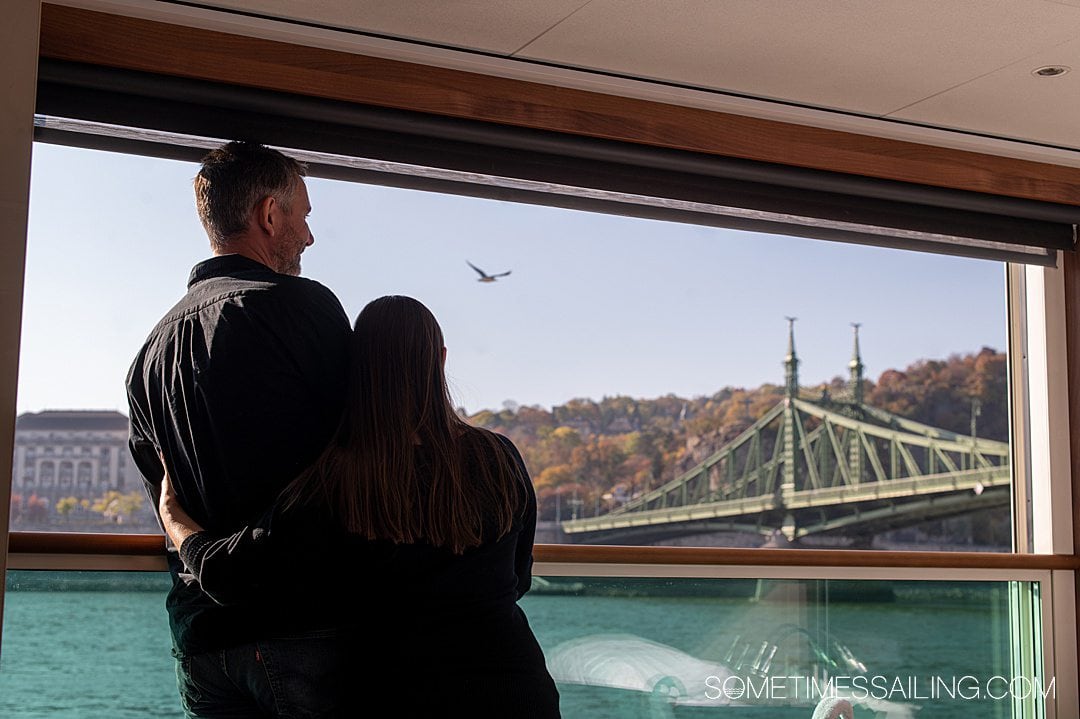 Because of the mere size of ocean cruise ships, they often have to dock far away from the action. But river cruises usually dock steps away from the city center.
With Danube River cruises, for example (an incredibly popular river to cruise, between Germany to Hungary) you'll be steps from Bratislava's town center in Slovakia. Or just a short walk to many of the beautiful buildings that line the Danube riverbanks in Budapest, Hungary.
Imagine docking in Passau during a Christmas Markets river cruise and you're just a five to ten-minute walk from the charming holiday markets!
This luxury is already included in the trip. This means you won't see additional port fees and taxes on your final bill; it's already accounted for in the price of your river cruise.
River Cruises include So Much for Your Money
River cruises may seem expensive to some from the outside. But on the inside, when you book a river cruise and go experience the trip, you quickly see how much is included in the cost.
When you factor in what things like guided tours, drinks, and gratuities could cost you suddenly start to look at your investment a little differently. The word "expensive" in association with river cruises may even transform to being "great value."
The value we get with a river cruise is great.
Additionally, it's easy to budget for a river cruise when the cruise line isn't nickeling and diming you for everything. For example, if the river cruise costs $3,000 and includes flights, the only additional money you'll have to factor in is souvenirs or something like buying beers in town if you choose to do so.
River Cruises Include Excursions
If you go on a big cruise ship and want to do anything besides walk around town in a port, you need to add excursions, whether through the ship or on your own. Want to tour a rum distillery in the Caribbean? You need to add it to your vacation.
But on a river cruise, things like guided city tours are included; you won't see an additional charge for it. A lot of river cruises even have bicycles for you to use at your leisure in ports, free of charge.
Another great example is something like Emerald Cruises' EmeraldACTIVE program. So, for instance, if you want to bike through the Wachau Valley on the Danube River when you sail with Emerald it's already included. There is no fee to upgrade. (And that inclusion would almost never happen on a big ocean ship.)
Additional Entertainment is Included
There's often more onboard entertainment than you might expect on river cruises. For instance, Emerald Cruises has an "EmeraldPLUS" program that guests enjoy. They don't pay a cent more than the cost of the cruise for this enrichment.
We absolutely loved the Hungarian band and dancers that came on board to entertain us one evening during our Danube River Cruise on the Emerald Destiny. All we had to do to see the performers was show up at the right time and place, on board. It was already included in the cost of the cruise.
It's true that big ocean cruises include a lot of entertainment. Just like big ships, small ships include entertainment. You may not have the same theatrical sets as a huge ship, like Disney Cruise Line, but because the ship and group size are smaller, you'll have a much better view and access to the performers.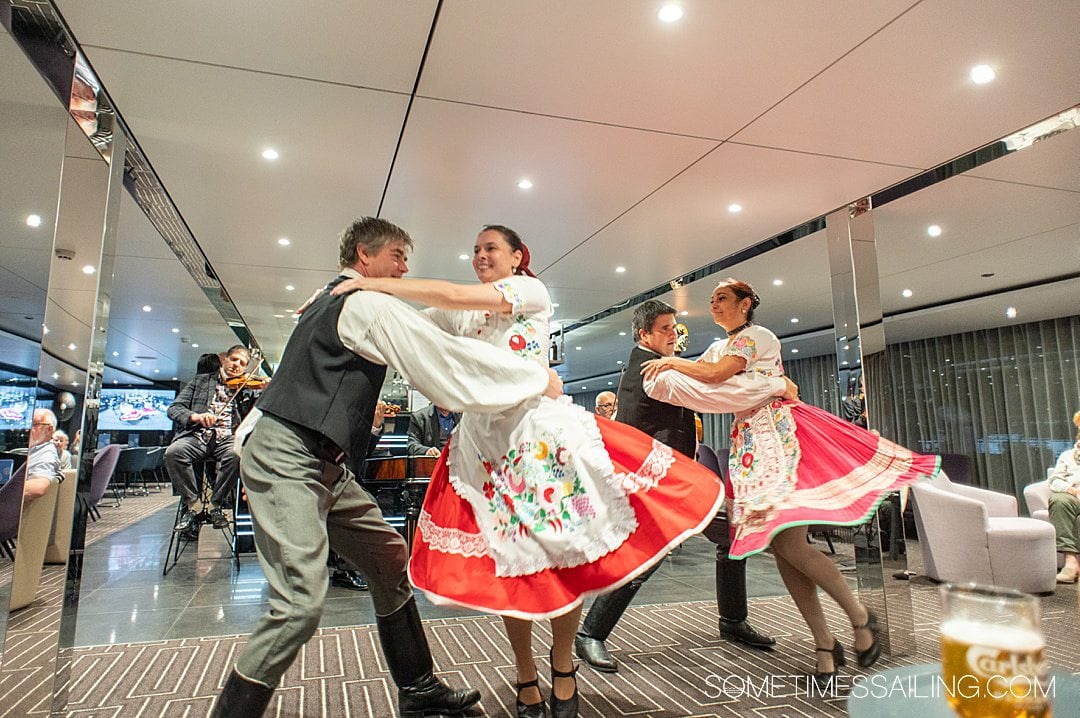 Wine and Beer are Included with River Cruises
There are many big cruises that don't even include soft drinks in the cost of your vacation let alone alcohol. That means if you want a soda, you'll pay for it every time you order one. And don't even think about getting beer and wine included in your big-ship-cruise-cost unless you add on a drink package or pay per beverage.
Most river cruises include the cost of beer and wine during lunch and dinner. The staff aboard the Emerald Destiny was very generous with keeping our glasses filled during meals. So much so, that we usually had a full glass to take from dinner to enjoy in the lounge afterward.
Additional drinks could be a significant cost if you like to enjoy adult beverages, especially, on vacation. And why wouldn't you if they help you relax and enjoy life? You're on vacation!
The "expense" of river cruises includes drinks. This might make you think twice about calling river cruises "expensive," when you factor this in.
River Cruises include Wifi
Most (if not all) river cruises include some sort of wifi for internet access. It may not be the strongest wifi but you'd be surprised how good it is in some locations. The connection on Emerald Destiny during our Danube River cruise was strong enough to email and text via wifi every day, at the very least. And most of the time it was strong enough to make wifi calls back to the United States, and post on social media. We even streamed some YouTube videos on the ship.
When you sail on big ocean ships, you pay for a wifi data plan. And this could equate to a lot more money than you originally budgeted for your trip.
But when you sail on a river cruise, wifi is already included in the price.
Gratuities are Included on River Cruises
Gratuities can really drive the cost of vacation up.
We spent a few hundred dollars in addition to our Maine Windjammer Cruise cost when we sailed the coast of Maine in order to tip the crew for a job well done. It was well deserved and we 100% wanted to tip them generously. But you have to account for this if you're budgeting for most vacations. But not for river cruises.
Luckily, gratuities are already included in the cost of your trip.
COVID Tests are Often Included now Too
We believe that cruises are one of the safest vacations you can take. That's true whether we're in a pandemic or not. And if we're still in a pandemic and COVID tests need to be administered onboard, small ship cruises include tests at no additional cost to their guests.
Your River Cruise May Include Transportation
Flight Deals or Free Flights for River Cruises
River cruise companies know that you'll likely have to fly to reach your port of embarkation or debarkation. Unless you're taking a cruise from a US cruise port that you can drive to, or you're going on an American river or Great Lakes cruise you can drive to, airlines will play a part in your travel.
A lot of cruise lines include free airfare, or an airfare deal, in their river cruise offerings, especially if you catch it at the right time. (We recommend signing up for the cruise line's emails so you'll know when these deals are offered.)
Ground Transportation is included with Some River Cruises
Some river cruises include ground transportation with their cost. This isn't necessarily transportation from a port into a city center (which is included) but the journey between the airport and your ports of embarkation/debarkation.
This is a huge saving when you consider the money you could potentially be adding to your trip, simply for the expense of taking a taxi from the airport to the river. Never mind the logistics you'd have to figure out.
Next time you think river cruises are so expensive, you may think twice about everything included for the value!


Going on a cruise? Also check out: