Anti-Nausea Medication and Other Cruise Sea Sickness Solutions 
You've boarded your cruise ship, and you're excitedly awaiting sail away time when you can wave au revoir to the people stuck on land. As you begin to leave the shore, you start to feel queasy and wonder where that anti-nausea medication is that you responsibly brought to prepare for this very moment.
We recommend bringing some over-the-counter anti-nausea medication with you on a cruise ship that's over 200-500 passengers regardless of whether or not you do or don't "usually" get motion sickness on land.
We go into detail, sharing why and what medications (and other remedies) work for seasickness below so you can enjoy your vacation no matter the motion of the ocean.
Disclosure: There are affiliate links in this post, which means we may earn a small commission if you click the link and proceed with a purchase, at no cost to you. We truly only recommend hotels, products, and services we personally use. As Amazon Associates, we earn from qualifying purchases.
We are not medical professionals, just consumers who have tried these remedies
Please note that we are not medical professionals. Therefore, it is best to consult your doctor when taking any medications, especially if they may interfere with existing prescriptions.
We have been sensitive to recommending only over-the-counter medications here and natural remedies that have worked for us over the years.
🕐 Short on time? No Problem!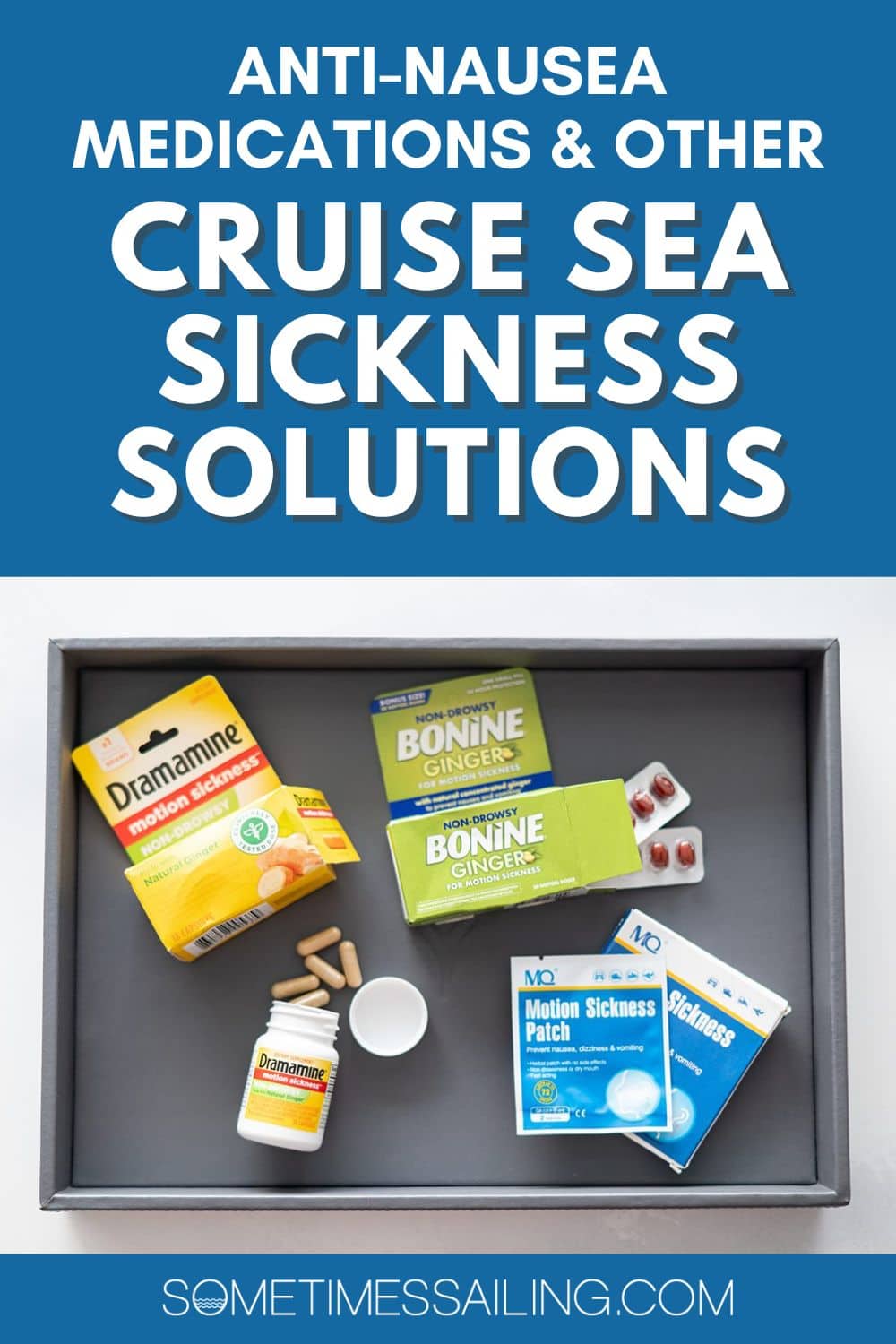 Blisslets: Anti-Nausea Wristbands
The #1 anti-nausea wristbands that were recommended are Blisslets. We recommend them for several reasons:
We love supporting fellow small-business owners like ourselves. This company was started by a woman with a need to naturally remedy pregnancy sickness and her husband who wanted to partner to find a solution. Together, they invented Blisslets.
They are stylish! They come in various styles, and we'd be happy to wear them daily on a cruise ship.
They work by using the principles of acupuncture. No need to ingest anything or figure out when you need your next dose of pills.
You buy them once and, as long as you remember them when you travel, you don't have to keep buying them. (Though we wouldn't blame you if you wanted to buy Blisslets in several styles.)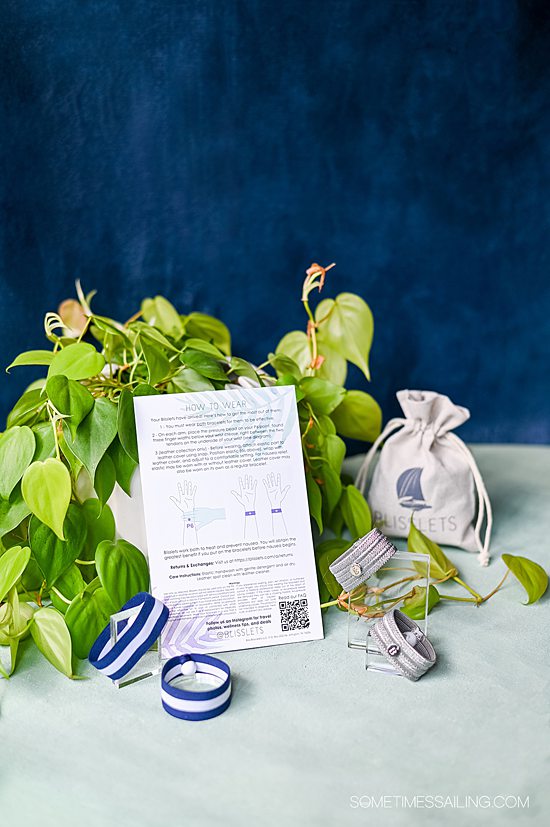 Our gripe with anti-nausea wristbands was that they were unattractive and certainly not fashionable. That was until Blisslets came along! Thankfully a couple developed these chic anti-nausea wristbands so people have a natural remedy for nausea and motion sickness that doesn't make them sacrifice style too.
You need to wear two wristbands because they act in tandem, but that's why Blisslets come in duo packs, not singly.
The sizes (small, medium, large and extra-large) are measured according to your wrist size. They must fit snuggly against your wrist without room to fit fingers underneath the band. This is because they work as pressure points on the underside of your wrist.
They are also to be worn three fingers distance from where your hand meets your wrist, as their instruction card indicates.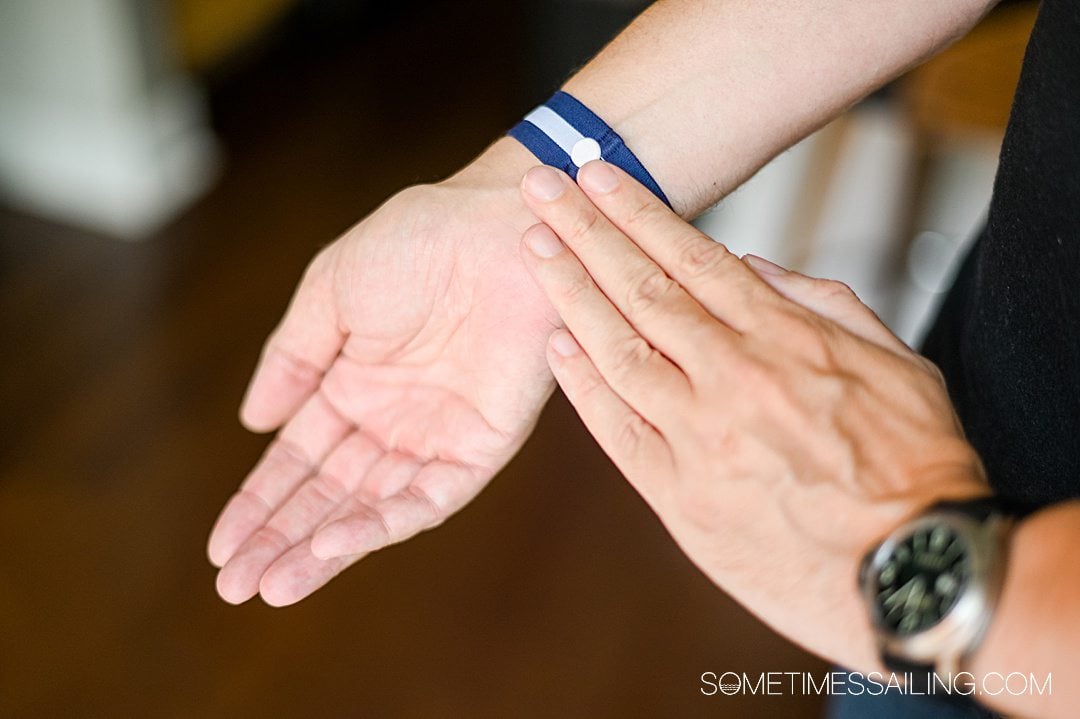 There are not currently special children's sizes for Blisslets anti-nausea wristbands, but measure the child's wrist if you have a little one who can benefit from these; size small fits many kids.
Check out DCL Duo's interview with Blisslets founders Bernardo and Kristen in episode 204.
The bands are making their way into cruise shops little by little, including onboard Disney Cruise Line. But you can get them online right now, so you'll get the style and size you want! (These are also great for theme parks, by the way, if you experience motion sickness on attractions in places like Disney World and Universal.)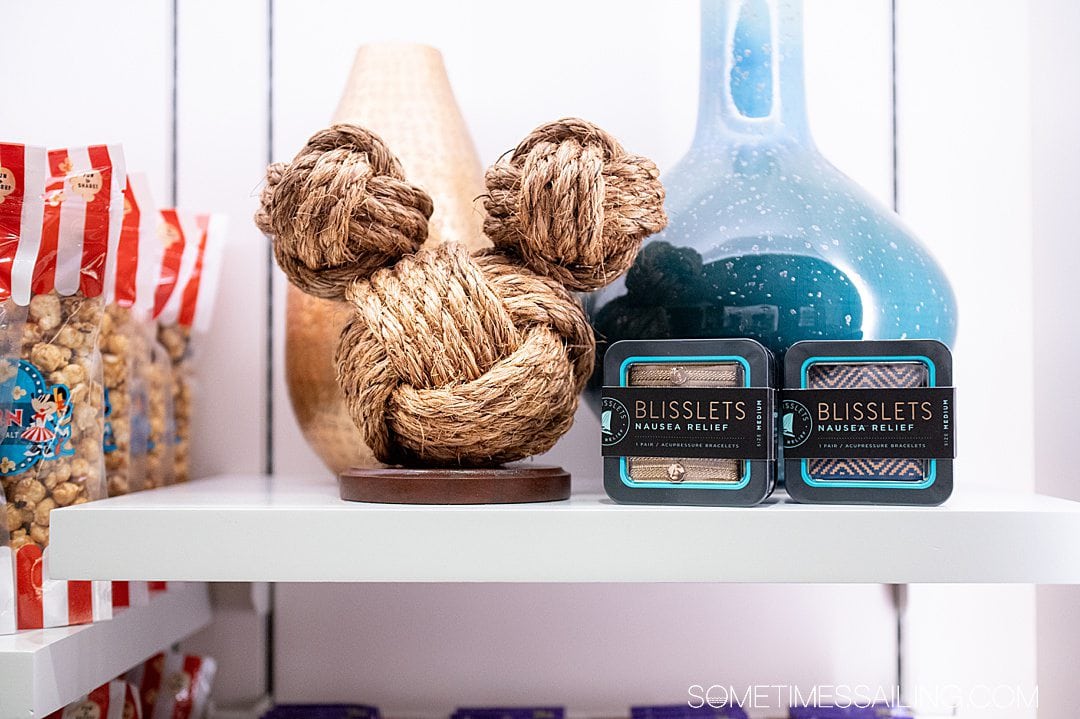 Over-the-Counter Anti-Nausea Medication
We will discuss anti-nausea medications we've tried that are over-the-counter options. You can buy them online on Amazon or in your nearby pharmacy. We've put together an Amazon list for you so you can look at all the options in one place.
We've seen Dramamine at more drug stores than Bonine and more regularly, though we have seen both in the past when we've looked through the years. Needless to say, both are easier to find online.
Doctor's Prescriptions: Zofran for a Cruise
If you feel you need a prescription for something stronger, like prescribed Zofran for nausea, please consult your medical doctor after you've tried these remedies. Zofran is only available in the United States with a prescription.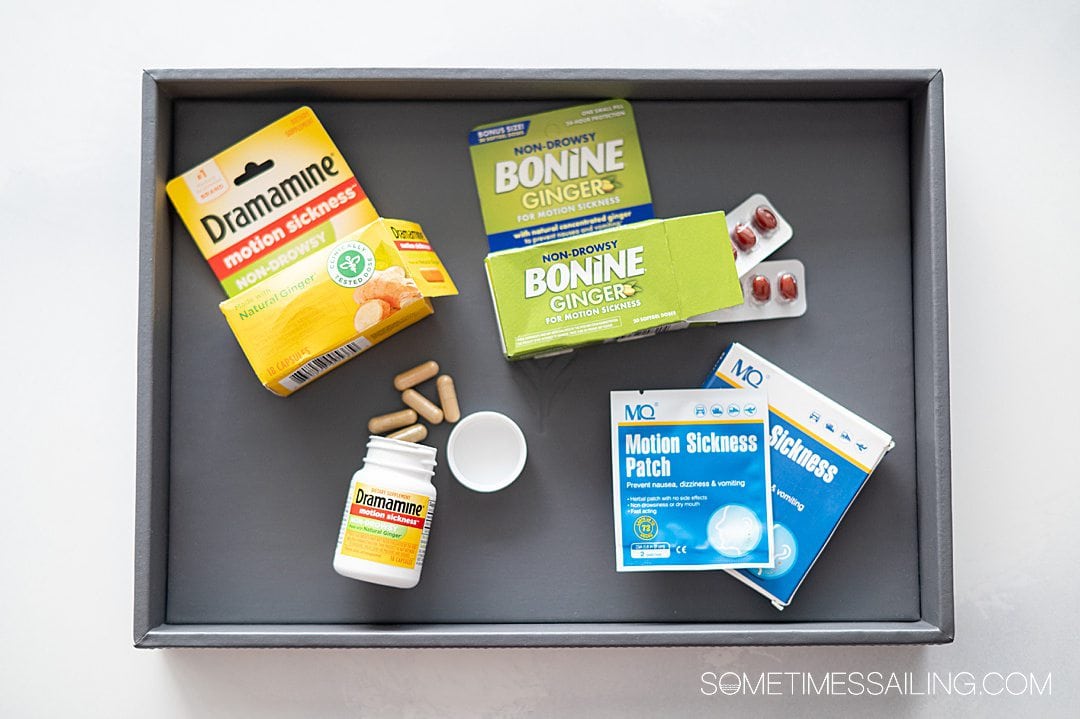 Dramamine
This popular over-the-counter anti-nausea medication option is most readily found on your local pharmacy, grocery store, or drug store shelves. (And by that, we mean we see it more than any other brand.)
The pills are clear capsules with ingredients inside. The active ingredient that helps with nausea is ginger root. It's amazing how the right dosage of powdered ginger root (as is pre-set in Dramamine capsules that you swallow with water) can cure the sickness that would have otherwise potentially put a trip in the gutter.
If you're skeptical about how it works, you're not the only one. Just look at this review on Amazon (and below) about how this woman was skeptical at first (particularly about the non-drowsy version), but the ginger powder cured her! (We personally have not experienced any "ginger taste" sensation, but everyone is different.)
If that's not enough, then trust us! Because we've tried it, and it works.
If you're going on a one-week cruise and you're two people, you'll want to buy one to two bottles. If you're more people or going for more days, purchase more. This bottle has 18 pills inside, and adults can take two capsules every 12 hours (not to exceed 4 in 24 hours).
That means that one bottle of 18 pills would be enough for one person to get through 4.5 days of a cruise if you take it twice a day (perhaps once in the morning and once before bed).
That's why we recommend buying a 4-pack of the 18 capsule bottles of non-drowsy Dramamine.
Dramamine can be taken in swallowable pill form (what we prefer) or chewable tablets. There is also Dramamine for kids if you're traveling with anyone under 12 who experiences motion sickness.
Drowsy vs. Non-Drowsy Dramamine
We have only purchased the non-drowsy kind because we can't see why we would want the drowsy pills for over 12 hours. (Unless you have a long flight and get nauseous on airplanes, but our nausea tends to contain itself to mega-cruise ships and rocky trips on big sailboats.) And it's true: you do NOT get drowsy on these!
If you drink alcohol (which is always at your own risk anyway but doesn't help nausea), you may get drowsy even on non-drowsy pills. But the non-drowsy pills do not make you sleepy. Trust us – we've tried them!
If you do, however, want them to make you sleepy, then perhaps buy a box of the drowsy for nighttime hours and non-drowsy for daytime.
Bonine
A competitor of Dramamine is Bonine. The active ingredient in these is Meclizine, an antihistamine used to treat…you guessed it: motion sickness and associated nausea.
Bonine's dosage is a little different, and it comes in chewables. Adults and kids 12+ take one to two tablets a day as needed.
There is another Bonine option that we tried and liked: Bonine Ginger. They come in pill form, and adults take one a day. We liked these and found them to be non-drowsy, as advertised.
Unfortunately, the company has discontinued them (that's the official word we received from their parent company, WellSpring, as of June 2022), but if you're lucky, you can find them online.
Bonine vs. Dramamine
Everybody is different. Both Dan and I had the same great results with Dramamine and Bonine Ginger. Because we like to swallow pills rather than deal with chewables, we didn't try the chewable at all for Bonine. We also purchased the non-drowsy option from both brands simply because of our personal preferences.
If you experience dry mouth with either, simply hydrate with water or pop a sucking candy in your mouth.
Regardless of the remedy you choose between these two over-the-counter options, it's advised by both companies that you take the medication one hour before you travel.
We wanted to wait to see when/if we started to feel a little queasy from the motion of the cruise ship before we popped some pills. Inevitably we did, and then we took the pills, which kicked in within about 30 minutes.
Anti-Nausea Motion Sickness Patches for Cruises
The anti-nausea motion sickness patches you stick onto your body work well for most people. We first saw them when we looked at some fellow passengers on a cruise that had circular dots behind their ears. We quickly realized they were an anti-nausea solution.
You buy a box of the patches (we got ours on Amazon, of course) and open the box to find sheets with "stickers" on them.
They're approximately the size of a nickel. One goes behind your ear, and the instructions recommend the other goes by your belly button. The front is a lighter color and is not sticky; the back is a darker color and is sticky. You really cannot confuse the back and front.
They release natural ingredients that help combat dizziness and nausea caused by the motion of the cruise ship on the water.
How Long Does One Patch "Sticker" Last?
The patches usually last two to three days, and you can shower and swim with them. Once you feel like it's getting a little dirty or peeling off, you can change it out.
We found them to be pretty amazing. How they work, we don't know – but we're glad they do.
Room for Improvement: Skin Tones
The one thing we don't like about them is that they don't offer different colors for different skin tones. For a pale person like Mikkel or a darker-skinned person, this means they'll stand out a little more.
We hope they catch up to Our Tone Bandaids in the near future and offer various shades of skin tones.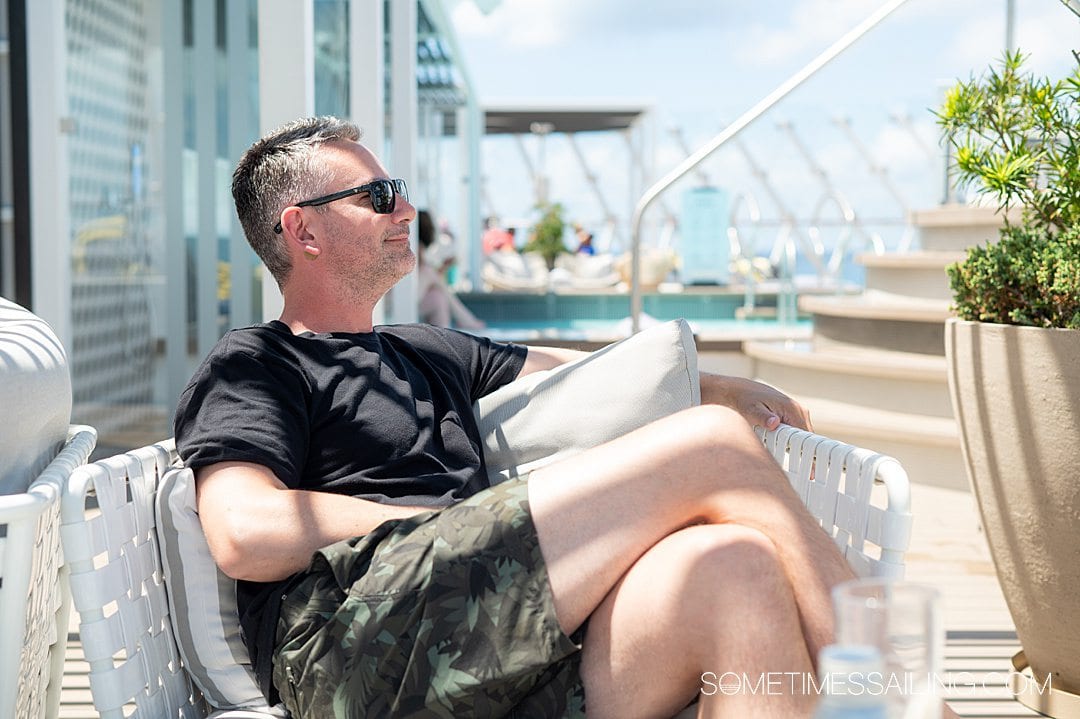 Over-the-Counter Anti-Nausea Patches vs Over-the-Counter Anti-Nausea Medication
We have tried both and don't really have a preference. If you care about someone seeing patches behind your ears and near your belly button, then try the pills. But we were impressed with the results of all of these remedies.
Note that if you wear the patches, you do not take pills while wearing them. If you take the pills, you do not need the patches. Do one or the other, not both at the same time.
Prescription Anti-Nausea Motion Sickness Patches (Scopolamine Patch)
If you need something stronger than over-the-counter patches, consult a doctor to inquire about scopolamine patches.
Peppermint Oil: Essential Oil Motion Sickness Remedy
If you're someone who responds well to oil and scents, you may want to purchase a small bottle of peppermint oil for your trip. You'll have to carry it around with you on board, but it is a good option if you don't want to wear an anti-nausea patch on your body.
Peppermint scent is refreshing and widely used to cure things like headaches, nausea, joint or muscle pain, and IBS problems. Medical News Today also states you can use ginger oil for nausea.
We have added some essential oil options to our Anti-Nausea Solutions for Travel idea list on Amazon for convenience and easy shopping.
Other Natural Anti-Nausea Solutions for Sea Sickness available On Board a Cruise
If you didn't sail prepared for any wave of motion sickness that washes over you, there are onboard solutions you can try to cure the sickness.
Sliced green apples help reduce nausea and the side effects of seasickness, as does ginger ale. Ginger candies are helpful too, including ginger lollipops, ginger chews, and sucking candies.
If you need something stronger and didn't pack any anti-nausea medication, ask guest services if they have over-the-counter generic anti-nausea pills you can take.