Buying a Watch on a Cruise Ship: 18 Things You Need to Know 
One of the things that many people look forward to doing while on a cruise is shopping. Buying a watch on a cruise ship is an exciting opportunity. But there are things to beware of so you can make an informed decision about your purchase.
The things to know about buying a watch on a cruise that we discuss below are based on the assumption that you're looking to purchase a high-end luxury watch that costs over $800. Read on for our tips…
Disclosure: This page has affiliate links, meaning we may earn a small commission if you click the link and proceed with a purchase at no cost to you. We truly only recommend cruises, experiences, products, and services we personally use. As Amazon Associates, we earn from qualifying purchases.
🕐 Short on time? No Problem!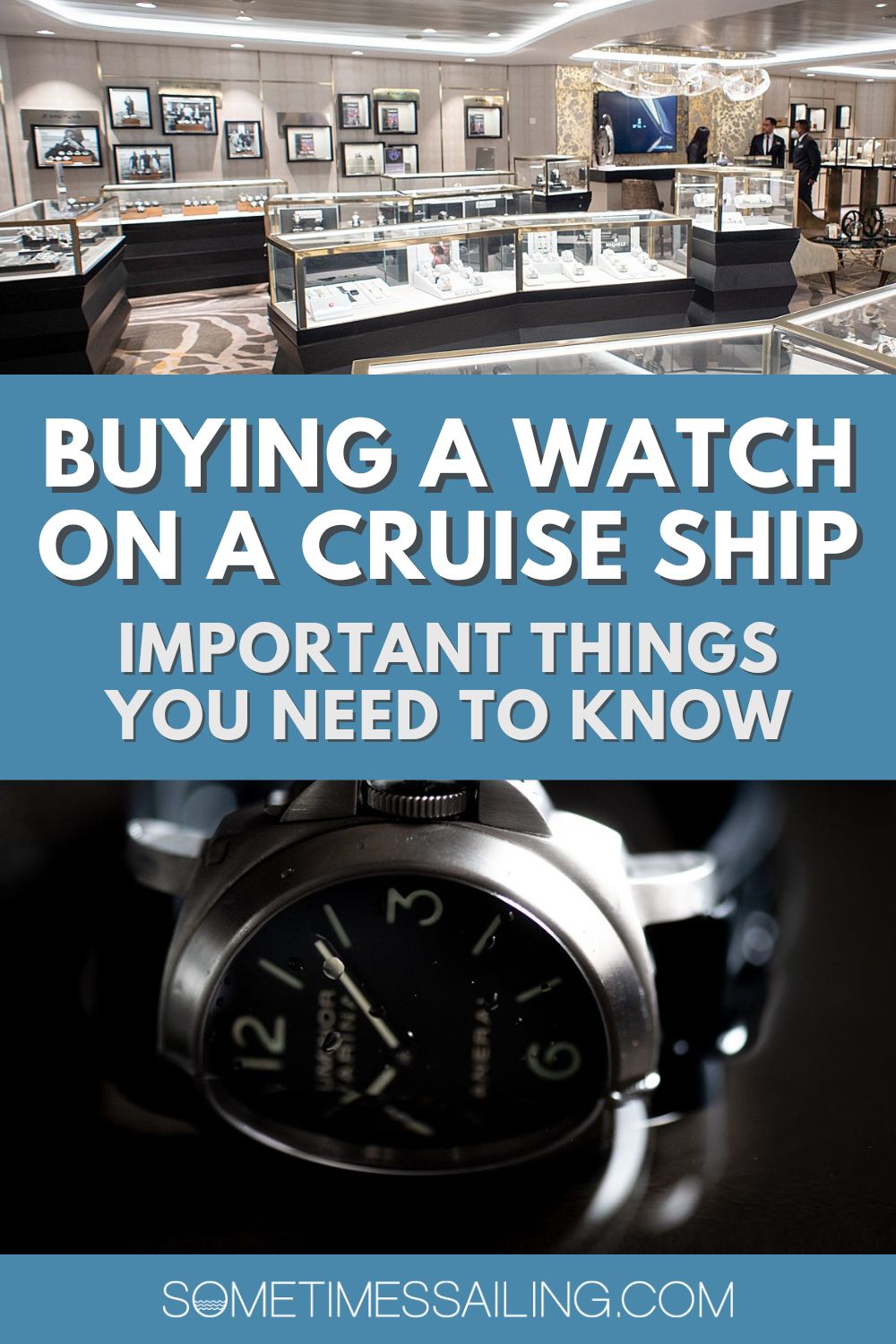 1. Don't Buy a Watch the First Day of Your Cruise

Our number one piece of advice is to wait to buy the watch. Do not buy it on the first day of the cruise.
Mikkel and I head to the onboard watch shop as soon as possible when we are on a cruise ship. Though shops usually cannot be open while in a port, as soon as the ship sails….bam! Doors open for business.
While we always try on watches the first day, we never actually consider buying the first day. We look at what they have, see how it fits, and assess if we are interested in purchasing.
Why don't we buy it right away? Because we spend the next few days researching to see if what we want is available elsewhere and educate ourselves about the watch's market value.
Additionally, because it's a big purchase that we don't take lightly, we want to walk away from it and see how much we think about it when it's not nearby.
If you can't get something like that out of your head, that usually means you really want it. If you don't think about it as much as you thought you would, that may be a good indicator that you don't love it as much as you thought you did.
Even if the adrenaline rush that comes with the thought of buying a new watch gets the best of you while you're in the shop, trust us: don't let it coerce you into a first-day purchase.
That said, there will not be flash sales on luxury watches towards the end of the cruise like there might be on merchandise that is less than $100. These high-ticket items do not get discounted in that way.
2. Do Your Research
Give yourself some cruise homework to know what you are buying. We find that a lot of the time, the watches we see on cruise ships are not the newest released styles.
This could be great because some of the styles could be hard to find on land if you're looking for something in particular. But it could be bad if you want the latest and greatest. There's no harm in asking the salesperson when the watch style originally debuted for the brand (not for the ship) if it affects your purchase decision.
What's more, is that the watch's price on a cruise ship may seem lower because it's being offered duty-free. But you have to research to see what the usual market price is; the cruise ship may increase the original price since saying it's "duty-free" is appealing enough for many people.
Simply do your research to know what you are buying.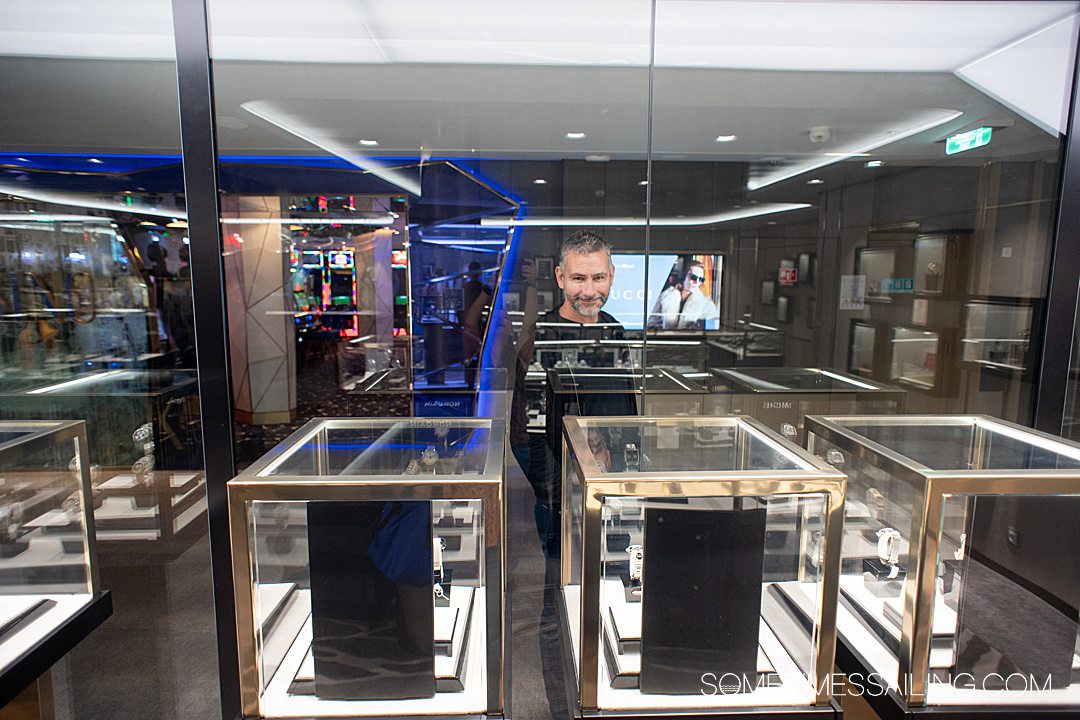 How to Do Research Online When You Travel for Less Than Cruise Internet Costs
How do you research watch prices while cruising if you are in a foreign country and didn't buy an internet package and don't have a data package with your phone carrier? We use a hotspot.
If you are reading this before you travel on a cruise ship, plan ahead: bring a wifi hotspot. We connect while we're in ports abroad for free instead of paying for wifi on mega-ships. It saves a lot of money!
Solis Pocket Wifi is the hotspot we always travel with.
We Always Travel with Our Solis Hotspot
▶︎ Use code "SOMETIMESSAILING" for 15% off your purchase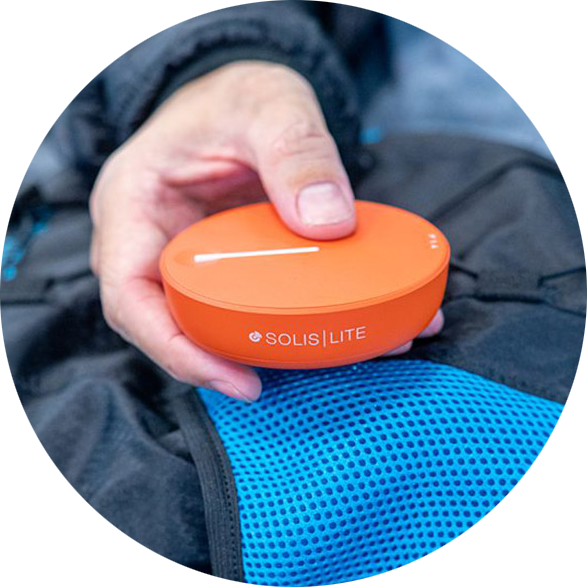 Where to Research Discount Watch Prices at an Authorized Online Dealer Before Buying a Watch on a Cruise Ship
The first place we check is Jomashop. It is our favorite online watch retailer.
When Mikkel and I sailed with Princess Cruises a few years ago, we found the Omega DeVille watch onboard, which she had been eyeing for months before the cruise. We were seriously considering buying it. The price wasn't too dissimilar from what we had been quoted in Omega boutiques on land. 
However, we checked the price on Jomashop, and the company was coincidentally having a sale at the time. We ended up buying it from Jomashop instead of the ship.
We've purchased from Jomashop twice now for luxury watches, and they're great. The shop is an authorized dealer with great customer service, and they offer a 30-day return policy for new watches and a 14-day return policy for pre-owned items.
3. Onboard Cruise Watch Shops Are 100% Legitimate
One of the benefits of buying a watch on a cruise ship is that you can be sure the shop is legitimate and an authentic, authorized retailer.
This is as opposed to buying a watch on one of the Caribbean Islands, for example, where you might be skeptical about the legitimacy of the shop. You don't have to guess about the legality of a watch shop on a cruise ship with a reputable major cruise line.
4. You May Find Watches On a Cruise Ship That You Cannot Find at Home
If you live in New York City, you'll unlikely find anything on a cruise ship you cannot find near your home. However, if you live in a small town, the opposite may be true: you won't be able to find anything in your town that is available on the cruise ship.
Because I seek out luxury watch shops wherever I travel, I recently looked up watch boutiques in a region of western New York while visiting family. I couldn't find any shops to visit. This is a case where buying a watch on a cruise ship presents a nice option.
5. You Can (and Should) Negotiate the Price
There has never been a time when we have considered a watch from an authorized dealer that we haven't negotiated the price. It's part of buying (most) luxury watches.
As the saying goes, if you don't ask, the answer is no. So, ask. You don't have anything to lose.
Make sure that you ask for the best they can do. You'd be surprised how much money they'll knock off the price tag just because you asked.
We always push the salesperson a little more and request he or she ask a manager about the "best offer" if they clearly didn't ask a manager in front of us. If they have to get back to us hours or a day later, they do. Trust us – they want to make the sale. They always ask for our stateroom number and call if they have to follow up and leave a message if needed.
On average, we have found that they can knock up to 20% off the price tag.
If you've negotiated more of a discount on a luxury watch than that on a cruise ship, please comment and let us know; we're genuinely curious to know if anyone can negotiate more than 20% off.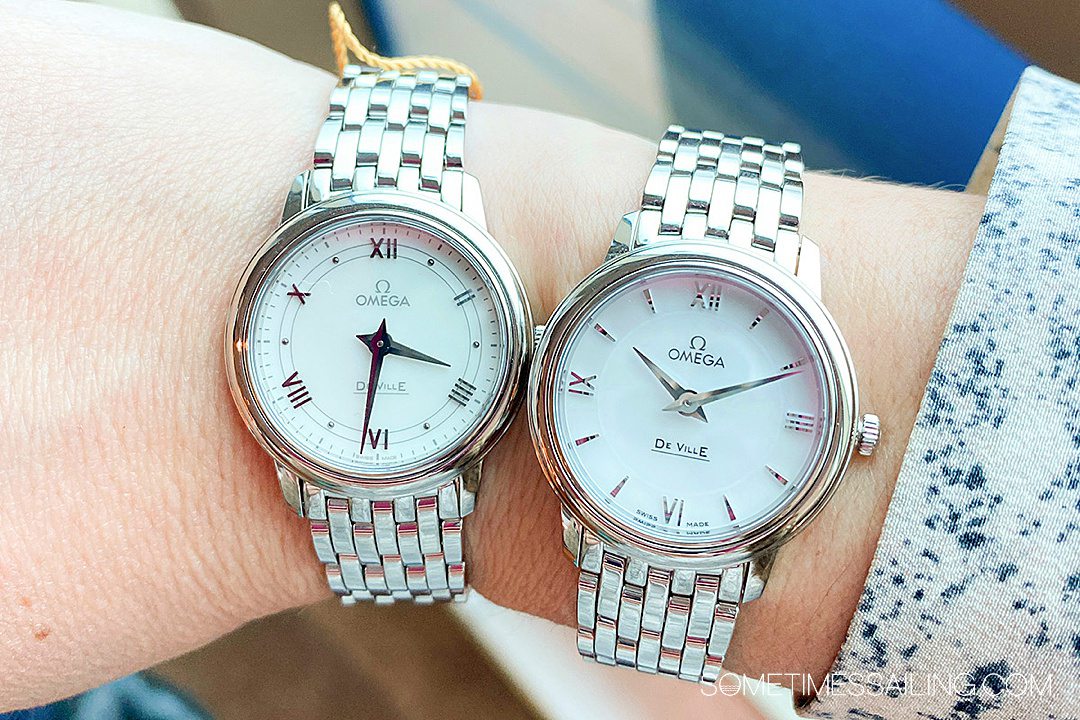 6. Buying a Watch on a Cruise Ship is Duty-Free
Another benefit of buying a watch on a cruise ship is that it's likely to be duty-free or tax-free. This can save you hundreds or thousands of dollars, depending on the watch price.
Beware, you may have to declare the watch and pay taxes upon re-entry into the United States.
7. You May Have to Declare the Watch Upon Re-Entry Into Your Home Country
Depending on the price, you'll likely have to declare the watch when you re-enter your home country. Do you know how customs asks if you have anything to declare when you return from an international trip? A new watch would be one of those items.
This may equate to you having to pay taxes on the watch when you re-enter the United States, for example.
For the latest information on what you must declare when returning to the United States, see the government's info on "What to Expect When You Return." It varies based on the product's purchase price.
How Does Customs Know You Bought a Watch on a Cruise Ship?
It's likely the cruise line has to report any onboard purchases above a certain dollar amount, so don't try to skirt the system. Customs often knows about your purchase before you tell them.
8. Educate Yourself About Watch Movements
A watch movement is the mechanics of the timepiece, comparable to an engine in a car. It's what makes the watch tick.
There are three types of watch movements listed in terms of what you can expect from most to least expensive: automatic, manual, and quartz.
Here are some examples of brands + watch movements + price points: A Hublot automatic watch can easily be over $10K. A Panerai manual watch may be around $4-$5K. And an Omega quartz watch could be $3K or less. Of course, the brands offer multiple movements and price points, but that's an example.
There is another aspect to beware of if you buy an automatic or manual watch. If you are new to the luxury watch world, you may be surprised to learn that more expensive watches are manual, which means you need to wind them to keep time.
Automatic watches wind themselves as your arm, hand, and wrist move. However, if you take the watch off and don't wear it for a few days, you'll likely find the time is wrong a week later when you go to wear it. It's not broken – it simply needs to be moved around a little bit and wound to the current time.
Quartz is the third kind of movement, which is battery-operated. It's more likely that a watch around the thousand dollar mark and less are this price point and operation. You're probably used to battery-operated watches if you've worn a watch for years that you've bought from a department store, for example.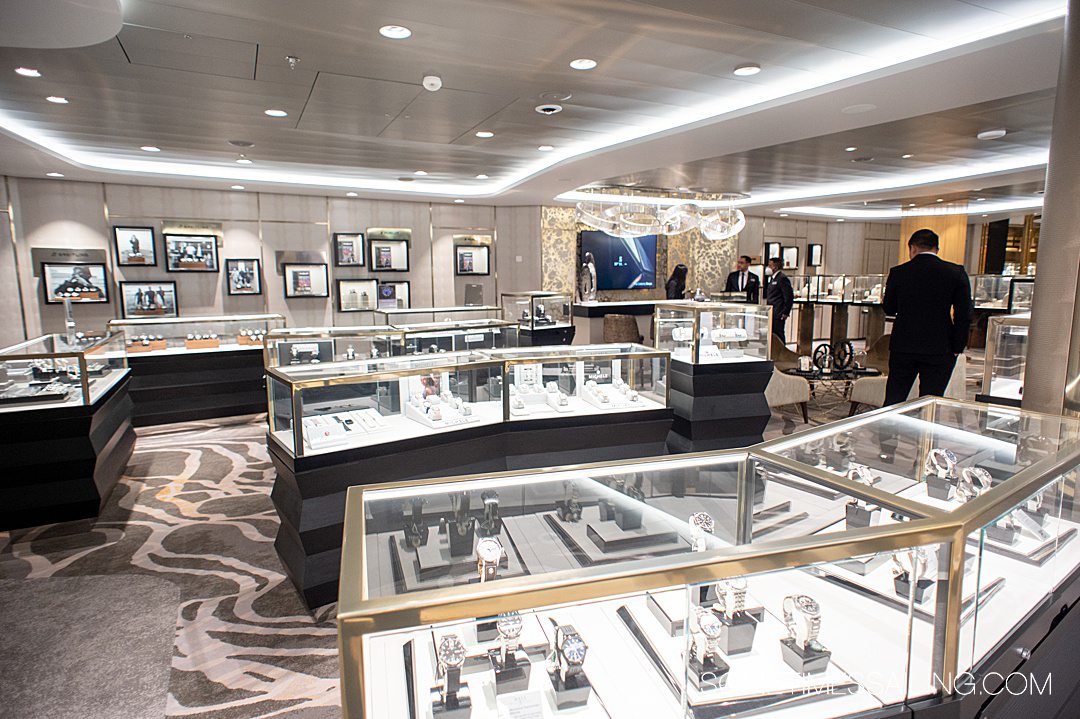 9. Ask the Salesperson if He/She Can Include Another Watch Strap
Some watches come with an additional watch strap, and some don't. If the watch you're looking at doesn't come with a second strap and it's something you would like, ask if they can include one as an incentive to buy the watch. Since on-brand watch straps cost hundreds of dollars, this is a great incentive.
While it's unlikely the onboard watch shop will have the multitude of options an on-land authorized dealer or boutique may have, they usually have some options.
If you are buying a watch with a fabric or textile strap of some kind – like leather, nato, or canvas – you should ask about an additional strap.
If you want to get more watch straps when you're home, our favorite watch strap shop – which is incredibly well-known amongst the watch-enthusiast community – is Barton Watch Bands.
10. Watch Boxes are Big to Huge
Depending on the watch, the box may be big…to bigger…to huge.
Luxury watch brands nicely present their products in a box that seems to match the price tag. You'll want to make sure you have a way to carry this box home. DO NOT put an expensive brand-new watch inside a checked piece of luggage. If anything, wear the watch and check the box that does not have the watch in it.
What is Inside a Luxury Watch Box?
So what's inside the huge box? The watch, of course.
There should be an authenticity and/or manufacturer's warranty card inside the box. Some brands will include a tool, like a small screwdriver, to change the strap.
Check the watch box's contents before you leave the ship, especially to ensure it's the right watch and everything that should be included is inside.
Do You Need the Watch Box?
First and foremost, you need what is inside the box. It's factored into the price, like any product's packaging. It's up to you if you keep the physical box in the long term.
We usually do in case we ever want to resell the watch. It usually helps with the resale price.
11. Understand the Warranty
Be an educated buyer and ask about the watch's warranty. This is specifically the manufacturer's warranty, not the cruise ship's store warranty.
Suppose there is a mechanical problem with the watch, and it stops keeping time correctly eight months after you purchased it. That is something likely covered by the manufacturer's warranty. Manufacturer defects can happen – that's why products have warranties.
It's something to be aware of and know when you're buying a watch on a cruise ship. It may also help give you peace of mind about buying a watch onboard.
12. Don't Allow the Salesperson to Pressure You Into a Purchase
Make sure you are running the show, not the salesperson. It's very easy to become gullible or naive when a salesperson, who is supposed to be the expert in the brand or product, is trying to get you to make a purchase. Their purpose is to make a sale, after all.
I've been told more than once by a cruise line watch salesperson, "You won't find a deal like this anywhere else." But that's not usually true.
As a passionate watch collector, I know watch prices fairly well. I won't let statements like that pressure me into making a purchase I'm not fully prepared for or educated about. And no matter your level of watch knowledge, you shouldn't let that kind of pressure get to you either.
13. Use a Credit Card
We can't think of a good reason to pay for anything in cash on a cruise ship. In fact, we're not even sure all cruise ships take cash anymore in a post-COVID world. Regardless, plan to use a credit card for anything you buy on board for multiple reasons, the most important being credit card points are rewarding and a credit card, like American Express, protects your purchase.
If you buy a watch on a reputable cruise line, the onboard watch stores are authorized dealers. But the more peace of mind reassurance, the better. This is why we put big purchases on American Express credit cards wherever we go, where shops accept Amex.
American Express protects its customers better than any other credit card – Visa and Mastercard included.
➤ Don't have an American Express? The Platinum card is our favorite travel rewards card 💳
14. Know What Brands the Ship Carries
Usually, big cruise ships carry one major company's brands of watches and the brands under the mega-conglomerate. There are actually fewer independent watch brands than you may think; most of them are owned by one of the major players.
The two main players are Swatch Group and LVMH.
If it's a Swatch Group ship, the watches they carry will include brands like:
Tissot
Hamilton
Swatch
Omega
Longines
Rado
Conversely, if it is an LVMH brand, the watches include:
Hublot
Bulgari
Tag Heuer
Zenith
While it's not impossible, it's unlikely that a cruise line with a contract to sell Swatch Group brands also sells some LVMH brands and vice versa. For example, you won't find a Hamilton watch sharing space with a Tag Heuer watch because they are from two different companies.
We have, however, seen Panerai watches sold where Swatch Group watches are sold – like on Celebrity Cruises ships – and have seen them sold where LVMH brands are sold – like on Disney Cruise Line ships.
Explora Journeys, which is owned by MSC, is the first cruise line to feature an onboard Rolex boutique. EXPLORA I, the first ship in the fleet, has an onboard Rolex at sea mono brand store.
15. Ask if the Shop Has a Full-Length Mirror
You have to see the watch on you before you buy it. And viewing a watch on your wrist in a full-length mirror is so different than seeing it in a small mirror or viewing it on your wrist as you look down at your arm.
Seeing a watch on you in a full-length mirror may help you decide if you love the watch or hate it. Mikkel and I have had both instances happen!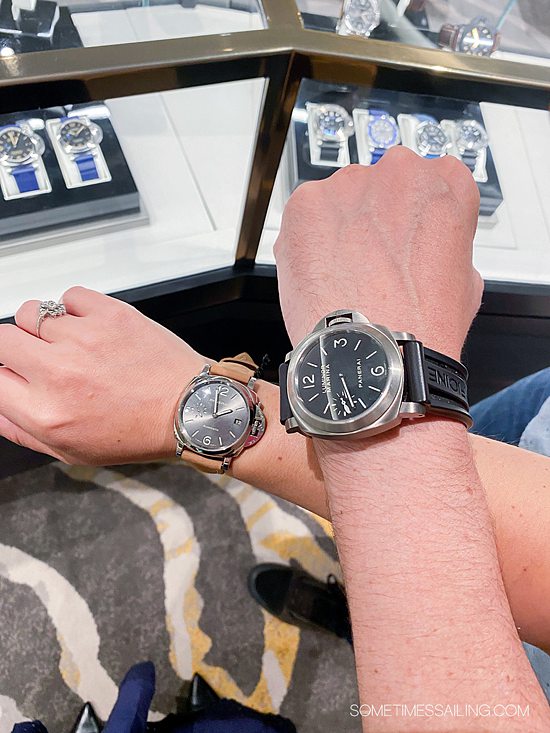 16. It's Okay to Take Photos of the Watches in the Shop
Don't be shy to take photos of the watches you're considering in the shop's case or – even better – on your wrist.
We're used to doing it because it's part of our buying process. We want to be able to look at the photos after we walk away from the store while we're considering the purchase in the hours and days to come. And what better way than to look at a photo of it on you? You'll be the one wearing it, after all.
17. Ask if They Can Deliver the Watch to You Before You Leave the Ship
If you are uneasy about having a new watch that costs thousands of dollars in your stateroom, ask the shop if they can deliver it to you just before you disembark if you purchase the watch.
Just don't forget the watch before you leave the ship!
18. A Watch is a Special Memento from Your Cruise Vacation
You may be sailing on a cruise for a much-needed getaway or a special reason like an anniversary, a wedding, or a proposal. Maybe it's a family reunion.
No matter the reason, buying a watch on a cruise is an exceptional vacation souvenir.
Even if you find that the watch may be a little more expensive than a deal on land or online, you still may go for it. We support that. And sometimes the cruise ship price is better than what you can find elsewhere.
Regardless, buying a watch on a cruise ship will be memorable and incredibly special.


Interested in yacht cruises? Also check out: