Complete Guide to Naples Cruise Port in Italy
Naples is Italy's third largest city after Rome and Milan on the Mediterranean coast in the Campania region. A city known for inventing pizza, there's much more to Napoli than carbs and the waterfront. That said, thanks to a Mediterranean cruise, arriving at the cruise port of Naples is undoubtedly one of the most fashionable ways to reach this famous Italian city.
Our guide provides valuable information about the Naples cruise port, including your arrival location in relation to the central part of the city and what to do in Naples. We'll also provide some great options for day trips if you want to book independently of the cruise line.
Disclosure: This page has affiliate links, meaning we may earn a small commission if you click the link and proceed with a purchase at no cost to you. We truly only recommend cruises, experiences, products, and services we personally use. As Amazon Associates, we earn from qualifying purchases.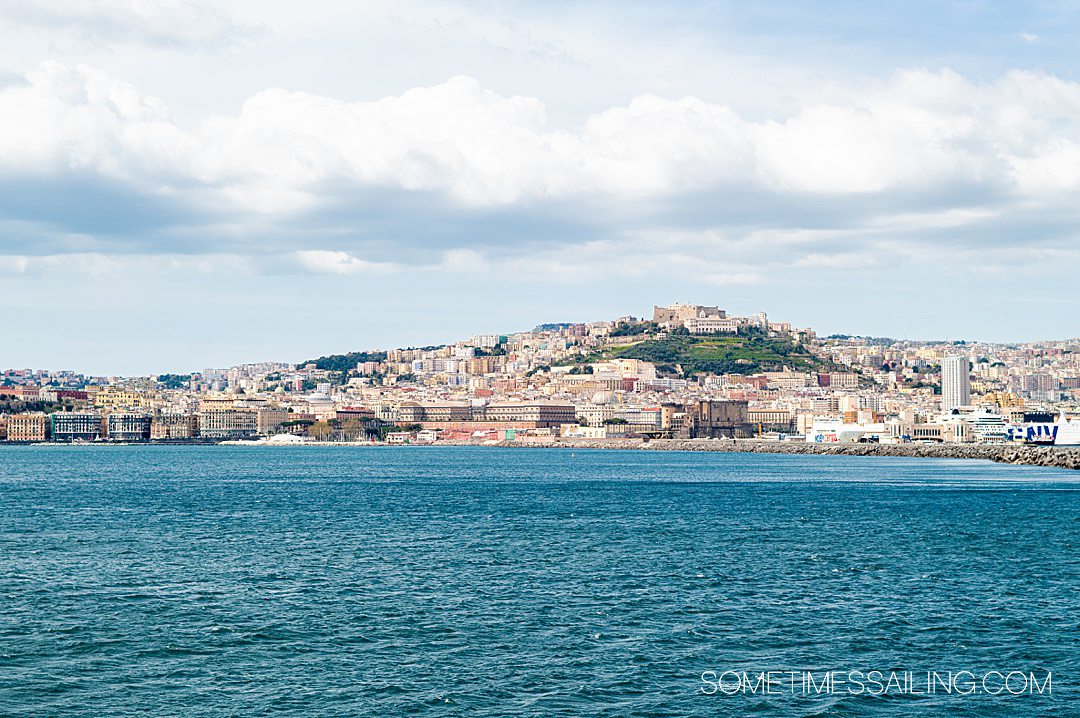 🕐 Short on time? No Problem!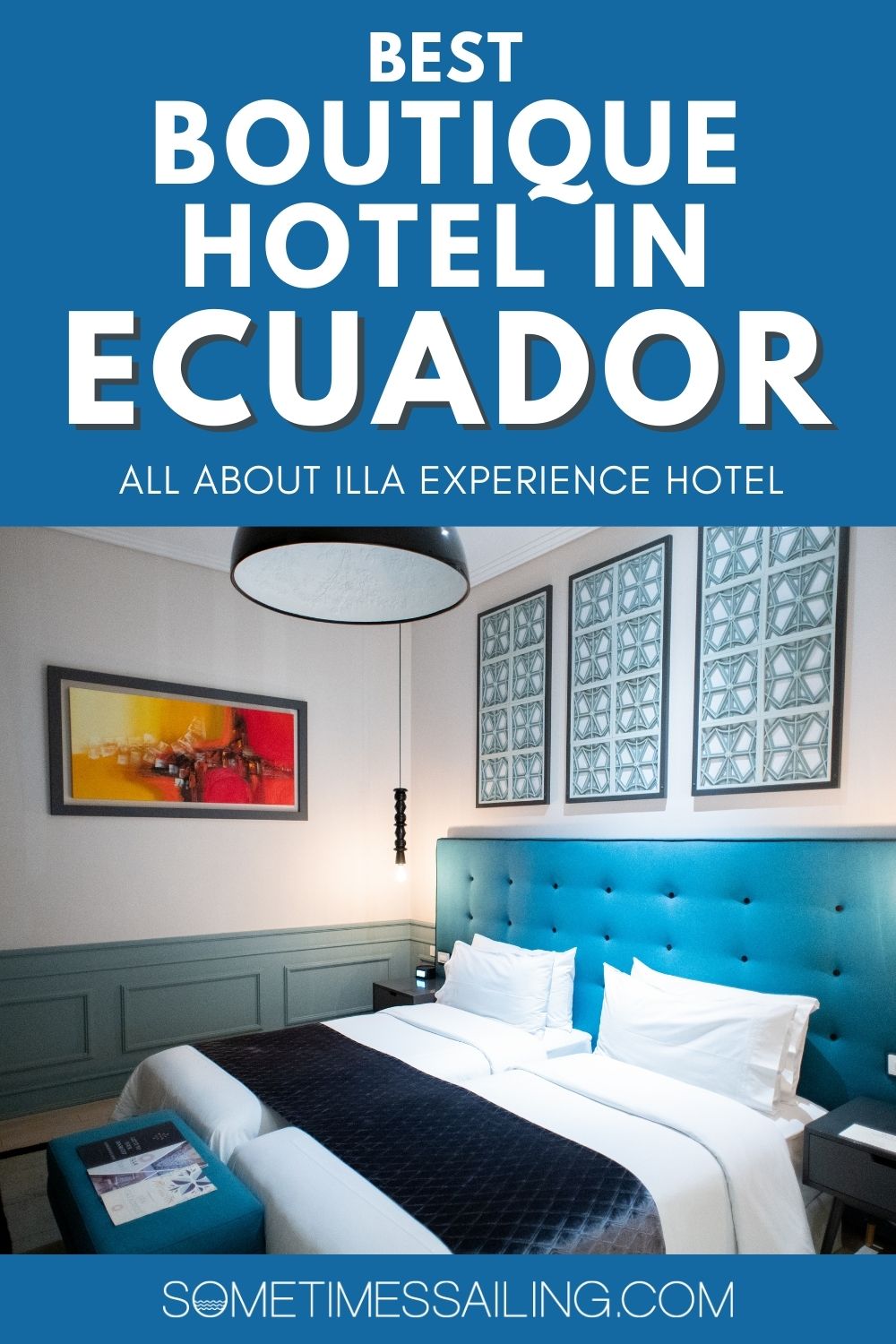 Getting from the Naples Cruise Port to the City Center
Cruise ships are within walking distance of Naples' city center when they dock at Porto Napoli. Whether you're arriving from the north, like the Civitavecchia area in close proximity to Rome, or from the Amalfi Coast to the south, you'll appreciate the ease of arriving in Naples.
✦ Big Cruise Ships
It only takes 10 minutes to walk to the heart of the city from the Naples port, where the big cruise ships dock. The large ships usually dock at the Naples cruise terminal near Castel Nuovo, Stazione Marittima.
✦ Small Cruise Ships
Smaller cruise ships – like Emerald Azzurra yacht cruise ship with a max of 100 passengers – dock right in town next to Castel dell'Ovo (Egg Castle).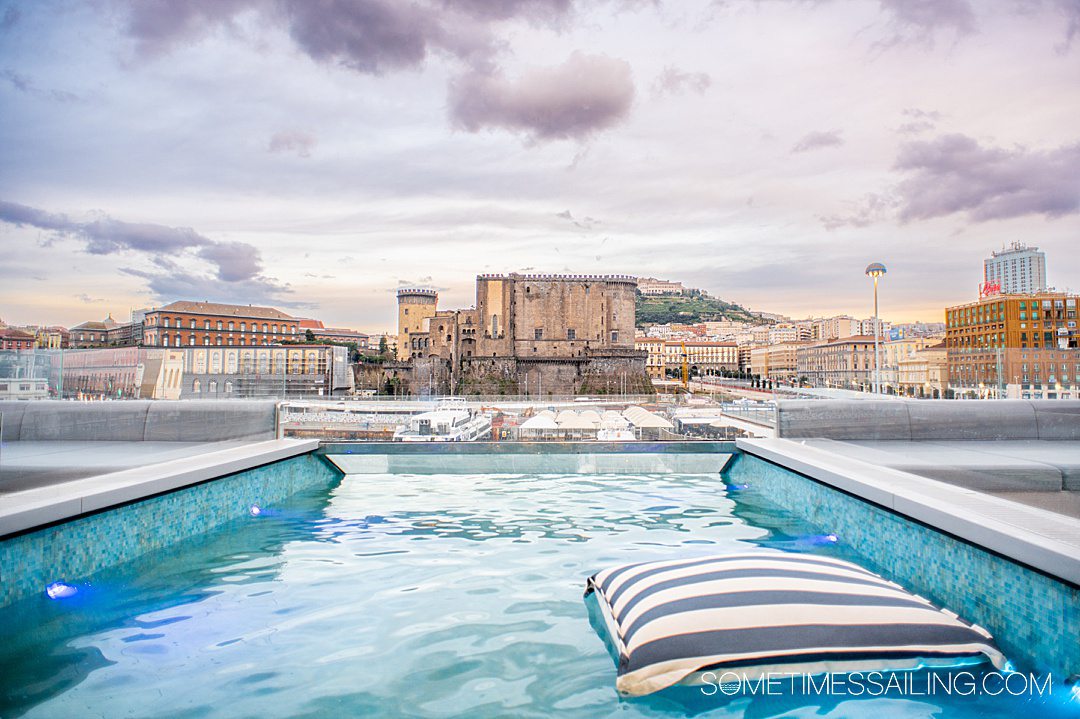 Things to Do in Naples
Once your sea legs are firmly on land, it'll be time to explore this enchanting city, bursting with cultural wonders. Walk lively streets, experience the mouthwatering Neapolitan cuisine, and meet warm-hearted locals. Below are our suggestions to make Naples an extra memorable experience.

➜ Walking Tours
Discover Naples' plethora of fascinating sights and hidden gems on foot. Pack your walking shoes, and book any one of these awesome adventures…
✦ Historical Center Walking Tours
Did you know Naples' historic city center is a UNESCO World Heritage Site? Do not miss it during your time in Napoli, especially if it's your first visit.
See the renowned San Gregorio Armeno Street (Christmas Alley) on a guided two-hour tour famous for its artisan workshops specializing in nativity scene figurines. Discover the craftsmanship behind these intricate creations and learn about Neapolitan Christmas traditions.
Admire the grandeur of Piazza del Gesù, home to the Church of Gesù Nuovo and the Monastery of Santa Chiara. Learn about the history and artistry of these iconic landmarks as you wander through the square before exploring the Naples Cathedral and St. Chiara Church.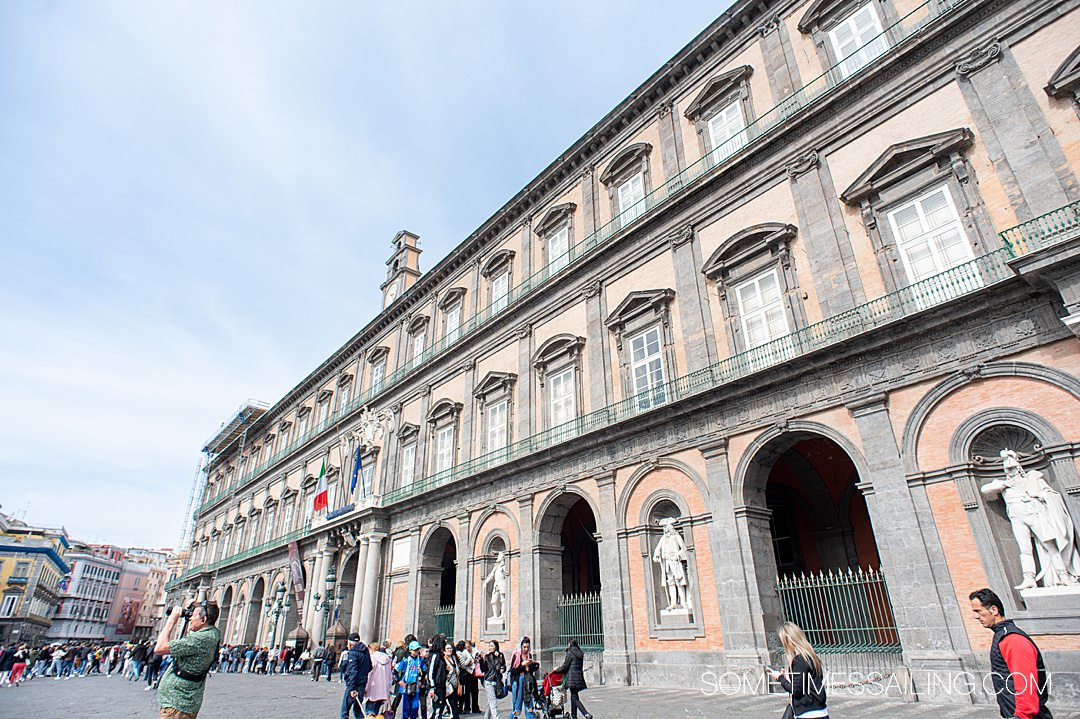 ✦ Naples Underground Walking Tour
Descend into the fascinating underworld of Naples by visiting Napoli Sotterranea, an intricate network of tunnels, catacombs, and ancient cisterns. Explore the city's hidden history, and learn about its underground past. During this unique tour, you will witness the layers of Naples' civilizations through time.
You can also combine a tour of the city center with an underground tour…
✦ Museo di Capodimonte
This majestic museum in a former royal palace hosts a vast collection of paintings, sculptures, and decorative arts. It houses masterpieces by renowned artists such as Caravaggio and Titian.
✦ National Archaeological Museum
Delve into ancient history at the National Archaeological Museum, home to an exceptional collection of artifacts from Pompeii, Herculaneum, and other archaeological sites. Uncover past treasures, including mosaics, frescoes, and sculptures.
➜ Naples Bike Tours
Want to see the city by bicycle? It's a wonderful way to get around more of the city in a fun way…on wheels!
✦ Bike Tour in the City of Naples (with Option to Explore More)
Hop on an electric bike for a leisurely ride through Naples. You can choose from an experience that lasts four hours or up to seven with this tour, depending on where you want to go and what you want to see. It has over 200 5-star reviews.
✦ Bike Tour Explores Just Outside Naples (Escape the City)
These e-bikes – and your guide – will take you just outside the city of Naples for a less-crowded tour of the surrounding area.
It's great for people who have already been to Naples or perhaps prefer suburban delights to urban energy. You won't be far from the cruise ship as you ride along the Mediterranean coastline to the volcanic Lake Averno.
➜ Food Tours
From savoring world-famous Neapolitan pizza to indulging in street food and sweet treats, these Napoli food tours will take you on a gastronomic journey through Naples' rich food culture.
The benefit of a guided food tour is that you'll try many different dishes from restaurants and eateries that the locals recommend. But you won't have to do any research to find them yourself; you simply have to book a tour and arrive.
✦ Private Food Tour
Have your guide's undivided attention with this private food tour that stops for ten tastings. It's less than $130 per person and is offered several times a day. This is an awesome price, considering some group food tours are $90 or more per person.
You'll learn about the culture and sites you pass in Naples in addition to tasting what makes the area special. Try various pasta, a famous local pastry, seafood, cheese, local drinks and more. The tour is customizable for vegetarians too.
Over 315 5-star reviews cannot be wrong!
✦ Group Food Tour
This 3.5-hour food tour is offered in a small group setting. Try treats sweet and savory, from pasta to pizza, drinks, and desserts. Nearly 160 people have given this tasty Naples food tour 5 stars.
As you taste the flavors of the region, you'll learn about the history of sites you pass as well.
✦ Pizza Tour (Includes History and Tastings)
Learn about the history of pizza in Naples during this iconic and memorable 2.5-hour tour. You'll learn about each ingredient separately, even tasting various types of mozzarella cheese, then understand why together they make the beloved dish so many people adore.
Devour Food Tours is our favorite food tour company – you're in for a treat if you can grab a spot on this tour, only offered on certain days of the week.
✦ Pizza Making Class
Begin your culinary adventure with a Naples pizza class. It is, after all, the birthplace of pizza. Learn about the traditional pizza-making process and the secret behind the perfect dough, sauce, and toppings.
For a pizza-making class complete with wine and samplings of additional foods like bruschetta and lemon sorbet, sign up for this two-hour class that meets near the cruise port. It's just a 10-minute walk to get to the meeting spot to embark on a pizza-making experience.
If you want something that is just one hour, the great thing about this small-group class is that it meets close to the cruise port, and it's only an hour. This means you can take the class, learn all about pizza in Naples and enjoy your meal, and still see the sites before or after.
Pizza Restaurants in Naples
If you simply want to get pizza on your own, there's no shortage of pizza places in Naples. Beware that Napoli pizza is chewy by nature. The chewiness surprised us because we're both from New York, where the best pizza is crisp. But part of the joy of traveling is discovering interesting info like the chewiness of pizza in Naples.
We enjoyed our dining experience at 50 Kalo, which has been written up in numerous publications as one of the best pizza restaurants in Naples. It's affordable, delicious, and the staff is friendly.
They don't accept reservations, and the walk from the port is around 30 minutes one way. Alternatively, you can take a taxi there or public transportation. But the waterfront walk is beautiful, and we very much enjoyed it as part of our self-guided sightseeing tour of Naples.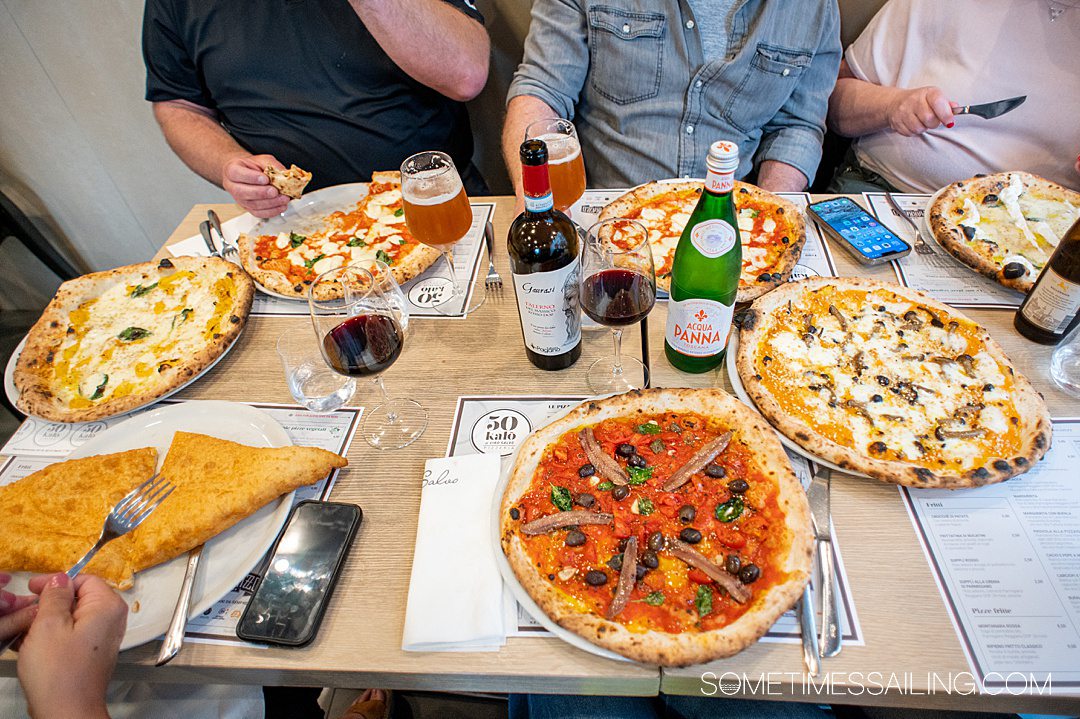 ✦ Street Food
Embark on a street food adventure along Via dei Tribunali, a bustling street in the historic center. Sample local specialties, including ragù, sfogliatelle pastry, spaghetti, pizza, and limoncello.
Be sure to visit the bustling Mercato di Porta Nolana, one of Naples' oldest and most vibrant food markets.
➜ Private City Tour
If you don't want to be part of a group tour, book this three-hour tour with a local guide. It includes three tastings as well and meets incredibly close to the cruise port area.
➜ Why You Should Book a Guided Tour in Advance
We highly recommend booking a guided tour in advance for Naples if you don't sign up for an excursion with the cruise.
A guided tour will undoubtedly enhance your appreciation for where you are and what you're seeing. Because tours start at a specific time and end at a specific time, a tour will ensure you see the hits within a time frame that will get you back to the ship for the all-aboard time.
Lastly, Naples can get incredibly busy during peak seasons when most cruises sail to this Italian hotspot. A tour guide will know how to best navigate the streets of Naples to avoid large crowds.
See the Sites of Naples Independent of Tours
➜ Art and Culture
If you do not sign up for a day tour or excursion with the cruise line, you can see the most popular places in the center of Naples on your own. The main attractions are easy to get to.
✦ Piazza del Plebiscito
This iconic square in the heart of Naples spans over 269,000 square feet. The piazza exudes elegance.
Adorned with statues and fountains, it is surrounded by architectural marvels such as the Royal Palace of Naples – a 17th-century palace – and the Church of San Francesco di Paola. You can tour the royal apartments in the palace for an affordable entrance cost.
✦ Galleria Umberto
Built in the late 19th century, the Galleria Umberto is a historic shopping arcade showcasing exquisite architectural beauty. If you've been to Milan, Italy, it may remind you of the famous Galleria there.
The grandeur of Naples Galleria Umberto glass dome, intricate mosaic floors, and ornate details create a captivating atmosphere. It immerses you in a world of timeless charm and style as you stroll through its elegant passages and shop in the stores there.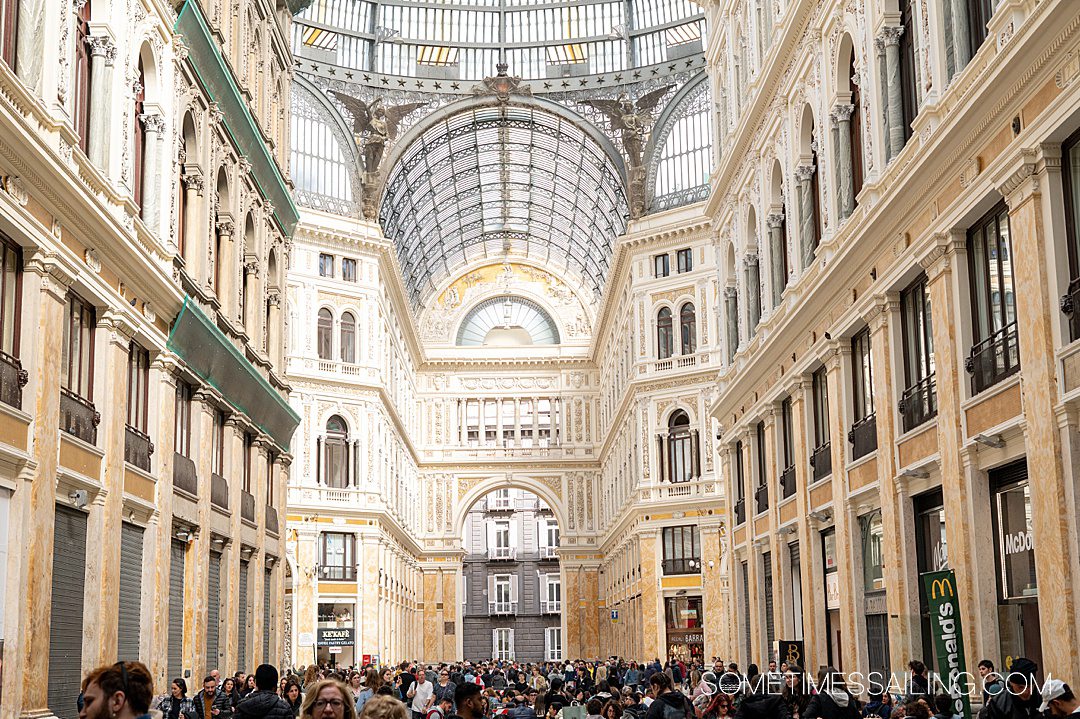 ✦ Via dei Tribunali
Dating back to the ancient Roman era, Via dei Tribunali is one of the oldest and most significant streets in Naples. As you wander through the street, you will be enchanted by its narrow cobblestone lanes, colorful facades, and authentic Neapolitan cuisine, offering mouthwatering delights.
✦ Castel Nuovo
Castel Nuovo, or Maschio Angioino, is an iconic medieval castle. Its grand entrance leads to a courtyard and a series of impressive halls and rooms. The entrance is adorned with intricate sculptures and a drawbridge.
Castel Nuovo is home to the Civic Museum, where visitors can explore a vast collection of art and historical artifacts.
✦ Naples Cathedral
Also known as the Duomo di San Gennaro, the Naples Cathedral is a magnificent religious landmark. This centuries-old place of worship houses the Chapel of the Treasure of San Gennaro. The blood of the city's patron saint is preserved there.
✦ Royal Palace and Museum
The Royal Palace and Museum of Naples allow visitors to explore lavishly decorated rooms, including the opulent Throne Room, the luxurious Royal Apartments, and the magnificent Court Theater.
The National Museum of Naples is located here, which displays an extensive collection of art, sculptures, and archaeological artifacts, including treasures from nearby Pompeii and Herculaneum.
✦ National Archeological Museum
The archeological museum is a treasure trove for history and archaeology enthusiasts. Inside, visitors can explore a vast array of artifacts from Pompeii, Herculaneum, and other archaeological sites in the region. The museum allows visitors to take a glimpse at the daily life and artistry of the ancient Roman world.
Highlights of the museum include the Farnese Collection, the Secret Cabinet with its risqué artifacts, and an impressive collection of Egyptian artifacts.
✦ Veiled Christ at Cappella Sansevero
Created by Giuseppe Sanmartino in the 18th century, this awe-inspiring marble sculptural masterpiece is of Christ lying down in repose, covered with a delicately carved marble veil. The veil appears so lifelike it seems almost translucent.
Housed within the mystical atmosphere of Cappella Sansevero, this sculpture is a must-see for art enthusiasts as well as anyone seeking a profound and moving experience in Naples.
✦ Spaccanapoli (Via San Biagio)
Explore the center of Naples by strolling along Spaccanapoli, a long, narrow street that cuts through the historic center. The name "Spaccanapoli" literally translates to "Naples splitter." It aptly describes the street's characteristic straight trajectory that seems to divide the city in two.
Experience the authentic Neapolitan atmosphere, marvel at the stunning architecture, encounter local artisans, and shop at traditional markets. Lined with centuries-old buildings, narrow alleyways, and bustling shops, Spaccanapoli offers a captivating glimpse into the soul of Naples.
✦ Lungomare Caracciolo
Take a stroll along the picturesque Lungomare Caracciolo, a scenic promenade that hugs the coastline. Enjoy breathtaking views of the Bay of Naples, admire historic buildings, and stop by the Castel dell'Ovo, an ancient castle on a picturesque islet.
✦ Villa Comunale
See the beautiful Villa Comunale, an elevated park with lush greenery and stunning panoramic views overlooking the ocean. Walk the park's pathways, relax by the fountains, and enjoy the serene waterfront atmosphere.
➜ Easy Day Trips from Naples
When in port for a long day or overnight, consider visiting some of the most famous sites near the city of Naples: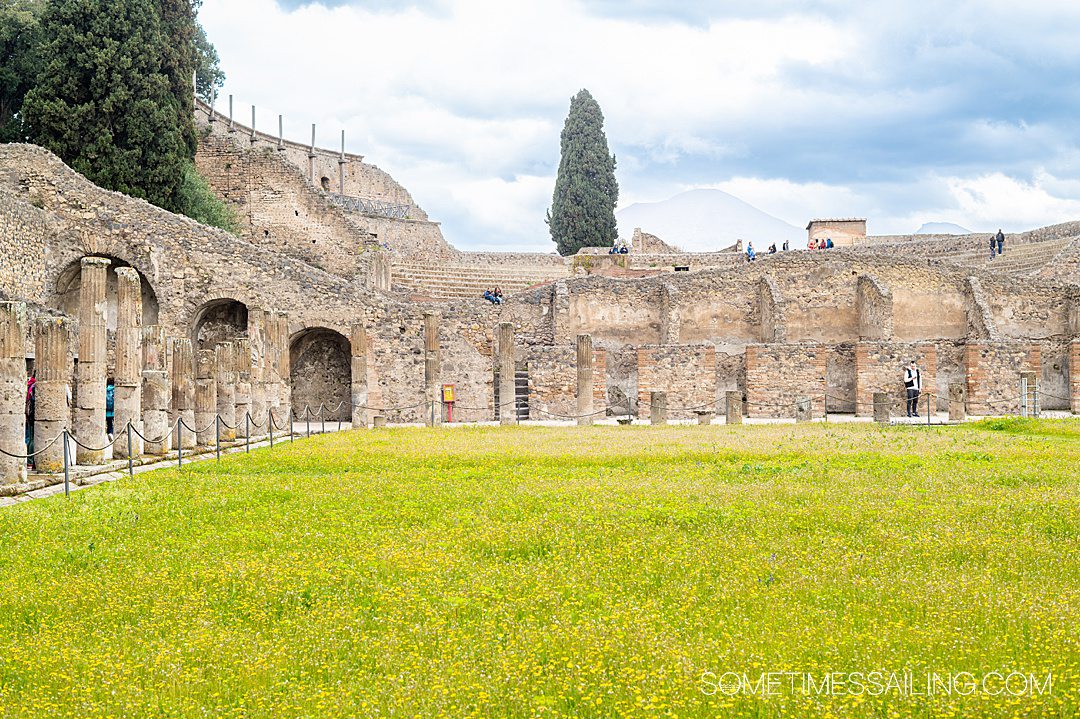 ✦ Pompeii
Not to be missed near the Port of Naples is the city of Pompeii. This well-known ancient Roman city and a captivating archaeological site is frozen in time. Buried under volcanic ash and debris during Mount Vesuvius' eruption in 79 AD, Pompeii was remarkably preserved, providing a unique glimpse into daily life in ancient Rome.
✧ Pompeii Day Tours from Naples
Don't be hassled with figuring out train times. Book a tour with a pickup point at the cruise port, and that will get you back in plenty of time for the cruise ship departure. This four-hour tour is a great option.
✧ How To Get To Pompeii on Your Own
Only 15 miles from Naples, the most convenient ways to reach the ruins of Pompeii are by bus, private car, or train. This is via public transport or a booked tour.
Because tourists book bus and train tickets during peak season in the summer months well in advance, we suggest you book tickets as soon as you know you want to travel to Pompeii.
We always use Trainline to book tickets in Europe. It's the easiest site to understand that's in English, and the prices are the same as the Italian train ticket websites. Be sure to book early because the closer it gets to your travel date, the more the tickets cost.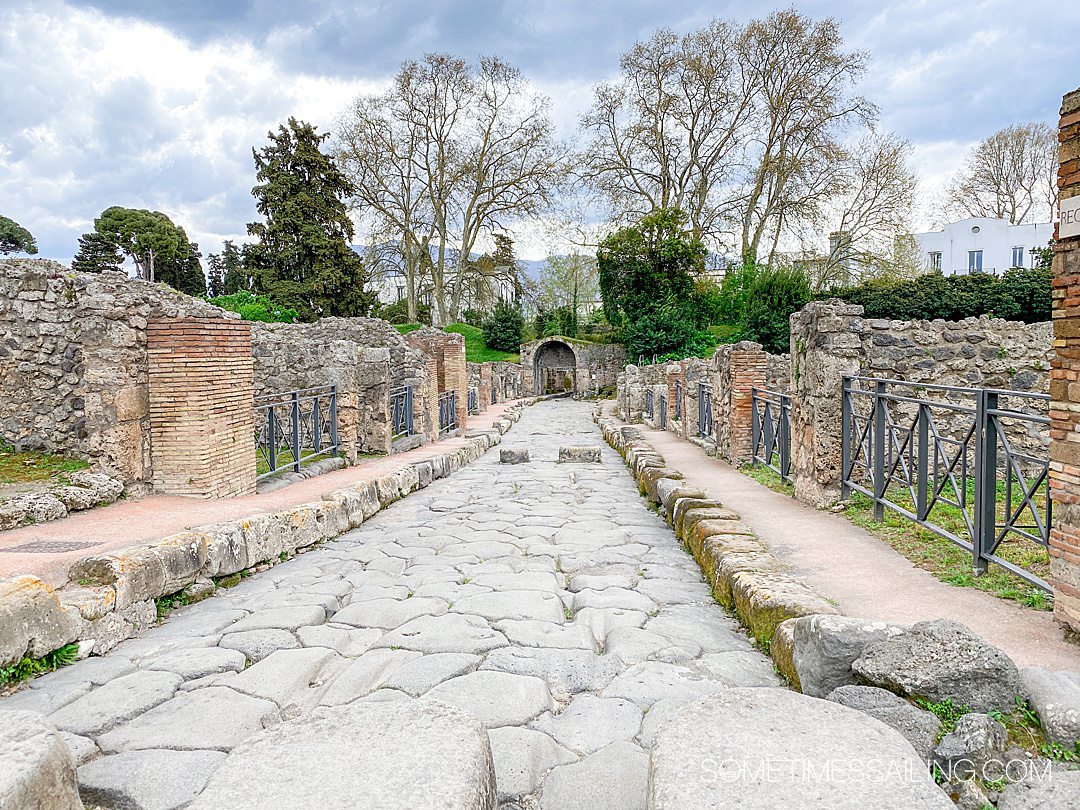 Train to Pompeii
You can take the Circumvesuviana train from the Napoli Centrale or Napoli Piazza Garibaldi train stations. Look for the Sorrento – Pompei line (Linea Sorrento) and get off at the Pompeii Scavi-Villa dei Misteri station.
The journey takes approximately 30 minutes. From the station, it's just a short walk to the entrance of the ancient city of Pompeii archaeological site. Make sure you know the return train times and book tickets in advance – you don't want to miss the cruise ship's all-aboard time!
Bus to Pompeii
Several bus companies operate direct routes from Naples to Pompeii. You can catch a bus from the SITA Bus Station & Ticket Terminal and buy a ticket for the Napoli-Salerno line. Look for buses heading to Pompeii or Sorrento and get off at "Pompei Scavi." The journey takes around 30-40 minutes, depending on traffic.
Private Transportation
If you prefer a more personalized and flexible option, you can hire a taxi or book a private car service from Naples to Pompeii. This option allows you to tailor the trip to your schedule and preferences, but it can be more expensive than public transportation.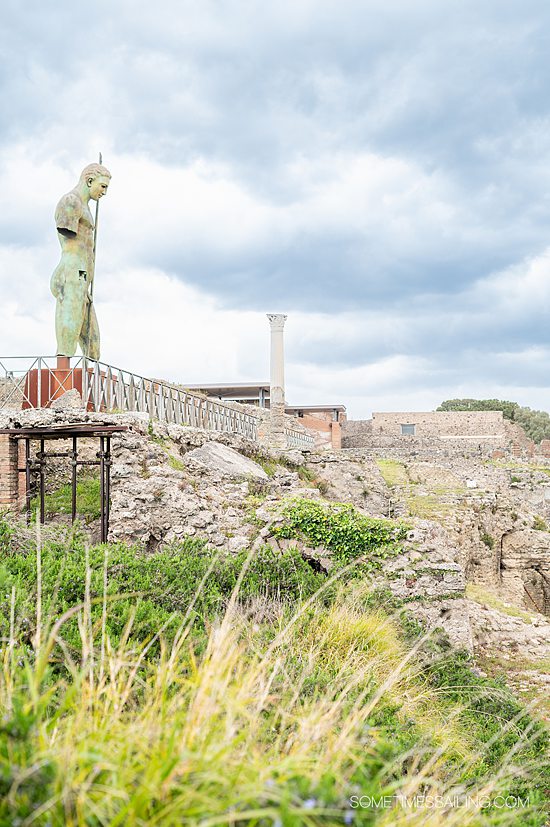 ✦ Capri
Known for its natural beauty, from the famous Blue Grotto to the vibrant Piazzetta, the Isle of Capri is a beloved destination for relaxation and exploration. Visitors can enjoy boat tours, visit the Villa Jovis ruins, or soak up the Mediterranean ambiance while indulging in local cuisine and shopping for designer fashion.
✧ How To Get To Capri
About 25 miles off the coast of Naples, you can arrive at this popular island destination by crossing the Gulf of Naples via ferry, private boat, or hydrofoil. Remember that weather conditions can affect schedules, so checking for any updates or changes before your trip is advisable, especially if you are only in the area for the day and the cruise ship leaves at night.
Ferry to Capri Island
The ferry is a scenic way to reach Capri island. You can catch a ferry from the Port of Naples at the Molo Beverello or Calata di Massa terminals. Multiple ferry companies operate regular services; the journey takes around 40-80 minutes.
Hydrofoil to Capri
A hydrofoil is a high-speed vessel with a journey of 20-40 minutes. These boats also depart from the Port of Naples from the Molo Beverello terminal.
Sign Up for a Tour
Better than having to figure out a private tour for only a day in port, sign up for a tour to Capri that leaves from Naples.
This Capri tour from Naples allows you to experience a hydrofoil as your mode of transportation, then continues with a guided tour at Marina Grande in Sorrento before sightseeing and a special tour of the private Gardens of Augustus.
This eight-hour adventure picks you up in Naples and heads to Capri for a taste of the coastline and the island. This allows you to skip a ferry by enjoying a direct pickup and getting to the heart of enjoying your excursion in style.
✦ Mount Vesuvius
An active volcano located 14 miles from Naples, it is most famous for the catastrophic eruption of Mount Vesuvius in 79 AD that buried the ancient cities of Pompeii and Herculaneum.
Today, the volcano is a popular destination for hiking. It offers breathtaking views of the surrounding landscape.
✧ How To Get To Mount Vesuvius
Located inside the Mount Vesuvius National Park, the easiest methods to get here are by public train and then bus, private car, or private tour.
Train & Bus to Vesuvius
First, take one of the Circumvesuviana trains to Pompeii Scavi or Herculaneum. From the train station, look for shuttle buses that run to Vesuvius. The bus ride will take you up the winding road to the entrance of Mount Vesuvius National Park. From there, you can hike to the summit.
Allow all day for a trip like this if you plan on hiking the volcano.
Guided Tours
Joining a guided tour is a popular way to visit Mount Vesuvius from Naples. Many tour operators offer organized trips from Naples to Mount Vesuvius, along with a knowledgeable guide who will provide information about the volcano's history, geology, and eruption in 79 AD.
For example, this tour combines guided exploration of the Pompeii ruins with a hike of Mt. Vesuvius.
Private Transportation
This option allows you to have more control over your schedule and comfort. You can arrange for a private driver to pick you up from your accommodation in Naples and drive you to the entrance of Mount Vesuvius and other sites along the way.
Port of Naples History
This historic Italian port has a storied past. From ancient times to WWII to the modern day, it's been an important port for the country and for Europe for many centuries.
From the city's founding in 475 AD to when Napoli saw the height of its popularity as "the" city in Europe in the 1200s, the Port of Naples has always been a vital part of the city, whether for commerce or tourism.
Under Bourbon rule in the 1700s, the city was as well known as Paris and London. It was in the 1800s that the first steamship set sail on the Mediterranean from Naples. However, the port saw a decline in the last half of the 19th century. In the 20th century came Fascism and the use of a new Maritime Station in the port in 1932.
The 21st century has seen a renaissance of tourism in Naples, thanks to cruise ships docking in the port and allowing visitors like you to explore this historic city.