Emerald Azzurra Cruise Review: Onboard Yacht Experience
Sailing on an Emerald Cruises yacht is fabulous. Our Emerald Azzurra Cruise Review will bring you onboard into the cabins, lounge area, top deck spaces (hot tub and pool included!), and dining spaces.
We'll tell you what we loved about the ship, what to beware of before you book so you can have the best experience on Emerald Cruises yacht ships like us, and what to expect in terms of ship movement if you are concerned about motion sickness.
While we sailed on Emerald Azzurra, Emerald Sakara is a sister ship that is expected to be very similar to sailing on Azzurra. So whether your vacation calendar brings you onboard Emerald Azzurra or Emerald Sakara, this information will be vital to maximizing your trip enjoyment.
Disclosure: We thank Emerald Cruises for hosting us. This page may contain affiliate links, meaning we may earn a small commission if you click the link and proceed with a purchase at no cost to you, which helps keep our content free. We only recommend cruises, experiences, products, and services we personally use. As Amazon Associates, we earn from qualifying purchases.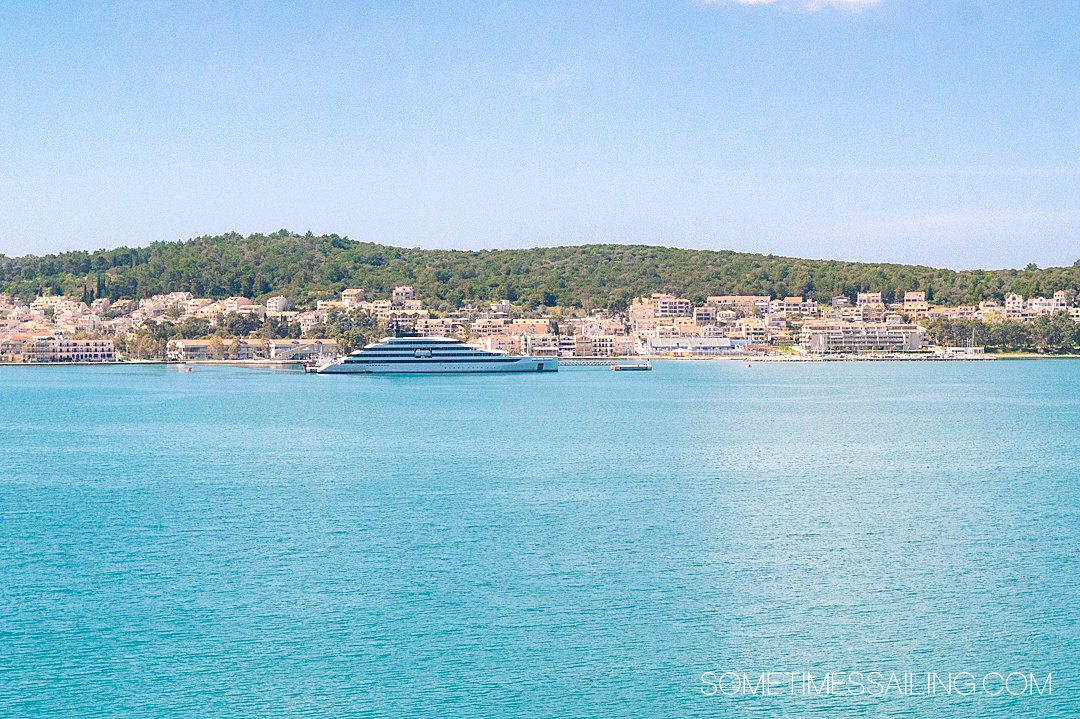 Emerald Azzurra Review Overview
You are in awe as soon as you see the ship come into view when you arrive at the port for embarkation. "Can you believe that's our ship?" is a sentiment many Emerald Azzurra guests share. The sleek, modern yacht is a beauty, and its multitude of features makes you fall further in love with the yachting lifestyle onboard.
We felt relaxed and well taken care of the entire time we sailed on Emerald Azzurra. There is a maximum of 100 passengers and 64 crew onboard. With a passenger-to-crew ratio like that, you'll surely feel attended to. The cruise was lovely, as were the other guests.
And truthfully, it didn't even feel like that many people were on board! Dan was only ever sharing the gym with one person. And I was in the infrared sauna solo more than once.
The food was outstanding, the drinks divine, and the scenery and itinerary phenomenal. There was always an evening activity planned that we could go to or skip, and we could do an excursion in the ports or explore on our own.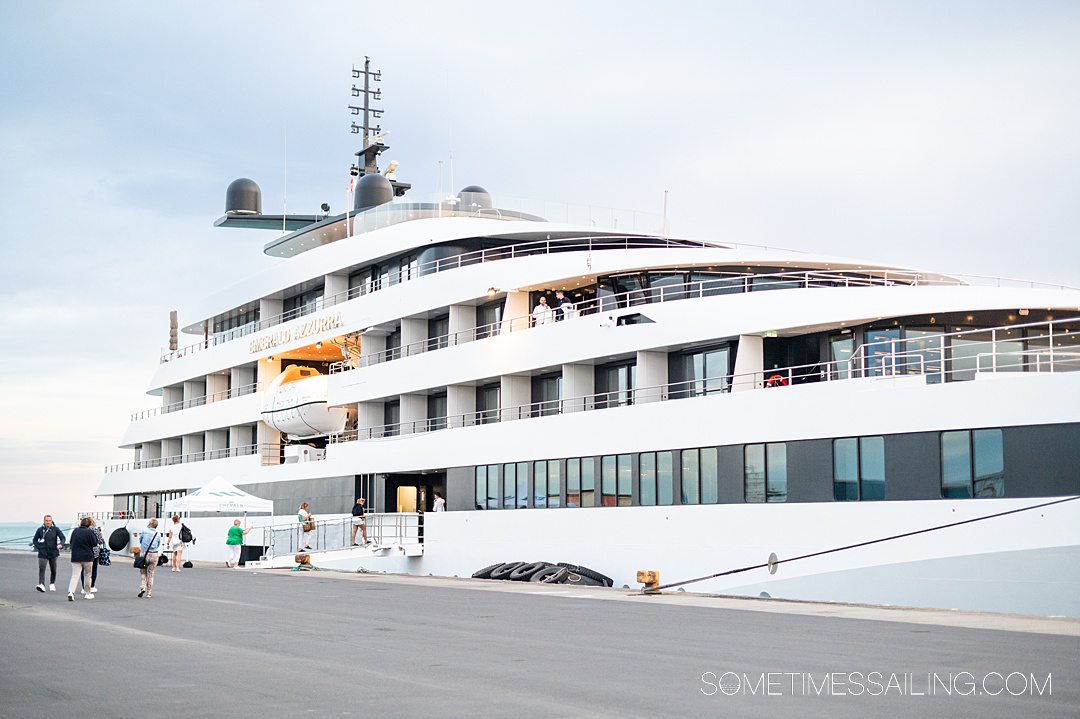 Our Top Picks for Emerald Azzurra Yacht Cruise Highlights
A few things really wowed us during our cruise:
🕐 Short on time? No Problem!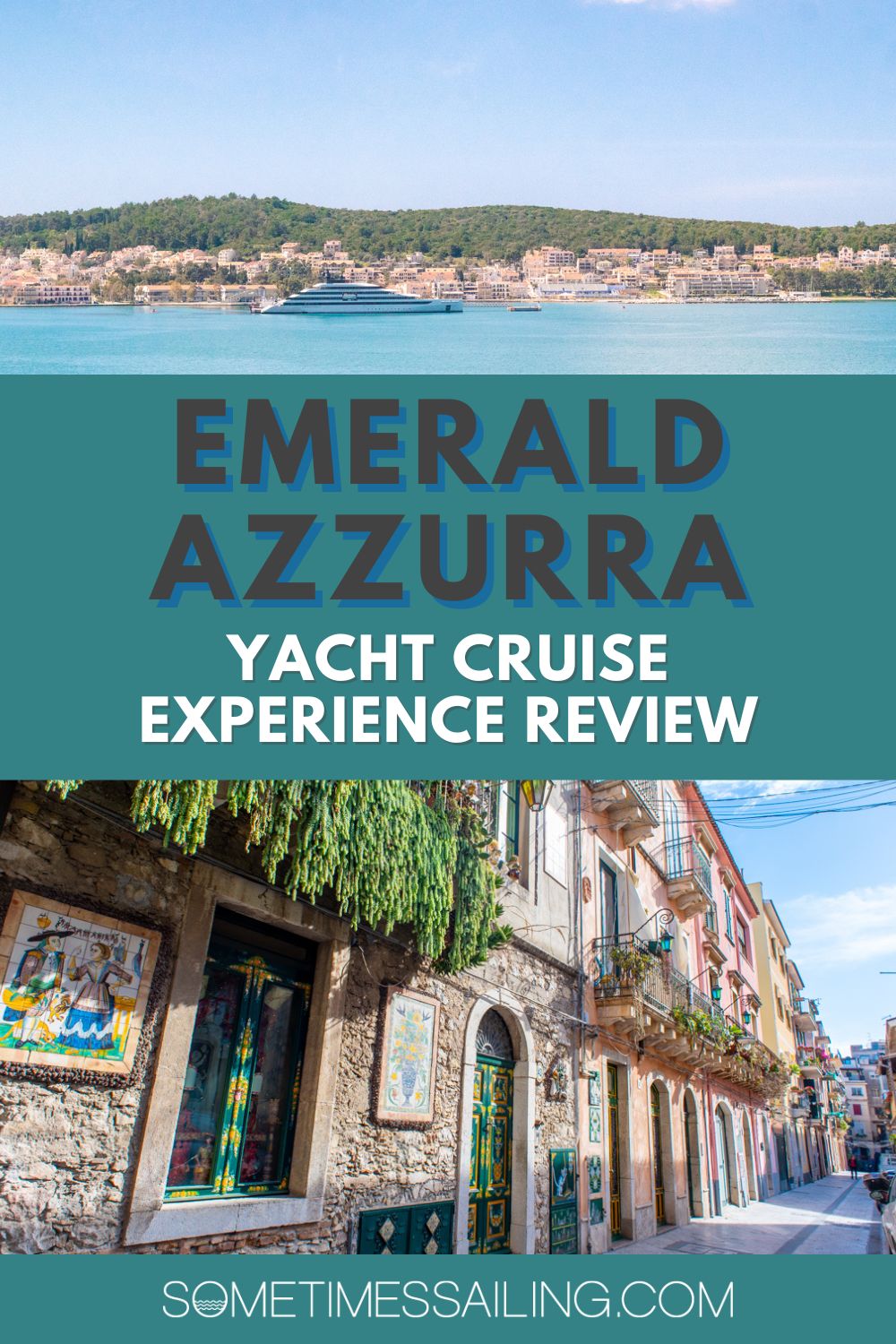 Emerald Azzurra Review: Common Areas and Spaces, Deck by Deck
There was a multitude of spaces onboard to enjoy, from bow to stern.
It's important to know what Emerald Cruises calls the decks on the cruise ship deck place in case you're trying to figure out what number the "Emerald Deck" is, for example:
Deck 2: Wellness Deck
3: Emerald Deck
4: Observation Deck
5: Panorama Deck
6: Pool Deck
7: Sky Deck
Below, we'll share what each deck contains.
Deck 2: Wellness Area (Fitness, Infrared Sauna, Elements Spa, and Beauty), Marina Platform, and Tender Boats
Wellness Area
The Wellness Area is home to Elements Spa, which has the following: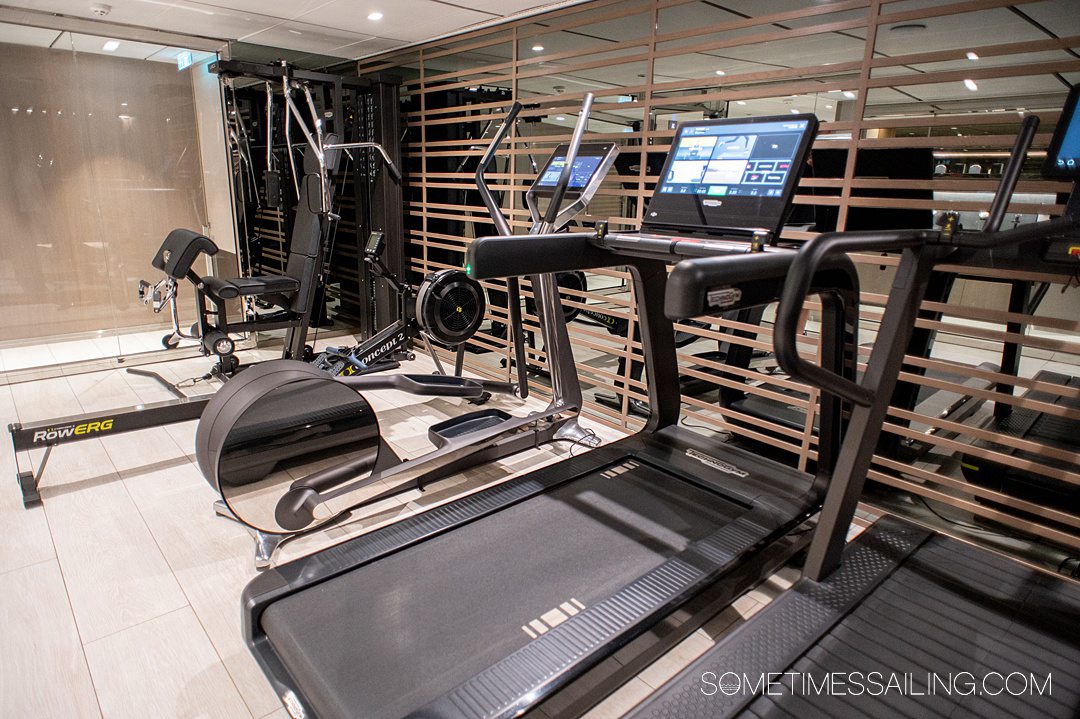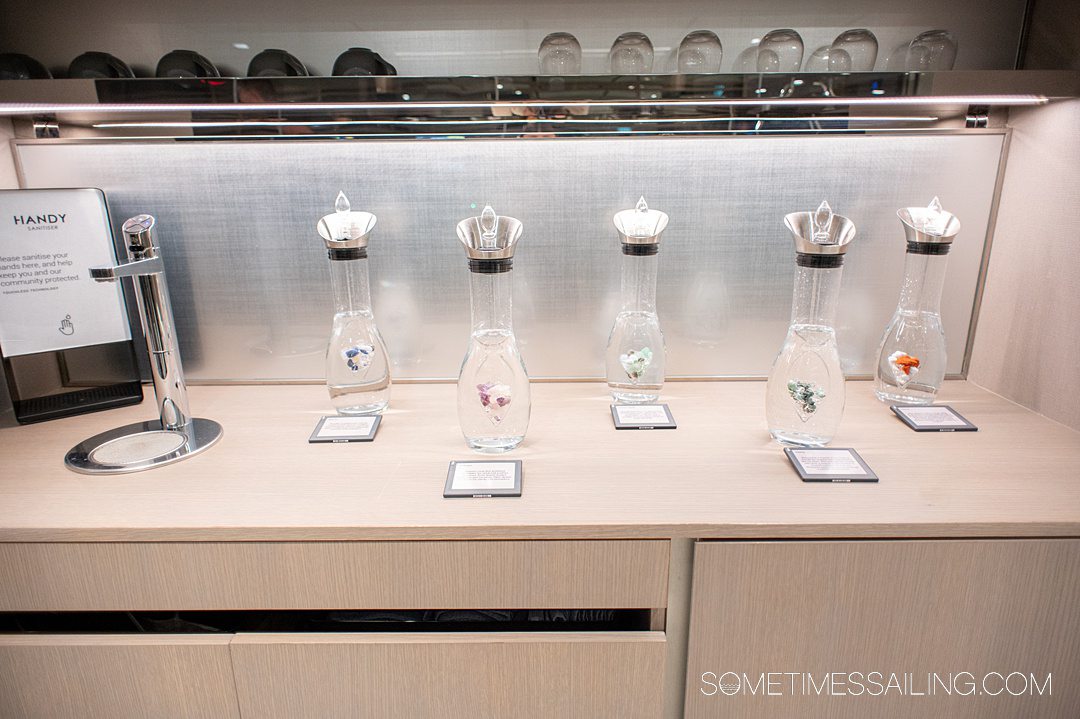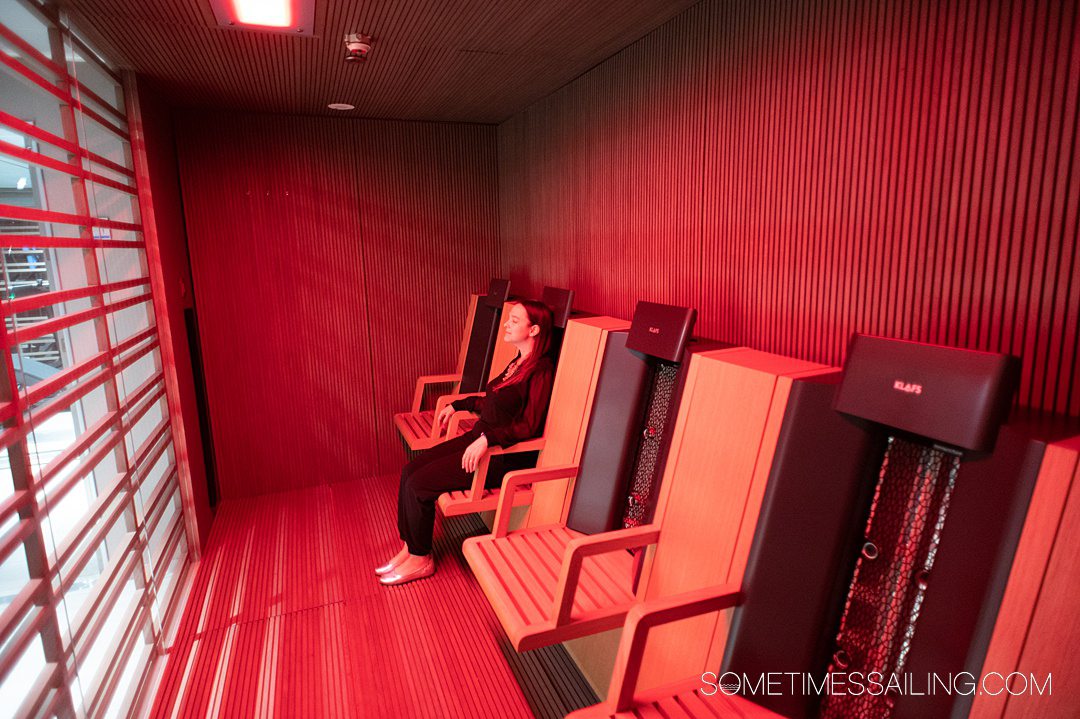 Marina Platform and Tender Boats
If you are interested in swimming in the ocean while the ship is moored or playing with the marina toys, the Marina Platform is where you'll want to be. It's also where you will go if you need to take tender boats to get to shore.
We didn't have the opportunity to experience the Marina Platform during our cruise because it was too cold to go in the ocean, and because we never moored; we were always docked next to land.
However, we've experienced the fun of one and water toys onboard other cruise ships, like Kontiki Expeditions, and know what a joy it is!
We also never needed to tender to shore. Thus, we didn't experience Emerald Azzurra's tender boats.
Deck 3: Reception, Amici Bar & Lounge, Boutique Azzurra, and La Cucina Restaurant
Reception
The reception area is a simple two-desk station with seating across from it in case you need to rest before embarking or disembarking the ship. Thanks to the minimal number of guests onboard, you never really had to wait to talk if you needed to talk to a crew member there.
Amici Bar & Lounge
The ship's main bar and lounge connect to the reception area. This multi-purpose room is, at first glance, the primary place to get beverages, whether at the self-serve coffee, tea, and water station area or the bar, tended by bartenders.
However, it's actually a multi-purpose area. Port talks are given here during the day, the future cruises sales desk is here, and it is an entertainment area at night.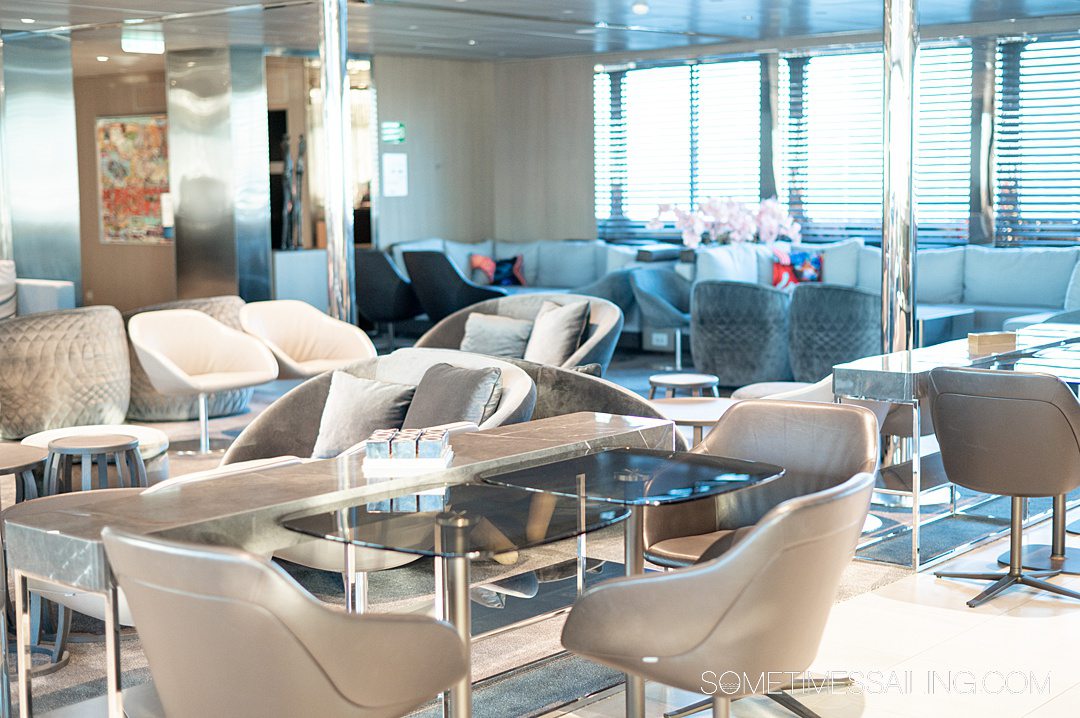 Boutique Azzurra
A lovely on-board shopping boutique has mostly jewelry for sale with some apparel. It's open while sailing, with hours posted in the daily program.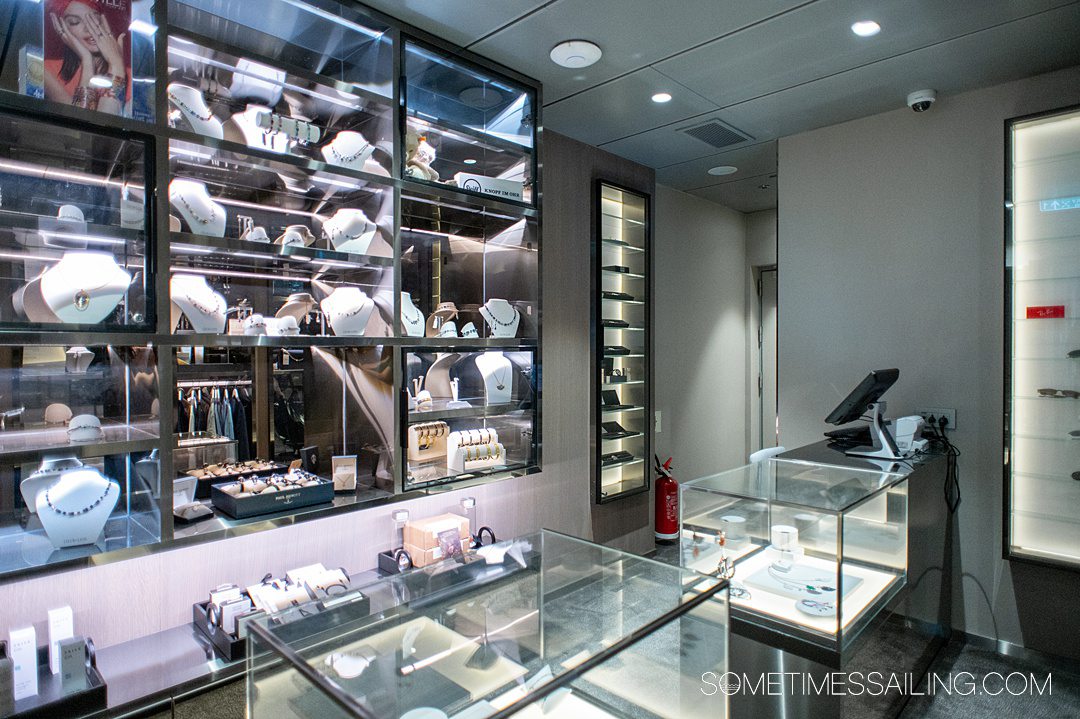 La Cucina Restaurant
La Cucina restaurant is at the aft of the ship. Plenty of indoor and outdoor seating allows guests to have options of where to dine, depending on the weather.
The beautiful space is decorated with a mixture of round and rectangular tables, booth seating and chairs, and some high tops. Assorted green foliage is placed around the interior dining room to make it an oasis.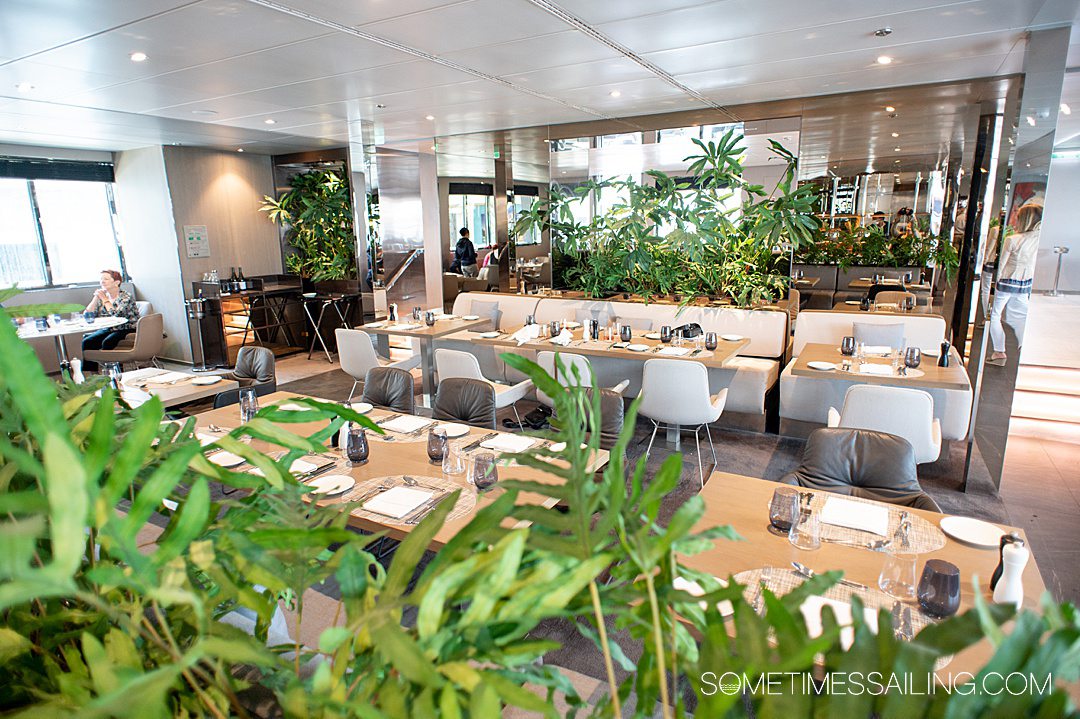 🚨 Read Our Extensive Emerald Azzurra Yacht Cruise Dining Review 🍽️
Deck 4: Observation Deck and Laundry
Observation Deck
One of the most peaceful places on the yacht is the Observation Deck. This relaxing nook is located toward the bow of the ship. We suppose you could say it's the closest thing Emerald Azzurra has to a library or game room.
Most of the time, guests could be found quietly reading in the space's comfy chairs. Other times we saw some people playing cards there or on their computers.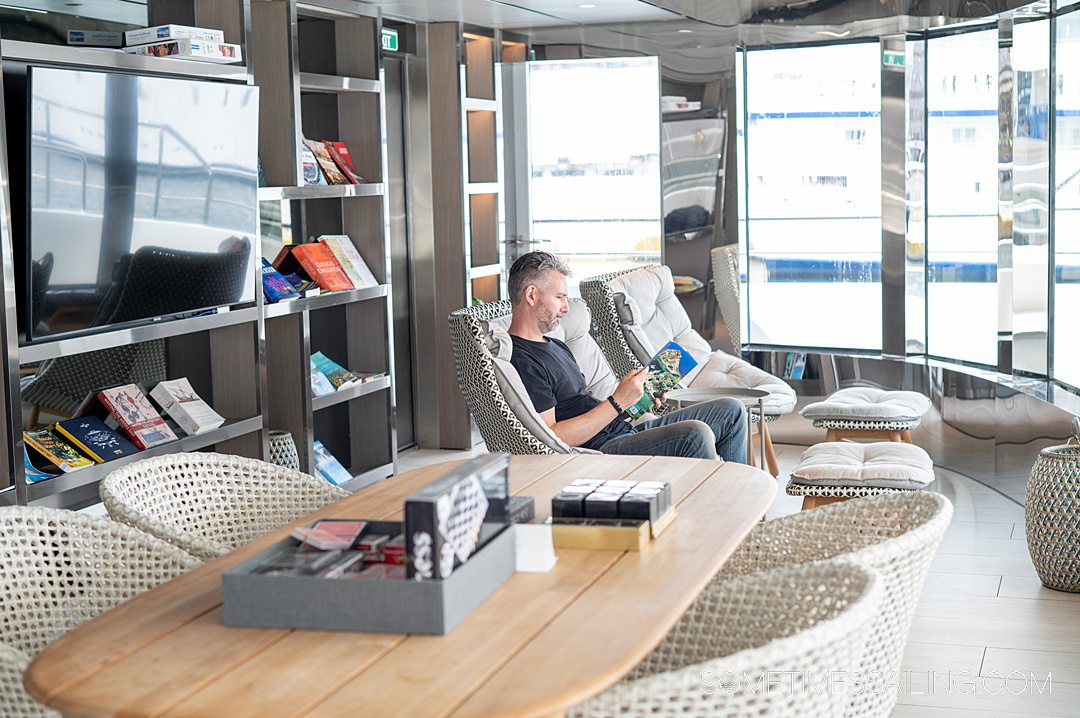 There is also a coffee and water station in the Observation Deck, which is one of two onboard. The other is in the Amici Bar & Lounge on Deck 3.
Laundry Room
As avid travelers, we're often on the road for many weeks at a time. Yet, we're minimal packers. This is why having an incredible self-serve laundry room on a cruise ship is such a treat.
Luxury cruise ships often only have the option to send your laundry out for the crew to do. But a true luxury and treat is a laundry room like Emerald Azzurra has. It's indeed welcomed and such an asset onboard. There are several washers pre-loaded with detergent, dryers, an ironing station, and a steamer for guests to use.
We were glad that we happened to have dryer sheets with us because we like to use them in a dryer, and they don't have them onboard.
The laundry room even has a seating area, but it's easy enough to set a timer on your phone to remind you to switch your laundry over to the dryer or retrieve it when it's done. That way, you can enjoy the yacht while your clothes get clean, which is exactly what we did!
If you prefer, you can request your clothes be laundered. There is a bag provided in each stateroom closet with a laundry form.
Deck 5: Emerald Azzurra Aqua Pool and Cafe, and Navigation Bridge
Aqua Pool and Cafe
What's a yacht without a pool? This great area is at the aft of the ship. The Aqua Cafe and Pool are right next to each other, which is convenient if you want to station yourself in the area for a few hours – drinks and snacks are at your disposal at the cafe.
What's also nice about this area is that some seating is covered and shaded from the sun, while others are not. This allows guests to choose from multiple seating areas based on their liking.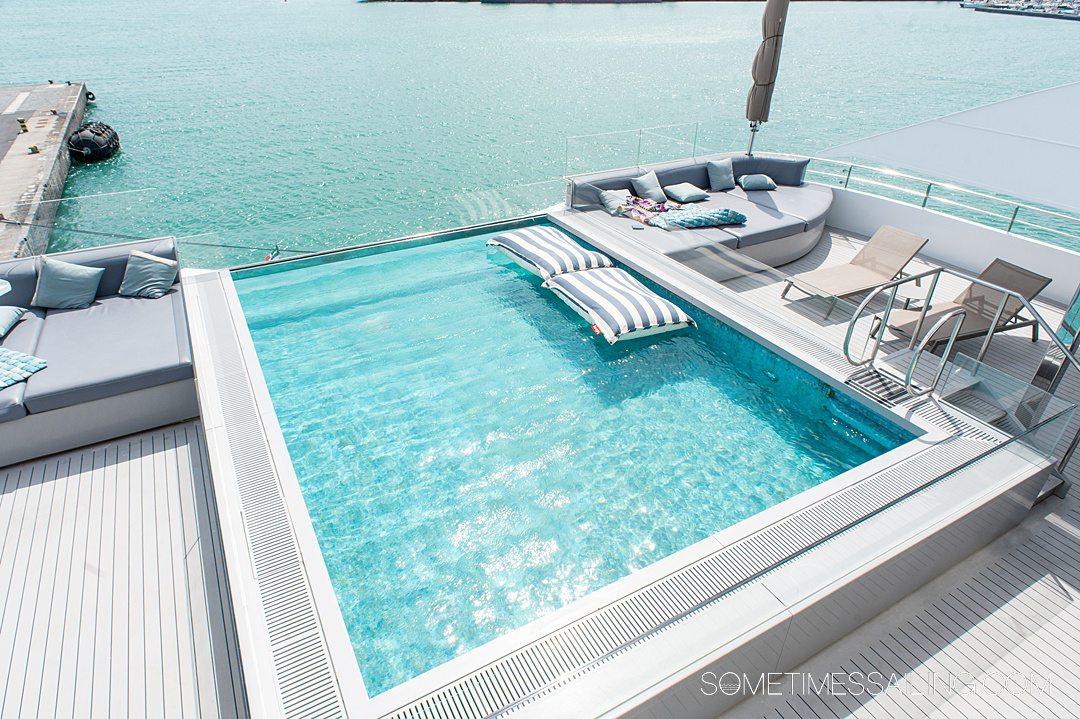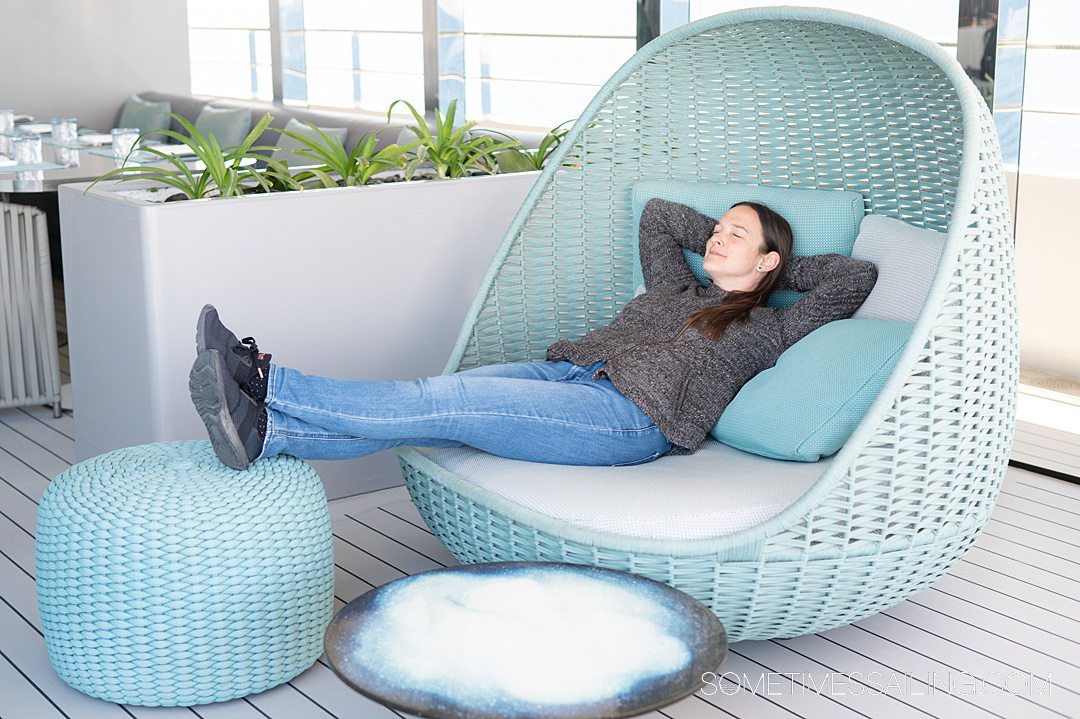 Yacht Navigation Bridge
A highlight of being on Emerald Azzurra is visiting the Navigation Bridge at your leisure. The officers and Captain were very welcoming and friendly, speaking to us for several minutes to explain the equipment.
A really cool time to visit the bridge, where there is an open-door policy and seating for guests to comfortably observe, is when the ship is docking. Below is a photo of the officers and Captain making sure the ship docks correctly in Naples, Italy.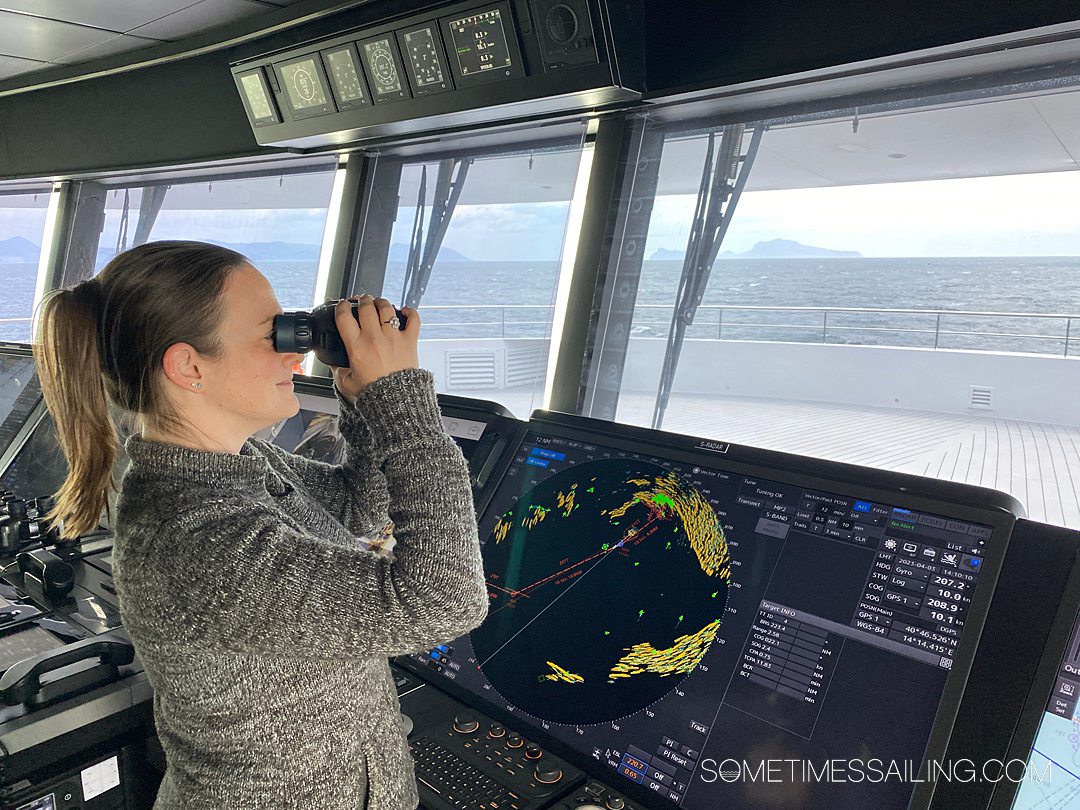 Deck 6: Emerald Azzurra Hot Tub, Sky Bar, and Bathroom
Deck 6 has one of our favorite Emerald Azzurra onboard amenities: the hot tub. The oval-shaped hot tub can easily fit ten people. Surrounding areas provides comfort in the form of booth seating and lounge areas. Additional seating areas are scattered around deck 6 and provide intimate spaces to read, take a nap, or enjoy the sunshine.
The Sky Bar is on Deck 6. It was a convenient place to get drinks if we wanted to be outside; this area often had the best sweeping port views. It was also where a mixology class was taught while we were sailing one day.
For guests' convenience, a bathroom with a shower is located on this deck for rinsing off after a dip in the hot tub before going back to your room.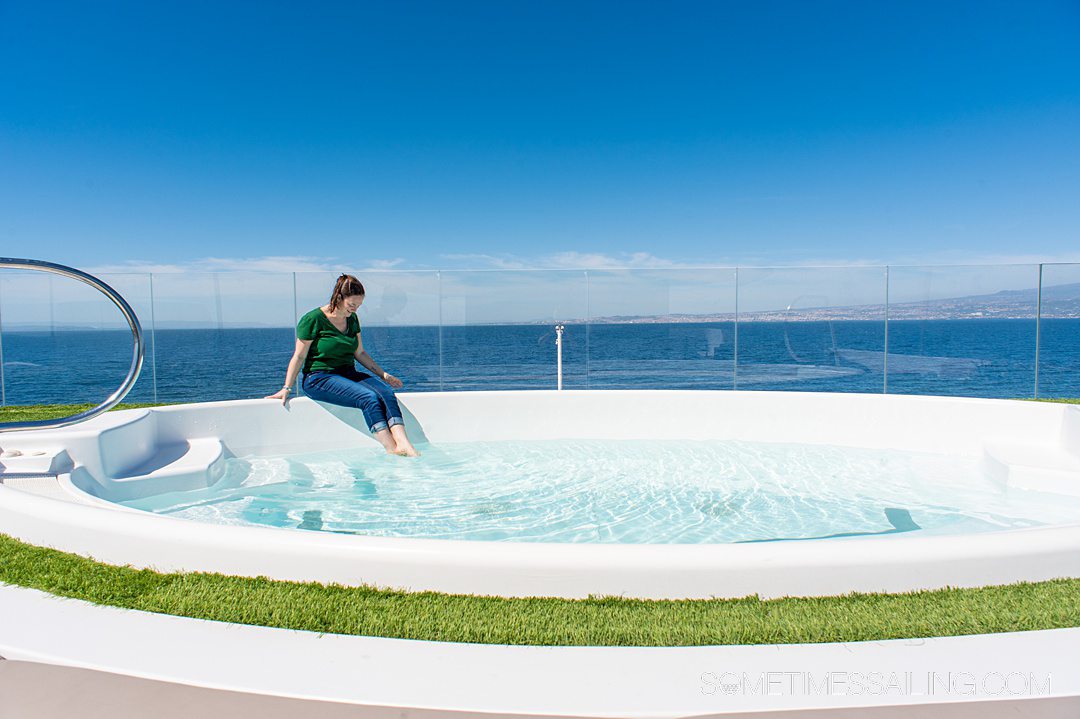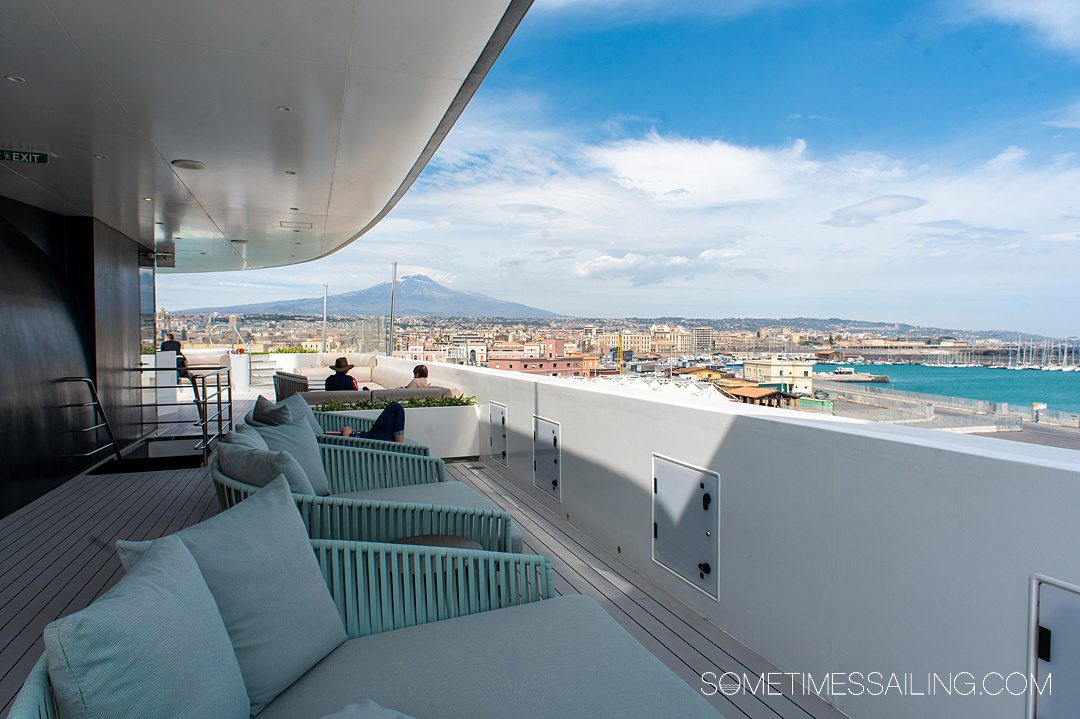 Emerald Azzurra Staterooms
Emerald Azzurra has 50 staterooms, including two of each of the following suite categories for a total of eight onboard suites: Owner's Suites, Yacht Suites, Terrace Suites, and Deluxe Balcony Suites.
We outline the square footage of the different staterooms here, and you can view the architectural layout of the room on the Emerald Cruises website.
All staterooms on Emerald Azzurra have balconies except for the six Oceanview Staterooms at the forward of the ship on deck 3. There are eight suites onboard.
We were in room 404, a Balcony Suite on Deck 4.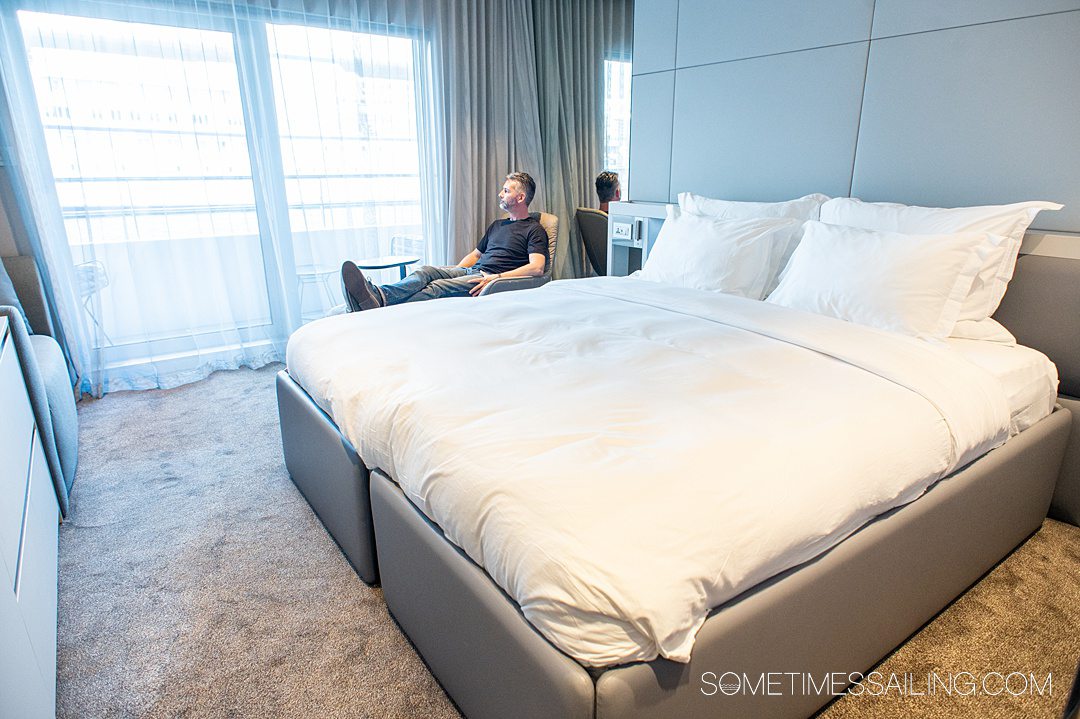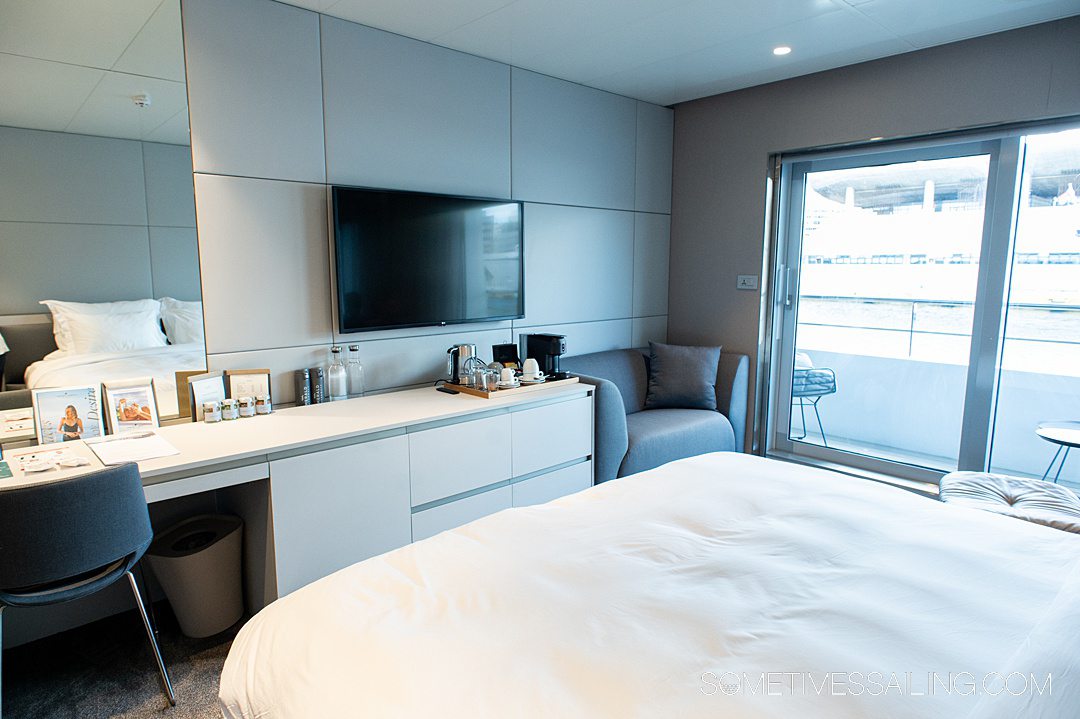 Bedroom
Our bedroom had a king-size bed, a love seat, and a chair with a small table that perfectly fit a computer, iPad, or drink. There was also a desk we could work out where the Quiet Voxe devices for tours were and the cruise ship phone. Small reading lights next to each side of the bed were adjustable so you could angle them to your liking.
Next to that were light switches for the room so you could shut the room lights once you were cozy in bed, ready to sleep, a USB port, and outlets.
You don't need an outlet converter for your plugs to work on Emerald Cruises; they've smartly designed their outlets to fit multiple countries' electrical prongs. However, depending on your plans and hotels, you may need one before or after your cruise.
Our favorite European outlet converter
➤ This European seven-in-one travel plug converter is the favorite we've ever owned.
We bought one to start and quickly regretted not buying two the first time. Do yourself a favor and buy the two-pack from the get-go.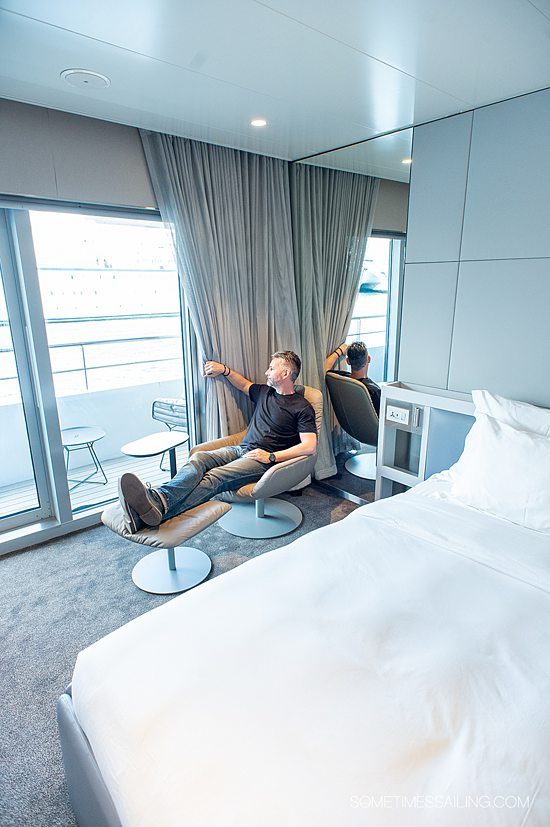 We loved the shelves on each side of the bed as well as the headboard that created more shelving. Emerald Cruises smartly designed this area: the top of the headboard was depressed, so it created a small safety guard around whatever items you placed there. That way, they wouldn't roll off if the ship tilted. Emerald Azzurra is a moving ship, after all.
Closet Storage and Drawers
We were awestruck by how much storage space there was in our stateroom. We could hardly fill it up! There was plenty of hanging space in the closet, special pull-out drawers for plenty of pairs of shoes, closet drawers for clothes, and more drawers in the dresser near the mini-fridge.
There was also an umbrella in the closet and a digital safe. We appreciated that Emerald Cruises provided a laundry basket too. This was helpful for us because we took advantage of doing our laundry ourselves in the onboard laundry room. After a week of cruising, we simply took the basket to the washers and dryers for one last wash before disembarking.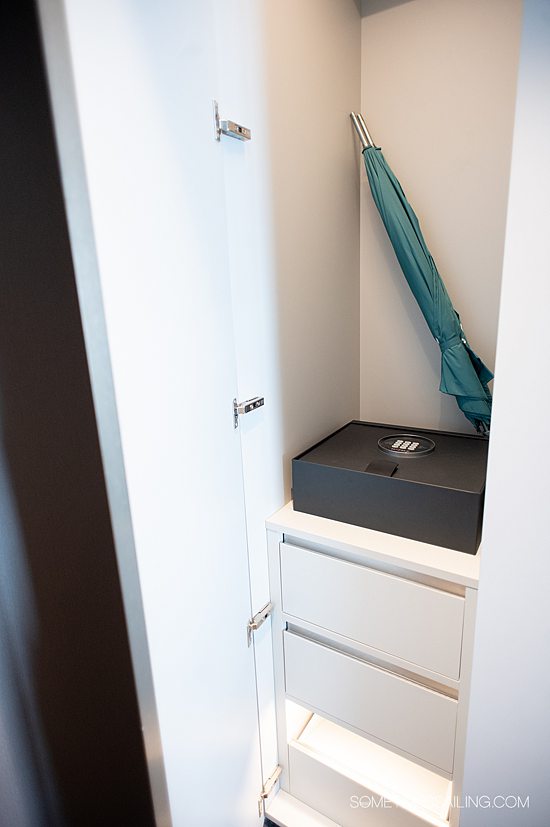 Bathroom
Our bathroom was spacious, with an abundance of storage space. Pull-out drawers and a vanity mirror opened to reveal additional storage in two compartments. That's where I placed my toiletries that were in my Stasher bag.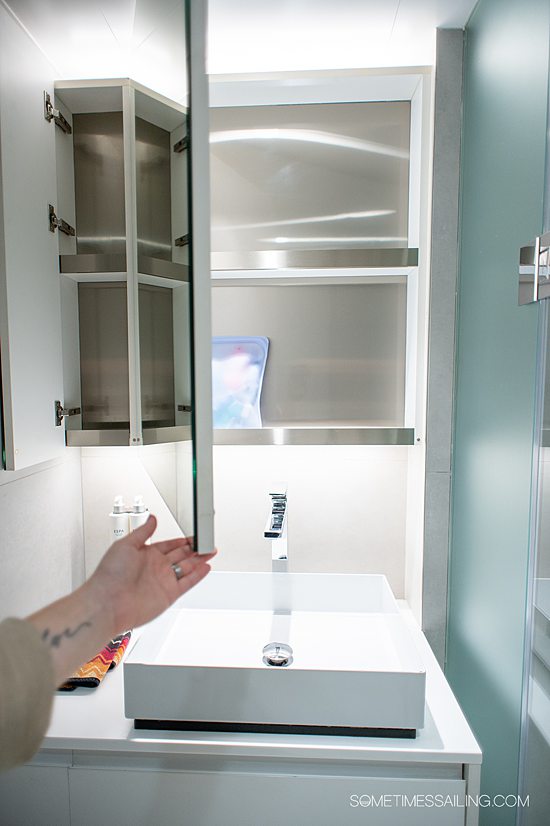 One side of the cabinet had plenty of shallow-depth shelves with an outlet inside. The other part of the mirror had a slender section that opened to reveal additional storage. The compartments mimicked the width of the drawers beneath the sink, where there was more storage. (Storage, upon storage, and more storage!)
Hand lotion and liquid hand soap were next to the sink.
Emerald Azzurra provides the following items in the bathrooms:
The shower was luxurious and as warm or cold as you wanted the temperature. It had a removable shower head to hand-hold it, and the ship provided shampoo, conditioner, and body gel. There was also a shower rail inside if you needed to hold onto something should the ship become a little rocky. (Which happens with any yacht cruise ship.)
We want to note that we had to beware of the water leaking out of the bottom of the shower. It was slippery, and we quickly learned to use the floor mat towel to soak up the water that had left the shower and somehow stretched to the bathroom door.
We thought it may have just been our cabin, but we realized it wasn't unique to our room when a fellow passenger revealed she had the same water-running issue on the bathroom floor after showering. That aside, the bathroom was still great.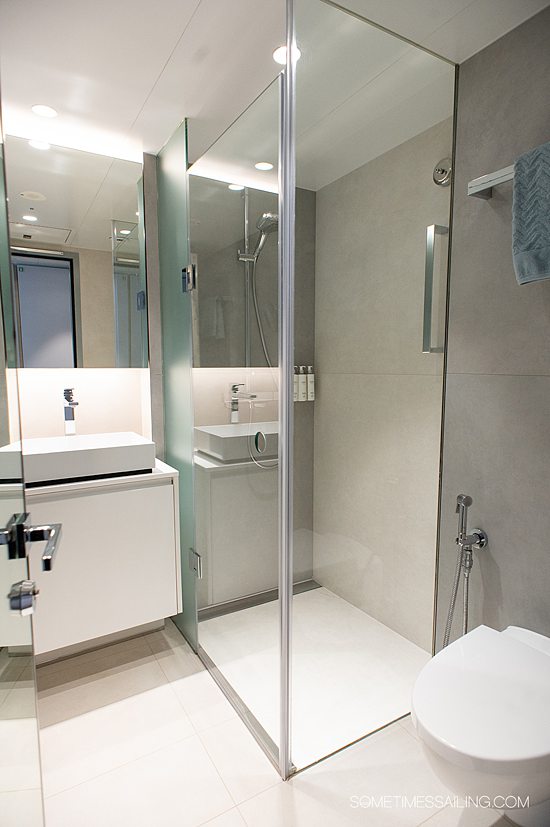 Balcony
The balcony was a highlight of our Emerald Azzurra yacht stateroom.
We cruised in March, when it's a bit colder on the Mediterranean Sea than during peak summer season. However, we couldn't resist putting on long sleeves to enjoy a coffee outside, especially given how utterly comfortable the balcony seats were! They were sincerely the most comfortable balcony seats we'd ever sat on.
The cabin steward removed the cushions each evening and placed them in the room so they wouldn't get wet overnight. This was perfect for us because it meant they were dry each morning, ready to use.
In-Room Drinks and Snacks
Regardless of category, all staterooms on Emerald Azzurra have a coffee machine and tea kettle. We never used ours because the coffee machine on deck 4 was right near our stateroom. We preferred hopping over there for morning coffee, but it was a nice option to have in-room if we change our minds.
There were also two bottles of water that the steward refilled daily. Nevertheless, there were water stations near the coffee machines if we ran out or wanted carbonated water.
We had a miniature fridge in our room that we hardly opened because we simply went to the nearest bar if we wanted beer, wine, or mixed drinks.
Small jars of snacks in the room – like wasabi peas and nuts – were priced per jar at an additional cost. We go into detail about snacks, drinks, and food onboard here.
Onboard Entertainment
There was a nightly activity onboard every day. For instance, there were two nights of trivia (a crowd favorite). Another evening our Cruise Director, who went to school for musical theater, sang for the guests.
One special night, while docked in Sicily, a traditional Sicilian dance and singing group came onboard to entertain. It was fabulous! These close-up enrichment programs are part of why we love luxury, small-ship cruising.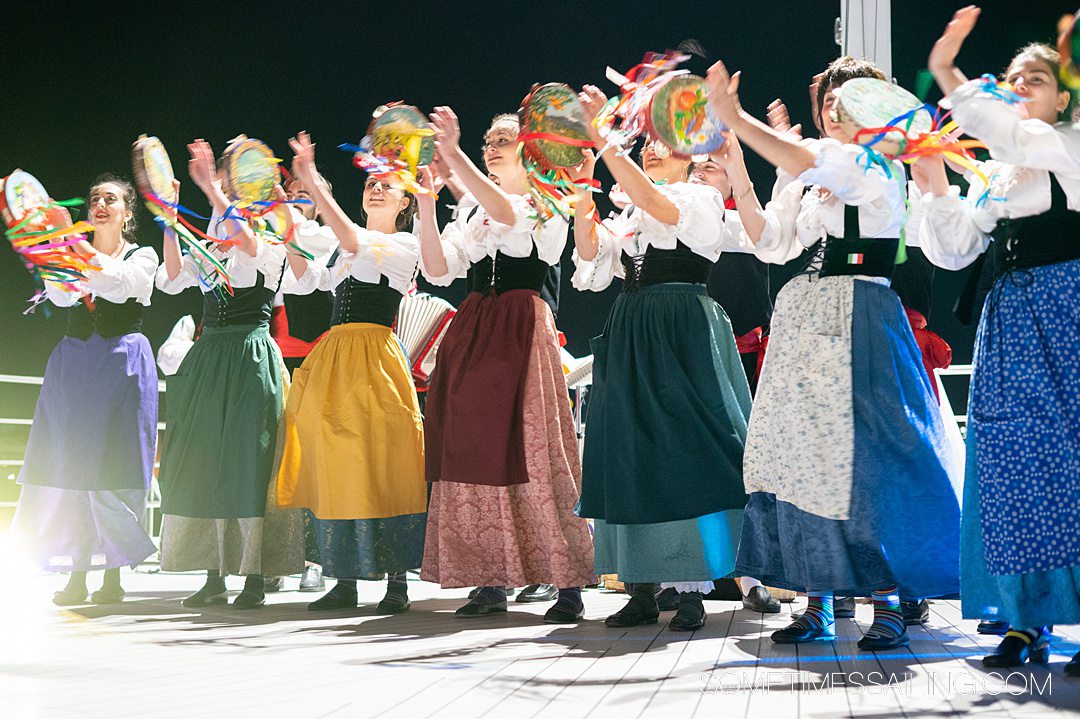 Time of Year to Sail
We sailed on Emerlad Azzurra through the western Mediterranean Sea from the end of March into the first week of April. There were disadvantages to traveling this time of year on board the yacht and advantages to the timeframe in port.
Disadvantage onboard: The only real drawback to sailing in late March and early April – which is true for pre-season and post-season shoulder times – is using the exterior spaces. We were incredibly lucky with gorgeous weather in Europe every day in the 60s, with the sun shining. That said, it's always cooler on the water.
Despite the sun, which we were grateful for, it was often way too cold outside to enjoy Emerald Azzurra's outdoor spaces. This was especially true when the ship was sailing when the wind made the temperature colder than when it was docked.
A couple of days when we were docked, the weather allowed us to have lunch on the outside terrace of La Cucina restaurant. On the Pool Deck and Sky Deck, some guests bundled up and snuggled under towels to relax on one of the lounge chairs in the sunshine.
We went in the hot tub, but it was too chilly to enjoy for more than 15 minutes. And we were not brave enough to test the pool temperature, but it sure looked gorgeous! We know that even an indoor pool is cold on small ships from experience, like sailing on Emerald Sky. Braving the outdoor pool was not in the cards this trip!
Next time we book an Emerald Azzurra or Emerald Sakara yacht cruise, we will wait a couple more weeks to sail so we can fully enjoy the hot tub and pool if we're traveling in Europe. Alternatively, if you want to sail during early spring or fall, it's a great time to cruise the Caribbean.
Pro in ports: It was so nice to be visiting before peak season in ports. Inevitably, tourists flock to Mediterranean regions during summer. This includes places like Greece, Croatia, Italy, and nearby countries.
Best time to Vacation on Emerald Cruises Yachts
Best Time of Year for Mediterranean Cruises
In our opinion, the best time of year to sail on Emerald Azzurra or Emerald Sakara in Europe is late April to early May, before peak tourist season in the Mediterranean. Or alternatively, fall from the last week of September to early October in that area.
Best Time of Year for Caribbean Cruises
The great thing about Caribbean cruise itineraries with Emerald Cruises is that they only offer itineraries in this region of the world during ideal times to sail the Carribean Sea. Generally speaking, they offer Caribbean yacht cruises from November through March.
Emerald Azzurra Itineraries
Emerald Cruises offers plenty of itineraries aboard their yachts. You can vacation in Europe like we did and sail on the Mediterranean and Adriatic Seas. You can also sail the Americas on a Caribbean yacht cruise or one in Central America. To maximize your sea days, choose a Transatlantic sailing.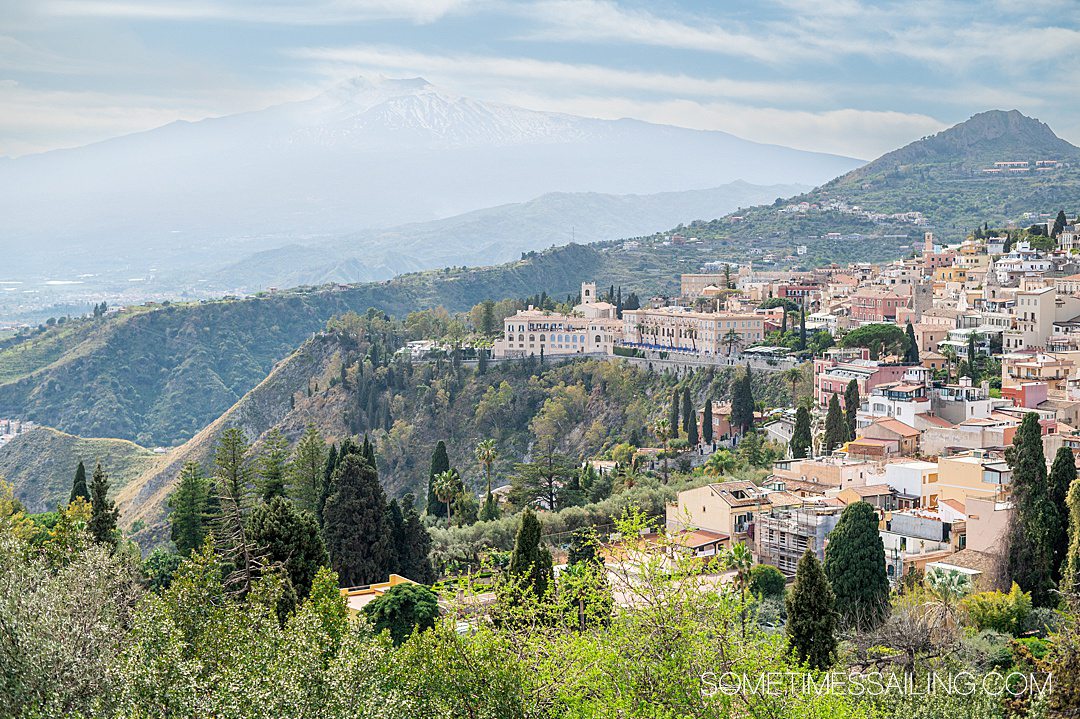 Caribbean and Central America
Explore destinations from the Grenadines to St. Vincent and Barbados in the Caribbean with Emerald Cruises yachts. Head to St. Barth's on an Eastern Caribbean itinerary, stopping at St. Lucia, Antigua, and Martinique.
Explore Costa Rica and Panama's lush and adventure-filled port towns in Central America.
Mediterranean and Adriatic Sea
Discover historic towns and iconic city centers throughout Europe as you travel from port to port in the lap of luxury. Can you imagine pulling into port on a yacht in Nice, France?! Envision it, and then book your cruise to make it a reality!
Emerald Cruises yachts sail the French and Italian Rivieras on the Mediterranean. They also cruise along the Adriatic Sea, visiting Croatia and Italy before ending in France.
Alternatively, uncover Greek and Italian destinations as we did on an Ionian Sea itinerary.
Emerald Azzurra Ionean Sea Adventure
Our Mediterranean journey on Emerald Azzurra was a dream come true. We knew Emerald Cruises would take us to the best ports (including some we never heard of until this cruise) and have wonderful tour guides. Both turned out to be true.
Some of our favorite ports on the itinerary included Athens and Cephalonia in Greece and Sicily's charming city of Taormina.
Athens, Greece
We embarked on our Ionean Sea Adventure at the Port of Piraeus, which is a 15-minute drive from Athens. We came in a few days early so we could enjoy the city and learn more about Greek culture and history.
It was a joy to be able to visit the Acropolis, eat plenty of Greek salad, olives, and seafood, and drink Greek Mythos beers.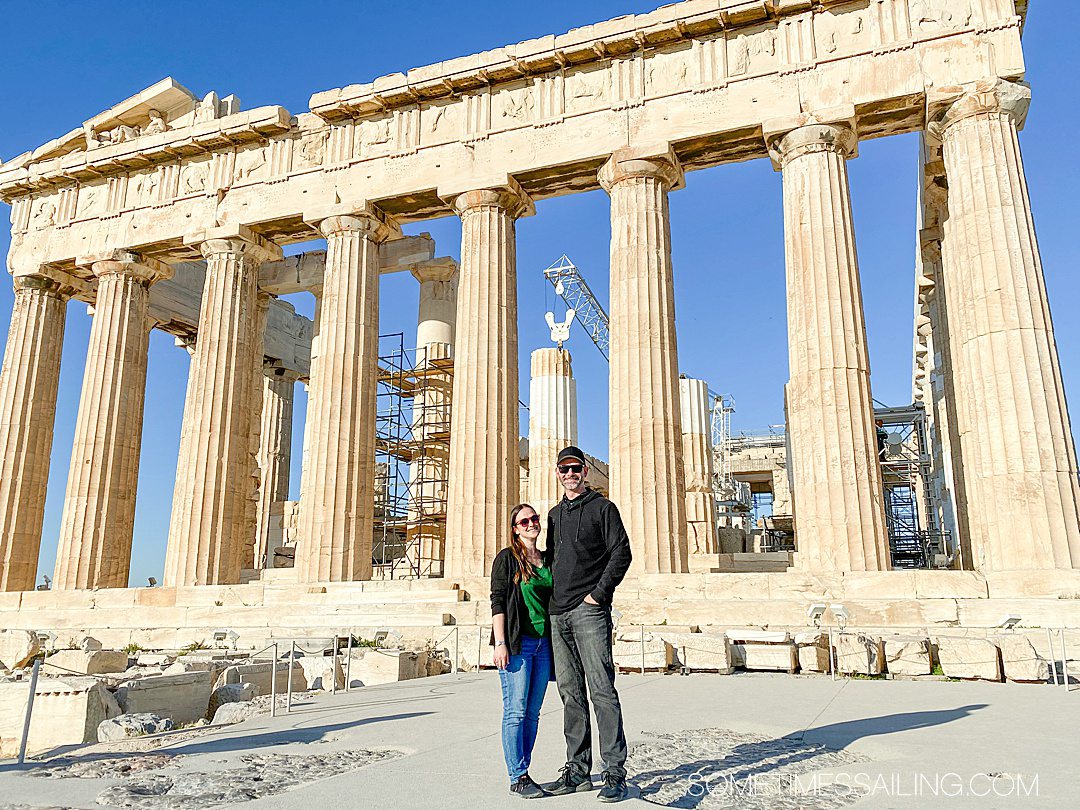 Cephalonia, Greece
Some of the most stunning water and coastline we've ever laid eyes on, anywhere, was in Cephalonia during our Emerald Azzurra cruise.
Gratitude overflowed when the bus made a special stop at a viewpoint to see Myrtos Beach. The milky turquoise blue water changes depending on the day's sunlight, yet our guide told us it's also breathtaking. Words could never adequately describe the view.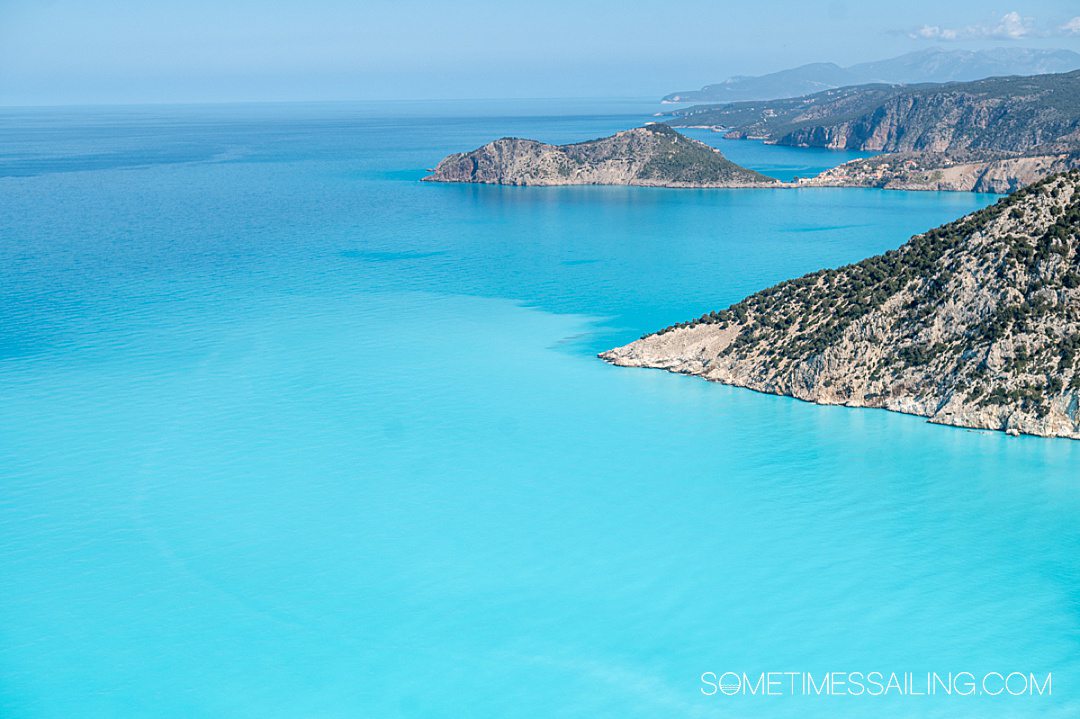 We were also treated to a short rowboat ride in Melissani Cave, with jaw-dropping jewel-toned water. It was like we were looking through topaz gemstones that shimmered in the sunlight.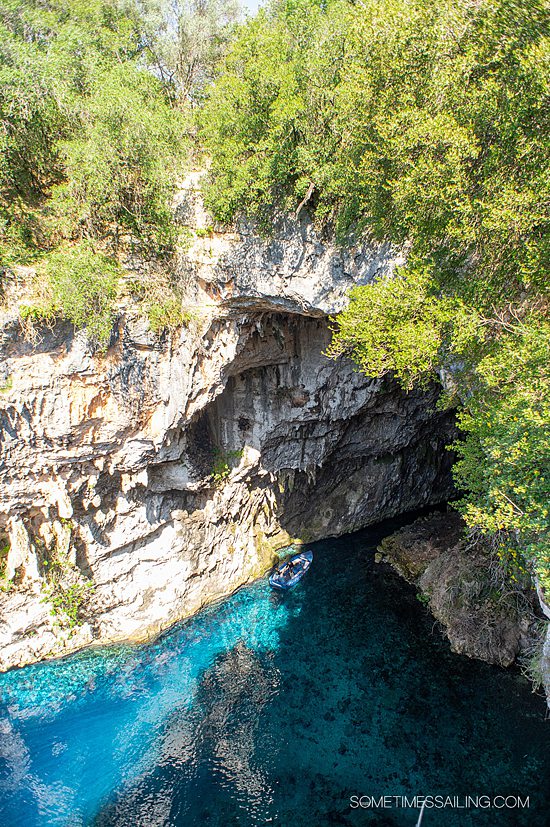 Taormina, Sicily
Taormina is a coastal town that has incredible views of the Mediterranean. Not to mention, it was the location of season two of HBO's famous hit show, White Lotus. It was so much fun to be able to recognize the streets of Taormina that Dan and I saw in one or two of the episodes and see the outside of the White Lotus hotel in person.
The city has Roman roots and plenty to admire regardless of HBO fandom.
Far beyond our White Lotus thoughts was experiencing the city's energy for a few hours during an included walking tour organized by Emerald Cruises. Emerald Azzurra was docked at a Sicilian port nearby in Catania. Buses drove us 70 minutes north to Taormina.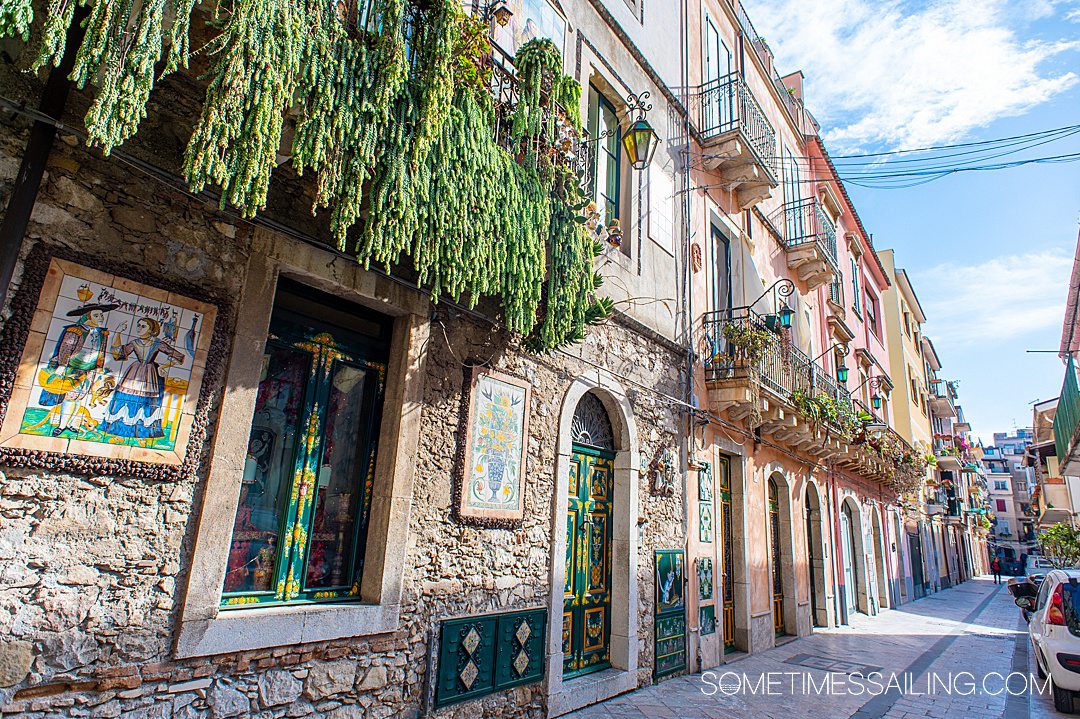 The Taormina excursion was seamless, and we learned so much during our walking tour, which included tickets for a guided tour through the Ancient Theater of Taormina (Teatro Antico di Taormina). Without our guide, we would never have understood the meaning and legend behind the Sicilian ceramic heads or about Etna, the island's active volcano.
Our favorite part of our visit was the free time we had. We were grateful this was a schedule option, and we were still able to meet up with the group to take the bus back to the yacht. If you visit Taormina, getting "lost" in the streets and passageways there is a must. We had the best of the tourism world between our free time and guided tour.
Civitavecchia, Italy
It was such a dream to end our cruise in Civitavecchia, which is close to Rome. We decided to extend our vacation to explore this famous city on our own for a few days. It was easy to do thanks to the awesome location of our disembarkation port, just a quick train ride from Rome.
We saw all the hits, from the Colosseum and Palatine Hill, Victor Emmanuel II Monument in Piazza Venezia, to the Trevi Fountain. We also ate all the classics, from Cacio e Pepe to Pizza, which is how we know firsthand how on par the Emerald Azzurra pasta dishes are with the creations of Roman chefs!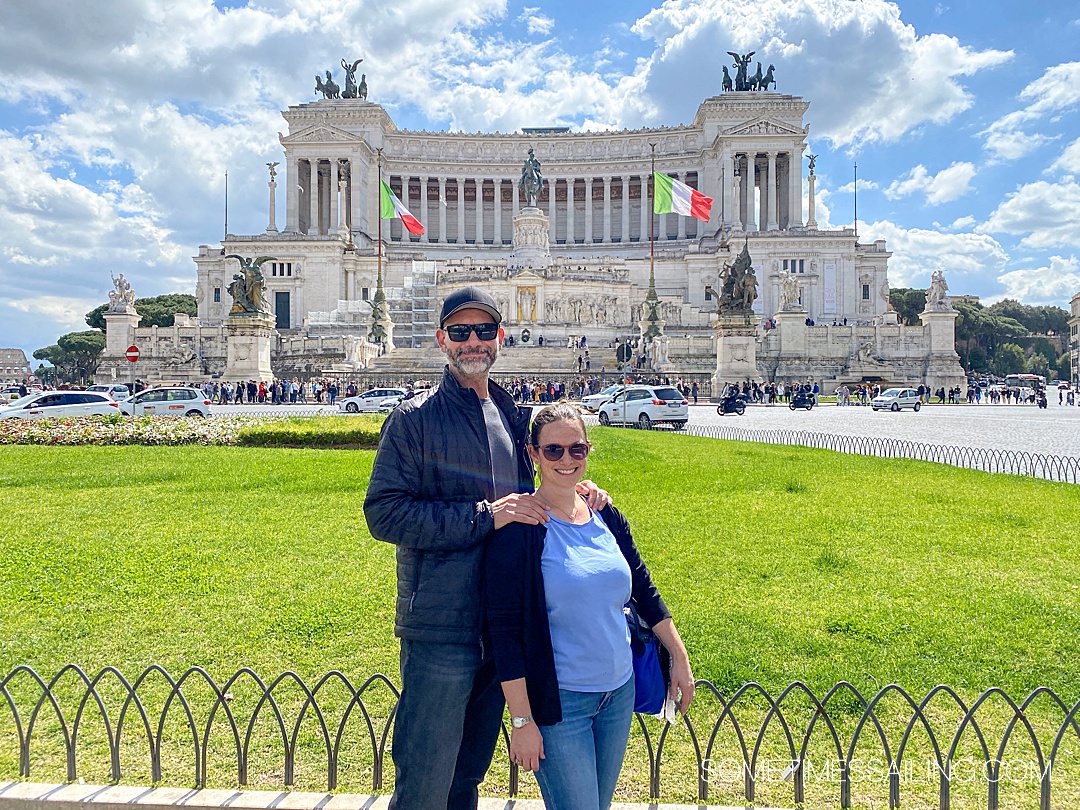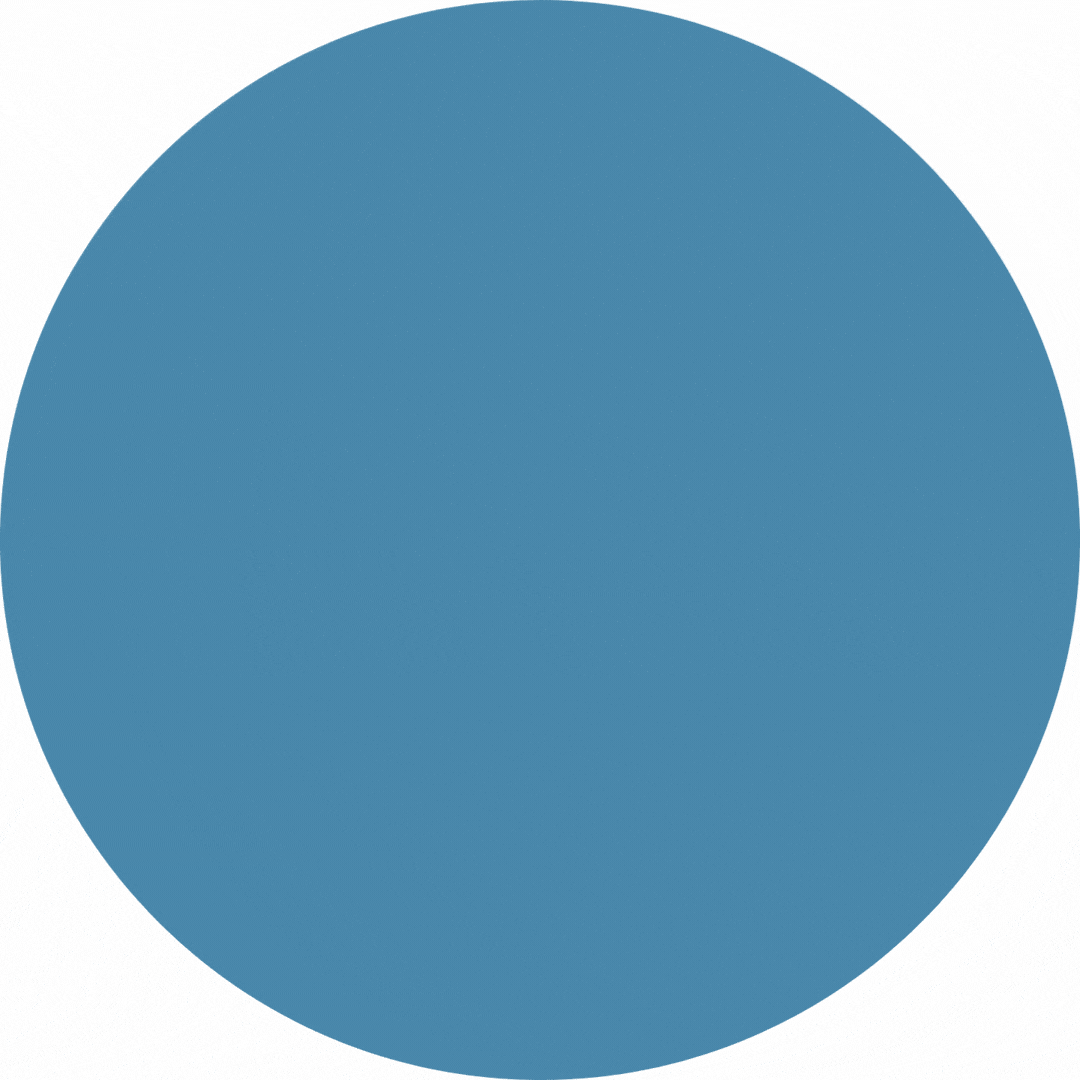 Ready to Book Your Cruise or INquire?
Use our preferred travel advisors, Bolds Travel, Because…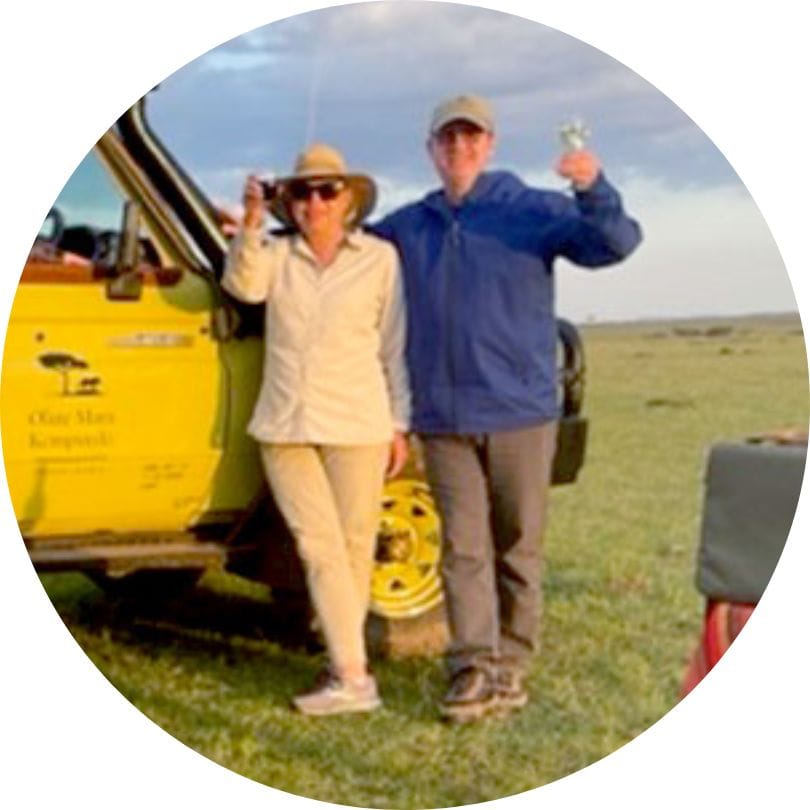 Included Excursions On Itineraries
Emerald Cruises includes an excursion option for their guests in most ports. On their yachts, there are options to pay for additional excursions as part of their DiscoverMORE programming.
For example, if you're in Sicily, you may have the opportunity to do a unique Godfather tour, visiting the movie's local filming locations for an additional fee per guest.
However, you don't have to do an excursion at all. One of the great things about the yacht cruise is that it takes you to incredibly pedestrian-friendly ports. If you get off the ship and want to explore on your own, you can.
You can also opt to ride one of the ship's "Gocycle" bikes at your leisure, included in the cruise fare. These state-of-the-art electric bicycles cost $5,499 each on Gocycle's website! So if you have ever wanted to test one out, it's a great opportunity to do so.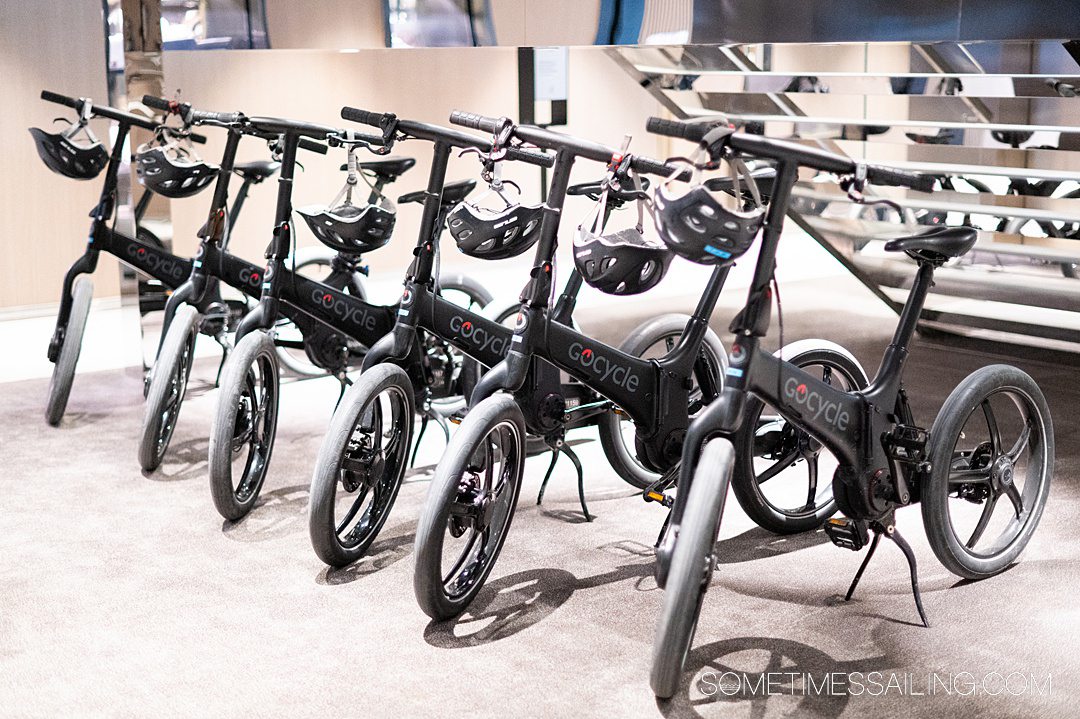 Ship Movement
When you sail on a yacht cruise ship, you feel the movement more than a river cruise ship, yet likely less than a sailboat or sailing cruise ship. This is why we always travel with anti-nausea solutions, including medication, motion sickness patches, Blisslets, and Non-Drowsy Dramamine or Bonine.
There were times when we hardly felt the ship's movement while sailing and other times when the water was a bit rougher, which affected us more.
But you'll enjoy the ship more when you're sailing if you're equipped with the right medications should motion sickness creep up on you. The Captain did a great job of doing his best to avoid rough routes and provide as smooth a cruise as possible, yet no matter how you slice it, when you cruise on a yacht, you'll be on an ocean contesting with Mother Nature.
Emerald Azzurra Yacht Cruise Cost
One of the best things about sailing on Emerald Azzurra is the cost. You get to feel like a celebrity on a yacht for a minimal cost! Emerald Cruises provides amazing value, just like their river cruises, regardless of whether you're on their river or yacht cruises.
The cruise line does not nickel and dime you. Nearly everything is included in your cruise fare unless you want to add DiscoverMORE excursions or upgrade to a drinks Platinum Package.
Airport transfers, port fees, taxes, and gratuities are included, as well as things like soft drinks, beer, and wine with lunch and dinner. Wifi is included onboard, as is the use of all the marina toys, including SEABOBs, paddleboards, and kayaks.
Cruises start from $3,675 per person or $7,030 per couple.