Essential Star Clippers Review: Sailing Ship Cruise
Our Star Clippers review proves that there truly is a cruise for everyone. A small ship with Star Clippers can accommodate up to 170 guests, and its sails allow you to feel nature's gentle push on the open water.
We thoroughly enjoyed our experience on one of the cruise line's three classic sailing ships, Star Clipper. There were surprises we weren't expecting (like how spacious our room was), and those we were hopeful for that were proven accurate (like how friendly the crew and other passengers were).
This post will walk you through Star Clipper, sharing everything you may be wondering about this sailing experience so you can book your next trip with them, from the cabins to entertainment, expected cost, some itineraries, and more things to expect.
Disclosure: We thank Star Clippers for generously hosting us. We also may make a small commission from affiliate links in this post (at no cost to you), but all opinions are ours, and we bring you genuine content with real facts, photos, thoughts, and recommendations. As Amazon Associates, we earn from qualifying purchases.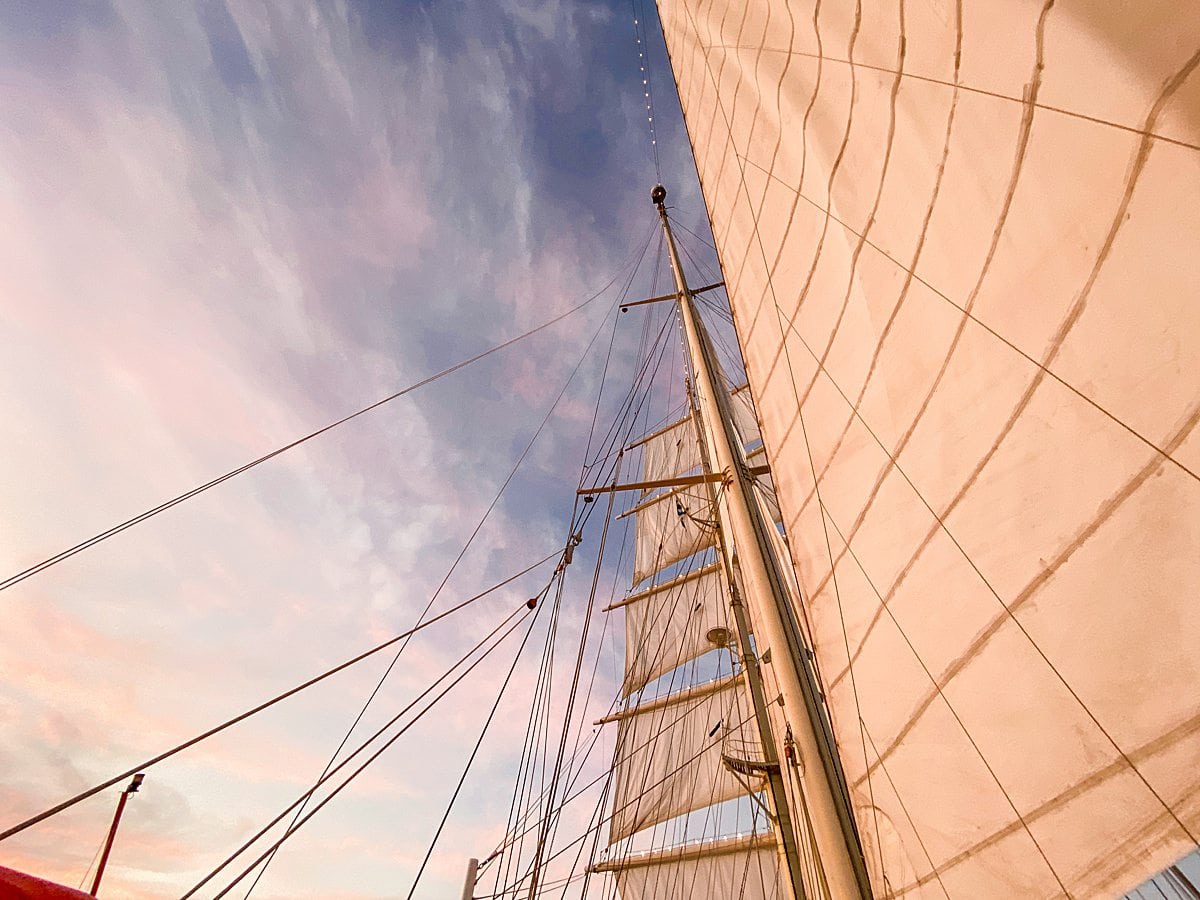 Star Clippers Review Overview
Our overall experience on the Star Clipper ship was phenomenal, and we had a great time. It's one of the only true sailing ships where the sails are manually raised and lowered, there's a casual vibe with an international crowd, we had plenty of time onboard, and the shore excursions were enjoyable.
Star Clipper is one of three ships in the Star Clippers fleet. (The other two ships are Star Flyer, which is a sister ship of Star Clipper in its architectural design, and the elegant Royal Clipper.)
This tall ship is beautiful. It's modeled after a classic Clipper ship (not one in particular, simply a Clipper ship in general, during the classic days of sailing). Though it can take a minute or two to get used to the vibe of this classic vessel, if you're accustomed to sailing on modern cruise ships, you soon realize the beauty of her details.
The sailing cruise ship experience gently reminded us of our American Eagle Schooner experience with Maine Windjammer Association. But most of the similarities stop at their sails and beautiful craftsmanship since their size, crew, and where they sail differ greatly.
Our cabin was spacious, the crew members were incredibly friendly, and the food was good. The onboard activities were just enough to give us options that kept us entertained but did not overwhelm us so that we had so much to choose from we couldn't pick.
We enjoyed an afternoon nap once or twice during our 7-night cruise, which, we admit, is a favorite cruise activity we indulge in when we get the chance.
Star Clippers Cruise Cost
Depending on the itinerary and time of year, expect the cruise to start at $1,560 per person.
Prices vary based on a few factors, including the time of year, length of the cruise, and what category cabin you book.
The Owner's Cabin, for example (there is one on each ship, and it's the highest category level), can be up to $10,000 for the cruise. There is a budget for every cruiser on Star Clippers, whether you have $2,000 to spend per person, $3,000, or $5,000, for example.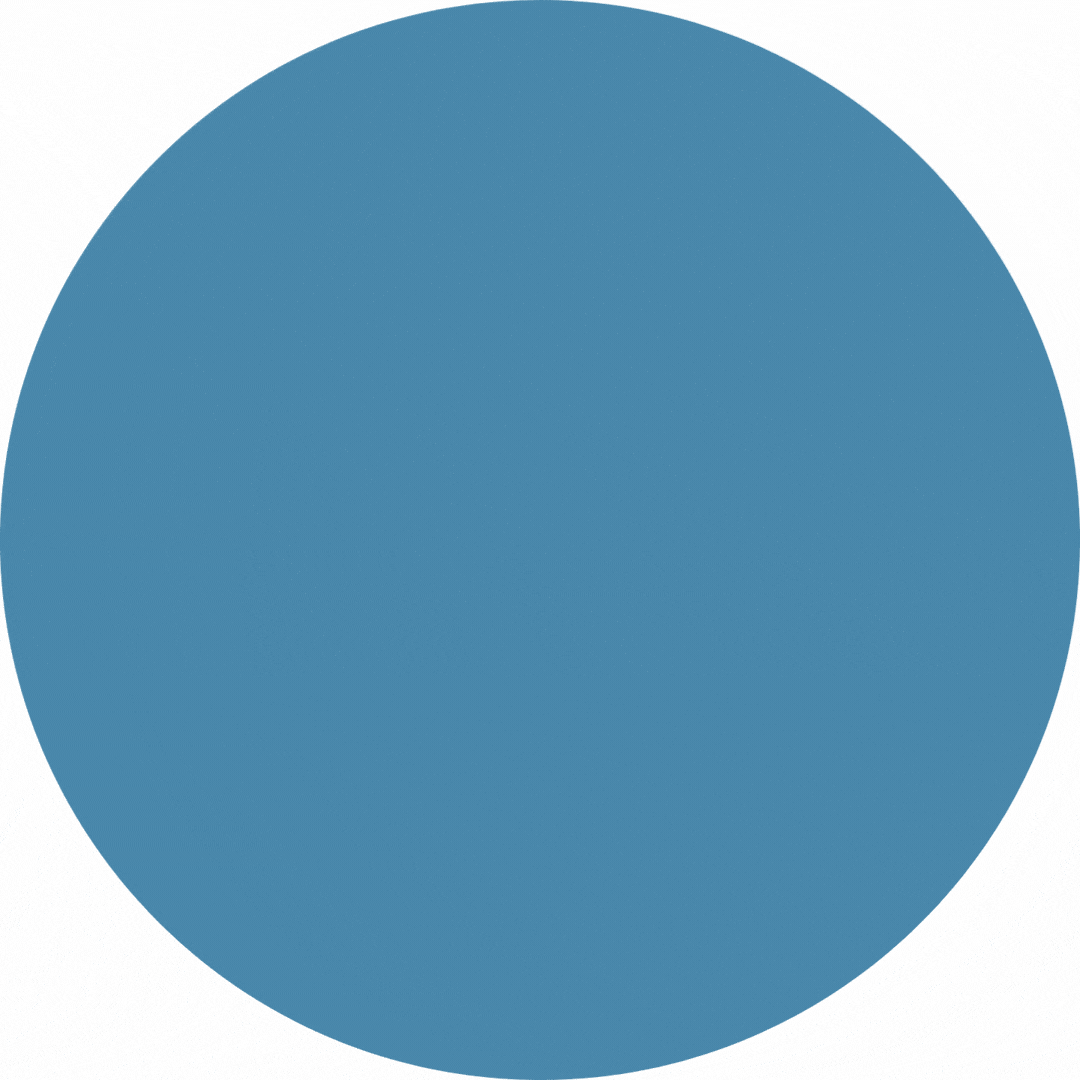 Ready to Book Your Cruise or INquire?
Use our preferred travel advisors, Bolds Travel, Because…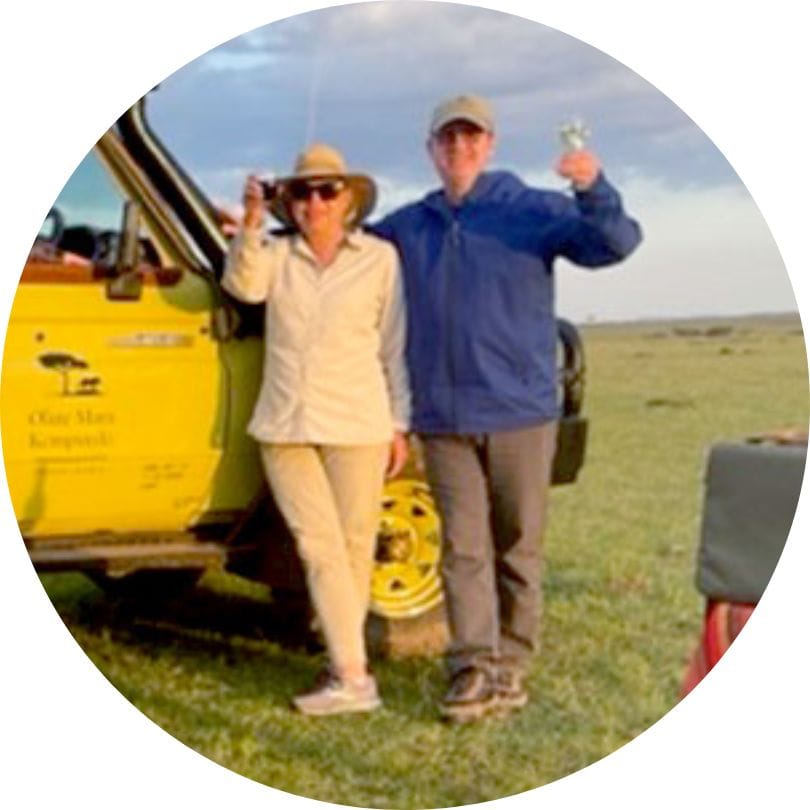 Does Star Clipper Include Alcohol and Excursions?
They do not include these things. Alcohol, however, is very affordable onboard. (Read on for detailed beverage information.)
If you want to book excursions, be sure to factor in around $75 to $150 per person per excursion, depending on your cruise itinerary.
You do not have to buy the excursions if you want to stay on the ship or explore the port on your own.
Star Clipper Itineraries
Our itinerary was one of two offered in Costa Rica. It sailed along the Pacific Coast of this spectacular Central American country.
However, they have plenty of itineraries. For example, they have options in the Western and Eastern Mediterranean, the Caribbean (where they can sail 70% of the time – a high percentage – because of the helpful Tradewinds in that area), and the Panama Canal.
You can also sign up for an ocean crossings cruise
Star Clippers Review of the Ship's Interior Design
The ship's motifs are nautical. If we had to mention the ship's color palette, we'd say it's navy blue, crimson, and yellowish gold. The colors reveal themselves in things like the carpet, the dining room upholstery, and the carpet and bedspreads in the cabins.
Star Clippers Cabins
We were in cabin 130, which is a Category 4 Outside Stateroom. We were pleasantly surprised with how spacious it was. Details follow about our room….
Cabin Access
You use a good 'ole physical key to access your room. When you embark on your cruise, the Purser checks you in.
He or she gives you keys when you embark in exchange for your passport. The Purser also records a credit card to have on file for your expenses and takes a digital photo of you for the ship's digital ID system.
This is an easy way for a crew member to match your digital ID card with a face when you enter/exit the ship during port days, like any cruise ship does.
Cabin Bed
The bed was very comfortable — not too hard, not too soft. We were provided two pillows each (a total of four pillows), which was exactly what we normally sleep with. If you're particular about pillows and you're curious what kind they were, they seemed to have a cotton filling of some sort.
Two comforters were laid on the bed for us so we could each have our own.
Cabin Porthole
Most cabins have one porthole unless you are in one of the 11 inside cabins. The window let natural daylight in when the sun was up.
At night, the cabin steward closed curtains over it as part of turn-down service, so when the sun rose the next morning, we could still sleep in darkness until we opened the curtains.
Cabin Storage
There was plenty of storage for our clothes, shoes, and the like, with closet shelves and hanging room for clothes. We appreciated that the closet door had full-length mirrors on the outside. There was also a pull-out drawer under the seat that was next to our bed and under-bed storage for luggage.
A large mirror in our room was above a vanity shelf of sorts. Under that shelf were two outlets and a sitting stool.
Our cabin, in particular, had another shelf under the television simply because of the architectural location of our cabin on the ship.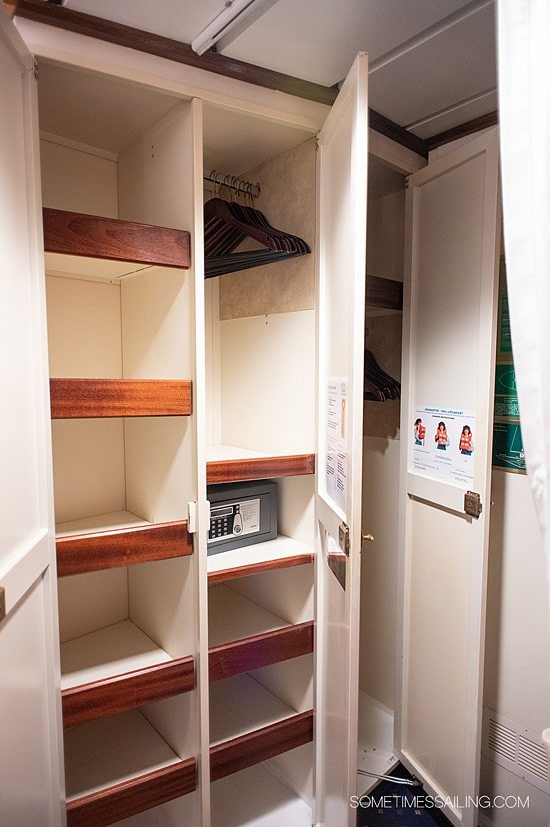 Safety Deposit Box
Each cabin has a safety deposit box in the closet, controlled by a digital code you choose the first time you use it. We put jewelry and cash in ours. There was no need to store our passports because the Purser's office has them for your entire cruise.
Bathroom
We were glad we packed carabiners (as we always do) to clip our toiletry bags up on the bathroom hooks so they could be near us without taking up the small sink space around our corner sink.
Some cabins have more sink space, and some have less.
Two shelves above the toilet fit our toiletry bags, but they weren't where we wanted to have them handy. Thus, we used our carabiners to have them as close to the sink as possible. We easily clipped them to the hand towel hooks.
The shower in our cabin was simply an adjustable shower head on a stationary rod above a floor drain, with a curtain to enclose the corner.
The whole bathroom floor ever-so-slightly sloped towards the shower drain.
Cabin Air Conditioning
Each cabin has its own air conditioning unit that you can adjust by dial. It's literally a dial to let more or less air into the room from the vent that is on the ceiling.
When we first went to our cabin, it was very stuffy, even though we opened the dial all the way to maximize the airflow. However, once Star Clipper got moving, the air started to circulate more, much like an airplane's ventilation system being better once the plane's engines start.
Television and DVD Player
Star Clipper cabins are equipped with both. The television only had two channels that we were able to tune into. One continuously played an old video of Star Clippers Royal Clipper ship.
We recommend renting a DVD from the Sloop Shop if you want to watch something in your cabin or checking out our Star Clipper Packing List, which recommends downloading shows and/or movies to your iPad before you leave home.
Electrical Outlets
Hidden underneath the vanity shelf was one outlet with two plugs. They fit both European and US two-prong plugs.
We recommend bringing an outlet extender to create more plugs if you know you'll have lots of electronics to charge. It's one of the useful things we included in our handy Star Clippers packing list.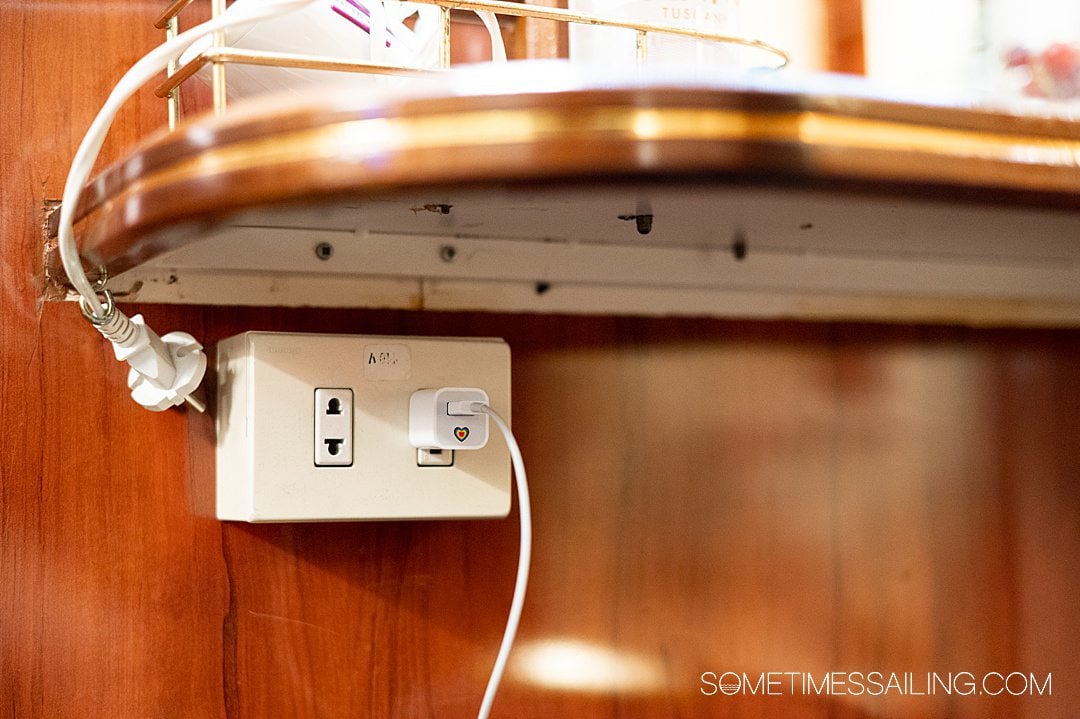 Onboard Laundry Service
Should you wish to have the Star Clipper crew do your laundry while on board, there is a laundry bag and price list in your closet. It takes 24 hours for the laundry to come back to you.
Prices vary from around €0,50 to launder underwear to €5 for a nice shirt or €3 for a t-shirt.
Noise and Cabins Above the Engine Room
It's important to note that Cabin 130, and those nearby, are above the Star Clipper engine room. (It's the same on Star Flyer, her sister ship.) Overall, this wasn't an issue during the cruise.
There was one evening, however, that we began sailing at midnight. That night, the ship engine could be heard very loudly from our room, and the heat from the engine room could definitely be felt!
If you sail during the day, this likely won't be an issue unless you're trying to nap. Also, if the ship can run on sail power instead of engine power, the captain and engineers opt for that. In that case, the engine wouldn't be running anyway.
The cabins on Deck 2 (the 200 numbers) and the decks above are not on top of the engine room. Additionally important to note is that not all the 100 number cabins on Deck 1 are above the engine room; only some of them.
Owner's Suite on Star Clipper
We had the pleasure of seeing inside the Owner's Suite cabin on Star Clipper. It's a beautiful cabin with a deep bathroom tub and wrap-around built-in couches.
An important note is that Dan wouldn't have been able to stay there for an extended period of time.
He's very tall (6'2"), and his head touched the ceiling of the Owner's Suite. But, judging from his height, if you're 5'10" or shorter, then it's truly a lovely cabin that any guest would be lucky to stay in.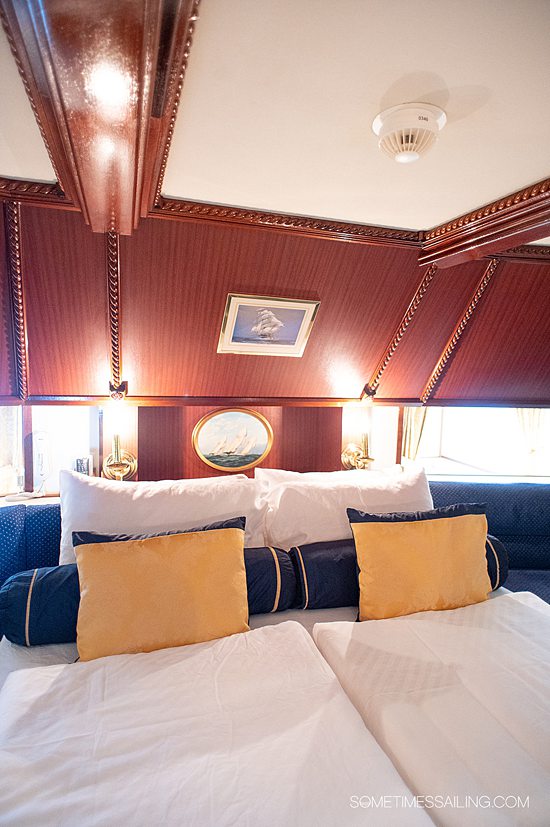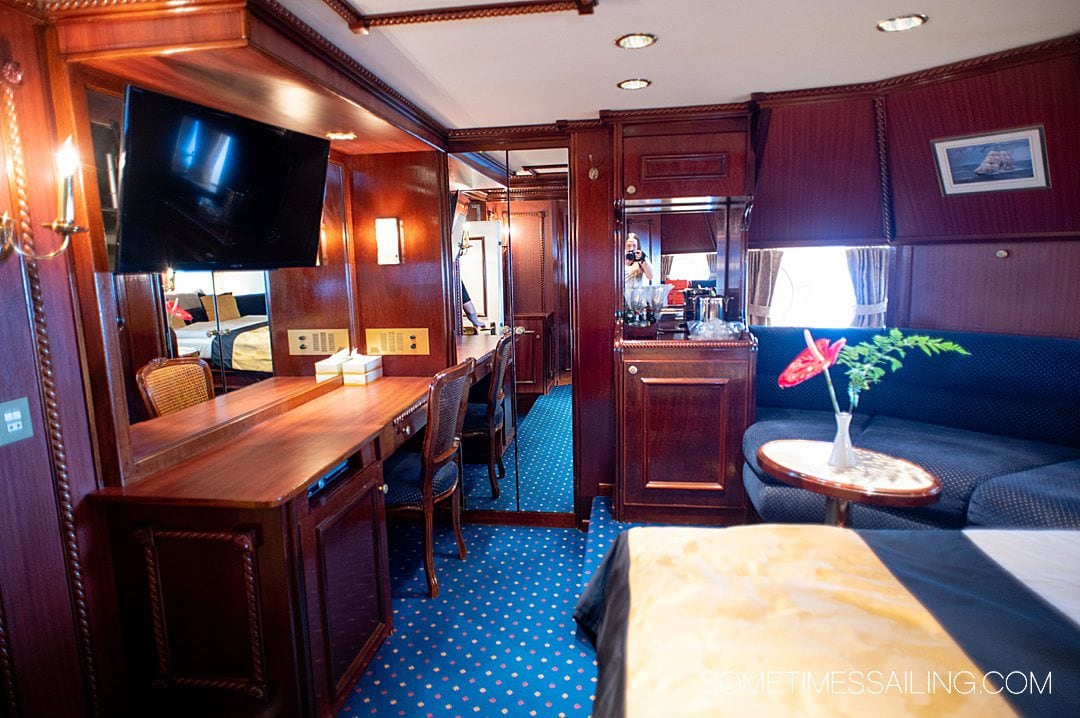 Star Clippers Review of the Food
The food on Star Clipper was very good. There were a few food standouts, with some appetizers and entrees being better than others, as can be expected. All the buffet signage is written in English and German.
There is only one main dining area on Star Clipper, which has open seating. There's table seating with chairs and booth seating. The buffet area is in the center of the space.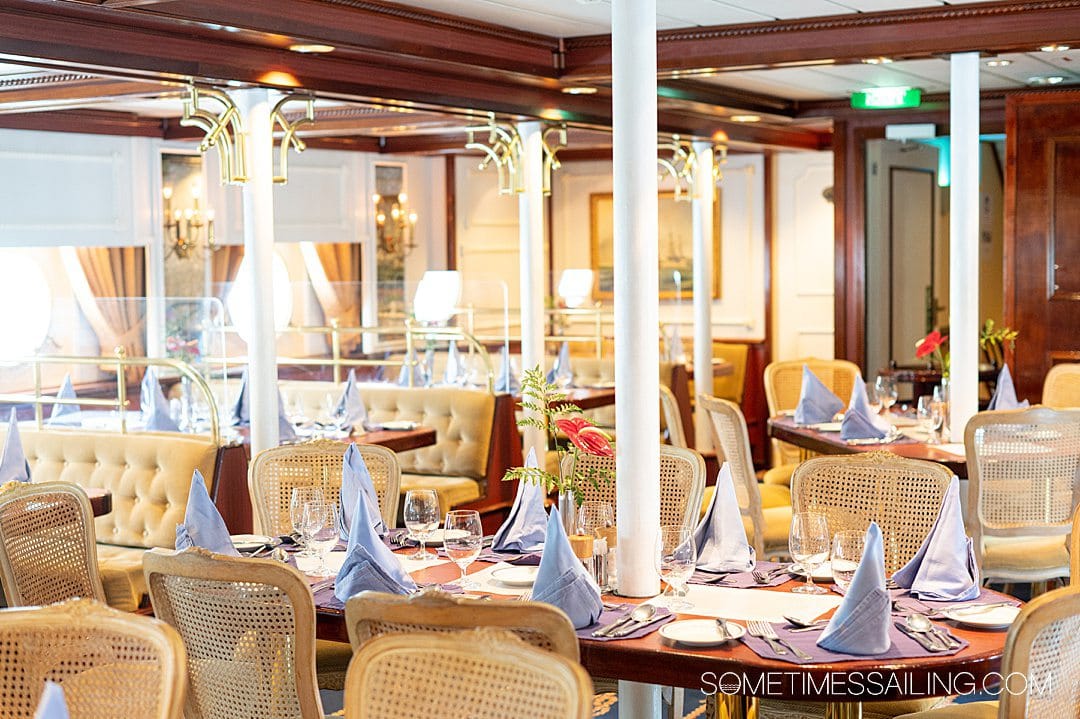 Breakfast
Two breakfasts were available daily: An early riser's option and the full breakfast buffet.
We loved the omelet station that was part of the full buffet. We had one daily, along with fresh fruit, bread, cheese, and potatoes. Protein was also readily available, including things like smoked fish, bacon, or sausage.
The buffet was usually from 7:30 am to 9:30 am, give or take 30 minutes, depending on the day's schedule.
The Early Riser's Breakfast was in the Piano Bar area. It offers small pastries, including croissants and danishes, and some fruit. Coffee and tea were always nearby and available all the time. (Drinks like cappuccinos and lattes cost extra.)
Lunch
A buffet lunch was available for two hours a day. Times vary slightly depending on the port schedule, but generally, lunch was between noon and 2:30 pm.
The buffet had something for everyone, with plenty of delicious options from fish to meat, vegetables to pasta, and a salad bar.
Dinner
Dinner was always served at your table as plated appetizers, soups, and entrees, ending with dessert.
One of the interesting things about Star Clippers is that they set out display food in the Piano Bar area approximately an hour before dinner so that you can see the appetizer and entree options for the evening. This very much helped us decide what we wanted to eat for dinner.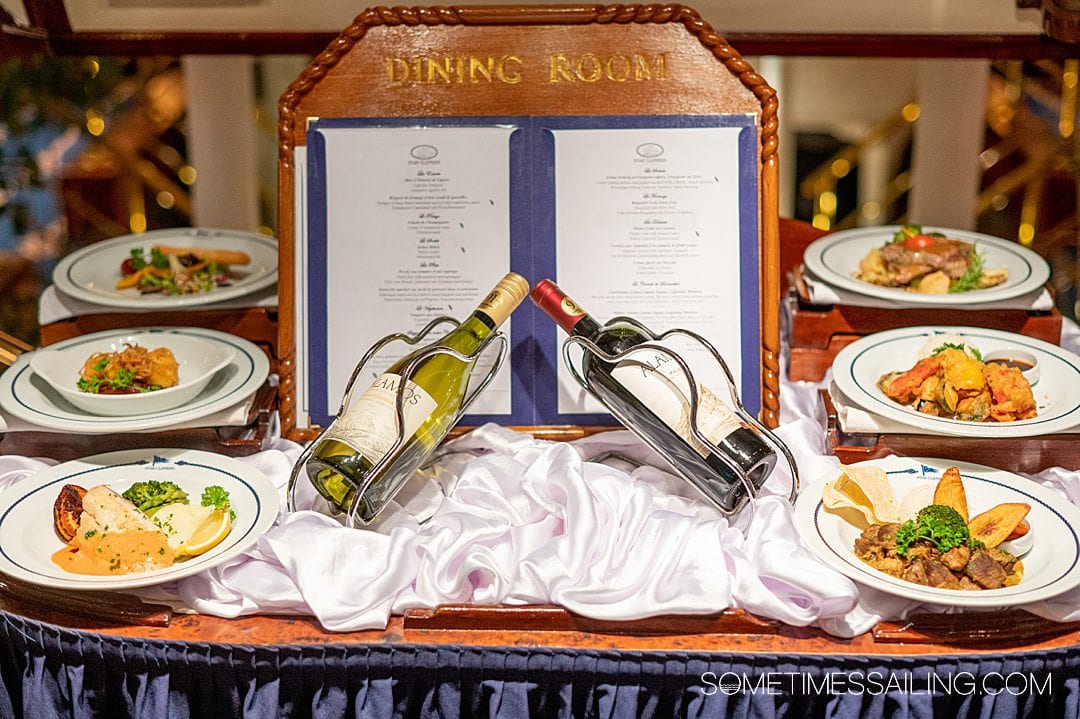 Some entree hits were Chateaubriand Steak, Pork Cordon Bleu, and Salmon with Sundried Tomatoes.
Appetizer-wise, we really liked their Mushroom Soup (we must say, Star Clippers had surprisingly flavorful soups), zucchini-wrapped feta cheese, and Smoked Salmon with Capers.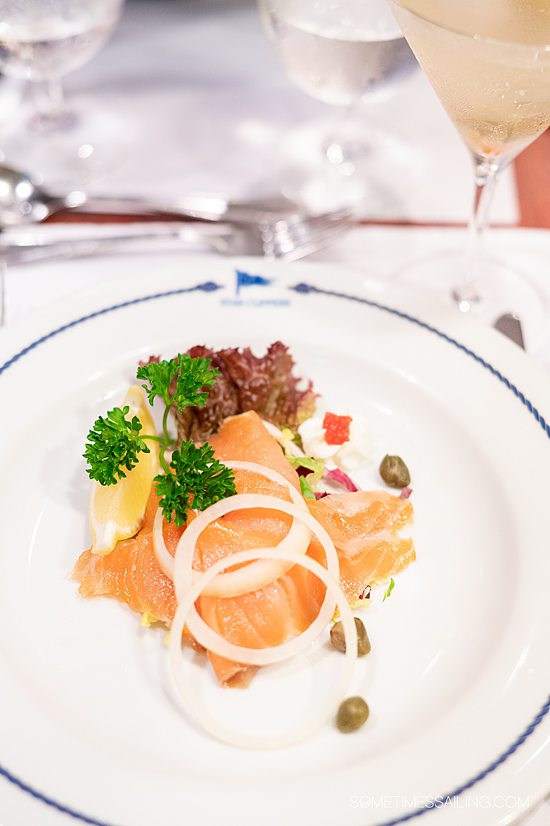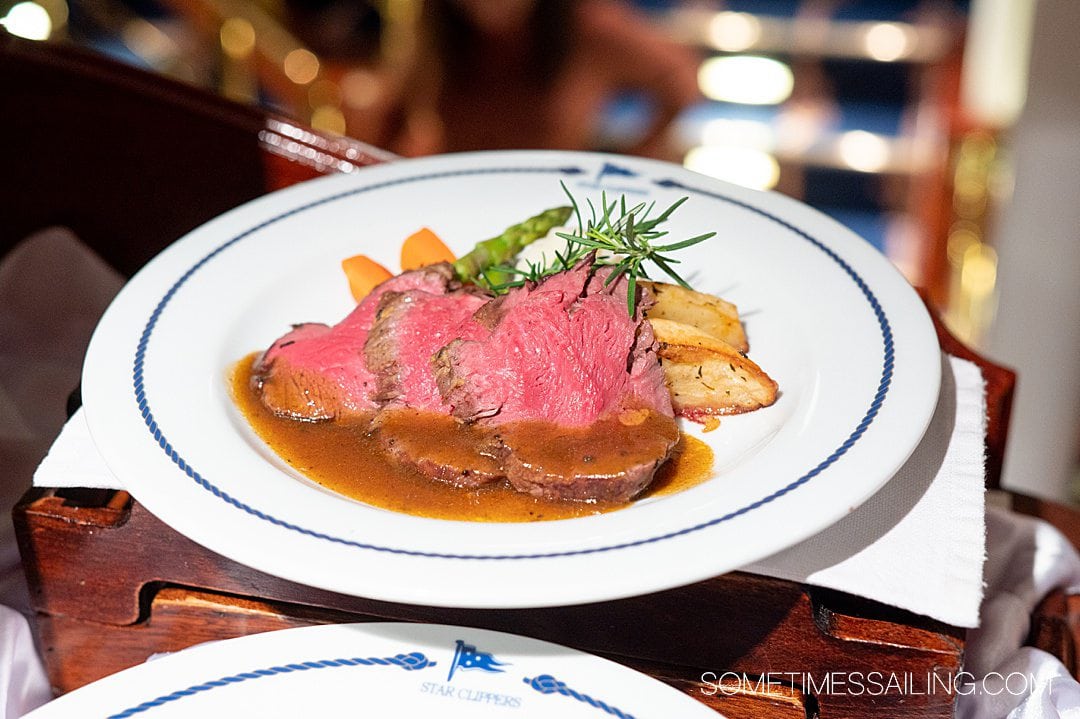 Their ice cream sundae bowls were always yummy. They have a cheese option each night as well that we enjoyed. (We love a cheese dessert, especially after barge cruising and river cruising in Europe so much, with plenty of delicious cheese to spare!)
Snacks
Snacks were available every day at 5:00 pm, accompanied by acoustic guitar music. This included fresh fruit, tiny finger sandwiches, and a small hot item, like egg rolls or chicken skewers. One day they treated us to a snack taco bar – it was a hit!
A snack was available again at midnight if you were still awake and wanted a nosh.
Star Clippers Review of Drinks
Drinks are done a bit differently on the ship than you may be used to if you're a big ship or river cruiser because they don't offer drink packages. Instead, they are priced reasonably per drink.
Some you pay for, and others are complementary, like filtered water from a water station by the Tropical Bar. It is great for filling reusable bottles. Coffee and tea are complimentary and self-serve outside of dining hours.
There are two bars on board: Piano Bar and Tropical Bar. The Tropical Deck welcomes guests starting from 8:00 am.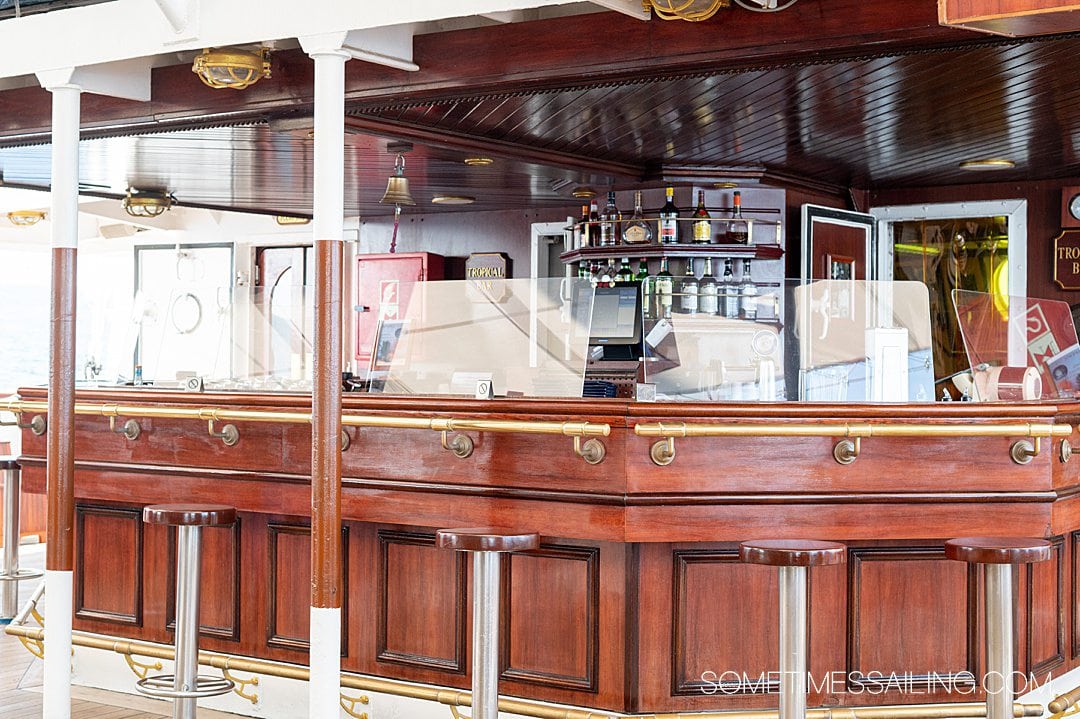 Coffee and Tea
There is a station for coffee and tea that is always available.
Teas including Earl Grey, Lipton's, English Breakfast, Mint, Peach, and more are set out. They did not have any decaf tea on our sailing, so if you enjoy a cup, be sure to bring some of your own tea bags.
Drinks like lattes, espressos, and cappuccinos can be purchased on the ship from the bartenders and are not complementary.
Alcohol
All the varieties of alcohol you would expect are available on board, including vodka, gin, tequila, Aperol, and rum. Drinks are an average of €5 to €6 each, depending on what you get. I ordered a vodka dirty martini with several dinners; each was only €6.
There is always a "Drink of the Day" for €5. It's usually some sort of fruity cocktail, like a Rum Punch, Pina Colada, or Melon Ball.
If you buy alcohol in the ports or bring it on board during embarkation, you cannot consume it on the ship. (They do not search your bags when you first board, nor do they search your bags when you board after time in the ports.)
Non-Alcoholic Beverages
Star Clipper offers a selection of non-alcoholic beverages, including sodas (coke, ginger ale, sprite, and orange soda, for example), sparkling water, and non-alcoholic beer, priced per drink.
Star Clipper Public Areas
Aside from the dining room and two bars mentioned above, there is also the following on board:
Library
Sloop Shop (Star Clipper Store)
Two Pools
Bowsprit Net
Smoking Area
Library
The library is lovely (and very air-conditioned). Its dark-red upholstery, carpet, and dark wood give it a nice warmth, finished with a framed painting of a sailing ship.
Library books are free for guests to enjoy. There are books in several languages, including Dutch, English, French, and German.
The library also has games, like Scrabble, for guests to play. Lastly, it's where the excursion sign-up sheets and booklets are during the cruise.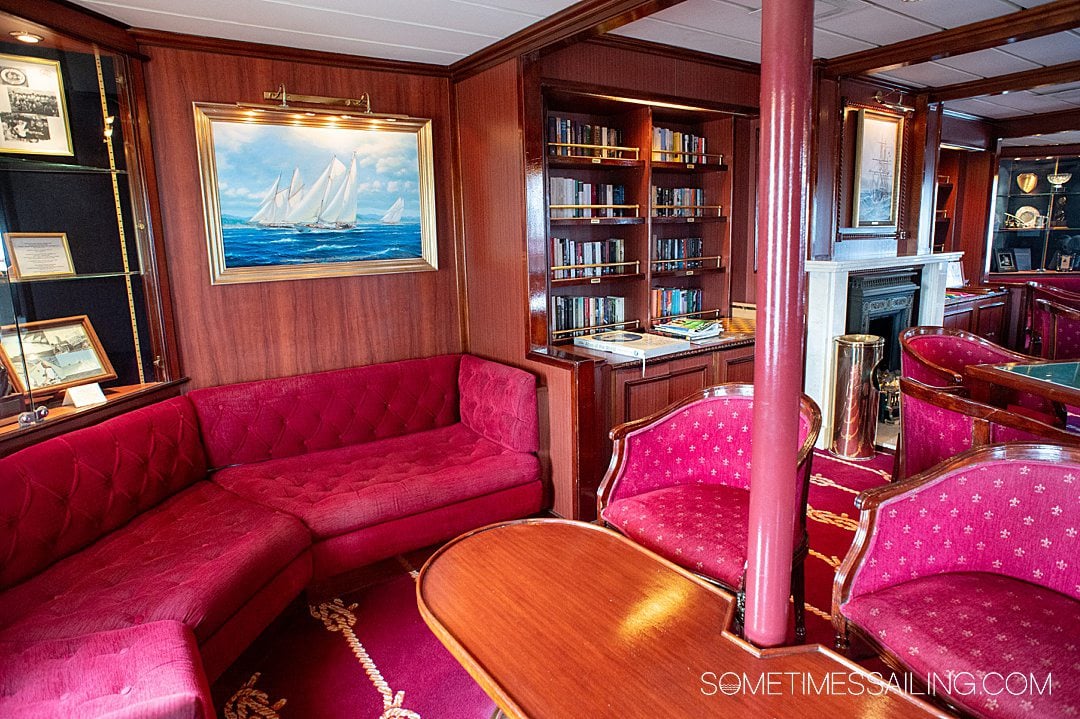 Sloop Shop
Star Clipper had some of the best items to purchase we've seen on any cruise ship, large or small. It's stuffed to the brim with linen shirts, t-shirts, cufflinks, watches, silk scarves, bags, etc.
It's all very tastefully designed, with small "Star Clippers" logos and insignia incorporated into the design. There was a sale on some of the older "season's" apparel on the last full day of the cruise, which was the day before disembarkation.
They also sold toiletry items, like sunscreen, over-the-counter medication, and tampons.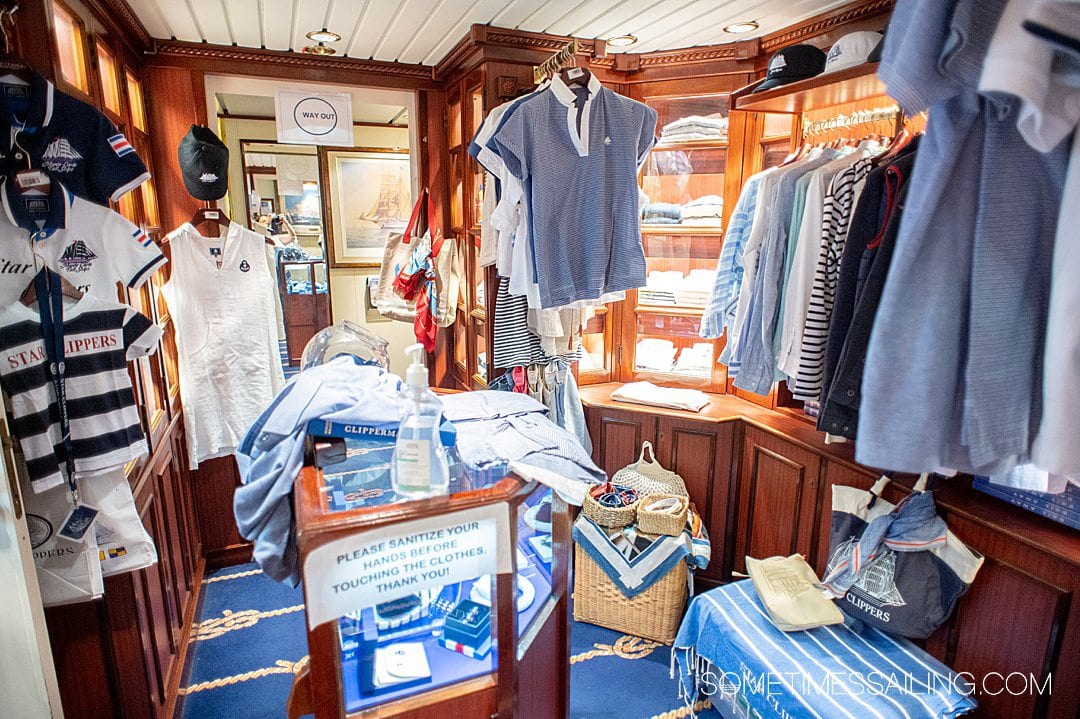 Pools
Two pools filled with salt water are open during most hours. It's unavailable overnight, and, weather permitting; it is not available when the sea is rough.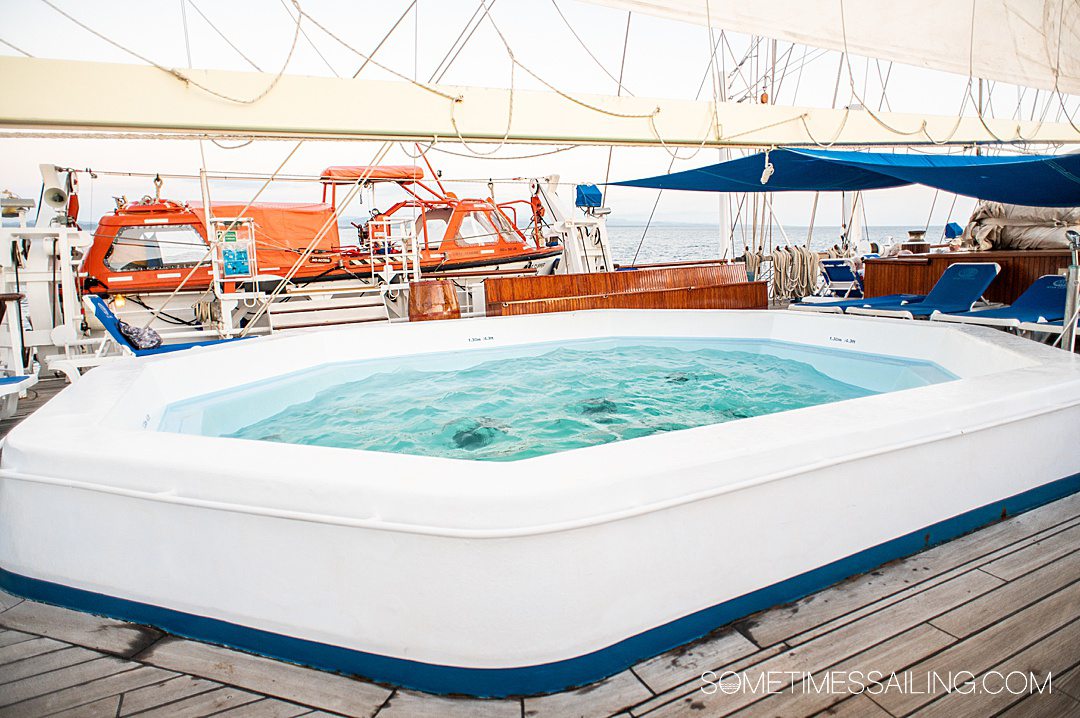 Bowsprit Net
At the front of the ship is the bowsprit net, which is often open for guests to lay out at the front of the ship. It's not a place to bring your phone or items that could fall through the net into the ocean!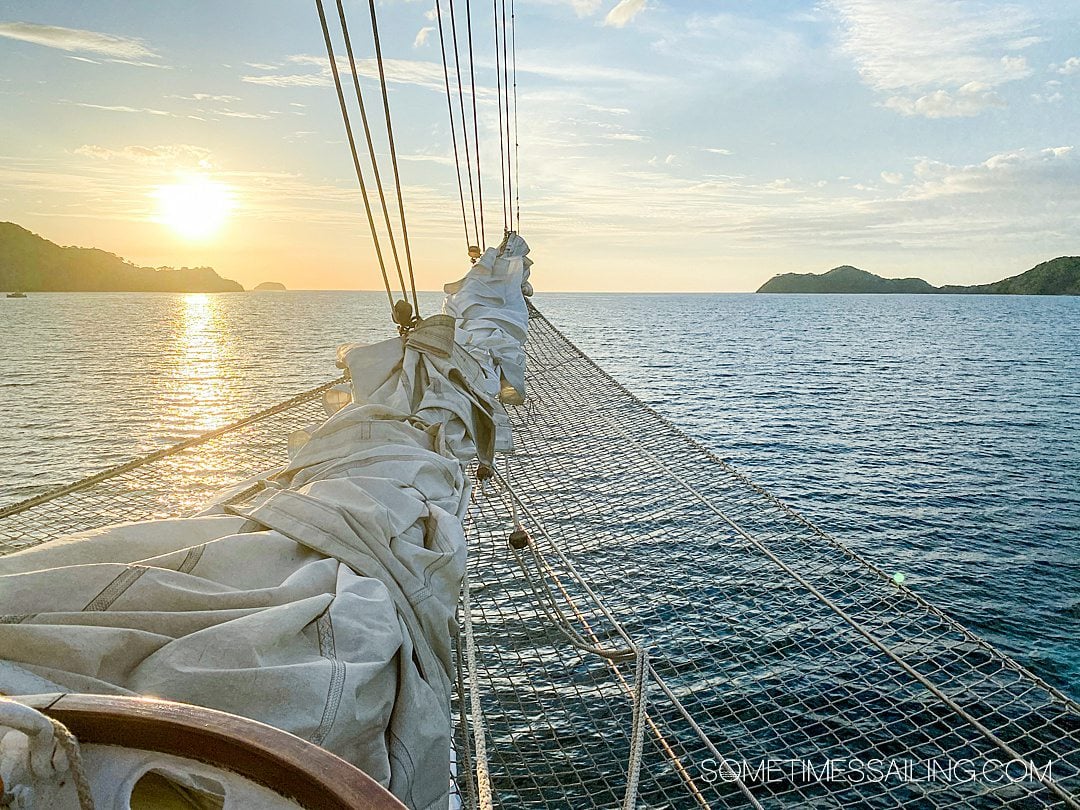 Smoking Area
There is a small area for smokers on one side of the outdoor Tropical Bar, where ashtrays are provided.
On Board Afternoon and Evening Entertainment
One of our favorite surprises on Star Clipper was live music and entertainment.
Music During Late Afternoon Snacks
The daily schedule included music in the Tropical Bar area from 5:00 pm to 6:00 pm and afternoon snacks. We'd be remiss not to mention Kirby for our Star Clippers review, who was the fantastic musician onboard.
Despite his youth, he delights with a decades-long songbook, including Frank Sinatra chart-toppers.
Late Night Entertainment
Dinner started at 7:30 pm every night and lasted a good two hours. After dessert, you could either mingle with guests, go to bed, or stay up for the 10:00 pm nightly entertainment.
We had a variety of entertainment throughout our 7-night cruise, including a dance party, trivia night, and a light show on the sails. The show has solid colored lights projected on the cloth. While it's not Disney-quality entertainment, it's still a fun experience, especially if the weather is nice.
One of the last evenings was a talent show. Guests and crew alike could sign up to show off their talents.
The hit of the show wasn't just the singers and musicians among us who revealed their talents during the two-hour show but particularly the activities crew, who were all teenagers enjoying a summer job as crew on the ship. They were inventive and fun-loving with their act creating costumes and singing traditional Scandinavian songs from their home country of Denmark for the show. It was very entertaining!
On multiple evenings, guided stargazing was held on the top deck at 11:00 pm with the Third Officer. They shut the deck lights off so you can see the night sky more clearly.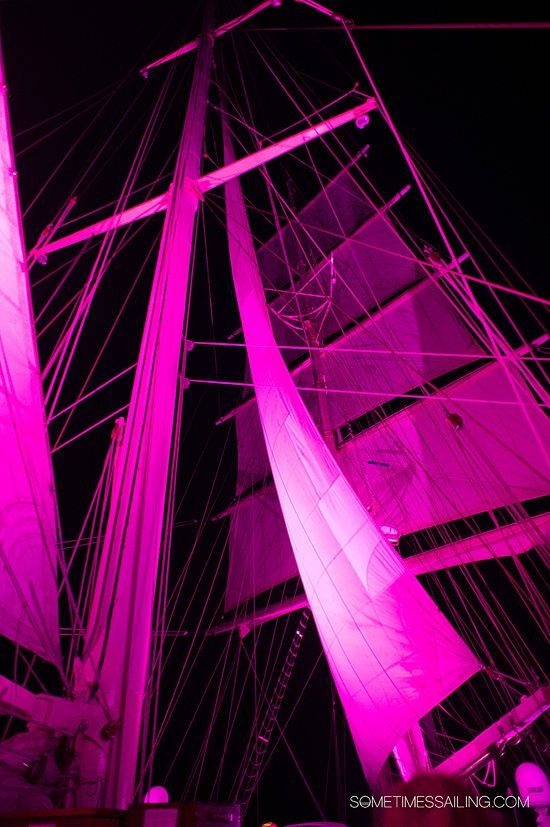 Daytime Activities

Aside from simply enjoying your cabin and the ship's pools and library during the day, additional programming is onboard.
This includes things like a morning workout or a knot-tying class led by someone from the Sports Team. We enjoyed a Q&A session with the captain and appreciated the opportunity to climb to the Crow's Nest platform about ⅓ of the way up one of the masts.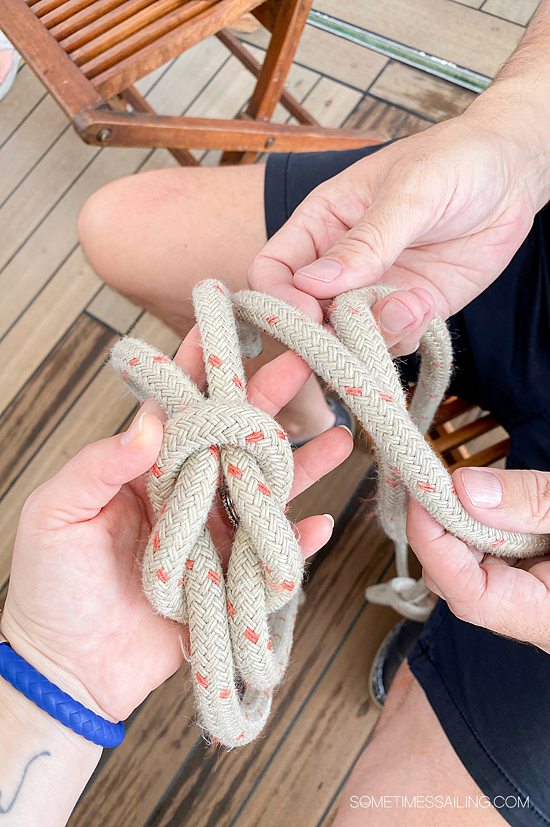 The Crow's Nest climb was so popular they held it twice during our cruise. Unfortunately, we were the last two people on the signup sheet and didn't get to climb before sunset on the second day. We look forward to doing it on our next Star Clippers cruise!
On Board Wellness
There is a massage therapist on the ship. Massages are extremely affordable at €60 for a 60-minute massage. The massage room is a lovely tented area on the top deck that is very tranquil inside. It's decorated with electric candles, shells, and a comfortable massage table.
Is there a gym on Star Clippers?
While there is no gym or workout room on the ship, a fitness class was offered every morning around 8:00 am, with instruction by one of the Sports Team members.
Star Clipper Tendering and Excursions
Excursions vary depending on what itinerary you are signed up for. Regardless of the ports you visit and your excursion options, several things are universal:
If you're not directly docked on a cruise ship pier where you can step from the boat to the land, you'll either have a dry landing or wet landing to get to the port from the boat.
Excursions are priced per person per excursion.
Tendering to Shore
A boat like Star Clipper often "docks" by dropping anchor in the open water and mooring at sea, as it's called. This is opposed to docking directly on a cruise pier and means guests must be transferred to the shore. This is done via tender boat or "Zodiac" boat.
One of two shore landings can happen in this case:
A wet landing is where you step off the boat, into shallow water, and then to shore.
Dry landing, where you step from the tender boat or Zodiac onto a dry dock of some sort.
In the case of situation #2, you often need to walk up or down stairs to get on/off the boat to the dock in small port towns.
You always need to walk down steps to get from Star Clippers boats to the tender boat, which takes you from the second deck down to the water level.
Wet-Landings
We had several wet landings during our cruise in Costa Rica on Star Clipper. They tell you you'll have a wet landing ahead of time so that you can prepare with the proper footwear and clothes.
We either took off our shoes to go into the water barefoot or went in with our water shoes on.
We preferred wearing our water shoes because it can be risky to step into murky water barefoot if you cannot see what's beneath the surface, like a rocky or shell-filled shore. Because of this, we recommend water shoes on our Star Clippers packing list.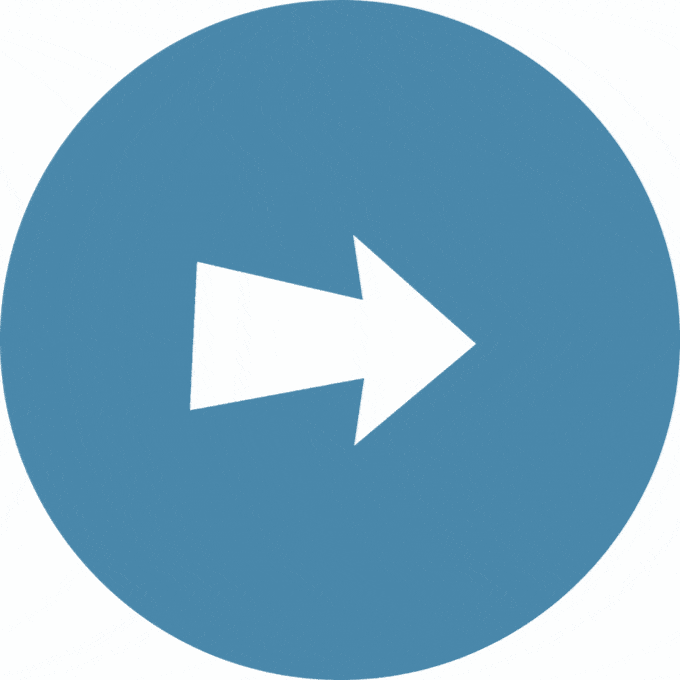 Note: Don't cheap out on a pair of water shoes if you want to use them in the future after your first trip. Pairs that are $10-$20 rip easily. Plan to spend around $30 on a pair of water shoes, which will last a long time!
Our clothes got a little wet in some cases. One such instance was when we were on our way back to the ship in a tender boat when a wave from the wake of another boat splashed over us.
Another time was when we had to step into the water to get to shore. The water was thigh-high for shorter people (like Mikkel) but shallower for tall people (like Dan).
Luckily, if you're in a hot climate (and Star Clippers usually is), your clothes will dry quickly.
Dry Landings
This type of landing is easier, of course. In this case, the tender ship can pull up right next to a dock, and you can step from the dry tender onto dry land or a dry structure.
During our Costa Rica cruise, we had a dry landing four times. Twice for embarkation and disembarkation in Puntarenas, another time in Golfito, and once more in Quepos.
Excursions
We did a mix of things in ports during our week-long cruise. We signed up for excursions in some ports while we simply walked around on our own in others.
The excursions very much differ from port to port and itinerary to itinerary. For this reason, we won't get into the details of our excursions other than to say they were well orchestrated.
Generally, the cost of the excursions was between $75 to $150 per person, depending on the experience. This included transportation, entrance to the experience if applicable (like a fee to get into a national park), a guide, and a meal if the excursion spanned lunch or dinner time.
You sign up for excursions in a very simple old-fashioned way: while you're on the ship by putting your name down on a sign-up sheet in the library. The excursion sign-up sheets are in a binder with 8.5×11" paper, with each excursion printed on its own sheet. They may cancel it if too few people sign up for it.
Star Clippers will inform you via email if any excursions need to be booked before your cruise. In our case in Costa Rica, the Manuel Antonio National Park guided tour had to be signed up for in advance.
Port Talks
There was a short daily port talk to discuss the port we'd be visiting the next day and answer any guests' questions.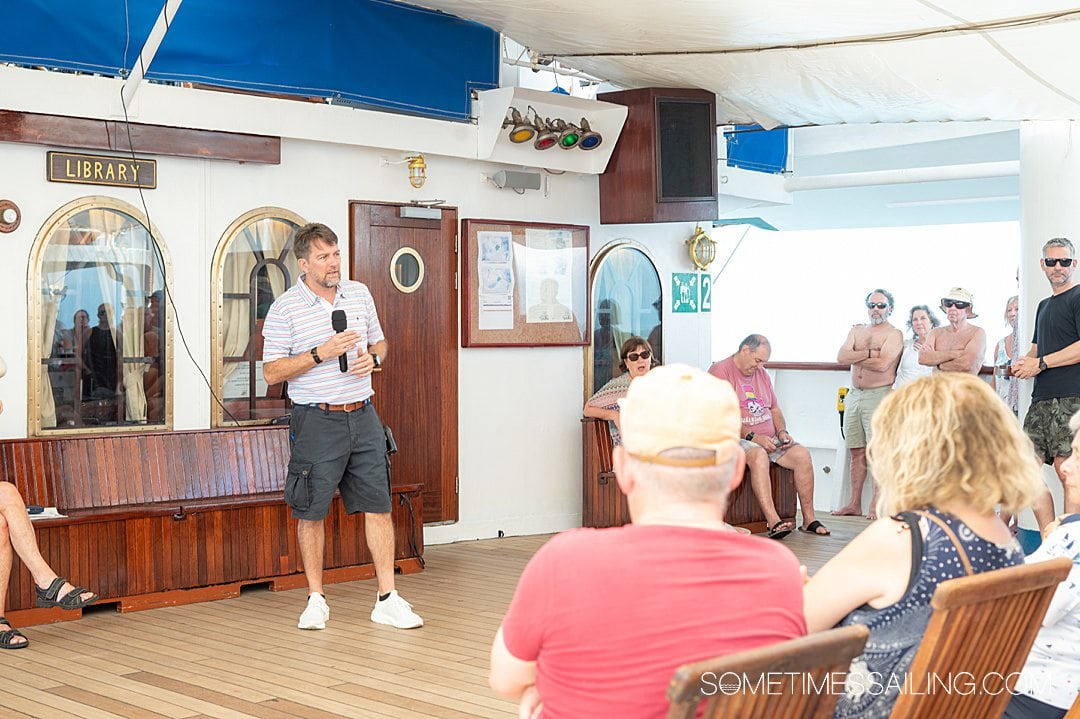 Star Clippers AccessIbility
If you need the assistance of a walker, a cane, or a wheelchair to move around, we do not recommend Star Clippers.
There are simply too many stairs with no option to use an elevator and too many places you can potentially trip if you're mobility-impaired.
Additionally, it would be difficult to exit and re-enter the ship in ports where you need to go down stairs to get on a tender to reach the shore in 99% of the cases during the cruise.
Star Clippers Review, in Conclusion
A Star Clippers cruise is a wonderful experience for people who want a relaxing, small-ship cruise that truly sails and operates the old-fashioned way with a crew that hoists sails.
Star Clipper goes to beautiful destinations. With the crew and fellow passengers you'll meet, the enjoyable activities and food on the ship, and the wonderful itineraries, your vacation is sure to be memorable.