Star Clipper Cruise Ship: 15 Interesting Facts About the Sailing Vessel
Star Clipper is appealing when you look at her from the outside. Her 16 sails are awe-inspiring, with countless ropes and crew to make them work harmoniously.
But there's much more to Star Clipper than meets the eye. Her build and program intricacies unfolded as we sailed for a week in Costa Rica. Interesting things about Star Clipper sailing cruise ship abound; we share them all below.
Disclosure: This post has affiliate links, meaning we may earn a small commission if you click the link and proceed with a purchase at no cost to you. We thank Star Clippers for hosting us; we only recommend cruises, experiences, products, and services we use. As Amazon Associates, we earn from qualifying purchases.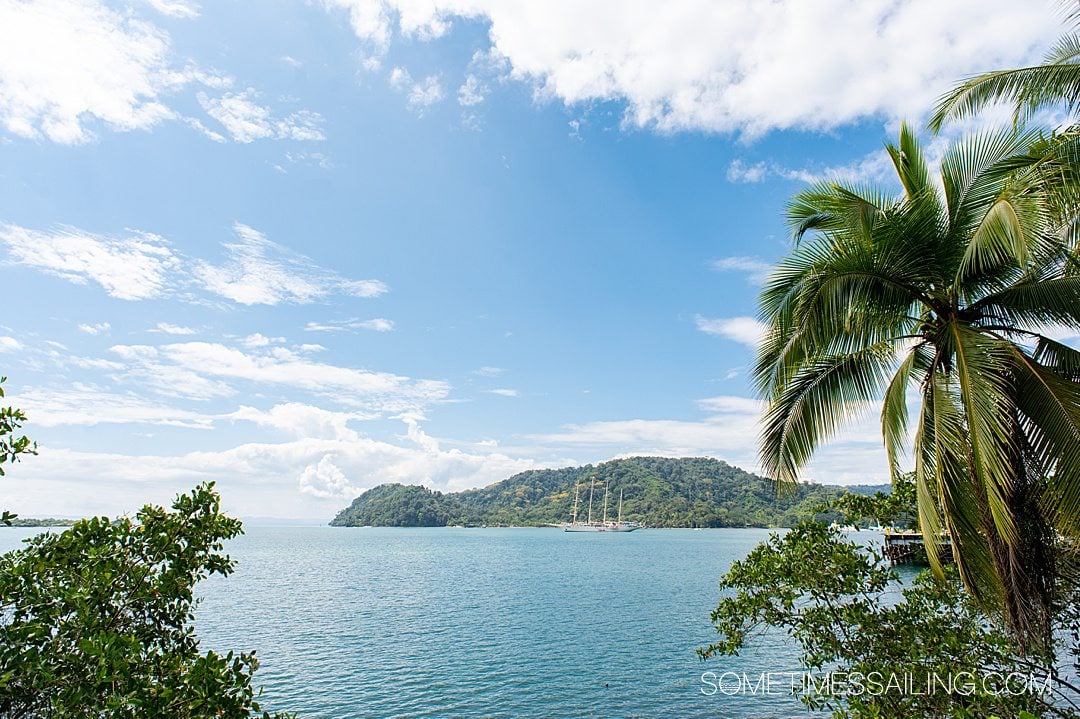 1. Star Clipper is a Multi-Lingual Ship for Guests
Every cruise we have ever been on has crew members from multiple countries. Thus, the languages spoken on board are many.
However, one of the interesting things about Star Clipper is that the daily program is written in three languages: English, German, and French.
Announcements on board were first recited in English then in German when we sailed because there were a lot of German-speaking passengers on our cruise.
Even the library on Star Clipper is multilingual: there are shelves for books in various languages, including Swedish, English, French, German, and Dutch.


2. Star Clipper Marries Classic Ships of Yesteryear with Modern Day
We were immediately struck by the nautical vibe of the classic sailing ship when we embarked on Star Clipper. Plenty of dark-colored wood with rope motifs was used as decoration in several places, from signage to dining room plates.
But while the ship has the beauty of a centuries-old vessel, it's a fully modernized sailing boat in many ways. A perfect example is the plastic credit card-like Ship IDs used to scan passengers in/out of the ship. Yet physical keys are used for cabin-door access.
Your Ship ID card can also be used for all onboard purchases, including at the bar and the Sloop Shop.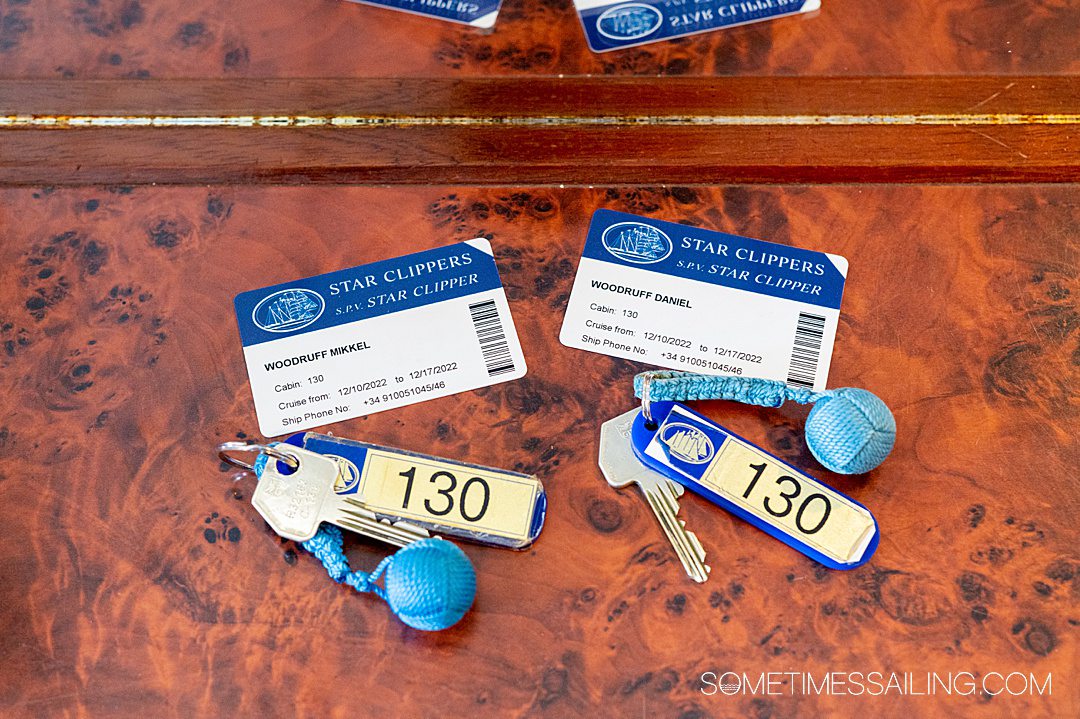 3. Star Clipper is Modeled After Classic Sailing Ships
Mikael Krafft, the owner of Star Clippers cruises, fulfilled a lifelong dream when he started the company.
He grew up in Sweden, 20 km outside of Stockholm. Here, he would see the classic Clipper ships come in and out of one of the largest shipyards in the world. A passion for sailing was quickly formed, and years later, his dream of owning his own sailboats was realized.
While sailing aboard his ship "Gloria," he came up with the idea to start a cruise line. Star Clipper and Star Flyer were built first, followed by Royal Clipper some years later.
The Star Clippers website states, "His dream was to recreate the legendary clippers that crossed the oceans in the 19th century and in doing so offer people the chance to experience the unique thrill of sailing aboard a Tall Ship."


4. The On Board Currency is Euros
The official currency of the ship is the Euro. While you certainly don't have to have euros on hand as a passenger, it's good to know that any price you see is for euros. While I initially thought my cocktail was $6 USD and Dan's glass of champagne for the sail away party was $7.50, we quickly remembered that the price was in euros, not US dollars.
This doesn't matter much when the exchange rate is practically even, but it's good to keep in mind when it's not.
Additionally, it's good to remember when you get your final bill and final credit card charge; if your home currency is USD, your credit card statement will show a different amount than the final bill on the ship, taking the currency conversion into account.


5. There is Always a Cocktail of the Day
Who doesn't love a great drink while cruising? The drinks onboard are incredibly affordable but even more so when a drink is featured as the drink of the day.
For example, the first day we sailed, it was a Pina Colada, and the second day it was a Melon Ball. The third day offered a Mai Tai, the fourth day it was an Aperol Spritz, etc.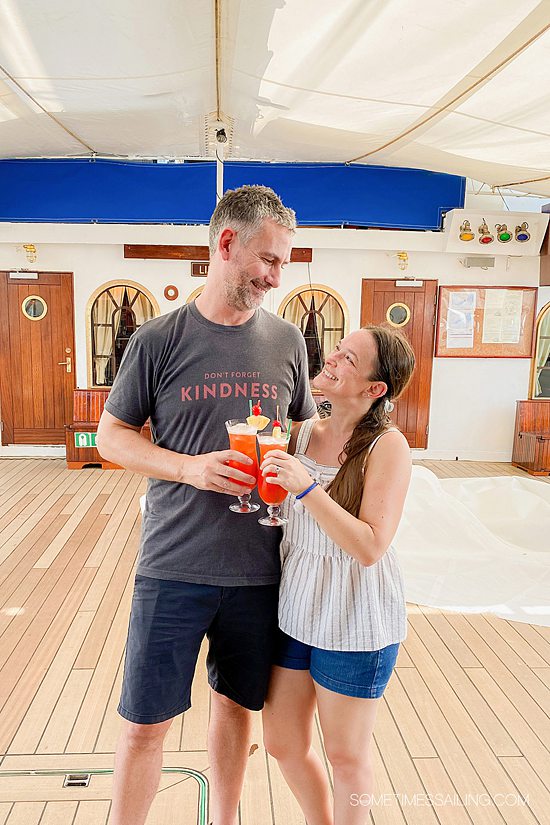 6. Display Food is Set Out Nightly to Showcase the Dinner Plates
They say you eat with your eyes before your mouth or stomach. In the same vein, Star Clippers displays the evening's dishes in the early evening each day, around 6:00 pm, so you can see the dish before you order it.
To see them, make a point to stop at the Piano Bar area, where they're on display.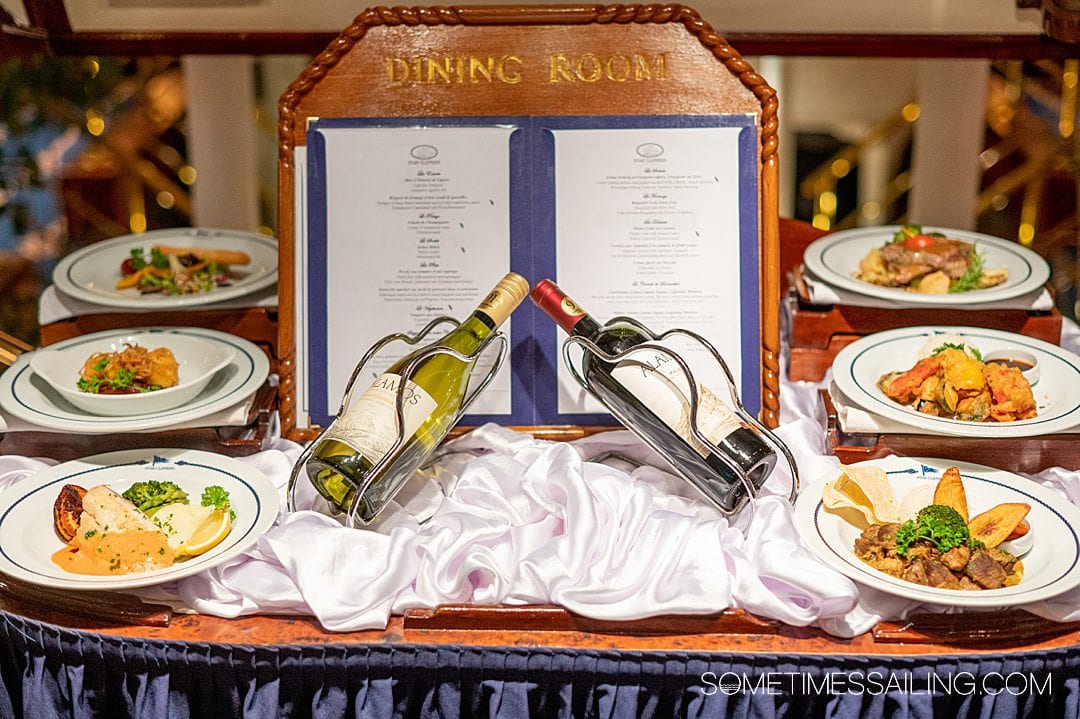 7. Star Clipper Doesn't Have Balcony Cabins, but They Do Have Portholes
It's very popular these days for cruise ships to have balconies, whether a Panorama balcony like on Emerald Cruises river cruise ships or a full balcony like on a Celebrity Cruises ship, like Celebrity Apex.
But Star Clipper harkens back to the classic sailing days when portholes alone were considered a cabin luxury. Most rooms have at least one porthole. All guest cabins are on either decks 1, 2, or 3.
Deck three has eight cabins that are the biggest onboard by square footage. Their doors open to the outside. Though they have a porthole on their door, which opens to an outdoor deck, they do not have their own balcony.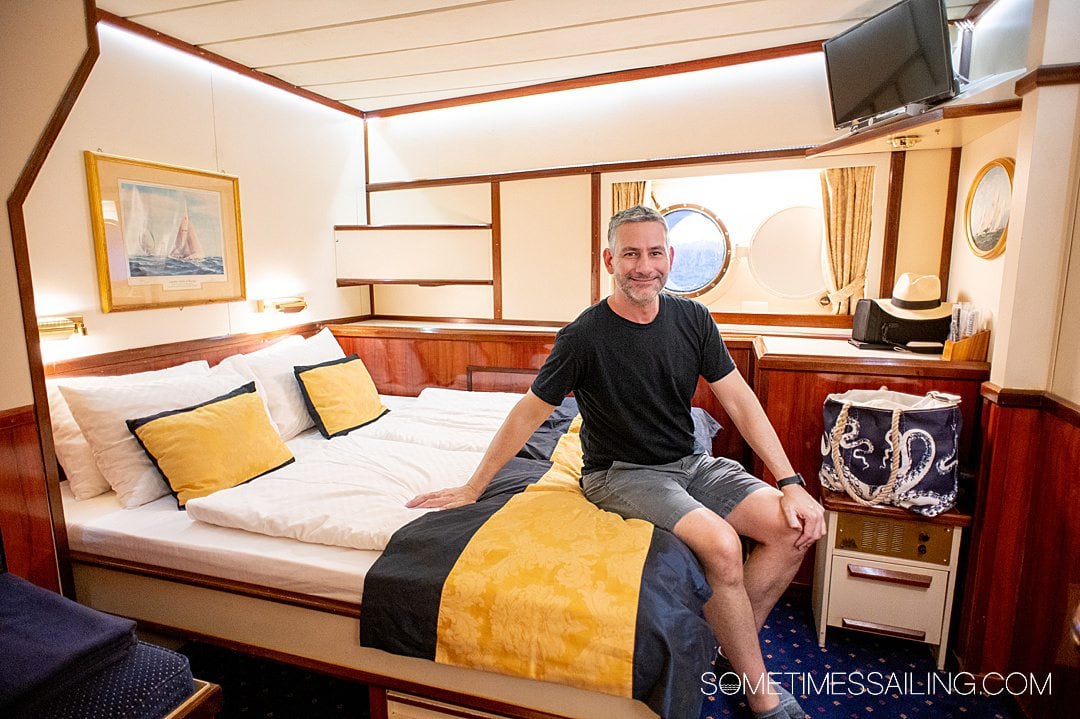 8. The Shower is Part of the Bathroom (in Most Cabins)
Star Clipper cabins remind us of bathrooms we've experienced in other countries, like Norway. The shower is very much a part of the bathroom, without a separate tiled space or delineation that goes into another structure, so to speak.
Our cabin bathroom floor was ever-so-slightly sloped towards a floor drain in the corner of the bathroom. A shower curtain slid around the space to create a shower surrounding the shower head on the wall above the floor drain.
Some cabins, like a Category 3 cabin we could see, had a slightly separated area in the bathroom for the shower.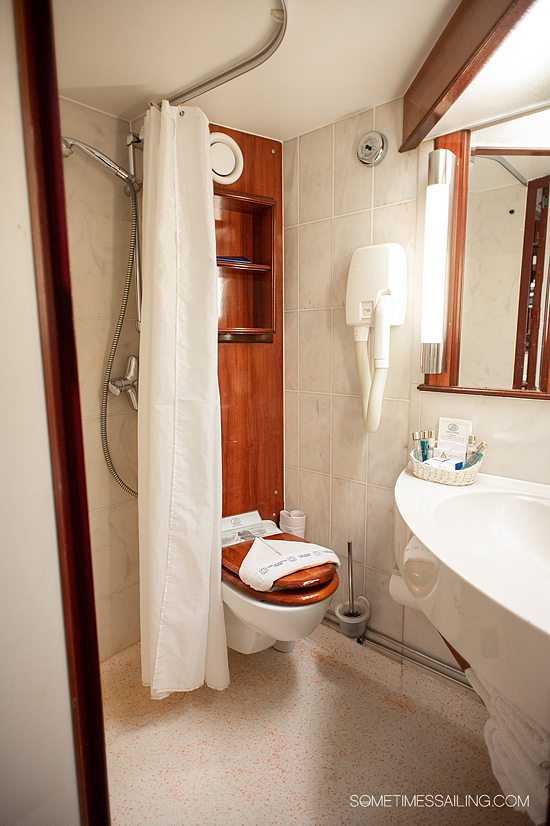 9. The Ship May Feel Like a Maze, but You Quickly Figure It Out
The ship feels a bit like a maze the first day you're onboard, with several dead ends forcing you to turn around, go upstairs, and go back down in another area, or vice versa. But you quickly figure it out because the ship isn't that big.
We could make sense of the ship layout within 24 hours of being onboard. There is also signage and ship maps throughout the vessel to help you navigate.


10. Star Clipper is a True Sailing Ship…with Many Sails
With four masts and 16 sails, you can be sure that Star Clipper is a true sailing ship.
In fact, she has 36,220 square feet of sails that can be repaired or altered on the onboard sewing machine. (If you're wondering, the mast height of Star Clipper, where the sails attach, is 206 feet.)
The ship, of course, also has an engine for instances when there isn't enough wind to keep the boat in motion.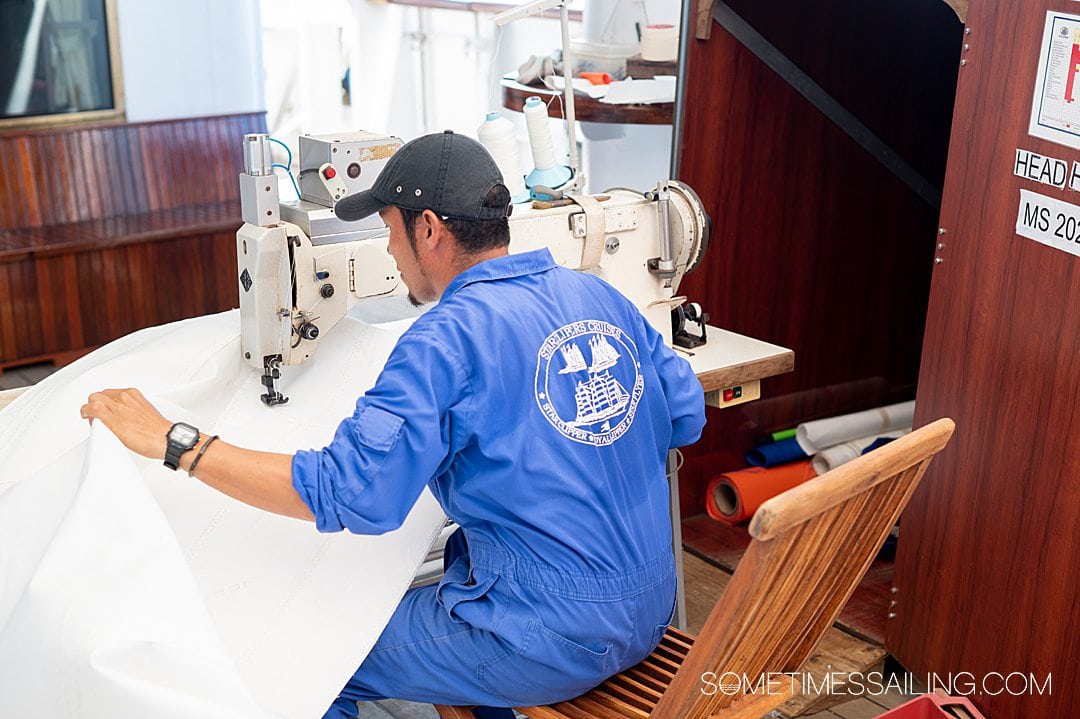 11. Weather Permitting, You Can Climb to Star Clipper's Crow's Nest
There is a Crow's Nest lookout platform on one of the ship's masts. Weather and signed "Sports Waiver" permitting, one of the Star Clippers onboard activities is to climb to the platform.
To do this, you sign up with the Sports Team during designated times of your cruise. Then, when it's your turn, a tethered safety rope is fastened to you and the ship via a harness. Then you climb your way to the platform along a rope ladder up to the Crow's Nest.


12. The Knot in the Carpet is a Sheet Knot
Some creative activities are on board, including a knot-tying class that a member of the Sports Team teaches.
During the class, you learn to tie a Sheet Knot, the same knot in the patterned carpet on the ship.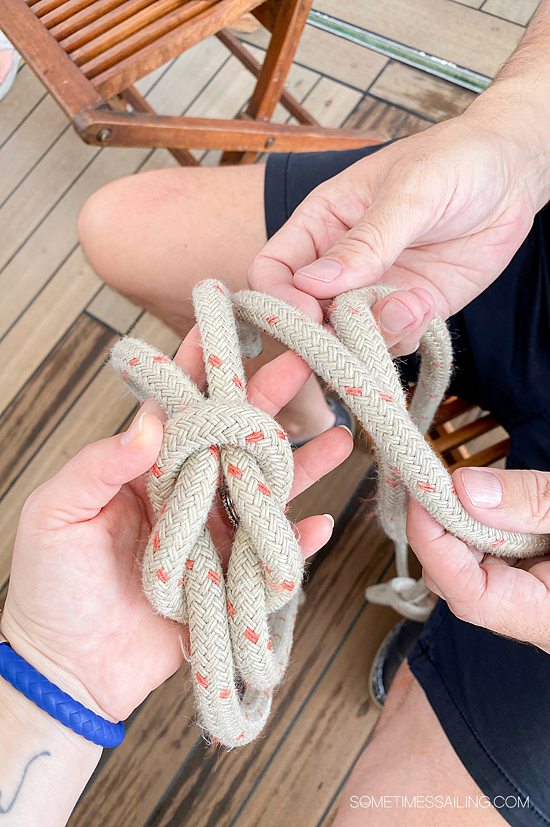 13. You Can Lay in the Bowsprit Net Towards the Front of the Ship
Want to feel like a rockstar on Star Clipper? The bowsprit net is where you want to be!
If the weather is favorable and the ship isn't rocking too much, grab sunscreen and some water (it can get hot out there) and head to the bowsprit net. The net allows you to lay over the water, free of the ship's wooden floor beneath you.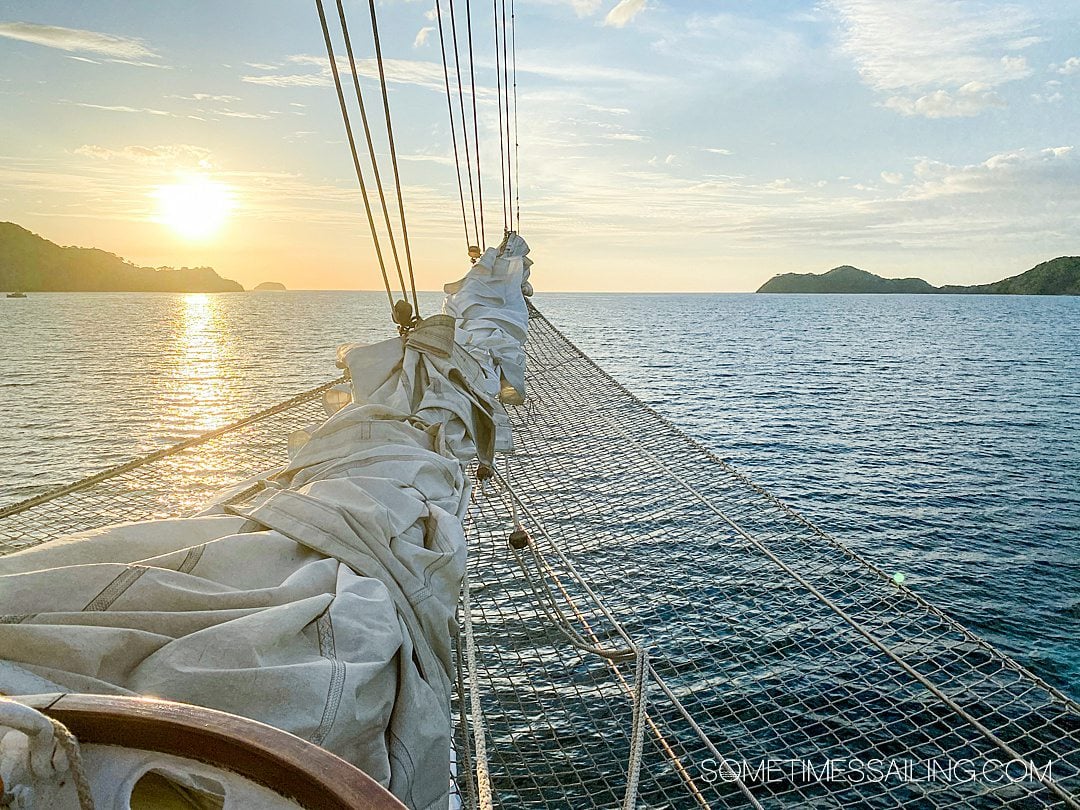 14. There are Mulitple Flags Raised on the Ship Everyday
The Star Clippers flag is raised daily and taken down each night. It's a blue flag with three stars. Additionally, a flag is raised for the country the ship is in.
So, for example, while we sailed the Pacific coastline of Costa Rica, the country's red, white, and blue-striped flag was raised and flown alongside the Star Clippers flag every day.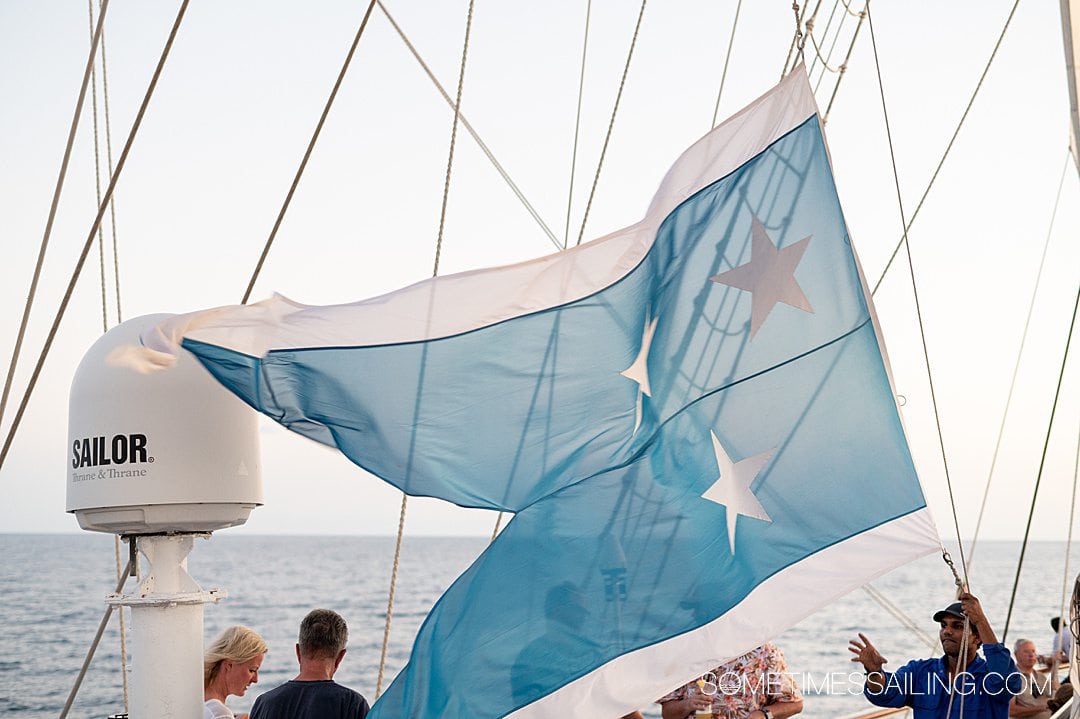 15. There is a Crew Fund
The Crew Fund helps crew should they need extra financial help for personal reasons (such as needing to return to their home country in case of a family emergency). Or, the money sometimes goes to the entire crew, like providing extra funds for a crew party.
During our cruise, a special map was raffled off. The proceeds from the raffle ticket sales went to the Crew Fund.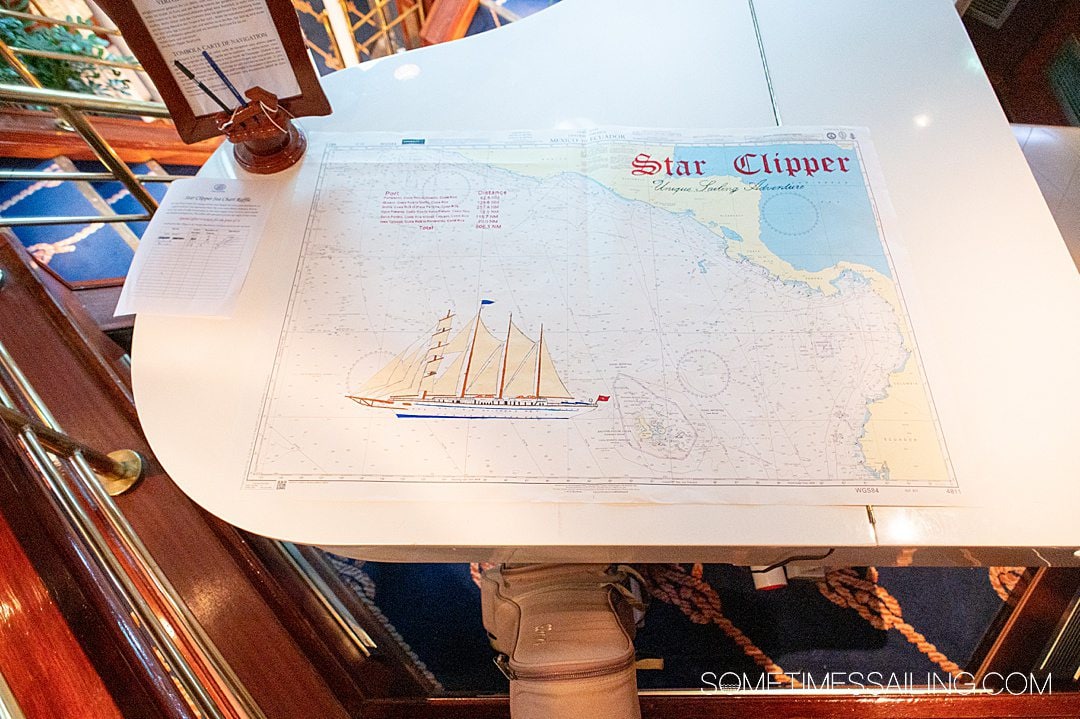 Conclusion of Interesting Things about Star Clipper
This truly beautiful sailing ship has many wonderful things about the design and crew, inside and out, that will intrigue and delight you during your cruise.
It's all the more reason to sign up for a Star Clipper adventure. Be sure to take note of all her wonderful intricacies as you sail on the classic vessel.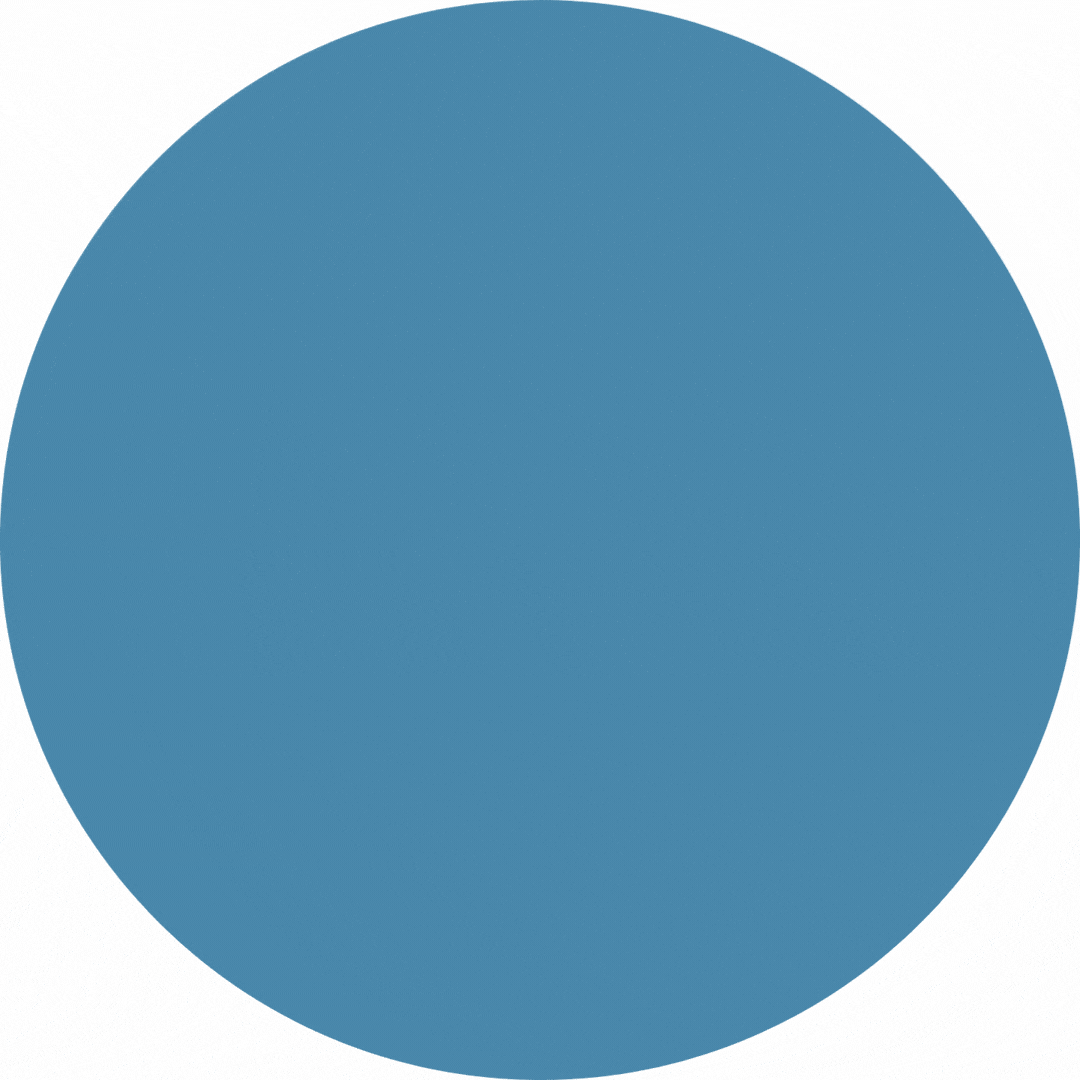 Ready to Book Your Cruise or INquire?
Use our preferred travel advisors, Bolds Travel, Because…