Emerald Destiny Cabins: Details to Love in Your River Cruise Room
The Emerald Destiny Cabins had several details we went gaga over during our cruise on the Danube River. There were things in our room that we loved and didn't even know we wanted on a river cruise. And things we ended up being incredibly appreciative for that impressed us on our sailing from Nuremberg Germany to Budapest, Hungary.
While you could live without these things on a river cruise ship, why deprive yourself when you know that these luxuries are out there for you to enjoy during a river cruise experience?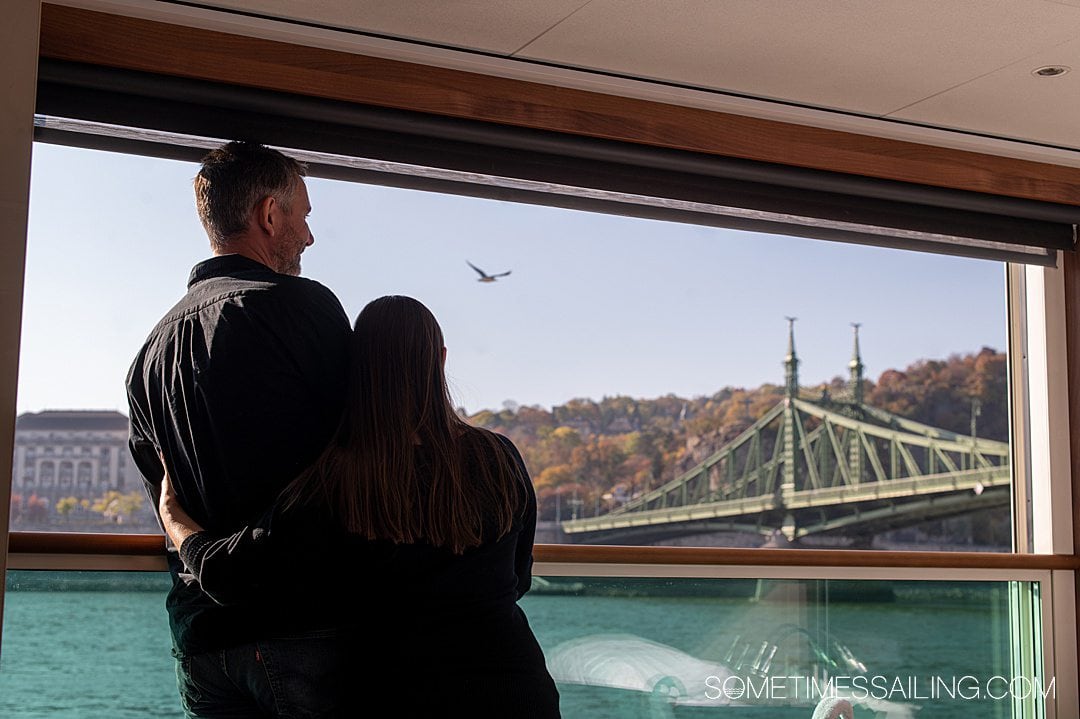 Emerald Cruises' Panorama Balcony Cabins
The balconies in Emerald Destiny cabins are amongst the ship's best features.
When you book a Panorama Balcony Suite, Owner's One-Bedroom Suite or Grand Balcony Suite, you have a window that electronically moves down to fold in "half."
This sliding glass window opens to bring the outside in. This is opposed to a cruise line like Viking, with more traditional balconies. We loved this fantastic room feature that turns any cabin into a room with an enclosed balcony.
The weather was gorgeous when we were in Budapest at the end of October and it was prime for us to open our balcony and welcome fresh air (and the view) in!
Check out our video cabin tour, below, and continue reading for more details about our fabulous room.
Emerald Destiny Cabins Have Two Types of Shades: One for the Sun and One for Black Out
There are two types of shades in Emerald Destiny cabins. They are both incredibly useful.
A tan colored shade to block the sun: This is great for when you want to let light into the room but don't want anyone else to see into your cabin. (And by "see into your cabin," we mean if you're docked next to another river cruise ship and other ship's guests can see in. Or, if boats pass by on the water and they can peek into your window.)
A black colored shade to totally block out the sun: When we used this shade we also put the sun shade down. Together, they completely block the sun, which is amazing for daytime naps or if you want to sleep past sunrise.
Emerald Destiny Cabins' Discreet "Do Not Disturb" Light Outside
There are three light switches near the door when you walk into your cabin. Two are for room lights but a third switch is for a discreet purpose. It turns a very tiny red light outside the cabin door on and off.
The red light outside your door, in the hallway, isn't larger than a few millimeters. It is used to signal to Emerald Destiny cabin crew and housekeeping that privacy is desired. You wouldn't really see this tiny red light if you didn't look for it. But of course the team aboard Emerald Cruises knows to keep their eyes peeled.
Emerald Destiny Cabins Bathroom Details
Blue Night Light
It was a pleasant surprise when we discovered a little blue light in the bathroom during our first evening in our cabin. The light was useful for someone like me, who gets up at least once a night to use the bathroom.
We thought it was perhaps a little bright if someone wants complete darkness during the evening; if you find that's the case it's easy to simply sleep with the bathroom door shut. And luckily, thanks to the light, you won't bump into the sink or toilet when you walk into your cabin bathroom in the middle of the night!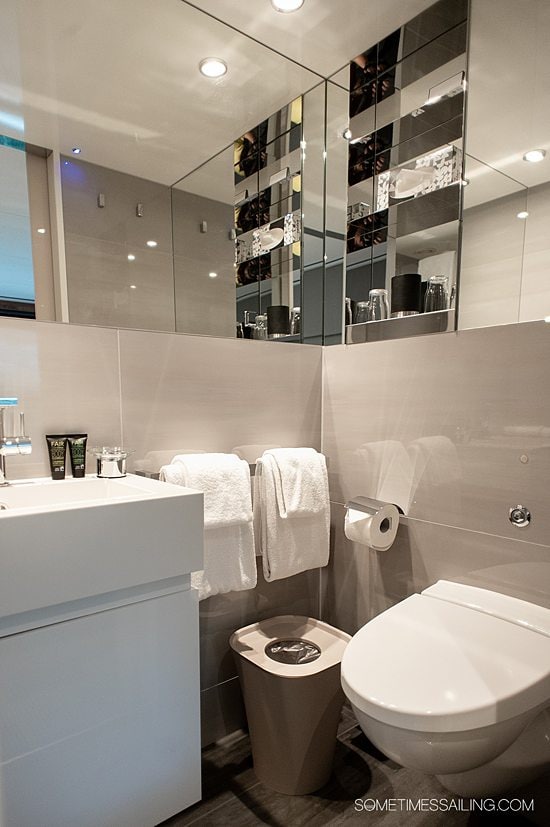 Hidden Bathroom Outlet
We cannot overstate how important good design is on cruise ships to make you feel like you're on the luxurious trip you signed up for. (Whether it's modern and sleek design, like on Emerald Cruise ships, or incorporating local elements in the ship's design, like Kontiki Expeditions did.) Of course it is imperative to make sure good design is implemented to utilize all space.
That's why we loved Emerald Destiny cabins' hidden detail (you could even call it "camouflaged") on the bathroom shelf: a bathroom outlet. Their designers went the extra mile to cover the outlet in reflective material so it blends in with the mirrored shelf it's on.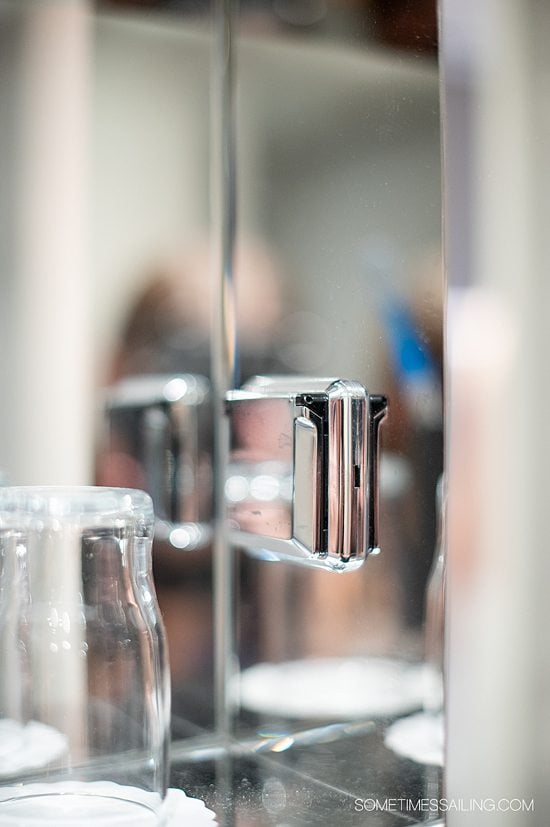 Shelves on the Side of the Sink
One of our favorite cruise ship tips to make great use of your space is to bring carabiners to attach your toiletries to towel rods, for instance, if space is lacking. However, in Emerald Destiny cabins it's not even necessary!
That is thanks to two shelves on the side of the sink. They fit our toiletries perfectly. (We brought two small bags each.) We bring this to your attention because it's such a well hidden detail. So much so, you may miss it when you first go into the bathroom. We did! But we saw it when we looked twice. The shelves are incredibly useful.
Emerald Destiny Cabins have Local Bath Products
We were thrilled to see that the bath products on Emerald Destiny were made with fair trade ingredients, from Germany. This included little bottles of shampoo, conditioner and body wash in recyclable containers.
Not only does purchasing these products from local businesses truly help local economies, but it's a sustainable practice. And, because we were sailing on the Danube River, which includes German ports, it was cool to see Emerald Cruises supporting the local economy with their choice of products.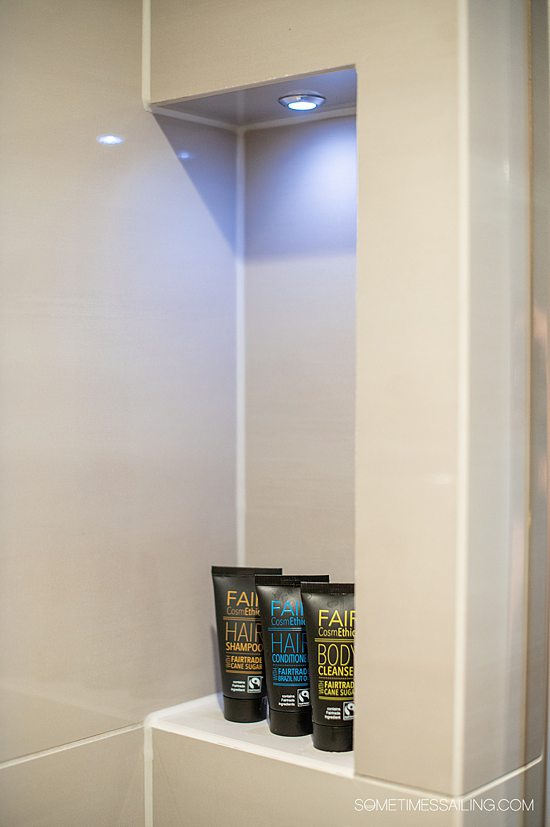 Emerald Destiny Cabins Shower Details
We loved the shower in our stateroom so much, we had to do a dedicated Instagram Reel for it.
There are five things we absolutely loved about this shower. (And who doesn't want a great shower on an eight-day river cruise?)
The door opens inward, which is logical and smart of the ship designers. Because if you're both in the bathroom at the same time, it won't hit the other person if they're by the sink. It opens towards the person in the shower.
There's a retractable clothesline inside the shower. Since there's a pool onboard Emerald Destiny, it's perfect for hanging your swimsuit to dry.
The shower head height is adjustable. Dan's super tall (6'2″) and I'm short (5'1″) so this is perfect for us.
The water gets super hot, which we love. If you close the door to the bathroom and turn up the temperature it's like a personal steam room!
There's a hidden shelf inside the shower with a light that shines down on whatever you place there.
Drinking Water in Each Emerald Destiny Cabin
Because you can't drink the water from the sink on most river cruises there is bottled water in the rooms. One Emerald Destiny, the water is in a glass bottle with glasses next to it.
But we loved that they went the extra mile and detailed the bottle with their logo. This extra special touch somehow made the water in the room feel a bit more luxurious.
There is also drinkable sparkling and still water in the restaurants. Additionally, there is a water dispenser machine in the lounge and pool areas, which we used to fill our reusable water bottle we brought with us. You can get still or sparkling water at either machine.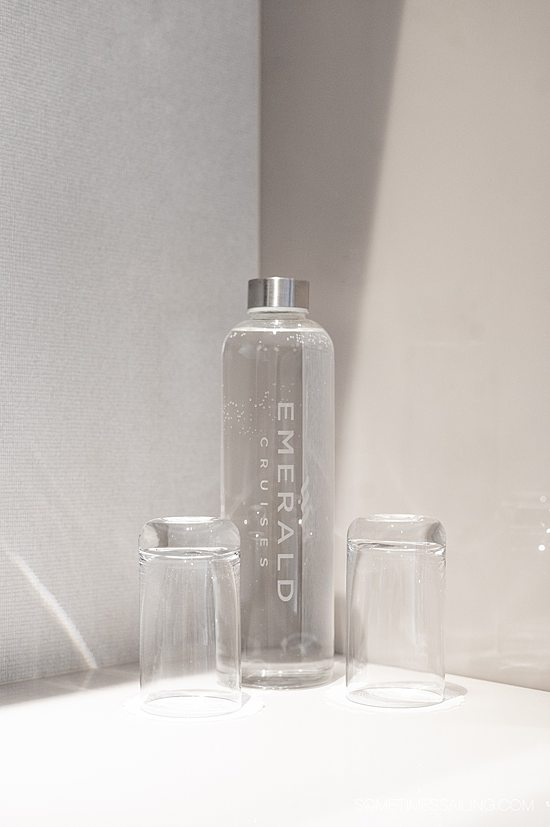 Folding Vanity
One of the coolest things about our cabin on Emerald Destiny river cruise ship was the vanity that folded up/down and had a mirror on the underside.
If you're someone who likes to unpack your makeup, this is the perfect place for it. During our cruise on the Danube River in 2021, it was the ideal location to keep face masks and hand sanitizer, which Emerald Cruises provided for guests.
Storage Shelf Above the TV
There's a shelf that almost blends into the room design in each Emerald Destiny cabin. It's very useful though! I stored both of my handbags there. It's a detail that makes a big difference when you have finite space in a river cruise cabin.
Full Length Mirror in the Stateroom
There's an awesome full length mirror behind the door. The color is a little tinted to go with the interior design of Emerald Destiny cabins. Which means you may overlook it as an intentional tool for guests.
But make no mistake: it's great to utilize it before you leave for the day or before you head to dinner if you changed clothes and what to see how you look!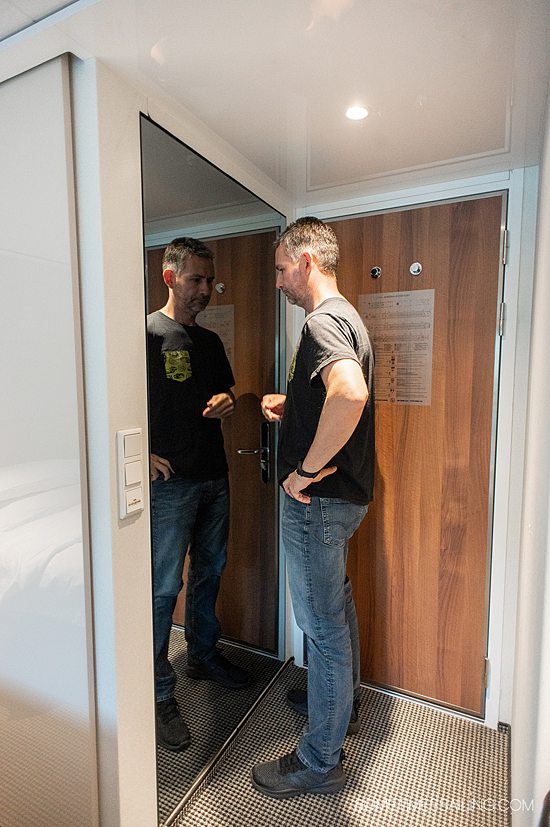 Plenty of Outlets
There's a strip of four outlets in Emerald Destiny cabins, that are more than enough to charge all your phones and camera. Additionally, there are Quiet Voxes set in each stateroom that have a docking station that uses an outlet.
But in addition to this, there are various outlets throughout the cabin, such as next to the bed and in the bathroom.
Don't forget to bring European outlet converters! You'll need them. (We usually travel with at least two, if not three.)
Extras on the Televisions in Each Emerald Destiny Cabin
There is a wealth of information and fun things to tune into on the televisions in each stateroom on Emerald Destiny.
We were blown away by the videos that informed us of extra activities we could sign up for on the ship (like with the EmeraldMORE program). It was addicting to look at the "Bow Camera," which shows a constant live feed of what the front of the ship is looking at, whether we were in a lock, or in port with incredible scenery in front of us.
The television also had a "fireplace" channel I loved. The video of logs and a fire made the room extra cozy, complete with the wonderful crackling sounds of kindling and a low but enjoyable classical music soundtrack that played in the background.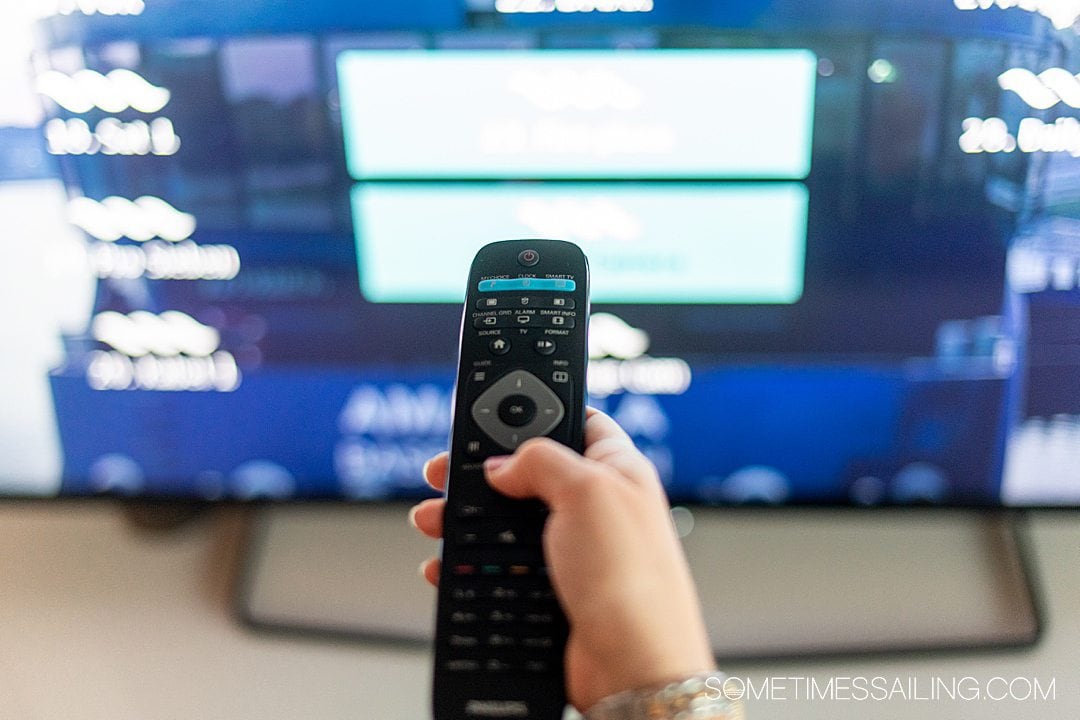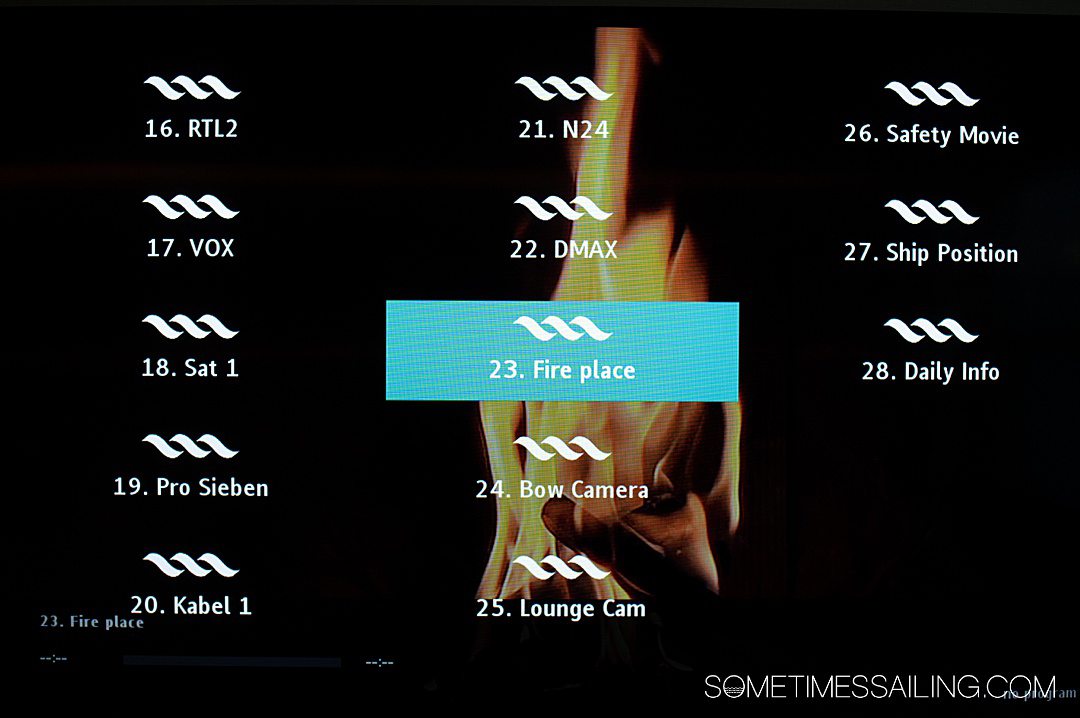 Guidebooks in Each Emerald Destiny Cabin
We love the attention to detail that Emerald Cruises took care with, including placing guidebooks in the rooms. The books were specific to our itinerary. We appreciated this small but significant attention to detail on our Emerald Destiny Danube River Cruise.
It was delightful to find books on the little table between the two chairs in the room. They shared a lot of great information for the destinations we were going to during our cruise. Learning about the sites we'd see and the history of the Danube River cruise cities we'd be going to was valuable.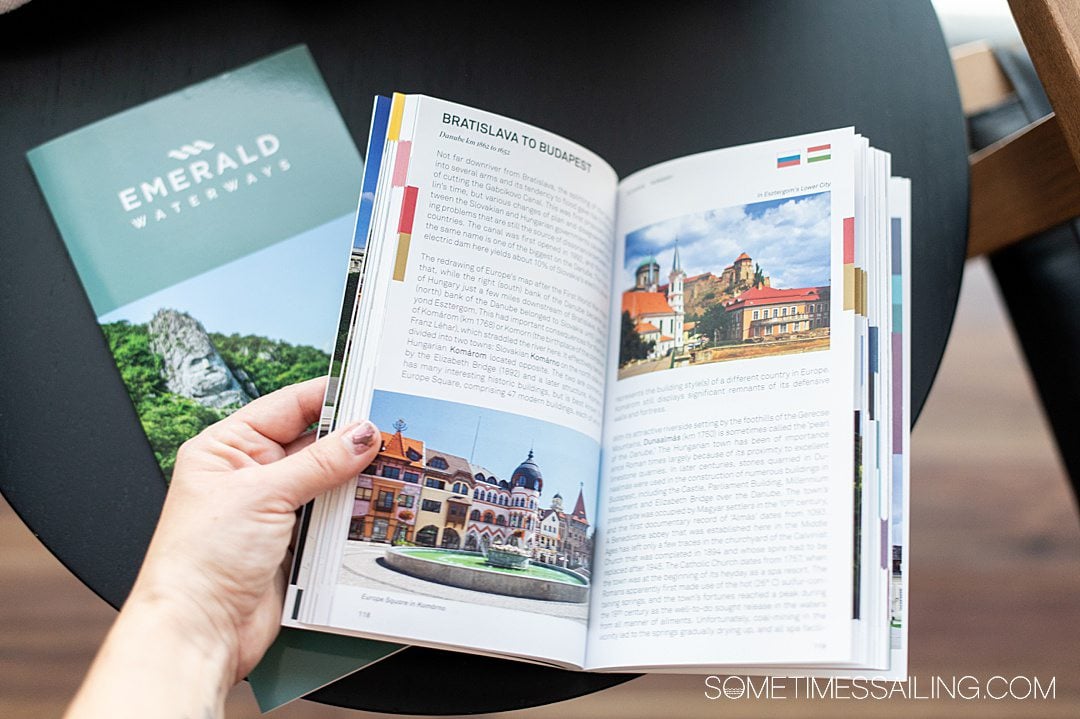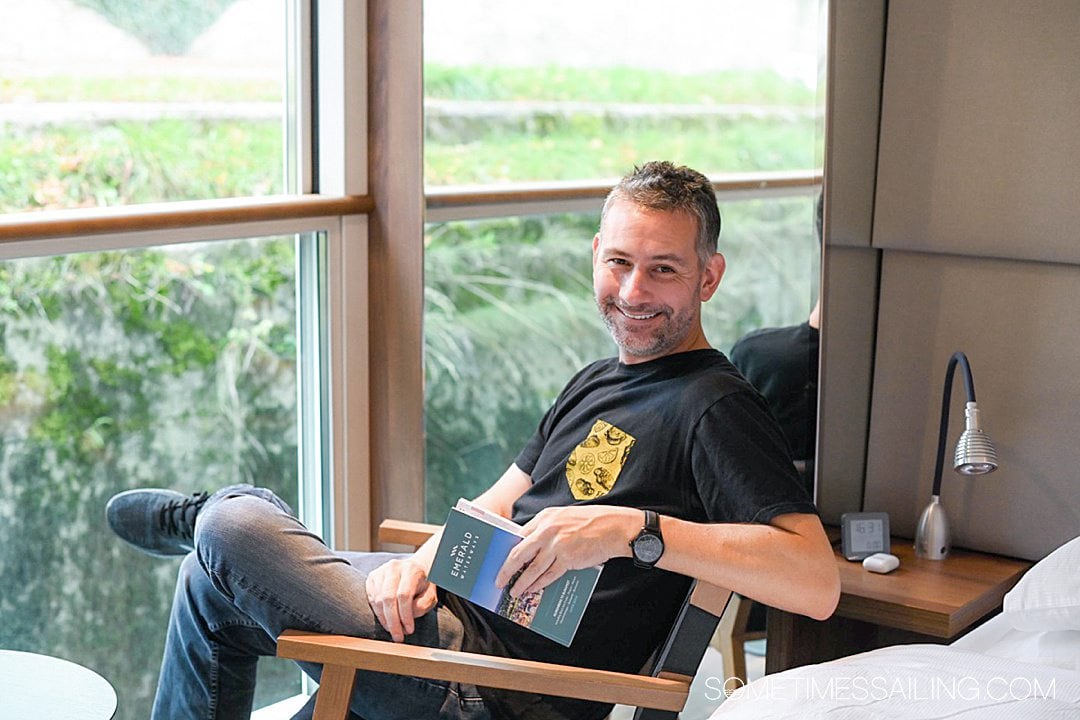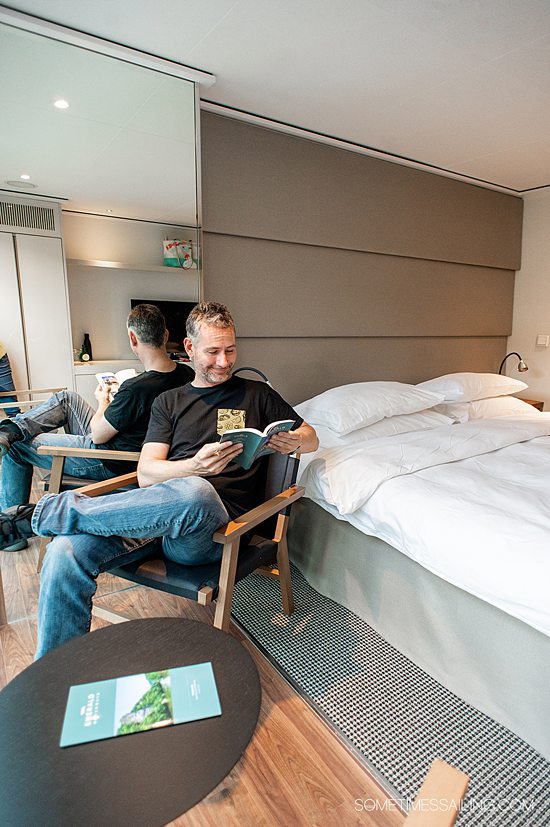 Umbrellas and Walking Sticks are Provided for Guests
Each Emerald Destiny cabin has an umbrella and walking sticks inside the closet. The walking sticks are great if you're planning on going on a hike or want the extra support exploring town. (Some European towns are hilly, for example, and a lot of fortresses and castles that are worth seeing are truly a hike!)
The umbrella is great if you don't want to bring your own or if you forgot yours. It's a big umbrella to carry around, so we bring our own more portable one when we travel in case it rains. But it's certainly nice they provide one if you need it!
Disclosure: We thank Emerald Cruises for hosting us. There may also be affiliate links in this post, which means we may earn a small commission if you click the link and proceed with a purchase, at no cost to you. We only recommend products or services we personally use.


Going on a River Cruise? Also check out: