Coolest Cruise Ship Entertainment on Ships Big and Small
It's not a surprise that people seek out cruises because they seek entertainment during vacation. Thus, cruise ship entertainment is a significant factor in guest satisfaction and perhaps even why a person books a particular cruise over another.
You can embark on a cruise ship and go to many ports as you sail from destination to destination. Yet aboard a singular ship, you can be entertained in many ways, hopping from an entertainment venue onboard to one ride or another.
Whether bands, comedians, Broadway Shows, or rides – fascinating entertainment has become standard on big cruise lines. They have some of the most awe-inspiring entertainment anywhere, not just at sea! On smaller cruise ships, you can expect local entertainment onboard the ships in the evenings that bring the culture of the place you're visiting to life.
Disclosure: There are affiliate links in this post, which means we may earn a small commission if you click the link and proceed with a purchase, at no cost to you. We truly only recommend hotels, products, and services we personally use. As Amazon Associates, we earn from qualifying purchases.
Cruise Ship Entertainment on Big Ships
Theater on Cruise Ships
Live performances are available in spades on cruise ships. Choose from Broadway shows, classical dance or additional productions created specifically for cruise ship audiences.
Broadway Shows on Cruise Ships
If you love musical theater, you'll be pleased to know that cruise ships offer some of the best of Broadway at sea.
From Jersey Boys to Kinky Boots, to Hairspray, Footloose, and more, well-known shows can be enjoyed on cruise ships across the Royal Caribbean and the Norwegian Cruise Line brands.
Ballet at Sea
Celebrity Cruises has partnered with the American Ballet Theatre to offer performances abroad select ships, bringing classical dance to a broader audience.
Additional Theater on Cruise Ships
Though some shows shown on big cruise ships may not have officially been on Broadway, they're nonetheless produced at such a level.
Original shows like Magic to Do on Princess cruises, created with famed Broadway superstar Stephen Schwartz, or Disney Crise Line's Tangled: The Musical, wow audiences. Another Rose, on Virgin Voyages, is an unforgettable experience that combines a dinner party with acrobatics and a doomed love story.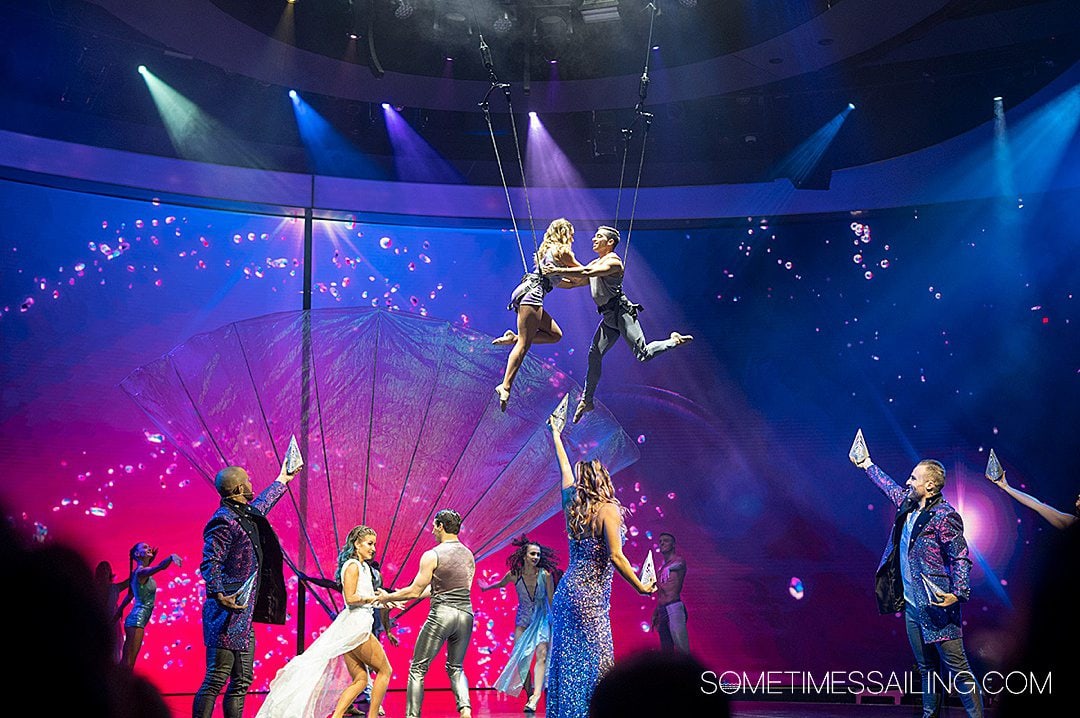 Rides on Cruises
The bar keeps lifting for rides on cruise ships! It seems as time goes on and more ships come to market, who can do rides onboard cruise ships biggest and most creatively is always at stake. In addition, cruise lines outdo themselves – and each other – as technology advances.
Waterslides
Waterslides on steroids seem to be a must on any mega-ship. They may wrap around half a cruise ship deck, like Disney Cruise Line's AquaMouse on the new ship, Disney Wish, or swirl from one deck down two or three decks below, like on Royal Caribbean's Harmony of the Seas.

FlowRider Simulators
FlowRider simulates what it's like to go surfing. But don't worry about fish, coral, and other sea creatures because the current you ride is on water flowing above a manufactured blue "sea." (You don't even have to worry about duck-diving as surfers do in the ocean!)
Zip Lines
Who says you need to be on terra firma for zip lining? Ditch the jungle zip lines for cruise zip lines!
It's by no means the same experience (for starters, there's only one or two lines on ships, not five or seven, and they're short on most ships), but it's fun nonetheless. Several Royal Caribbean ships have zip lines, and MSC Cruises has dueling zip lines.
Ride a Roller Coaster at Sea
Carnival Mardi Gras has a roller coaster at sea. Yes, a roller coaster…at sea! Carnival describes BOLT as the "fastest and first" seacoaster. You manage your speed, so you can zip from start to finish or start off a bit slower your first time on the coaster if you please.
Fireworks on the Water
It may not be surprising that a Disney Cruise Line sailing includes a firework show one night!
Fun Activities on Cruise Ships
Go Karts
Norwegian Speedway is the largest race track at sea. You can zip around turns (with a helmet) and race other passengers for a thrilling experience. Ride during the day and at night for two different experiences; neon lights illuminate the track after the sun goes down.
Unique Viewing Decks
Want some wild cruise ship entertainment? Then, consider these revolutionary attractions onboard top cruise lines.
Royal Caribbean's North Star is a mechanical arm with a pod on the end that takes guests far above the cruise ship's top deck – and the ocean. 300 Feet above sea level, to be exact. This attraction currently holds the Guinness World Record for the tallest viewing deck on a cruise ship.
Another truly unique experience is Carnival's SkyRide. This double-track ride allows guests to ride a "bicycle" high in the sky for unparalleled views from above.
Rock Climbing Walls
Anyone who has been rock climbing knows what a great workout it is. So skip the gym and head to a rock climbing wall aboard Royal Caribbean or Norwegian Cruise Line.
Ropes Courses
If you like a challenge in the form of some heights and a balancing act, you'll love going through ropes courses on cruise ships. Carnival has their SkyCourse, and Norwegian Cruise Line has a three-story ropes course.
Ice Skating Rink
Put on some skates and go on a romantic date (or family outing) aboard Royal Caribbean. This fun sport is the perfect activity for holding hands. If you've never tried it, a cruise is an ideal place to cure those cold feet.
Whether or not you want to try it yourself, Royal Caribbean has professional ice skaters onboard for wonderfully entertaining performances at night.
Laser Tag
Kids of all ages will have a blast playing laser tag! Norwegian Cruise Line and Royal Caribbean have exciting and fun laser tag courses (some complete with black lights and others in the open air) where you can try your best to beat the other team.
Movie Theaters and Planetariums
Movie theaters may be a dime a dozen on cruise ships. Most ships have a movie theater either by a pool or a dedicated theater with stadium seating.
However, it's worth mentioning that Cunard cruise ships have planetariums onboard! That's right: out-of-this-world, universe-exploring planetariums! Set sail for the stars while you're sailing on the sea.
Music at Sea
In addition to many cruise lines having lounges where bands play nightly (whether jazz musicians or a guitarist and singer, for instance), some ships have other interesting musical acts.
Norwegian Cruise Line even has dueling pianos, a partnership with Howl at the Moon.
Miniature Golf
If you love a playful round of miniature golf, you'll love this activity on cruises. It is likely to be a fun activity on board that allows you to get fresh air, but it'll also provide a little fun competition. Disney Cruise Line, Royal Caribbean, Princess Cruises, MSC Cruises, and Norwegian Cruise Line offer mini-golf.
Sports Entertainment
Cruise lines try to have the best onboard sports facilities possible, knowing that many cruise guests enjoy being active. This includes anything from onboard basketball courts, indoor (like on the Disney Wish) and outdoor (like aboard Princess Cruise Ships), to golf simulators.
They stay on top of the times too! A perfect example of this is the addition of pickleball courts to many cruise ships.
Pickleball Courts on Cruise Ships
One of the newer popular sports activities on cruise ships – and sweeping the nation – is pickleball!
Cruise ships big and small are adding courts to attract people who love the sport or want to try it. AmaWaterways, a river cruise line, has added pickleball courts and big ships, like on Celebrity Cruises or Holland American Line.
Adults-Only Entertainment on Cruises
In addition to cruise ship entertainment available for all ages, adult-only specific entertainment is available on cruise ships.
For example, on many large and small ships, whether ocean or river cruise ships, you'll be able to gamble in a casino, and on larger vessels, you'll enjoy adults-only bars and nightclubs day and night.
Cruise Ship Entertainment on Small Ships
These ships typically carry less than 1,000 passengers (often half that or less) and have more limited options yet cater to an older audience. Small cruise ship lines definitely want to entertain their passengers, yet the ports are often the main attraction.
This means that there is undoubtedly onboard cruise ship entertainment, yet absent are rides for thrill seekers that need to one-up other cruise lines.
Musical performances
SeaDream Yacht Club, for example, has an onboard piano bar where you can enjoy some live music as you wind down for the evening.
A Danube River Cruise may present you with local performers, such as a group of German brass horn players while the ship is docked in Bavaria.
Theatrical Performances
Some small cruise ships entertain guests with theatrical performances at night – dance and drama included. For instance, American Queen Voyages, which primarily sails the Great Lakes and American Rivers, has an onboard theater with Broadway-caliber productions.
Another example is Hungarian dancers that come on board to dance to a live band when you sail rivers in Europe.
Crafts and Cooking Demonstrations
Some small ship cruises focus on cooking. Not just the cuisine served in the dining rooms but demonstrations. Scenic has a particular area for this purpose. Look for cruise itineraries with guest chefs of James Beard Award fame or Top Chef celebrity.
Additionally, they may bring craft specialists onboard. Cruisers aboard Emerald Cruises may find themselves painting a pair of clogs when they sail on a river cruise in The Netherlands, doubling as a take-home souvenir.
Will you Book a Cruise Based on Entertainment Options?
If a cruise's entertainment menu is how you're choosing to book a cruise, you have some tough decisions to make, given the myriad of options available nowadays. But, no matter your choice, there will never be a lack of things to do on a cruise and the various ways you'll pass the time while creating lifelong memories!
Researching cruises? Read this next:
This article originally appeared on mxdwn.com and was written by Mikkel Woodruff.