How to Text on a Cruise Ship for Free (and Other Ways to Get Wi-Fi Onboard)
The world is so connected these days, that the thought of being offline at any given moment may cause your anxiety to soar. As such, being unable to text on a cruise may be unacceptable to you. The good news is that we'll share how to text on a cruise ship for free, including some alternatives you may not have thought of or considered.
In this post, we'll review how to message other passengers for free, what cruise lines have mobile apps, and how to do voice and video calls for free onboard and in ports if you're on Wi-Fi only, not using cellular data.
We're also sharing the small wifi hotspot we take on trips with us to avoid cruise line fees for internet, allowing us to get affordable wifi for multiple devices for around $5 per day.
Disclosure: This page has affiliate links, meaning we may earn a small commission if you click the link and proceed with a purchase at no cost to you. We recommend cruises, experiences, products, and services we personally use. As Amazon Associates, we earn from qualifying purchases.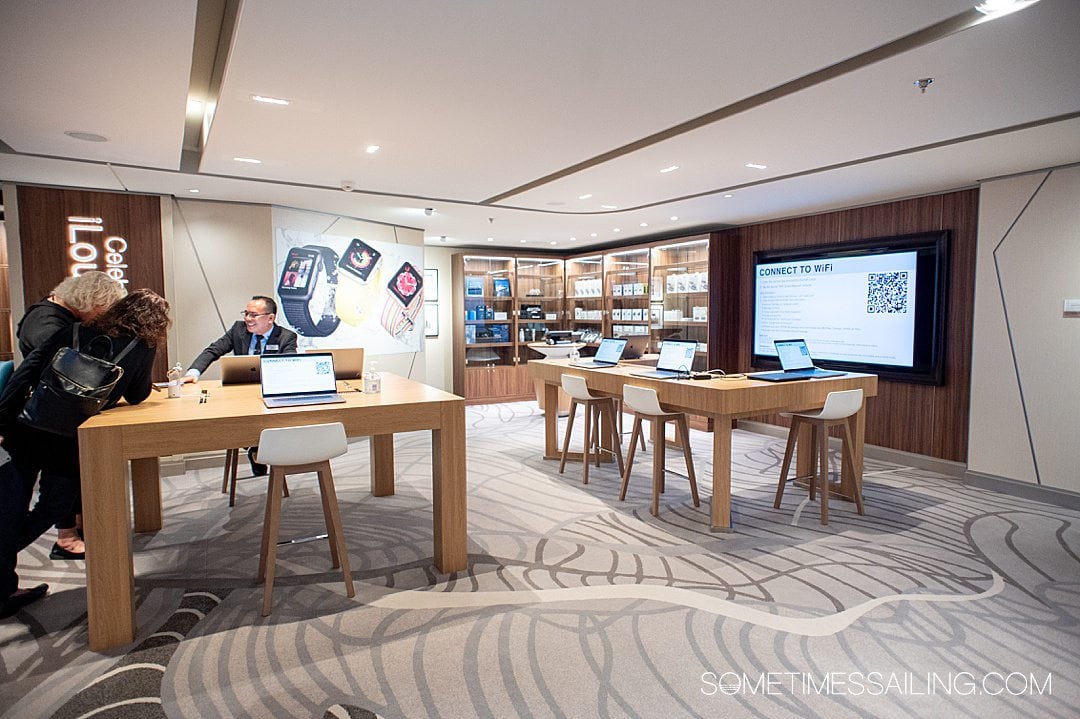 Text Messages on a Cruise Ship Using their Free Wi-Fi and Their Mobile App
Some cruise lines allow you to use their ship's Wi-Fi in very limited ways, complimentary!
Disney Cruise Line, for example, is one of our favorites because they let you text on their cruise ships for free within their "Disney Cruise Line Navigator" app. Disney's Wi-Fi (the free option) actually even lets you iMessage for free if you have an iPhone. Photos won't send and you can't receive them but you can get text messages. 
Their in-app text feature between guests has super cute custom Disney-themed emojis we've never seen anywhere else! (They're similar to the emojis you see in their countdown on the app when you go to check in for your DCL cruise and count down the days leading up to it.)
The messaging in Disney Cruise Line's app is just one example of free texting on cruises. Another is the MedallionClass app, which is Princess cruise line's app.
When it works, it is the best way to message fellow passengers and text for free on a cruise without signing up for a special internet plan for your mobile device (or other devices like laptops and tablets if you brought any).
You don't have to worry about wi-fi hotspots in this case or even what you need beyond the free texting features because these modern ships are equipped with a minimal connection you can use, free of hefty charges.
These simple internet services allow you to text for free on a cruise because it doesn't use much data and gets you inside their app, which benefits the cruise line in most cases.
But if you want to use the internet on a cruise to do things beyond texting – like downloading videos or uploading photos onboard cruise ships – you're likely going to incur an extra charge for the increase in data usage.
Proper Phone Settings to Make Sure you Don't Incur Roaming Fees
Proper phone settings are very important to know if you don't want to be hit with accidental roaming fees or charges when you return home.
Here is what you should set your phone to for free internet without using cell data:
➜ Airplane mode with Wi-Fi turned on
With these settings enabled, you won't be on cellular data (see screenshot below). You're basically telling your phone that you want to connect to wifi, only, as if you are in an airplane and wifi is your cell phone's only option.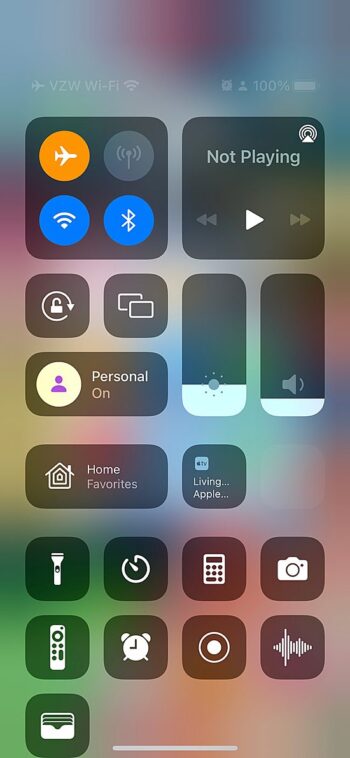 What Else Can you Do on a Mobile Cruise App for Free?
Other than messaging family and friends who are also on the cruise, you can usually view things like deck plans, daily activities, spa appointments (if you have any), and meal reservations in a cruise line app.
It's a good idea to download the app for the cruise line you're sailing with before you go on vacation to avoid unnecessary steps and headaches after you board for your vacation.
Your internet connection at home is likely stronger than what's available on the ship or your port of embarkation, even if there maybe be free internet in the terminal to download it while you wait to board.
Cruise Lines with Mobile Apps
Here are major cruise lines with their own apps (including river cruises) – not all apps allow for in-app text messaging:
Disney Cruise Line, "Disney Cruise Line Navigator"
Princess Cruises, "MedallionClass™️"
AmaWaterways, "myAmaCruise"
Viking, "Viking Voyager"
Celebrity Cruises
Royal Caribbean
Norwegian Cruise Line
Regent Seven Seas Cruises
Hurtigruten
Seabourn, "Seabourn Source"
Ritz Carlton Yacht Club, "Yacht Journey"
Carnival, "Carnival HUB"
Holland America Line, "Holland America Line Navigator"
MSC, "MSC for Me"
Virgin Voyages
Cruise line apps are notoriously buggy so don't be surprised if you see terrible ratings in the App store when you go to download any of them.


Making the Most of Your Wi-Fi Plan and Still Avoiding International Roaming Charges
If the ship's wi-fi network is strong enough and the wifi package you've upgraded to on the ship is solid enough to allow it, you can also do video calls. (Or if the internet package that was included in your cruise fare is strong enough like it is with The Retreat and Always-Including rates for Celebrity Cruises or Disney Cruise Line's concierge cruise cabins.)
Video Calls for Free Using Internet
The best way to do video calls on wifi only (to avoid any fees from your cell service provider) is to keep your phone on Airplane Mode with WiFi enabled. Then use an app like Facebook or WhatsApp to video chat. Alternatively, which is our preferred way to video call people back home or schedule meetings when we travel (yes, we work during our cruise vacations if needed) we simply use FaceTime with our iPhones.
To do this, simply go into your iPhone's contacts list. Choose the contact you want to call (who also needs to have an iPhone or Apple device to ring). Then find the bar that says "FaceTime" with two icons next to it. Click the icon with the video camera in it and you'll be able to do a video call.
You can also use Google Meet or Zoom to video chat with family, friends or colleagues.
Here's a complete list of apps to use for video calls with Wifi on cruise ships:
FaceTime (iPhone)
Google Duo (Android)
Facebook Messenger
WhatsApp
Zoom
In this case, you simply call your contact by clicking the video camera icon next to their name, not the phone icon.
Free Voice Calls Using Wifi Calling
Similarly to what we mentioned above, you can call family and friends using many apps with voice only. This would be a great option if you don't need to see the other person, of course. But it's also great because it takes much less bandwidth for voice-only phone calls over wifi.
Here's a list of apps to use for voice calls using Wifi on cruise ships:
FaceTime (iPhones)
Google Duo (Android devices)
Facebook Messenger
WhatsApp
All you have to do in this case is click the phone icon to call the contact, not the video camera.
How to Make Video and Voice Calls for Free on Wi-Fi, even in Another Country, While in Ports of Call with a Hotspot
Some people talk about switching out their mobile phone's SIM card for a local one so you can sort of cheat the system and use a local mobile carrier's wifi and data instead of signing up for an International plan.
That plan would allow international coverage and allow you to access data usage locally but with your home provider. (This is due to agreements they have between countries.)
However, we don't do that. Wrapping our brains around such a concept every time we're in a new city abroad and having to buy a SIM card locally is the stress we avoid with our pocket Wi-Fi hotspot we always travel with.
The best part is that you can have multiple devices on it for about $5 a day if you purchase a pack of data service Day Passes. This Wi-Fi "plan" works best for us and allows us to very easily access international data where there is cell service, wherever we go.
In fact, Solis hotspots pick up the best local cellular service it can find.


Setbacks with Cruise Ship Wi-Fi
As is the case with technology, there are setbacks with cruise ship wifi, which is imperfect, to say the least.
Major Cruise Lines will Have Internet Packages for a Cost
A Wi-Fi package might be included in your cruise. With small ships, like river cruises and barge cruises for example, internet use is included.

Internet on large cruise ships is a lot of money. Here are things to consider when signing up for internet on a cruise being free texting:
Package and Data Prices for Cruise Ship Internet
It can cost anywhere from $0.25 per megabyte, or $15 to $20 per day, or a charge like $0.55 to $0.99 per minute (whoa!), to upwards of $89 per gigabyte for a data package. And the most frustrating thing about it isn't even the cost: it's how slow the internet can be when we live in a high-speed world.
If you are signing up for an internet package, we advise paying for a package for a bundle of data rather than a per-minute or per-megabyte option.
Priced Per Device…or Two
Beware that pricing usually accounts for one or two devices, not per stateroom. Don't assume that you can connect multiple devices in one cabin if you sign up for an internet package. Be sure to ask the cruise line for clarity on that front!
Internet Speed on Cruise Ships is Usually Slow
You'll need some patience if you expect to use the WiFi on a cruise ship. Even if you pay more for it, it's likely not high speed like you experience on land.
Days at sea are perhaps you may want to use the internet most. Most passengers share this notion. Generally speaking, the internet is slower when more people are trying to connect at any given time, including a Day at Sea.
When the ship is sailing all day, it's likely more and more people are trying to use the bandwidth onboard.
If you are going on a cruise and need to rely on the internet at any point when you're in a port, we highly recommend purchasing a Solis wifi hotspot and traveling with it. (Heck, you may even always be near ports, like on a Danube River cruise.) Read on for details.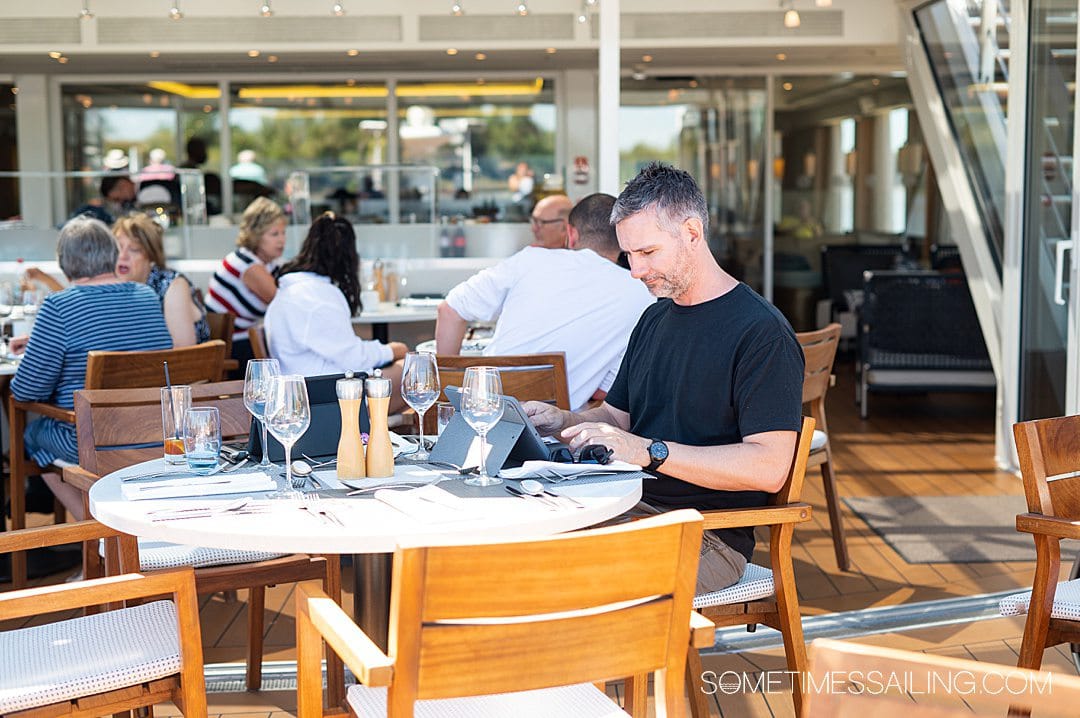 Cruise Ship Wi-Fi Alternative: Bring your Own Hotspot
We simply use our Solis pocket-sized wi-fi hotspot when we travel, including on cruises. To us, it's a cruise essential. We both own our own businesses so staying connected is paramount to us.
It's so small it barely takes up any room in our luggage (and we use carry-on only, so we understand how precious space is). Our hotspot gives us peace of mind we'll be able to connect for meetings, to stay in touch with clients, and touch base with family and friends.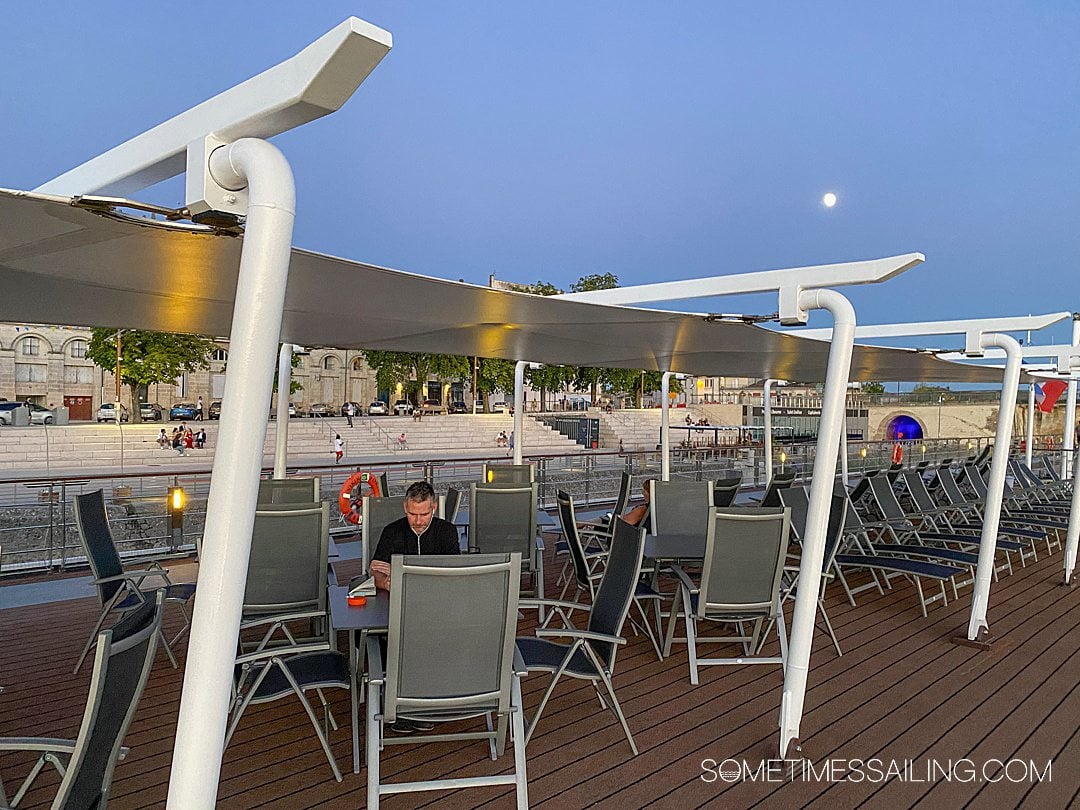 What a Solis Hotspot Allows us to Do with Ease on Cruises
Bringing a pocket-sized WiFi hotspot device assures us of the following when we cruise:
We can connect up to ten devices per hotspot. We usually have 4-5 devices connected between iPhones, iPads, and laptops.
We are secure on a personal encrypted network, not a network anyone can access on the cruise ship.
Get faster internet for video calls, voice calls, photo uploading, and the like.
It saves us money in the long run by allowing our businesses to carry on as if we were on land. Time is money!
We stay connected and pay less than we do on the cruise if we need to add wifi. Solis hotspot wifi costs only $5 and a few pennies per 24 hours (one day pass).
✔️ Purchase your Solis Hotspot with Discount Code "SOMETIMESHOME" for 10% off!
Steps to Follow to Use a Solis Hotspot During a Cruise
Purchase your own device online – we've had ours for years. While you need to pay for the device upfront, it's likely way less than what internet on a cruise ship costs. It pays dividends!
Download the Solis App and set up your device if it's the first time you are using it (do this before you leave home).
Pre-purchase wifi through Solis, like Day Passes or an Unlimited Data subscription. Alternatively, you can Pay-Per-GB. We purchase Day Passes in bulk! If you catch a sale, which Solis often runs, you can get 25 passes for $126, making each day pass ~$5.
Bring your Solis hotspot device on vacation.
Enable the device and wifi when you're in a port or near land. The device will show you that it has service before you connect when you view its indicator lights or open the app.
Likely, you will not have service at sea. If this is the case – ENJOY THE SHIP!
You'll have wifi other days with using your Solis hotspot. This includes during excursions and long commutes to/from the ship to your activity.
We like bringing our hotspot on a bus or van transportation when we know we'll have a chunk of time to answer emails, browse the web or watch Instagram Reels 'til our heart's content with the device in our pocket or purse.)
Can You Still Text for Free in the Cruise Line's App if you Bring Your own HotSpot?
Yes, of course! As long as you have the app downloaded on your phone and you're on their free wifi, you can use the app to text on a cruise ship for free.
Save on Wifi and Your Solis Pocket Wifi Device Using our Coupon Code
When you buy your own Solis hotspot, which works in 130+ countries around the world, please use this link to buy it directly from Solis and enter discount code "SOMETIMESHOME" for 10% off savings on your Solis pocket wifi hotspot order.
If you need help enabling the device after you receive it, simply chat with their support team on their website. We hadn't turned our hotspot on in a while during the pandemic and needed help updating the software and their team helped us out via chat.
Solis Pocket Hotspot Wifi Tips
Here are tips for Using a Solis Wifi Hotspot instead of your personal cellular data through your cell phone provider:
Leave your mobile phone in Airplane Mode, with wifi turned on.
Find your hotspot device and connect.
Activate a day pass through the Solis app. (Be sure to download the Solis app at home before you leave for your trip it's the first time using it).
If you're in international waters (literally out at sea), any wifi will be weaker than on land. This includes with a hotspot or the cruise ship's wifi.
Some cruise lines have been improving their wifi in recent years, recognizing that guests want (and often need) accountable coverage at sea. People often need to work while sailing. It's the way of the world nowadays!
At best, there is reliable wifi on your cruise that you can count on. But that has rarely been the case in our experience. That's why we travel with a hotspot. It was a lifesaver during our river cruise in Bordeaux, for example, when we needed to work during our free time between meals and excursions.
While we didn't have wifi when the river cruise ship was in dead zones while sailing (neither our hotspot or the ship's wifi worked while we were in the middle of nowhere) it was easy to enable our hotspot to conduct business as needed if we were in a port or close to a populated town, where modest and the strongest cell towers are for signals to connect.
Having a Hotspot with You is Key – Turning it On is Up to You
We are so grateful we have our hotspot when we travel. You don't HAVE TO turn it on just because you have it with you. You can turn it on as needed. (Besides, if you need it for work, it's a write-off and business expense!)
Some days we turn it on and others we don't because we don't need it, like on weekends.
This is truly the cheapest way to get Wifi in a port city. If you buy day passes (like we do) and catch them when they are on sale, you can buy multiple passes for a deal. $5 per day pass is less than the cost of a Starbucks latte.


Other Ways to Get Free Wifi on a Cruise
It's not easy to get free wifi on a cruise. Cruise ship wifi on big ships usually incurs a cost. Small ships, like river cruises, include it for all (which is just another reason we say river cruises are more affordable than you think – they include a lot!).
Here are two additional creative ways to get "free" Wi-Fi on your cruise (which really isn't free but we want to mention them):
Book a cruise package or cruise class/suite that includes Wi-Fi
Use onboard credit to pay for Wi-Fi


Conclusion: Text on a Cruise Ship for Free and other Wifi Hacks on a Cruise Ship
Staying connected to loved ones and business associates is paramount these days. But you shouldn't have to forego an awesome cruise experience just because the wifi onboard is spotty or costs a lot of money.
There are free text options within the mobile app, social media applications that allow you to connect with internet without using cellular data, and hotspots you can easily travel with.
Staying connected on cruises is easier than you think with a little creativity!