Atlas Ocean Voyages: 8 Unique Things About this Expedition Cruise Line
Atlas Ocean Voyages is a unique and relatively new cruise line offering guests luxury expeditions around the world.
The sleek design of its ship and impressive itineraries immediately sparked our interest. But as we learned more and more about this luxury expedition cruise brand, its appeal grew.
Disclosure: There are affiliate links in this post, which means we may earn a small commission if you click the link and proceed with a purchase at no cost to you. We truly only recommend cruises, experiences, products, and services we personally use. As Amazon Associates, we earn from qualifying purchases.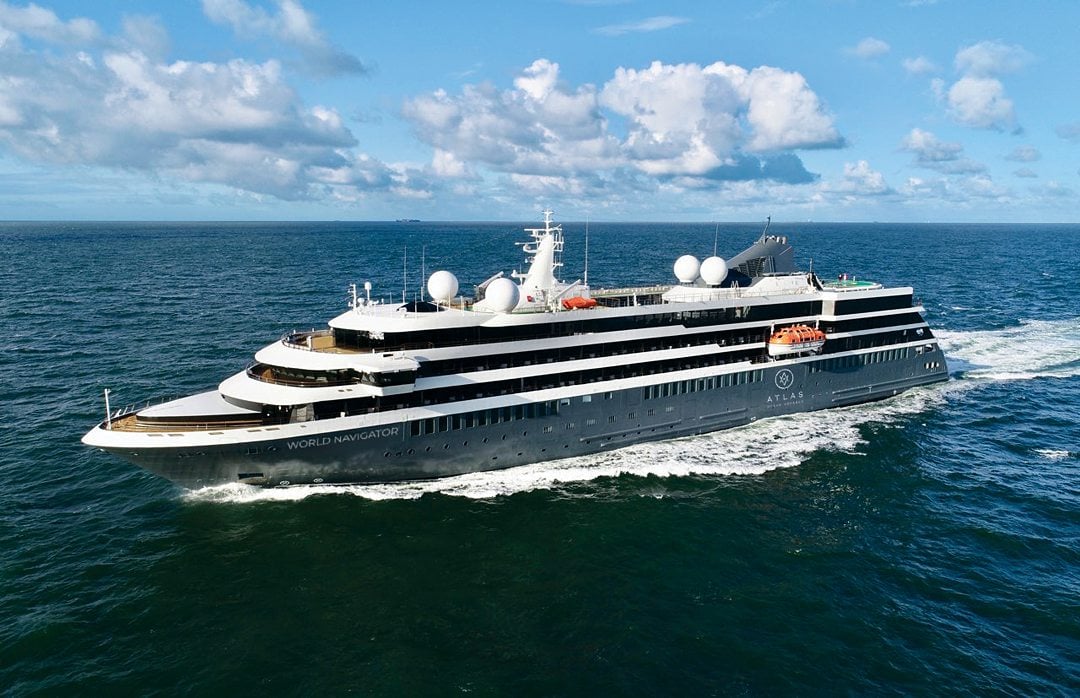 1. Atlas Ocean Voyages has All Inclusive Sailings
Atlas Ocean Voyages sailings are deemed, "All Inclusive, All the Way." What exactly does this mean and include?
All Inclusive, All the Way includes:
Unlimited premium alcohol (cheers to that!)

L'Occitane bath products
Onboard Wifi
Emergency Medical Evacuation (we expand on this, below)
Butler service for suite guests
Onboard binoculars
Prepaid gratuities
While they originally included airfare and shore excursions as part of their "All Inclusive, All the Way" offerings when they debuted in 2021, as of February 2022, they announced they will be offering their airfare and excursions a la carte to offer lower cruise fares.
2. The World's First L'Occitane Luxury Spa at Sea
Speaking of L'Occitane products, Atlas Ocean Voyages is the first cruise line to have a L'Occitane spa at sea. (We can attest to L'Occitane products being awesome – we had them on our barge cruise with European Waterways too.)
The SeaSpa by L'OCCITANE is the first of its kind.
L'Occitane has over 100 spas in 30 countries. Although they offer many land-based opportunities to experience their spas around the globe, this is their first venture to the open waters.
You may recognize the name "L'Occitane en Provence" (mais oui, c'est Francais!) from their retail shops. But their world-class spas will really wow you. They use sensory techniques in conjunction with top-quality products to create ultimate massage experiences, whether targeting your body or face.
The 947 square foot SeaSpa will be on Deck 4 and the two treatment rooms will be in high demand. We recommend making your spa appointment as soon as possible, even before you board with the help of an Atlas Ocean Voyages reservation specialist.
When your appointment arrives, plan to spend more than simply your treatment time at the spa. For example, you'll want to allot time to detox inside the infrared sauna. Or, spend time relaxing on their serenity lounge chairs as you gaze out to the expansive seascape before you.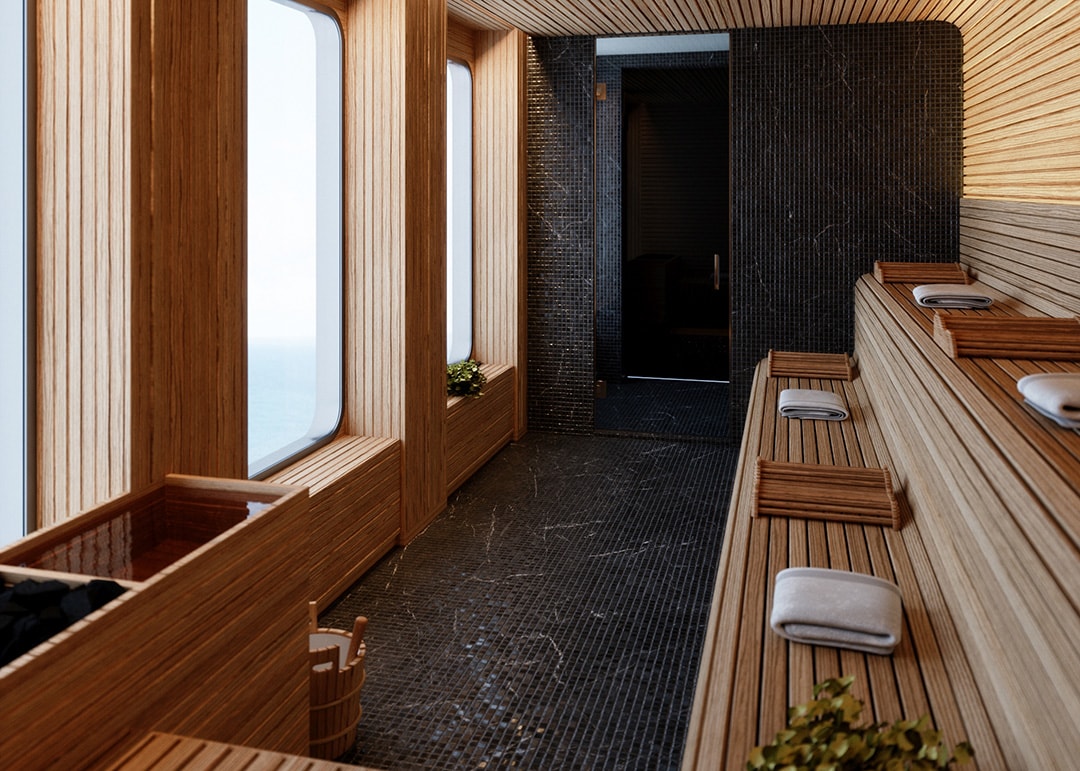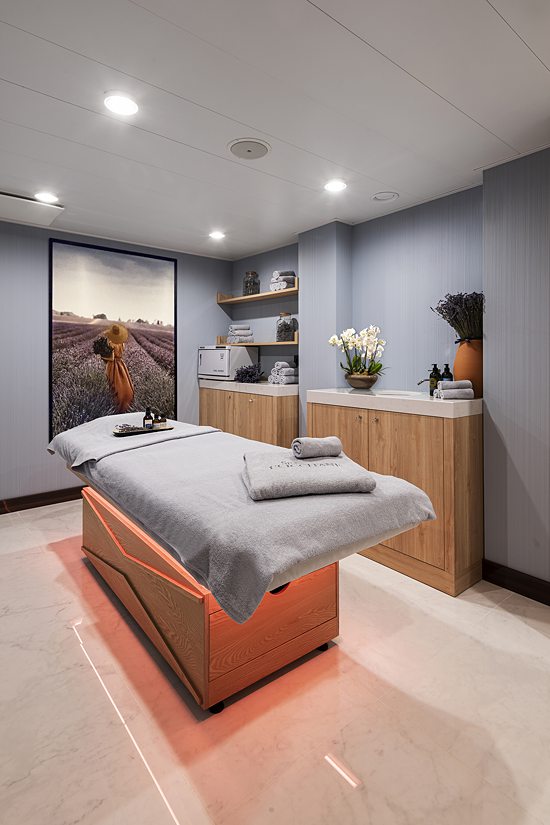 3. They're the First to Include Emergency Medical Evacuation
If health isn't already on the mind of all travelers (even if in the back of one's mind) the pandemic of 2020 may have brought it into focus. Additional medical options are always welcomed, even if precautionary, for those "just in case" instances.
Atlas Ocean Voyages includes Emergency Medical Evacuation and Return to Home Insurance with each booked sailing.
Additionally, they have an "Atlas Assurance" program, which provides a variety of emergency services and support, around the world. This is included for all guests as part of their, "All Inclusive, All the Way" pricing.
Legal services are even included in Atlas Assurance's network of professionals who are ready to provide guests support, wherever they may be on during their journey. It includes things you may never have thought you'd need…until you do:
Lost document assistance
24-hour emergency travel arrangements
Embassy and consular assistance
Traveling companion transportation
Worldwide legal coverage and bail bonds assistance
4. Its State-of-the-Art Technology is Less Harmful to the Environment
Atlas Ocean Voyages will have the best technology onboard; even may feel or hear its effects, even in places they can't see. This is significant in the world of cruising and, most vitally, to the environment.
The World Navigator – and all additional Atlas Ocean Voyages ships – will use hydro jets manufactured by the leading German propulsion company, SCHOTTEL.
The Chairman of Mystic Invest, the holding company of Mystic Cruises and Atlas Ocean Voyages, Mário Ferreira, said: "Our goal is to build the cleanest, safest, and quietest expedition ships that meet and exceed the strict requirements of the regions where our ships sail. We designed our cruise ships to ensure that we do our part to help sustain these unparalleled places for future generations to enjoy.
These SCHOTTEL exclusive thrusters are perfect for bringing guests closer to more marine wildlife – safely and sustainably. We can stop our ships' propellers and engage the pump jets to quietly cruise up to five knots in wildlife-rich waters and not frighten away the beautiful fish. SCHOTTEL's Pump Jets are very effective aboard previous Mystic Cruises ships, and we have again opted for SCHOTTEL's system for Atlas Ocean Voyages' expedition ships."
Atlas Ocean Voyages is also able to do anchorless stopping with dynamic positioning, which is based on satellite connections, partially thanks to their hydro jets. For those familiar with ship engineering, the hydro jets act like Azipods (which is a gearless, steerable propulsion system that fully rotates) without actually having Azipods onboard. The captain can turn the hydro jets 360 degrees, which allows for increased maneuverability.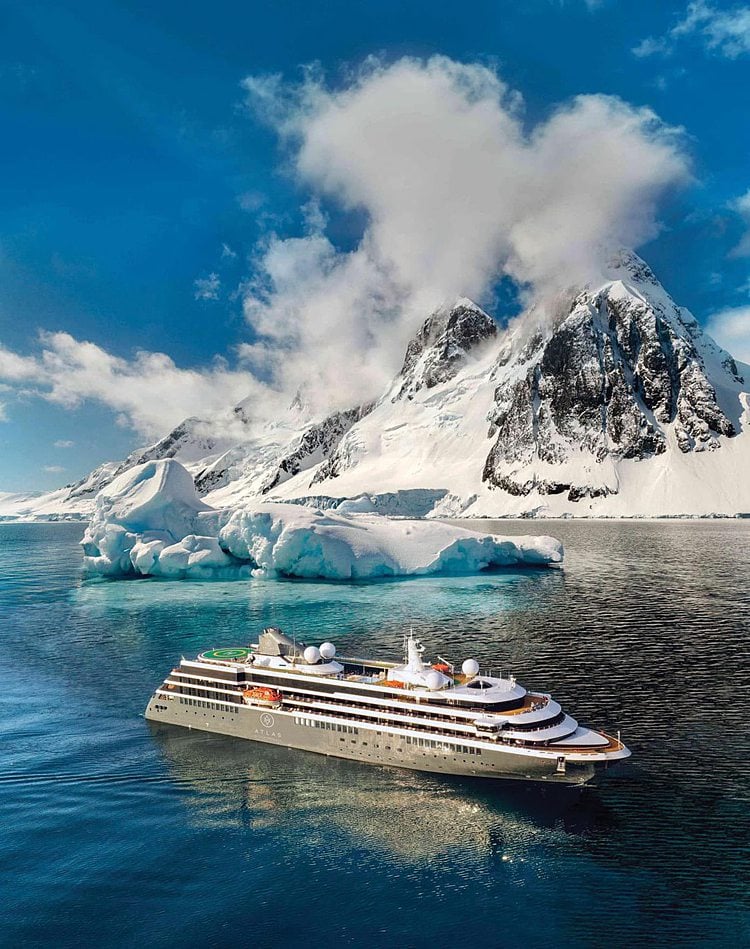 The Benefit of Using Hydro Jets
Hydro jets minimize underwater noise, which scares and stresses wildlife. Some fish even die from this stress!
Atlas Ocean Voyages ships are be able to cruise, virtually silent, for up to five knots closer to sensitive marine habitats without scaring away the wildlife. (#4 on our list of 8 Unique Things about Atlas Ocean Voyages goes into more detail to explain how this is possible.)
The hydro jets, along with a hybrid power management system, resulting in decreased fuel consumption. Because of this, their ships consumes as low as one-fifth of the fuel that some of the ships it may pass by in the water consume.
They are the Only Class of Cruise Ships with Alternate Silent Propulsion Drive
Are you ready for a lesson in ship engineering? It's very interesting!
Regular cruise ship propellers spin and create millions of bubbles, in an action called cavitation. (It's actually how submarines track ships.) You're probably familiar with the term, "propeller," which is on the exterior of a vessel, including most ships.
But hydro jets are "inpellers," meaning they are located on the interior of a ship. The technology is derived from ferries and some jet skis.
Hydro jets suck water from in front of them and push it out the back. This creates fewer bubbles in the water, similar to how a jet engine operates.
The issue with propellers is that the millions of little bubbles they create pop and scare off fish. With inpellers, like the hydro jets used on Atlas Ocean Voyages ships, significantly less bubbles are produced. They are remarkably quiet and less disturbing to the ocean.
And this is why Atlas Ocean Voyages ships can roll into a sensitive water habitat and not alarm the wildlife as much.
If you're a visual person, like us, check out this SCHOTTEL company video to further understand how hydro jets move and operate:
5. Atlas Ocean Voyages Offers Guests Vacations within Vacations, with "Max Shore"
"Max Shore" adventures are complimentary overnight excursions for three to five nights at a time. They allow guests to take advantage of inland experiences that they would need more than a few hours in port to experience.
You'll know if a cruise you're looking up on their website includes this option because it will have a MAX SHORE notation for these offerings. An example of a Max Shore experience is going glamping (that's glamorous camping if you're new to the term) under the Jordanian stars, then catching the sunrise over Petra the next morning. Wow!
6. They're the First Cruise Line to Offer Legal Weddings in Antarctica
Atlas Ocean Voyages announced a first in the cruise industry: on February 14, 2022, Atlas Ocean Voyages hosted the first official wedding in Antarctica.
No location is more unique than the Antarctic to start the next chapter of your lives together. (And we have a packing list for your Antarctica cruise to go along with it.) And Atlas Ocean Voyages made that occasion extra special for a lucky couple.
Personally, this beautifully melds our worlds together: our passion for travel and small format cruises, for marketing, and for destination wedding photography.
Can you imagine saying "I do" with penguins and seals as your guests and turquoise blue icebergs as your backdrop for wedding photos?
How cool would it have been to have a marriage license stating you got married in Antarctica? (The marriage license was issued by Britain and will say Antarctica in terms of geography. There's reciprocity between England and United States marriages, so there was no need for the couple to file additional paperwork.)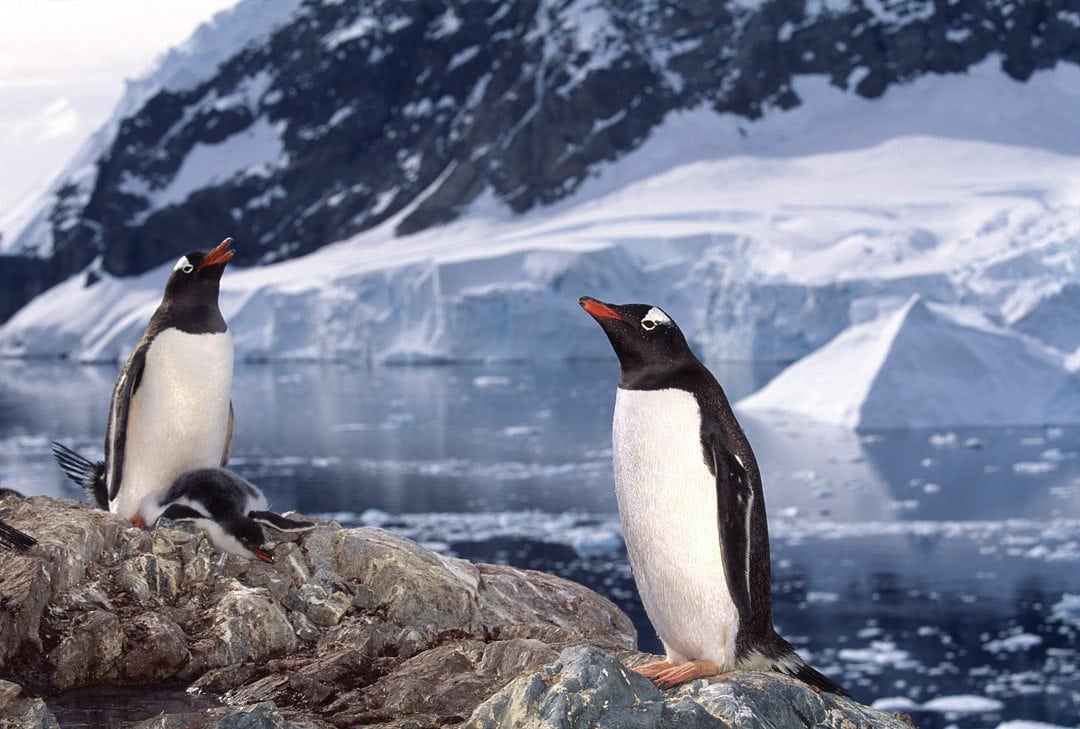 7. They Have the Industry's Lowest Forward Observation Bow
The World Navigator has a forward observation bow that is about 30 feet above the water, bringing guests as close as possible to ocean life.
It's called "Water's Edge," and is the lowest observation bow in the industry!
It also has the only heated wraparound bench on any cruise ship's bow. (Trust us, when you're in a cold place, it's such a wonderful welcome luxury to have some heat warming your body. We wish we had that on our Maine Windjammer sailing adventure as the cold wind was hitting us, or on our Tromso boat excursion in the Arctic Circle!)
8. They Offer Suites Without a Solo Supplement
If you're a solo traveler, many cruises require you pay a solo supplement to sail. We know – it sucks! Why be "punished" with an additional fee for being fierce and strong enough to travel solo?
Atlas Ocean Voyages offers solo suites without any supplemental cost, an offer they started in March 2022. A solo suite is an option among World Navigator's four suite categories.
The solo suite features a plush queen-size bed within its 183 square feet. And for the ultimate luxury and "treat yourself" experience without leaving your stateroom, you can hop into your mosaic-tiled rain shower, complete with soothing body jets.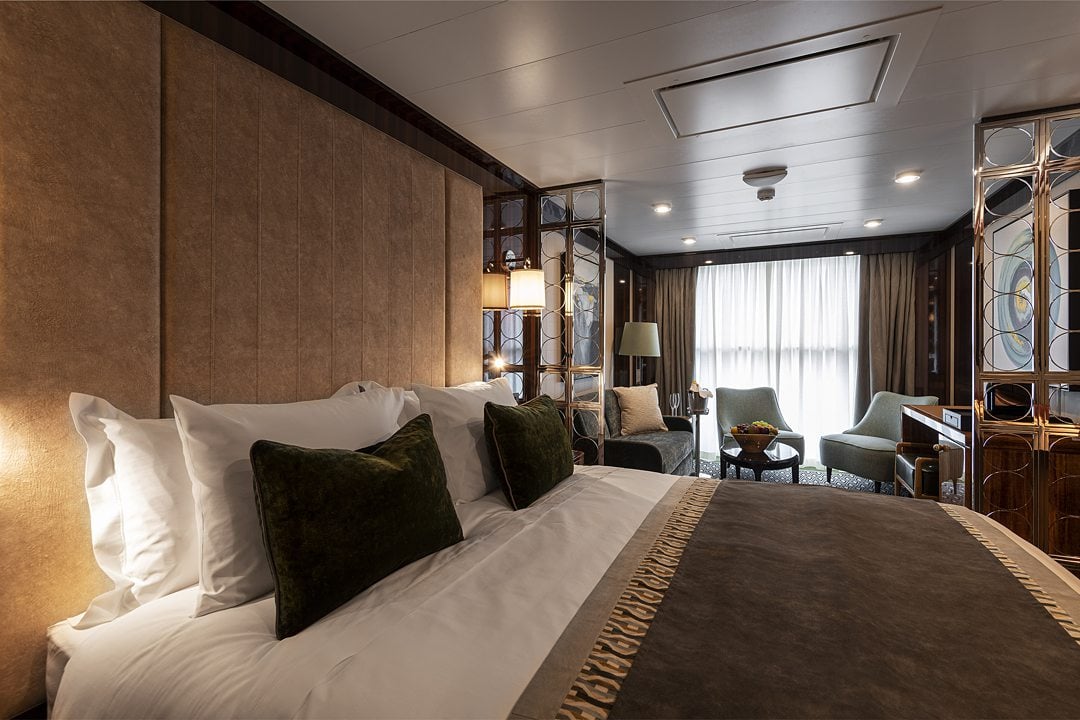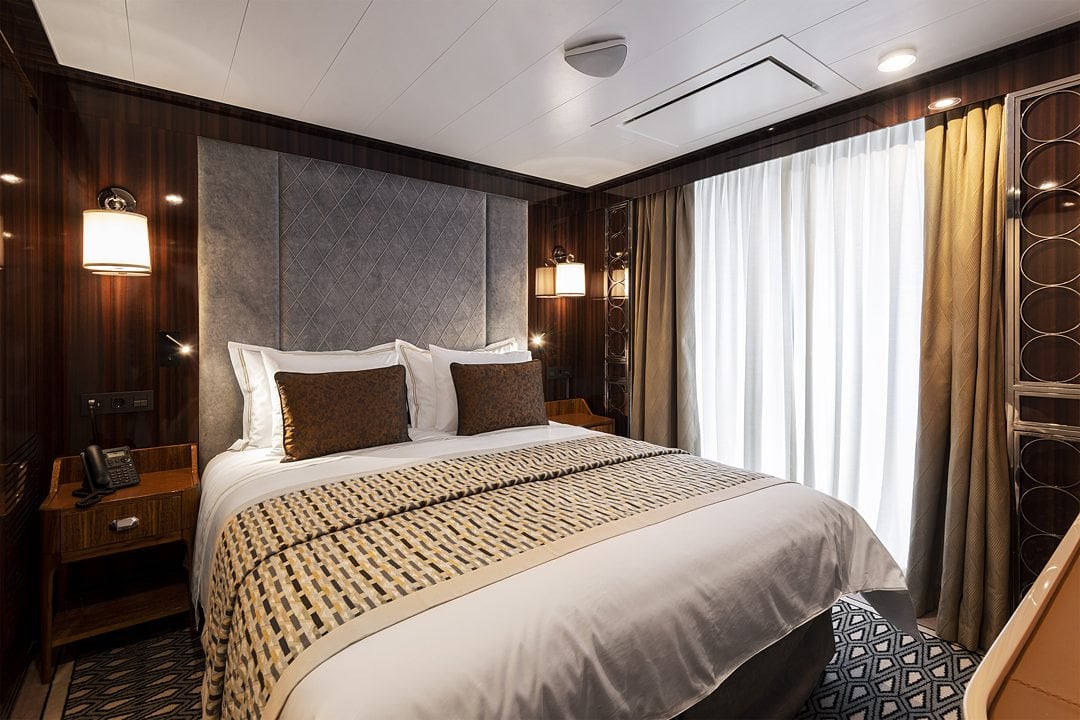 About Atlas Ocean Voyages
Atlas Ocean voyages is a North American brand that debuted in 2018, under Europe's incredibly successful Portugal-based Mystic Cruises company. The World Navigator, its premiere ship, sailed her inaugural voyage in July 2021. World Traveller joins the fleet in November 2022. Three more sister-ships join the fleet before the end of 2023.
The ships' architecture will be the same but the interior furnishings and finishings will differ on each ship. The Atlas Ocean Voyages lineup is: World Navigator, World Traveller, World Seeker, World Adventure, and World Discoverer.
The World Navigator is 413 feet long and 62 feet wide. She was built at West Sea Viana Shipyard, in Viana do Castelo, in northern Portugal.
Where the Cruise Line Sails
Atlas Ocean Voyages small expedition, luxury cruises deliver once-in-a-lifetime adventures in unforgettable and secluded destinations. 
World Navigator sailed seven to 24-night itineraries in the Holy Land, Black and Mediterranean Seas in summer 2021. It was been followed by nine to 13-night itineraries in the Caribbean, South America, and Antarctica.
Their cruise ships are Polar Category-C and Ice Class-1B certified expedition ships. This means the ships can navigate through moderate ice conditions year-round, such as those it travels through in Antarctica. They also have the most-modern hygiene and cleanliness measures incorporated into their design.
Overview of Onboard Accommodations
There are 98 luxe suites and staterooms on board, all with an ocean view and most with a private balcony. And that's not all that's outstanding and notable about Atlas Ocean Voyages.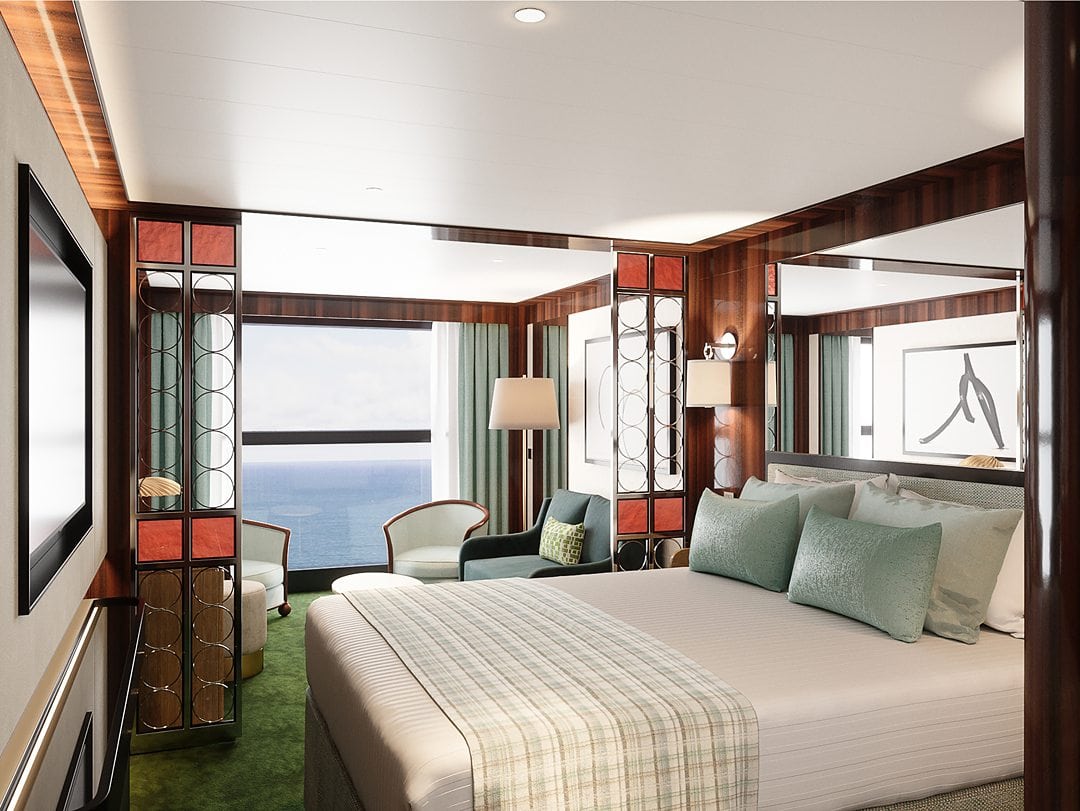 Dining Aboard the World Navigator
There are six dining options on board:
Porto
Named after the brand's Portuguese roots, Porto is the main dining room serving breakfast, lunch and dinner. There is an option to dine indoors or outside, al fresco, and the seating is open.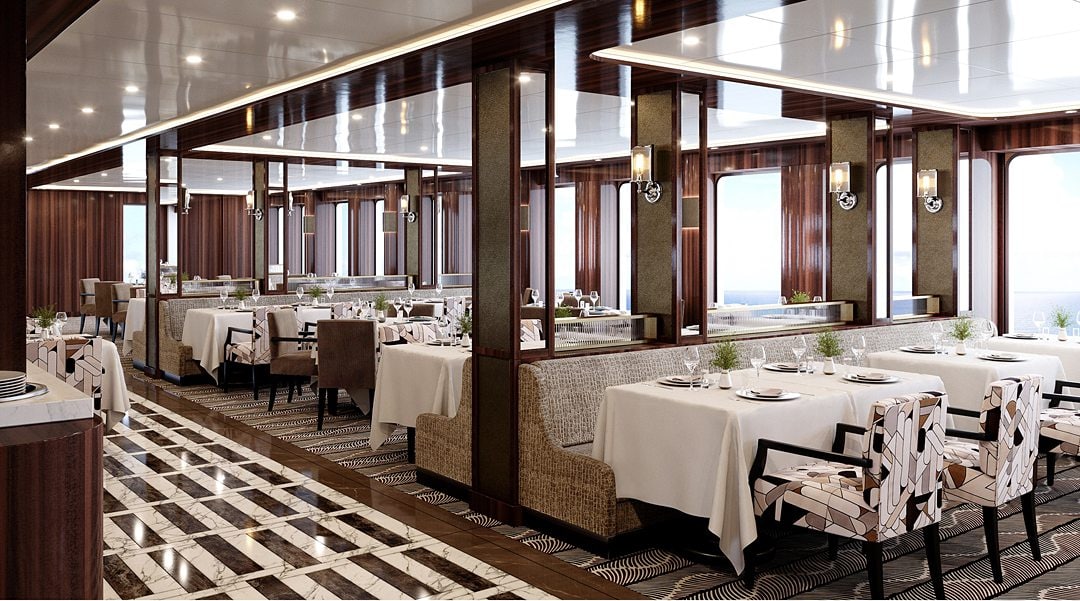 Alma
Alma, which means "soul." This dining experience will feature soulful Portuguese recipes and bakeware, including classics like salted cod with onion, potatoes, olives, and eggs from Lisbon, or "Bacalhau a Bras," in Portuguese.
7AFT Grill
7AFT Grill is a unique and intimate chophouse. Chefs will use a gourmet charcoal oven preparation technique called "jospering," which originated in Barcelona in 1969.
They prepare proteins like Black Angus filets, shrimp, lobster, lamb saddle and New York strip steaks with jospering. The World Navigator is the world's first shipboard venue to feature this cooking style.
The Dome
If you're looking for a light, late lunch with a view, The Dome is the perfect spot.
Its floor-to-ceiling windows and 270o, forward-facing observation lounge take inspiration from the horizon and sky in its design. Enjoy things like tea with a specialty sandwich or coffee and a piece of cake here.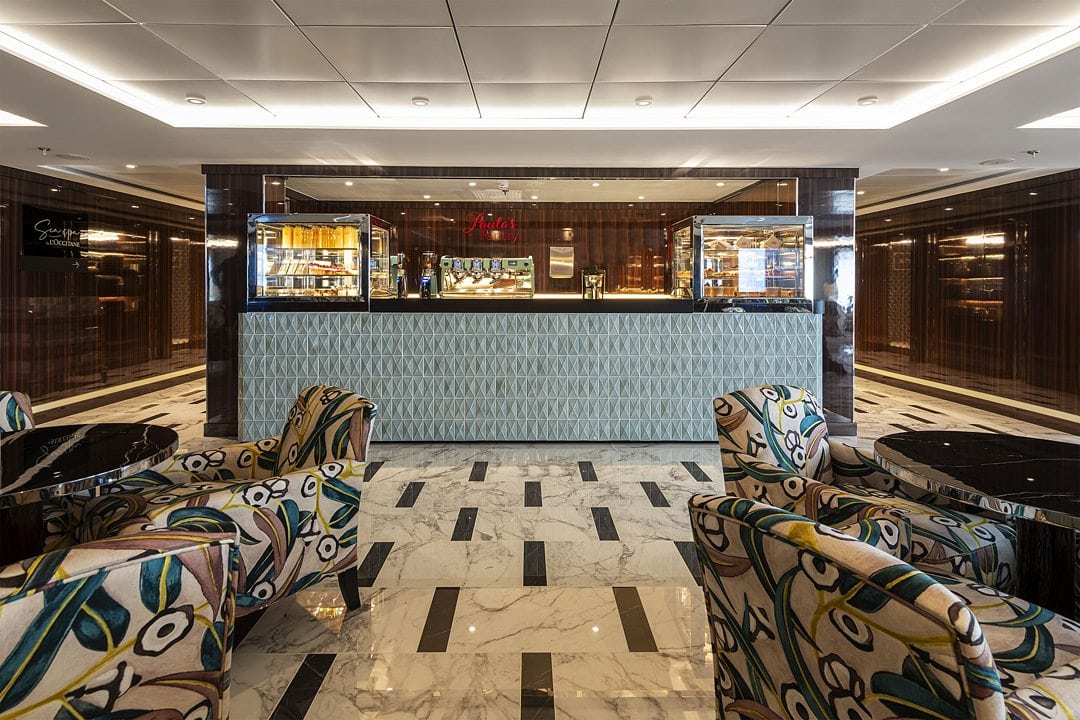 Paula's Pantry
This spot is named for Mrs. Paula Ferreira. She is the Mystic Invest executive, co-owner, and wife of Chairman Mário Ferreira, the founder of Atlas Ocean Voyages.
Here, sustainable and eco-friendly products and food are top of mind. For instance, bamboo straws and biodegradable plates and cups will be used for this grab-and-go experience. They'll feature coffee and espresso drinks, detoxing juices, soups, salads, cold sandwiches and cupcakes.
In-Room Dining
If you'd rather eat in your room, the Atlas Ocean Voyages "always available" menu features options like tomato cream soup, club sandwich or a vegan eggplant burger. Two options are available for breakfast as well. In-room dining is available for all guests.


Interested in luxury cruises? Also check out: