Tromso Boat Tour in Norway: A Favorite Excursion in the Arctic Circle
A Tromso boat tour is a great way to experience part of historic Norwegian culture; they have lived with the water as a source of food and commerce for centuries. While we didn't take a precise fishing tour we did get to fish, meet great people, and view gorgeous scenery.
We experienced a wonderful polar fjords cruise one day during a February trip to Norway that we highly recommend.
Disclosure: This page has affiliate links, meaning we may earn a small commission if you click the link and proceed with a purchase at no cost to you. We recommend cruises, experiences, products, and services we personally use. As Amazon Associates, we earn from qualifying purchases.


Time of Year for a Tromso Boat Tour along the Norwegian Fjords
These are generally excursions you can enjoy all year, whether you visit Tromso during winter or summer. Some things that are seasonal, however, are whale watching and seeing the Northern Lights.
This is because when there is midnight sun during Norwegian summers (almost 24 hours of daylight), there are not dark enough skies to see the Northern Lights.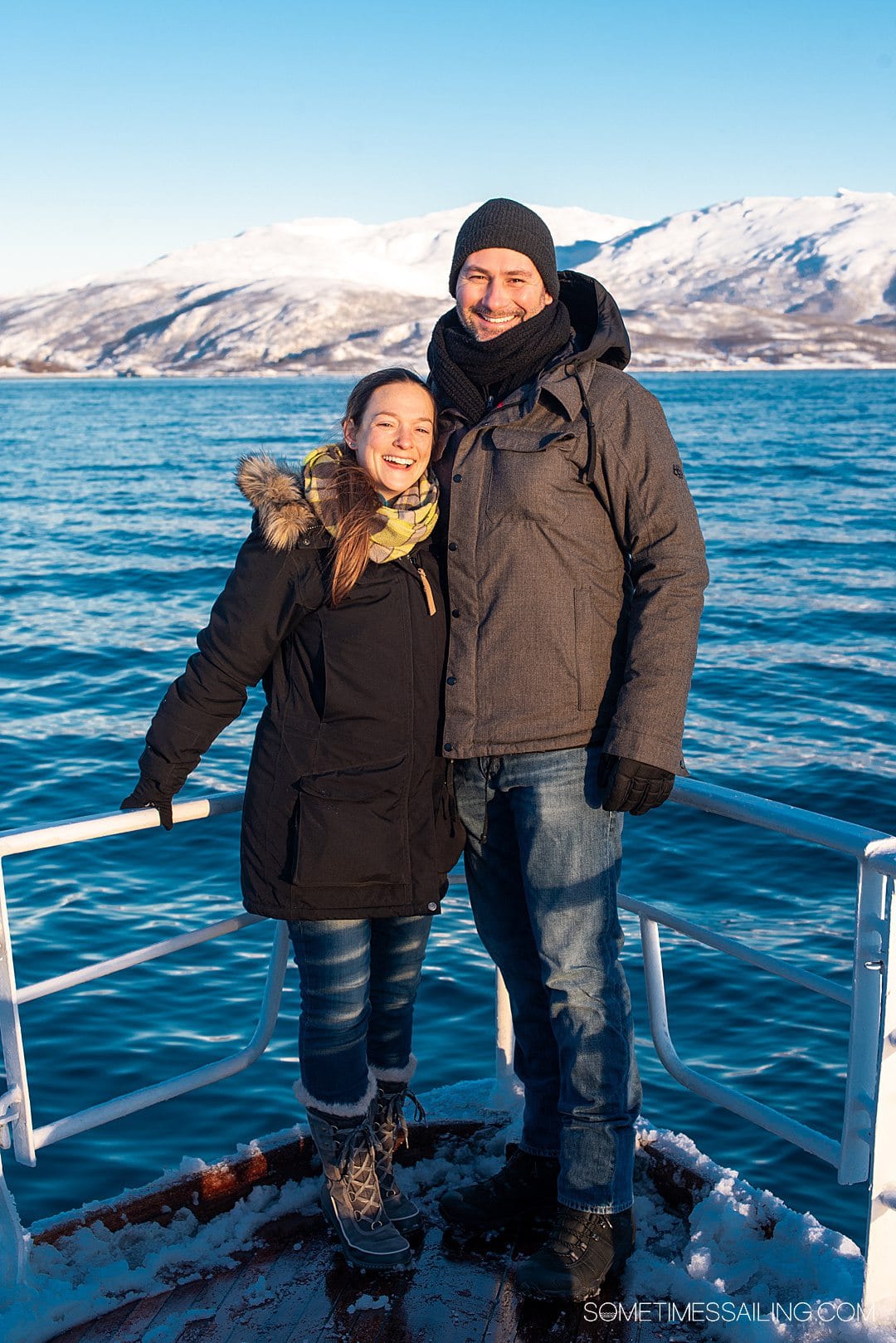 Polar Fjords Tromsø Boat Tour Options
Being together in Norway was a dream come true and the perfect reason to take a special excursion. We signed up for a Tromso boat tour.
We were SO glad we decided to sail the fjords. We felt brave for sailing in the bitter, bitter cold of a Norwegian winter but wow, was it incredible.
We took a tour with the company, Polar Adventures. Here are two great options for boat excursions from Tromsø:
Bird and Arctic Wildlife Sightseeing Cruise (what we did)
Whale and Seabird All-inclusive Safari From Tromso by Boat to Skervøy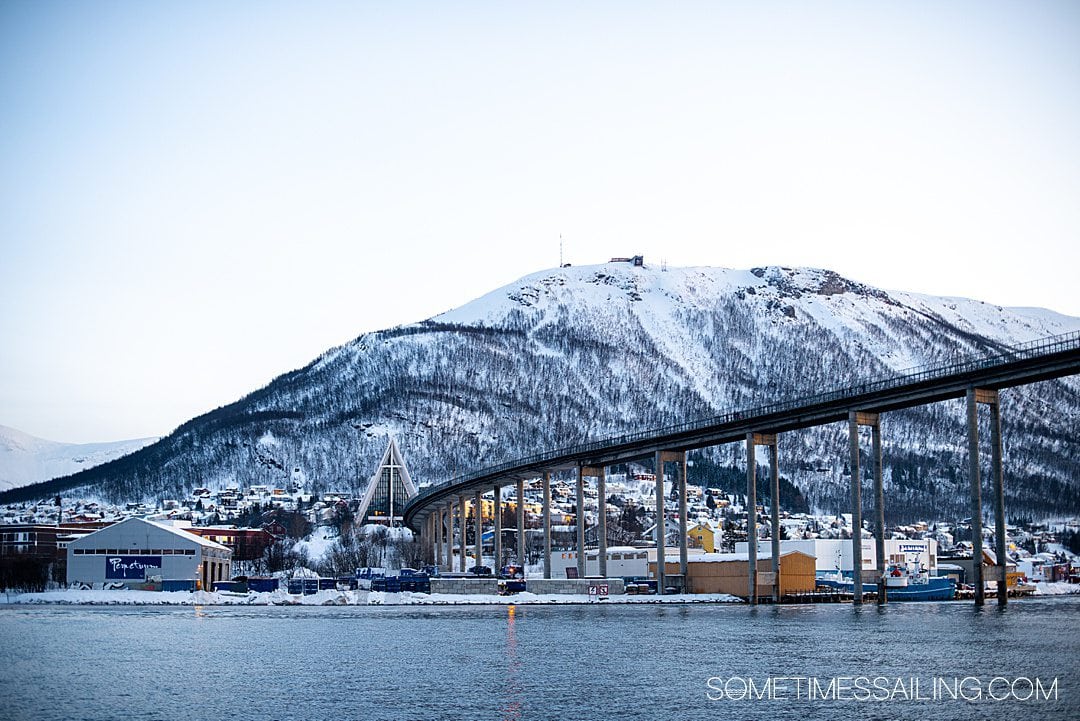 The Bird and Arctic Wildlife Sightseeing Fjord Cruise is available all year. It lasts about 5 hours.
The Whale and Seabird Safari is dependent upon whale migration. Thus, it's a Tromso boat tour option for visitors from the start of November through January. This tour is 6 to 7 hours depending on the conditions of the water.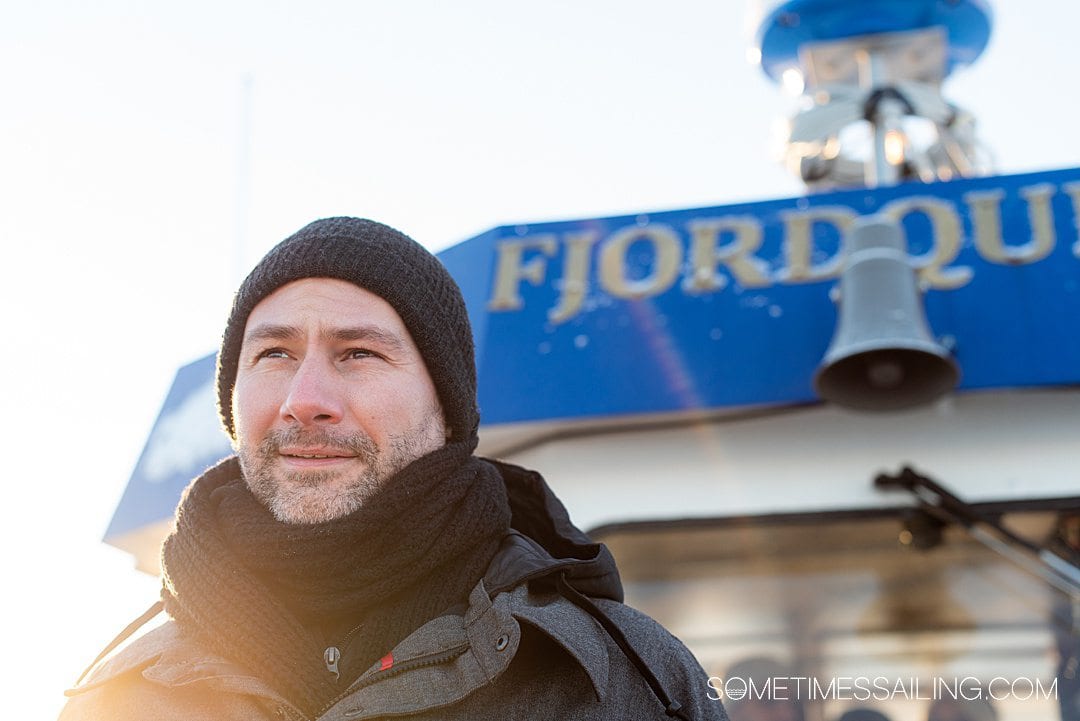 Animals You May (or May Not) See
We'll throw caution to the wind here by putting a disclaimer on any boat tour through the fjords: it is possible to see a lot of wildlife during the tours.
This would include things like seals, dolphins, moose, whales (mostly November through January), and birds.
But it's also very possible you won't see anything.
There's just no guarantee because it's nature.
We think the expectation for a boat tour should be this: expect to see incredible, inspirational scenery as you cruise through the fjords and learn wonderful information about life in Norway. And hope to see a lot of wildlife!
Here's what we were lucky to see on our Polar Fjord Cruise excursion:
An eagle soaring high above the water
Dolphins from a distance
Two moose swimming in the ocean (also at a distance)
Fish (jumping out of the water, like flying fish)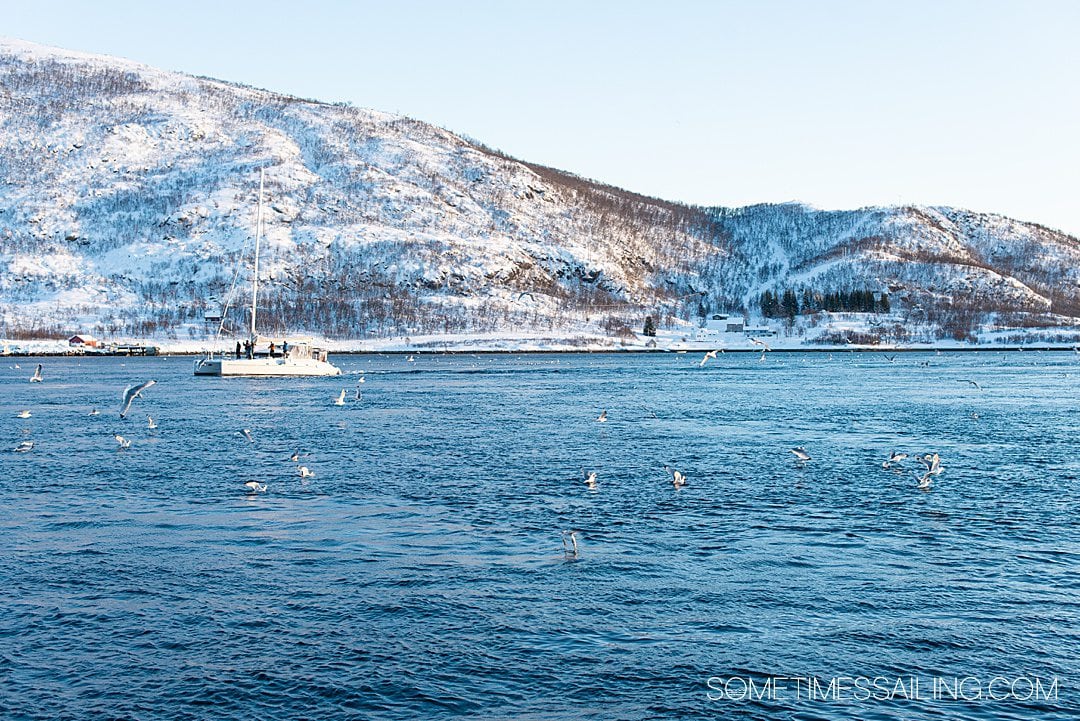 Marlena and Christine told us they saw whales the two days prior to our sailing. But unfortunately, they had migrated away by the third day so we didn't see them.
They were completely flexible with their Tromso boat tour path, however. They said they'd accommodate a different route if someone saw a whale they wanted to follow or heard from another boat they spotted one we wanted to find.
If you specifically take a whale-watching tour then hopefully you'll see whales, of course. Your odds will already be greater than ours were since we visited in February, just after whale-watching season ended in northern Norway.
Enjoying the Boat, Fjords, and Scenery in Tromso
Other perks included absolutely gorgeous scenery and a stunning sunset, which were a photographer's dream.
We also had one of the best meals of our 10 days in Norway on the ship: a homemade fish stew Marlena and Christine served for lunch.
It was made from scratch in the ship's galley (a cruise ship term you should know), and it was incredibly tasty. We asked for the recipe so we could make it at home. It was truly delicious, and the soup was the perfect food to warm us up.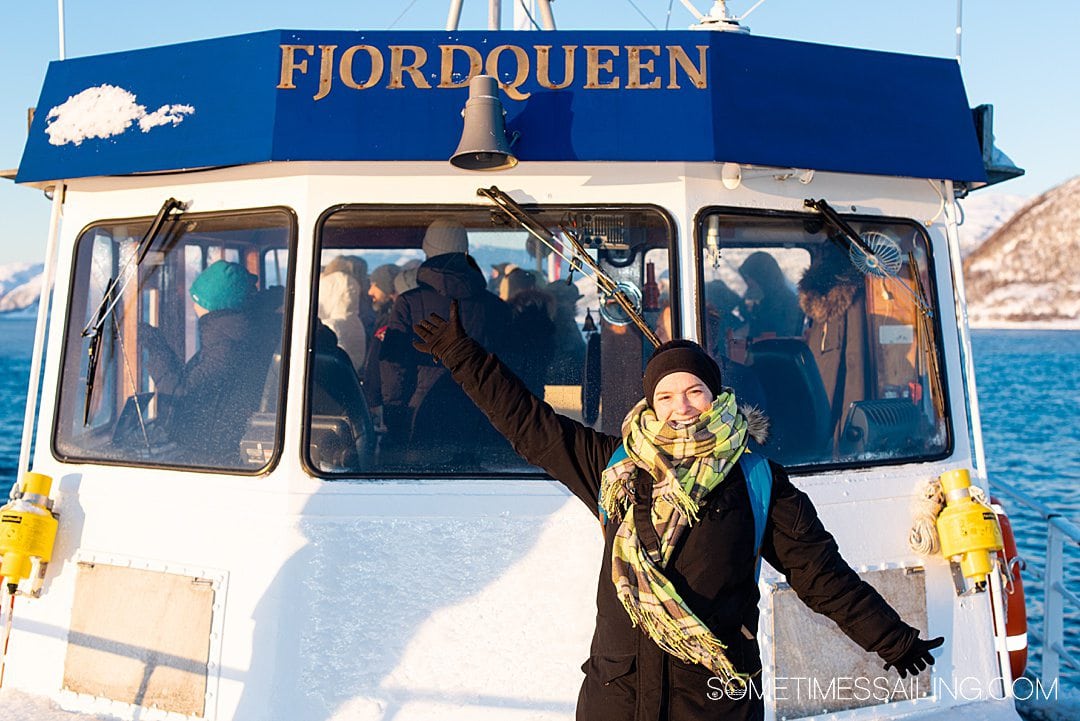 They allowed some people to fish in hopes of catching fresh seafood for the lunch stew, even though it wasn't a fishing excursion. (They had backup fish in the kitchen just in case no one caught anything. Lunch was not reliant on anyone catching fresh seafood!)
If someone caught a big fish, they saved it to make stew. A little fish was thrown to the eagles. Someone on our tour caught this huge Arctic Cod. Marlena expertly filleted it nearly immediately.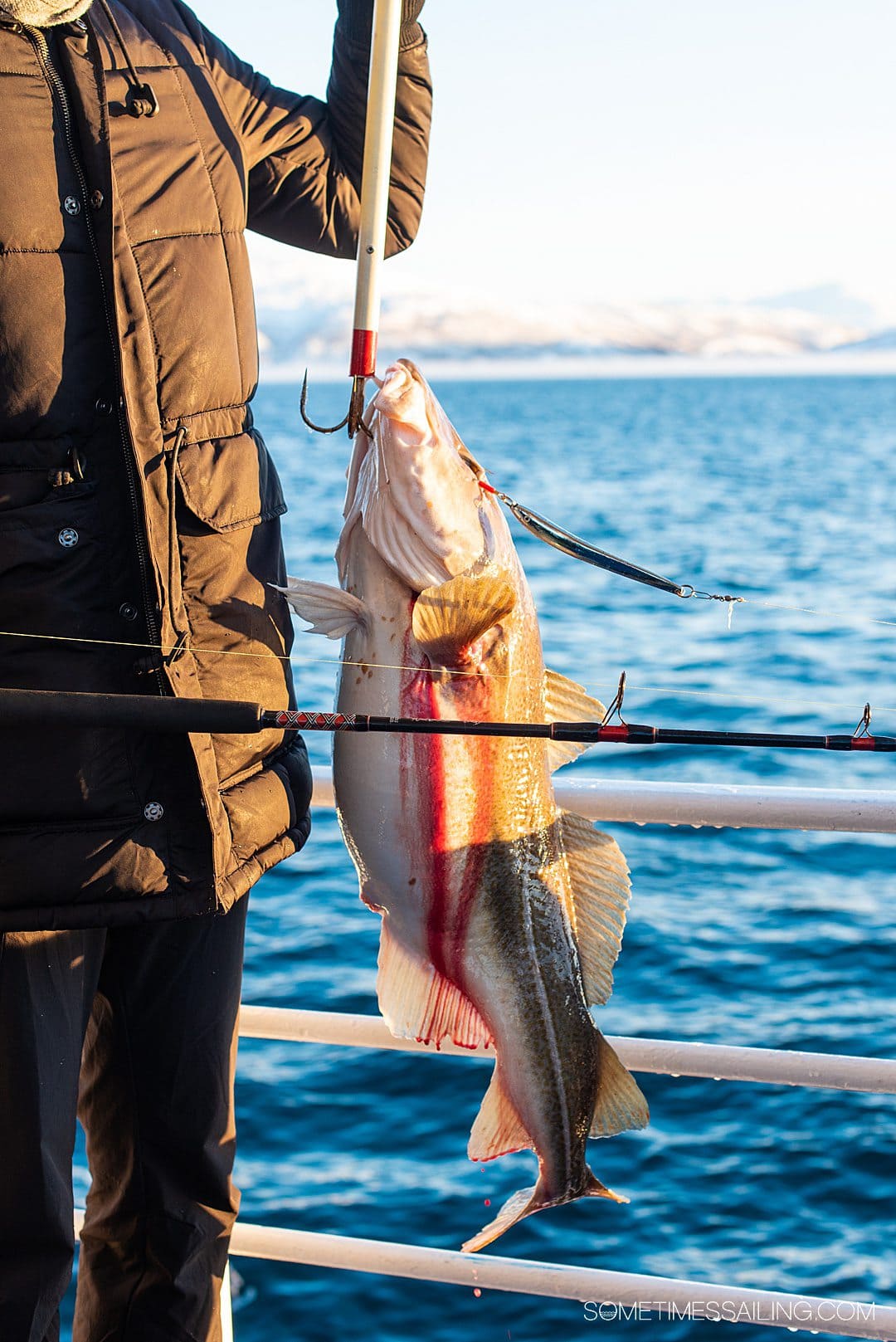 We learned Norway is a land of "large fish," as Marlena and Christine joked. They explained how big the fishing industry is for northern Norway.
As we cruised through the water from Tromso towards Greenland Island, we also learned how the little pockets of areas between fjords create microclimates.
These microclimates explain the cool mist hanging above the water's surface in some areas. (You can see the mist above the water in the photo below.)
I loved hanging out on deck because I wanted the best views of the scenery surrounding us. It did get unbearably cold at times though. When that happened, I simply went inside the boat to warm up.
There were a few people on our excursion who hung out inside the whole time, barely enjoying the outside deck.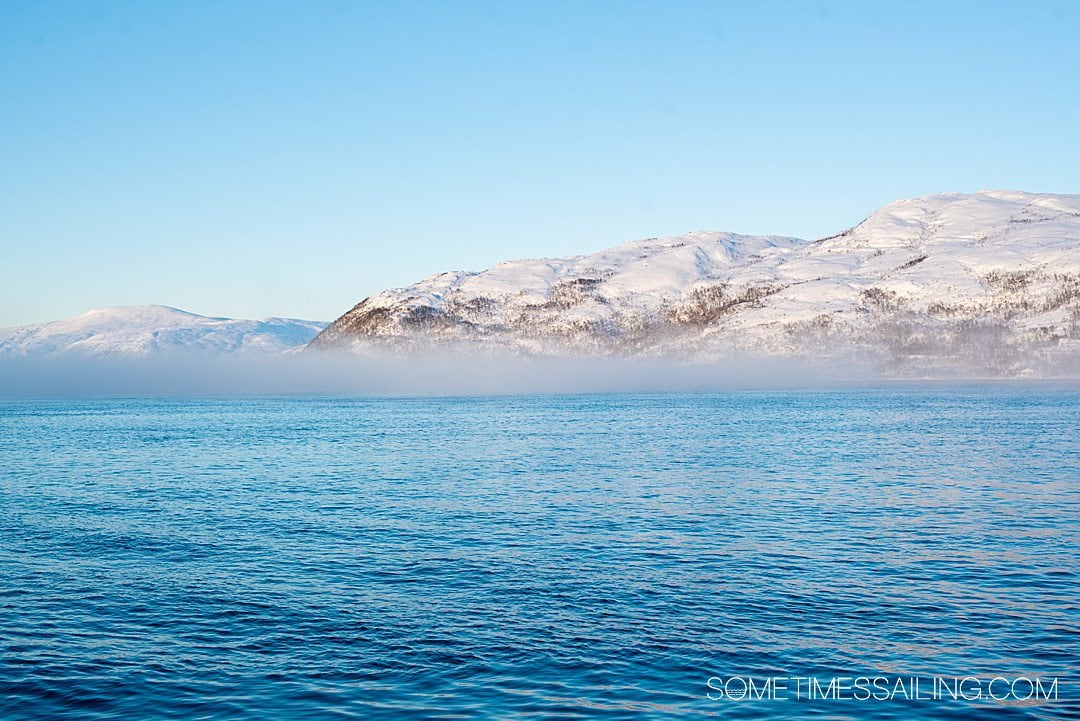 A Sunset Finish to our Polar Fjord Cruise
If you're on the boat during a month like February or March (and even late January after polar nights, which is 24 hours of darkness), you'll likely be able to see a Tromso sunset as we did on our tour.
If you're there during a time closer to when they have midnight sun, you'll have daylight the entire excursion. (Midnight sun in the Arctic Circle provides 24 hours of daylight.)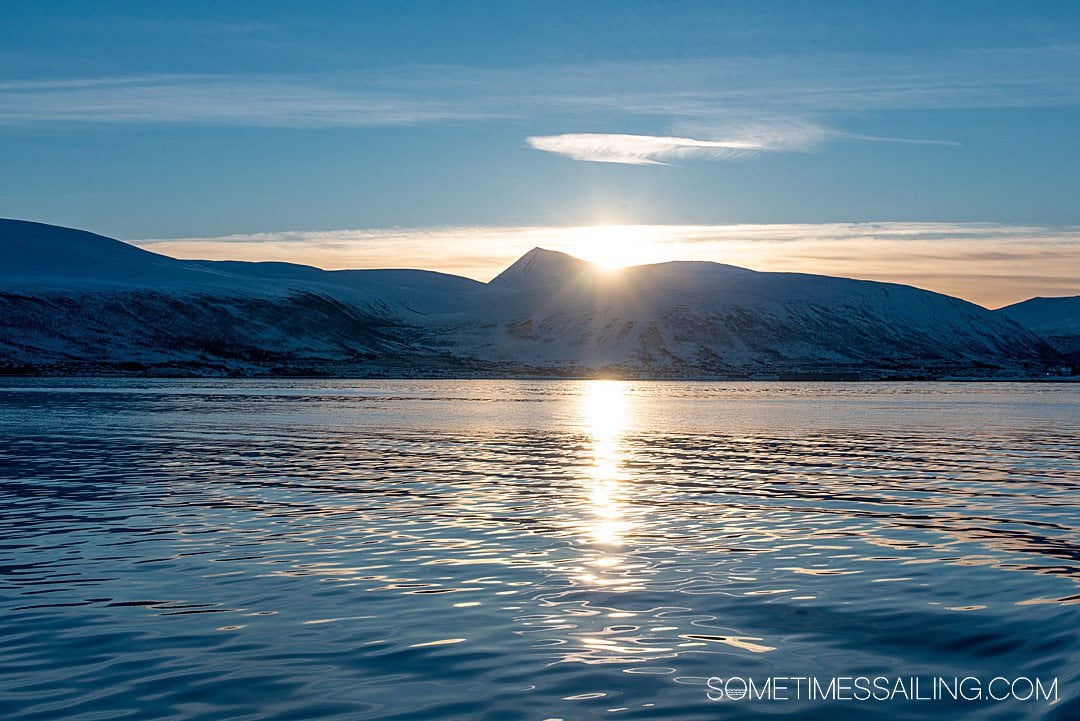 Where does the Tromso Boat Tour Sail?
The FjordQueen, which was the name of our vessel, sails the Norwegian fjords. We were on the Polar Fjord Cruise so we will speak about our sailing path.
We began our excursion in the port of Tromso. It's easy to walk there from Tromso's city center. We boarded the boat and were told some safety information (mostly that life vests were under the seats inside) and where we'd be sailing.
We were going north towards Greenland Island, an area where Greenland sharks come from. We'd be sailing the fjords.
Norway's fjords are an attraction in themselves. These bodies of water that creep into the landmasses like sinuous fingers are all over the country's long coastline.
While Tromsø can be downright freezing during winter, we were surprised to learn the water is warmer than you may think. Many times warmer than the air, even.
(Side note: the proper spelling of Tromso in Norwegian is with what they refer to as a slashed o: Tromsø. Many island names in Norway include a slashed o, or ø, in their spelling.)
This is because of the flow of the Gulf Stream. It's also why the water in Tromso doesn't freeze. However, there was ice on the boat deck because the water in the air certainly still freezes.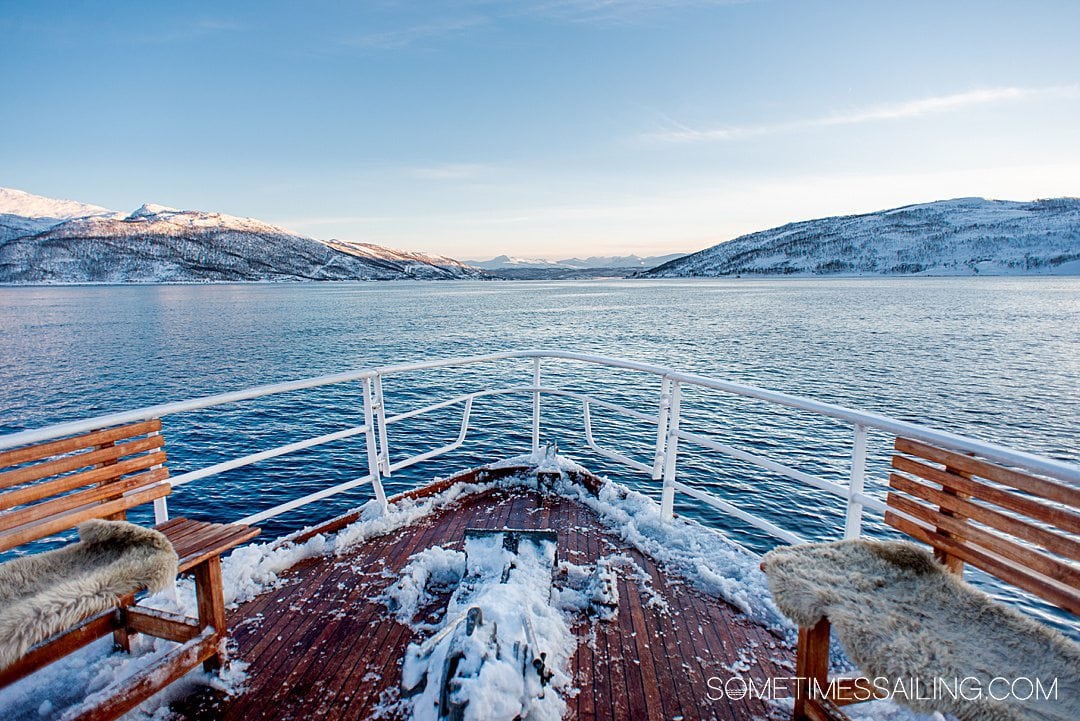 Book Your Polar Fjord Boat Excursion
We had a wonderful time and, to this day, it remains one of our favorite memories from our trip to Tromsø.
Book your own adventure during your trip to Tromsø. You won't regret it!
Heading to Norway for vacation? Also check out: