Apps are a part of our daily lives so why shouldn't you have the coolest apps to use preparing for and onboard your cruise?
These are NOT Cruise Line apps. Many of the popular cruise lines have their own apps these days, including Royal Caribbean, Disney Cruise Line, MSC, Holland Line America, Azamara, and Viking Cruises.
But these are apps that we recommend for trip planning – no matter the cruise line or type of cruise – for enhanced trip planning and prep and for use while you're aboard and in ports.
All screenshots are from the Apple iOS App Store.


Night Sky
One of the greatest things about being on the water, most likely far from light pollution, is the ability to see the night sky with all its stars.
It's more fun to be able to spot constellations! Night Sky is magical app that you hold up to the sky and it maps out the constellations for you. It's INCREDIBLE. What's more is that it connects the stars with lines that create the constellations but also overlays shapes on them. So, for example, Orion actually looks like a man with a sword not just a stick figure.
The Apple App Store proclaims it's a "planetarium in your pocket." But it's a ROBUST one. You can go to "Night Sky tonight" and learn about the sky above you from sunrise to sunset. You can even set notifications for things like when Mars is rising or find local stargazing locations in your area.
There's an Aurora Borealis mapping feature in the premium paid version of that app that could be worth upgrading to, alone, especially on a polar cruise.
This cruise app is particularly cool if you're in another region of the world and you want to understand what's happening in outer space above where you are, at the time. (As opposed to usually being in another geographical location, at home.)
And guess what? Its core functionality will still work even if you're not on wifi or don't have cell service!
Unavailable for Android.
App cost: Free with optional upgrades. (Annual subscription: $19.99, monthly subscription: $3.99)
Storage space: 1.9GB (so make sure you have the room before you install it!)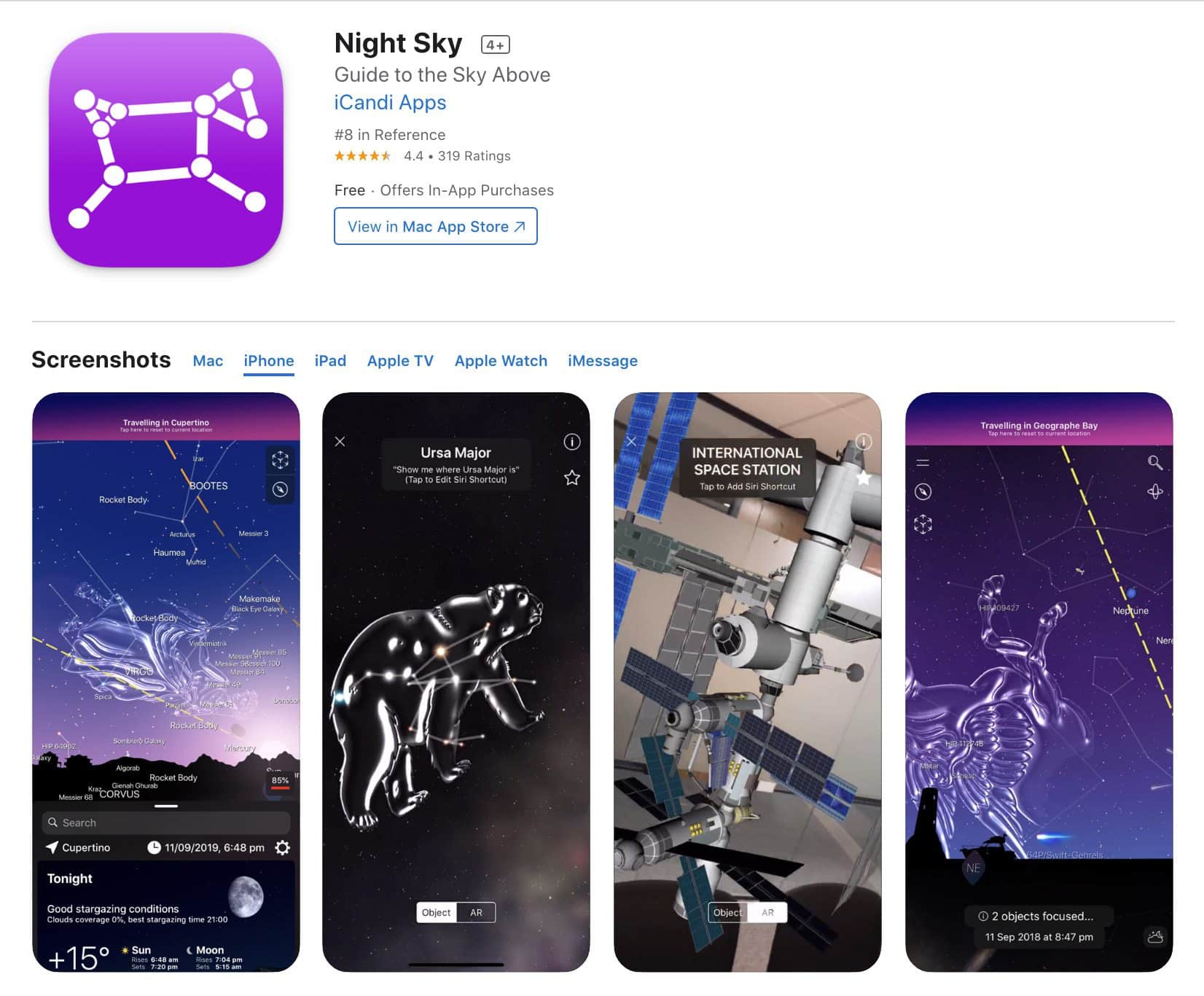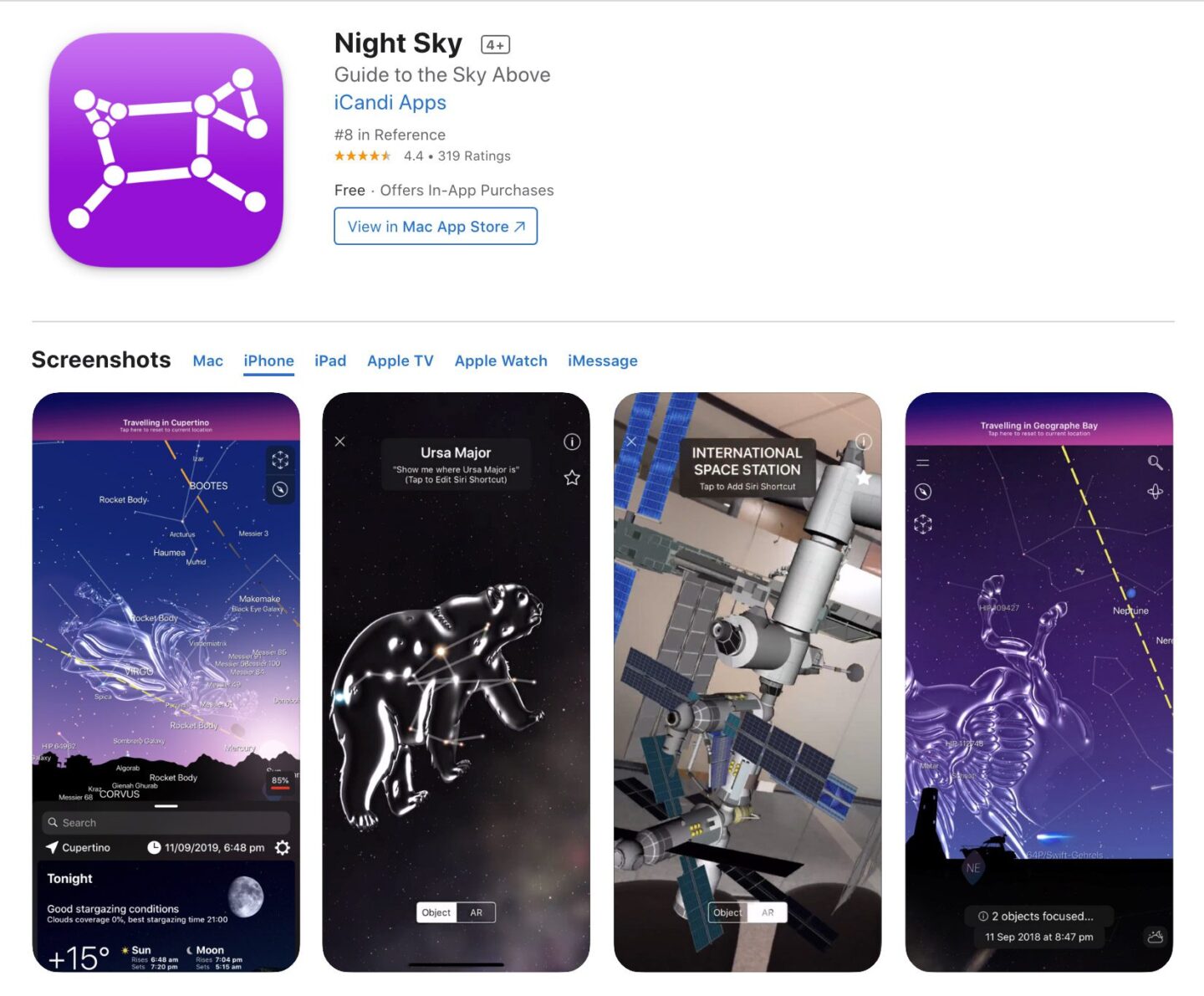 Tripsy Travel Planner
This is a great cruise app if you want the trip to be in your pocket. Cruises make it incredibly easy to see what's going on daily with a cruise navigator, announcements and of course – no need to navigate the ship yourself.
But what about things to remember if you book days before or after that? Or you venture away from the cruise group in port for your own plans?
Keep track of your trip details with Tripsy. It's one of the best cruise apps for travel planning that needs to be done on your own.
Insert information like your flight times, hotel reservations of where you're staying before and after your cruise, restaurants, excursions and more.
We love that it breaks down our itinerary into the dates of the trip, any documents we need to upload for it (premium version feature), highlights lodging and has different folders for things like restaurants and tours, all neatly organized in a simply app design. Another cool premium feature is being able to forward reservation to the app and it's automatically added to your itinerary for you.
They have an inspiration depending on where you're traveling (like if you're departing from Barcelona and need some inspiration in this coastal Spanish city).
We always share our trip itineraries with family and friends – both for fun and safety. You can do that from within Tripsy in a few very simple steps with this premium app feature. (The receiver needs to have the app installed to see your itinerary.)
Unavailable for Android.
App cost: Free with optional upgrades. (Monthly subscription: $2.99)
Storage space: 55.7MB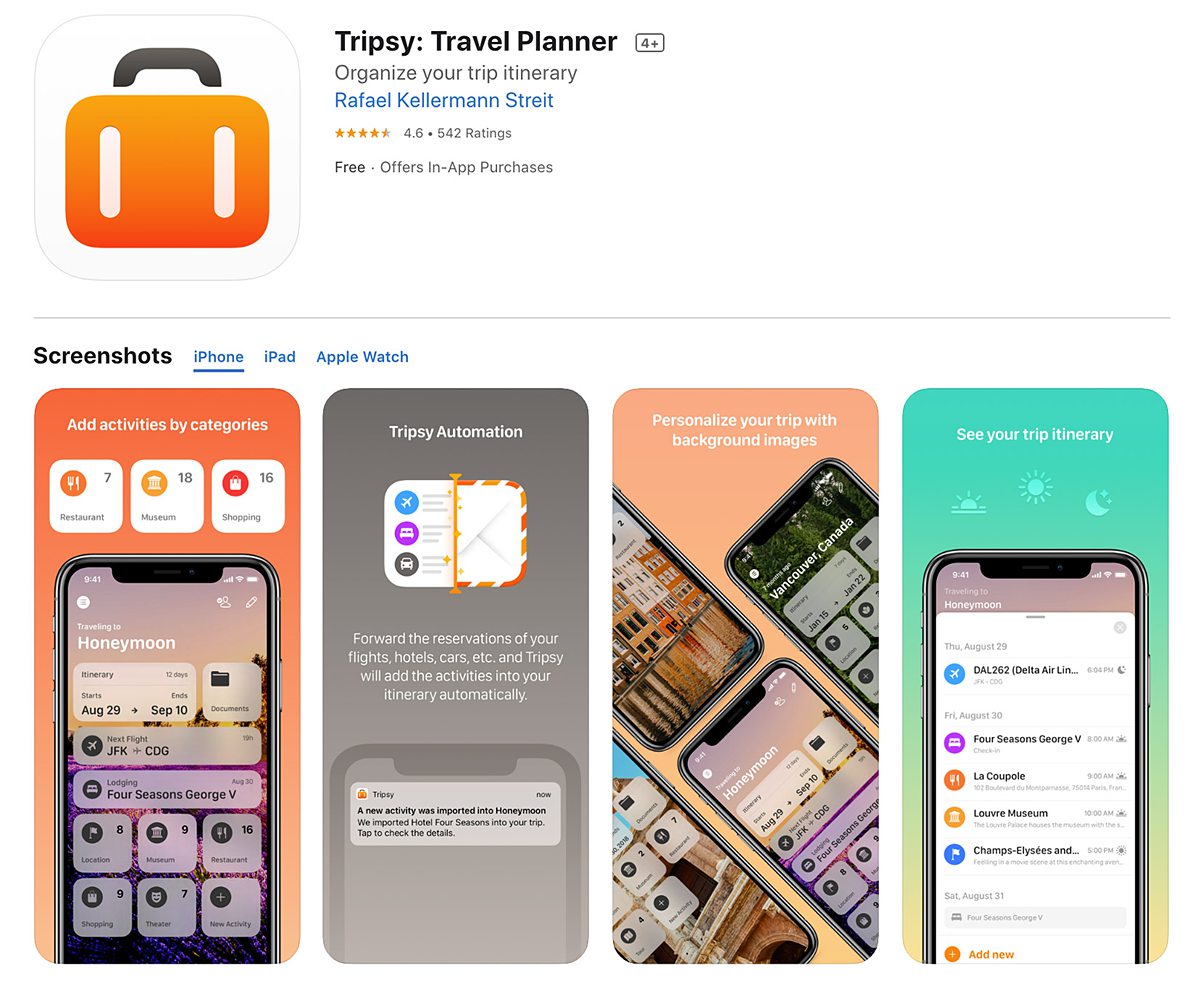 PACK: Packing Checklist
I don't go anywhere longer than an overnight without writing out a packing list. One of our suggestions for the best cruise app is one that helps you be successful on your cruise with smart preparation before your cruise.
You simply create a packing list (say for a "river cruise") and then add items from "suggested" (which we usually do) or create your own category.
The upgrade to the premium features was a no-brainer for us. The one-time fee of $2.99 allows us to increase quantities (because who takes one pair of underwear on a trip?) and duplicate packing lists so we're not reinventing the wheel each time.
When you go to pack (which is always in our Cabin Zero backpacks, because we're obsessed with them) you simply check the items off the digital list as you pack them. When you do so it puts a line through the item to check it off and adds a green check mark to indicate the item is packed.
Unavailable for Android.
App cost: Free with optional upgrade. (Premium features: $2.99)
Storage space: 55.7MB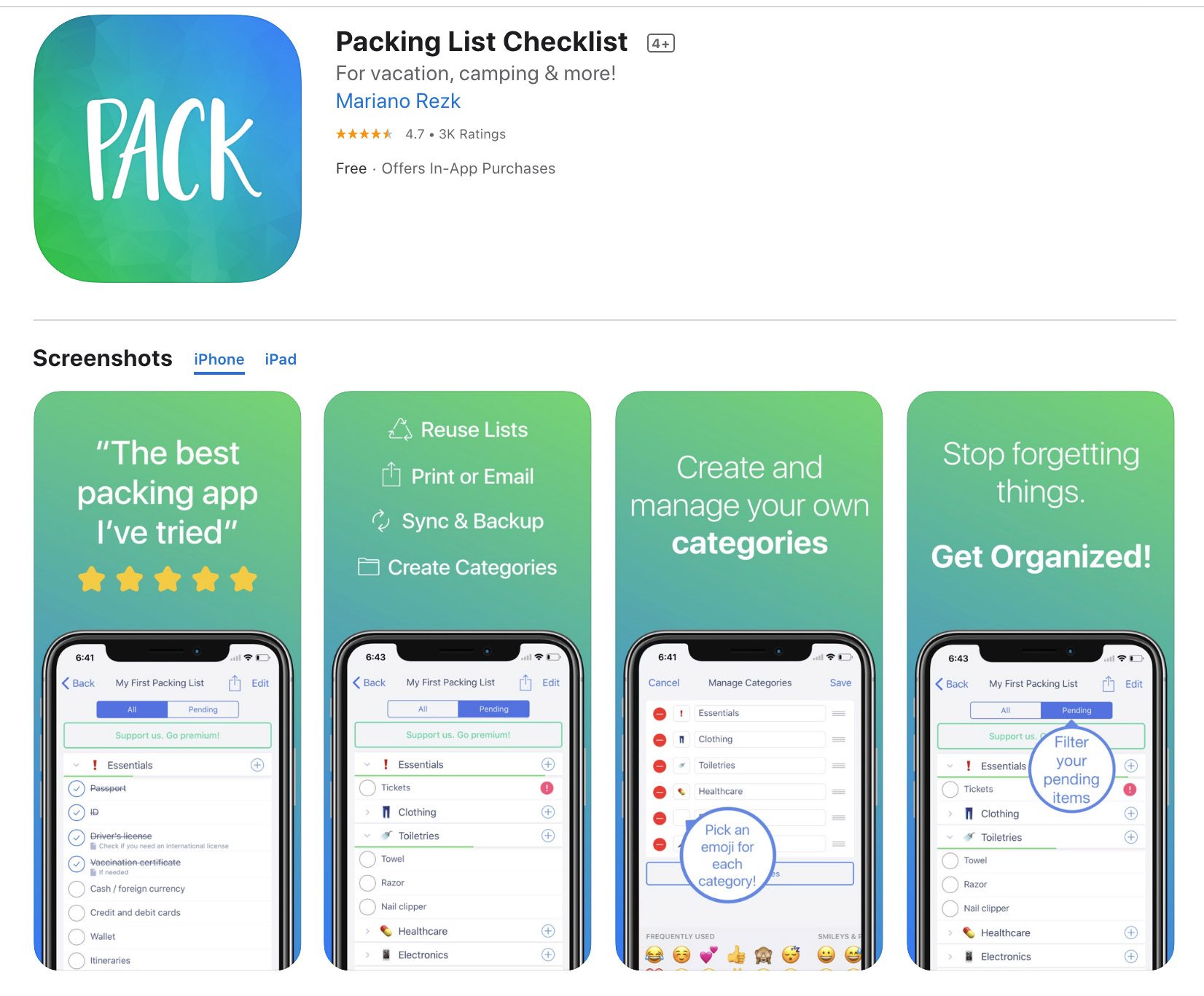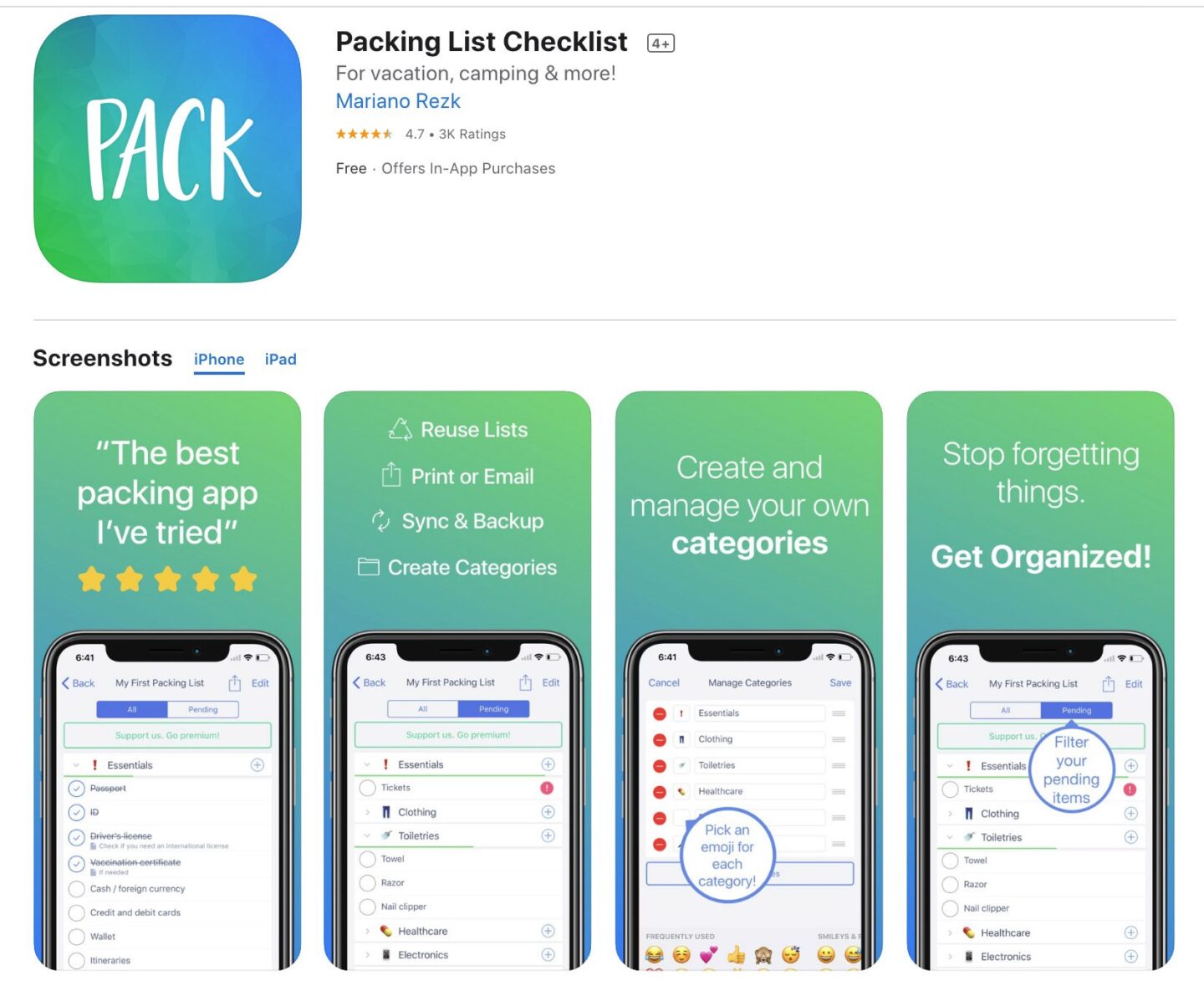 Google Maps
Most people have a Google Maps app on their phone. But if you don't – especially if you're an iPhone user because you have to specifically install it on iOS software – you need to for this VERY pro traveler tip:
You can save maps offline for a majority of popular areas to visit around the world!
We recommend downloading all the maps you want to have offline access to (like for each port you're going to visit) before you leave strong wifi in your home.
The maps stay in your offline downloads for one year unless you manually delete it, so you should be fine to do this task before your trip.
Here's how to do it:
Open the Google Maps app.
Type in a location, like "Barcelona, Spain".
When it pulls up the area go back to the search bar, delete Barcelona, and write "OK Maps".
It will then ask you if you want to download the area within the rectangular box that comes up on the screen.
Click download.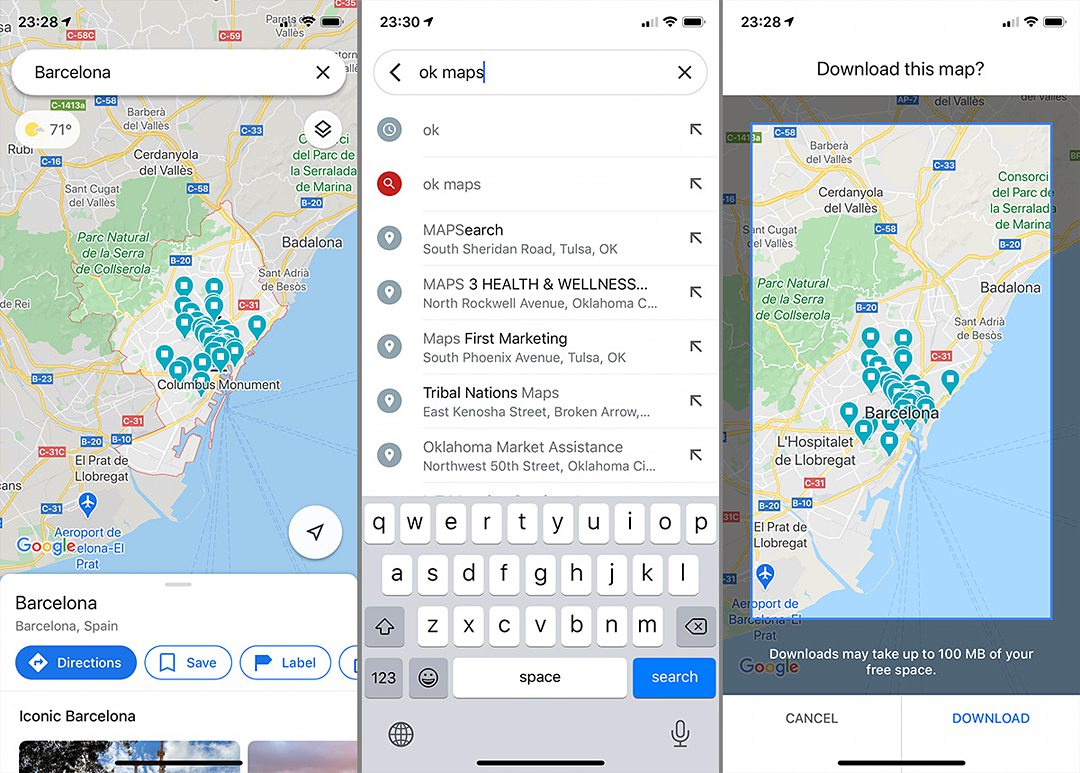 Your map will be accessible when you open the app and will locate where you are within the area even offline (as long as the map for the area was dowloaded). There won't be a need to search for Barcelona, for instance, if you're standing in Barcelona. It will automatically show up.
Google Maps will even track your location on the map offline – which is a lifesaver for way-finding in a new area.
To manually locate the downloaded map in the app, simply tap your profile photo, located on the search bar. Then go to "Offline Maps." You'll see a list of downloaded maps, most likely named "Map 1," "Map 2," etc. You can rename them to correspond to the location name but it's not necessary.
Download for Android. (Though if you have an Android it may already be pre-loaded on your phone.)
App cost: Free
Storage space: iOS: 9.2MB; Android: 6.1MB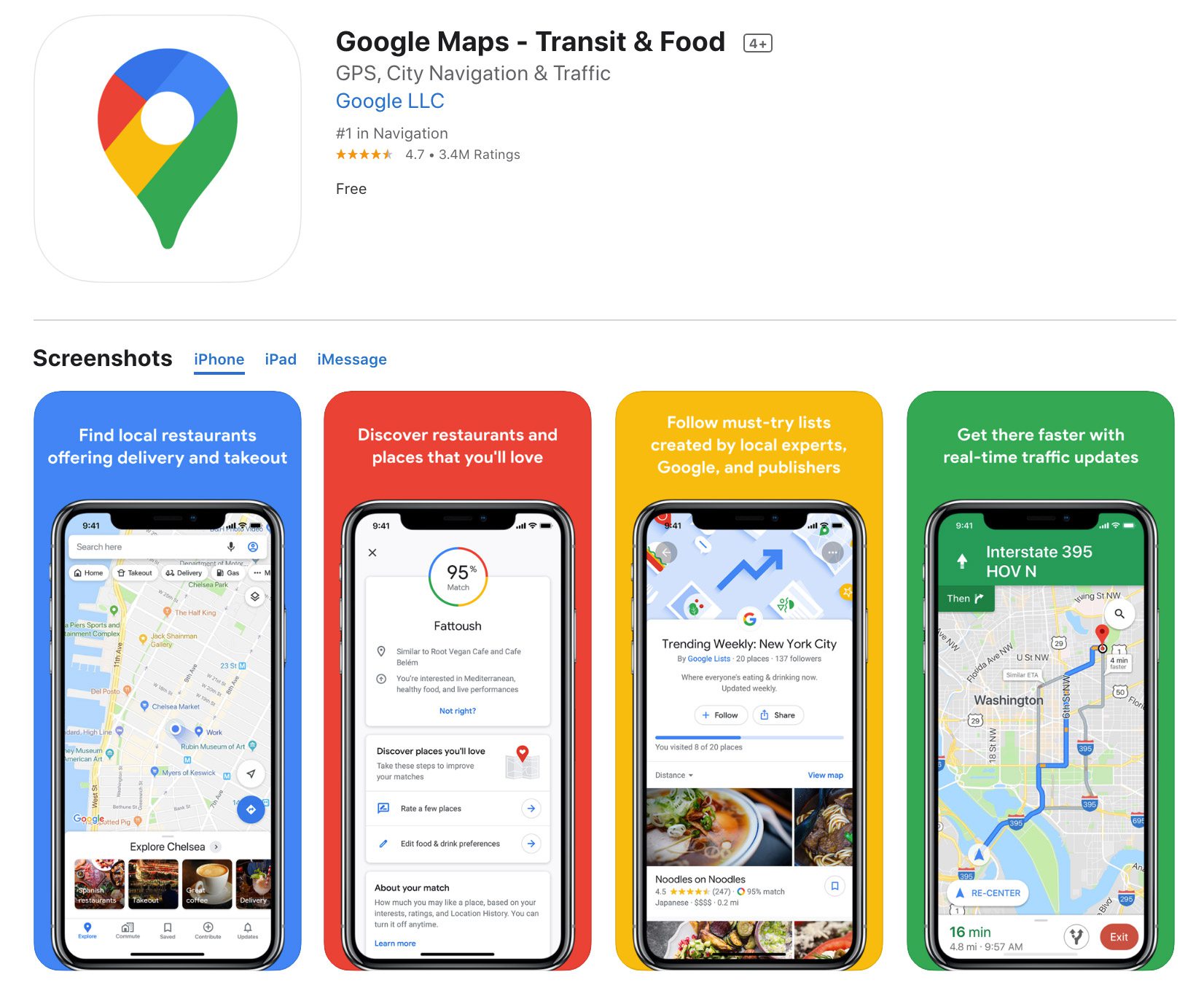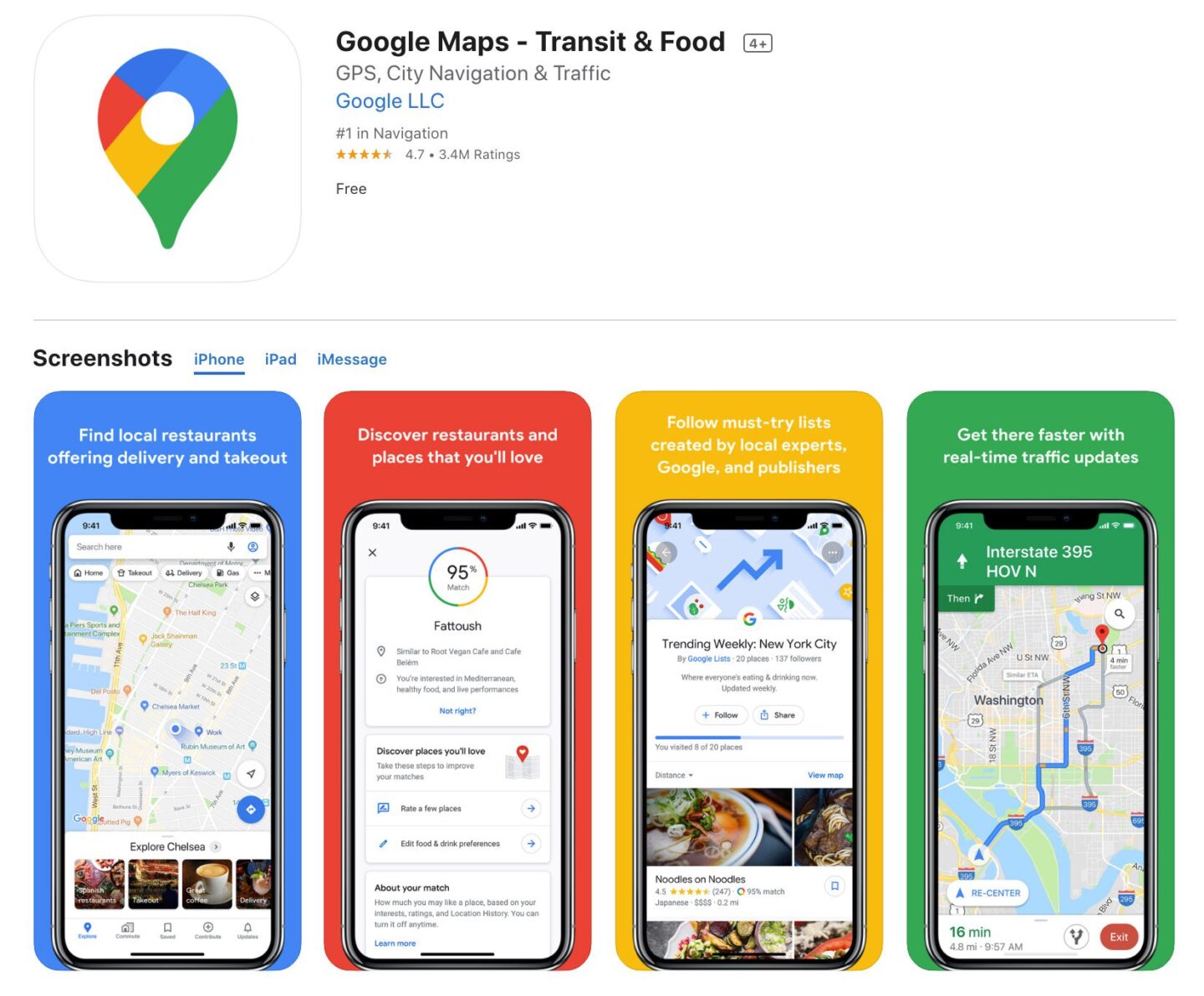 Cruise Ship & Port News Lite
This app is pretty straight forward. It aggregates cruise news in a feed and allows you to choose from a general one or categories, including:
Top Cruise News
New Ships
Cruise Ports
River Cruises
Cruise Tips
Delays
Itinerary Changes
It also has the major cruise lines listed as categories if you want to filter by that instead.
It pulls news from certain websites it probably has predetermined in the backend of the app, including Cruise Hive, The Points Guy, Royal Caribbean Blog, CNN, TravelPulse, The Washington Post and the like.
One you select the piece of news you want to read from the list in the app, you can click "open" for it to take you directly to the website where the article is posted. You then read the article on your phone's internet browser.
It's one of the best cruise apps simply if you're a cruise lover and want to be in the know about industry news no matter the day, even if you're not at sea.
App cost: Free
Storage space: iOS: 9.2MB; Android: 6.1MB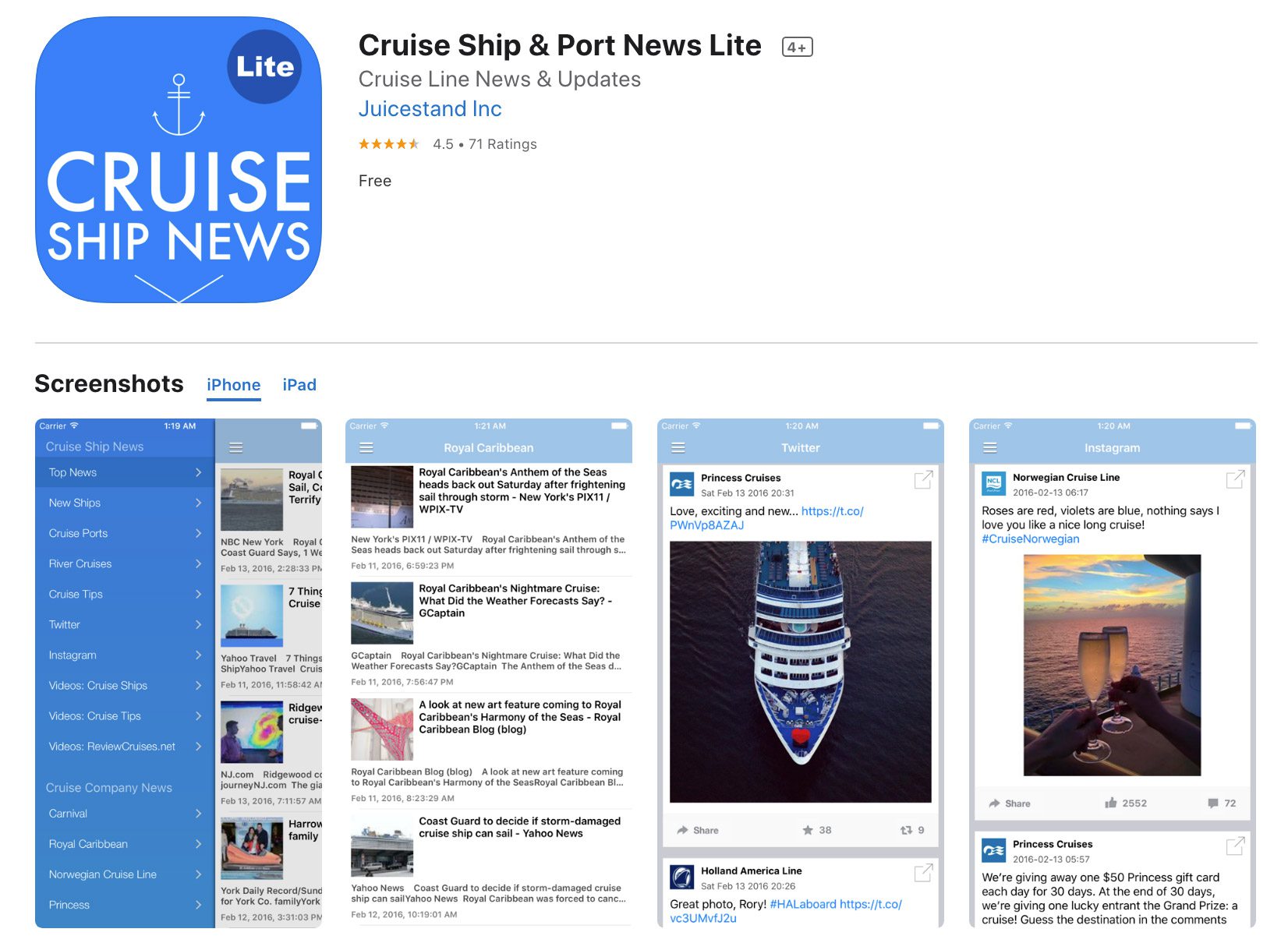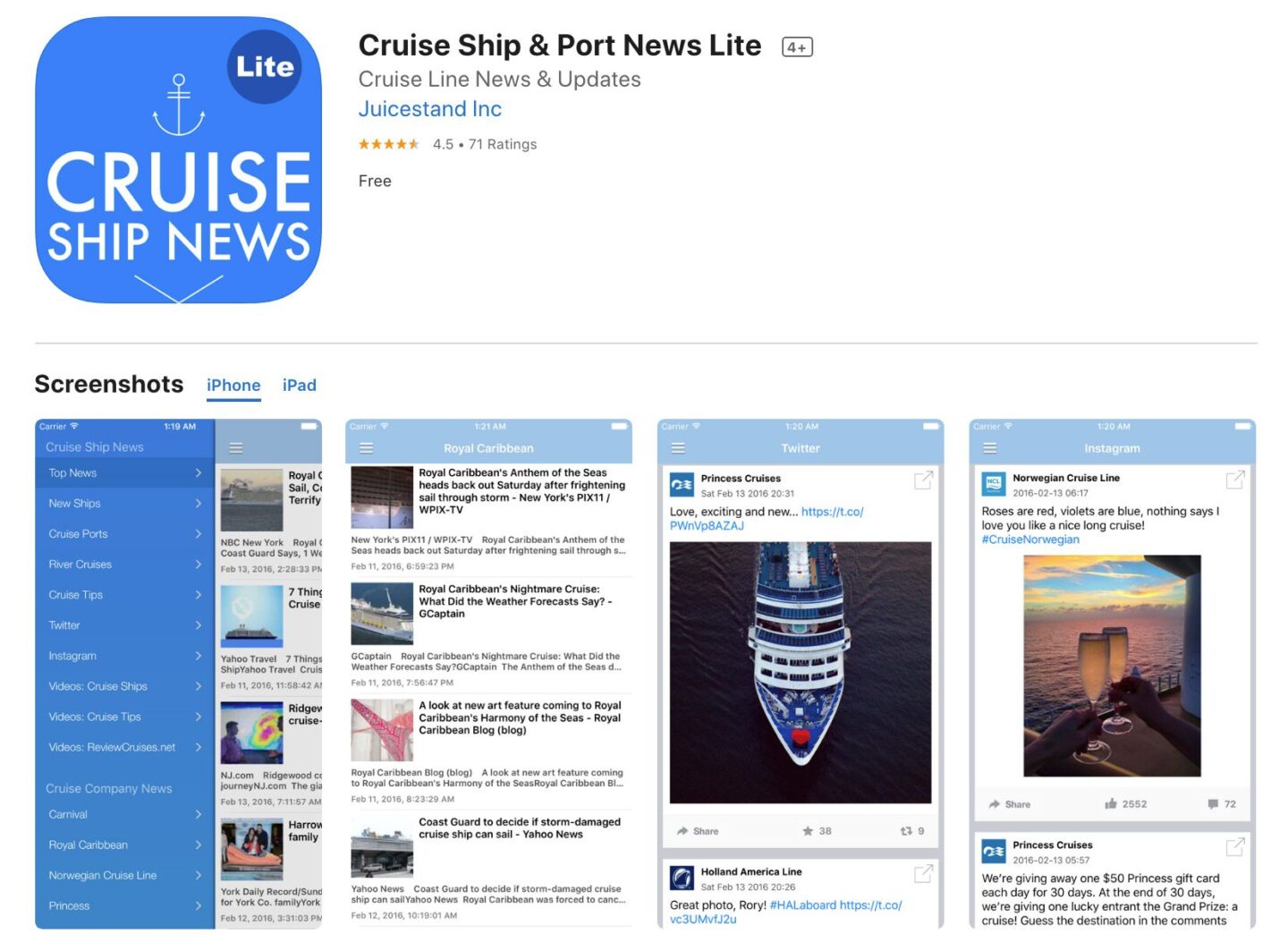 Tip Check – Calculator & Guide
It's likely you'll be in another country on land at some point during your cruise.
We always kick ourselves for not remembering to look up a guide to tipping in the country we've visiting. Like when we sat at a restaurant enjoying Dutch food on a cruise point of embarkation in Amsterdam, wondering what to tip our server.
This app eliminates the guess work.
It has tipping guides for over 69 countries, included with the optional $2.99 pro upgrade (which we recommend).
The app allows you to choose the pertinent category for your needs, like if you need to tip a taxi driver versus a restaurant waiter. It even allows you to split a bill with a friend and calculate what your responsibility for the tip, between the group, is.
Unavailable for Android.
App cost: Free with optional upgrades. (Pro version one-time payment: $2.99 – search "Tip Check Pro – Calc & Guide in the app store)
Storage space: 10.2MB iOs; 6.1MB Android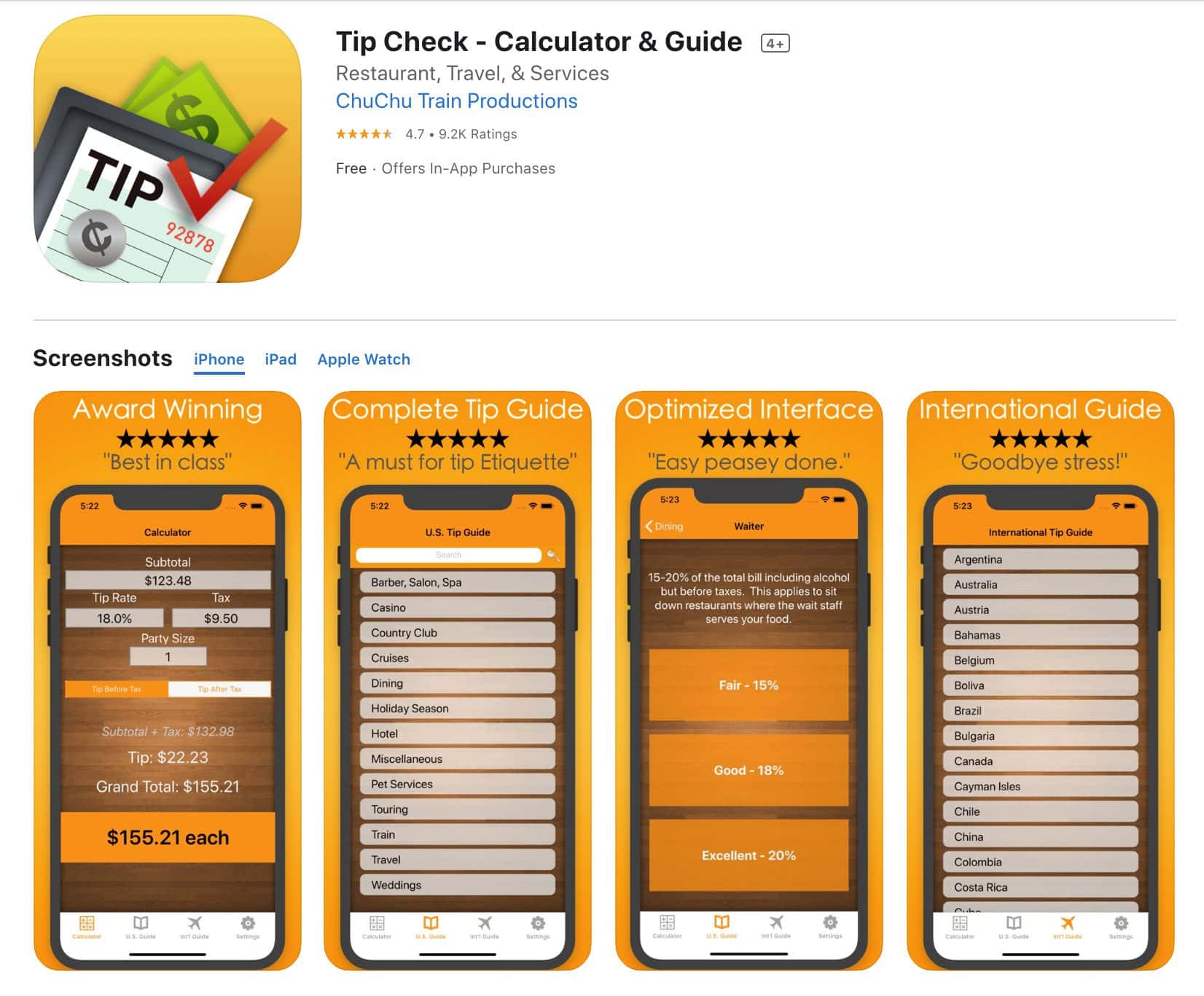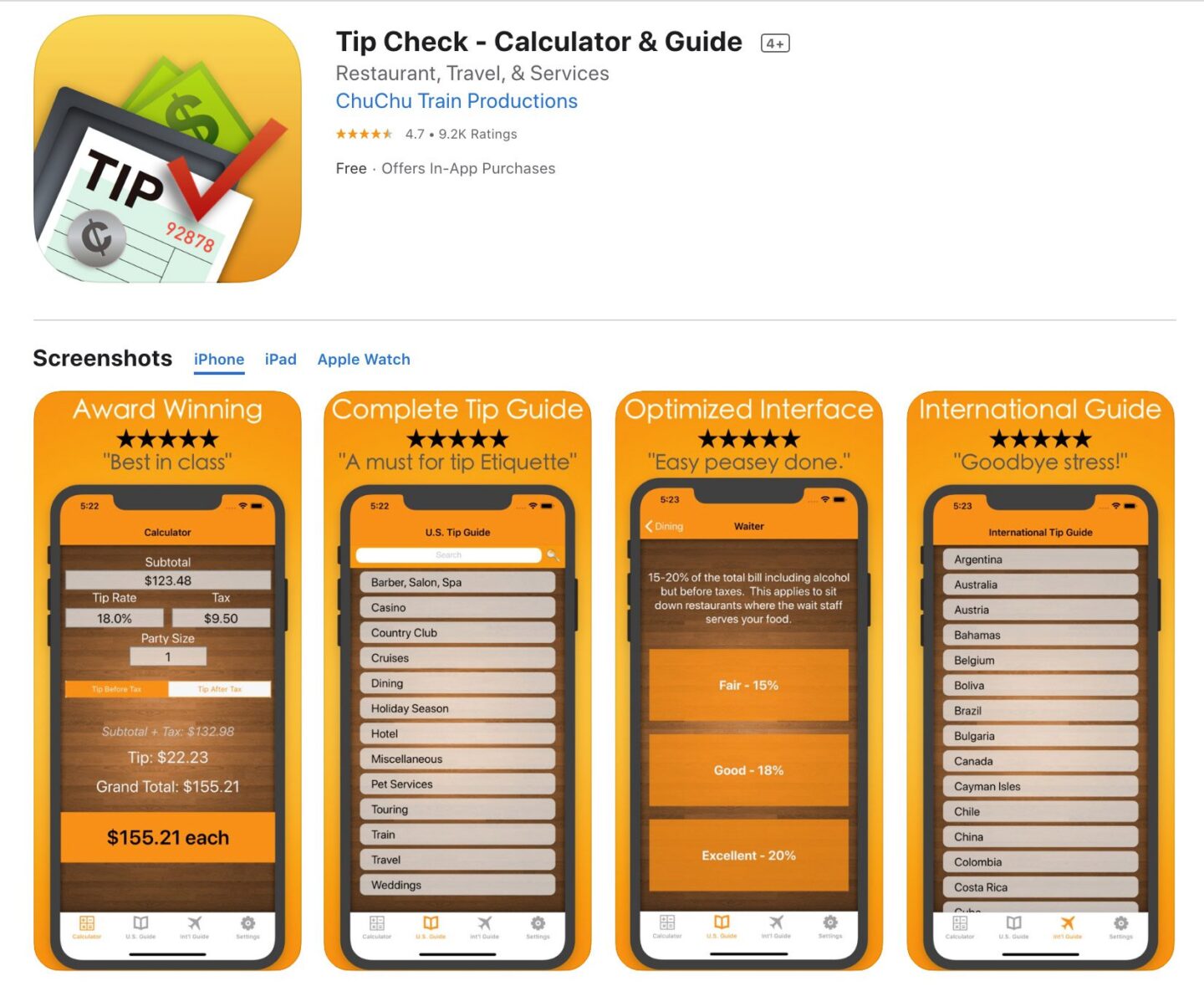 SailFlow
This is one of the best cruise apps if you want to geek out and know wind speeds during your cruise, whether you're on a schooner excursion or ocean adventure cruise. It gives you "weather where you sail" whether you're the captain or someone else is.
The wind map is one of our favorite features on the app.
The only reason reason you'd need to upgrade to a pro version is if you're the one sailing the ship or responsible for reporting the weather to someone in charge. But we suspect there'd be ample equipment onboard to assist crew with that.
This is simply the best cruise app available for guests simply to get involved in the fun of being on the water. And a huge part of that is knowing where the wind is going.
App cost: Free with optional upgrades. (Plus: $3.99, Pro: $9.99, Gold: $14.99)
Storage space: iOs: 91.3MB; Android: 18MB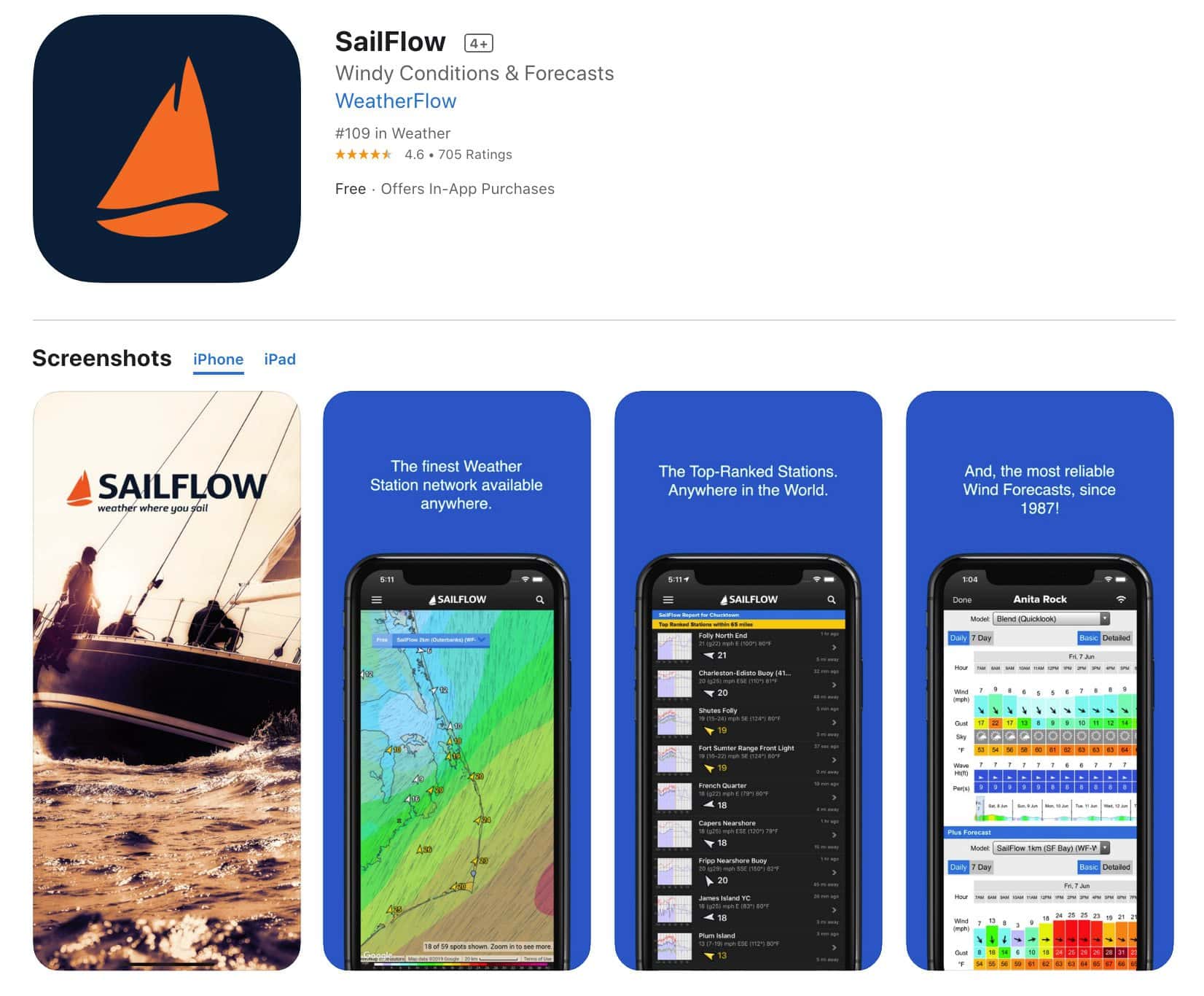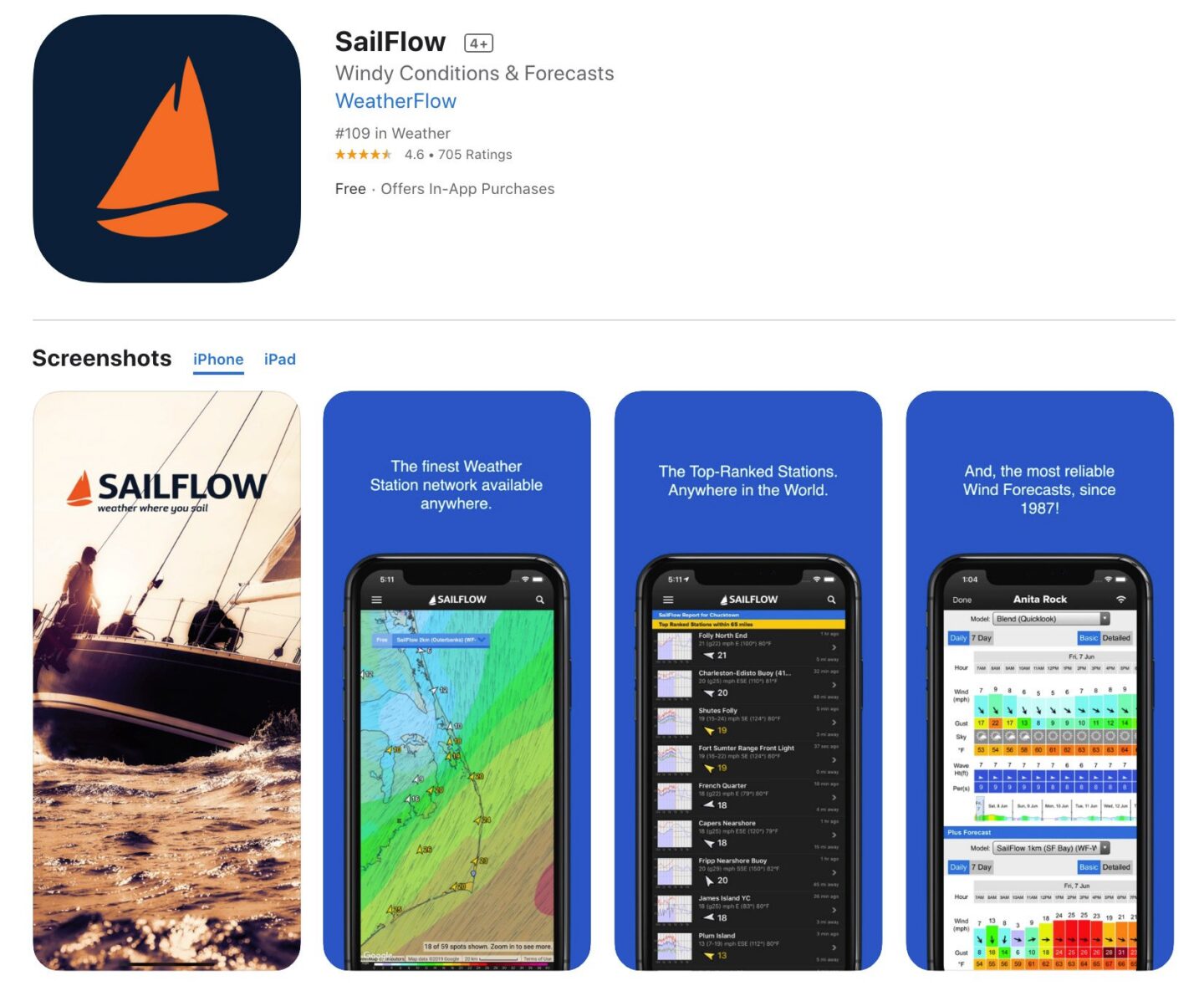 TripAdvisor
We love this app, even to use as vacation for a cruise app, because we always reference it for things to do in a city or where to eat. It's like an international version of Yelp. (We've only found Yelp to be available in limited areas around the world.)
If you're like us, you want to read what other travelers' opinions are of a location before you decide to go there or book the experience, whether a museum or spot for lunch. They have great forums too if you want to get involved in asking or answering more detailed questions.
App cost: Free
Storage space: iOs: 258.8MB; Android: Varies by device.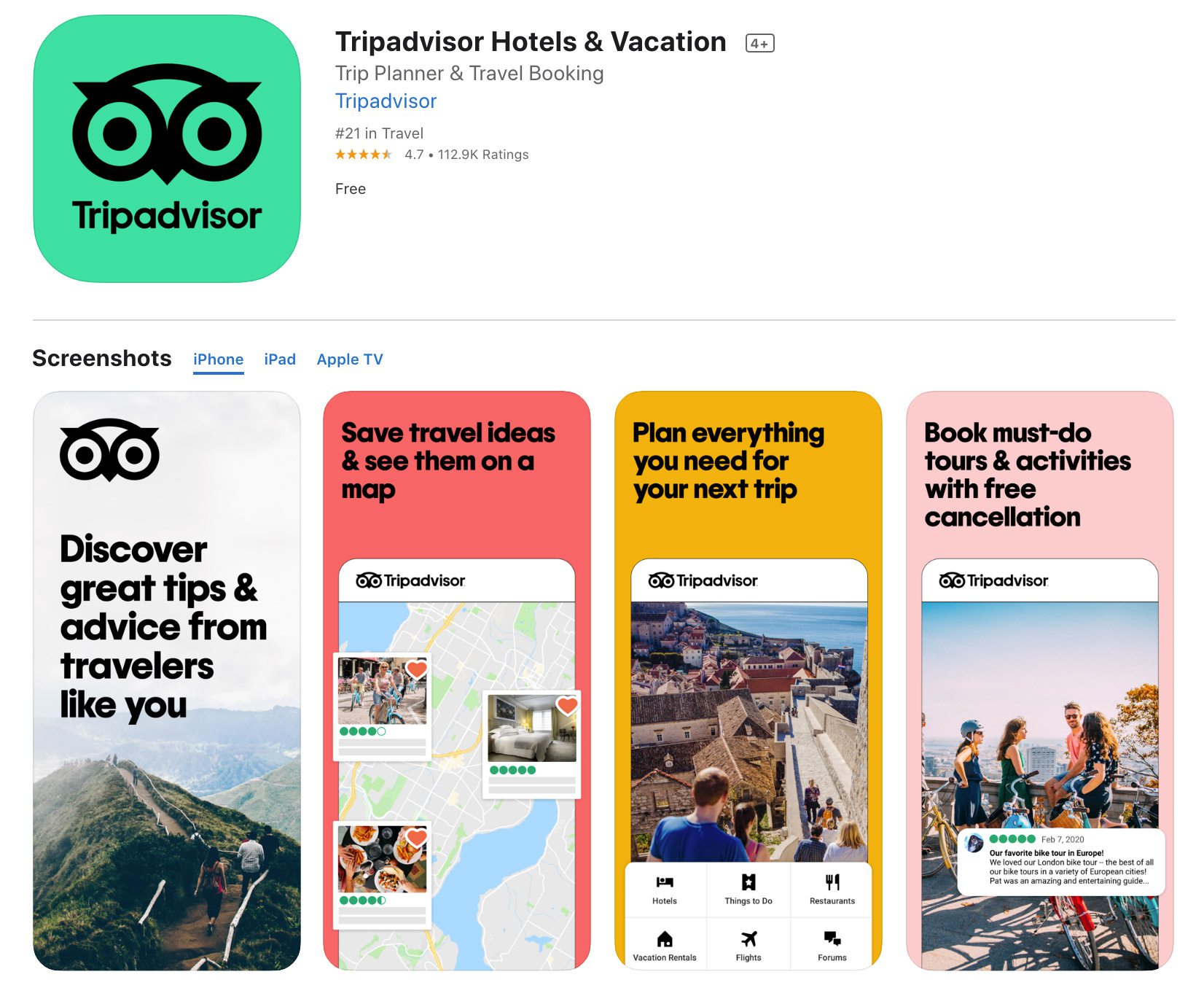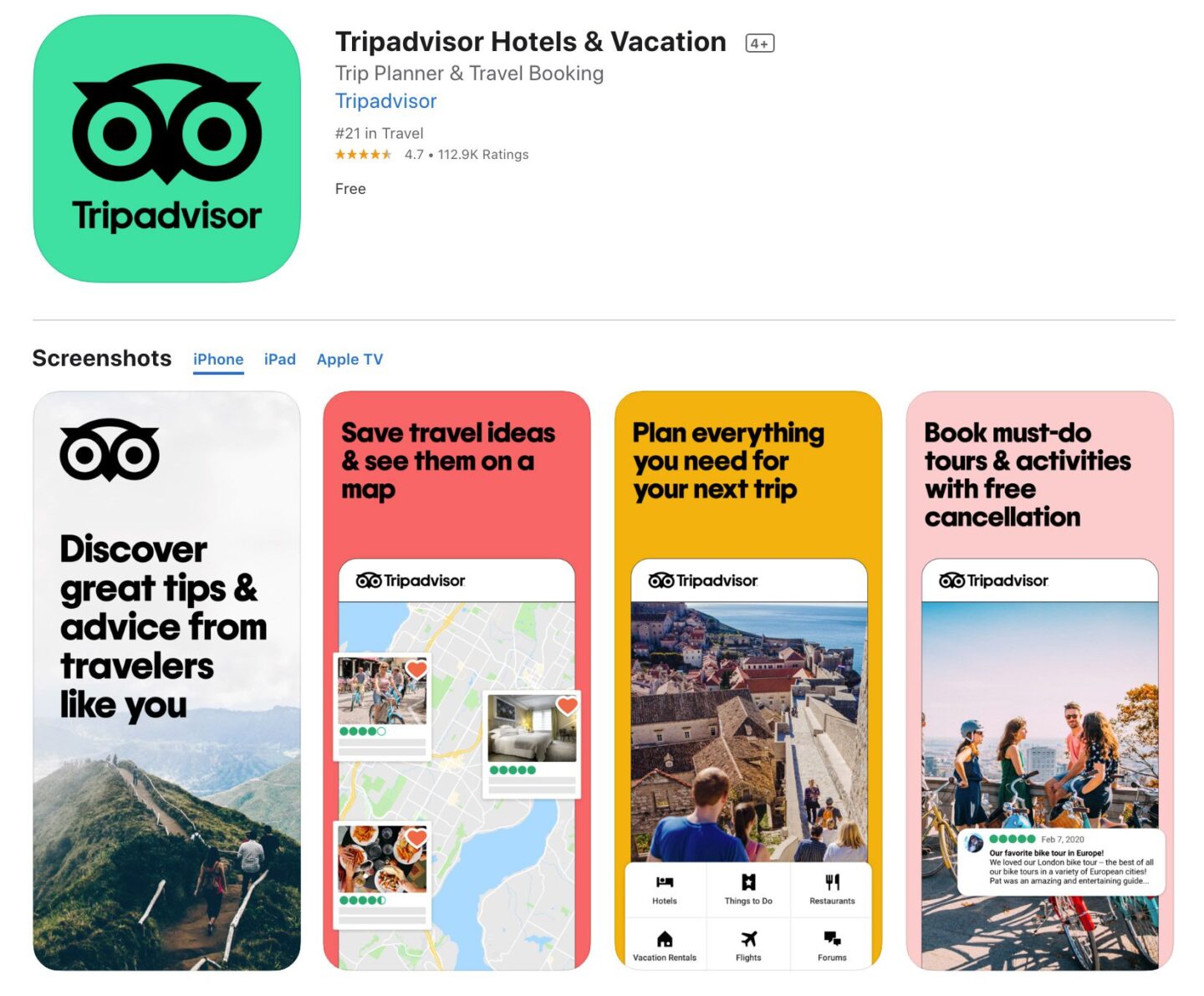 Honorable mention: Cruise Itinerary App by CruiseBe
This is a pretty cool cruise app concept overall. But we're only giving it honorable mention instead of a full write up because while we see potential, the app needs work we're not sure it's going to get. The free version is also spammed with ads that take over the whole screen at times, which is frustrating.
However, we like that you can search by your cruise line and sailing date then then view a countdown to your departure in the app. You can also see your cruise itinerary and ship's deck plans. (See if your cruise line is included on their website before downloading the app.)
While they have 37 cruise lines in the app, they're of course missing many. (For instance, we were sad not to see AmaWaterways, Viking River Cruises (though Viking Ocean ships are there), Uniworld, Emerald Cruises, and Scenic there.)


Cruise Podcasts to Get Keep you Enthused about Cruising
We've got the most complete list of Cruise Podcasts for you too!


For further reading check out: