6 of the Best Cruise Vloggers and their YouTube Channels to Follow
If you can't be on a cruise ship perhaps the next best thing is watching videos of cruising adventures from great cruise vloggers! You can find an array of content on these cruise-focused YouTube channels, from ship tours, to island escapes, to tips and info. Kind of like this blog…but in video form.
One day we'll get to some great video content too but in the meantime we want to give some love and shoutouts to some amazing, inspiring vloggers in the cruise world, around the globe. They constantly inspire us with their posts and knowledge.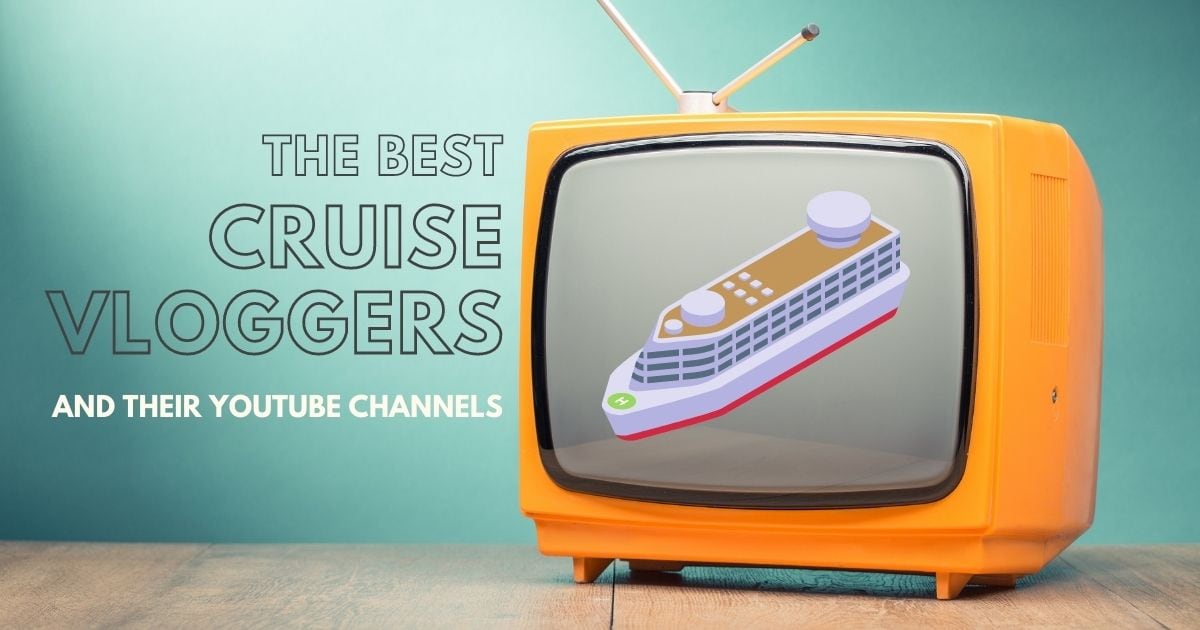 We asked each cruise vlogger…
We asked all the cruise vloggers the same questions regarding when they started to vlog, what their most watched cruise vlog content is, what they specialize in (if anything in particular) and what they're proudest of in their cruise vlogging career and the cruise YouTube content they've produced.


Tips for Travellers
Gary Bembridge is one of our all-time favorite cruise vloggers. Partially because he spends a lot of time and energy on videos that talk about what we love and gravitate towards: small format cruises! This includes river cruises, barge cruises, and the like. But we also adore his YouTube account because the tone of his voice and accent are so soothing!!!

Why did you start vlogging and what year?

My first video was posted on YouTube in August 2006, pretty much as YouTube was starting up. I began posting clips of hotel rooms and sites I was staying in or visiting, as I used to travel 3 out of 4 weeks for work around the world for a corporate marketing job. It was mostly to show friends and family (and to remind me of what hotels I liked and did not).
As I got more into cruising for vacation, I started posting that. My channel really took off after I retired from corporate life and started to focus on it and cruising specifically.

What's your most watched content?

Some of the very old clips I posted of Las Vegas thrill rides have millions and millions of views, and people still watch them. They are pretty bad looking back.
Nowadays, my most popular content is cruising tips and advice (as the name of my channel would suggest, as that is what I focus on and guess people expect from me).
In terms of specific videos, overall the most views come from topics that help people make choices around cruising like cabin choice, cruise line overviews and reviews, packing advice, and best cruises to do in different regions.

Do you specialize in any particular type of videos?

All my videos are focused on tips and advice. I see myself as helping make it easy and fun to discover, plan and enjoy cruise vacations.
What else would you like viewers to know?

Vlogging is hard work and takes a lot of time. But if you focus on what your target market wants to know and watch, it is incredibly rewarding to see how much you can entertain, inform and help them. The best part is when people come up to me on a cruise to say hello and thank me for helping them choose and organize that trip – and that they are loving it.
What is your all-time favorite video you've created, or one you're proudest of?

Some of my favorites are not necessarily the biggest in views, but where I feel have covered something a bit unusual that will really help. Like this one focusing on if people should consider doing a barge cruise in Europe:
Check out Gary's helpful complete list of top cruise vloggers, which he updates quarterly.


CruiseTips TV
Sheri Griffiths and her husband, Mr. Cruise Tips, have great content, both in their cruise podcast and cruise vlogs. Sheri is a natural "reporter" and is always up on the latest cruise news. They have content that's far-reaching beyond the Americas areas, including content in Asia.
When did you start vlogging and why?
While CruiseTipsTV started in 2013, we did not start vlogging until 2016. We started to create and share our travel films because we believed bringing the viewer along with us offered a deeper way to share our knowledge and experiences with our audience, outside the studio environment.
What's your most watched content?
Day One cruise Vlogs (everyone loves embarkation day!), tips about specific cruise lines and what NOT to do on a cruise tend to be most popular.
Do you specialize in any particular videos?
CruiseTips TV focuses on adventure and outdoor experiences suitable for families on a variety of cruise lines.
We cruise to see the world and love to visit destinations like Alaska, Europe, Asia, the Caribbean and the Mexican Riviera. We have cruised the most with Princess Cruises, but we also LOVE the MSC Yacht Club, Carnival, Royal Caribbean, Norwegian, and Holland America. 
What else would you like viewers to know about you?
High-quality audio and video are very important to us. Because while it may seem like a subtle difference, viewers appreciate the extra effort. So we invest in proper equipment and spend a considerable amount of time editing. 


Cruising with Matt
Matt Mramer has a relatable approach to cruising. You feel like you're watching a friend share his advice when you watch his vlogs. Matt aspires to have his own cruise series one day on TV, and we can't wait to say, "We knew him back when…"
But there's no need to wait until he reaches celebrity status to see his videos; his cruise content is on YouTube right now.
When did you start vlogging and why?
I started vlogging as a personal hobby on a cruise onboard Norwegian Escape in 2017. It was my first ever cruise with my dad and I wanted to make a video to remember it. That was my first real experience with using video to relive or recreate my trip and I fell in love with the creativity of it; I have been video-recording my trips ever since.
What's your most watched content?
My most-watched content is probably my ship tours. I created several ship videos both on my own and during my time working for Cruise.com that have been among my most popular content on YouTube. I'll include a link below for a recent ship tour I put together.
Do you specialize in any particular videos or content?
I wouldn't say that I have one specialty, but I do strive to be engaging and informative. I want my videos to be exciting enough that people stick around to watch them but I also want viewers to be smarter about cruising after they watch. Recently, I have sailed with Norwegian most often so I do have a bit of an NCL vibe to my content but I'm not exclusive to NCL by any means.
What else would you like viewers to know about you?
I mostly want readers to know about my most recent project and the one that I am most excited and passionate about, which is the namesake of my online identity. Cruising With Matt is an idea that I've had for many years that I have worked very hard to bring to fruition on my own.
It is a cruising web series designed to bring viewers along for an immersive cruise experience. It is very similar to several popular travel programs being created today, but I have done everything for the project myself from scripting and shooting to hosting and editing. If there is any of my work that I hope people see, it would be this project.
Here is Episode 1 of Cruising with Matt, a Quarantine Virtual Cruise to Bermuda:


Alanna Zingano
Alanna's energy is contagious in her cruise vlogs. Her point of view and dedication to cruising are great, and we especially love her cruise line trivia videos. She has loads of other content, though, not just about cruising!
Why did you start vlogging and what year?
I started my channel in 2018 and took it full-time just a year after that. I started vlogging simply because I wanted to better document the places we were traveling to.
For example, in the years prior to starting my YouTube channel, I went on an incredible cruise trip with my lifelong childhood friend; we took a very minimal amount of photos! I look back and think, "Wow, we were having such a good time that we were too busy to take photos. We just snapped the bare minimum." Now I travel with portable hard drives for all of the photos and videos I'm taking. I've made a complete 180.
The same goes for a trip my husband and I took to Cuba. I would love to go back and watch those vlogs from our trip since we can't go back and experience that destination anymore! And, if I'm being honest, I've always been fascinated about being a 'YouTuber' and having a channel. It was a goal of mine for a long time but was too scared to start.
What's your most watched content?
Some of my most-watched content is my interview series and cruise vlogs. I love to share tips and tricks throughout my videos and you can see this throughout vlog-style content; I find viewers enjoy this.

My "Living at Sea" series, specifically, has been incredibly popular. I have interviewed a few people who have lived on cruise ships full-time, along with loads of other fascinating crew members in various roles who work aboard the ships.
Do you specialize in any videos?
I love to share content from lots of different cruise lines. This is why I call myself the "TGI Friday's sampler," meaning there's a little something for everyone in my content. I take a lot of pride in having sailed on nearly all the contemporary cruise lines. 

Anything else you want viewers to know?
I try and have as much fun as possible! We make the best out of every travel situation even if it isn't pretty. Like when we were stuck on the side of the road in a broken-down van in Jamaica. (Hey, as long as we made it make to the ship on time, it made for a funny vlog!)
One secret we love to share is we always tick the box to say we are celebrating something on a cruise! It's worth celebrating so many different moments in life and if you try hard enough there is a birthday, anniversary – something – to celebrate while you are onboard, even if it is around the corner.
Check out Alanna's video of 7 Things to know about Perfect Day Coco Cay (Royal Caribbean's Private Island) before you arrive:


Eat Sleep Cruise
Don and Heidi are highly regarded in the cruise blogging and cruise vlogging world. We turn to them as a fellow cruising couple, particularly for their expertise in larger cruise ship lines, though they do have great content about smaller format cruising sprinkled in too.
Why did you start vlogging and what year?
We launched our blog in late 2014, and focused on writing and social media for the first few years as we built EatSleepCruises' presence. Many of our posts focused on in-depth cruise reviews, guides, and cruise tips.
We decided in late 2018 to start creating videos around our most popular post. We had some early success with those initial videos.
Then, in 2019, we started putting out one video a week, focusing on similar topics like cruise ship reviews and guides. In 2020, we had to pivot to more news and topical commentary videos, which did well for the beginning of the year. Now, in 2021 as cruising returns, we are transitioning again to more general and evergreen cruise reviews, ship tours, and tips.
This year it has been difficult finding the right balance for our audience, as there is still a lot of uncertainty around the resumption of cruising in the U.S. With any content we create, we provide our honest, first-person perspective as a couple that loves to travels together.
What's your most watched content?
Some of our most popular cruise vlogs include our Cruise Ship videos for 2020 and 2021, as well as our Guide to Alaska cruises. Our Drink Package and Speciality Dining Package Guides for Royal Caribbean have also done well. Additionally, our video guides and reviews for Perfect Day CocoCay are among the most watched YouTube cruise vlogs. As over-planners and researchers, we want to provide thorough analyses so viewers can make informed decisions regarding their next trip.
Do you specialize in any particular type of (or particular cruise line) videos?
We mostly do reviews and tips, with some cruise news and updates. This year we are starting our first ever live show on Sunday nights. We are looking forward to adding this additional content to connect with other cruisers and discuss the return of cruising.
We focus mostly on contemporary cruise lines. Royal Caribbean, Celebrity Cruises, and Norwegian Cruise Line are the ones we have sailed the most with in the past. Still, we have reviews for other cruise lines including Carnival, Viking Ocean, and River Cruises, MSC Cruises, and even Windstar Cruises. 
Anything else you want readers to know?
We are always happy to hear from other travelers or answer any questions cruisers have after watching one of our videos or reading a review. We love cruising and our so grateful to those who follow along with our adventures. It is so rewarding when we get comments or emails letting us know that a video or blog post was helpful. You can find us all over social media @EatSleepCruise.


Cruise with Ben and David
The adventure and love shine through what this traveling couple creates. Their fun-loving energy and spirits radiate in the cruise vlogs they produce and broadcast on YouTube. We love to watch their candor and honest reviews unfold as we watch their cruise videos.
Why did you start vlogging and what year?
We uploaded our first video in April 2016 but didn't start posting regularly until a year later in 2017.

Our first video was a tour of the cruise ship, Britannia. We couldn't find any good videos of the ship showing what it was like when initially planning our trip. So whilst on board, on a rainy day, we decided to film a tour of the ship on our iPhone. We didn't expect anything from it, just thought it would be useful for other cruisers in the future.
About 6 months later we checked the video again and noticed it had gained over 50,000 views in the first 6 months and had wonderful feedback asking for more. We couldn't believe it! So a year later we decided to post regularly with weekly travel tips, advice, and eventually vlogs.

What's your most-watched content?

Before the pandemic, our most-watched content was our ship tours and tips videos. Obviously, travel and, in particular, cruises, have had a huge hit in the past year. Because of that, our recent most-watched content has been cruise news and updates. 

Do you specialize in any particular type of (or particular cruise line) videos?
We don't specialize in any particular cruise line. We've covered all aspects of cruising from the big mainstream companies like Royal Caribbean, to luxury cruises to river cruising. We always try to make our videos informative, fun and show what cruising is really like. The most important thing is also to be honest. We wouldn't want to recommend something that a viewer would not like. 

What is the all-time favorite video you've created, or one you're proudest of?
We are most proud of the recent Virgin Voyages video we created. It shows everything we do in one video. A ship tour and a vlog with a little bit of humor thrown in!


Love cruises? Also check out: