Celebrity Cruises The Retreat Review: a Ship-Within-a-Ship Worth the Cost
After sailing aboard Celebrity Apex and experiencing all it has to offer, we can confidently say we recommend Celebrity Cruises: The Retreat! It's perfect for anyone who wants to sail on a big ship but get the experience of exclusive areas and the premier treatment suite guests enjoy.
First, we'll answer some key questions you may have about The Retreat. Then we'll dive into the spaces, restaurants, and additional perks of being part of The Retreat with Celebrity.
Disclosure: There are affiliate links in this post, which means we may earn a small commission if you click the link and proceed with a purchase, at no cost to you. We truly only recommend hotels, products, and services we personally use. As Amazon Associates, we earn from qualifying purchases.


What is The Retreat on Celebrity Cruises?
This is a special cruise suites-only class that Celebrity has named "The Retreat," which includes special access on the ship along with additional perks.
Guests of The Retreat are in suites (from smaller to larger) and have a special dining option called "Luminae." The restaurant is open for a combination of breakfast, lunch, and/or dinner depending on the day and the cruise ship's port or itinerary.
The Retreat gives guests access to a private lounge area where premium drinks are served and included. It also gives them access to a pool and sundeck area (available on Edge class and Revolutionized ships), which has another bar and lunch menu every day.
A suite host is also assigned to each guest room of The Retreat.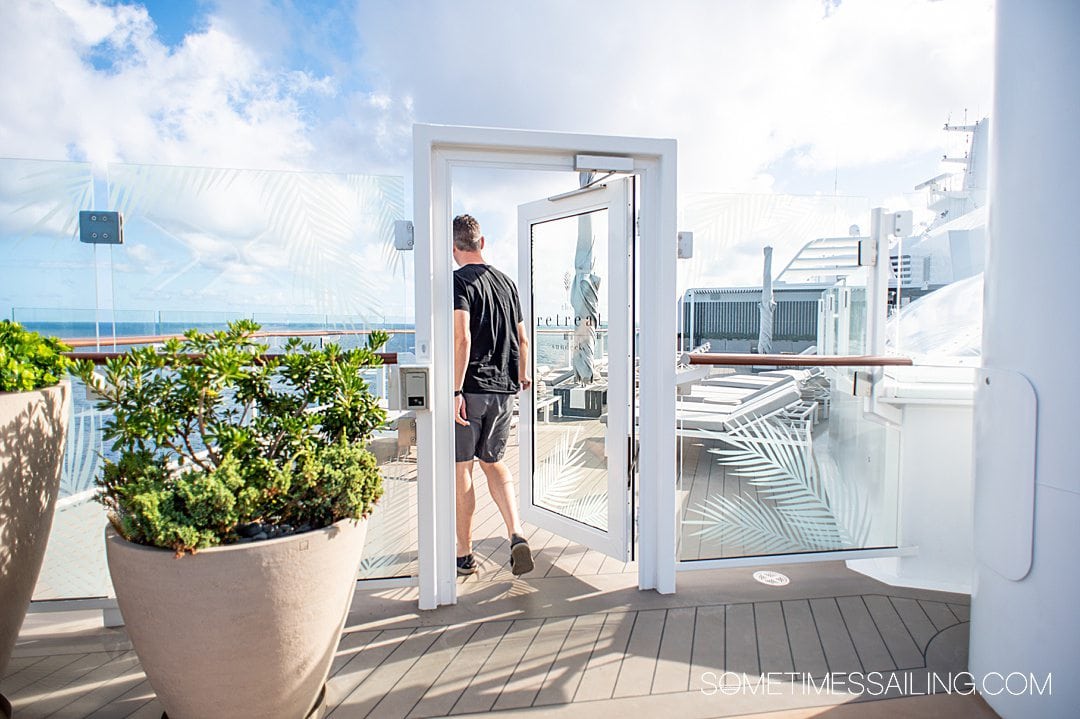 Which Celebrity Cruises have The Retreat?
All Edge class ships (like Celebrity Apex, Beyond, and Edge) have The Retreat. Additionally, all of Celebrity Cruises Revolutionized ships have The Retreat.
Can children be a part of The Retreat and enjoy all its amenities and areas?
Yes, there is no age restriction for The Retreat. We co-mingled with guests, young and old.
One of our favorite memories was actually talking to a 9-year-old boy in the hot tub, who was wise beyond his years. (And who, surprisingly, had been on way more cruises than us in his lifetime!)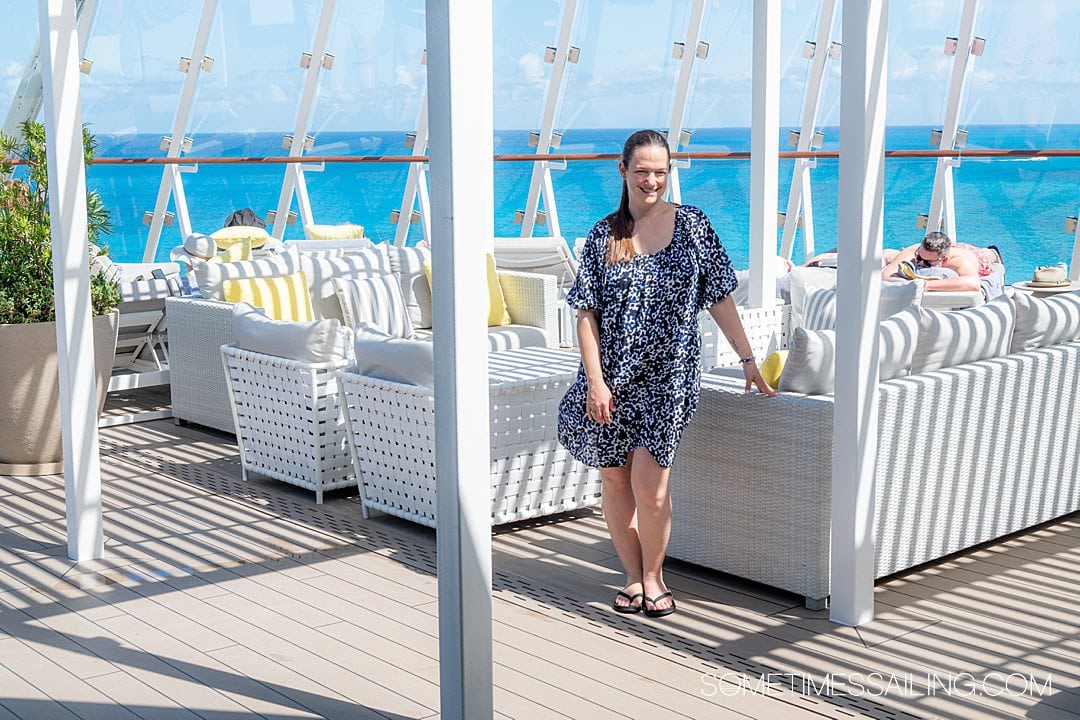 The Retreat Spaces on Celebrity Cruises Edge Class Ships
Luminae Restaurant
It was so nice to have this upscale option to eat meals at. It was the first place we went to enjoy lunch when we boarded the ship at Port Everglades in Fort Lauderdale, Florida. That first lunch ended up being one of our favorite meals!
We love how much natural light-filled Luminae on Celebrity Apex during the day. The restaurant's interior was modern and cosmopolitan, decorated in black, white, and grey with pops of color (just our style).
We have extensively reviewed Luminae in The Retreat here.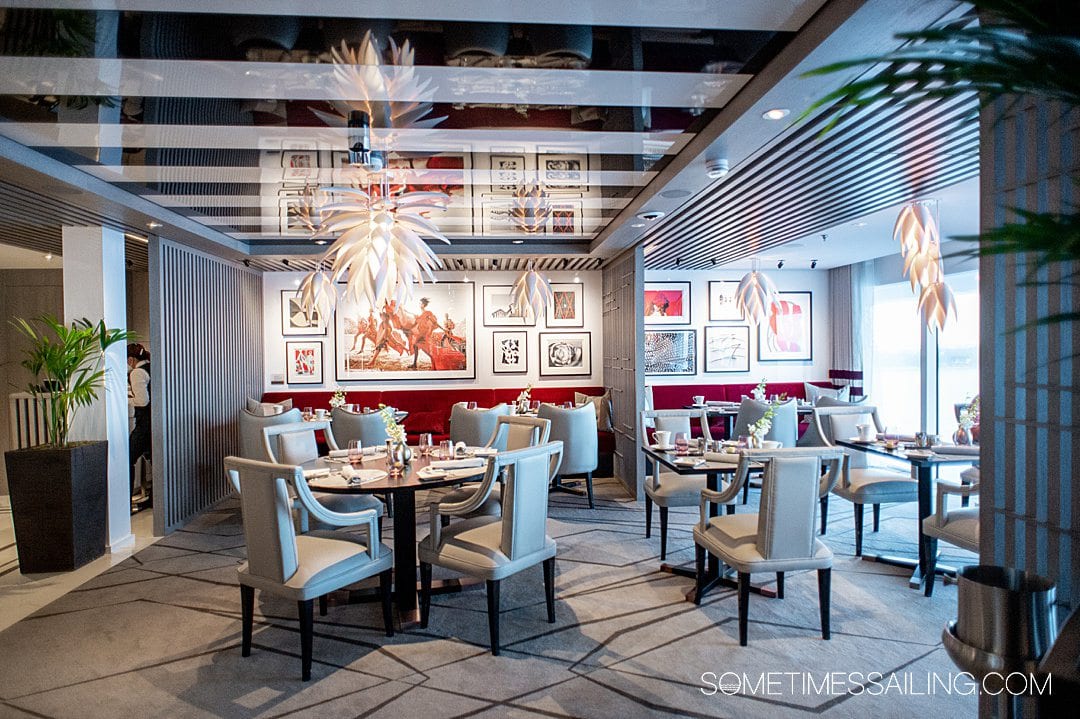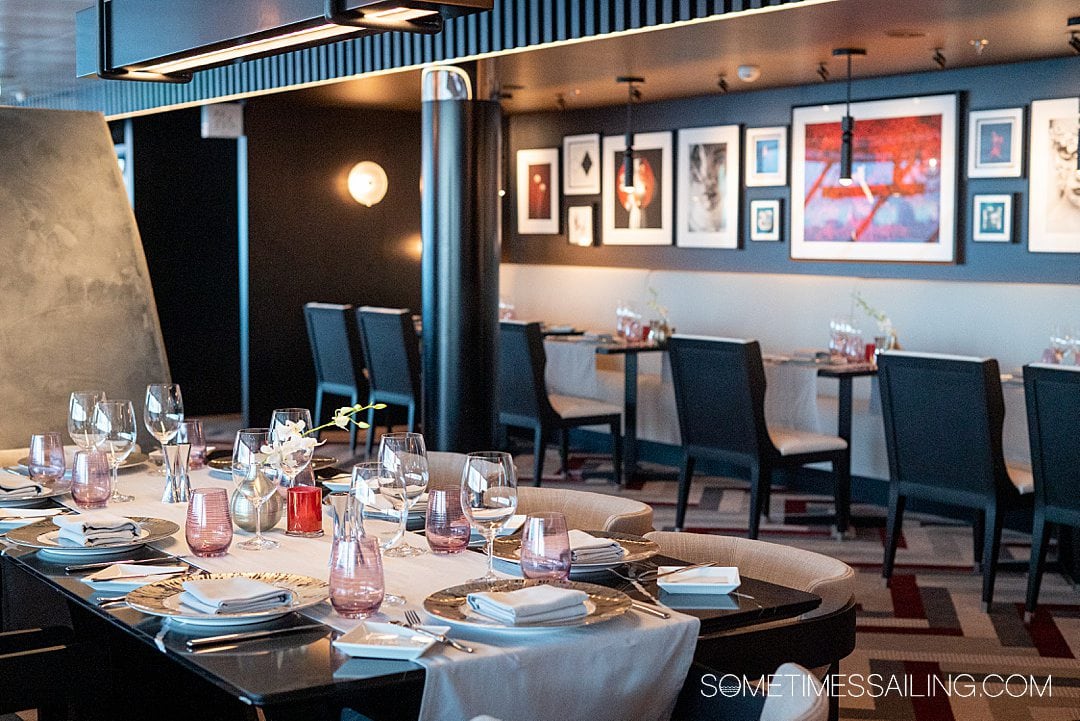 The Retreat Lounge
They are open from morning to night (midnight, in fact). Here, guests can enjoy a continental breakfast if they want something more casual than breakfast at Luminae. Premium cocktails are included here as well.
Soft drinks like sodas and water are also available in self-serve mini fridges when you walk into The Retreat Lounge. They also have afternoon tea sometimes.
We enjoyed stopping in The Retreat Lounge area an hour or two before dinner for some light bites, like fruit, charcuterie, and cheese options.
You need your suite key that will open the lounge doors for you to access it if you are a part of The Retreat on Celebrity's ships.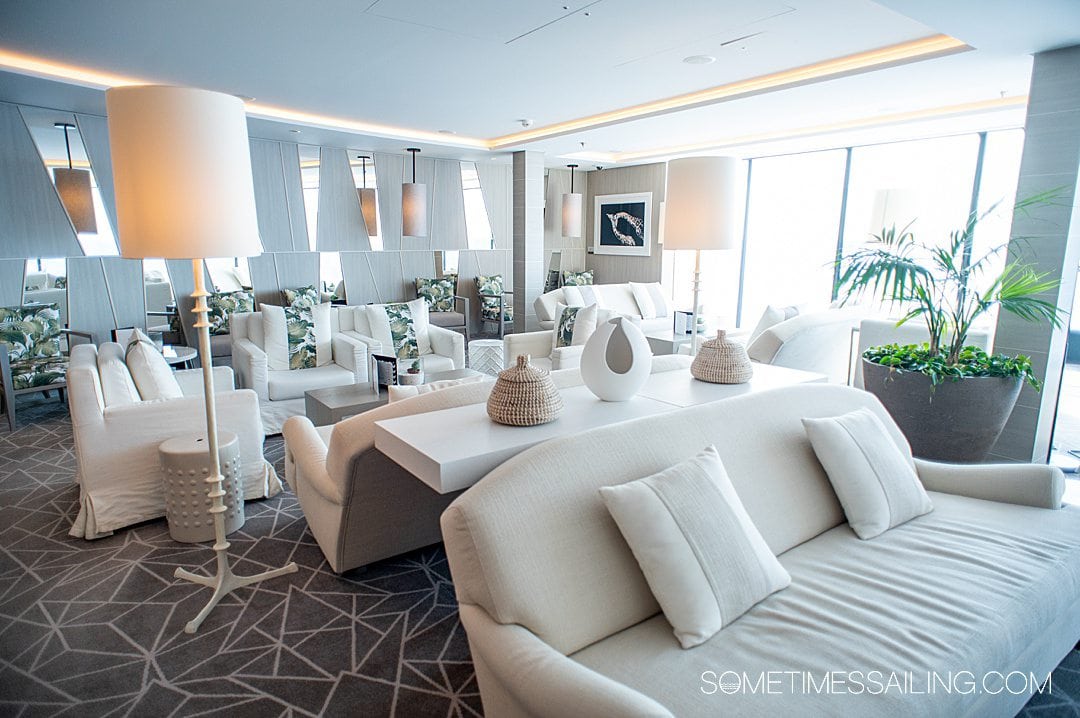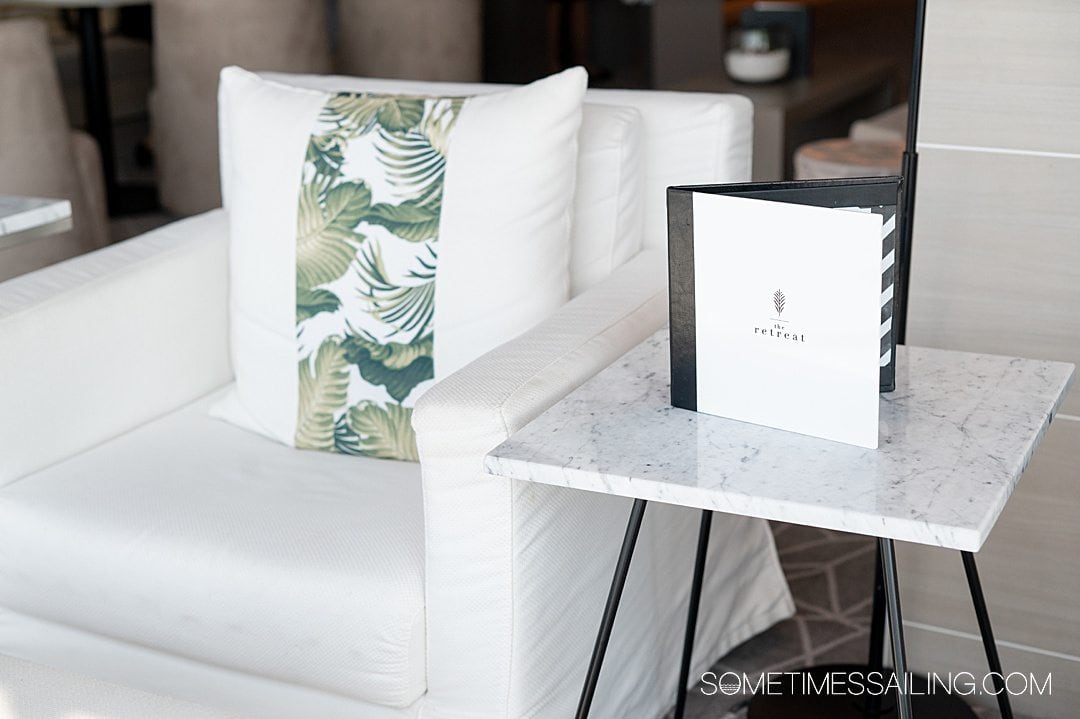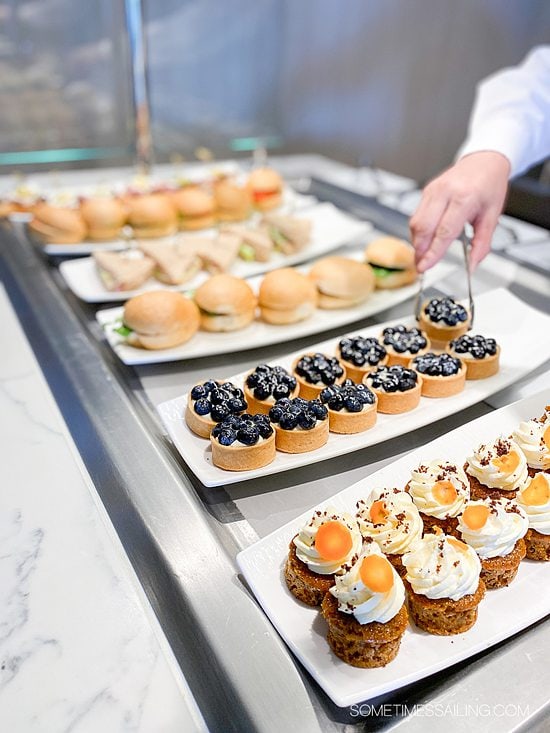 The Retreat Pool Deck
Accessing this area of the ship, on Deck 16 forward, is done by using your key card to enter the door to this exclusive area.
The pool for guests of The Retreat includes lounge chairs before you get to the pool, as well as outdoor couches and chairs for lounging and reading books, for example, throughout the space.
The pool is a small square is a shallow edge to sit in the water but not fully submerge your body. There are there photo-worthy swings we enjoyed using to put our feet in the water and read a book as well.
The lounge tours bordering the pool would get fairly busy every day, especially during sea days. However, there was always some sort of seating option available when we needed one.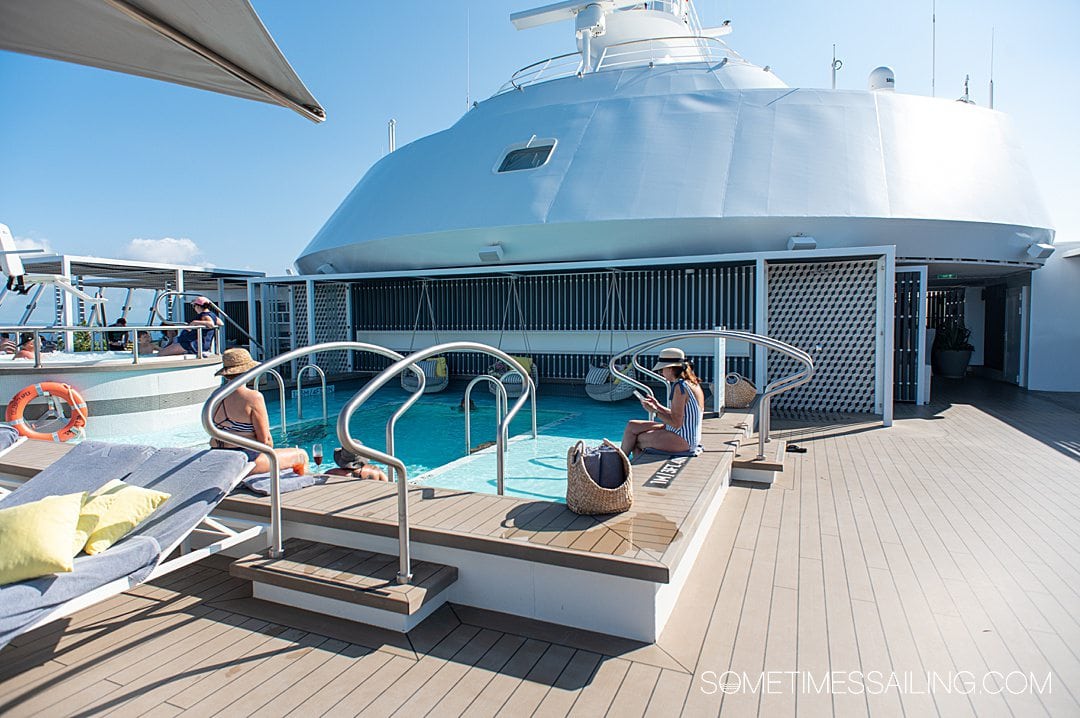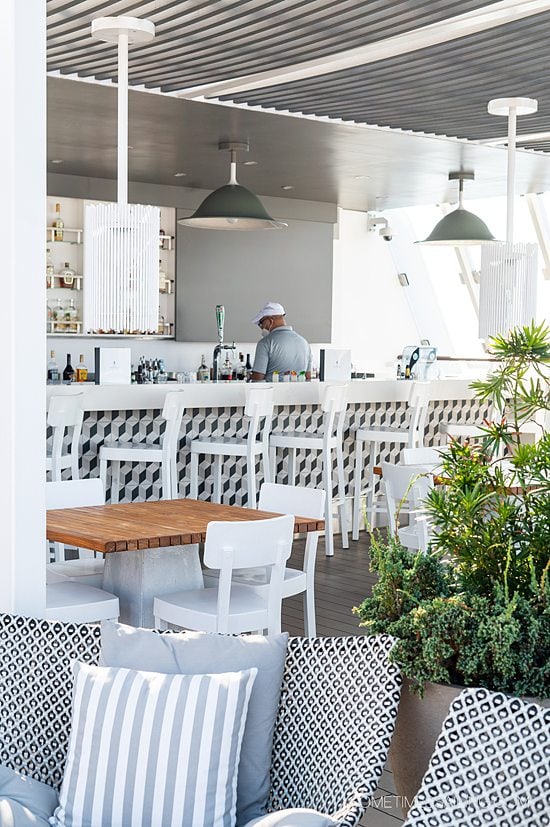 The Retreat Sun Deck
On Celebrity Apex, The Retreat sun deck was very large with plenty of seating. We never saw it full. There were some days there were more people than others, like the day at sea, but there was plenty of seating for everyone. (The seating closer to the pool filled up faster.)
There are lounge areas with cozy rocking chairs where you can curl up with a book and a good cocktail, and lounge chairs where you could sunbathe.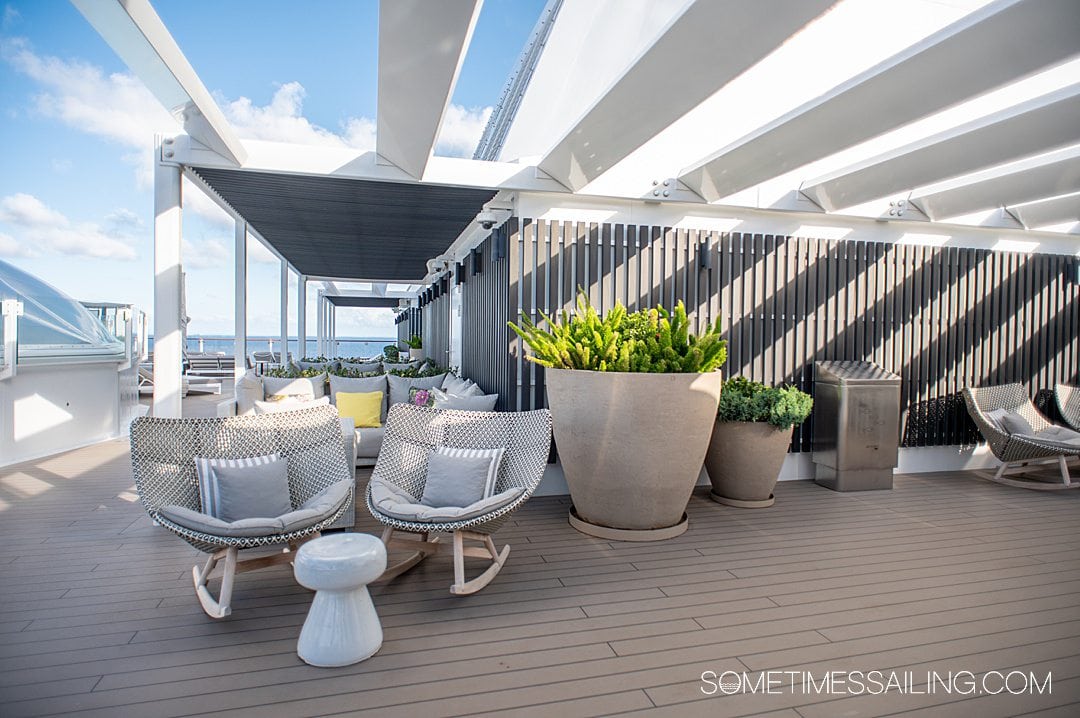 Food at The Retreat Pool
Lunch was available from 11:30am to 2:30pm. You could order simple things, like a turkey wrap, Caesar salad, or shrimp cocktail.
A favorite perk of The Retreat Pool Deck was that treats would come around mid-day, which was a refreshing pick-me-up. This includes colorful fruit skewers one day and mini ice-cream cups another afternoon.
Everything – from food to drinks – is included at The Retreat Pool and Lounge. One of the nicest things was someone passing skewered fruit mid-day when we were there to enjoy the pool. It's little things like that, that make a big difference to us and made us feel like we were getting that specialty service on the ship.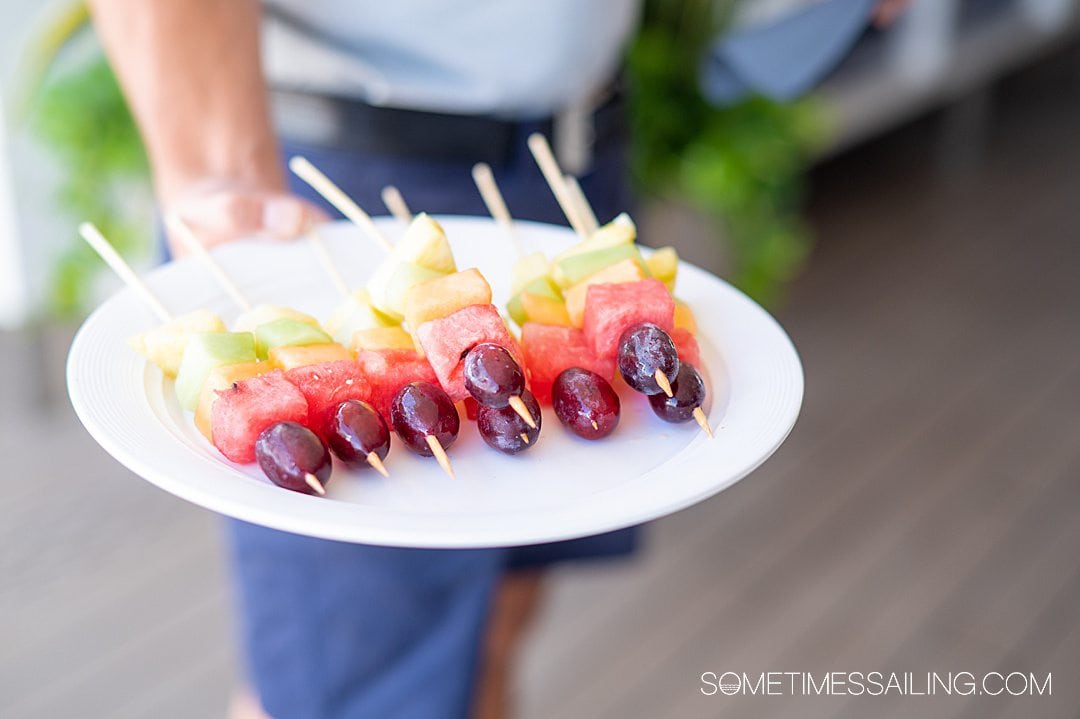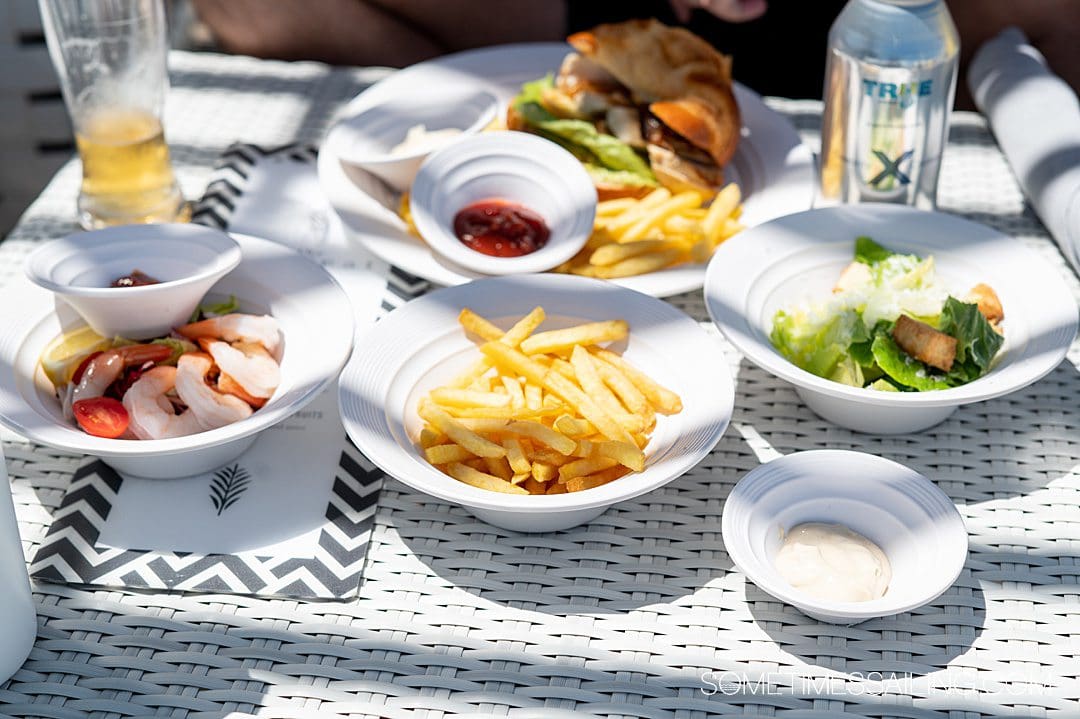 What does Celebrity Cruises' The Retreat Cost?
It's really hard to say for a number of reasons, including that every cruise is different from the itinerary (including destination and length of the sailing) to when you book your cruise.
We will say, however, that you shouldn't be discouraged from pricing out The Retreat simply because it's "exclusive," because it's open to anyone to book.
If there is a current promotion for booking The Retreat with internet, for example (if that's desirable to you) then it actually may be a better deal for you than, say, booking a room that you add an internet package onto.
We'd be more concerned about the availability of The Retreat class suites on your sailing over the cost of The Retreat!
But given how much is included in The Retreat – from Luminae to The Retreat Lounge with premium drinks no matter the time of day – we'd say it's definitely looking into when you book your Celebrity Cruises sailing.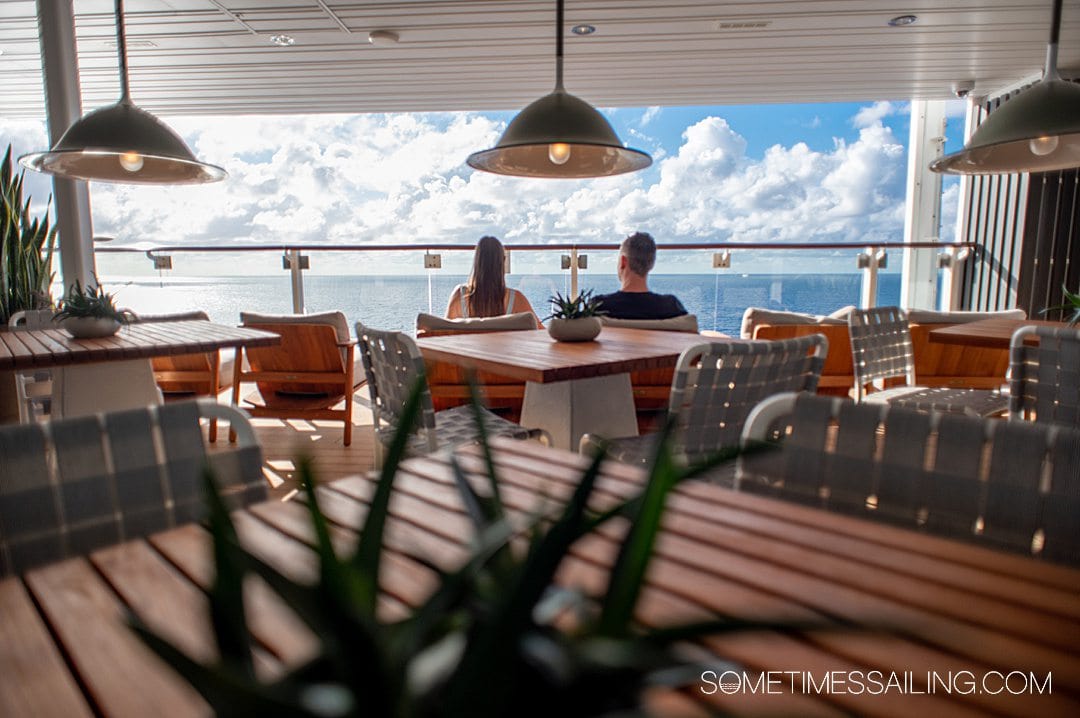 Different Suite Options to Enjoy The Retreat
There are ten different suite class options that allow guests to be a part of The Retreat. They include:
Sky suites (this is the entry-level suite and the most affordable suite option that allows guests to be in The Retreat with Celebrity Cruises)
AquaClass Sky suites
Celebrity suites
Royal suites
Edge villas
Penthouse suites
Iconic suites (they are two onboard Apex)
If you want to enjoy the benefits of AquaClass in The Retreat (like eating at the restaurant Blu and having spa access), you need to make sure you book an Aqua SkySuite.
We stayed in an Aqua SkySuite (photos below), and it was nice to have those additional options of AquaClass during our 7-day cruise, including welcome drinks in our room upon arrival.
All guests of The Retreat have the following in their suite (available upon arrival or upon request):
Pillow menu
Binoculars
Water service
Suite host/butler
Premium Bedding
Shoe shine
Daily canapés
If you are in an Aqua SkySuite, you have two additional perks, thanks to your suite class:
In-room workout gear
Daily spa access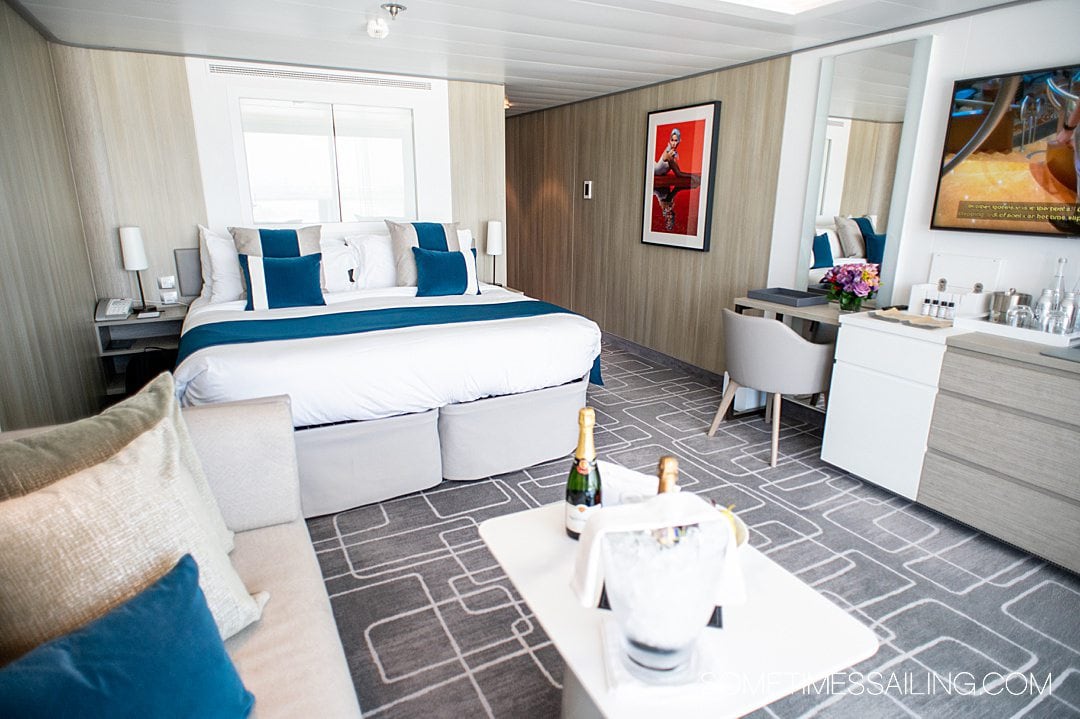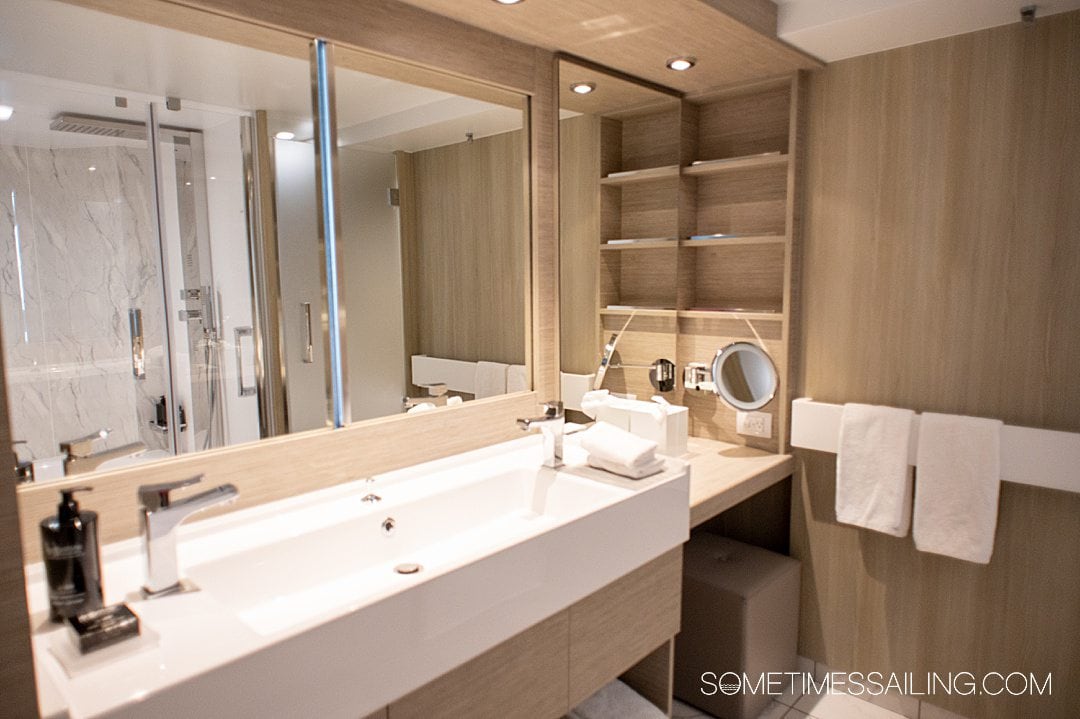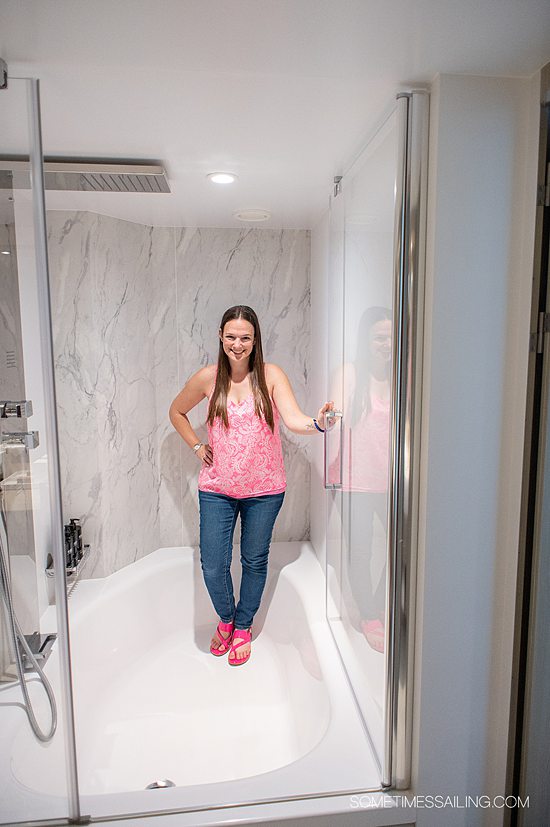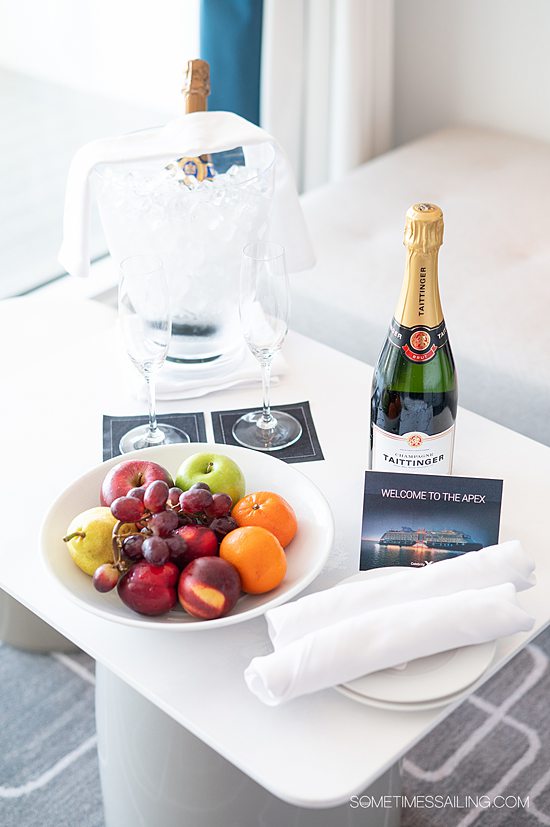 Additional Perks of Celebrity Cruises "The Retreat"
The above access listed isn't all you get with The Retreat. Here are some cool additional perks that Retreat Class guests enjoy:
Reserved theater seating for some popular shows during the sailing
Personal Host (or butler) to help with your reservations and excursions
Priority embarkation the day your cruise starts
Priority disembarkation in ports
Disembarkation priority the day your cruise ends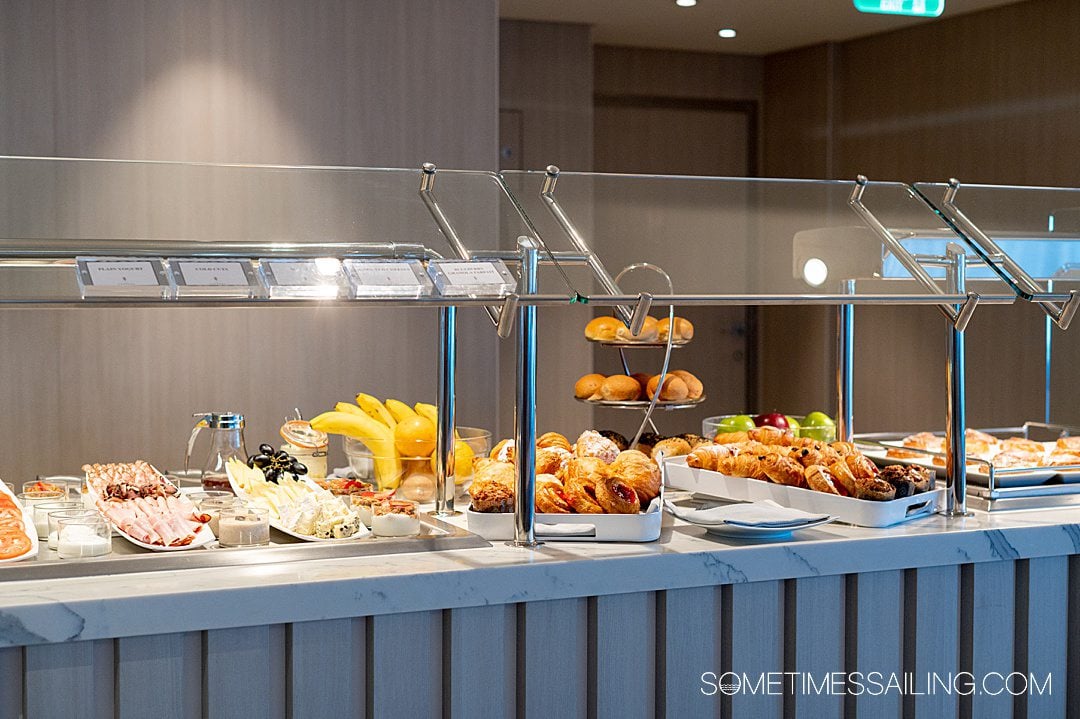 The Retreat Review in Summary
We truly loved our experience in The Retreat and cannot imagine cruising with Celebrity Cruises without it. You should definitely look into it as an option when you look into Celebrity Cruises options for your next vacation to enjoy the exclusive perks and service it provides for the ultimate luxurious vacation with this wonderful cruise line.
➜ Check Celebrity Cruises Promotions on Priceline


Planning a cruise? Read this next: