All About the Bordeaux Cruise Port
The Bordeaux cruise port is on the Garonne River in the city center. It's very much a river cruise port, given that only river cruise ships can fit on the body of water that runs through this historic French region in southwestern France.
Whether you arrive a few days before your cruise, just in time to embark, or want to stay a few days after disembarkation, we have info all about Bordeaux for you. We'll go through how far the port is from the airport, the best mode of transportation to reach your ship, and not-to-miss things to do and see before or after your river cruise.
Disclosure: This page has affiliate links, meaning we may earn a small commission if you click the link and proceed with a purchase at no cost to you. We were hosted by Viking and paid for pre-cruise hotels and activities, with the exception of our Bordeaux Pass, on our own. We only recommend cruises, experiences, products, and services we personally use. As Amazon Associates, we earn from qualifying purchases.
Bordeaux Cruise Port for River Cruises on the Garonne and Dordogne
If you're arriving in Bordeaux for a cruise, it's undoubtedly for a river cruise. This cruise type is one of our favorite ways to explore a region. Being on a river cruise on the Garonne River, where you board the ship in Bordeaux, is really special.
Where else can you board a small ship that holds less than 200 passengers in the historic city center? In France, no less! It's really memorable, and the area is fantastic.
Bordeaux River Cruise Port Address
Approximately five river cruise lines offer guests a Bordeaux River Cruise itinerary. We embarked on our cruise aboard Viking Forseti at the following address, where we saw all the river cruise ships lined up:
➤ Garonne rive gauche, Quai des Chartrons 141, Bordeaux, France
It's very easy to reach the port by taxi, Uber, or the city tram.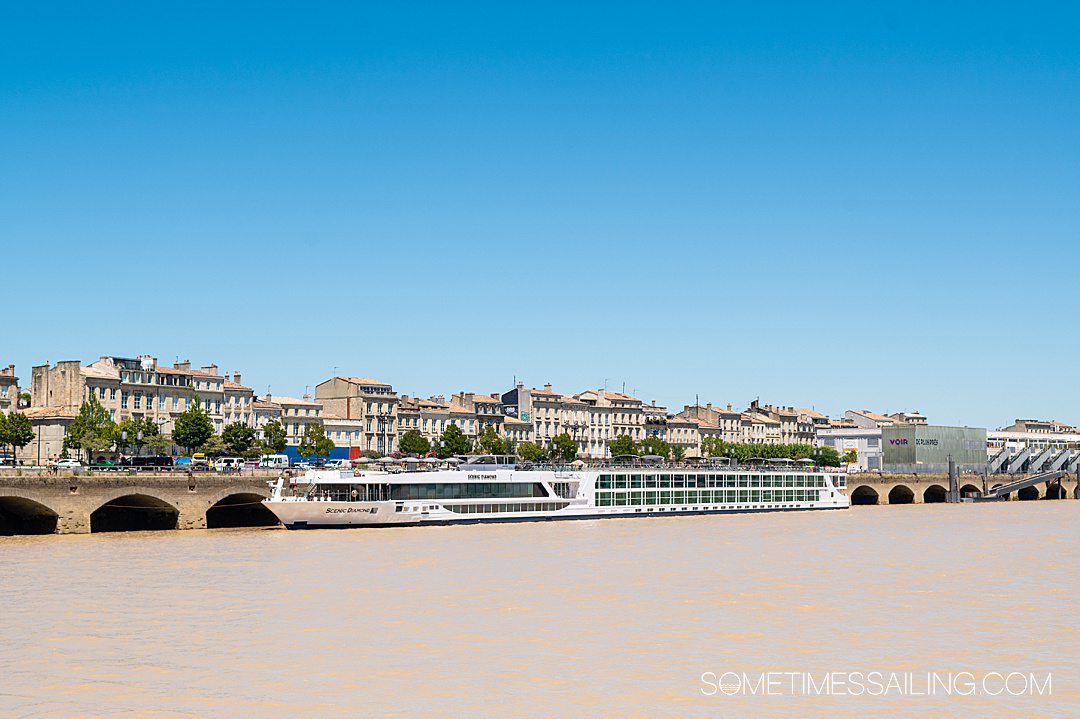 Reaching the Bordeaux Cruise Port by Tram
The closest tram stop near the docking area is called "Cours du Medoc."
We utilized the tram system to the max in Bordeaux. The above-ground public transportation system comes frequently, with signs indicating the time until the next tram posted at each stop.
You can buy tickets for the tram separately or simply purchase a Bordeaux CityPass if you will be in town for a few days. We recommend a CityPass if you will have time to explore museums and additional city attractions pre or post-cruise.
Closest Airport To the Bordeaux River Cruise Port
Airport in Bordeaux
Undoubtedly, the closest airport to the port of embarkation for a river cruise in Bordeaux is Bordeaux's airport. Bordeaux–Mérignac Airport's code is "BOD."
We may have felt exhausted from traveling overnight, but we arrived in Bordeaux and were welcomed with a beautiful day. Imagine our delight to find a vineyard outside the airport. How brilliant!
We were ready to head to the city to explore. Reaching Bordeaux's city center is an easy 20-minute taxi or Uber ride from the airport.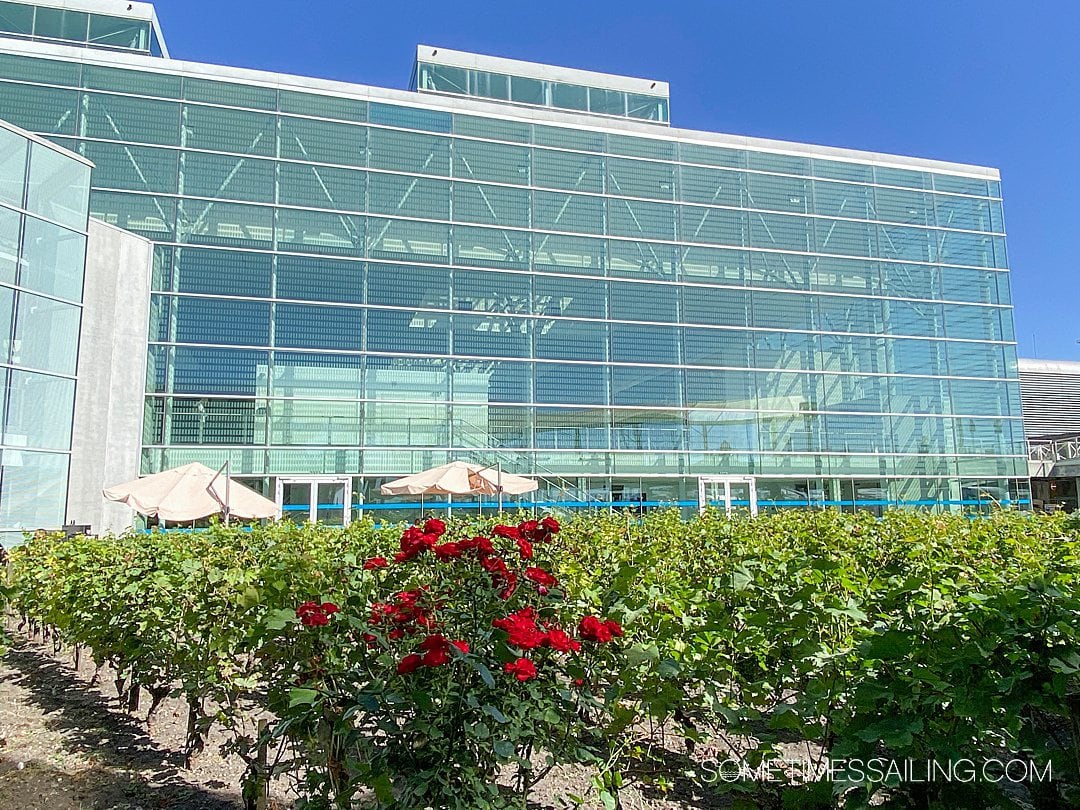 Getting from the Bordeaux Airport to the City Center and River Cruise Port
If you don't arrive the day the cruise leaves and book transfers through Viking, you'll have to get to where you're staying or to the port before the cruise on your own.
We took an Uber to our Bordeaux hotel from the airport because we spent a day in Bordeaux, just the two of us, before boarding Viking Forseti. The cost was €34. There was free wifi inside the airport to call our Uber, but we lost the connection once we headed outside. That's why we were glad that we always travel with our WiFi hotspot.
We Always Travel with Our Solis Hotspot
▶︎ Use code "SOMETIMESSAILING" for 15% off your purchase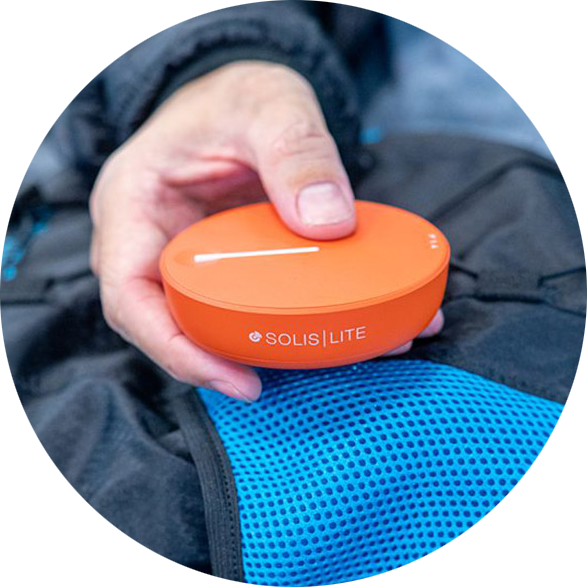 Alternatively, if you will be in Bordeaux for a few days before or after the trip, consider renting a car from DiscoverCars. It's an easy-to-navigate site with affordable rates from major rental car companies. You can filter the results by automatic cars vs. manual transmissions, which is key for European car rentals!
Another option is to prearrange a ride by booking a private transfer on Viator.
Getting to Bordeaux from Paris
Bordeaux is a long drive southwest of Paris by car, but two hours from Bordeaux by high-speed train once you get to Paris's city center. Toulouse, which is southeast of Bordeaux, also has an airport. It is approximately three hours from Bordeaux by train or car.
We made the trip from Bordeaux to Paris via train when we had to reroute our return home due to flight cancellations. If you need to book trains in Europe, whether before your trip or after your arrival, we highly recommend Trainline.
Staying in Bordeaux For Pre or Post-Cruise Fun
We have some recommendations for you if you're arriving in Bordeaux with time to spare before heading to the Bordeaux cruise port. Whether you have a few days before your cruise starts or a few days after, you'll find time to enjoy additional activities while in the city.
How Many Days Do You Need to Explore Bordeaux?
Three days are ideal though anything more than one day is great.
Four days will allow you to experience things more leisurely, including enjoying your hotel, walks around town, meals, and the like.
Two days will demand a bit more of a fast-paced touring style, as will one day.
Where to Stay in Bordeaux
We absolutely loved our hotel in Bordeaux. We stayed at the Renaissance, a Marriott brand hotel. It's right by Cité du Vin, the city's state-of-the-art wine museum. It's also very close to a tram stop that will take you to the Bordeaux cruise port area within a few stops and to the old town center thereafter.
We also looked at staying at The Moxy hotel next door, which is also a Marriott brand. Ultimately, we chose to stay at The Renaissance because it's a little bit of a nicer hotel, which is what we were craving.
The hotel is located in a new modern area of the city called "The Old Docks," with posh eateries, bars, and sculptures lining a mini waterfront. Architectural elements have been specially designed in harmony with the industry that used to be there, honoring the past.
As such, the Renaissance Hotel rooms all have views of the harbor, the city, or the Garonne River. Our corner room had a city view.
► Secure Your Choice Hotels in Bordeaux Now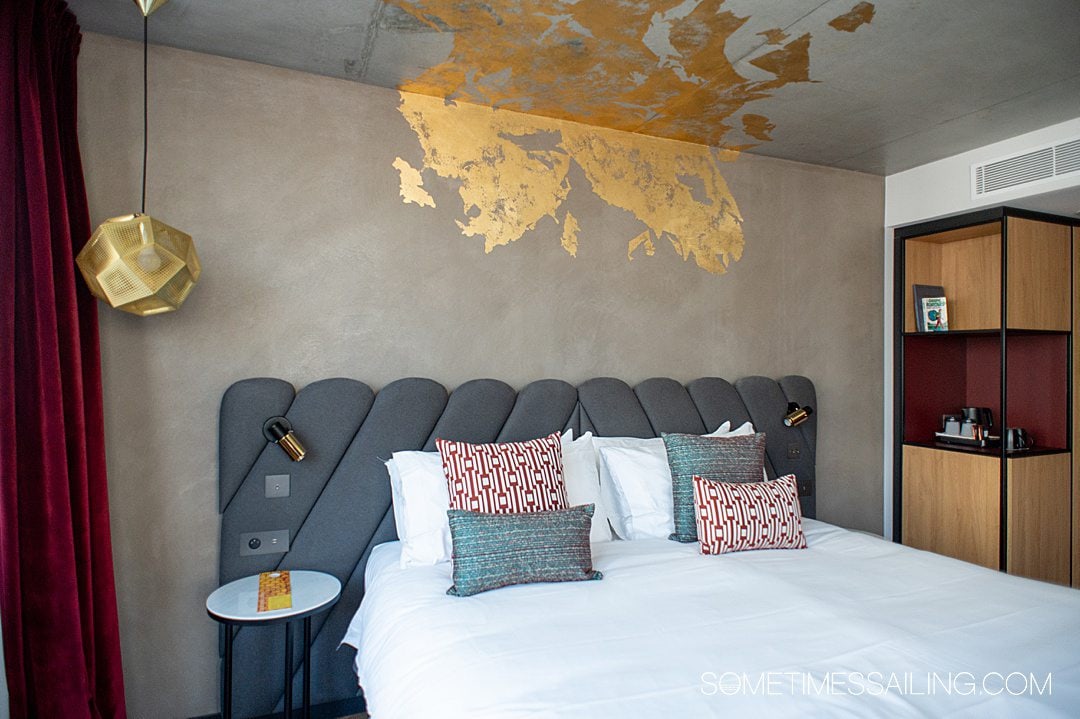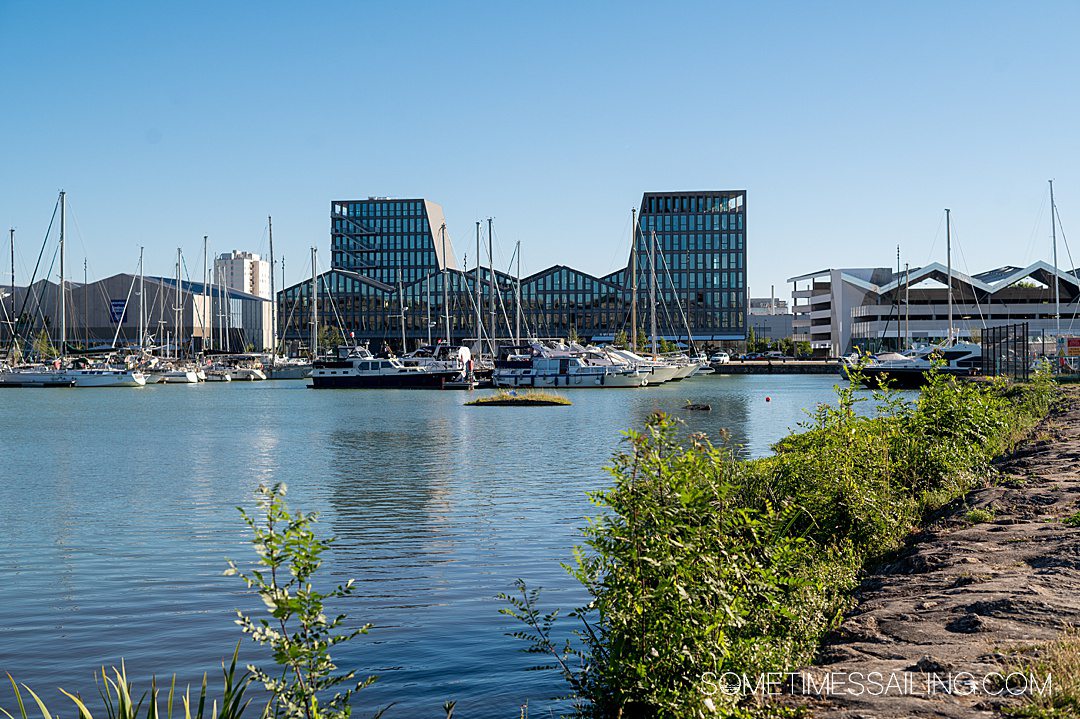 Restaurants and Cafe at The Renaissance Hotel in Bordeaux
There's a cafe downstairs on the hotel's main level where you can grab a morning coffee. In the evenings, head upstairs to their rooftop bar area.
Upon arrival, their restaurant, called Gina, was a saving grace for us when we wanted to have an early dinner after a red-eye flight and then retreat to our room. The vibe was energetic, and the views were spectacular. We especially recommend the charcuterie board from their extensive menu.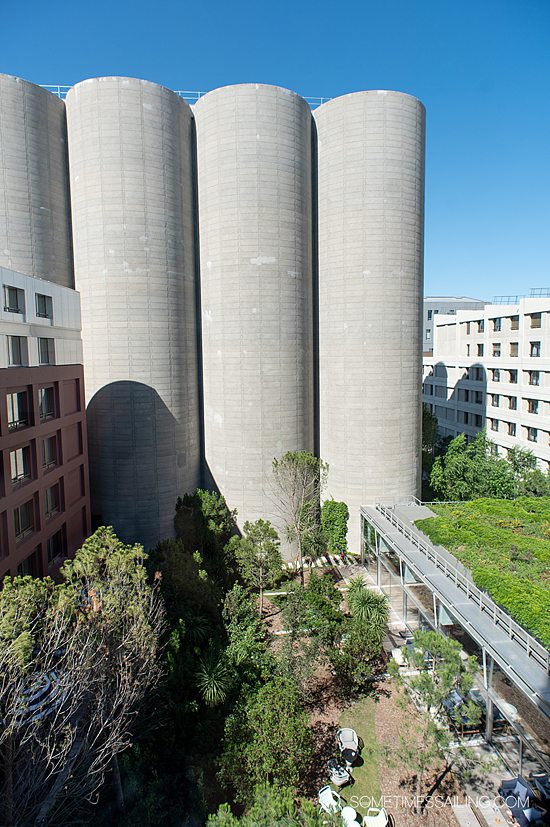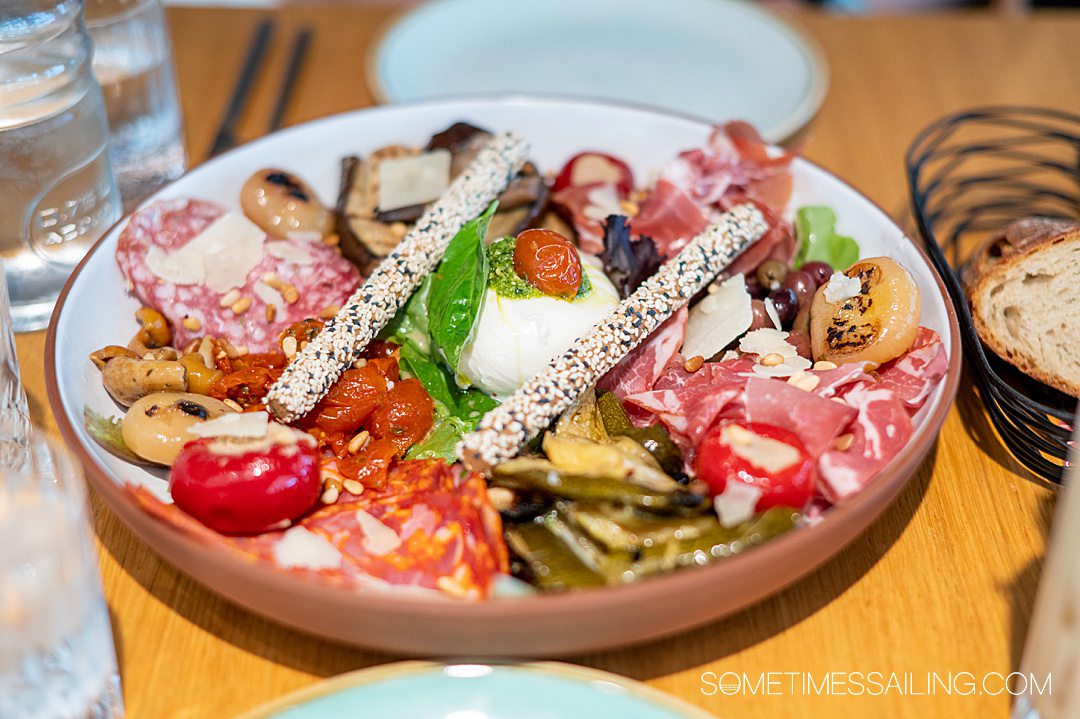 Not-to-Miss Experiences in Bordeaux
Cité du Vin Bordeaux Wine Museum
We loved going to Cité du Vin. Our Viking river cruise didn't include entry to the museum or a tour anywhere nearby. So we were very glad we went there beforehand on our own during our pre-cruise free time in Bordeaux.
If you purchase a Bordeaux CityPass, this museum is included in the pass before 12:00 pm. If you go in the afternoon with the Bordeaux CityPass you pay a nominal supplemental fee, but it's less busy in the morning anyway. You can also opt to buy a ticket without the CityPass.
➤ Purchase a Bordeaux CityPass (we recommend it)
About Cité du Vin Museum
Cite du Vin (City of Wine) is a state-of-the-art museum with a permanent collection that shares the region's wine history. Its temporary exhibits are interesting as well.
One such interesting temporary exhibit was wine and alcohol in Picasso's paintings. We love Picasso, so it was a real winner for us!
The great thing about Cité du Vin is how you can interactively learn about Bordeaux wine, including why Bordeaux is an important region of viticulture in France. We were really impressed by how it speaks to all your senses with its creative exhibits.
A ticket to the museum includes a glass of wine on the 8th floor of the museum, which has a beautiful view overlooking the Garonne River. It was really cool to see the river cruise ships in the distance from that vantage point!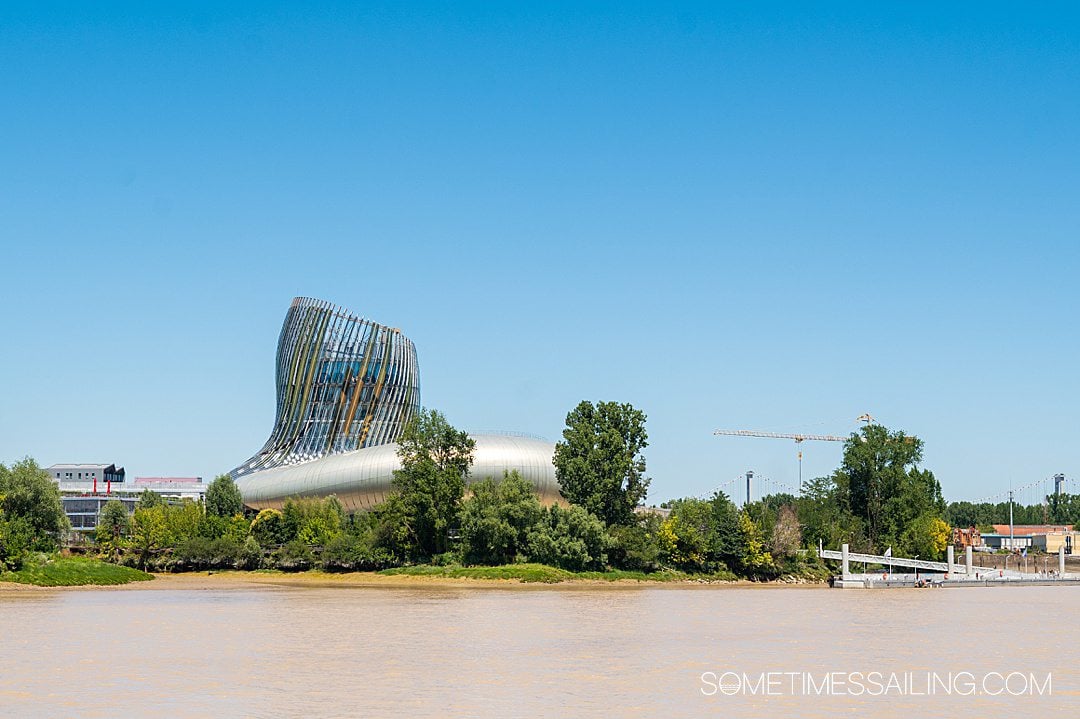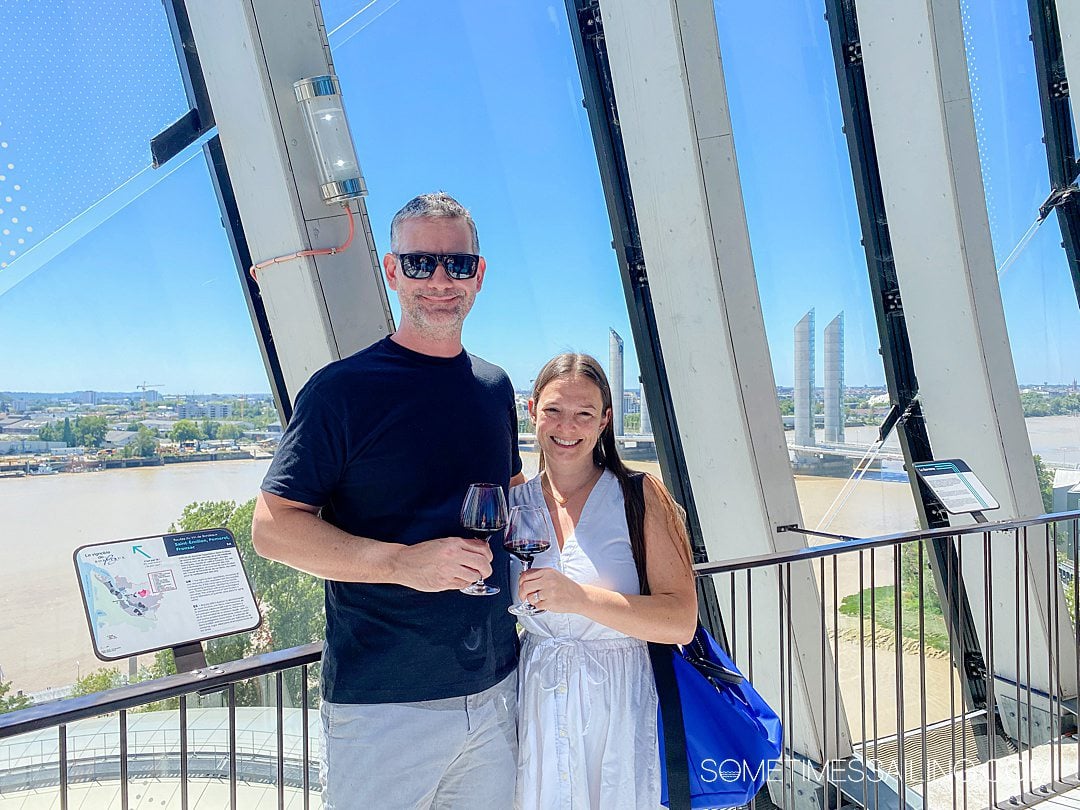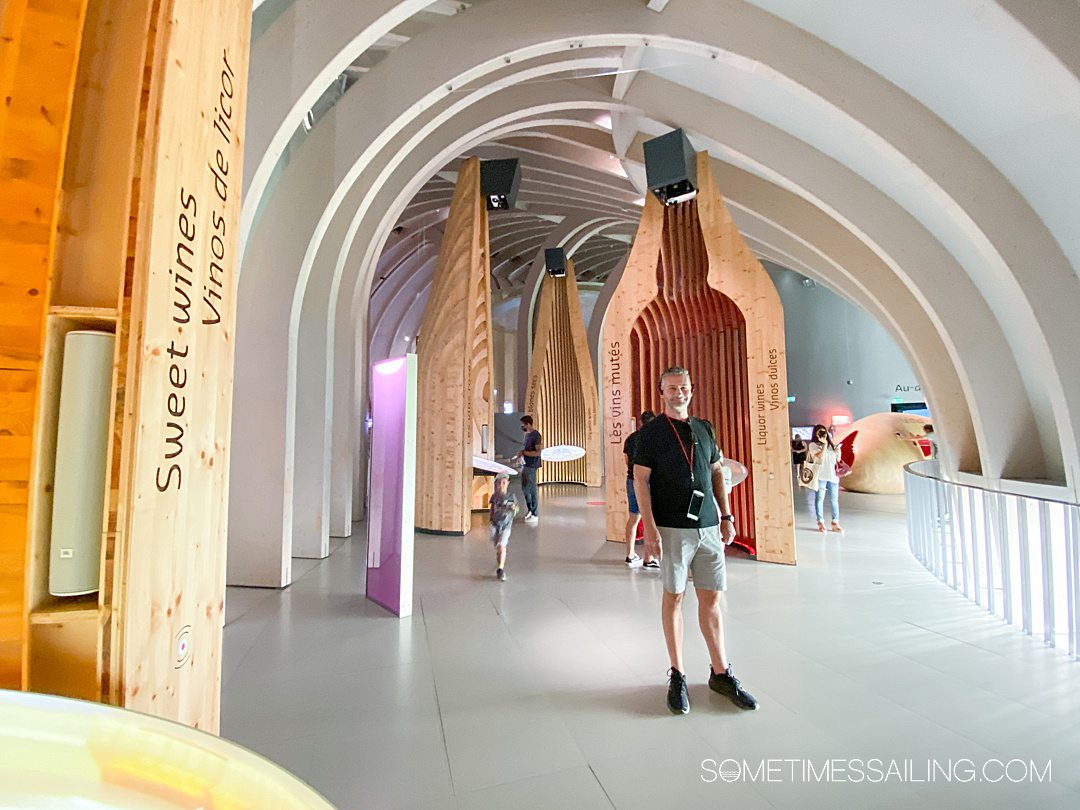 Bassins des Lumières Bordeaux
Another really cool thing we did was visit Bassins des Lumières near our hotel. This multi-sensory exhibit is included in the Bordeaux CityPass, or you can purchase a ticket a la carte.
The venue for this unique projection and musical experience is truly awesome. It's an old submarine base from the 1940s when Germans occupied Bordeaux. The different water and concrete elements create a singular space for a modern-day show combining technology with audio and visual elements.
In fact, it's the largest digital art center in the world.
If you've seen or heard about the Van Gogh experience from around 2022, it's similar to that…but on steroids! And because Bassins des Lumières is a permanent experience, they continuously work to develop new shows and ideas to wow visitors.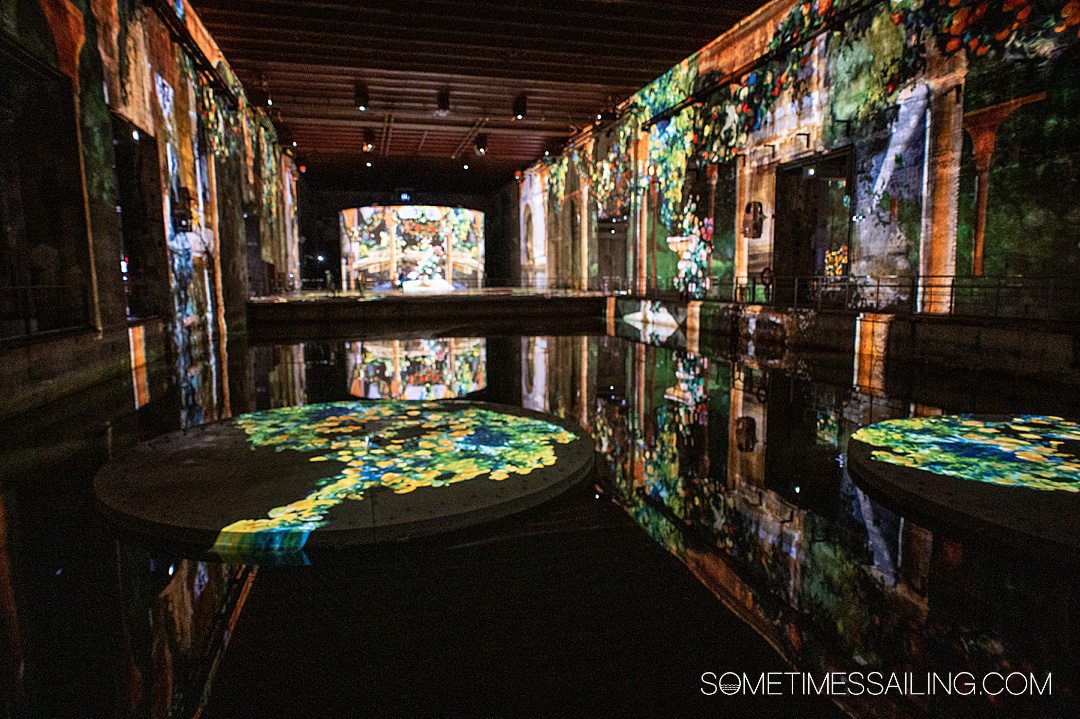 For example, a Gaudi and Dali exhibit premiered in 2023, showcasing the two world-famous artists' shapes, colors, and figures in a never-before-seen way.
We recommend taking a taxi or Uber to the exhibit; it's in an obscure area though it's completely worth the drive there. We promise you have never experienced anything like it!
Dedicate an hour and a half to two hours to your visit, including the time it takes to get there.
Explore the Old Town Center of Bordeaux
Simply walking around Bordeaux's town center will leave you in awe. It's a beautiful, walkable city with historic buildings and shops that are not to miss.
Sign up for a guided tour, explore on your own, or travel through the city on a bus tour included with the Bordeaux CityPass.
Affordable Private Tours in Bordeaux
Sign Up for a Private Bordeaux Tour and…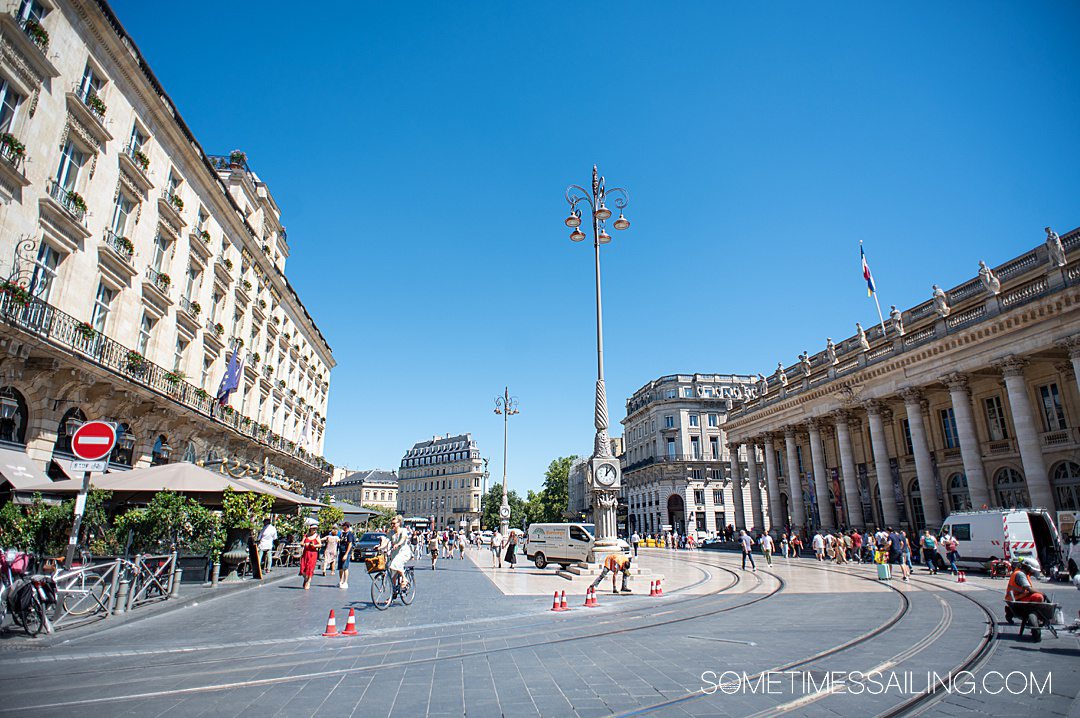 Visit the Monument aux Girondins
This famous fountain is a very photo-worthy spot! It's likely one of the most photographed spots in Bordeaux, thanks to the fountain's beautiful sculptures and turquoise water.
The Monument aux Girondins (or Girondins Monument) is a commemoration of the Girondists and the French Revolution.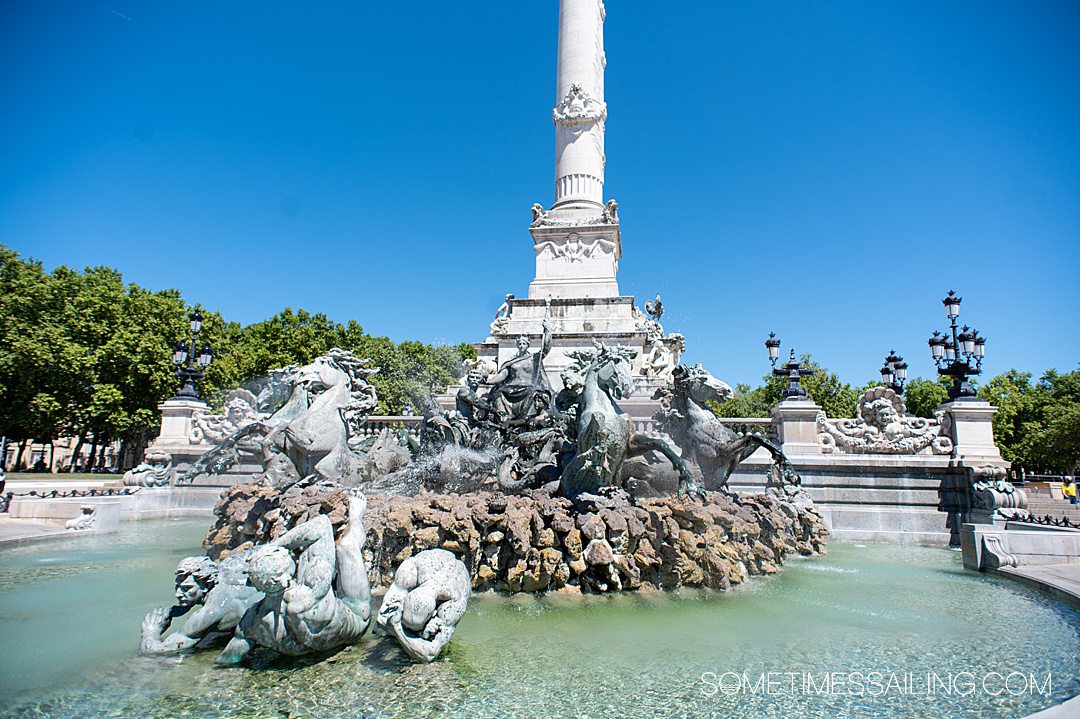 See Place de la Bourse and Miroir d'Eau (Water Mirror)
Another very famous area of Bordeaux is the Place de la Bourse square. In front of it is a modern water feature that allows the building to reflect in the pavement. It's particularly stunning at night.
It's a wonderful juxtaposition of old and new. The buildings are centuries old, and the fountain is merely decades old.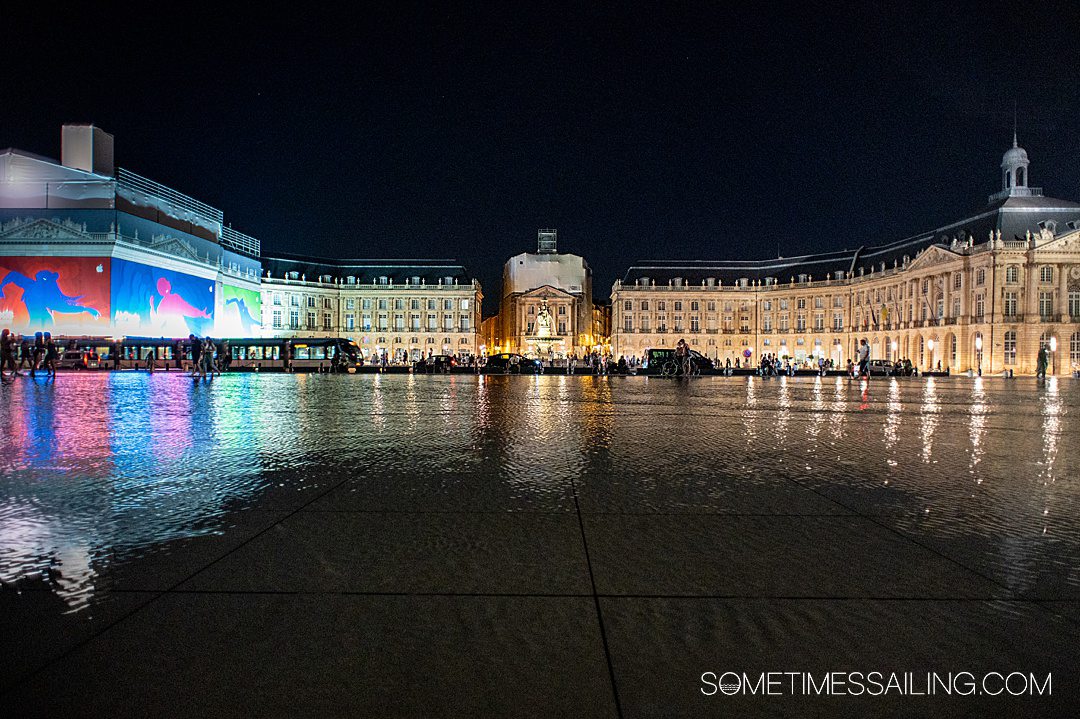 Bordeaux CityPass
We enjoyed using a Bordeaux CityPass for two days, which included access to dozens of museums (including Cite du Vin, which is not-to-miss) and transportation in Bordeaux. And we must say that the tram is a lifesaver to cut down on time walking to and from destinations in Bordeaux.
Two places may seem a short distance from each other, but it's probably a longer walk than you imagine. The tram system in Bordeaux is modern and super simple to use and navigate. A Bordeaux CityPass includes city transportation.
Bordeaux Culinary Experiences: Food and Wine Tours
Bordeaux Food Tour
We love doing a food tour wherever we go. We recommend doing one in Bordeaux if you have time before or after your river cruise because you don't really get a great feel for local French classics during the cruise.
Yes, your cruise line feeds you. But you don't get a true sense of local food on the cruise ship. Aside from having cheese plates available on the dessert menu when we sailed with Viking in Bordeaux and a welcome Canelé pastry, escargot as an appetizer option one night, and duck offered one evening, it wasn't a truly French menu.
This highly-rated food tour is affordable and will educate you about what the locals eat – savory and sweet.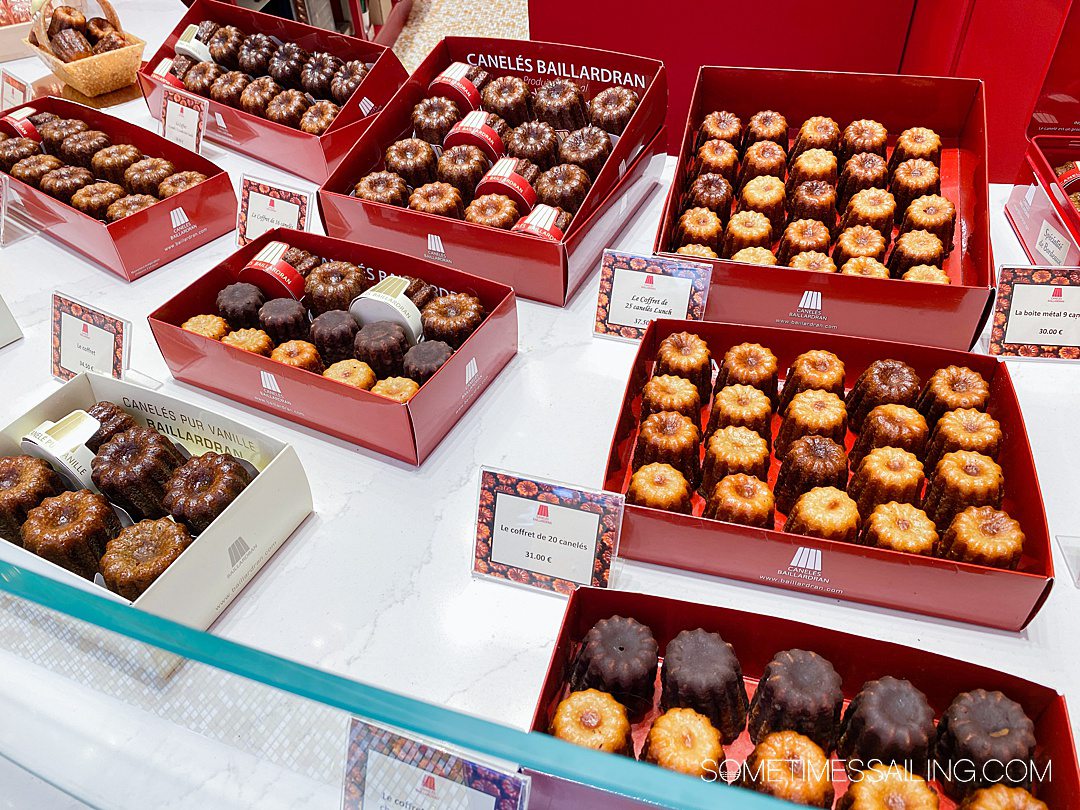 Wine Mixing Experience
One of the things we quickly learned about Bordeaux wine is that 99% of them are blended. In this unique experience, you'll get to blend your own Bordeaux wine, and enjoy cheese and charcuterie. The brothers who run the class, Pierre and Geoffroy, will provide you with a new education about Bordeaux wines.
While you learn about Bordeaux wine at vineyards during the river cruise and on the ship, you don't get to blend your own wine.
We also want to mention that for all the classes we've ever been to (all over the world) to learn about wine, we always learn something new in each class. So even if you're thinking, "We're going on a Bordeaux river cruise – do we really need another class about wine?" We say…yes! And, as they say, "When in Rome…" also goes for Bordeaux.
Traveling Onward from the Bordeaux Cruise Port Area
The Bordeaux train station makes traveling to cities nearby before or after your cruise particularly easy. It's a mid-size train station that is easy to navigate.
We highly recommend doing one of two things if you're planning your own trips from Bordeaux, pre or post-cruise:
Use Trainline to book your trains. We've tried using local train websites from France to Italy and beyond. Trainline is by far the easiest site to use, and it costs the same as the local train websites. Besides, the train website for France is in French! Even if you translate it into English, it's not user-friendly.
Use DiscoverCars if you're booking a rental car from Bordeaux. And make sure you know if you're booking a manual or automatic transmission vehicle.
Additional Trips from the Bordeaux Area
If you have the time surrounding your Bordeaux cruise, consider spending more time in France. There are great cities within hours of driving distance from Bordeaux that we recommend, aside from being able to take a train to Paris from there easily.
Lyon is a great area east of Bordeaux. It's a culinary mecca, so if you want some great food to go with your Bordeaux wine, head east. It's near the Burgundy region (whose wines are also delicious, but we enjoyed Bordeaux wines a little more).
Another wonderful destination is Dijon. It's great for an overnight and to explore a truly charming city that's smaller than Lyon if you're craving something not quite as large.
If you want to explore another big city, head to Marseille. It's another popular cruise port area in France, so you could explore the area by land and hop on another cruise if you like!
Don't Postone Renting a Car!
Conclusion
Don't miss out on arriving at the Bordeaux cruise port area earlier than your scheduled cruise embarkation…or staying after your cruise to enjoy it! There is plenty to experience, and the ease of traveling between the airport and the city center makes an extension simple to do.