AmaKristina Cruise Review: River Ship with AmaWaterways
Sailing with AmaWaterways is a treat. The ship is luxurious, and you feel special onboard. In this AmaKristina review, we'll take you through room by room, deck by deck, from the sun deck pool with its fun games to the beautiful Chef's Table.
After we provide a ship overview, we'll go through the public spaces, including the grand entrance to the lounge, the restaurants, and the sundeck with a fabulous heated pool. We'll also give you insight into the onboard gift shop, coffee and tea area, fitness room, massage room, and a hair salon.  
Lastly, we'll walk you through the river cruise ship's staterooms so you can decide which category type is best for your next cruise vacation.
Disclosure: There are affiliate links in this post, which means we may earn a small commission if you click the link and proceed with a purchase at no cost to you. We thank AmaWaterways for hosting us. We truly only recommend cruises, experiences, products, and services we personally use. As Amazon Associates, we earn from qualifying purchases.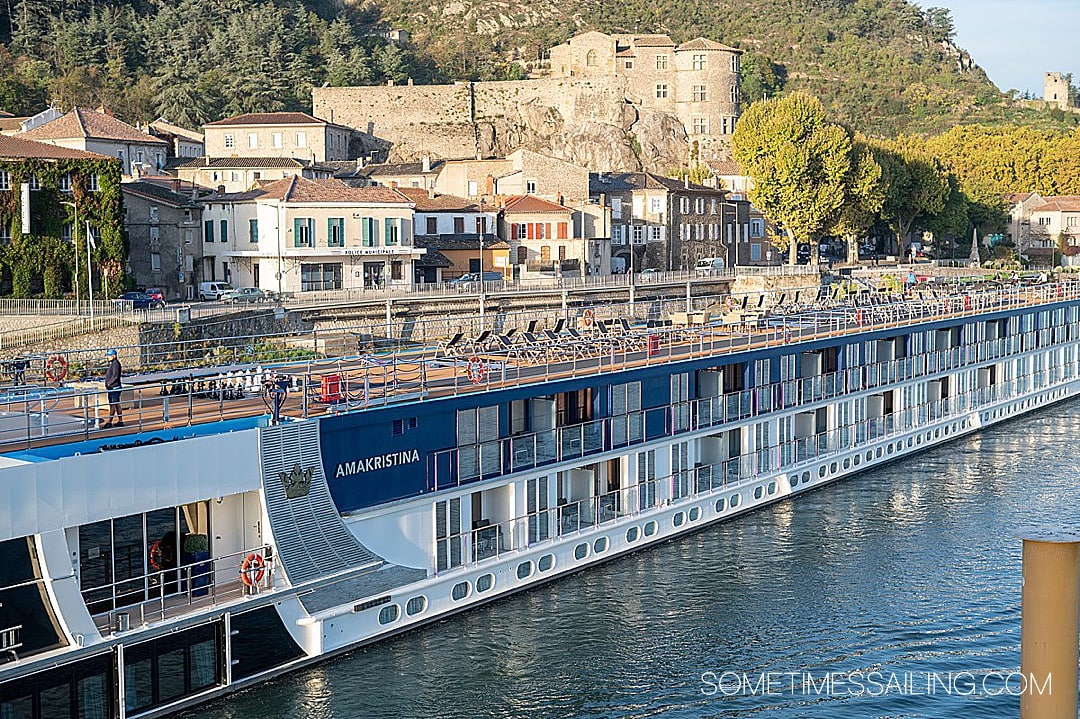 AmaKristina Sister Ships
Though this review is from our experience sailing on AmaKristina, it's worth noting she has sister ships.
Sister ships are architectural duplicates of one another. That is to say, the layout of the ship's entrance, lounge, elevator, staircase, etc., are identical. These sister ships differ in decor finishes, crew, and where they sail, but if you board one of the additional six sister ships, it will feel awfully familiar if you've been on one of them.
So if you're curious about the layout of another AmaWaterways river cruise ship listed below, it will be identical to AmaKristina.
AmaKristina's sister ships include AmaLea, AmaViola, AmaStella, AmaMora, AmaSiena, and AmaLucia.
Overview of AmaWaterways River Cruise Ship, AmaKristina
We cruised aboard AmaKristina for the Colors of Provence itinerary. It took us from Lyon to Avignon for seven nights. The Colors of Provence tour does the opposite open-jaw itinerary as well, from Avignon to Lyon.
AmaKristina can host up to 156 guests. There are 51 crew members onboard.
The AmaKristina river cruise ship has some fantastic amenities, like a heated pool and a modern fitness center with several pieces of workout equipment. There's also a sundeck with a walking or running track and an oversized chessboard.
One of the things we appreciated about AmaKristina was its attention to sustainability and quality. It was given the Green Award certification for leading quality, safety, and environmental performance in March 2022, along with many other AmaWaterways vessels.
Guests will notice various things AmaWaterways does to ensure sustainability on board, including having large-size bath products in staterooms to accommodate more than a few uses and eliminating plastic straws in favor of paper.
What We Loved About AmaWaterways and AmaKristina
Even before we boarded the ship, we appreciated the various timely emails that AmaWaterways sent us. Whether the emails informed us about health and safety information for our cruise, a notification to choose our excursions, or sent along our travel documents, the emails were always informative and consistent.
Standouts we want to be sure to mention in this AmaKristina review on our AmaWaterways river cruise were the beauty of the ship and the myriad excursions offered. 
For example, we loved the various nooks and crannies of the lounge. Despite these pockets of seating being in one general area, they did a nice job of creating spaces within the layout that allowed us to feel like we were in a different part of the ship if we moved from one spot to the next, whether outside in the lounge area by the bow, or the library space when you first enter the lounge, or the main lounge area.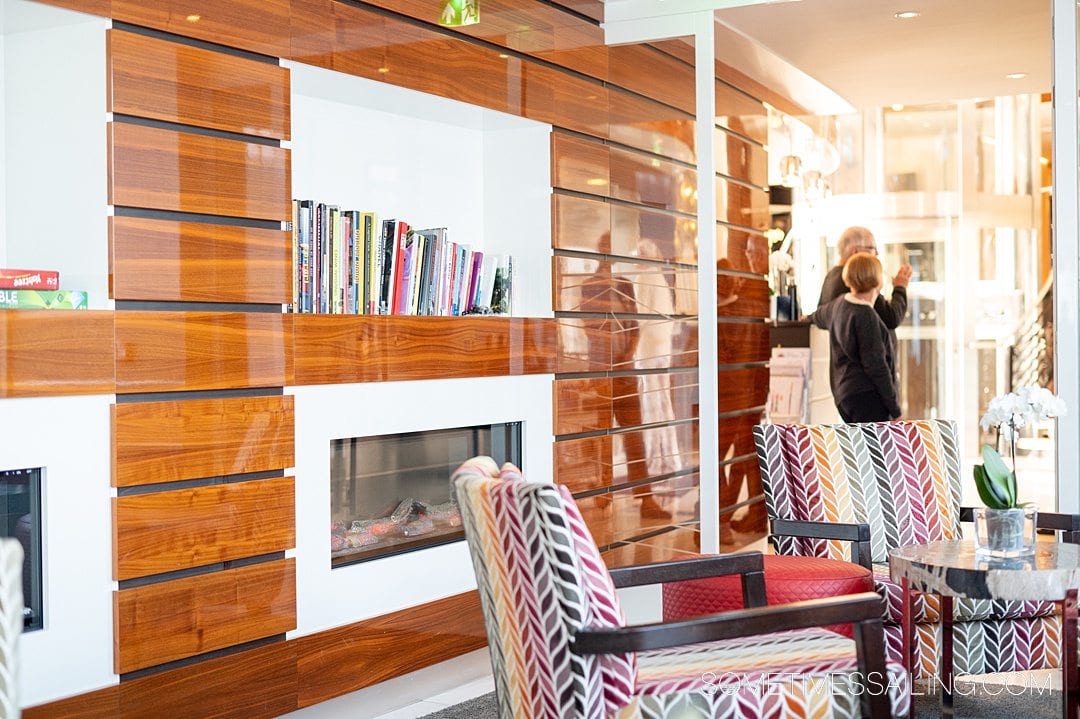 The ship's decor looked a little over the top online so we were anxious to see it in person. Though we admit that we didn't quite understand why there were glass apples and grapes on display next to fan coral sculptures in the main restaurant (near additional fan coral sconces nonetheless), we liked the pops of color and elegance of other things, like the grand staircase and colorful throw pillows on lounge seating.
The top deck's heated pool was a true highlight, even if we got in it just twice. Both times were fabulous!
Other luxurious perks we loved were the two options to bring in the outdoors in our stateroom. One was a true balcony, and the other a Juliet balcony. We also liked the five included Sip and Sail events, which took place from around 6:00 pm to 7:00 pm, depending on the day. Additionally, the two live evening entertainment performances the company brought on board were great.
Lastly, we appreciated the fresh flowers throughout the ship and how clean it was, inside and out. We always saw crew inside cleaning and also saw two crew members in a boat constantly cleaning the ship's exterior.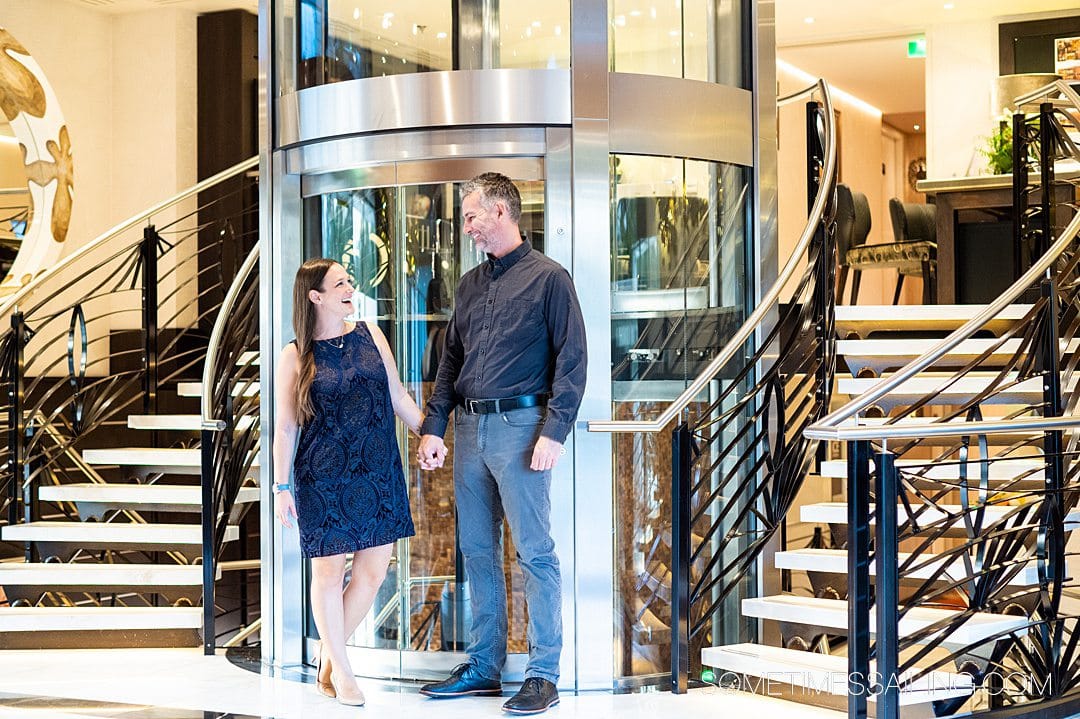 Areas for Improvement on AmaKristina
There was room for improvement in a few areas, like with any company or ship.
We didn't love the wine selection that was included in the cruise fare; we have had better-included wines on other ships and felt the included wines on AmaWaterways could be better, especially when sailing in France. We missed having a water station even though there was water in glass bottles in the staterooms.
The Cruise Manager, Maddy, was awesome. (The Cruise Manager is often called a Cruise Director on other cruise lines.) However, she wasn't tied to AmaKristina with AmaWaterways. Instead, their Cruise Managers bounce between ships. Maddy was great, and we were thankful we had her; she's been with the company for 15 years! Yet otherwise, we felt the staff and service had room for improvement.
The servers didn't seem to come around to ask anyone if they wanted a drink the majority of the times we were in the lounge. They may have asked two or three times during the entire cruise, but overwhelmingly, this was the case.
The crew wasn't as warm and friendly as other river cruise lines we've sailed with, though we were thankful for two particular servers onboard, whose smiles and warmth were always welcomed. This will likely vary from year to year and ship to ship, but we noticed it during our Colors of Provence cruise.
Otherwise, we had a lovely time, and we would definitely sail with AmaWaterways again and recommend it to cruisers.
Let's get into the spaces on the ship and into the nitty gritty details of what we enjoyed in our AmaKristina review!
Daily Cruiser (or Info Sheet) on AmaKristina
We looked forward to receiving the Daily Cruiser in our stateroom every night. It was placed on our bed each evening and shared the next day's schedule.
It also noted the expected weather, sunrise and sunset times, docking location, important phone numbers, the Cruise Manager's contact email and phone number, and a little bit about where we'd be visiting. Lastly, it included the Sip and Sail Cocktail of the Day. (More on that in our AmaKristina Food Review post.) 
Pro Tip: We recommend taking a photo of this sheet on your mobile phone so that you'll have the info with you when you get off the ship for the day's excursion, just in case of an emergency.
Public Spaces on AmaKristina
We will discuss the various public spaces onboard AmaKristina, including the entrance, fitness area, Sundeck with its pool, walking track, seating areas and games, and the dining areas and lounges.
We'll also touch on the gift shop, the coffee/tea area, and the captain's Navigation Bridge.
Entrance to AmaKristina
The entrance to AmaKristina is striking, with a double staircase framing a circular elevator and a reception desk. You're on Deck 2 upon entry, called the Cello Deck.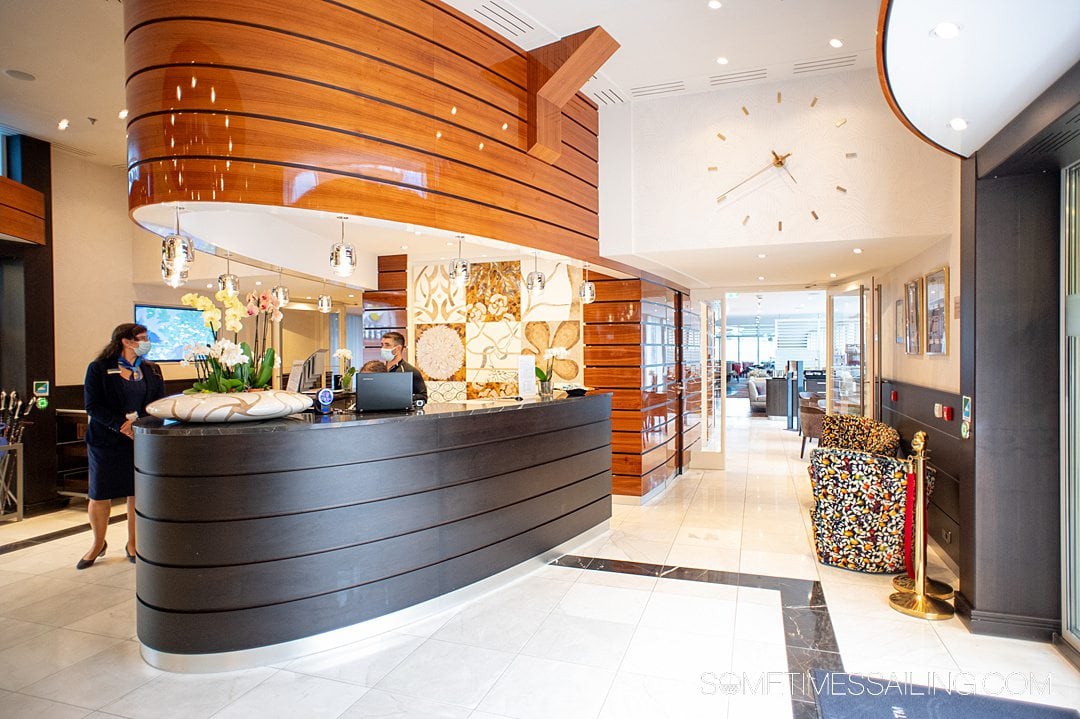 The reception desk is where you can ask about anything from getting a paper map for walking around town to a fact sheet with info about the locks you're sailing through to booking a massage. You can pay your onboard cruise bill or add gratuities at reception, or even get some change with the Purser.
This is also where you'll find complimentary postcards, something we loved about AmaWaterways since we love snail mail. All you have to do is grab a postcard, fill it out, then hand it to the person at the reception desk. He or she will see that it gets mailed, complimentary!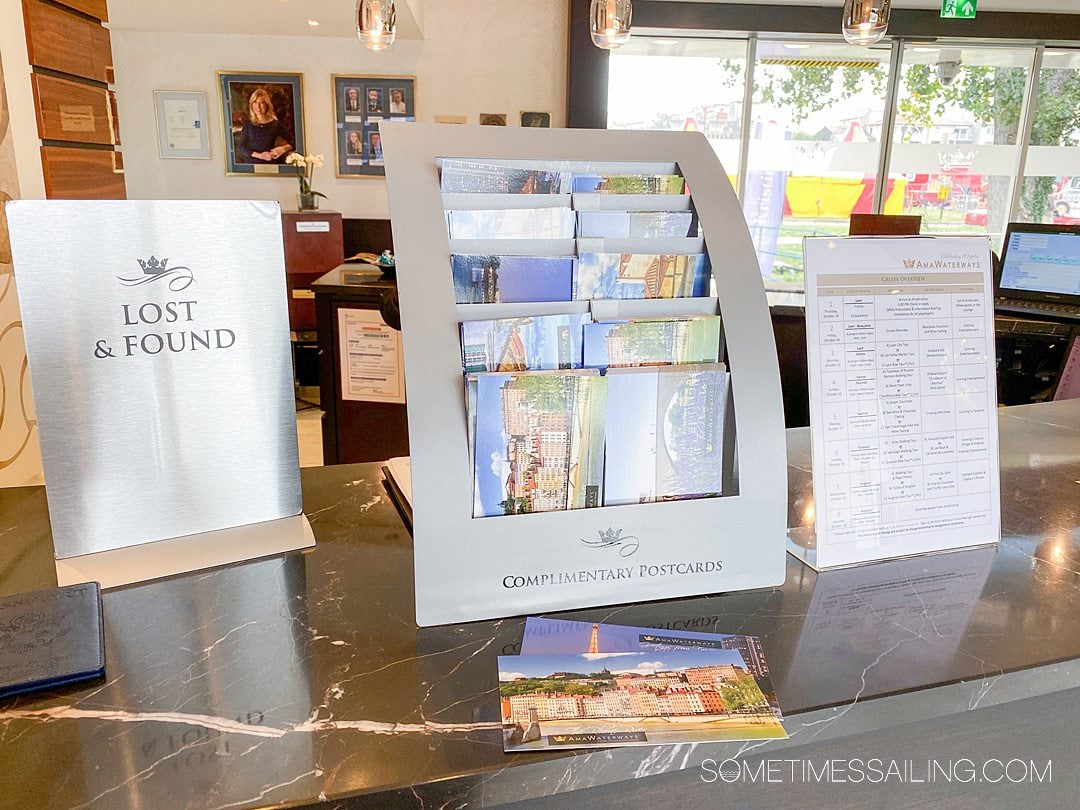 The stairs across from the reception desk go up to Piano Deck 3 or down to Violin Deck 1. The elevator stops at all three interior decks, 1 through 3. It does not go up to the Sundeck.
Beyond the entrance towards the bow of the ship is the AmaKristina lounge.
Guest Lounge on AmaKristina
The lounge area has four seating sections.
On one side, there is a "study" type section with two electric fireplaces that are for design aesthetics more so than for heat. There are bookcases above and board games on sets of adjacent shelves.
The other side, just opposite the study area, is where the coffee and tea maker are, which are self-serve. There are some tables and chairs in the same nook. This area is next to the AmaKristina gift shop.
Beyond that is the general indoor lounge area with a bar, piano, and plenty of seating. This is where the Cruise Manager gave her port talks and presented additional information about AmaWaterways cruises. It was also where afternoon tea took place.
A resident piano player, Roberto, played and sang to entertain guests every day during specific times listed on the Daily Cruiser.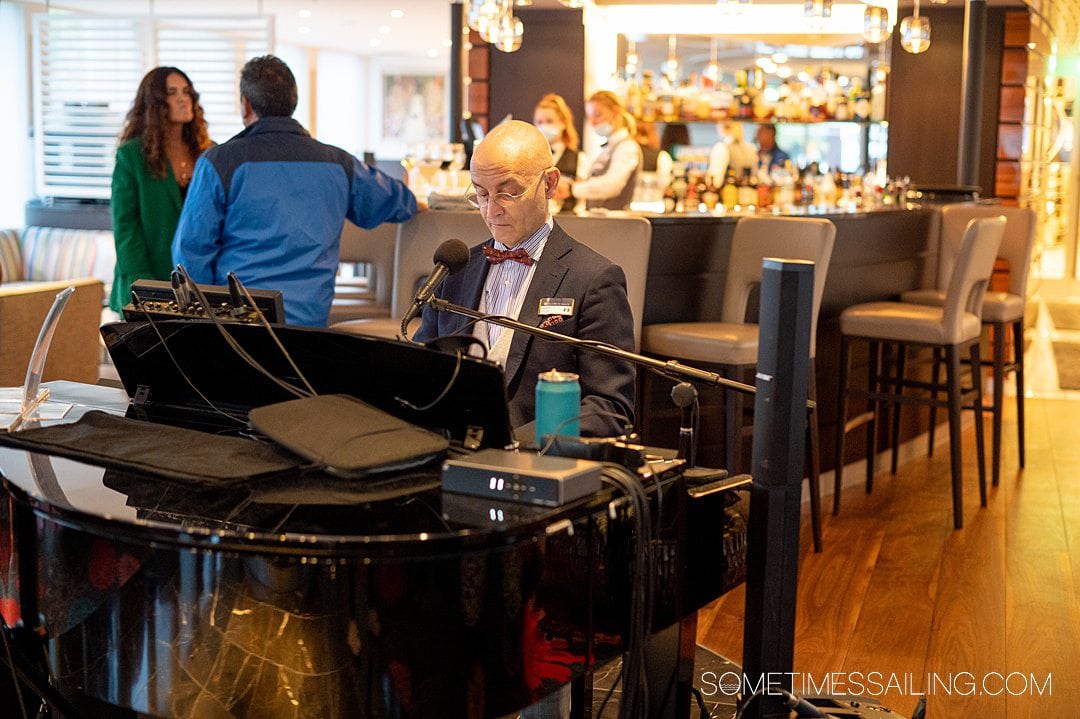 The lounge also had an outdoor seating area, as most river cruise ships do. Small tables and chairs gave guests a great outdoor view and seating options while docked or sailing. It's a particularly fun area to be if you're going through a lock and don't want to be on the Sundeck but still want to be outdoors. 
Being in this covered outdoor seating area protects you from any water dripping off the lock gate; it's protection you don't necessarily get if you are seated on the Sundeck.
AmaKristina Gift Shop
A small room by the lounge past the reception desk has multiple glass-encased shelving with items for sale.
This includes jewelry, essential oils and soaps, decorative scarves, and some AmaWaterways and ship-specific AmaKristina apparel. There was also seasonal Christmas items on the shelves when we sailed in October. There are likely items in the gift shop that reflect the sailing, which is why there were some lavender products and silk scarves on our Colors of Provence cruise.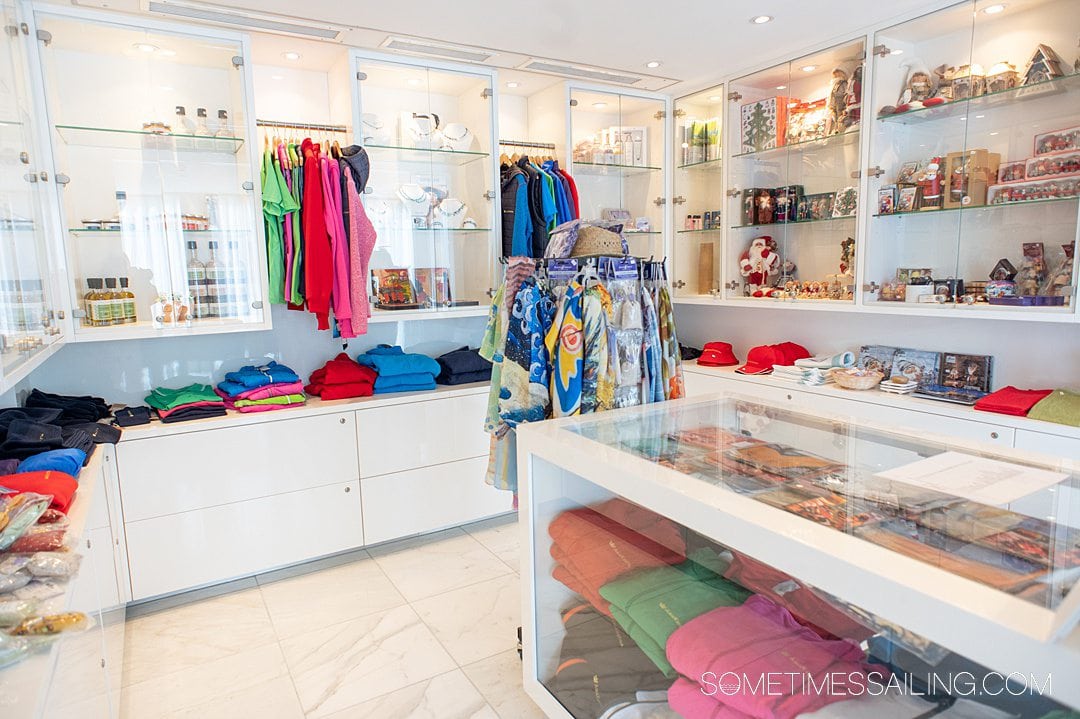 Coffee and Tea Station
One machine was available for guests in the lounge area. It's available 24/7 and makes drinks like espresso, espresso macchiatos, lattes, and cappuccinos, regular or decaf. It also makes hot chocolate.
There is always hot water and tea bags out by the machine. Milk is next to the machine, too, with various types of sugar, packets of honey, and lemon wedges.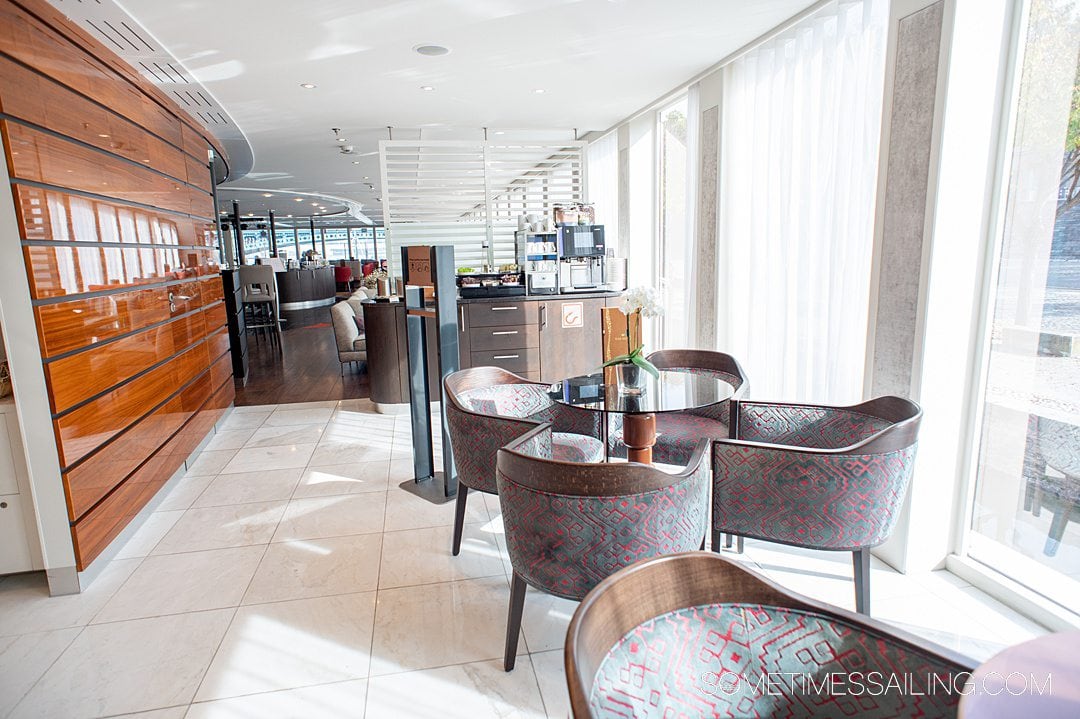 Main Restaurant
The main restaurant is where you can eat all your meals, though you can opt to dine at several other locations on the ship, which we'll get into below.
This restaurant area is a bit unique in the river cruise world because it has tables with chairs and enclosed booth seating.
The decor is warm and cozy, with dark wood finishes, patterned carpet, and both solid color and patterned upholstery on chairs and in the booths. This is where we didn't quite understand the glass fruit decor alongside fan coral. But it didn't affect the meals, so no big deal there!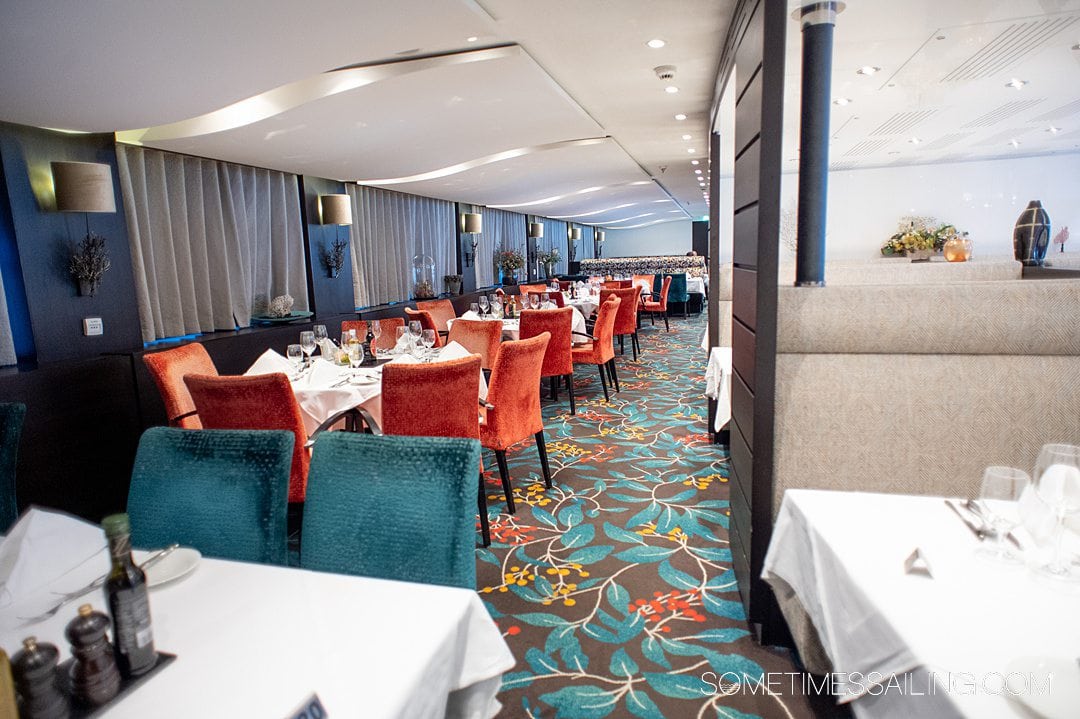 Chef's Table Restaurant
On Deck 3, towards the ship's aft, is the Chef's Table restaurant. Every guest can dine here once, complimentary. The menu is the same every night. 
The semi-circle design of the restaurant layout follows the curve of the back of the ship. If the boat is sailing during your meal, you can view the river as long as the sun is up. If dinner is after sunset, you see darkness.
There is one large table that accommodates eight guests. It has a beautiful inlaid Mother of Pearl design with gold laser-cut placemats at each seat during dinner time. Above the table is a collection of black and brown light fixtures at various heights.
In front of the large table, closer to the perimeter windows, are five tables, each with four seats. The small kitchen is next to a plating table on the opposite side of the restaurant, closest to the entrance. When you dine there, you can see the chef put the finishing touches on each dish through the glass windows to the kitchen.
Dinner at the Chef's Table was at 7:00 pm, no matter the day anyone on our cruise dined there.
The course-by-course menu is set at the Chef's Table. You can let the waitstaff know if you have any dietary needs, like in the regular restaurant.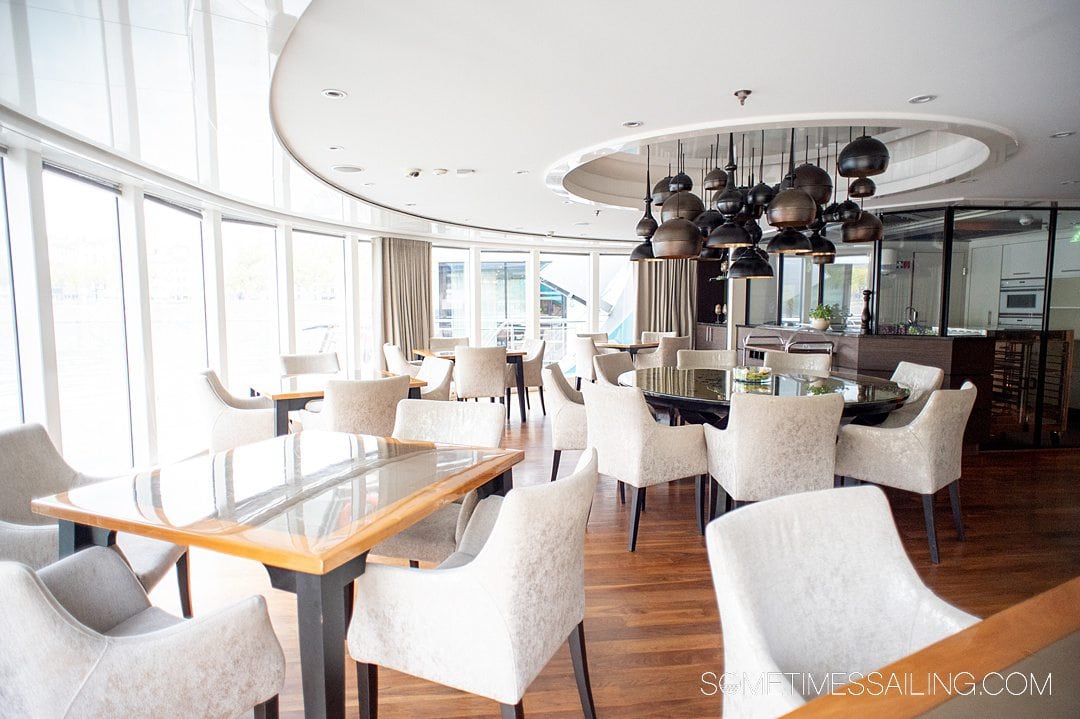 Additional Dining Options On Board
We could eat in the lounge area instead of the main restaurant for breakfast and lunch. Dinner was either in the main restaurant or once per sailing, per stateroom, at the Chef's Table.
Early/Late Riser's Breakfast Buffet on AmaKristina
There is an Early Riser's and Late Riser's breakfast served buffet style in the lounge area. This is for people who want to eat before 7:30 am or after 9:00 am.
Meal times are printed in the Daily Cruiser that's placed in your room for each day of the cruise. Be sure to check the Daily Cruiser for exact dining times while you're onboard.
The lounge breakfast buffet was usually small, with a simple spread of pastries, like small croissants, danishes, yogurts, and juices. Hot drinks were at the coffee/tea station steps away.
Bistro-Style Lunch in the Lounge
If you prefer to have a more casual dining experience than a sit-down lunch in the main restaurant, you can opt to have lunch in the lounge.
This menu varied every day, mostly by the available sandwich. Otherwise, there was always the option to get a hamburger or cheeseburger with fries or a margarita pizza. (The pizza was so-so, the burgers were really good.)
For instance, one day, the sandwich was a Croque Monsieur, and another day it was a ham, egg salad, and tomato sandwich.
Lunch in the lounge was absent of soups, which you could order in the main restaurant. Lounge lunch also did not offer the small tapas-style appetizers you automatically got in the main restaurant. Lastly, dessert was not part of the lounge lunch, though there was always a cookie jar and fruit available for guests, self-serve style.
Like we mentinoed, the lounge "Bistro-style" lunch is a more casual, quicker dining expereince than in the restaurant.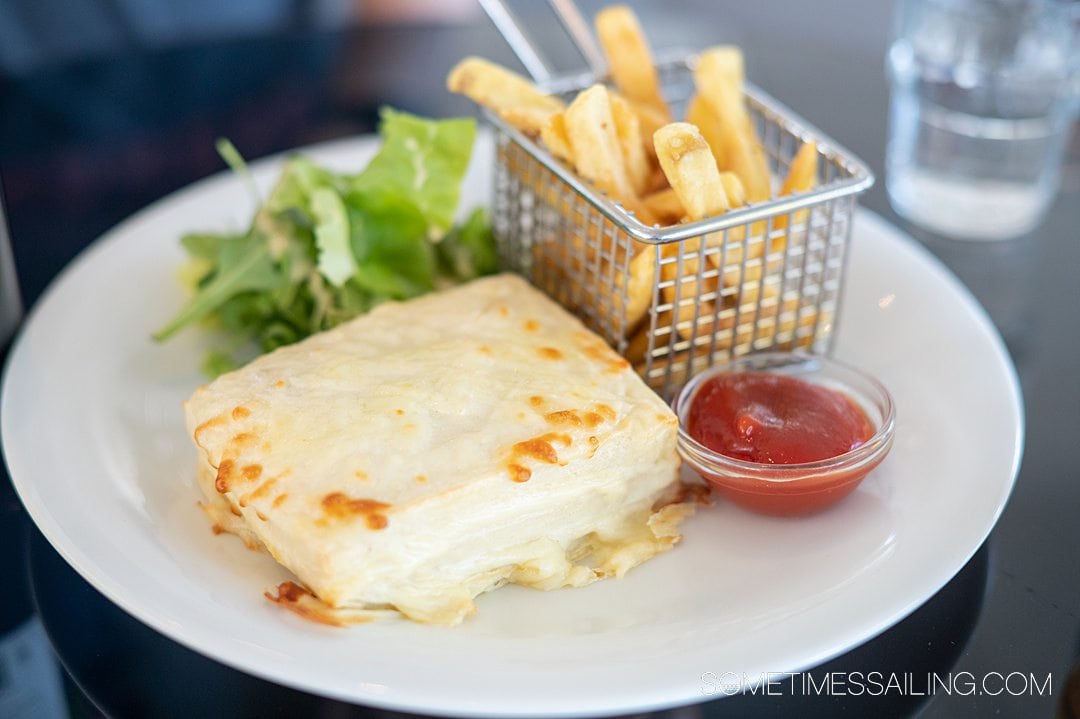 Late Night Snacks
One of the things we appreciated about the cruise was that if you were up at 10:30 pm and needed a nosh, they served a late-night snack in the lounge. This usually consisted of some finger sandwiches, a hot item (like tiny egg rolls), and some sweets and/or fruit platters.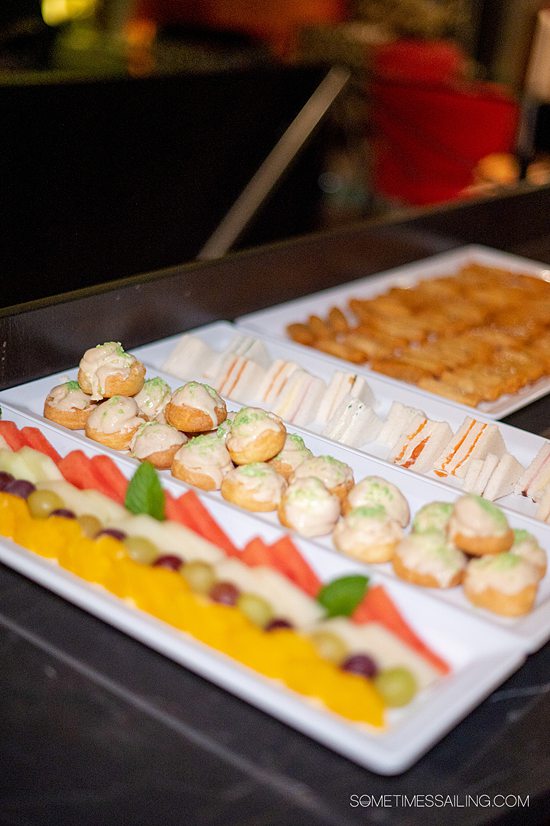 AmaKristina Sundeck
There are several amenities and areas to enjoy on the Sundeck, which was a lovely place to be whether the ship was in motion or docked.
Navigation Bridge
The Navigation Bridge for the Captain and his second and third in command is on the Sundeck. The bridge can rise or retract depending on where the ship sails, according to the height of bridges and water levels that AmaKristina navigates.
The Captain and his second in command, the only two we spoke to a little bit, were very friendly. They'll gladly welcome you inside if you ask for a bridge tour.
Heated Pool
One of our favorite things about AmaKristina's Sundeck was the heated pool. It has a few bar stools inside so during hot months you can order drinks at the pool bar during your river cruise.
There are also two benches in the pool for additional seating and a shallow area to either sit your butt on or put your feet if you sit on the edge of the pool.
The pool sometimes has umbrellas open above the bar stools to provide shade from the sun.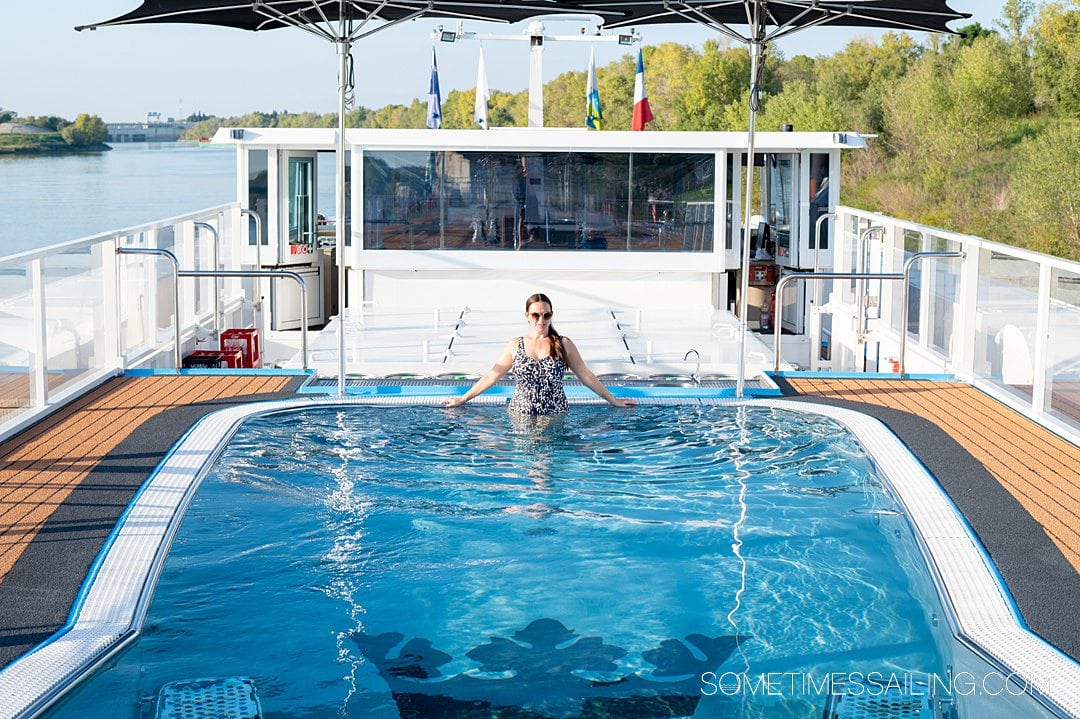 The pool is shallow – perhaps three and a half feet, though we're not sure of its certain depth. It's too shallow and small to swim laps in. However, a gym is onboard if you want additional exercise beyond daily excursions. There was also a walking track on the Sundeck.
We tried to go to the pool twice when we were sailing because it seemed like a good time to enjoy it. But we quickly learned that if we were sailing under bridges with low clearance, the crew needed to close the Sundeck's amenities to clear the bridge.
Our tip is that if you want to enjoy the pool – perhaps when you're cruising down the river – ask the Cruise Manager or someone at reception if they know when the pool will be opened and closed that day.
The photo below is shortly after we went under a building with incredibly low clearance. So low, in fact, the crew had to take down any railings to pass through. You can see the pool just to the right, which was certainly closed during this time for safety.
The clearance under bridges depends on the current water levels of the river.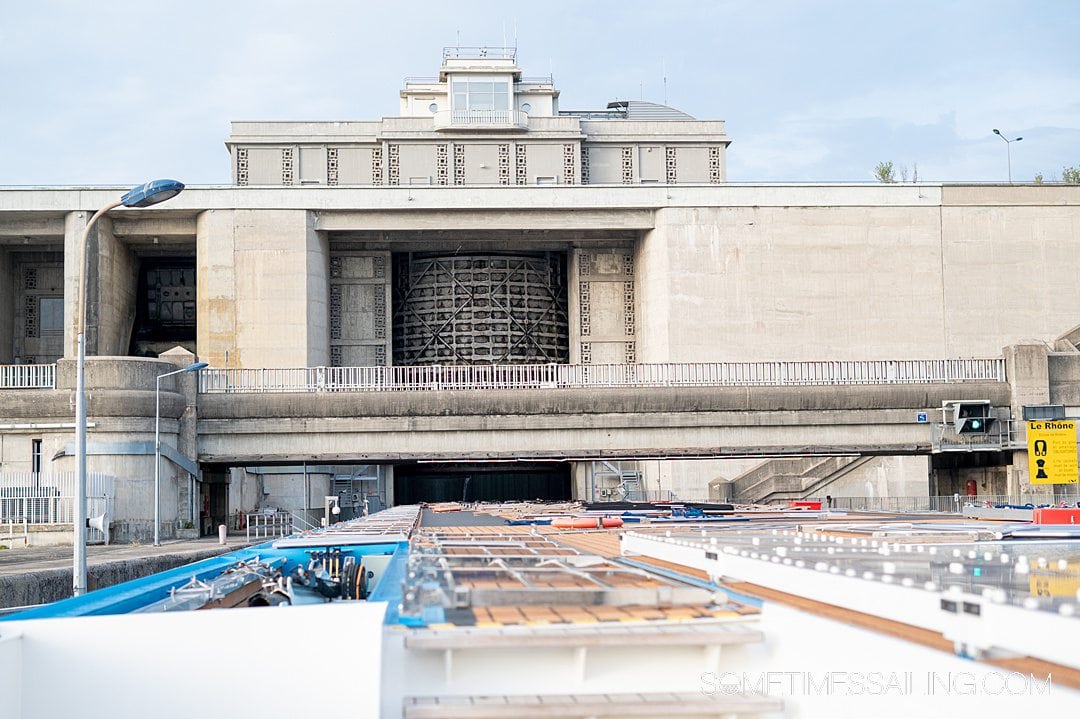 Walking Track
The top deck has a walking track that encircles two-thirds or so of the area. You can walk or run around…and around…one of the two seating areas with lounge chairs, tables, and the small top-deck putt-putt golf area.
Games
You'll find an oversized chessboard, a putt-putt golf hole, and corn hole games on the Sundeck of AmaKristina.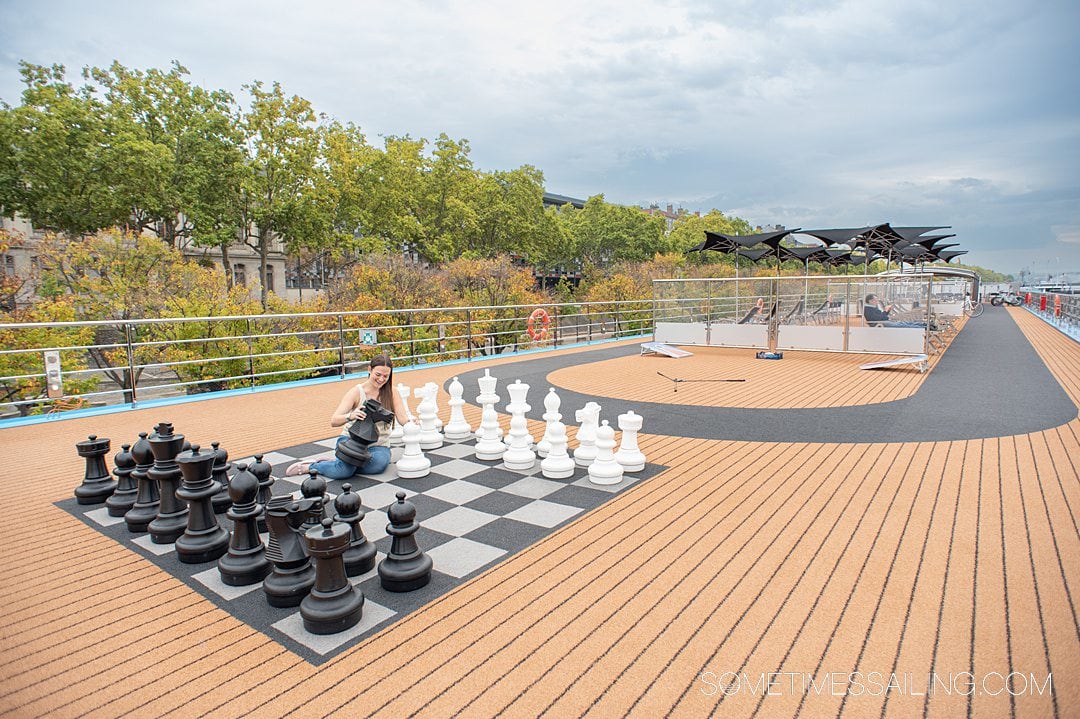 Sundeck Seating and Lounge Areas
There are a few places to sit on the Sundeck on this AmaWaterways river cruise ship, which provide various options for enjoying panoramic views.
You can sit towards the ship's bow to see the front view and our surroundings. There are chairs and small tables there.
Next to that are outdoor lounge couches with some tables. There are fun patterned throw pillows in this attractive area. Beyond that are some lounge chairs with tiny cocktail tables between them and more tables and chair seating.
There is a smoker's section onboard towards the aft of the Sundeck. Otherwise, smoking is not allowed anywhere else onboard.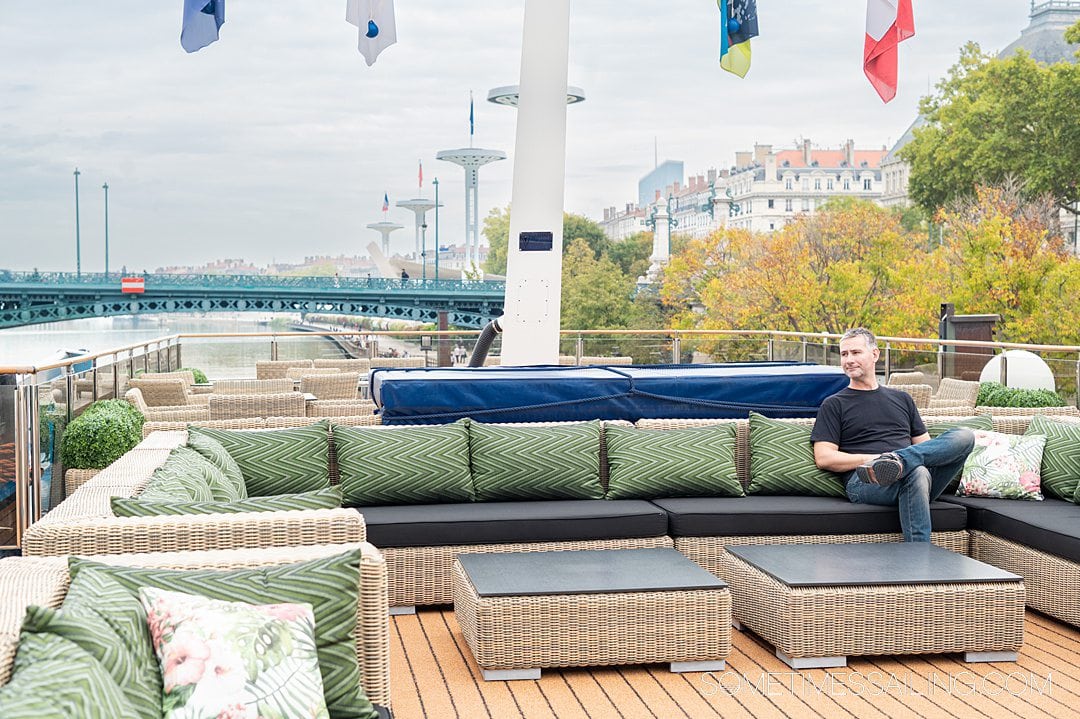 Wellness Areas on AmaKristina
In addition to the track and pool on the top deck, there are wellness areas to enjoy on Deck 1.
Fitness Room
The fitness room is approximately the size of two staterooms or a little larger than one suite. You'll find this area on Deck 1, the Violin deck.
Inside, the top of a treadmill is flush with the floor (it's a sunken treadmill of sorts, which is trivial yet still a cool feature), and there is a tree of dumbbells of various weights. There is a weight machine that is a multi-gym of sorts as well. Two stationary bikes are here, along with yoga mats.
There are washcloths wrapped around small bottles of sanitizer at each machine. Boxed water is available too.
Dan enjoyed using the gym a few times while we cruised!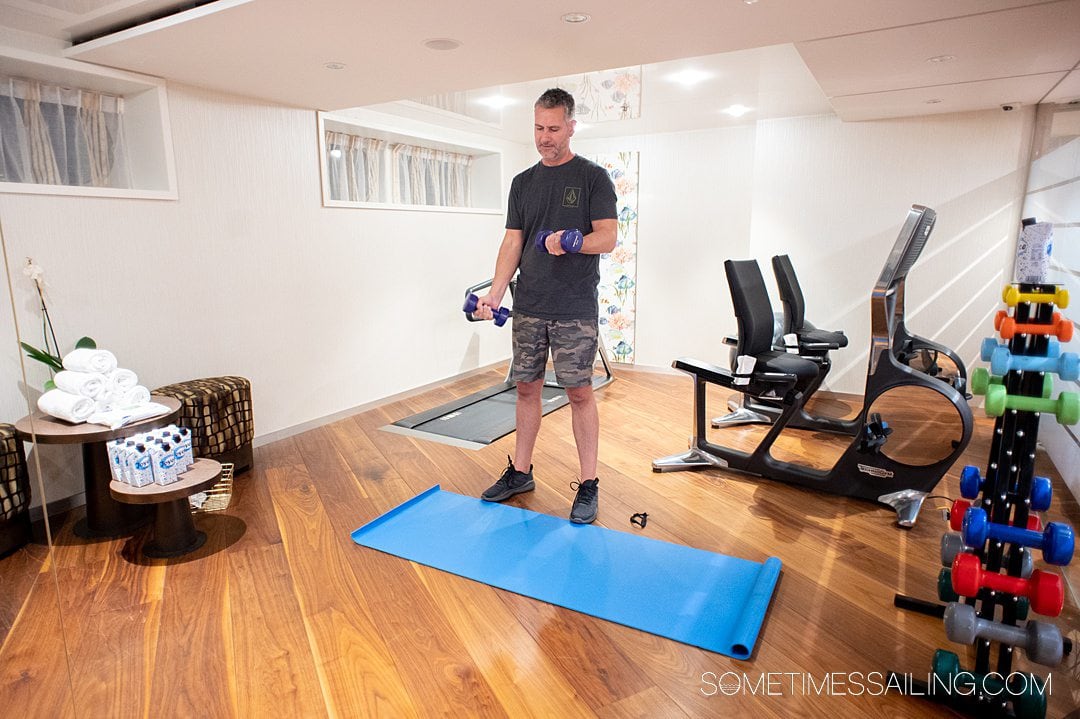 There were fitness programs available on board, including daily stretch and circuit training if either of us didn't want to work out alone.
If you like one-on-one training, we suggest signing up for a personal training session or two. It's incredibly affordable at €30 for 30 minutes or €50 for a one-hour session.
On Board Pampering: Massage and Hair Salon
If you want a massage on AmaKristina, affordable treatments are available. Massages are given onboard in a room with a single treatment table. We didn't sign up for one during this cruise, but we spoke to another guest who said her massage was great! 
Massages are €30 for 30 minutes, for a half-body massage, €60 for an hour full-body massage, or €70 for a 65-minute massage with aroma oils. If you want to schedule a massage, especially when the ship is sailing, be sure to book when you board the first day so you have your pick of times. 
There was a single-room hair salon on board as well. We didn't get a clear view inside because whenever we checked, it was locked, but from what we could peek at through the striped glass door, we saw a professional salon chair next to a hair-washing sink.
The salon menu at the reception desk informed us that you can get a wash and dry and/or a cut. It's very affordable too, at less than €30 for a wash and dry for long hair (it's less for short hair). A haircut for women, including a blow dry, is €50 or less, depending on hair length. For men, it's around €20.
Wi-Fi Throughout the Ship
The WiFi on board is pretty great! It's the best we've had on board a river cruise ship, and we have sailed on several lines all over Europe, including Viking and Emerald Cruises.
As this was our first AmaWaterways river cruise, we're not sure if that's simply because they have a better carrier or because the ports we were in allowed for better connection or a combination of the two. 
But being on the ship with wifi allowed us to text each other on the cruise ship via iMessage on our iPhones, for free, without having to turn on roaming or use our pocket hotspot that we bring on vacations. This was great if we split up to enjoy the ship solo for a while but wanted to reconnect later on.
Regardless, we often have business meetings to attend while we cruise (work hard, travel hard!), and Dan was able to do a video Zoom call onboard one night. We were both able to load social media regularly and check emails. 
There were only two times that the wifi wasn't as strong while we were sailing but otherwise, it was great. 
Public Restrooms on AmaKristina
One of the great things about a river cruise ship, compared to huge ocean cruise ships – is that you're never far from your stateroom.
However, there are public restrooms on AmaKristina in case you board early and can't check into your room yet, or if you check out on disembarkation day and you're still onboard. You can use them any time, really, including during sailing and while in port. 
There are two public restrooms onboard, on the Cello deck (Deck 2), with one single toilet and a sink. One restroom is for females, and one is for males. If you're curious, the decor varies only in the color tiles they chose for the bathroom finishes. 
There is also a small unisex restroom at the aft of the Piano Deck (Deck 3) near the Chef's Table.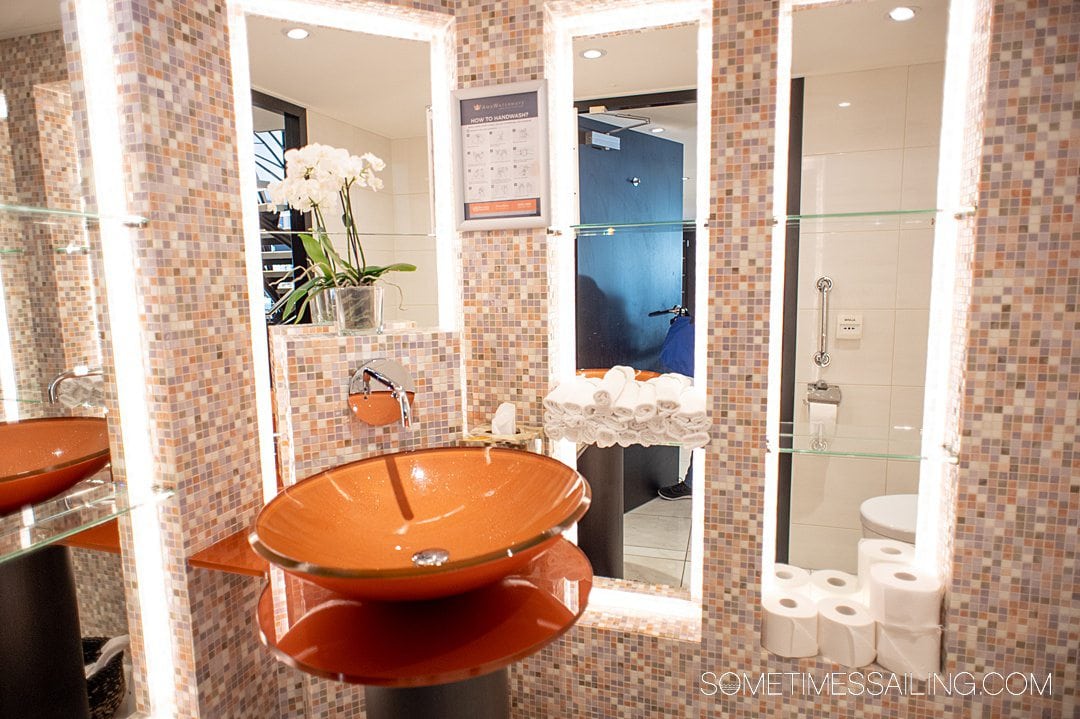 Deck 3 Desk Area on AmaKristina
At the top of the stairs leading from the reception desk on Deck 2 (Cello Deck) up to Deck 3 (Piano Deck) are two desks. One is for the Hotel Manager, and the other is for the Cruise Manager. 
Here, you can ask any questions you may have about your room, perhaps, or excursions. You can also inquire about future cruises at the Cruise Manager's desk. 
Lastly, the Cruise Manager's desk is where you'll find the color-coded luggage tags for disembarkation. We liked that they had them available here instead of placing them in the rooms because why waste luggage tags if people don't need them?
It also allowed people to get more by self-service if needed.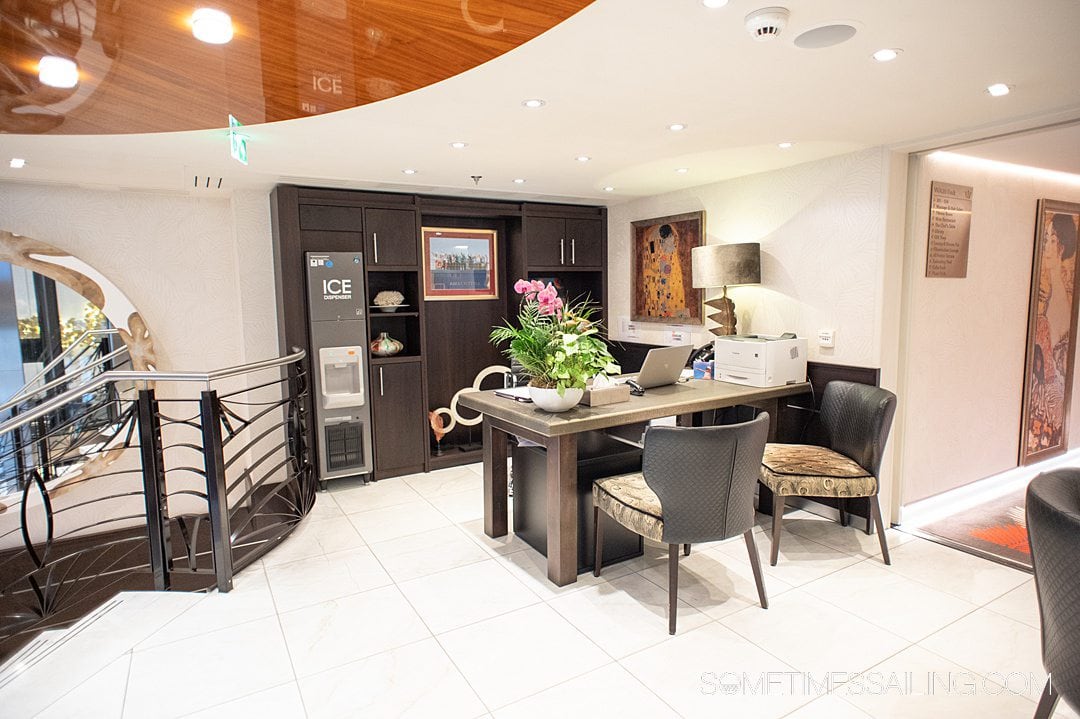 Staterooms on AmaKristina
Seventy-eight staterooms offer a variety of arrangements, from 160 square feet to 350 square feet. Some rooms have a bathtub, while others have a standing shower only.
We'll first discuss our stateroom on AmaKristina, a Junior Suite. Then we'll talk about some of the stateroom features, amenities, and options on AmaKristina, overall, which apply to every room on board, no matter the category. 
Our Stateroom: Room 201, Junior Suite
We loved our stateroom. There are two junior suites on AmaKristina, and they're across the hall from each other. 
The junior suites are the first rooms on the left and right on Deck 2, the Cello Deck if you're walking there from the reception area. You simply walk down a few steps, and the stateroom is right there, either on your left or right.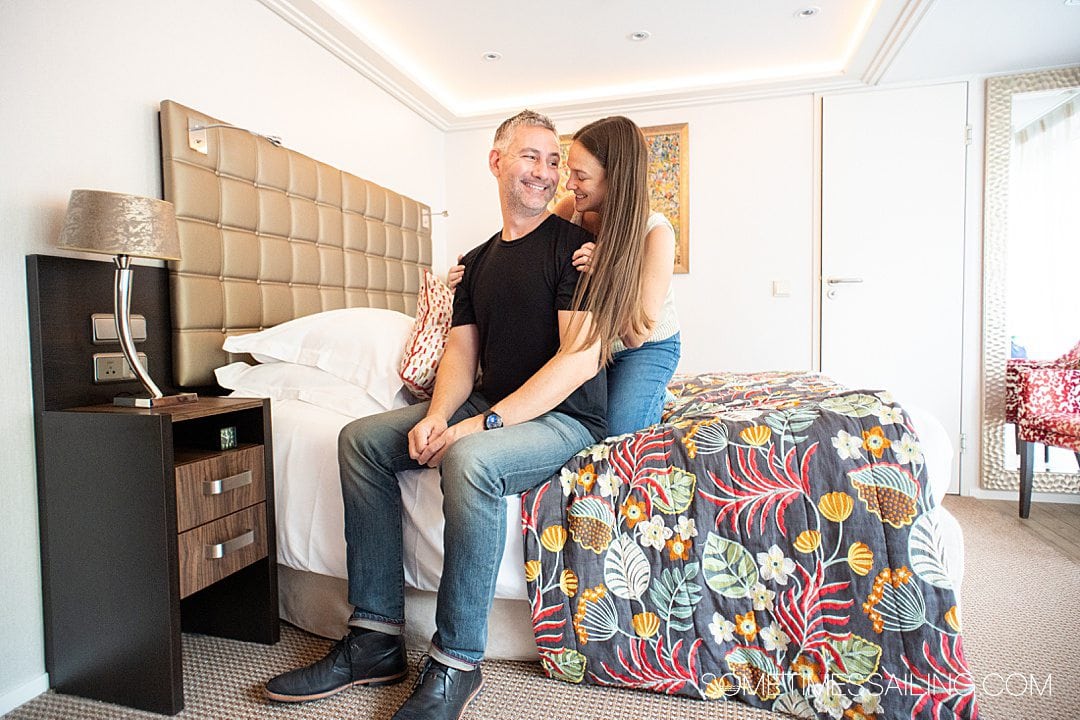 Inside Our AmaWaterways AmaKristina Junior Suite
Our junior suite was spacious and lovely, with some wonderful features we thoroughly enjoyed.
The room had two options to let the outside into the room: a true balcony, with two outdoor seats and a small cocktail table, and a Juliet balcony, with two indoor plush, upholstered seats just next to it, inside the stateroom.
There was also a desk with a large iMac desktop computer on it, which we could use for internet (though there's Wi-Fi everyone onboard), or as a television. Our favorite thing to do wasn't to watch the news (it's vacation, after all) but to watch the camera on the ship's bow!
Also in the desk area were our QuietVoxes for tours and additional outlets.
We appreciated the beautiful tray ceiling over the bed, with calming lighting. It was the perfect pre-bedtime lighting to wind down at the end of the day. It was also the perfect lighting after we awoke for the day from the darkness. It was subtle and enjoyable. 
Of course, there was additional lighting throughout the room if we wanted it to be bright, including recessed lighting, bedside lamps, and a desk lamp with reading lights on either side of the bed. 
As we're a couple, we opted to have the bed configured as a queen-size bed. If you prefer, you can have two twin-size beds instead. This is typical with any river cruise stateroom option, no matter the company.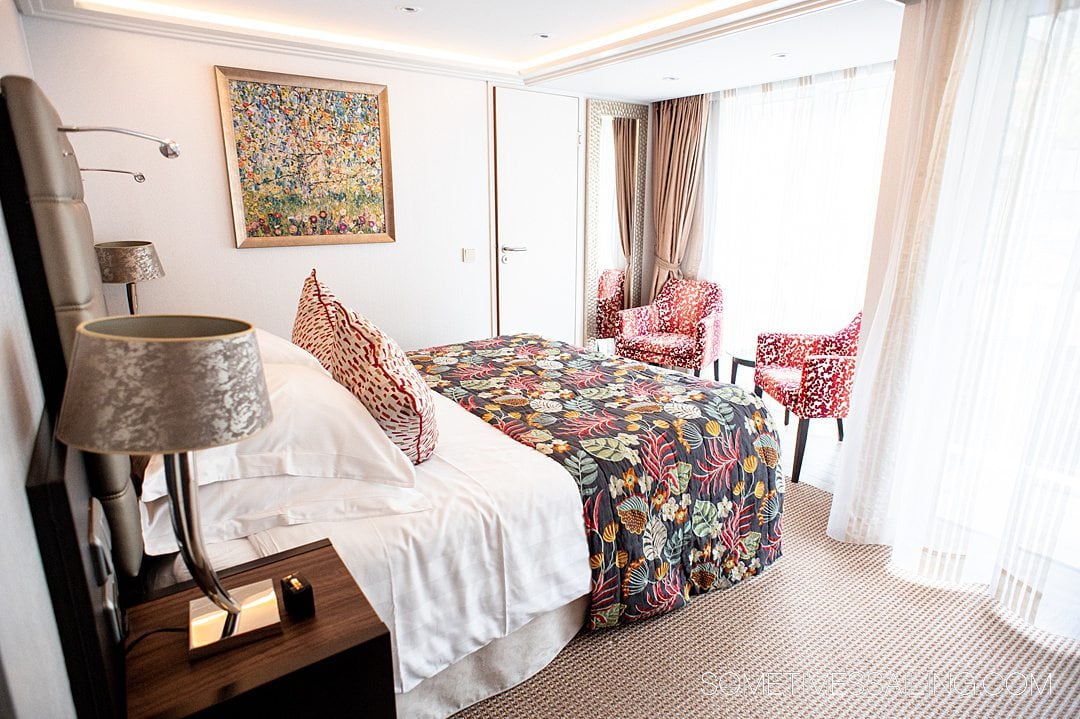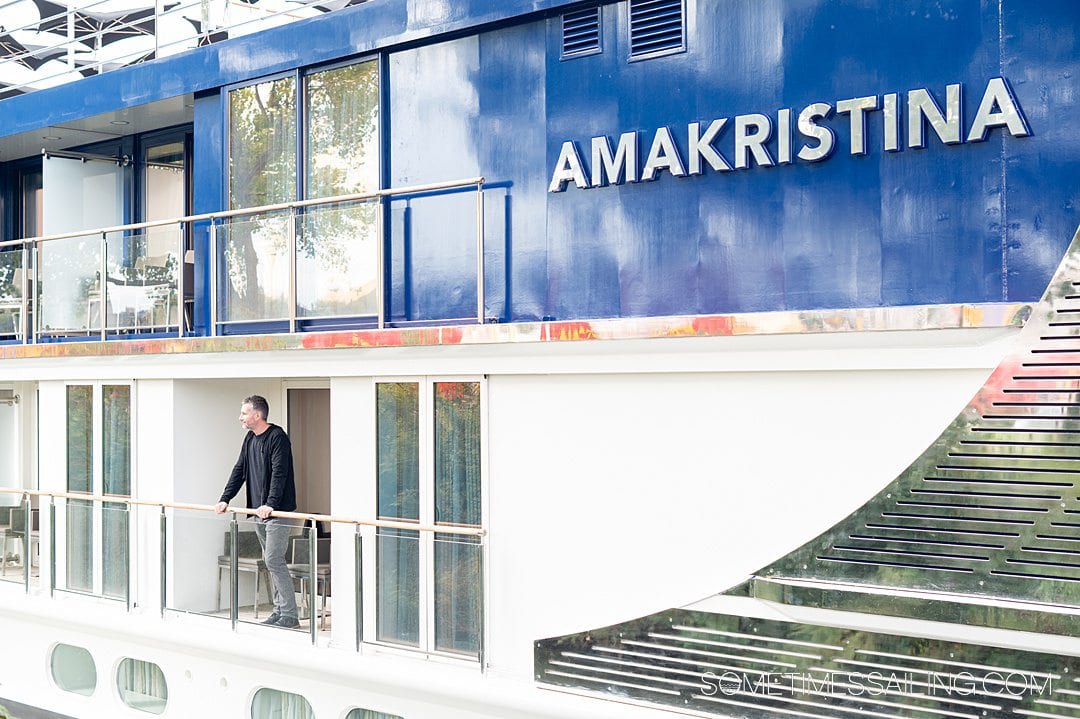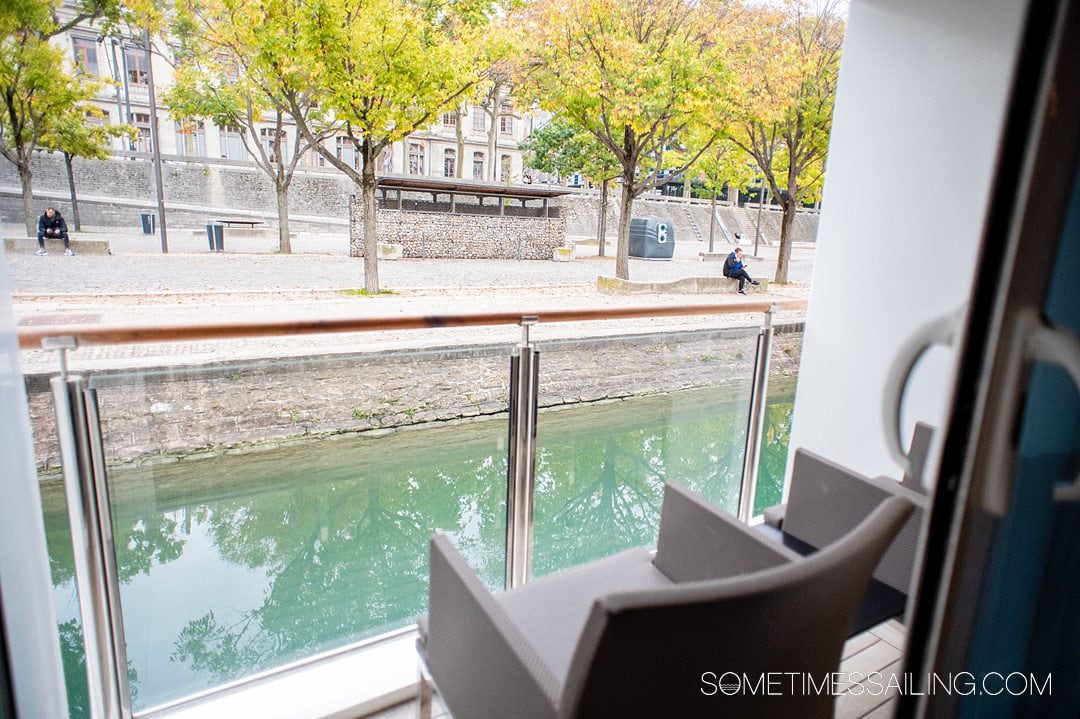 Junior Suite Bathroom
Our bathroom had double sinks, which we appreciated, and a long glass shelf that spanned the length of the sink area. There was cabinet storage beneath the sinks.
The shower was the same as in any stateroom, with two shower heads, one height-adjustable.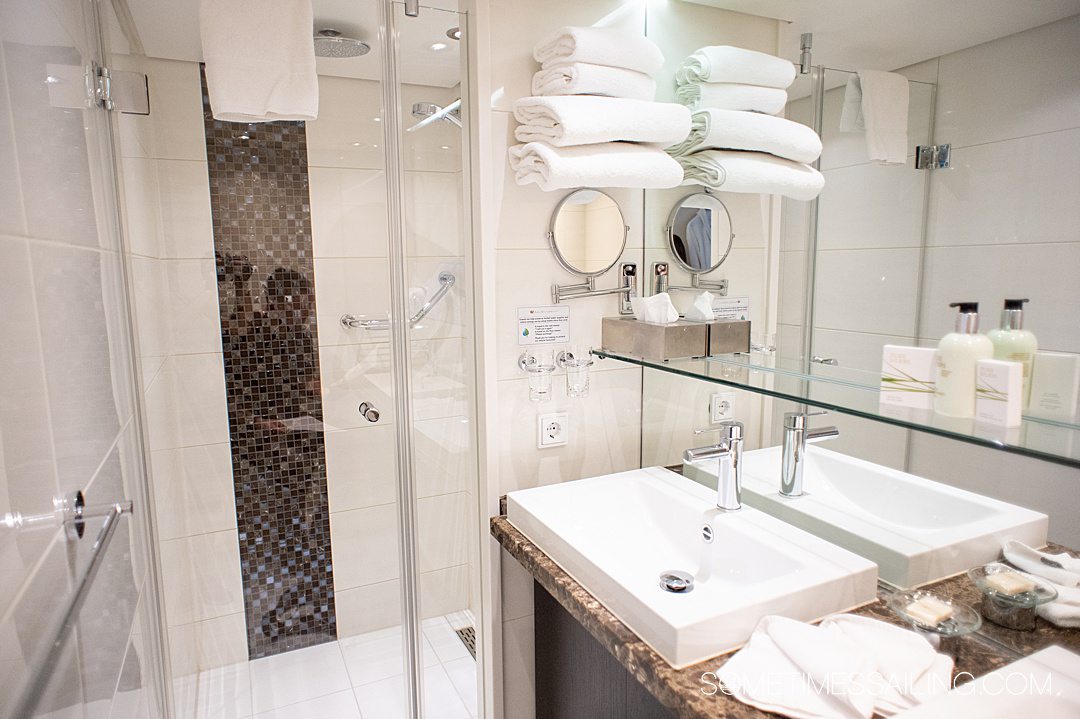 Staterooms Onboard, Overall
AmaKristina has 78 staterooms and several stateroom categories. Instead of Decks 1, 2, 3 three being called by numbers, on AmaKristina, they are called Piano, Cello, and Violin, respectively.  
The Deck 3 suites are all numbered with 300s, Deck 2 staterooms with 200s (like our stateroom, 201), and Deck 1 with 100s.
The Piano deck has only 11 staterooms that are narrow with a small window. These are category D and E rooms, both at 160 square feet. There are limited staterooms on Deck 1 because half the floor, hidden behind crew-only access, is crew staterooms.
The next deck, Cello, has 33 staterooms, consisting of categories CA (175 sq ft), BB (210 sq ft), and AB (235 sq ft).
All staterooms have large umbrellas in the closet, a shoe horn, a safe, an ice bucket, a mini refrigerator, glass-bottled water, outlets, USB ports, and a wine bottle opener.
When you check into the room, you'll find a luggage matte across the bed so you can unpack with plenty of room. It's a nice touch.
AmaKristina Stateroom Decor
Unique to AmaKristina are the color palette and room finishes. They're mostly a cream color with bright walls and dark accents like the dark granite used in the bathrooms and the desk color if there is a desk in the stateroom. 
Accent pillows are white with red and orange details, and a piece of decorative fabric laid across the bed during the day, after the stateroom host makes up the room, is brown with colorful embroidery. 
We opted to have our beds pushed together to create one double bed. The headboards each had a reading light for each guest. Next to Dan's side of the bed were outlets and USB ports. There were more electrical outlets by the desk.
Be sure to bring electrical converters if you're used to U.S. plugs and outlets. The European plugs are different than what we have in the United States. We love these convertor plugs that also have built-in USB ports. We always take them to Europe, wherever we go.
➡️ Don't Forget Your Electrical Convertors! Buy them on Amazon Now!
Stateroom Televisions
With a few exceptions, like Deck 3 suites, the televisions on AmaKristina were dual-purpose Apple/Mac computers. There was a mouse and keyboard if you wanted to browse the internet or a remote control if you wanted to watch television. Suites with true TVs had a laptop computer in them for web browsing.
Channels on television were limited but included news channels like BBC, Aljeezera, and CNN. 
There were limited movies available, as well as audio-only music options. A personal favorite channel on any cruise ship is the camera feed that overlooks the ship's bow. They had that on AmaKristina, and I put it on while we were in the room once in a while.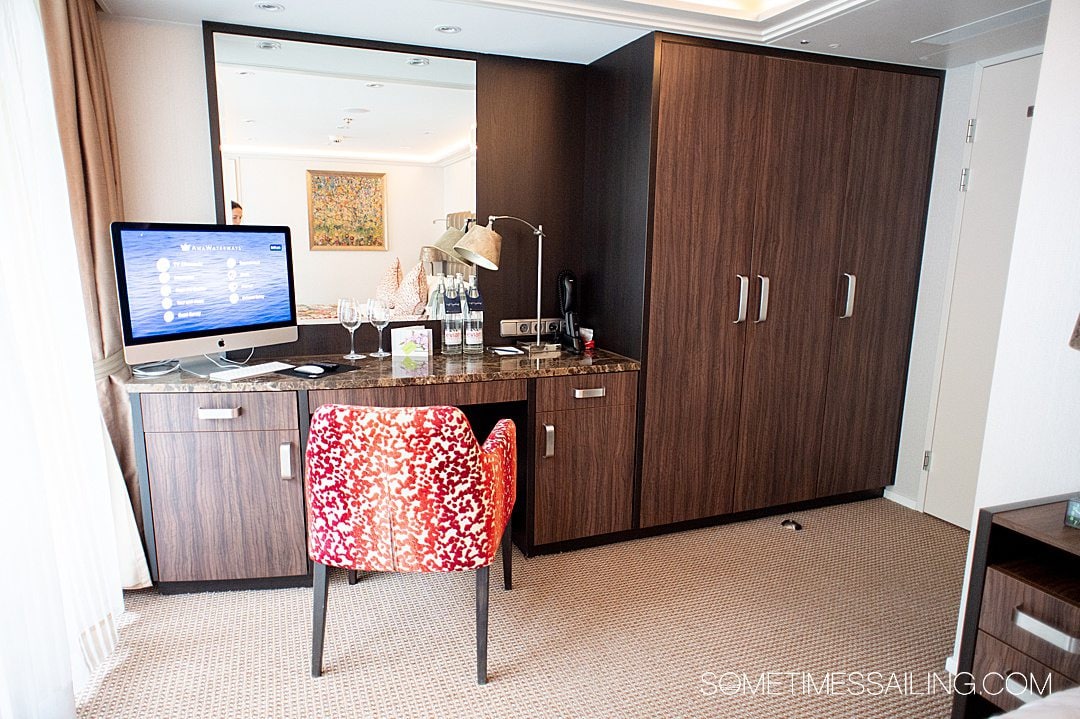 Bathrooms and Bathroom Amenities
The bathrooms onboard all have a toilet and shower, with two shower heads. One is an adjustable shower head that you can handhold as well as mount on the shower rod, and the other is overhead, like a rain shower head. 
Each stateroom bathroom has the following:
Hairdryer
Lotion
Shampoo
Conditioner
Shower Gel
Robes
There was one robe hanging in our bathroom when we embarked. We found the other robe, along with two pairs of disposable slippers, in the closet.
Laundry on AmaKristina
If you would like to do laundry, the only onboard option is to do so with their laundry service. There is a bag in your closet to leave the pieces you want to be laundered. The cost is reasonable and varies per piece of clothing.
For example:
Blouse or shirt is €1,80 euros
Dress is €2,50 euros
T-shirt is €1,20 euros
Cardigan, pants or jeans is €2,00 per piece
Sweaters are €1,70 euros
Underwear/bra/vest/stockings/socks are €1,20 each
If you wish to handwash some clothes in your stateroom, we recommended bringing along these Tide travel packs for your sink and these clothes pins, which we love!
Stateroom Safes
All staterooms have locking digital safes in the closet if you want to put your passports and valuables inside.
Suites on AmaKristina
There are six suites onboard AmaKristina. On Deck 3, there are four full-size suites. Below that, on Deck 2, are two junior suites. We were in junior suite 201, and there is one across the hall in 202.
One of the things we loved about the location of the suites is that they're all midship, close to the staircases, elevator, and reception desk. They're close to the entrance of the main restaurant too.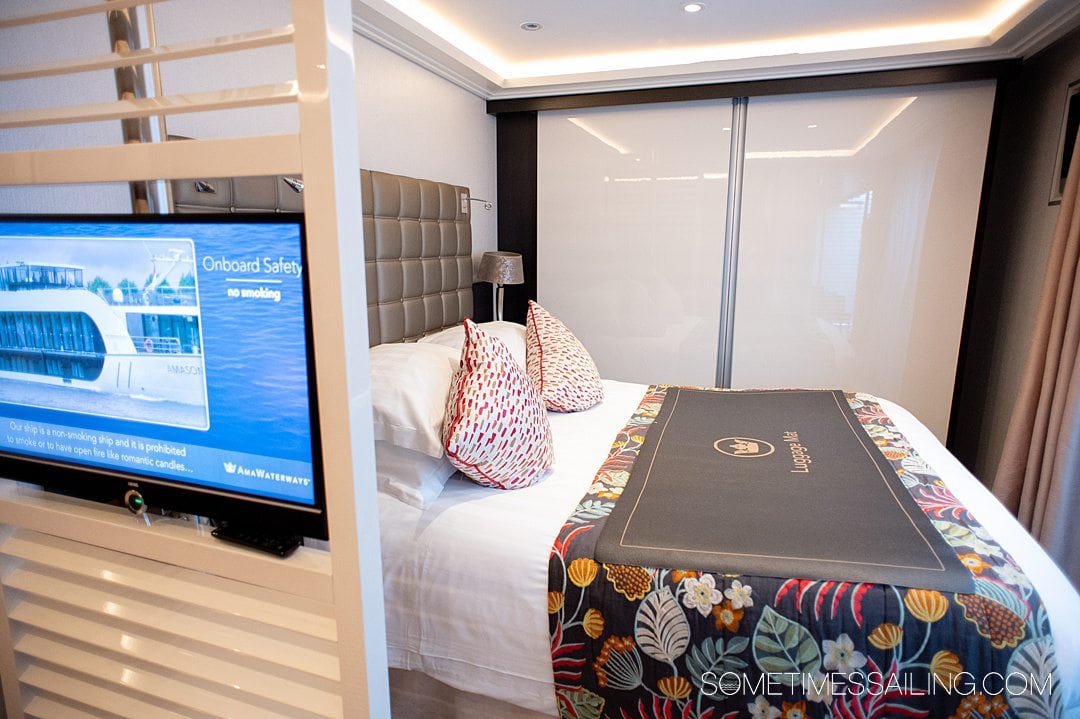 Increased Occupancy in Staterooms on AmaWaterways River Cruise Ship
One of the wonderful things about AmaWaterways ships is the ability to adjoin rooms in certain staterooms. While this is a usual feature of many ocean cruise ships, it's very rare on river cruise ships.
Perhaps this is one of the reasons that Adventures by Disney chose to partner with AmaWaterways for river cruises. It's a feature that lends itself to family and multi-generational cruising.
Six staterooms on AmaKristina have the ability to adjoin upon request. Four are on Deck 2, or the Cello Deck, and two are on Deck 3, the Violin Deck.
Additionally, there are 12 staterooms onboard that allow for triple occupancy.
Ice Machines on AmaKristina
There are ice machines on all three decks in case you need ice for your stateroom, as well as an ice bucket in each room. If you can't find your ice bucket, look inside one of the cabinets by the desk; it may be hiding in there!
Conclusion for Our AmaWaterways AmaKristina Review
All in all, we had a great experience on AmaKristina. The Cruise Manager was a standout along with our junior suite, the Sip and Sail events, the pool, the fitness room, and the excursions AmaWaterways provided during our Colors of Provence river cruise in France. 
We look forward to future sailings with AmaWaterays!


Cruising Soon? Read this: