Guide to Mississippi River Cruises: Discover The Heart of America
Sail through magnificent scenery and learn about the tantalizing history of the United States on a Mississippi River cruise. You may even travel from port to port on a working piece of history: a steamboat!
Modernized for today's river cruising demands, these boats harken back to the 19th century when steamboats played an important role in developing the regions along the Mississippi.
Cruising the Mississippi River has grown in popularity so much that river cruises are now being offered nearly year-round.
Disclosure: This post has affiliate links, meaning we may earn a small commission if you click the link and proceed with a purchase at no cost to you. We truly only recommend cruises, experiences, products, and services we personally use. As Amazon Associates, we earn from qualifying purchases.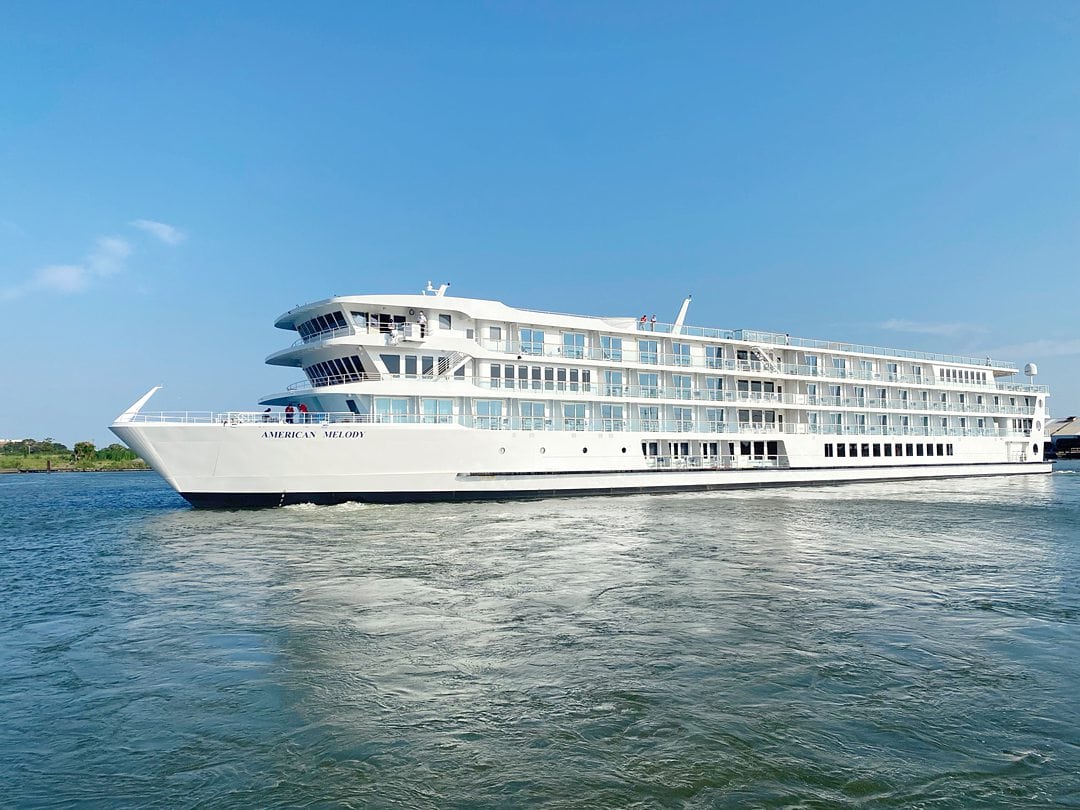 Best Time to Cruise the Mississippi River
The best time of year to cruise the Mississippi really depends on which part of the river you plan to explore. You must also consider the flux and flow of the river itself as it goes through seasonal changes. (This is a natural consideration with any river cruise, no matter where you are in the world.)
For example, Upper Mississippi River levels rise during spring and the beginning of summer due to snowmelt from the northern states. The river's currents may be too dangerous to navigate during this time. This means that most upper river trips commence in late June or early July.
As for Lower Mississippi River cruises, they typically operate from November through December and again from April to mid-June. These cruises tend to sail on the bottom third of the river, beginning or ending in New Orleans.
What You Need to Know About Weather for Your Mississippi Cruise
First, you must know that summers along the Mighty Mississippi are hot. Temperatures can reach upwards of 90 degrees, and the humidity may create incredibly muggy conditions.
Under these circumstances, sudden and extreme thunderstorms can occur. (Although, if you are somewhat of a storm appreciator, the skies aglow with lightning will provide a stunning attraction in itself and great photo opportunities.)
Secondly, along with the muggy heat will come one of the summer's most despised creatures: the dreaded mosquito! So you'll also want to bring bug spray during the summer months and our favorite mosquito tool: the Bug Bite Thing.
(This is the only thing that has worked to eliminate bug bites right after they happen. Bug bites are not masked with this tool – they are truly gone! This is why we always take this tool when we travel anywhere warm.)
🦟 Don't let itchy bites affect your cruises! Get your Bug Bite Thing now!
If any of this sounds unappealing, it's best to book your Mississippi River cruise for spring or fall when the temperatures are cooler, storms are less likely to happen, and mosquitoes aren't out with a vengeance.
Keep Natural Disasters and River Water Levels in Mind When Booking Your Mississippi River Cruise
Be sure to keep an eye on Mother Nature! Annual hurricane season runs from the beginning of June to the end of November and can greatly affect cruises on the Lower Mississippi River. (Just think about New Orleans.)
Other natural occurrences to be mindful of are droughts and flooding. A ship can't sail if it is stuck in the river muck, nor can it safely sail if high waters and currents pull the ship up or downstream or are so high the vessel can't fit under bridges.
Most tour operators have contingency plans in place to handle the river's changes. One solution is arranging for cruises to take place on the nearby Ohio River instead. Inquire about inclement weather policies regarding the river levels before booking your cruise if you're concerned.


What States Does a Mississippi River Cruise Sail Through?
The Mississippi River flows through an incredible 10 states traveling nearly the entirety of this great nation from top to bottom.
Did you know the Mississippi is the longest river in all of North America?
The more popular Mississippi River cruises typically occur in America's Heartland on the Lower Mississippi River. Popular states on this route are Louisiana, Tennessee (home of Elvis Presley), Arkansas, and of course, Mississippi.
Mississippi River cruises are also offered on the upper portion of the river, which passes through the states of Wisconsin, Minnesota, Iowa, Illinois, and Missouri.
Below are the cities and states a Mississippi River cruise may stop at. Exact ports will vary per itinerary.


Mississippi River Cruise Options: Upper and Lower
Upper Mississippi River Cruise
The most common route operates between St. Louis, Missouri, and St. Paul, Minnesota.
Lower Mississippi River Cruise
In the lower river, routes typically operate between Memphis and New Orleans. Depending on the itinerary, either city is used as a starting or ending point.
Upper Mississippi River Cruise vs. Lower Mississippi River Cruise
If this is your first time in the great United States Mississippi River region, we think the Lower Mississippi River Cruise itineraries are more exciting; the cultures and experiences are more vibrant on the lower Mississippi.
The Upper Mississippi River itineraries are better for your second trip cruising the river, where you can expand upon the history learned from the cities in the lower south.
However, which part of the Mississippi is better for your river cruise really depends on what history and sites you're interested in seeing.
Another deciding factor for you could be the different lengths of itineraries offered. Each section of the river and cruise line operator has lengths varying from 5-day options to 22-day options.
Further down in this article, we go through the ports that each option sails through in a little more detail to help you decide.


Entertainment Onboard Missississippi River Cruise Boats
If you've never been on a river cruise before, in Europe or elsewhere, you need to know that it's nothing like ocean cruise ships, which provide endless hours of entertainment onboard.
River cruise ships focus on the ports and shore-side entertainment in their excursion offerings rather than bells and whistles onboard. That said, there are certain amenities different cruise lines provide on the Mississippi that is worth noting as you decide the best cruise line for you.
For example, American Queen has an onboard theater where singers and bands play in the evenings.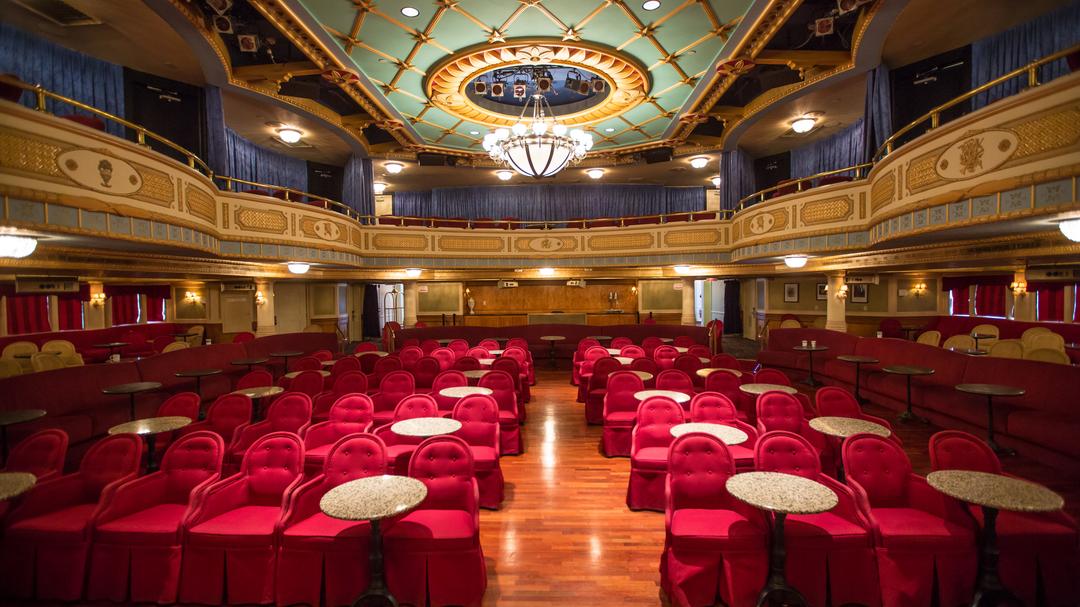 While the theater is unique to American Queen Voyages, all ships with every cruise line that sails the Mississippi River for multi-day overnight sailings have lounges where you can quietly read a book or enjoy a cocktail, coffee or tea. This includes American Cruise Lines American Symphony or American Melody, and Viking Mississippi.
American Heritage, with American Cruise Lines, has a small putting green on Deck 5 for putt-putt golf fun.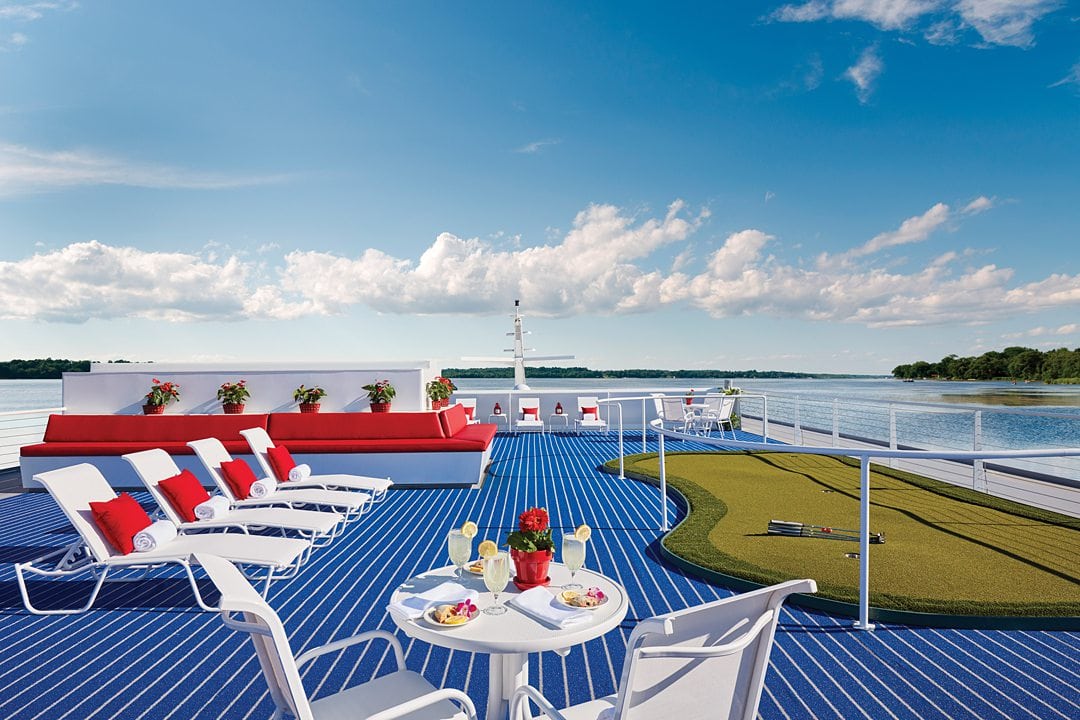 Some Sightseeing Highlights of a Mississippi River Cruise
You'll get a great dose of history during a river cruise along the Mighty Mississippi, including highlights mentioned below on various itineraries:
F. Scott Fitzgerald's birthplace, Minnesota
Elvis's Graceland, Tennessee
Houmas House, New Orleans, a historical southern home
Laura Plantation, New Orleans
Mark Twain's childhood home, Missouri
Mathias Ham House, Iowa
Myrtles Plantation, St Francisville, Louisiana
National WWII Museum, New Orleans
North Alton Confederate Cemetery, Illinois
Oak Alley Plantation, New Orleans
Laura Plantation, New Orleans
Old Fort Madison, Iowa
St. Louis Arch, Missouri
Ulysses S. Grant's home, Illinois
Vicksburg Civil War Battlefield, Illinois


What River Cruise Lines Sail the Mississippi River?
Three popular, well-known cruise lines sail throughout the United States, including on the Mississippi River. Let's take a look at the most popular lines that operate along the river.
Their itineraries remain virtually the same each season, although keep in mind the precise dates change yearly and some ports may change over time too.
These cruise lines include:
American Cruise Lines
Viking
American Queen Voyages
We go into more detail about the cruise lengths offered by each line and the port stops below.


Length of a Mississippi River Cruise
How many days is a Mississippi River cruise? The most popular river cruises on the Mississippi are five to eight or nine days or more. 15 and 22-day itineraries are out there too!
There aren't three-day Mississippi River boat cruises like the river cruises we're used to that we are currently aware of. You can take a one-day excursion (that does not sail overnight and doesn't go very far) or sign up for a cruise that is a minimum of 5 days.
Five Day Mississippi River Cruise
American Cruise Lines offers a 5-day journey, which is perfect for those who may need a shorter option and want a taste of river cruising, and/or the Mississippi River ports.
This close-jaw Highlights of the Mississippi River cruise itinerary starts and ends in New Orleans. Visit Baton Rouge, Oak Alley with its towering centuries-old oak trees, and Houmas House "Sugar Palace," all without Louisiana.
Eight Day Mississippi River Boat Cruise
American Cruise Lines offers three fabulous 8-day cruising options along the Mississippi:
The first of which is a package that begins and ends in New Orleans.
The second Mississippi River cruise offered is along the Lower Mississippi from Memphis to New Orleans.
Finally, in an 8-day option to cruise the Mississippi River along its upper portion, traveling between St. Louis and St. Paul.
Viking river cruises offer five very special 8-day Mississippi river tours throughout the year, including a special Christmas cruise from Memphis to New Orleans. (Christmas river cruises are very special!)
They also offer round-trip river cruises from New Orleans and a journey from St. Louis to St. Paul.
American Queen Voyages offers an 8-day round trip from New Orleans as well.
Nine to Eleven Day Mississippi River Cruises
American Queen Voyages offers a few 9-day cruises, including one from New Orleans to Memphis or visa versa, or Memphis to St. Louis or visa versa.
American Cruise Lines has an 11-day river cruise from New Orleans to St. Louis.
15 to 22-Day Mississippi River Cruises
Viking offers a special 15-day cruise that includes 11 different excursions. This route takes you from St Paul to New Orleans.
If you're looking for the ultimate Mississippi cruise, then look no further than American Cruise Lines' 22-day cruise. It covers the regions between New Orleans, Louisiana, and St. Paul, Minnesota.
1-Day Mississippi River Boat Cruise
Is it possible to take a 1-day cruise on the Mississippi River? The answer is yes! The sites you'll see will be limited, and you won't have nearly the same experience as a multi-day, overnight Mississippi River cruise.
But if your time is incredibly limited, then this may be a good option for you to get your feet wet with the possibility of taking a future Mississippi River Cruise beyond one day.
Here are a few options for one-day river cruises on the Mississippi:
Riverboat Twilight: This steamboat departs from Debuque, Iowa, and gets rave reviews for its full-day cruises. If you wish to stay overnight, you can opt for their two-day Mississippi River cruise experience.
La Crosse Queen Cruises: Their steamboat cruises depart from La Crosse, Wisconsin. Cruises last between one and a half to three hours. Meals are offered on some of the cruises, such as one offering Sunday brunch or Saturday dinner and another offering free pizza for lunch!
Steamboat Nanchez: Be the envy of all riverside pedestrians as you depart from Toulouse, New Orleans, on a historic riverboat. An optional buffet lunch is offered for an additional cost. Steamboat Nanchez also offers evening Jazz Cruises.


Upper Mississippi River Boat Cruise Ports
The Upper Mississippi River is often suggested as a follow-up itinerary after experiencing the Lower Mississippi River during a multi-day overnight river cruise. This itinerary is known for having the most scenic and serene views between the cities of St. Louis, Missouri to St. Paul, Minnesota.
We describe what to expect state by state.
Wisconsin Mississippi River Cruise Stops
La Crosse, Wisconsin
This small but bustling college river town is home to the Dahl Auto Museum, which boasts a classic car selection as seen "through the eyes of the Ford Motor Company."
You'll want to take a trip to The Shrine of Our Lady of Guadalupe, also known as The Basilica of Our Lady of Guadalupe. You'll find a lot to appreciate at this popular tourist attraction, which is a beautiful piece of architecture surrounded by nature.
Minnesota Ports
Red Wing, Minnesota
Head out to Falconer Vineyards to enjoy a glass of wine and spectacular views in this historic and beautiful town.
Then stop by the Red Wing Marine Museum and have a chance to see the American Queen, the largest river steamboat ever made if she happens to be docked nearby.
Winona, Minnesota
Your river cruise guides may walk you through the town, through Winona County History Center, to the Minnesota Marine Art Museum, and over to Garvin Heights for the chance to capture stunning views of the Mississippi River Valley.
If you are into American presidential history and art, head to the Minnesota Marine Art Museum, where you can see three original paintings of George Washington and his men crossing the Delaware River.
Or, if you prefer to get out and stretch your legs, hike up to Sugar Loaf. It's an 85-foot-tall limestone mountain with incredible views of the Winona region.
St. Paul, Minnesota
There is so much to see in St. Paul, one of the Twin Cities. This is why it's a popular start and end port for many river cruise lines.
There are museums, historic homes, art galleries, and more! This city has something for everyone. A walking tour or bus tour is one of the best ways to see as much as possible in a short amount of time.
If you're booking tours on your own outside of the cruise line's offerings, two recommended tours are The Saint Paul Gangster Tour (bus and walking tour) and The Complete Twin Cities Walking Tour, where you can see F. Scott Fitzgerald's birthplace, the Minnesota State Capitol, Saint Paul, and lots more!
Iowa Mississippi River Cruise Stops
Dubuque, Iowa
See the city's beauty on a Hop On Hop Off Tour that brings you to the Historic Millwork District and Dubuque Museum of Art. Or, visit The National Mississippi River Museum and Aquarium in Dubuque, Iowa, is the largest aquarium in the Central United States.
You may also opt to head to the Field of Dreams for a special tour; it's where parts of the famous film of the same name were created, which was released in 1989.
More attractions in Dubuque include the scenic railway, Fenelon Place Elevator, and St. Luke's United Methodist Church. It has one of the finest religious collections of Tiffany glass worldwide.
Lastly, enjoy a glass of wine at one of the area's wineries to end the day before returning to the cruise ship.
Davenport, Iowa
The most popular attraction here is the Figge Art Museum which has artworks dating from the 15th century.
Fort Madison, Iowa
You can't miss Old Fort Madison, which brings history to life and allows visitors to experience the life of a soldier during the war of 1812.
Illinois Mississippi River Cruise Stops
Nauvoo, Illinois
Ride a horse-drawn carriage through this historic Mormon town to see the Brigham Young Home and the Smith Homestead. Afterward, stop by for a spot of wine at Illinois's oldest winery, Baxter's Vineyards & Winery.
Galena, Illinois
Galena is the historic town home to Ulysses S. Grant, the 18th president of the United States. You can take a trolley tour to see his home and other locally famous landmarks and historic sites, including its delightful main street with lots of shopping.
Alton, Illinois
Visit the North Alton Confederate Cemetery, which memorializes those who passed away in imprisonment during the Civil War. Later, have a little fun stopping by the Argosy Casino in Alton.
Missouri Mississippi River Cruise Ports
St. Louis, Missouri
St. Louis is home to the symbolic Gateway Arch, which celebrates the hard journey people took to populate the Central and Western United States. Here you can also experience a fresh beer tasting at the Anheuser-Busch Brewery or visit the Missouri Botanical Garden.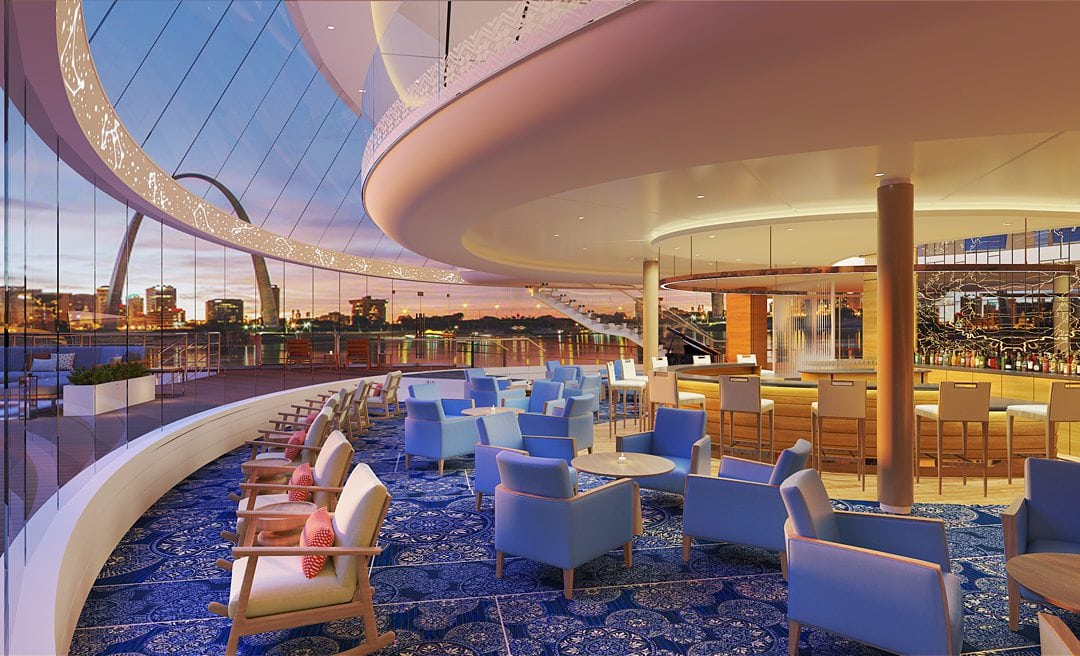 Hannibal, Missouri
Were you a fan of reading the Adventures of Huckleberry Finn and Tom Sawyer? Then you must visit Mark Twain's childhood home and museum! Other interesting sites include the houses of Huckleberry Finn and Becky Thatcher.


Lower Mississippi River Boat Cruise Ports
The Lower Mississippi River is home to many of the confederate historical landmarks and Civil War memorials, as well as beautiful plantations, the expansive estate of Elvis Presley, and the grand city of New Orleans.
Tennessee Mississippi River Cruise Stops
Memphis, Tennessee
You can't go to Memphis and miss out on seeing Graceland, home to the King of Rock n' Roll, can you?!
Elvis Presley is arguably the greatest thing ever to have come out of Memphis. His home, Graceland, may be the largest tourist attraction there. But The National Civil Rights Museum should also be a stop during your visit to this Mississippi River cruise port.
Mississippi State River Cruise Stops
Vicksburg, Mississippi
If you're a Civil War history buff, then you'll be excited to see the famous siege of Vicksburg Civil War Battlefield. Another must-see is the National Military Park, which has over 1,370 monuments and a national veterans' cemetery.
For boat lovers, there's the Old Depot Museum, which is home to the world's largest ship, riverboat, and US Navy ship model collection.
Louisiana Ports on a Mississippi River Cruise
St. Francisville, Louisiana
Seemingly the capital of confederate plantations, you will surely see some charming architecture. Pay a visit to the popular Myrtles Plantation and Rosedown Plantation.
Baton Rouge, Louisiana
Baton Rouge is a foodie paradise! Get your hands and lips around some delicious Creole and Cajun dishes in Louisiana's state capital. Before or after your tummy is full, visit the state capitol buildings and enjoy a replica of the "old town."
Houmas House, Louisiana
If you didn't get your fill of plantations in St. Francisville, head on over to the Houmas House, which has been restored to its former glory.
Vacherie, Louisiana
Visit the Oak Alley Plantation, which has been featured in everything from soap operas to music videos to Hollywood films. Nearby is the Laura Plantation: Louisiana's Creole Heritage Site, another beautiful piece of southern history.
New Orleans, Louisiana
If you travel the Lower Mississippi River, New Orleans will most likely be your start or final destination, and there is plenty to see and do here. There are ghost and voodoo tours that guide you through local history, the National WWII Museum, the Garden District, the French Quarter, Jackson Square, and lots of amazing restaurants to eat at.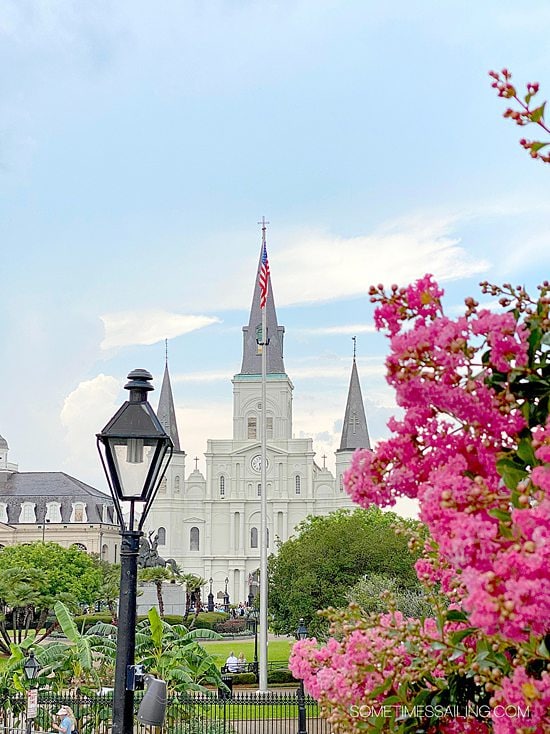 Mississippi River Cruise FAQS Answered
What is the Best Mississippi River Cruise Line?
The answer to this question is truly subjective.
That said, the good news is there are only three cruise lines to choose from, whose itineraries we listed above. That includes American Cruise Lines, Viking, and American Queens Voyages.
Factors you should consider in deciding which cruise line to book depend on things like ship modernization (or year built or refurbished), cost of the cruise, and precise ports that the itinerary goes to.
If you're looking for the most recently built ships, Viking is the latest to debut its American cruise ships. Secondly, American Cruise Lines has debuted new river cruise ships in recent years and has more on order.
American Queen Voyages has new ships as well, but they are focusing on expedition cruise ship builds in the next few years, which will not be sailing on the Mississippi.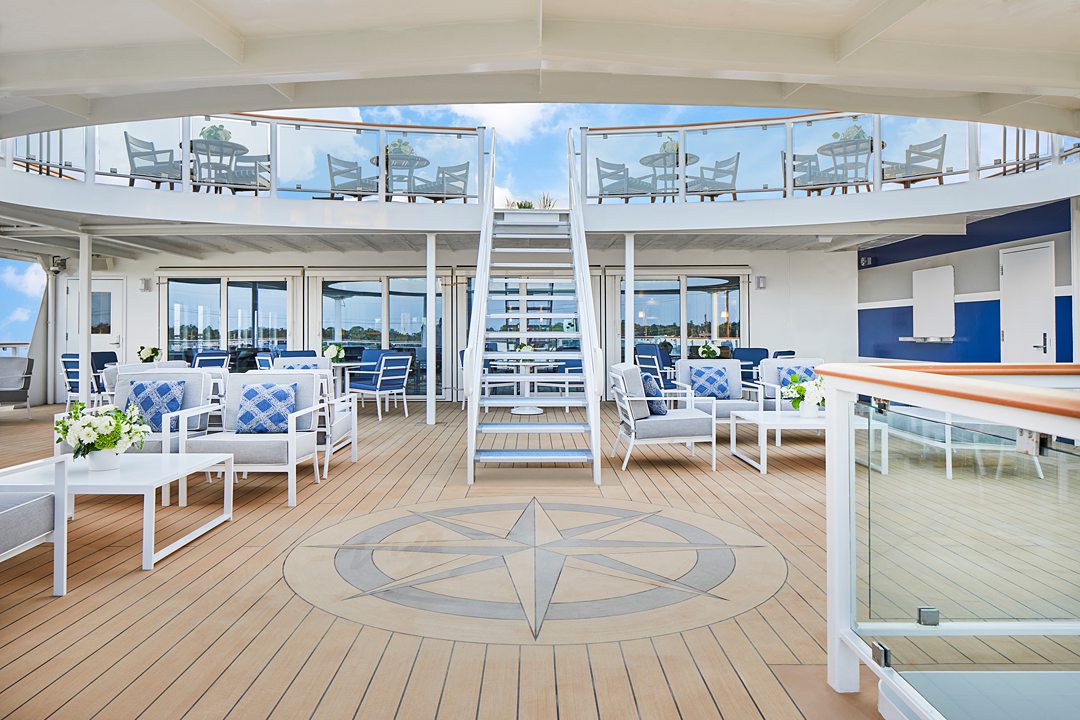 How Much Does a Mississippi River Cruise Cost?
Expect to pay $2,600 and upwards depending on the cruise line, dates, and itinerary you choose to experience the Mississippi River on a multi-day river cruise.
Here are some sample itineraries and costs on various cruise lines:
$2,599 per guest for a 9-day Mississippi River Cruise in July, to $5,399 per person for 16 days on American Queen Voyages.
$3,999 for an 8-day Mississippi River cruise with Viking, up to $12,999 for 15 days. (Note that at the time of publication of this article, all of Viking's 15-day voyages on the Mississippi River for 2023 and 2024 are sold out.)
$2,280 per person is a great deal for some select 5-day itineraries with American Cruise Lines. Prices vary from there. They have 11-day options and 22 options, which can be around $6,105 to $15,935 per person, respectively.
Based on typical costs of a river cruise, Mississippi River cruise options truly run the breadth of cost and can be within reach for anyone's budget as long as you can reach that minimum of $2,300 per person, give or take some money. Don't forget to budget for gratuities as well and some extra money if you want to upgrade any excursions beyond what's included.
We know that US River Cruises may give some people sticker shock if they're used to ocean cruise ship prices. However, we hold true to our belief that river cruises are the best value out there.
Reasons why US river cruises cost more than a European river cruise, for instance, are because the ships have to be built in the United States and the crew has to be large American, which means their salaries are American dollars.


Mississippi River Cruise Conclusion
Americans don't have to venture far from home to explore the beautiful cities along the mighty Mississippi River. International guests – along with US guests – will find a Mississippi River cruise is a wonderful way to gain a historical perspective of great American cities.
Whether you sail for eight days or 22, one thing is certain: you won't regret exploring America in such a unique and memorable way.