Celebrity Beyond Fun Facts: 40 Interesting Things About the Ship
It's no secret we absolutely love Celebrity Cruises. This exceptional, trailblazing cruise line hooked us from our first sailing on Celebrity Apex.
We had the chance to visit Celebrity Beyond for its North American premiere, and we were in awe of the ship's spaces, the team that came together to design and build it, and the crew, led by a female captain, Kate McCue.
While we were on the ship, we learned some Celebrity Beyond fun facts through various avenues, including a ship tour and a celebrity panel with Nate Berkus, Daniel Boulud, and Captain Kate McCue.
We share them with you below, including restaurant, bar, crew, art, and architectural things you never knew about this phenomenal Celebrity Cruises cruise ship.
Disclosure: This post has affiliate links, meaning we may earn a small commission if you click the link and proceed with a purchase at no cost to you. We truly only recommend cruises, experiences, products, and services we personally use. As Amazon Associates, we earn from qualifying purchases.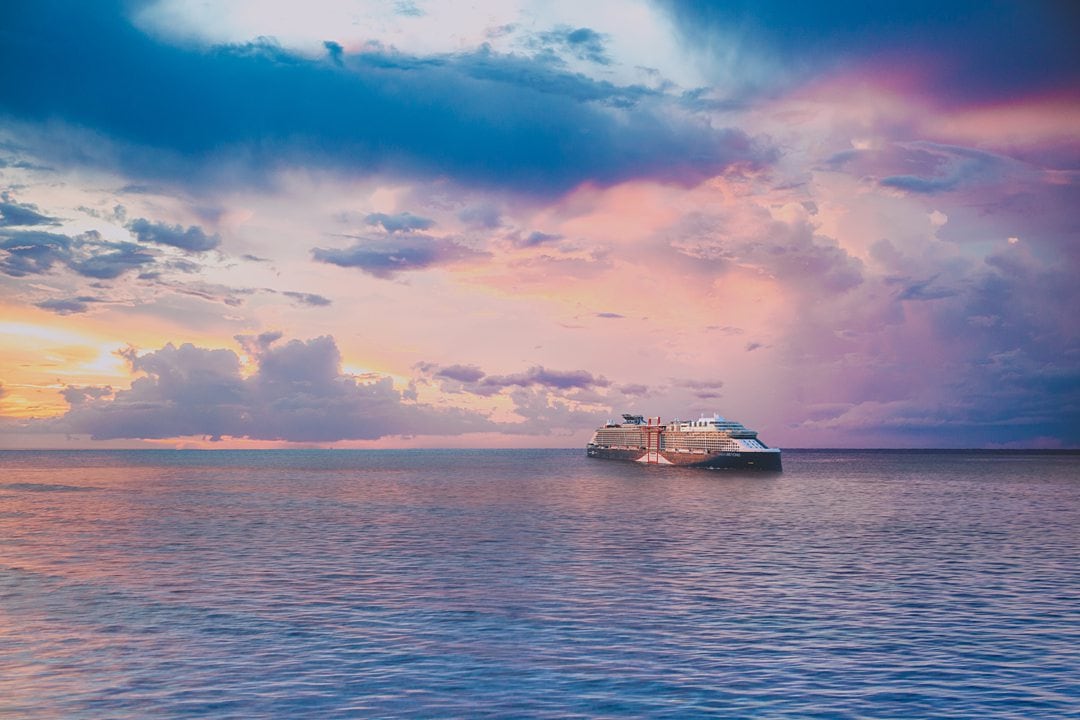 Celebrity Beyond Fun Facts Behind the Scenes with Celebrities
Designer Nate Burkus, Michelin-Starred Chef Daniel Boulud, and Olympic Gymnast Simone Biles
1. Nate Berkus's favorite public space onboard is the Sunset Bar, which brings together some of his favorite elements from beach and pool clubs from around the world.
2. Berkus shared his favorite private space onboard, and his favorite of all on Celebrity Beyond is the crew bar. (Which is, of course, not open to guests!)
3. The first time Berkus toured the finished Celebrity Beyond cruise ship, he rearranged the throw pillows as soon as he got to the Sunset Bar!
4. Working with the Celebrity Cruises team is the first venture into cruise ship design for Nate Berkus and into the cruising culinary world for Daniel Boulud.
5. Daniel Boulud's first dedicated restaurant at sea, Le Voyage, is on Celebrity Beyond. The tables are within beautiful white "nets" that create an intimate setting, no matter where you're seated.
The cost to dine at Le Voyage is $139 with the wine pairing and $75 without the wine pairing.
6. The menu at The Retreat on Celebrity Cruises Edge Class series ships, including Beyond and Apex, includes curated dishes from Daniel Boulud.
7. The Godmother of Celebrity Beyond is the Greatest of All Time (the GOAT, as the kids say!) gymnast Simone Biles. She is a 19-time World Champion and seven-time Olympic Medalist.
She was at the cruise ship christening and naming, and guests enjoyed receiving copies of her inspirational book, Courage to Soar: A Body in Motion, A Life in Balance.
Celebrity Beyond Fun Facts About Its Restaurants and Bars
8. Japanese-born expert restaurateur Chef Yoshikazu "Yoshi" Okada curated the menu for Raw on 5. We recommend the sushi; it's delicious! (And we're tough sushi critics!)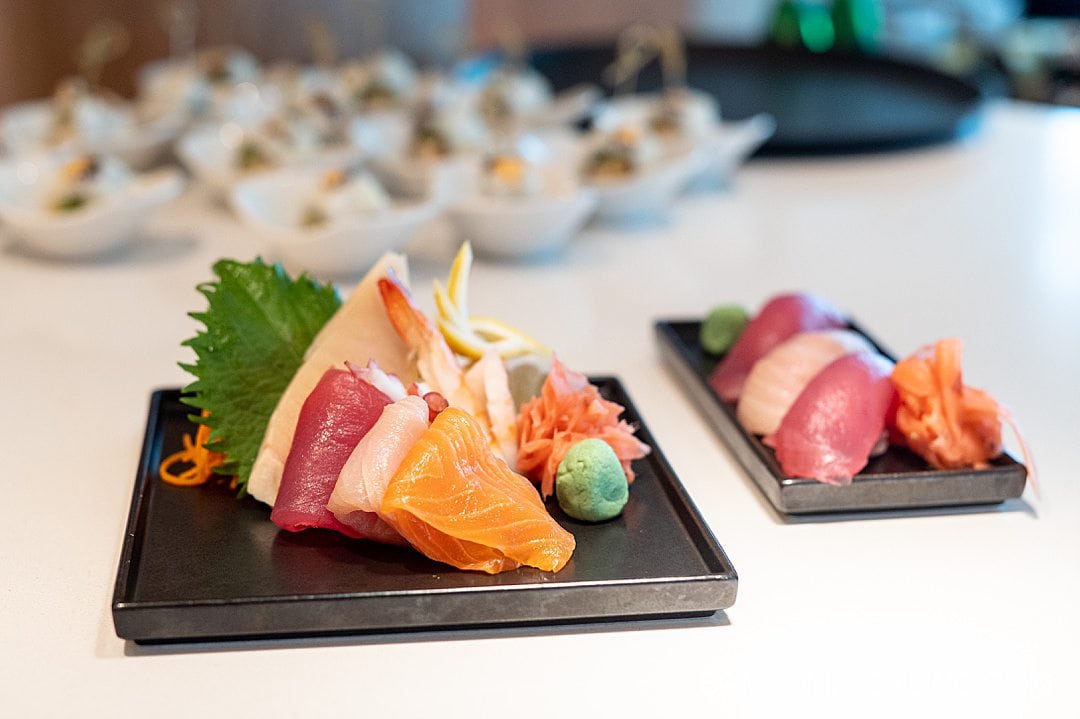 9. The Martini Bar, at the "hearth" of the ship, allows guests to sit 360 degrees around the central bar and sculpture. This is opposed to a ship like Celebrity Apex, where there is a wall behind the bar.
10. Celebrity Beyond assigned a trained mixologist to each bar on the ship.
11. There are 24 sommeliers onboard who rotate through the restaurants. Celebrity Cruises ships are the most awarded ship by Wine Spectator.
12. A 27-liter bottle of Veuve Cliquot champagne christened the ship during its November 2022 naming ceremony.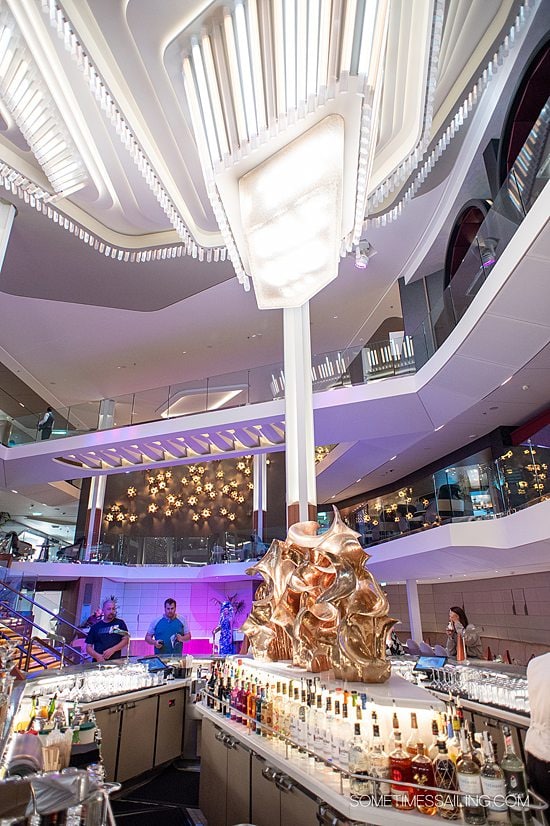 13. You can eat at a different venue each night. Some unique restaurant-specific items are on the menu at each restaurant, yet you can also get the same menu across the ship, no matter the restaurant you're eating at.
This is because of the Celebrity Beyond fun fact (and little secret), all the galleys onboard connect behind the scenes. So, for example, if you are in the French restaurant Normandie, but you want a Greek salad from the restaurant Cyprus, you can order one.
14. One of Celebrity Beyond's 14 cafes, bars, and lounges is its "World Class Bar," where you will find specialty cocktails you cannot get elsewhere.
One example of this is the American Pie Cocktail, made with Bulleit Bourbon. The bartender brûlées an apple slice to top the cocktail per drink order; the smell is as scrumptious as you can imagine!
We also loved the Rose Water cocktail with the ingredient of the same name, Ketel One, watermelon syrup, and hibiscus salt. It was perfectly balanced!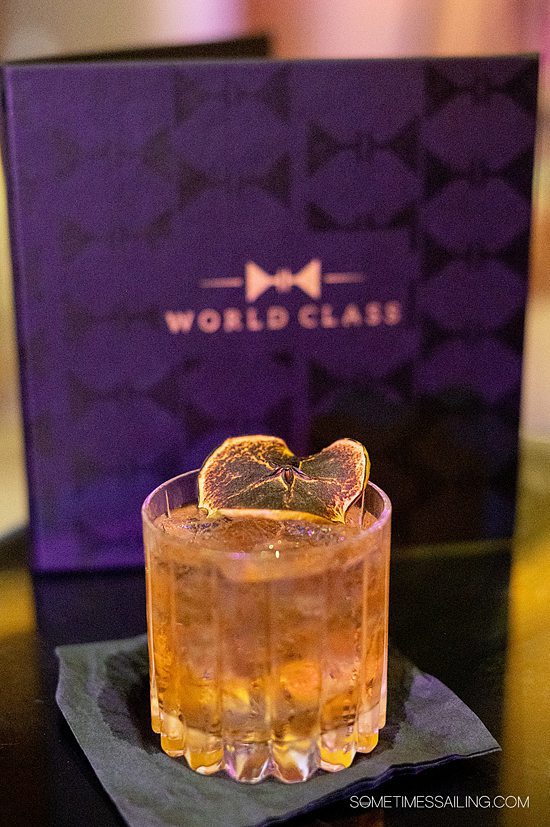 Fun Facts About Celebrity Beyond's Crew
15. One of the ship's captains is Captain Kate McCue, who has a combined social media following of over 3.4M from TikTok and Instagram. She is a true trailblazer!
16. Her hairless cat, named Bug, is onboard with her when she captains the ship. Kate and her cat work three months on, then have three months off, as most cruise ship captains of large ships do. @BugNaked has a social media following of nearly 62K on Instagram!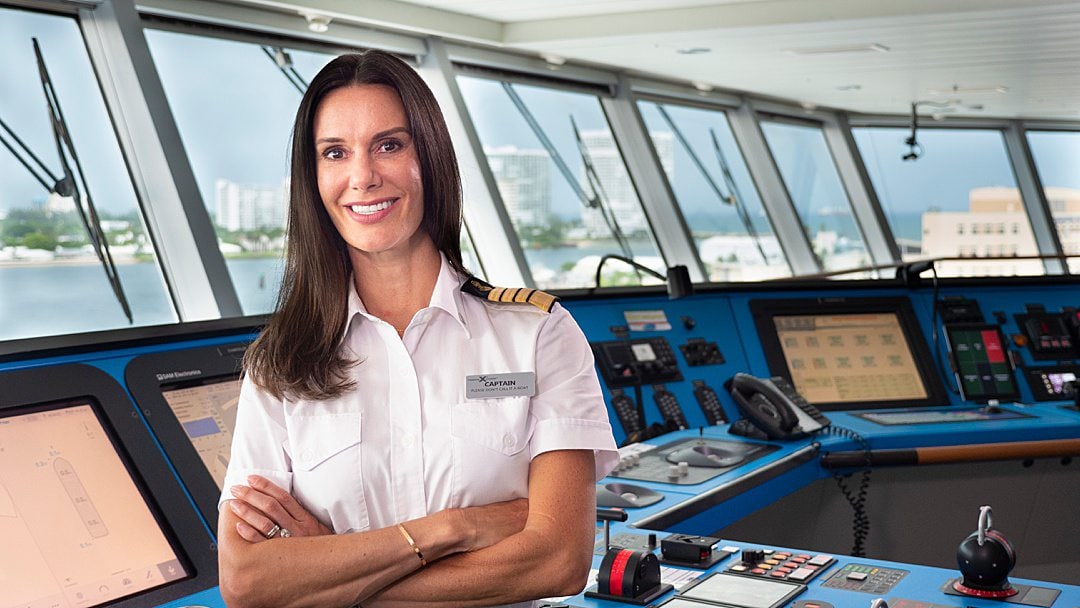 17. World-renowned photographer Annie Leibovitz photographed three leading women on Celebrity Beyond: Captain Kate, 1st Officer Sahira Binte Shari Nurul, and 2nd Officer Gifty Adu Gyamfi.
18. Lisa Lutoff-Perlo, President and CEO of Celebrity Cruises, who worked with Captain Kate for 13 years at Royal Caribbean, promoted her to captain when Lutoff-Perlo was named CEO of Celebrity Cruises.
During the Celebrity Beyond preview panel, she mentioned she recommended Kate for captain many times at Royal Caribbean.
Lutoff-Perlo was told, "Her time will come," thirteen years in a row, despite McCue's stellar record as a leading crew member with Royal Caribbean. Her time came when she was promoted by Lutoff-Perlo in a groundbreaking move to name McCue as the first female captain of a ship that size in the United States.
19. She wrote an email to Captain Kate about why she was being promoted, highlighting her exceptional qualities, so she could show the email to her parents to break the good news.
Captain Kate showed the letter to her father (then to her mother) on Father's Day the year she was promoted to captain!
20. Just a week before the ship's naming and Celebrity Beyond's North American debut, Bravo's Watch What Happens Live was filmed on Celebrity Beyond. The filming occurred in Eden while the ship was docked at Cape Liberty US Cruise Port, just miles from New York City.
Bravo's Andy Cohen was onboard for promotional videos and to interview all five captains of the network's famed Below Deck series. It was the first time all five captains were in the same room!
Captain Kate, a celebrity in her own right, made an appearance during the episode as she read things that each captain had done in his or her lifetime. Andy had to guess which captain was associated with the memory.
21. Celebrity Beyond's 1,400+ person crew hails from 60 different countries.
Celebrity Beyond Art and Architectural Facts
22. Celebrity Beyond is 69 feet (or 21m) longer than Celebrity Apex. Beyond has 17 decks, unlike Apex or Edge's 16 decks. The Sunset Bar is also 180% larger than the sunset bar on Apex and Edge.
23. To make the ship larger, two 33-foot sections were added to the Grand Plaza. The Celebrity Cruises team, including Lisa Lutoff-Perlo, calls it the "Harri Stretch," named after Harri Kulovaara, who is Royal Caribbean Group's EVP of Maritime and Newbuild.
24. The Retreat's main accent color on Beyond is red. One of the fun things about The Retreat on Celebrity Beyond that you don't find on Celebrity Apex is that The Retreat pool deck connects to its Luminae restaurant. It also has a 40% larger sundeck.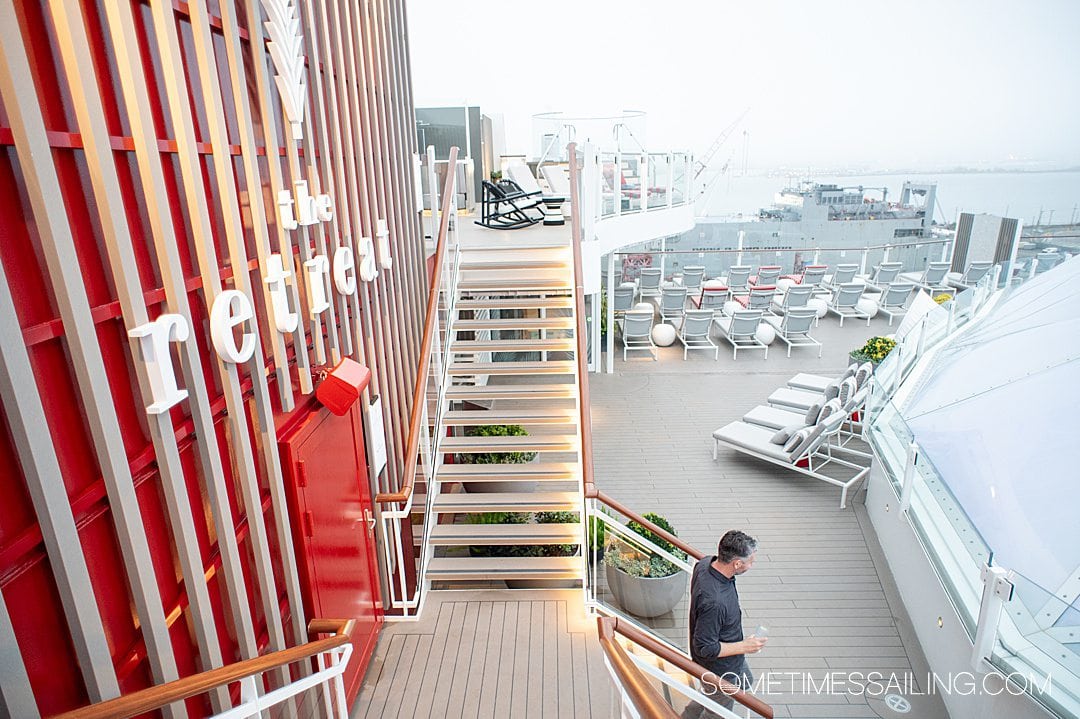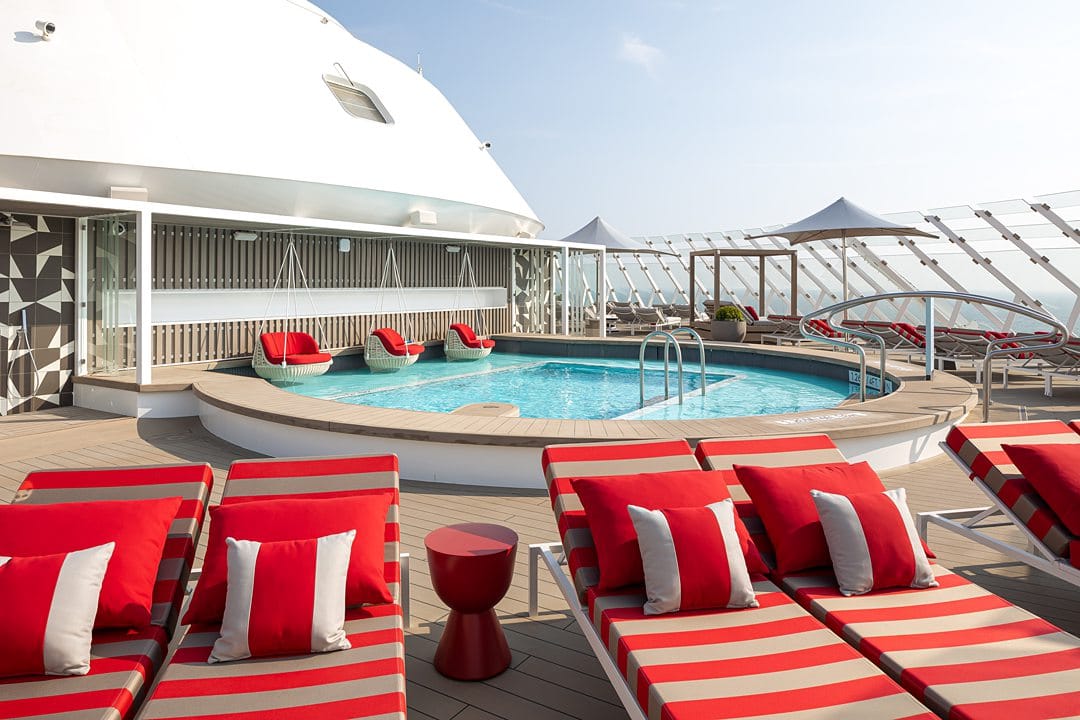 25. You'll find hand-painted motifs in several design elements at the Sunset Bar. They're all inspired by Nate Burkus's travels to his favorite pool and beach bars around the world.
One example is the patterns from ancient Greece on the throw pillows.
During the ship's design phase, Nate Burkus learned that the pillows needed to be crafted from materials that would dissolve in the ocean within a certain period of time should they fall overboard. This was a new learning for him during his foray into the cruise ship design world!
26. Between $7.5M to $10M is invested in the art of Celebrity Beyond. This budget is typical of a Celebrity Cruises Edge Class ship.
27. Each ship has an art curator. Ally Millard of Peter Millard and Partners Ltd. was the design curator for Celebrity Beyond.
28. The artists installed much of the art on the ship themselves.
29. Celebrity Beyond had the first NFT at Sea. The digital revolution, marrying Cryptocurrency and Celebrity Cruises' leadership in art and innovation, presented guests with the opportunity to buy into an immersive art experience by world-renowned Brazilian-born artist Rubem Robierb, who splits his time between NYC and Miami.
His "Peacemakers Blue Sky," was inspired by worldwide protests for social justice.
The 5 total NFT art pieces sold out within the first few minutes they were available. The buyers own these NFTs forever unless they resell to future generations of NFT art collectors.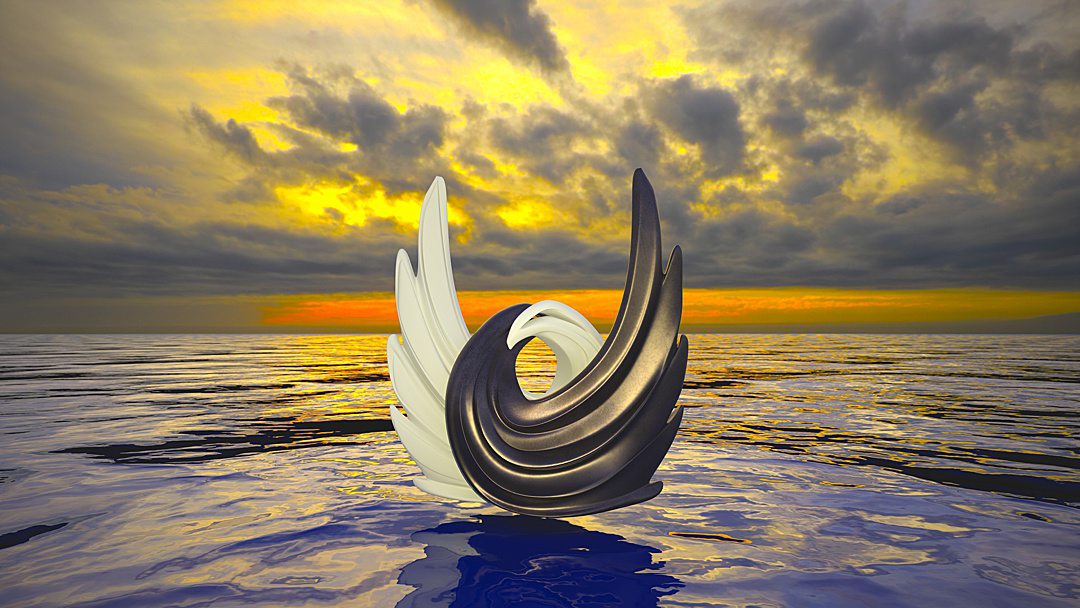 30. Odyssey is the famous hallway that leads from the shops to Blu and Eden on Deck 5. London-based Fredrickson Stallard designed it. They are famous for their organic sculptures, like the gold pieces you'll find on Beyond.
Guests love the metallic sculptures and out-of-this-world feeling inside as they pass through the dark hallway whose light darkens and rises to a still-dim-level over a few minutes' time.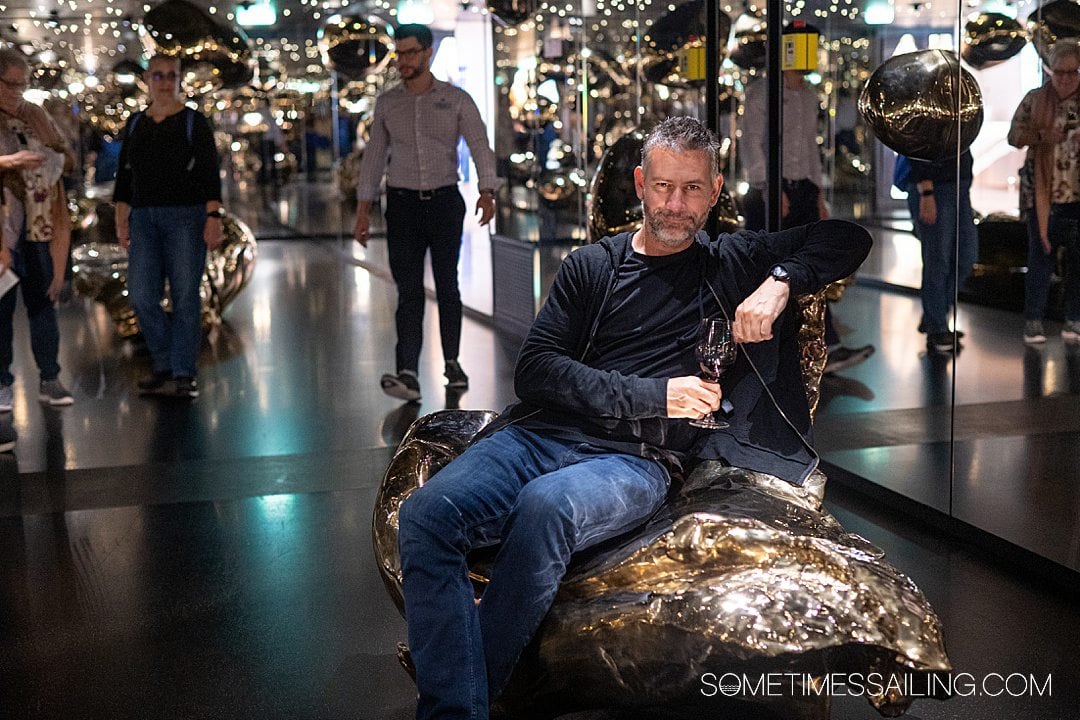 31. Each guest room floor has photography with different themes. For example, our floor, Deck 10, was themed to the ocean. Other deck photography themes include India, Native Americans, and Australasia/Polynesia.
Take some time to visit each deck with staterooms to gaze at the awe-inspiring photography.
32. The first piece of stairwell art that Captain Kate recalls seeing on the ship was the colorful, glittery BEYOND painting between Decks 10 and 11. Inside each letter is a playful paint-by-number motif.
This eye-catching art is by UK-based pop artist Benjamin Thomas Taylor.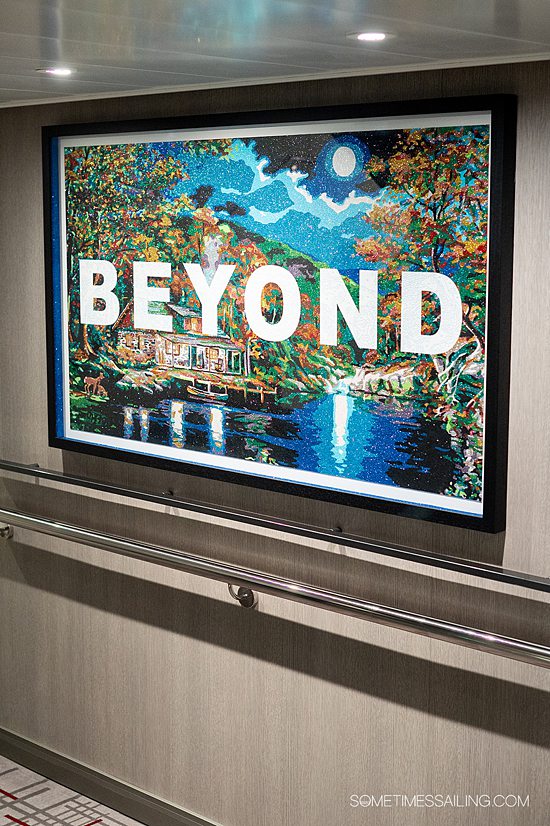 33. Many guests sail on Celebrity Cruises specifically for the art program operated by Park West. Because of this fan base, there is a VIP invite-only art cruise.
34. One of the artistic design choices on the ship is the exposed hull in the hallway on Deck 3. You can see this behind vertical slats (also an art installation) along the wall between the casino area and the restaurants, towards the aft of the ship.
35. Another cool design element is auditory. If you sit or lay down by the Maison du Chocolat area, by Mont Blanc and Blu (AquaClass restaurant) before you reach Eden, you'll hear experiential sounds, like birds chirping. You cannot hear these sounds when you walk by…only when you are on the furniture, immersed in the space.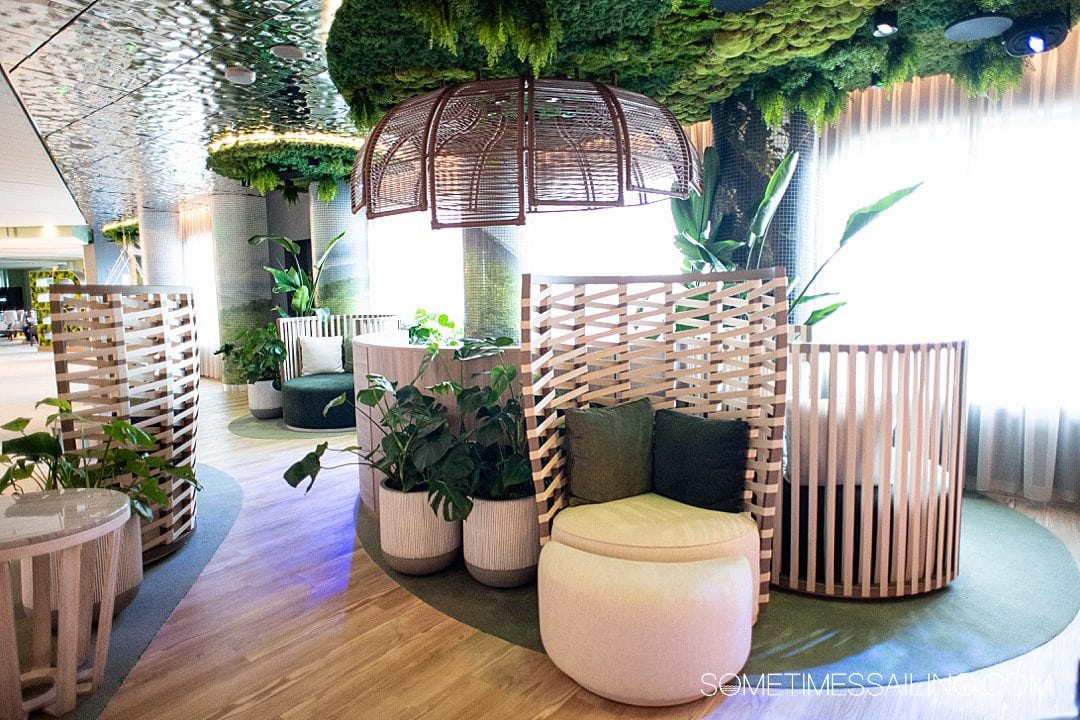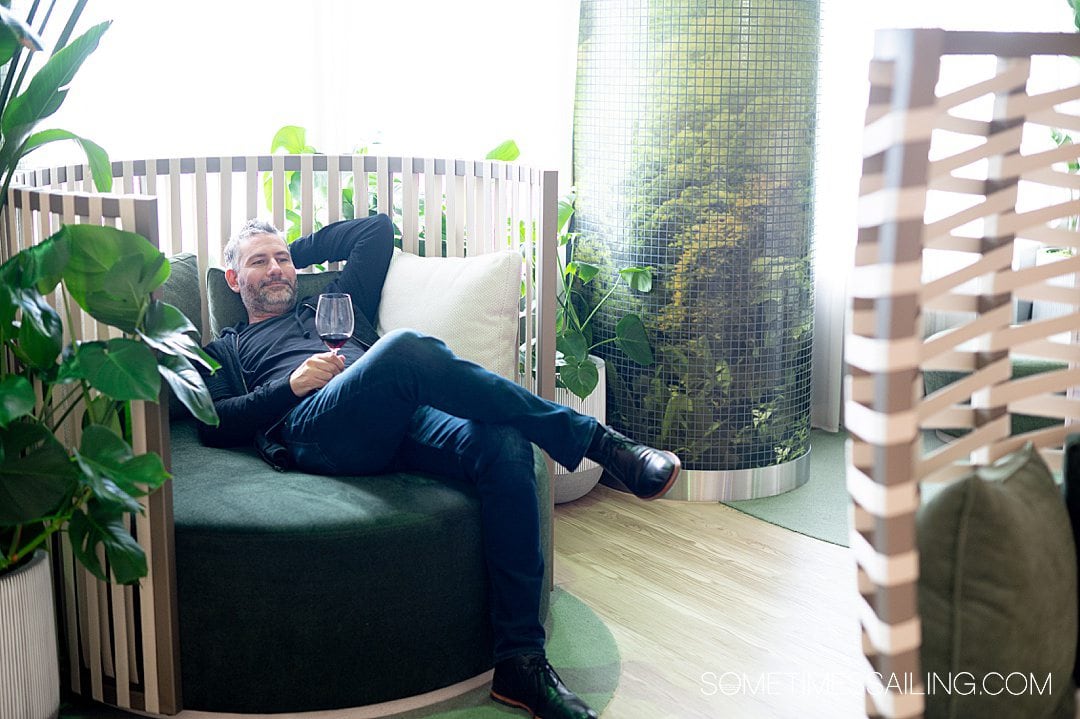 36. Chairs were all sat on by an executive (or two) and tested out before giving the thumbs up and final approval.
37. While some Celebrity Cruises ships have a theme and design throughout the ship, Celebrity Beyond has different art per venue.
38. A lot of sound engineering went into the ship's design. The goal was to maintain sound for different venues, obtained through selecting carpets, wall materials, and furniture pieces. Keep your eyes peeled on the ship for unique ways the designers achieved this!
39. Celebrity Beyond has 179 more staterooms than Apex. Of the 1,646 staterooms, 198 are suites. All of these suites are part of The Retreat.
40. The coveted highest-level suite onboard is the Iconic Suite, and it's the largest suite on any Celebrity Edge Class ship to date at 2,581 square feet. There are two onboard Celebrity Beyond.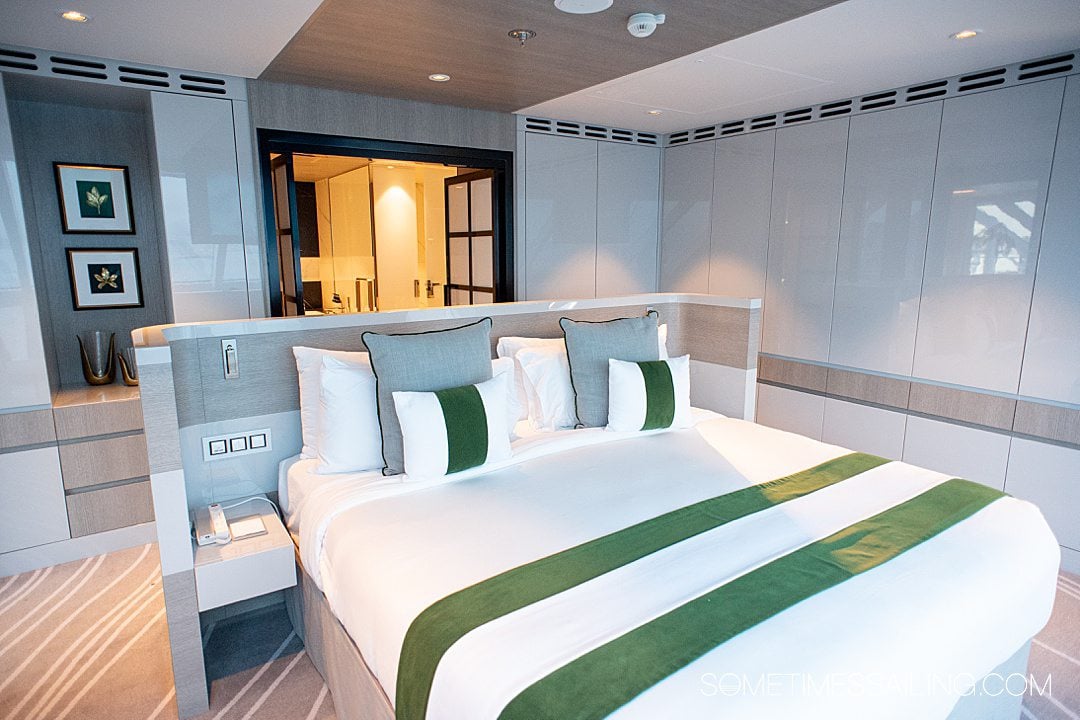 Prices for a one-week cruise vary based on the season, with prices ranging from $30,000 to $100,000 per week for two guests.
Each suite features two bedrooms, two bathrooms, a living room, a kitchen, an outdoor lounge area, and a hot tub. It has phenomenal bow-facing views similar to what the Captain's stateroom and navigation bridge see.
41. Celebrity Beyond is registered in Malta.