Over 25 Nonfiction Cruise Books and Assorted Cruise-Appropriate Reading by Crew, Cruisers, Scientists, Explorers and Historians
If you're a cruise enthusiast, or cruise-curious as we like to say, reading up on cruises is a must. We prefer nonfiction cruise books over fiction. (Though it's worth noting there are plenty of fictional stories out there, whether in the form of children's books or fictional novels.)
They say truth is stranger than fiction, and we couldn't agree more. We've listed nonfiction cruise books written by crew members, cruise fans, explorers, and even scientists and historians. And some super interesting nonfiction cruise-appropriate related reading as well.
Many of these books are available for Kindles too and we love ours. We especially recommend buying a waterproof Paperwhite Kindle because if you'll be by the pool, ocean, or the beach, why not protect your electronics?
Disclosure: This page has affiliate links, meaning we may earn a small commission if you click the link and proceed with a purchase at no cost to you. We recommend cruises, experiences, products, and services we personally use. As Amazon Associates, we earn from qualifying purchases.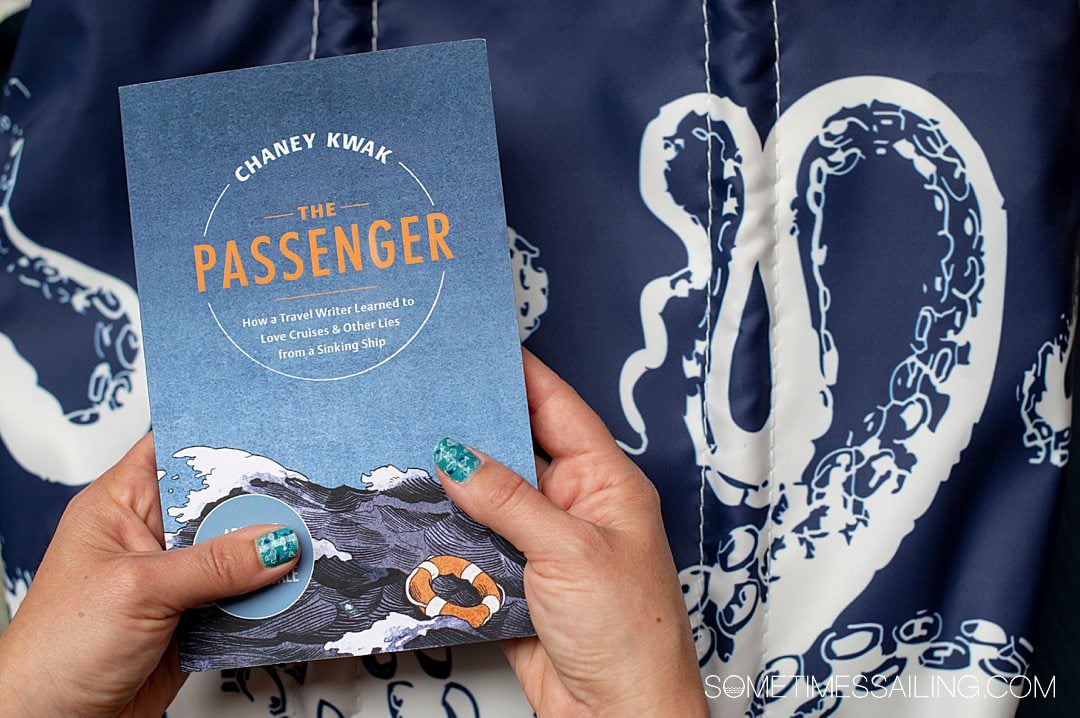 All book cover images are from Amazon.
Nonfiction Cruise Tales from Cruisers and Cruise Story Compilation Books
Joy of Cruising
Cruising Interrupted (Joy of Cruising Follow Up)
The Passenger
Thriving In Quarantine
Quarantine!: How I Survived the Diamond Princess Coronavirus Crisis
Cruising the Mediterranean
Cruising from Boston to Montreal
Tips From The Cruise Addict's Wife: Tips and Tricks to Plan the Best Cruise Vacation Ever!
Around The World in 80 Meals: The Best of Cruise Ship Cuisine


Nonfiction Cruise Books Written by Crew
Running Against the Tide, by Captain Lee
Permanent Passenger: My Life on a Cruise Ship
The Truth About Cruise Ships
Chronicles of a Cruise Ship Crew Member: Answers to All the Questions Every Passenger Wants to Ask
The Cruise Ship Survival Guide: How To Return To Port Alive


Nonfiction Cruise Books on Cruise Ship Design and Build
Devils on the Deep Blue Sea: The Dreams, Schemes, and Showdowns That Built America's Cruise-Ship Empires
Design on the High Seas: Cruise Liners
Great Passenger Ships that Never Were: Damned By Destiny Revisited
Masters of the Italian Line: Leonardo da Vinci, Michelangelo and Raffaello
The Oasis Sisters: Royal Caribbean's Fleet of the World's Biggest Cruise Ships
Oceanic: White Star's 'Ship of the Century'
180 Years of Cunard


Nonfiction Cruise Books about Famous Ocean Liners in History
The Last Voyage of the Andrea Doria
The Big Ship: The Story of the S.S. United States


Nonfiction Books about Waters that Cruises Sail
The Path Between the Seas: The Creation of the Panama Canal, 1870-1914


Nonfiction Cruise Expedition Books
Madhouse at the End of the Earth: The Belgica's Journey into the Dark Antarctic Night


Climate, Geography and Location Nonfiction Books
The Alaska Cruise Handbook Pap/Map Edition
COLD: Adventures in the World's Frozen Places
Heat: Adventures in the World's Fiery Places