Topsail Steamer Review: Seafood Steamer Pots that Ship Overnight for Free
Whether you've never experienced seafood steamer pots but have wanted to, or you're already keen on them, we have a review you're going to want to read for Topsail Steamer.
They're bringing low country boils via steamer pots to your door for an unforgettable experience that will quickly turn into a regular tradition for you, your family and friends.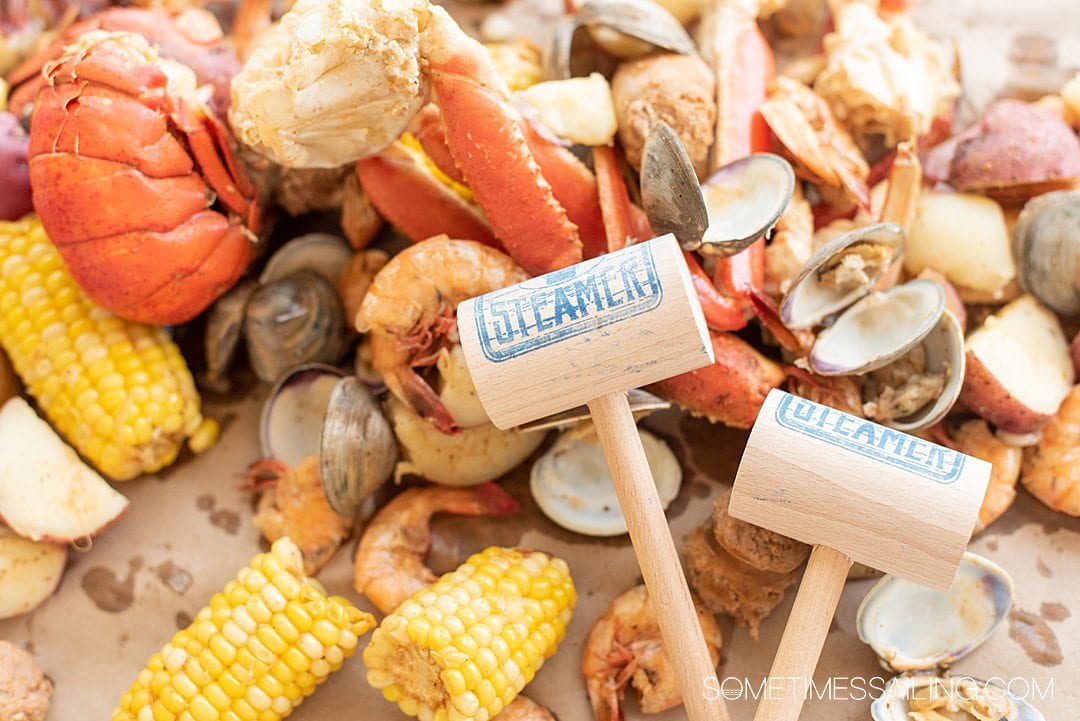 Why Get Seafood Steamer Pots?
The best way to cook seafood, in our humble opinion, is sometimes the simplest way: steamed with seasoning. Simple and pure. All you need are quality ingredients.
Seafood steamer pots are delicious. First and foremost, you have to like seafood to enjoy them. Secondly, a desire for a little fun with food and a chance to cook and eat it all in a memorable way will go a long way here.
Thirdly, this can become a family tradition! Whether you enjoy a seafood steamer pot monthly, bi-monthly or annually, etc. once you have one you'll want to get more. And the good news is, whether you're on vacation or home, Topsail Steamer ships year round overnight for free. (Woohoo!)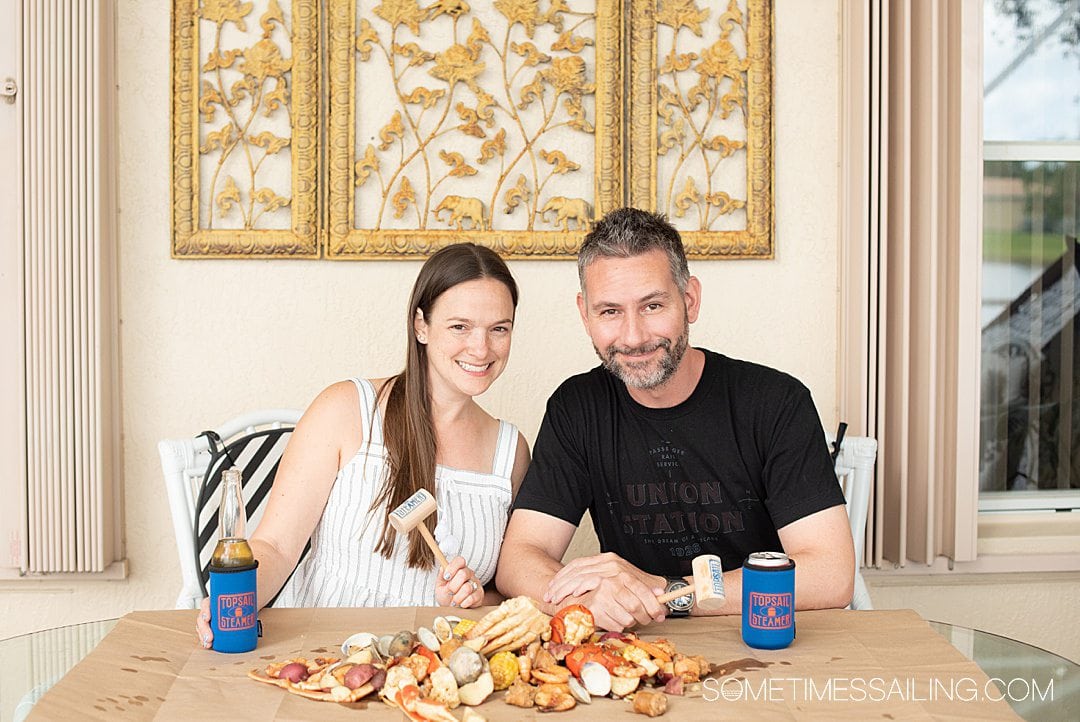 About Topsail Steamer and Its History
We loved learning about Topsail Steamer's history. It's truly a family operation and small business success story.
The business was the dream of one woman who has since made her seafood steamer pots and low country boil concept, for beachside or home feasts, readily available nationwide.
How Topsail Steamer was Born
Danielle Mahon, owner and founder of Topsail Steamer, moved to Topsail Island in North Carolina with her husband, Jim. They settled into a home they formerly rented out while they lived closer to Raleigh, near Wake Forest once they were emtpy-nesters and had the chance to make a move. It was then that she shared her vision and dream with her husband. A dream to create no-fuss seafood steamer pots fresh from the coast.
Danielle and Jim both grew up going to the Jersey Shore, Strathmere and Ocean City, all along the coast of New Jersey. Boating, fishing and spending time on the beach has always been a part of their lives. They took to Topsail, NC because of its small town vibe, nice residents and beautiful area. They knew it was right for them.
Danielle and Jim would often create their own seafood steamer pots as coastal residents and present them at gatherings with family and friends. It was always a huge hit. People started to ask about them more and more. And Danielle started to imagine making their seafood steamer pots available on a grander scale.
Once they moved to the North Carolina coast full time, Danielle's dream began to fully take shape when she founded the company in March 2016; this is the founding year you'll see on Topsail Steamer stickers and marketing.
By June or July 2017, Danielle found the perfect location for her first store in Surf City, on Topsail Island. She made the decision to quit her job and open the seafood steamer pot restaurant to go full steam ahead with her idea. (Pun intended!)
A Family Owned and Operated Business
Topsail Steamer has employees outside Danielle Mahon's family, of course. But her first two employees were her son and daughter! Following that, she entrusted her niece, sister and brother-in-law to run her additional two stores on the New Jersey coast.
I'm the daughter of former retail shop owners who used to work kids' parties at my parents hobby store whenever possible. I completely appreciate this family aspect of Danielle's business.
It's really heart-warming that the family came together to help realize a dream and continue to do so on a daily basis by making fresh seafood readily available for so many people.
But, if you ask Dan and me, what they're really doing is helping families create unique memories. The fresh, delicious food is simply a wonderful concept and bonus package to do it with.
Founding Principles of Topsail Steamer
Topsail Steamer was founded on three principles that the company lives by:
Quality
Convenience
Experience
Fresh Local Ingredients are a Topsail Steamer Priority
It's incredibly important we support local businesses, including fisherman, whenever possible. The fact that it's a value of paramount importance to Topsail Steamer is another reason we love them.
They source everything locally whenever possible. "Local" ingredients are different from NJ to NC. But in North Carolina, they source all shrimp from Davis Seafood in Sneads Ferry (which is very close to Surf City), a third generation shrimping family.
Since there is no such thing as New Jersey shrimp, all shrimp in their NJ stores are NC shrimp. They bring their shrimp up north in a "Shrimp Shuttle," (their refrigerated van) or with the help of some additional transportation partners several times a week.
New Jersey does have a local scallop industry, however. All scallops in their NJ locations come right off the boats. All Topsail Steamer stores, whether in NC or NJ, source their oysters and clams locally.
Snow crab is not available locally and they get cold water lobster from seafood suppliers, certainly prioritizing quality for both. (And we know firsthand that if you want quality lobster you need to go to the source! We discovered that on our Maine Windjammer Association sailing trip.)
Topsail Steamer won't accept anything from the ocean that's bad quality. But quality is rarely an issue since they work with stellar companies and have high standards in place.
Once in a while, however, quantity is an obstacle, such as when hurricanes affect seafood populations. Danielle shared with us that they'd sooner take a financial hit in order to provide their customers with the promised quality and quantity of products then not deliver what was promised in the case of such an event. So rest assured, you'll always get the best with them no matter the circumstance.
Topsail Steamer Store Locations (Even though they Ship Nationwide)
The first Topsail Steamer store was founded in 2017. Shortly thereafter, a second store opened on Wrightsville Beach in May of 2018, 35 miles south of the first location. This was in Surf City, on Topsail Island.
Here are their current locations (but don't be surprised if more pop up in the future):
Wrightsville Beach, NC
Surf City on Topsail Island, NC (headquarters)
Ocean City, NJ
Sea Isle City, NJ
Long Beach Island, NJ
Bethany Beach, DE
You can either pick up your seafood steamer pot at one of their locations, locally (which helps save the Earth in some small way, as you'll save some shipping emissions). Or you can have it shipped to you, no matter where you live in the United States, for free. (The exception is Alaska and Hawaii for a small fee. But it's really quite reasonable. Read on for more about that.)


Seafood Steamer Pots Delivered to your Door with Topsail Steamer Shipping
How and Why Topsail Steamer Began to Ship their Steamer Pots
They had two stores open when hurricane Florence hit the NC coast. It really impacted the area for a good two years, greatly affecting tourism. Danielle asked herself and her team, "How can we be resilient?" The answer was a shipping program.
Right before COVID hit, in a twist of fate and good timing, they teamed up with Goldbelly for help with packaging and logistics. (Timing really is everything!)
Free Overnight Shipping in Partnership with Goldbelly
Overnight shipping is free to the continental United States. There's a small up-charge for shipments to Alaska and Hawaii. Goldbelly states the following on their website: Orders shipped to Alaska and Hawaii via 2-day will incur an additional $20 charge or $35 for Overnight Shipping.
(If we had to guess, unfortunately, Hawaii and Alaska residents are used to such fees.)
Our Goldbelly Topsail Steamer Delivery
We were pleasantly surprised about the box that arrived on our doorstep; it was small and efficiently packed. It was received via FedEx with a small Goldbelly sticker on its side.
Don't be confused by the branding – the shipment is, in fact, your Topsail Steamer seafood boil pot.
Who is Goldbelly?
They are a fabulous food-focused company that helps bring wonderful fresh food – especially regional favorites – to your doorstep, whether bagels from New York or seafood from North Carolina.
Danielle shared that Goldbelly only accepts about 1% of its applicants! This means that you can be sure that anyone on their site is vetted and at the top of their culinary game.
Their partnership with Goldbelly has been a beneficial one for logistics and increased exposure. During peak ordering times, like the holidays, Topsail Steamer is able to ship out about 150 orders a day while maintaining freshness and their excellent customer service, which is quite impressive!
How Topsail Steamer Shipping Works
Their shipping is available Monday through Friday. Saturday shipping is an option for an additional $20, due to their increased costs for Saturday delivery.
There's a daily cutoff time at 3:00pm for any shipments the following weekday. In other words, any orders placed on a Friday won't ship until Monday. But if you order a seafood steamer pot Thursday by 3:00pm, it will ship the next day.
You are able to schedule your Topsail Steamer seafood pot shipment about six to eight weeks in advance if you choose to do so. Advanced scheduling is a great feature of their site if you know you want to gift a friend a pot "just because," or for a special occasion. Or perhaps send them to clients for a memorable holiday gift idea.
(If you want to take advantage of this feature, add the items to your cart, continue to check out and add your address, email and phone information. Then you'll see the option to choose a delivery date in the future.)
Don't hesitate to give any of their stores a call if you have questions about how to order or need help making a decision about what to get.
What Happens if Inclement Weather affects Shipping?
We asked Danielle what happens with a perishable food delivery (as that is what all their deliveries are) in the case of shipping delays caused by inclement weather. For instance, we received ours not too long after a nor'easter covered a lot of the northeast in snow.
She said if they're shipping during such a time, or expect bad weather to potentially create shipping delays that are out of their control, they do whatever they can control to prepare. Essentially, they ship orders with extra cooling.
The frozen gel packs they include in shipments stay cold for a long, long, long time. (We know because they remained frozen for many hours at room temperature after we received our shipment and took them out of the package.) As long as you receive a shipment that still feels cold, it should be fine.
If for any reason you receive an order that you aren't happy with – call them to express the concern. Danielle is fantastic and we can only imagine her team is as well; their customers are their #1 priority right next to quality ingredients. We know in our hearts they do everything in their power to keep their customers happy and coming back.
Topsail Steamer's Seafood Turnaround Time
Topsail Steamer receives fresh fish, including shrimp and clams, about two to three times a week. Turnaround time from fresh seafood entering in their shop to getting the food in your home can be anywhere from only one to three days. Sometimes it's one day!
Their fresh, locally caught ingredients are never frozen. The exception is snow crabs; we learned that all snow crabs are flash frozen on fishing boats as soon as they come out of the ocean.
The instruction cards shipped with our Topsail Steamer box indicated we'd have to eat the seafood within 24 hours if we were refrigerating it instead of steaming it the day it arrived. But Danielle shared that it's safe to eat within 48 hours if there's a day in between when it arrives and when you cook it to eat it.


Which Topsail Steamer Pot to Choose from their Menu
This video is pretty helpful in explaining how the buckets work, starring founder and Topsail Steamer owner, Danielle! (The video re-posted with her permission.)
Fun fact: two of the students that helped create this video, as part of Cucalorus film festival in Wilmington, NC, now work for Topsail Steamer!
Preset Signature Bay Bucket Options
As the video indicates, you can pick from any one of their preset seafood steamer buckets. Like the Captain Pierce Steamer Pot, with shrimp, snow crab, Little Neck clams, scallops, andouille sausage, corn, red potatoes and a seasoning packet of your choice.
Or get something like a Clam Bake Steamer Pot, with Little Neck clams, large shrimp, kielbasa sausage, corn and potatoes and a homemade seasoning of your choice.
Each bucket also has an option to order a Low or High Tider. What's the difference between a Low Tider Steamer Bucket and a High Tider? Simply the amount of people it feeds.
A Low Tider Steamer Bucket feeds 2-3 people. (Ours was that size and easily could have fed three people.)
A High Tider Steamer Bucket feed 4-6 people.
We ordered the Tail-Gater Bay Bucket. The menu on the Topsail Steamer website lists that it includes cocktail and butter sauces. But that's for in-store pickup. It doesn't come with the sauce when you order it on Goldbelly. (We didn't miss it though because it didn't need any sauce at all.) It did, however, come with two Koozies and wooden crab mallets, which was a fun surprise. We later learned that only the Tail-Gater seafood boil bucket comes with these bonus items.
Topsail Steamer Seasoning Options
Here are the four herb packs you can choose from for your Topsail Steamer bucket:
Classic: A delicious blend of spices that seasons the pot just right. It's not spicy like "hot" – it's simply flavorful. (We detected a bit of Old Bay Seasoning in there. Yum!)
Cajun (spicy): This one is pretty spicy! We asked Danielle, "How spicy is the Cajun seasoning on a scale from 1 to 10?" She replied, "An 8.5." Whoa! They make it themselves and she said there's a fair amount of cayenne pepper in it.
Jimmy's Way (a recipe by Danielle and Jim's son): A combo of their Classic and Cajun seasoning, described as "old bay with a kick."
Herbal Blend: Contains lemon, thyme and basil. (Danielle said this is particularly great on shrimp and scallop seafood steamer pots. And instead of beer use a dry white wine for half the liquid. We'll have to try that next time!)
Build Your Own Steamer Bucket Option
Picky seafood eater? No problem. You can build your own steamer pot so you get all the goodness you love and none of what you dislike if one of their existing menu options isn't to your taste.
We liked the crab, lobster tails and clams so much we may build our own with just those three seafoods (+ corn and potatoes) next time.
Topsail Steamer "Hack" to Make Your Seafood Boil Pot Go Further
If you have a family of six and want to order a seafood steamer pot that's recommended for 4 to 5 people – but need just a little more to feed a sixth person – there's a hack for that! Just "add on" menu items, like another lobster tail or another set of crab claws.
You can choose up to two add-ons per bucket. The reason for a 2-add-on limit is because they need to make sure everything will fit in the bucket. You can feed about 6 to 7 people with one to two add-ons with a High Tider size bucket.
The prices for the add-ons are really reasonable too. For instance, another pound of shrimp is only $13, or an additional dozen clams is just $9.
Seafood prices often fluctuate with the market but Danielle shared the great prices we viewed for add-ons when we ordered would only ever fluctuate about $1.50, up or down. And that's only really applicable to the price of lobster and scallops. She noted the importance that they always stay within a certain range of cost for their customers.
How Much Seafood is in a Seafood Bucket from Topsail Steamer?
A lot.
We were two people and ordered a seafood steamer pot that said it fed 2 to 3 people. We had leftovers.
Here's a general rule of thumb for how they weigh, or count, seafood to include: shrimp, sausage, and scallops are by weight. The snow crab legs are by weight as well but it ends up being about three clusters to a pound. The lobster tails are about 4 to 5 ounces each, but we had two in our bucket. The clams are included by the dozen.
The amount of shrimp in a bucket for two to three people is about 31 to 35 small shrimp or 26 to 30 large shrimp.
If you are going to stretch a seafood pot for four people by doing add-ons, and each person wants a cluster of crab legs, for instance, you'll want to add on another pound of crab legs. (Which will actually give you more than enough for four people but at least everyone will have their own cluster of snow crab legs for themselves in that case!)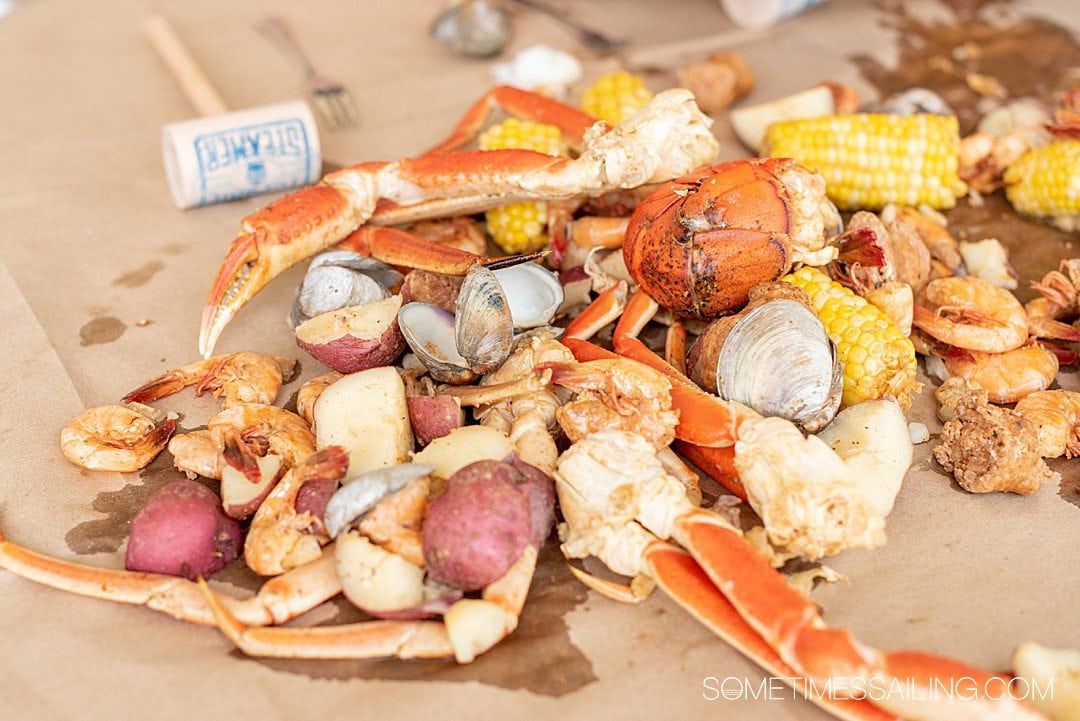 Ordering Topsail Steamer for Large Groups
We can imagine how incredible this would be for a rehearsal dinner. Or heck, even a small wedding! After all, you can order a pot that feed four to five people, and Dan and I only had 16 people at our wedding celebration. That's just 4 High Tider sized seafood steamer pots. And hey, most people's stoves have four burners!
Another great idea is to have these fun steamer pots for a family reunion, trip to the beach (no matter what beach – because they ship nationwide so you don't have to be near Topsail, NC to experience them), date night at home, or "just because" you want to treat yourselves.
You can also order up to 15 seafood steamer pots and conveniently send them to 15 different addresses. This is a great idea if you want to virtually eat with family and friends over a Zoom get together. Or it's a great idea for gifting.
If you need assistance or recommendations for ordering for a large group simply call one of their stores. They're happy to help. Goldbelly also has a Corporate Gifting Team that's ready to assist.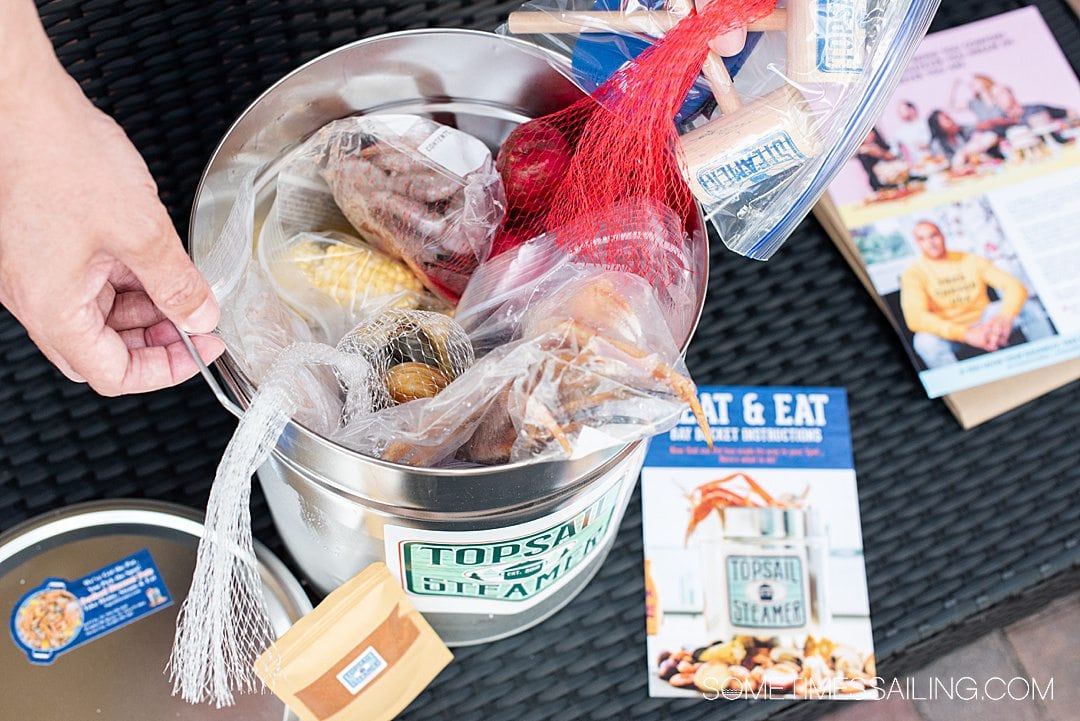 Topsail Steamer Instructions
Your seafood steamer pot is filled with your ingredients and ice packs. That pot is insulated in packed styrofoam within the shipping box.
We unpacked it all immediately after we received it and laid it out on our kitchen counter. Then we properly disposed of the Uline ice packs by cutting them open, disposing of the gel in the trash and recycling the plastic casing.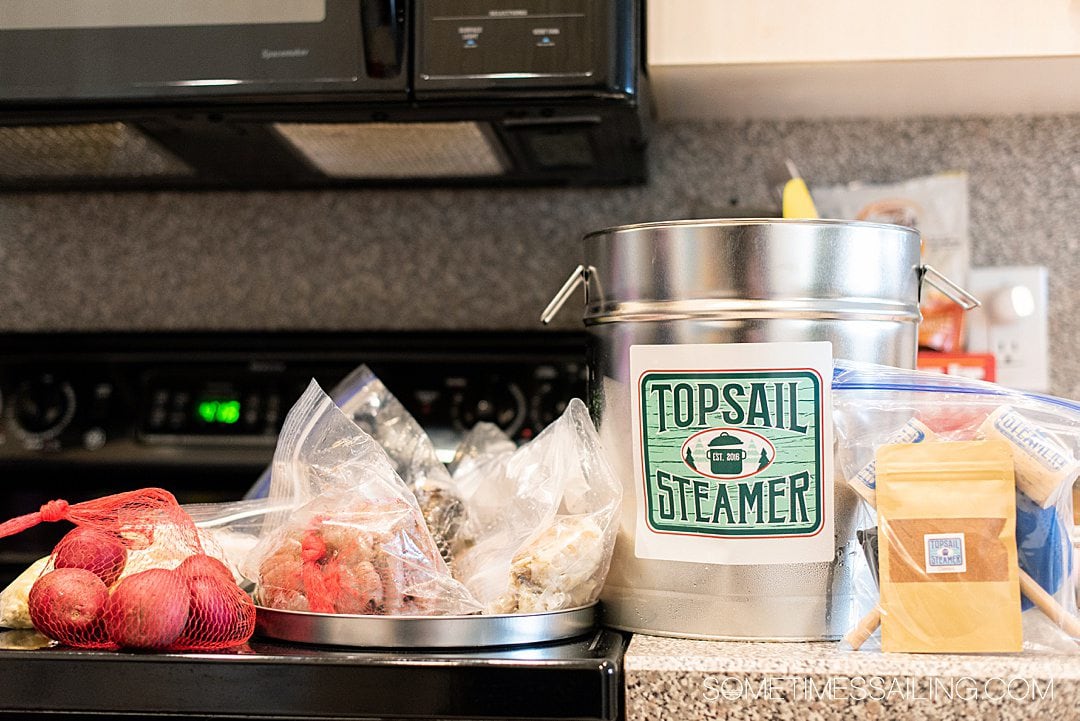 We refrigerated the seafood, which was in plastic or mesh bags, within their own glass containers so it wouldn't stink up the fridge; we knew we would be eating it for lunch the next day. (To be clear we used our own glass containers – they don't come with the steamer pot.)
It came with a handy "Heat & East Bay Bucket Instructions" card for our seafood steamer pot recipe. There's no need to think of a recipe yourself or even Google it because Topsail Steamer takes away the guesswork.
The only ingredient you'll need to pick up is beer or wine if you want to use that instead of water, or do a water/alcohol mix. (Naturally, we already had a beer in our fridge. You never know when you'll need one in case of emergency.)
Here's a general overview of what we did and visuals for most of the instructions' steps:
Cut the potatoes into quarters.
Add the ingredients in layers, depending on what seafood steamer pot you ordered. Alternate sprinkling in the spice packet. For us, that meant layering shrimp, sausage, lobster tails, crab claws, potatoes, corn and clams.
Add the liquid, whether you choose water, beer or both. The liquid will not cover everything, but the steam will cook whatever isn't covered by it. (We used a combination – Corona and water. The kind of beer you choose, whether a stout, or pilsner, or IPA etc. is really up to you and personal preference. You only need one bottle if you go half and half, or two if you want to cook your pot with 100% beer. We thought the IPA hops may be overpowering so we used an agreeable light lager in a trusty Corona, as recommended by Topsail Steamer. It was fab.)
Cover the pot with its lid, which already has a hole poked in it for the steam to release.
Cook for the designated time indicated on the instructions, which only varies between 30 to 40 minutes according to the type of stove you have. (Electric coil, gas or glass top.) We mixed the ingredients while it was cooking once or twice to ensure the things on top weren't neglected, and the ingredients on the bottom didn't overcook.
It's that easy.
In well under an hour, from start to finish, you'll have fresh, delicious seafood ready to eat and enjoy.
Pick a nearby table, lay out the kraft paper "tablecloth" they provide and start eating and making memories!
Note: The steamer pot is single use only. You must dispose of it after you use it once.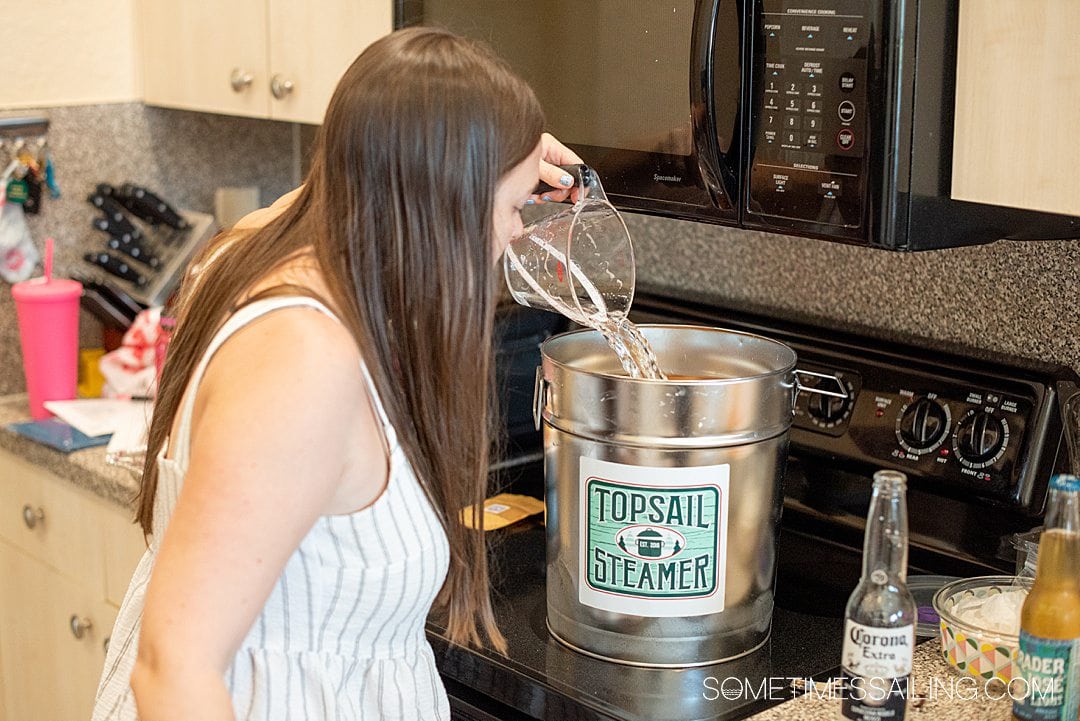 Our Honest Review of Our Topsail Steamer Pot
This whole review and report is honest – we're always honest with you! But for a concise, definitive review we'll state, for the record, we loved it and would definitely order again.
We highly recommend it to anyone who enjoys seafood.
Not only was it so much fun to lay out the brown paper and use our mallets to get crackin' on the lobster and crab claws, especially, but we have to say it was delicious. We were excited but didn't have sky-high expectations because it was simply seafood + spices. But we were blown away.
Our favorite pieces were the lobster tails (and we're not even "lobster people" but it was just so good), clams and crabs. In that order. I loved the corn too but I'm a vegetable fiend. The corn kernels absorbed all the great seasoning flavors from the liquid vapors swirling around inside the pot.
We were reminded how delectable fresh, simple ingredients can be.
Topsail Steamer delivers on its promise for quality, convenience and experience. They truly do.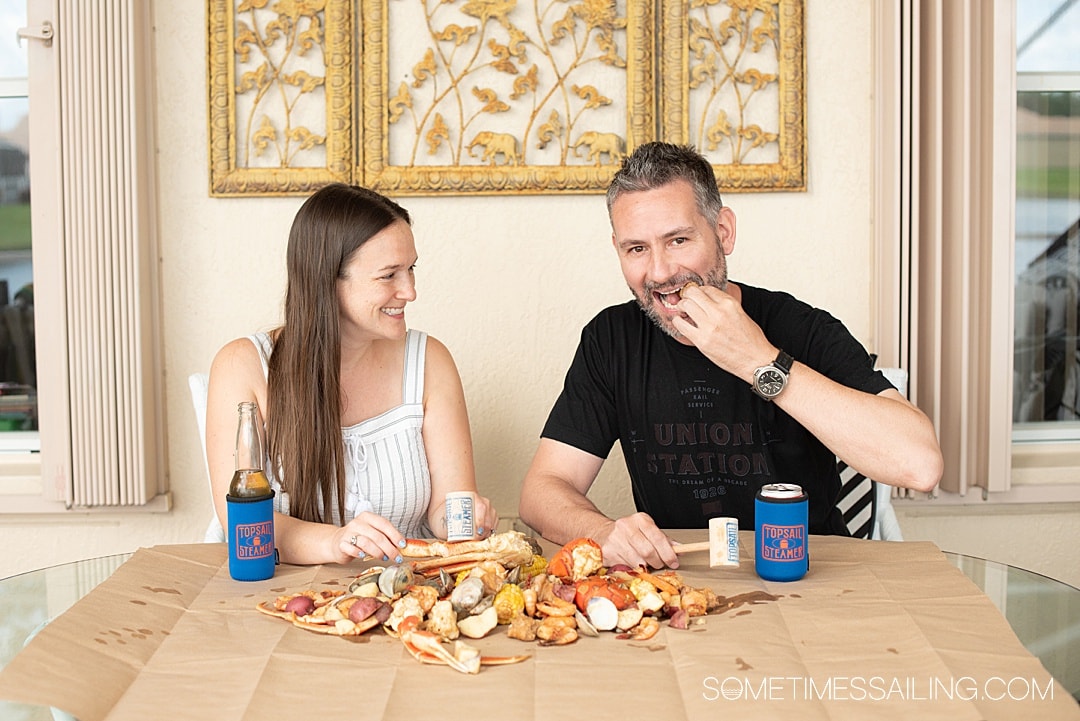 Tips and Advice for your Seafood Steamer Pots
We have a few tips and words of advice for you after our wonderful experience with Topsail Steamer:
Keep one of the plastic bags they ship some of the seafood in for garbage, including utilizing the pot for easy clean up. We used our crab bag because it was the biggest. (We don't love the use of plastic (and we're guessing they don't either) but it's a means to an end. It would drive the cost WAY up to use reusable Stasher bags, for instance, for every order. So we don't expect them to…but we can dream. At least we were able to find another use for the plastic even if it isn't anyone's preference.)
Have tiny forks nearby! You know the small forks you get when you order oysters on the half shell? Or crab? It was so handy to have small little forks to help us fish the meat out from "hard to reach" places in the crab legs.
We put newspaper on our table, under the brown paper, before spilling our seafood boil out to eat. This was to absorb some of the juice that inevitably flowed out of the seafood onto the table.
The shrimp definitely cooked the fastest. (We suspect that scallops would cook faster than a lobster tail too, but we didn't opt for a steamer pot with scallops this time around.) Next time, we'll be sure to add our shrimp last, on top of everything because it cooks so quickly. This way we can take it out first if needed. (And we were sad our shrimp got a little overcooked because NC shrimp are SO GOOD and delightfully sweet. Dreaming about peel 'n eat shrimp and seafood in the Outer Banks of NC as I write this…)
Store your seafood in containers in the fridge overnight if need be to contain the smell. Even fresh fish has a little odor. Just like the sea does if you're near the water!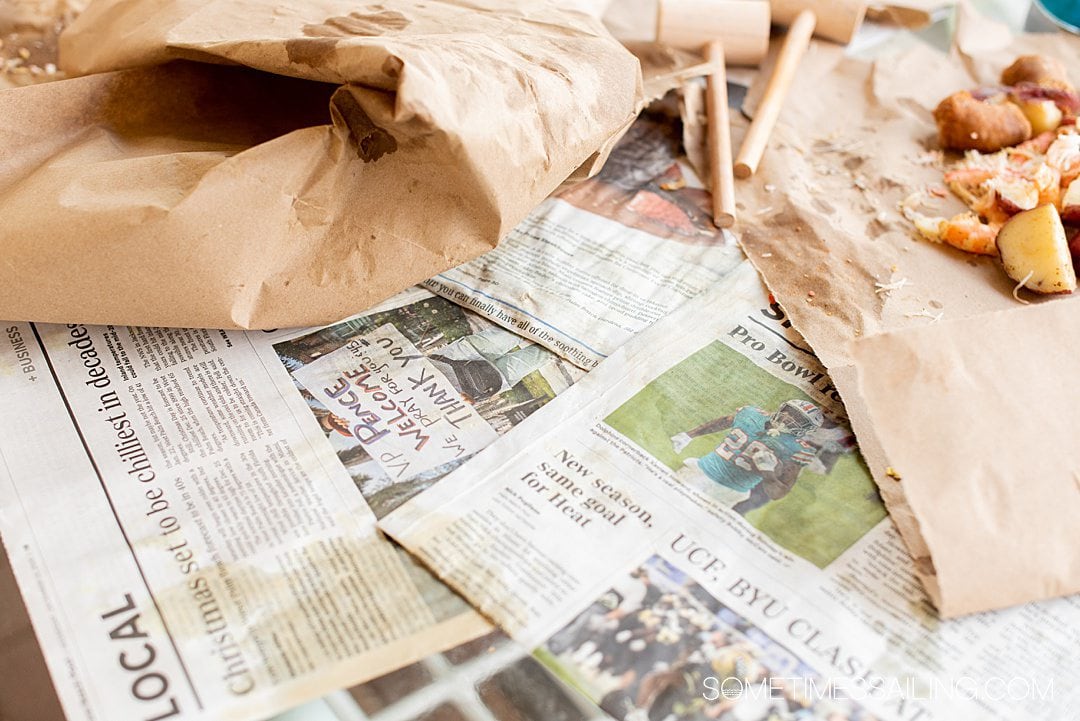 Why You Should Buy a Topsail Steamer Seafood Pot instead of Creating One from Scratch
Enjoy the Ease of their Motto, "We've Got the Pot. You Pick the Spot."
If you go out and buy each piece of seafood plus veggies and sausage, you can potentially do it for a lower price. But it's not necessarily local or fresh. With Topsail Steamer you can trust where the food is coming from. Additionally, you're not saving much time having to gather everything – from the seafood to spices and then some.
One of the reasons Danielle started the company is because her and her husband would always create seafood steamer pots at the beach. But they'd have to go to four stores – from the seafood market, to supermarket, and beyond – to get their ingredients. And then they'd realize they were missing something only to have to go back out to secure more supplies.
Wouldn't it be great if they could go to ONE place for all of it?
Ask yourself: is your time and energy really worth DIY-ing it when you can simply order a seafood steamer pot that's ready to go from Topsail Steamer? Nope!
Time is money, and the more time you spend getting all the ingredients the less time you're spending on other things, like time with family and friends, or time on your small business (which is the case for us), or time on the beach if you're on vacation.
Take it from us: don't create your own – order from Topsail Steamer, get the best quality and one-stop-shop your seafood steamer pot. Even better if you order it delivered right to your door. (But don't forget you can order a Topsail Steamer pot for local pick up at one of their four stores if you're in NJ or NC and prefer to do so.)
Topsail Steamer Pots Support Local
Not only are you supporting a female-owned small business when you buy a Topsail Steamer seafood boil pot, but they, in turn, support local too. This is another wonderful reason to buy a Topsail Steamer pot instead of creating your own.
Their sausage comes from Nick's Cajun Andouille, in Maryland.
They purchase local ingredients, like shrimp from Davis Seafood's in North Carolina, a third generation shrimping family.
Their pies come from Apple Annie's Bake Shop in Wilmington, NC. (Read on for more about that)


What the Future Holds for Topsail Steamer, Seafood Steamer Pots
There are so many possibilities for Topsail Steamer! Danielle would love to open more stores in the future.
They've also started to offer two exciting items to add on to your seafood boil order:
Cornbread, offering two kinds: classic and jalapeño cheddar.
Key Lime and Lemon Blueberry Pie, via a partnership with a well known local baker in Wilmington, Apple Annie's Bake Shop.
They've had a lot of requests for mussels but don't currently intend on offering them. This is due to the loss of product when it comes to mussel quality control.
However, they are discussing offering an oysters-only steamer pot. They don't plan on offering them in combination buckets because the type of oysters they want to use take up too much room in the pot. If they offer oysters in the future, it will be for steaming only, not to eat on the half shell.
We'd personally love an oyster roast type of seafood steamer pot because one of our favorite things to do during winter with our close friends in Charleston, South Carolina is go to their oyster roasts!
No matter what the future holds we are excited to order from them again and again for own new tradition and support this amazing business! And don't forget to order your seafood steamer pots on Goldbelly!
Disclosure: We thank Topsail Steamer for generously sending a seafood steamer pot for review. There may be affiliate links in this post, which means we may earn a small commission if you click the link and proceed with a purchase, at no cost to you. We only recommend products or services we personally use and are proud to recommend this wonderful small business.


Interested in all things nautical? Also check out: