13 Reasons You'll Love the Authentic Alaska Cruise Port Icy Strait Point in Hoonah
It's likely you've never heard of this award-winning cruise port destination in Alaska. (Unless, of course, you've been there.) Yet nearly every major cruise line that sails to this USA state stops in Icy Strait Point in Hoonah.
Curious, we ventured to research exactly what makes this destination worthy of so many accolades. Spoiler alert: it blew us away.
It just may be the most authentic Alaskan port you'll come across during an Alaskan cruise – and it's not an accident, especially because of their intentional connection to the aboriginal people of Alaska.
If you have an idyllic vision of what experiencing Alaska will be like on your cruise, it's likely you'll find it here. And be sure to read to the end to see some really cool Alaska souvenirs you can buy before or after your trip from independent artists.
Disclosure: There are affiliate links in this post, which means we may earn a small commission if you click the link and proceed with a purchase, at no cost to you. We truly only recommend hotels, products, and services we personally use. As Amazon Associates, we earn from qualifying purchases.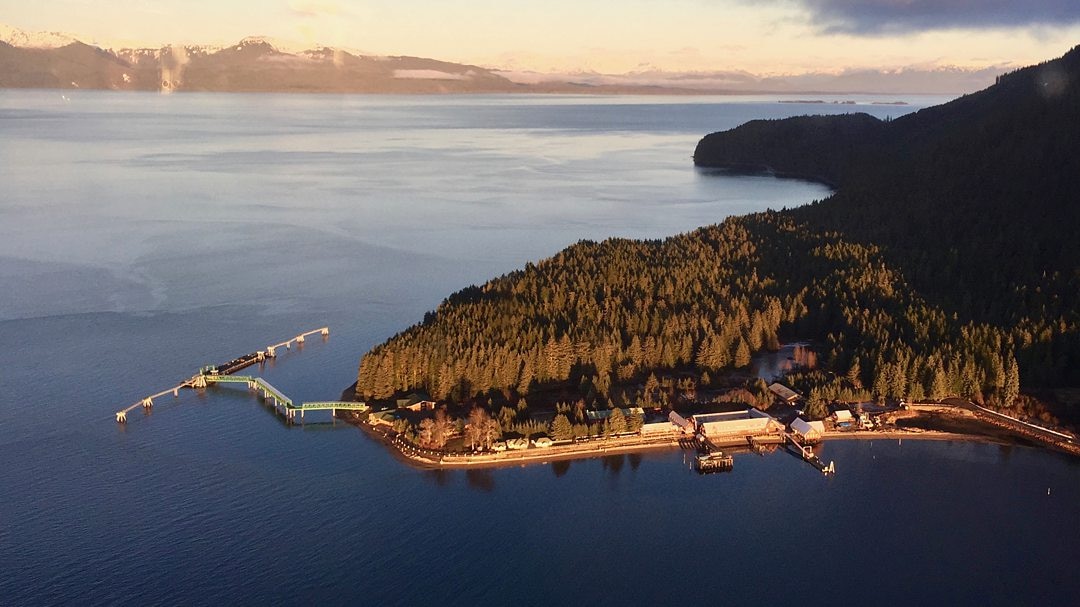 Icy Strait Point in Hoonah, AK (Context)
Part of the reason you'll love Icy Strait Point is its tie to the native people, which of course is related to its geography. For some background info, Hoonah is on Chichagof Island, Alaska, about 35 miles west of Juneau. Their resident population is just under 800 people (760 to be exact). Icy Strait Point in Hoonah has waterfront views, a beach area, and plenty of wildlife to enjoy.
The port where cruise ships dock at Icy Strait Point is on the corner of Port Frederick Inlet and Icy Strait. (They have two berths there for ships to dock, half a mile away from one another.)
The location was named by George Vancouver in 1794. He earned his place in history by exploring and mapping the Pacific Northwest coasts of modern-day Alaska, Washington, and Oregon. And of course, Canada's Vancouver, British Columbia is named after him.
We want to mention that though we've seen the location searched as "Icy Straight Point," that is incorrect. The second word (Strait) refers to the geography of the water connecting two other bodies of water, not something straight versus bent.
Hoonah means, "protected from the north winds," or "where the north wind doesn't blow."


1. Culture is King at Icy Strait Point in Hoonah, Alaska
What's #1 in Icy Strait Point is simple: the people.
The Huna Tlingit aboriginal people have inhabited this Alaskan land for thousands of years. (Tlingit is pronounced something like: klin-kit – don't let the "T" throw you.) They're the oldest aboriginal people in the world. And the largest community of Tlingit people is here, in Hoonah, Alaska.
Their association to Icy Strait Point is stronger than you may imagine: it's owned by about 1,450 Alaskan natives with ties to the Tlingit in Hoonah, and the Glacier Bay area, under Huna Totem Corporation. This helps create wealth for the community as well as job opportunities for these Native Americans.
Hoonah, or Huna, Alaska is a community that knows its people are the heart and soul of what makes it a special destination. They treat the land with respect and want to preserve it for generations to come.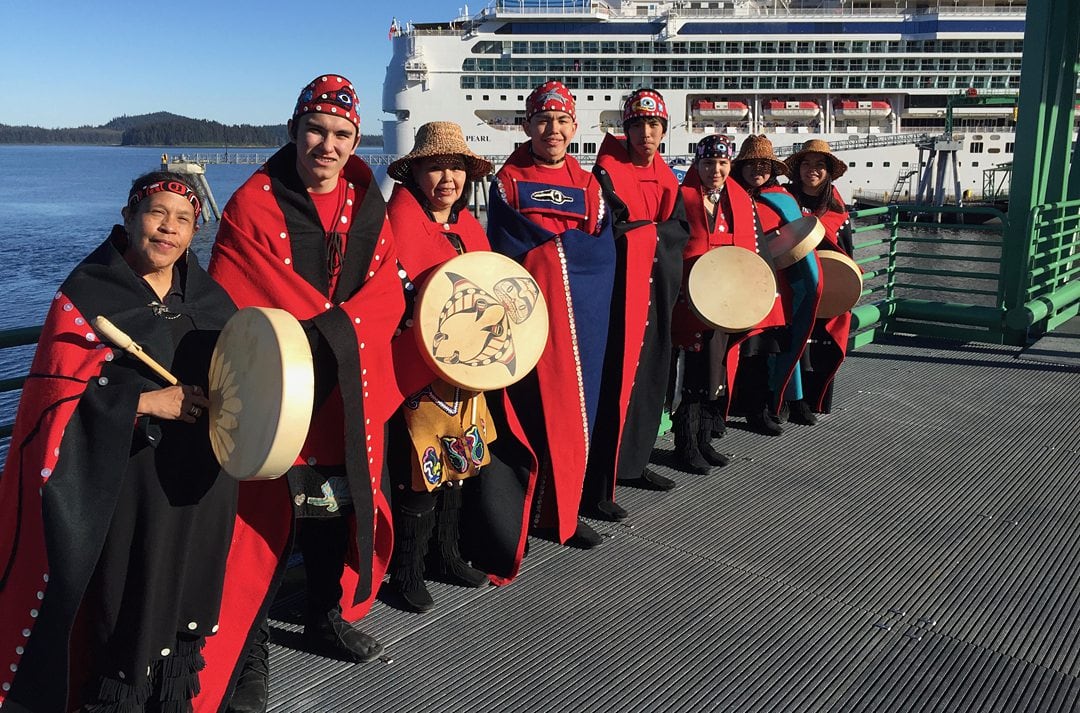 What Winning Port of the Year Meant to Icy Strait Point
Icy Strait Port in Hoonah won the Seatrade award for Port of the Year in 2020. What made them incredibly proud of the win – when they were up against some stiff competition, including a nominee like the Port of Dover and St. Petersburg, Russia – was that they believed their win was truly a testament to the success of their connection with the people in Hoonah, including authentic experiences guests can have there.
On a personal note, I've always felt a strong tie to Native Americans and Indigenous Nations, which is perhaps why Icy Strait Point had me from hello. This love was only strengthened after a visit to Wendake, Canada to experience a Pow Wow.
We imagine seeing a performance at Hoonah's Heritage Center Theater to experience a Tribal Dance and Cultural Legends offered there, would evoke similar emotions and further deepen that passion. This experience is part of their "all inclusive" port offerings available to anyone who stops there on a cruise.
2. Icy Strait Point is an All Inclusive, All Encompassing Port Destination Highlighting Authentic Alaska
Icy Strait Point is great for visitors who really want to experience Alaska, as an all-inclusive experience. In other words, Icy Strait Point is all-encompassing for its guests who want to do anything from learning about the fish in Alaska to experiencing the beautiful nature the state has to offer.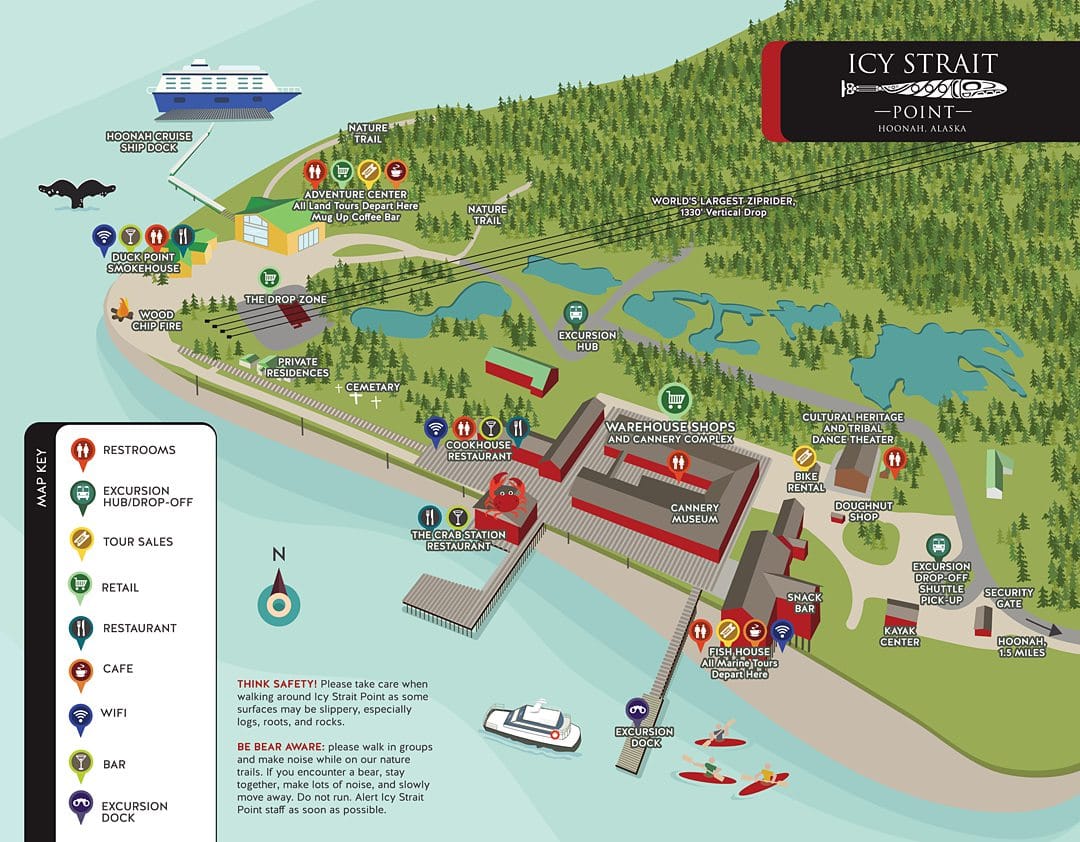 You're able to partake in so much Icy Strait Point has to offer. This includes opportunities to discover their cultural history, natural environment and ecosystem, and economic development including:
Nature hikes within 196 acres of hiking trails
Gondola rides
Culture performances, including Tribal Dance and Cultural Legends (mentioned above)
31 excursion and tour options, including visiting Hoonah's historic fishing cannery
3. Icy Strait Point GUARANTEES You'll See a Whale for an Authentic Alaska Experience
How is this guarantee made possible?
How can they guarantee you'll see a whale at Icy Strait Point in Hoonah, Alaska if you go on a whale-watching excursion? I wondered this as I recalled a trip to Vancouver, Canada, and a whale watching experience I signed up for. We were "guaranteed" to see a whale. We didn't.
The journey of the boat excursion in Vancouver was enough for us, even though seeing a whale would have been the icing on the cake. (Kind of how the Polar Fjord Cruise we went on in Norway ended up. Again, the journey – and scenery – was the reward.) But the company's "guarantee" was that we could come back – with our receipt – as many times as necessary until we saw a whale.
What good was that? I was very temporarily in Vancouver for vacation and I haven't been back since. And where is the receipt? No idea. It was a kind gesture (and perhaps an even better marketing tactic) but unrealistic.
This led me to ask someone at Icy Strait Point how on Earth they can guarantee people who go on a whale watching adventure will see whales since whales are migratory. And it's nature we're dealing with here. Was this a partnership with Seaworld? (I'm kidding. Thank god – it isn't.) Was it another marketing ploy like the excursion I was on in Vancouver? No.
The reason is quite logical (and authentic) once explained.
Whale Migration from Hawaii to the Hoonah, Alaska Area in April to October
The season visitors come to Icy Strait Point in Hoonah, Alaska, is from late April to what is their "shoulder season" in October. This is PRIME season for Humpback whales to arrive in, and feed in, Point Adolphus.
The humpback whales migrate from Hawaii to Alaska during summer. They've been on their winter diets in the tropical islands (or maybe they want to look great in a bathing suit) where they don't have the opportunity to eat. They're there to breed. (Can you blame them? We think Hawaii's romantic too.)
They lose about one-third of their body weight there and are hungry by the time they reach Alaska, 3,000 miles away.
But that's okay. They have arrived in the Point Adolphus, Alaska area because there's plenty of food in these cold waters during their predictably mild summers.
Prime Waters for Whales to Feed
Not to get too scientific (we'll leave that to your captain and boat crew if you should have the opportunity to experience this) but there's a reason why the whales feast here.
Nutrient-rich water flows out of Glacier Bay to the saltwater. Organisms like zooplankton love feeding on these nutrients. The plankton is eaten by things like krill and small fish, which whales thrive on. It's the circle of life!
The whale watching tours head to this area of Alaska where the plankton flow from Glacier Bay like fine wines flowing out of vineyards in Bordeaux. And in turn, where the whales go to feed.
That, my friend, is how they can guarantee you'll see whales.
Guests on an Icy Strait Point whale watching excursion also have a chance to see a bubble net feeding with their own eyes. This unique learned feeding tactic is one that humpback whales use to successfully catch more fish.
We Recommend Signing up for a Whale Watching Tour
Statistically speaking, Icy Strait Point shared with us that over 50% of the guests that arrive to port spot a whale before they even step foot off their cruise ship, onto Hoonah, Alaska soil.
But regardless of seeing a whale from your cruise ship or not, we recommend signing up for a whale watching experience for more plentiful whale sightings. Because you're in ALASKA! And this is a crazy, awesome thing to brag to your friends about when you return home.
After you sign up for the tour, all you have to do is walk approximately 50 feet off the dock at Icy Strait Point and onto a whale watching boat. The boat takes guests on a short journey to Point Adolphus where the captain routes the boat to find whales.
Note that the tours (which are all sold by Icy Strait Point) are handicap accessible.
4. This Alaskan Port has their Own Beer: Cannery Red
We've never met a town with their own beer that we didn't like. Icy Strait Point produces their own beer, called Cannery Red, which is an amber brew. It's available at all the Icy Strait Point restaurants.
Another cool thing is that guests are able to hop from a restaurant to another location with an open container of beer at Icy Strait Point. Just like in Las Vegas! So if you want to get a beer at The Cookhouse but walk over to the waterfront and put your toes in the sand on the beach, with your cup of Cannery Red beer, you can.
There's also a brewery in Hoonah, called Icy Strait Brewing. Though it's not owned by Icy Strait Point, their reviews are positive and indicate their beer is top-notch. And it's walking distance from the port, on Front Street.
Speaking of beer, check out some of these awesome Alaska gifts on Etsy, beer glasses with the Alaska flag on them, included along with gorgeous apparel, stickers, stained glass, and art.
5. The Landscape at Icy Strait Point isn't Cluttered by Vehicles to Maintain Authenticity to Alaska's Scenery
It was important to Huna Totem Corporation to maintain the integrity of the landscape when they were developing their land to become a cruise port before 2004.
This is why vehicles won't clutter your pristine view of their land when you arrive. It's another reason why Icy Strait Point in Hoonah, Alaska, is the most authentic port experience you will encounter in the state.
There is currently only one excursion that requires guests to take a bus to get there: the Wildlife & Bear Search tour.
They have vehicles that look like the one in the photo below, however. They help any handicapped or mobility-challenged guests navigate the port.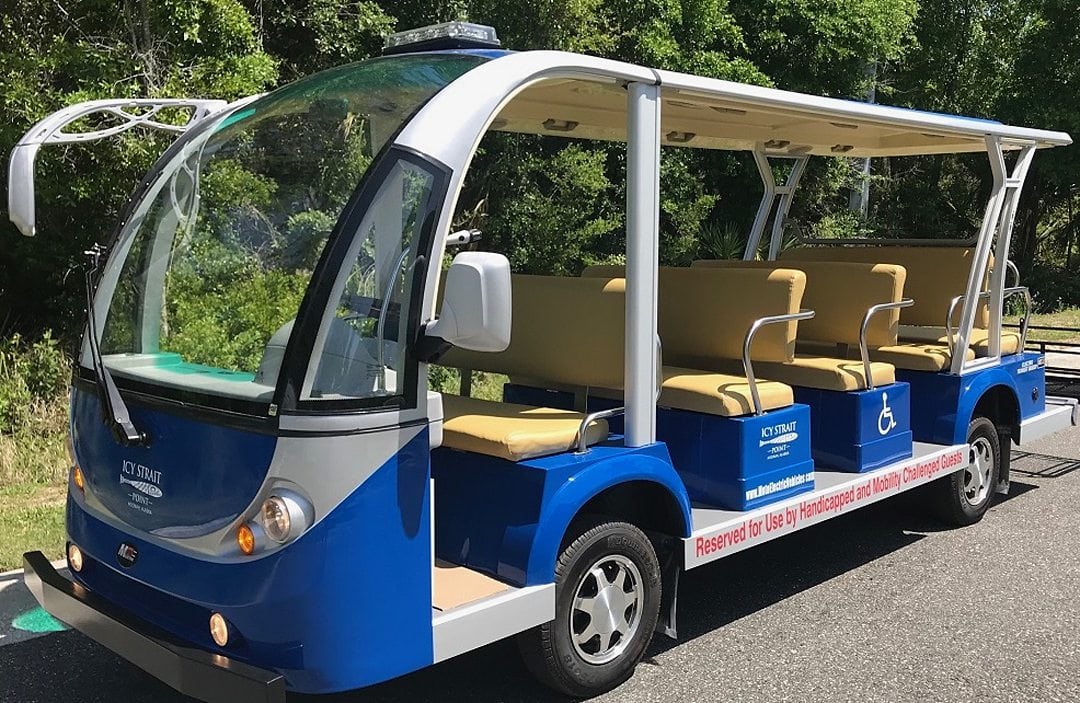 6. They Have an Efficient, High-Speed Gondola Network
Soar high above the treetops with an incredible view of undisturbed Glacier Bay and the land's forests as you reach 1,600 feet above the port. (The gondola in Hoonah reminds us of the Skyliner at Walt Disney World but with incomparable views of nature.)
This electric gondola leaves from Wilderness Landing and can move up to 22,400 people a day. It is truly a great activity for anyone, but it's especially wonderful for people with mobility issues.
Tickets for the gondola can be purchased on your cruise ship or at the port. The tickets are the same price regardless of where you purchase them. (The gondola will not sell out.)
7. Looking for the World's Largest Ziprider? It's in Icy Strait Point in Hoonah, Alaska
You may not be able to run at 60mph but you can certainly "zip" at that speed. (Some people even reach speeds over 80mph, but it depends on your body weight.)
You're taken to the top of Hoonah Mountain to begin your ride on the world's largest Ziprider experience. Then you securely zip down cables situated above the Alaskan spruce-tree-filled rainforest (yes, there is such a thing); all you have to do is sit in a swing-like apparatus you're tied into and enjoy the view!
You descend over 5,000 feet of ziplines to the bottom of the mountain.
This is an activity you can't miss if you're a thrill-seeker. It's like a zip-line on steroids. (We admit we love a zipline for an adventurous date!)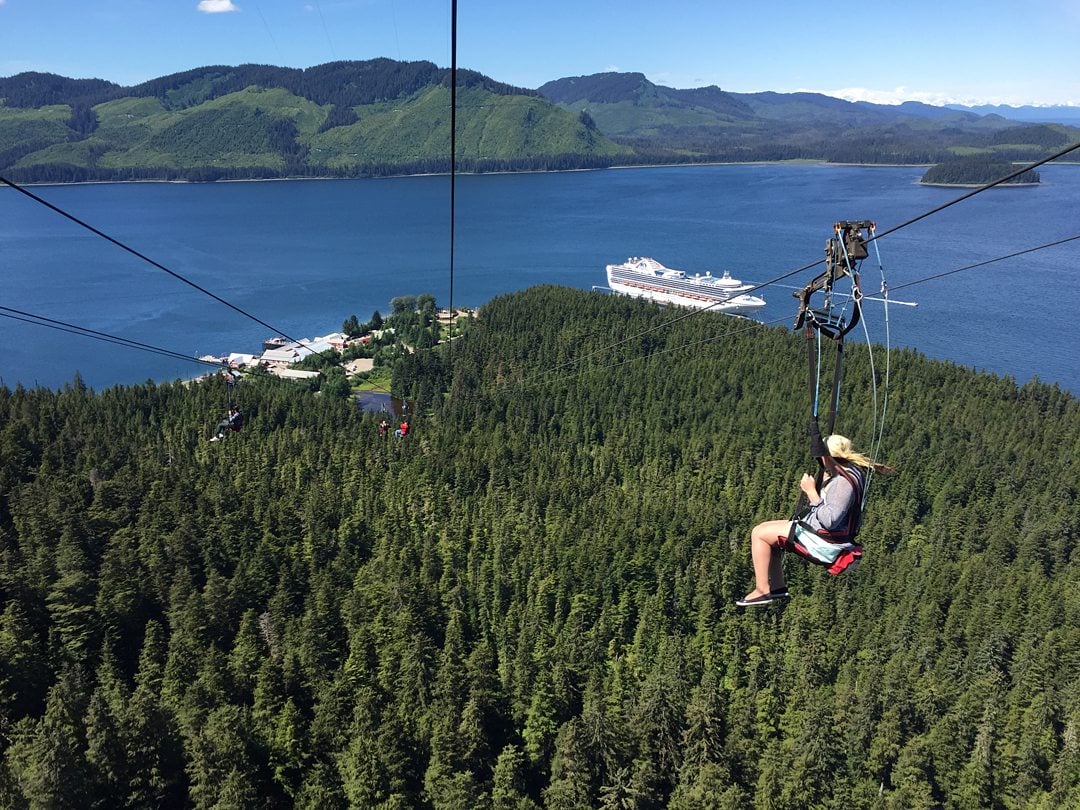 8. There are More Bears in Icy Strait Point than in Yellowstone National Park
We were impressed when we read the statistic about how many bears are in the area: about two brown bears per square mile! That means there are roughly 3,500 bears there. There are less than 1,000 bears in all of Yellowstone National Park.
If your authentic Alaska dream is to see bears in the wild (as they should live and be free) this dream can come true at Icy Strait Point.
Be sure to target visiting the area when the salmon arrive in July. During May, for instance, the bears are still high in the mountains, having just emerged from their dens. Yet July is prime for spotting coastal brown bears looking for food in and around the river.
The Wildlife and Bear Search excursion into the Spasski River Valley will take you on a journey over boardwalks and viewing platforms on the lower Spasski River. It's an active salmon stream. You may even be able to spot a Bald Eagle amongst the wildlife.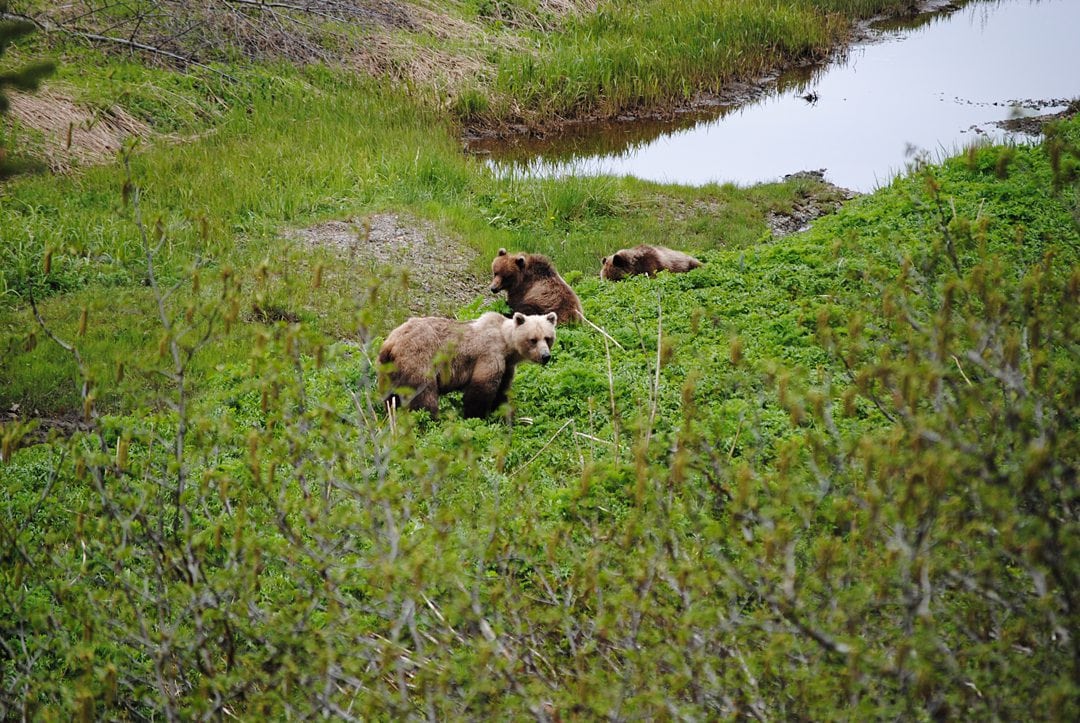 9. Icy Strait Point Puts an Emphasis on Sustainability
Icy Strait Point prides itself on locally sourcing as much as possible. Granted, it's Alaska. So it's not as easy to locally source everything but they do what they can.
One of the guiding principles of Huna Totem Corporation is to think and act in the best interest of their future generations. Part of that includes growing a healthy, thriving business that is self-sustaining. Respecting their land and resources is a natural, guiding moral for them.
We've already mentioned that vehicles don't clutter the landscape in Hoonah. But we also want to note it's a choice in decreased exhaust pollution as well. Their high-speed gondola is powered by electricity.
All Icy Strait Point gift shops are businesses that are locally owned and operated.
10. You Can be a Part of Alaska's Wildest Kitchen
Icy Strait Point was originally developed as a salmon cannery in 1912. Needless to say, it has a longstanding history and relationship with sustainable seafood providing meals and contributing to its economy.
If leisurely activities are your speed and you love to learn about the seafood you'll enjoy a lesson in authentic, local cooking.
Alaska's Wildest Kitchen offers a 1.5-hour experience at Icy Strait Point in Hoonah. It enables you to learn about – and cook – some of the freshest catch you'll ever have.
11. They have a Beach at Hoonah's Icy Strait Point
We know that if you live on a coast – or have easy access to one – it's perhaps not so unheard of to be able to dig your feet into the sand and admire the water. I grew up on Long Island in New York with plenty of beaches. And Dan and I live in North Carolina, with very easy access to places like Wilmington and The Outer Banks, with great beaches.
While waterfront views are common in a lot of parts of Alaska, having a beach with a shore for people to enjoy is less common.
You can walk on the beach or enjoy it from the beautiful deck of one of two beachfront restaurants: Duck Point Smokehouse (pictured below) or The Cookhouse Restaurant.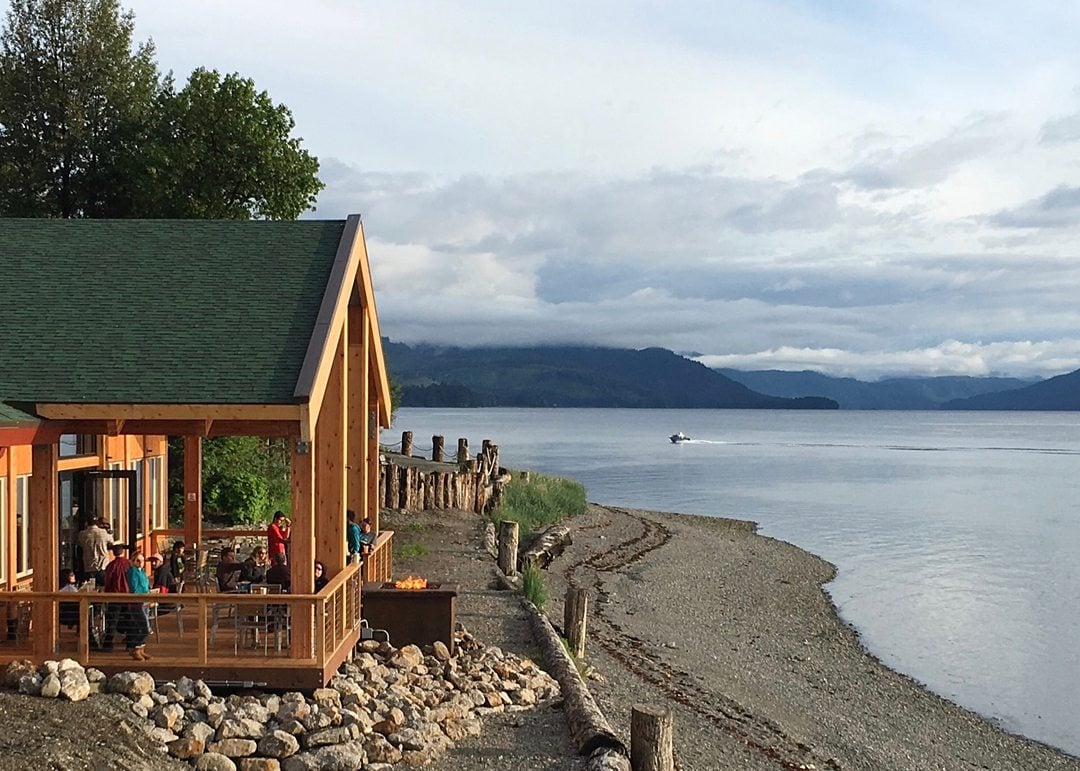 12. It's Easy to Get There: Simply Book a Cruise
We have to highlight that getting to Icy Strait Point may be simpler than you think: most cruises that stop in Alaska visit this Hoonah port.
Icy Straight Point opened to welcome its first cruise visitors, from Celebrity Mercury, in 2004. It experienced such success with one berth that years later it opened its second berth in 2020. They can currently welcome two cruise ships at a time.
Here's a list of the cruises that partner with Icy Strait Point as of fall 2020:
Viking
Disney Cruise Line
Carnival
Norwegian Cruise Line
Windstar
Royal Caribbean
Cunard
Oceania
Regent Seven Seas
Seabourn
Hurtigruten
Celebrity
Holland America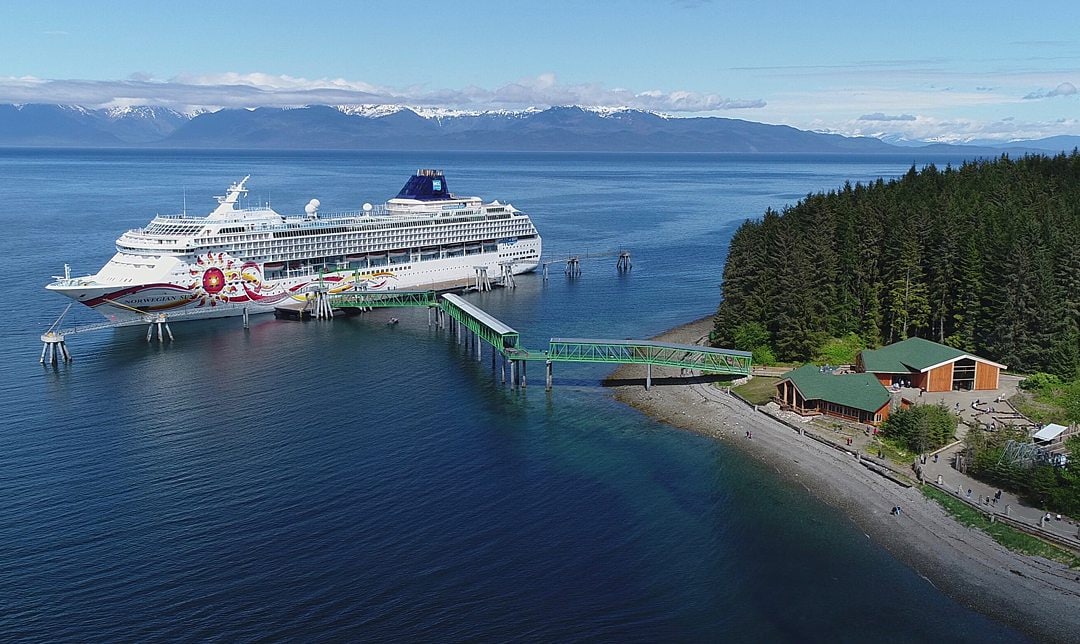 13. The Hoonah Mountain 360 Tram
A mountain-top gondola connects guests to the Hoonah Mountain 360 Tram Tour, which is similar to a Hop On-Hop Off experience. You'll be able to view various Alaskan gems during this one-and-a-half-hour tour (if you were to remain on the tram from starting point to its finish) from 1,800 feet above your cruise ship.
The open-air, wheeled tram allows guests to experience 360-degree views of Alaska's mountain ranges and the Inside Passage, including a first-growth forest, glacially carved reflecting ponds and muskegs.
It stops at multiple areas and you can hop off at one place, stay to hike a little, and take photos, for example. After you're done exploring the area you can catch the next tram that comes around and hop back on.
Tickets will be available for purchase for the Hoonah Mountain 360 Tram experience along with gondola tickets. You can spend the better part of a day or half a day hopping off and on the tram to explore on your own a bit.
There are 196 acres of trails up top so it's easy for time to pass by as you enjoy the nature Icy Strait Point has to offer.
There is a restroom at the start of the 360 Tram.


Practical Icy Strait Point Questions Answered
Is there another way to get to Icy Strait Point besides a cruise ship?
There's another way to get to Icy Strait Point, though arrival by a cruise ship is by far the most popular way to get there. A very small percentage of people can fly to Hoonah or arrive via boat from neighboring cities, such as Juneau.
Is there a price difference in booking excursions at Icy Strait Point versus on your cruise ship?
There is not. All pricing is the same for tours or excursions whether you book them aboard your cruise ship or at Icy Strait Point in Hoonah.
Is there a hospital in Hoonah, Alaska?
There isn't a hospital there but there's a health center with services like dental care and radiology. And for residents, it has everything from a primary care physician to nutritionist services too.
It's called "SEARHC" and stands for: Southeast Alaska Regional Health Consortium. Their other locations in the area, to name a few, include Juneau, Skagway, and Ketchikan.


Accessibility information for Icy Strait Point
This Alaskan port is incredibly accessible for people with mobility issues, including travelers in wheelchairs. Mickey Richardson, Director of Marketing at Icy Strait Point, shares, "You can cross the entire port, from Wilderness Landing to Adventure Landing, and over to the Cannery and never encounter a single stair-step."
There are also accessible vehicles to help people with mobility issues get around the port. These carts stop at several locations around Icy Strait Point, very much like a bus stop. If you're in a wheelchair you transfer to a cushioned seat in the cart while your wheelchair rides in a designated platform on the back. When you arrive at your stop, Icy Strait Point staff will help you transfer back to your wheelchair if you need assistance.
There are 10 cart stops between Adventure Landing and Wilderness Landing (one of the stops is the gondola system). Then there are four cart stops within Wilderness Landing and six stops in Adventure Landing.
Ramps are an option wherever possible around Icy Strait Point because removing steps has been a matter of importance to them. In fact, they don't have any areas where steps are the only option. An example is Cookhouse: There are a set of steps at the front door but there's also a ramp, which is what most people use anyway.
Here's a list of the various points of interest at Icy Strait Point and corresponding accessibility info you need to know:
Gondola Accessibility

Seats in each individual gondola fold up so each unit is handicap accessible. It won't slow down the gondola in any way as the system was designed with this feature in mind. Visitors can take the gondola up to the area where the Ziprider experience is.
Mountain Top Area
The mountain top area was designed for a guest to be able to roll from a gondola straight onto the viewing platform. From here, there's an accessibility cart that can assist in transferring guests from the viewing platform to the Ziprider.
Ziprider Accessibility
Once guests with wheelchairs reach the Ziprider, they are transferred to an Icy Strait Point wheelchair. This is so their own personal wheelchair can be put on a gondola to the bottom of the Ziprider. Their chair will be awaiting their safe arrival at the end of the journey, at the Drop Zone.
Ziprider operators assist with getting guests with limited mobility into the ride's harness system. Anyone riding the Ziprider then zips down the line without any need for human control, as it has an automatic brake system.
Accessibility at Icy Strait Point for Whale Watching Boats
Boats have ramps to enter and exit the vessel. All whale watching tours are sold by Icy Strait Point and they are handicap accessible.
Hoonah Mountain 360 Tram
This is a great experience for people with mobility issues. You can stay on the tram for the entire 1.5-hour ride. If you're in a wheelchair, you'll be transferred to a tram seat and your wheelchair will ride in the tram.
Note not all of the trails are handicap accessible at the "hop off" locations, though there is a handicap accessible viewing platform at the top of the mountain.


Alaska Gifts
Going to Alaska and want to buy some apparel ahead of time? Or did you go and you forgot to buy yourself a souvenir? Check out these amazing Alaska-themed gifts on Etsy, many created by artists you'd be supporting with a purchase.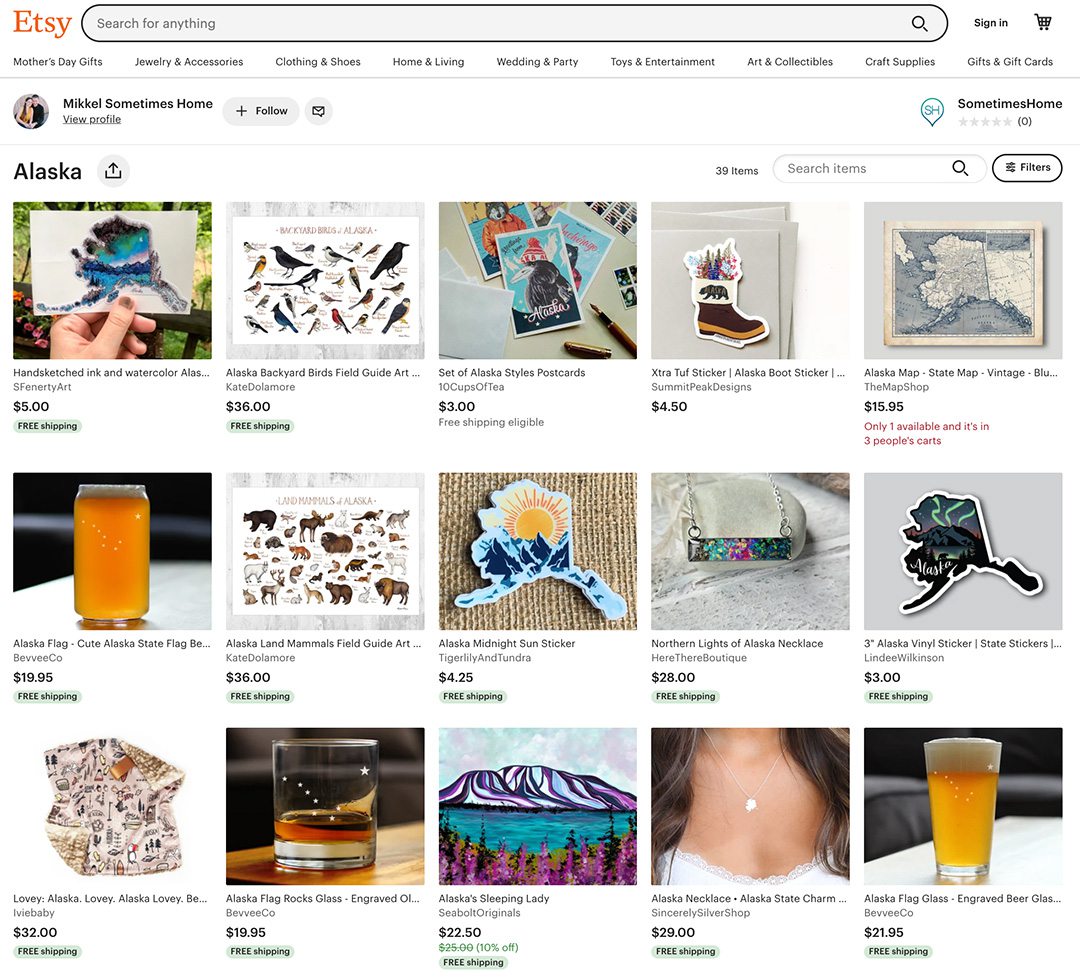 Going on a cruise soon? Read these articles next: