Celestyal Cruises Review: All About the Greek Cruise Line
We were so grateful to learn how uniquely Greek Celestyal Cruises is when we sailed on the cruise line for the first time. During a wonderful spring vacation, we discovered the delightful way Celestyal Cruises focuses on its port destinations, interacted with the friendly crew, and learned how wifi and the drinks packages work. 
We are sharing everything you need to know about the cruise line with an overview of their itineraries, many of which start and end in Athens.
Here, you'll learn more about what it's like to sail with Celestyal Cruises, including an overview of what we liked, if they have all-inclusive pricing, and information about onboard spaces from souvenir shops to staterooms, dining, programming, and entertainment.
Disclosure: This page has affiliate links, meaning we may earn a small commission if you click the link and proceed with a purchase at no cost to you. We thank Celestyal Cruises for generously hosting us. We truly only recommend cruises, experiences, products, and services we personally use. As Amazon Associates, we earn from qualifying purchases.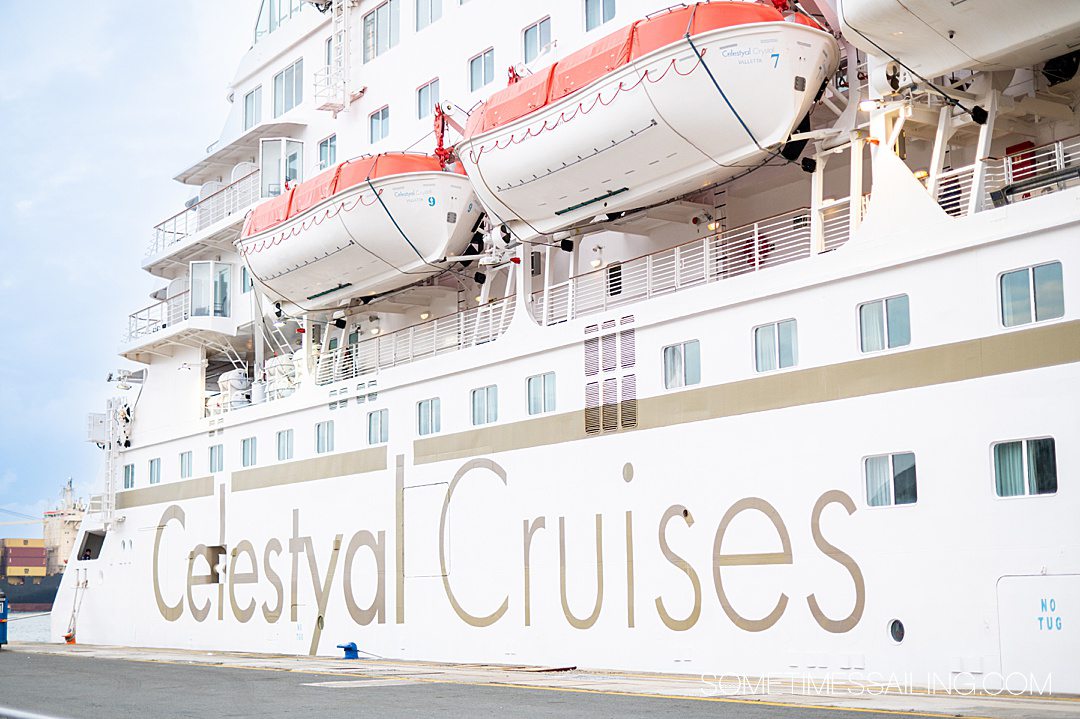 🕐 Short on time? No Problem!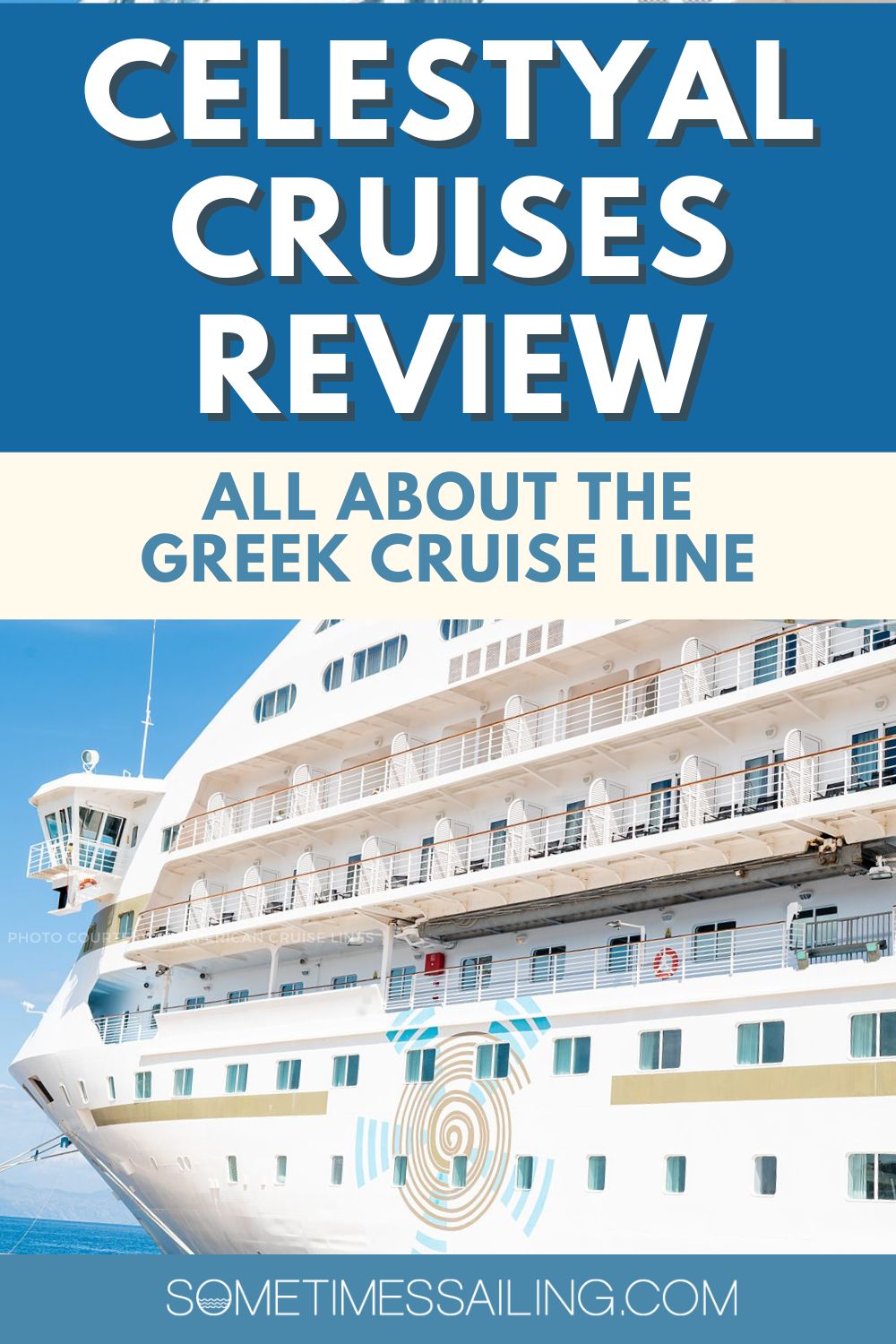 Celestyal Cruises Overview
Celestyal Cruises is a Greek cruise line. They have two cruise ships that sail very interesting itineraries in the Mediterranean, including Greek island-hopping cruises and cruises that sail the Greek islands and onto some neighboring countries.
Celestyal Crystal and Celestyal Olympia are the two ships. Come September 2023, Celestyal Journey will replace Celestyal Crystal.
We recommend the cruise line for guests who want a medium-sized ship that sails the Greek Islands and a very interesting itinerary that sails to Three Continents.
Celestyal Cruises Pricing Overview
Celestyal Cruises are incredibly affordable! Pricing differs depending on the itinerary you choose, the cabin category, and the dates you select. But you can expect pricing ranging from just $339 for a 3-night cruise in an Interior Stateroom "IA" category to $2,578 (IA) for a 28-night cruise.
Things We Liked About Celestyal Cruises
There were a lot of things we loved about the cruise line. For starters, very few cruise lines have a cultural identity, and we immediately got a strong feeling this was a Greek-owned and operated cruise line.
We wouldn't hesitate to sail on Celestyal Cruises again and look forward to doing so in the future.
Celestyal Cruises is Greek, and It Shows
The cruise line's origins revealed themselves in several ways, including Greek music in the hallways, a Greek band onboard, a Greek menu item with each meal, feta cheese on nearly all buffets when buffets were available, and Greek wine options (in addition to wines from other countries). Even the house beer, Mythos, which we really enjoy, was Greek. We liked this aspect of the cruise.
The crew is from all over the world, not just Greece, but the Cruise Director is Greek.
Open Seating
We enjoyed open seating in the dining room and the flexibility of times we could eat within scheduled operating hours. We also loved how friendly the crew in the dining rooms and bars were; several crew members remembered our names, and it was fun to see each other day-to-day and converse about things.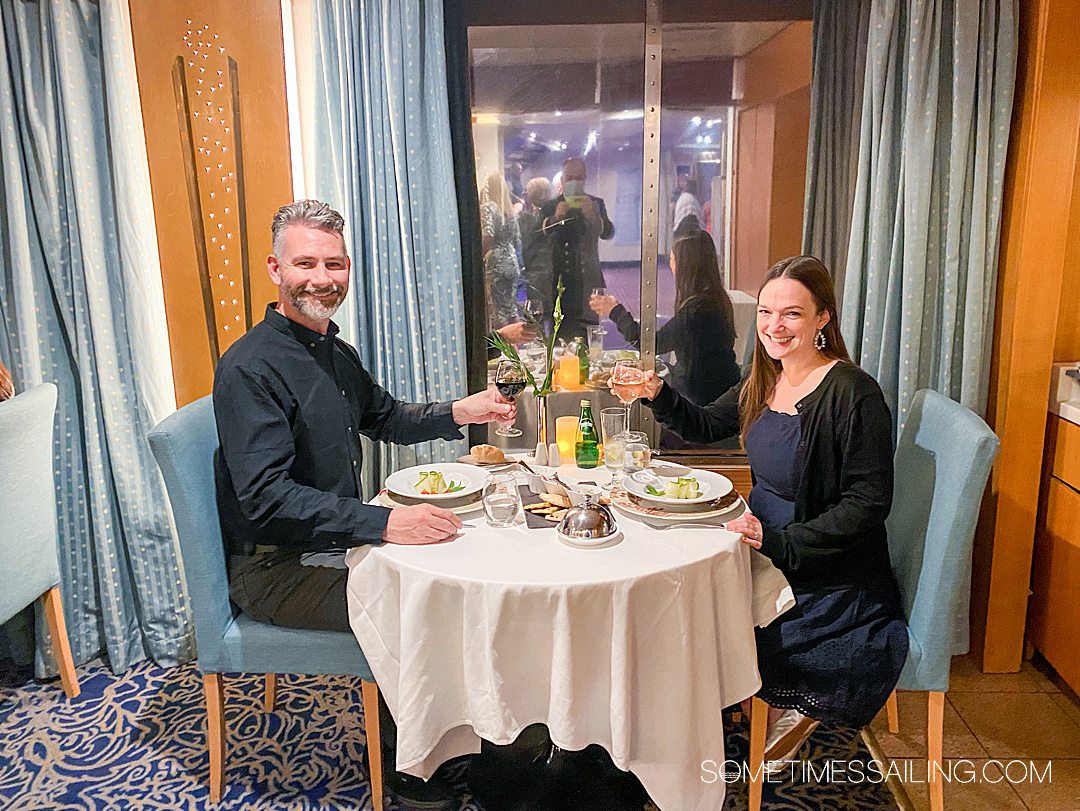 Cruise Director and Assistant Cruise Director
We were incredibly impressed with our Cruise Director and Assistant Cruise Director, who both easily spoke more than three languages.
Though we didn't interact with them much like we did on Celebrity Cruises, where the Cruise Director engages in many activities with the guests throughout the day, we met Teresa, the Cruise Director, who was friendly and upbeat.
It's always nice to have a great welcoming committee in the leaders on the ship since behavior/demeanor is modeled from the top down.
Staterooms
Our cabin was a great size, and we enjoyed the balcony of our junior suite. It was spacious enough for two, and we had plenty of storage for clothes and luggage.
Evening Musical Entertainment in the Lounge
Lastly, there was a phenomenal musical duo on our particular sailing – they were a singer and guitarist from the Philippines. The woman had an incredible voice – we told her she should try out for a television broadcast talent show! She was that good.
Celestyal Cruises Areas for Improvement
Drinks Packages
Celestyal Cruises has eight drinks packages to choose from. In this regard, we left missed the simplicity of a cruise line like Emerald Cruises, which has one drinks package option, only.
If you don't have the premium package, the waiters and waitresses in the restaurants and bars continuously try to upgrade you to the highest package. So much so that we wondered if they make a commission on each drinks package upgrade.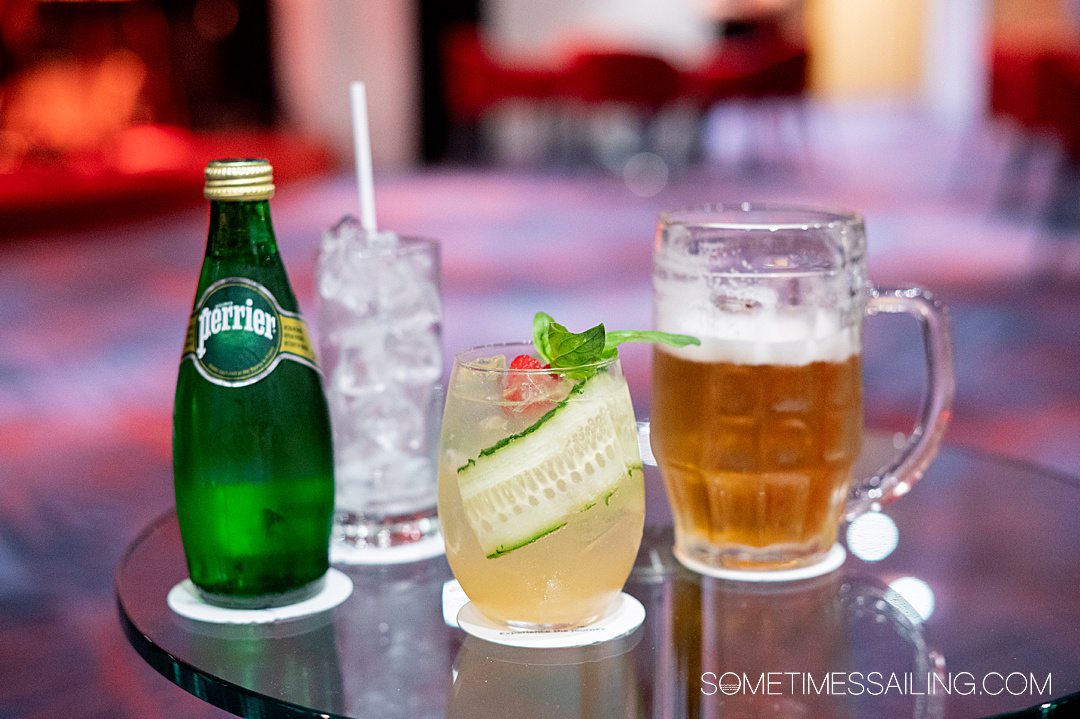 What's more confusing is that the in-room water, we learned, isn't even included in the drinks package, even if you have the highest package. However, one complimentary bottle of water is placed in suites and junior suites. If you're confused, we were a bit confused too.
Overall, we learned that water in the staterooms is maintained by housekeeping. Luckily, to avoid all that confusion, we filled our reusable water bottles in the dining room as needed.
Shore Excursions: Onboard Desk and Organization
There is room for improvement with Celestyal's onboard shore excursions team. We overheard several team members unable to answer guests' questions, and several guests clearly frustrated that they had booked one thing through the website, yet once onboard, the experiences weren't showing or registered in their reservations.
We personally experienced confusion with the bookings as well. For example, we were never informed that our Israel excursion to Tel Aviv didn't have enough people sign up, which left us scrambling to find availability on the very full Jerusalem and Bethlehem excursion when it was nearly too late. This nearly happened with a second excursion we were signed up for during our cruise.
We realized that we had to be very much on top of what was going on with each port and the excursions we selected one to two days before our arrival at that destination. Also, because the excursions desk isn't open all the time, if you want to confirm your excursion — and realize during that confirmation that you may need to sign up for a different one (that may be at near capacity) — you usually have to do so before the day before.
Additionally, the way that Celestyal Cruises divides tour groups and designates buses in the morning is through stickers. There were two occasions when we didn't receive stickers in our stateroom the evening before. This was a red flag that something was off.
If you don't get stickers for your excursion delivered to your stateroom the night before, go to the excursions desk as soon as possible to see what's amiss.
The point is, our advice is to do the following:
Evening Shows
The entertainment – specifically the evening shows – was fine, but not great. We're grateful they had a main stage show every evening, but the choreography and production levels we lacking even though it was clear that the dancers, singers, and acrobats were talented.
The great talent, multiple costume changes through every show, and lighting were just enough to prove they have what it takes to be great shows. They just need the right choreographers and producers to get them there!
Celestyal Cruises Pricing
Is Celestyal Cruises All Inclusive?
The cruise line is not all-inclusive though some things are included in the base fare. Their website carefully says the pricing is "inclusive," not "all-inclusive."
Celestyal Cruises emphasizes that their cruises are designed to be about the ports, not their ships. However, guests pay to be onboard, so the cruise fare and what's included versus what costs extra is something to consider.
Base cruise fares get you a stateroom and main dining, with house beer and wine for lunch and dinner. It's unlikely that you won't add on anything else — whether excursions or a beverage despite if you pay per drink or add a drinks package.
Below, we list a fare upgrade option that we recommend, then get into details about overall costs.
Celestyal Cruises "Enhance Fare"
We recommended booking their Enhance Fare option, which is a package up from their base fare. It includes a lot more for a great price.
This fare includes:
Premium drinks package
Complimentary $160 shore excursion discount
One hour of Wi-fi access
25% discount on the specialty menu and upgrade options
While the price may change depending on how many days your cruise is, expect a 7-day cruise to cost an additional $260 per person with the Enhance Fare on top of the cruise base fare. Also, you have to add it per stateroom. So if you are two guests in one room, both guests must add the Enhance Fare, not just one.
If you want to upgrade your drinks package that is included with the Enhance Fare, it's $17 more per day to go from the Premium drinks package (included) to the Premium Plus drinks package. Remember that you have to add that per guest in the stateroom, not for just one.
If you have children under the age of 18 traveling with you, Premium and Premium Plus drinks packages will automatically be converted to a Non-Alcoholic Premium drinks package on board, meaning no alcoholic beverages will be served. Kids can look forward to plenty of milkshakes, smoothies, and soft drinks!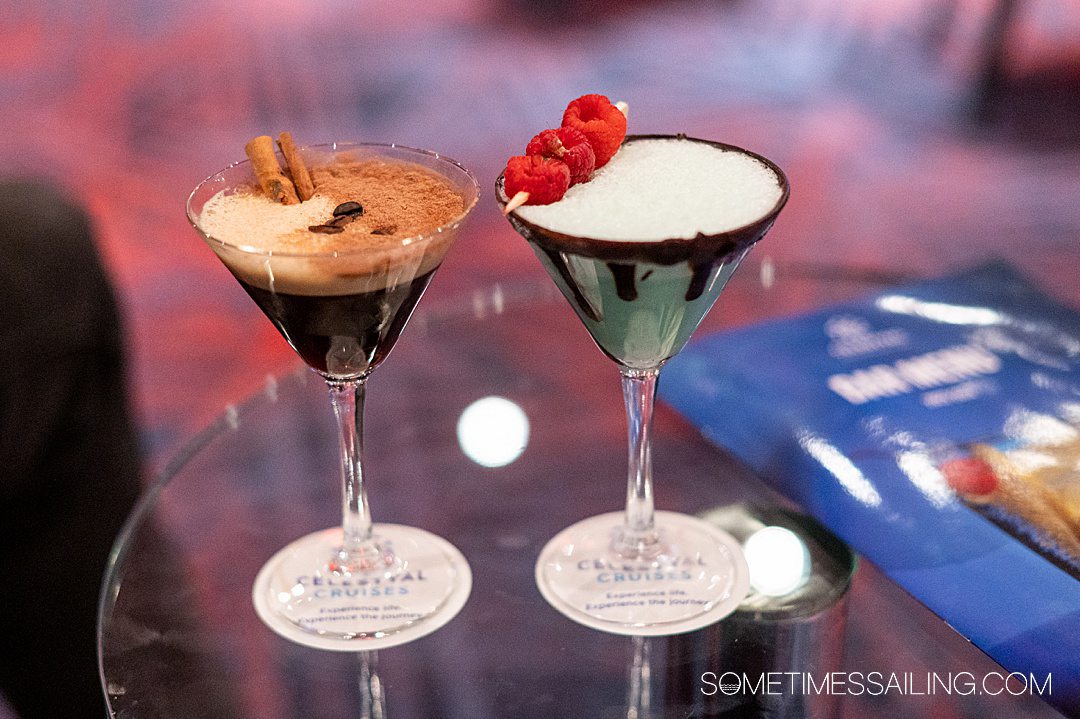 What Does Celestyal Cruises "Inclusive" Pricing Actually Include?
Dining/Restaurants
A buffet venue and a sit-down restaurant are included for lunch and dinner. There are onboard dining experiences that guests can pay to go to as well, like "The Greek Table" experience.
Upgrade to a Suite for More Dining Options
Suite and junior suite guests (cruise categories S, SG, and SB) have an additional dining option for breakfast and lunch, where they can sit down at a table and either order an item off the menu or go through the suites-dining buffet. Depending on the ship and itinerary, the restaurant is sometimes open for dinner.
The buffet items are similar (if not exactly the same) to what is available in the main buffet area. It's simply a quieter, less hectic/more peaceful dining venue because there were fewer adults and kids, and the finishes were a bit nicer than the other dining space, like white tablecloths, whereas the other dining venue had bare tables.
Upgrade to Enhance Fare for 25% off Specialty Dining
If you upgrade to the Enhance Fare, you can take advantage of 25% off The Greek Table dining experience.
Entertainment
Onboard shows are included and do not cost extra. This includes daytime and evening entertainment, including music in the lounge and the main evening show.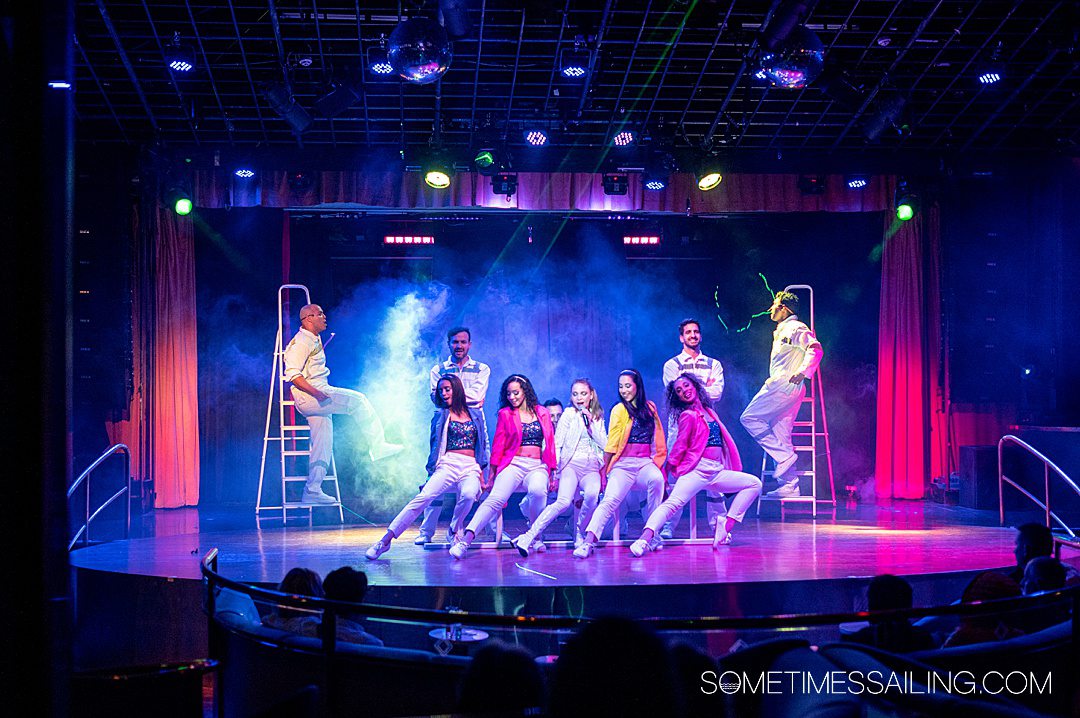 Excursion Discount
All cruise fares enjoy a credit of $80 per guest in their cruise fare to put towards an excursion if pre-booked. If you select to upgrade to the Enhance Fare, this onboard credit doubles to $160 per person if the excursion is pre-booked.
Port Charges and Gratuities
We love when a cruise line includes port charges and gratuities, as Celestyal Cruises does with every cruise fare.
Wi-Fi
Four Wi-Fi packages are available onboard:
One hour for €7.00
Three hours for €16.00
Six hours €25.00
Unlimited hours for €100.00
If you plan on being online at all to read emails, browse the web, or engage with social media, our recommendation is to get six hours as a minimum. If you upgrade to the Enhance Fare, one hour of Wifi is included in the package.
The wifi isn't strong enough to stream anything, but it was good enough for emails and text messages. We weren't always able to get a strong connection while we were sailing. For example, photos within text messages didn't always download.
How it works, is you buy a package for x-amount of hours (whatever you choose) and then log in and out so the wifi time doesn't continue to run if your phone isn't open, but the device is connected. The system remembers the total time you have used and displays it when your log back in.
Wi-Fi in Ports
We always carry a wifi hotspot when we travel, so when we were off the ship exploring ports, we could still get online and use the hotspot to do anything that needed more bandwidth, like social media posts.
In general, the connection was stronger than the wifi on the ship, but it doesn't work when you're at sea because it needs to ping cell towers to get wifi (which is why it works incredibly well on land in 135+ countries).
We Always Travel with Our Solis Hotspot
▶︎ Use code "SOMETIMESSAILING" for 15% off your purchase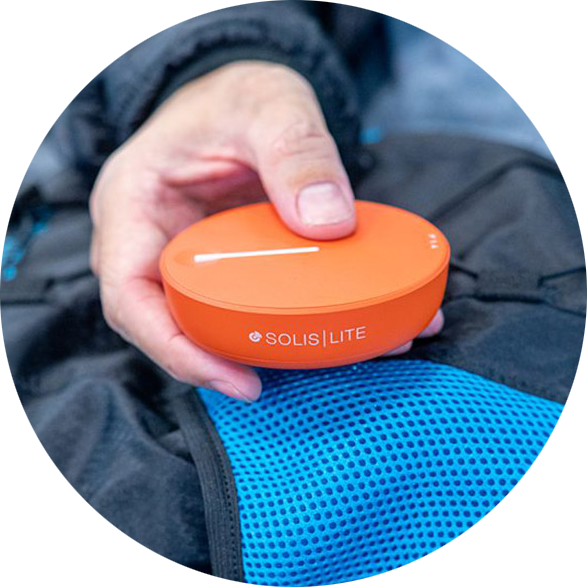 Select Beverages
Certain beverages are included with meals in the dining room and buffet. House wines and house beer are included with lunch and dinner, sodas by the glass, select juices by the glass, coffee, hot tea and iced tea, and mineral water.
Suite and junior suite guests have a small complimentary bottle of water in the stateroom that is replenished daily. Suite guests (not junior suites) also have complimentary beer and soda in the room, which is replenished daily.
Drinks Packages
There are eight drinks packages available to choose from.
Prices are per person per day, including taxes:
Premium Plus €47.00
Premium €30.00
Alcohol-free €27.00
Kids €16.00
Premium Kids €20.00
Soft drinks €10.00
Premium Water €7.50
Coffee €10.00
Premium Plus includes anything from alcoholic beverages up to a certain price, to beer any time, to milkshakes, fresh squeezed orange juice, smoothies, and lattes. The included options decrease as you go down the line for the drinks package options.
If you purchase the Enhance Fare, the Premium drinks package is included. Or you can upgrade it to the Premium Plus package for $17 more per day. You can also upgrade to the Premium Plus drinks package with the base cruise fare if you do not want everything in the Enhance Fare.
Transfers and Pre-Post Cruise Extensions
Though it's not included in the cruise fare, Celestyal Cruises has add-on options for a cruise package that takes care of your pre/post cruise hotels and transfers – to and from the airport and to/from hotels to get to/from the ship.
Book a package that includes pre-cruise accommodations and transfers, or a package with pre and post-cruise offerings.
Celestyal Cruises Excursions
A true highlight of a Celestyal Cruises experience is the ports you visit. The cruise line strongly focuses on this aspect of its cruises, which is why the itineraries are so great.
We joked that every day we were on the Three Continents Cruise, another bucket list travel item was checked off our list, whether see the Pyramids of Giza in Egypt, being at the Western Wall in Jerusalem in Israel, or exploring the ancient city of Ephesus in Turkey. But it was true!
All cruise fares include an $80 credit for excursions to encourage you to book them. The Enhance Fare includes double that.
Regardless, since multiple excursions throughout your cruise per person will cost more than that, factor between $300-500 per person for Celestyal Cruises excursions when you're budget-planning. Cost per excursion varies depending on the destination and the tour.
Onboard Spaces
Both Celestyal Cruises ships have the following onboard spaces and amenities:
Shop with Souvenirs
You can purchase a variety of items at the Celestyal Cruises shop. Whether you want snacks for your room, like chocolates and gummy bears, or a souvenir magnet, or want new sandals and a hat, they have several options.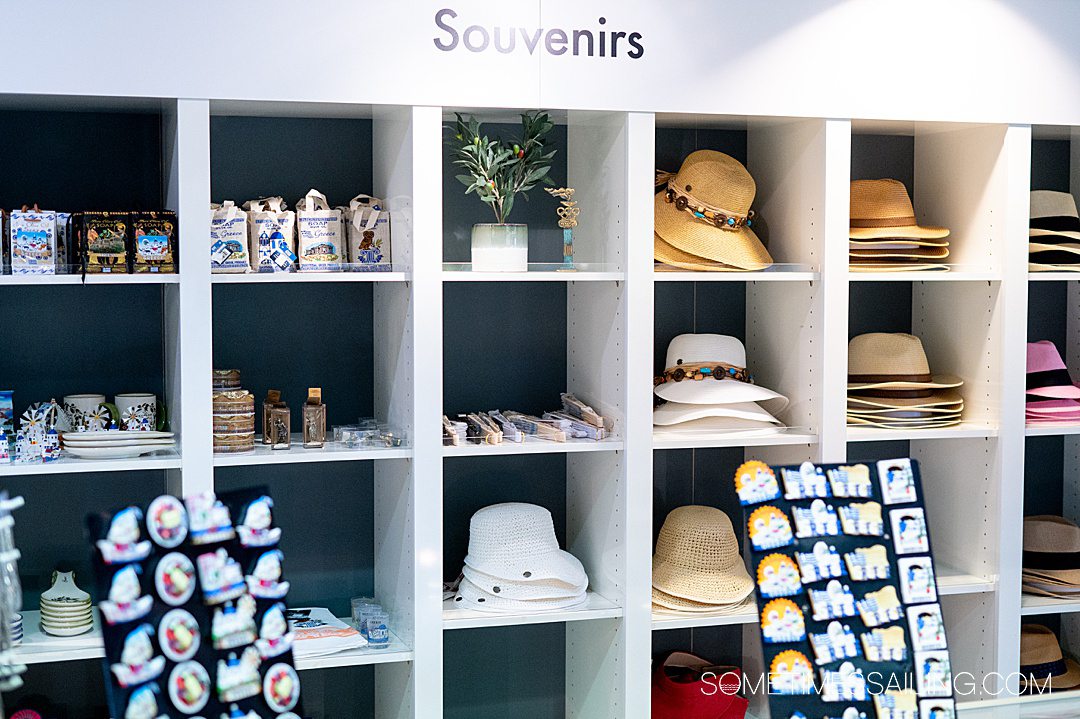 Photography Prints Area
A small area of the ship is dedicated to viewing printed photos from your days on board and in ports. If you decide you want to buy them, they are reasonably priced at $11 or so per print.
Several photographers are working onboard who take photos of the guests. These images get printed for guests to see, though you have to make a point to go to the photography area to see them.
Staterooms
The staterooms are lovely, with a color palette that evokes feelings of the Mediterranean and Greek islands. The toilet and showers are in the same room, which leaves more space for the bedroom and living space.
We recommend getting a suite or junior suite with a balcony for maximum enjoyment of the ship while you're onboard.
If you are sailing during shoulder season, which is before or after peak season when temperatures are slightly cooler, or you know you'll be off the ship on excursions every day, we think it's less important to spring for a suite if you're on a budget than for something like upgrading your drinks package.
Spa
An onboard spa is available for guests to book treatments, including massages, facials, and the like. We enjoyed a couple's massage on the first day of the cruise that set us up for relaxation the entire trip.
Entertainment Areas, Lounges, and Bars
There are several areas to relax and enjoy a cocktail around the ship. This includes the main entertainment venue where evening shows are and the lounge areas. You can get beverages, play cards, and games (if you bring them onboard), and listen to musical entertainment at night in the lounge and bar.
The ship has several bars open at various times throughout the day. So you have options, whether you want to order a drink and be indoors or enjoy the top deck with the most sunshine possible. There is also a small onboard casino that is usually open when the ship is sailing.
Celestyal Cruises Dining
Dining is often a highlight of any cruise, and Celestyal Cruises didn't disappoint. We loved that they had featured Greek dishes on every menu as part of the meal offerings, which have regional ingredients from islands Celestyal visits.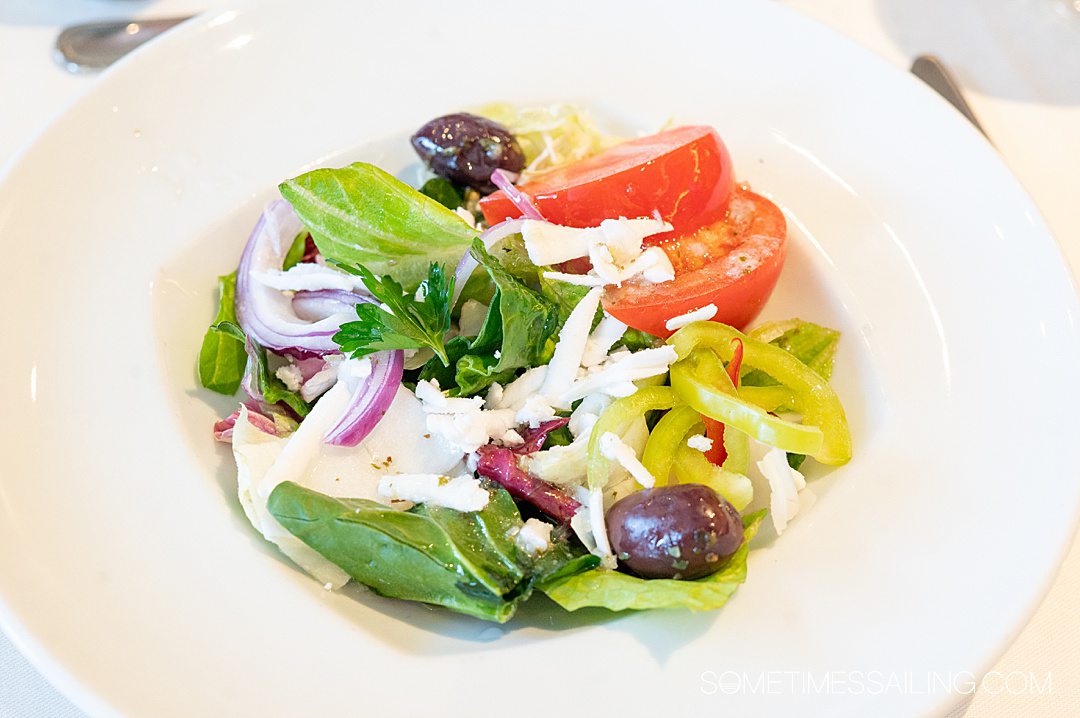 There is specialty dining experiences onboard called The Greek Table experience, which we detail below.
Suites Dining
There is a dining venue that is specifically for suites and junior suites guests. The restaurant has white-linen tablecloths, the same crew serving as waiters and hosts every day, a buffet to go through, and a menu to order from for breakfast and lunch.
It was usually open for two meals daily, depending on the port and daily schedule. It is not open for dinner.
We were in a junior suite and enjoyed this option for breakfast and lunch whenever possible.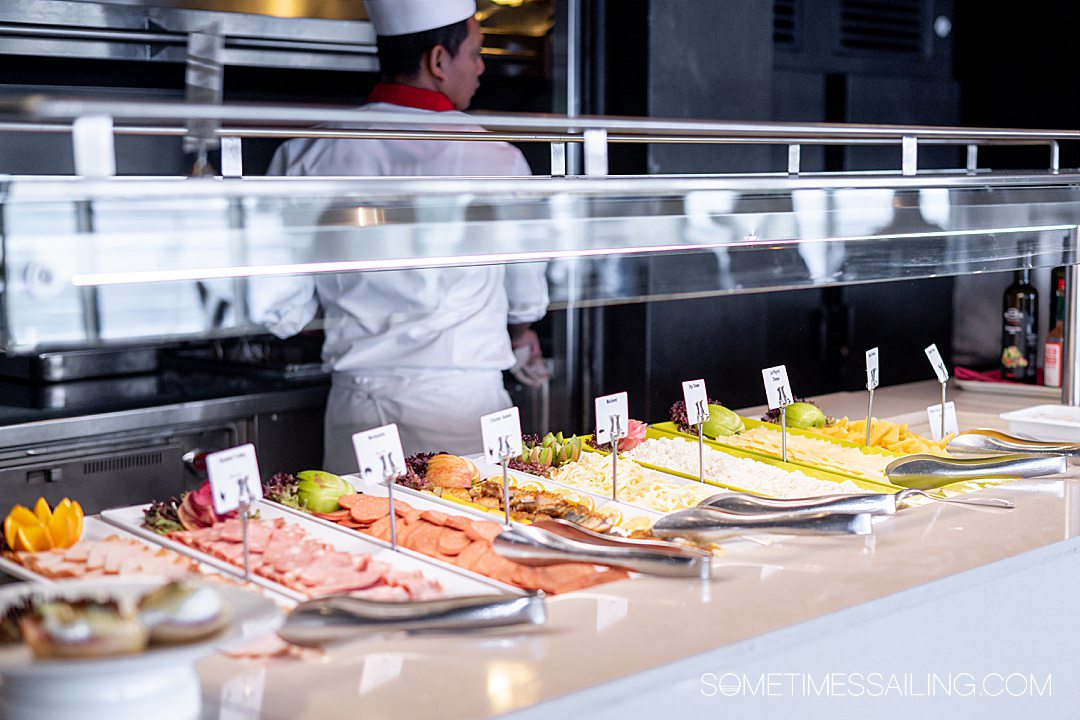 An Especially Tasty Greek Evening: Celestyal Cruises "The Greek Table Experience"
Celestyal Cruises has partnered with esteemed chef, Diana Kochilas, to create a special menu for the cruise line. Kochilas is a Greek American who is the host, creator, and co-producer of My Greek Table, a Public Television program that airs in the US and Australia. She is also the author of 18 cookbooks on Greek and Mediterranean cuisine.
For just under $60 per person, you can enjoy dinner in a private restaurant reserved for the evening's Greek Table diners, and relish in a six-course tasting menu. With the homemade dips to start, an optional cheese course, and an intermezzo, it's more like nine courses!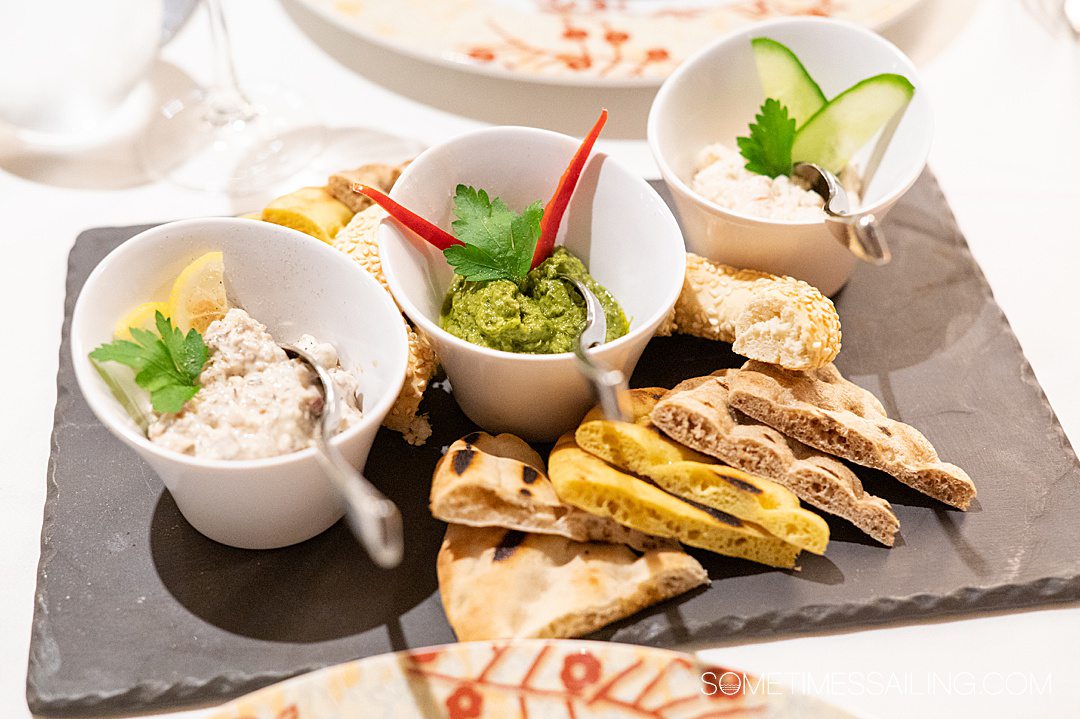 The Greek Table Courses
We signed up for The Greek Table on our second evening of the cruise, the day at sea. It started with an absolutely phenomenal octopus carpaccio dish and ended with Greek cheeses and a photo-worthy dessert. It was so much food we couldn't eat it all, but we certainly tried everything.
Though the menu may change should Chef Kochilas and Celestyal Cruises choose to switch it up, here's what we had:
Three homemade dips and pita bread and Simit (which is like a very thin Greek sesame bagel)
Cretan octopus carpaccio with fennel and an orange-ouzo vinaigrette
Aegean fisherman's saffron avgolemono soup
Escallop of Aegean lobster, saffron-jeweled pilaf with pistachios, almonds, and peas
Pappardelle of zucchini, marinated tomatoes, and mint with toasted pine nuts
Kalogeros terrine with sliced beef loin, sheep's milk cheese, and tomatoes
Arugula, red onion, baked olives, grilled manouri, and pasteli crumble, tossed in Greek virgin olive oil and aged balsamic
Dessert: Selection of Greek village cheeses or floating Greek island in a wine-dark sea, with a rose geranium-infused fruit soup and meringues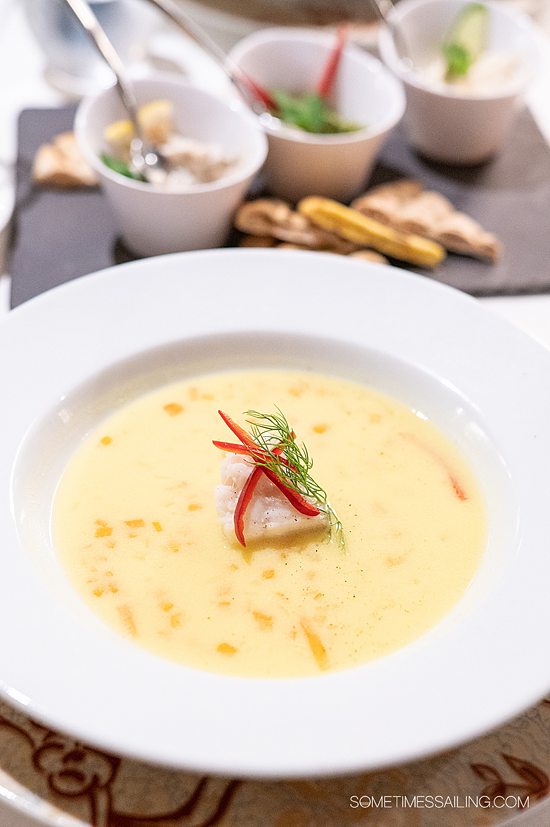 The Greek Table Experience Dinner Review
The highlights for us were the octopus carpaccio, pappardelle of zucchini (a refreshing vegetable plate that was beautifully crafted), and the vibrant arugula salad with pomegranate seeds and sesame candy, which was the "pasteli" on top. Another highlight was the Escallop of Aegean Lobster; the dish's textures were quite nice.
The service was very good, and the private dining room that the specialty dinner was in, with no more than four tables, was lovely and intimate. However, we recommend keeping at least one menu nearby, so you know what you're eating. We were glad we have a menu next to us because the server didn't explain each dish as he set the plates down.
Programming Aboard Celestyal Cruises
Daytime Entertainment
As a cruise line focusing on ports, it's not a cruise line that will wow you with onboard daytime programming. That said, there is plenty to enjoy onboard if you have a day at sea or choose to stay onboard instead of disembarking to explore a port.
You can enjoy the onboard hot tub or pool, read a book on a lounge chair, enjoy the sports bar and whatever news or sporting event is on television, or look at the daily schedule to see if something like bingo, trivia, Greek language lessons, or a cooking demonstration is scheduled.
Greek Wine Tasting on Celestyal Cruises Day at Sea
We decided to sign up for the Greek Wine Tasting on our day at sea. It was a fun thing to do for an extra $25 for two people.
The tasting was well-organized and a fun activity to look forward to. Though we didn't expect a wine tasting of the caliber of our Bordeaux River cruise experience in France, we were a little disappointed there wasn't slightly more depth to it. We were also surprised that the cheese plate with the tasting didn't include Greek cheese.
The wine-tasting facilitator was one of the beverage people on the ship who wasn't a sommelier and, it was evident, not an expert on Greek wines. Though he didn't educate us on the wine regions in Greece or wine history there, he knew slightly more about Greek wines than we did, so we learned a thing or two.
We have partaken in countless wine tastings, from Bordeaux and Burgundy to California, so while it wasn't a standout, at €12.50 per person during the day at sea, it was something different and enjoyable to do. And we accomplished our goal of tasting Greek wines!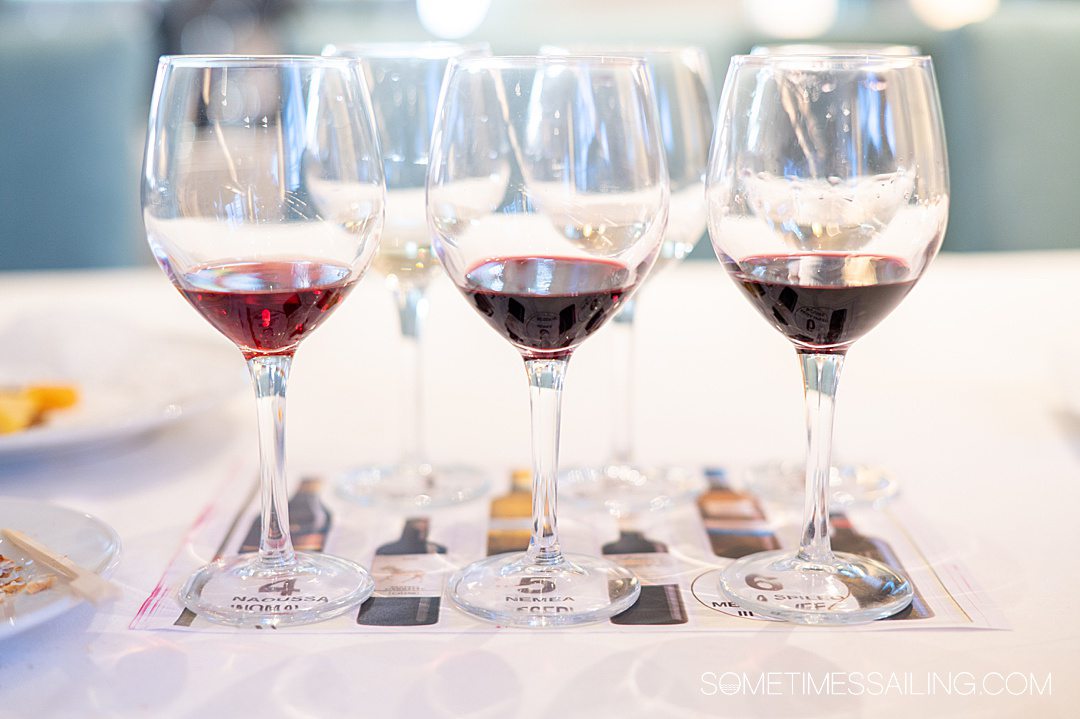 Evening Entertainment
The shows on Celestyal Cruise are okay, but not great. As we mentioned earlier, the talent is there. They just need some production improvement.
While the shows are not at the level of some mega-ship entertainment, the production level is definitely higher than a river cruise or yacht cruise, for example. Remember, it's a mid-size ship with affordable pricing, so the entertainment matches the cruising level.
If you don't want to watch the show – or only want to watch some of it, then explore other areas of the ship – the lounge is nearby and always had music at night. In fact, the musical duo was so good we made sure to attend every night!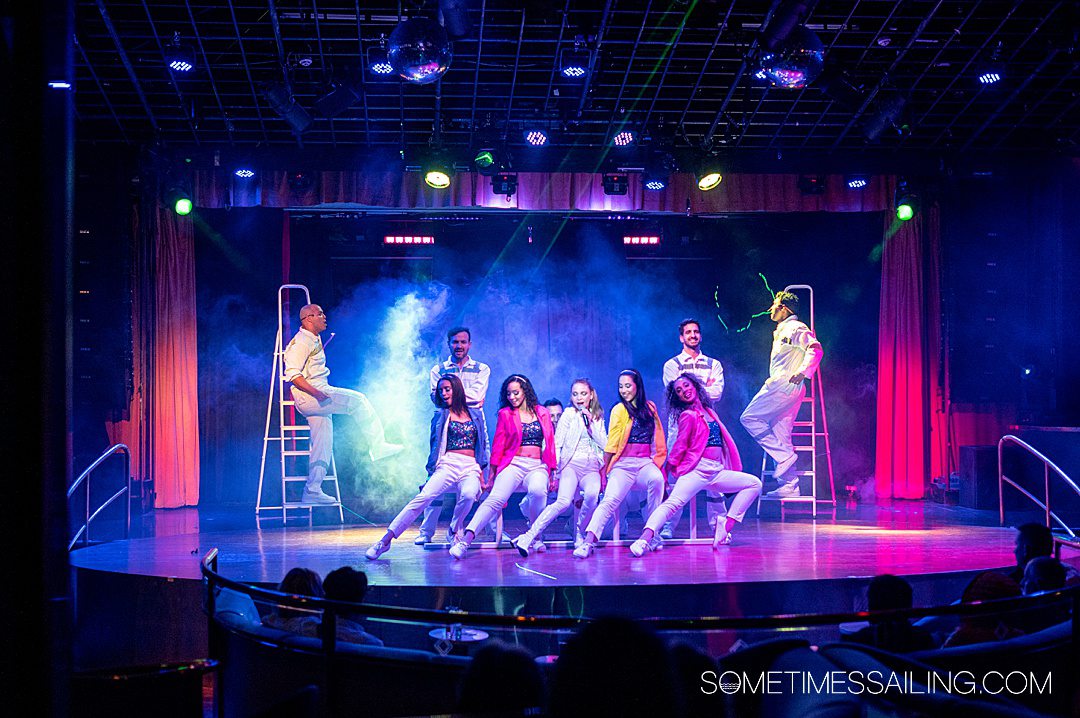 Celestyal Cruises Itineraries
We've shared everything onboard – so you're probably wondering about the itineraries.
Celestyal Cruises offers three, four, five, seven, and 14-night itineraries. We went on one of the regularly scheduled sailings, but they also offer special event cruises, like an eight-night New Year cruise.
Celestyal Cruises' Ports of Embarkation
Greece: Piraeus (Athens), Lavrion (Athens), Crete/Heraklion and Thessaloniki
Turkey: Kusadasi and Istanbul
Cyprus: Limassol
The main port city people leave from is Athens.
7-Night Itineraries
Idyllic Aegean: Athens | Thessaloniki | Kusadasi | Crete | Santorini | Mykonos | Milos | Athens
Eclectic Aegean: Athens | Istanbul | Kavala | Thessaloniki | Volos | Santorini | Athens
Three Continents: Athens | Port Said | Ashdod | Limassol | Rhodes | Kusadasi | Athens
Steps of Paul: Athens | Thessaloniki | Kavala | Istanbul | Dikili | Kusadasi | Patmos | Athens
We embarked on a 7-night Three Continents Cruise, which was fabulous.
5-Night Cruises
Legendary Aegean: Athens | Santorini | Rhodes | Samos | Istanbul
Legendary Ionian: Athens | Kotor | Corfu | Chania Souda | Athens
3 and 4-Night Cruises
Iconic Aegean (3-nights): Athens, Mykonos, Kusadasi, Patmos, Santorini, Athens
Iconic Aegean (4-nights): Athens, Mykonos, Kusadasi, Patmos, Rhodes, Santorini, Athens
Legendary Aegean (4-nights): Istanbul, Chios, Kos, Mykonos, Athens
Celestyal Cruise Guest Demographics: Where Are the Guests From?
We have been on many cruises, from small to large. And we always meet a few people from other countries here and there, especially from Australia and the United Kingdom.
An aspect of cruising with Celestyal Cruises that surprised us was that guests were from so many different areas of Europe. This included places like Greece, the Balkans, and South Africa.
Onboard Smoking
The reality of the increased attendance of Europeans onboard meant many more cigarette smokers were on board.
You cannot smoke anywhere inside the cruise ship, of course. That's the same across the board with any cruise line. However, we found that the smokers did not respect the designated smoking areas. The smell would sometimes drift over into our room or to where we were outside.
If this happens while you're on the cruise and you find someone smoking in a non-designated area that affects your cruise enjoyment, simply alert the nearest crew member, and they will direct the smoker to a smoking area.
While there isn't much you can otherwise do about this if you don't like the smell of cigarette smoke, you'll be more prepared for what to expect than we were if you know about it ahead of time.
Celestyal Cruises Experience in Review
We really enjoyed our cruise. We look forward to sailing with Celestyal Cruises again because we loved the Greek identity of the cruise line and their truly impressive itineraries and ports. Knowing what you're paying for and what to expect, you'll thoroughly enjoy your Celestyal Cruises vacation.


Interested in European cruising? Read this next: