Celebrity Cruises Classes Explained: AquaClass vs The Retreat vs Concierge
Once you've decided to go on a Celebrity Cruise, you're faced with deciding what type of class you want to book, if any. You can book a regular stateroom or choose to book one of Celebrity Cruises' higher-level classes, including AquaClass, The Retreat, Concierge, or an Aqua SkySuite.
But what perks do they come with? And are they worth the investment? We will compare and contrast the classes in this vs that points along with a helpful table comparing all the info at the end of the post.
Disclosure: This post has affiliate links, meaning we may earn a small commission if you click the link and proceed with a purchase at no cost to you. We were hosted by Celebrity Cruises for this review. We only recommend cruises, experiences, products, and services we personally use and enjoy. As Amazon Associates, we earn from qualifying purchases.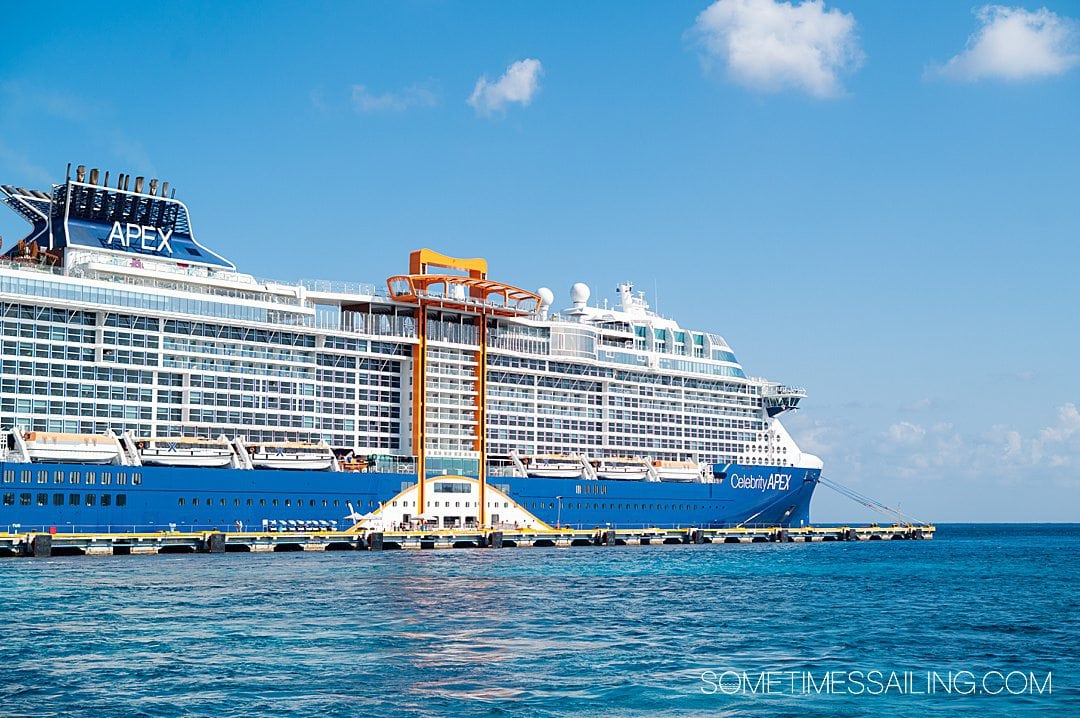 Ranking Celebrity Cruises Three Class Options
Wondering which class has the least perks and which has the most? Here's the order from least to most:
Concierge
AquaClass
The Retreat
All three options are available on all Celebrity Cruise ships, even though the look and feel of The Retreat Sundeck may vary from ship to ship, and the spas vary as well, depending on the ship series. (Celebrity currently has three ship classes: Edge, Solstice, and Millenium.)
For example, we were on Celebrity Apex and enjoyed a yellow color as an accent in The Retreat. We noticed the accent color is red on Celebrity Beyond.


Important Distinction: What is an Aqua Sky Suite with Celebrity Cruises?
There are three upgraded class options with Celebrity Cruises that we mentioned above. However, there's an additional "fourth" class you can book that gets you the perks of AquaClass while also allowing you to be a guest of The Retreat.
Being in an Aqua SkySuite will reward you with this dual-perk situation.
You'll be able to enjoy dining at Luminae and Blu (The Retreat's private restaurant and AquaClass's private dining), have workout gear in your room, and special spa access.
Guests of one or the other (The Retreat or AquaClass, not both) only enjoy some of these benefits. Guests in Aqua SkySuites enjoy the best of both worlds and enjoy all of the perks of both class types.
In summation, if you want to enjoy two classes during your Celebrity Cruises vacation – AquaClass and The Retreat – book an "Aqua SkySuite."


AquaClass vs. The Retreat vs. Concierge: Suite Perks and Amenities
How many different suite/cabin options are in each class?
The Retreat has a whopping 10 different options of suites. On the other hand, AquaClass and Concierge simply have one option. That makes booking a suite in AquaClass and Concierge simple!
A Concierge suite is essentially the same type of cabin as an infinite veranda it's just called Concierge when you upgrade to the class to get the perks. The suite looks the same you just have added benefits.
All AquaClass suites are the same suite (just one option) and all Concierge suites are the same.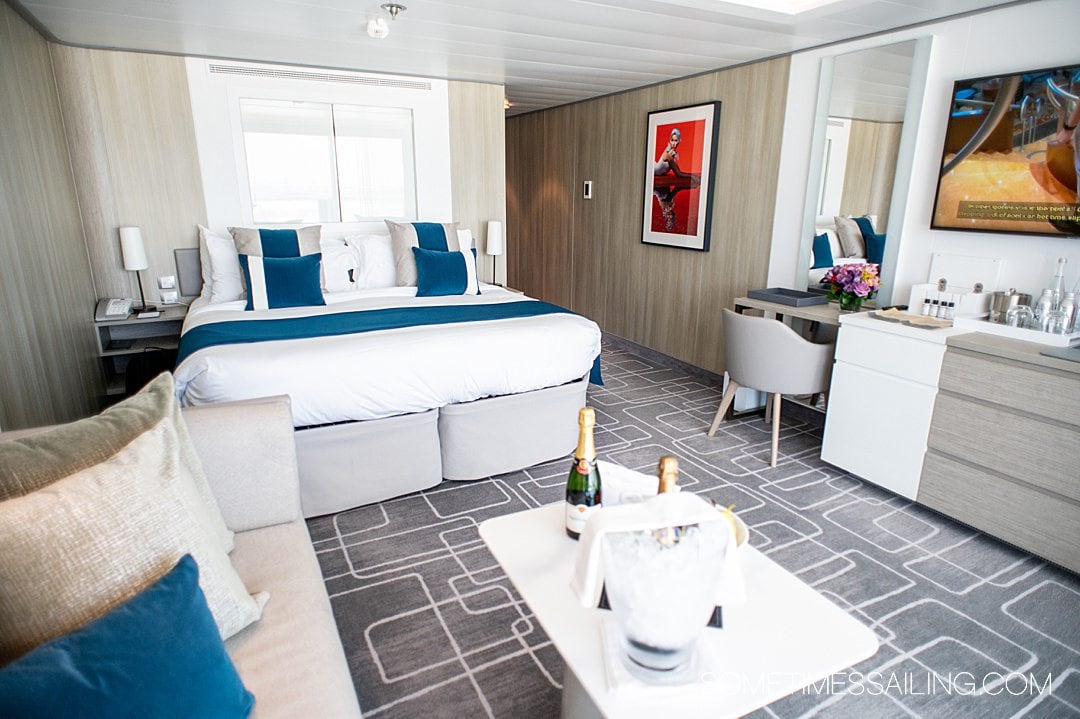 The Retreat Suites
Here are some of the suites you can book that are part of The Retreat (in order from least square footage to the most):
Sky Suite: this is an entry-level suite and the most affordable way to be in The Retreat (319 sq. ft.)
Aqua Sky Suite (319 sq. ft.) – same square footage as the Sky Suite, just different perks
Celebrity Suite (401 sq. ft.)
Royal Suite (687 sq. ft.)
Edge Villa (739 sq. ft.)
Penthouse (1,378 sq. ft.)
Iconic Suite (1,892 sq. ft.)
Celebrity, Royal, Edge, Penthouse, and Iconic are considered upper suites of the suites listed above.
Priority Location of Suites
All three classes enjoy desirable locations of suites on the ship. (You're on a Celebrity Cruise – is there a bad stateroom location? We think not!)
You will never get an inside stateroom with any of these upgraded classes. You can even request a specific room upon booking, based on availability.
Premium Bedding
All three classes, Aquaclass, The Retreat, and Concierge, have upgraded premium bedding.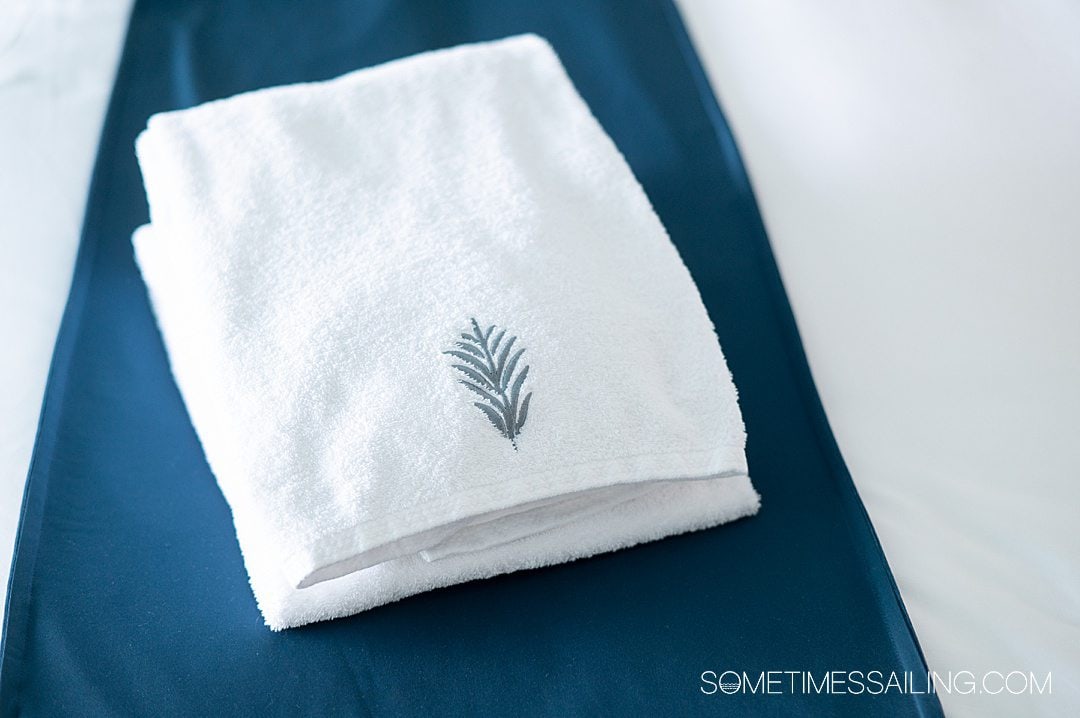 Pillow Menu
Yes, you read that correctly! When you sail with Celebrity Cruises in a Concierge, AquaClass, or The Retreat suite, you get a pillow menu to order your preferred pillow type!
In-Room Workout Gear
Many people who sign up to be included in AquaClass are fitness-focused. As such, Celebrity accommodates their fitness-forward lifestyle by providing a menu of workout gear that they can have in their room.
This was delivered to our stateroom on our first day aboard the ship. You can choose from various things like a kettlebell, yoga mat, yoga block, strengthening equipment, and a meditation pack.
Guests of AquaClass and Aqua Sky Suites can take advantage of this perk.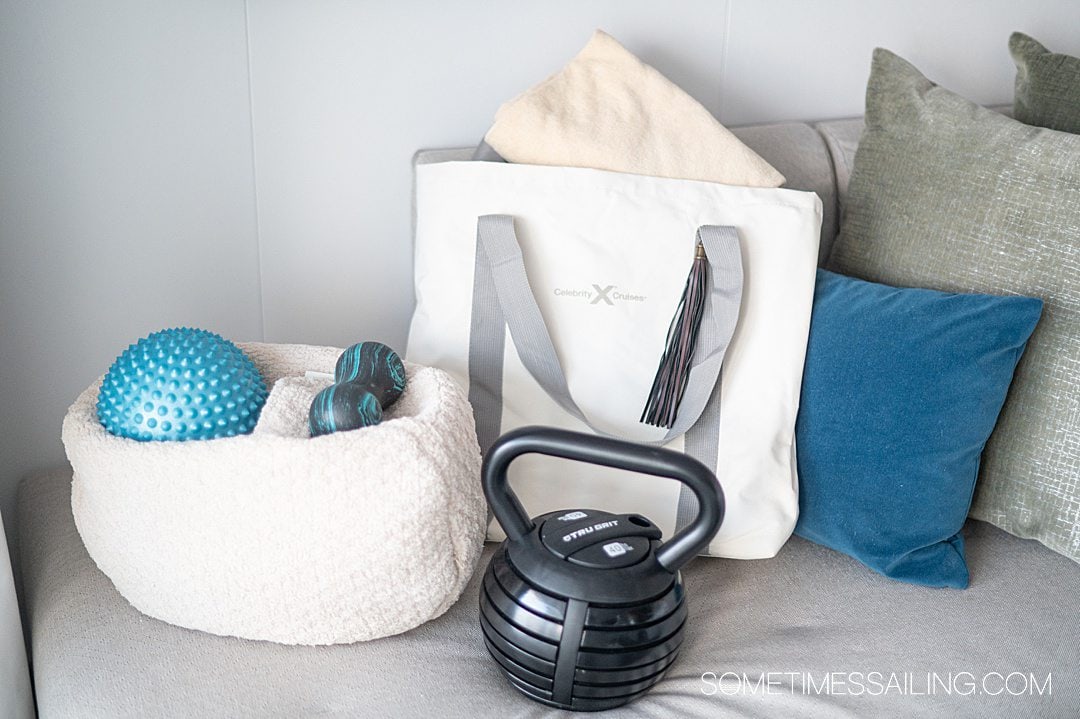 Beach Towels
All three classes take beach towels provided in the suite to offshore excursions for use during the cruise.
They are delivered to your suite in a lovely Nate Burkus tote bag; the bag is yours to keep after the cruise.
Binoculars
In-room binoculars are provided for all three classes, The Retreat, Concierge, and AquaClass.
You don't need them while you're at sea, but they could be useful during excursions; just don't forget to return them to your suite closest (where they're stored) when you're done!
Daily Canapés
All three classes enjoy canapés delivered to their suite throughout the cruise. It's a nice little in-room snack if you're hungry. If you find they're not being delivered, simply request them.
Suite Water Service
With AquaClass and Concierge, only, you will receive a complimentary bottle of water upon arrival.
That said, we also saw bottles of water that guests could take to go in the disembarkation area when leaving the ship for excursions or to explore a port. (We appreciated that the bottles were aluminum, in line with Celebrity's commitment to sustainability.)
Additionally, AquaClass and Aqua Sky Suite guests have daily bottled water service in the room.
Suite Welcome Gifts/Drinks
If you are a guest of AquaClass or Concierge, you can receive sparkling wine and fruit when you arrive to your suite upon request.
We had this in our room and couldn't wait to toast to a great cruise, which we promptly did after getting situated.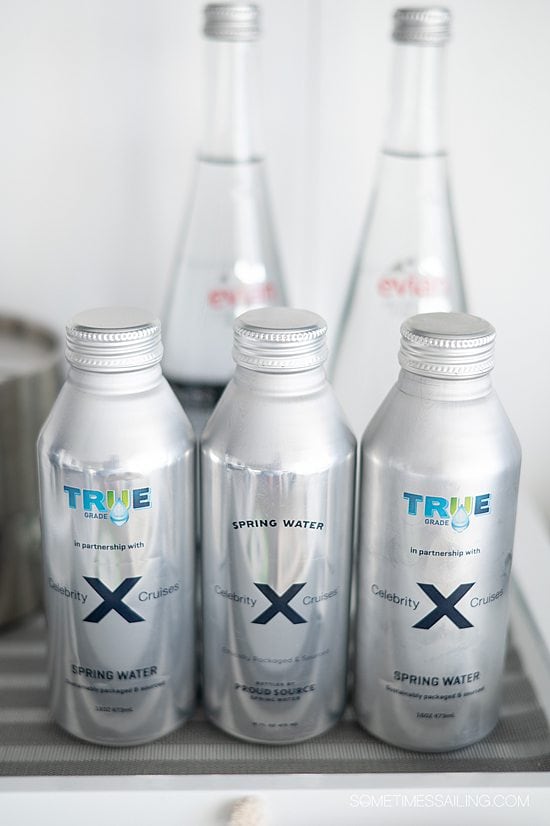 AquaClass vs. The Retreat vs. Concierge: Relaxation Areas on the Ship
Dedicated Pool
There is a special top-deck lounge and pool area for guests of The Retreat, called The Retreat Sundeck. While the environment of the Sundeck has an adults-only vibe, The Retreat pool and Sundeck areas are not adults-only. It's open to all ages as long as the guest is part of The Retreat.
It was very nice to enjoy this area on Celebrity Apex. It's much more intimate than the "public" pool areas. Retreat guests access the area with their key cards, which opens the Sundeck door. Here, guests find various lounge chairs and couches, a small pool area, and a dedicated bar.
There was also poolside food available to order for a few hours for lunch and assorted treats served by surprise other times. For example, we were offered ice cream cups one afternoon, while another afternoon, we were served colorful, refreshing fruit skewers.
AquaClass and Concierge guests do not have a dedicated Sundeck.
We also want to note that The Retreat Sundeck is a perk on Edge-class ships and Revolutionized ships. It's unavailable on the following Celebrity Cruises ships: Solstice, Eclipse, Reflection, Infinity, and Constellation.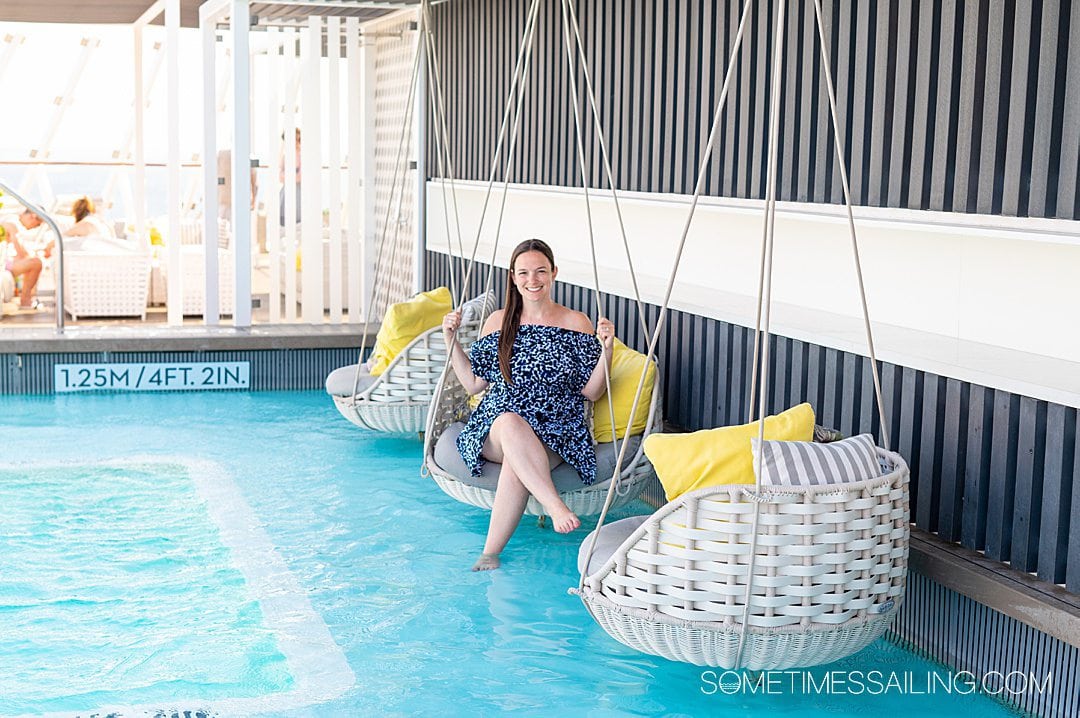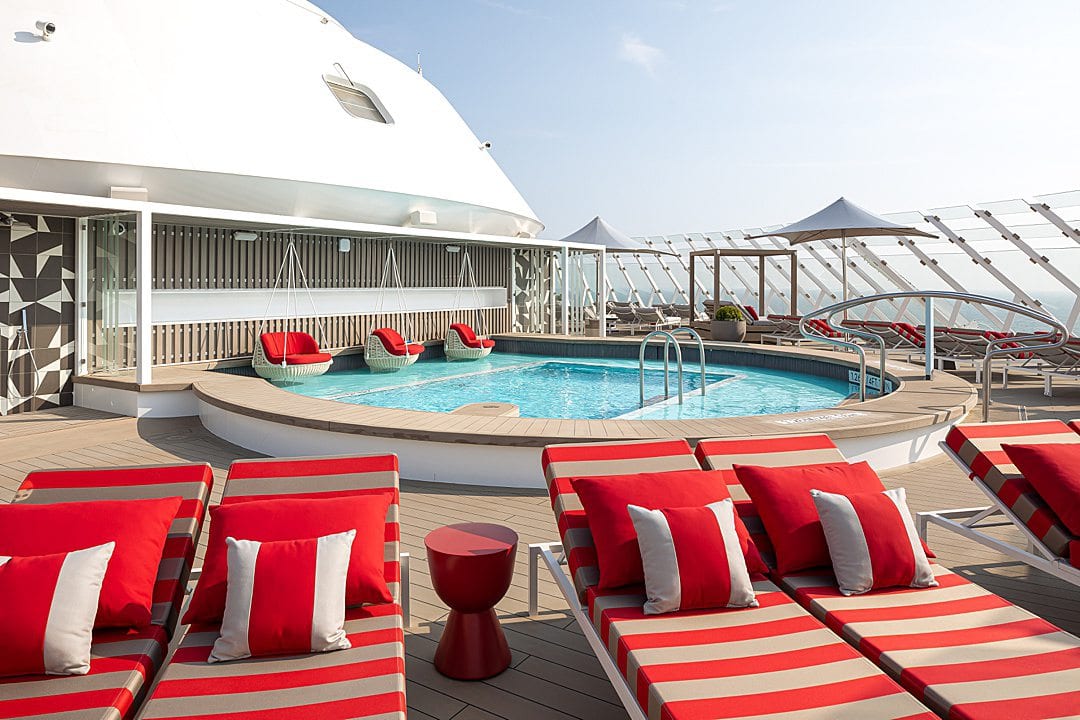 Special Spa Access
AquaClass and Aqua Sky Suites guests enjoy passes to the SEA Thermal Spa on Edge class ships for the duration of their cruise. This includes a steam room, sauna, Crystallarium, salt room, float room, and more. On non-Edge ships, AquaClass guests have complimentary access to the Persian Garden/Spa.
Spa Concierge helps take care of any spa requests AquaClass guests have.
Concierge guests and Retreat guests do not have special spa access. An additional fee applies for all non-AquaClass guests.
Anyone on the ship can book a spa appointment; we recommend doing so before your cruise to secure a preferred appointment spot.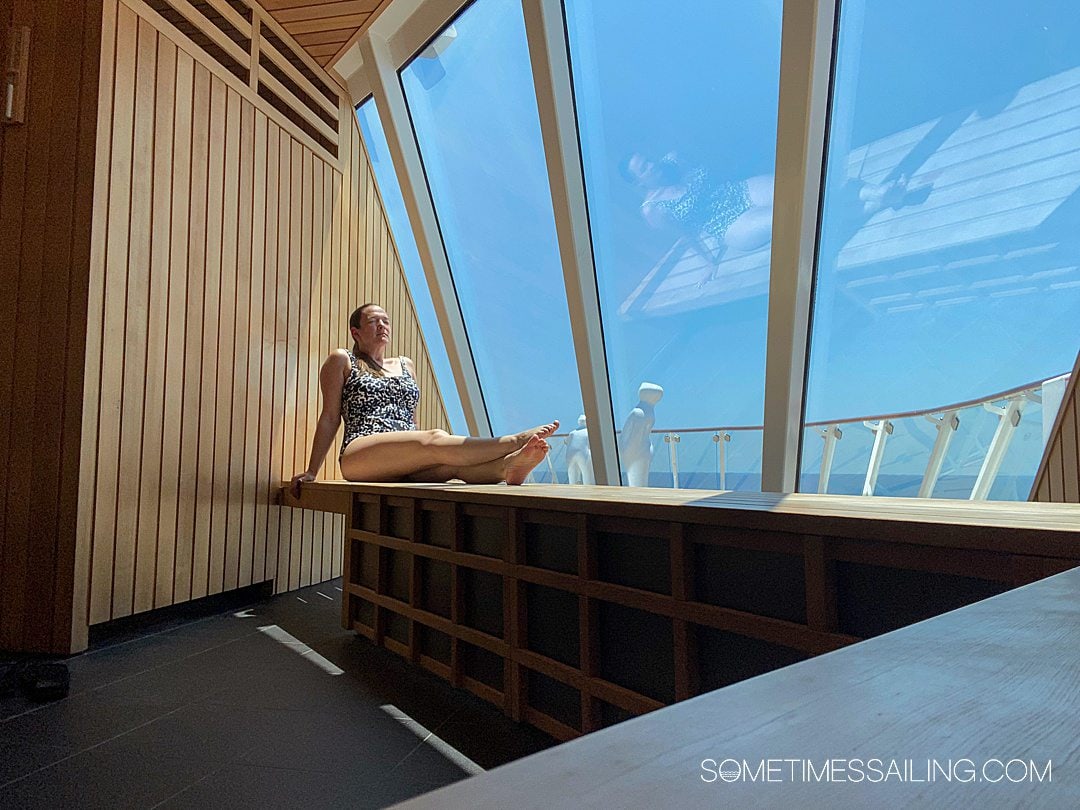 AquaClass vs. The Retreat vs. Concierge: Drinks/Beverages and Restaurants (Beyond your Suite)
Exclusive Restaurants
Two classes of the three get you access to exclusive restaurants with Celebrity Cruises. The Retreat has Luminae for its guests, while AquaClass guests get access to Blu.
Luminae is focused on elevated food, flavors from around the globe, and a superior dining experience. Blu is focused on some healthier dining options and sustainability. (Even though we want to reiterate that Celebrity Cruises, as a whole, keeps sustainability at the forefront of its brand, ship-wide.)
Though it's not particularly a "restaurant," The Retreat Sundeck has food available for lunch.
We compare Luminae and Blu here.
You do not have to dine at these restaurants if you're in AquaClass or The Retreat; it's simply only an option if you are a part of these Celebrity Cruises suite classes. In other words, guests who are not a part of either class cannot dine in these restaurants. Only guests who are have that option.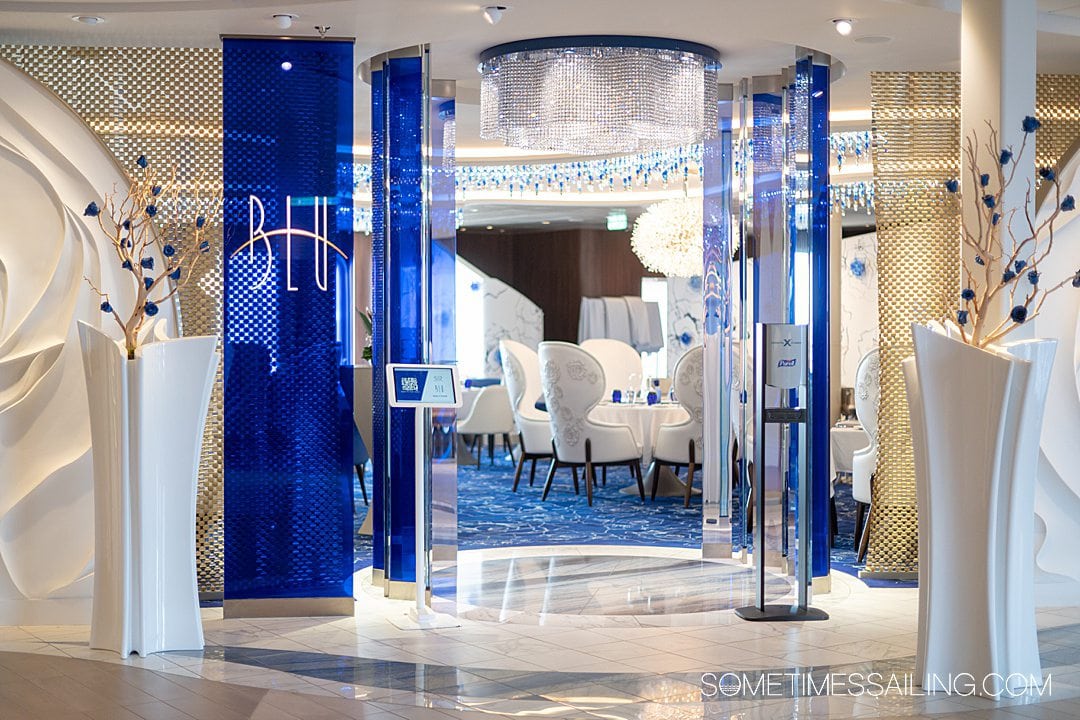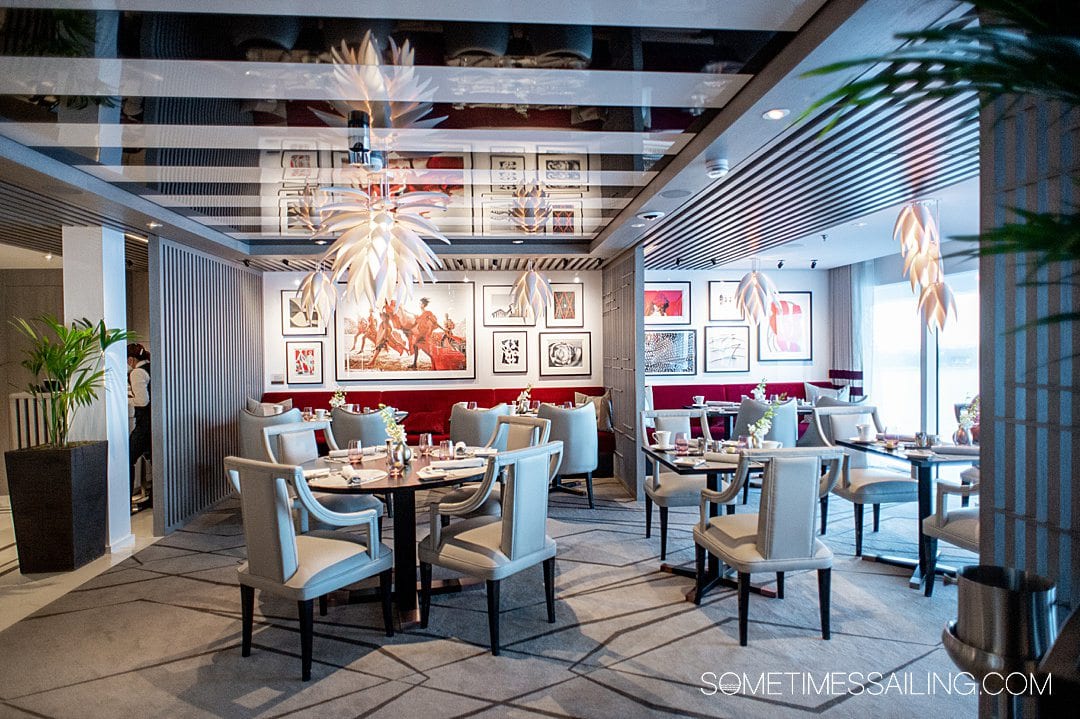 Exclusive Lounge Area
The Retreat Lounge is special for Retreat guests. On non-revolutionized Celebrity ships, it's called "Michael's Club." AquaClass and Concierge guests have no such lounge.
The Retreat Lounge is a beautiful area to have continental breakfast if you want another option aside from the ships' many restaurants and dedicated Luminae restaurant.
The lounge is open all day for beverages, from coffee drinks to tea and cocktails. They also have self-serve mini-fridges where you can grab a drink like sparkling or still water.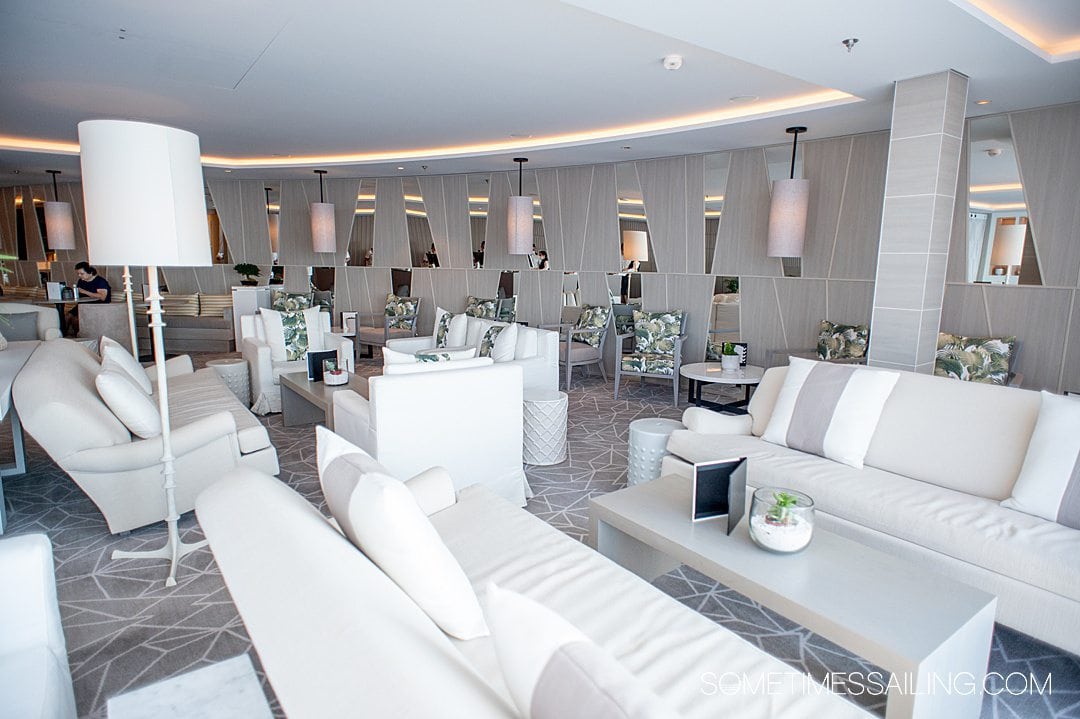 The Retreat Lounge offers guests some lite bites if you want to have yourself a little cocktail hour and collect a cheese plate and some charcuterie before dinner. They host afternoon tea some days, complete with scones and pastries.
You can also ask a dedicated concierge team that's there any questions you may have about the ship or excursions.
The lounge is open 24/7; service times vary, but we generally found someone from the crew/concierge team there from early morning to late at night. It's simply a lovely place to relax.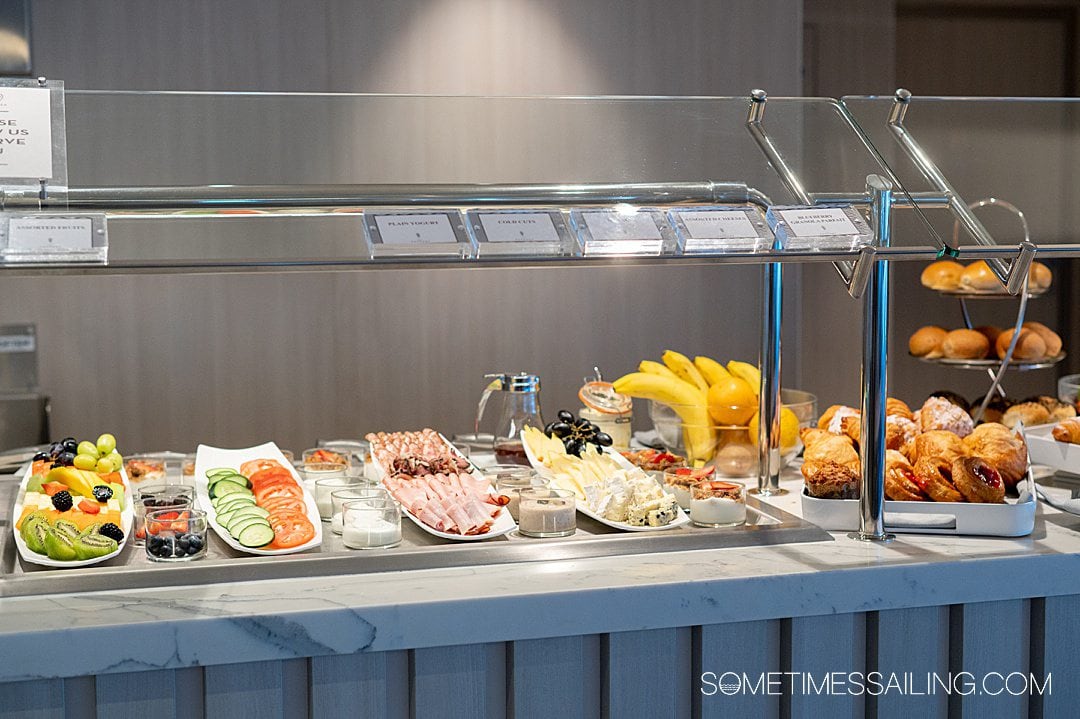 Premium Drinks
Premium beverages, including cafe drinks like lattes and espressos, cocktails, and wine, are included with The Retreat at The Retreat Lounge and all over the ship. AquaClass and Concierge classes do not have a space like this with premium beverages and it's not automatically added to the class type reservation.
However, you can inquire about drinks packages or All-Included rates (which includes a Classic Drink Package) when you book your cruise, which would give you the luxury of not having to pay per drink.
Dining Invitations
You may have heard about things like a Chef's Table for a special dinner on some cruise ships. For example, river cruises usually have a "Captain's Dinner" evening, and barge cruises do too. Princess Cruises has a version of this on steroids with its Chef's Table experience.
Celebrity Cruises doesn't have that. However, they extend an invitation to Concierge guests to join a welcome lunch. The Retreat and AquaClass do not have this (but they do have their exclusive restaurants, Luminae and Blu.)


AquaClass vs. The Retreat vs. Concierge: Getting On and Off the Ship
Priority Boarding on Embarkation Day
The embarkation hours of big ocean cruise ships (and the thousands of people trying to board the ship) are rarely someone's favorite activity, minus the excitement when thinking about getting on the ship at the end of the process.
This is why you may appreciate that being part of The Retreat will get you an additional perk: early boarding!
AquaClass and Concierge do not enjoy this benefit; only The Retreat does.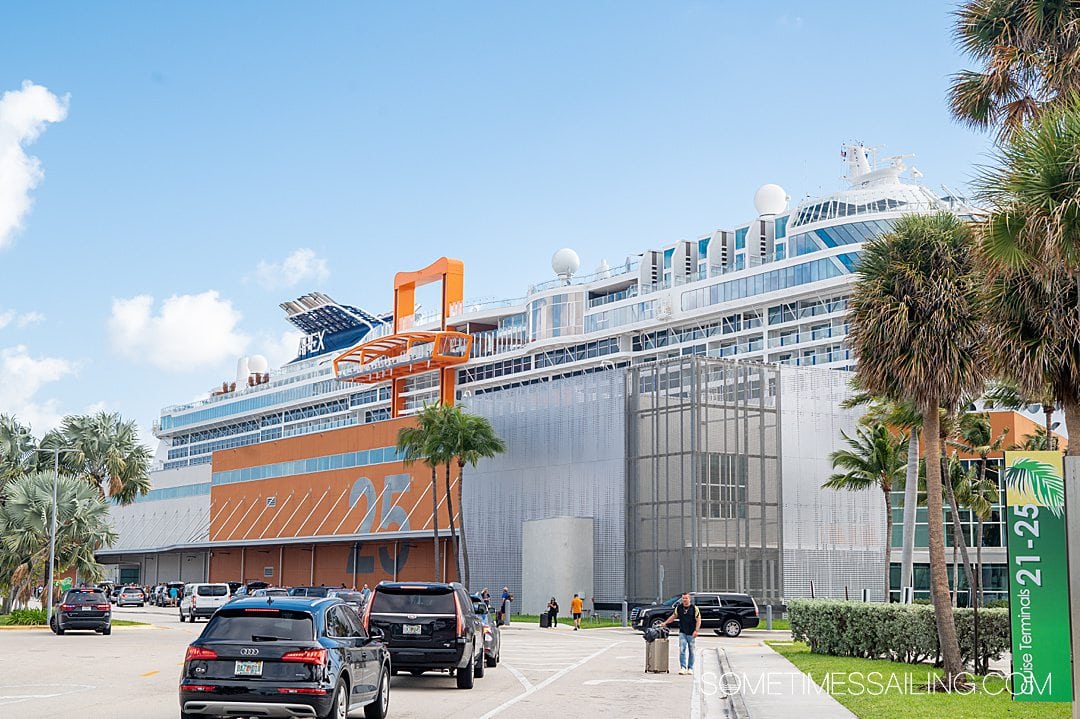 Priority Disembarkation and Tendering in Ports During the Cruise
None of the classes will get you this perk. However, we did have our suite Host escort us to the front of the line one day when we were disembarking at Grand Cayman.
Priority Disembarkation (at the End of the Cruise)
The same rule applies for disembarkation as embarkation: The Retreat guests get priority disembarkation.
This means you get your first choice of time to leave the ship on the last day. In many cases, because people want to prolong their cruise, you can choose to be one of the last to disembark.


AquaClass vs. The Retreat vs. Concierge: Dedicated Service and Crew Members
Butler/Host
All three classes enjoy some sort of butler or host service:
Concierge Class has concierge team members at their assistance
The Retreat has a dedicated Personal Retreat Host per suite (same for Aqua Sky Suites)
AquaClass has a dedicated Spa Concierge and stateroom attendant
Guests of The Retreat can also direct their questions to a dedicated concierge team in The Retreat Lounge.
Pre-Cruise Concierge
Only The Retreat guests can take advantage of a pre-cruise concierge service to assist with booking onboard experiences, activities, and port excursions before they board.


AquaClass vs. The Retreat vs. Concierge: Additional Perks
Anyone who books a cruise with Celebrity needs to choose whether they want to purchase the Cruise-Only or Always Included rate.
As expected, the Cruise-Only rate does not include Wi-Fi or drinks.
In contrast, the Always-Included rate includes internet (Unlimited Basic WiFi Package), gratuities, and a Classic Drinks package for the entirety of your cruise.
The exception is for The Retreat guests because all perks – like WiFi and premium drinks – are already included. Retreat guests enjoy a Premium Package for drinks, tips included, On Board Credit (OBC), and the Unlimited Premium WiFi Package.
Included WiFi
WiFi is included with The Retreat. It is not included with AquaClass or Concierge, though any guest can either add on wifi or take advantage of a promotion to include Wi-Fi when booking. (Such as if AquaClass/Concierge guests are booking an "All Included" rate.)
Shoe Shine
Shoe shining is included for all three classes upon request.
Special Theater Seating During Shows
Celebrity Cruises has premium evening entertainment. The Retreat guests can sit in a special, premium reserved area of the theater during performances on Evening Chic nights.
("Evening Chic" is Celebrity Cruises' term for formal nights, which are less formal than gowns and tuxedos like Cunard cruises has. Evening Chic calls for elevated, elegant evening attire, whichever way you interpret it in what you wear. They are fun evenings designated to be a little fancier than others if you want to get dressed up.) 
We never used this reserved seating perk because we always found available seating. However, we imagine it's a nice option for times when the theater is packed.
Guests of AquaClass and Concierge do not have reserved seating.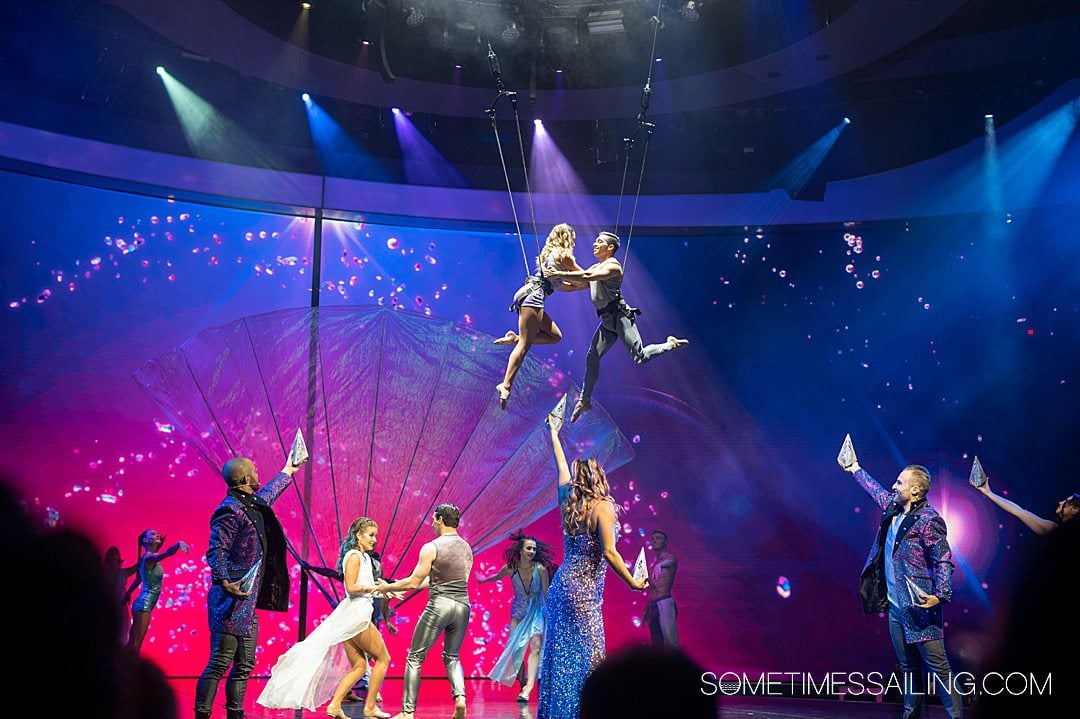 AquaClass vs. The Retreat vs. Concierge: Cost
It may not be the answer you're looking for, but we recommend looking up the current cost of the Celebrity Cruises vacation you're considering to understand the price. This is to ensure you're getting the most accurate numbers.
Perhaps it's hyperbole, but you can find hundreds of combinations of packages and rates for cruises. You may look up cruise rates today and then look next month and find different options.
Factors that affect cost include:
Cruise location/ports
Time of year
Availability
What class you're looking to book
Current promotions
If you are lucky, prices may be such that it's a no-brainer to book AquaClass with an All-Included rate or to be in The Retreat in a suite you didn't think you could afford.
It all depends on when you look and when you book. If you find a great rate, grab it!


Is Upgrading to One of These Classes Worth It on a Celebrity Cruise?
Overall, we think it is. However, it depends on what's important to you during your cruise vacation.
For example, we really like small, exclusive experiences. This is especially true onboard a huge cruise ship. Small experiences and venues (dining and pool areas included) make a huge ship feels cozier to us.
And sure, we'll say it: we like feeling a little more special when we travel. It helps us unwind and relax more to know we're in the hands of a select team.
However, if you don't need more than the main dining and specialty dining options on the ship and the main pool area that everyone can use is a-okay with you (heck, maybe you don't even care about the pool at all and you prefer spending time in the casino) then booking a regular stateroom and getting the already included amenities may work for you.
An additional example is if wellness is paramount to you. If so, AquaClass could be just the cruise experience you've been searching for, with special spa access, in-room fitness equipment, a dedicated restaurant focused on lower calorie ingredients and sustainability.
Another thing to consider, especially with The Retreat with premium drinks included, is whether "free" cocktails, smoothies, and coffee drinks are even important to you. If they are, The Retreat has great perks. But you won't find value in included drinks if it's not important to you.
Understandably, most guests will not want to pay for perks they won't use.
To answer the question of "Is it worth the upgrade?" you first need to lay out your cruise priorities, then review this post again to see if your priorities align with the offerings in one of the upgraded classes.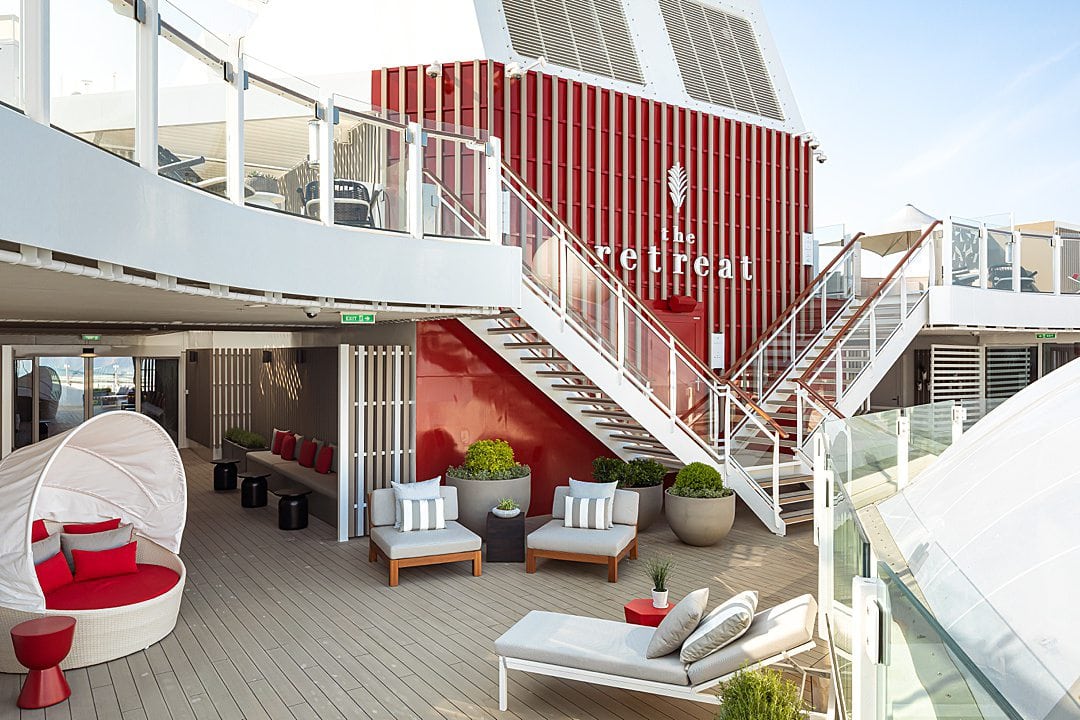 Is AquaClass Worth It?
AquaClass is good for guests who want wellness to be one focus of their vacation. The in-room workout gear, special spa passes, and overall attention to health in AquaClass is certainly a special offering from Celebrity Cruises.
If you're not that into wellness or fitness, but you love the idea of a dedicated restaurant and some extra special attention, spring for The Retreat instead.
Is The Retreat on Celebrity Cruise Ships Worth It?
Having sailed onboard Celebrity Apex in The Retreat class, we cannot imagine sailing with Celebrity again and not being in The Retreat.
We felt special, loved that we could go to Luminae as our home base/default dining experience, and really enjoyed The Retreat Lounge for pre-dinner cocktails every day. The Sundeck was great for avoiding crowds at the main pool.
We recommend The Retreat!
Is Concierge with Celebrity Cruises Worth It?
Concierge certainly doesn't have all the perks of The Retreat, and it does not have as many bonuses enjoyed in AquaClass. Still, it's a nice entry-level way to get a taste of what a higher level of service will be like with Celebrity Cruises if you've never experienced it.
While you won't have a dedicated restaurant like Luminae or Blu, you will enjoy a special welcome lunch, an in-room welcome treat, daily canapés, premium bedding, shoe-shining, binoculars, and a dedicated concierge.
➜ Check Cruise Prices on Celebrity Cruises
Helpful Chart Comparing all the Class Types on Celebrity Cruises
If visual charts help explain things (they do for us!) we created the chart below so you can see the Celebrity Cruises class types. It's very easy to compare AquaClass vs The Retreat vs Concierge at a glance this way.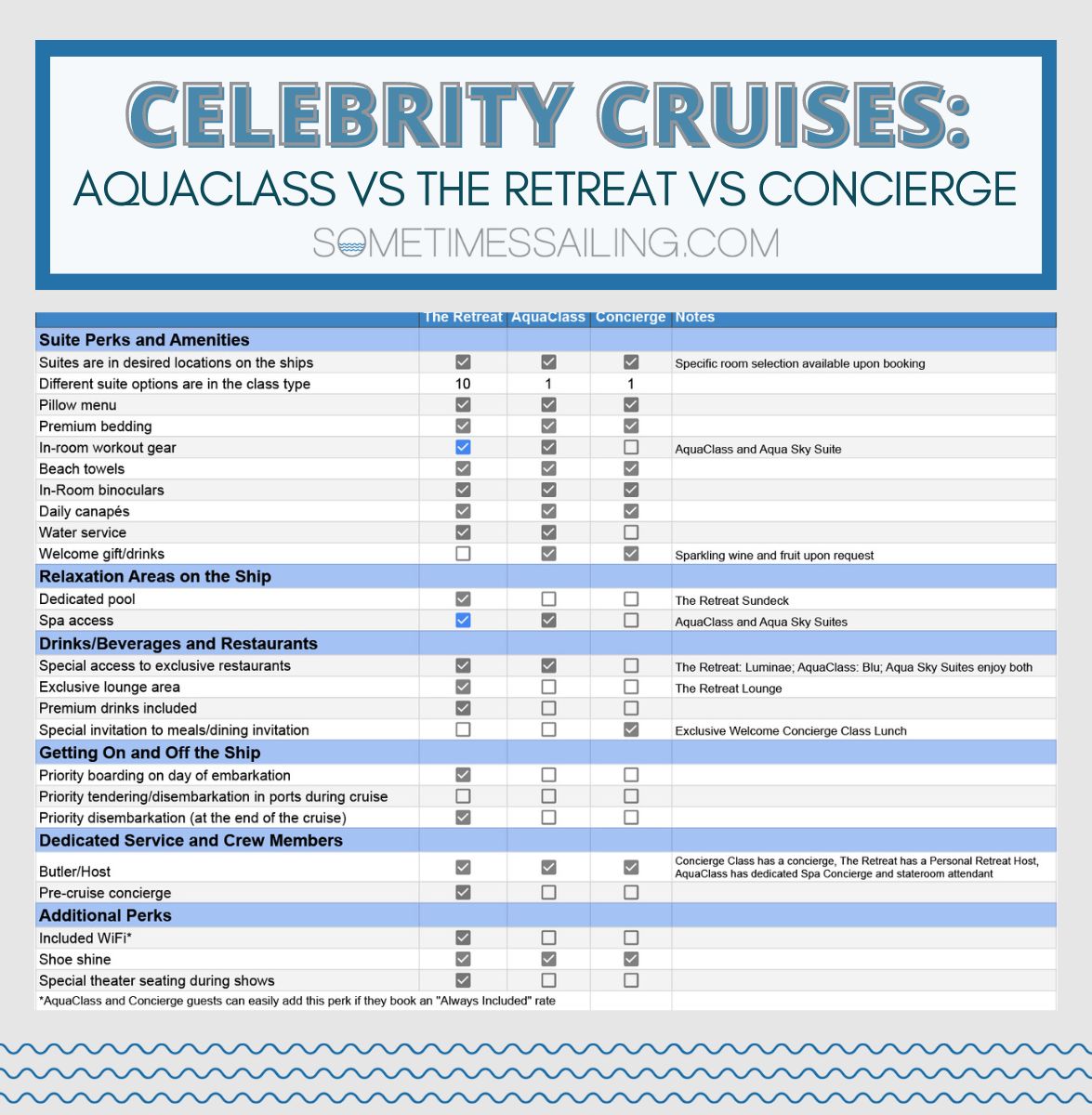 Conclusion of Celebrity Cruises Class Types
The Retreat may be the ultimate way to enjoy all the perks Celebrity Cruises has to offer, while AquaClass is ideal for wellness-focused cruisers. If you want to dip a toe into upgraded class waters to try it out, a Concierge-level suite could be the perfect fit.