Understanding Princess Medallion and MedallionClass App
The Princess Medallion (app and actual device) was one of the reasons we sailed on Majestic Princess. We wanted to see what this piece of technology was all about.
We were incredibly confused about it before our sailing. We understood its existence – the circular physical component and the phone app – but a lot of it was a mystery to us. Did we need to also carry around a credit card? Did we need a separate room key? What was so touchless about it?
After sailing with Princess we understood exactly what it is and how it functions. From accessing your cabin to paying for things onboard and off with your Princess Medallion, to how to accessorize it with custom lanyards and more, we're here to help you understand it too.
Disclosure: There are affiliate links in this post, which means we may earn a small commission if you click the link and proceed with a purchase, at no cost to you. We truly only recommend hotels, products, and services we personally use. As Amazon Associates, we earn from qualifying purchases. We were hosted by Princess Cruises. All opinions are our own.
🕐 Short on time? No Problem!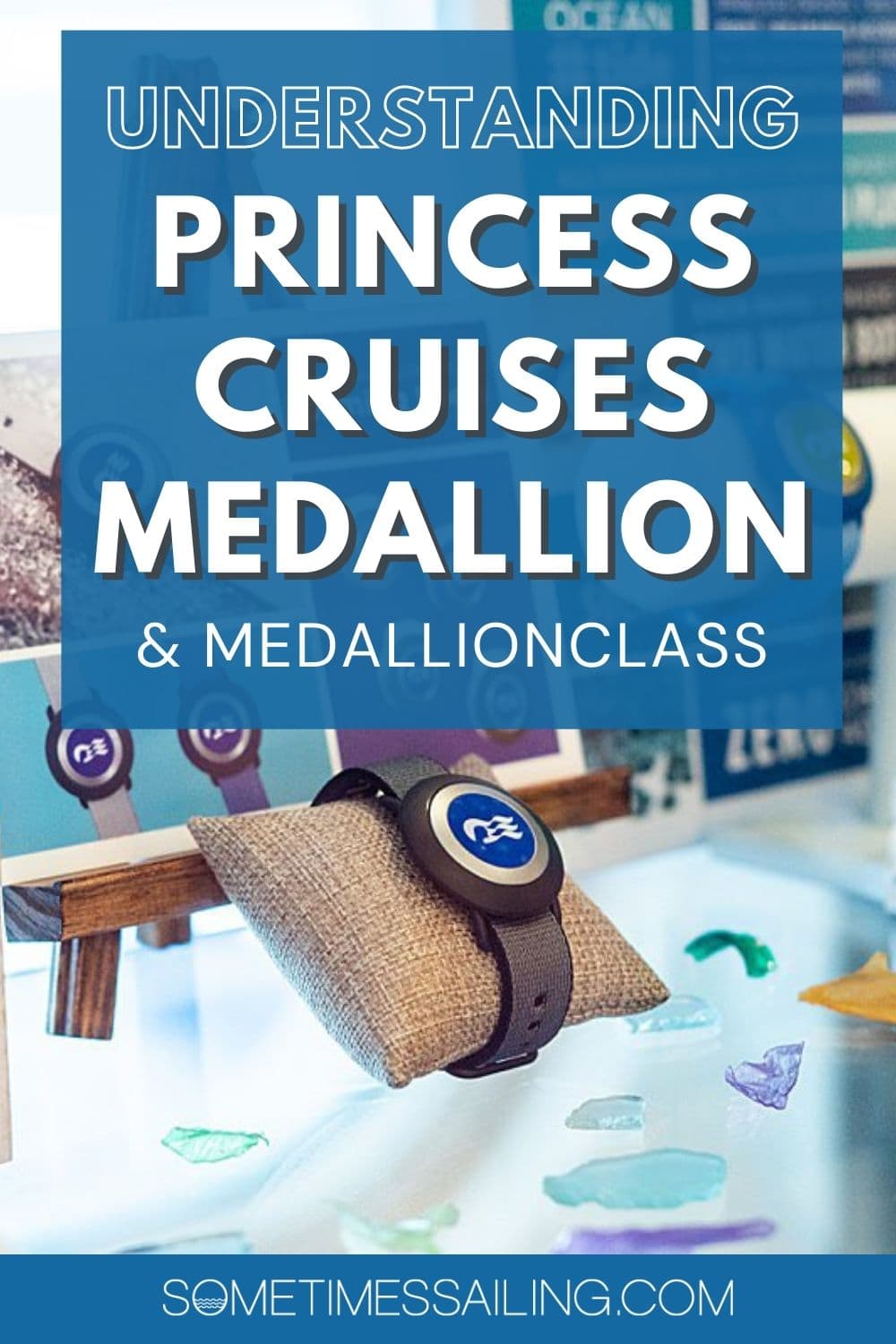 What is the Princess Medallion and MedallionClass?
A Princess Medallion and its MedallionClass™️ is the conjunction of two things that work in tandem: a little device that's approximately the diameter of a quarter and whose thickness is a quarter-of-an-inch.
Wearable Device that Makes things Touchless On Board
It's a wearable device that you can carry around in your pocket on its lanyard (which it comes on) or around your neck. You can also buy accessories for it, but we'll tell you more about that later.
Your Princess Medallion becomes your key and card for the world of Princess. You unlock your door with it in lieu of a key (actually, your door just unlocks when your Medallion is in its range, which is pretty cool). A waiter can charge drinks to your account via your Medallion after you order at the bar.
There are also various screens throughout the ship where you can touch your Medallion device, and it adds a touch of customization to your experience, like your name in the top corner.
In some instances and in some ports, you can actually pay for items on land with your Princess Medallion.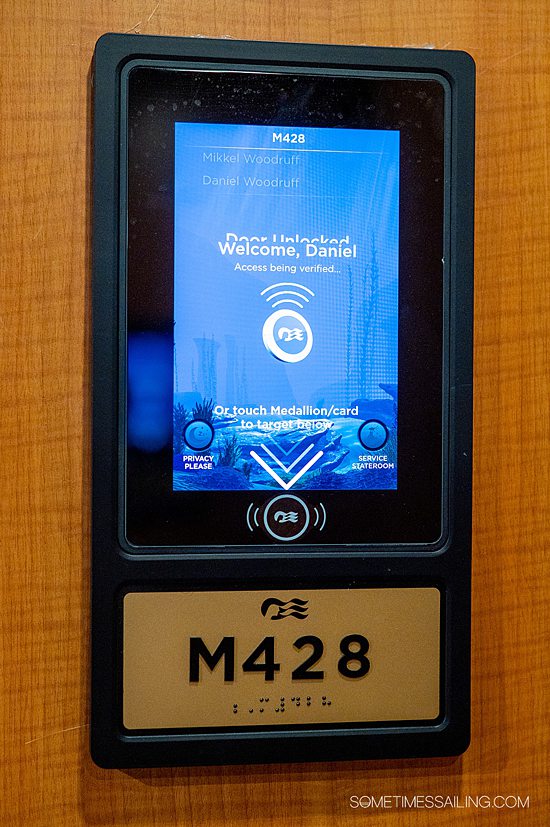 Princess MedallionClass Makes Boarding Easy
Whether you're boarding the ship for the first time at your port of embarkation or you're boarding a ship during a day in port for the second time in a day, the Medallion makes it easy to tap in and out of the ship.
It's just like you would tap in and out of the computer system with security on any ship, whether a river or ocean cruise, but instead of a flat key, it's a disc-shaped medallion.
Do you have to buy into Princess MedallionClass?
No, you're automatically a part of it when you sign up for your Princess cruise. It doesn't cost extra – it's simply a part of cruising with Princess now.
You can access your OceanMedallion app on land from home. When you do so, it simply says "Off Ship" at the top of the app. Naturally, when you're on the ship, you'll have access to things that you don't on land.
All Princess ships are now MedallionClass enabled.
The actual medallion reminds us of the MagicBand system at Walt Disney World. But it's even cooler because in some instances, like when you near a couple of feet of your stateroom, the door senses you're there and unlocks your door. (This is only if your Medallion is on you and the door senses you're nearby. Don't worry about someone else that doesn't belong in your cabin having access because your Medallion only unlocks your cabin door!)
What happens if you lose your Medallion?
One of the things that we thought was pretty cool was that your name was imprinted on the Medallion. But what happens if you lose it?
The good news is that no one can steal your identity because your credit card isn't linked to your actual device. It's a portal of sorts that links to a guest number, which is then linked to a number of places your data is stored. That's a great layer of security. A crew member will simply disable your lost one.
There is also a photo of each guest attached to their Medallion account. You can upload your own photo to the app before you sail, but they make sure it's your face, and you are easily recognizable with the photo and what you really look like when you first check into the cruise in the port of embarkation.
When a server comes up to you at the pool to ask if you want a drink, for example, they have a list of nearby guests you can potentially be from it pinging nearby Medallions. They look for exactly who you are with the photo list that comes up on their tablet. This worked, every time.
We recommend keeping your Medallion on a lanyard to have it "tied" to you at all times.
However, if you lose yours you can go to Guest Services for them to print you a new one. (Surprisingly, they're able to personalize it onboard too.)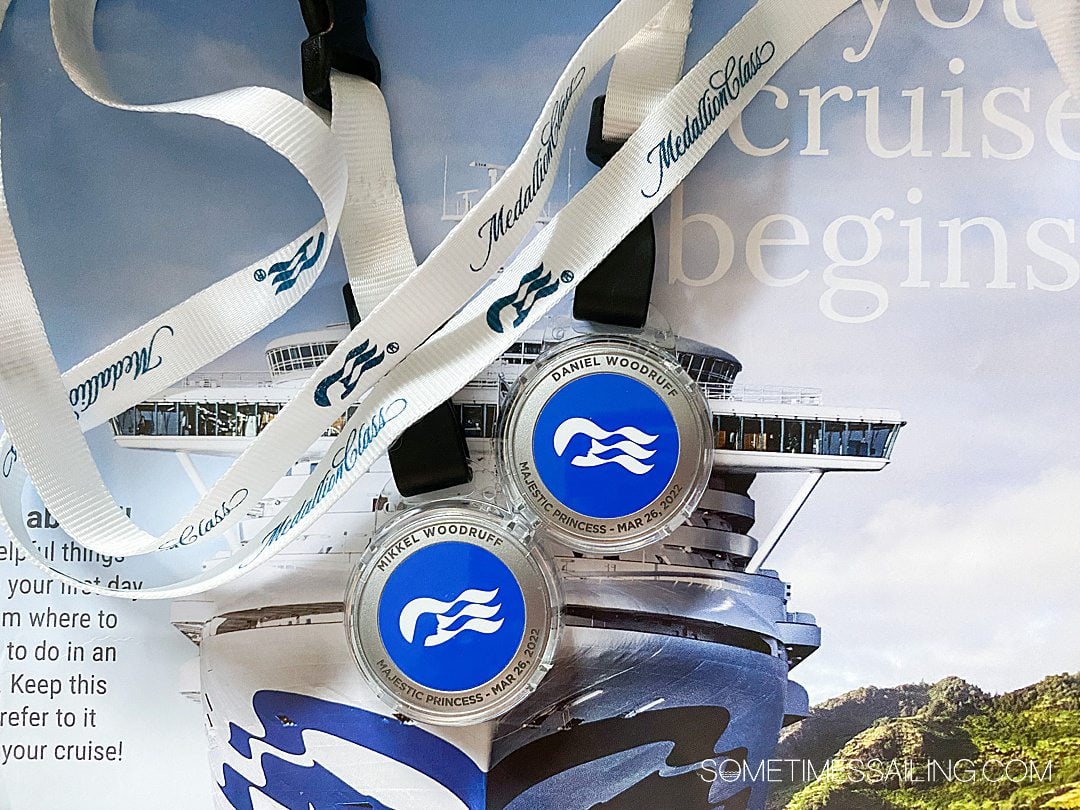 Princess Medallion App
Download the Princess Medallion app from your home before you leave for vacation. You'll want to set it up before your trip if you've never logged in and created an account. Search "MedallionClass" in the App Store for your iPhone or on Google Play for your Android.
Truth be told, the app was great before the cruise. But onboard, it doesn't always work. You can rely on your actual Medallion (the physical device) to work. That was never an issue. But the app was definitely finicky and not working at 100%.
A lot of guests were expressing frustrations with the app not working whenever we walked by the Medallion desk on the ship. That meant that they weren't able to see what was going on around the ship on their phones or access their dinner reservations, for example.
If the app isn't working you can see dining reservations on the public portal screens that are located on the ship. If you don't want to "publicly" look it up for whatever reason, you can also call the ship's Dining number on your phone from your stateroom.
There was also a printed version of the daily activities in our cabin each day that was helpful when the app wasn't working.
Texting in the Medallion/Princess App
Texting to other passengers (or "shipmates") while onboard was free in the app.
To add friends and family to your MedallionClass app, simply go into "Your Shipmates" and hit "Add."
Additional Wifi on Princess Ships: MedallionNet
While texting shipmates was free, if you wanted to add wifi on your other devices (like a laptop or tablet) you had to add a Wi-Fi Package that you paid for.
For example, when we sailed a Wi-Fi package for four devices for our 7-day cruise was $139. We used this for a phone each and for Dan's computer and my iPad.
Adding wifi to your device was simple after the initial package was purchased.
You simply went on airplane mode (data off, wifi on). Then you opened an internet browser on the device and entered the date of birth of the person who bought the package or the primary person on the reservation when prompted. Voila!
Buying Things with MedallionPay
When you purchase something using the medallion, your photo comes up as an extra layer of security. This was very convenient when we were at the pool or a club at night and wanted to buy drinks.
Princess MedallionPay also works in select ports of call in several Princess destinations, including Alaska, the Caribbean, and Mexico. We didn't get to use this feature because we were on a California Coast itinerary but we do know it's an option in these three locations.
Other Great Features of the MedallionClass™️ App
We loved that you could see a map of the ship as you were walking around. The ship's big enough not to know your way around the first few days onboard. In particular, it was great for finding restrooms!
It was also fun to look up the ship's information to find where we were in the sea, like where we were going and the speed or knots we were traveling.
Is a Princess Medallion Waterproof?
Yes, it is! This was wonderful for when we went in the pool because Dan would just put his Medallion in the zippered part of his swimsuit and we'd be good to go. We didn't have to worry about leaving anything unattended poolside (even though it would have been fine) and we could swim freely!
And get into our room after, order drinks, etc.
Princess Medallion Colors: What do the Different Colors Mean?
The different colors of the Princess Medallion indicate one of two things: the number of cruises the guest has sailed with Princess, or how many days at sea they've spent with Princess.
A cruise that is 30 days could get someone to a higher loyalty status faster than someone who sails on two cruises that are seven days each.
The Princess Medallion colors are as follows:
Blue: First-time cruiser
Gold: Second-time cruiser
Ruby (red): After completing 3 cruises or 30 cruise days
Platinum (silver): After completing 5 cruises or 50 cruise days
Elite (black): After completing 15 cruises or 150 cruise days
Customizing your Princess Medallion
There were ways to customize this fun piece of technology before your sailed and after. If you customize it at all is up to you, including when.
Before Your Cruise Through OceanMedallion App
You can order a special Medallion before you leave for your cruise. To do so, you need about two weeks for them to create and ship your customized medallion to you. Otherwise, you simply pick it up at your port of embarkation when you check in.
You can customize it within the app and choose from things like sports team emblems, dog breeds, or gemstones for your birth month. (It's a graphic rendering of the gemstone, not the actual gemstone). These are custom "stickers" that are applied to the medallion for a little extra touch of fun.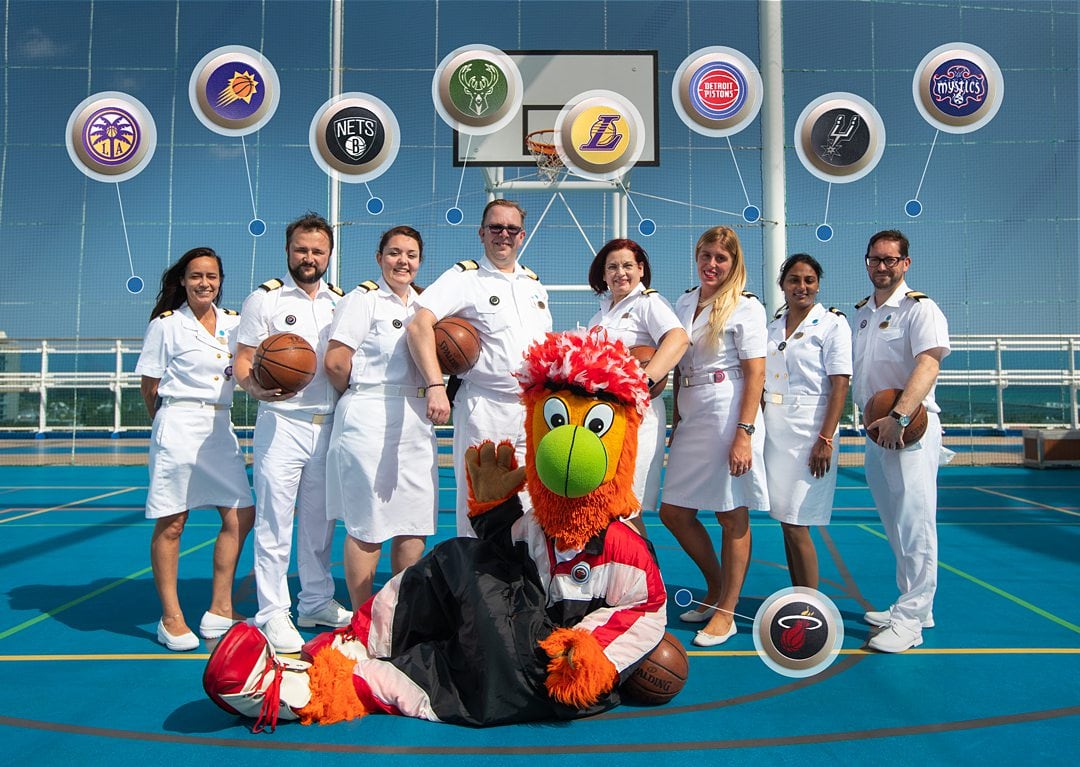 They're $5 and worth the upgrade if you are into customizing things in your life. If you customize your Medallion in the app, but you haven't committed to it and haven't checked out with the item in your "cart" before the cruise, they simply give you the basic Medallion.
Before Your Cruise: Accessorizing a Medallion on Your Own
Preparing for how you'll carry around your Princess Medallion will ensure you're ready to go as soon as you reach your port of embarkation. We have a few great suggestions for how to accessorize before you cruise.
We saw a lot of people with cute rhinestones or patterned lanyards they bought on their own before their cruise. We'd probably do the same next time! Here are some really cute lanyards on Amazon and others on Etsy.
Additionally, there are creative accessories for the Princess Medallions that allow you to wear them on your wrist, whether a dedicated silicone band or an attachment for an Apple watch.
Princess Medallion Accessories on Amazon
Silicone Wristband
Low-cost and available in several colors. Adjustable with buckle closure. The two-pack is great for variety!
Three-Pack of Sparkly Lanyards
These lightweight Bling Crystal Lanyards allow you to quickly swap your medallion to a different color strap to coordinate with your day or evening outfit, thanks to a quick-release metal clasp.
Wallet with Medallion Adapter
The perfect solution if you would rather carry your Princess Medallion in your pocket and don't want it to be loose.
Princess Medallion Accessories Available on the Ships
When you're on board, there's a Medallion help desk area. There, you'll find additional accessories to purchase for your Princess Medallion.
The options include:
Bracelet in gold: $54
Lanyard strap: $9 (this is a different strap than what comes with it – it's blue and thicker than the thin white one you automatically get)
Ocean Medallion Clip (clips onto a shirt or your jeans): $8
Sustainable clip made from 100% ocean-recycled plastic: $15
Ocean Medallion Pendant – silver or gold: $44
Ocean Medallion Sports band (purple, black, pink, or blue): $12
*Ocean Medallion Sustainable band: $19 (says "Special Edition" under it)
Ocean Medallion notebook: $15 with optional $3 insert cards. The card options included things like countries (Canada, Mexico, Germany), or celebrations, like an anniversary or "Happy Birthday" or "Happy Retirement"
*The sustainable bands were interesting. They were created from recycling hard plastics (like shampoo bottles). The bottles were upcycled to create the clip and plastic casing that could hold the Princess Medallion. Water bottles were recycled into the fabric of the bands, much like recycled fabrics for sustainable swimwear.
For even more photos of the accessories on board check out the hashtag #OceanMedallion on Instagram. But don't forget about the cute lanyard options too if you want to opt for something simpler!


What can you use a Princess Medallion for after your Cruise?
This is the unfortunate part that we're not thrilled about – you can't use your Princess Medallion for much after your cruise. (Just like when Disney World MagicBands' batteries stop working, it's just a bracelet with a memory.) The sustainability of the Princess Medallions definitely crossed our minds as travelers who are eco-conscious cruisers.
There is one use for it, however, that renders it somewhat useful after a cruise: it's magnetic! So you can slap that baby up on your fridge to hold a picture from the cruise, for instance. (Until you print some photos in a gorgeous vacation album, that is.)
Also, if you buy an accessory, like a wristband/bracelet or a necklace for the Princess Medallion to go into, you can reuse it for the next cruise you go on with the new Medallion that you get for your next cruise.
But you do get a new one for each Princess Cruise you take because it's linked to that specific sailing.