United States Cruise Ports Map and Information
There are so many amazing cruise ports in America. We're helping you locate them with a convenient United States cruise ports map and additionally useful information on a majority of the ports. We've included appropriate information, like how to get to the port, park and closest airports, and things to do nearby or while in port.
United States Cruise Port Map
On the map below. we've starred all the ports. If the port is colored in we have information on it below. If it's white, it's not included below, however, check back for updates as we will continue to add to this post.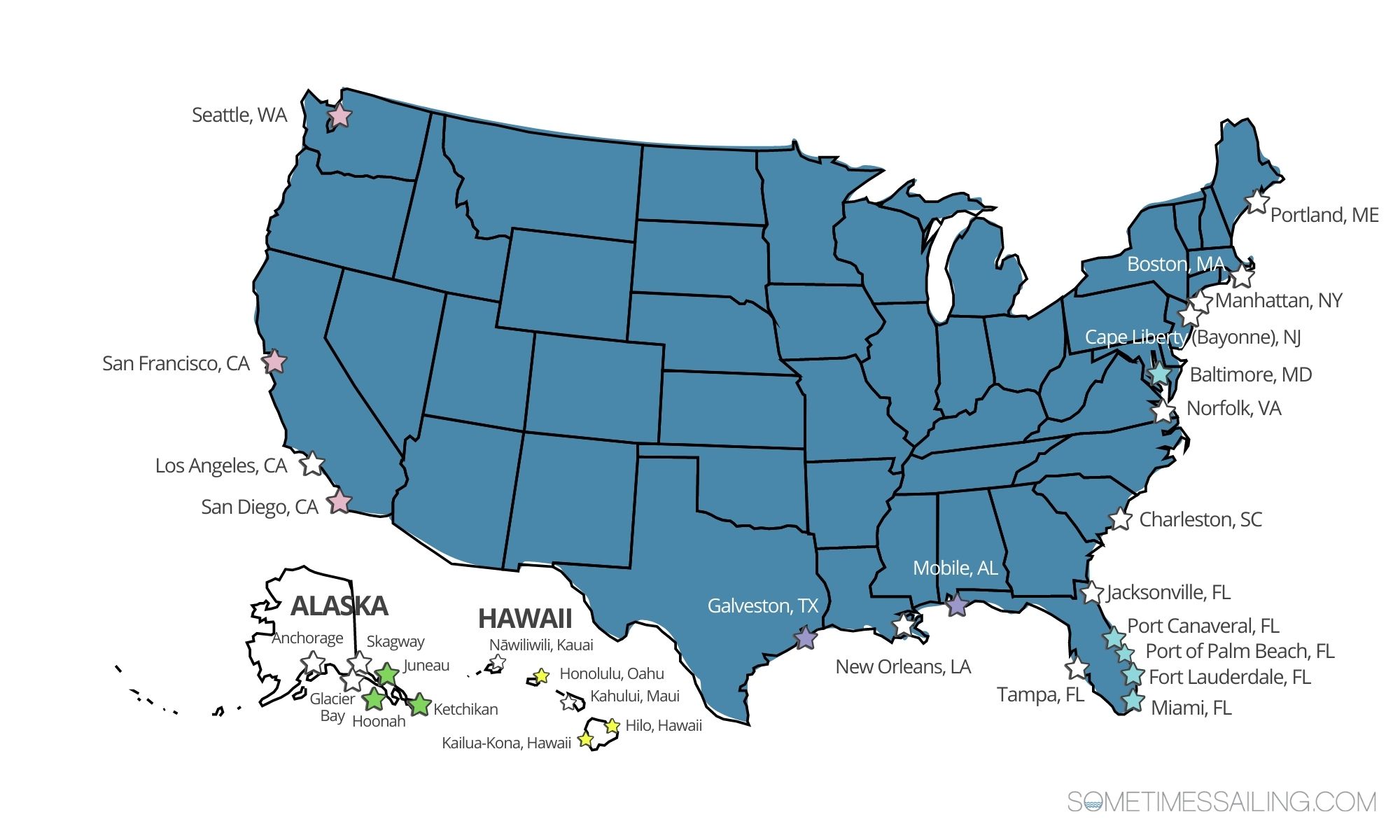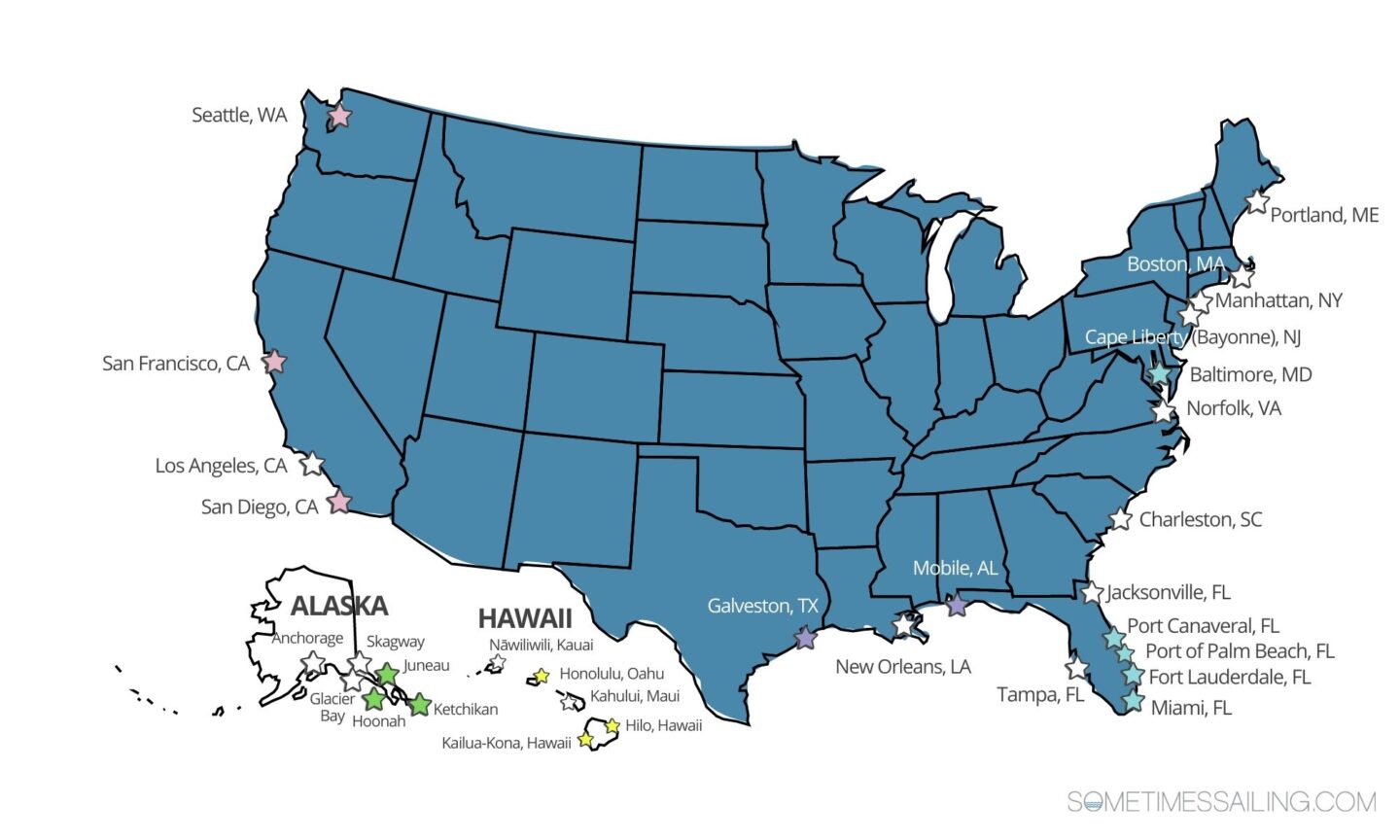 Disclosure: This page has affiliate links, meaning we may earn a small commission if you click the link and proceed with a purchase at no cost to you. We recommend cruises, experiences, products, and services we personally use. As Amazon Associates, we earn from qualifying purchases.


West Coast United States Cruise Ports
Seattle, Washington Cruise Port
By Chris, from the Amateur Traveler
Seattle has grown to be the largest cruise ship port on the west coast of the USA. Most of the traffic is heading to an inside passage cruise to Alaska from Seattle, with over 200 departures in a typical year.
Most major cruise lines sail from Seattle, including Carnival, Oceania, Norwegian, Holland America, Princess, Celebrity, and Royal Caribbean. Seattle has two different cruise terminals: Bell Street cruise terminal and Smith Cove cruise terminal.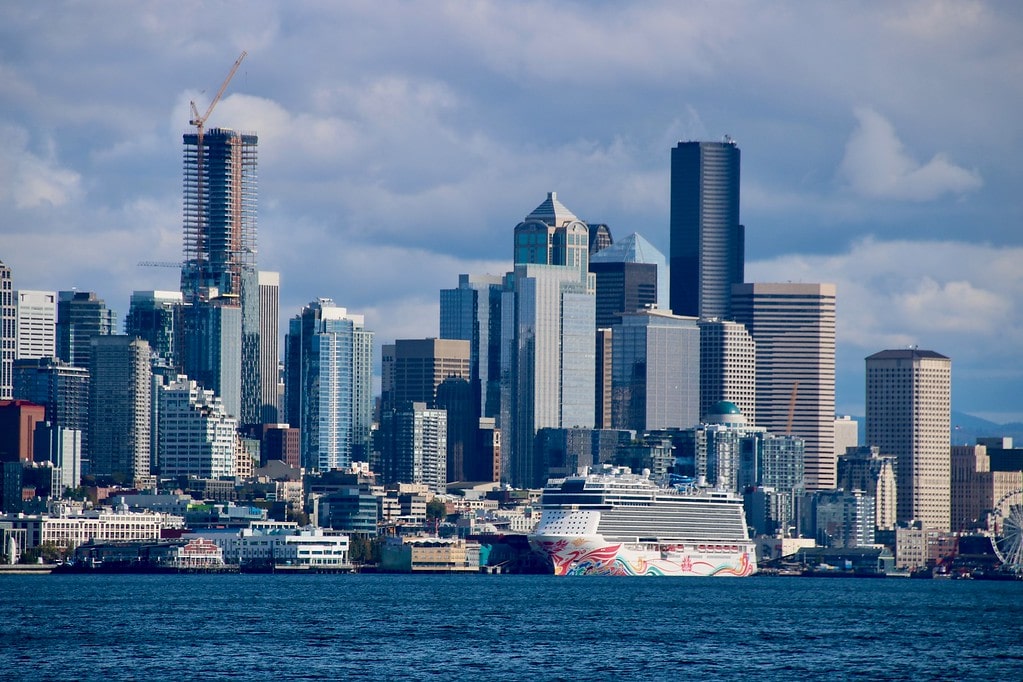 The Bell Street Cruise terminal is very close to downtown. It is around 1,500 feet from the Seattle Marina. This is a bit farther to the Seattle Great Wheel and just down the hill from the Pike Place Market. An able-bodied person can easily get to a number of popular attractions on foot from the terminal. 1,700 parking places across the street charge $23 a day. This terminal can berth one cruise ship.
The Smith Cove Cruise Terminal is at Pier 91, 3.5 miles further northwest along the coast. It's not really close to anything. The closest of the well-known landmarks would probably be the Space Needle, which is about a 50-minute walk from the pier. It has 1,000 parking spaces and charges $27 a day. This terminal can berth two cruise ships.
There are lots of things to do in Seattle, including world-class museums like the Chihuly Museum, The Pacific Science Museum, and the Museum of Pop Culture. There are landmarks like the Space Needle and Pike Place Market.
Some of the more unique things to do include the underground tour near Pioneer Square and the Locks Cruise. If you are heading to Alaska, stop at the Klondike Gold Rush National Historical Park to learn more about the history of Alaska.
Check out these Seattle tours:
San Francisco, California US Cruise Port
By Jyoti, from Story at Every Corner
Few people would think of San Francisco as a cruise port city. And rightfully so, as many more visitors arrive by air, road, train or other means. The big commercial port of the area is across the bay in Oakland.
However, when considering the United States cruise ports map, ships sailing the western coastline of North America dock at one of the cruise terminals along Embarcadero street every summer. One could spend the day just on the piers visiting the Fisherman's Wharf area for all sorts of entertainment: sailing the bay, visiting Alcatraz Island, dining etc.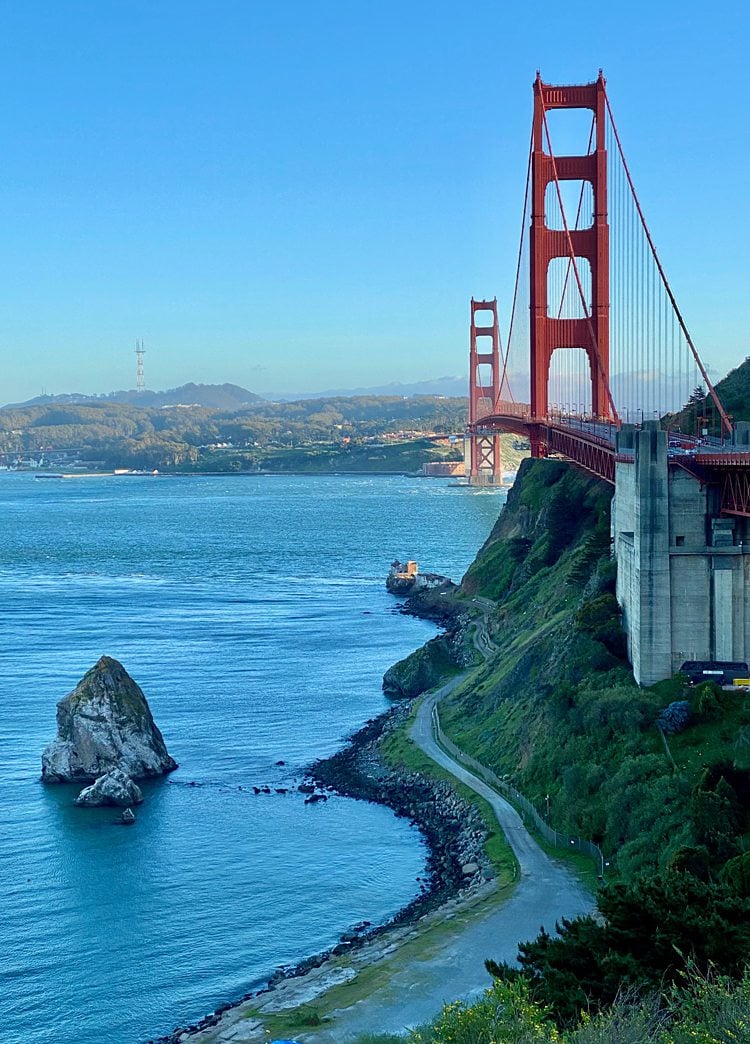 Parking is convenient but expensive in San Francisco so it's best to take a rideshare, public transit or have someone drop you off at the terminal. There are bicycle rickshaws along the piers so it's easy to travel between the piers and attractions.
Some of the most popular things to see in the city are the Golden Gate Bridge, Golden Gate Park, Palace of Fine Arts, Fisherman's Wharf, Coit Tower, The Seven Sister, Nob Hill, SFMOMA, Yerba Buena gardens, the Missions etc. The list goes on and on.
Besides the famous landmarks, one can visit the lesser-known hidden gems of the community such as beautiful mosaic steps and sunset sail in San Francisco Bay.
For chocolate lovers, Ghirardelli Square is an absolute must. And it's close to the piers.
There is so much to see and do just within the tiny Doty of San Francisco that you could spend the week. If you have more time, there are many incredible day trips you could take from San Francisco such as Silicon Valley, Yosemite NP, Monterey peninsula, Lake Tahoe to name a few.
Check out these San Francisco Tours:
Cruise Port at San Diego, California
By Maria, of San Diego Explorer
The United States cruise port in San Diego is one of the most convenient ports in the world. It mainly offers cruises heading south to Mexico or up the California Coast. But you can also find itineraries to Hawaii and even the South Pacific.
Holland America and Norwegian are the most common cruise lines that sail from here, but some ships from Silversea, Celebrity, and Disney Cruise Line have added San Diego to their United States cruise ports map.
Cruise ships dock right in the heart of Downtown San Diego. From here, cruisers can explore the top attractions of San Diego on foot, including the San Diego Gaslamp Quarter, the USS Midway and Maritime Museum, Balboa Park, and much more.
If you still have not had enough time on the sea, you can do a Flagship Harbor Cruise to enjoy the sights of San Diego from the water. You can also hop on a ferry to cross the bay over to Coronado Island. Explore its quaint downtown, the famous Hotel Del Coronado, and its magnificent beaches.
Another fun excursion is a trip to La Jolla. Here, you can check out the seals sunbathing on the rocks, go kayaking around the caves and watch the sunset over the stunning coastline.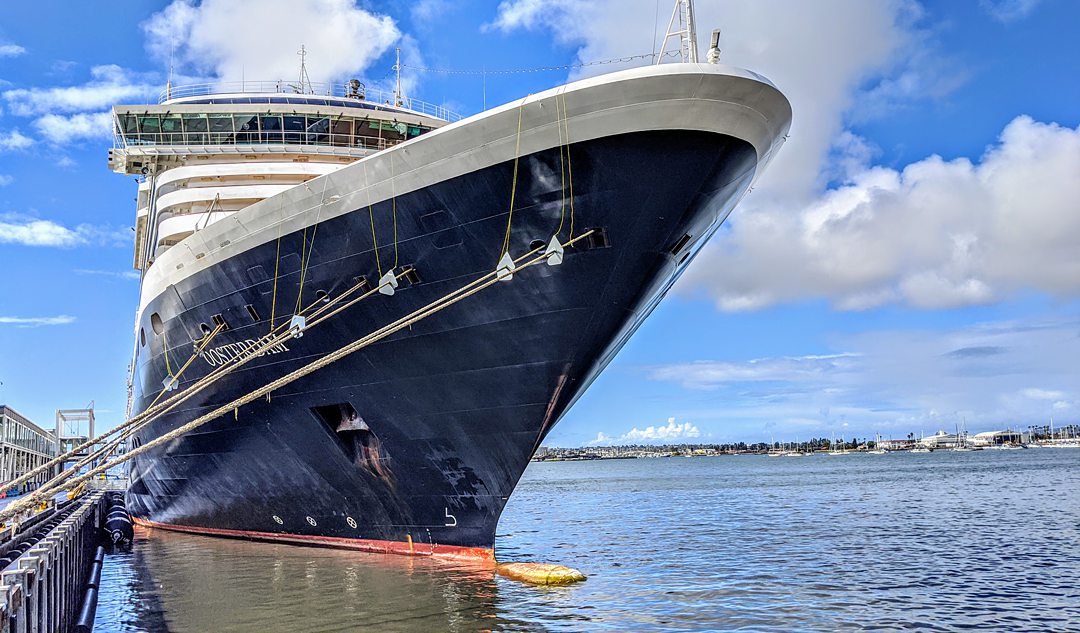 If San Diego is the starting and endpoint of your cruise and you need to park your car, your best option is airport parking; the airport parking lots are a short cab ride away from the San Diego cruise terminal. If you arrive by Amtrak at Santa Fe station, you can even walk to the cruise terminal.
➜ Reserve Tours in San Diego


United States Cruise Ports in Alaska
Ketchikan Alaska Cruise Port
By Ellie, from Ellie's Travel Tips
As the "Salmon Capital of the World" Ketchikan is one of the top cruise ports in the United States. While you can book a flight to Ketchikan through a 90-minute flight from Seattle, the easiest way to get to Ketchikan is through an ocean cruise from either Anchorage, Seattle, or Vancouver.
Most major cruise lines offer sailings to Ketchikan during the Alaskan cruise season, between April and September. Popular cruise lines visiting Ketchikan include Royal Caribbean, Norwegian Cruise Line, Carnival, and Celebrity Cruises.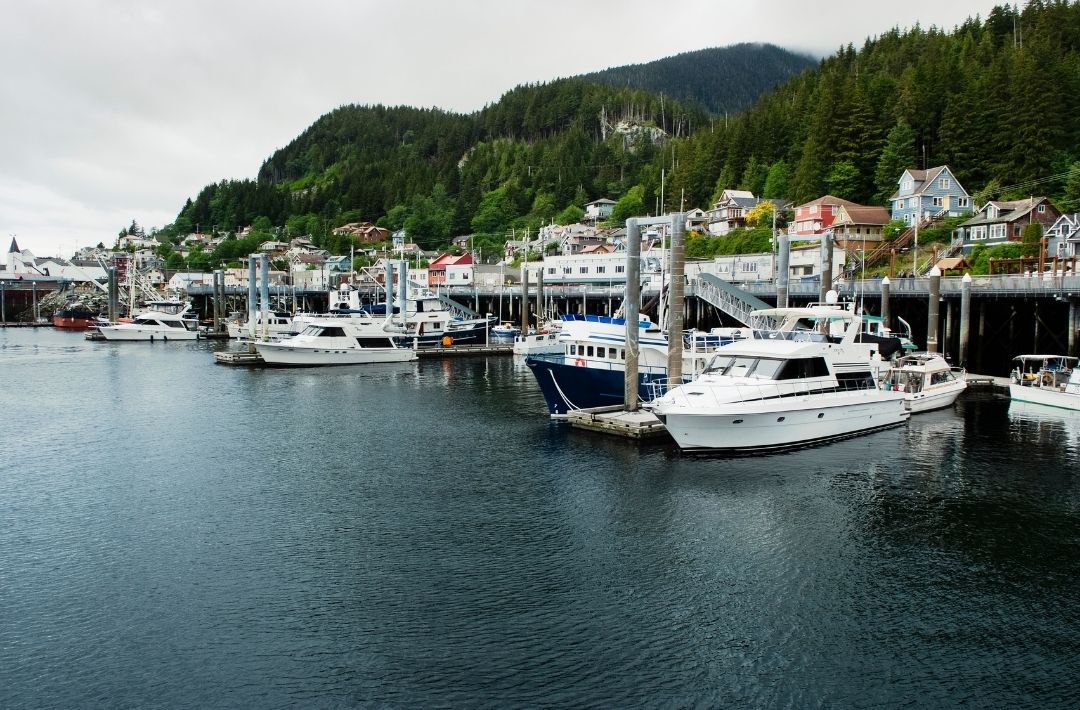 One of the best things to do in Ketchikan is explore the nearby Misty Fjords National Monument. This stunning Alaskan landscape stretches over 3 million acres and is the spot to find moose, sea lions, killer and humpback whales, wolverines, and much more!
Another fantastic Ketchikan activity is seeking out the Ketchikan totem poles. This beautiful Alaskan cruise port is home to the largest collection of totem poles in the world, each representing a unique story of the local native tribes.
When you are visiting Ketchikan, make sure to try some of the best salmon in the world. There are plenty of street vendors located downtown offering free samples. Overall, Ketchikan is truly one of the most remarkable ports in the United States, perfect for any cruising adventure.
Cruise Port at Icy Strait Point in Hoonah, Alaska
By Dan and Mikkel, from Sometimes Sailing
When we think of the United States cruise ports map, one of the most magical ports is in Alaska, And it may not be as readily recognizable as a city like Juneau, their capital. But it's definitely one of the most interesting! This US Cruise Port, Icy Strait Point, earned the award for "Port of the Year" by Seatrade in 2020.
There is a ton to do here, including a Ziprider zip line that will knock your socks off, a salmon cannery to tour, whale-watching excursions, and an awesome gondola ride. Though it's possible to arrive at the port with a flight and a ferry ride, most people arrive via cruise ship.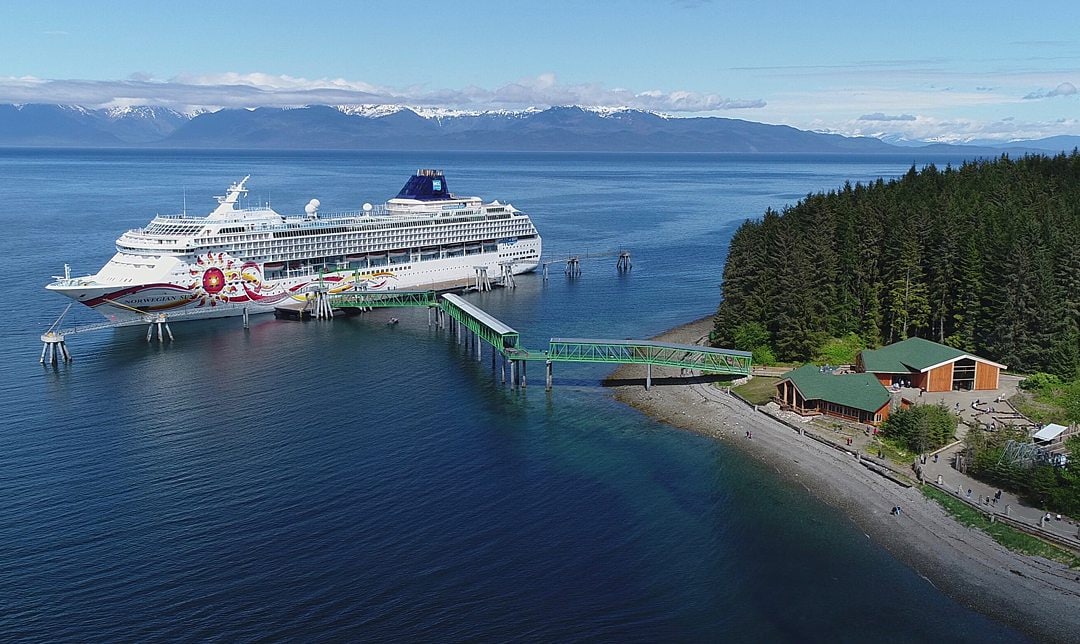 Walk along the beach with a local beer in hand or try a Crabby Bloody Mary in Hoonah. Get to know the native people, the Tlingit, through cultural performances and interactions. Interestingly enough, the port is actually owned by about 1,450 native Alaskans, many with ties to the Tlingit.
Cruise lines that commonly sail to Hoonah, Alaska, to visit Icy Strait Point, are Norwegian Cruise Line, Royal Caribbean, Disney Cruise Line, Cunard, Oceania, Windstar, and more.
Juneau Cruise Port
By Nicole, of Eat Live Travel Drink
Juneau is a fantastic United States cruise port to visit while taking either an Inside Passage or Glacier Bay cruise. It is usually one of the main ports on either itinerary.
Something unique to know about Juneau is that it is landlocked. The only way to get there is by boat or plane.
Some of the popular cruise lines that visit Alaska on their itineraries include Norwegian Cruise Line, Holland America, Windstar, Princess Cruises, Celebrity Cruises, and more. There is definitely a wide selection of cruise companies and ships to choose from to reach Juneau.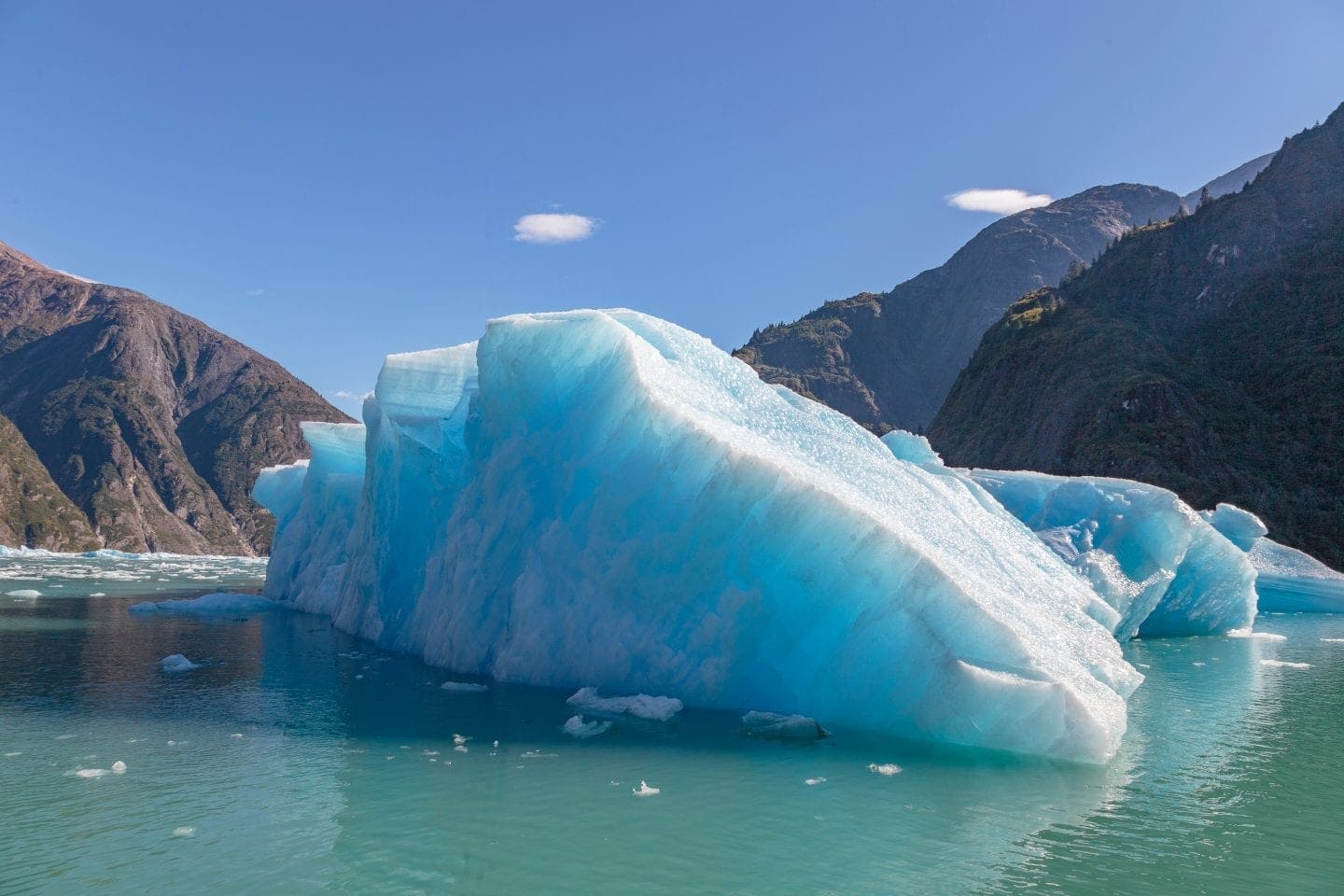 If you do not wish to fly here to start your cruise, you can start in Seattle or in Vancouver, both of which have many itineraries that sail to Alaska.
Pro tip: get a room with a balcony so you can enjoy Alaskan scenery your entire cruise, at any time of the day. The waters tend to be very calm, and you never know what wildlife you will see. (Alaska has bald eagles, whales, otters, and even bears.)
Alaska cruise season runs from about May to September. The weather can range from cold winter temperatures to the high summer heat within a short time, so pack for any scenario; be prepared for the weather to change at any moment.
Things to do in Juneau include seeing Tracy Arm Fjord and Mendenhall Glacier, going white water rafting, whale watching, taking a seaplane ride, or even flying over glaciers.


Central United States Cruise Ports
Mobile, Alabama
By Lori, of Fitz5 on the Go
Mobile, Alabama, is a historic southern city located on the northwest side of Mobile Bay. The city is rich in history and charm.
Mobile's US cruise terminal was built in 2001, and hosts Carnival Cruise line. Mobile has hosted several Carnival ships but was quiet from 2011 to 2016, until a new contract was signed and Carnival returned. Currently, Carnival's Fantasy makes its home in Mobile, but is planned to be replaced by Carnival Fascination in 2022. Cruises from here are very affordable.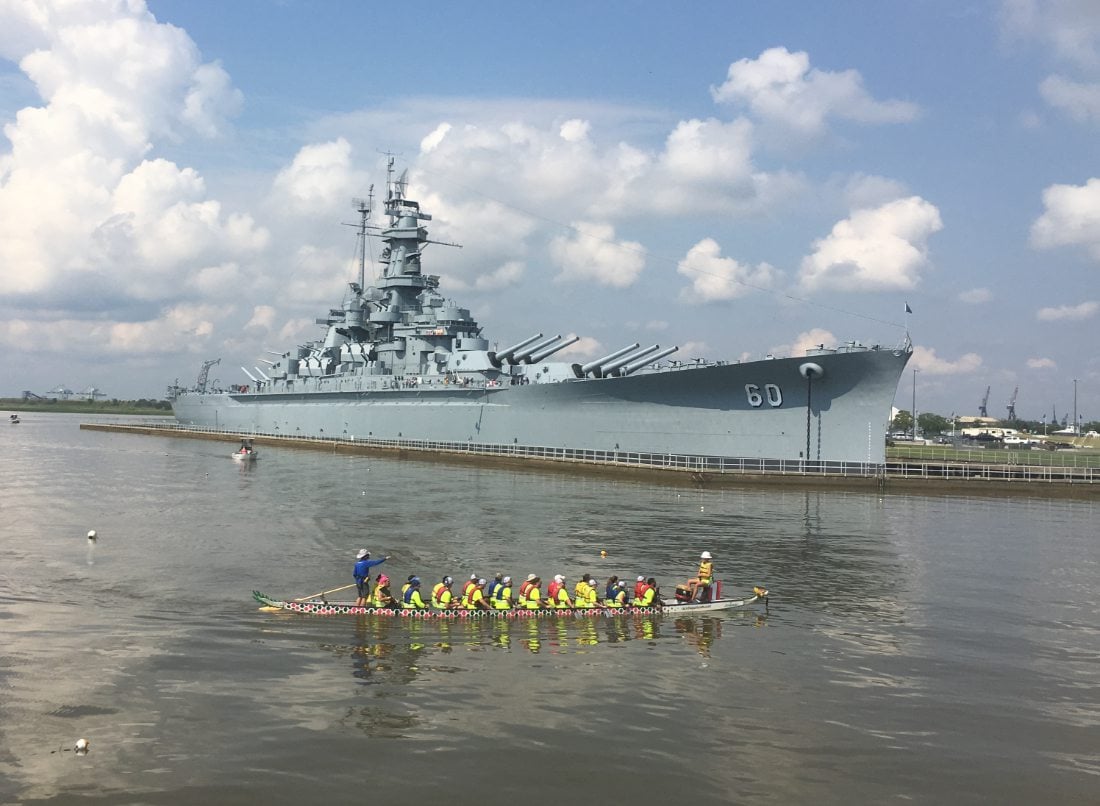 The cruise port of Mobile, Alabama, is easy to get to by car from I-10. The closest airport is Mobile, airport code MOB. It may be more cost-effective to fly into one of the surrounding airports, including New Orleans, Gulfport, and Pensacola.
The cruise terminal has onsite parking for 500 vehicles and overflow parking down the street. Parking rates are listed at $72 for a four-day cruise and $126 for a seven-day cruise. Several nearby hotels include Hilton's The Admiral hotel, Marriott's Battle House, and the Malaga Inn.
Mobile has many activities to enjoy while visiting the city. The downtown area near the port is fun to explore and features museums, beautiful older buildings, and delicious food. The USS Alabama Battleship from the 1940s, at Battleship Memorial Park, is also a great place to visit.
Mobile is a wonderful and easy choice as a location to sail off for your next cruise.
Galveston, Texas
By Lee and Stacey, from One Trip at a Time
The port of Galveston, Texas, on a barrier island 50 miles south of Houston, is one of the first ports developed for the mega-ships that visit sunny destinations on eastern and western Caribbean itineraries. It's been steadily growing as a hub port in the Gulf of Mexico and features two cruise terminals for ships from Carnival, Disney Cruise Line, and Royal Caribbean.
Because of Galveston's location, it's only about 30 minutes to the open sea of the Gulf of Mexico; it won't take you long to start enjoying refreshing sea breezes!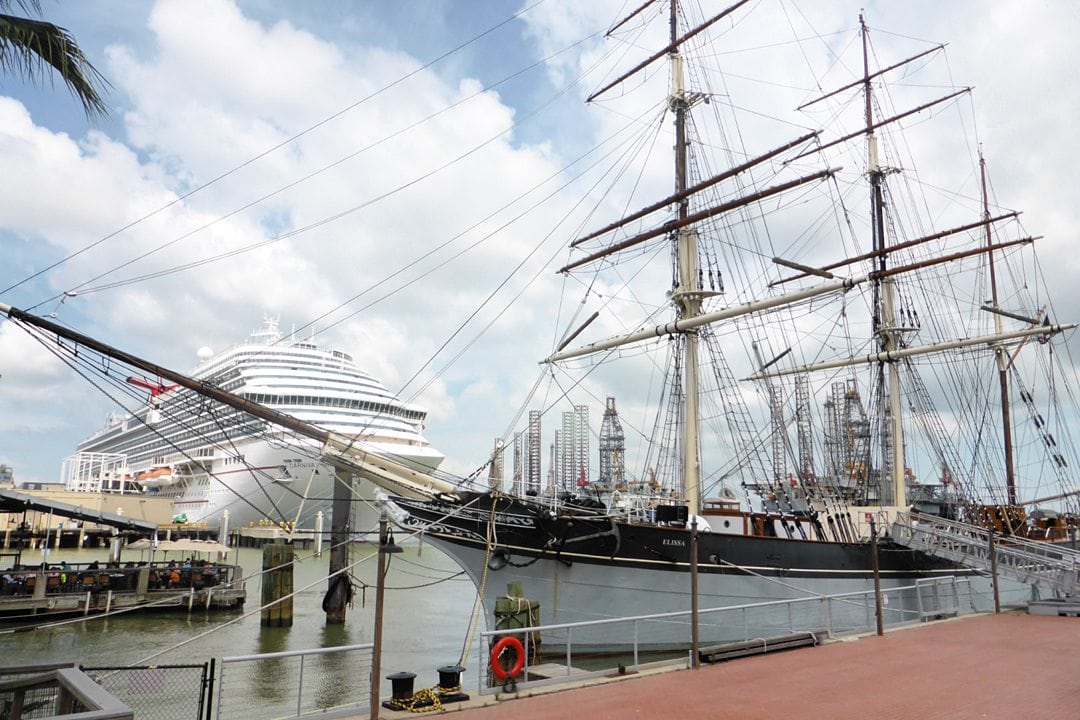 Galveston is also a beach resort area, with island vibes and a vibrant port. Within walking distance of the cruise terminals, you can stroll the historic Strand District with its pretty Victorian-era buildings that are home to restaurants, galleries, and museums.
Or, go aboard the Tall Ship Elissa, a three-masted, iron-hulled 1800s ship that is part of the Seaport Museum. If you're cruising with children, a visit to Moody Gardens is a must, especially to explore their aquarium and rainforest ecosystems. You can even sign up for lessons in building amazing sandcastles on the beach!
We recommend arriving a day or two before your cruise to extend your vacation with so many things to see and do in Galveston. Many hotels offer "Park & Cruise" deals if you stay with them.
There are several other cruise parking lots, like Galveston Park N Cruise, within walking distance of the port. This means you'll have easy luggage drop-off and embarkation on your ship to start your cruise vacation as soon as possible!


East Coast United States Cruise Ports
Boston, Massachusetts
By Mikkel, from Sometimes Sailing
The cruise port of Boston, MA, is just a short car ride from the heart of the city. We sailed from Boston to Quebec City on a New England and Canada cruise with Holland America Line.
As many cruise ports have, the Boston port is partially industrial. But the cruise passenger terminal has some pops of color to spark some interest and is well-labeled with signage everywhere.
There are elevators and escalators, bathrooms, and even a water bottle filling station (though you cannot go through security with water).
There's plenty to do in Boston, from historic sightseeing to eating at great restaurants where local seafood (like lobster) is a highlight to taking a duck boat tour in the Boston Harbor.
Port of Boston Parking
Parking at the terminal is in an uncovered, open-air lot. The rate for cruise passengers is $20 per day. Cash, Visa or MasterCard are accepted forms of payment.
Uber and Lyft are available in Boston. Additionally, there is a cell phone lot for anyone waiting to pick up passengers at the port.
Cape Liberty, New Jersey Cruise Port
By Mikkel, from Sometimes Sailing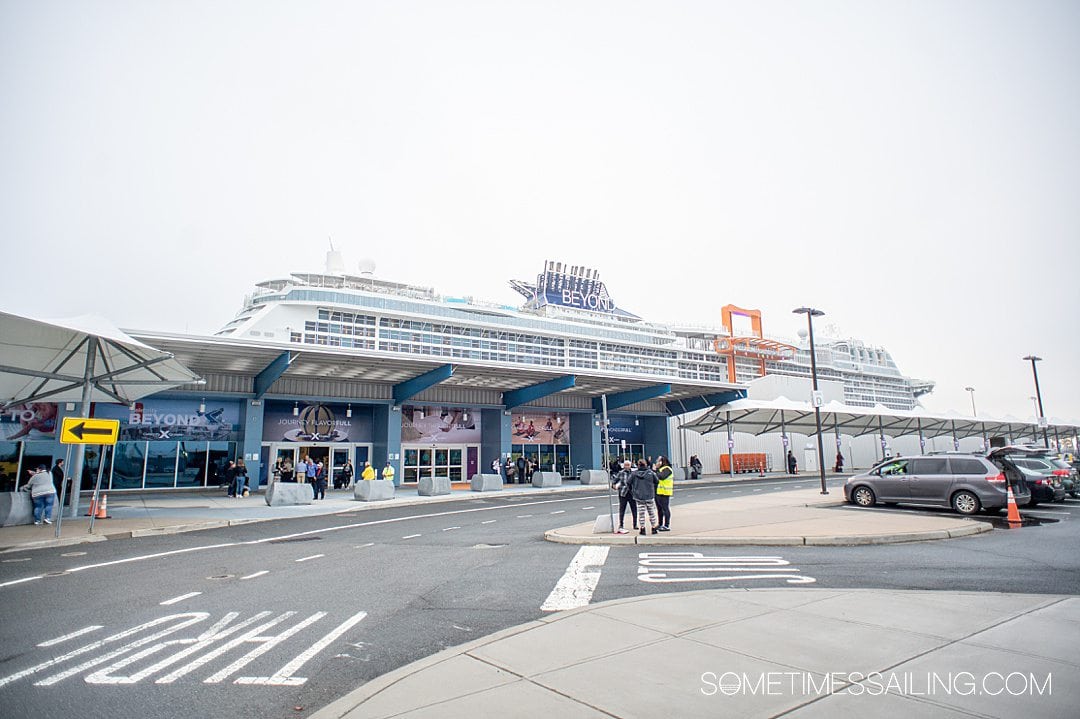 Just a few miles outside of Manhattan is the Cape Liberty Cruise port in Bayonne, New Jersey.
Though the area is particularly attractive immediately surrounding the cruise port (it's an industrial port for the most part, even though some of the drive there is really pretty along the waterfront), there's something very special here: you can see the Statue of Liberty from the cruise while it's in port, on a clear day. It's truly breathtaking!
You can also very clearly see the NYC skyline too.
Cruising from this NJ USA cruise port is beneficial because of the abundance of airports nearby, including Newark, Westchester, JFK, and LaGuardia.
If you want to extend your trip, there are endless things to do in NYC, from world-class restaurants to Broadway, Central Park, The High Line, and more.
Parking or Getting to Cape Liberty Cruise Port
You can drive to the cruise port, take a car service like Uber or Lyft, or take public transportation.
Without traffic from the west side, central or south Manhattan, it could be a 35-minute drive to the port. With traffic, it could be over an hour. We spent about $60 from NYC to NJ to board Celebrity Beyond. From NJ to NYC was more expensive, at around $80.
You can also take the PATH train to NJ, then call a cab to go the rest of the distance from the station to the cruise terminal in Bayonne. Go from Manhattan to one of these NJ stations on the PATH: Jersey City, Newport, Exchange Place, or Hoboken.
Alternatively, take the NJ Transit Light Rail on the NJ Hudson-Bergen line toward 8th street Bayonne. Exit at the 34th Street Station in Bayonne, NJ. You'll be just two miles from the cruise port, accessible by cab or ride share, like Uber.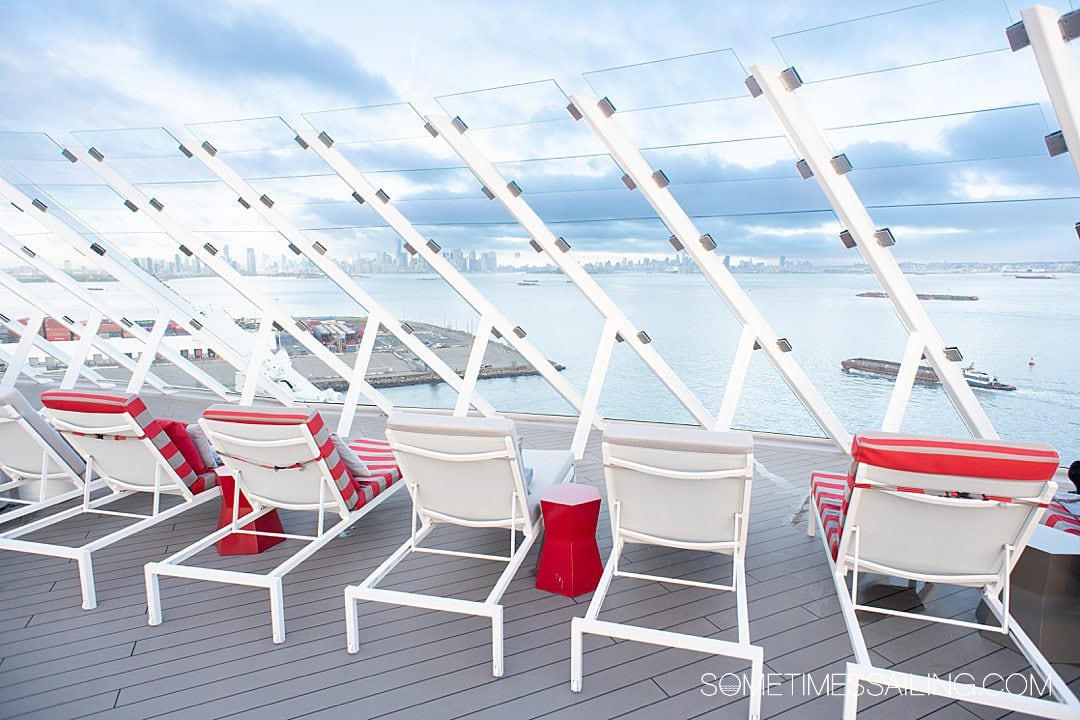 Baltimore, Maryland Cruise Port
By Pamela, from the Directionally Challenged Traveler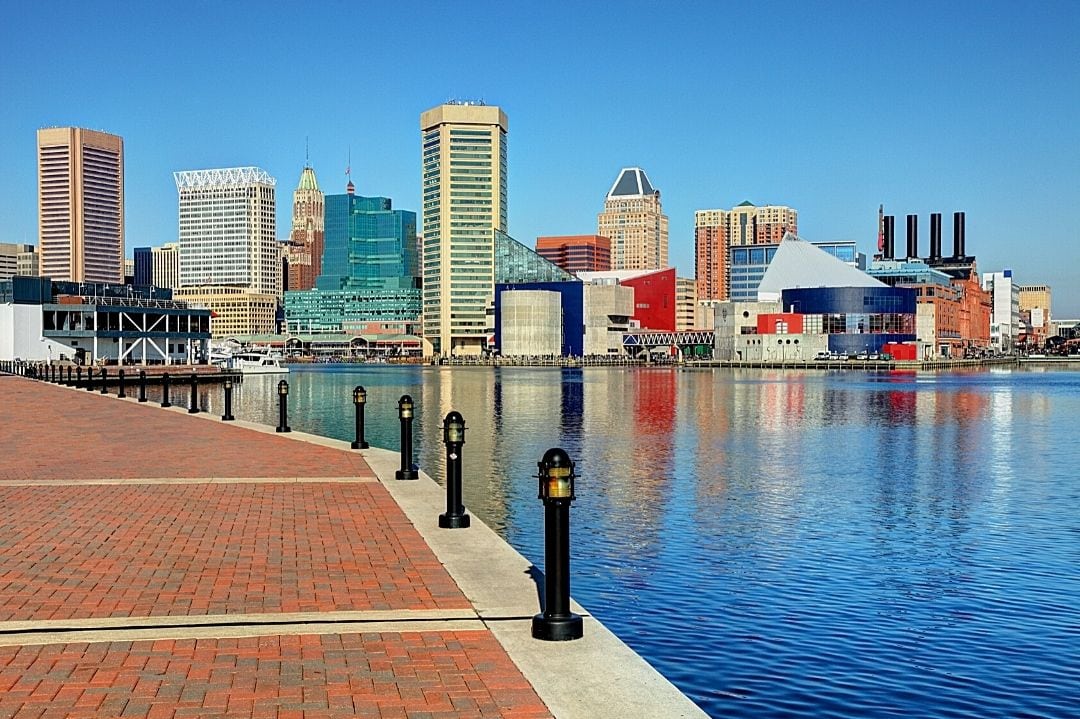 The Baltimore Cruise Port is a great destination to start off any vacation! The Baltimore Cruise Port is located in the heart of the city, right off Route 95. There is parking available on-site within walking distance of the port.
Passenger vehicles only cost $15 per night; recreational vehicles range from $30-$40 per night based on size. No advanced reservations are required to use the parking lot. Royal Caribbean and Carnival are the two most popular cruise lines that leave from Baltimore. 
Extend your time in Baltimore and explore this city rich with personality. One of the best things to do in Baltimore is explore the Inner Harbor. It's an icon of the city and is home to several attractions.
The USS Constellation is a historic ship built in the mid-1800s and used during the Civil War. Explore the numerous museums around the harbor. Grab a bite at Miss Shirley's Cafe or Phillips Seafood for fresh crab! 
Another great thing to do in Baltimore is take a food tour of the area. Be sure to sign up for a day tour if you need to return to the cruise ship or embark at a certain time.
For incredible boutique shopping, head to Fells Point. This area of Baltimore had residents before America was even a country! Fans of street art can visit the colorful Graffiti Alley to glimpse at the local culture.
You can visit Edgar Allen Poe's house and final resting place near Lexington Market. If you need a break from the city, head to Druid Hill Park for some open space. There's a conservatory with a botanical garden in the park. Keep an eye out for a Druid carved into an old tree!
The ease of access and variety of things to do in the area makes Baltimore one of the best cruise ports in the United States.
Port of Palm Beach, Florida
This port is located just 20 minutes from West Palm Beach airport and is where Margaritaville at Sea will sail from. It's a very easy port to reach with key cities nearby, like West Palm Beach and Lake Worth.
You can easily reach Fort Lauderdale, which is just under an hour away from here.
Port Canaveral, Florida Cruise Port
By Mikkel, from Sometimes Home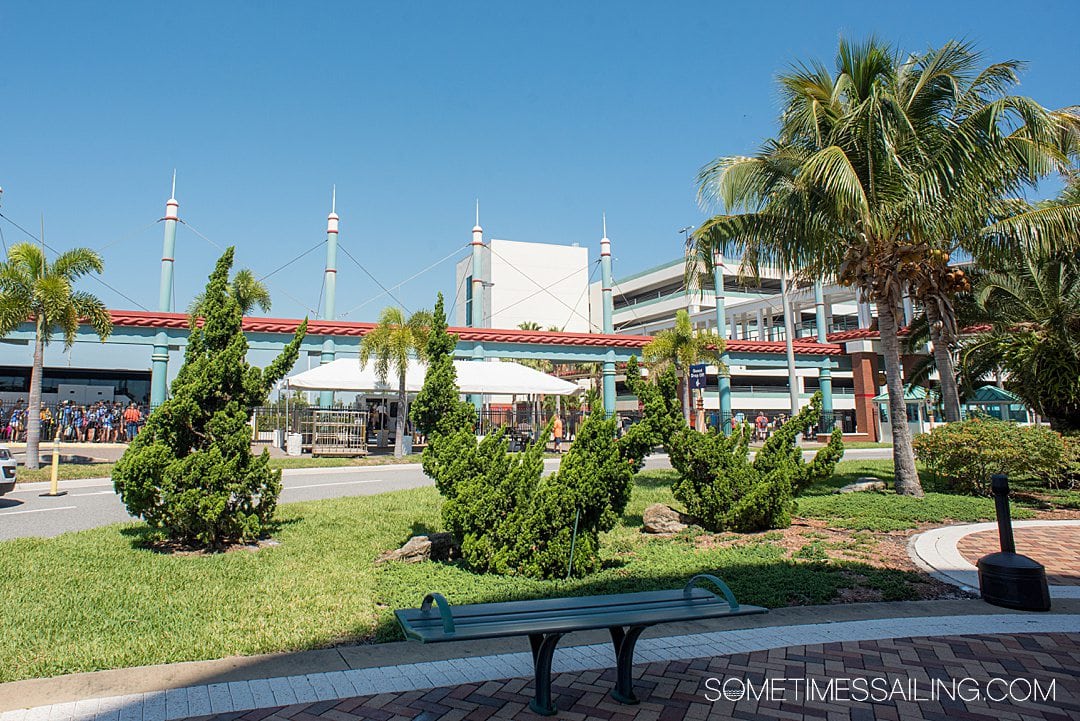 One of the most exciting things about driving to the Port Canaveral Cruise Terminal is seeing Disney Cruise Line's ship in port as you drive over the highway to reach your destination. Disney Cruise Line has its own terminal next to Carnival, Royal Caribbean, and Norwegian Cruise Line terminals. (You can check the current list of cruise lines leaving from this port on the Port Canaveral website.)
On a United States cruise ports map, it's on the east coast of central Florida, about an hour away from Orlando.
Naturally, if you're going to Port Canaveral, an obvious choice of nearby things is to visit Lake Buena Vista, where Walt Disney World is, and Orlando, where Universal is. (There's plenty to do in Orlando besides the theme parks, though.) Or, you can enjoy Cape Canaveral and a visit to Kennedy Space Center, which takes an entire day to enjoy.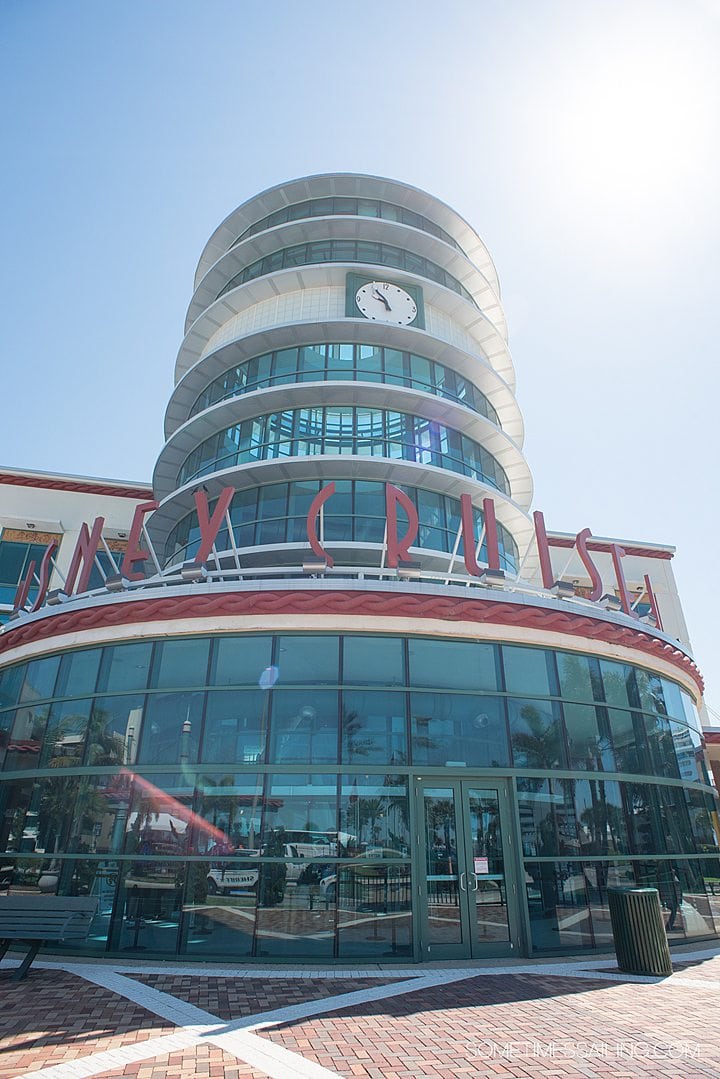 You can also head to the beach – like Cocoa Beach to enjoy the pier or Satellite Beach just south of the area. If you're feeling adventurous, you can kayak to find manatees and dolphins in the area on a guided tour.
Parking at Port Canaveral Cruise Terminals
There are several parking garages at the terminals, which is your best bet for getting your car close to your cruise ship. It costs $17 per day, even for partial days.
Offsite parking is also an option here, like at Park Port Canaveral. Rates are better than at the port, and you may save some extra money if you reserve online and prepay.
Alternatively, you can fly to a major airport, like Orlando International Airport (MCO) and take a shuttle over to Port Canaveral. Melbourne International Airport (MLB) is also close to the port; a drive between MLB and Port Canaveral would take about 45 minutes.
Fort Lauderdale, Florida Cruise Port (Port Everglades)
By Derek Hartman and Mike Walsh, from Robe Trotting
Fort Lauderdale, Florida, is one of America's premier cruise ports. It's called "Port Everglades." Conveniently, the cruise ship terminal is only three miles from Fort Lauderdale Airport.
There are some shuttle options, but the best way to reach the terminal from the airport is to take an Uber or taxi. The cost is around $10-15, and most of the shuttles are similar or more in price, but on a fixed schedule.
For example, the Carnival shuttle is $16. Parking at the cruise port is about $15 per day, and many lots require an advanced reservation, so make sure to research before your departure.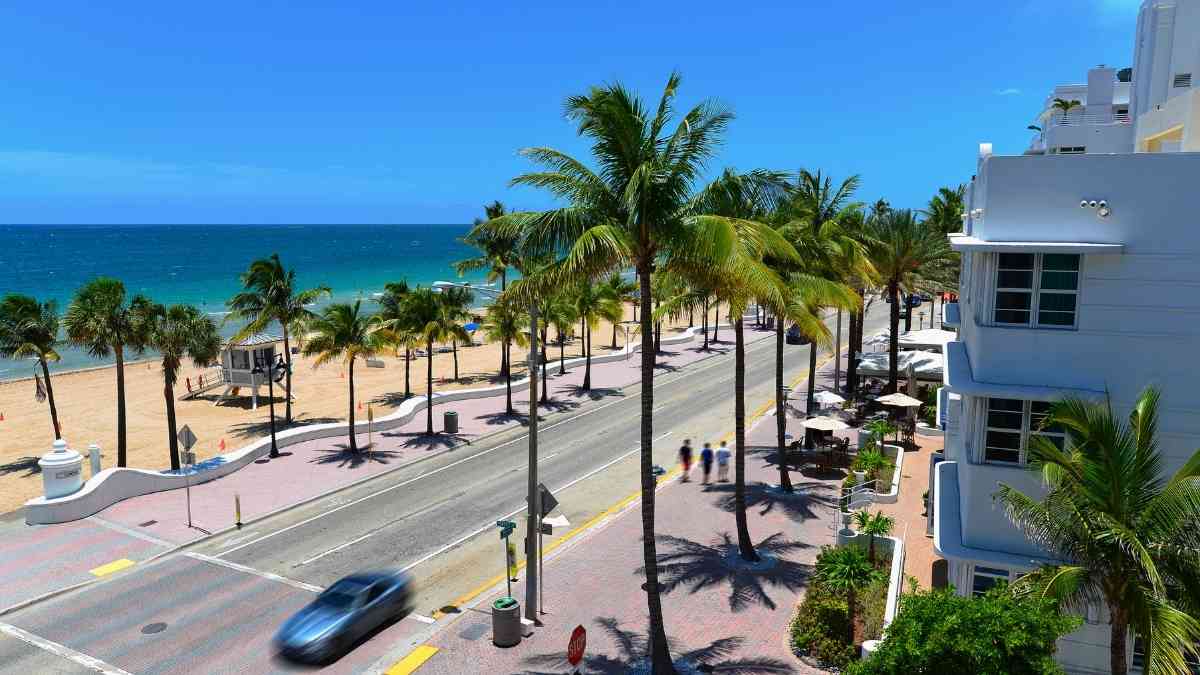 The port of Fort Lauderdale services some of the biggest cruise lines like Carnival, Royal Caribbean, Princess, Celebrity Cruises, and Holland America. It's a popular departure point for many themed cruises on these lines, whether Biker-themed, Star Trek-themed, or an LGBTQI+ cruise, for instance.
It's worth noting that Fort Lauderdale is an incredibly gay-friendly city. (This popular south Florida destination and has one of the largest LGBTQI+ communities in the United States of America.)
If you're sailing from Fort Lauderdale and book a few extra nights in town, you will have plenty of options for entertainment.
There are dinner cruises on the Intracoastal Waterway or you can dine at any of the incredible seafood restaurants in town. The magnificent beaches in Fort Lauderdale are clean and popular with cruise guests before or after their departure, because there is no such thing as too much sand and sun.
🗓 Reserve Fort Lauderdale Tours
Port of Miami (or "PortMiami"), Florida Cruise Port
By Dan, from Sometimes Home
The Port of Miami is an incredibly popular port for many cruise lines to start their sailings. It's been deemed the Cruise Capital of the World with good reason, having four active cruise ports with more in the works. It's at the southern tip of mainland Florida, and their nearby major airports make it easy to get there. (Fort Lauderdale-Hollywood International Airport (FLL) is about 45 minutes to an hour from the Port of Miami, and Miami International Airport (MIA) is about 30 minutes away from the port.)
Parking at the Port of Miami will cost about $25 a day, or you can park offsite. There are a few nearby parking options that will shuttle you to the port as part of the parking arrangement (aka: for free), including Safe Cruise Parking and We Park in Miami. These are just two of many options.
Many cruise lines have contracts to dock at the Port of Miami, including Celebrity Cruises, Norwegian Cruise Line, Royal Caribbean, and Disney Cruise Line. Virgin Voyages does as well, and recently opened their brand new dedicated terminal there.
There is plenty to do in the area, like visiting the famous Wynwood, Miami neighborhood, most famous for its mural walls. Or heading to South Beach to start your pre-cruise vacation in the sand.
Key West, Florida US Cruise Port
By Lori, from Travlinmad
Key West, Florida, the Southernmost City in the USA, is one of the most popular and busiest ports-of-call in the Caribbean as reflected by the number of major cruise lines like Carnival and Royal Caribbean that now include the port in their itineraries.

Fisherman's Wharf at Mallory Square receives the lion's share of scheduled cruise ships, which gives cruisers a great starting point for exploring the Conch Republic. Depending on the ship's schedule, time ashore varies from 6-10 hours.

If this doesn't sound like much time to you, you may be right. But there are plenty of fun things to do in Key West for those who want a quick taste of the island.
Cruise ship tourists can easily walk to Duval Street where there are island-y restaurants, Jimmy Buffett-style watering holes, souvenir shops, art galleries, trolley tours, and trolley tours. And just off Mallory Square is Key West's most famous fun bar of all, Sloppy Joe's Bar.
It's easy to get around this part of town and everything is close by, from unique museums, funky architecture, and historical sites like the Ernest Hemingway Home & Museum. Just off of Duval Street is the Mel Fisher Museum, Audubon House, and the Key West Aquarium, definitely worth a visit.
No matter how you choose to spend your time, Key West will have you singing "It's Been a Lovely Cruise."


San Juan, Puerto Rico Cruise Port
By Annick, from The Common Traveler
San Juan, Puerto Rico is the largest and busiest port in the Caribbean, accommodating up to nine cruise ships at once. Used both as an embarkation point and destination stop, San Juan features on many Caribbean itineraries and is the starting point for many Southern Caribbean cruises.
There are two cruise ports in San Juan. Royal Caribbean and other cruises depart from the Pan American Pier, about a 10-minute car ride from Old San Juan. The three piers next to Old San Juan are mostly used as port stops (as opposed to departure/arrival ports). The only exception is Carnival Cruise Line which departs and arrives in Old San Juan. Celebrity mostly uses the Pan American Pier, even for port stops.
Parking decks are available near both the Pan American and Old San Juan piers. Pan American Pier parking is available at the Sheraton or neighboring Isla Grande Airport. Parking is outdoors and varies greatly between $8.56 per day to $22 for valet. Several covered garages are located in Old San Juan, including a few near the piers. Most travelers arrive by taxi to avoid the cost of long-term parking.
San Juan offers a lot to visitors. Old San Juan is a great city to visit on your own as everything is within walking distance. Visit UNESCO World Heritage sites or sample a pina colada where they were first created. There is lots to do on a port day in Old San Juan!
Check out these San Juan Tours:


Hawaii United States Cruise Ports
Port of Hilo
By Noel, from This Hawaii Life
One of the Easiest port cities to visit is Hilo, Hawaii located on the Big Island of Hawaii. Servicing the cruising industry that travels to all the islands, Hilo is one of the first stops on the circle island cruise before it goes around the island to the Kona side.
Most of the cruises arrive at the port in the early morning, allowing for a full-day tour of the highlights, which typically are Hilo town, East Hawaii, Volcanoes National Park or even an adventure tour type of package or helicopter tour.
The choices are limitless and since you have the entire day, there's plenty to see. Even renting a car is feasible so you can actually do your own DIY tour and visit more places if you want to see more.
Most visitors opt to tour the Hilo area and highlights and maybe squeeze in some beach time to local beaches that are an easy cab ride or walk from the harbor area.
Although the walk from the port to town is a trek, it's easier to do on a Hop On Hop Off bus that allows you to see all of the best highlights in town in an affordable setup. Check out the top things to do in Hilo for more inspiration and touring the city and surrounding area.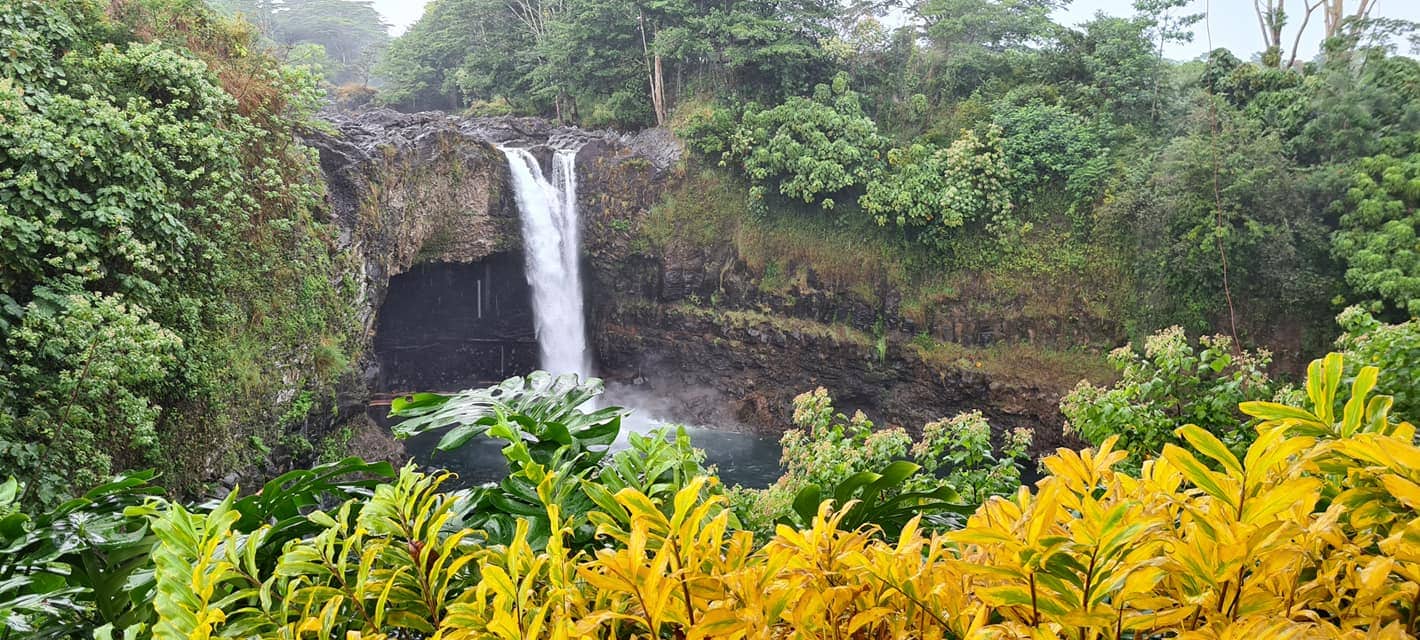 United States Cruise Port at Oahu
By Nicole, of Eat Love Travel Drink
Cruise ships in Oahu, Hawaii, dock close to the Aloha Tower Marketplace, which is conveniently located about a 10-20 minute drive from Honolulu International Airport. It's very easy to book a tour from the Oahu, Hawai cruise port too.
The most popular cruise line sailing the Hawaiian Islands is Norwegian Cruise Line. They are docked at Port of Honolulu Pier 2 and are easy to access. You can get a taxi/Uber/Lyft from the airport and is about $30 USD each way.
For parking, the public parking is about ¾'s of a mile away, and the cost is about $21 a day. It may be easier to just take a taxi from the airport, so you don't have to pay for a rental car and to park it for the duration of your stay.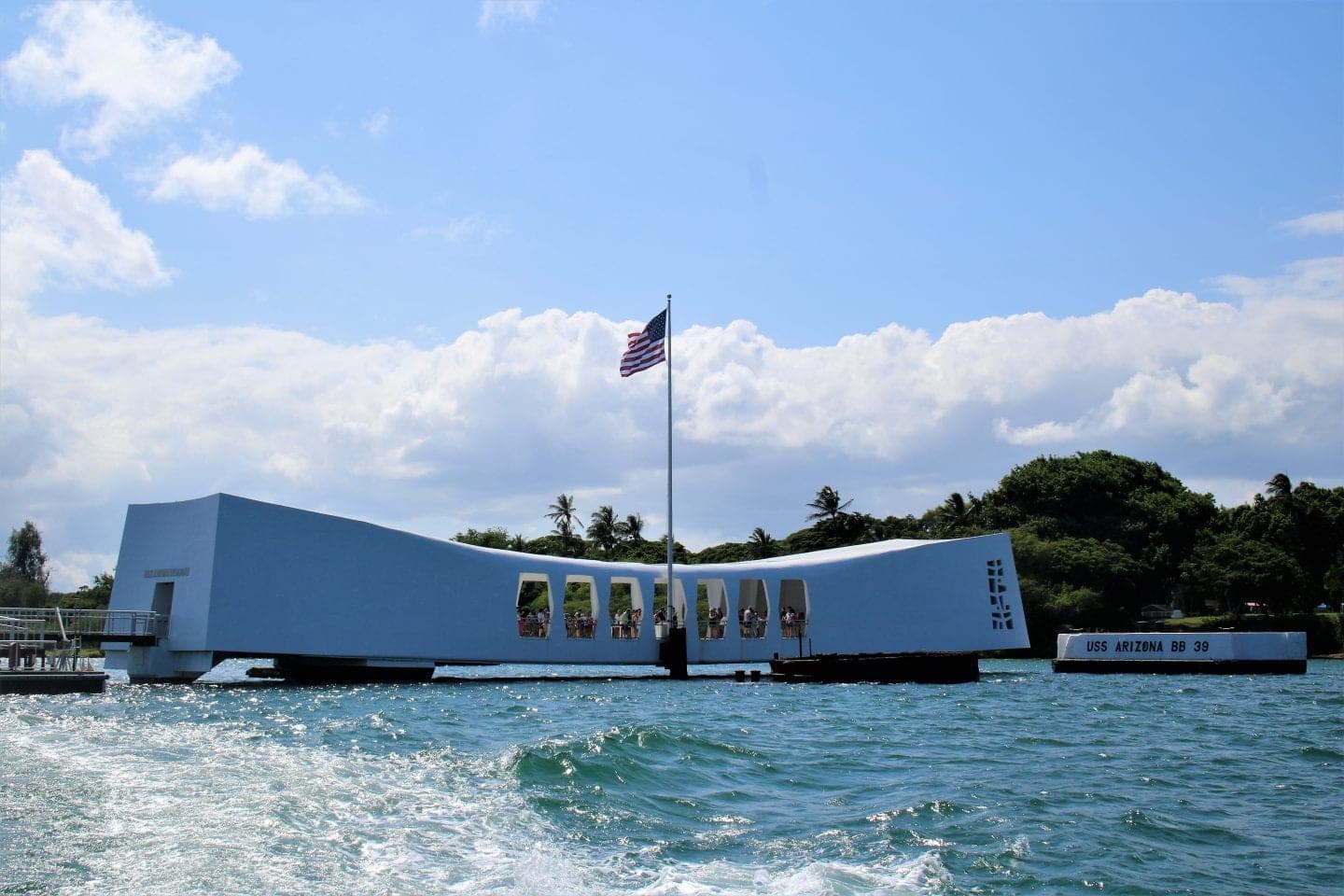 Norwegian's Cruise Ship in Hawaii used to do 7-day sailings around the island but has now included French Polynesia in some of their itineraries. It is like getting two vacations in one, and you get to stay on the same boat.
Most cruises originate in and out of Oahu, so you will want to plan to stay an extra day or two as not to miss anything.
Some things you should have on your Oahu bucket list include: a visit to the North Shore, Pearl Harbor, Waikiki Beach, piping hot malasada from Leonard's Bakery, shaved ice, and some snorkeling.


Love cruising? Read this next: