Best Things to Do Near Port Canaveral Before or After a Cruise (2023)
If you are setting sail from Port Canaveral, you should extend your vacation beyond your cruise to spend some time in the area. There are so many things to do near Port Canaveral, on Florida's Space Coast, that no matter the time you have – a half day, a full day, or multiple days with overnights in between – you'll be thankful you extended your trip.
We're sharing the best things to do by Port Canaveral! Next to each activity, we detail the time you need based on our experience. This is so you can easily create your own itinerary based on your time in the area.
We also share where to stay near Port Canaveral for your cruise extension, car rental information if a car helps make your trip to the Space Coast more efficient, and cruise transfer info.
Disclosure: There are affiliate links in this post, which means we may earn a small commission if you click the link and proceed with a purchase at no cost to you. We thank the Space Coast for hosting us; we truly only recommend cruises, experiences, products, and services we personally use. As Amazon Associates, we earn from qualifying purchases.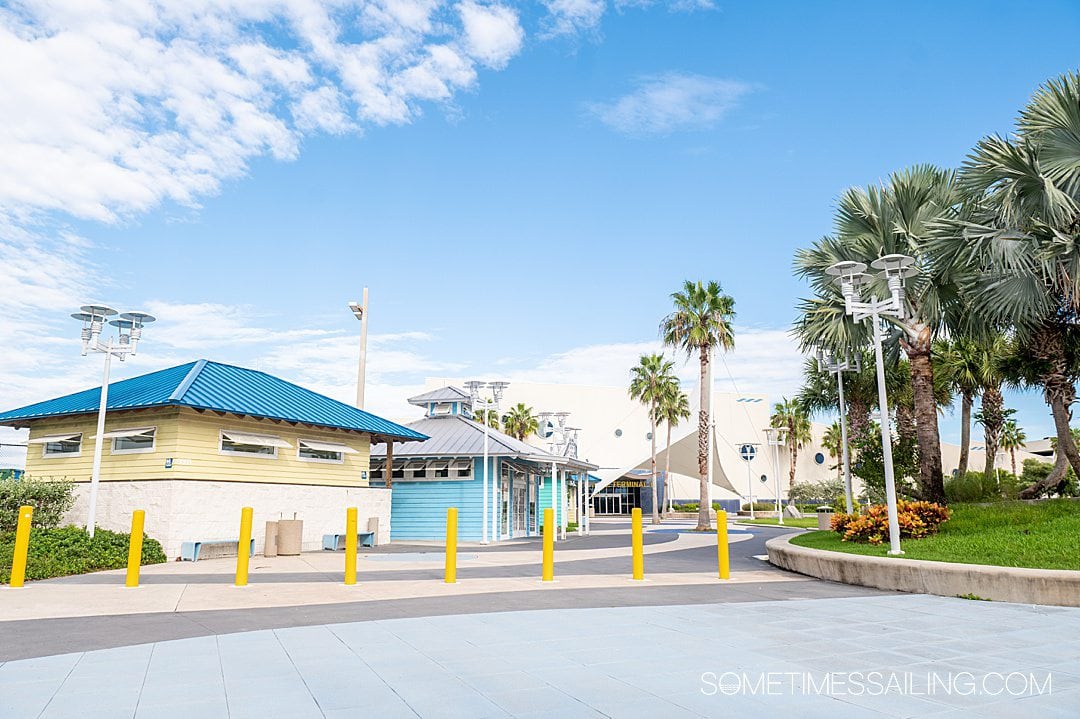 Things to Do Near Port Canaveral for up to Two Hours
Wizard of Oz Museum (1.5 hours)
A Wizard of Oz historian and collector named Fred opened a museum to share his collection and knowledge of the famous books and movie with the world.
The indoor museum, whose exterior is painted green like the Emerald City with a painted yellow brick road leading to its doors, is a great thing to do if you want to get out of the Florida sun and heat or if it's raining.
Plan to spend about an hour to an hour and a half there as you look at Wizard of Oz books first and second editions, see rare collectibles and immerse yourself in Oz scenes in the museum's immersive experience in a room with 31 projects creating the unique experience.
We highly recommend booking a tour with Fred, who will personally show you around his collection for a little extra money. It's well worth it! He's a true expert in the field.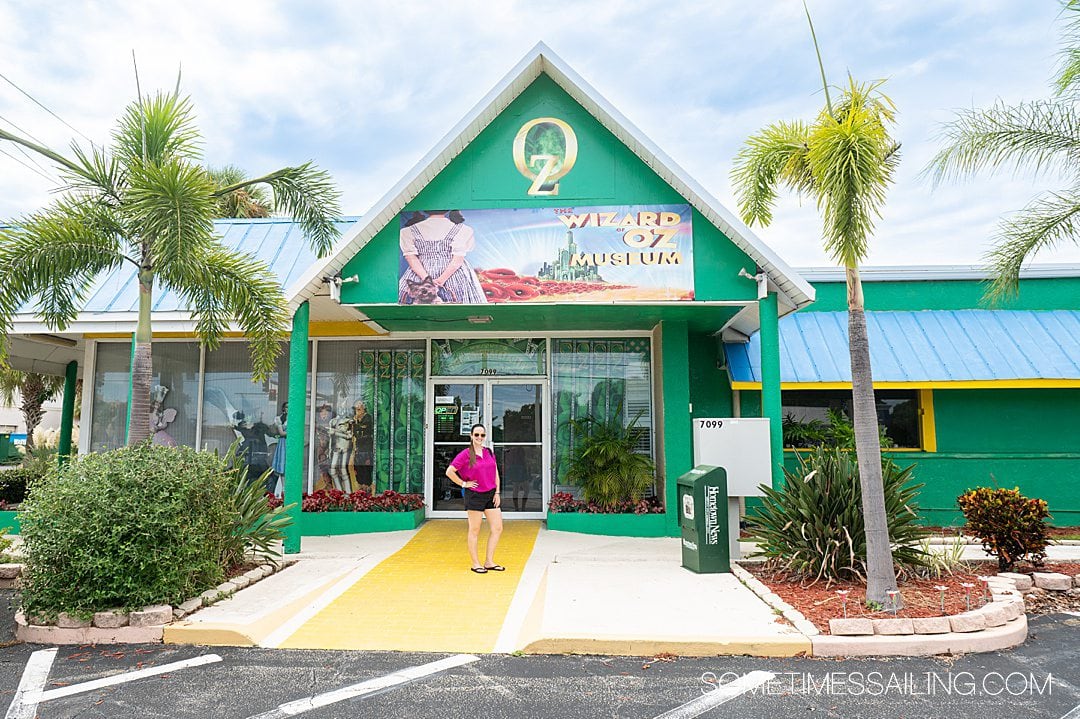 American Space Museum (1-1.5 hours)
This is a great place to go for any of these three reasons:
If you want to learn about the space program and are short on time, thus need something a little less time-consuming than Kennedy Space Center.
If you're on a budget and need a museum about space that costs less than Kennedy Space Center tickets.
If you want an experience that's supplemental to Kennedy Space Center because if you're like us, you want to soak up all the space information as possible!
Inside, you'll find several museum rooms filled with artifacts, information, and memorabilia from decades of the Space Program. Everything there was donated, most usually by people who used to work in the space program.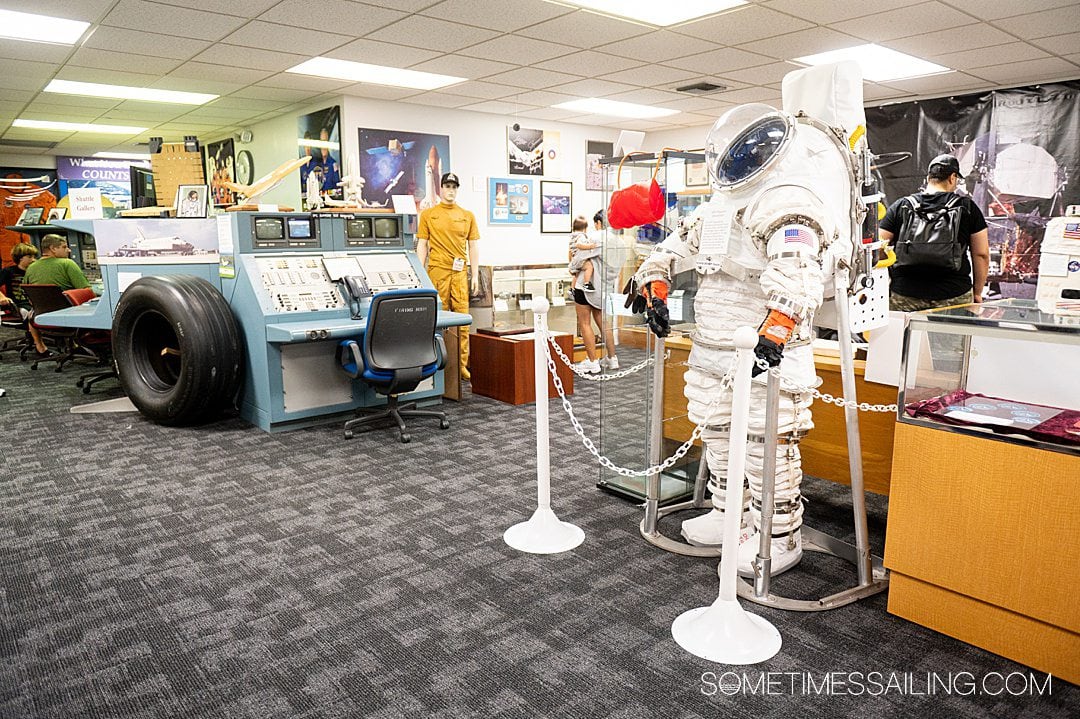 Take a Helicopter Tour (45 Minutes to 1 Hour)
An adventurous activity is a helicopter tour. Fly high above the area in and around Port Canaveral, including Titusville and Cocoa Beach, and see how the land and shore look from above.
This activity is more affordable than you would think: tours start at just $19.99.
Though the entire ride lasts less than one hour, the estimate of one hour is based on getting there, signing waivers/checking in, and the experience.
Space Walk (30-45 Minutes)
Just minutes from the American Space Museum is a Space Walk with monuments to various historical space moments, like the Mercury, Gemini, and Apollo missions.
The Space Walk in Titusville also commemorates the shuttle launches and people who have lost their lives while working on the space program, including astronauts who died on missions like the Challenger and Columbia tragedies.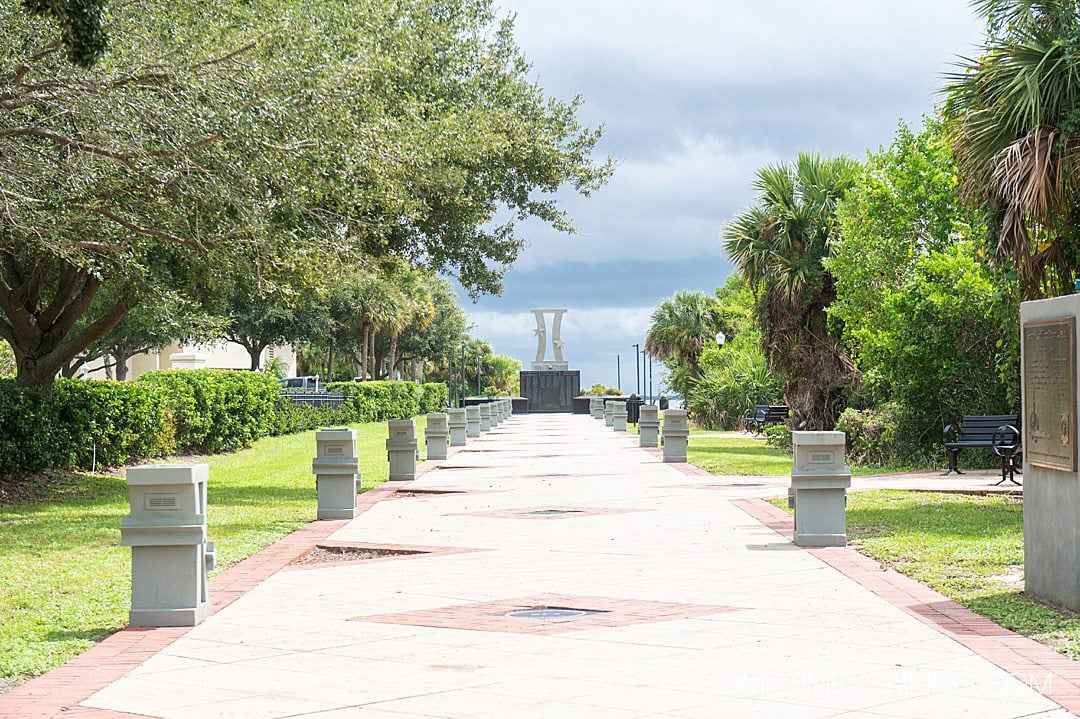 Relax at Cocoa Beach (Up to 2 Hours)
There are two places where we recommend accessing Cocoa Beach if you want to walk on the shore, put your toes in the sand, and go for a swim.
One is in downtown Cocoa Beach, right by the restaurant Coconuts. (Coconuts is also a great place to get a drink with a beach view.) The other area is by Cocoa Beach Pier. The pier has restaurants, bars, restrooms, and very small souvenir shops. The pier opens at 11:00am every day, but the beach surrounding it is open during the day from early in the morning onward.
You can even sign up for a one-hour surf lesson to challenge yourself to a popular coastal Floridian sport and be sure you'll take a dip in the Atlantic ocean.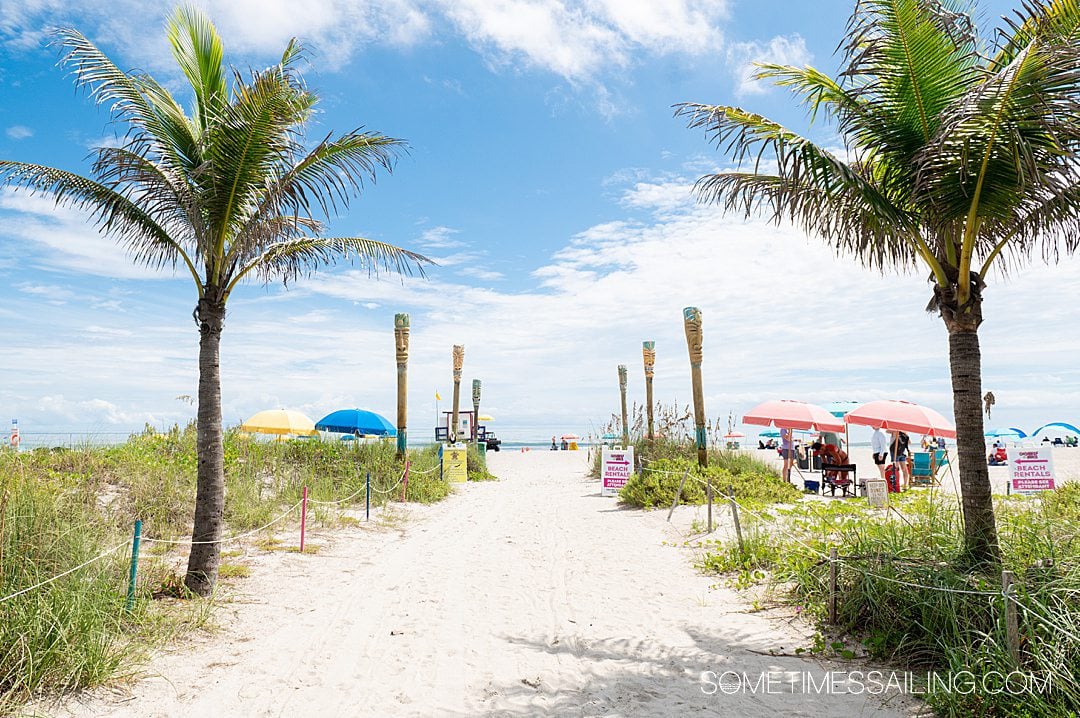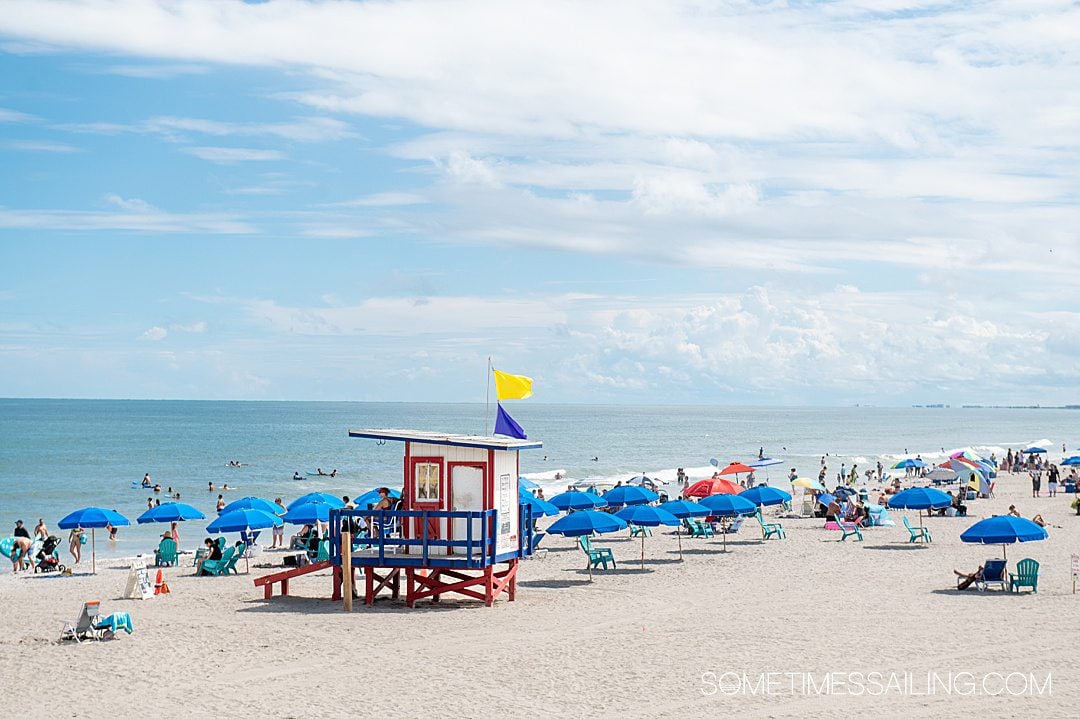 Surf Shops (1-2 Hours)
If you love the beach and shopping, you'll find the two major surf shops in Cocoa Beach to be absolute heaven!
Ron Jon Surf Shop and Cocoa Beach Surf Company are right next to each other. Thousands of square feet and multi-leveled, you'll find beach gear from sunglasses and sandals to bathing suits and rash guards, towels, sunscreen, boogie boards, and surfboards. You'll also find some NASA souvenirs inside and Cocoa Beach-themed items.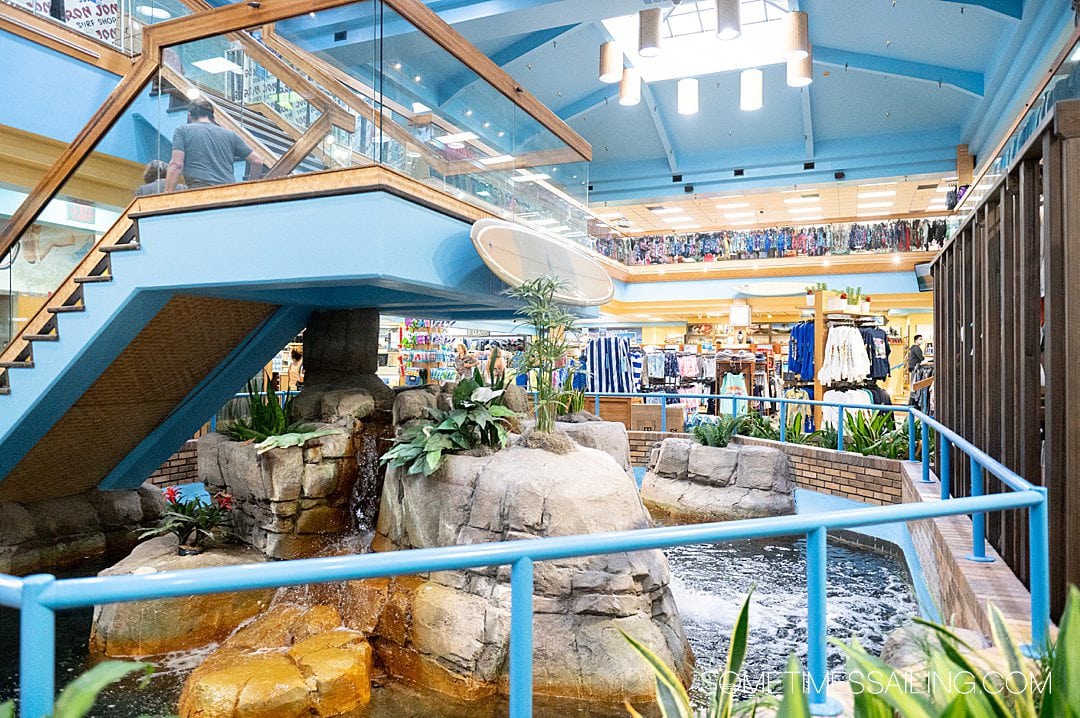 If you want to learn a little bit about the history of surfing and surf culture on Florida's Space Coast, head to the small rental building for Ron Jon's, which is to the left of the huge store if you're looking at the building facades from the street.
There's a small free museum inside called Florida Surf Museum. In about twenty minutes, you'll learn some cool things about surfing in the area that you never knew!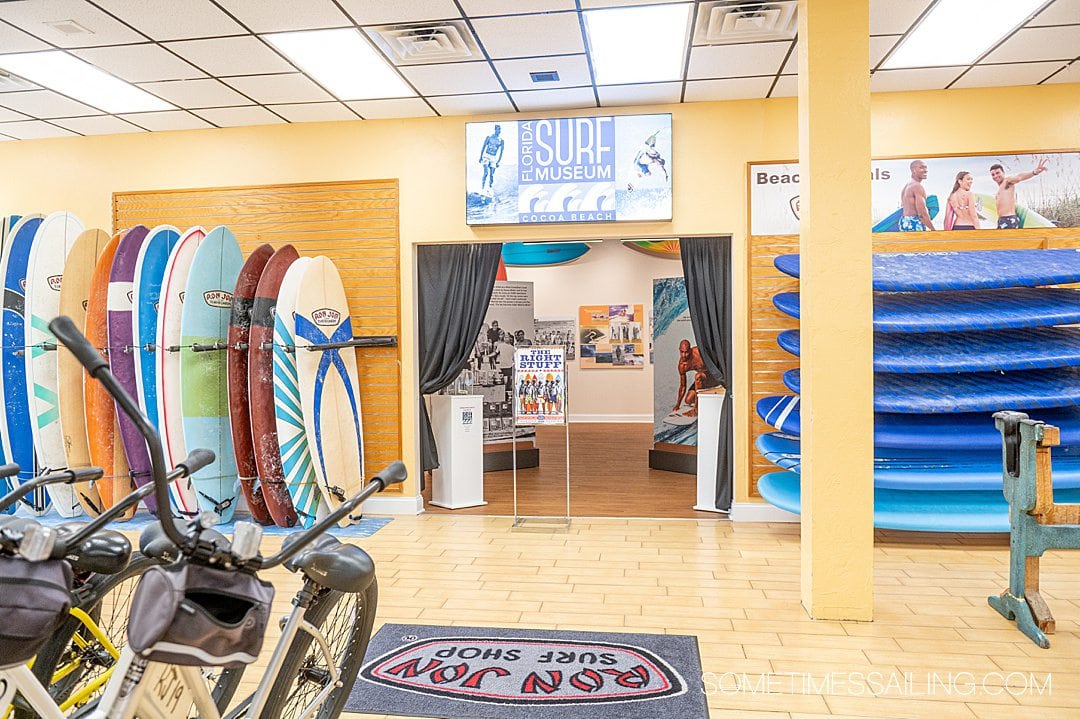 Valiant Air Command Warbird Museum (1-2 Hours)
Go to the Valiant Air Command Warbird museum in Titusville and see over 50 historic airplanes inside hangars covered from the rain.
They have the most pristine and unique collection of warplanes we've ever seen under one roof, including some from the Air Force that are on loan, some from people's personal collections, and others that they have purchased and restored.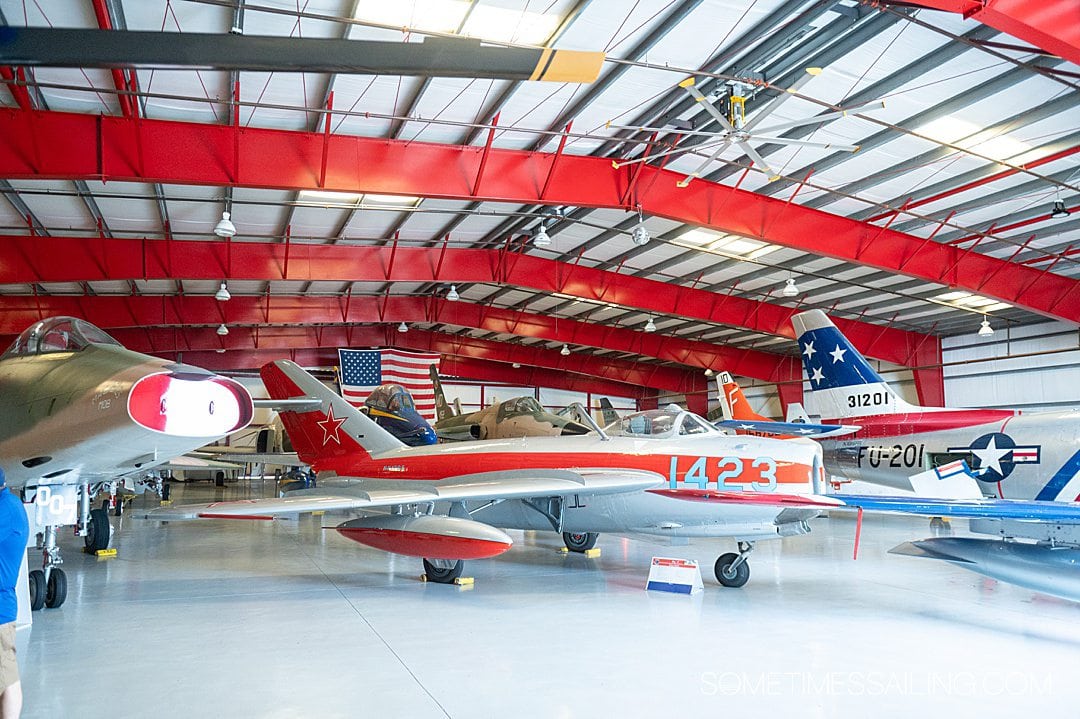 Activities Near Port Canaveral for 2-3 Hours
Kayaking Near Port Canaveral (2 Hours)
If you want to head out for a little adventure near Port Canaveral, sign up to kayak on a guided tour. You can kayak by day to see the manatees (if it's manatee season when they're in the area) or dolphins.
Another option is to kayak at night and explore the bioluminescent area, where the water naturally "glows" when it's stimulated by the motion of a kayak paddle.
Walk Around Downtown Cocoa Beach (2-3 Hours)
Downtown Cocoa Beach is between a five to ten-minute drive from the surf shops listed in this post. If you drive there, we recommend finding street parking and then walking around the area.
There are a lot of cute restaurants, bars, and coffee shops in downtown Cocoa Beach. Be sure to check out the colorful murals there, many of which are painted during the annual Space Coast Mural Festival.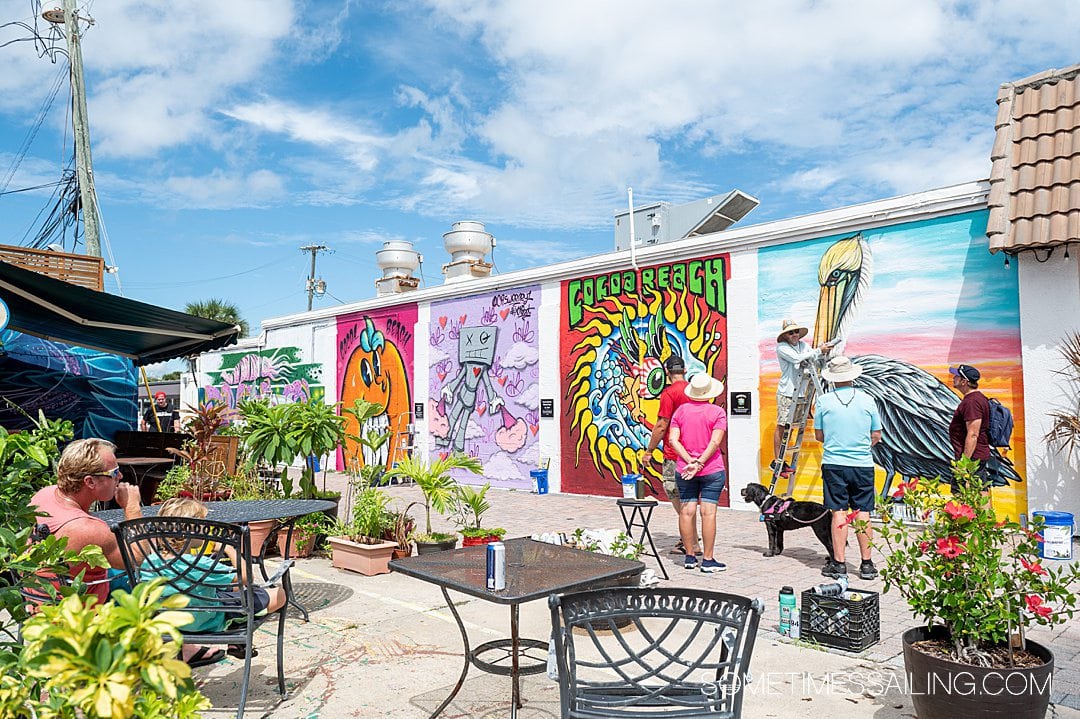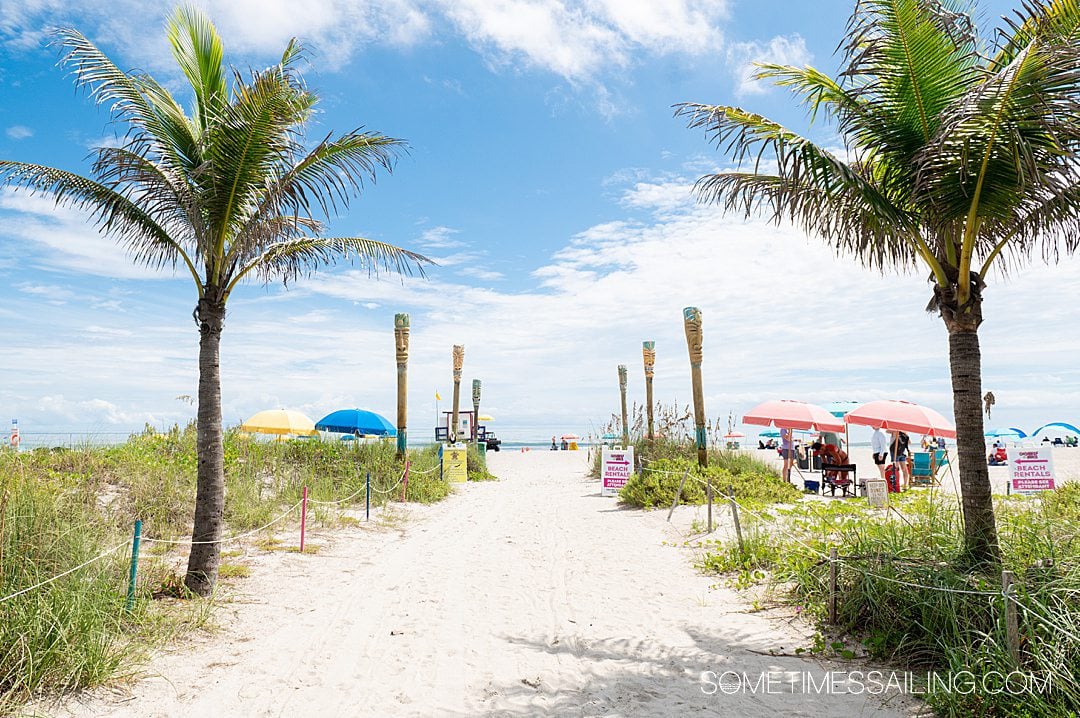 Port Canaveral and Space Coast Activities for 5+ Hours
Kennedy Space Center (6-8 Hours)
The most popular attraction on the Space Coast just might be the Kennedy Space Center complex. It welcomes visitors to learn more about the United States space program and all its triumphs, losses, and innovations.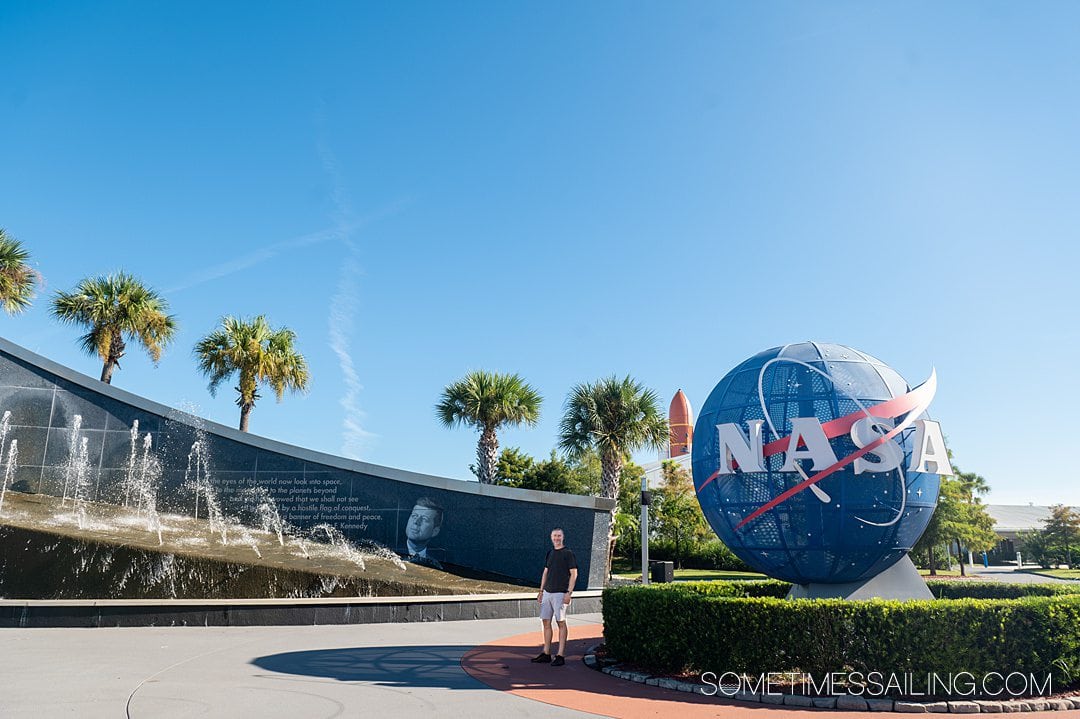 It's a beautiful and plentiful place; though we don't necessarily recommend just half a day there, we understand if you strongly desire to visit despite limited time. A full day is great, and two days are even better.
There are a few buildings there that you walk between, outdoors, to get to, including a few simulators and an IMAX theater, which are all included in admission. Admission is around $75 per adult for one day and is $65 per child.
There are plenty of places to eat and get snacks inside the complex (for an extra charge). You can even take an included bus tour out to the Apollo and Saturn V complex, where guests can see the bleachers and sometimes view space launches.
If you decide to visit Kennedy Space Center for the day, we recommend arriving early and staying until they close. There's a ton to do there, and even after the day you'll wish you bought a two-day ticket.
We extensively wrote about spending time at Kennedy Space Center here.
Check out this transportation option if you need a transfer from Port Canaveral to Kennedy Space Center.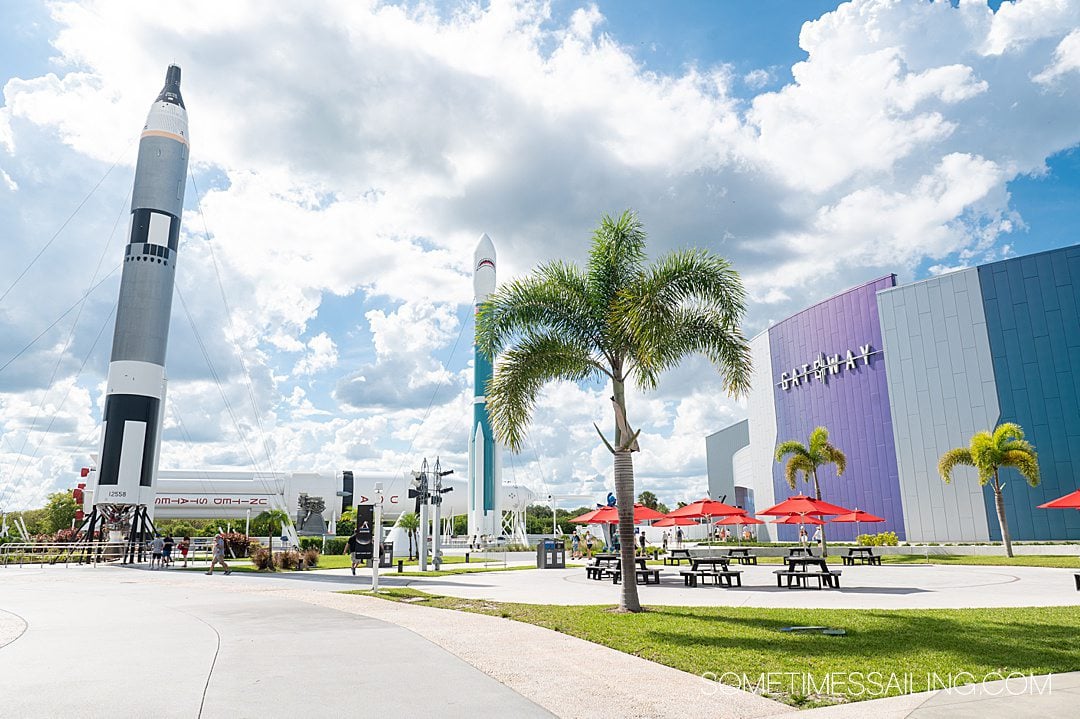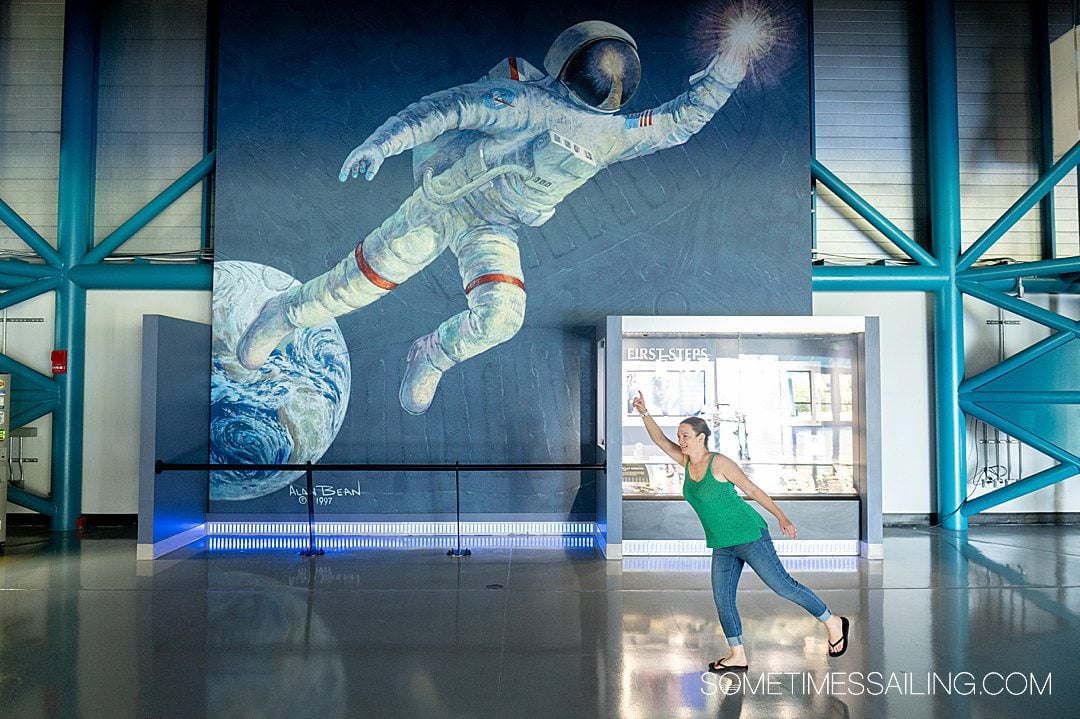 Going to Walt Disney World or Universal Theme Parks from Port Canaveral (8+ Hours)
If you're a theme park enthusiast and you're looking for things to do near Port Canaveral, it's hard to resist a day at the nearby world-famous parks. Especially if you're going on a Disney Cruise!
While they're not around the corner from the Port Canaveral cruise port terminals, it's not far.
Depending on where you're going and what time of day (because of inland, Central Florida traffic) you can reach Epcot in around an hour or the Magic Kingdom in less than an hour and a half.
The theme parks are approximately thirty minutes away from Orlando International Airport (MCO) if you're flying in or out of there before or after your cruise.
Look for discounted tickets to the parks on Undercover Tourist, the only reputable discount ticket website we know of.
➜ Buy Discounted Theme Park Tickets on Undercover Tourist


Restaurants Near Port Canaveral
Third Culture, in Titusville
The food here was our favorite in the area, and we loved the casual atmosphere. The quesadilla was arguably the best we've ever had (we highly recommend the Mojo Pork as your protein option if you get it).
We also enjoyed yucca fries with their homemade banana ketchup, their tacos, and their ice-cold, local draft beer. They have outdoor and indoor seating.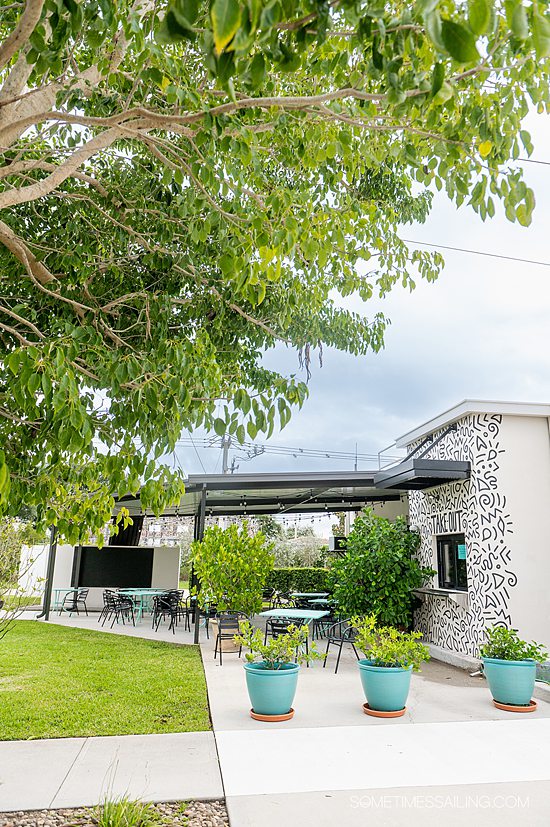 Playalinda Brewing Co. by Brix Project, in Titusville
This is a fun, laid-back place to grab beers or cocktails, a meal, dessert, or any combination of the above. Their outdoor and indoor seating give you options to enjoy the Florida weather or stay inside with air conditioning.
Playalinda Brewing Co. brews their own beers, and we very much enjoyed the variety of beer offered and their presentation for a few playful options, like their Key Lime cider or Birthday Cake lager. They covered the glass rim in Cool Whip with either graham cracker crumbs or sprinkles, according to which of the two you ordered.
Be sure to try their housemade Root Beer, which was delicious. They also have a full bar to make cocktails.
Their appetizers and entrees portions were very large so order accordingly. We loved the Buffalo Cauliflower and Buffalo Chicken Sandwich. The Beer Cheese Soup was really good too.
We had high hopes for the carrot cake dessert, but it wasn't great; next time, we'd opt for something else. Yet overall, we can't wait to go back!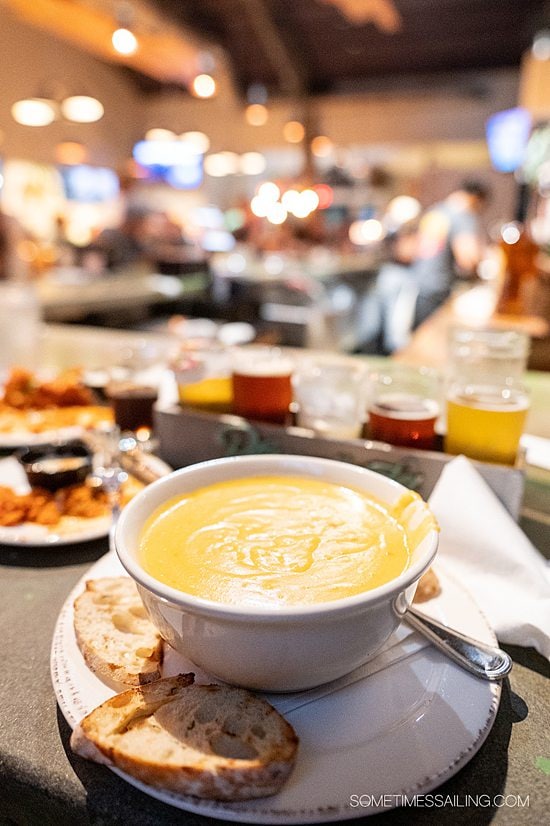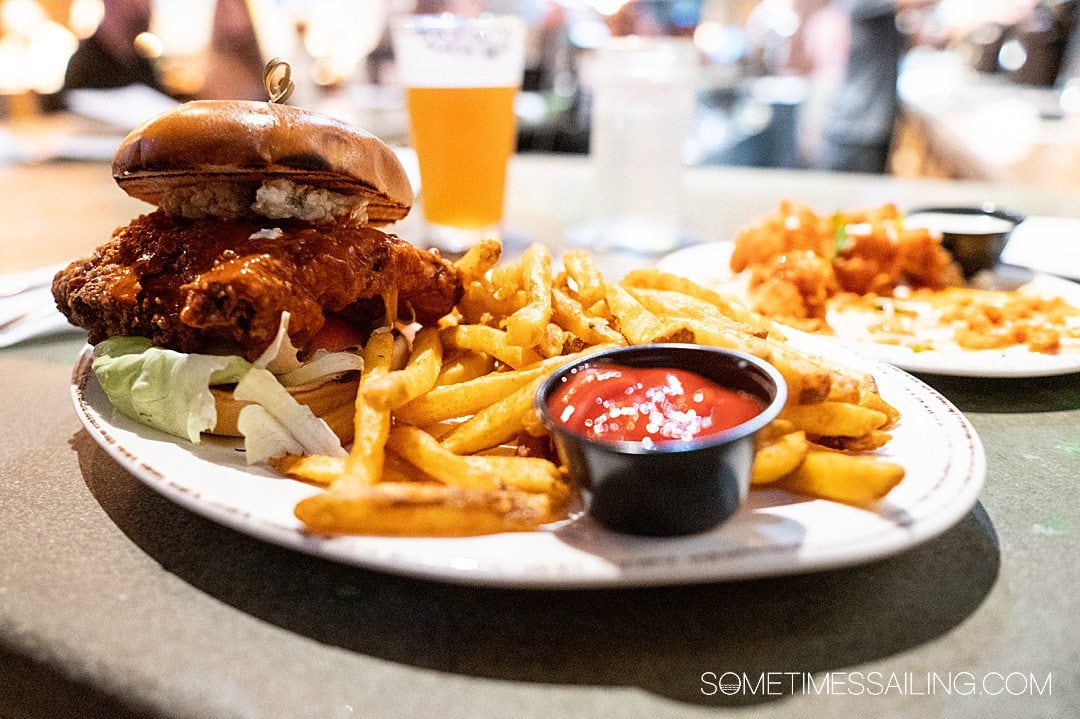 The Space Bar
On the 7th floor of a nearby hotel is a venue called "The Space Bar." This rooftop bar and restaurant at the Courtyard Marriott hotel in Titusville has awesome views across the Indian River over to where the shuttles and rockets are launched at Kennedy Space Center, which is on Merritt Island.
The Space Bar has cocktails inspired by space, food like nachos, flatbread pizzas and sandwiches, and desserts.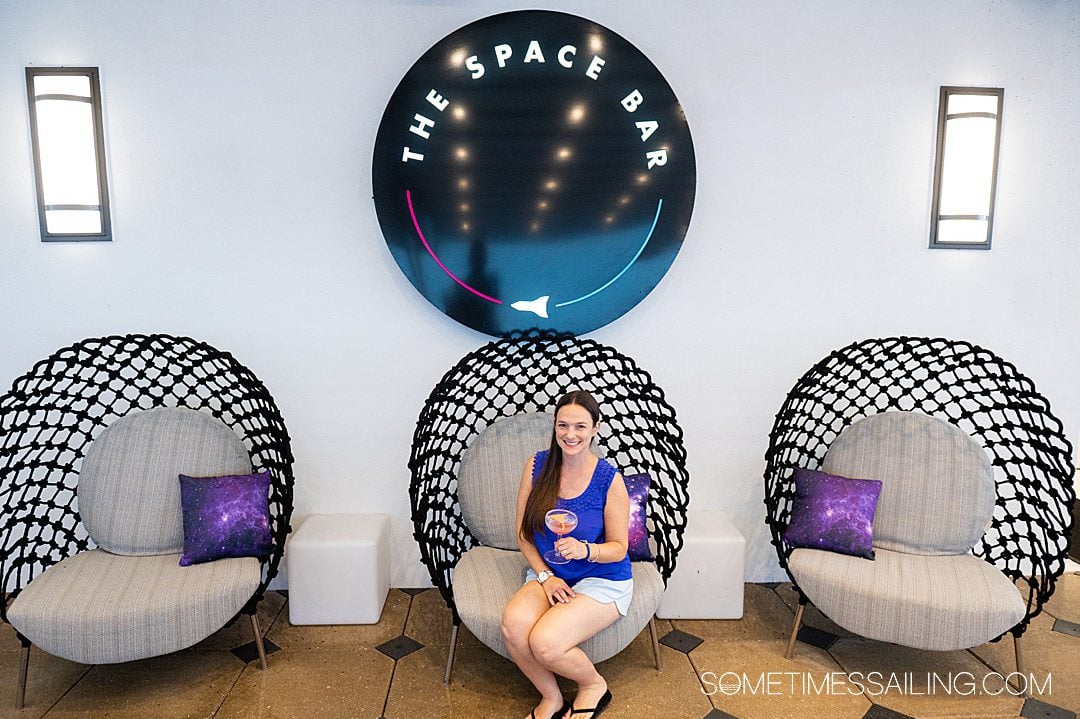 It's a fun place to go to gaze out over the water to see the beautiful waterfront views, whether or not there is a space launch. But it's a particularly awesome place to watch a space launch if you're lucky enough to be in the area when systems are "go" for launch.
There is an elevator that goes directly up to The Space Bar when you enter the hotel doors, just next to the wall that astronauts have autographed. Beyond that is the check-in desk, where you'll find a television screen with the launch schedule.
That television screen is manually updated, so we found that the Next SpaceFlight app was more up-to-date. The app also shared great information about launches being scrubbed or green-lit at any given time.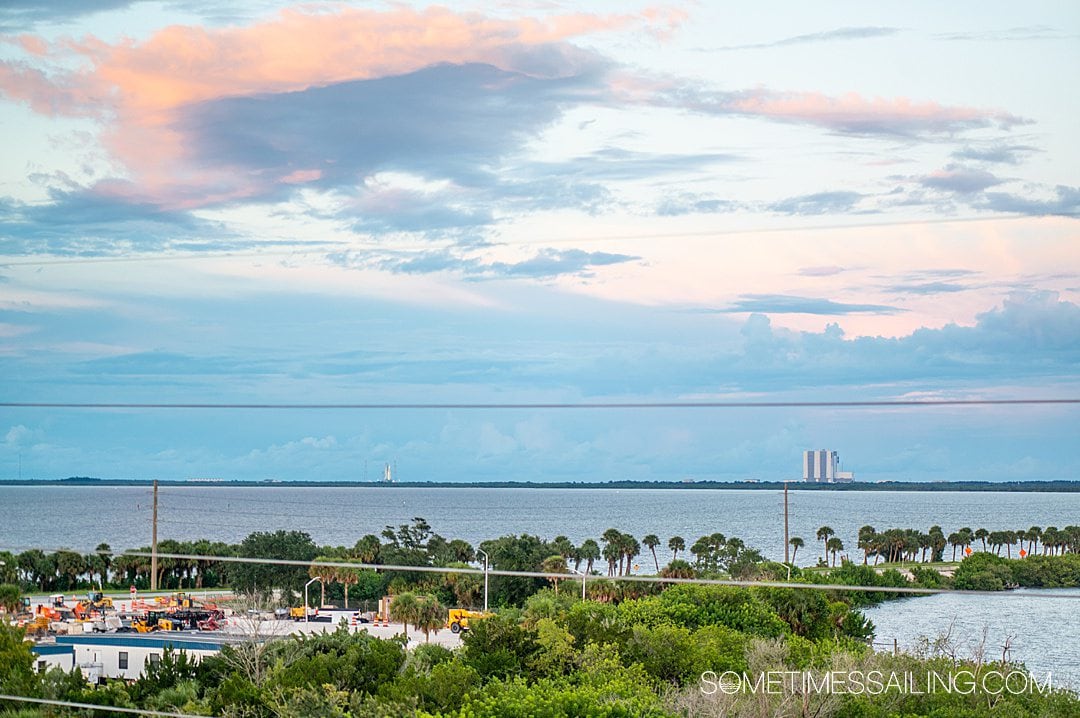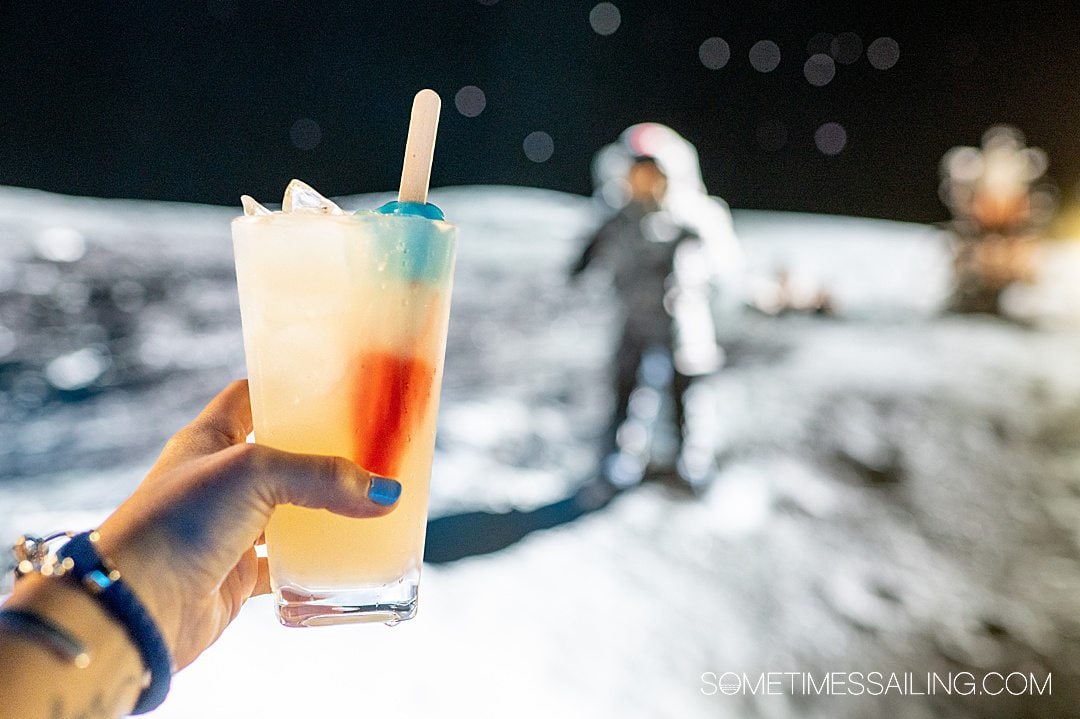 Some Sample Itineraries of Things to Do Near Port Canaveral
Using the activities and the restaurants we listed above, we provide various itinerary options below, whether you have a half day, a full day, or several days.
Things to Do Near Port Canaveral if You Only Have Half a Day
Beach Lovers: Half-Day Option 1 in Cocoa Beach
Explore Cocoa Beach: have a meal downtown, then walk around to see the murals, go shopping at the largest surf shops in the world, and put your toes in the water/sand/beach
Head to Cocoa Beach Pier
Get a drink or ice cream by the beach
Downtown Cocoa Beach is a 15-minute drive south of Port Canaveral.
History and Museum Fans: Half-Day Option 2
Head to the Titusville area to go to American Space Museum, Space Walk
Have lunch or dinner at Third Culture (they also have weekend brunch)
Explore Valiant Air Command Warbird Museum
Titusville is a 35-minute drive north of Port Canaveral.
Breakfast or Lunch with a Half Day Near Port Canaveral
If you are spending half a day in the area, we recommend a meal on land in the Port Canaveral/Cocoa Beach area.
If you're eating lunch on the cruise ship, get breakfast in the area, like at any cute restaurant in downtown Cocoa Beach.
For breakfast in downtown Cocoa Beach, try:
If you're doing a half day in the area after you disembark a cruise, you should get lunch in the area, assuming you ate breakfast on the ship before disembarking. In this case, you'll have more time to explore the area and can head north to Titusville if you like or stay closer in Cocoa Beach.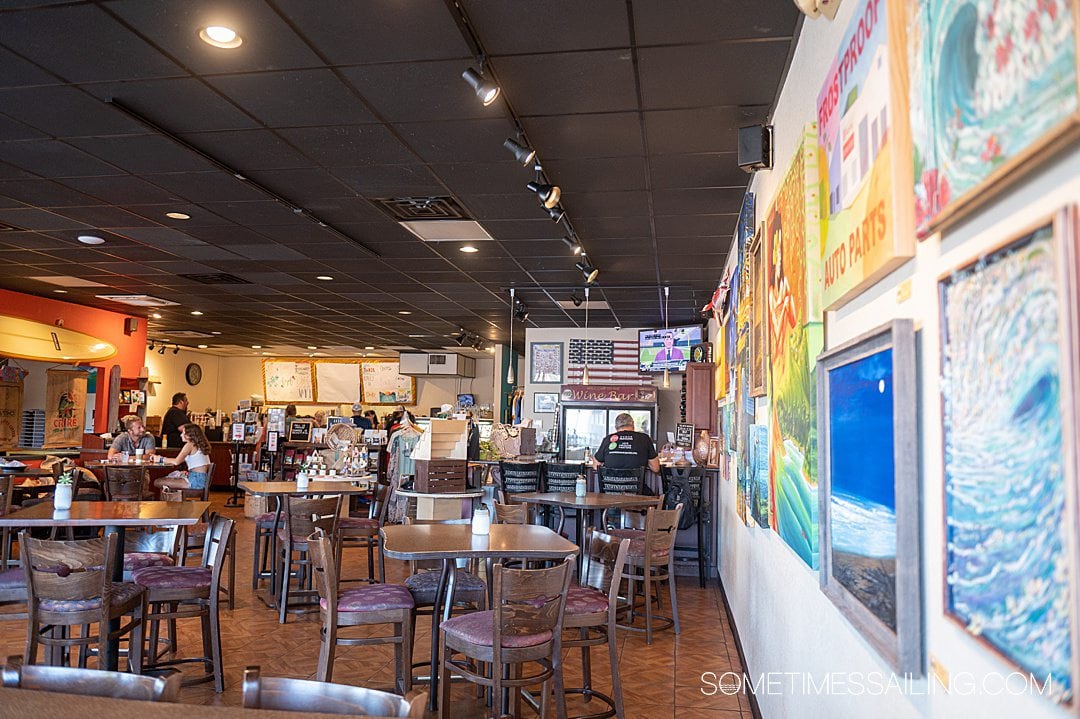 Here are a few lunch locations on the Space Coast we recommend: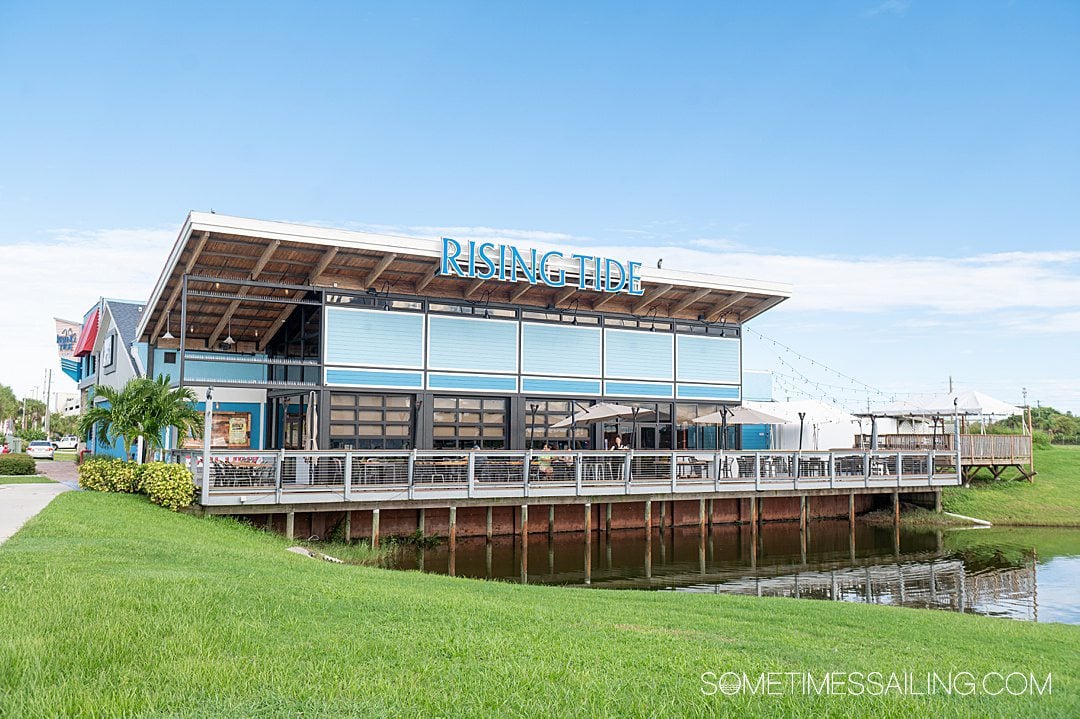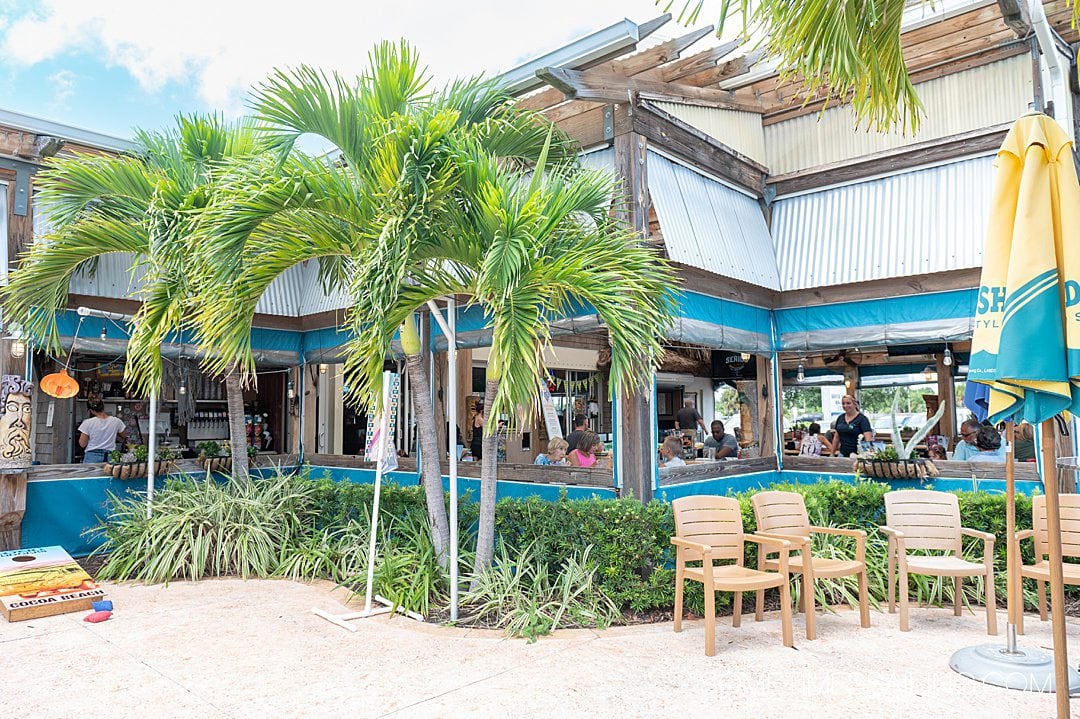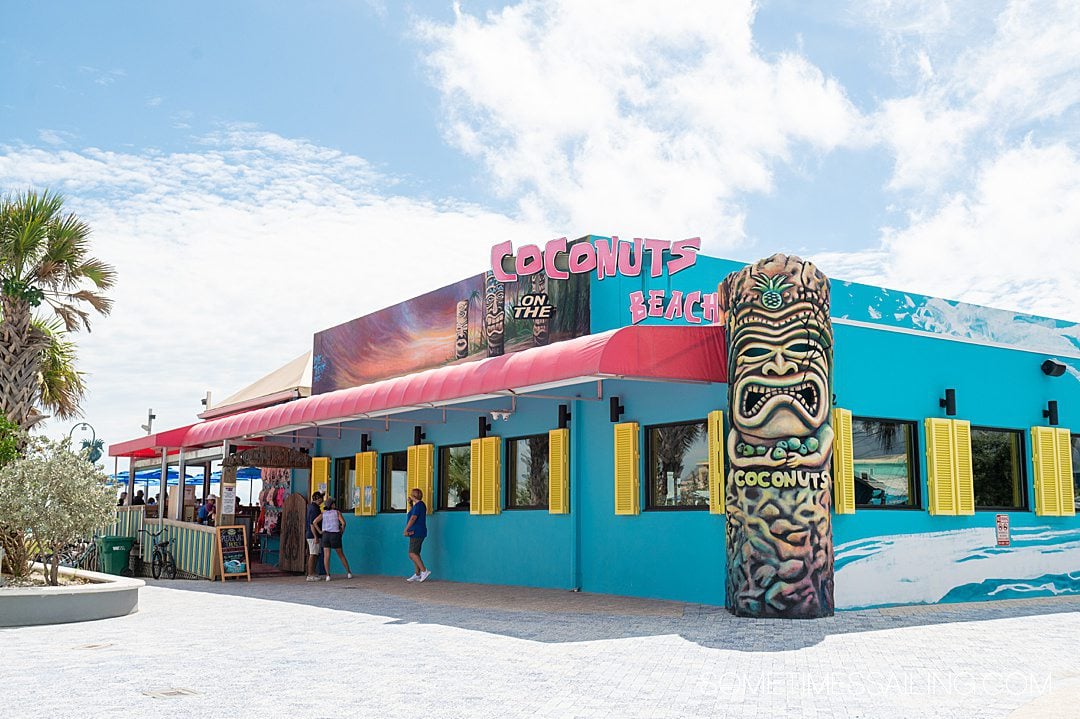 Full Day of Things To Do Near Port Canaveral
There's a ton to do in the area, so if you've decided on a full day on the Space Coast, we pat you on the back for a great decision!
A full day in the area can go one of three ways:
Spend the entire day at Kennedy Space Center.
Drive to Orlando and have fun at a theme park for the day.
Participate in Space Coast activities to maximize the locations you visit and the things you experience.
🚀 Buy Discounted Tickets to Kennedy Space Center
Full day of Space Coast Activities
See the vintage airplanes in the hangars at Valiant Air Command Warbird Museum.
Check out the Wizard of Oz Museum.
Head to Cocoa Beach: enjoy the ocean and sand, check out the surf shops, and have a drink, meal or ice cream downtown. Don't forget to check out the murals downtown, too, and maybe even sign up for a one-hour surf lesson.
Learn about the history of space exploration at the American Space Museum. Afterward, head to the nearby Space Walk to see the monuments along the Indian River, looking out to the Kennedy Space Center launch pads.
Stop by the rooftop Space Bar for a meal, drinks, dessert, or all of the above. There's a great view of the Kennedy Space Center launch pads from there too, and you just might get to see a launch!
Don't miss the opportunity to have breakfast, lunch, or dinner at one of the places we suggest above, in the half-day locations section, and detail below.
Things to Do in Port Canaveral if You Have an Overnight and Two or More Days
Two Days of Things to Do Near Port Canaveral Before or After a Cruise
One day at Kennedy Space Center
One day exploring the Space Coast area
Three Days or More
At least one full day exploring the Space Coast
One to two days at Kennedy Space Center
Day trip to Walt Disney World or Universal


Where to Stay Near Port Canaveral
If you can stay overnight, we highly recommend it. Here are two options to book.
Space-Themed Courtyard Marriott in Titusville
We stayed at an amazing hotel there with a space theme that overlooked the shuttle and rocket launch pads from a safe distance.
The hotel was the Courtyard Marriott in Titusville. We had the best time there! It's where The Space Bar is, which we mentioned above, where you can see launches from their rooftop bar area.
The rooms have very small but significant space details, like a little astronaut projector for a starry sky at night if you choose to turn it on and a galaxy background behind the beds. A planets book was in our room along with binoculars to see across the river to the Kennedy Space Center launchpads.
The hotel lobby has a screen with the upcoming space launches and an astronaut statue that's a perfect photo opp. They have a great gym and awesome pool and have onsite laundry if you want to wash your clothes before or after your cruise.
We wrote about our space hotel experience in its entirety here.
➜ Book Your Space Hotel Overnight in Titusville 🚀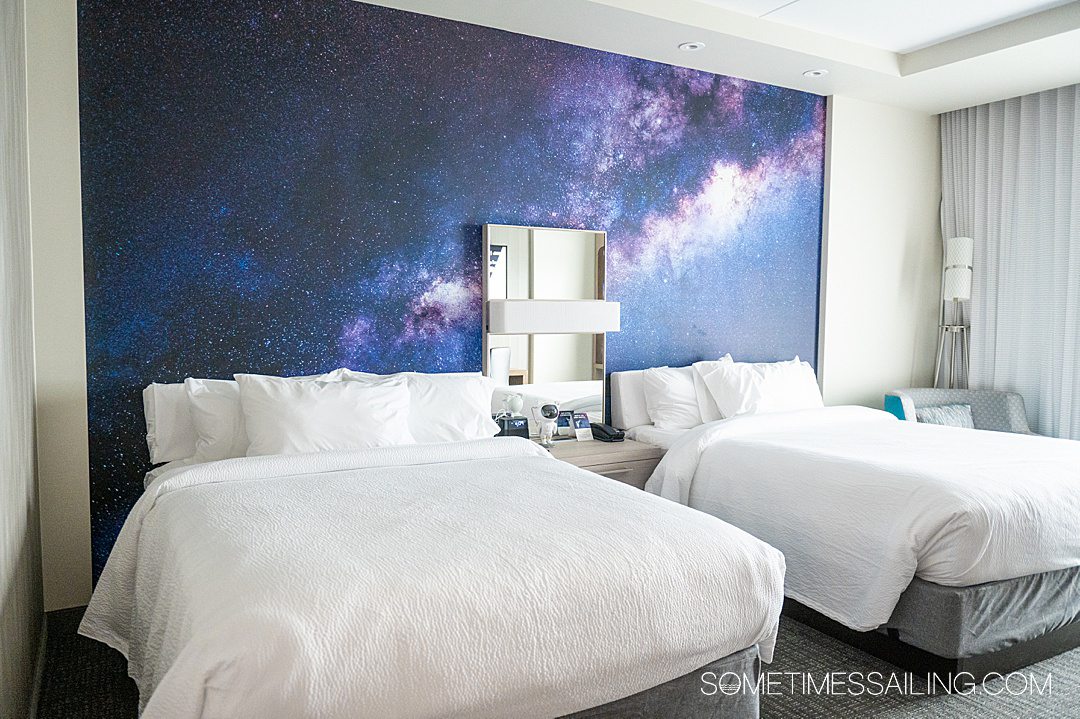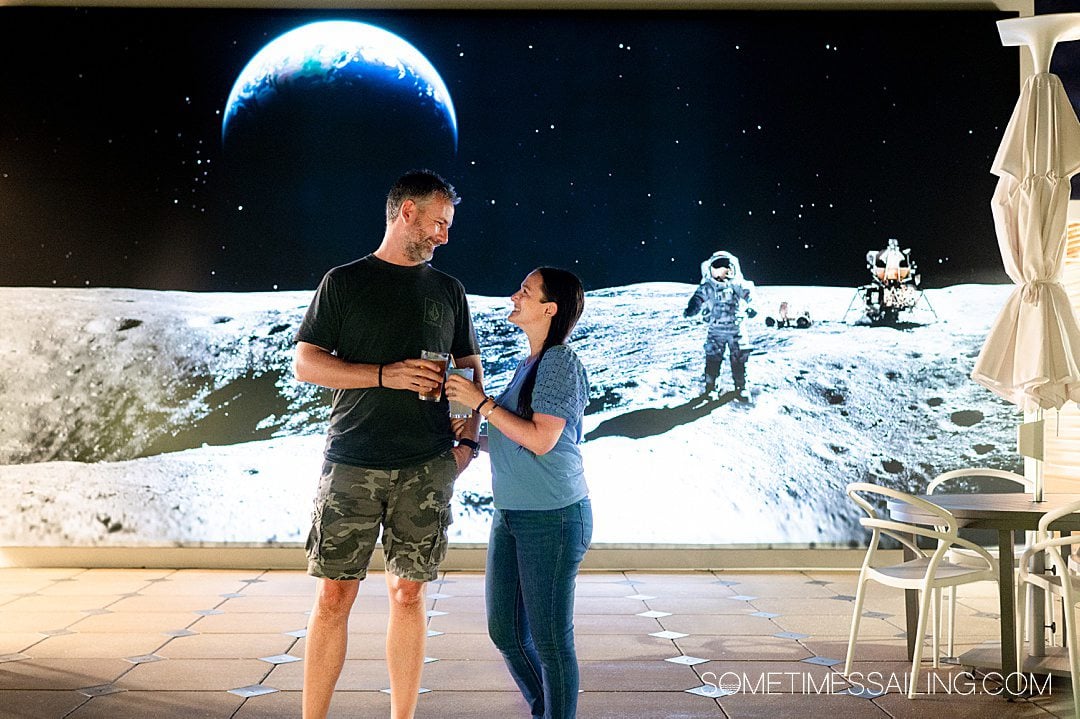 Four Points Cocoa Beach with Surf Touches
You'll find the Four Points inside Cocoa Beach Surf Company. The bar and the hotel lobby adjoin to the store, where there is an impressive 5,600-gallon tropical fish tank. When we were there, we saw a huge green and gray eel inside and small sharks!
The hotel restaurant and bar is Shark Pit and Grill, which has happy hour specials on appetizers and drinks, and offers hand-tossed pizza.
The hotel is conveniently located near the beach, Port Canaveral, and Kennedy Space Center. They have onsite laundry, just in case you need to wash clothes after your cruise.
➜ Book Four Points Cocoa Beach 🏄🏽‍♀️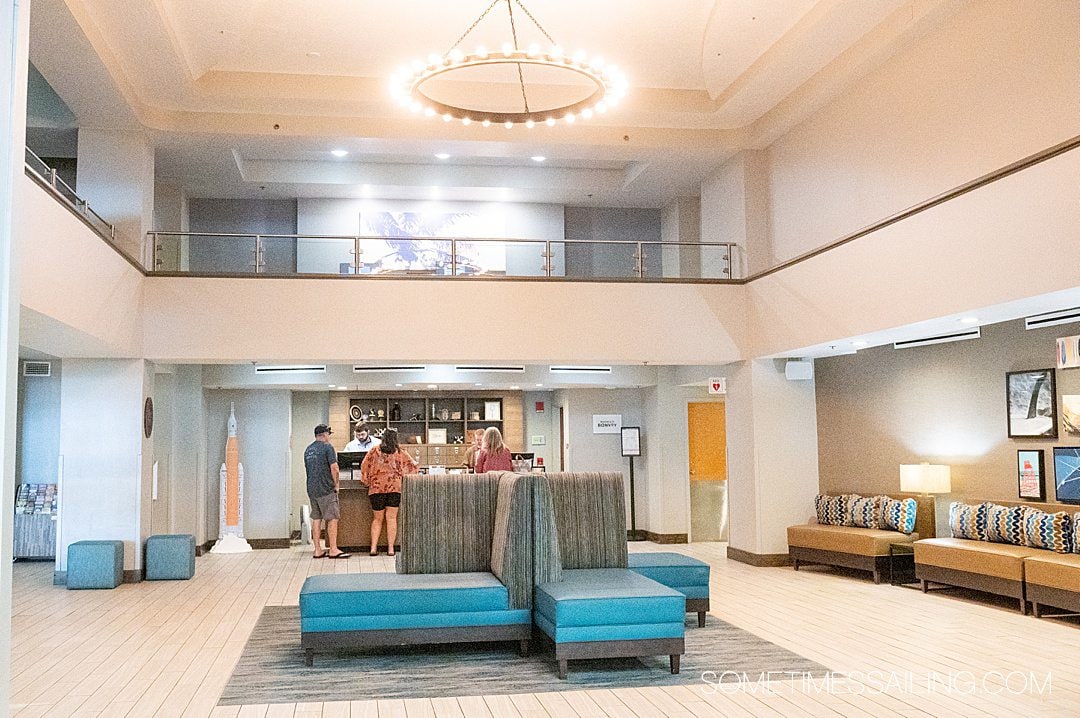 Renting a Car from MCO (Orlando Airport)
If you want to rent a car and drive east from Orlando to the Cape Canaveral/Port Canaveral area, we recommend Discover Cars. This could be the best course for your family no matter if you're at the airport, Walt Disney World, Universal, or SeaWorld, for example.
Sometimes it's easiest to rent a car from Orlando for a week or more, even if you're going to be parking at the port for a few days. The math often works out in your favor to have the car paid for more than seven days and have a minimal parking charge for a 3-night Disney Cruise, for example. This is because car companies give you a better price per day if you're renting more than seven days.
🚙 Check Prices on DiscoverCars.com and Reserve Your Car of Choice Today
Renting a Car in the Port Canaveral & Space Coast Area
If you're going to be in the area for a few days, you will want to consider renting a car from Cape Canaveral. Check Kayak.com for the best deals and options during your vacation.
There is no rental car pick-up or drop-off at the port, so this is only a great option if you need to be transported from one area to another, like from Cocoa Beach to Titusville, during your time there.
Renting a car will allow you to efficiently move around the Space Coast and maximize your vacation time and activities.
Cruise Transfer Options in Port Canaveral
If you have spent a few days on the Space Coast before your cruise, then need a transfer between Port Canaveral and MCO airport directly after, book this private car service.
Note that this is not for transfers within the Space Coast area. It's only for a transfer from Port Canaveral to the airport.


Good Rainy Day Activities Near Port Canaveral
Florida can be a little rainy, especially during hurricane season. Of the Space Coast activities we've included in this post, we want to point out great activities if it's raining. There is plenty to do there, so don't be shy about going out to explore, no matter the weather.
Wizard of Oz Museum
American Space Museum
Browse the surf shops
Valiant Air Command Warbird Museum
Light rain: Kennedy Space Center (you have to walk between buildings there so it's not a great place if it's pouring, but light rain will be fine there)
Don't miss the great indoor places to dine and drink in the area, including Third Culture, Playalinda Brewing Co, and Rising Tide Tap & Table.


Conclusion
There are so many awesome things to do near Port Canaveral that you shouldn't think twice about extending your vacation before or after your cruise to explore Florida's Space Coast for a few days.
From museums to beaches, delicious restaurants, and space travel, there is something for all ages preferences, and no matter the weather.