Ship-within-a-Ship Cruise Options: Luxury Service on Big Cruises
How do you get the luxury and guest-to-crew ratio of a small ship experience but on a larger cruise? The answer is simple: a ship-within-a-ship cruise class.
Major cruise lines have jumped onboard this special class, especially within the last decade. It's easy to see why it's attractive. It offers cruisers upgraded service and exclusive access while also enjoying the ship's entertainment, dining,g and amenities with the rest of the ship's passengers.
If you want to feel like a bigger fish in the pond of people onboard, or if you want to experience more privacy and service than the average cruisers onboard, ship-within-a-ship options are for you.
Disclosure: This page has affiliate links, meaning we may earn a small commission if you click the link and proceed with a purchase at no cost to you. We recommend cruises, experiences, products, and services we personally use. As Amazon Associates, we earn from qualifying purchases.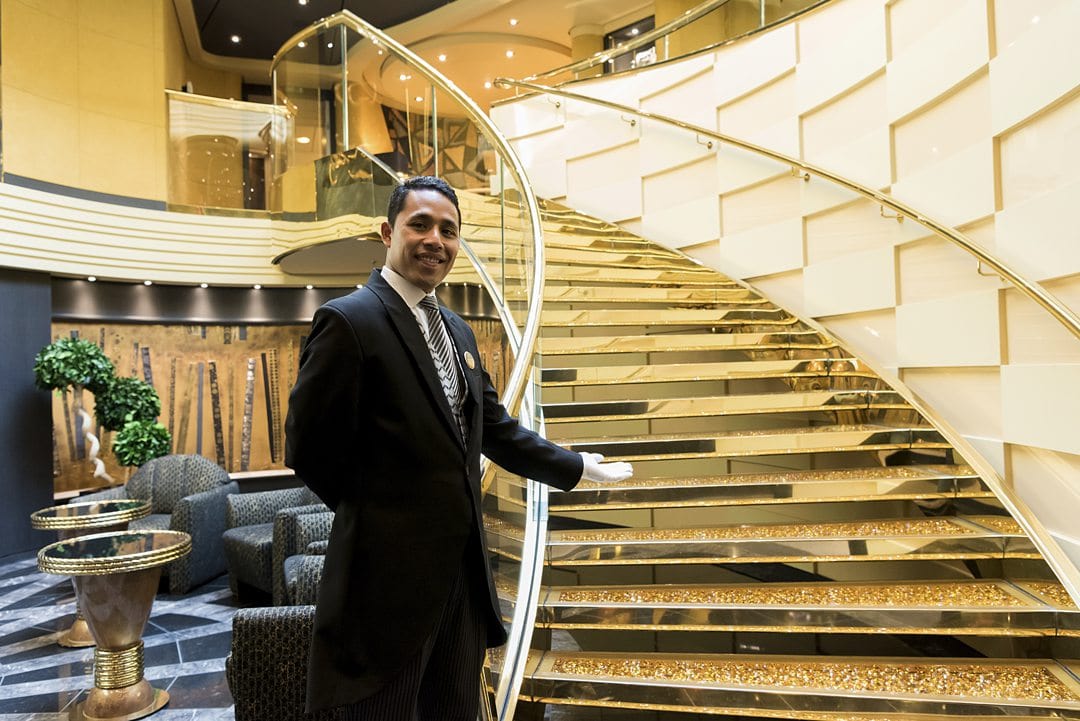 What is a Ship-within-a-Ship cruise?
There's no denying that large cruise ships (including some "mega-ships," as some people call them) can offer cruisers things that smaller ships, like river cruise ships or yachts, cannot. However, if you want multiple restaurants to choose from that are each themed to a specific cuisine, or large-scale stage shows, a casino, ice-skating rink, or a rock climbing wall, for instance, you'll have to cruise big.
Large cruise companies created a fantastic offering that means you can have the best of both worlds in cruising in some ways. Big ships have taken the luxurious and intimate ambiance of small-scale cruises and coupled them with their abundance of onboard offerings, deeming it a "ship-within-a-ship" cruise class.
Though mega-ships can never go into smaller ports that small-ship adventures offer, they have created a nice niche on board for a specific clientele.
Each cruise line has named it something unique to their company to help identify the niche brand within their recognizable cruise name — for example, "Celebrity Cruises The Retreat."
Which cruise lines offer this special cruise class?
The major brands who offer this ship-within-a-ship cruise class include:
MSC Cruises
Norwegian Cruise Line
Celebrity Cruises
Royal Caribbean
Cunard
Disney Cruise Line
While Princess Cruises doesn't have something like The Retreat or The Haven, like Celebrity Cruises or Royal Caribbean have, they have their MedallionClass. The device that works with the Princess Medallion class does make it feel like a special experience in its own way.
General perks of Ship-within-a-Ship cruise class
Precise details of each cruise line's ship-within-a-ship offerings differ. However, here are some perks you can generally expect if you choose to book this category:
Early boarding
Beverages included
Included Wifi
Separate and more private dining areas
Butler service
Priority seatings and bookings
Price point for this elevated cruise class
It's nearly impossible to quote exact prices for ship-within-a-ship cruise concepts. This is because each cruise sailing varies, no matter the cruise category you choose. This is affected by the length and location of the sailing, the cruise line, where your stateroom is on the ship, etc.
However, overall, guests can expect to pay a premium for premium service. Below, we've done our best to give you a general idea of what each experience will cost.


MSC Cruises: Yacht Club
MSC's offering is their "Yacht Club." Guests need to be staying in one of the Yacht Club suites to be part of the ship-within-a-ship cruise with MSC. (In other words, the Yacht Club services are not something that guests can add as an upgrade to a different type of stateroom.)
Suites on the MSC Seashore, for example, which sails to the Bahamas and the Caribbean from Miami, range from 226 square feet to 1,059 square feet in the Owner's Suite. Overall, about 4% of the people onboard MSC Seashore can be a part of the Yacht Club; there are only 122 Yacht Club suites onboard out of 2,270 staterooms.
Of those 122, 107 Yacht Club suites have balconies. About 15 of the suites are interior cabins – the rest having outside views. This variety of interior and exterior cabins makes it possible for MSC to offer various price points to guests desiring a Yacht Club experience.
The suites are all located on the ship's upper decks: 16, 18, and 19. The Yacht Club restaurants and exclusive amenities are nearby on the same decks, also towards the front of the ship.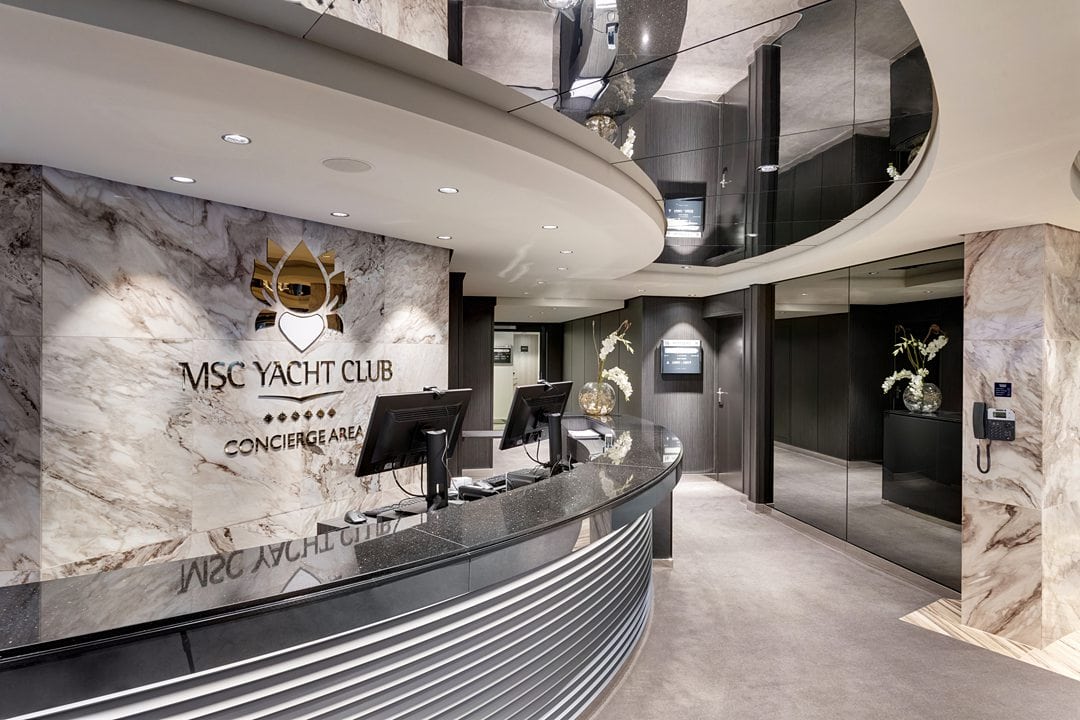 MSC Yacht Club's included services
Priority boarding.
24-hour butler service.
Exclusive restaurant and lounge.
Exclusive pool and hot tubs.
Complimentary drinks.
Complementary wifi.
Complementary access to the Thermal Suite at the Aurea Spa for the duration of the cruise.
Private shopping experiences onboard, with your butler as your shopping escort .
Private shore excursions.
MSC Yacht Club Dining
The Yacht Club on MSC ships is both a cruise category and physical area. Within the Yacht Club, there is an indoor Yacht Club Restaurant, an outdoor Yacht Club Grill & Bar, and the Top Sail Lounge, both indoor and outdoor. Those exclusive dining areas are only available to Yacht Club guests and feature sophisticated and unique meals and snack offerings.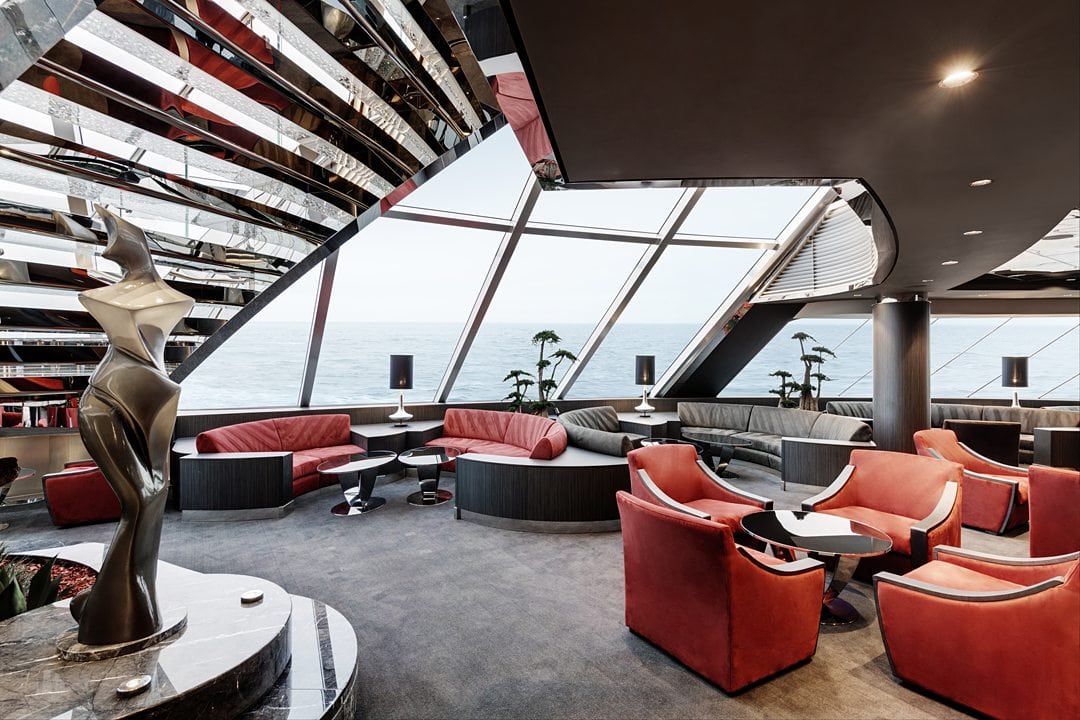 Ships to Experience MSC Yacht Club
Book a cruise on the following ships to experience MSC Yacht Club:
MSC Seashore
MSC Virtuosa
MSC Grandiosa
MSC Bellissima
MSC Seaview
MSC Seaside
MSC Meraviglia
MSC Preziosa
MSC Divina
MSC Splendida
MSC Fantasia
Pricepoint of MSC Yacht Club
The Yacht Club is a good upgrade if you're looking for a ship-within-a-ship experience that won't break the bank. It can average to be as little as $1,400 for a 7-day sailing (approximately $200 a day). When you couple that with the drinks and wifi, alone, that are included for that investment, never mind the upgraded dining, it seems like a no-brainer!
If you keep an eye on their website and search the cruise options frequently, you may even spot some bargains for MSC Yacht Club. If one presents itself, lock it in!


Norwegian Cruise Line: The Haven
The ship-within-a-ship cruise experience aboard Norwegian Cruise Line is called The Haven.
Norwegian's Haven staterooms range in size from 309 square feet for a Deluxe Spa Suite with a Balcony, all the way up to over 6,694 square feet for the 3-Bedroom Garden Villa. (Yes, that's much larger than most people's homes!) The Garden Villa can accommodate up to six guests, and there's even a private hot tub and private dining area.
This is a great way to get that small-ship feeling on a mega-ship with entertainment and amenities far beyond what a small cruise ship can offer.
The Haven suites and its exclusive areas are generally located at the top of the ship.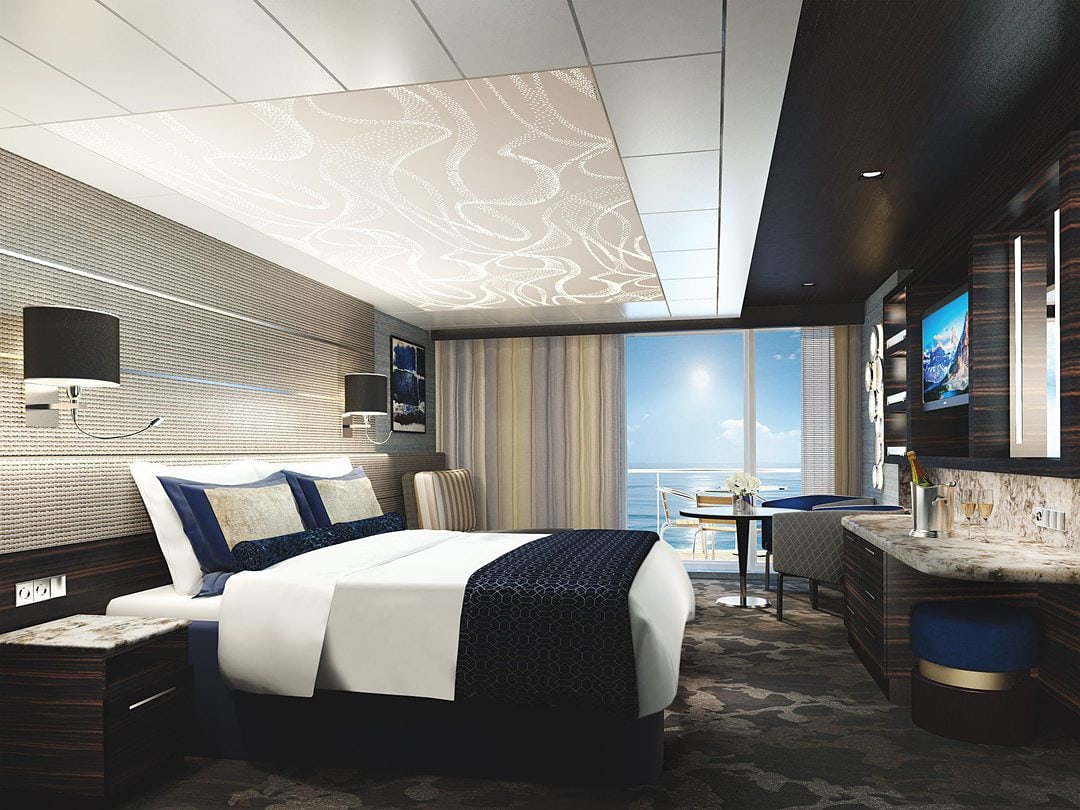 Norwegian: The Haven included services
Here are just some of the included services you get when you book The Haven category on an NCL ship:
Priority boarding for embarkation and disembarkation and at ports of call.
24-hour butler service.
Concierge service for anything from booking exursions to dining.
Exclusive The Haven restaurant and lounge.
Exclusive courtyard and sundeck, reserved for guests of The Haven, which includes an area with a private pool, hot tub and fitness area.
In-room dining with white tablecloth service.
Evening turndown service and treats delivered to your suite each night.
Luxury bath products and fine linens.
Invitation to exclusive cocktail parties.

Priority restaurant reservations and entertainment seating

.
In-room bathrobes, slippers and oversized towels.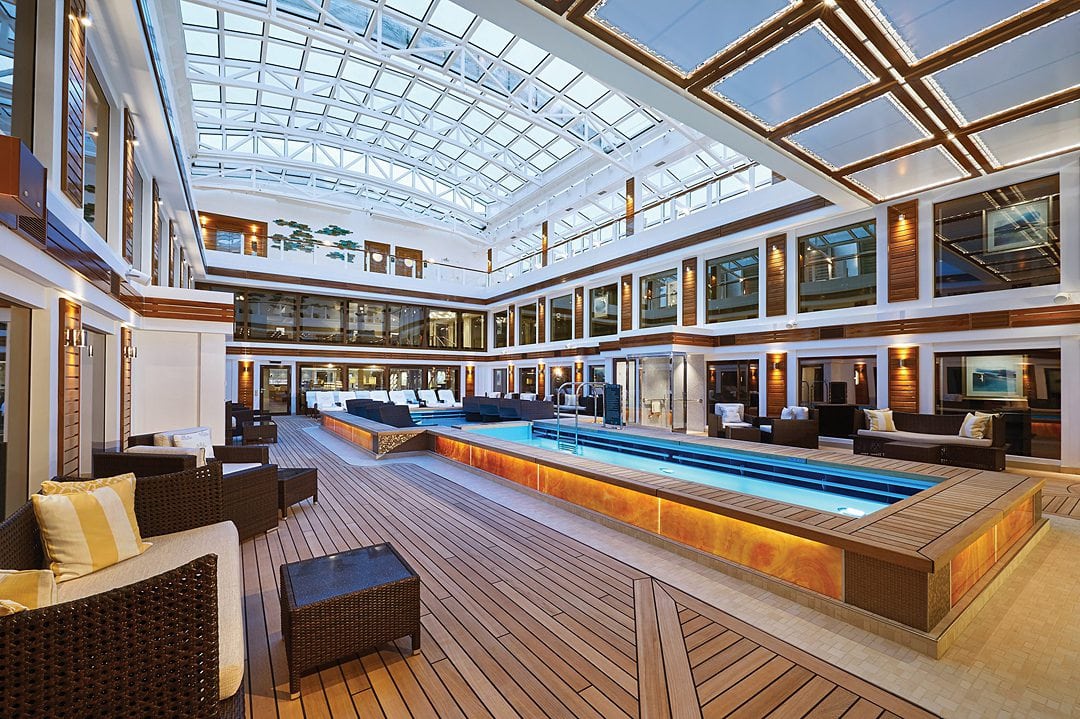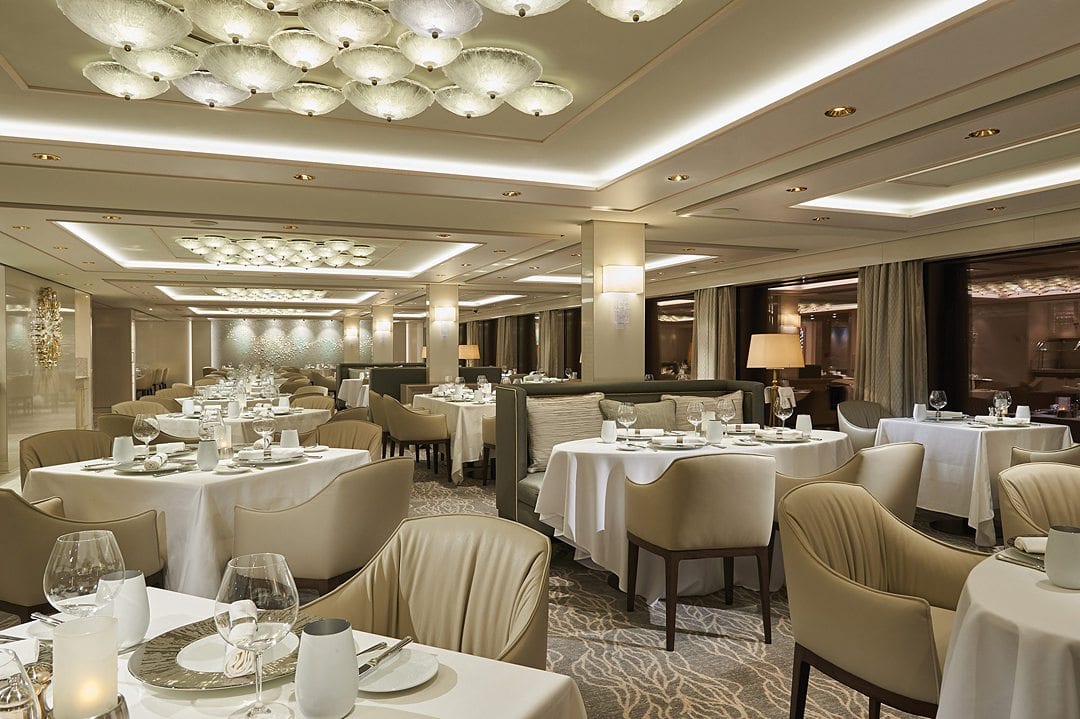 The Haven Dining
Guests of The Haven have the option to dine at an additional restaurant that other guests on the ship cannot go to unless they're part of NCL's ship-within-a-ship category. This special dining option is The Haven Restaurant. On Breakaway and Breakaway Plus class Norwegian ships, there is a special lounge and bar area for The Haven as well.
The Haven Ships
The Haven is offered on Norwegian Cruise Line's newer ships. This includes the following nine vessels:
Norwegian Escape
Norwegian Getaway
Norwegian Breakaway
Norwegian Epic
Norwegian Gem
Norwegian Jade
Norwegian Jewel
Norwegian Bliss
Norwegian Pearl
Pricepoint of The Haven
In general, The Haven costs about double or triple what a balcony stateroom or club balcony suite costs for the same sailing. However, exact prices depend on the cruise, which often varies with availability depending on your search.
For example, a 7-day Caribbean cruise that costs $700 for an inside cabin or $935 for a balcony, costs $3,000 for The Haven.


Celebrity Cruises: The Retreat
Celebrity Cruises offer modern ships that appeal to all ages, but particularly adults with a penchant for modernity on a luxury cruise line. The Retreat is a resort-within-a-resort, of sorts, taking the ship-within-a-ship cruise concept to a new level.
After you take a plunge in your private Retreat-only pool you can relax in your Celebrity Suite and call upon your dedicated Personal Retreat Host to deliver champagne.
Suites range from 319 square feet with an additional verandah for a Sky Suite, to Iconic Suites with two bedrooms and two bathrooms, which are 1,892 square feet. They also include a verandah that's bigger than most staterooms onboard, at 689 square feet, that has its own private hot tub.
💻 Read our Extensive Review of The Retreat on Celebrity Apex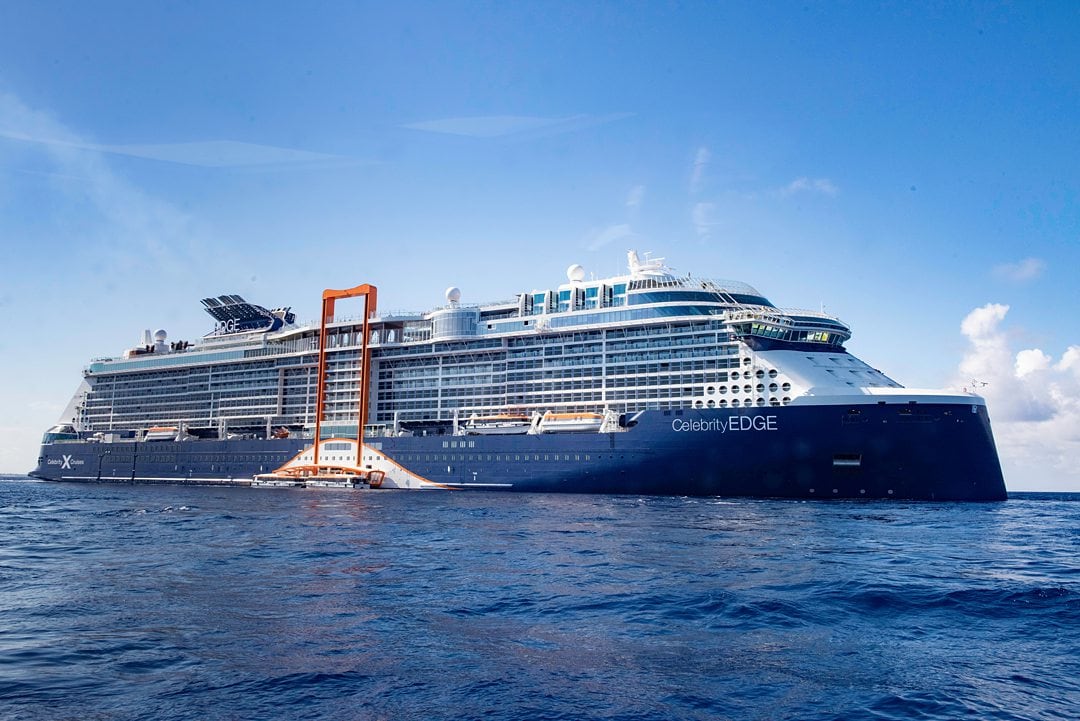 Some included benefits of Celebrity Cruises The Retreat
Priority check-in, departure, and port tendering/boarding
Upgraded bedding
Upgraded bath products
Premium drinks
Included wifi
A credit for shore excursions
Onboard credit to use how you choose (which equates to anywhere from $200 to $400 per person, depending on the length of your cruise)
Prepaid gratuities
Pre-cruise concierge, available in days leading up to the cruise before you board
Reserved theater seating
Access to The Retreat Sundeck (available on Edge Series and Revolutionized ships – unavailable on Celebrity Solstice, Eclipse, Reflection, Constellation, and Infinity), cabanas, and hot tubs
Entry to The Retreat Lounge (or Michael's Club, on non-revolutionized ships)
Access to The Retreat private restaurant, Luminae
Complimentary beverages at The Retreat Lounge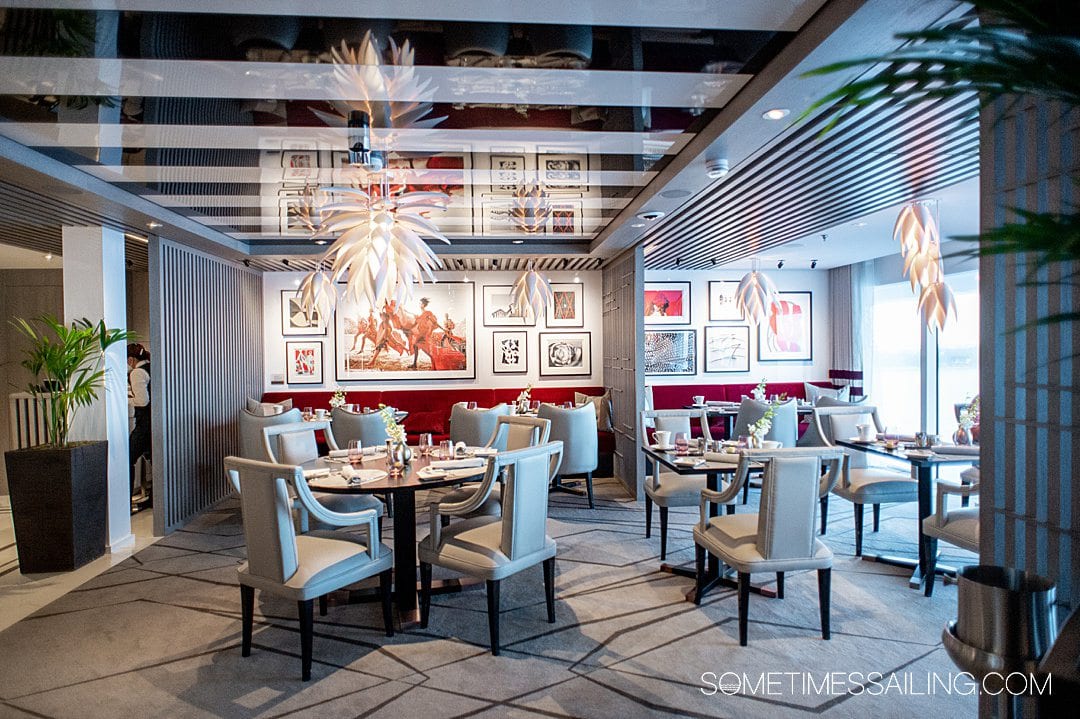 The Retreat Ships
The Retreat is available on all Celebrity Cruises ships listed below:
Celebrity Apex℠
Celebrity Beyond℠
Celebrity Constellation®
Celebrity Edge®
Celebrity Eclipse®
Celebrity Equinox®
Celebrity Infinity ®
Celebrity Millenium®
Celebrity Reflection®
Celebrity Silhouette®
Celebrity Solstice®
Celebrity Summit®
It's also available on the following Celebrity Galapagos Expedition Series ships:
Celebrity Flora®
Celebrity Xpedition®
Celebrity Xploration®
Pricepoint of Celebrity Cruises: The Retreat
The entry price for The Retreat with Celebrity Cruises depends on what itinerary and location you're booking. For instance, pricing for a 7-day Caribbean cruise with The Retreat starts at just over $2,200 but for an Alaskan cruise, it's over $6,000. Expect to pay in the thousands, as is typical with any ship-within-a-ship cruise experience.
Check out our extensive review of The Retreat and find out all the reasons why we loved it!


Royal Caribbean: Royal Suite Class
Royal Caribbean has an option for the Royal Caribbean International's Suites Program on their ships. However, the Royal Suite Class is an upgraded option beyond their International Suites Program that is available on 10 of their vessels (they have over 25 ships in their fleet, total).
As the cruise line exclaims on their website, Royal Suite Class "embodies the best in luxury travel." Guests can choose from three tiers of this ship-within-a-ship cruise option. Their Sea, Sky and Star Suites will give you elite access to luxurious amenities, services, and areas of the Royal Caribbean cruise ships.
Sea Class gives you the least perks, yet more than a "normal" Royal Caribbean stateroom. Such upgrades include priority boarding at your port of embarkation as well as a dedicated check-in line, luxury bath products, and a robe in your suite. But the ultimate in luxury lies in the Star Class.
AShips to Book Royal Suite Class
Currently, Royal Caribbean's Royal Suite Class is offered on 10 ships:
Oasis of the Seas®
Allure of the Seas®
Harmony of the Seas®
Symphony of the Seas®
Wonder of the Seas®
Quantum of the Seas®
Anthem of the Seas®
Ovation of the Seas®
Spectrum of the Seas®
Odyssey of the Seas ®
A taste of what Royal Suite Class's Star Class Category includes
To reiterate, there are three Royal Suite Classes aboard Royal Caribbean ships: Sea, Sky, and Star Suites. Sea Suites offer the least perks and Star Suites the most. The associated cost to book increases with each class. It's important to note that while the Sea Class has some added benefits above the usual stateroom booking, only the Sky and Star Classes have access to Royal Caribbean's Suite Sun Deck area.
Here is some of what the Star Class includes, above and beyond the usual ship-within-a-ship cruise upgrades like luxury linens and priority boarding:
Royal Genie service (a dedicated team member who truly makes the guests of the Star Class feel like celebrities – only available for Star Class, not Sea or Sky).
Complimentary deluxe beverage package.
Included gratuities.
Complimentary mini bar stocked with alcoholic and non-alcoholic beverages.
Pricepoint of Royal Caribbean's Royal Suite Class
There are so many cruise options with Royal Caribbean that it's nearly impossible to put a number on these cruises without looking up a specific sailing. But if you are looking for a Royal Suite Class experience, be sure you're looking for a cruise on one of their ships that offers it. (The 10 ships that offer it are listed above.)
We did a few searches and saw prices anywhere from $2,000 to $12,000 for a 7-night Caribbean cruise, with a starting price that was approximately $1,500 more than an inside stateroom and about $1,300 more than a balcony stateroom.


Cunard Queens and Princess Grill Suites
Cunard rolls out the red carpet for its Grill Suites guests. This company (which mostly sails in the United Kingdom) sends a clear message of luxury and elevated service. For instance, Grills Suites guests are served champagne and chocolates upon arrival and have exclusive access to special areas throughout the cruise.
The Princess Grill Suites are a step below the Queens Grill Suites but still a step above the usual staterooms onboard Cunard ships.
Included services with Cunard Queens Grill Suites
Priority boarding.
Priority disembarkation in ports.
Butler service.
Pre-dinner canapés.
Complimentary in-room bar.
In-room dining from the Queens Grill menu or Princess Grill menu, corresponding to the class you book
Access to Grills Lounge and Terrace (on applicable Cunard ships).
Included drinks package (for cruises 7-nights or longer, and drinks $12 or below).
Included hotel and dining service charges.
Personalized stationery.
Velour robes and slippers.
Cunard Ships offering Queens and Princess Grill Suites
The Grills Suites are offered on all three of their current ships and their fourth planned ship:
Queen Mary 2
Queen Victoria
Queen Elizabeth
Queen Anne (first sailings will be in early 2024)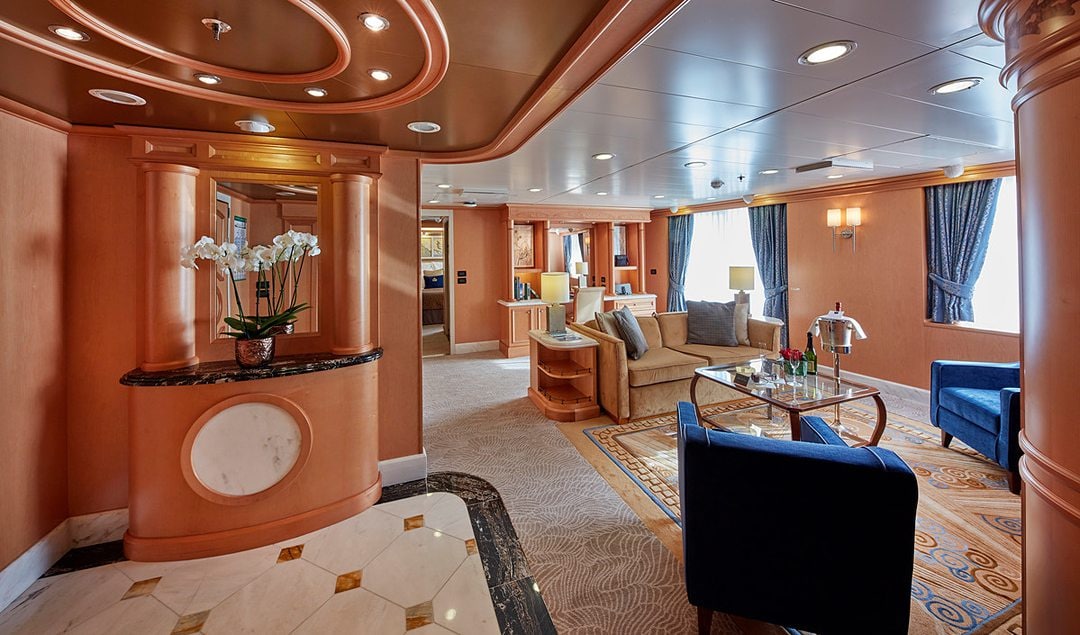 Pricepoint of Cunard's Ship-within-a-Ship class
You can pay as low as $650 for a Grill Suite for a sailing that's just a few days, to upwards of $14,700 for a Grill Suite on a 32-day cruise.
For example, a 4-night cruise from Southampton (UK) to Hamburg (Germany) is $749 for an inside cabin and $1,599 for a Queens Grill Suite.
Grill Suites on a 7-night cruise off the Atlantic Coast and Iberia start at $2,369 per person, while an inside cabin on the same cruise is $755 per person. A balcony room is $971 per person on the same cruise. All that is to say that a Grill Suite, whether Princess or Queen category, will run at least $1,000 more per person.


Disney Cruise Line: Concierge
Disney Cruise Line's Concierge level gives guests special services and early access to the ship, bookings, and more aboard their beautiful cruise ships. Whether you're traveling on DCL as adults-only or as a whole family, you'll enjoy the best Disney has to offer and then some.
Their "ship-within-a-ship" concept doesn't necessarily equate to many private areas beyond the concierge lounge and a sun deck. Still, it does provide a white-glove service in other areas that are valuable to those desiring special treatment attached to the Disney name.
If you book a suite at their concierge level, the DCL world opens up to you for even more luxury and priority services beyond the minimum of what Disney is well known for.
Concierge suites are on Decks 11 or 12 on the Disney Fantasy and Disney Dream and Decks 8 and 10 on the Disney Magic and Wonder. On the Disney Wish, Concierge suites are found on Decks 10, 11, 12, and 13, with limited 2-level suites, including the incredible Concierge Wish Tower Suite.
Overall, Disney Cruise Line's concierge-level suites provide more square footage than their regular staterooms. They have custom finishings like teak wood details, crown molding, custom fabrics, and more aboard Disney Magic.
Disney Cruise Line's Concierge suites are offered on all of their Disney Cruise Line ships (but not aboard Adventures by Disney river cruises.)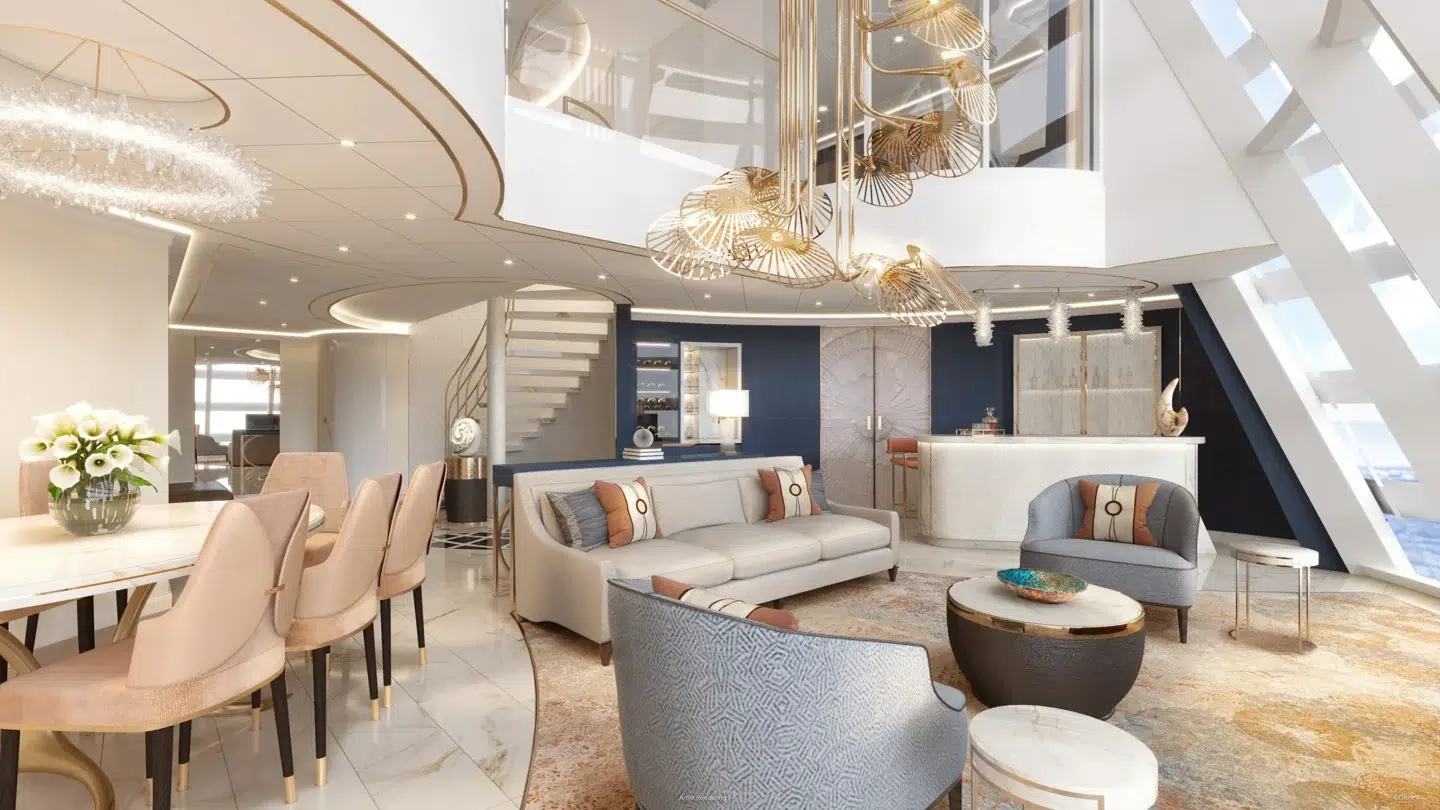 What's Included with DCL's Concierge Level
Requests for onboard activities and services start 125 days out (whereas other guests are usually only able to book 90 days out, depending on the length of their cruise).
Dedicated Concierge Services Specialist, available Monday through Saturday for pre-trip planning before you board.
Priority boarding when you check-in to embark.
Upgraded pillow options (choose from hypoallergenic, feather or therapeutic memory foam).
Feather duvet covers in the main bedroom.
Custom robe and slippers for onboard use.
Complimentary wifi up to 100MB.
The Concierge Lounge has complimentary food and nonalcoholic beverages throughout the day.
Sun deck, which is accessible for Concierge guests via a private entrance where there are cooling water misters, cushioned lounge chairs, and a bar stocked with water and refreshments.
Pricepoint of Disney Cruise Line's Concierge Level
Generally speaking, Concierge suites start at double what a verandah stateroom costs on a Disney Cruise Line sailing. For example, an Oceanview cabin on a 5-Night West Caribbean cruise from the Port of Miami, Florida is $2,525, and a verandah stateroom is $3,125, for two guests.
But concierge suites for the same cruise start around $6,600. Often concierge-level costs more than that, depending on the cruise dates and itinerary. (We've seen upwards of 3xs the cost of a verandah room.)
➤ Interested in booking a Disney Cruise? Contact our favorite Disney Travel Advisor, Becca Magnusen, and mention Sometimes Sailing sent you! Her email is: beccaplansvacations (at) gmail (dot) com


Going on a cruise? Also check out: