River Cruise vs Ocean Cruise: What's the Difference?
Going river cruising and ocean cruising are similar in that you're on a boat on a water body. Of course. Yet the similarities are far less than compared to their greater differences. It's more common that people have been on ocean cruises or use that as a gateway to start cruising – but people very often ask us about our river cruise experiences because they're less common.
We're often asked to compare river cruise vs ocean cruise experiences as river cruise fleets grow, and curiosities are piqued. Here we list several important things to consider when thinking about what's right for you.
Disclosure: There are affiliate links in this post, which means we may earn a small commission if you click the link and proceed with a purchase, at no cost to you. We truly only recommend hotels, products, and services we personally use. As Amazon Associates, we earn from qualifying purchases.


River Cruise vs Ocean Cruise: Port and Ship Size
The most staunch difference is easy to identify as you approach the port or dock at your embarkation point. River cruise ships are large – perhaps between 300 to 400 feet in length on average – yet they're small enough to fit on a river, as their name indicates.
A river cruise ship is smaller and only needs a small area to dock and post up. A place like the Amsterdam River in The Netherlands, or the Danube River in Budapest, Hungary, or Mekong River in Hanoi, Vietnam, are the kinds of ports you can expect to board from or where you'll end your river cruise.
You'll delight in these small port destinations if it's your first time on a river cruise.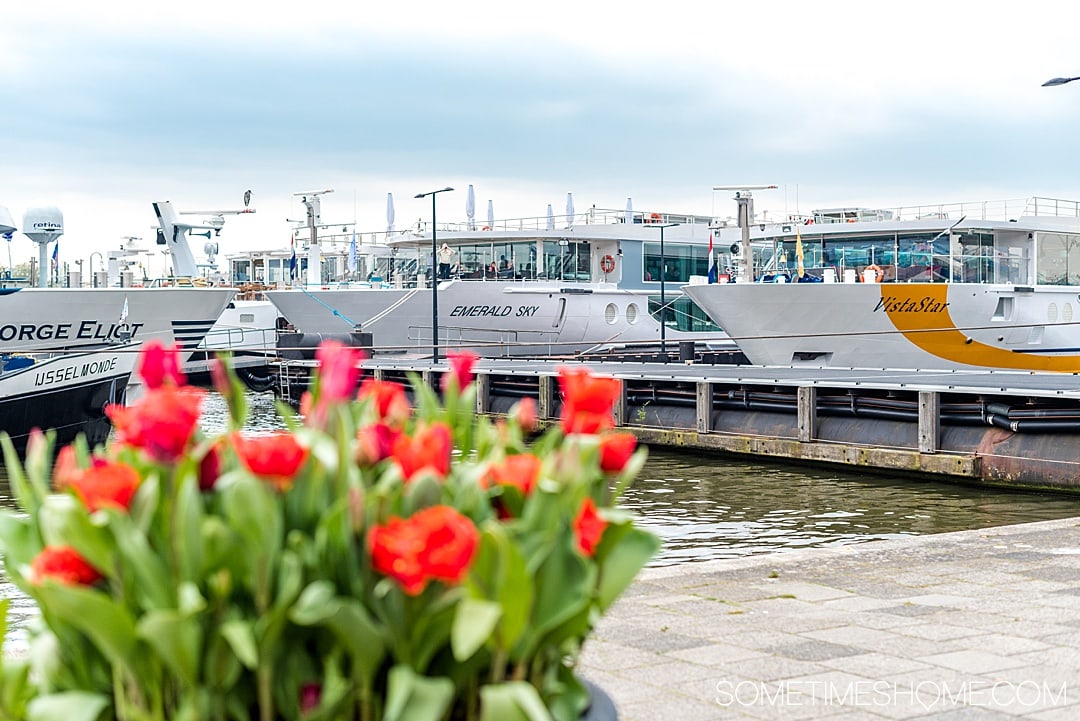 Ocean cruises are much, much larger. They seem completely massive as you approach large cruise terminals.
A cruise ship that sails on the ocean will likely be over 1,000 feet. That difference is about 600 to 700 feet from river cruise ships. Or, over three times as large not just in length but in height too. While river cruise ships or usually only about 4 decks tall, it's common for ocean cruise ships to tower beyond 10 to 12 decks.
Due to the ship size, ocean cruise ships need large ports of call to accommodate them. (And the size of ocean cruises ships can be huge.) Some of the most popular terminals in the United States are in Miami, Fort Lauderdale, Tampa, or Port Canaveral in Florida on the east coast.
Charleston, South Carolina, and even New York City also have terminals. On the west coast, popular US ports include Seattle, Washington, and San Diego, California.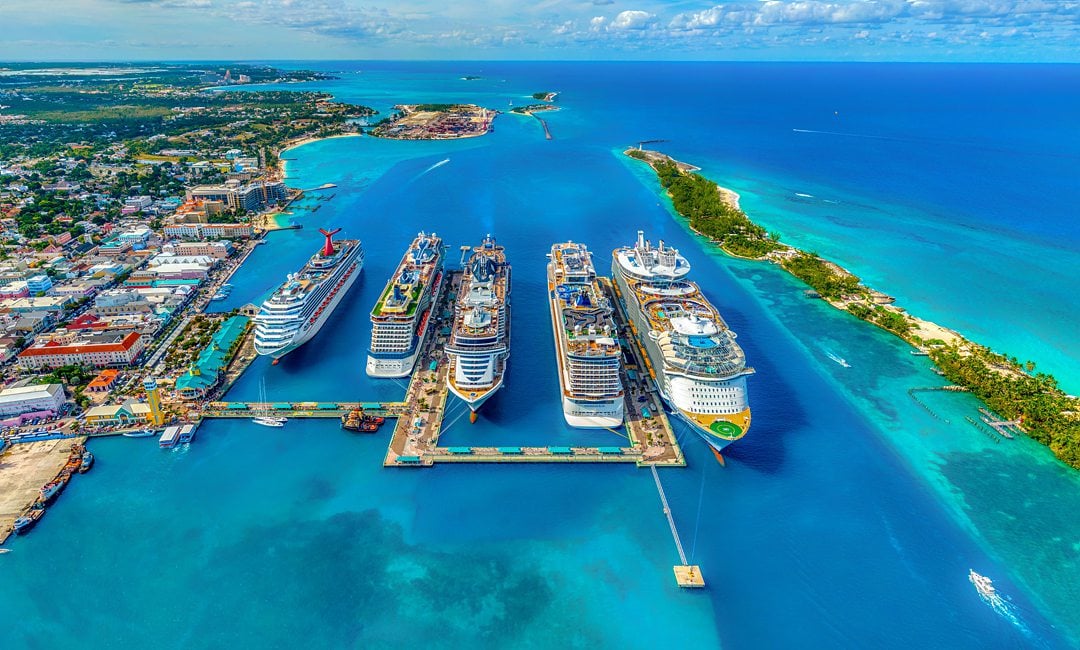 Main Embarkation and Debarkation with a River vs Ocean Cruise
There's more pomp and circumstance when it comes to boarding an ocean cruise ship.
From leaving your luggage with appropriate cabin number tags on them, curbside, before you even get to the terminal. To scanning documents within the terminal. To waiting until your boarding group number is called…there are a lot of procedures and paperwork to get through to get onboard the ship.
They are moving thousands of guests, after all.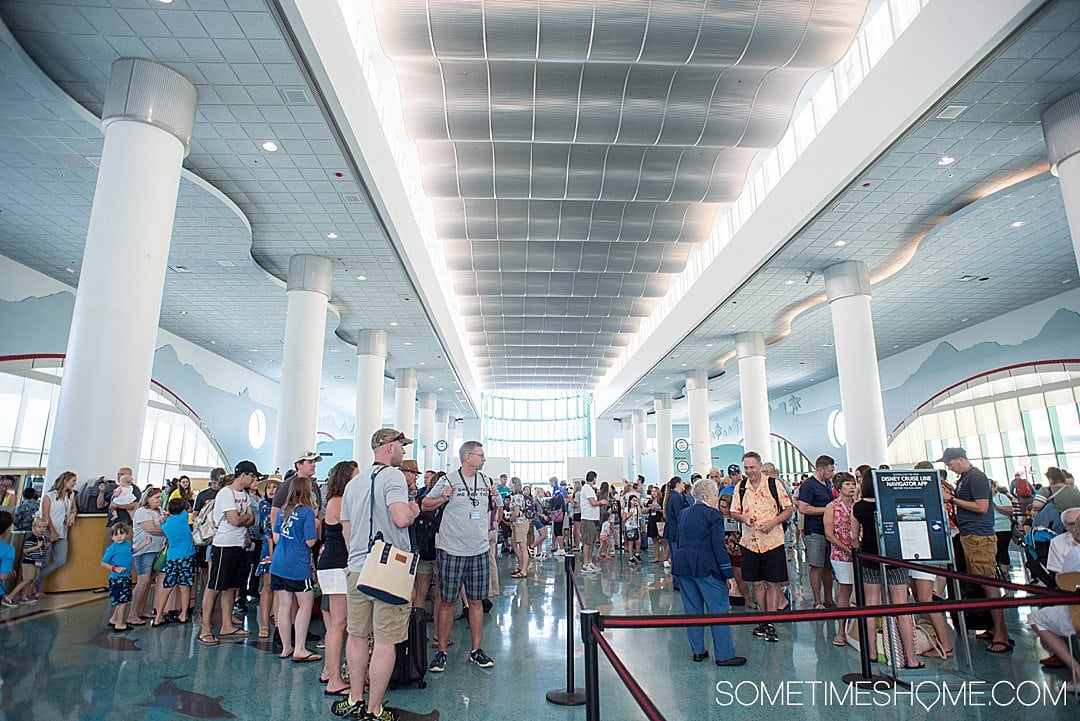 A river cruise ship seems like a piece of cake when it comes to boarding!
We literally walk onto the ship and check in at the front desk. Of course, we have already sent paperwork in at this point with information like our passport numbers and have to give that information to the staff once we board the ship.
But it's a lot less cumbersome than on an ocean cruise. And boarding the ship is much more immediate, with only about 200 or so guests who have to check in.
Here are two photos of what we saw when we walked onto a cruise ship (the Disney Dream, with Disney Cruise Line) versus a river cruise aboard the Emerald Cruises ship, Emerald Sky. A vast difference!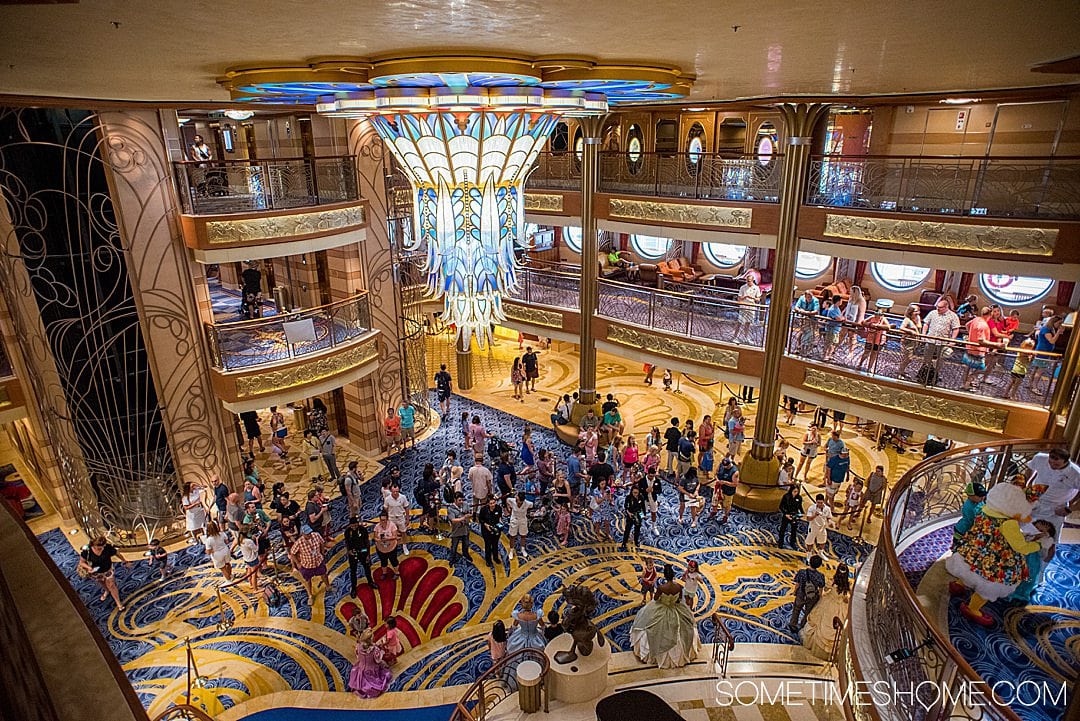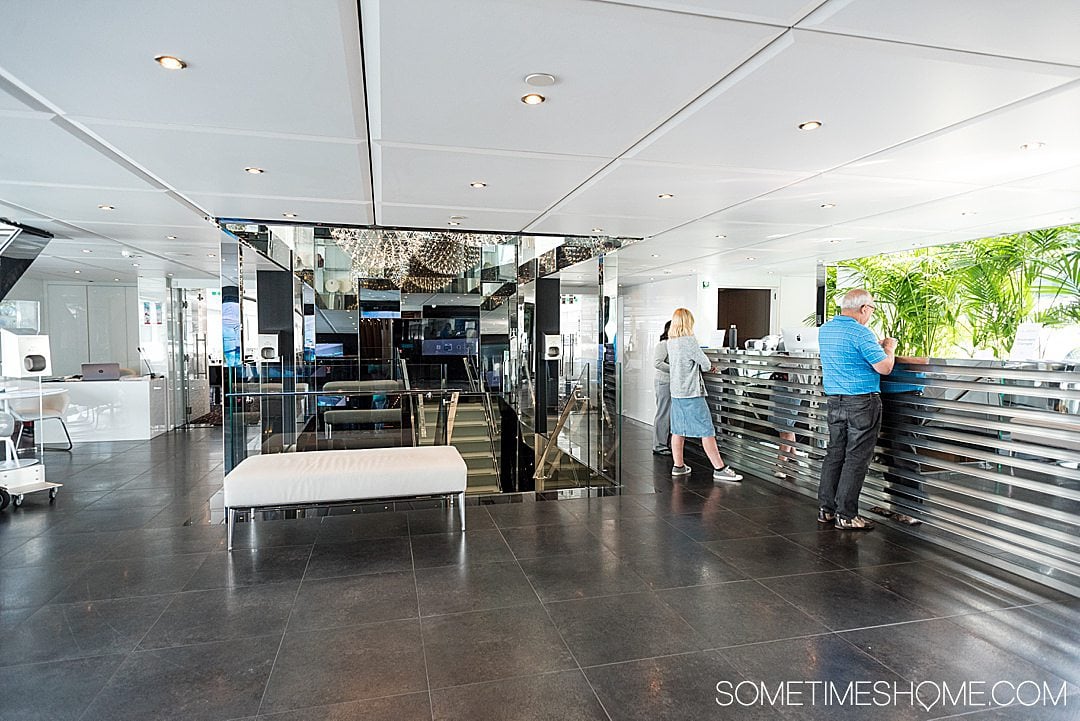 When you have to leave your river cruise, as you can expect, it's a piece of cake on a river cruise. You let them know you're leaving, and you walk off with your luggage.
An ocean cruise is much more involved, of course.
You leave your luggage at the door of your cabin for the crew to take off the ship hour before you leave. Disembarking is often by groups, as is embarkation. On a recent ocean cruise to the Bahamas, it took us an hour to get through customs at the terminal and back into the United States from 9:00am to 10:00am.
There was no Global Entry back into the country at the terminal. Unfortunately, it doesn't work like airports or we would have potentially breezed through much quicker.
Then you have to find your luggage in whatever group it was assigned to. Then you can be on your way.
Cost for a River Cruise vs Ocean Cruise
Generally speaking, river cruises cost more than ocean cruises. Ocean cruises are sometimes more value for your money. But, then again, "value" could depend on personal preferences. And the cost is just one factor amongst many we list here for finding a cruise that's right for the kind of vacation you're interested in taking.
Ocean cruises tend to do things a la carte, like excursions and drink package options. But river cruises include a lot for your initial cost, like beer and wine with lunch and dinner and walking tours.
Both river cruises and ocean cruises run specials and deals on bookings, regularly. It's always best to sign up for their newsletters ahead of your booking if you want information on their latest offers. Or, if you want to familiarize yourself with the types of offers they run and at what times during the year.
Itineraries
The most interesting part of river cruising is a ship's ability to dock in small towns and cities. An itinerary will likely start in a major city yet stop at smaller, quaint towns in between.
For example, when we sailed aboard the Emerald Sky with Emerald Cruises we began and ended in Amsterdam (the largest city in The Netherlands) yet were able to stop at ports like Veere and Arnhem, much smaller towns.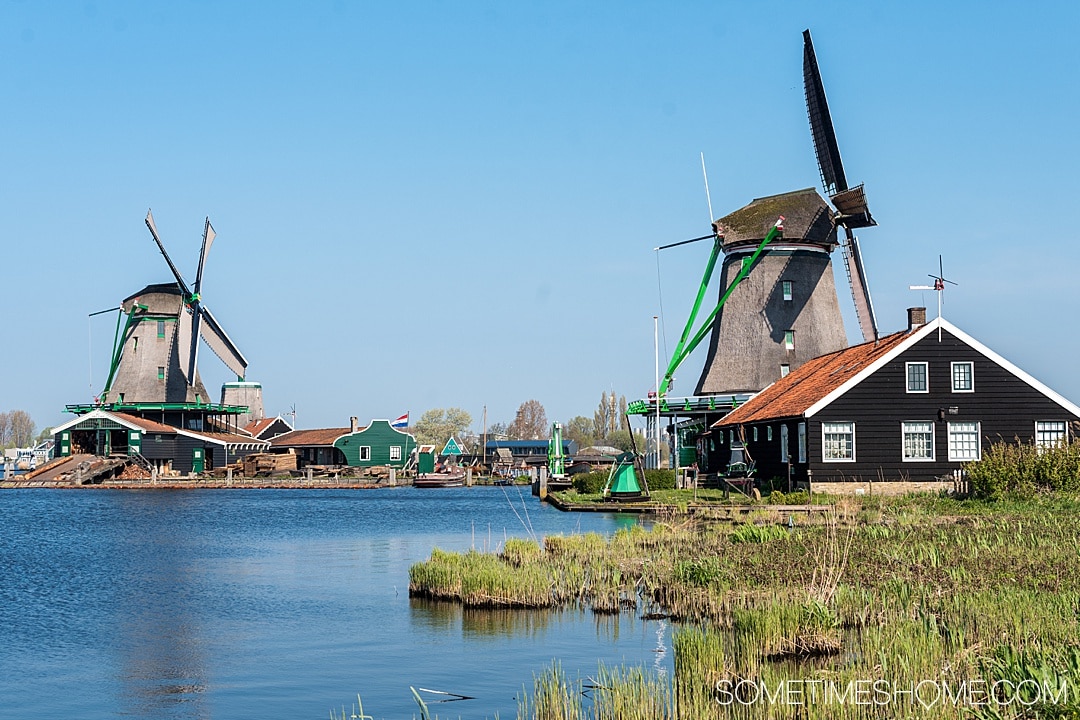 More popularly, Danube River cruises commonly start in Budapest, Hungary, and end in Nuremberg, Germany (depending on the cruise line and exact itinerary you join, like our Romantic Danube Christmas river cruise).
Yet they stop at small towns like Melk, Austria, or Passau, Germany. They're vastly smaller towns than those where the ship begins and ends its sailing.
Ocean cruises need to be able to dock at massive ports of call, which have the ability to accommodate the thousands of guests on their ships. For example, we've been on cruises that dock at Nassau, in the Bahamas, or the US Virgin Islands.
When the ship docks and thousands of people suddenly flood the towns, they have the infrastructure to accommodate them. This includes things like excursion options, shopping, restaurants, and the like.
Coincidentally, there are some river cruise and ocean cruise spots that overlap. Places like Athens, Greece, or Barcelona, Spain, and Rotterdam in The Netherlands, are ports that can accommodate a European River Cruise river or ocean cruise ship. Yet the ports in between the start and finish often differ.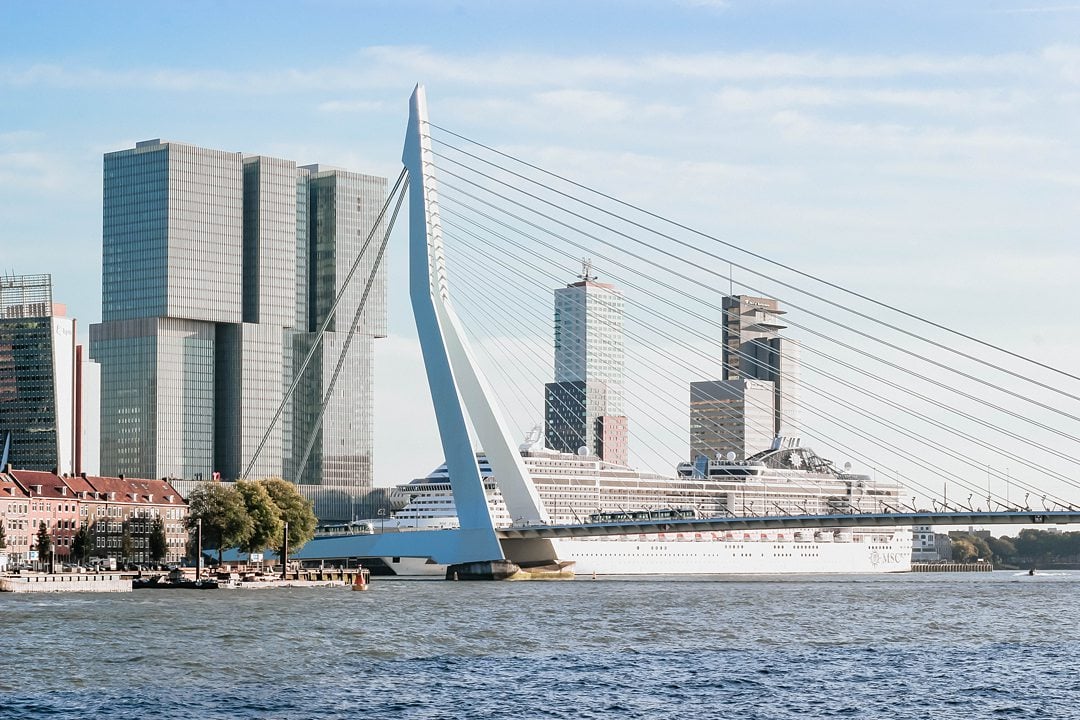 Another thing to consider is that many large cruise companies (like Disney Cruise Line and Royal Caribbean) have their own private island where the ships stop out on many itineraries if you're nearby.
Disney Cruise Line's Castaway Cay is a really nice place to spend a day. You don't need any money on the island – meals are included. And if you want a drink, you charge it to your room. The island is pretty much an all-inclusive extension of the ship.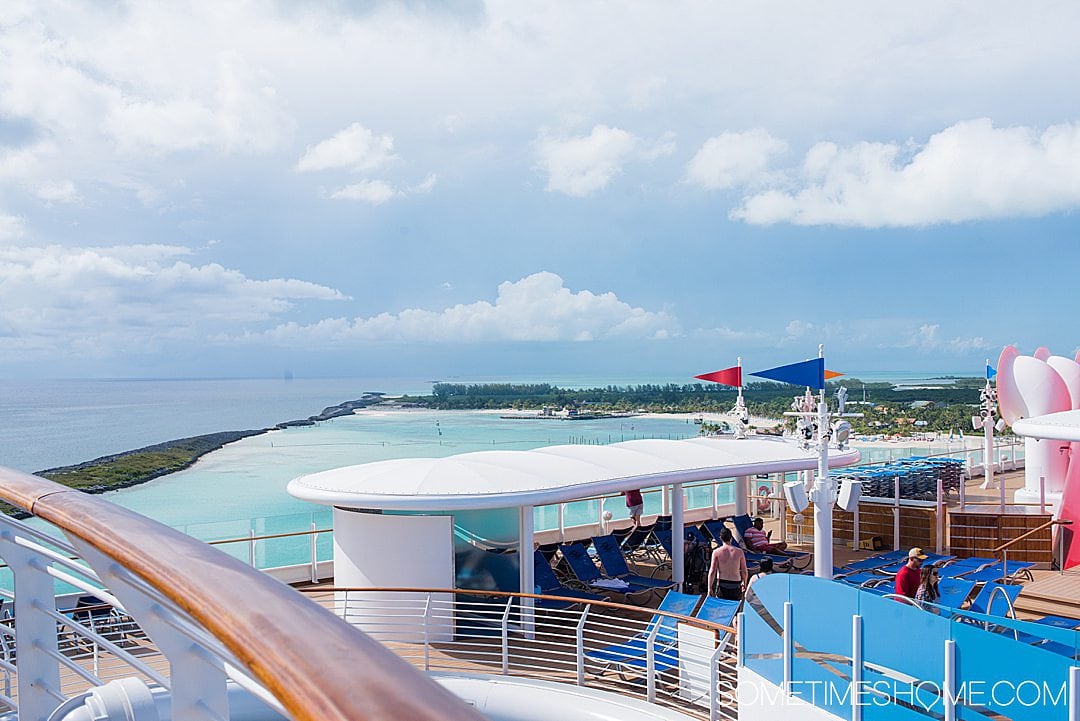 Royal Caribbean's Island, CocoCay, is like its own theme park! It has wading pools, multiple water slides, restaurants, and bars. Their other island, Labadee in Haiti, has the longest zip line over water, called Dragon's Breath Flight Line. We love themed entertainment, so this is right up our alley!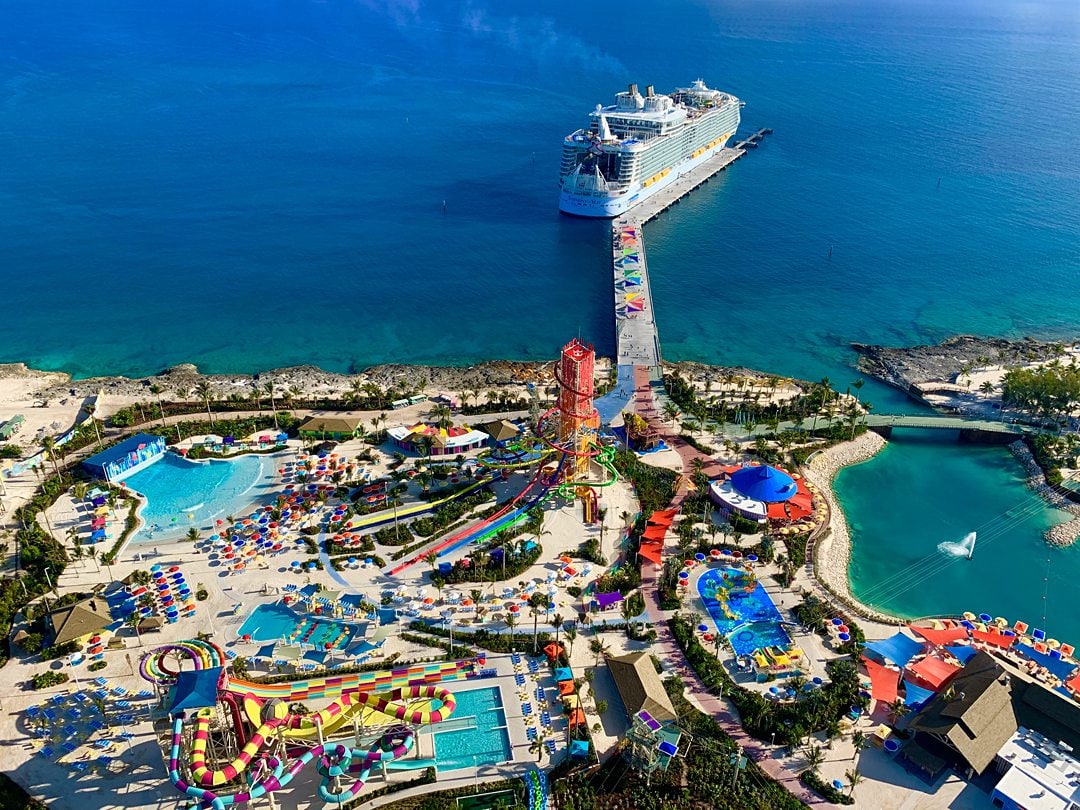 Cabins and Staterooms on River vs Ocean Cruises
Stateroom designs vary so much from ship to ship no matter if it's a river or ocean cruise. So we'll simply say that it's very common to have more space on a stateroom on an ocean cruise ship.
Additionally, you can pay for an upgrade on an ocean cruise to have a balcony or save money by having an interior stateroom without a window. Yet on river cruises, all rooms face outward and commonly (these days) have a balcony.
Because the ship is small and narrow, there are no interior staterooms or cabins on river cruise ships.
Below, the first two photos are aboard Disney Dream, with Disney Cruise Line. The bottom two are from river cruise ships, the Emerald Sky with Emerald Cruises and Viking Alta, with Viking, respectively.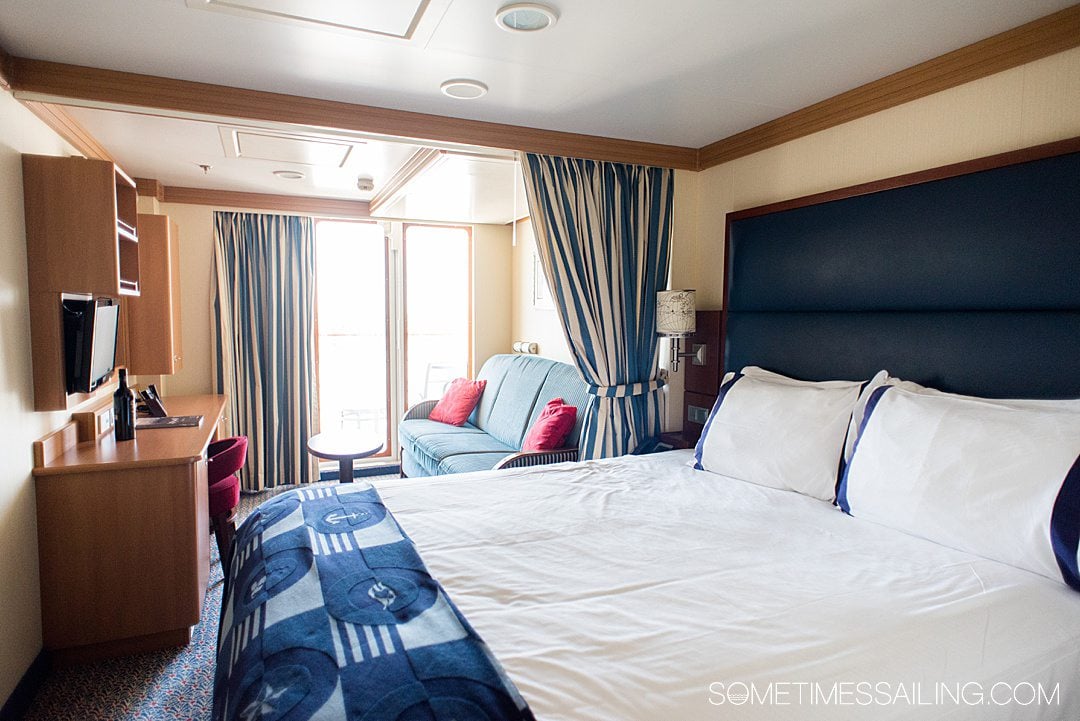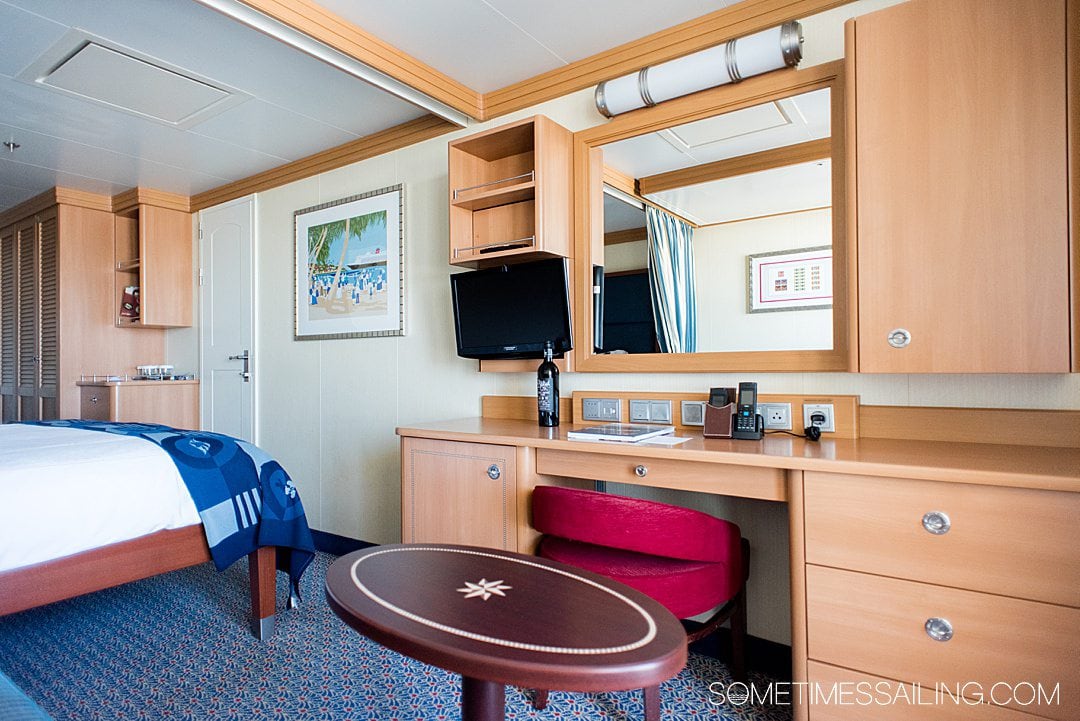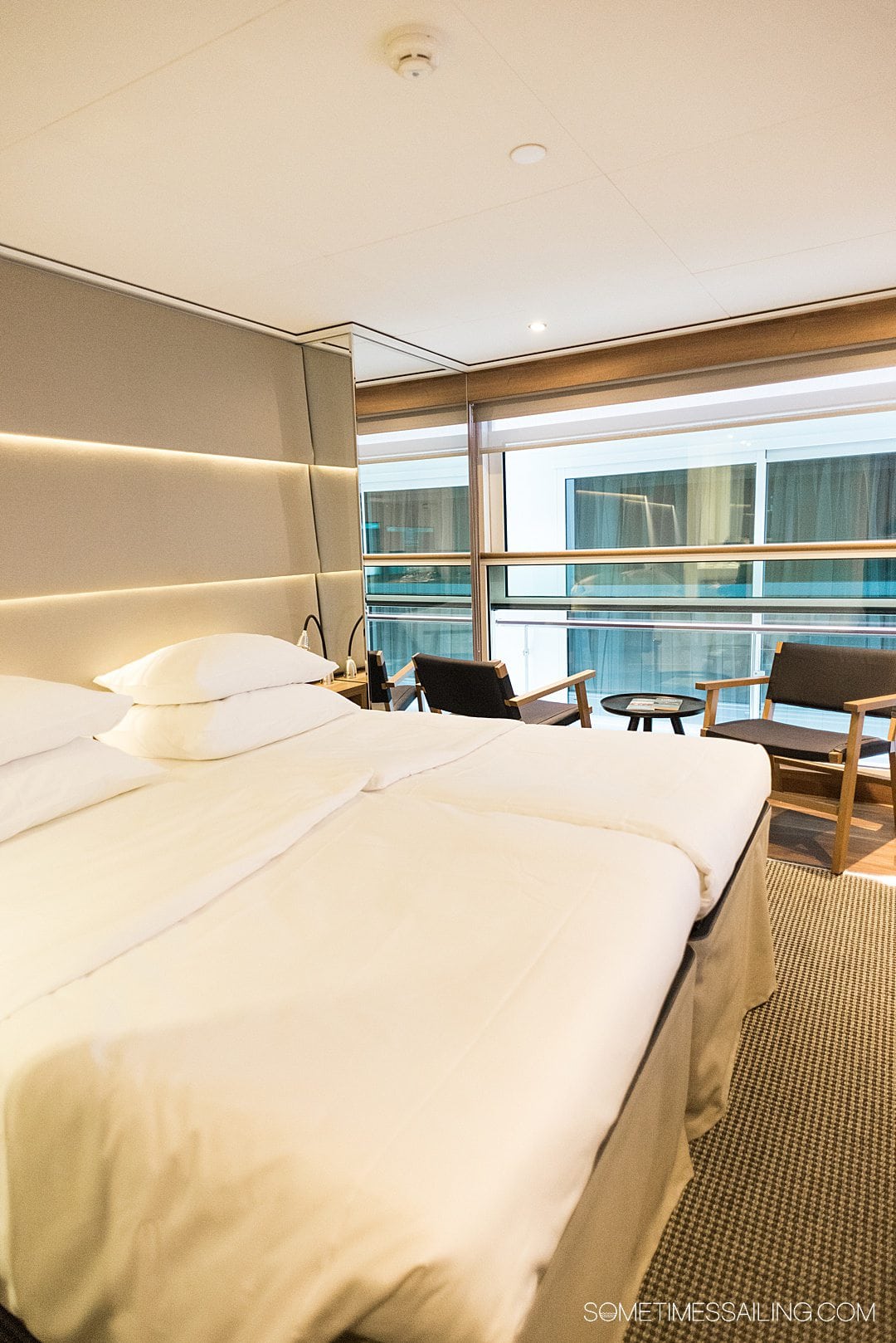 Onboard Entertainment
Comparing entertainment aboard ocean ships to river cruise ships is almost unfair.
ZRiver cruise ships don't try to compete with entertainment onboard ocean cruises because they can't. They don't have the physical space on their ships to house things like movie theaters, go-kart tracks, or ice skating rinks. Nor do river cruise ships have the height for things like huge waterslides or rock climbing walls that ocean cruises offer.
River cruises do their best to bring entertainment onboard. For instance, one evening, while our Emerald Cruise on the Danube River was docked in Budapest, we were treated to a traditional Hungarian band and dancers. It which was lovely to enjoy the music with a cocktail. Another night the cruise's activities director organized trivia amongst the guests. Entertainment is usually mellow yet enjoyable.
It's also common for newer river cruise ships to have a small but sufficient pool onboard. Often, they have a putting green on the top deck.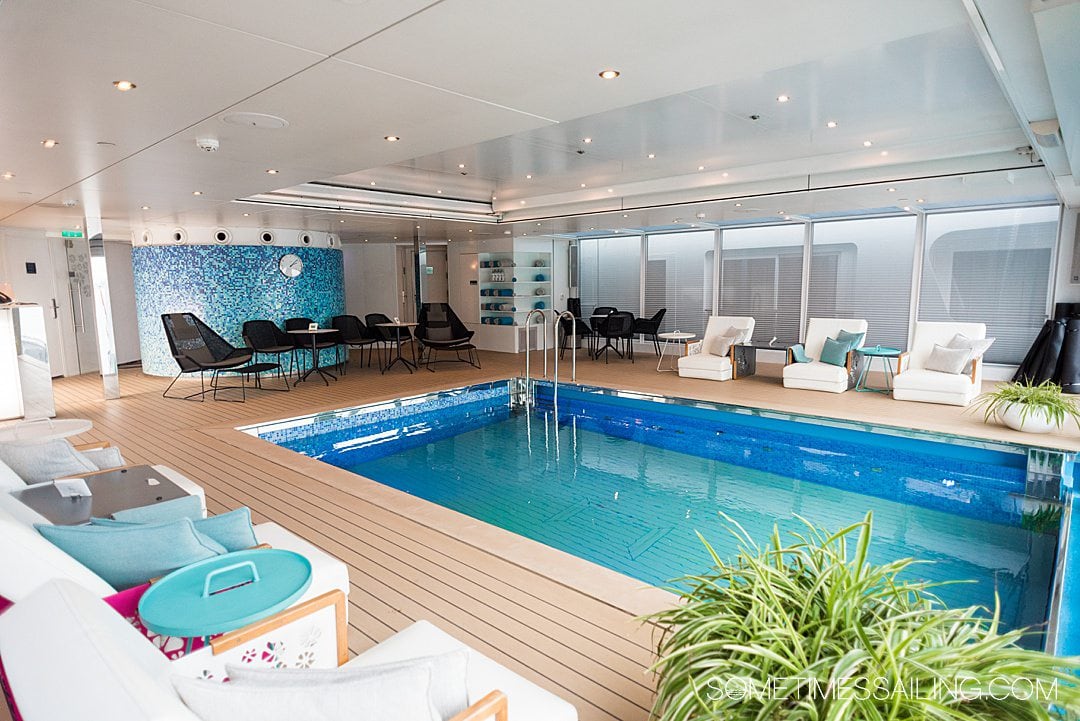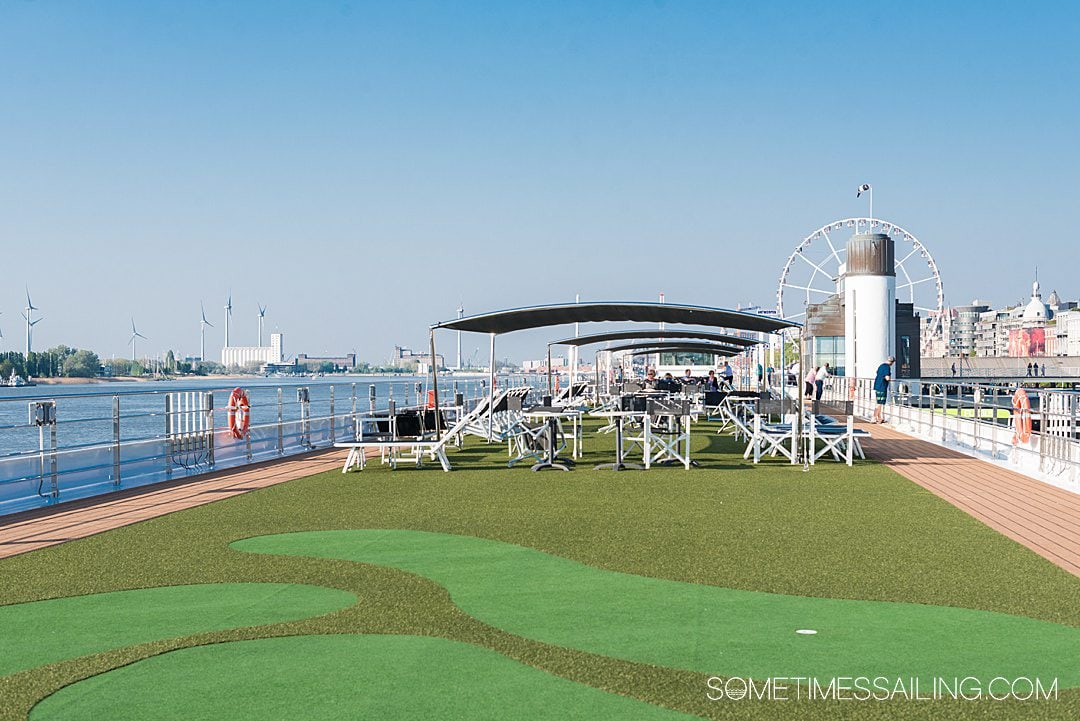 The bar is at an entirely different level aboard ocean cruise ships.
The entertainment options are plentiful. At night, you may be able to gamble in onboard casinos or see a Broadway-quality performance. Sail away celebrations are magical. The pool and hot tub options are generous with various options in various onboard areas and decks. Though river cruises usually have some workout area and spa options, they're offered tenfold on ocean ships.
But you must know what you're getting (or what to expect) on a river cruise ship. Onboard entertainment is just one factor of many we consider when choosing the right vacation at a given time.
If we're in the mood for a self-contained resort on steroids and some anonymity, we'd go with an ocean cruise. But if we're prioritizing charming small cities and a great dinner and glass of wine before heading to bed, a river cruise calls to us.
Spas on River Cruises and Ocean Cruise Ships
River cruise ships may have one to two treatment rooms where guests can enjoy a massage or facial. There may be one Esthetician on board whose talents run the gamut of spa treatments. Not only can she perform facials, but she's also a masseuse!
She's trained in a few areas of spa beauty because the small area of a river cruise ship doesn't allow for a huge team. Rather, one person must accommodate all treatments for guests.
Yet on ocean cruises, there are usually several treatment rooms and entire teams of specialists who can give you all the treatments you desire…and then some. This may include facials, seaweed wraps, acupuncture, bamboo or hot stone massages, and more.
Ocean cruises may even have a special thermal suite area, like The Enclave on Princess Cruises.
River cruise ships sometimes have a beauty "lounge" (or room) if you want to get your hair or nails done. On the other hand, huge ocean cruise ships almost always have this option. Some even have onboard barbers for men if you want a close shave or haircut. (Majestic Princess had this onboard in their Lotus Spa.)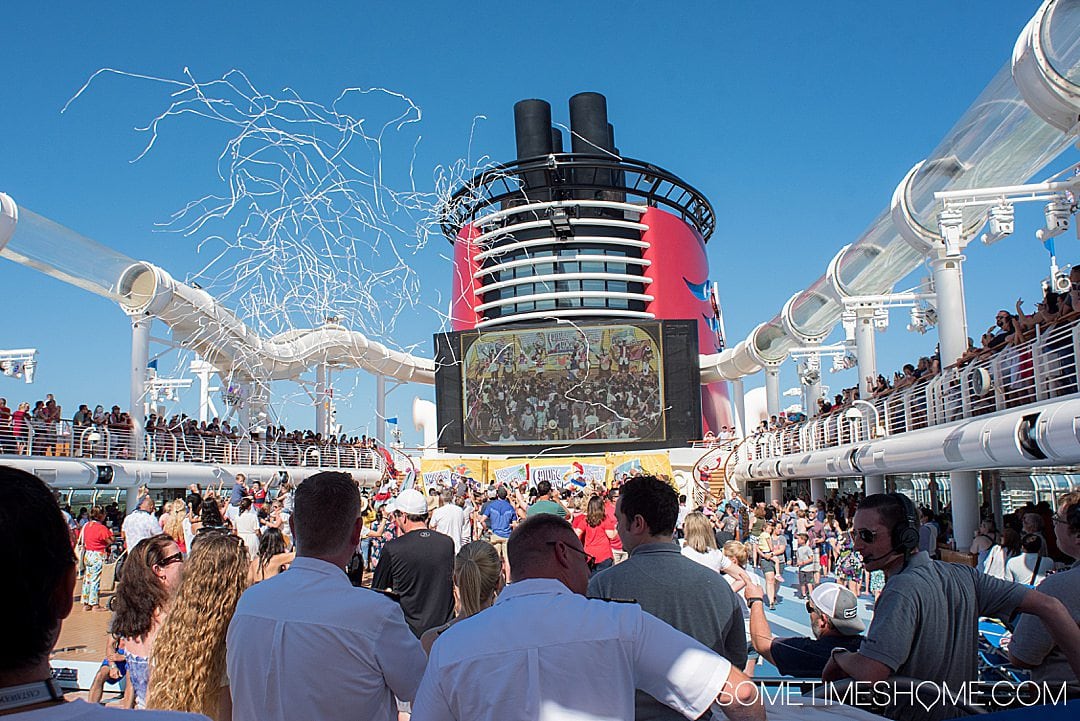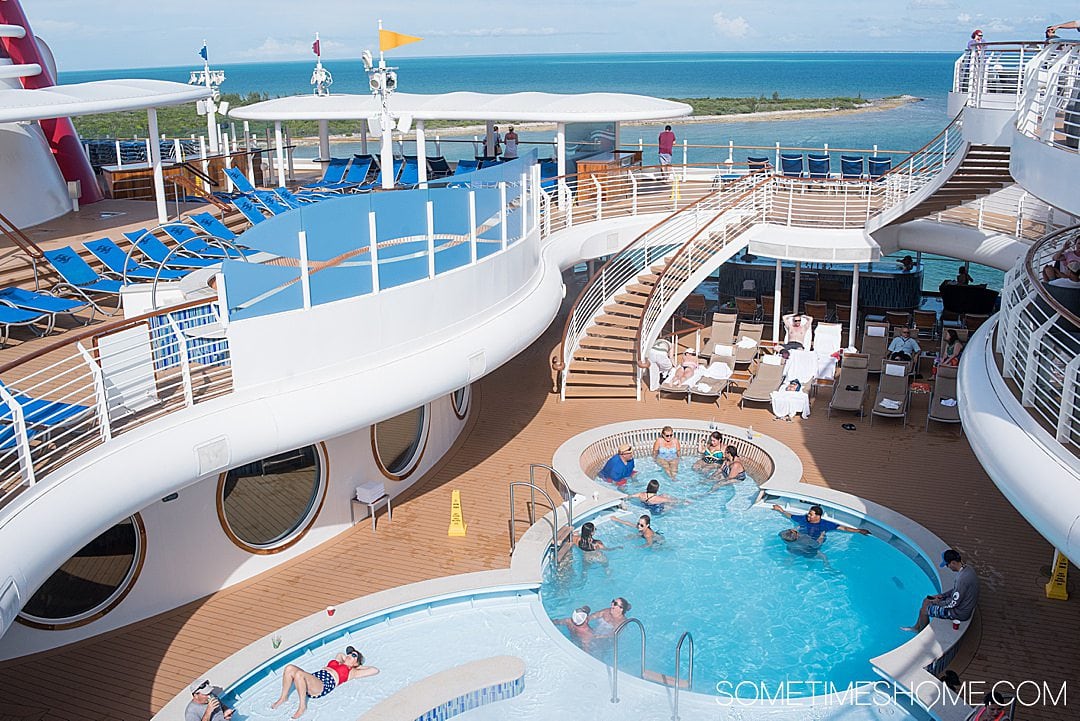 Food Service
River cruises very often have just one or two restaurants onboard. It's where you have every meal, including breakfast, lunch, and dinner. There is usually a lounge area of some sort that includes a bar and a high-end hot drink machine (to make things like coffees and mochas). Some cruise lines, like Scenic, have specialty bar options.
Emerald Destiny had fantastic food and we enjoyed sit-down meals daily.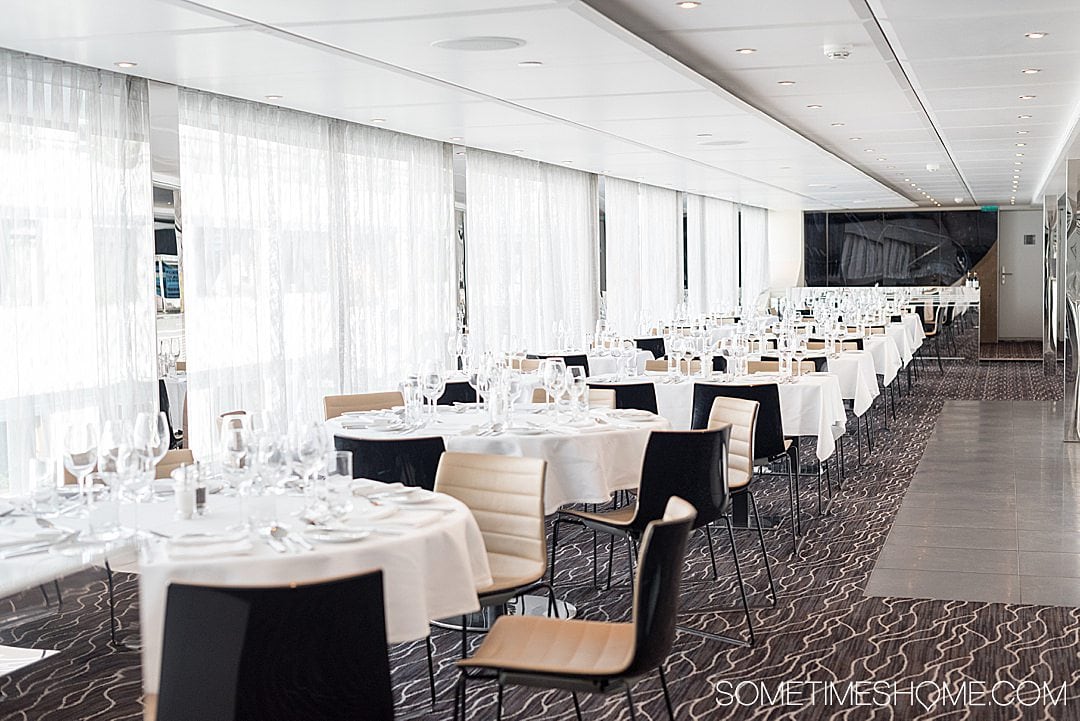 Ocean cruises seem to have no end of dining options. Restaurants are plentiful and often themed to cuisine or decor. It's said you can be onboard an ocean cruise ship and never eat at the same place twice. (And that's often true depending on the length of your sailing.)
Bars are varied – from champagne bars to martini bars, whiskey bars, private bars for ship-within-a-ship cruise categories, and beyond. As are novelties like ice cream stations, candy shops, and more. If you can dream it, it's likely a big cruise ship offers it.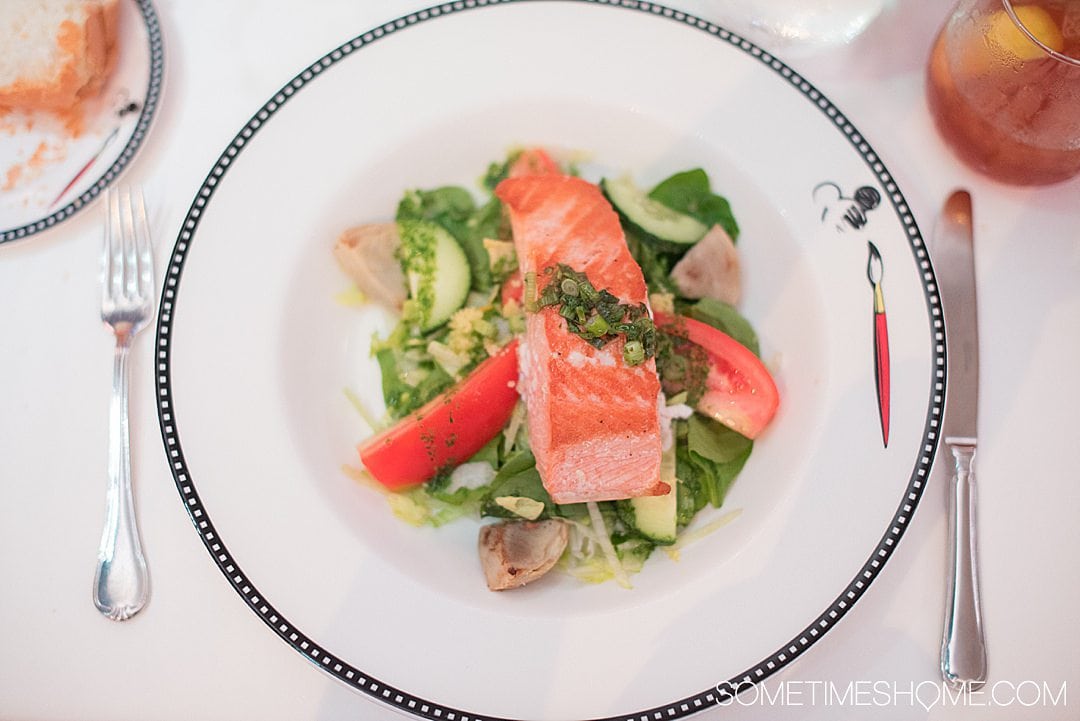 Motion of the Ocean…or River…for Cruise Ships
Cruise Motion Sickness
A river cruise ship and ocean cruise ship are not created equal when it comes to feeling the motion of the water. Ocean or river.
We were surprised to find that while Dan was 100% okay sailing aboard a river cruise, his equilibrium was totally thrown off on an ocean cruise; he was a bit down for the count every day. Whereas even in a car ride or on small boat trips, like with friends on their boat on the Charleston River in South Carolina, he's completely fine.
This is why we sought anti-nausea medication for all ocean cruises we took after that, which do the trick to remedy the sea sickness!
The size of a huge ocean cruise ship and its upper decks we were on, which tend to feel more movement than the lower decks, made him feel very off. It was unexpected, seeing as he doesn't get motion sickness otherwise.
You'll likely feel more movement on an ocean cruise than on a river cruise. We're not physics experts or engineers, but we're sure there is some mathematical explanation for why bigger ships feel more movement. (Pivoting on a fulcrum of some sort seems to make sense, right? As does a lower center of gravity on a river cruise ship.)
On an ocean cruise ship with about 10 decks, we've heard Deck 5, midship should be the least rocky. We haven't tested it ourselves – but if you have let us know.
➜ Check Out the Best Sea-Sickness Remedies 🌊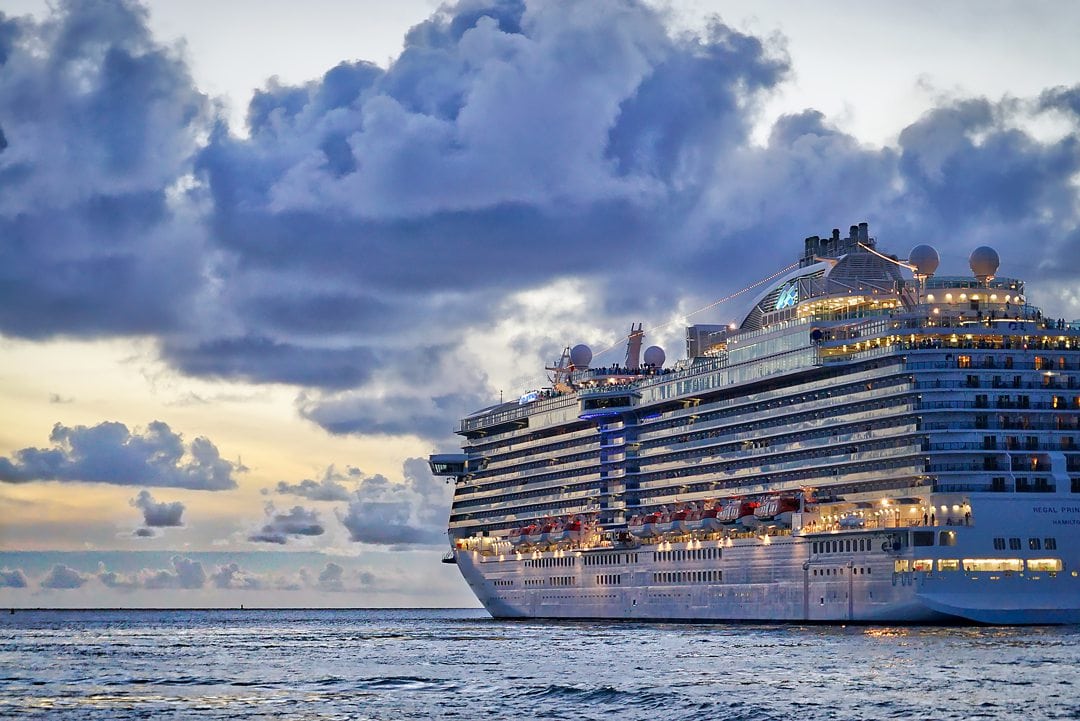 The Currents and Terrain of an Ocean vs River Cruise
A river cruise is built differently to aptly deal with the terrain. And of course, rivers are calmer and somewhat more predictable than oceans.
Another point to bring up is docking and sailing. Here are two things to be aware of (yet you can't do much about either – they're both simply part of cruising):
Ocean cruises sometimes aren't able to dock at a port. It's usually due to extreme wind or currents, which makes pulling into the port and docking unsafe.
River cruises sometimes can't sail due to low tides and water levels. When this happens, the river cruise companies will bus guests between ports so everyone can enjoy the itinerary and still have meals and sleep on the ship until the water level rises and it can sail again.
River Cruise vs Ocean Cruise Beverages
Beer and wine are usually included with the cost of a river cruise, during lunch and dinner.
Purchasing alcoholic beverages outside of lunch and dinner may be additional, like it was on Emerald Cruises, whether you opt into an alcohol package or pay per glass outside of meals. Viking also has a "Silver Spirits Package" upgrade you can purchase. Some cruise lines, like Scenic and Uniworld, include all beverages. (Premium liquor may be additional.)
Some ocean cruises include things like soft drinks on certain decks but not at meals. This is the case with Deck 11's soda machines on Disney Cruise Line. But not every cruise line offers this. Be sure to ask about drink specials – either a Drink of the Day or drinks packages offered for the cruise duration. We noticed beer specials on Disney Cruise Line: if you paid into a plan ahead of time – for 12 beers, for instance – you saved a bit of money.
Policies and costs vary by cruise line, whether river or ocean, so it's best to check with your desired cruise company for their beverage offerings and policies.
Tours and Excursions on a River Cruise Compared to Ocean Cruises
One of the nicest things about river cruises is that they generally include excursions. Mostly, those excursions are tours on land. If offered, there are optional upgrades, like a more premium experience at a port city. But overall, most river cruises include great tours of the towns you'll visit. It's an all-inclusive mentality.
We've sailed with Emerald Cruises, AmaWaterways and Viking. All included daily excursions and tours throughout our trips.
In the case of Emerald, for instance, there were additional experiences we were able to add on if desired in two cities. They call that program: DiscoverMORE. One such experience was in Delft, in The Netherlands, where we toured the Royal Delft factory, where they still hand make and hand paint pottery. Then we toured the town of Delft before boarding buses back to the ship.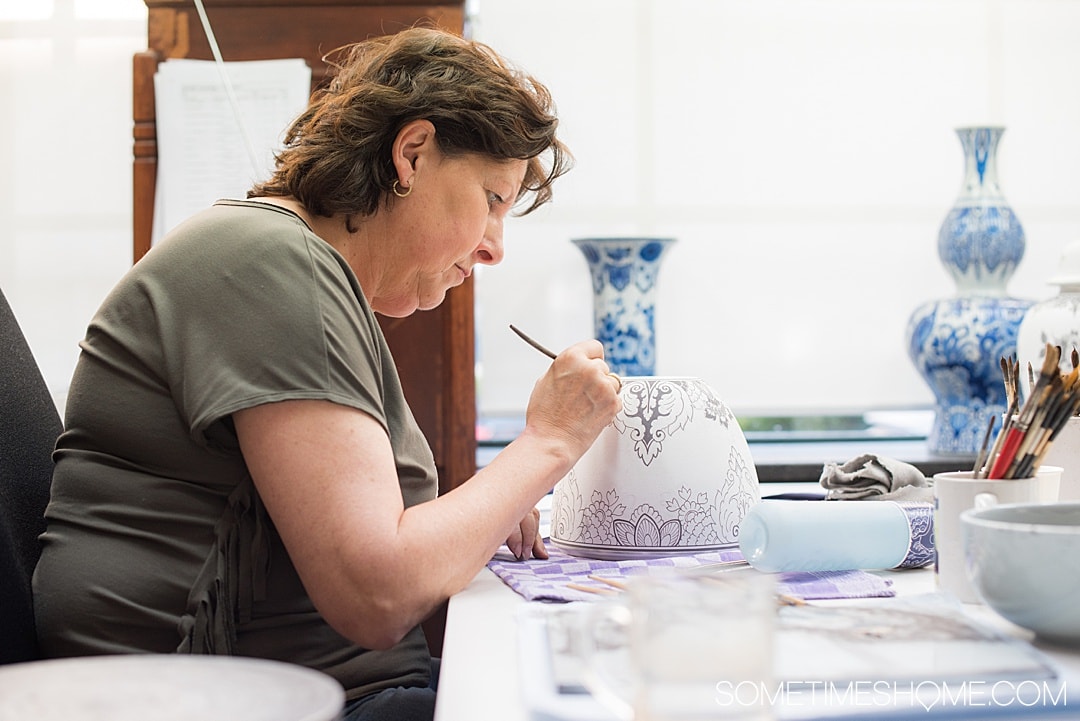 Without the DiscoverMORE upgrade, guests were given a tour of Rotterdam, where our ship was docked. This was still a great option). But the DiscoverMORE option was an excursion we fully enjoyed; it was unique and well worth the additional €55 or so per person.
Ocean cruises are completely different. While river cruises take care of you like family, ocean cruises are a "go it alone" situation despite having customer service onboard that can help you plan excursions.
On ocean cruises, you add on each port excursion – whether a tour of the aquariums at Atlantis in the Bahamas, a fishing excursion in the Florida Keys, a helicopter tour in Alaska, etc. They're not included.
Ages of Cruise Guests on an Ocean Cruise vs River Cruise
We've often been asked if we are the youngest people on river cruises we sailed on. And we've been asked if we were the only people without children on the Disney Cruise Line sailing we were on too. (Disney Cruise Line is, in fact, for adults too!)
The answer is no…and no. We weren't the youngest people on our river cruise (close to it but not the youngest) and we weren't the only people without kids on DCL.
While we don't think anyone should make vast generalizations about this sort of thing, we understand why they're asking.
Essentially the underlying questions are perhaps more like, "Is a river cruise accommodating to an under-60 audience?" Or, "Does Disney Cruise Line have any adult-exclusive activities?" (Funny how the two ships we pointed out here seem to have opposing target audiences, looking in from the outside. Princess Cruises, we found, skewed a little older when we were on our spring California Coast cruise.)
River cruises may tend to skew a bit older though it's changing a bit, little by little, as word gets out about how great they are. And ocean cruises are really across the board inclusive of all ages.
We've found any customer service-based industry wants to please its customers overall. So we like to think there is something for everyone no matter the ship.
Age Restrictions
Beyond the average ages of cruise guests, depending on the cruise line, is restrictions and the minimum age requirement to sail.
While some ocean cruise lines have a minimum age required to check children into daycare (whether 6 months or one year), ocean cruises don't have many age restrictions to sail.
On the other hand, river cruise lines usually have a minimum age requirement, which is 16 or 18, according to the cruise line. The exception to this is a river cruise like Adventures by Disney river cruises, which encourages children of all ages to cruise.
Days at Sea
Though it isn't unusual to stay in a port overnight on a river cruise (for instance, if you start in Amsterdam, as we did on our Emerald Cruise on Emerald Sky), you may not leave until the next day. Or, as another example, how we docked in Budapest overnight on the last evening of a Danube River Cruise.
But it would be very rare to have a "day at sea." Conversely, this is typical on ocean cruise itineraries.
During a day at sea, you can enjoy all the ship has to offer on a big ship. Because there's plenty that would warrant multiple dedicated days to simply staying on board! Shows, multiple pools, multiple bars, spas, a huge fitness center, smoothie bars, rock climbing walls, arcades, casinos, etc.
But on a small ship that's 200 people or less, it's unlikely you'll have an entire day at sea. This is usually because the ports are the main attraction during small ship cruises, not necessarily the ship. (Even if the ship, your cabin, and restaurants are awesome.)
Scenery on the Water
If there's anything we think a river cruise beats an ocean cruise on, hands down, it's the scenery when you actually sail. River cruises pass way more interesting scenery than ocean ships. All you can see from the windows of ocean ships when you sail is most likely…the ocean…before you get closer to your port/land.
Rivers were used as trade routes to get to towns and villages. And today, river cruise ships sail those same routes, using their ship to get to the port cities. There's still charming scenery for you to view on board as you pass villages. You can view it from your stateroom balcony or on another deck's terrace.
While you're at sea on an ocean cruise ship, there's not much to see. So most guests enjoy the view for a while and then enjoy the onboard amenities.
The top photo is what we saw aboard the Danube Waltz cruise on a Viking river cruise. The bottom image is looking out the porthole window of an ocean cruise ship. It was a typical scene at sea.

Onboard Shopping
There is very limited onboard shopping river cruises. Depending on the cruise line, you'll usually find some jewelry and possibly some apparel. But it's certainly not a focus.
Yet Ocean cruises have amazing galleries! You can find sculptures, handpainted ocean art, or even some 3D framed pieces. They have shops with conveniences, should you need them, and apparel, holiday ornaments, and more.
The Bottom Line for River Cruises vs Ocean Cruises (and What's Right for You)
We think they're completely different experiences, albeit both vessels sail on bodies of water.
Generally, we've found you can go on an ocean cruise for less money than a river cruise. Yet we've found there is a correlation between the type of attention and customer service you get on small and large ships.
Ocean cruises have good customer service onboard in most cases, but you feel less camaraderie with fellow cruisers than on a river cruise, in our opinion. A river cruise can feel like "coming home" again at the end of each day, after you have explored a port and returned to your ship.
If you want to be more anonymous on a large ship that sails into big ports and want a plethora of options every day, in every way, stopping at big ports of calls…and you're okay paying extra for excursions knowing it's simply a variable of the type of vacation you're choosing, perhaps an ocean cruise is for you.
If you want a more personalized experience with a smaller group and you're okay eating in the same restaurant or two every day (though the menu changes, of course)…and you want to experience more intimate towns whose tours are included in the price of your trip, then look into river cruising.
While it's nice to have options that ocean cruises provide, there's something very special about river cruises. Why not have the best of both worlds and do each? We recommend it.


Considering a cruise? Also check out: