Emerald Sky: 10 Things We Loved about our River Cruise Ship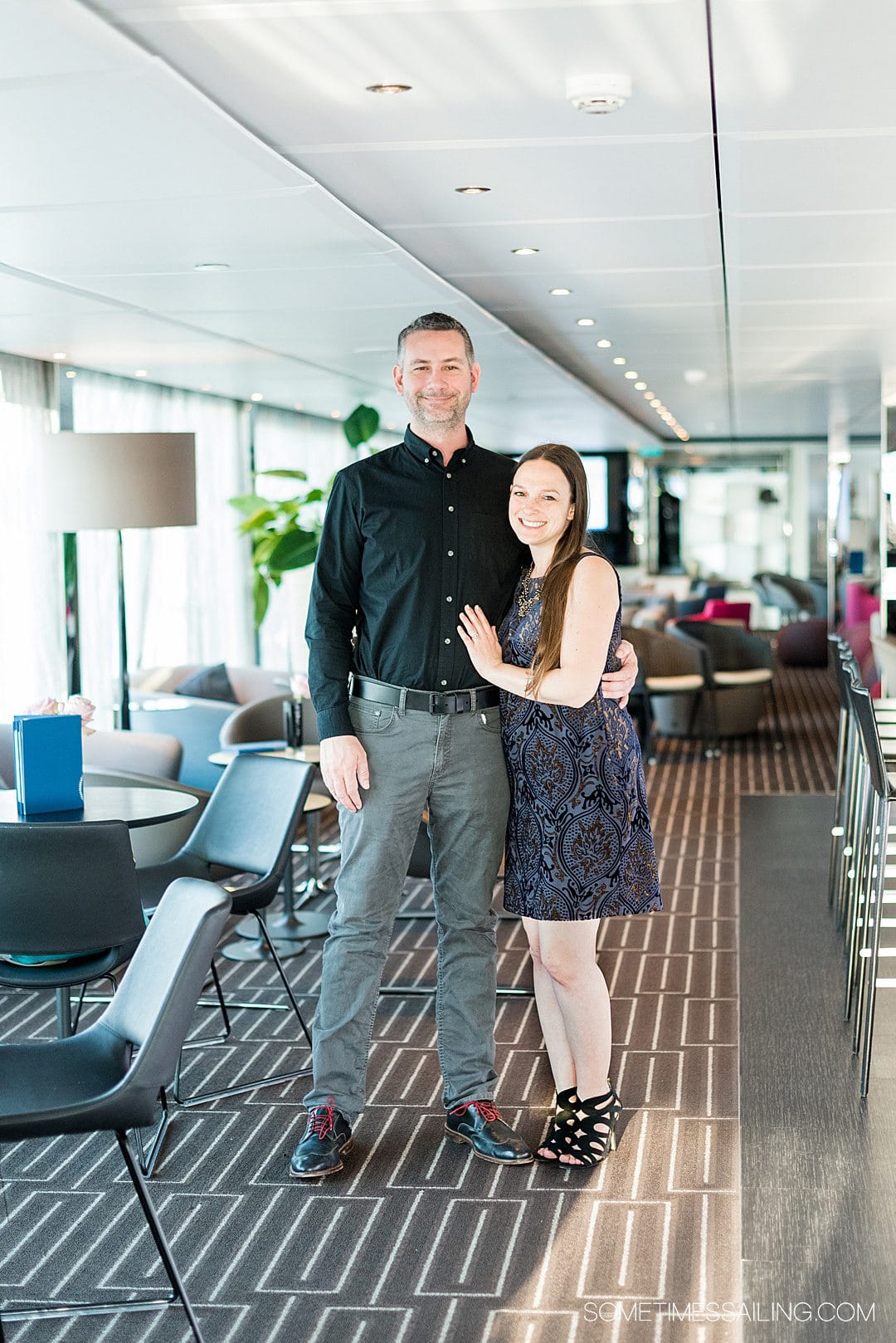 An Emerald Cruises river cruise vacation is one of the most gratifying vacations, especially if you're on Emerald Sky.
We had a phenomenal time cruising Europe in April, starting and ending in Amsterdam. Ten things, in particular, stood out to us that we absolutely adored being on the ship with this great cruise company.
We're sharing details about precisely what stuck with us even after leaving the ship, from the staff to the itinerary, to our fabulous stateroom, and additional amenities.


1. Meeting New People
The size of the small ship is conducive to meeting people. And we loved that aspect of it, no matter what age the person we met was, from the youngest person on our ship (who was around 18 years old and there with her family) to the oldest. (Of course, we didn't ask the older people's ages!)
One of the common conceptions about river cruises, whether an Emerald Cruises River Cruise or another company, is that it skews older.
While older audiences may have more time and money on their hands than "younger" people or couples (which is why statistically they take river cruises more often), we found a nice mix of ages on our Emerald Cruises river cruise.
It was nice to connect with other couples who shared such a passion for travel, like us. Many of them were repeat Emerald Cruises river cruise loyalists and they were able to share information about the ports we were going to, which we found helpful and provided for a nice conversation.
People are very interesting and it was great to make some new friends aboard the cruise even if it was simply by sharing the same table for a meal or encountering them on tours.
2. Our Stateroom Balcony
Our Emerald Sky river cruise ship cabin had a really cool balcony feature in some of their staterooms. We had an Emerald Panorama Balcony Suite and we loved it. This is a common feature of Emerald Cruises river cruise ships, on Decks 2 and 3.
Instead of a traditional balcony, where you step outside a door and sit on a landing outside the room, your room becomes the balcony. It's considered a French balcony in cruise ship terms because it's inside your cabin.
The stateroom window slides down halfway and voila – a balcony! Even our swan towel animal liked it.
3. The Staff and Crew
The staff and crew aboard Emerald Sky were all so sweet, warm, and welcoming. 
We know this is perhaps the general rule with cruising – we've never encountered cruise staff who was anything but welcoming and accommodating. But hey, there's always potential to have some bad apples.
Every member of Emerald Cruises river cruise team on our sailing was wonderful, from the Captain to Cruise Director, to Chef, and Housekeeping. 
A favorite memory was when all the servers in the dining room sang happy birthday to me!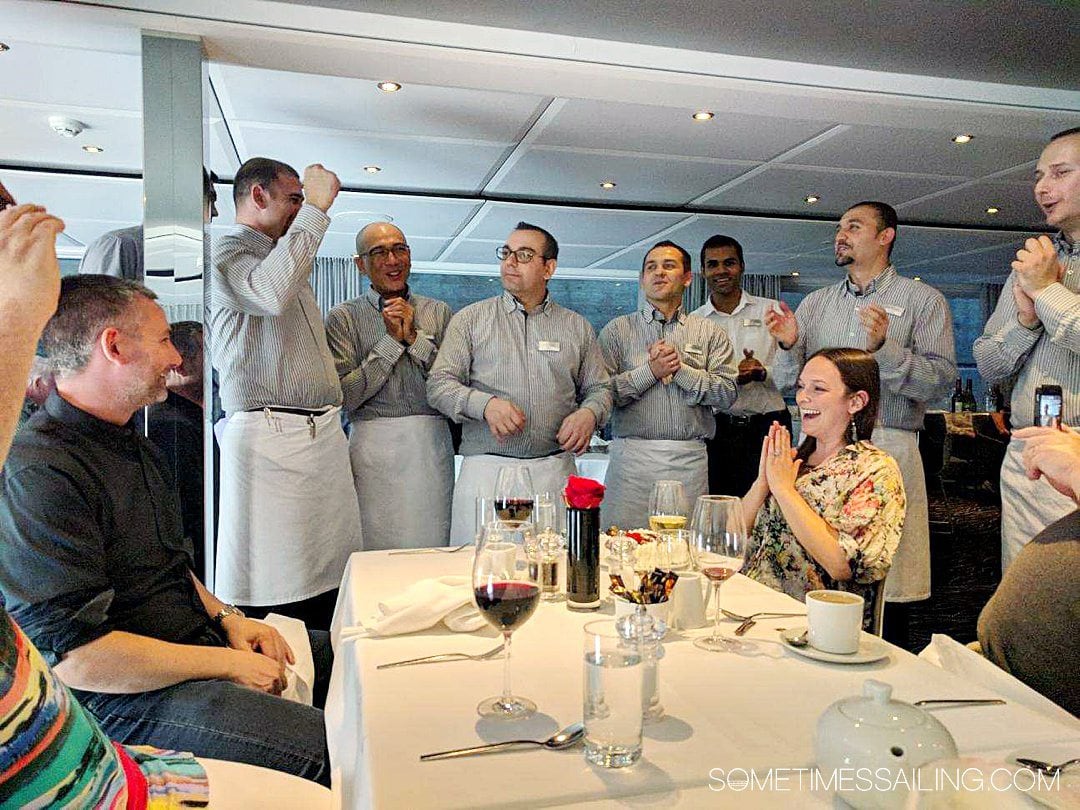 4. Our Netherlands and Belgium River Cruise Itinerary with Emerald Cruises
It's expected that most people choose a cruise in large part due to its itinerary.
Our Emerald Cruises river cruise aboard Emerald Sky was so incredibly special because it went to The Netherlands and Belgium. And it was during peak tulip season and we were able to go to the famous Keukenhof Gardens!
We stopped at amazing ports, like Veere, Arnhem, Bruges, Rotterdam and Delft.
5. Beer and Wine with Meals aboard Emerald Sky
We loved being able to relax during lunch with an ice-cold draught beer and wine with dinner, all included in the cost of our river cruise. 
Is there anything quite like a fresh, ice-cold draught beer and a comfy place to sit and have a meal after walking around on a warm day? Nope, there isn't.
6. Emerald Sky Pool
Not only does it continuously astonish us that boats can float but they have some pretty incredible amenities on them. Like POOLS!
Our Emerald Sky river cruise ship had a lovely pool onboard. The roof retracted to open itself up to the outdoors and blue skies if the weather was nice enough.
We went it in a few times during our week on the ship and each time we practically had it all to ourselves (which was surprising).
The pool also has a sliding floor that covers it up so the area can become a cinema at night. We didn't experience that during our trip but we know it's a fun perk on some sailings.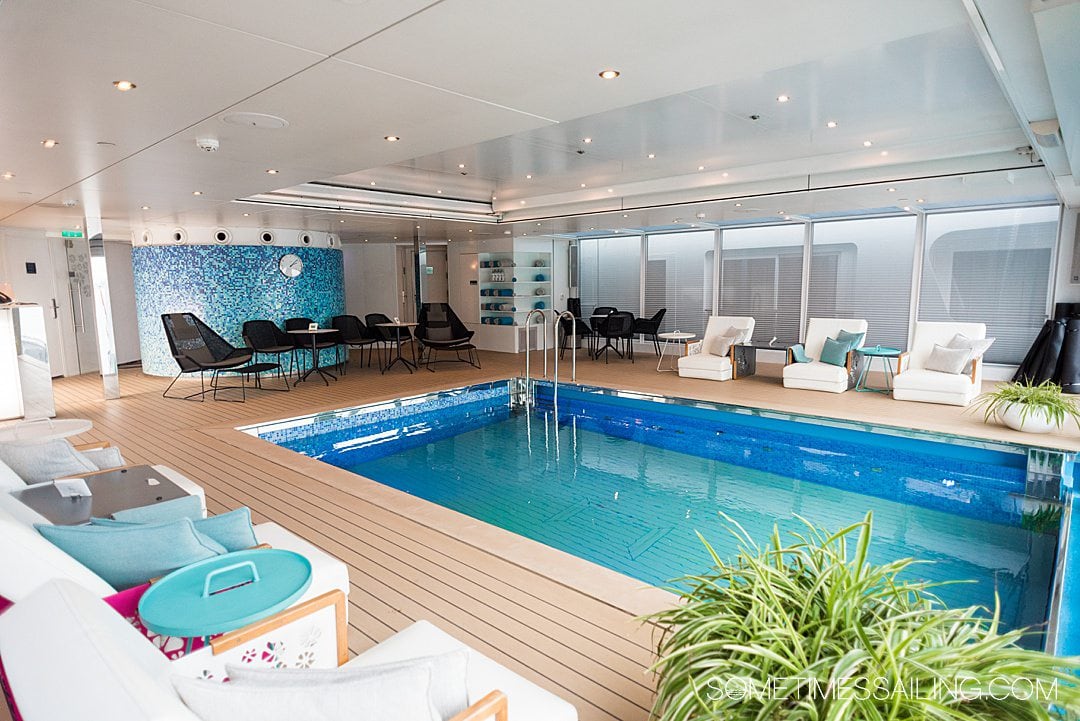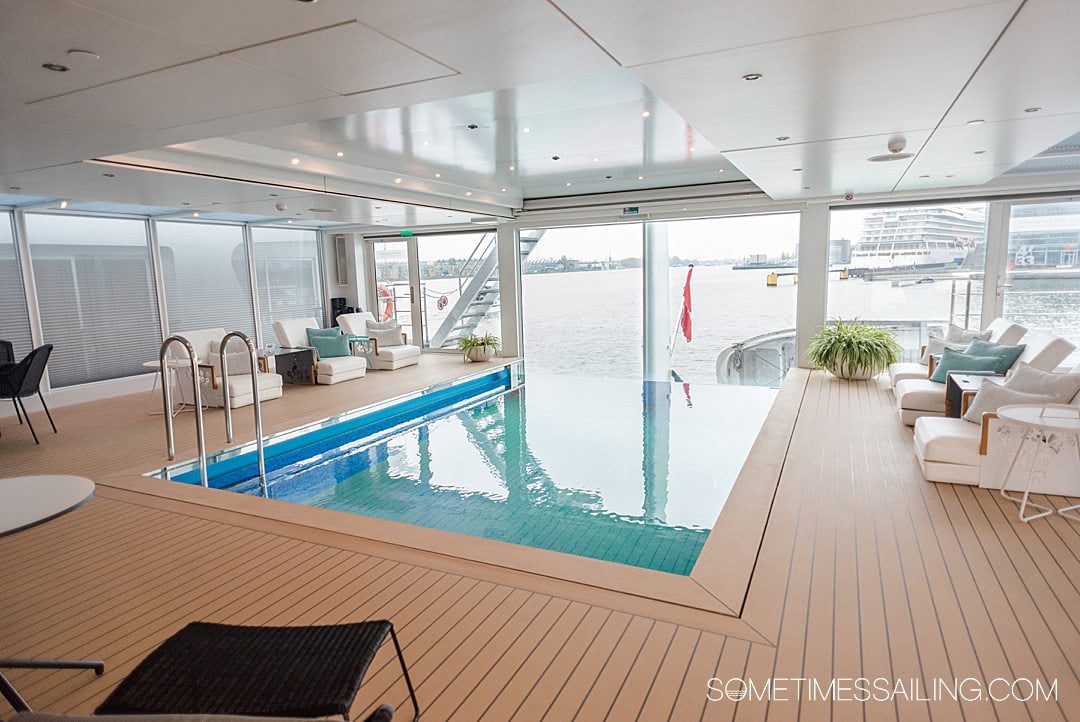 7. Great Coffee, Whenever We Wanted It on our Emerald Cruises Netherlands and Belgium River Cruise
Maybe Europe does something to us because we suddenly want coffee multiple times a day when we land on the continent.
We appreciate hot, strong coffee at any time when we travel abroad. Emerald Sky had great coffee available to guests 24/7.
We took advantage of this whether we were in the lounge area, at the pool, or on the top deck enjoying the scenery. Coffee all day!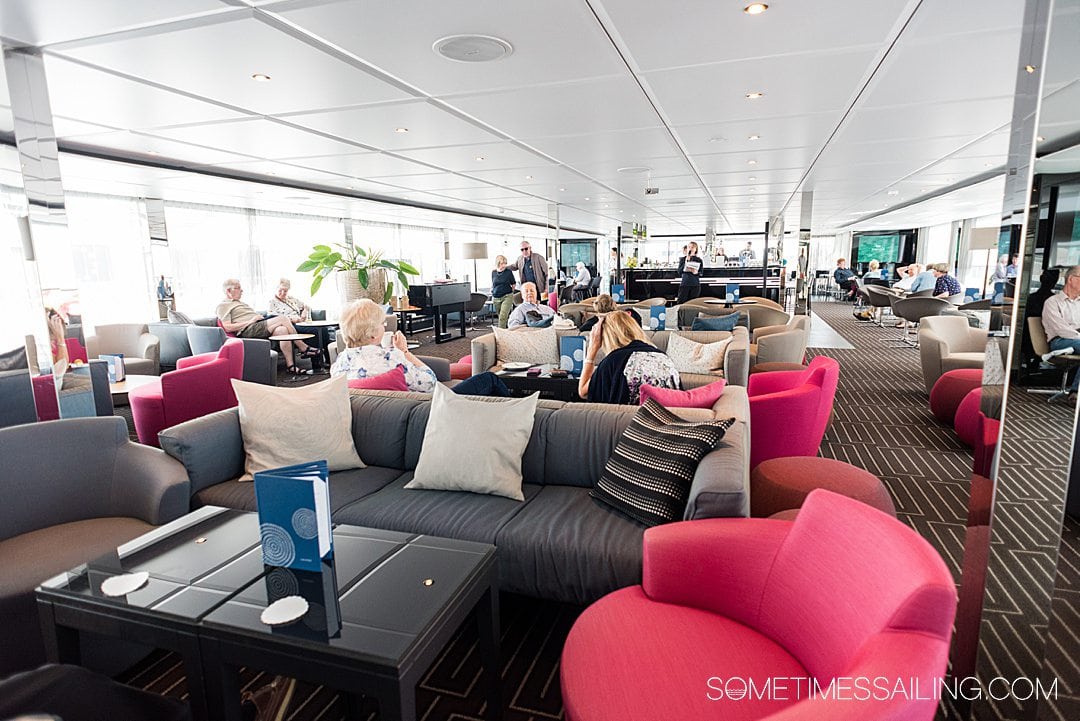 8. How Accessible the Port of Embarkation and Debarkation Was
It was so, so easy to fly to Amsterdam's Schipol airport. It was both the point of embarkation and debarkation for us. (Where we left from and docked back to, at the end of the cruise.)
It's a major international airport with plenty of flights in and out of it. Furthermore, Emerald Cruises helped us book the flights and also arranged transportation to and from the airport to port. It was seamless.
Sometimes Emerald Cruises runs promotions including flights or flight discounts so be sure to sign up for notifications.
9. Emerald Sky's Top Deck
The top deck was something Dan noted was one of his favorite aspects of Emerald Sky, our Emerald Cruises sailing vessel. It was lovely and sunny up there and always provided grand views of whatever landscape we were passing or the port we were approaching. We got a kick out of the top deck, especially as first-time cruisers on Emerald Sky.
I loved that there was grass up there (it was fake but it existed!), a Tic-Tac-Toe board, and chairs. We loved having coffee, hanging out, and talking on the top deck. There was also a little put-put golf course and a track around it in case you wanted to get exercise and walk or run laps.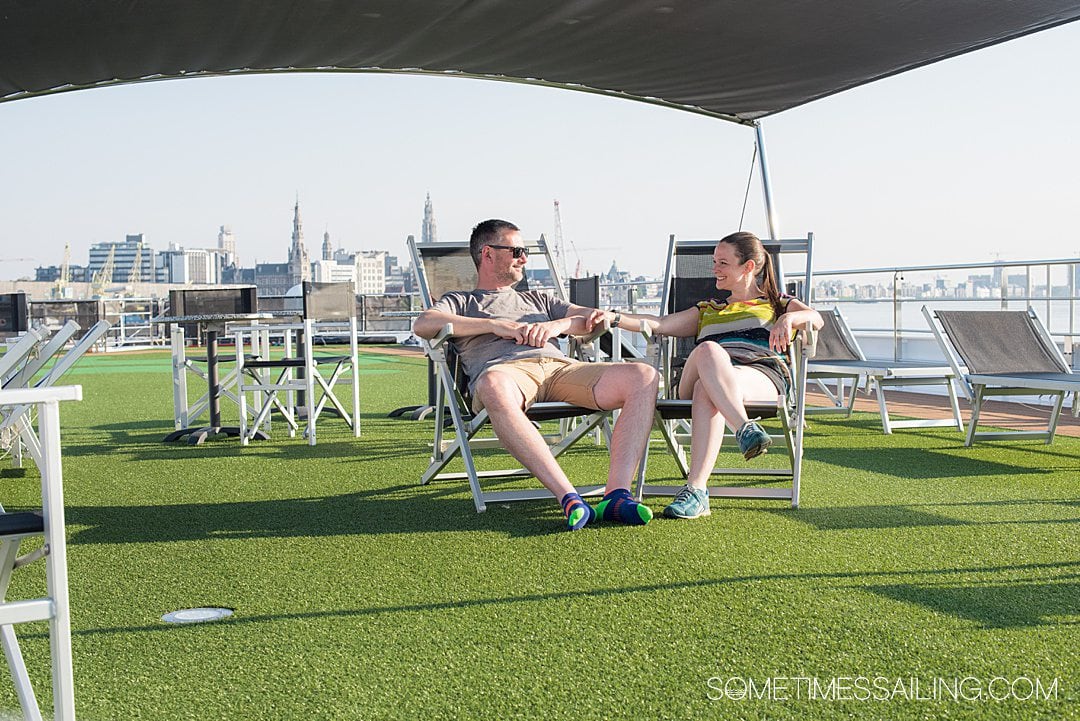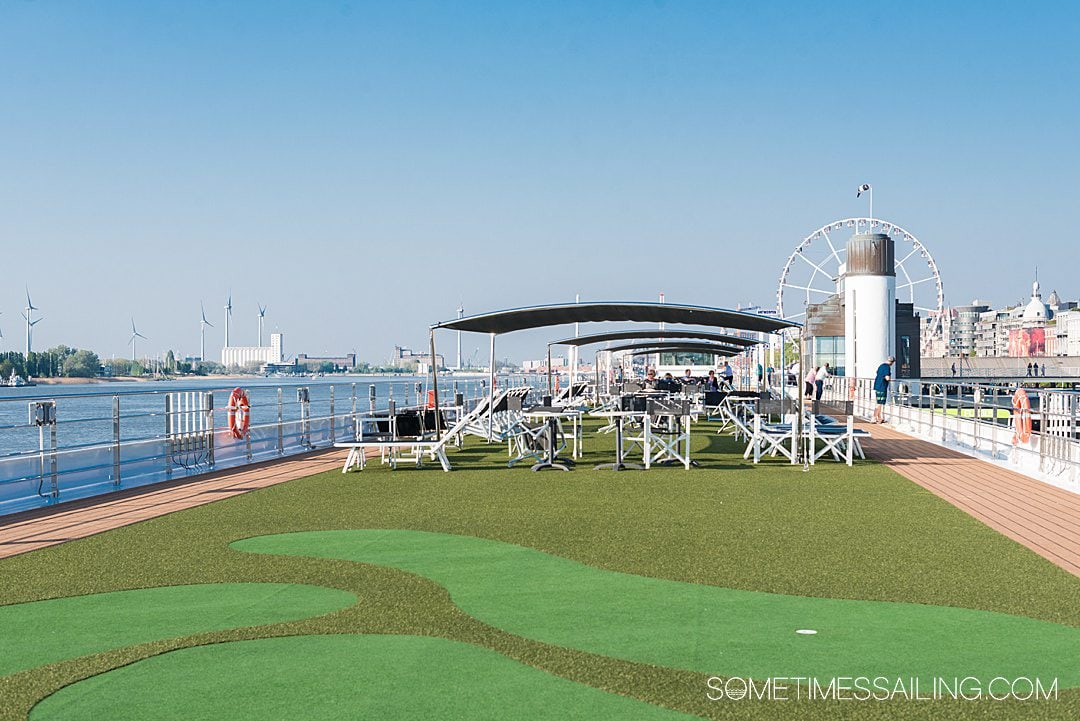 10. Emerald Cruises River Cruise Sailings Accommodate Various Activity Levels
We loved that Emerald Cruises was accommodating to any activity level.
If you wanted to ride around town on some of the bikes provided at the port, you could. (You simply signed up for this ahead of time and then the crew put the bikes just outside the ship in port to use with a guide.)
Or if you needed a slower group because of a disability or it was harder for you to walk, there was a group for that on all the tours.
If you wanted to join the included tour and walk with the group and get information from the tour leader, you could.
And if you didn't want to and wanted to do your own thing you could.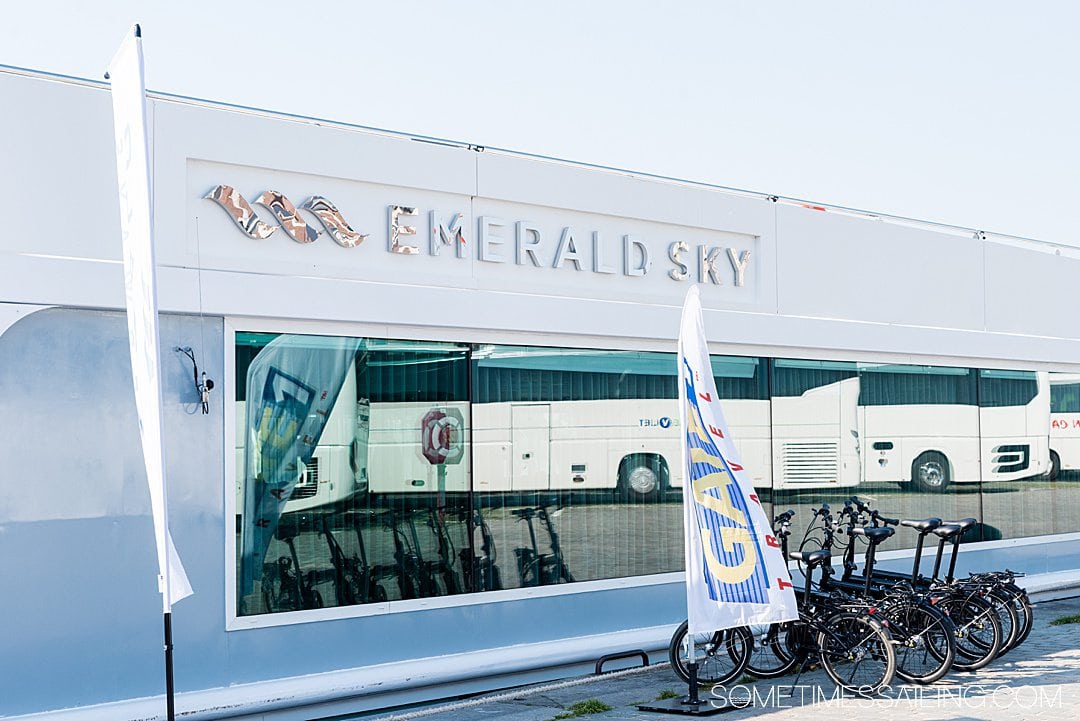 We Can't Wait to Cruise with Emerald Again!
We're always dreaming of our next river cruise with Emerald Cruise…or even a yacht cruise on Emerald Azzurra! Check out our fantastic cabin on Emerald Destiny and get a glimpse into our fabulous Danube River Cruise.


For further reading check out: