Mekong River Cruise Essential Information 
You've never been on a river cruise quite like a Mekong river cruise! Mekong river cruises present natural and manmade treasures of Southeast Asia with unique itineraries.
These itineraries are unlike anything you'll experience on European, American, or other Asian river cruises.
You may be wondering if Mekong river cruises are affordable. It turns out they can be more in line with your budget than you may think. Starting at around $1,595 on a river cruise line like Emerald Cruises, you can experience 8 days on the majestic Mekong River.
Of course, you must get to Asia to sail, but thankfully, flights to this continent are readily available and can be found at affordable prices. Some of the cruise operators who sail the Mekong River will also assist with booking airline tickets; they may even offer all-inclusive prices with flights.
Disclosure: There are affiliate links in this post, which means we may earn a small commission if you click the link and proceed with a purchase, at no cost to you. We truly only recommend hotels, products, and services we personally use. As Amazon Associates, we earn from qualifying purchases.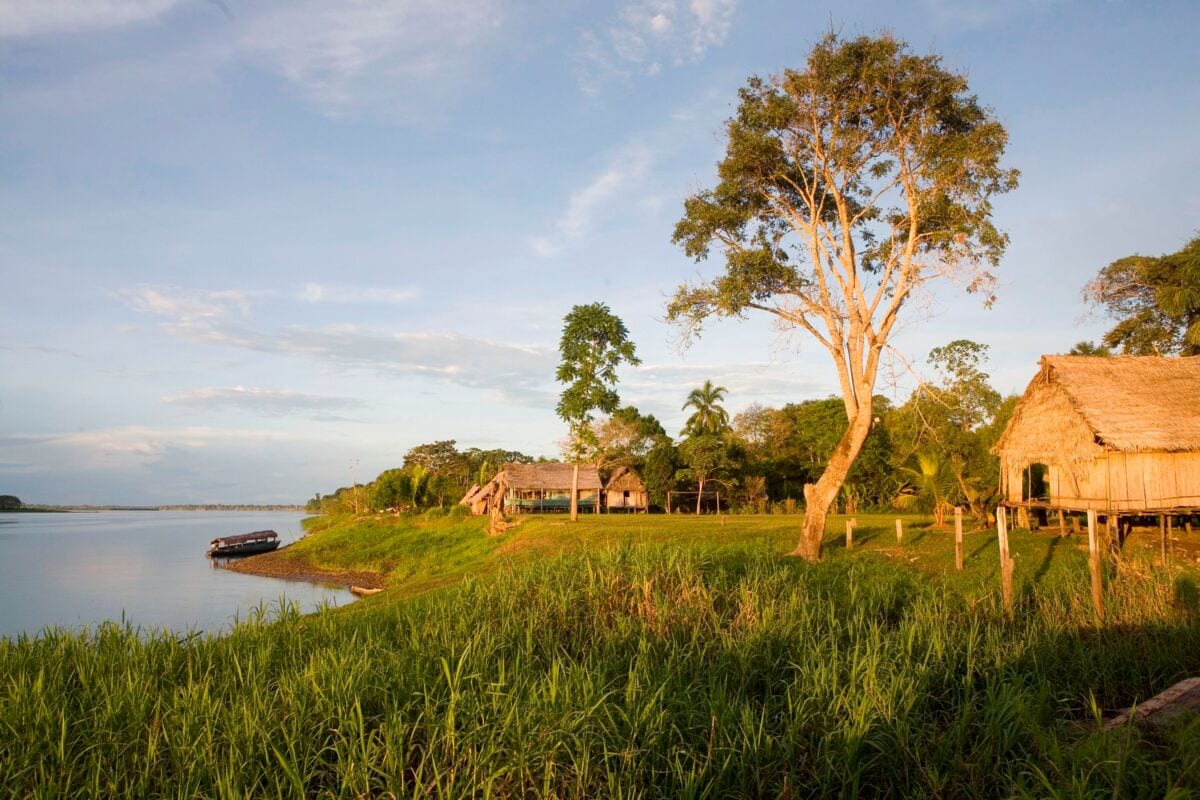 Mekong River Cruise Lines
Here are five of the most popular and well-reviewed Mekong river cruise lines in operation. Each offers a unique experience on a different part of the Mekong, which stretches a rather unbelievable 2,700 miles (4,350 km) and passes through six countries.
The river cruises differ in length and price depending on each operator. Capacity also plays a role, with some cruise lines offering a much more intimate experience.
Emerald Cruises Mekong River Cruises
Cruises vary from 8 to 21 days
Starting prices from $1,595
Accommodates up to 84 guests in its 42 cabins
Routes: Ho Chi Minh, Vietnam to Phnom Phen, Cambodia • Ho Chi Minh, Vietnam to Siem Reap, Cambodia • Hanoi, Vietnam to Siem Reap, Cambodia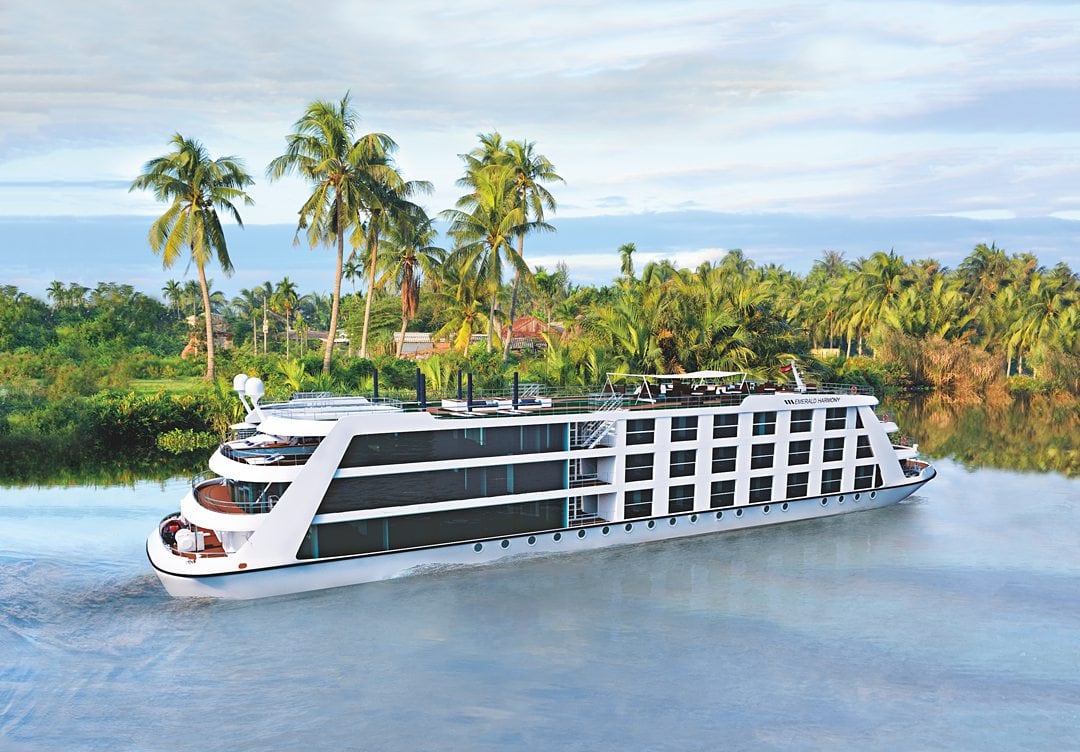 Scenic Cruises Mekong River Cruises
Cruises vary from 11 to 22 days
Starting prices range from $3,526
Accommodates up to 84 guests in its 42 cabins
Routes: Ho Chi Minh, Vietnam to Siem Reap, Cambodia (and the reverse) • Hanoi, Vietnam to Siem Reap, Cambodia • Hanoi, Vietnam to Ho Chi Minh, Vietnam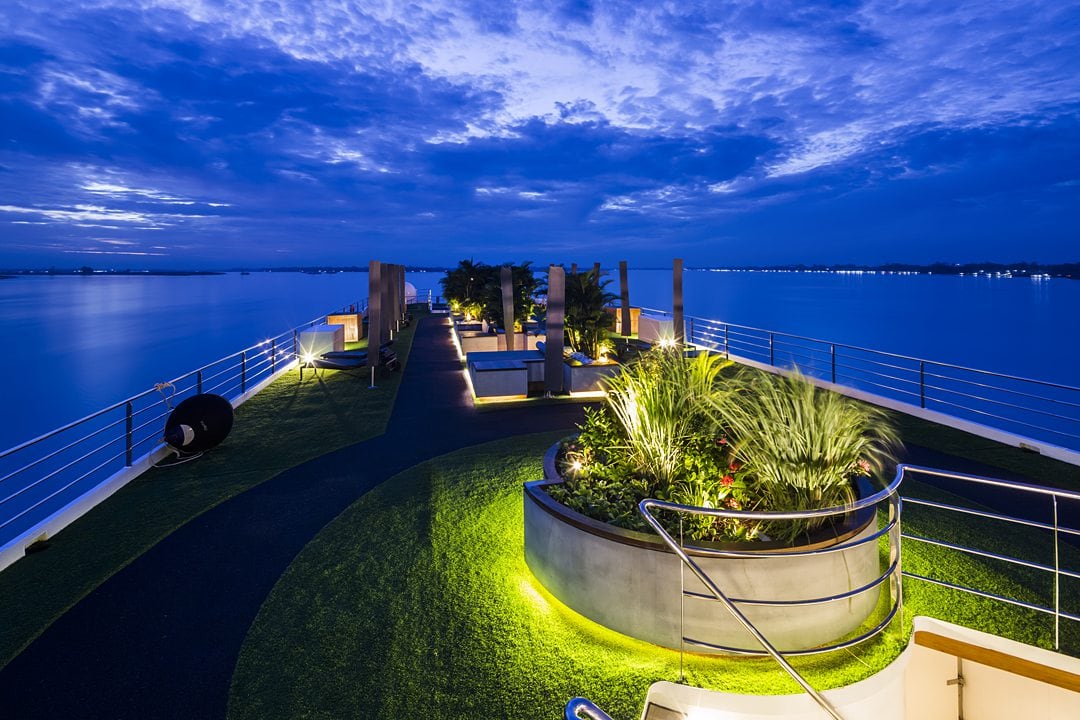 Uniworld Mekong River Cruises
Offers 13-day cruises
Starting prices from $4,900
Accommodates up to 68 passengers
Route: Ho Chi Minh, Vietnam to Siem Reap, Cambodia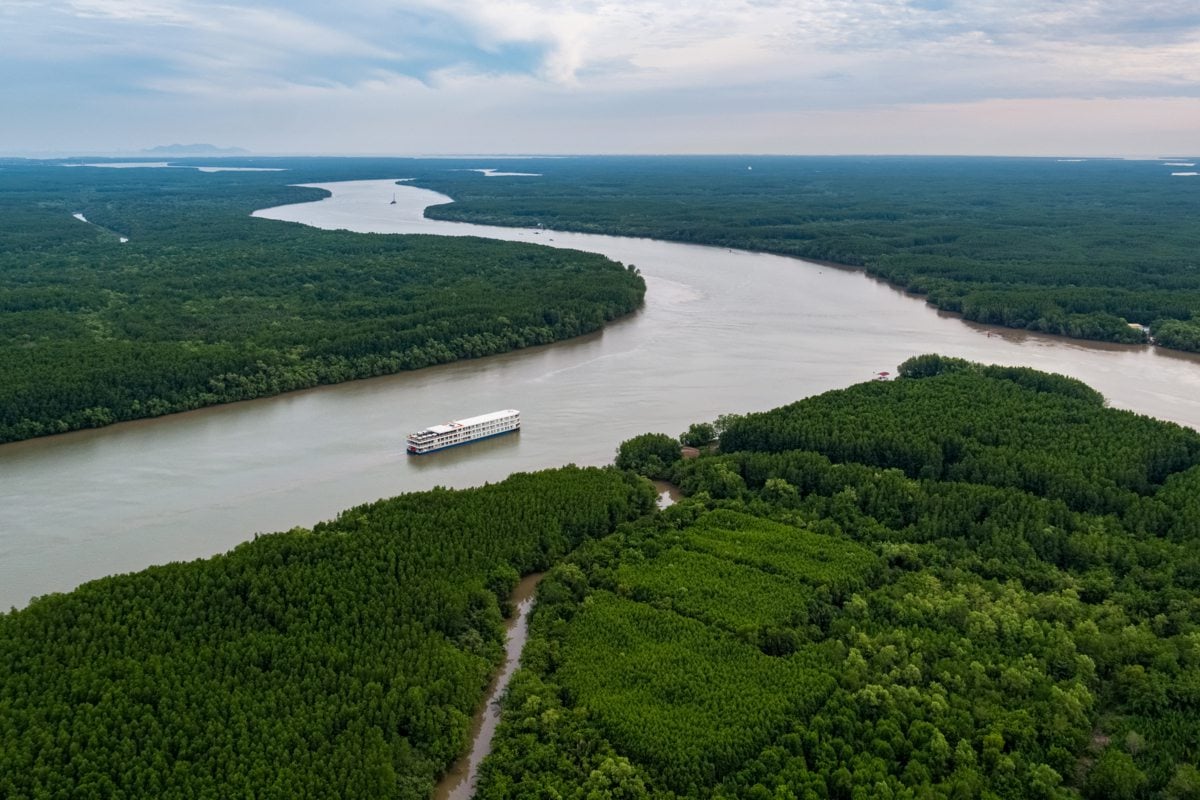 Aqua Expeditions Mekong River Cruises
Offers: 3, 4, or 7-night cruises on Aqua Mekong
Prices start at $4,125
Capacity 40 passengers
Route: Ho Chi Minh, Vietnam to Siem Reap, Cambodia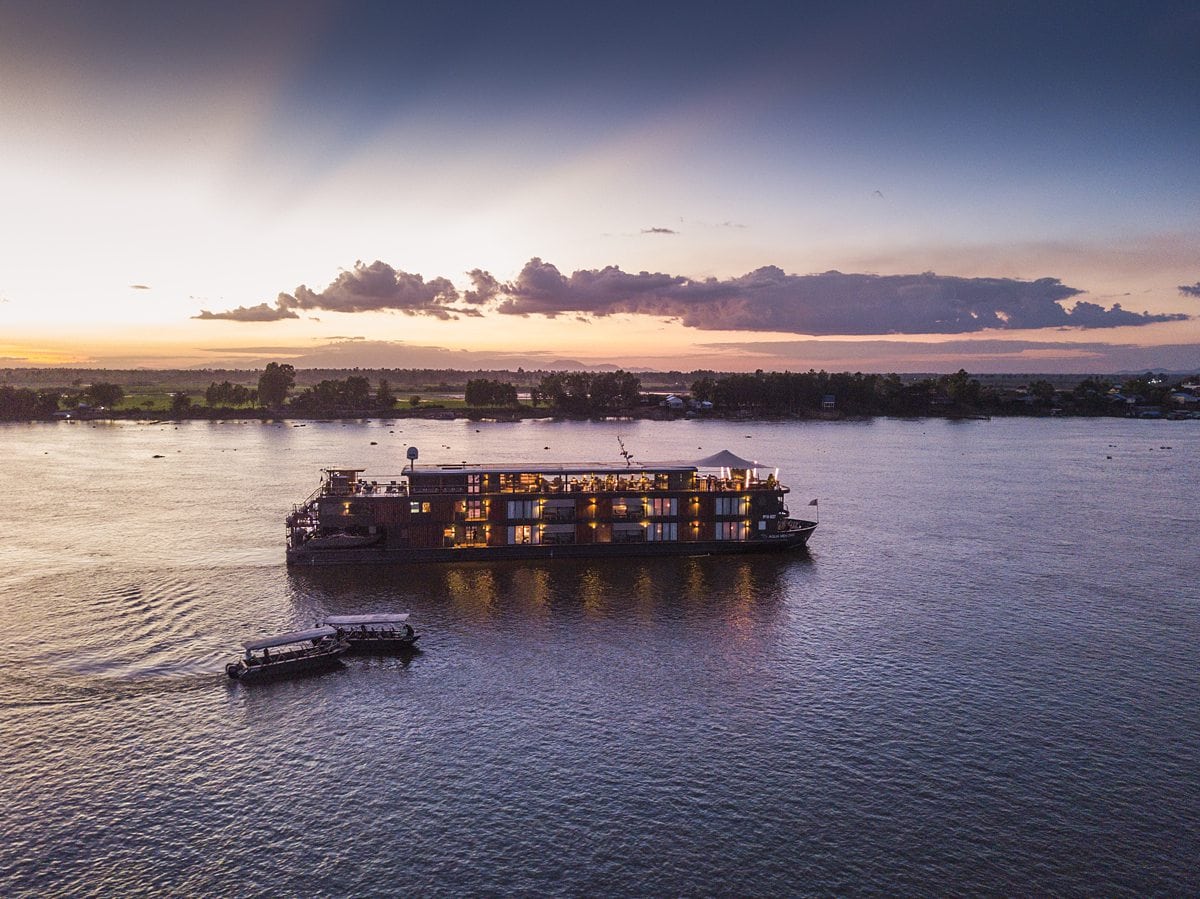 Viking River Cruises Mekong River Cruises
Offers 15-day cruises
Prices start from $4,500
Capacity is up to 60 passengers
Route: My Tho, Vietnam to Kampong Cham, Cambodia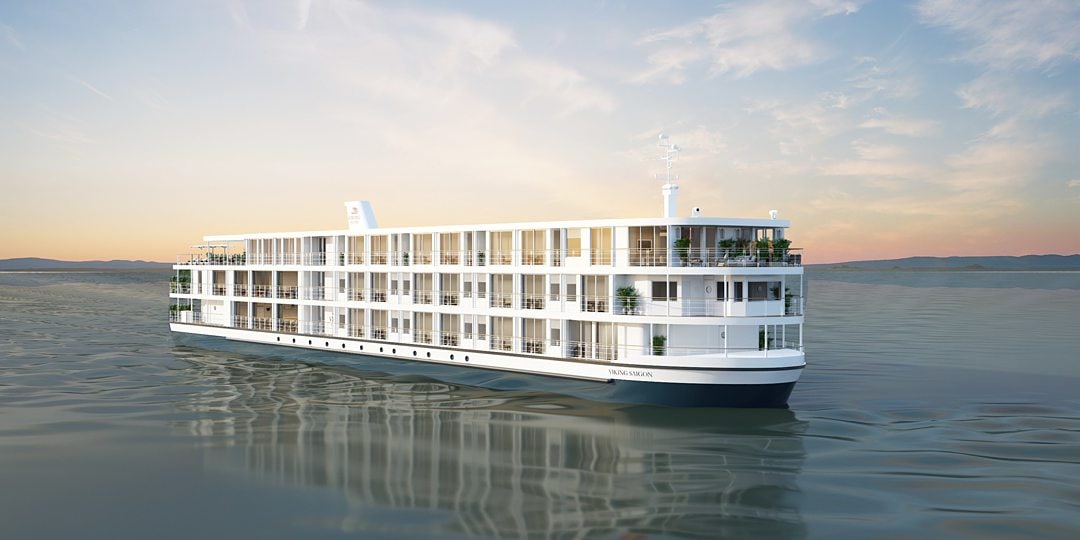 Mekong River Cruises
Offers 6 to 11-day cruises
Prices start at $1,200
They offer an intimate experience on one of their two ships, Mekong Sun or Mekong Pearl that each holds 28 to 29 passengers (Mekong Pearl has an additional single cabin) – a minimum of 10 passengers per cruise are needed to sail.
Routes: Between the Golden triangle and Vientiane, Laos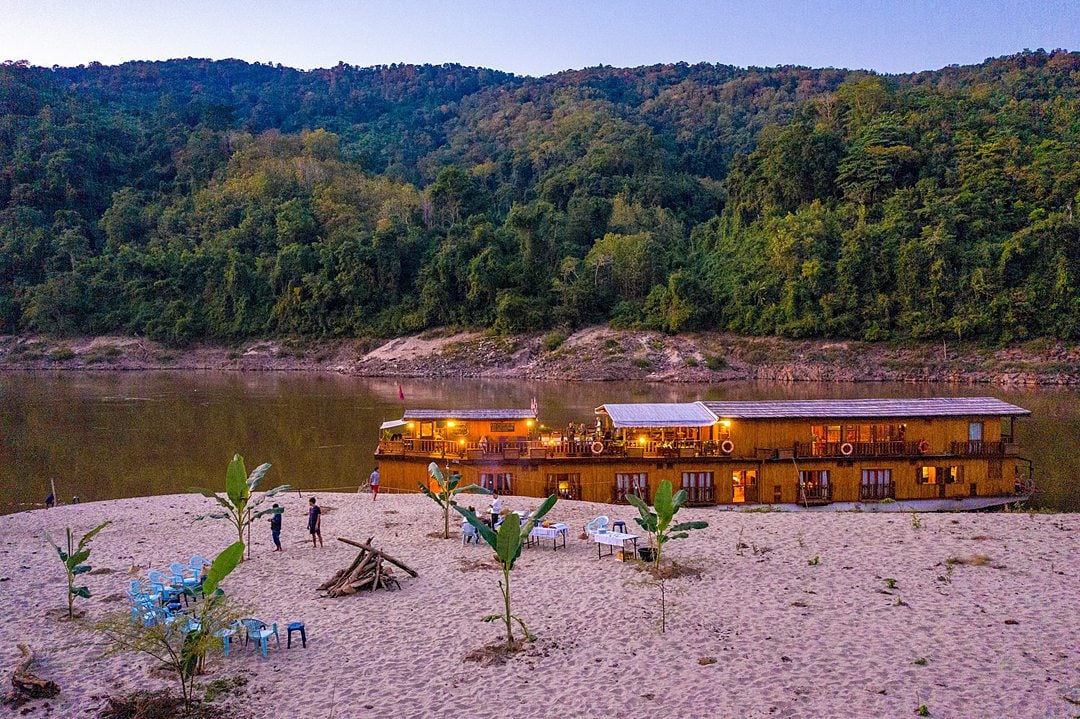 Mekong Kingdoms
Offers 3 to 4-day cruises
Prices start at $7,000
They offer an intimate experience on one of their two ships, 13-cabin ships
Routes: Luang Prabang – Golden Triangle or the reverse
Get the best deals and save on river cruises by booking ahead of time, during a promotional period, or booking last minute.


Mekong River Cruise Season
The Mekong River's flow is seasonal, with the water levels reaching astonishing lows and incredible highs.
April to May: Low water level season
May to June: Monsoon season
August to September: High water level season
September to March: Typical river cruise season
From April to May, the river levels are typically at their lowest, making boat travel improbable along the majority of the river.
May to June is usually the monsoon season with strong winds and heavy rains.
This results in the river reaching its highest levels from August to September, which means fast-moving currents and water levels often breach the river banks.
Due to the seasonal changes in the river's water levels, most river cruises are nonoperational from April to the end of September, except Aqua Expeditions which operates in a section of the river with regular water flow all year round.
The typical Mekong River Cruise season is from September to March when most of the river is accessible, and currents are safer.


What to Expect on a Mekong River Cruise
Mekong River Cruise Food
The cuisine offered on the Mekong river cruises is no less than exceptional. If you have any dietary restrictions, be sure to explain this before your trip to make your food experience as smooth sailing as possible.
The cuisine offered on each cruise will reflect the region you are exploring as well as the typical dishes of the west.
You can expect lots of seafood and fresh river delights.
The best river cruise lines will source most of their produce locally and design their menus based upon your geographic journey to take you on an authentic tour of the region through food.
Scenery as you Cruise on the Mekong River
The scenery you will experience from your cabin window or the deck will be some of the most naturally stunning landscapes that you could possibly see.
Unlike European and other Asian rivers, urban cities along the Mekong are few and far between.
This is due to the low-water river season, where the river runs nearly dry, and the incredibly high-water season, where the river fills to its brim.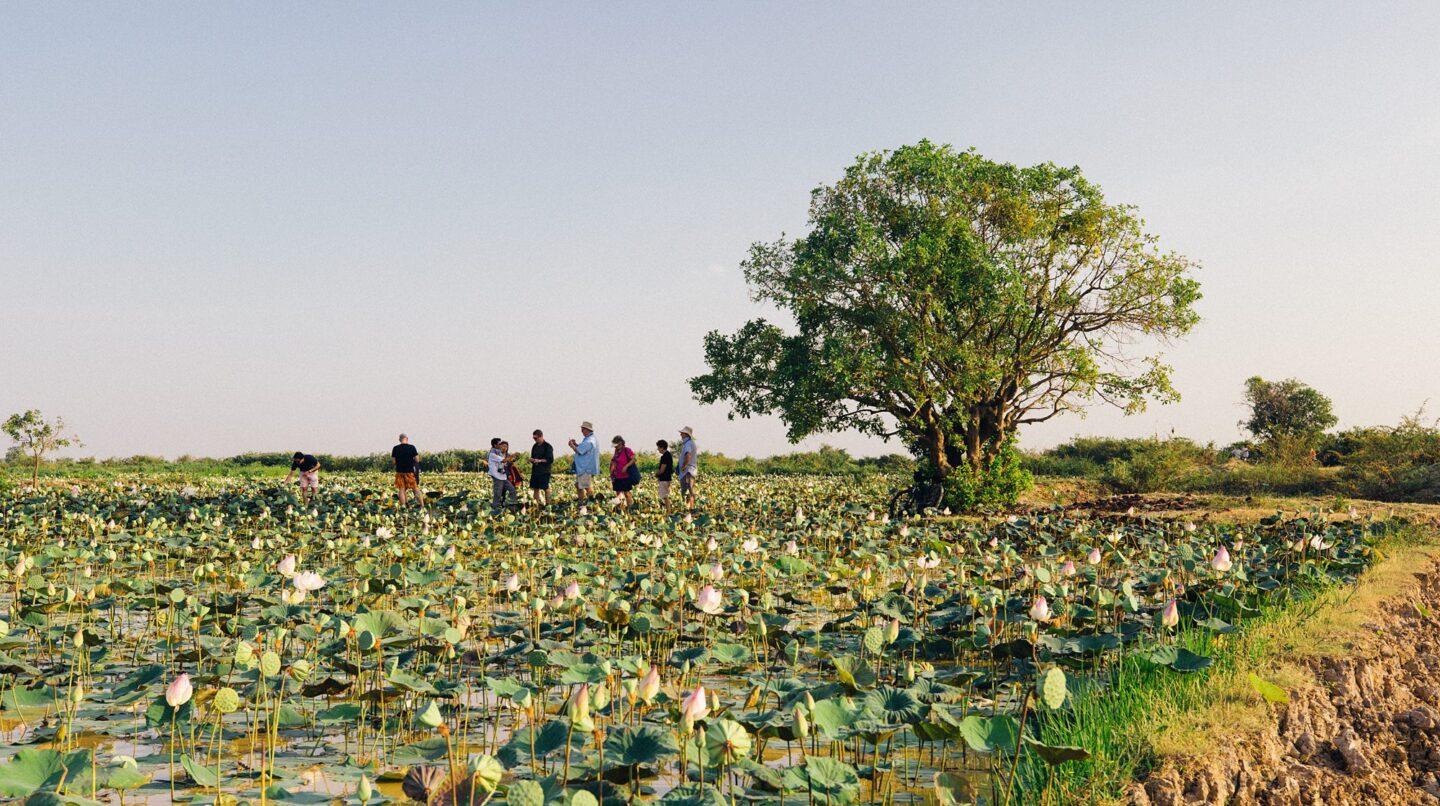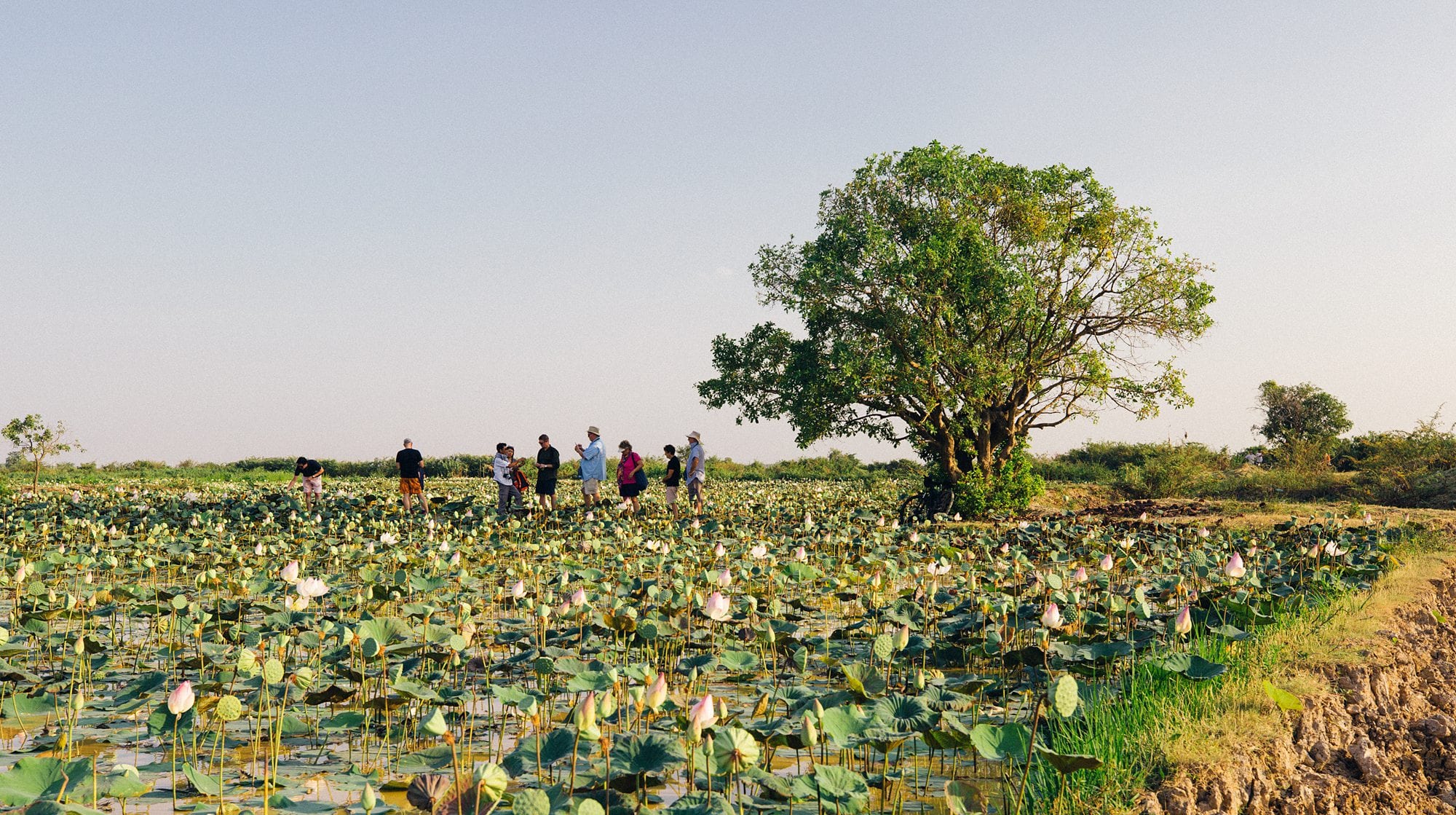 This makes the river banks and surrounding areas rather unsuitable for urban development.
With a lack of widespread urban development, your cruise along the river guarantees you unaltered and unparalleled views of the Mekong basin's natural beauty, which is stunning!
Besides your ports of call, there are signs of scattered local life throughout, some so unique you'll wonder if you've traveled into the past.
People along the Mekong, especially in Cambodia, literally live in and on the Mekong without any modern amenities.
You'll pass their wooden villages built on stilts designed to survive the flood season. Here, the locals fish directly from their homes and raise their families and even livestock.
Also, you will see temples and statues of Buddhas and other monuments along the Mekong River.
The Mekong is also home to fish such as the freshwater stingray and the giant catfish.
The largest of these species have been caught in the Mekong River's Thailand and Cambodian sections. If you're lucky, you may see some!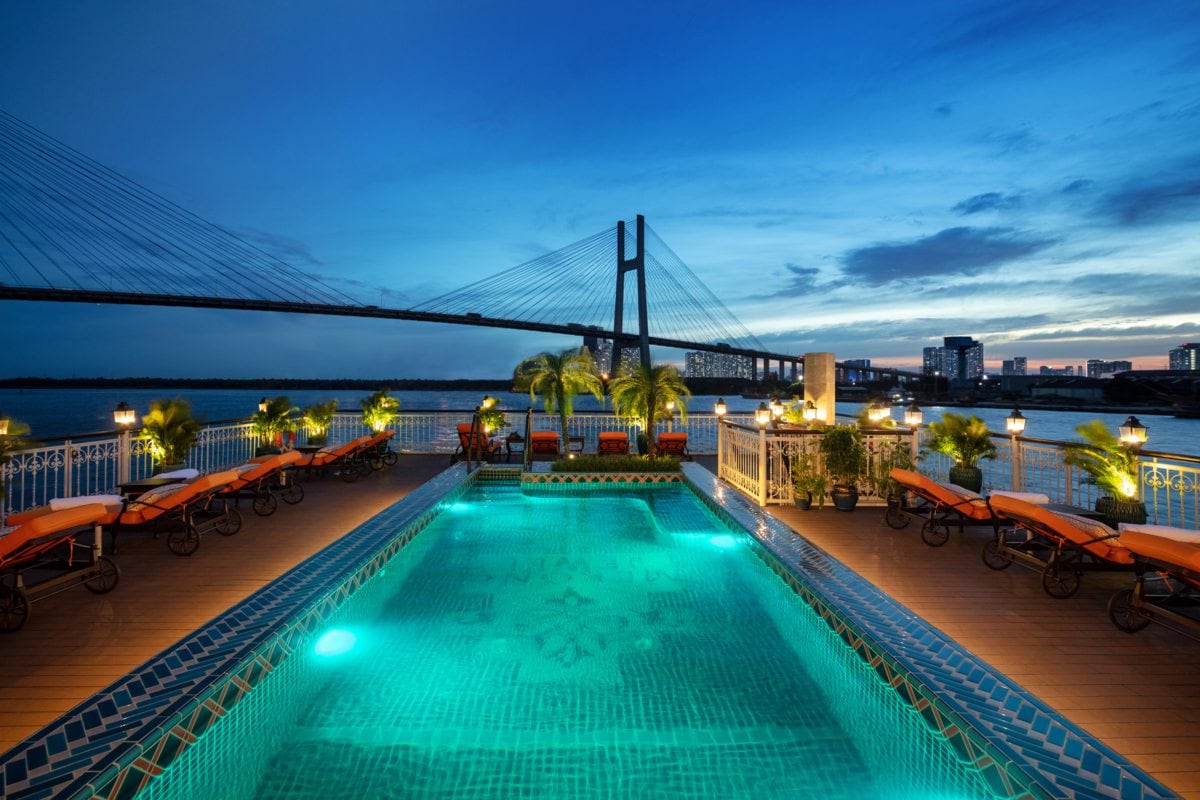 Highlights of a Mekong River Cruise: Bays, Ports, and Areas
River cruises on the Mekong mostly sail between Cambodia and Vietnam. However, you will find some outliers, like the Mekong Kingdoms mentioned above, that sail between Thailand and Laos.
Each port of embarkment or disembarkment offers unique, sometimes once-in-a-lifetime experiences.
You should consider tacking on a couple of extra days at your cruise's start and end! Here are a few that shouldn't be missed.
Siem Reap, Cambodia
Siem Reap is home to a UNESCO World Heritage Site called Angkor Wat.
It is a sprawling ancient metropolis of temples and ruins that shouldn't be missed. You should consider tacking on a couple of extra days either at the beginning or end of your trip to explore these ancient ruins.
You can also take a short trip to The Cambodian Landmine Museum or enjoy one of the night markets in town.
Phnom Penh, Cambodia
Visiting Phnom Penh can be a sobering experience. Here, you can experience the historical genocide of the 1970s by visiting the Tuol Sleng Museum (S-21 prison) and the Choeung Ek Genocidal Centre (The Killing Fields).
Neither is for the faint of heart but is a meaningful cultural experience.
For something much more light-hearted, you could visit the Royal Palace.
Ho Chi Minh City, Vietnam
You don't want to miss visiting the famous Cu Chi Tunnels. These are a series of underground tunnels the Vietnamese used in the Vietnam war to defeat the American invaders.
Easily one of the best war museums, possibly in the world, is the War Remnants Museum. It shows the honest, stark reality and atrocities of war.
For some cultural entertainment, check out a puppet theater show. They are available all over the city and highlight the culture of Vietnam and its history.
Ha Long Bay, Vietnam
Ha Long Bay is another UNESCO World Heritage Site. If you aren't tired of being on a boat, this one-of-a-kind journey will take you through some of the Earth's most magnificent physical features.
You'll travel one or two nights on a traditional junk boat, sing karaoke at night, and jump into the jade-colored waters.
You'll kayak through caves and hike through the largest cave in Vietnam.
Golden Triangle
The Golden Triangle is located in Laos, Thailand, Burma (Myanmar), and China.
The best place to experience it is from Chiang Saen, Thailand, where you can visit the Hall of Opium Museum and stand at a viewpoint where you can see the point where Laos, Thailand, and Burma meet.


Tourist Visas and Passport Information for a Mekong River Cruise
You always need to travel with your passport for an international river cruise. A good rule of thumb is that it should be valid for at least six months after your trip.
If you're sailing on the Mekong River, you also likely need tourist visas. Without getting too much into the weeds about what countries you'll need visas for and how to obtain them for your Mekong River Cruise, we'll say that if you book a cruise, check with the cruise line about the requirements.
Associated visa costs vary per country. Expect to pay around $30 to $45 per person for a visitor visa.


About the Mekong River
Mekong Water and Topography
The Mekong begins as a trickle of water up high on the Tibetan plateau.
From here, the water carves its way through steep rocky terrain where the river is only approximately 1-meter wide. As the river continues to travel, its steepness declines, and it widens out to cover areas up to 1 kilometer wide!
The waters of the river are typically brown in color, with some places where it runs a bit clearer than others.
Depending on which part of the Mekong you're cruising on, you'll experience natural landscapes where the river is wide, the forests line the river, and in some spots, you'll be traversing through mountainous or hilly forested areas.
You'll experience incredible sunsets and sunrises that will reflect in impossible ways off the Mekong waters.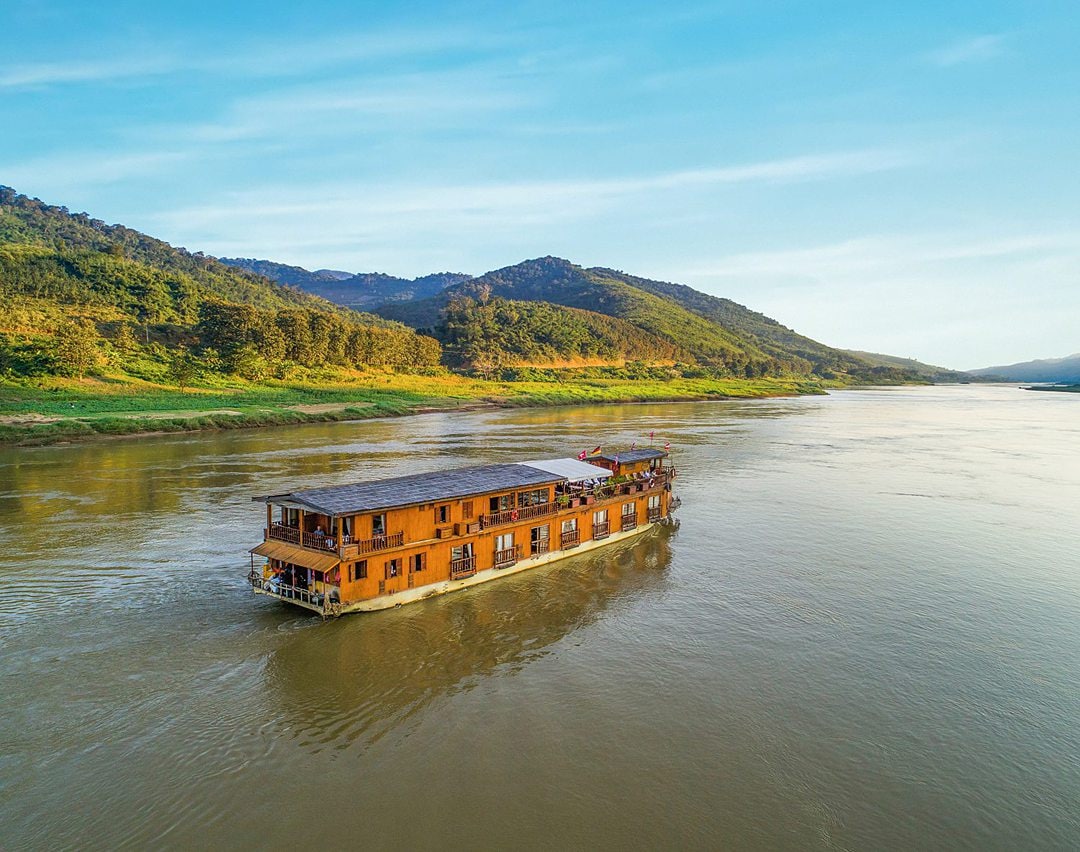 Additional River Cruises in Asia
Cruises are gaining popularity within Asia. Here are a few more options should you decide to extend your stay!
Cruises in Thailand
Cruises in Vietnam


Mekong River Map
Countries the Mekong River Flows Through
The Mekong River flows through six countries, beginning in the Tibetan plateau.
From there, it flows through Southern China, Myanmar (Burma), Laos, Thailand, and Cambodia, and finally flows through the Vietnam delta.
Conclusion
This trip will be a very unique river cruising experience that change up the more traditional European river cruises you may have been on, whether the Danube River or Garonne.
With a Mekong River cruise, the temples, cultures, landscapes, and people you experience in Southeast Asia will provide one-of-a-kind memories for your travel books!