Extensive Emerald Azzurra Food and Drinks Review
The food and drinks on Emerald Azzurra, which is an Emerald Cruises yacht, were spectacular. We looked forward to the next meal with tasty courses and plenty of options every day.
Below, we'll take you through each meal and what's typically offered, what restaurants and bar options are available, what the coffee and tea situation is onboard, and what the Platinum Package for drinks gets you on Emerald Cruises yachts and what it costs.
Disclosure: We thank Emerald Cruises for generously hosting us. All opinions are ours, and we bring you genuine content with real facts, photos, thoughts, and recommendations. Always. As Amazon Associates, we earn from qualifying purchases. We also may make a small commission from additional affiliate links in this post (at no cost to you), which help keep our content free for our readers.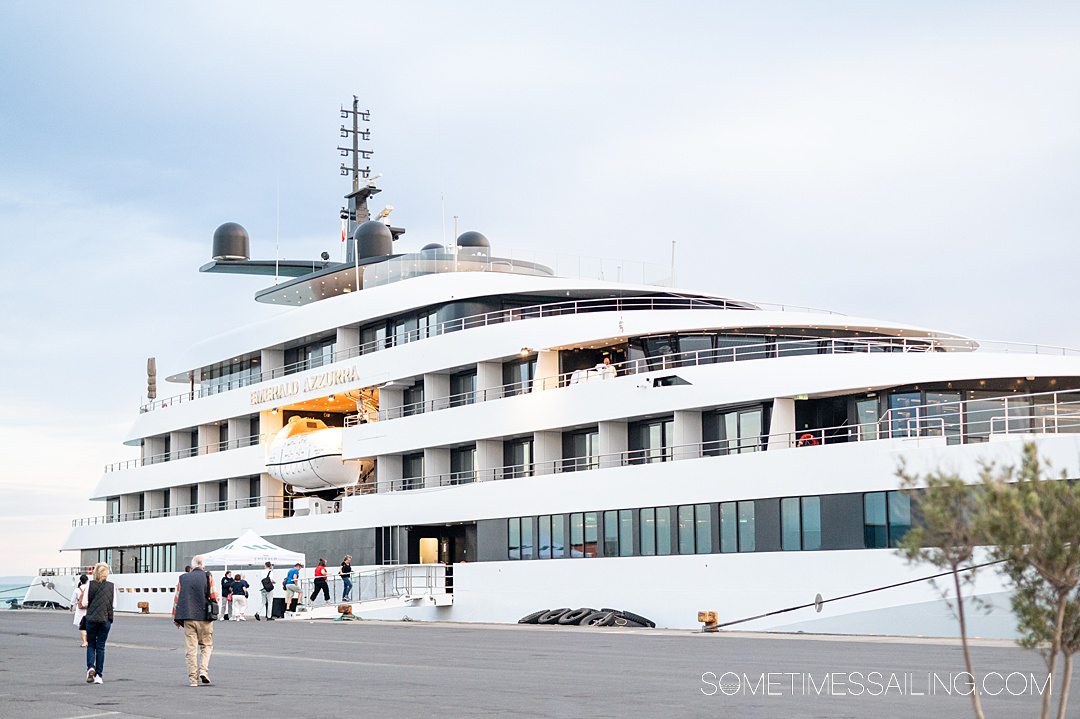 Overview of Meals and Snacks on Emerald Azzurra
We'll discuss all the main meals and snacks and go into detail about each. We're also sharing what you need to know about beverages onboard. There is one main restaurant on Azzurra called La Cucina and another on deck 6, called Aqua Café, where the pool is.
Generally speaking, there is one breakfast option every day in the main dining room from 8:00 am to 10:00 am. Then a buffet lunch is served daily from 12:00 pm to 2:00 pm. An additional lunch location option in the Aqua Pool area has fewer options. Dinner is plated and served in the main dining room from 7:00 pm to 9:00 pm every day.
All their printed menus include symbols to indicate if a dish is vegetarian, gluten free, dairy free, or has nuts.
➤ Read Our Extensive Emerald Azzurra Yacht Experience Review
Dining Areas on Emerald Cruises Yachts
La Cucina
The main dining area of the ship is La Cucina. It's a very pretty and modern dining space, with a mix of tables and chairs – some round tables mixed with rectangular – some booth seating, and some high-top tables.
Most of the seating is indoors, however, La Cucina Terraice is available for those who wish to sit outside to dine. It was usually too windy to sit outside if the ship was sailing. Yet the terrace was a nice place to sit for breakfast or lunch when the ship was usually in port.
Seating is not assigned, and guests can arrive for a meal any time within the scheduled time blocks, though mostly everyone showed up for dinner, especially at the start of the meal. There were plenty of tables and chairs whether you were solo and wanted to sit alone, a couple wanting a table for two, or a big group of 10 guests wanting to sit together.
A sink is stationed at the front of the dining room for handwashing, just after the area where guests walk into the restaurant through automatic sliding glass doors. There is also a bathroom right outside the dining area.
Lastly, greenery finished the space, making it feel like a tropical paradise!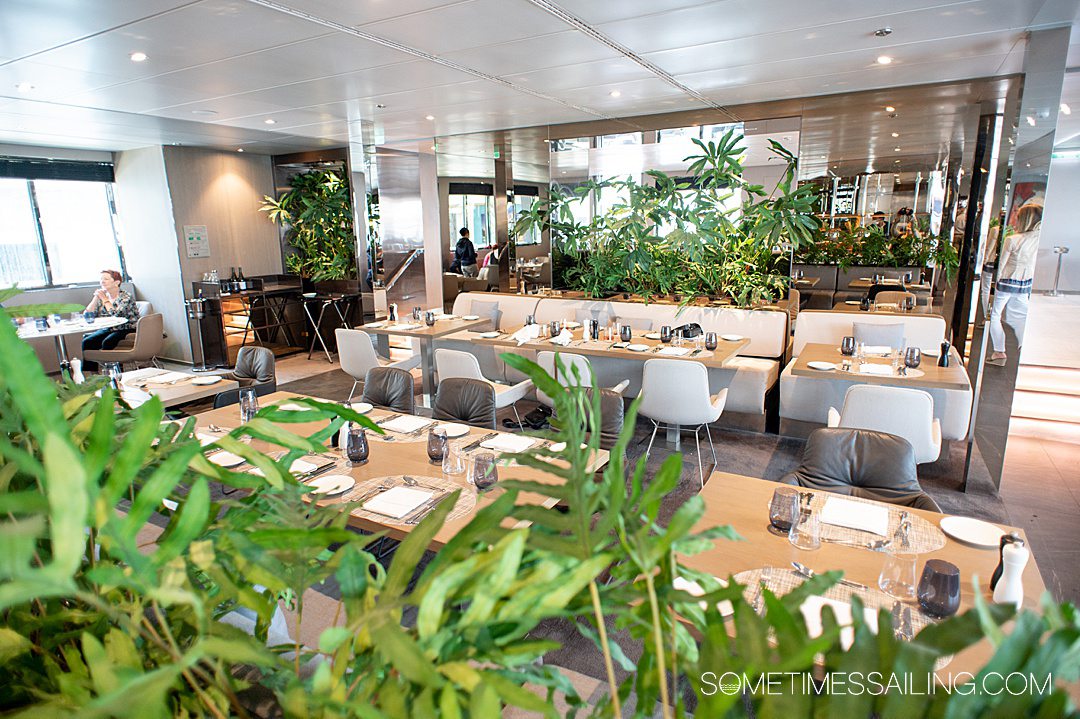 Emerald Azzurra Meal by Meal
Complete Breakfast
Breakfast was from 8:00 am to 10:00 am every day in La Cucina. The four-station buffet breakfast always had the following:
Bread – including baguettes, croissants, danishes, and English muffins – next to a toaster oven.
Fruit, smoothies, yogurt, and juice.
Hot items, like grilled tomatoes, beans, eggs, potatoes, and sautéed mushrooms, along with an omelet station.
Salads and cold items, like smoked salmon, prosciutto, herring, and salami. There was always a plate of multiple cheeses, such as Brie, cheddar, and blue.
You could also order from a breakfast menu at the table. This included items such as pancakes, French toast, eggs of any kind (I enjoyed a fried egg on toast a few times), minute steak, and lamp chops.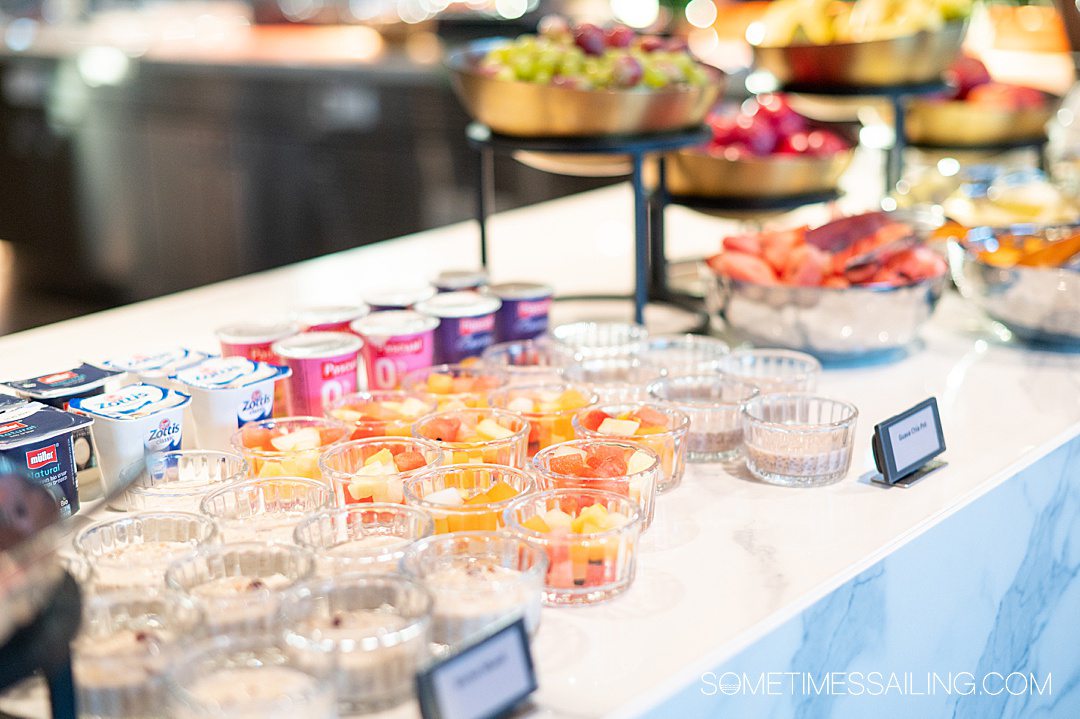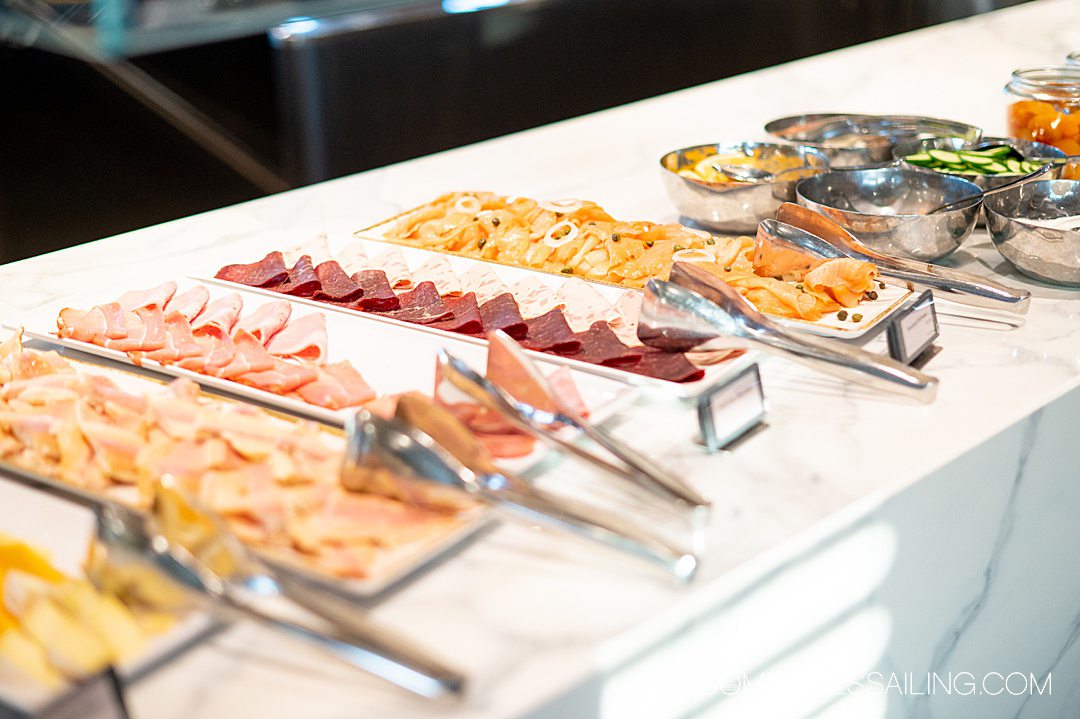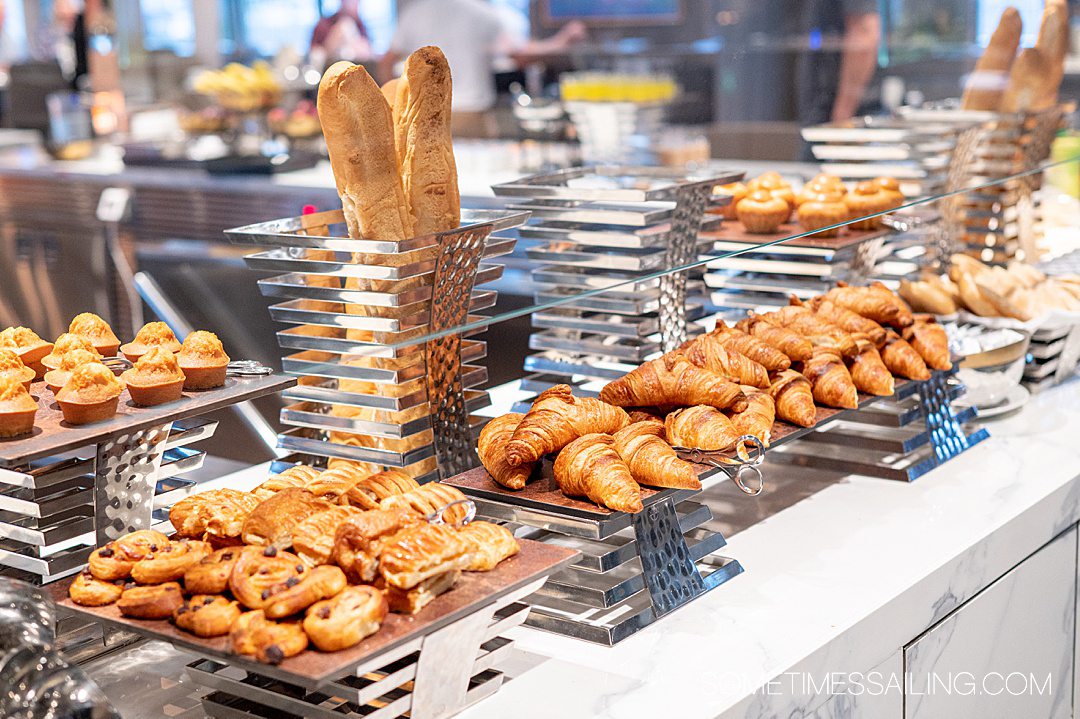 Extended Breakfast Option
A small continental breakfast option was offered between 7:00 am to 10:45 am at the Aqua Pool Cafe.
Lunch
There were two options for lunch. Guests could dine at the Aqua Pool Lounge/Cafe on deck 6 or in La Cucina restaurant on deck 3.
Lunch at the Aqua Pool Café
The Aqua Pool Cafe and lounge area is a beautiful setting to enjoy a meal in the open air if the weather is nice. The space is covered to shield it from any rain or hot sun. As most outdoor deck glassware is, the cups are plastic, and the vibe is more casual than the indoor main restaurant.
The menu is deemed "light snacks" and is available from 11:00 am to 2:00 pm.
There are a variety of flatbreads on the menu as well as hot items like hamburgers (including a vegan burger option) or a hot dog. Additionally, pre-made sandwiches are added to a refrigerated display case each day, and simple salad bowls are available to choose from.
For example, one day, the option was a roast beef sandwich or a tomato and cucumber sandwich. The next day it was a smoked salmon and cucumber sandwich or a tomato, cucumber, and mozzarella sandwich.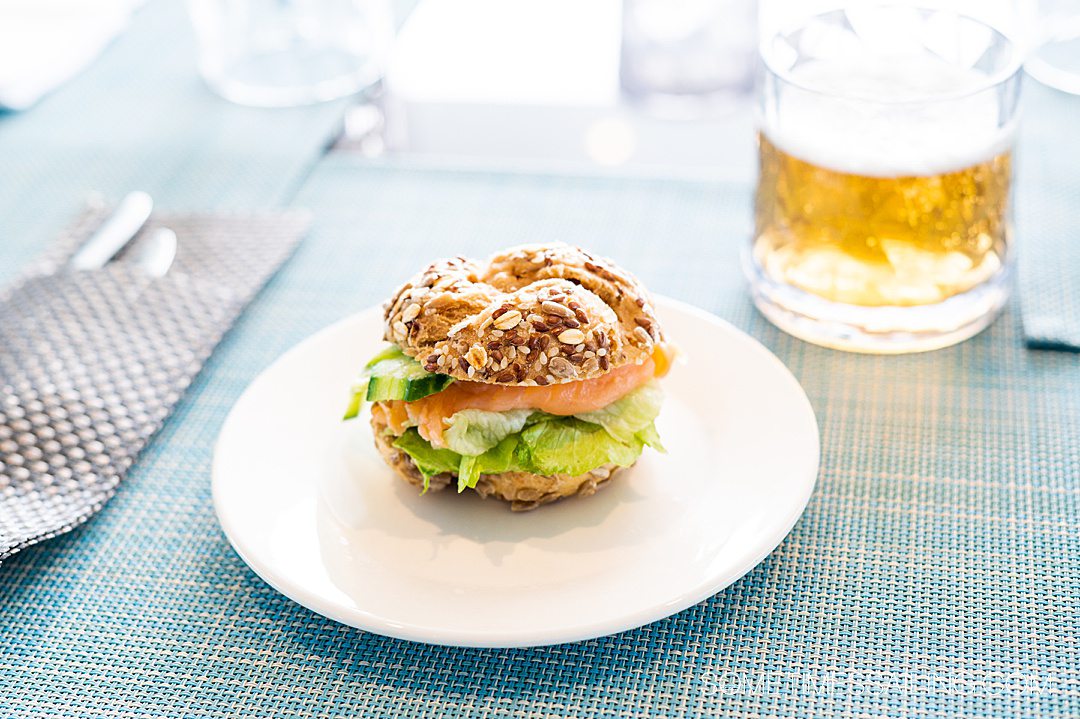 There isn't a full bar at the Aqua Pool Lounge, but you can choose from wine and beer there or soft drinks. There was also a coffee machine to order caffeinated or decaffeinated coffee drinks.
We ordered a flatbread pizza one day, and, we are sad to say, it was not good. This was actually the only thing we can recall eating on Emerald Azzurra that wasn't good; there is much room for improvement in the flatbread pizza department onboard, which we believe they are working on.
The next time we ate there, we tried a sandwich, which was better. Still, we preferred dining in La Cucina.
La Cucina Lunch
A buffet lunch was offered daily in the main restaurant, La Cucina. But don't let "buffet" turn you off for any meal with this cruise line because Emerald Cruises has the best buffets on small cruise ships we've ever had!
More often than not, the ship's guitarist and vocalist played some tunes while guests ate lunch, which was a truly lovely touch.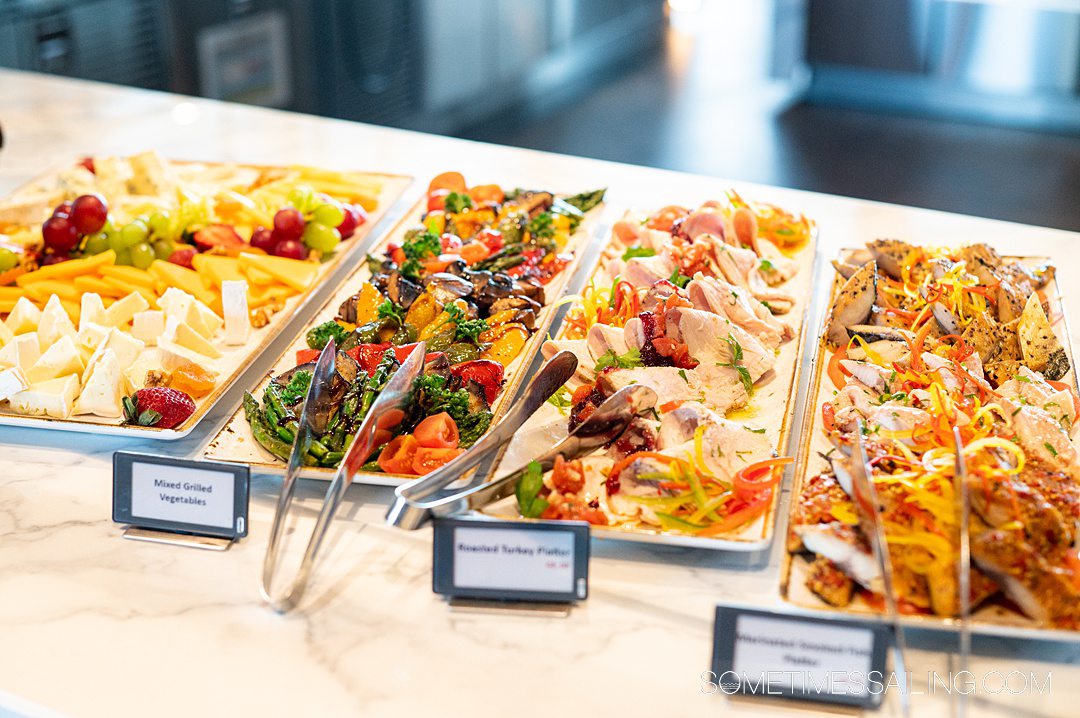 There was always a delicious variety of options to choose from for lunch at three stations, which were:
A salad station with two types of lettuce (romaine and spring greens) and toppings like cucumber, carrots, tomatoes, olives, sliced grilled chicken, croutons, and shredded Parmesan cheese.
A hot station with rotating options each day. In general, there was always a grain (a rice dish of some sort), sautéed vegetables, and a hot pasta option that was warmed and mixed by the Chef to order (where the omelet station was in the morning). Additionally, there were one or two other hot dish options (for example, one day, it was yellow dal, which was phenomenal, another day sausages and sauerkraut) and a small "make-your-own" station, whether it was a simple taco station or Mediterranean pita station.
A dessert station with plenty of cookies and cakes to choose from, and multiple ice cream flavors and toppings. Our favorite was pistachio!
Lunch beverage options include beer, wine, or soft drinks. Guests could get a mixed drink on certain days if a bar was open onboard during sailing time; on our particular cruise, regulations prohibited bars from serving hard alcohol while we were in port, but it depends on your Emerald Azzurra yacht cruise itinerary.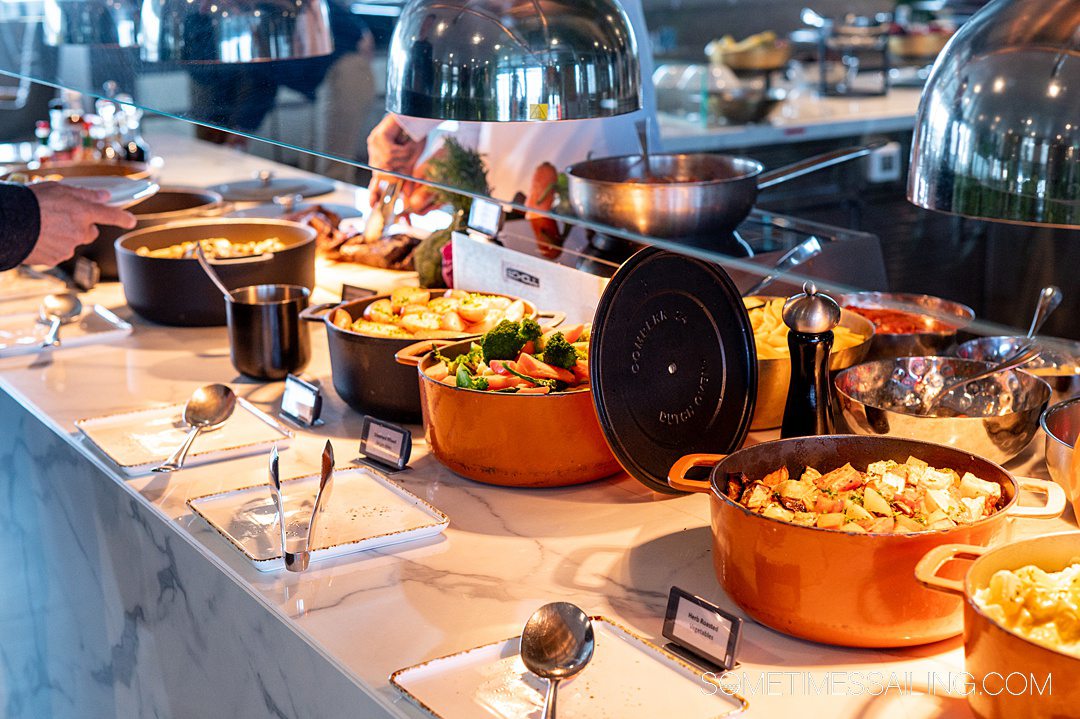 Dinner
We looked forward to dinner every day because it was so good! Not only was it a time to join our new cruise friends to discuss the great day and wonderful excursion that had passed, but the food was always tasty, and it was a relaxing setting to unwind.
Emerald Azzurra yacht cruise dinner always consisted of two menus: An everyday menu that never changed, called the "Always Available" menu, and a daily menu. This is typical of many cruise lines.
Guests could mix and match any items on either dinner menu for the evening. So, for example, if you want a Caesar Salad from the "Always Available" menu but the daily main for the evening from the changing menu, you can order as you wish.
Emerald Azzurra "Always Available" Dinner Menu
There is a dish to suit any taste on the "Always Available" Emerald Azzurra dinner menu (which presumably will be the same on its sister yacht, Emerald Sakura).
The menu included a Caesar Salad that a protein could be added to and a Shrimp Cocktail appetizer to start.
The main course items are dairy-free, and some are gluten-free. They include:
Spaghetti Bolognese
Grilled Sirloin Steak
Grilled Salmon
Jidory Chicken Breast
Steak of Breaded Eggplant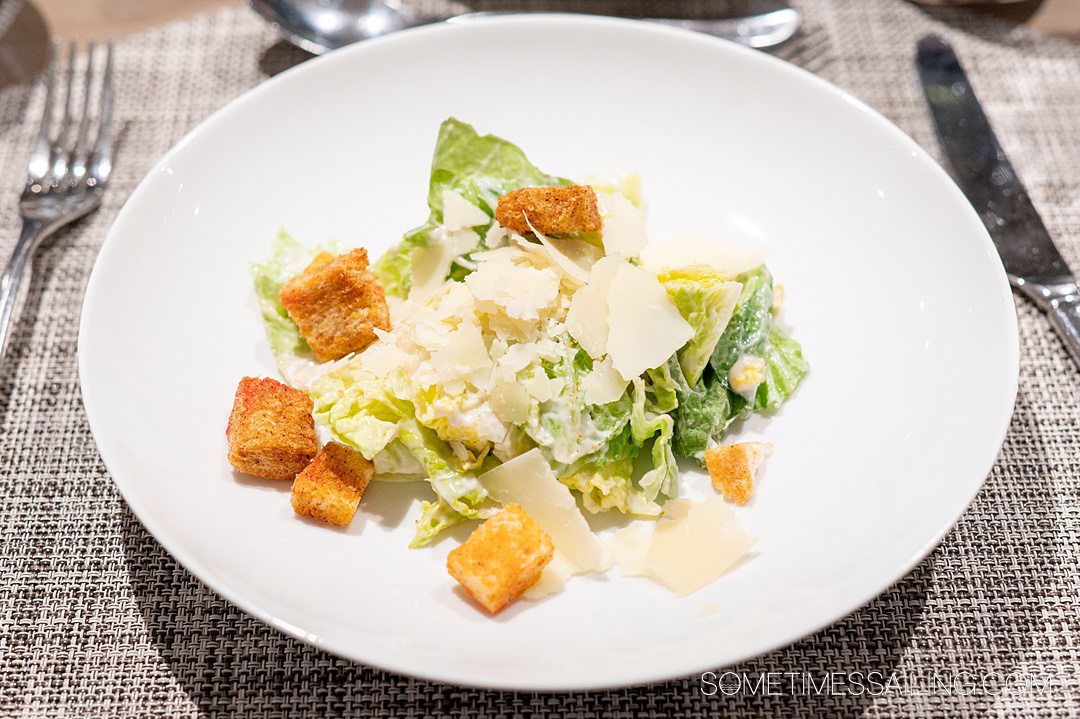 These items – except the spaghetti, which is already paired with a bolognese sauce – can be mixed and matched with a selection of sauces on the menu:
Sicilian
Bernaise
Hollandaise
Peppercorn Sauce
Bordelaise
Jidory Chicken Jus
Aromatic Piccatiny
Lemon Beurre Blanc
The "Always Available" desserts include fresh fruit and a cheese plate.
Emerald Azzurra Changing Dinner Menu
The menu that changed always included the below, though precisely what the items were changed:
Starters
Soups
Main course
Dessert
While we won't review what we ate for each dinner, we will share a few photos and highlights.
One of our favorite things that Emerald Cruises does on its yachts (not on its river cruises but its yachts) is to include a pasta course with each evening's menu. This was a highlight. Even Dan, who isn't particularly a pasta person at home, loved the pasta dishes.
The Cacio e Pepe pasta (which is a traditional Roman pasta dish) was so good we dreamed about it for the rest of the cruise.
We spent some time in Rome after the cruise because debarkation for the Ionian Sea Adventure was in Civitavecchia near Rome, and we can confidently attest to the flavor onboard Emerald Azzurra being as good as the Cacio e Pepe pasta in Rome at stellar restaurants.
Another favorite pasta was the Carbonara. Needless to say, Emerald Azzurra chefs do Rome's pasta dishes right!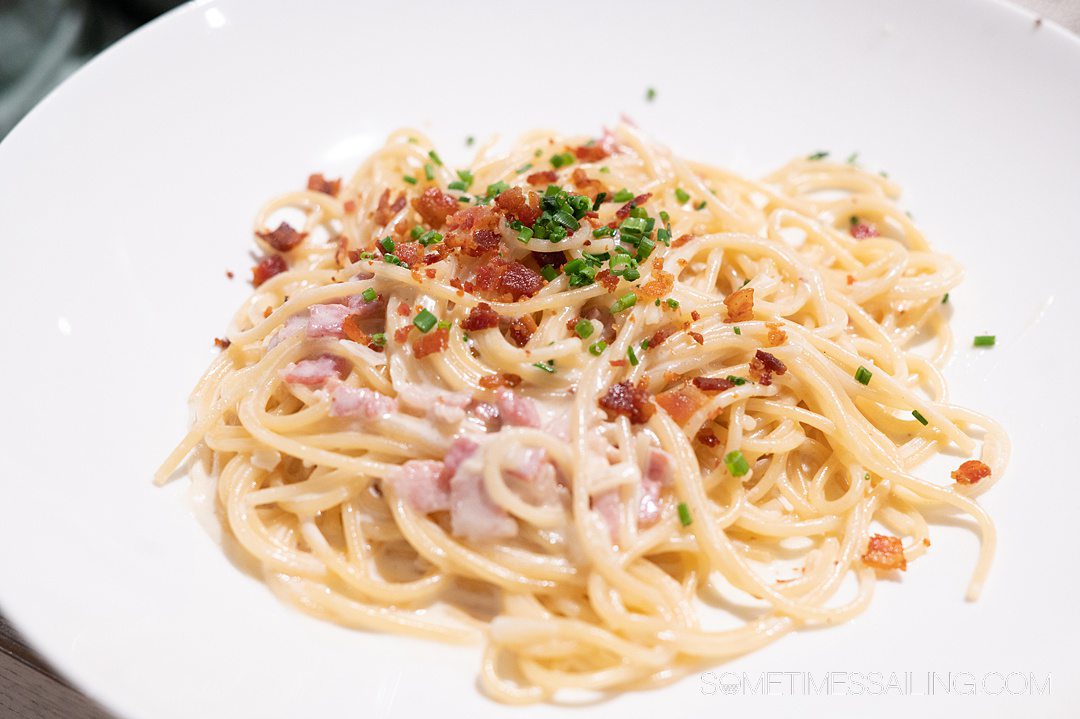 We also thoroughly enjoyed beef carpaccio, Greek salad (which was fun because it was offered the first night of the cruise, when we embarked at the Port of Piraeus in Greece, next to Athens), and several fish dishes served throughout the cruise.
We also must note that of any cruise ship, the soups on Emerald Azzurra are great and better than any cruise line we've been on.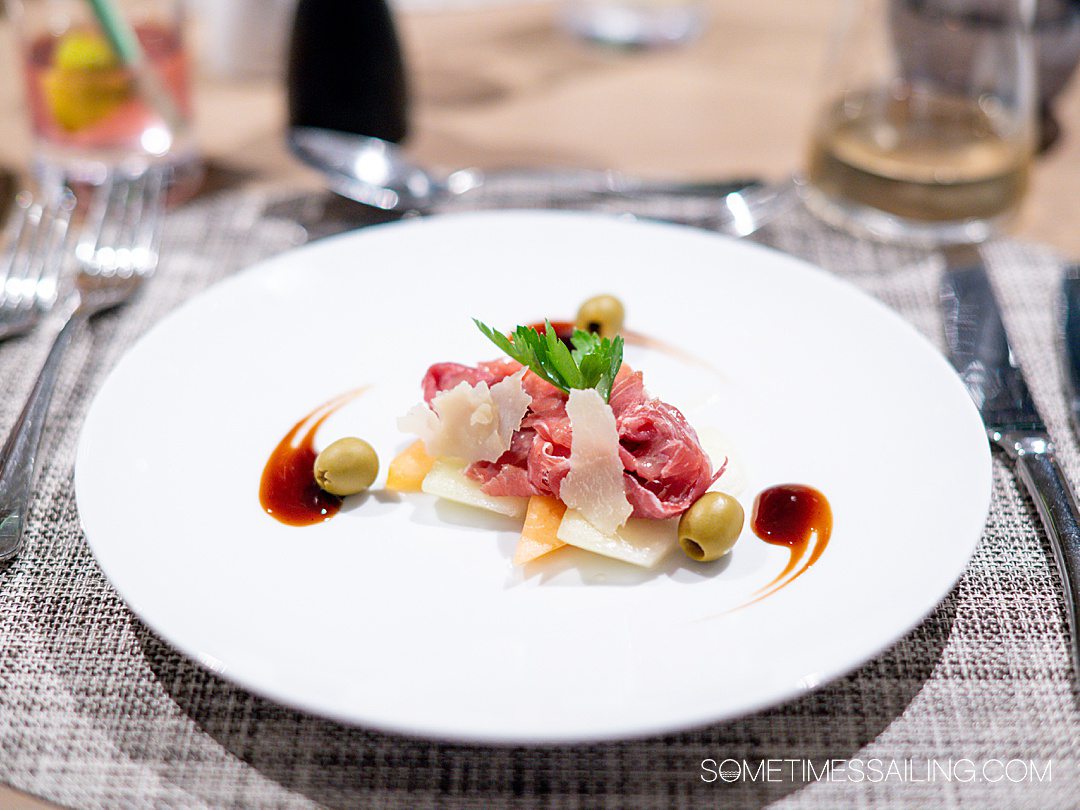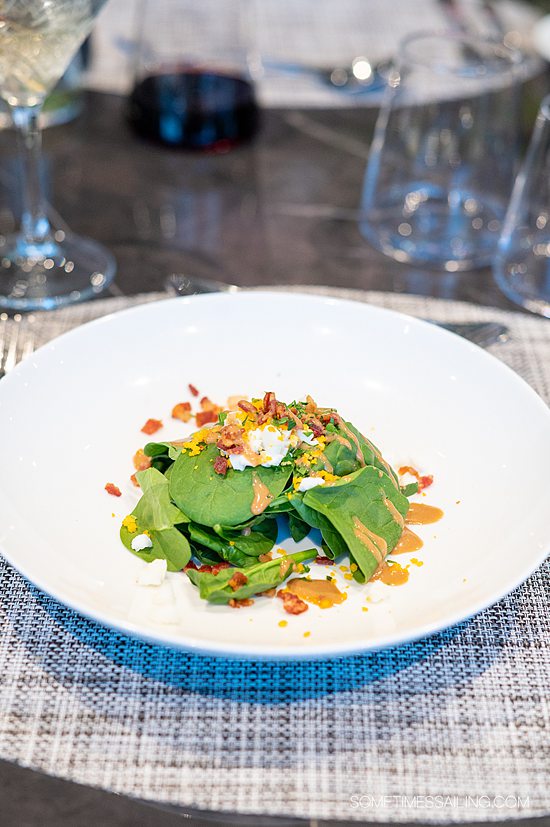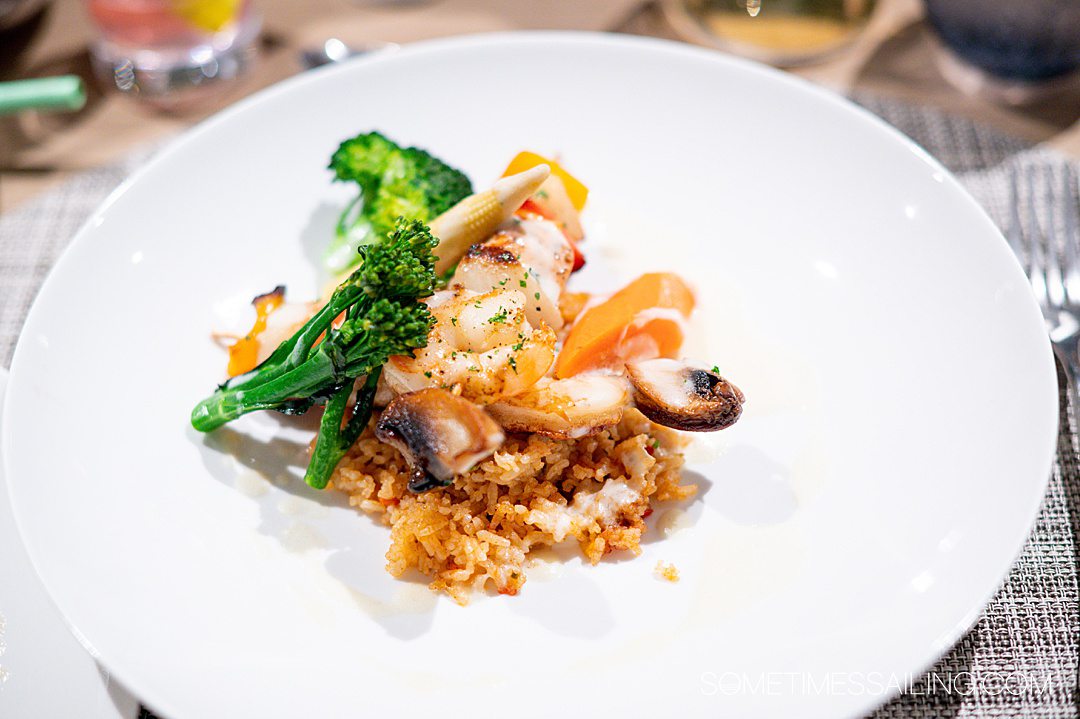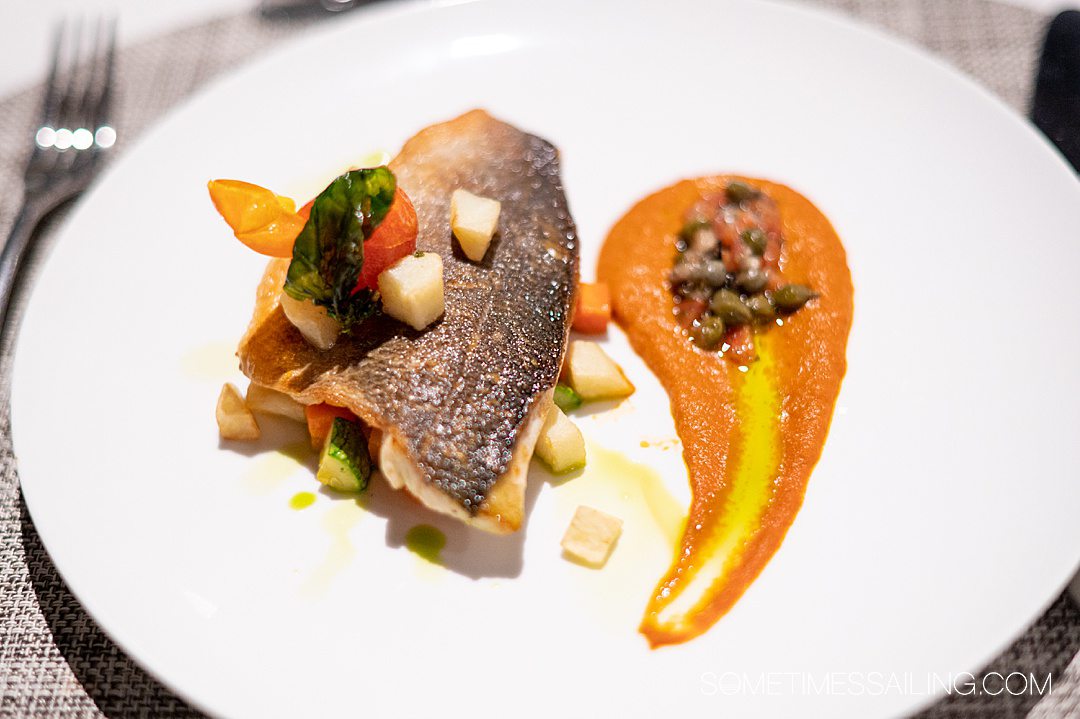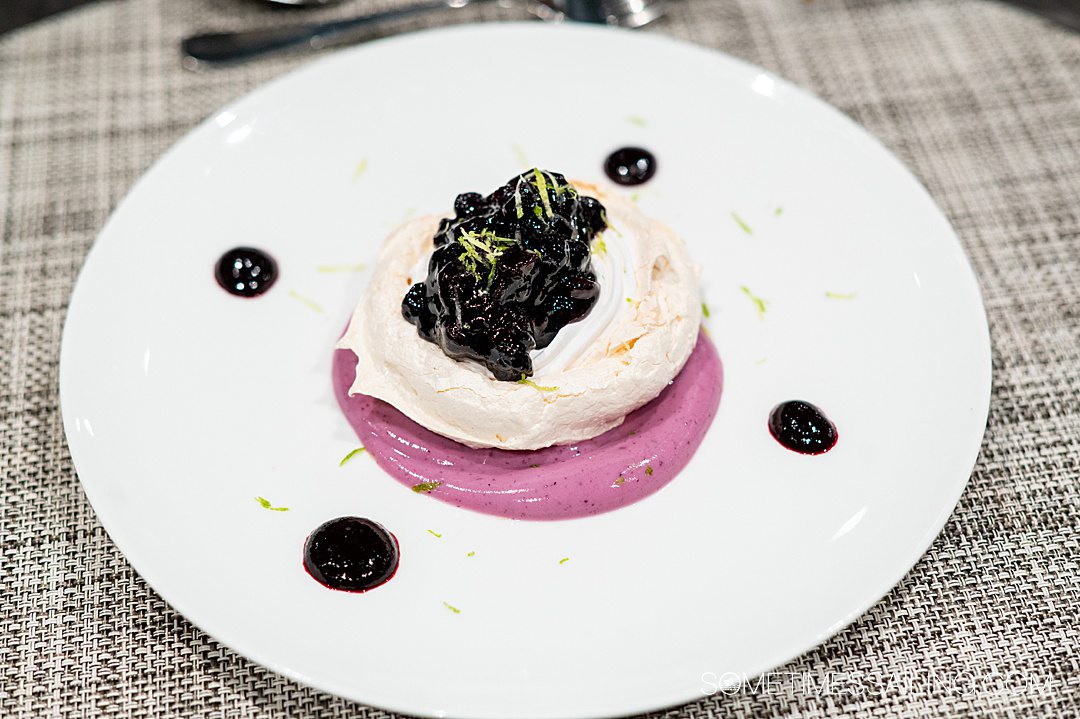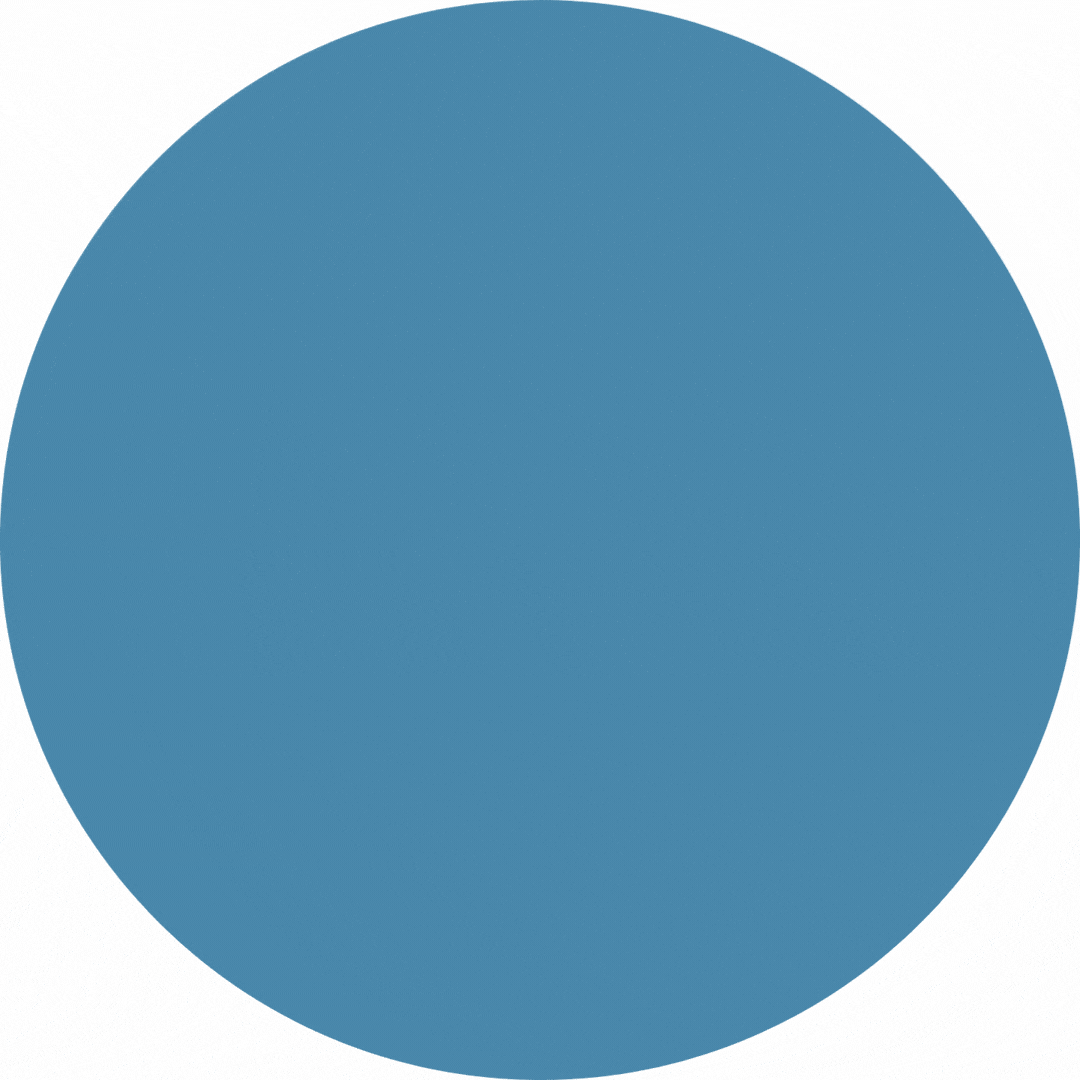 Ready to Book Your Cruise or INquire?
Use our preferred travel advisors, Bolds Travel, Because…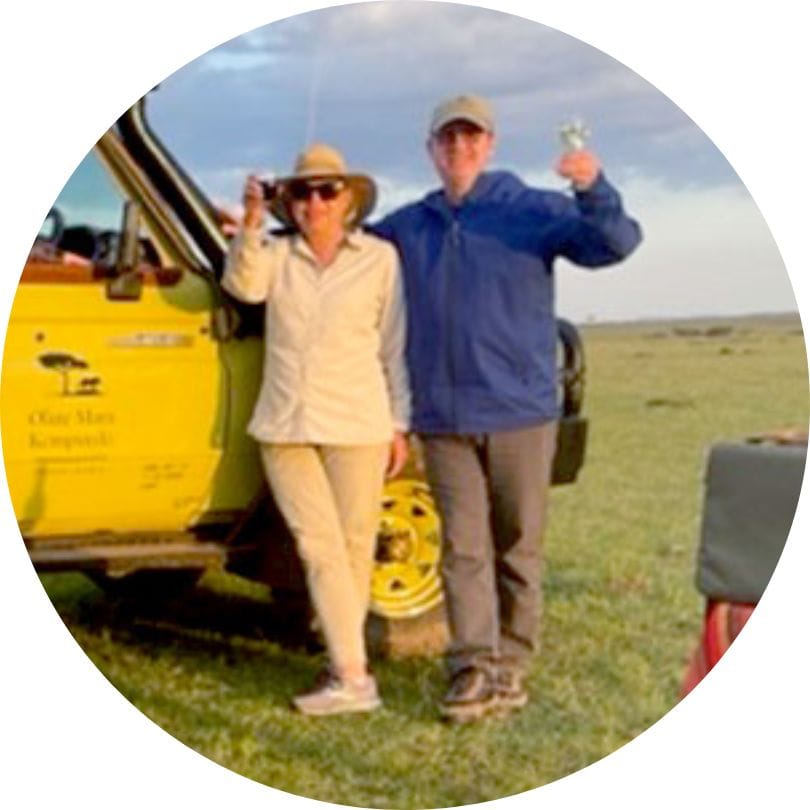 Room Service
Room service is available to guests who are staying in one of the eight onboard suites. It's a perk of the room category and is included in the cruise fare for suite guests.
While room service is unavailable to other guests, Emerald Azzurra accommodates in-room meals if you are feeling seasick and cannot make it to the dining room.
Snacks on Emerald Azzurra
There isn't much in the snacks department on Emerald Azzurra. Most days, we were so full from the previous meal we didn't need a snack. Or, we were off the ship exploring a port anyway.
If you get peckish between meals, there are limited options onboard, but you do have some choices:
There is always a jar of cookies next to the ship's two coffee and tea stations.
A bowl of fresh fruit is usually on the Sky Bar, near the hot tub. The crew moves the fruit bowl when the boat is rocky so it doesn't fall.
There are snack items in each room for an additional charge. This included four jars of the following when we sailed: Gummy Bears, Wasabi-Spiced Peanuts, Caramelized Peanuts, and Slightly Spicy Nut Mix. Each jar costs $3.50.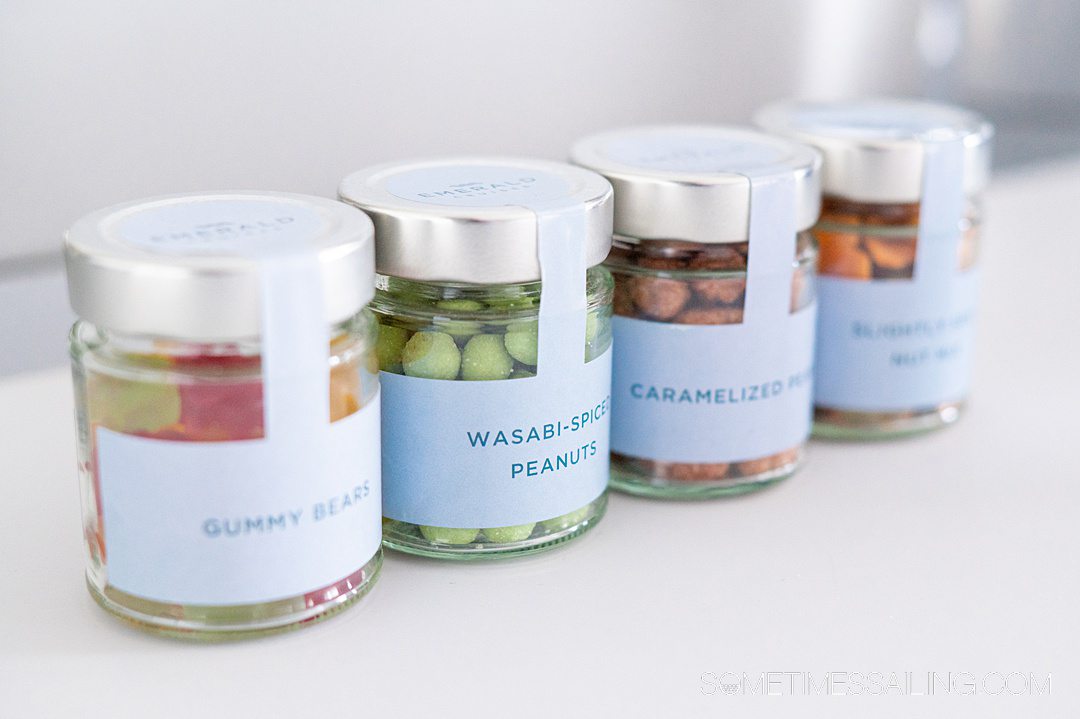 One evening, a lovely snack was set up after dinner in the Amici Lounge on deck 3 as we played music trivia. It was a chocolate dipping station with a huge bowl of melted chocolate and dipping items like sliced strawberries, cantaloupe, pineapple, and marshmallows.
You can also do what we do when we sail on any small cruise in case we get hungry between meals: pick up a bag of chips at a local supermarket or convenience store and have a few crisps when you need a snack.
We love trying local potato chip flavors in different countries anyway. For example, we've had mustard chips and rotisserie chicken chips in France and oregano chips in Greece.
Emerald Azzurra Drinks
Drinks are included in the Emerald Azzurra cruise fare for lunch and dinner, inclusive of soft drinks, beer, and wine. This is one of the reasons we believe that small cruises are the best value for the money!
If you wish to have other cocktails, for example, you can pay per drink or upgrade to the Platinum Drinks Package.
Emerald Cruises Platinum Drinks Package
We love that there is one option for a drinks package on Emerald Cruises yachts. The Platinum Package is the only drinks package offered which makes the decision to add it or not so much easier than multiple options.
We cruised on Emerald Azzurra right after sailing with Celestyal Cruises, which has eight drink package options. Needless to say, one option, only, was a breath of fresh air. One package option eliminates confusion and makes the decision easy.
It costs $67 per person per day and includes all premium drinks, whether you want a double Jameson on the rocks, a vodka martini, a gin and tonic, etc.
If you add the drinks package, you must add it for each person in your stateroom. In other words, you cannot add it for one person, only, if two people are in your room.
If you haven't added it onto your cruise before you embark and you have remorse for not adding it sooner, you can add it when you get onboard.
While you don't have to add it on the first day, we recommend having it from day one so you can enjoy it fully. Additionally, if you add it before the cruise for the entire cruise, drinks are included on day 1, when you embark, even though it's not charged.
However, if you add the Platinum Package for drinks on the third day of your cruise, for example, you'll simply pay for the package from that point onward.
If guests have the upgraded drinks package, there is a white and red international wine menu by the glass (as well as Prosecco) that guests can ask for in addition to the wine that is served for all guests. All a guest with a Platinum Package needs to do is ask if they want something else.
Cost of Drinks on Emerald Cruises Yachts without a Package
There is, of course, always the option to pay per drink. The drinks onboard were affordable. For example, an Espresso Martini was $12, or a Frozen Daiquiri was $11. A mixed Hendricks Gin cocktail was $13. They also had three mocktails, which were each $9.
They had everything from aperitifs to Brandies and Cognac, rums, Sherry and Port, and liqueurs. Soft drinks included ginger ale, Red Bull, Fanta, Coke, and Sprite.
Their bottled beer options (all $6 each) included Stella, Amstel Light, Corona, Heineken, Guinness, Becks, Budweiser, and non-alcoholic Heineken. The beer served with lunch was a crowd-pleasing lager draft.
Onboard Bars and Lounge Areas
For a yacht cruise that accommodates 100 guests, there were plenty of spaces to relax, unwind, and order drinks. The Amici Bar & Lounge was especially popular for pre-dinner and post-dinner drinks. It's also where port talks and most of the evening entertainment took place. 
Another popular area was The Sky Bar, next to the hot tub. Lastly was the Aqua Café next to the pool, which served limited but good drink options. 
Learn more about the onboard spaces in our detailed Emerald Azzurra experience review.
Coffee and Tea Stations
Two coffee and tea stations are onboard, similar to those onboard Emerald Cruises river cruise ships. One is in the main lounge, the Amici Lounge and the other is in the Observation Lounge.
There were too many tea options to name, all from the Kusmi Tea brand. But some of the flavor options were Earl Grey, English Breakfast, Spearmint, Camomille, Green Jasmine, Darjeeling, and other flavors whose names only slightly indicate the flavor, like "Feel Zen" or "Be Cool" caffeine-free teas and "Expure Addict" and "Anastasia."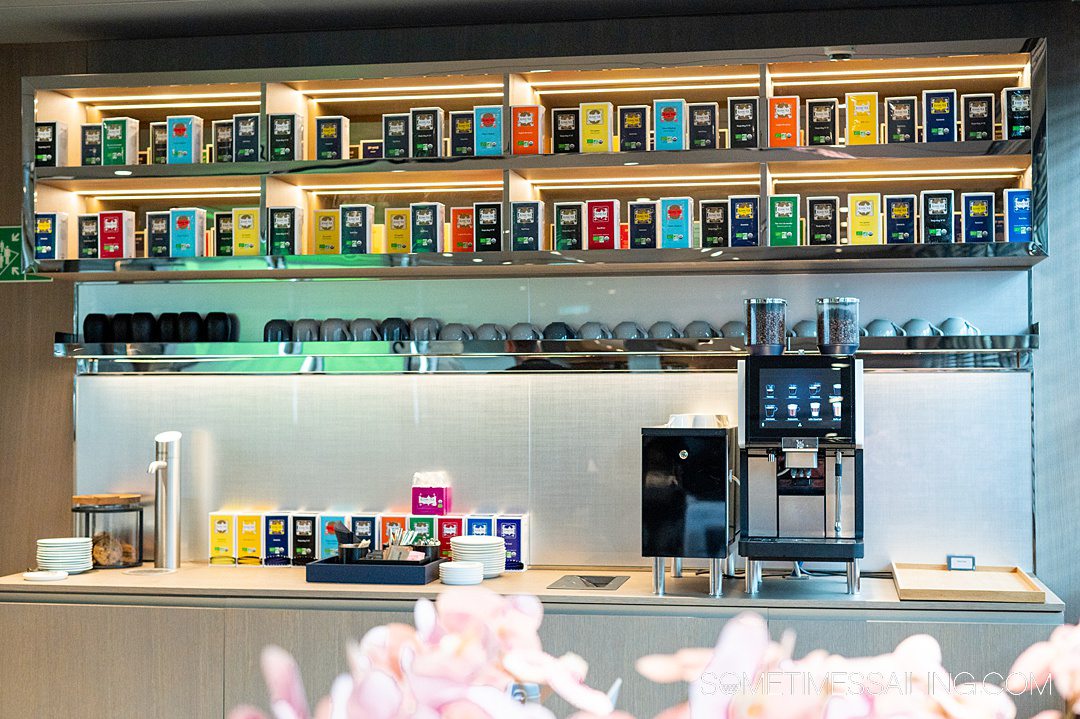 Guests can make various coffee drinks any time of day at the self-serve coffee stations onboard. This includes making a ristretto, espresso, Americano, double espresso, espresso macchiato, cafe Latte, latte macchiato, cappuccino, milk foam, and dispensing cold milk.
The machine in the Amici Lounge had an option for how much espresso you wanted in it, which you could choose with the bean symbols on the machine. For example, if you wanted two shots of espresso.
While this machine didn't have decaf options, the machine in the Overlook Lounge did. The Aqua Cafe bar was open during scheduled times and had decaf options.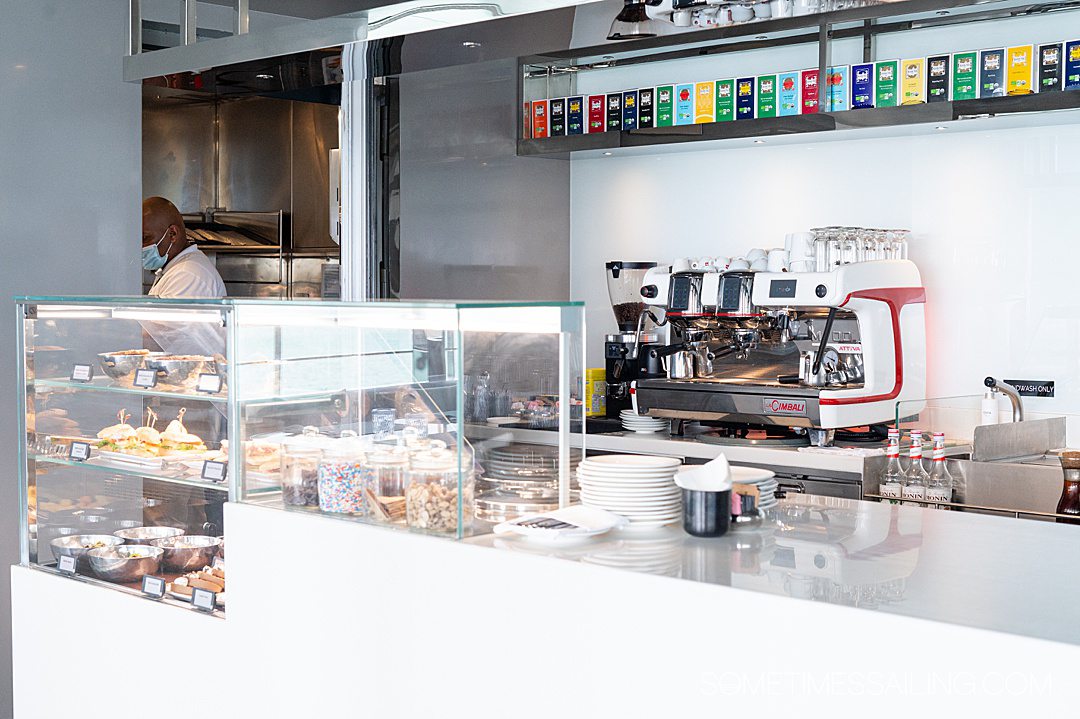 Lastly, there is a coffee machine in each stateroom, along with an electric glass kettle and an assortment of teas.
Drinking Water
Emerald Cruises provided refillable water bottles for an eco-conscious option. This is opposed to giving each guest a single-use water bottle for daily port excursions, which is a terrible waste.
The water bottles are free to guests and are a gift to take home from Emerald Cruises. We hope the gifts encourage more guests to use refillable water bottles at home, too, whether simply going out for the day, playing pickleball, or they take the bottle on their next vacation.
The cabin steward fills two glass water bottles twice a day, morning and night. We usually filled our reusable Emerald Cruises water bottles with that water.
However, two water stations were also onboard beside the self-serve coffee machines. The water machines dispensed three options at room temperature: flat water, slightly bubbly water, and very bubbly water. We simply had to ask a bartender for ice if we wanted to chill the water.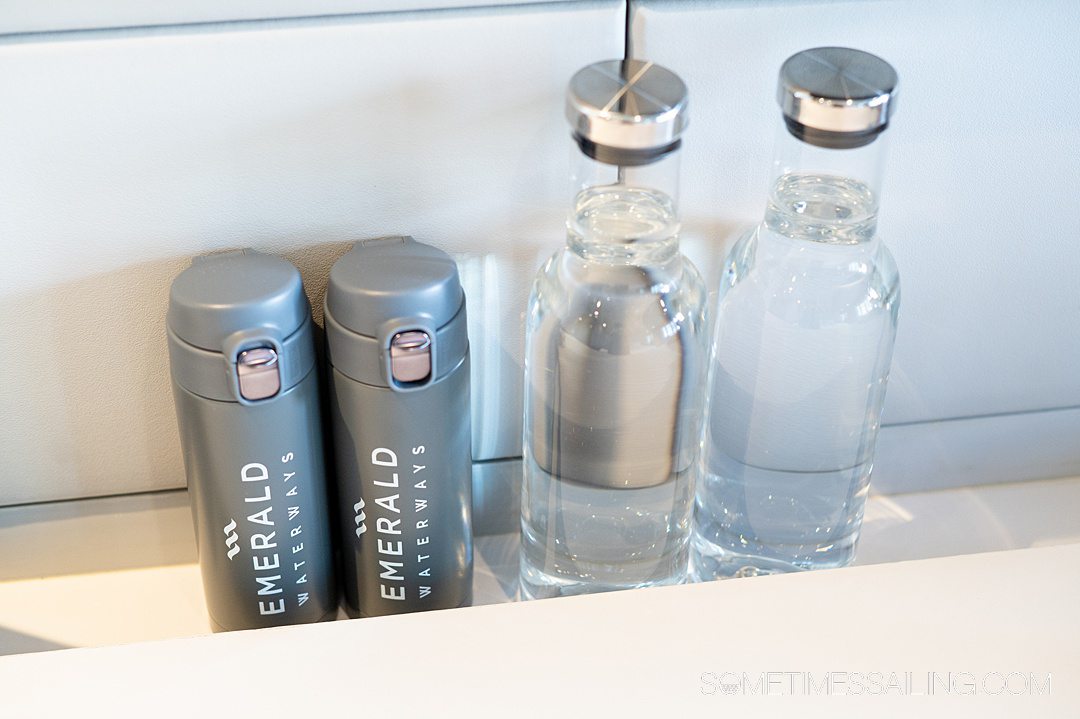 Conclusion
The food on Emerald Azzurra was truly wonderful and a reason, amongst many, to sail on a yacht cruise with this phenomenal cruise line. They were very accommodating to meal requests, the options were plentiful, and all dining experiences were in a lovely setting.


Interested in Emerald Cruises? Check out: