Emerald Cruises vs. Viking River cruises: Who Wins?
Many similarities and differences exist between Emerald Cruises and Viking river cruises. For companies with river cruise ship options, there are bound to be things you can expect to be the same. But what differs, and who wins an Emerald Cruises vs. Viking River Cruise debate, so to speak?
Having sailed on both river cruise lines, we'll dive into detailed information about each and their ships below.
Disclosure: We thank Viking and Emerald for generously hosting us. We also may make a small commission from affiliate links in this post (at no cost to you) but all opinions are ours and we bring you genuine content with real facts, photos, thoughts and recommendations. Always. As Amazon Associates, we earn from qualifying purchases.


Emerald Cruises vs. Viking River Cruises: Who Wins the River Cruise Debate?

If you're a "jump to the punchline" kind of person, we'll let you know who wins, in our opinion: Emerald.
This is because of their amazingly trained crew, onboard pool and fitness area, evening activities, quality of food and wine, and their EmeraldACTIVE program. All of which are included in guest fares.
Viking is still a great option, especially if additional ship amenities like a gym and pool and more active exercise levels aren't that important to you. We also loved that the Viking ship felt like more natural light was allowed into its interior public spaces, and we loved the option to dine outside for lunch.
We generally love all river cruises and cruise lines that get guests to try a new form of travel. We cannot deny that Viking has made river cruising more popular around the world with its great marketing and fleet. For that, we are grateful.
Let's dive into the nitty gritty…
Sister Ships: What are They and Why it Matters for Emerald Cruises vs. Viking
We haven't been on every ship for each cruise line, Emerald or Viking. However, we can say that most of their ships that sail Europe, for example, are sister ships.
This means that architecturally speaking, they are duplicates of each other. So if you know where the public bathroom is on Deck 2 of one Viking river cruise ship, you'll know where it is on another because it's in the same place. The design is the same.
Sister ships may differ regarding the throw pillows on the couches or the paintings in the hallways. Or tchotchkes on shelves. However, in interior design terms, the overall style of the cruise line is the same across the fleet.
If we had to define a style for each line, we'd say Viking is Scandinavian in design, and Emerald Cruises is modern.
For example, Viking Forseti and Viking Alsvin longships are nearly the same ships with different names, even though one sails in Bordeaux and the other sails in places like Germany and Switzerland. 
The same is true of Emerald Destiny and Emerald Sky, another example, which also sail in Europe.
This is important because although we haven't been on every Viking or Emerald River Cruise ship in Germany/France/Austria/The Netherlands/Belgium/Switzerland, etc., in Europe, they're practically all the same.
What changes are the itinerary and crew and guests on board.
Emerald and Viking River Cruise Ships Elsewhere, like in Portugal and Asia
The ships that sail the Mekong River in Asia and the Douro River in Portugal differ from European ships from the same cruise lines. This is mostly because they must be smaller dimensions due to the constraints of the river regulations where they sail.
As such, the architectural design of the ships varies from their cruise line counterparts on European rivers, including the Danube River and Garonne River.
Cabins on Emerald Cruises Vs. Viking
Our cabins were similar on both cruise lines. The main difference was the balcony. Balconies are available on both cruise lines throughout decks 2 and 3, but not deck 1.
The rooms on Emerald feel more spacious inside because the Panorama balconies allow for extra interior space. The drawer space is better on Emerald because they have deeper drawers. The closet space was about the same, if not ever-so-slightly more on Viking.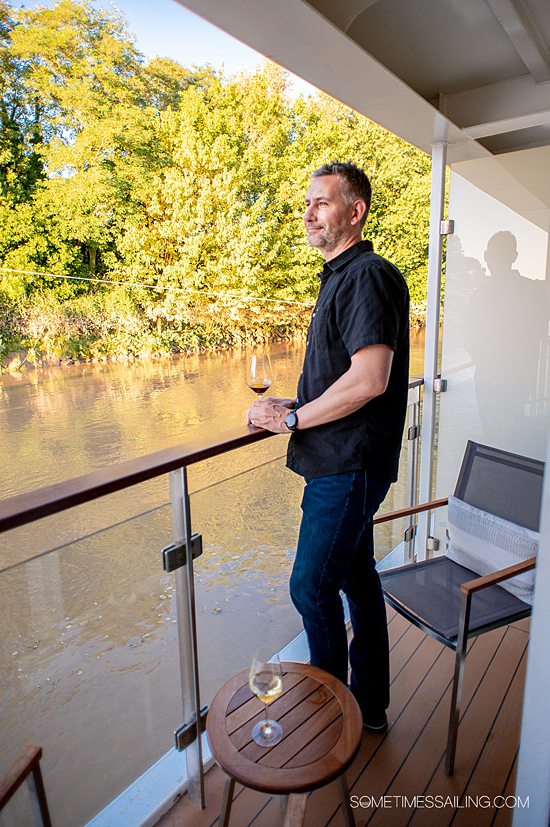 Emerald Cruises River Cruise Cabins
Our cabin on Emerald Destiny was on deck 2. Cabins on Deck 3 include similar ones as well as suites.
We had an interior sitting area. This area faced the floor-to-ceiling windows, so you had a great view while sailing.
We loved the little vanity on the dresser that opened up to review a mirror and storage. There was ample drawer and closet storage and a miniature fridge. The bed was comfortable, and we appreciated the reading lights next to the beds. There is an additional hidden light feature by the bed as well: the horizontal slats on the wall upholstery have a light switch that turns on lights that peak through them.
There were three outlets by the vanity: one fit a European plug only (which is why we always bring an electrical converter and extender), and the other two could fit US plugs and European. There was an additional outlet in the bathroom.
The weird thing about Emerald Cruises cabins is that the entrance to the bathroom is right next to the bed. But it's a minor concern on a wonderful cruise line.
The bathroom has a modern feeling with a ton of mirrors, some shelves, and an adjustable showerhead.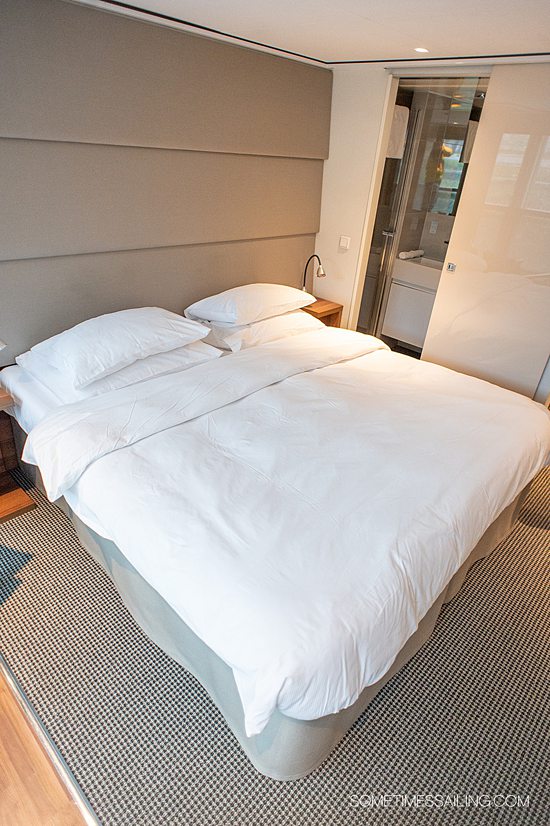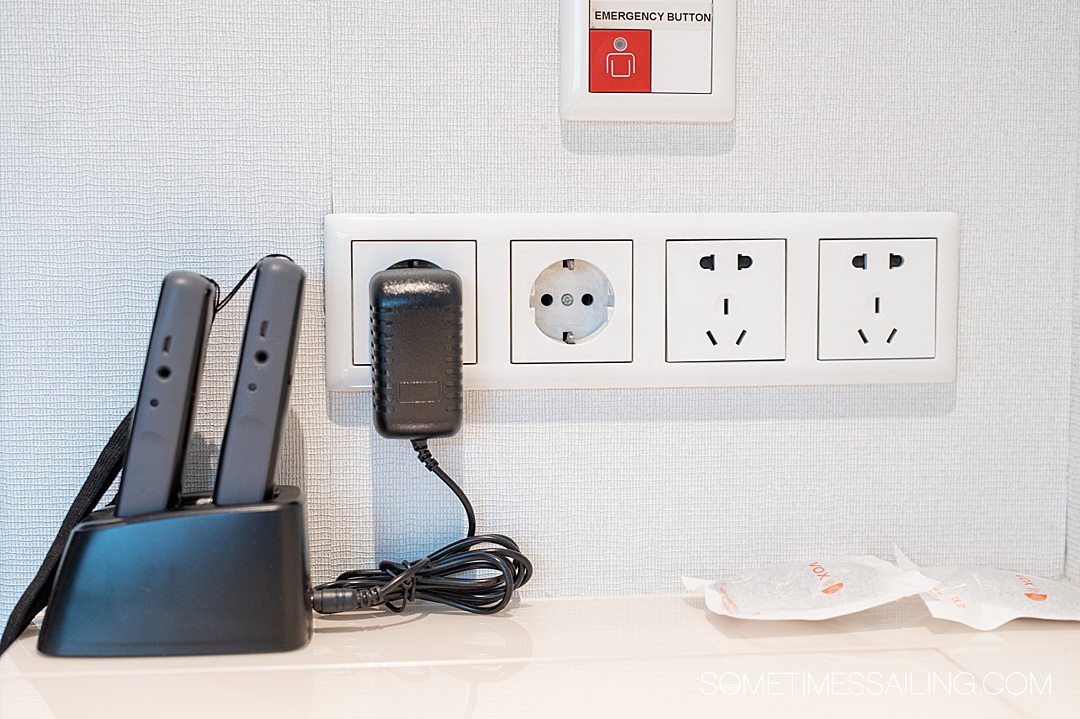 Panorama Balconies on Emerald
How does a "Panorama Balcony," as it's called, function? Simply at the touch of a button when the top half of the glass moves down to be aligned with the bottom half. This creates a balcony.
It's pretty cool. Actually, cruise lines like Celebrity Cruises offer this in some of their staterooms now.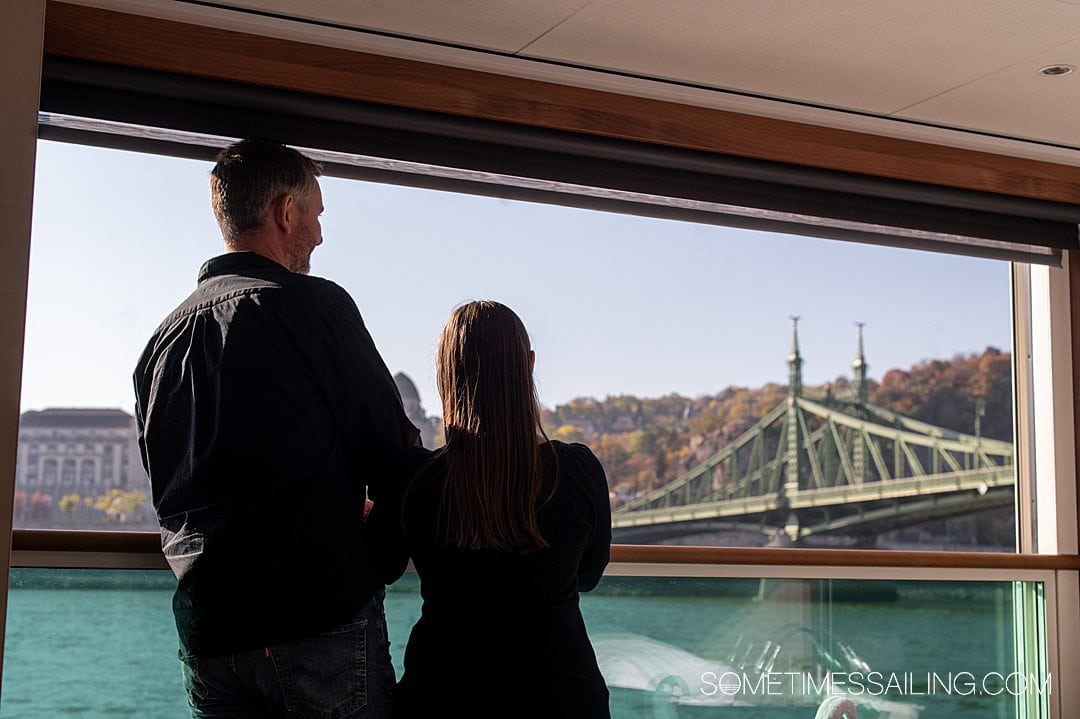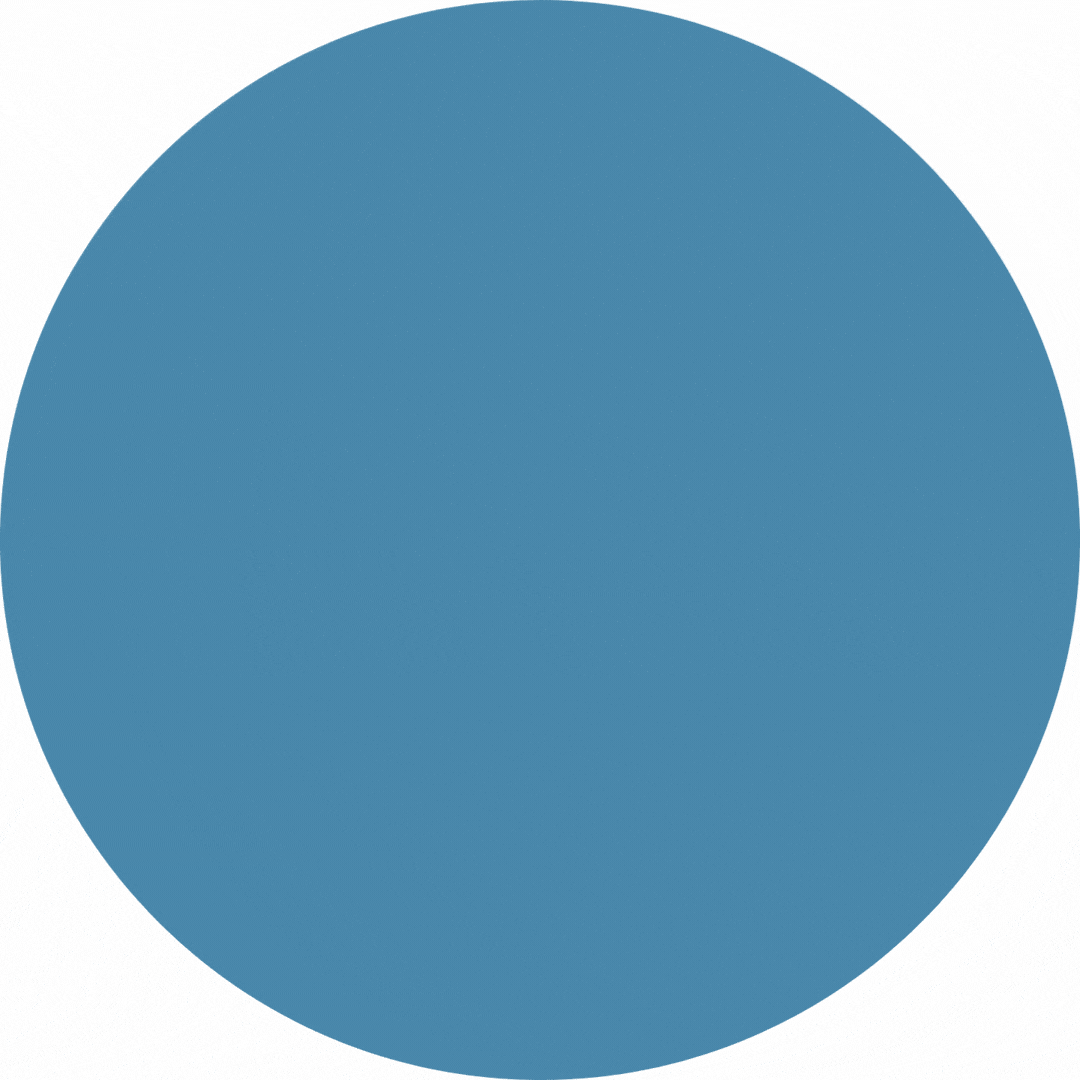 Ready to Book Your Cruise or INquire?
Use our preferred travel advisors, Bolds Travel, Because…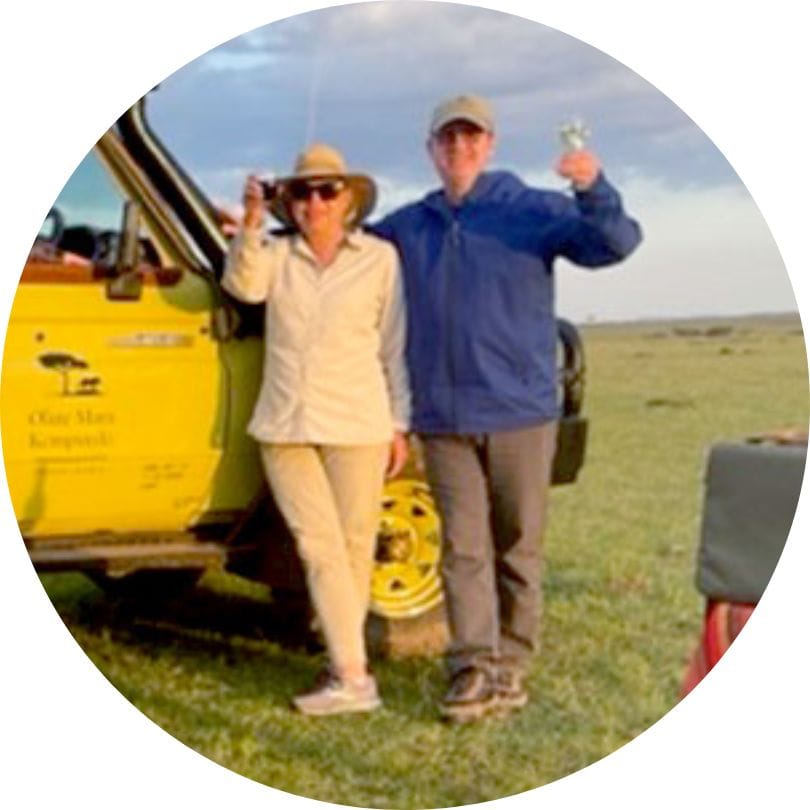 Viking River Cruise Cabin
Our room on Viking was lovely. Because of the outdoor balcony, the room felt a little smaller than Emerald's rooms, whose interior Panorama Balconies actually make the interior room a bit bigger.
Rooms with balconies on Viking longships are true balconies. You open a sliding glass door to leave your interior cabin and go outside to enjoy a balcony.
The bed was comfy, and we liked that the nightstands had a piece that slid out to extend. We also appreciated two light options by the bed – a reading light and lamps – and the bedside outlets.
There was a closet and drawer space as well as a mini fridge.
The bathroom had ample counter space, an outlet, some shelves, and a shower with an adjustable showerhead.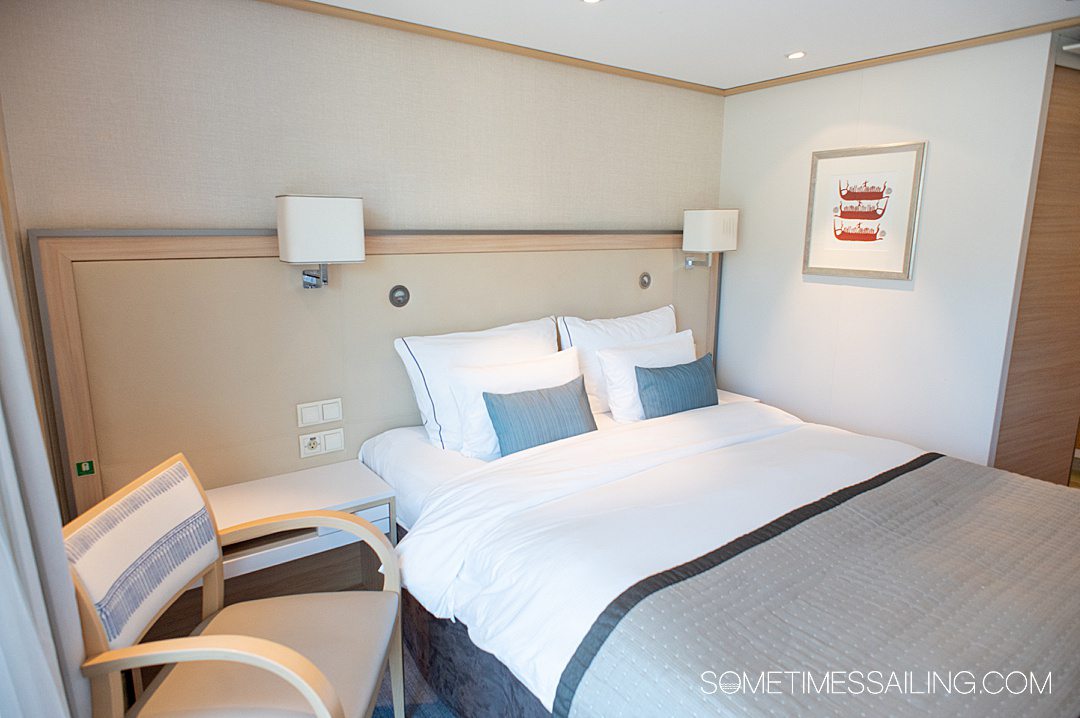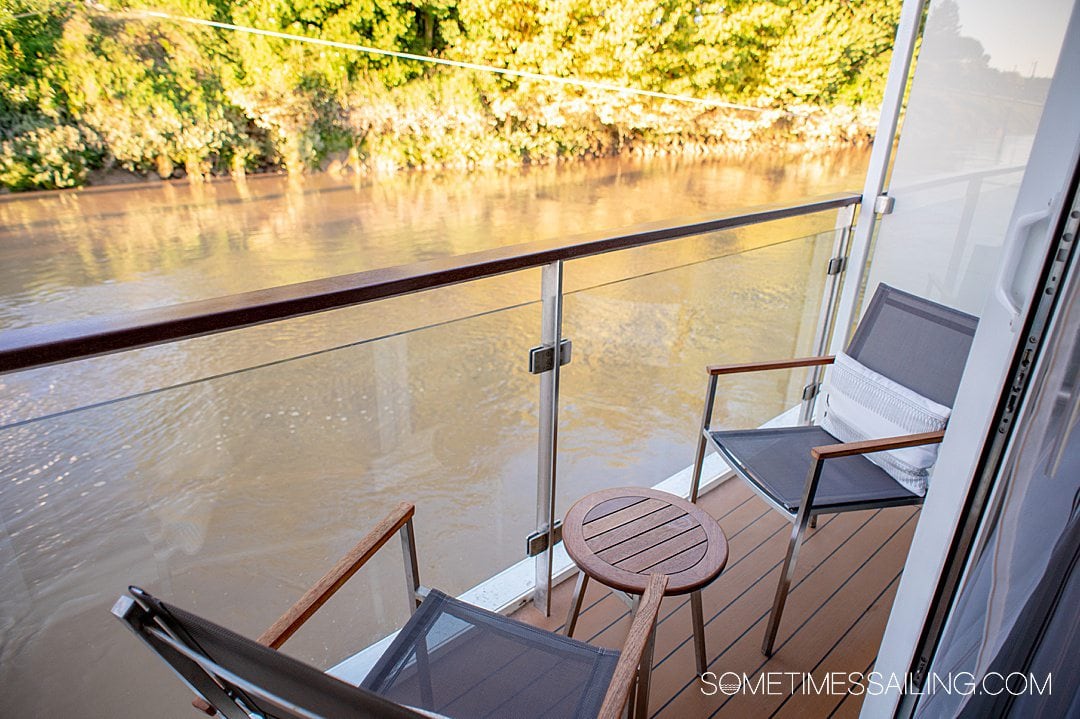 Public Spaces on Emerald Cruises and Viking River Cruises
Both cruise lines have attractive entrances, but they have a totally different vibe and design. Viking's feels much more majestic; you feel like you (and the ship) are making an "entrance" when you enter. Emerald Cruises' river cruise ships are less grandiose.
River Cruise Lobbies and Grand Entrances
Viking has an impressive grand staircase that opens up decks 2 and 3 into an atrium and lets a beautiful amount of natural light into the lobby area.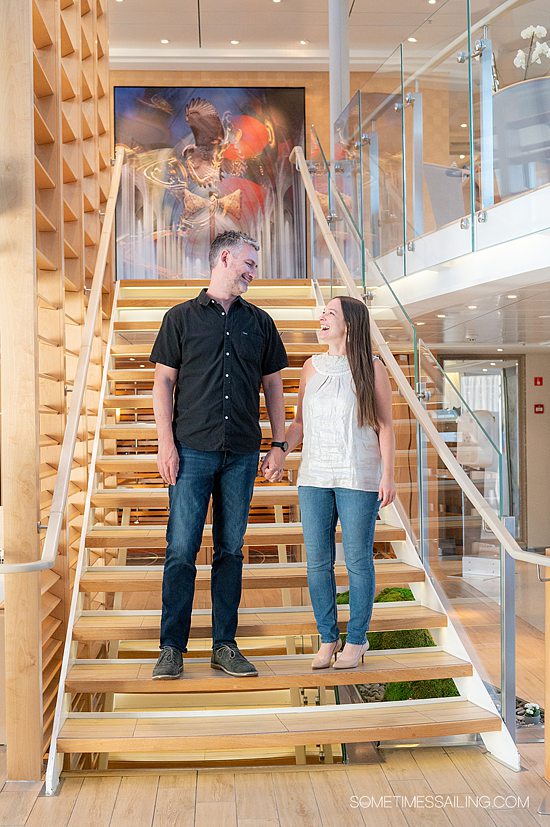 Emerald has a statement piece when you walk onto the ship with beautiful spherical light fixtures cascading down the stairs. There is less natural light compared to Viking's main area.
Emerald vs. Viking reception desks are virtually the same except for different designs.
Library
Viking River Cruise Ships
Viking has a library area with a wall of books and games. There are four seats in the library area, plus a coffee table.
The games available to play on Viking Forseti were games like Scrabble, Trivial Pursuit, chess, and checkers. (We often vacation with some of our own portable travel games.)
Viking also has two desktop computers in the library area for guest use.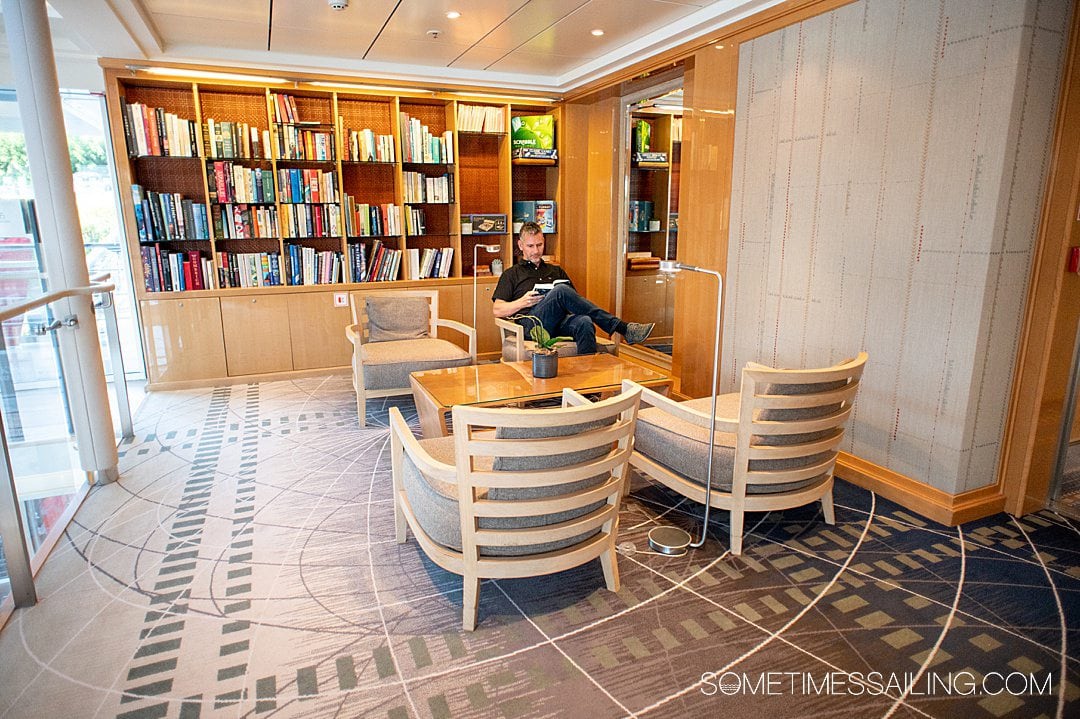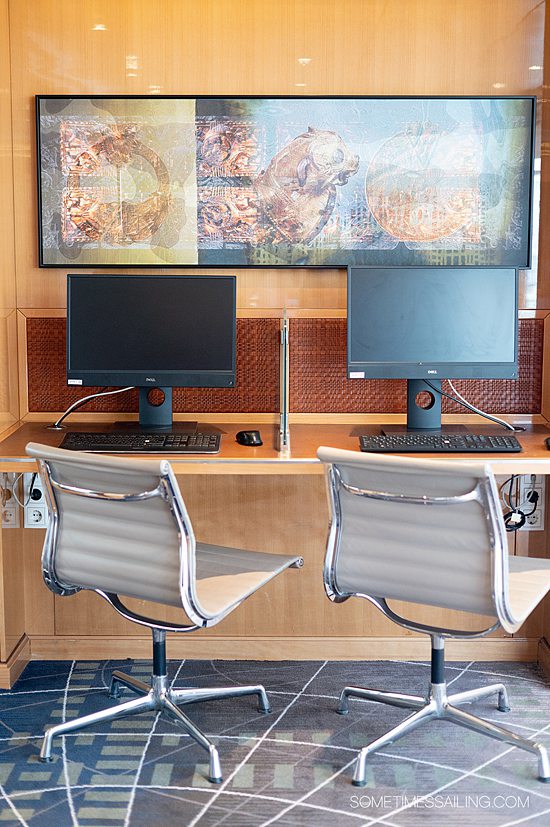 Emerald Cruises
Emerald Cruises river ships do not have a dedicated library area. Despite this, any area can become a reading spot!
Lounge Areas
Emerald Cruises
The colors of an Emerald Cruises river cruise ship are striking when you step foot onboard and see their lobby and lounge areas.
They're beautifully impactful with contrasting colors, such as black and white in the lobby and the same in the lounge but with a pop of color. For example, we enjoyed the pops of pink on Emerald Destiny during our Danube River.
The bar on Emerald river cruise ships is black and white with illuminated inset rectangular shapes.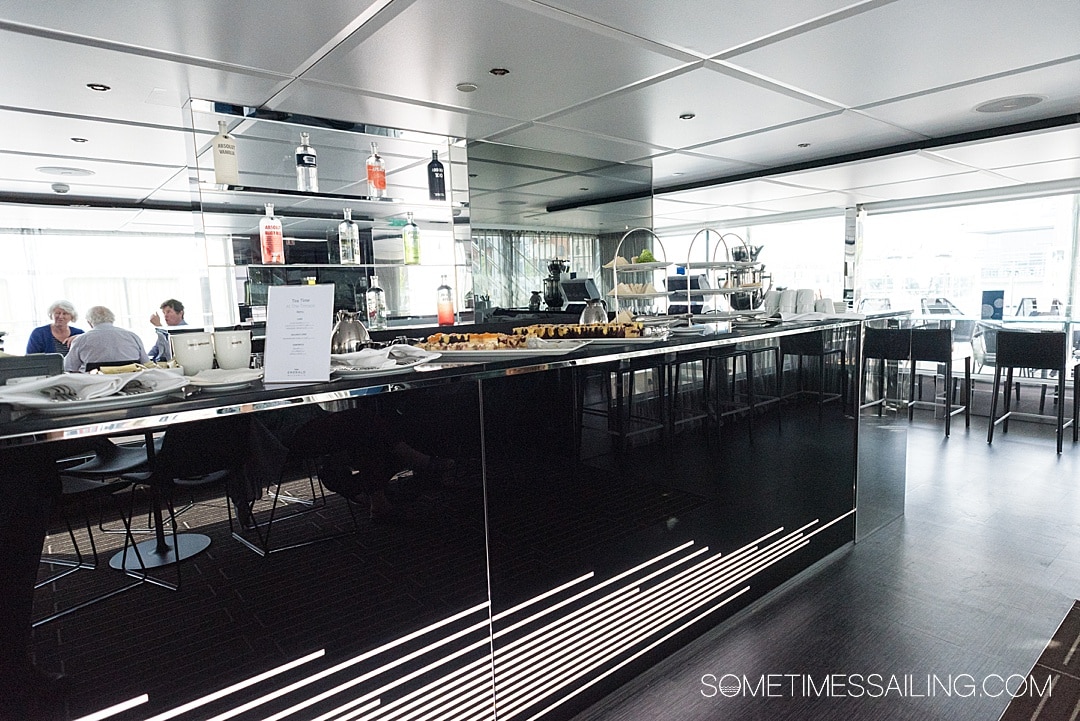 Viking
On Viking Forseti, the colors in the lounge are all neutral. The only color was a very small amount of blue in the design of a throw pillow here and there. But otherwise, the bar is wood, the bar chairs are tan, the tables are tan, the pillows brown and tan, etc.
There were several additional places to sit and read a book or enjoy a coffee on Viking. This included two seats on the third deck by one coffee station, and a sofa with two additional chairs on the other side, by the second coffee station.
There was also additional seating in a small library on board.
This additional seating was popular during our day at sea when more people could be found around the ship enjoying books, their kindles, a cocktail, or coffee or tea.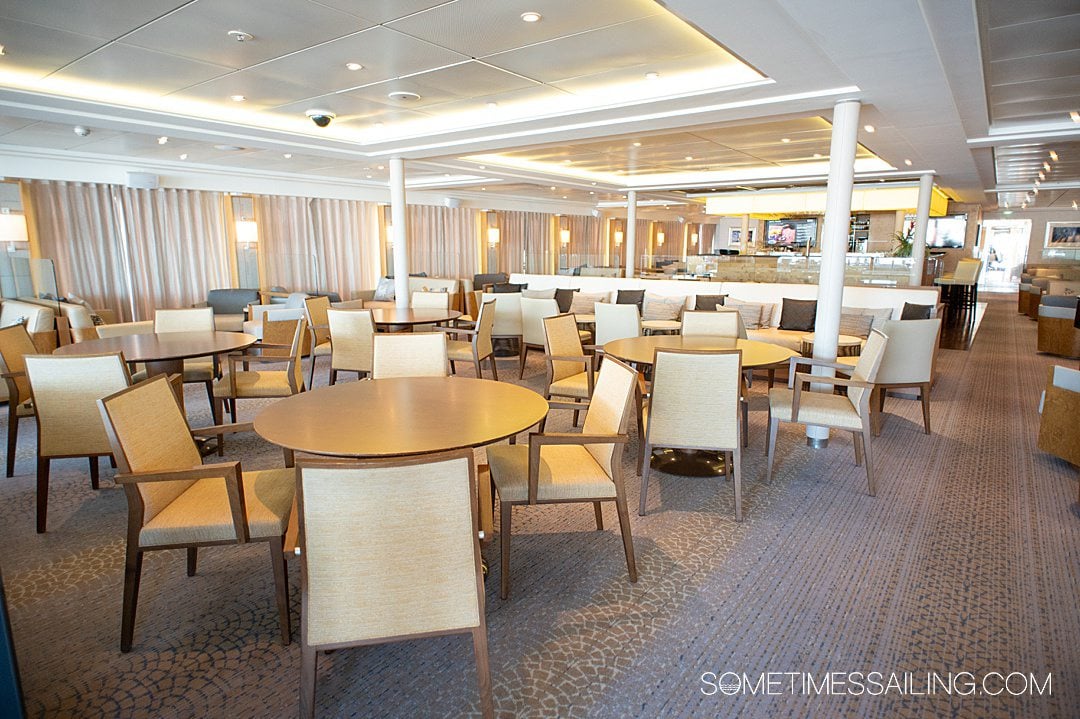 Sun Deck (Top Deck)
Emerald Cruises
Emerald's topmost deck has a walking track around the ship's perimeter and ample covered areas with seating underneath.
There is also a really cute oversized tic-tac-toe board on the top dec. (It's the perfect photo opp!) Lastly, they have a small putting green and turf for guest enjoyment.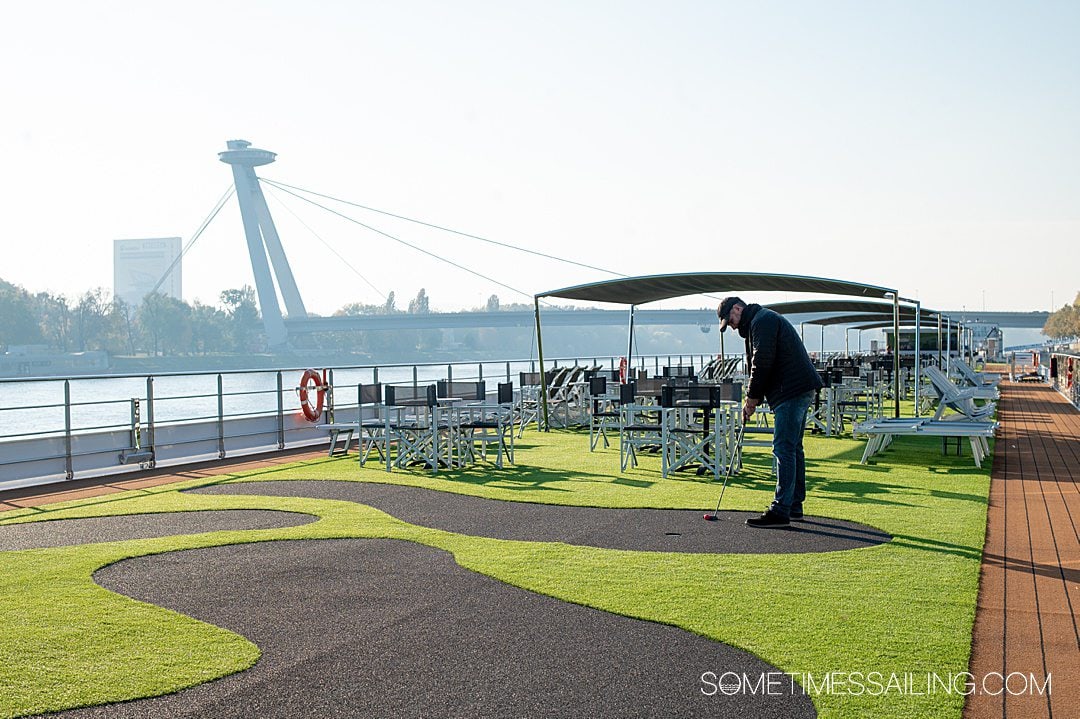 Viking
Viking's sundeck has a track and herb garden and a shuffleboard. There is a miniature putt-putt golf area too.
Seating with lounge chairs and tables was plentiful. They have more covered space on their top deck than Emerald, which is great for sailing during summer, when the heat may reach record highs, which was our experience in Bordeaux.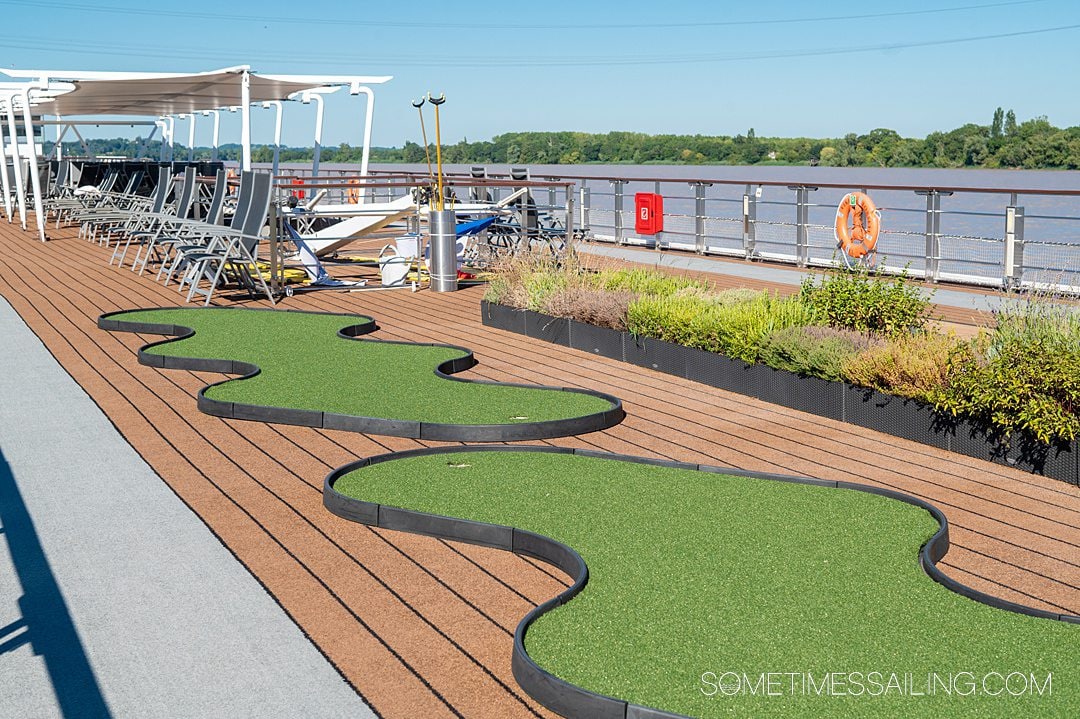 Pool on Viking and Emerald
Viking (Does Not Have a) Pool
Viking's river cruise longships do not have a pool on board.
Emerald Cruises Pool
One of the things we love about Emerald Cruises river cruise ships is its indoor pools.
Though it's not particularly warm in Europe during spring or fall, the pool area is lovely for relaxing.
We have often enjoyed a coffee or tea there, sitting and talking to fellow guests who may be in the area too. Of course, we love an occasional swim there as well.
If the weather is nice, the roof of the pool area retracts. (To that point, a retractable floor covers the pool during evenings, and the area converts into a movie theater.)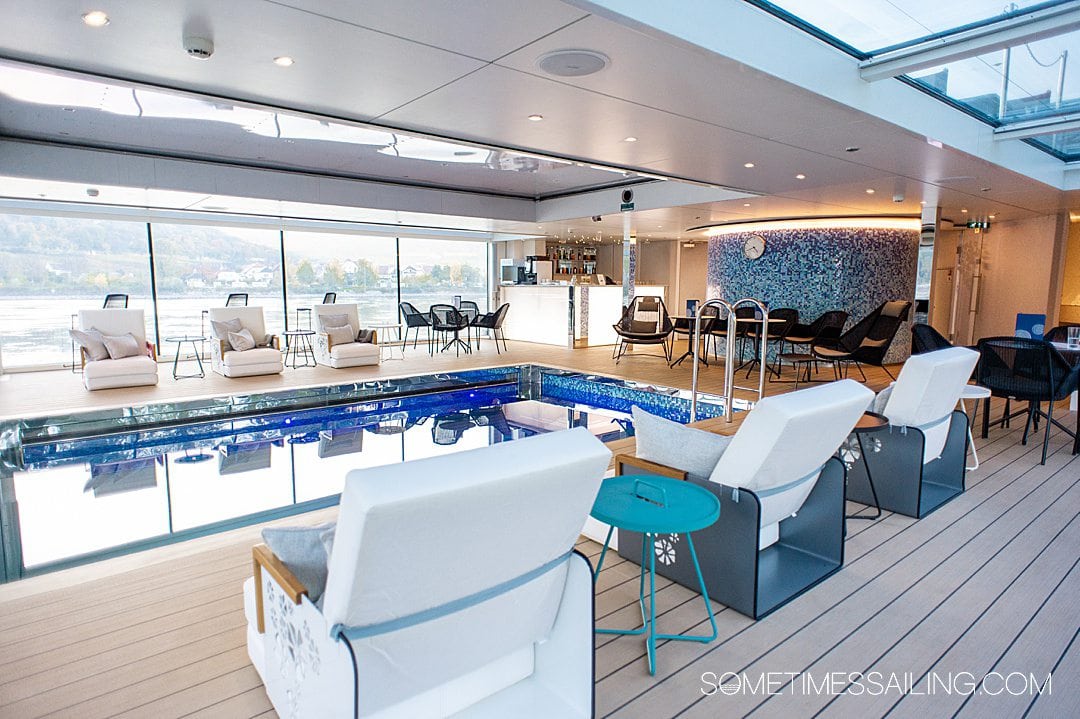 Restaurants and Food on Emerald Cruises vs.Viking Cruises
Viking wins in restaurant spaces for having an optional Aquavit terrace. though Emerald wins for taste and flavor of food.
Both have equal restaurant vibes and aesthetics, though we personally like Emerald's buffet area because the space feels a bit brighter and airier.
Neither ship offers room service. Both include wine, beer, and soft drinks with lunch and dinner on board, as is typical of river cruises.
Viking Restaurants and Food
This is a space at the ship's bow where half is indoors and half is outdoors; the space converts to being all open by way of a retracting glass wall, though the indoor space is always covered by its ceiling.
The light-filled area allows a limited amount of guests to dine in a space other than the dining room that accommodates all guests onboard. The area is first-come only, so guests usually rush there to reserve a space for themselves as soon as it opens before meals.
The area is open at other times if you wish to sit out there and read, for example, although service isn't always available during non-meal times.
The food is okay on Viking. We weren't wowed by anything in particular though we were well-fed, and there were always plenty of options for every meal.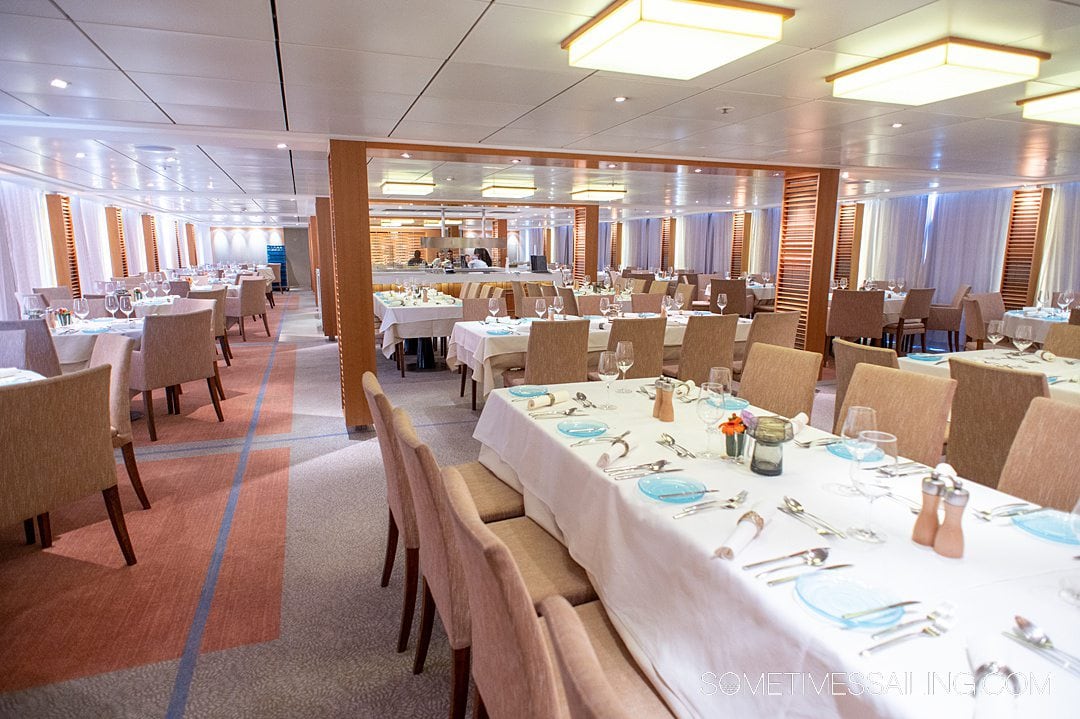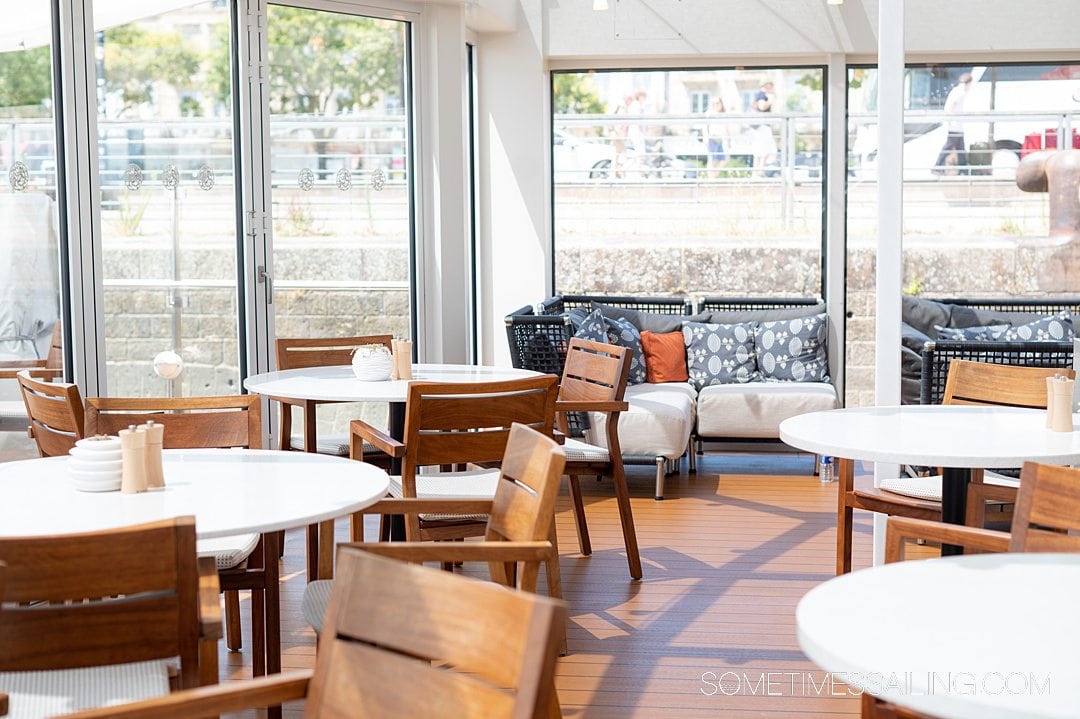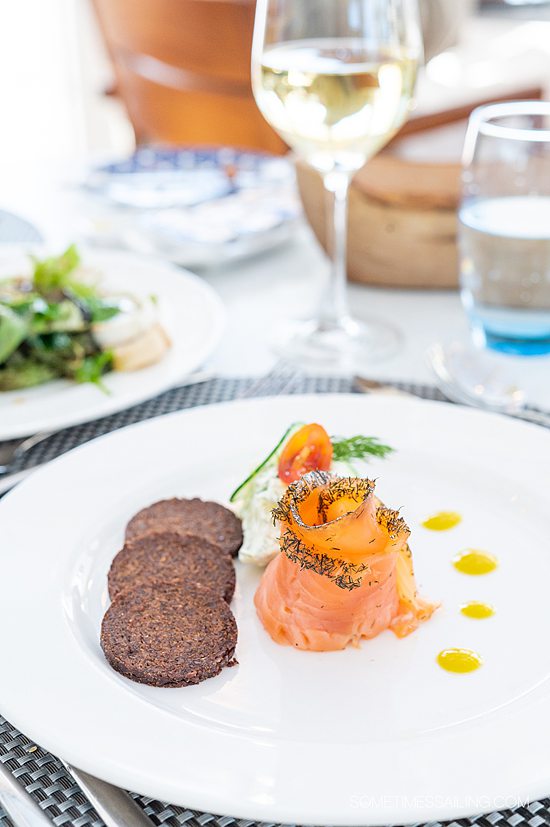 Emerald's Food and Restaurants
While Emerald only has one true dining area option, it's a nice, enjoyable space. Their food is very good, and there were a few standouts. We were always well-fed with plenty of options.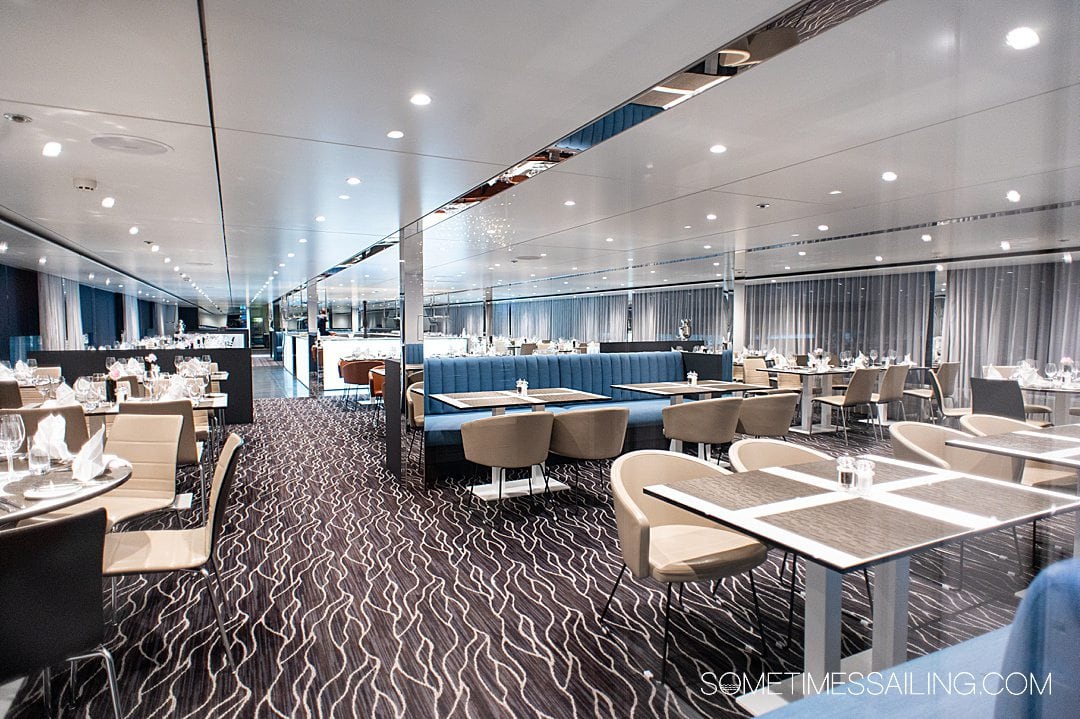 24/7 Drink Stations
Both cruise lines have drink stations available to guests every day, at any hour.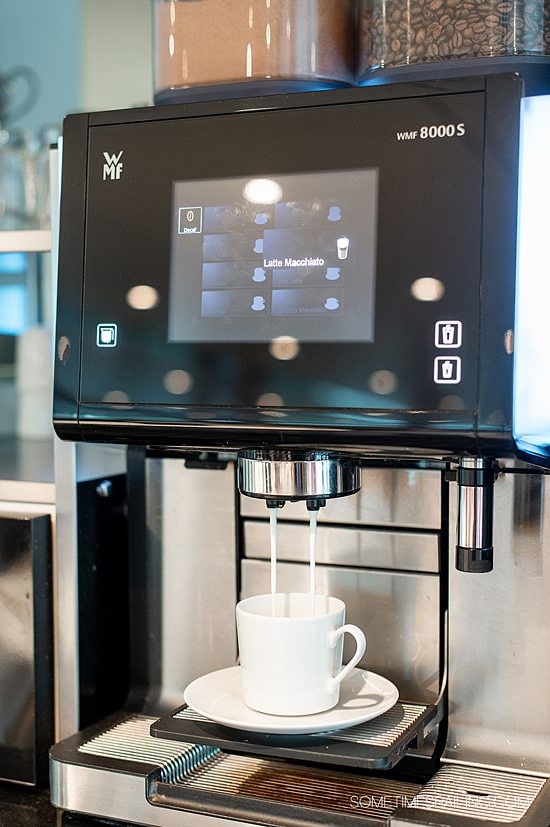 Viking River Cruises Coffee Station
The coffee and tea station on Viking river cruise longships are robust. There are two identical stations on either side of the staircase on Deck 3 at both lounge entrances.
You can brew espressos, double espressos, lattes, cappuccinos, hot chocolates, and such. They also have a plethora of tea bags, multiple types of sugar (artificial, white, or raw), and packets of honey and lemon.
You can choose from flavored syrups to add to your drink if you like.
Emerald Cruises Coffee Station
One of the things we love about Emerald Cruises is the coffee station in the lounge. Small but significant, we love getting a coffee there when we need an afternoon pick-me-up while cruising.
It consists of a machine that makes hot drinks, like cappuccinos, lattes, and espressos. There is always a stocked jar of cookies next to it. It has the same buttery sugar cookies daily, which are the perfect accompaniment to your coffee.
Though at first tour of the ship, you may think they only have one coffee and tea station, there is another hot drinks machine for guest use in the pool area.
Just like Viking, they have two machines. One is simply in an entirely different area of the ship and "hidden" if you've never looked for it in the pool area. But once you know where it is, it's a nice spot to enjoy a hot drink.
Water to Refill Bottles
Both cruise lines have water stations – still or sparkling – where you can fill glasses to drink on the ship or fill your reusable water bottles to go.
Though both ships hand out optional water bottles before you disembark for a day in a port, we always bring reusable water bottles. It's important to us that we are eco-conscious cruisers.
Our two water bottles of choice are:
Memo bottle: These are great because they are flat and fit into a backpack or purse quite nicely.

MiiR bottles: This great company gives back to charitable causes and has a wide-mouth insulated water bottle we L-O-V-E. It's easy to add ice to the bottle, and keeps the contents of whatever you put into it at the same temperature for hours and hours, even in the blazing hot sun. Use code "SOMETIMESHOME" for 15% off your order.
Ice Stations
Emerald Cruises
You can ask for ice at the bar on Emerald, but they don't have ice machines for guest use on the ship.
Viking
Since I love having ice in my drinks, it was nice to find an ice machine on each deck of the Viking longship and an ice bucket in our stateroom should we choose to fill it.
Here's where each ice machine is on the three decks with guests rooms:
Near room 125, on Deck 1
Across from 219, on Deck 2
Next to stateroom 338, on Deck 3
Public Bathrooms
Emerald has one stall upstairs and one downstairs.
Viking has one public restroom on the 2nd floor with two stalls and more upstairs by the library: one big handicapped restroom plus one single one next door.
Cruise Excursion Options
River cruises have included tours with each guest's cruise fare. Guests may join the included tour, stay on the ship, or explore the port independently.
Alternatively, some guests opt to book a tour in town on their own. Though this isn't common, we have always found a guest or two on our cruises who choose to do so.
The main included excursion option for Emerald Cruise vs.Viking felt very similar in terms of always being a walking tour option in the city or town we were visiting, complete with the river cruise-famous "Quiet Vox" listening devices.
Minor differences were apparent.
Emerald Cruises Excursions
One of the nice things about Emerald was several excursion options in ports included with the cruise, like a usual walking tour and an EmeraldACTIVE option (usually a bike ride or moderate hike).
Emerald has a DiscoverMORE program, the name of its upgraded excursions that cost extra. Two excursions we signed up for that fell under this category were a visit to Szentendre during our Danube River cruise, a charming artist town in Hungary, and an absolutely incredible evening concert in Vienna, Austria.
(Many Danube River cruises seem to offer a similar concert experience in Vienna, but Emerald's was truly outstanding. Viking's was good, but I feel Emerald's was better.)
Viking River Cruise Excursions
In addition to the usual walking tour available for all, Viking had an upgraded excursion available. This excursion cost more money and had limited availability, but was usually creative, like a Cognac Tour or Truffle Hunting tour in France. These tours can be booked in advance before you leave home on the "My Viking Journey" website.
We didn't love how much they "advertised" the upgraded paid tours on the ship. It felt like we were constantly trying to be sold the tour through the Cruise Director's port talks and advertisements on the screens throughout the ship. However, we appreciated that they had the option.
Onboard Enrichment
Daytime Entertainment
One of the things we appreciated about Viking was onboard enrichment during the daytime for things like a cooking demonstration (not a class, but a demonstration for something like how to make strudel.)
Additionally, we loved that when we arrived at our room for our river cruise in Bordeaux, there was a recipe card for the region's famous Cannelé pastries. Little things like that were a nice touch on Viking.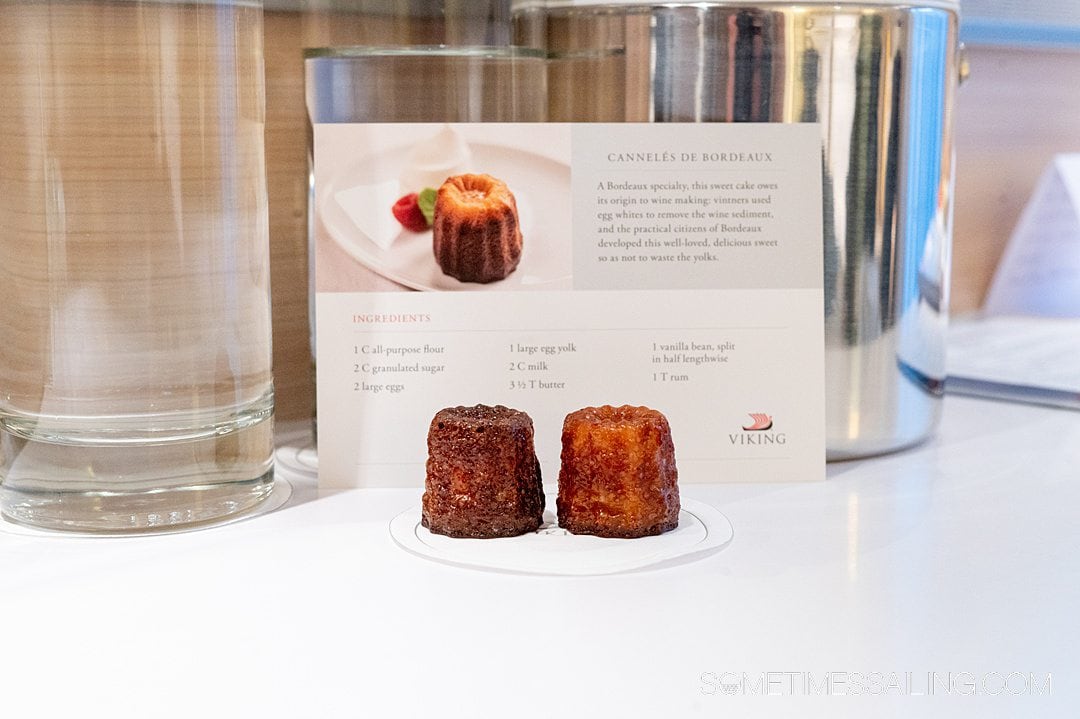 Though Emerald didn't really have anything similar in terms of recipe cards or cooking demonstrations, they sometimes had daytime trivia and tea time around 4:00 pm. During our river cruise to The Netherlands and Belgium, we loved painting wooden clogs onboard one day as an optional included activity.
They also had time on the schedule some afternoons for a friendly putt-putt golf competition on the ship's top deck.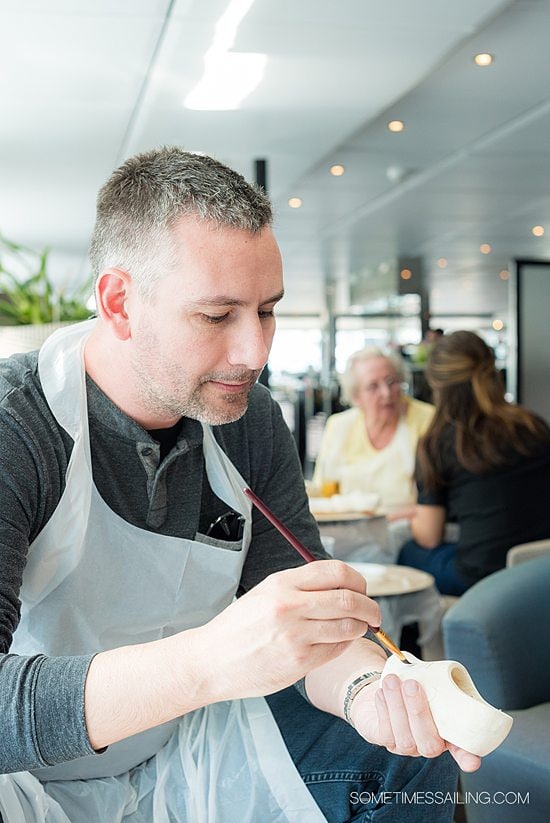 Evening Entertainment
You may wonder about your evening entertainment options on a river cruise ship after dinner.
Unlike huge ocean ships, which have endless music venues, many bars, and even things like rock climbing in some cases, river cruise ships are more mellow.
Both ships have evening entertainment onboard depending on the itinerary and ship's location, but it differs slightly between Emerald Cruises vs. Viking. The bar is always popular at night, no matter the ship you're on.
Emerald Cruises Evening Entertainment Options
They have varied options like evening trivia, dance parties, and local entertainment like a Hungarian dance troupe or musicians.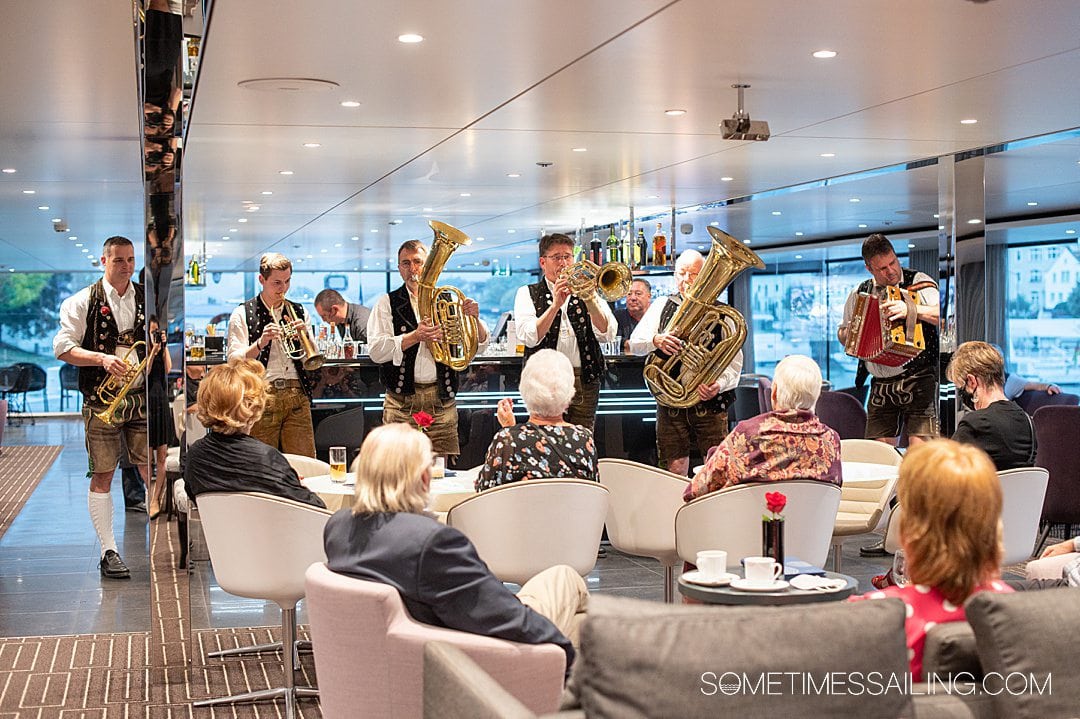 Viking Evening Entertainment Options
Viking had some trivia days and live musicians. They also had local entertainment come onboard, as Emerald does.
The thing they didn't have during our cruise was dance parties at night. Though, if you were moved enough, you could dance to the live musicians who came on board.
On Board and Port Wellness and Fitness Options
Emerald Cruises Wellness
One of Emerald's focuses is on active options for its guests. It calls this "EmeraldACTIVE."
They have bikes on board for use in each port. You simply need to reserve a bike and explore. Sometimes, the Activities Manager guides a tour, and other times you simply explore on your own.
The job of the Activities Manager isn't only evening programming but also daytime programming for things like hikes and more active tours.
The more active tours, hikes, and bike usage are included in your Emerald cruise cost. There is no additional cost for EmeraldACTIVE.
Furthermore, they have morning yoga classes at no additional cost to guests if they wish to participate.
They have an onboard fitness room approximately the size of a veranda stateroom. There are dumbbell weights and a few machines in the room.
You can also walk the track on the sun deck for exercise.
Massages are an option on board too. Since just one masseuse is doing them, booking early is essential if you know you want the service; appointments fill up fast.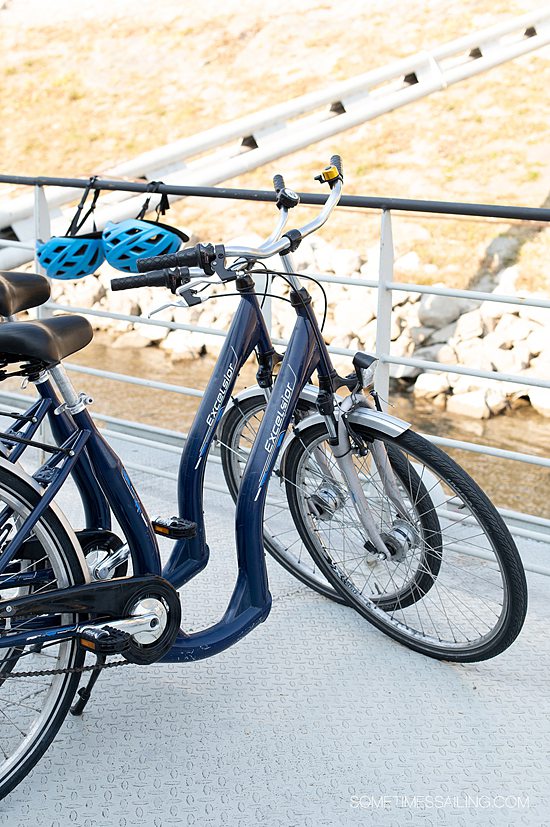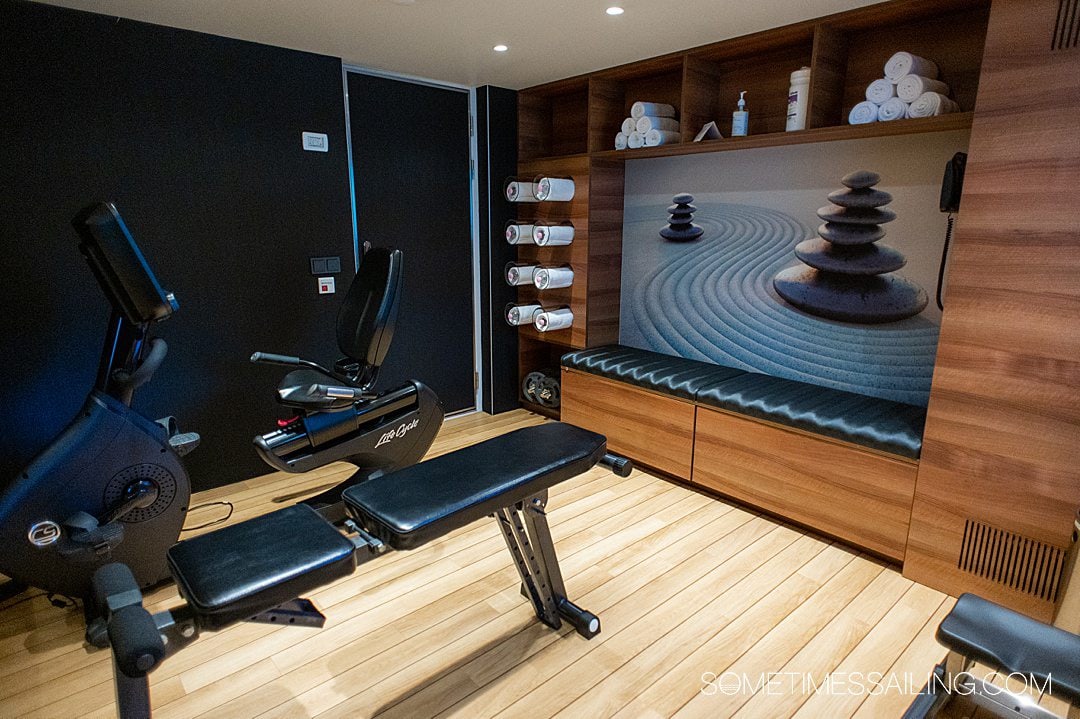 Viking Wellness
Viking did not have an onboard fitness room, spa options, or bikes. In some ports on some itineraries, there are optional excursions that involve hiking or biking for an additional cost.
They have a walking track on the Sun Deck but ask that guests do not use it late at night, so any cruisers in the rooms below the deck don't hear footsteps on the track above them. (Which is completely reasonable!)
In some ports, they specifically have a group whose speed is more leisurely. For example, this was an operation during our port day in Libourne, France, during our Bordeaux River Cruise.
Shopping on Viking vs. Emerald
Shopping on board river cruise ships isn't a main focus like it is on ocean cruise ships. However, you can certainly buy tangible items on board both of these cruise lines if you want.
Viking definitely wins here.
Emerald Cruises Onboard Shopping
Emerald Cruises doesn't have a dedicated shop area on their European river cruise ships. It's more so a few cases behind reception with a few items for sale, namely jewelry.
Viking's Onboard Shop
Though the shop wasn't a focus on their river cruise longship, they had a petite store area directly across from reception.
Small but substantial, it offered a few Viking-branded jackets, some books, jewelry, the napkin rings they have in the dining room, as well as the dining room's wooden bread bowls for sale, a hat, a tote bag, and some books.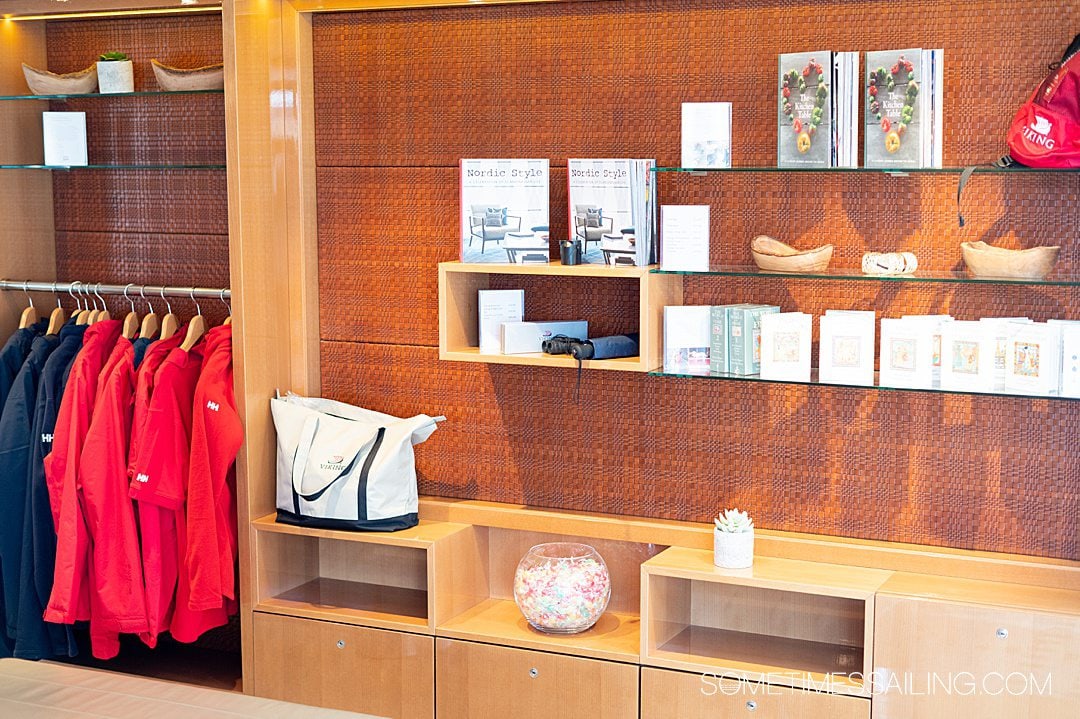 The Crew on Emerald Cruises vs. Viking
Overall, the crew aboard both cruise lines was great. Crews for both cruise lines are generally recruited from similar countries, like Bulgaria, Croatia, Hungary, Spain, and Portugal.
The structure of their management teams varies slightly.
Emerald Cruises Crew
Emerald has a Cruise Director, Activities Manager, Hotel Director, Spa Manager, Maitre D', Bar Manager, Executive Chef, and Captain and Officers.
Viking Crew
Viking's crew structure is a bit different than Emerald Cruises. They have a Program Director whose job is similar to that of a combined Cruise Director and Activities Director. They also have the Head of Housekeeping, Maitre D', Executive Chef, and of course, the Captain and Officers.
Cruise Ship Sustainability
Viking and Emerald are both free of plastic straws. Both commit to using less single-use plastics. I like to bring a reusable straw onboard because I'm not a fan of paper straws.
Where they both have room to improve is that they hand out single-use plastic water bottles for guests to take before they disembark for excursions or port visits.
Emerald River Cruises
We appreciate that Emerald Cruises has reusable hand towels in the bathrooms in an effort to reduce paper towel use.
Viking River Cruises
One of the things we loved about Viking's commitment to sustainability is the solar panels on the top deck.
Viking has a digital counter on the third deck of the ship, at the end of the cabin hallway, with stats about how much energy the panels produce.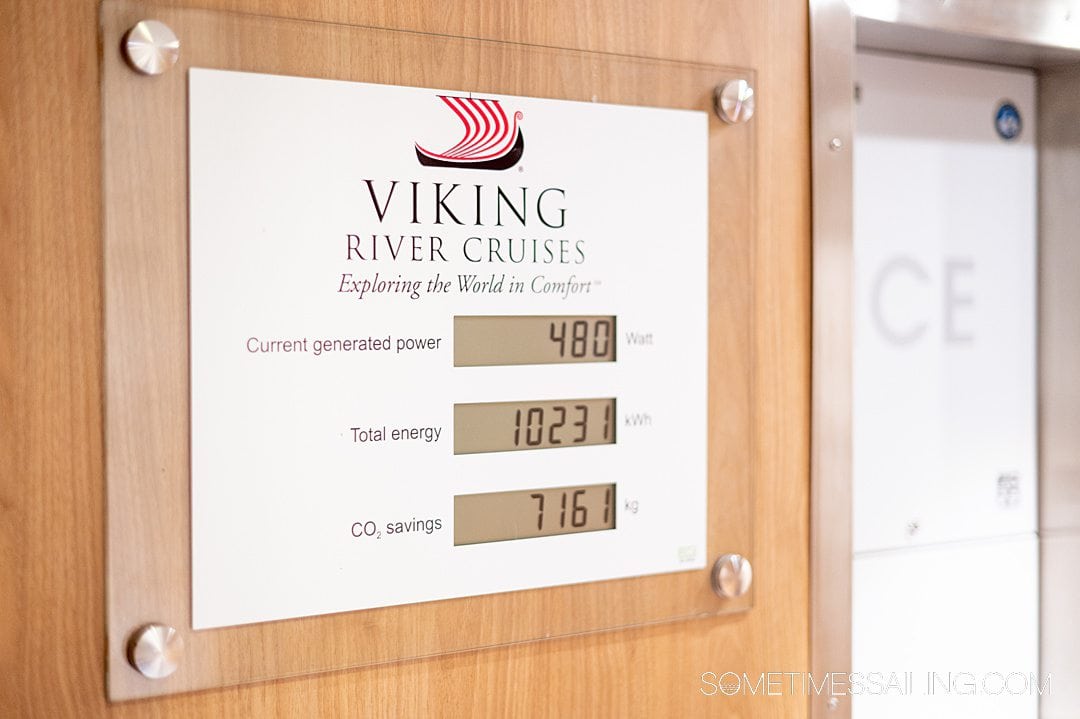 Handicapped Accessibility
River cruises aren't known for being incredibly accessible vacation options. However, both cruise lines are equally accessible as both have elevators that go between the interior decks (but not to the sundeck).
The cabins on either cruise line aren't particularly handicap accessible either, though if you have a cane or walker, it's a bit more viable for passengers with mobility concerns to cruise.


Conclusion: Emerald Cruises vs. Viking
There are pros and cons to Viking and Emerald river cruises, as with any river cruise line. Our advice is to weigh the options and prioritize what's most important to you, then decide based on our thorough review of both.
If you're ready to book your cruise – no matter the cruise line – reach out to our preferred travel advisors, Bolds Travel.