Cruise to Ecuador on a Kontiki Expeditions Luxury Yacht: First of Its Kind
Kontiki Expeditions immediately stood out to us because it's a "first of its kind" company. Their yacht cruise ship alone is enough to make you look twice, with stunning exteriors and interiors. It is a boutique hotel experience on a ship that holds 18 passengers. The more we learned about it the more we realized how special Kontiki Expeditions truly is, and why it should have your attention.
Note: All images and renderings are courtesy of Kontiki Expeditions, used with their permission.
The First Experience of Its Kind to Sail Ecuador's Coast
It's so exciting that Kontiki Expeditions is exploring a coast that no other cruise line of its kind sails to: Ecuador. It is not a secret that small cruises are one of our ultimate favorite ways to travel and experience a location; thinking about discovering a wonderful area of South America in this way is exhilarating.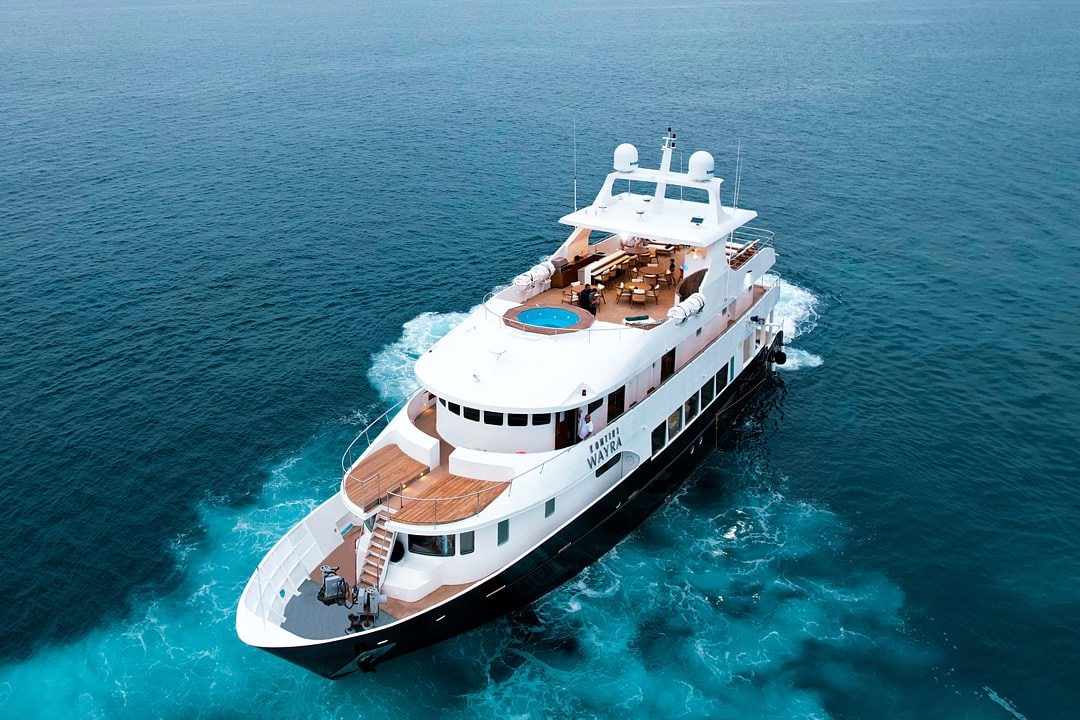 Overview of Kontiki Expeditions in Ecuador and "Kontiki" Meaning
Kontiki Expeditions is the first boutique yacht cruise to sail the coast of Ecuador. Kontiki Wayra is the company's first ship, which was manufactured in 2011 and underwent renovations in 2021.
The company is named after Kon-Tiki Viracocha, the Incan god of creation. The god is represented by an old man with the sun's rays as his crown, carrying two lightning bolts with a tear in his eye that represents the rain; the name "Viracocha" means "sea foam." He disappeared into the Pacific Ocean near Manta, where the northern itinerary of a Kontiki Expeditions cruise begins.
They carefully chose his name for their luxury expedition cruises in Ecuador; it exemplifies a connection with the country's ancient culture, with adventure, exploration, and discovery. The connection with the land and people of Ecuador is the soul of these expeditions.
Onboard, Kontiki walks the talk of cruise sustainability. They do not have single-use plastic onboard and they use sustainable materials when possible (like PET rugs in staterooms that are made of recycled plastic bottles). They involve themselves in projects and Non-Governmental Organizations (NGOs) that promote the conservation of our oceans and beaches.
In adventures off the ship, they support local economies and people, hoping to be a part of improving the quality of life for the people of Ecuador.
Kontiki Expeditions Supports the Ecuadorian Community
Kontiki Expeditions supports the community in addition to supporting the country in various ways. This includes the furnishings inside their luxury staterooms and the local ingredients they use in their meals.
They have also partnered with Fundación Real Madrid, to give back to the community. This partnership helps them provide support to schools on Ecuador's coast in valuable ways, like helping them learn English, advancing their technology, creating educational opportunities for parents, and connecting them with markets for their handicraft projects.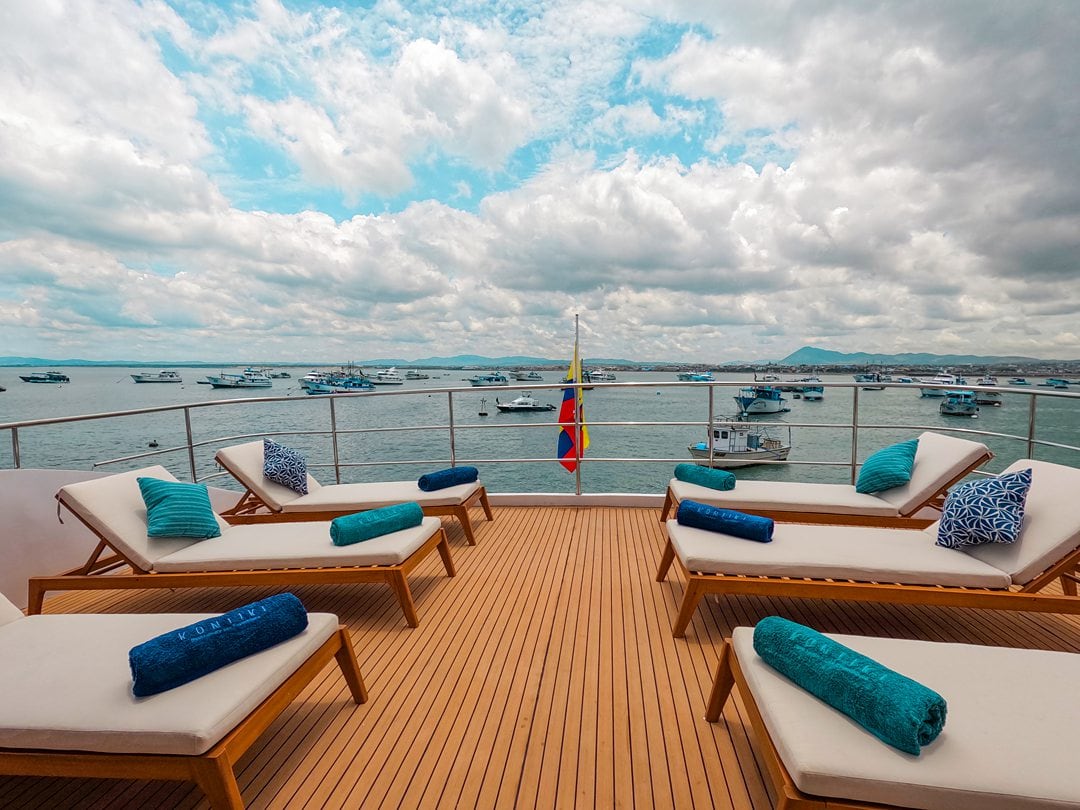 Your Unique Yacht Cruise with Kontiki Expeditions in Ecuador
The best-known area of the country may be the Galapagos Islands, which are more than 620 miles off the coast of Ecuador. The nice thing about a Kontiki Expeditions cruise, however, is that you'll experience an entirely different part of Ecuador that most people don't explore. If you're into doing something totally unique (which we are) this is definitely a yacht cruise worth booking.
Another appealing aspect of exploring the coast of Ecuador as a cruiser is that they don't have a hurricane season!
Kontiki Expeditions is Offering Two Sailing Itineraries in Its Premiere Year
Kontiki Expeditions has two options for travelers, which are both 8 days and 7 nights and depart on Sundays:
Toquilla Expedition: Navigates Ecuador's northern coastal route. Departs from Manta.
Spondylus Expedition: Navigates the southern route and departs from Guayaquil.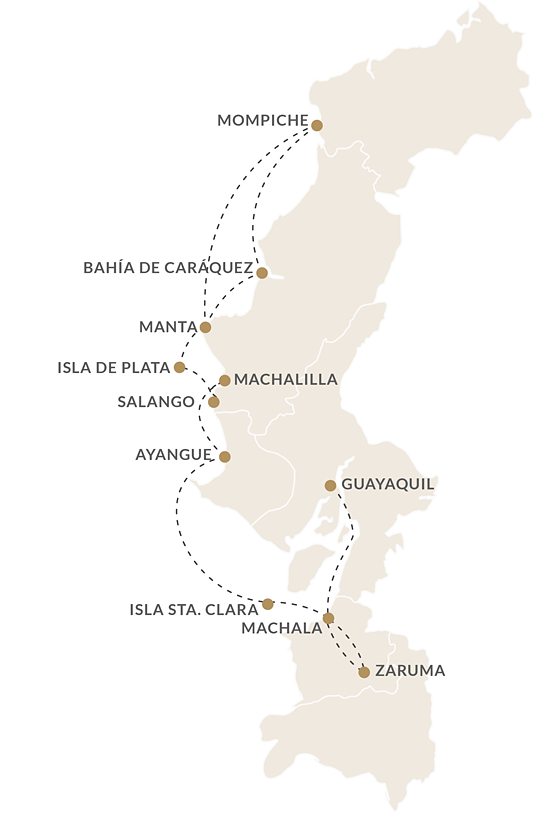 What to Expect During Your Kontiki Expeditions Cruise
You'll journey to a truly spectacular country located on the northwest coast of South America. During Kontiki Expeditions Ecuador cruises, you'll experience living with the land and the wonders of the water. It will take you through beautiful ecological reserves, forests, wetlands, and beaches. Participate in hikes, snorkeling, and immersive cultural experiences.
As Kontiki Expeditions supports sustainability and Ecuador's National Parks, you may venture into somewhere like Pacoche Wildlife Refuge.
Zodiacs will take you ashore to meet local craftspeople. They expertly construct things like Toquilla hats, made from durable and sustainable pliable fibers of palm trees in Ecuador. Unlike crocheting a similar hat with a hook, skilled artisans craft these hats only using their fingers and hands.
This amazing national craft is rooted in the 17th century; it's even on UNESCO's list of Intangible Cultural Heritage.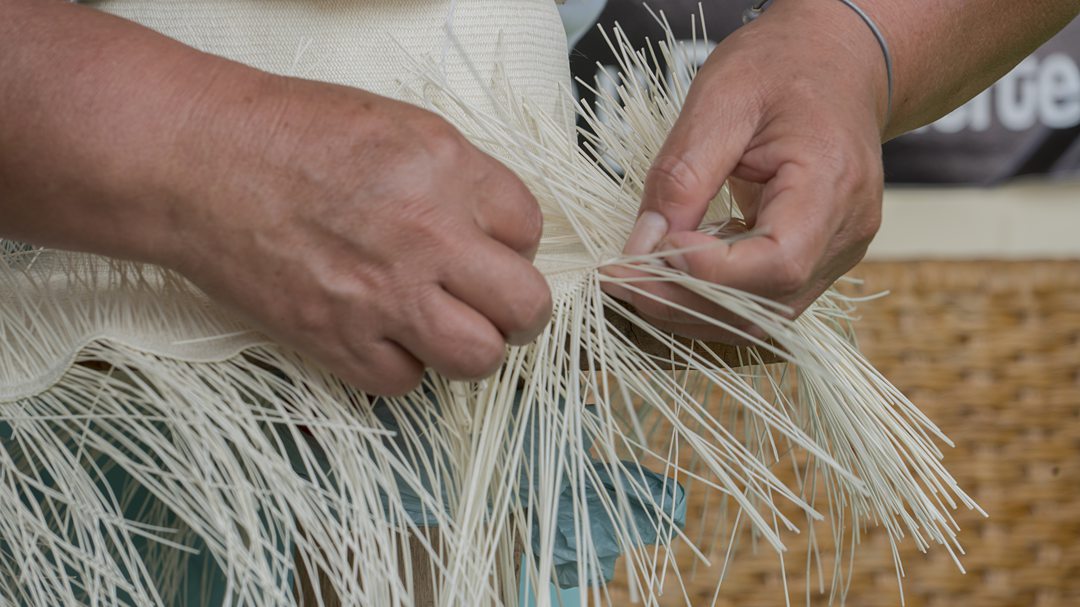 One of the most appealing experiences that Kontiki Expeditions will be treating guests to is an educational shelling adventure. You'll forage mollusks, also known as "concha prieta," from water-dwelling mangrove tree areas and find them within their intertwined roots.
Imagine getting up close and personal with nature as you learn how to locate the shells and harvest them in a sustainable way. The goal is to have fun and learn about where food comes from on Ecuador's coast. You'll also gain a new understanding and respect for what the land of Ecuador provides its people through a truly fresh gastronomy experience.
You'll head back to the ship where a fresh "Ceviche de Concha" will be prepared with your seafood treasures.
Imagine Retiring to Your Stateroom for the Evening…
After a fantastic day, you may retreat to your room in the evening, thinking about the wonderful experiences you had hours before. You can play a little music from your phone through the Bluetooth system in your stateroom. Then you'll close your stateroom shades with the touch of a button through an automated system before you turn off your lights the same way and rest up for another exciting day ahead.
Interior and Exterior Spaces Designed with Intention
Kontiki Expeditions Ecuador cruises are the first of its kind in another exciting aspect: it has officially been a part of the Small Luxury Hotels of the World (SLH) since 2020. This is a prestigious brand whose designation with its partners means you can expect a superior level of standards and service in your accommodations. And now, SLH has ventured into the water with Kontiki Expeditions.
The staterooms aboard a Kontiki Expeditions cruise all have a water view, whether that is thanks to portholes that give you a unique perspective of the water, or due to your stateroom's verandah. Several common spaces allow for full use of the yacht's amenities and relaxation.
Luxury Staterooms Aboard Your Kontiki Expeditions Yacht
There are nine luxury staterooms aboard the ship. They have been carefully designed by Ecuadorian-born María Soledad Calderón, who made sustainable and organic materials a priority in her choices. The design of the staterooms aims to harmoniously blend the outdoors with what's inside the ship.
Integrating the essence of Ecuador into the rooms was considered at every turn: from blankets on the beds created by female artisans from the Ecuadorian highlands to the books in multiple languages on the shelves, to organically sourced snacks available in staterooms that come from various regions of the country.
Logistically, you can opt for either two twin beds or one king bed in your room.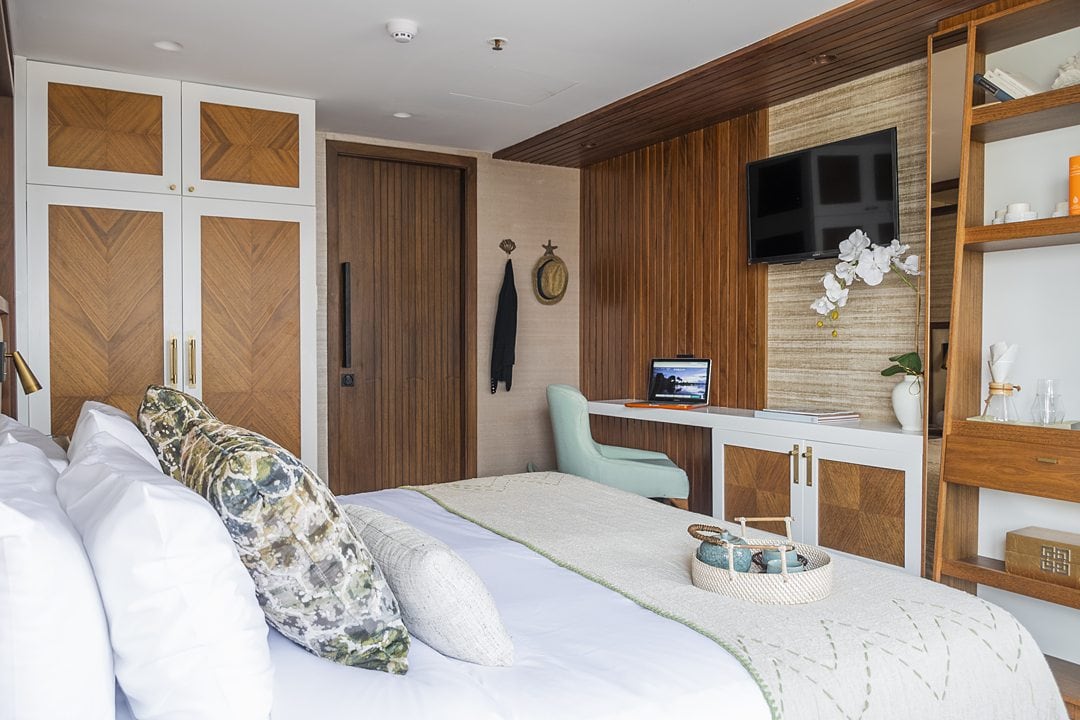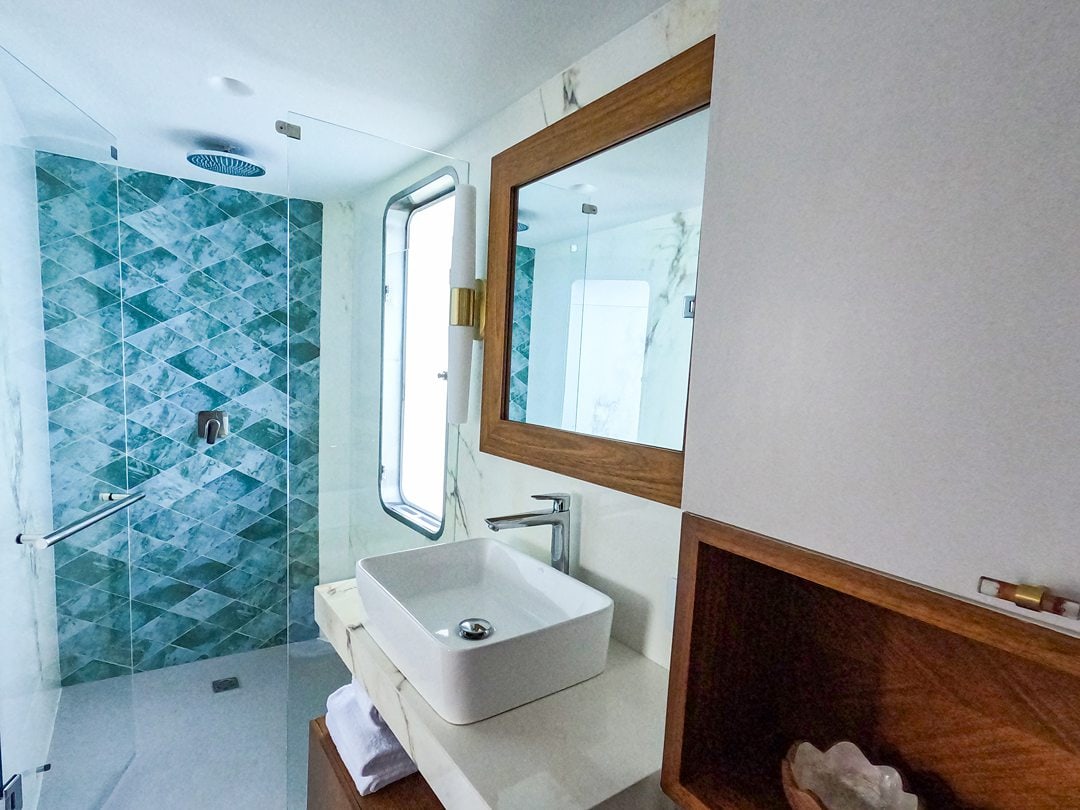 Three Types of Staterooms
There are three options to choose from for your Kontiki Expeditions Ecuador cruise accommodations, on three different decks. The prices below increase by a few hundred dollars as you go from the first to third options:
Interior Luxury Stateroom: 161 sq. ft. on the lower deck, closest to the gym and spa.
Panoramic View Luxury Stateroom: 140 to 204 sq. ft. on the main deck with interior access and panoramic windows.
Verandah Stateroom: 193 sq. ft. on the upper deck with easy access to the exterior deck.
The ship isn't too large, however, at 128 feet in length. Meaning, it won't take you much time to walk from an interior stateroom to the top, exterior deck. Or vice versa, to walk from the top deck down to the gym, below deck, for a workout, for example.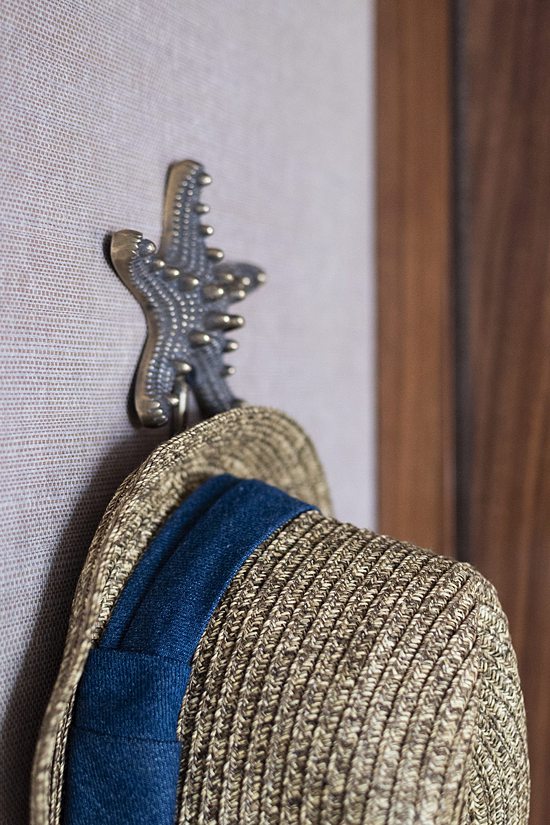 Shared Spaces Onboard
In addition to the luxury staterooms, there are several shared spaces onboard, including a dining area, Jacuzzi on the sundeck, a fitness and spa center, and various lounge areas.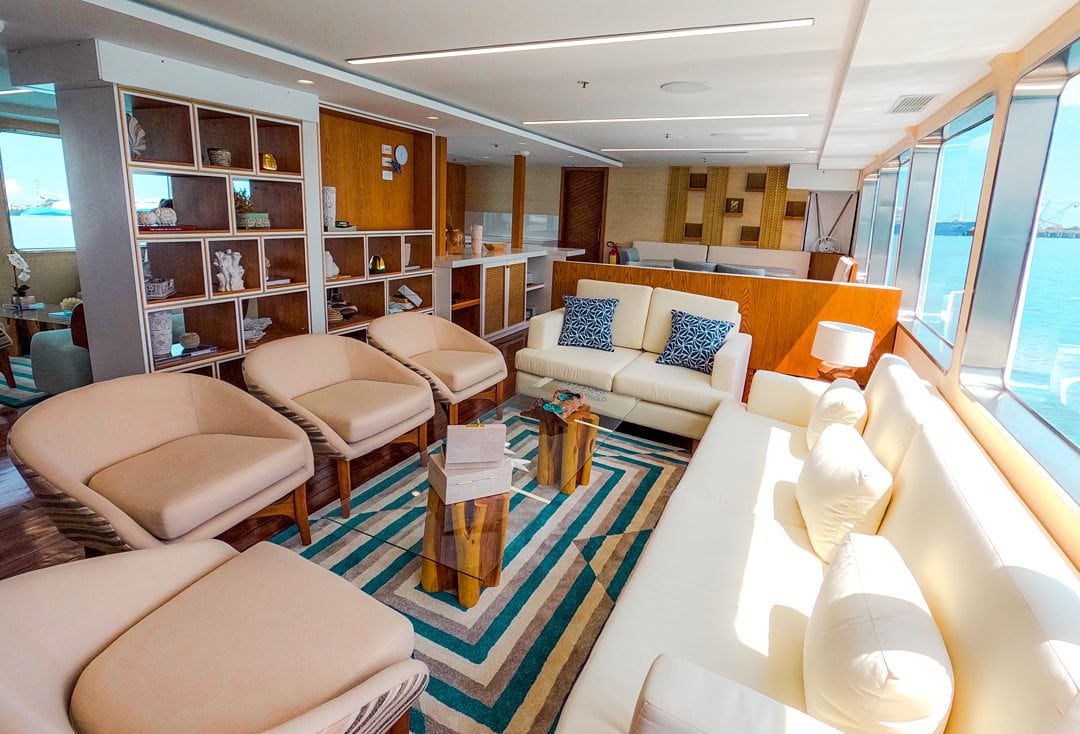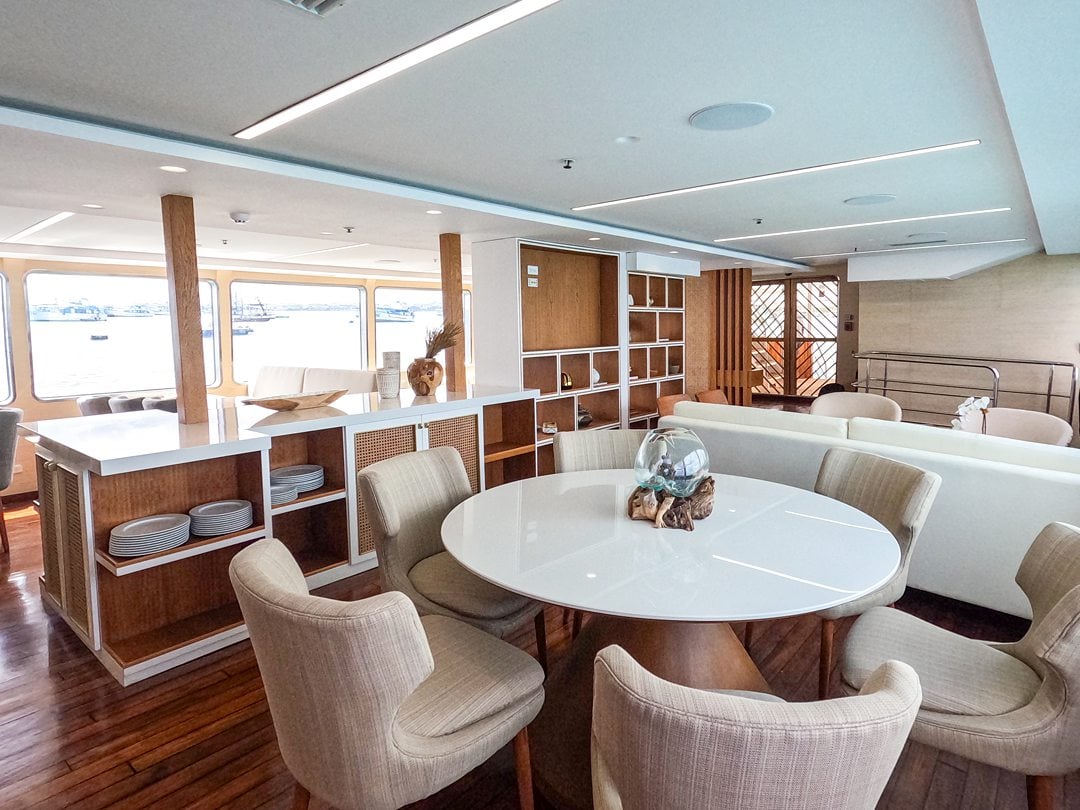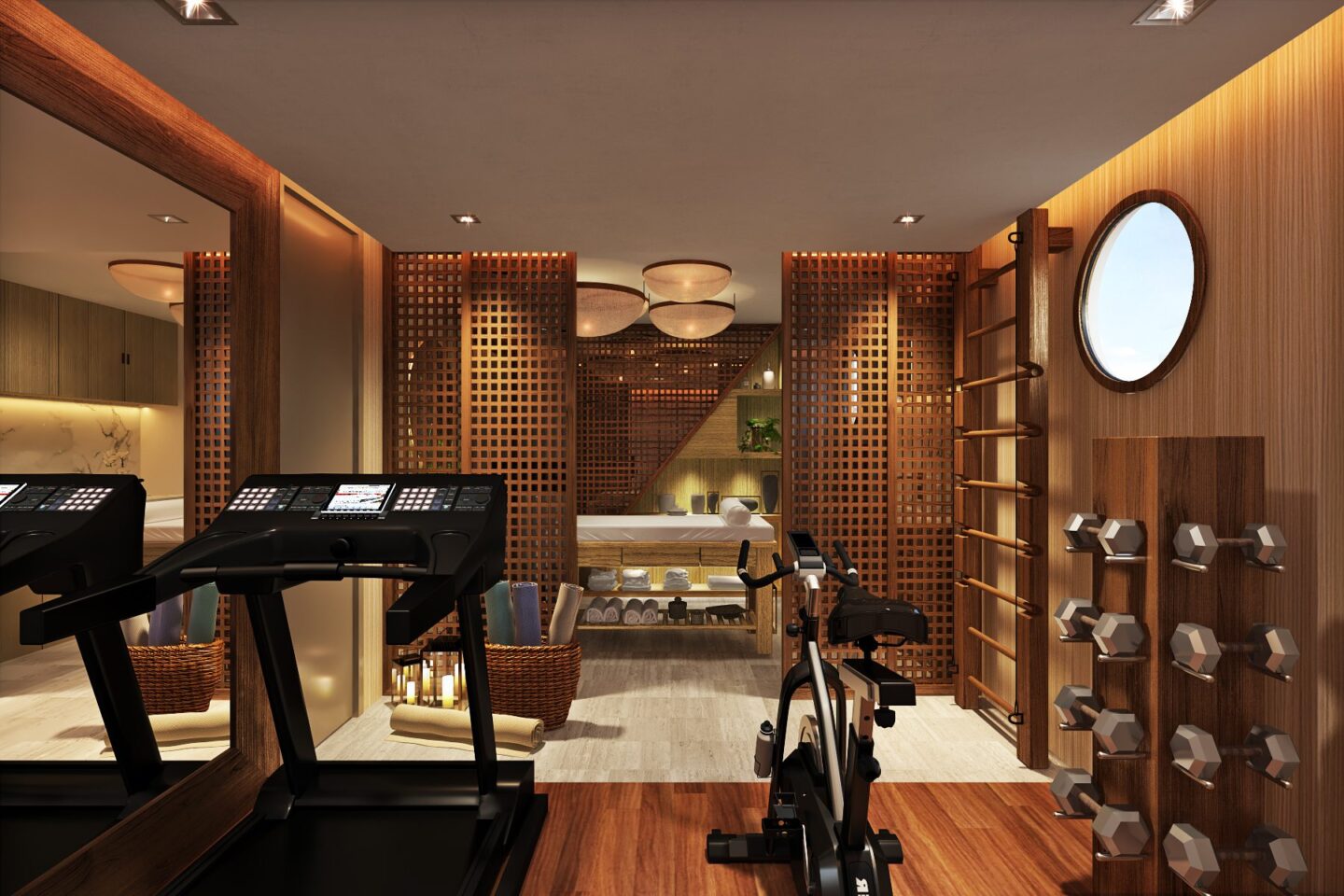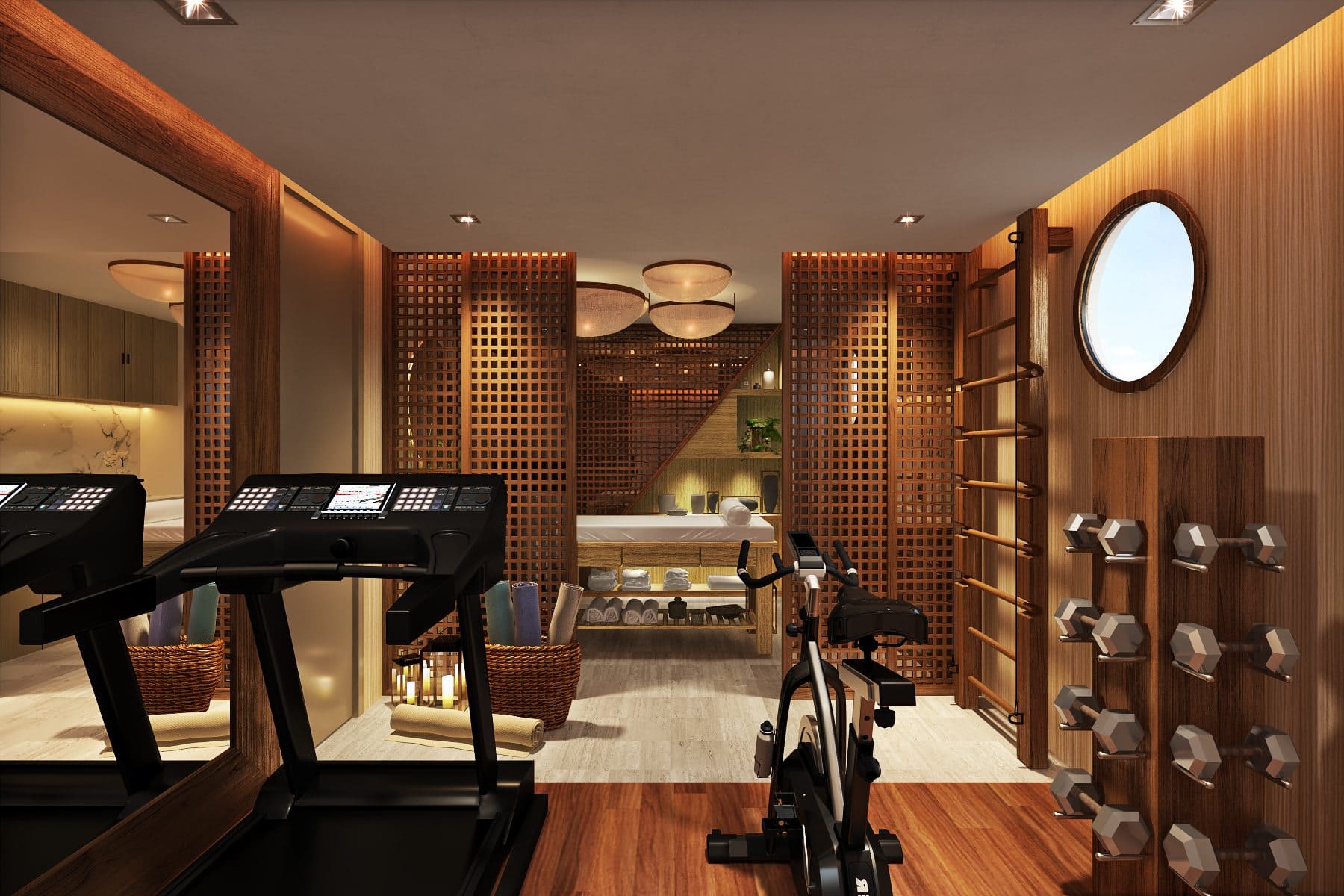 Family Stateroom Options on Kontiki Expeditions Yacht
Traveling as a family? This is a family-friendly, Ecuadorian small cruise experience. (It's recommended children sailing are ages six and up.) Kontiki Expeditions is able to connect up to four rooms on the ship.
Guest to Crew Ratio Information
The ship's nine staterooms can accommodate up to 18 guests. The crew consists of 12 members, including two expert guides, making it an incredibly favorable guest-to-crew ratio of nearly 1:1.
1 captain
1 concierge
2 chefs
1 bartender
2 expert guides
1 wellness specialist
1 waiter
3 people in charge of housekeeping and maintenance
Arriving to South America for Your Kontiki Expeditions Ecuador Cruise
A flight to Ecuador from Miami is only about four hours, and from Madrid or Amsterdam (direct) to Ecuador is about 10 hours. It's easy to get to Ecuador for your Kontiki Expeditions luxury yacht cruise.
For a northern itinerary, the Toquilla option, you'll want to book a flight to the Quito airport and then a domestic flight to Manta, on the coast. (Kontiki can assist with booking the domestic flight, though they do not cover the cost of that flight.)
For their southern itinerary, the Spondylus option, you want to book a flight to Guayaquil airport, closer to Ecuador's southern coast. They recommend you arrive in Guayaquil at least 48 hours prior to your cruise departure.
You'll need to travel with your passport, of course. Be sure it has remaining validity of six months after your trip for admittance to the country, as well as one blank page for passport stamps.
What's Included in your Kontiki Expeditions Ecuador Cruise
The cost of your Kontiki Expeditions Ecuador cruise includes:
Accommodations: your stateroom type of choice.
All meals and snacks, prepared by the onboard chefs using local organic produce. (A vegetarian menu is available upon request.)
All land gastronomy experiences, set up by the crew and prepared by the onboard chefs.
All soft drinks (coffee and tea included), an assortment of wine, beer and other spirits, and classic and signature cocktails.
Unlimited bottled water, which is safe to drink. (Though they do have refilling stations for water bottle so we recommend bringing your own refillable water bottle on board.)
Unlimited onboard wifi.
All land and sea expeditions (including transfers and access to the destinations) led by their two expert naturalists. Daily briefings about your excursions are also included.
Gear for water activities, including wetsuits, kayaks, snorkeling equipment and stand up paddle boards to experience Ecuador from another water point of view.
Shuttle from any hotel in Manta or Guayaquil, to either departure port for checkin and boarding (whichever you are departing from for your northern or southern cruise).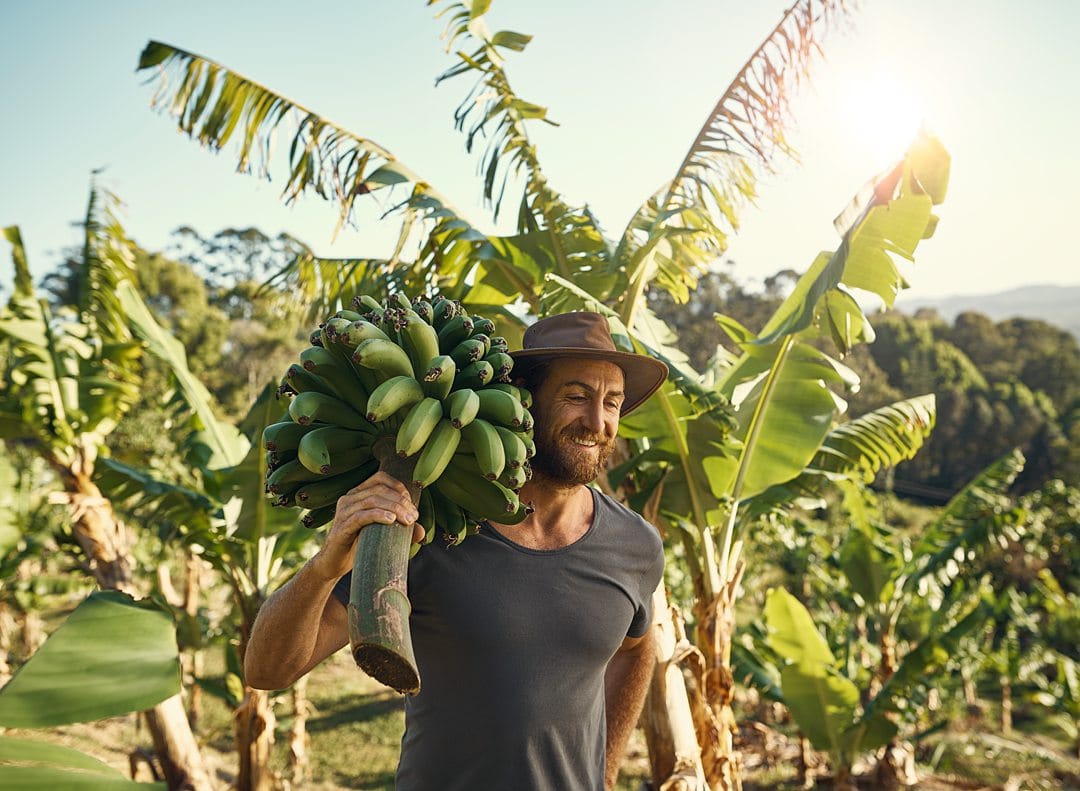 What is Not Included in your Kontiki Expeditions Cruise
You'll have to budget separately for the following things:
Flights to and from Ecuador's Quito airport (UIO) and a domestic flight to Manta, or an international flight to Guayaquil (GYE).
Premium wines and spirits (available at an additional cost).
Transfer from Quito to Manta or Guayaquil.
Pre and post experiences and hotels. (Though Kontiki Expeditions can assist with information and reservations with partner properties in Ecuador, the cost is up to you to cover.)
Gratuities for crew and guides.
Kontiki Expeditions' Safe Travels Standards
Kontiki Expeditions Ecuador cruises never sail too far from the coast. This is beneficial from a health and safety standpoint, in case there's an emergency that requires the boat to head back to land. You're never far from it, just in case anyone onboard should need medical attention.
Celebrating? Let Kontiki Expeditions Know!
Life should be celebrated. And what better occasion than your Kontiki Expeditions Ecuador cruise to commemorate something special? Maybe it's an anniversary, birthday, honeymoon, or even a marriage proposal! Let them know at least 30 days in advance to plan something special.


About Ecuador
On a map, Ecuador is approximately the same size of New York or Washington, with a population of just over 17 million. They are nestled between Columbia, to the northeast, and Peru to its southeast. Their official language is Spanish, however, expect your crew aboard Kontiki's yachts to speak fluent Spanish and English. The official currency of Ecuador is, surprisingly, the US dollar.
It is one of the top 17 most biodiverse countries on Earth. You can experience four worlds in Ecuador: the amazon, highlands, volcanoes, and the islands of the Galapagos.
Daylight and Weather in Ecuador
It's worth noting that South America is mostly in the southern hemisphere, with just a small portion of the country in the northern hemisphere. But it doesn't necessarily experience opposite seasons than the United States, as Australia does.
In fact, the name of the country translates to "Equator," and the equator runs through the country. So as you may have suspected, it experiences a tropical climate, year-round. They also have consistent daylight: the sun is up for 12 hours, and down for 12 hours, every day, all year.
Their capital city, Quito, is in the northern part of the mainland at a very high altitude (9,350 feet). It has warm days, (thanks to the sun at the equator) but cool nights. Temperatures during the day are typically in the mid-70s but can cool off by 20 degrees in the evenings.
It's likely you'll fly into Quito for your Kontiki Expeditions adventure, and it is worth considering adding staying there for a day or two to your itinerary to explore the capital. Therefore, pack your bags prepared for layers! (Our favorite bags to pack are our durable and portable Cabin Zero backpacks, perfect for saving space on all cruises.)
Thankfully you'll experience less humidity, slightly higher temperatures (between 80 and 90 degrees Fahrenheit), and cool coastal breezes on the Ecuadorian coast where your cruise takes place. The coastal wet season there is January through April, and the dry season starts in May or June each year and lasts through November.
May through November is also when there are Humpback whales in the Pacific Ocean by Ecuador. They migrate north from Antarctica during these months.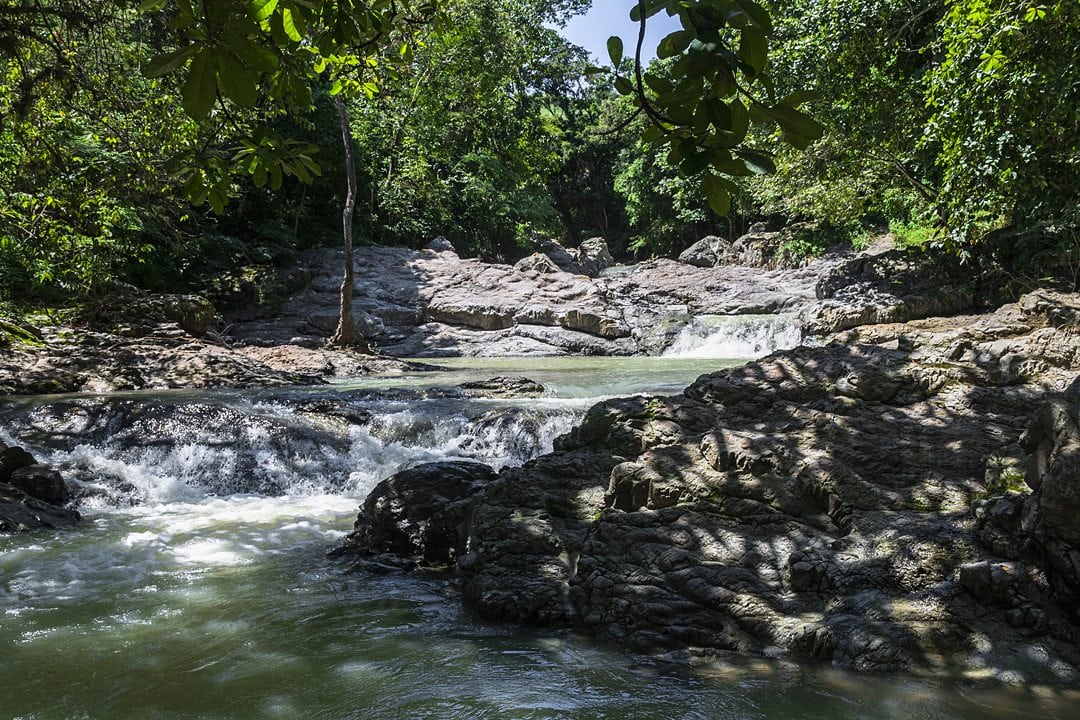 Ecuador Time Zone
Set your clocks to Ecuador Time for your vacation with Kontiki Expeditions; Ecuador is on GMT -5 time (and does not observe daylight savings).
While the east coast of the United States is on daylight savings time during summer, the time difference between New York City and Ecuador, for example, is one hour. (If it's noon in New York it's 11:00am in Ecuador.) But during the winter in NYC the time between the cities is the same: it's it is 11:00am in Ecuador during December it's 11:00am in New York.
And that's just another bonus of flying to Ecuador for a small cruise vacation: you may not have to deal with jet lag, depending on where you're flying to South America from!


Planning a cruise? Also check out: