Importance of Eating Sustainable Seafood and Local Fish for Healthy Seas
Part of living a life with the environment's best interest in mind is being mindful of what you eat and consume from the Earth. Seafood comes from our world's oceans, lakes, and rivers and it's our job to be responsible for our sustainable seafood consumption and where we get this protein from.
We are advocates for eating local and fresh whenever possible. While we know that many people don't live by the ocean, it's entirely possible to get responsibly harvested seafood despite your proximity to a coast.
The United States is one of the top consumers of seafood in the world. This country is also one of the most stringent when it comes to fishing and fishery laws.
With our help and the contents in this article, we know you can take away several lessons on why it's important to eat sustainable seafood, how you can identify it, and even how you can get it delivered to your doorstep.
Be sure to read to the end for some really cute seafood housewares and gifts from Etsy artists and on Amazon (especially handy if you're hosting a seafood boil!).
Disclosure: There are affiliate links in this post, which means we may earn a small commission if you click the link and proceed with a purchase, at no cost to you. We truly only recommend hotels, products, and services we personally use. As Amazon Associates, we earn from qualifying purchases.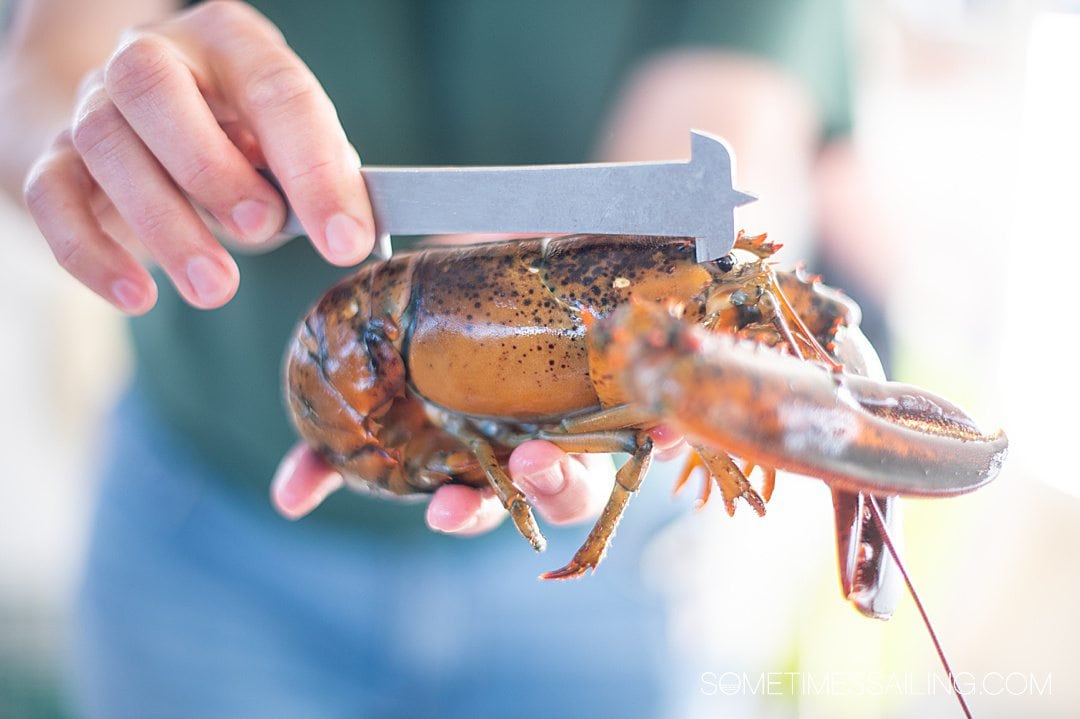 Why is it important to eat sustainably sourced fish?
According to NOAA, the United States imports 80% of the seafood it eats. However, 20% is local to the United States. When you drill down to particular regions, it is possible to get truly local seafood.
Extinction is a real threat when humans overfish a population, be it fish or mollusks (like scallops), for example.
If we overfish our oceans, rivers, and lakes we end up disturbing the ecosystem. Creatures in the water, like creatures on land, rely on a delicate balance to maintain their health. When one system is off, a domino effect occurs that throws everything out of whack. Balance is detrimental to its survival.
If we harm what's in the sea, it will begin to slowly die, and things like our recreational enjoyment of the oceans (including river cruises and ocean cruises) will go away with it. This could mean saying goodbye to the "cute" creatures that people so admire in the ocean too like whales, dolphins, penguins, and sea lions.
We would never want to imagine a world where you can't see sea lions in San Francisco, dolphins swimming alongside a boat in the Caribbean, or viewing whales in Maine, or penguins in Antarctica.
This is why it's vital that humans adhere to sustainable fishing regulations and consume sustainably sourced fish. For example. small fish are what some of the bigger fish eat. If we kill the fish they eat, there goes the food source of the larger fish who need it to survive.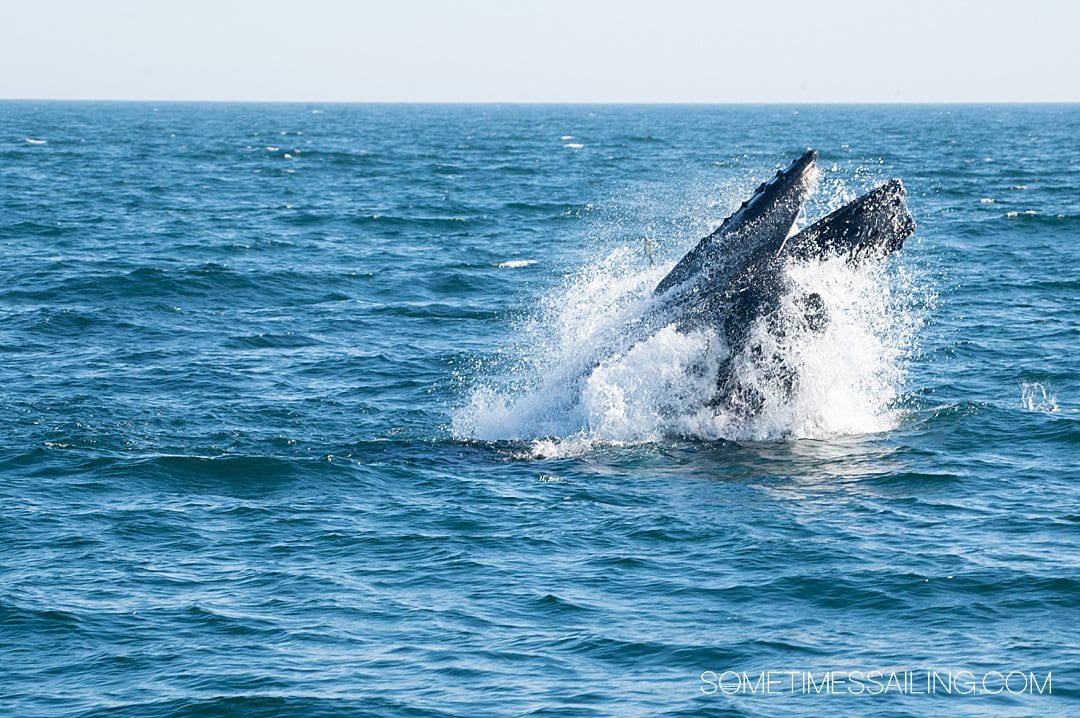 What is Sustainable Seafood?
Sustainable seafood means that despite the amount of protein we take from the ocean, the ecosystem is still able to maintain an equilibrium, reproduce and survive in a healthy way. It also refers to seafood that is ethically harvested, whether that means that slave labor was not involved and the workers make a fair wage, or that the fishing doesn't result in collateral damage, like bycatch.
What is Overfishing?
Overfished ecosystems have a population that isn't high enough to support the fishing that goes on there. This jeopardizes its "maximum sustainable yield."
These fisheries can be brought back to health, however, with strategic planning and scientific strategy. When they are brought back to healthy levels, they're considered "rebuilt."
How to Find the Most Sustainable Seafood
It's hard to say what the most sustainable seafood is because like all living things, it's constantly changing. However, we can provide resources to stay up-to-date on the current situation, like knowing what to look for at local fish markets or grocery stores that sell fish at seafood counters, and good websites to refer to along with helpful apps.
Sustainable Seafood App
The pickings are slim for reliable sustainable seafood apps. However, we are grateful that Monterey Bay Aquarium has an alternative. Access this link from your phone and follow the instructions to add a shortcut to their website to your applications screen. It functions just like an app and you'll see the icon show up just like any other app would on your phone or tablet.
Sustainable Seafood Markets
The best way to know if a local market is selling sustainable seafood is to ask them questions, including what certification programs the people who they buy from are a part of. There may also be an MSC certified blue fish label on their products.
Whole Foods Only Sells Sustainable Seafood
This nationwide food retailer is one of the leaders in sustainable seafood. All of their seafood is responsibly farmed or sustainably wild-caught.
They even have a Sourced for Good certification program, launched in spring 2021, that helps improve farmworkers' lives and supports the sustainable sourcing of food.
When you're at the seafood counter inside of a Whole Foods store, simply read the signs around you. You'll see where the fish was sourced (if it's local or imported from overseas). We always encourage you to ask questions to the fishmonger at the counter too, who will likely be knowledgeable in the seafood they're selling. (Including the best ways to cook it!)
Talk to Your Local Fishmonger
We sought out our local fishmonger, Lin Peterson of Locals Seafoods, for a conversation about sustainable seafood where we live in North Carolina. Because we were curious, we also asked him questions about sustainable seafood programs and the health of our oceans all over the world. He grew up scuba diving and quickly developed a love for the ocean. This love eventually grew into a business after college, bringing sustainable seafood to his community.
We specifically discussed what sustainable fishing means to him, his business, and our local economy. The conversation was enlightening. It gave us a greater understanding of North Carolina fishing and, for us, resulted in a stronger tie to a local business.
For example, we learned how Locals Seafood reduces waste by using what other people may throw out, from every scrap inside a scallop shell to bloodlines in tuna. Their Tuna Bloodline Burger is made with the dark bloodline in the fish that are usually discarded in America. But Locals Seafood treats it like ground beef and the burgers sell well.
Speaking to Peterson also opened our eyes to fish we may not have otherwise tried because they're unfamiliar to us. He says this is common; their customers may have never considered fish like Spanish Mackerel or Blue Fish but are more willing to try them after a conversation with him or other members of his team, thanks to the trust between them and their customers.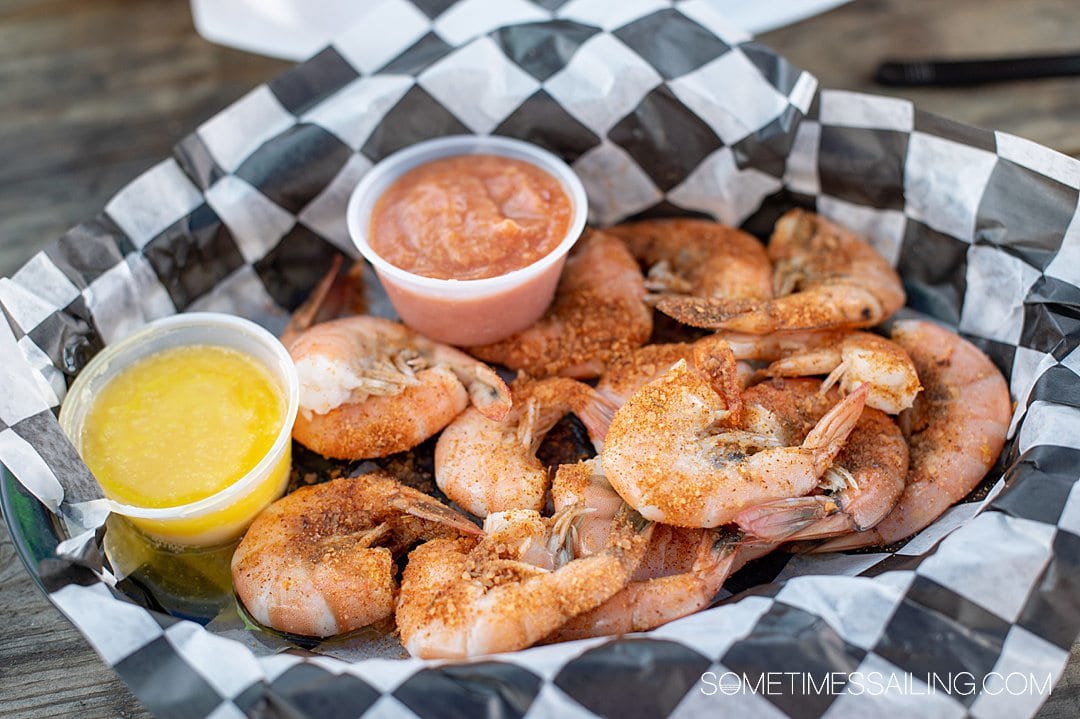 Sustainable Seafood: Things to Look For
Peterson of Locals Seafood also helped us understand some vital things to look for and keep in mind if you're doing your best to purchase sustainable seafood.
Here are some of his tips:
Know if the fish is in season. Not only is it better for the ecosystem the fish come from, but you'll also get better quality fish this way at better prices.
Eat seafood that is low on the food chain. (If you ever had a chance to watch the documentary, "Sushi The Global Catch," you were able to quickly understand why the overfishing of Blue Fin Tuna, one of the highest fish on the food chain, was kiling the oceans.) This includes protein like crawfish, catfish, and oysters. Peterson says part of the reason they're sustainable is because they're also filter feeders who help clean the ocean.
Try to buy local if you can because you'll be supporting local economies, including local "fishfolk." Fishermen (and women) are hard-working middle-class folks, catching species for restaurants and consumers, bringing them to market so the people can have fresh seafood. Support them!
Eat local too. For example, we live in North Carolina and lobster isn't local here. (It's local to Maine, of course.) Instead of a lobster roll, his company Local Seafoods creates a "crab roll" at their restaurants. It's a delicious twist on a classic. This allows North Carolinians to consume a local, sustainable protein instead of unnecessarily importing lobster from further away.
Ask questions. Local Seafoods doesn't go to Maine for lobster and 99% of their local fish is from North Carolina. However, their "local seafood" includes Virginia, South Carolina, and even New York and Massachusets. They drive to get that product (refrigerated or frozen, of course) and then they bring it back to North Carolina. We only know that because we asked.
Know if the restuarants and fishmongers you're supporting live by sustainable principles. Do they disguard a lot of "waste" or find ways to use things that are edible but usually thrown out?
Certified Sustainable Seafood
Of course, you should look for any sort of "sustainably sourced" signs and proof of things like an MSC blue fish logo on the packaging of the seafood you're buying. Also get the Monterey Bay Aquarium "app" we mentioned, above.


How You can Help Be a Part of the Solution and Keep Seafood Sustainable
There are several things you can do from home and while you travel that will link to helping with seafood sustainability, whether the effect is immediately apparent or not.
This includes things like reducing your use of single-use plastic, being aware of sustainable seafood on menus, and ordering food from markets and delivery programs that support sustainable programs.
Reduce the Use of Single-Use Plastic
Single-use plastics are increasingly found on beaches, in deep parts of the ocean, and on the ocean's surface. Plastic is a major global problem, which is why the UN decided to begin developing a UN Plastic Pollution Treaty.
When plastic gets into our waterways, animals like turtles and fish can suffocate. This affects the ecosystem (and is so, so sad for wildlife).
Start with making a change by signing the Ocean Wise plastic pledge; we did!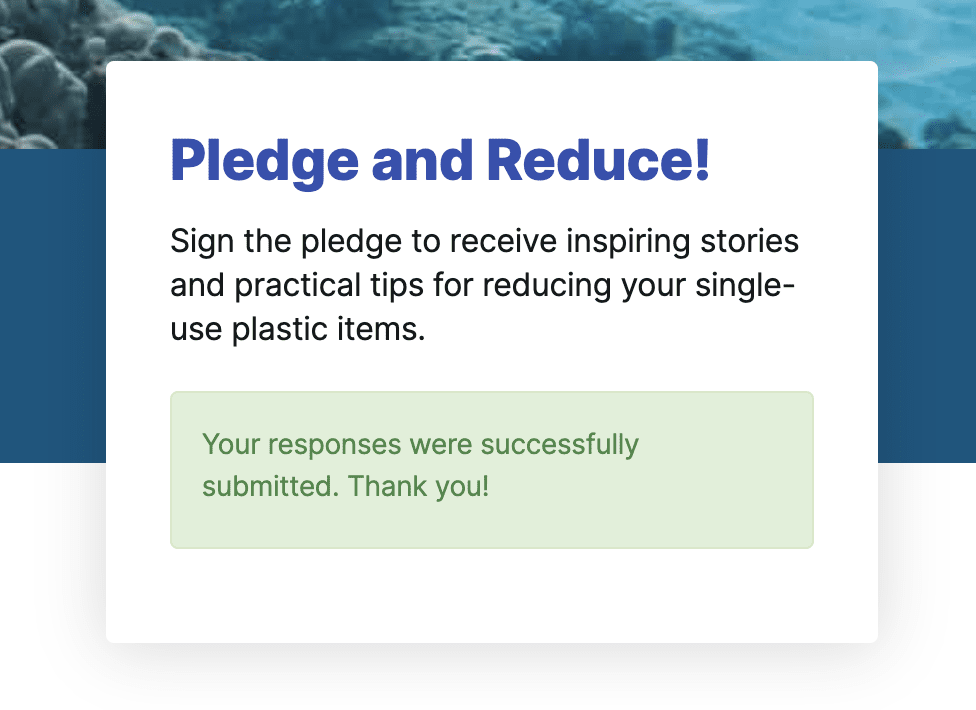 Then, continue to aid in reducing the planet's plastic problem by purchasing reusable silicone bags and using those instead of Ziploc bags and the like. You can also buy a reusable straw to travel with and a reusable water bottle. We haven't purchased single-use plastic bags in years, thanks to our Stasher Bags (which have many amazing uses on a cruise too).
And we take our reusable water bottles and straws with us wherever we go. (Use coupon code SOMETIMESHOME at MiiR for 15% off your first purchase!)
Look for Sustainble Seafood on Menus at Restaurants on Land and at Sea
Whether you're at a restaurant near home or on a cruise, you can (and should) ask if the seafood that you're about to eat was responsibly harvested.
Often times it just takes a simple question to find out the answer. Other times, the server can ask the chef, or there may be a symbol next to the entree on the menu indicating the cruise line has a sustainable program.
Get Delivery of Sustainable Seafood
It's very easy to get sustainable seafood delivered to your doorstep across the United States, even if you don't live near water. You can use a service like Goldbelly (linked below) or see if a local fish market has a subscription service.
Our local seafood shop, Locals Seafood (mentioned earlier in this article) ships all over the nation with free two-day shipping in most cases.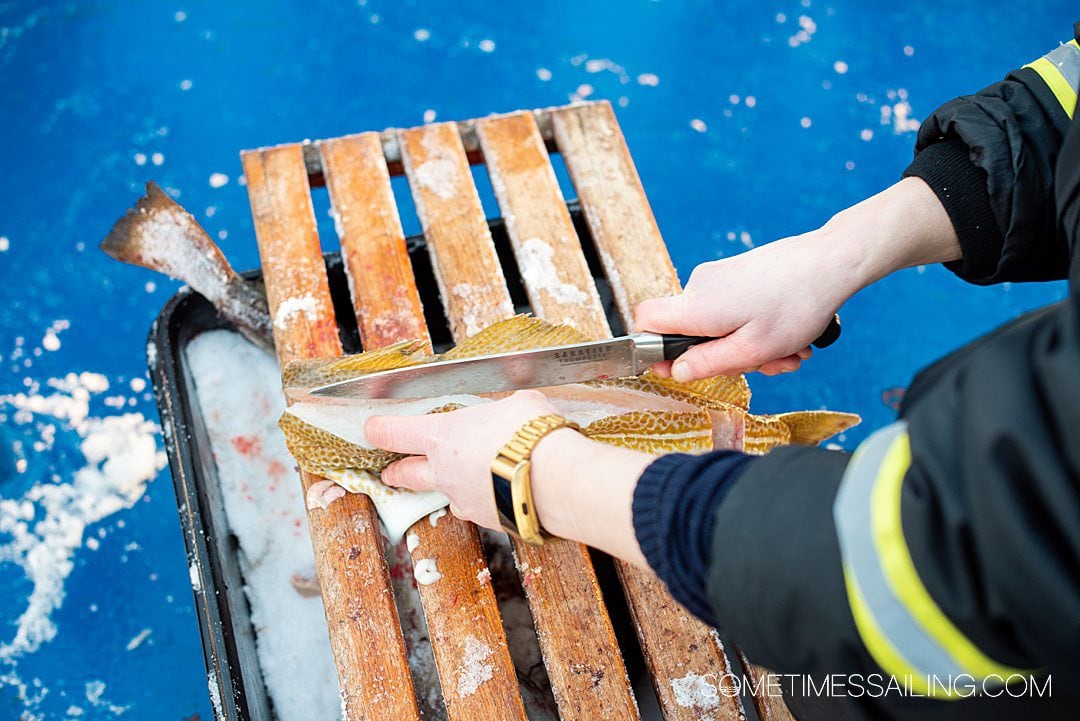 Goldbelly Delivery
This is one of the most fun online food retailers! They bring favorites from across the nation to you, often with free overnight shipping.
Craving salmon from the Pacific Northwest? SeaBear Smokehouse, from Anacortes, Washington uses sustainable seafood in its creations. Get a meal that's ready to cook or raw ingredients for a recipe. Try their salmon trio, seafood mac 'n cheese, or bourbon and brown sugar smoked wild salmon.
Get seafood steamer pots from the east coast: Topsail Steamer puts together seafood boils and seafood steamer pots with shrimp, lobster, crab, scallops, and clams. Simply pick which one(s) you want to include, pick your seasoning pack, and place your order. Check out our dedicated Topsail Steamer review. (Spoiler alert: we recommend it and it was a lot of fun to cook and eat.)
Order from Seattle's famous "Pike Place Market": This fish market is famous for its throw-and-catch show they put on in person. But the real star of the show is how the owners of the fish market focus on sustainably caught fish. Order Pike's Place Market Kumamoto oysters, fresh halibut, smoked salmon spread, Dungeness crabs, ready-to-drink oyster shooters, and more.
Love on lobster with Luke's Lobster Delivery: The lobster we had in Maine during our Maine Windjammer cruise was seriously some of the best seafood we've ever had. Maine lobster is the BEST. You can get some delivered to your doorstep even if you don't live in Maine, thanks to Luke's Lobster! This famous Certified B Corp business is most known for its delicious lobster rolls and blueberry pie, which are two very "Maine" foods.
Maryland crabs, from the dock to your door: Anyone who visits Maryland knows how important crabs are to the culture of any resident of this state. And if you cruise from Maryland, it's likely "eating crabs" is on your to-do list. If you're craving delectable Maryland crabs while at home (whether softshells, crab cakes, chowder, stuffed crabs or something else crab-related), order some from Harris Crab House, located on the coast of Maryland. All their crabs are from local watermen and they employ 140 locals.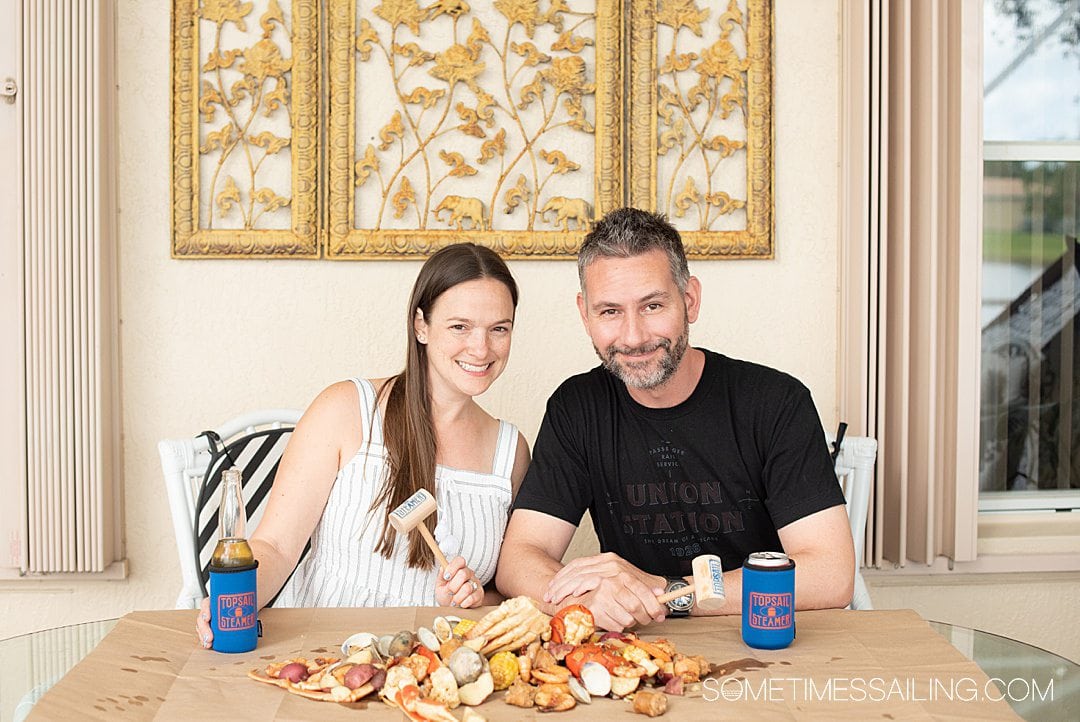 Sign up for Local Tours to Support Fishermen, Waterman and Fish Markets
Signing up for – or seeking out – a tour in a port or onboard your cruise that will help you gain a greater understanding of our oceans, ecosystem, and the creatures in it is a wonderful idea. It will help you start on a path, or continue on one, to be a part of the solution for sustainable seafood.
For example, understand how the Tlingit people in Alaska have relied on salmon during a tour of the salmon cannery at Icy Strait Point. Or take an eco-cour during a Celebrity Cruise to understand how people in the Caribbean fish for conch shells.
Whether you seek to understand sustainable seafood near your home or on vacation, be on the lookout for the tours that bring you up close with the locals and in contact with the seafood near them.
Here are a few more ideas and examples in popular port city areas in the United States:
Our Experience with an Oyster Farm Tour in North Carolina
One of the coolest tours we ever took was an oyster farm tour with Cape Hatteras Oyster Company in the Outer Banks of North Carolina. Co-owner Ryan's boat took us from the coast to about 15 minutes away, on the sound of Buxton Village. Cape Hatteras Oyster Company ships or delivers directly to restaurants and fishmongers who are local and around the country.
During this trip, we saw his oyster cages bobbing in the water and learned about the unique filtration that oysters provide in the water. Of the 200,000 oyster seeds he plants, nearly half grow into a viable product after approximately 12 to 15 months.
This tour gave us a greater appreciation for where our food comes from and for the people working hard to bring it to us. And trust us – it's labor-intensive! Cape Hatteras Oyster Company also partners with Cape Hatteras Saltworks, a local business harvesting salt from the ocean in a sustainable way. It's the perfect sustainable pairing.


Seafood Gifts for the At-Home or Professional Chef
If you want to have a little fun with seafood, why not buy some seafood-related gifts for yourself or your friends? We have the perfect ideas for you if you're hosting a seafood boil, going on a cruise and want some funny shirts, you're going to a friend's house for an oyster bake, giving a gift to a fisherman (or woman) in your life, or if you want a beautiful keepsake created from oyster shells!
Fish-Gifts from Etsy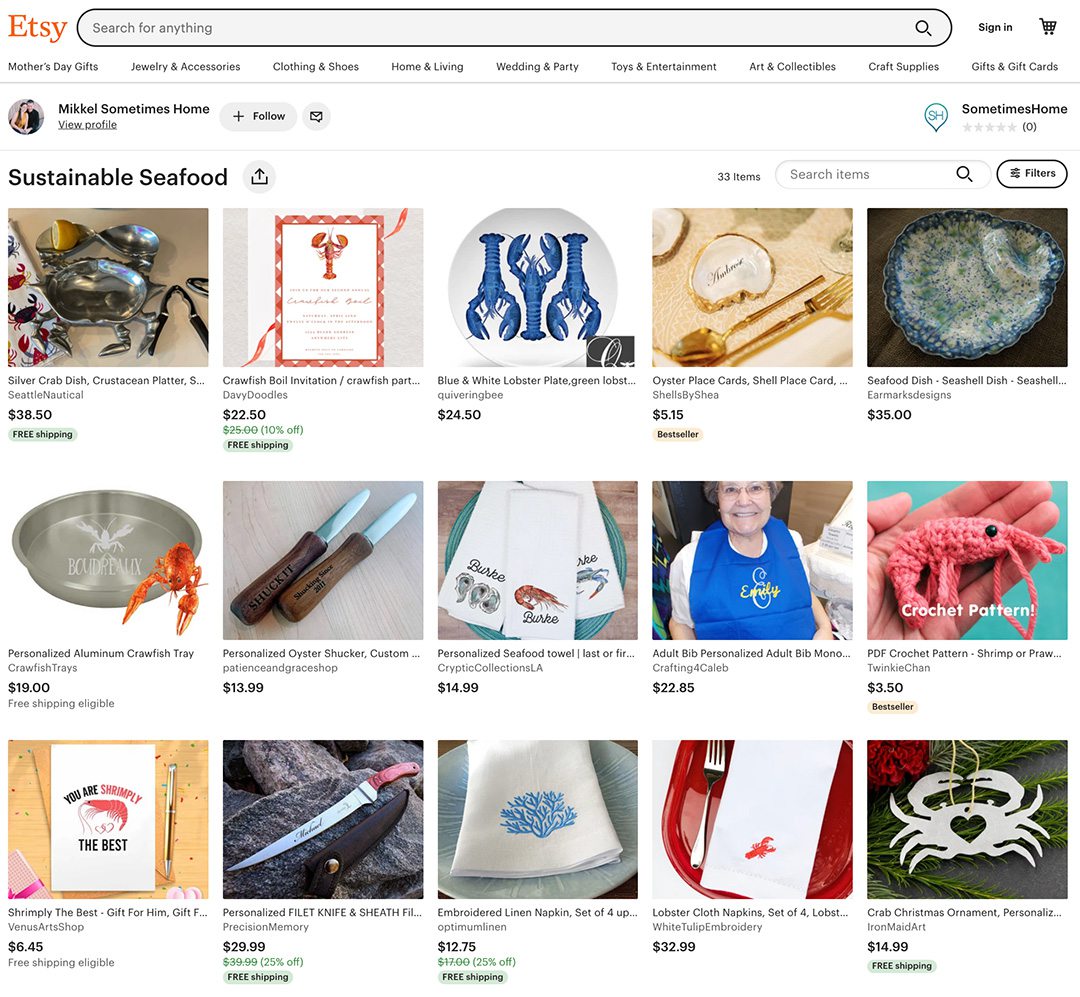 Fish-Gifts from Amazon


Sustainable Seafood: Additional Resources
If you want to deep-dive (no pun intended!) into more research on sustainable seafood, including reports on fishing, how it impacts our economy, and much, much more, we suggest visiting the websites of the organizations below.
They help report on the health of our oceans, rivers, and lakes, implement programs to maintain their health or bring it back to sustainable levels as needed and enforce rules and regulations with the best interest of our planet in mind.
National Oceanic and Atmospheric Administration (NOAA)
This scientific branch of the US government focuses on a few different aspects of our world's oceans. It includes environmental data, oceanic research, fisheries, weather/climate change, and marine and aviation operations.
According to NOAA, almost 40% of the United States' population lives in coastal shoreline counties. The country's combined shorelines total 95,000 miles. Someone needs to look out for the well-being of our citizens and our environment and NOAA is the leader in doing so for coastal areas, oceans, and our Great Lakes.
Fish Watch
This is the best website to check if you want to know about a particular fish. It is a government database in the United States for sustainable seafood. They also have a number of helpful and informative articles on their website about the topic.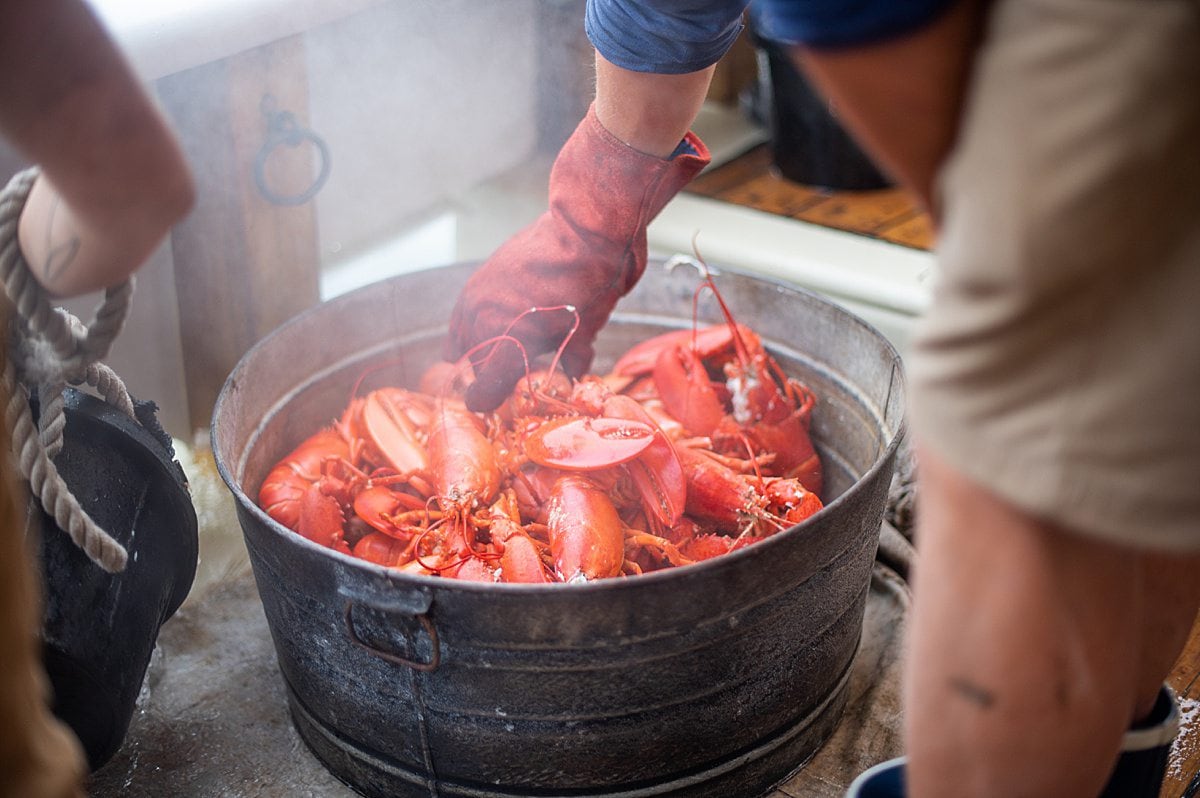 Ocean Wise
This organization is on a mission to educate and inform people and communities about ways to save and restore the world's oceans.
They focus on climate change, plastics and pollution, and overfishing. We have found their YouTube channel to be particularly informative. Check out their video about sustainable shrimp farming in Vietnam:
Marine Stewardship Council (MSC)
This non-profit organization works to end overfishing around the world. Their goal is to make sure that seafood will be available around the globe for generations to come.
They do this by educating people about overfishing, rewarding sustainable fishing programs, and setting standards for certifications. MSC Fishery Standards include monitoring fish stocks (meaning the number of fish in the fish community is healthy, so the fish can reproduce), ensuring there is a minimal impact of fishing on the environment, and making sure that the programs are managed well and adhere to all applicable laws.
On their "track a fishery" page, you can get into the nitty-gritty of the status of fisheries around the world, from certified fisheries to those under assessment.
MSC has also developed a sustainable seafood certification program with a visual identifier, that is recognized around the world. The MSC blue fish iconography, in the form of a logo, is helping people identify sustainably sourced seafood in their grocery stores. The label indicates that the fish or seafood is from an MSC certified fishery, harvested in a sustainable way, but also hasn't gotten mixed up with any non-certified or sustainable industries (like a cannery) or businesses along the way.
This video explains this in more detail and shows you what the logo looks like:


Want to read more about how to help the environment? Read this next: