All About Hatteras Saltworks: Outer Banks Sea Salt from NC
One of the gifts we repeatedly look to buy (mostly ourselves but others too) when we travel anywhere is salt. That's why we were so jazzed to learn about Hatteras Saltworks on a trip to the Outer Banks in North Carolina.
We never could have guessed how homegrown the operation truly is. We were so inspired and moved by learning about the salt-making process with Hatteras Saltworks that we want to share it with you.
It's a story of love for the Earth's natural resources and for the process it takes to extract the best salt from the waters off the coast of the Outer Banks.


The Couple Behind Hatteras Salt Works
Shaena and Brian McMahon are the wonderful couple behind the salt.
Anyone who knows me knows I'm a sucker for a love story (which is probably why I photograph weddings) and it was fun to learn they're high school sweethearts from New Jersey.
What started as a hobby – with them making salt in the Caribbean and Mexico – has turned into a booming business.
Brian was stationed in the area when he was in the Coast Guard in 2000. That's when they first got a taste of island life in the Outer Banks. They grew to love the isolation of the barrier islands and the sense of freedom it afforded them.
They moved from NJ to NC to take advantage of the singular location of the Outer Banks. The waters off Cape Hatteras are incredibly nutrient-rich.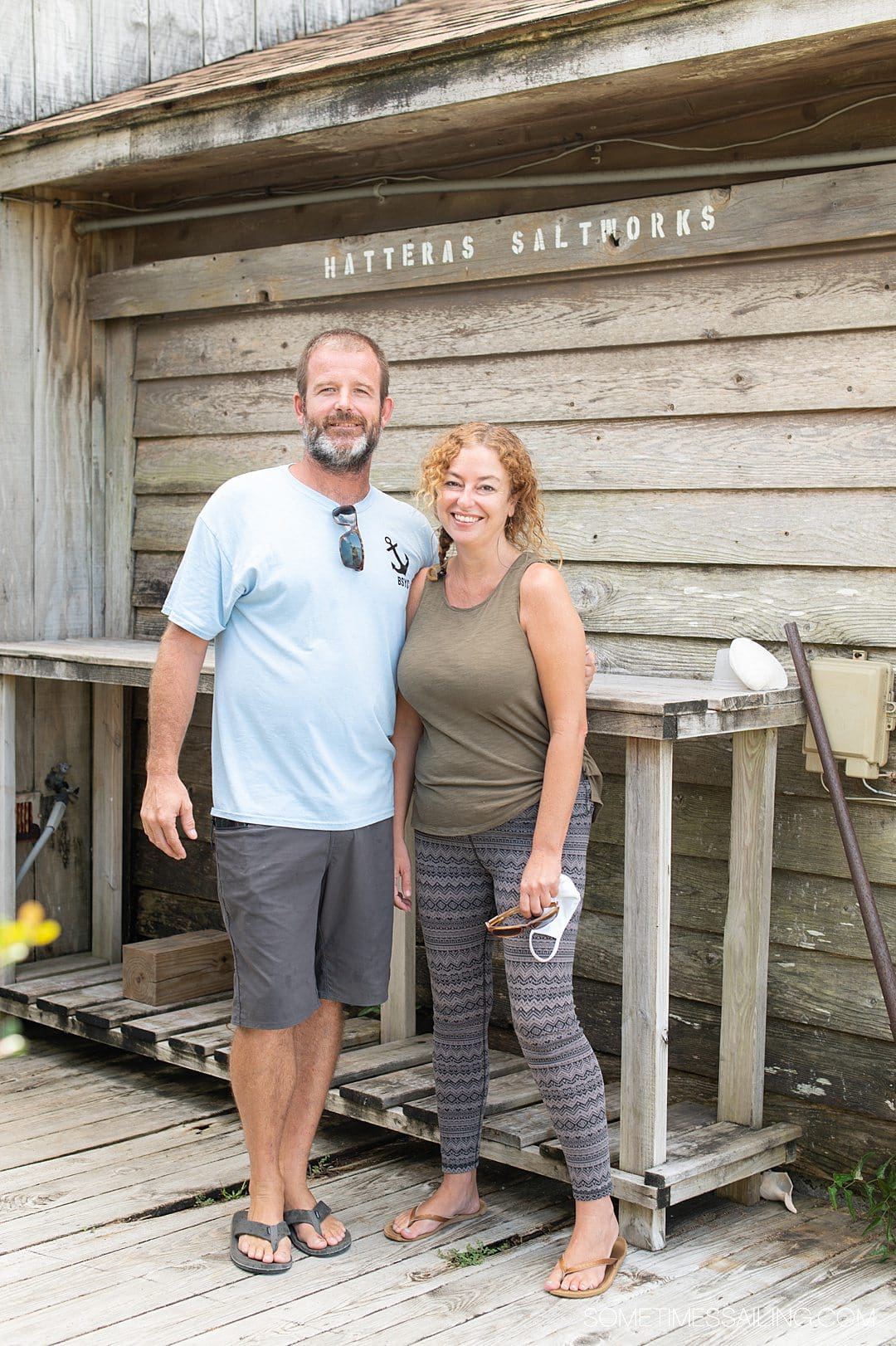 Why the Outer Banks for Salt?
The waters off of Cape Hatteras in North Carolina are very unique. This area is the only place on the planet where the Gulf Stream and Labrador current collide. The water here is in the Atlantic Ocean, but, more specifically, it's part of the Sargasso Sea.
It's the only sea in the world not bordered by land; what defines it is its currents. And what results from these currents is ocean water chock full of nutrients off the coast of North Carolina.
Cold water from the Atlantic mixes with the warm Labrador current and evaporates. Then it goes back into the ocean. Higher evaporation rates on the east coast, in areas like North Carolina, result in higher salinity in the water. Conversely, the higher the precipitation in an area, like in the Pacific Ocean off the west coast of the Americas, the less salinity there is.
Hence, why it's ideal to gather saltwater off the coast of the Outer Banks for Hatteras Saltworks' products.
Hatteras Saltworks Salt is Exceptionally Good for You
The minerals in the salt that Hatteras Saltworks produces are very good for you! There are dozens and dozens of minerals in their sustainably made product that are stripped away from table salt you would typically buy off the shelf.
They use a slow evaporation process over the course of several weeks in order to keep as many minerals in the salts as possible.
Contrary to something like "high blood pressure" that may come to mind if you think about salt and your health, we actually cannot live without salt. The "dangerous" salt is refined table salt.
BAD: Refined salts that have additives and crappy ingredients to make it white.
GREAT: Unrefined, unrefined, solar evaporated, sea-to-table salt that Hatteras Saltworks produces. This is the HEALTHY stuff.
Your body may crave a salty snack here and there because you need it. You need salt in your system to live a healthy lifestyle.
BENEFITS of Natural Salt
Here's all the ways that you'll benefit from a bit of unrefined salt each day:
Natural salt regulates blood pressure.
It's a natural antihistamine, which is why places like Salt Spas have taken off! It helps clear your lungs for better breathing.
It soothes your muscles. (Have you ever taken a salt bath?)
It helps balance your blood sugar, which helps prevent diabetes.
The minerals from unrefined natural sea salt aid in brain function.
This is just SOME of what natural salt is great for. Organic Authority shares many more ways you can benefit from a bit of daily, natural sea salt intake.
How Hatteras Saltworks Salt is Made
This is truly a labor of love, as we mentioned earlier. It was so abundantly clear that everything they do is with a lot of TLC.
Getting Ocean Water to Create Outer Banks Sea Salt
Brian goes out to sea to harvest the water. He shared that he pays close attention to the moon in relation to the tides for when its best to harvest. For example, he likes to pull water when there's a full moon at high tide because that's when there is optimal salinity in the water.
The saltwater is pulled from the ocean into tanks on his boat with the help of a pump.
Moving the Water to the Farm to Filter It
When Brian gets back to the Hatteras Saltworks farm he must move the water he got from the boat to their tanks.
Water weighs 8.6 pounds per gallon and he's moving about 750 gallons. Can you imagine how heavy it is? What a workout! (If you're doing the math along with us, that's 6,450 pounds of water, or over three tons.)
The water is triple-filtered because humans pollute the ocean. (Sad but true.) Of course they make sure things like plastic are filtered out.
The good news is that because of the low human population in the Outer Banks, and less land surrounding the water where it's harvested in the Sargasso Sea, there is less runoff. Which means there is less pollution there.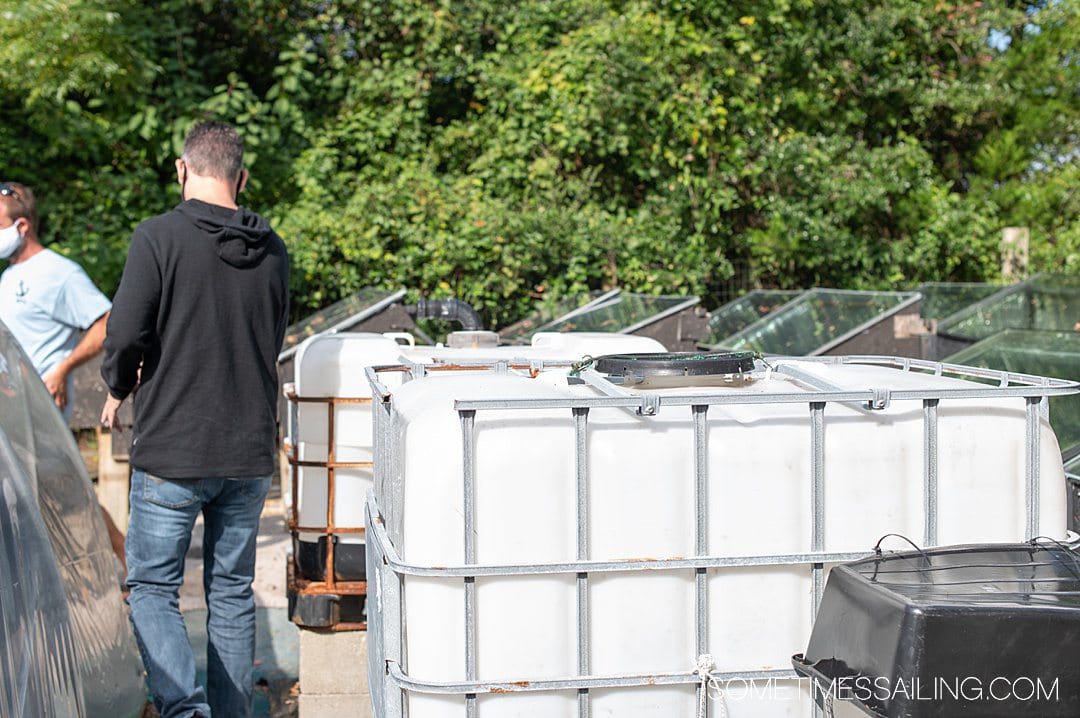 Patience and Time in Letting the Water Evaporate
Brian has hand-crafted the hoop greenhouses they use to evaporate the water from the salt. They previously used solar ovens but switched when they realized they were able to produce more salt this way.
The power of patience and solar evaporation are utilized over the course of 25 to 45 days. Nature is working its magic so things like the weather and time of year all affect the evaporation process.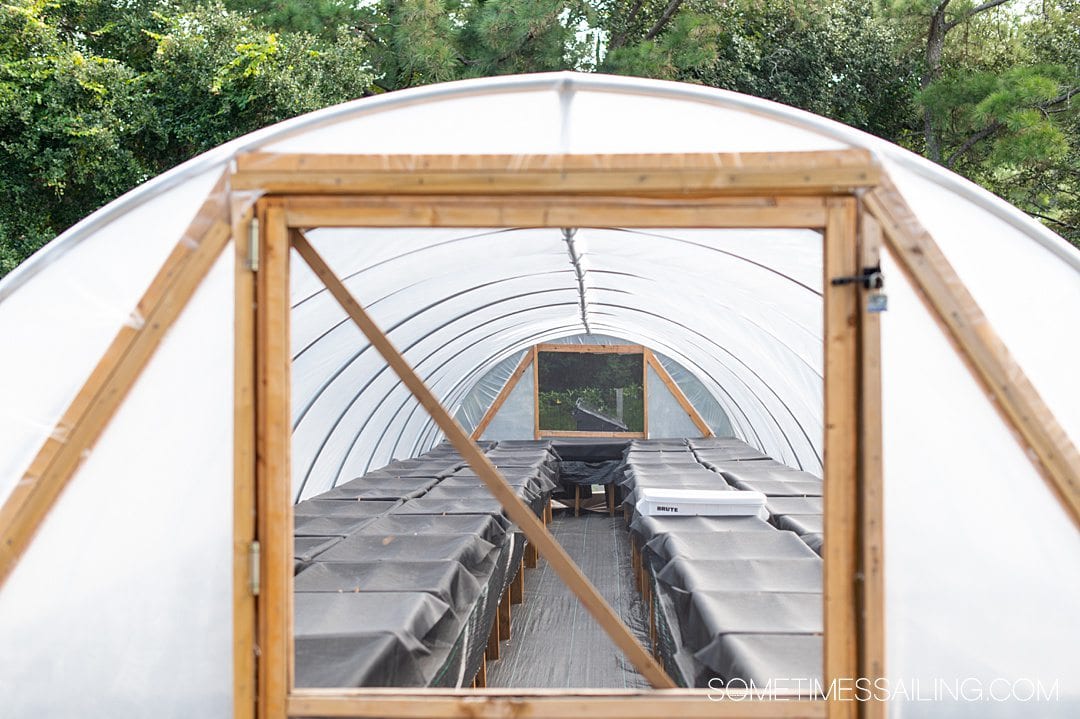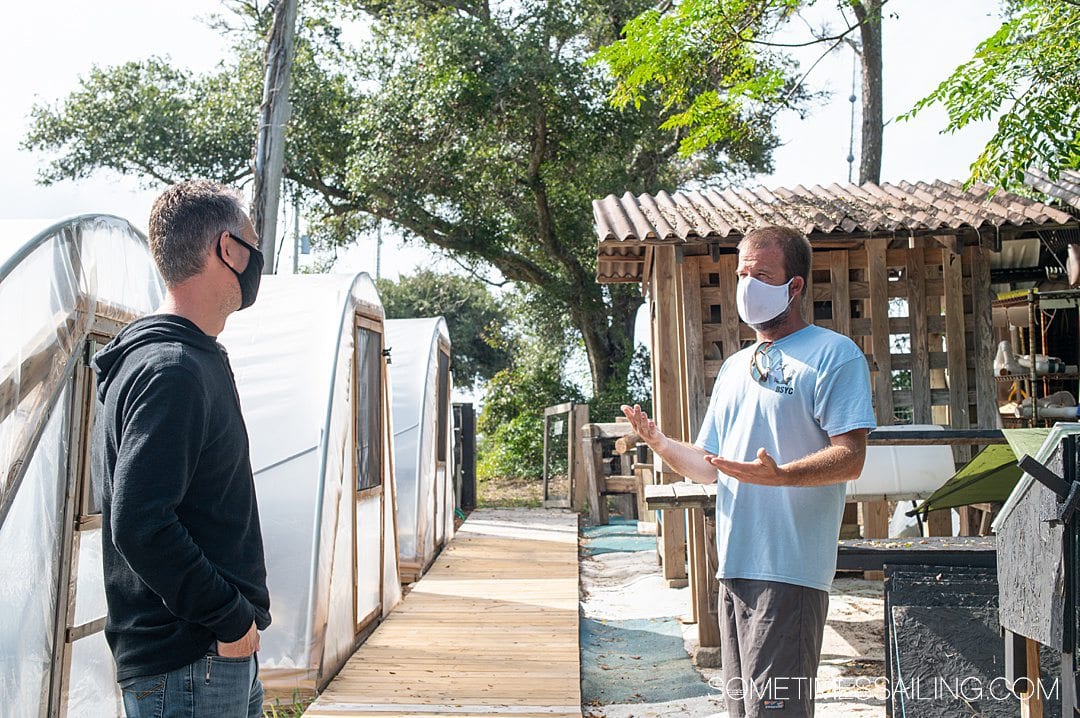 The Salt Shows Its Beautiful Crystals Over Time
Slowly but surely the salt starts to show itself over the course of the two to four weeks the solar evaporation is scientifically at play.
You can see the progression of the salt production in the images below: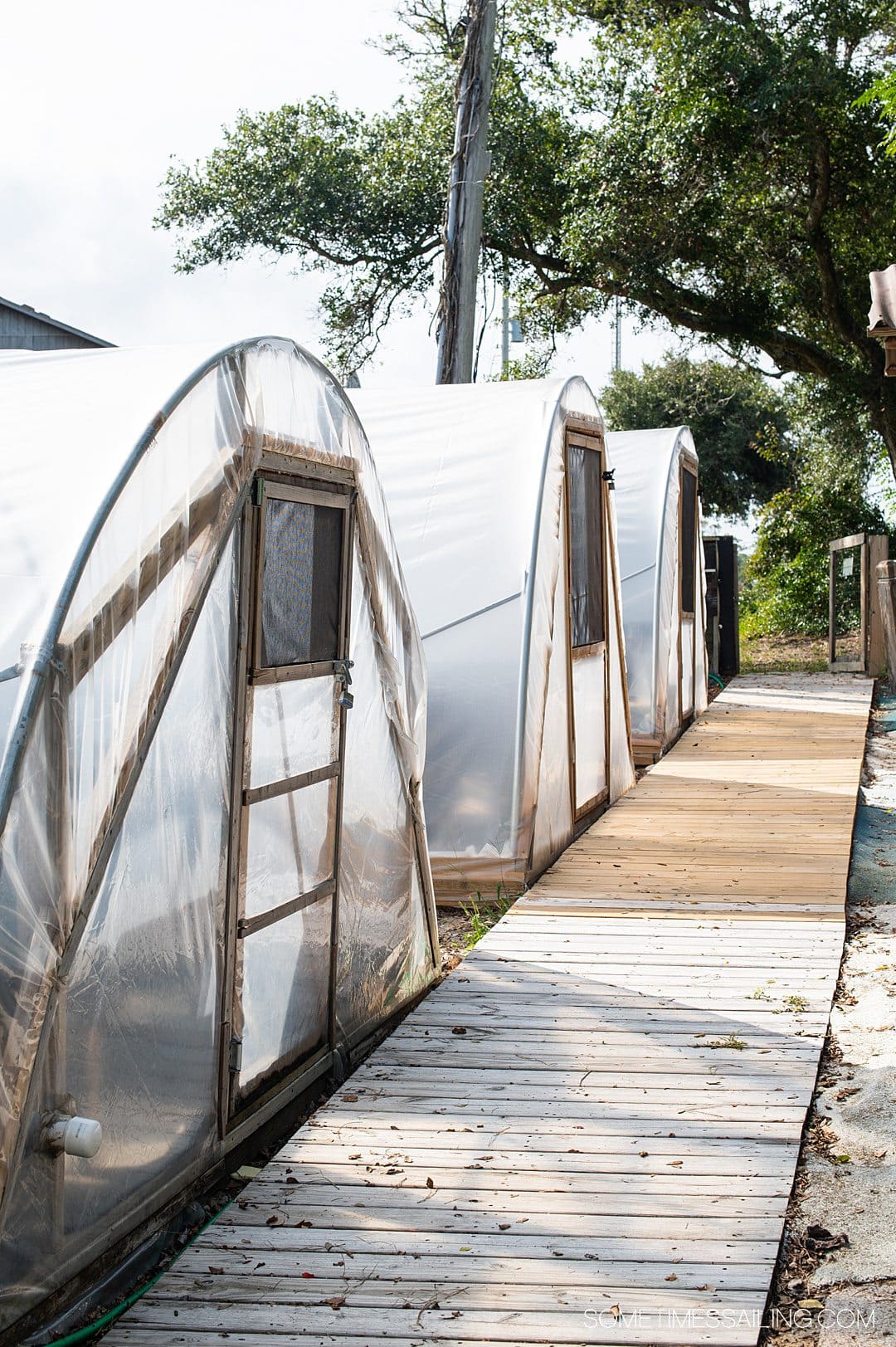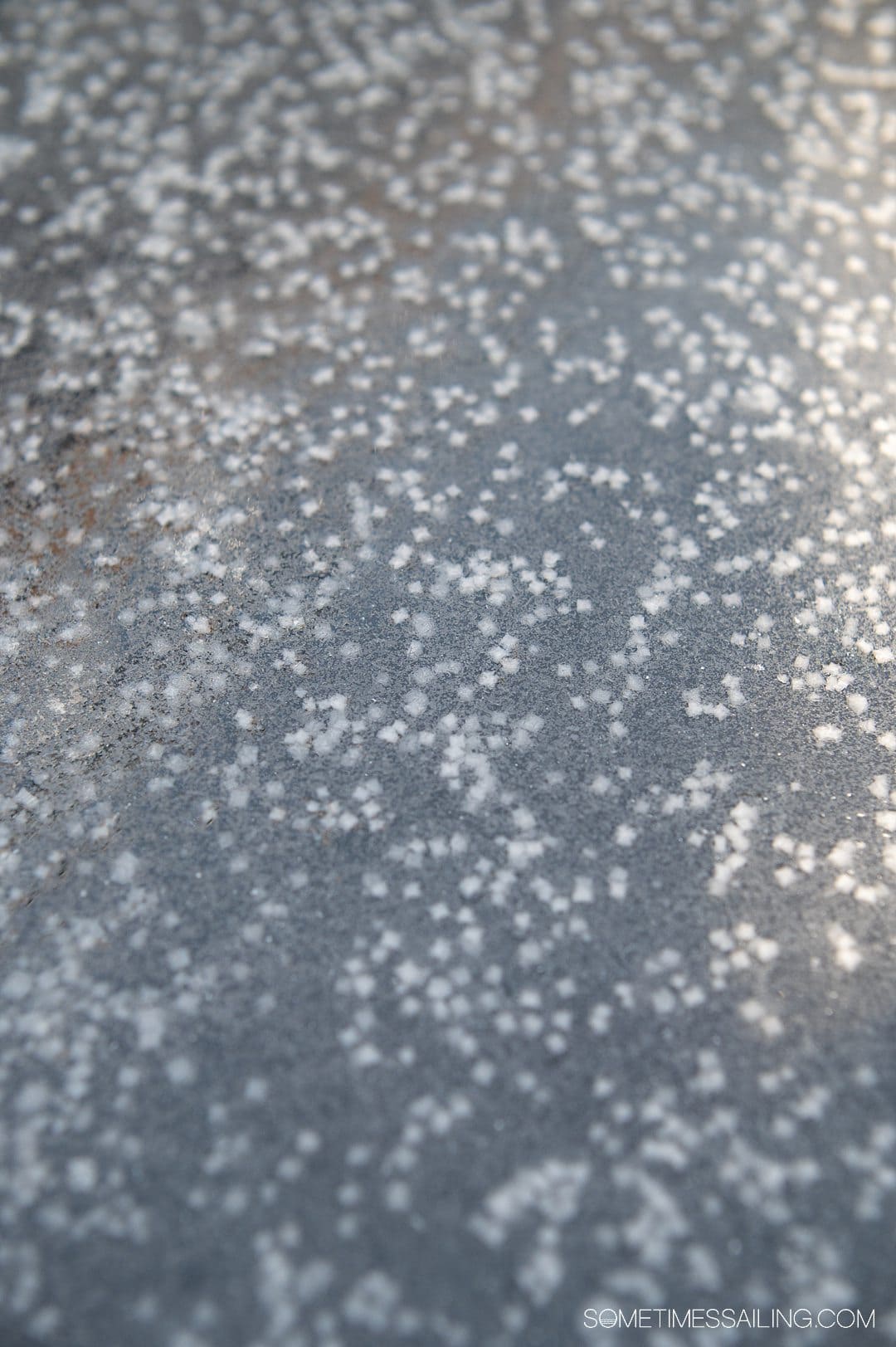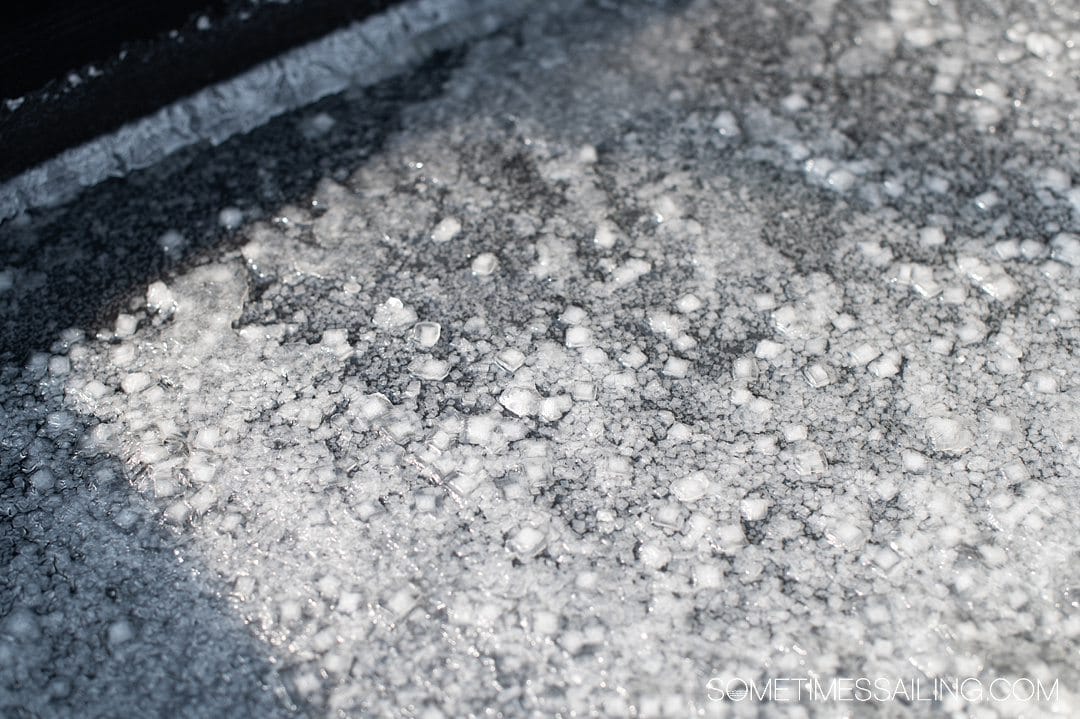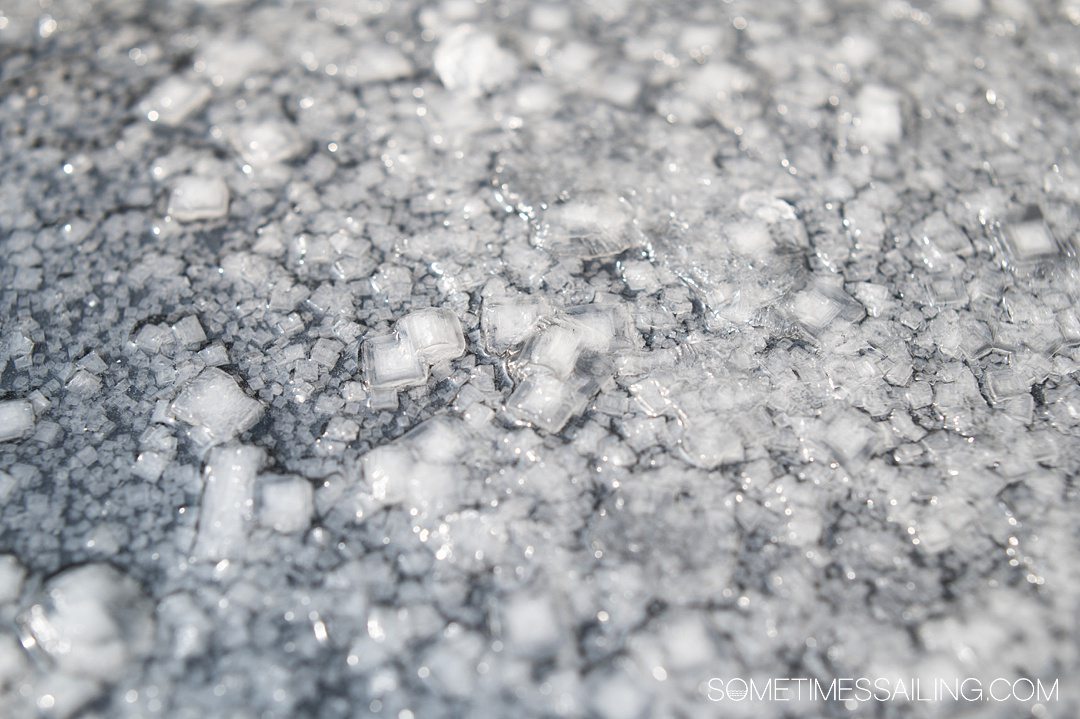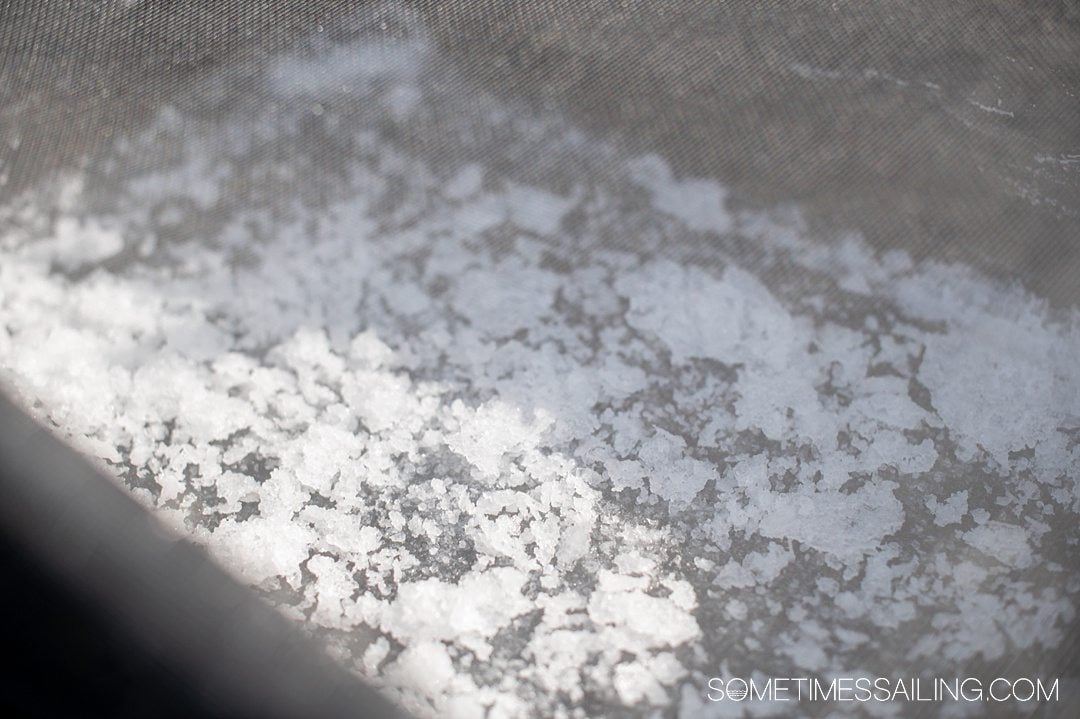 The Salt is Further Dried
The salt is gathered from the black bins and put into cheesecloths. Then it dried out even more through solar evaporation. Brian and Shaena keeps a hygrometer in the oven so he can measure the humidity in the air inside.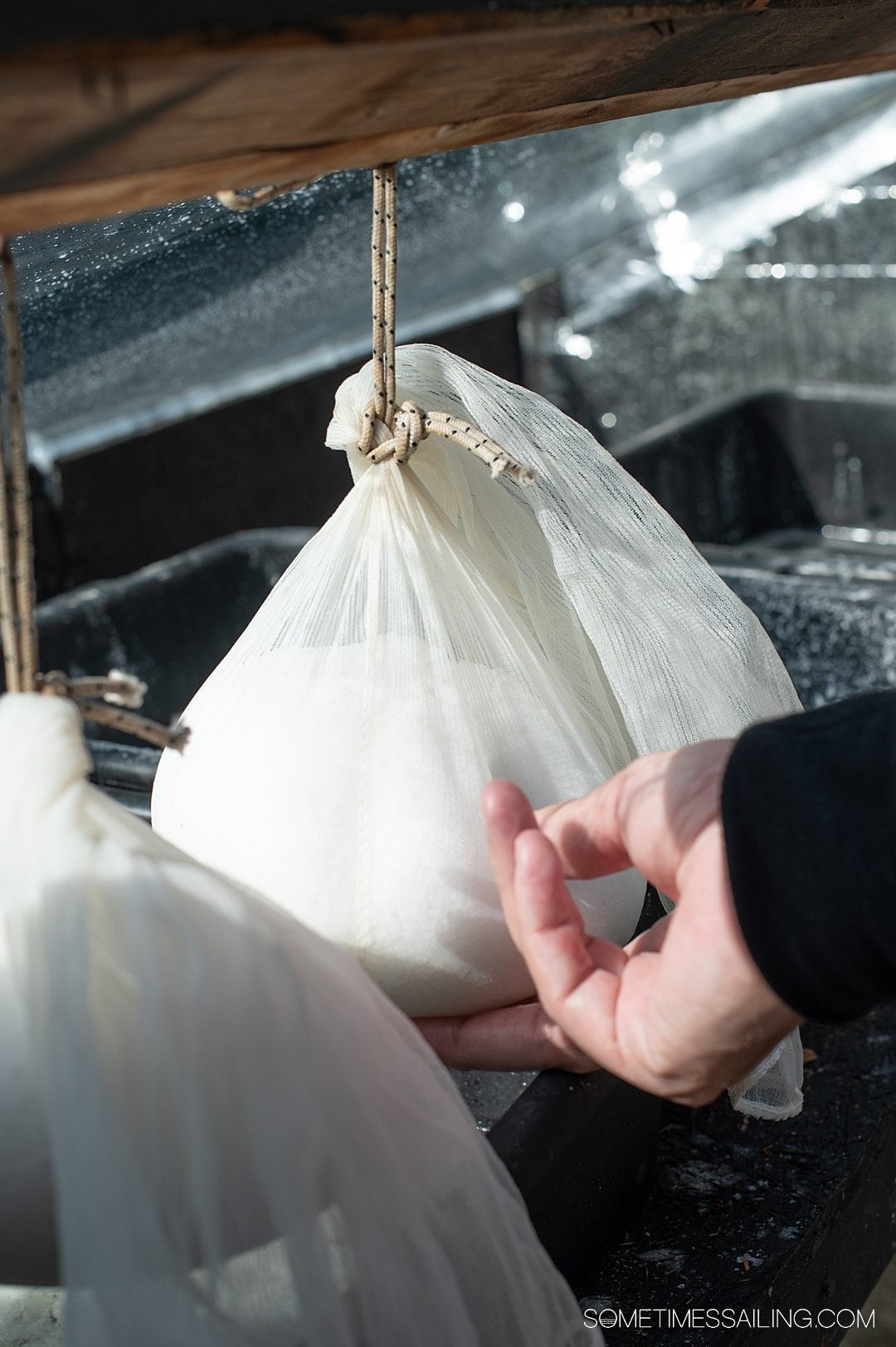 Flavors are Added to Some of their Salts
This fantastic North Carolina sea salt gets even better! Shaena and Brian produce various salt flavors to give fans more options to enjoy.
So how do they pack the flavor into the salts? Let's take the rosemary sea salt for example. Shaena breaks down the rosemary leaves after they are sun-dried using a mortar and pestle. Oils from the leaves set into the salt for three days before Shaena packages it.
Or, in the case of their Pecan Smoked salt, they cold smoke it with hand chipped Pecan wood right on their farm.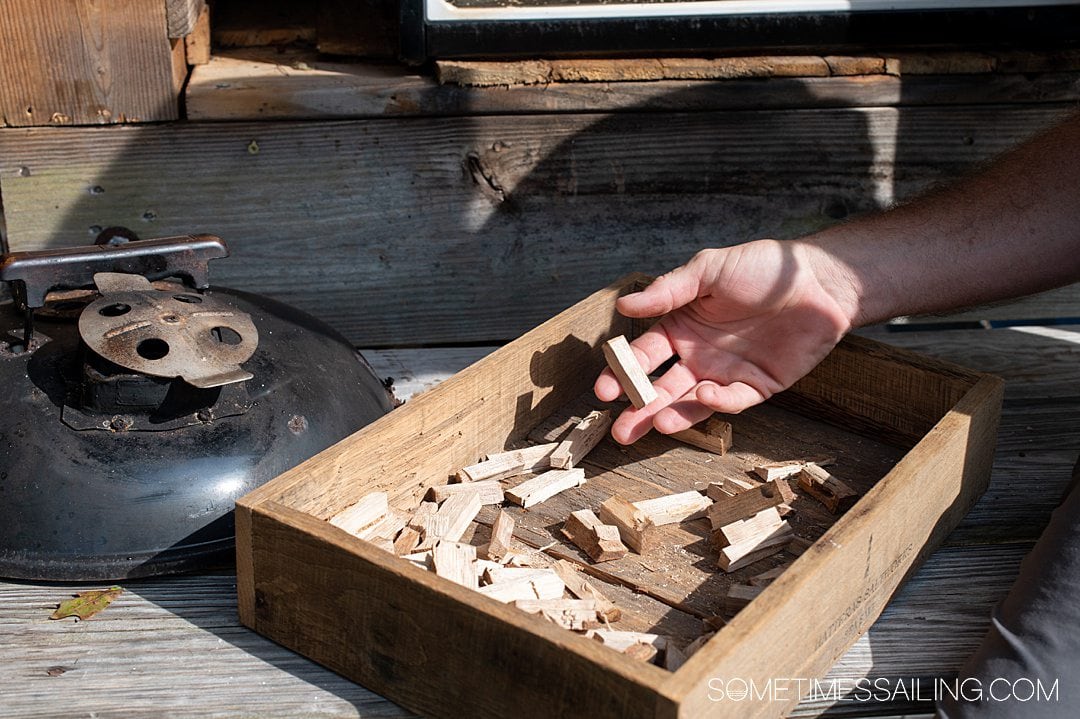 Flavored salt are good for about one year. Pure salt is good forever as long as it's in an air tight container.
Here are some of the flavors they offer:
Lemon Pepper
Pecan Smoked
Lavender
Rosemary
Lime (seasonal for summer)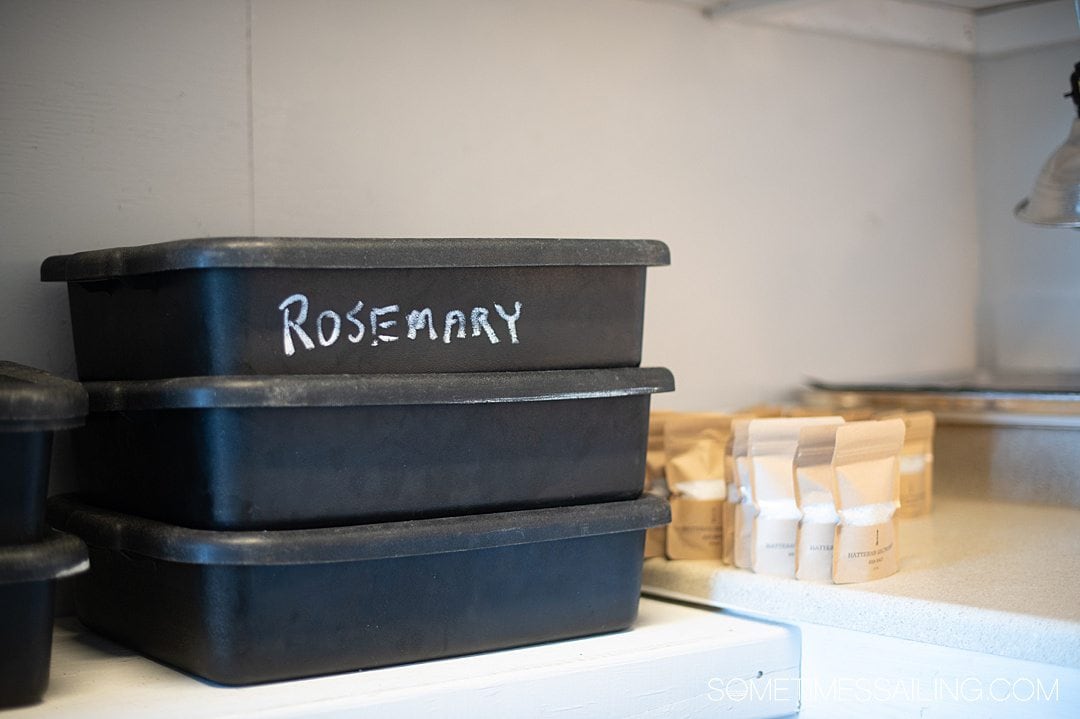 The Unrefined, Natural Sea Salt Packaged for Your Enjoyment!
All of the energy and love that went into creating the salt is packaged. Shaena showed us the room where she takes this final step. She places the salt under a heat lamp for a little while to take the last bit of moisture out of it before packaging it.
It is then put into kraft paper packets that are pre-stamped with Hatteras Saltworks graphics.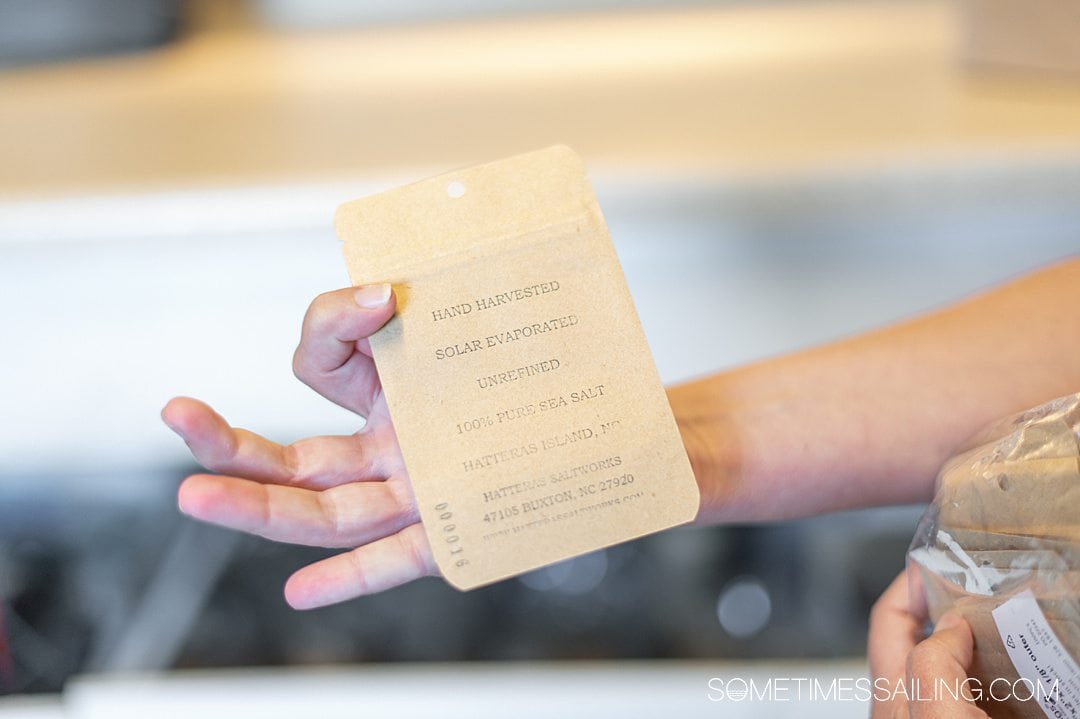 Where can you get Hatteras Saltworks products?
Their Online Store
There are various places you can buy their salt, including directly from their website, especially if you're not local or if you were visiting the Outer Banks and didn't buy enough of their salt in person.
In the Outer Banks
There are about 40 places where you'll find Hatteras Saltworks in the Outer Banks (OBX), including shops and grocery stores.
Our favorite was the display at Lee Robinson's General Store. The display was set up so beautifully. It had a row of packaged salt in a weathered wood box with salt dishes next to the packets of Hatteras Saltworks products.
Address: 58372 NC-12, Hatteras, NC 27943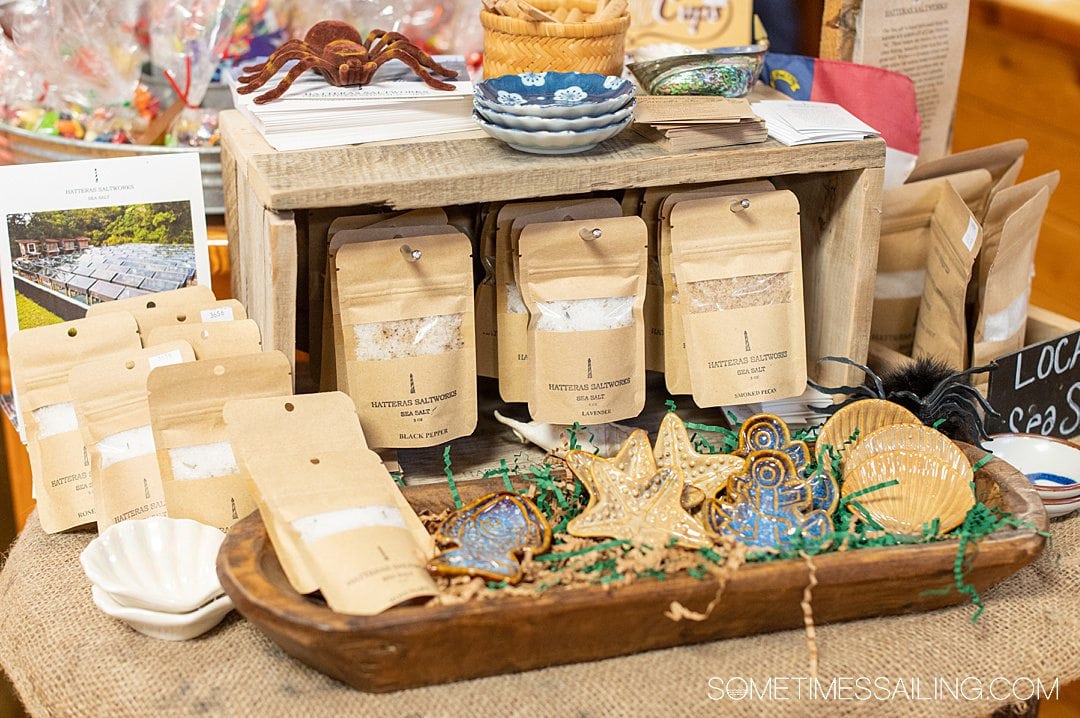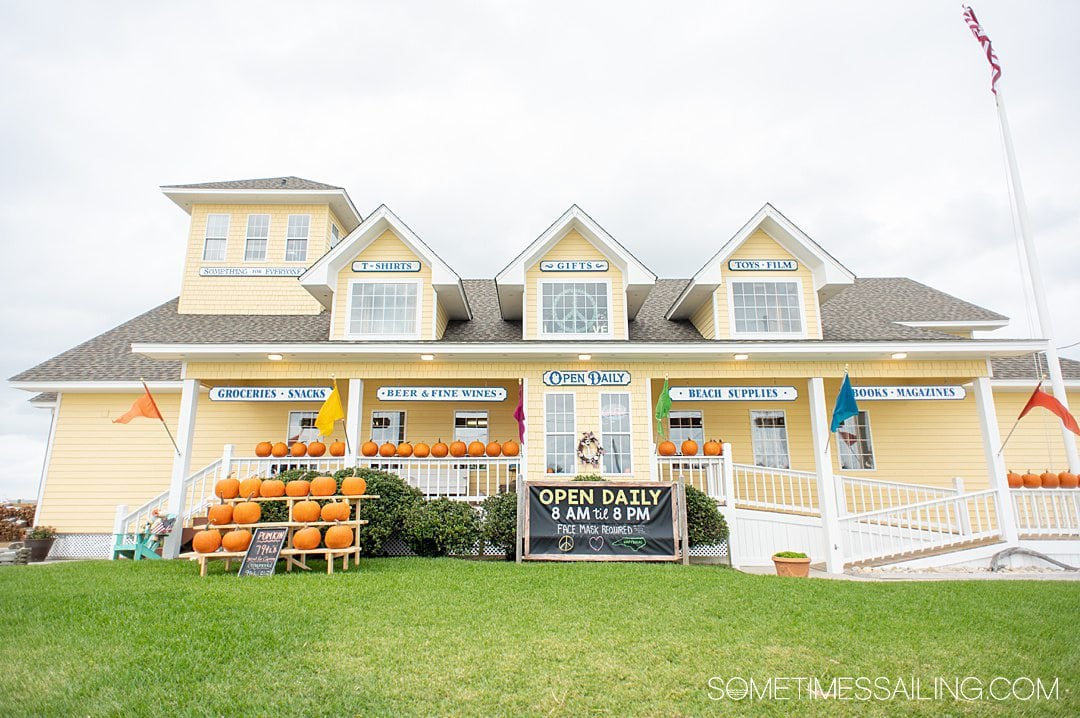 We also saw Hatteras Saltworks products available at Conner's Supermarket in Buxton in OBX. It's a 3-minute drive from where it's produced.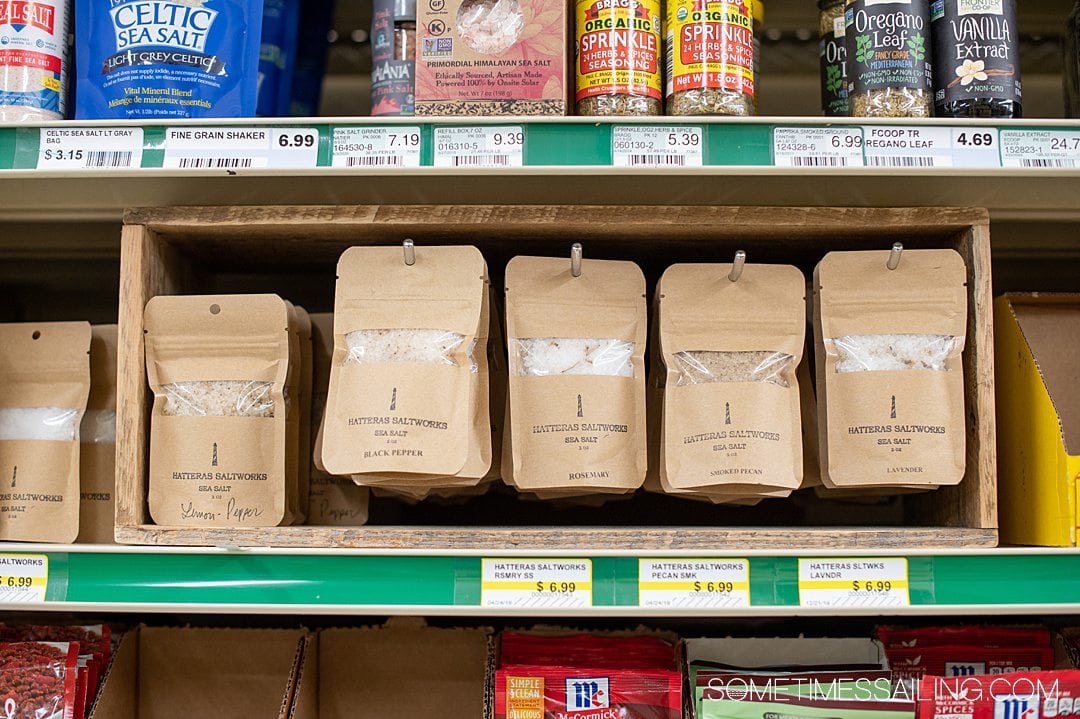 Who Uses Hatteras Saltworks Products on their Menu in the Outer Banks?
We were happy to learn two places we've been to in the Outer Banks incorporate Hatteras Saltworks sea salts into their menu:
The Inn at Pamlico Sound's restaurant, Cafe Pamlico. They use it in some of their cocktails.
Dajio restaurant on Ocracoke Island uses their Rosemary Salt on French Fries.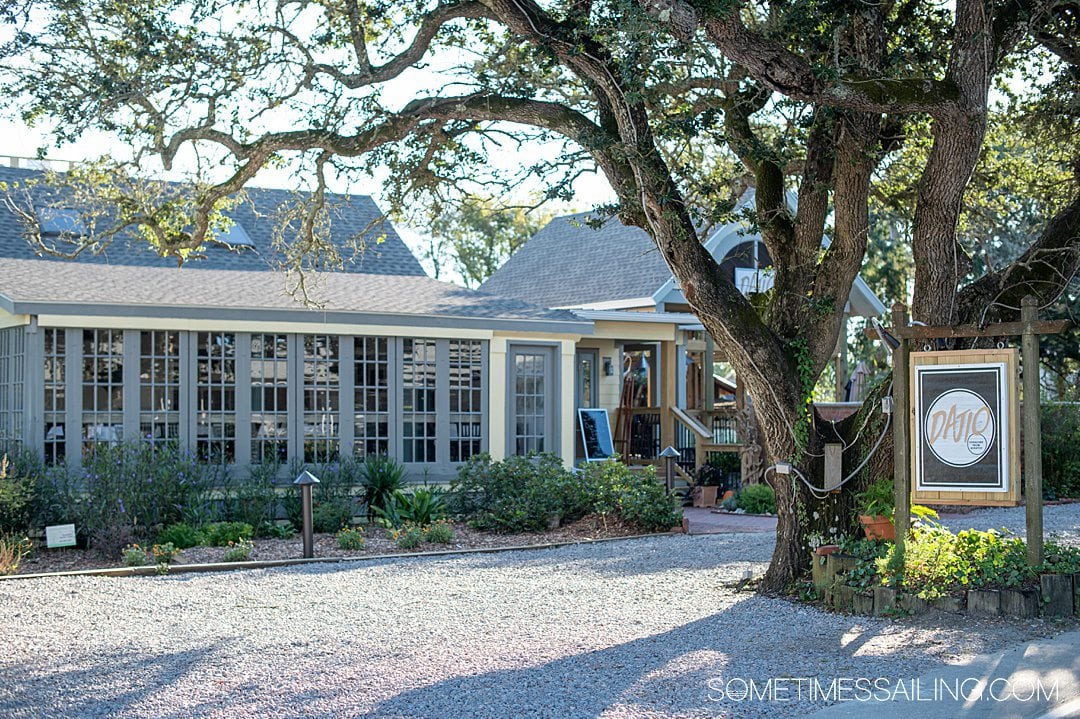 Ideas for What to Do with Salt from Hatteras Saltworks
Check the Hatteras Saltworks blog for some great recipes and use ideas for their North Carolina sea salts. We're eyeing their baked brie with lavender salt idea and peanut butter cookies with a sprinkle of finishing salt recipe.
(I should mention the recipe reminds me of a favorite ice cream flavor: Jeni's Ice Cream Salted Peanut Butter with Chocolate Flecks, which I first had the joy of tasting at the ice cream shop location on King Street in downtown Charleston, SC.)
What to Use Sea Salt For
You can pretty much put salt on anything! But here are a few ideas:
On your ice cream. (Thank you to Shaena from Hatteras Saltworks for this recommendation. They put salt on just about every flavor of Ben & Jerry's ice cream and we loved the idea. We were also reminded of why we love the Jeni's Ice Cream flavor mentioned above so much: it's sweet and salty!)
In cookies, especially as a finishing salt to a chocolate chip cookie recipe.
Sprinkle on homemade chocolate pretzels or chocolate-dipped strawberries.
Use as a topper on potatoes – white or sweet.
Their salt is great on caramel.
Add salt on top of bread, like homemade bagels, focaccia, or a sourdough loaf.
As holiday stocking stuffer for a culinary enthusiast in your life!
Finish a salad with their salt, especially a flavored option like Lavender.
On seafood (like a seafood steamer pot) if it needs some extra flavor.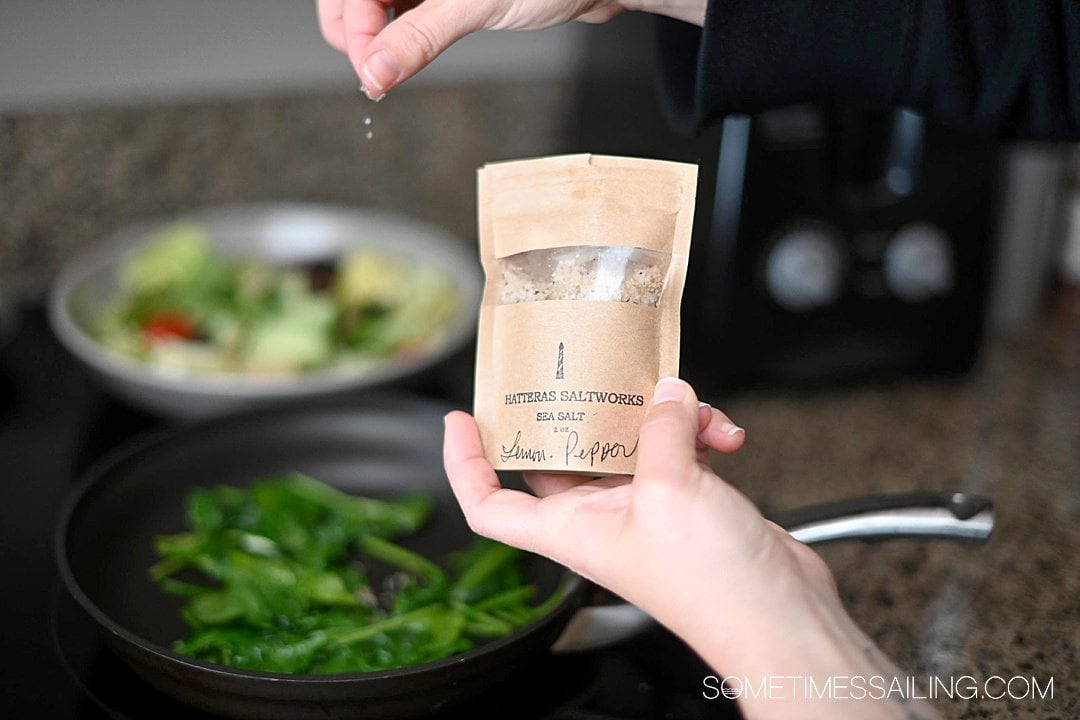 Season meat, including steaks, ribs, and burgers. (Try the original or Lemon Pepper).
On seafood, including raw oysters or cooked fish. We love the Pecan Wood Smoked Sea Salt on salmon or the Black Pepper salt on shrimp.
Add to butter to make a gourmet butter blend. (One of Dan's favorite things to do.)
Top a shallow dish of olive oil with Hatteras Saltworks salt (like the Rosemary blend) for some delicious bread dipping!
Have a cut in your mouth? Gargle with salt water.
If your muscles ache, try taking a salt bath to ease cramps and stimulate circulation.
How will you use Hatteras Saltworks sea salt?
Disclosure: We thank the Outer Banks Convention and Visitor's Bureau for generously hosting us. We also may make a small commission from affiliate links in this post (at no cost to you) but all opinions are ours and we bring you genuine content with real facts, photos, thoughts and recommendations. Always.


Love seafood and all things from the ocean? Read this next: